Do you love decorating your house? If yes, then you'll get very excited while reading about these 30 free crochet rug patterns! They are simply beautiful and perfect for almost any corner of your house. These crochet rug patterns will not fail to surprise you! You will love the results as they will be super satisfying and make you more confident in your crocheting skills – especially if you're a beginner. These crochet rugs will look a little intimidating at first. However, when you start following the steps, they will turn out to be very easy.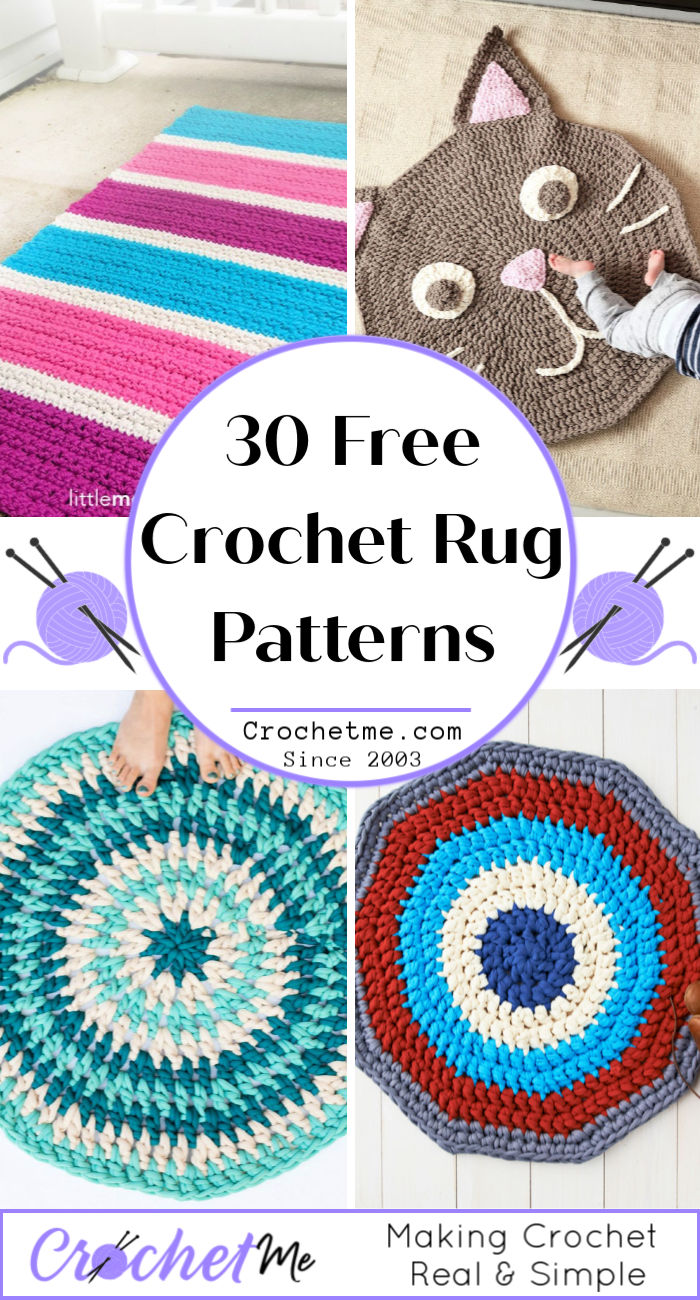 These crochet rug patterns can be made for almost any decor theme that you might have in your home! Or they can even bring a lovely new touch you would like to bring to your decor! For any homemaker and DIYer, these crochet rug patterns are like their own collection of crochet heaven. You can use some good quality chunky yarn in your favorite color to make a rug for yourself or even as a perfect house warming gift! This article will cover a range of crochet rug patterns, from chunky hexie to oval pom-pom rugs, from bubble accent to t-shirt rugs, from bee's knees to outdoor rugs! There's a lot to choose from. After all, who doesn't like a couple of options to choose from? So, follow these free crochet patterns and learn how to make a rug for your home!
1. Crochet Rag Rug with Fabric Scraps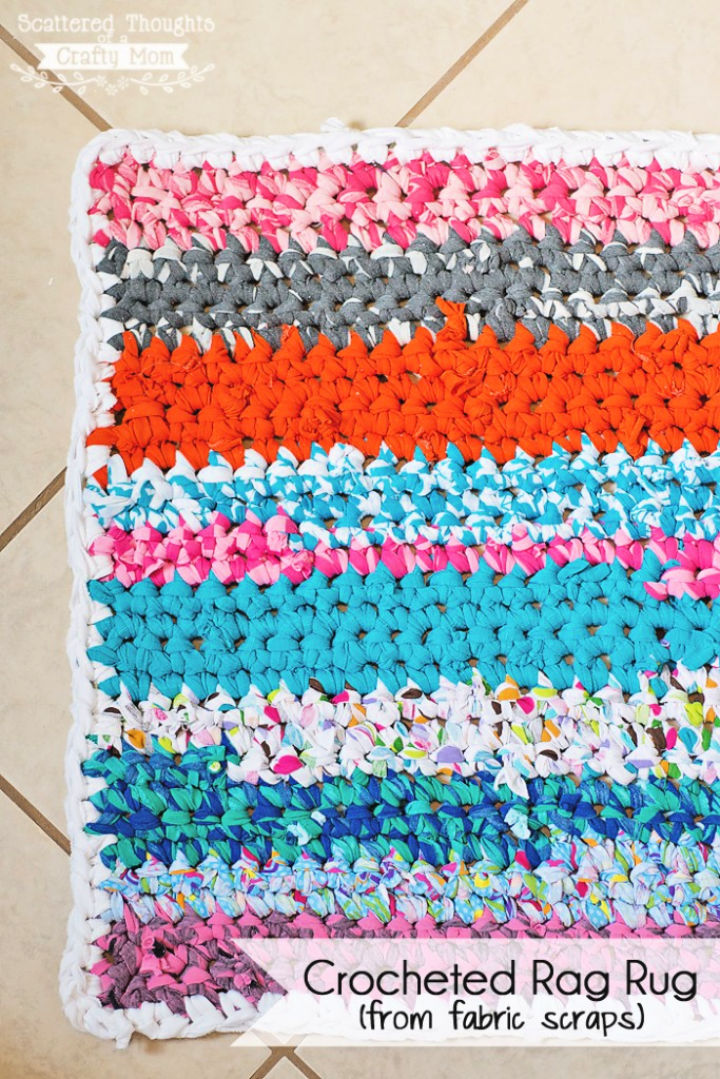 How unique is this beautiful crochet rag rug pattern? Can you imagine how cool it would look in our living room or any room, in general? It has many colors, and the best part is that it's made out of scraps! If you have still not thrown away the scraps from your last project, then you should check this out! scatteredthought
2. Crochet Oval Rug Pattern / Pompom Rug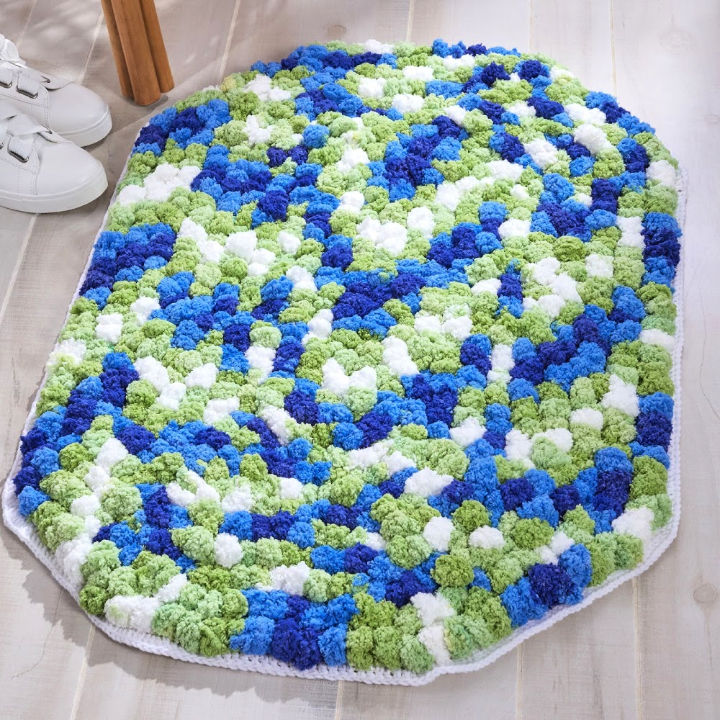 Pom-poms are one of the cutest forms of decorating and designing. Imagine having them in your crochet oval rug! Wouldn't it be like a dream come true? You can use any colors that will match your theme. However, the combination of green, light blue, dark blue, and white looks amazing! yarnspirations
3. Purrrfect Crochet Play Rug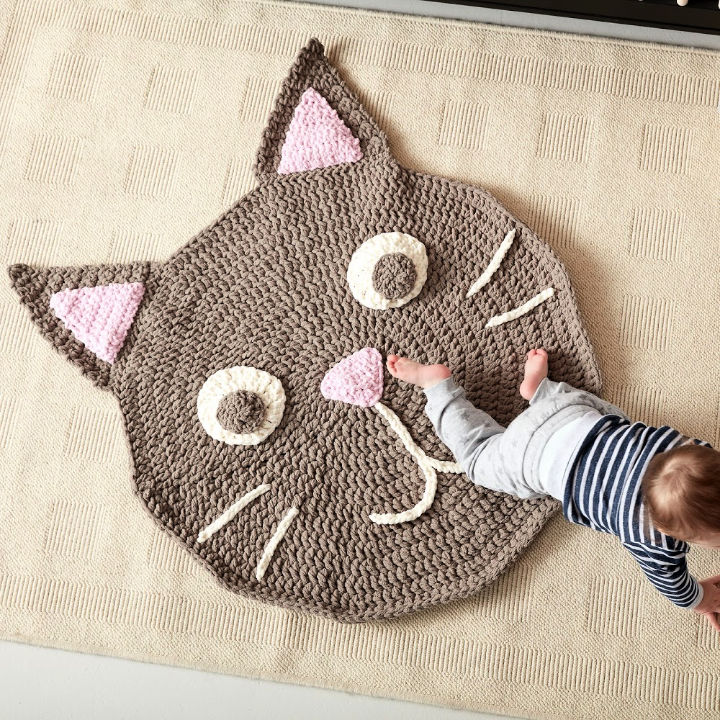 Isn't this just the cutest rug ever? It has a cat face on it, which is something that your kids will love! You can keep it in their rooms. You can also make this for your cat and keep it next to your cat's sleeping spot. Your cat will love it and enjoy taking naps on it! yarnspirations
4. Chunky Hexie Crochet Rug Pattern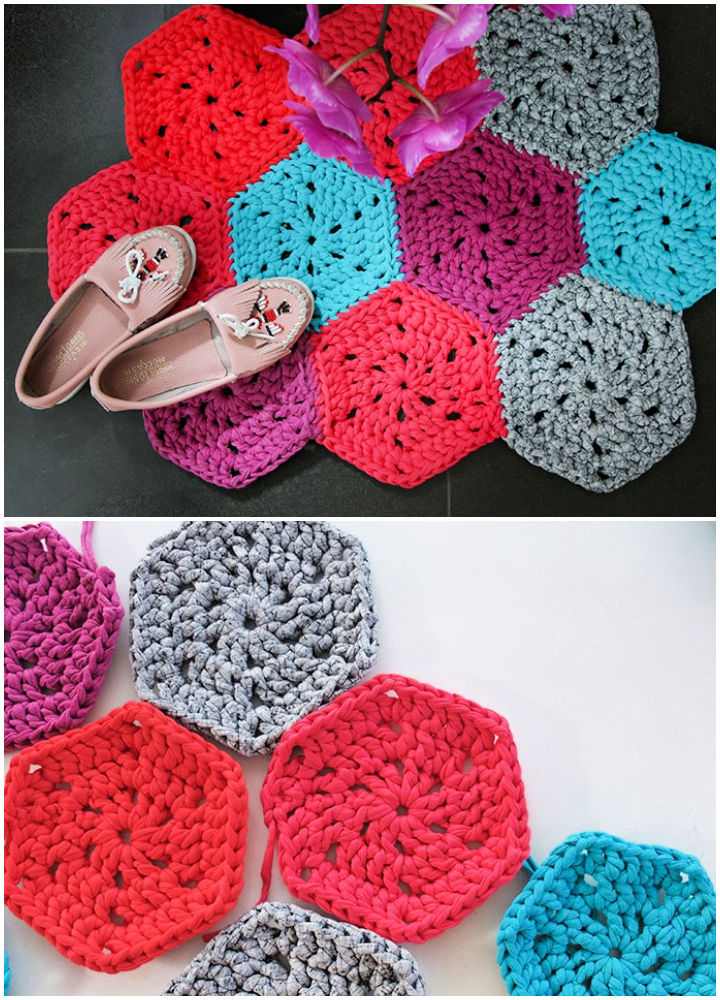 This pattern comes with so much to make you understand the project successfully! It has personal experience and written instructions. This crochet pattern also has a video tutorial attached to it to make it even easier. The crochet hexagons are perfect for attaching onto your rugs! mypoppet
5. How To Crochet A Rug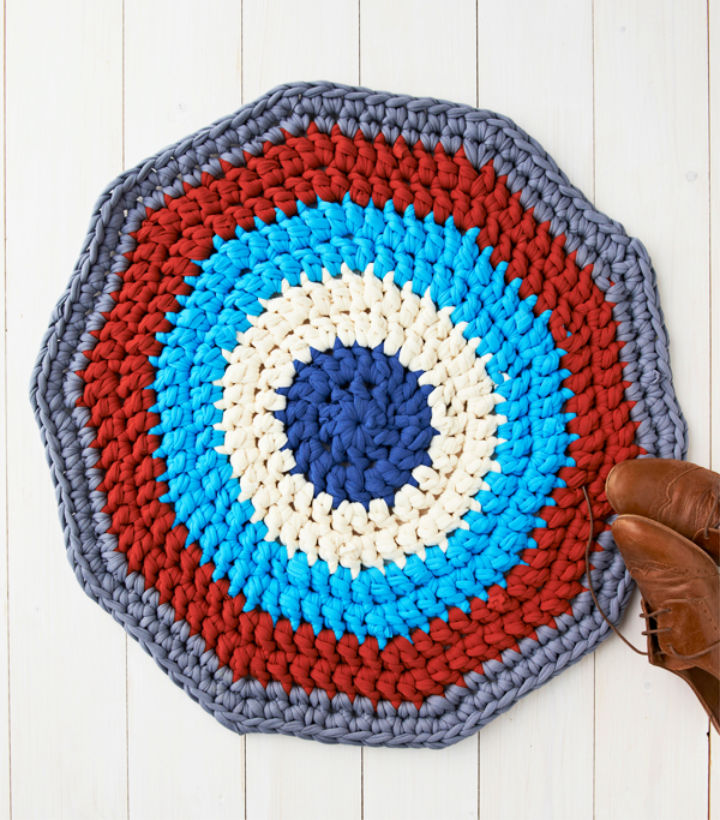 Learn how to crochet a rug! Here's a beautiful combination of many colors together. Grey, red, blue, white, and dark blue colors are visible in this crochet rug pattern. It has a very pretty shape to it, as well. This will be of very high and good quality as the yarn used for it is very chunky. molliemakes
6. Bubble Gum Accent Rug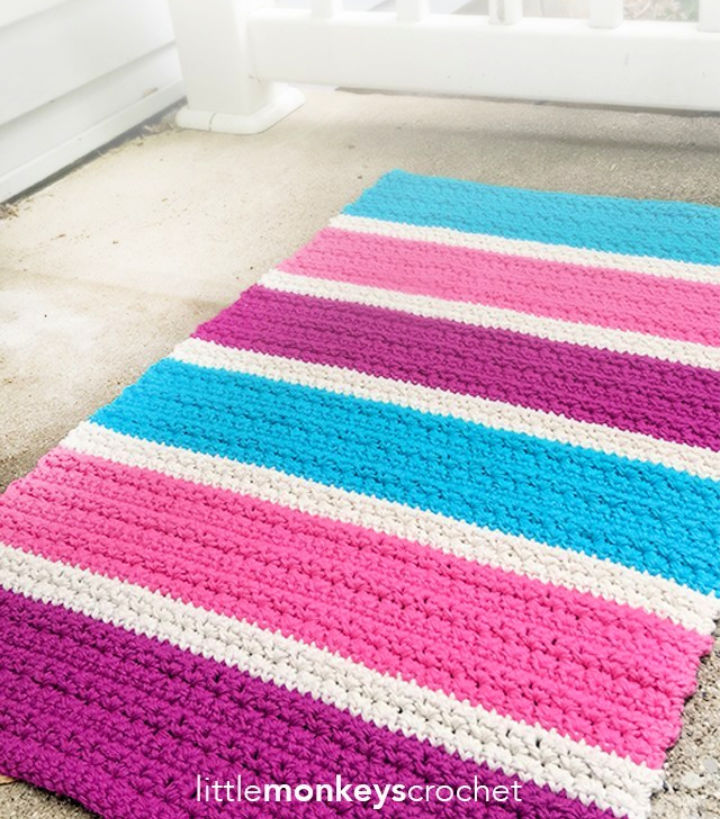 Such a pretty pattern. A rug that can be placed in any corner of your house to add some color and beauty. Tired of those boring, white walls? Well, then it's time to change it up a little and make this. It may look intimidating, but it's actually super simple to complete. littlemonkeyscrochet
7. How to Crochet a Rug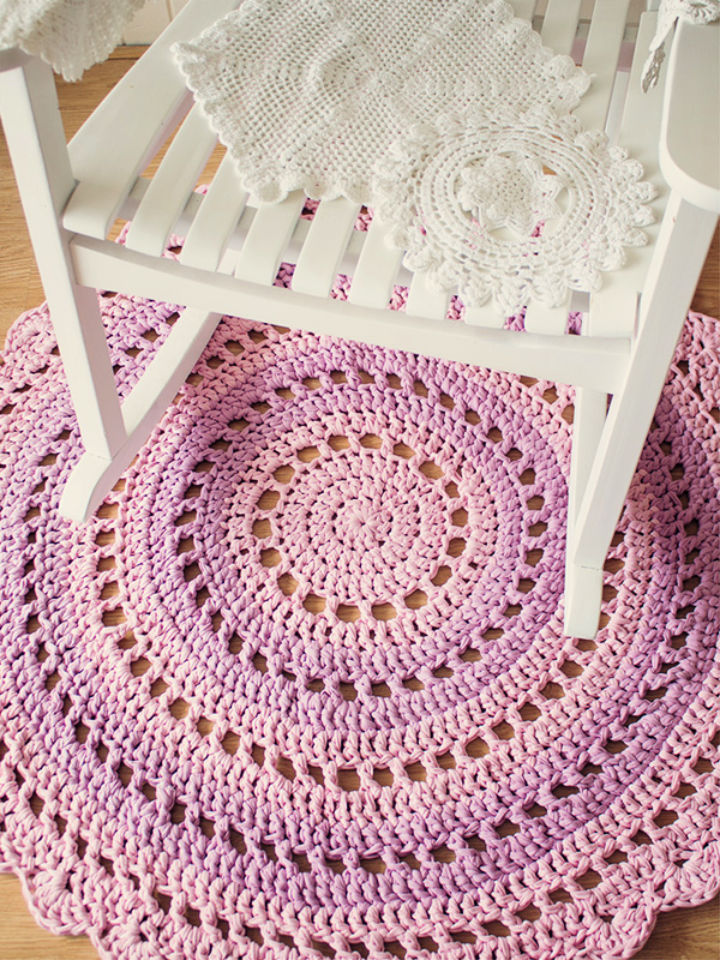 Everyone loves and adores a good mandala pattern! It's hard not to love them really!! This pattern is just so lacey and cute. It will add some femininity and a girly vibe to your house. You can also use it to tone down a theme. For example, add a little something to a dark room by this bright rug. crafts tutsplus
8. Crochet Rug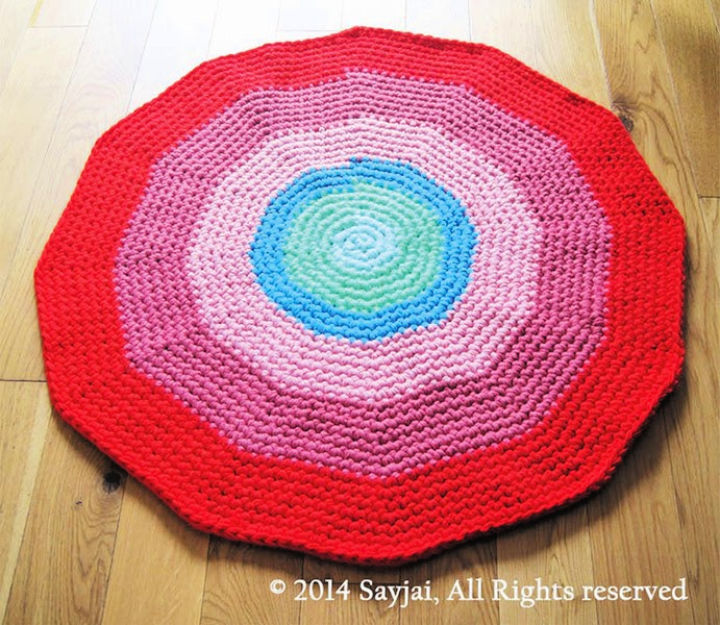 A beautiful pattern that is perfect for making any room in your house a lot brighter! It has many colors in it. You can always use your favorite ones to make it truly your own! Crochet hook and chunky yarn in your favorite colors are all that you'll need. kandjdolls
9. Free Crochet Rug Patterns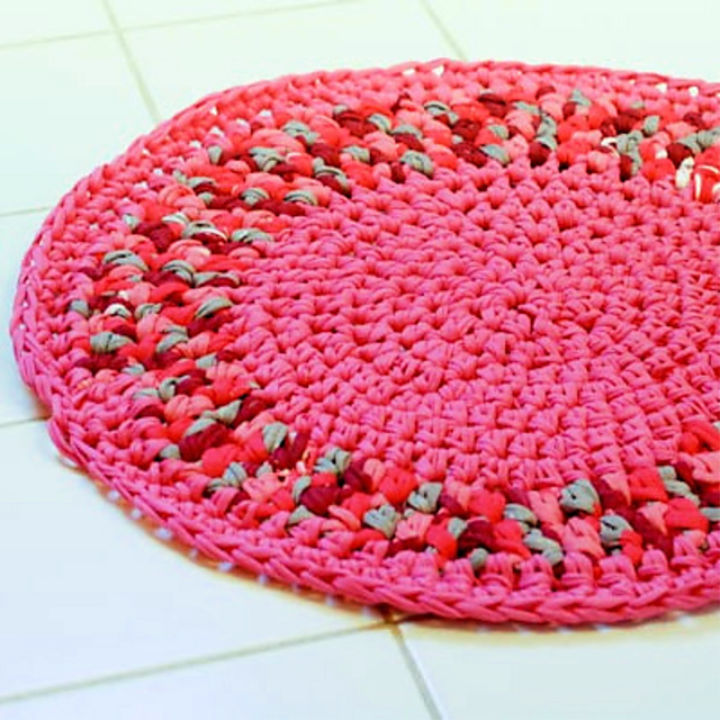 Pink is a beautiful color! You can use it to add some girliness to almost anything. How about using it to make your room look beautiful! A shocking pink colored yarn and some colorful yarn designing on the side. Everyone will love this piece! petalstopicots
10. Crochet Floor Rug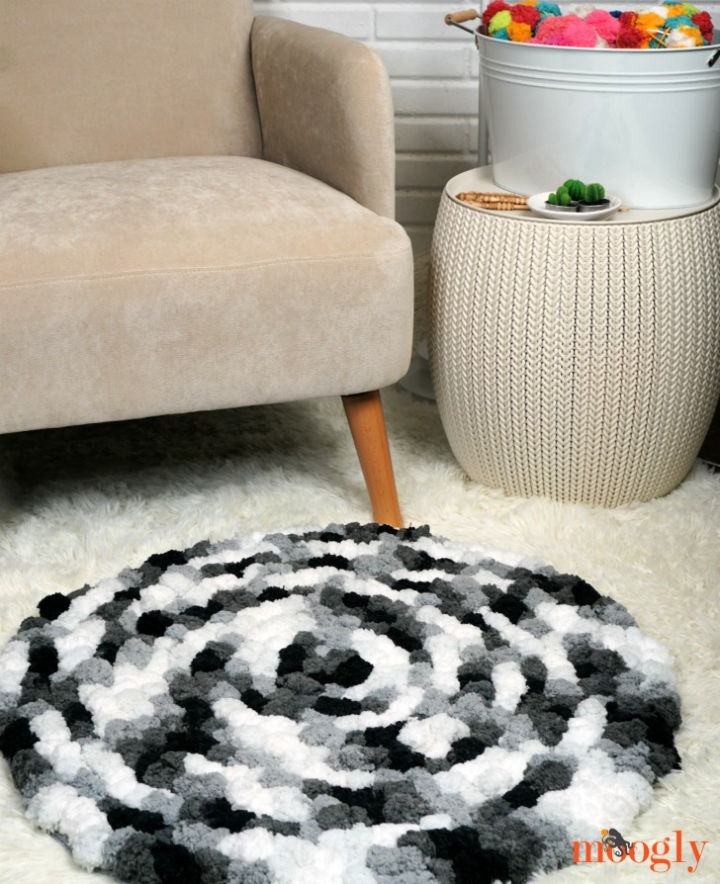 You can tell, just by looking at this crochet floor rug that it's super soft and fluffy! This crochet rug pattern features a combination of some basic colors- white, black, and white! The perfect rug for all of the minimalists reading this who just wants something plain and simple. Oh, and also so affordable rather than the over-priced rugs from the market. mooglyblog
11. Easy Crochet Rug Patterns Free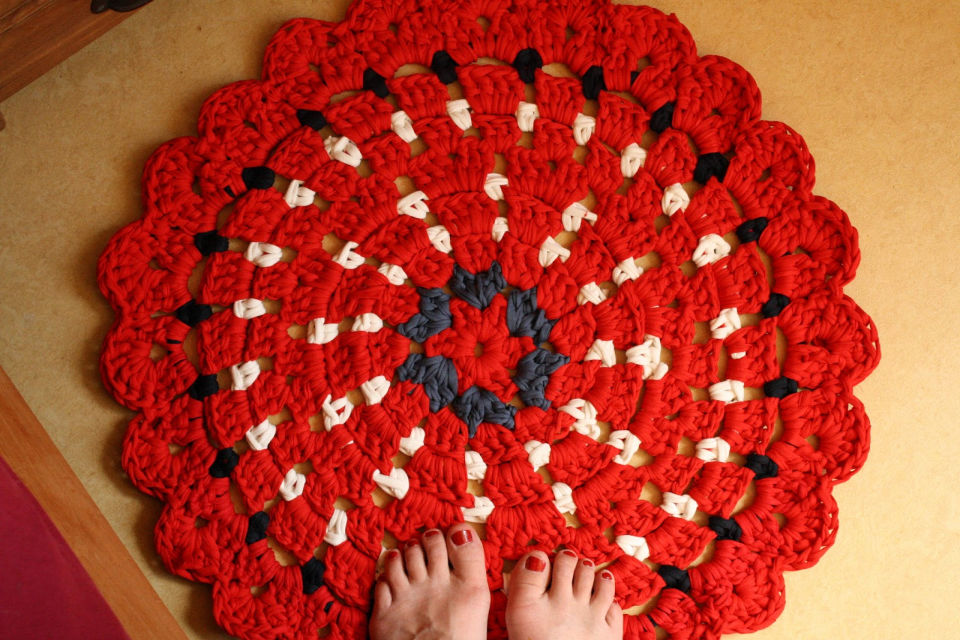 How pretty is this design! A combination of red and white. You know what this rug is perfect for? Yes! It is absolutely perfect for Christmas time. You can place this beauty in your living room to add a festive and lively vibe to your house! busyfingers
12. Crocheted Rug Patterns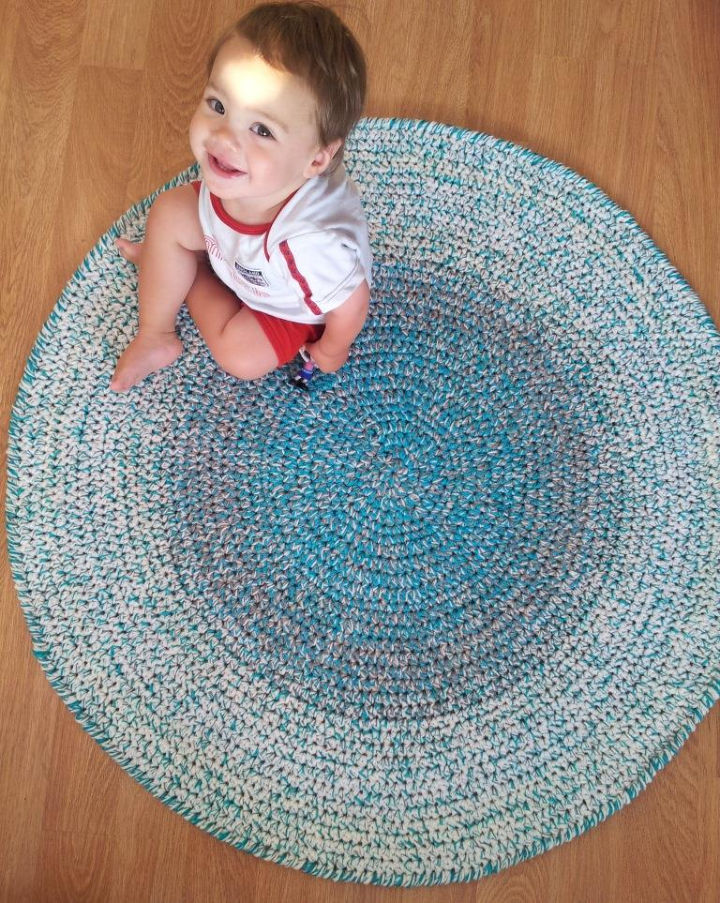 Why is this crochet rug pattern just amazing? This is because of its unique texture. It has such a beautiful texture and a type that is very different and something new. You can incorporate as many colors as you want in this pattern. lookatwhati
13. Crochet Rug Patterns With Yarn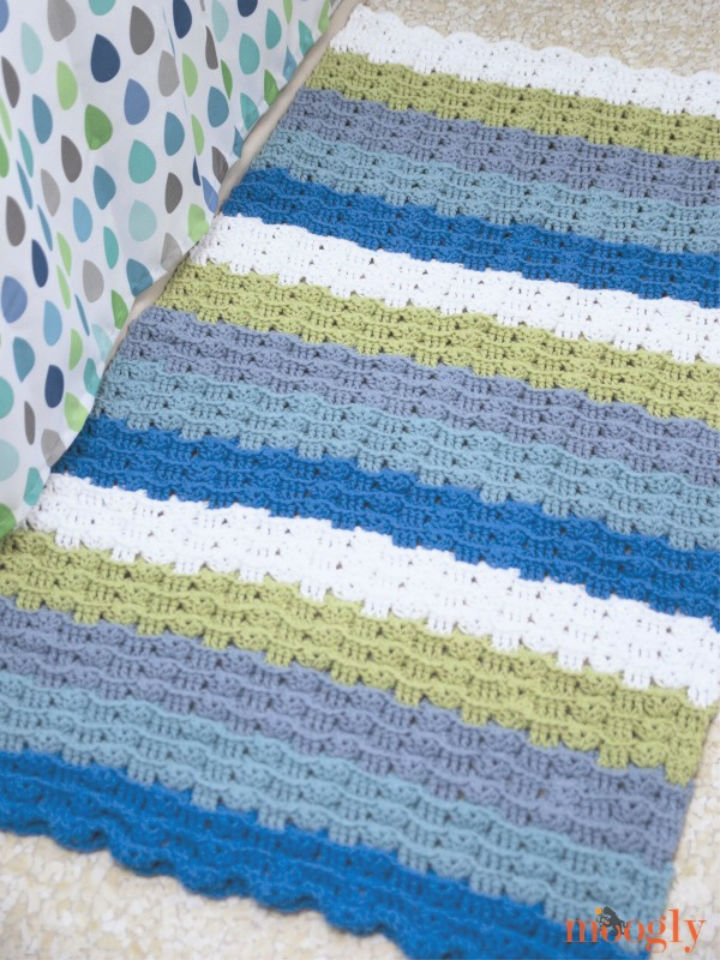 Do you love the sea? Love the waves? Well, then you're going to enjoy this guide. All you need is a few shades of blue yarn, white yarn, and some green yarn- to throw in some other color, as well. It will make a very pretty pattern, and you'll love it! mooglyblog
14. Crochet Rug Patterns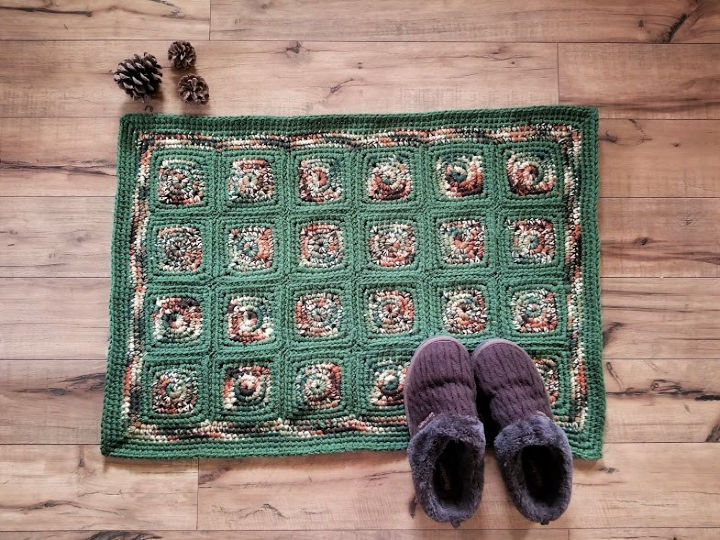 This looks exactly like something your granny would gift you. It looks so vintage, pretty, and almost like something you would find at an antique store. You can place it in your house to add that vibe to your house. This will go really well with a farmhouse's vibe, as well. highlandhickory
15. Crochet Floor Rug Pattern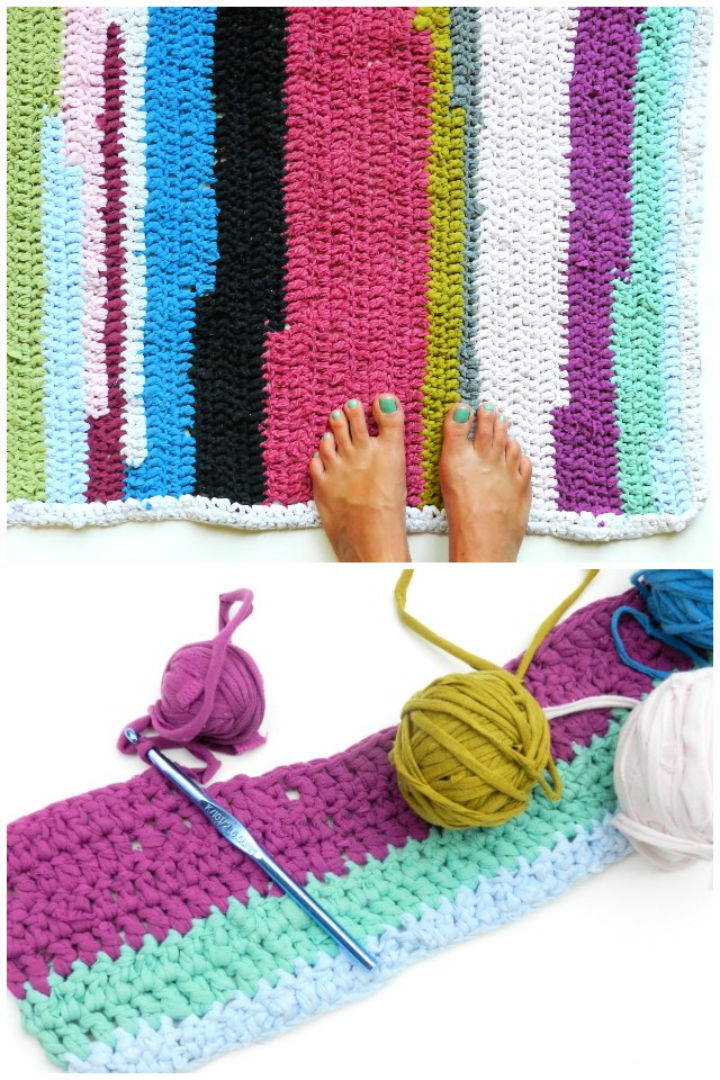 T-shirt yarn, crochet hook, and a yarn needle are all you'll need for this stunning project. It does look intimidating, however, don't be nervous, it's actually super easy and fast to get done. All you need to know are some basic stitches for this one. eliseenghstudios
16. Crochet Round Rug from Repurposed T-shirts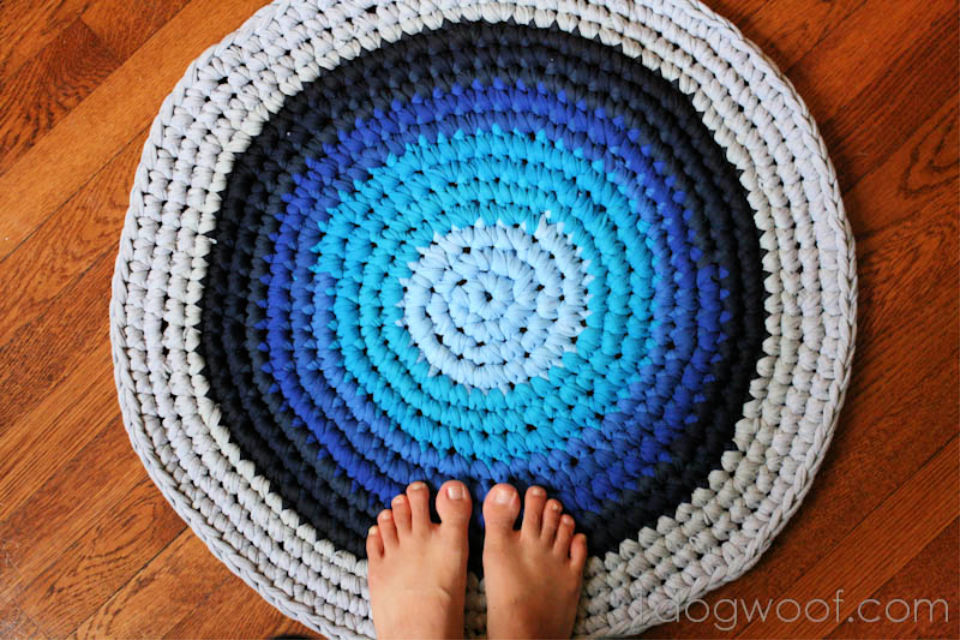 Honestly, this crochet round rug pattern looks magical. The color shades are just so on point. It's beautiful how it gets dark from the outside to light in the center. A guide, which will step and a lot of information to help you out and not get lost. You will not regret making this. Definitely give it a try! 1dogwoof
17. Crochet An Outdoor Rug for Beginners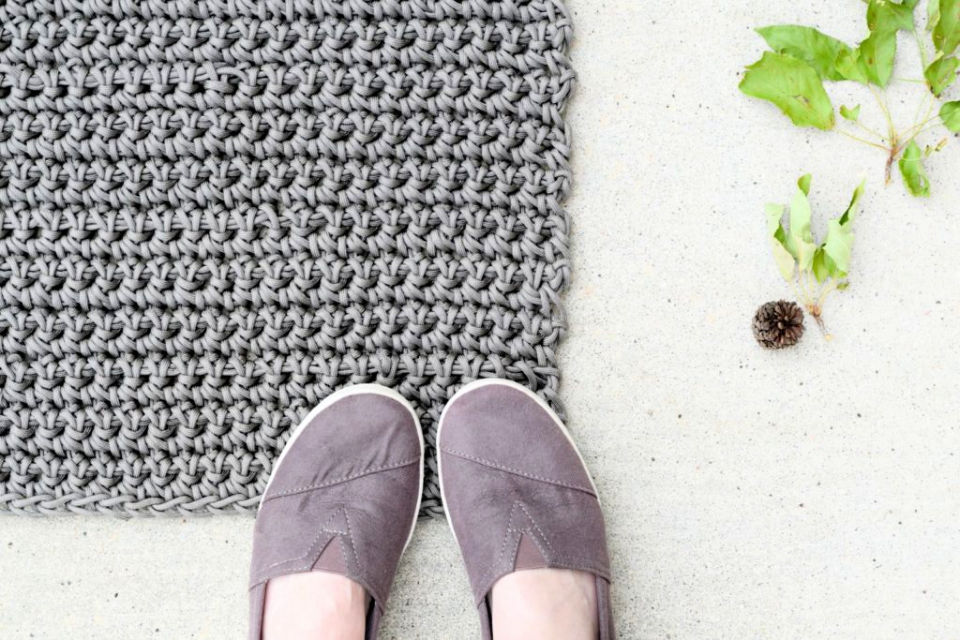 Overwhelmed by all the colors and extra designs in this roundup? Well, then you're probably a minimalist and like to keep things simple and plain. Here's a plain and one colored pattern with a beautiful pattern. Only one colored yarn will be needed for this project! mamainastitch
18. Crochet Throw Rug Patterns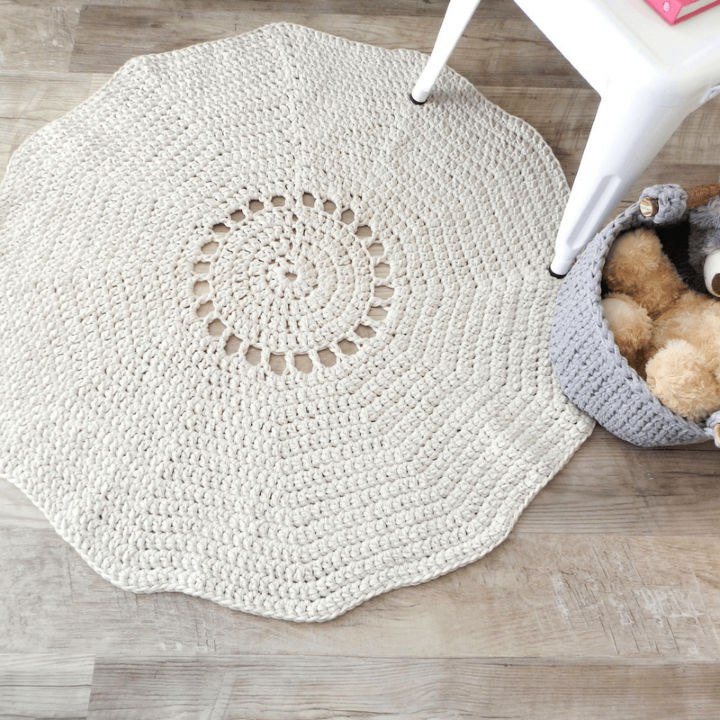 A beginner? Want something beautiful yet straightforward to make? Here's a super stunning crochet rug pattern for you! You only need white yarn, and a yarn needle to make this. A super detailed guide will take you through the whole process step by step. sweeteverlyb
19. Crochet Rug Pattern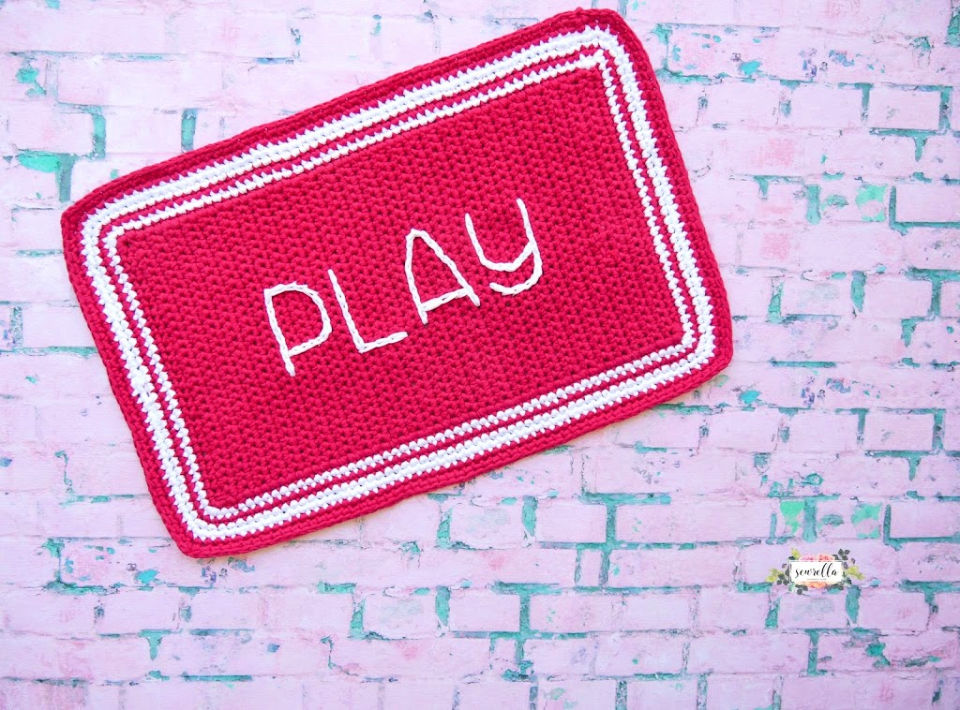 If you're looking for a good quality rug which will last you a long time without getting damaged, follow this guide! This can be made successful by the help of thick yarn and some yarn needles. Only two colored yarns are required. You can customize the "PLAY" to anything you want. sewrella
20. Bee's Knees Crochet Rug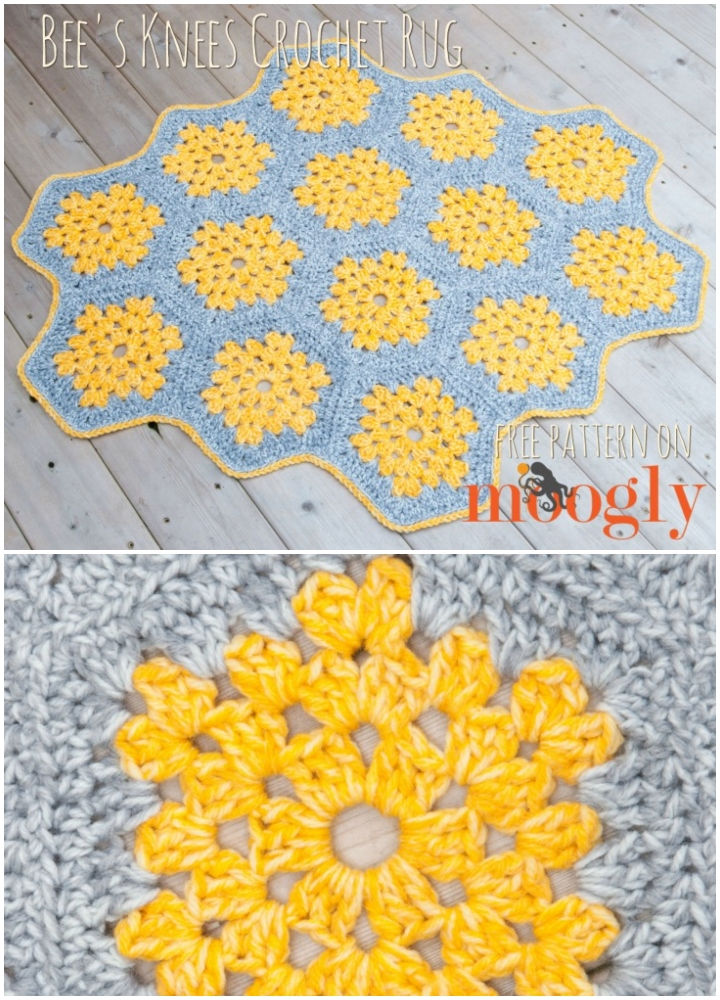 Obsessed with bees? Does the idea of their nets intrigue you? You can make this amazing and creative rug for your house! Try to use vibrant colors like this one to make it look just amazing! Bright yellows and light blues will give it an amazing touch. mooglyblo
21. Free Crochet Rug Patterns With Yarn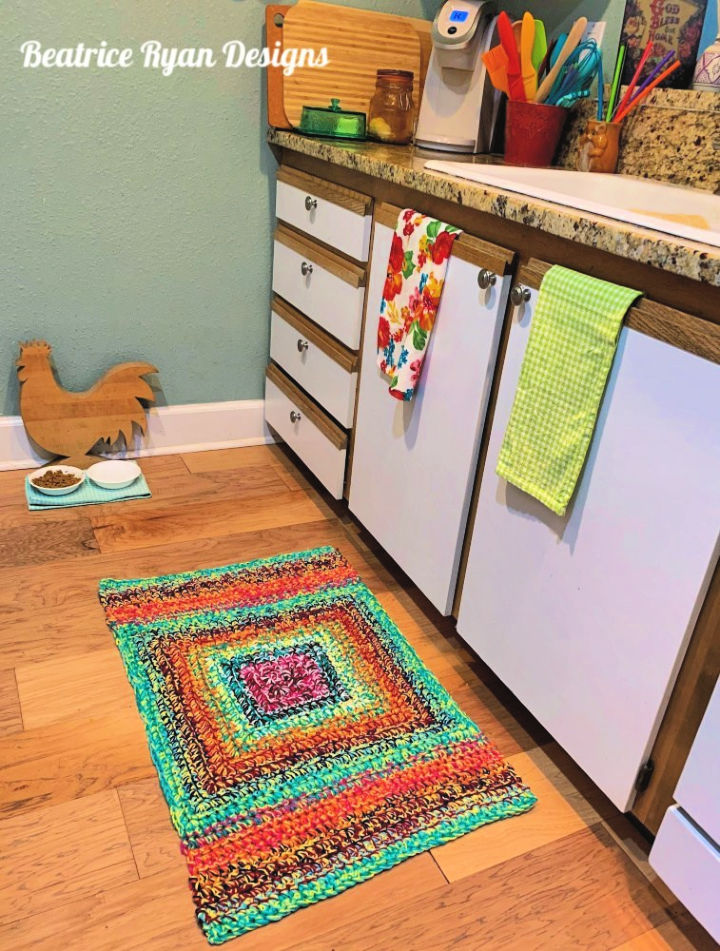 Everyone wants to make something that's easy and super quick. However, we also want the results to be worth the time investment. This crochet patterns with yarn will not disappoint you as it is simply beautiful! Keep it in any corner of your house to add some positive energy. beatriceryande
22. Crochet Round Rug Pattern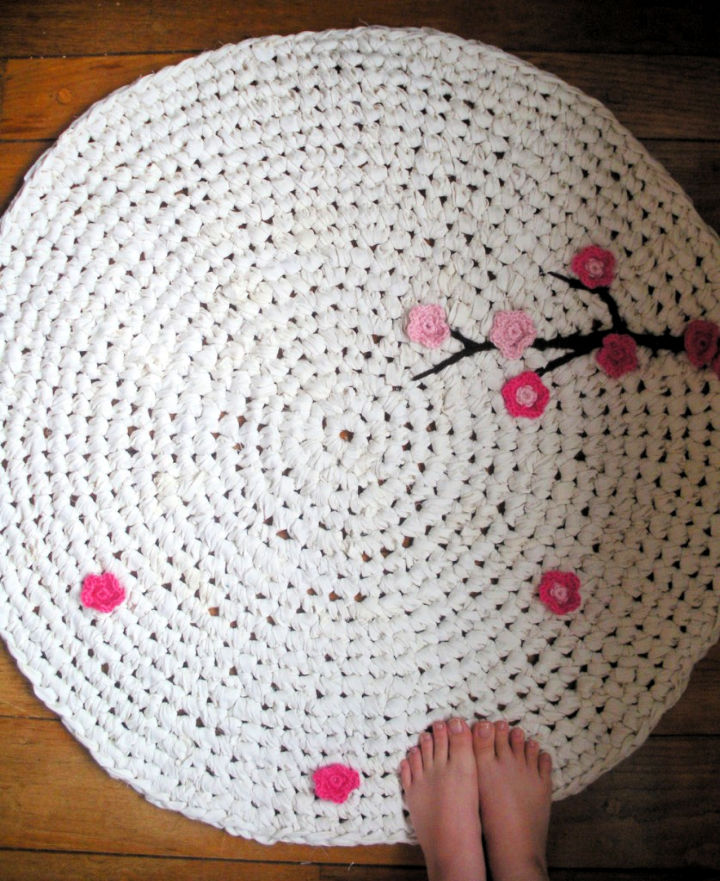 Love the spring season? Obsessed with cherry blossoms? You can incorporate your love for it into your decorations! This way, your house can really tell a lot about what you like and dislike. Follow this guide to make this crochet cherry blossom rug with a plain white base underneath. upcyclemagazine
23. Cosy Flower Rug Pattern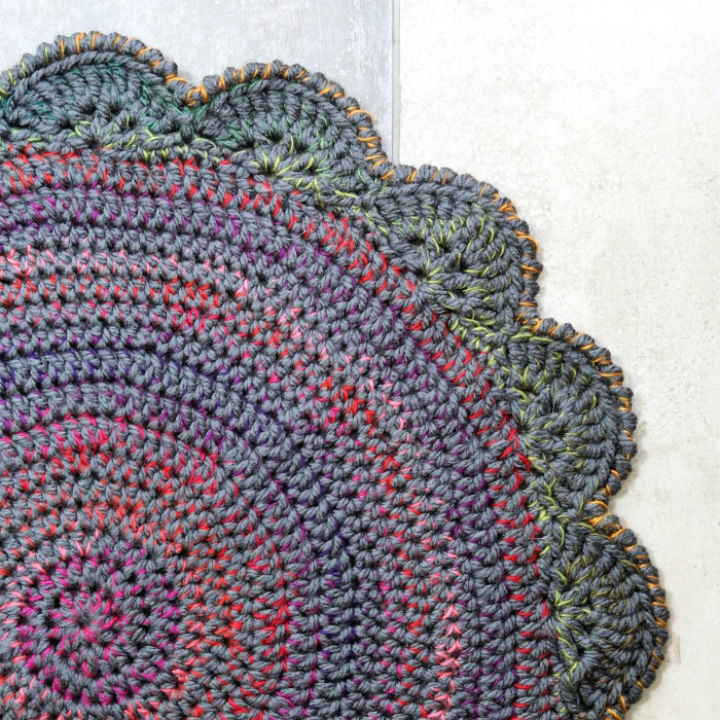 how to crochet a circle rug? Don't you feel cozy when you look at this warm-colored rug? This crochet rug pattern is just beautiful with a basic circle and some ruffle type pattern on the borders. It's super easy to achieve and can be made by any beginner! All you need to know are some basic stitches. lookatwhati
24. Extreme Crocheted Rug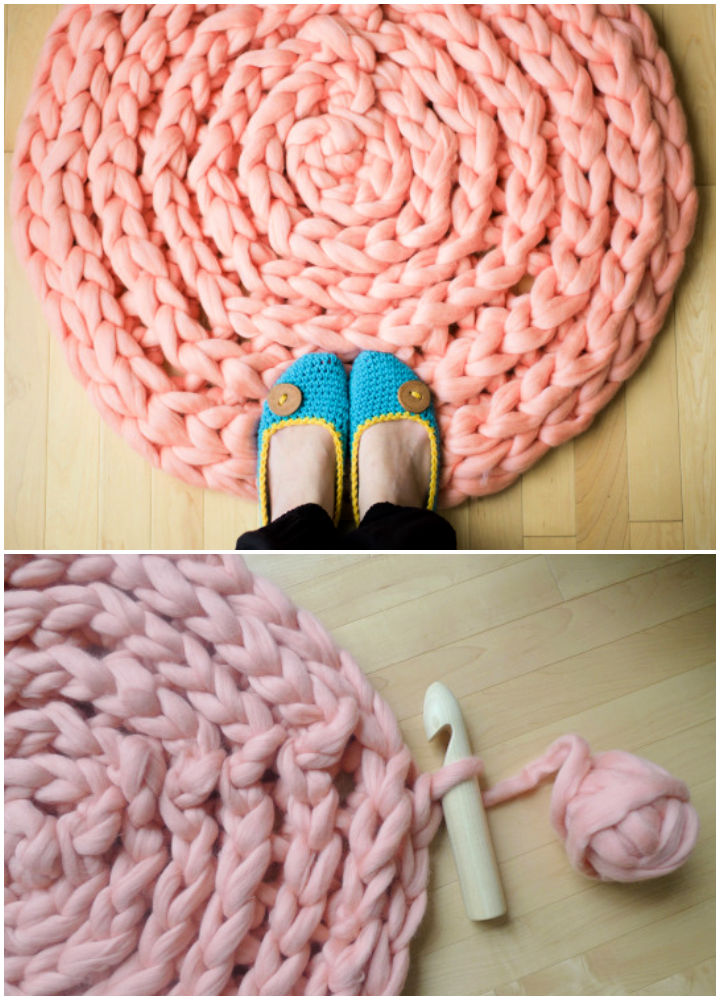 Those cold winter months require a lot of coziness in your house! You can achieve it by making this warm, fuzzy, and thick rug! You will get cozy just by looking at them! Imagine lying on them by the fire. They'll just be perfect for adding that welcoming vibe to your house! allaboutami
25. Plush Plus Rug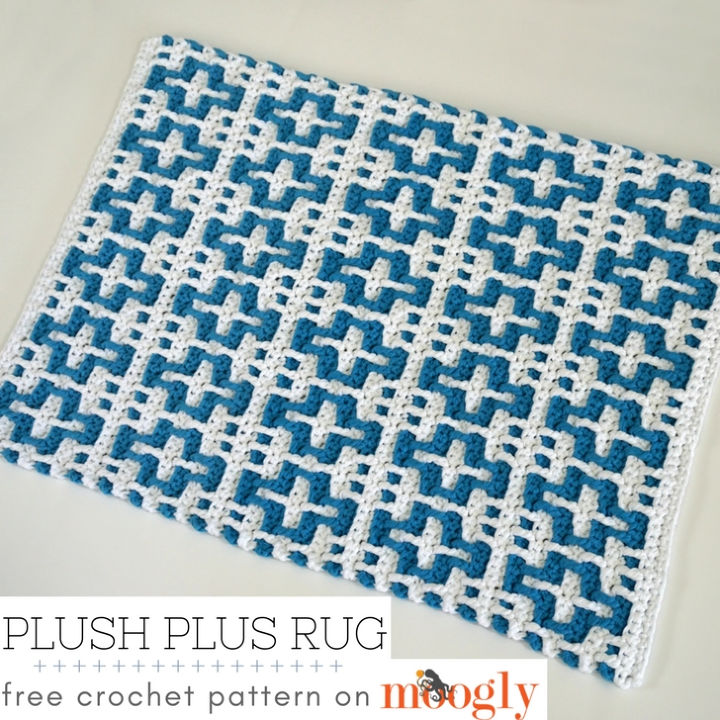 Plush plus rugs can be placed anywhere in the room. If you want a rug on the floor or as a bathroom mat, this one will be a perfect go-to. A combination of cross stitch and geometric pattern presents neat and tidy vibes everywhere. mooglyblog
26. Easy Crochet Rug Pattern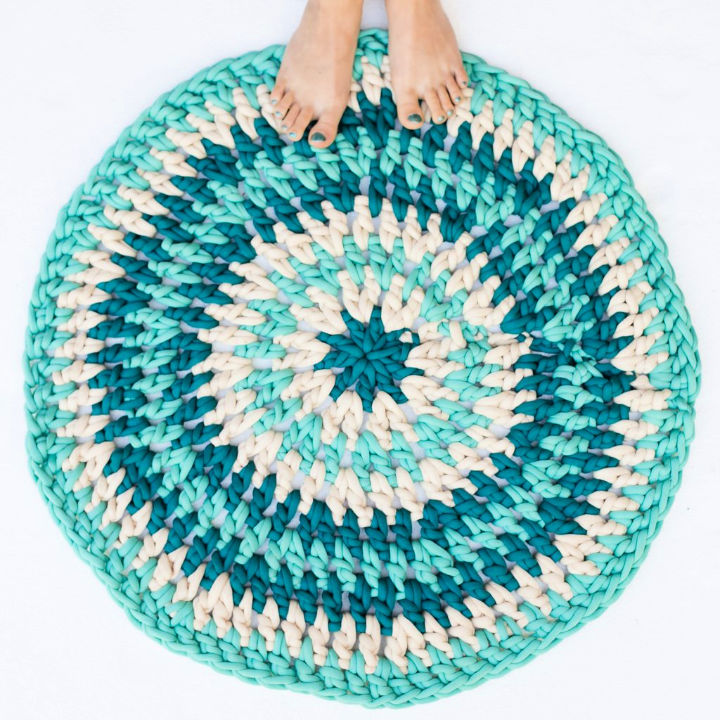 Is your room dull and boring? Add this crochet rug in the room and brighten it up. You can place this colorful crochet rug anywhere in the house; kitchen, bathroom, living room, or in the baby's room. It will bring a beautiful aura in the room. tealandfinch
27. Crochet Pattern for a Textured Jute Rug

Textured jute rug with pure rustic feels is a neutral piece that can be used anywhere in the house. If placed at the front door, this crochet rug will welcome your guests with affection. It will also make a perfect runner in your kitchen. megmadewith
28. Whimsy Stripes Rug Pattern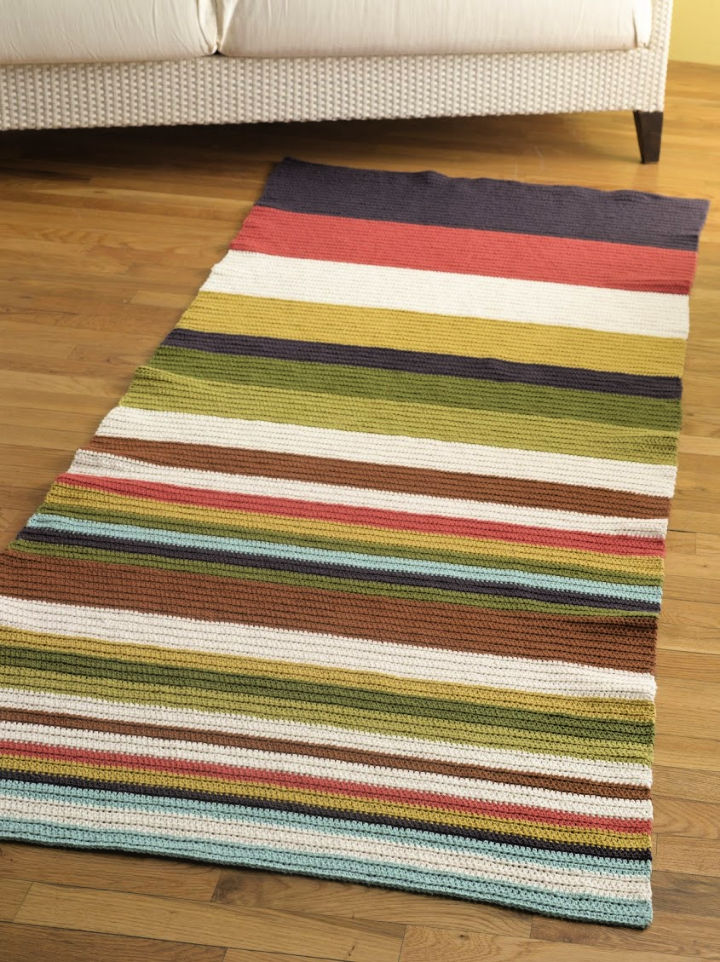 Whimsey striped rug pattern is full of colors and variety! This pattern is extremely simple to follow. The only complication lies in dealing with various colors. But no worries; once you follow the tutorial, you will get your hands on this prettiest pattern lionbrand
29. Rug Yarn Patterns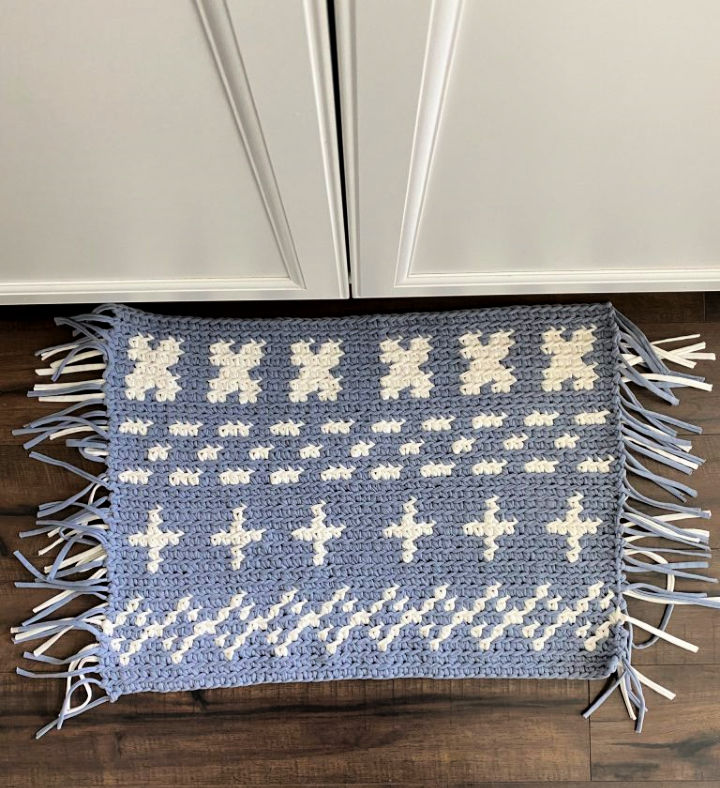 Products made from T-shirt yarn are always promising. The same is the case with this crochet rug. Different asterisk patterns on this rug look different and unique. You can place this rug on your computer table or corridor, Chester. eandpcrochet
30. Crochet Rug Patterns With Bulky Yarn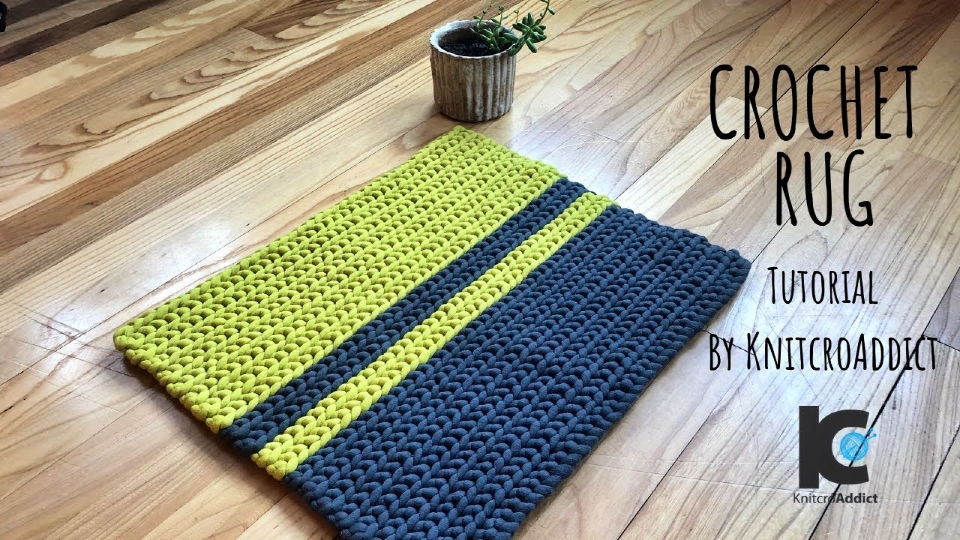 Crochet is in trends these days. Along with crochet clothes, decorative stuff made from crochet is also trending these days. A Crochet rug with 2 enticing color blocks certainly looks welcoming and brings a brightening vibe in the house. You can make this rug and place it anywhere at home. youtube
Conclusion:
Love these free crochet rug patterns? You should get started, then! They are just perfect for your house! You can make one for all of your rooms, depending on the theme. Another good way to use these crochet rug patterns can be by changing them up every season. For example, you can make black and orange for the Halloween season. White, red, and green can be used for the Christmas season. Colorful colors can be used for holidays and summer! You can even make some for the Fourth of July! This way, you can change up your house decoration a little for every season without a lot of effort. Happy Crocheting Rugs!!!