Crochet basket pattern is a good choice to create a beautiful storage solution for your home. Are you looking for unique storage options and solutions for all spaces of the home? Then go with these 30 free crochet basket patterns allowing you crochet personalized, colorful, and good looking baskets holding your stuff neatly. From round bowl-like baskets to rectangular baskets to hanging baskets, you will have so many design options to choose from. Moreover, you will get the free pattern, diagrams, blueprints, step-by-step instructions, and gauge calculators for all designs of crochet baskets compiled here.
These crochet basket patterns use so many different techniques, stitches, and hacks that will turn basket-making into big fun. Explore this compilation of 30 best free crochet basket patterns sharing a variety of homemade designs appearing in lots of color combinations. You are going to find here the crocheted baskets with every height and depth and also with every width.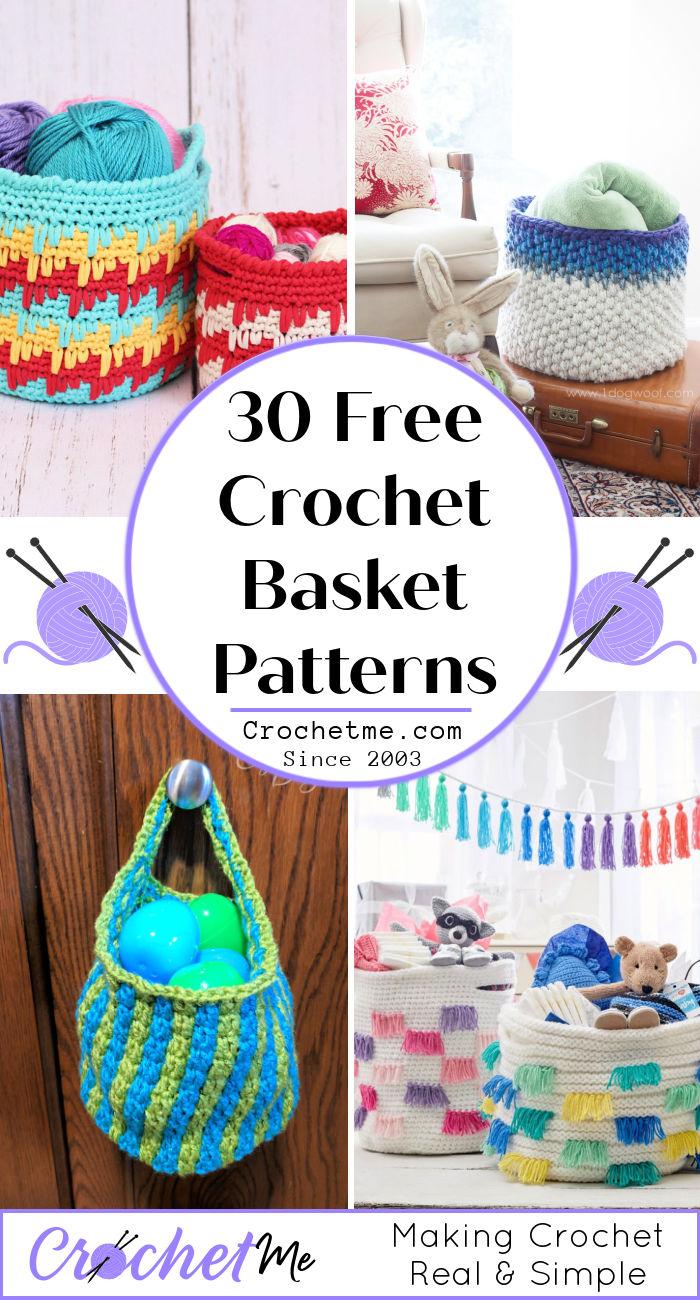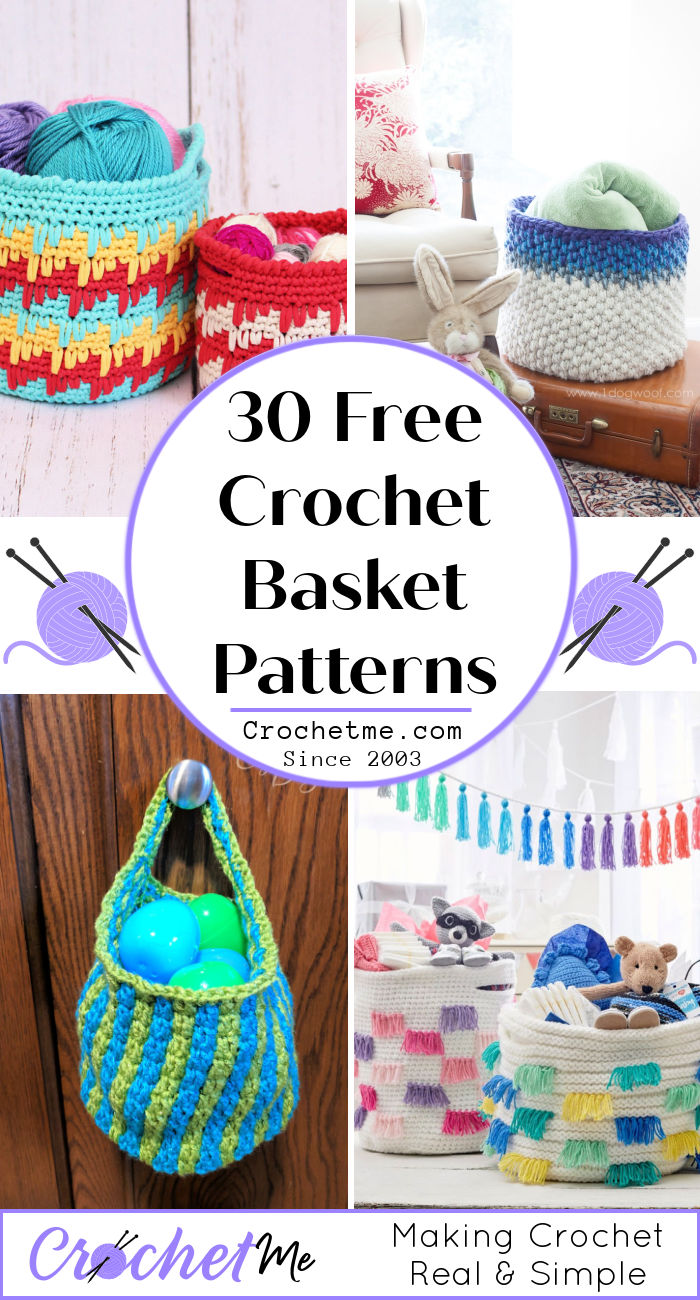 Our roundup of free crochet basket pattern provides step by step detailed free patterns for every skill level, from beginner to medium to advanced. Look through all the patterns to learn all about how to crochet a basket like a pro. Hook up yarn baskets with wooden bases and stitch custom yarn baskets to use as planter or pot covers too. Use a variety of stitches to come up with so many different design textures. Finish these crochet baskets with yarn handles or with leather straps.
The choices are all yours. From unique custom baskets to acorn baskets to tasseled baskets, you will see readymade samples of all in this list of free crochet basket patterns, which will wow you with amazing crocheting talent. Finally, you will get a t-shirt yarn basket patterns as well.
1. Crochet Storage Basket Pattern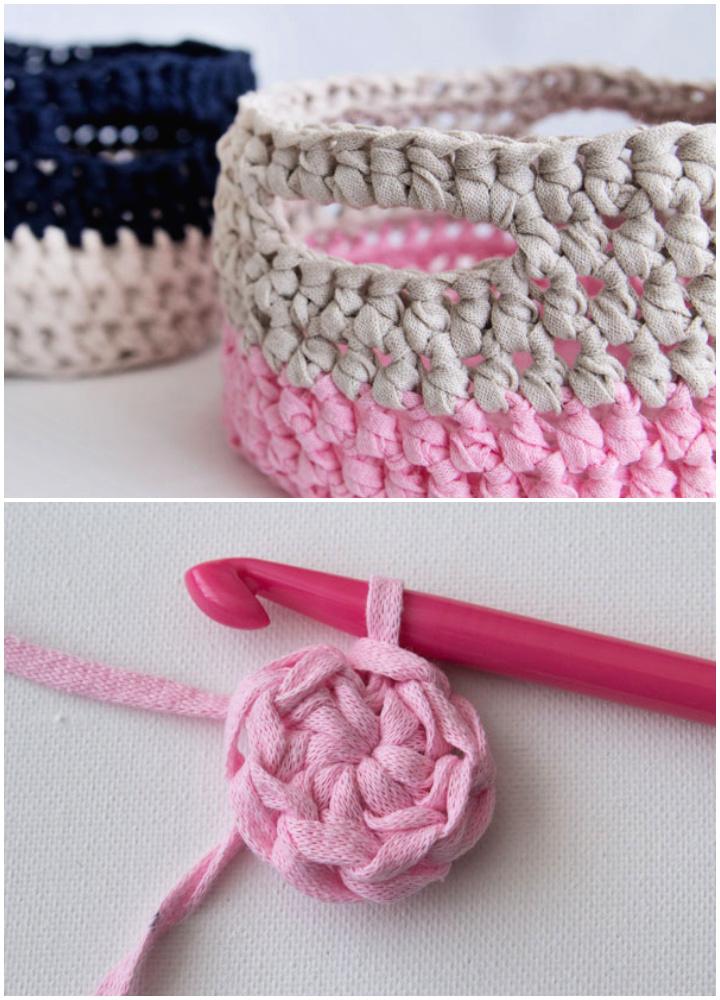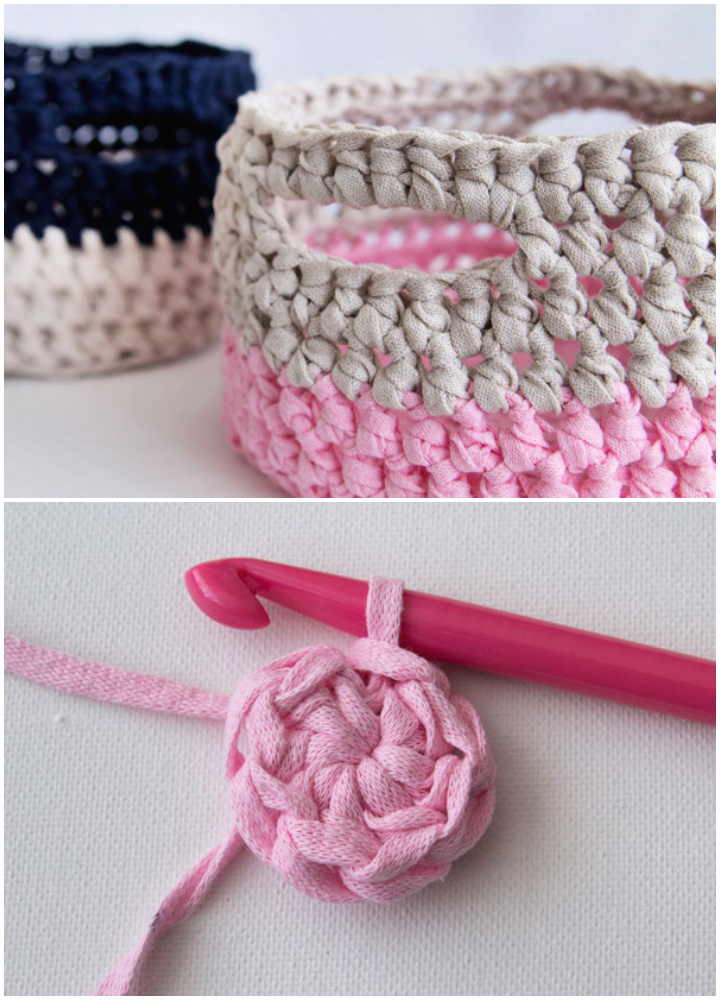 Spice up your home storage game by crocheting new amazing storage baskets at home. Get inspired by this crochet basket that is looking colorful and is a beginner-friendly crochet pattern. Crochet the t-shirt yarn with a 10mm hook and whip up this beauteous model of baskets, which will rock to store your yarn supplies and other items of this kind. First, gather the t-shirts to make yarn, the best way to upcycle your old t-shirts. The very skills required for this pattern is the magic ring. Details here craftstutsplus
2. Crochet Mosaic Basket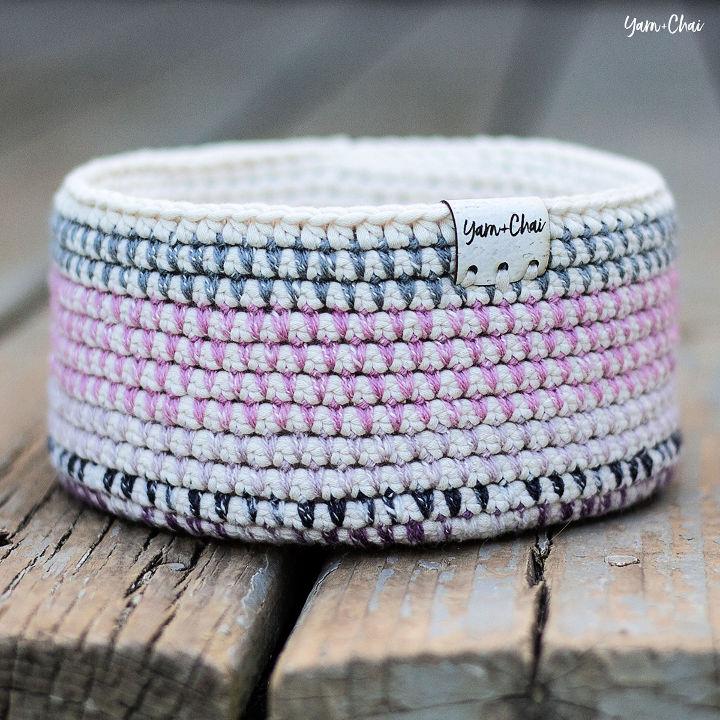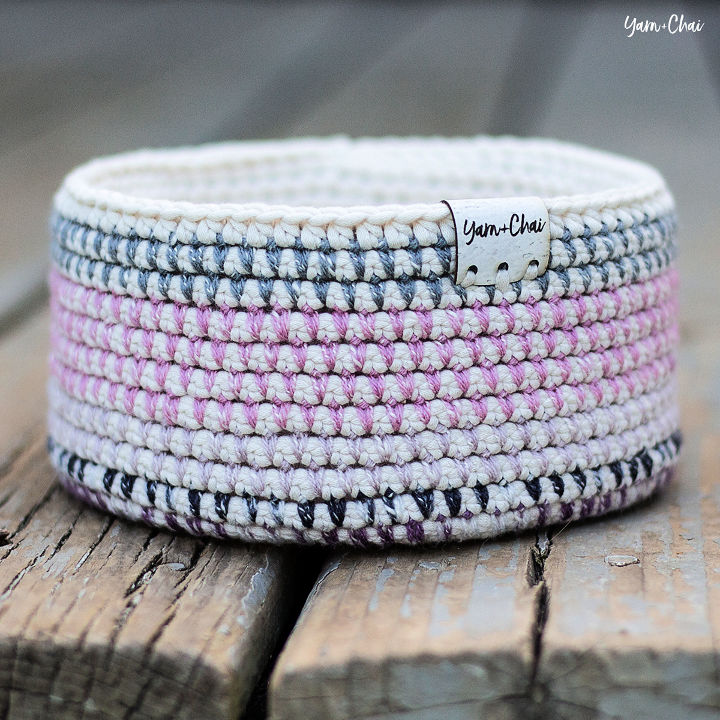 Let this crochet basket lend you a big helping hand in the easy home organization. This basket is durable and is much inexpensive to make. You need an easy skill level to whip up this basket. Crochet the Bernat Maker Home Decor Yarn with a bulky weight 5 in cream color and also the Hobby Lobby I Love This Yarn worsted weight 4 in aqua blue to whip up this brilliant basket. Work with 5mm and 4mm crochet hook to stitch this basket. The best gauge for this pattern is the first 5 rounds measures 2.5" across. Start the foundation with a magic ring and then use the SC spike stitch and SL ST spike stitch and 3rd loop special stitches for this pattern. Details here yarnandchai
3. Free Crochet Waistcoat Basket Patterns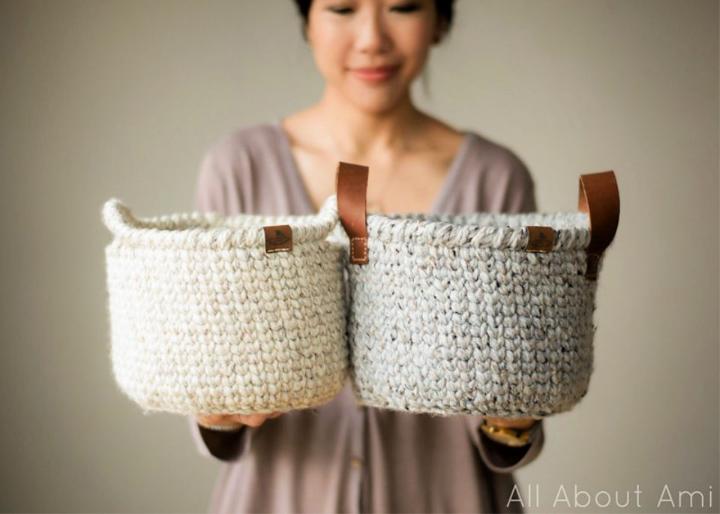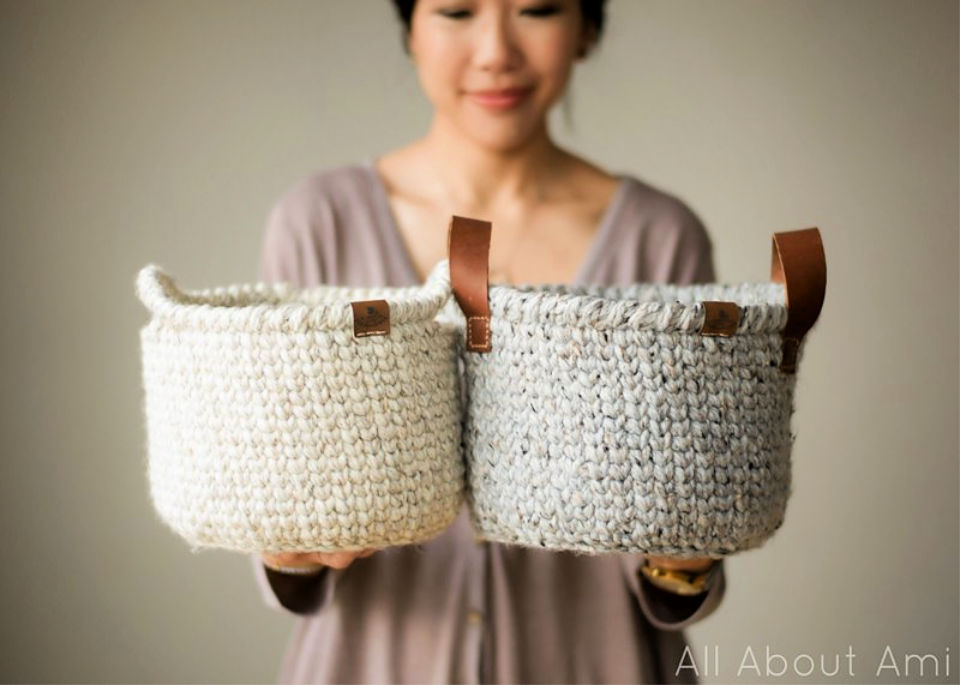 Get here the step-by-step crochet basket patterns and guides to crochet this another brilliant looking yarn basket, durable, and long-lasting. It will make a sweet and practical gift to a homey person. Crochet Lion Brand Wool-Ease Thick and Quick yarn using 8mm clover amour hook to hook up this basket. Use the 7mm hook for the edging and finish the basket with good looking leather handles. The center single stitch and crab stitch are to use in this crochet storage basket as special stitches. The finished basket is 7in tall, 8.5in diameter, and 27in circumference. The perfect gauge for this pattern is, the first 3 rounds are equal to 4.75". Details here allaboutami
4. How to Crochet a Teardrop Hanging Basket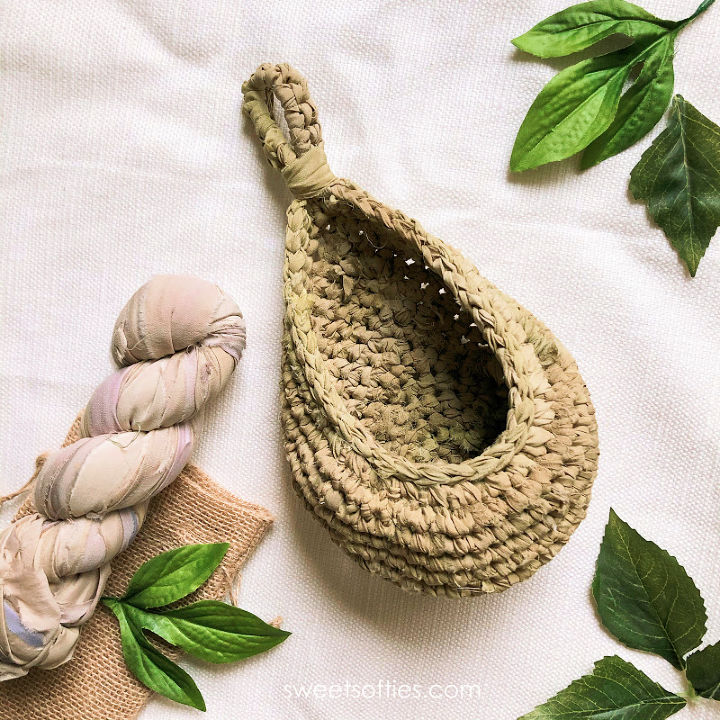 A perfect solution to organize those stuffed kids' toys and other accessories that are often to see scattered on home floors. This crochet basket pattern provides a loop to get easily hanged on a doorknob or wall hook. Crochet super bulky weight 6 yarn like Chiffon Ribbon Ombre Pack, with a 9mm crochet hook to whip up this brilliant looking crochet basket. The small finished size of this basket is 23cm tall and 15cm wide. This easy crochet basket pattern is to crochet by making a magic ring foundation. Details here sweetsofties
5. Crochet Basket With Wooden Base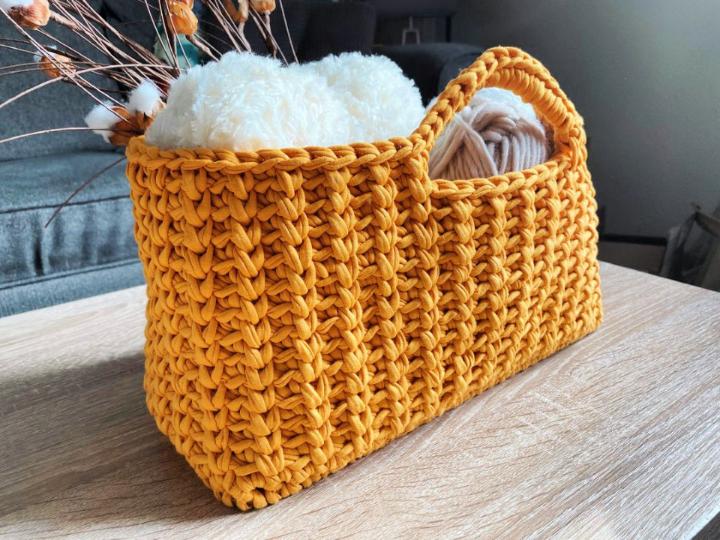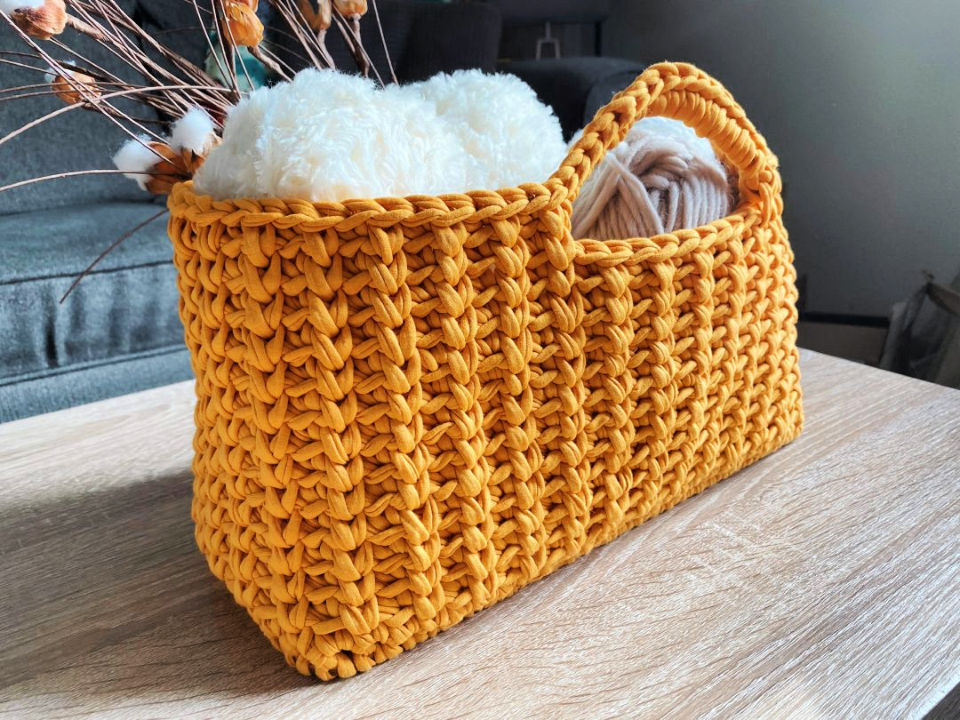 Duplicate this one more brightly colored crochet basket, comes with durable handles. The completed size of this basket is 14inch wide, 6inch deep, and 7inch tall. Grab 175yds of t-shirt yarn from KnitzNPurls, and work this basket up using a 7mm crochet hook. Finish the basket with a wooden basket base and gain a durable yarn basket that will remain in shape. Work in the special waistcoat stitch to get this basket made with a brilliant design texture. Details here tlycblog
6. Chunky Crochet Baskets Pattern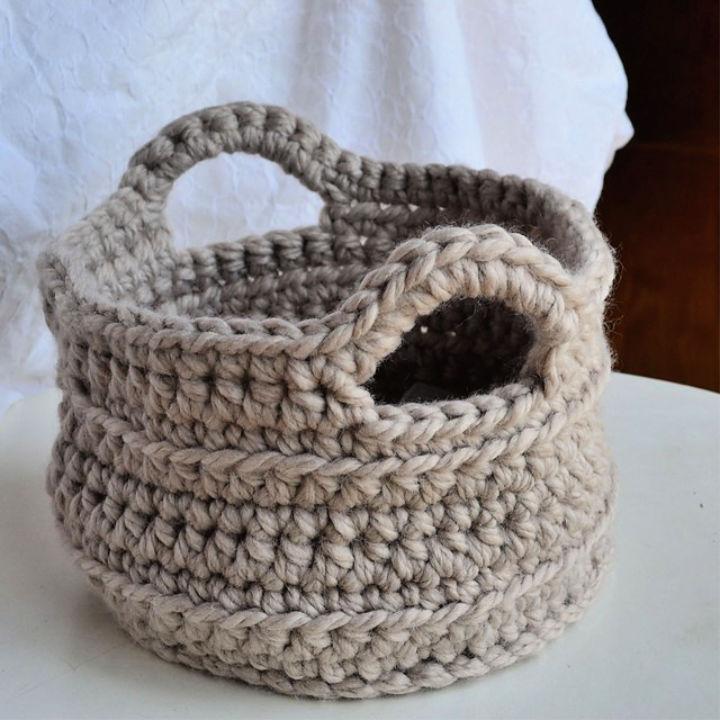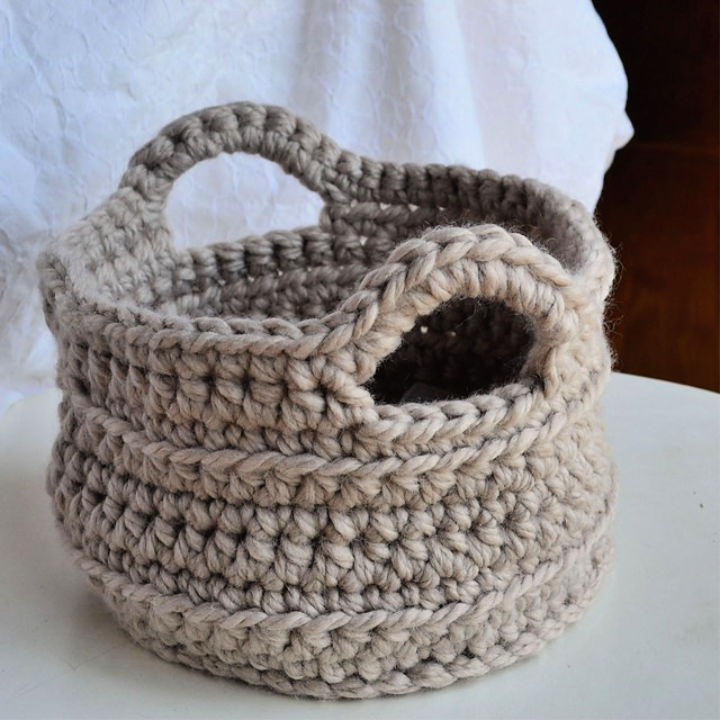 The baskets are always to add to a home interior for added storage space. But if you get them from the medium of crocheting, they can be inexpensive, durable, and most good looking. This basket is deep enough to store a pile of things and is to make with 3 skeins of super bulky Lion Brand Wood Ease Thick and Quick Linen yarn. Work with an 8mm crochet hook and to stitch this brilliant looking yarn basket. You are all free to crochet it in both small and large sizes. The large size will measure 10" diameter and 10" depth. Details here crochetincolors
7. Crochet Basket With Handles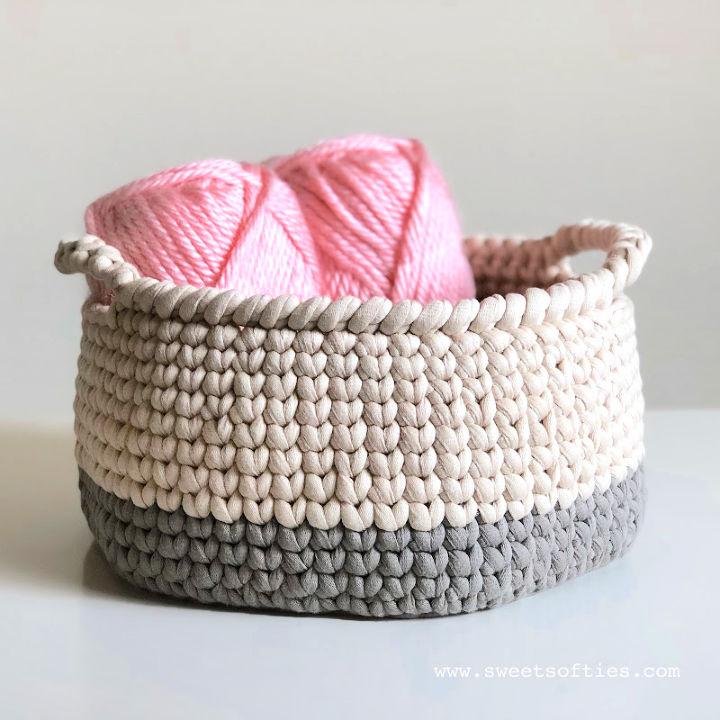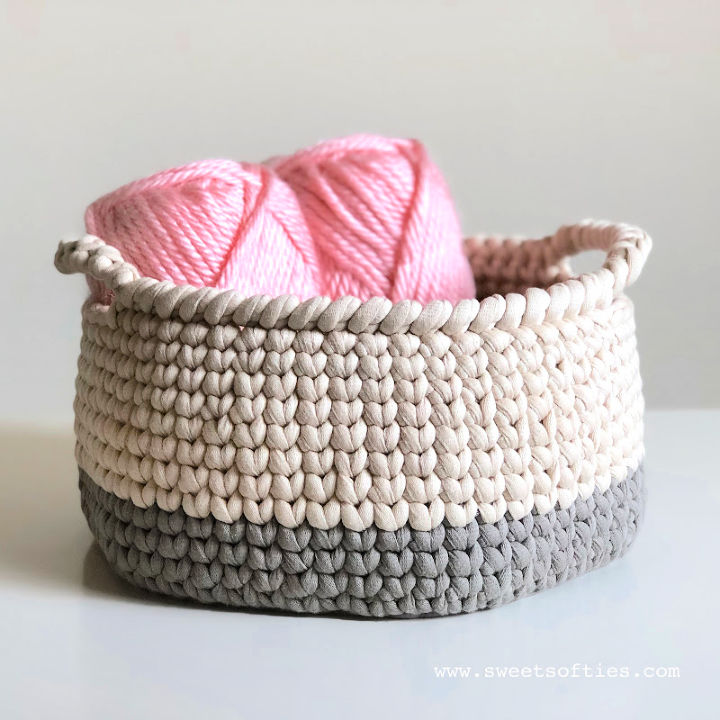 Lacking baskets and containers around the house to get organized? Then head over to the crochet medium and instantly make some gorgeous baskets with lots of enchanting colors. Hook up the jumbo weight 7 yarn in smoke and ivory color while using a 9mm hook to create this yarn basket. The special stitches to use in the patter are knit stitch and reverse single crochet. You will get the tutorials here for these stitches too. The finished basket is 6" tall and 10" in diameter. Details here sweetsofties
8. Crocheted Hanging Baskets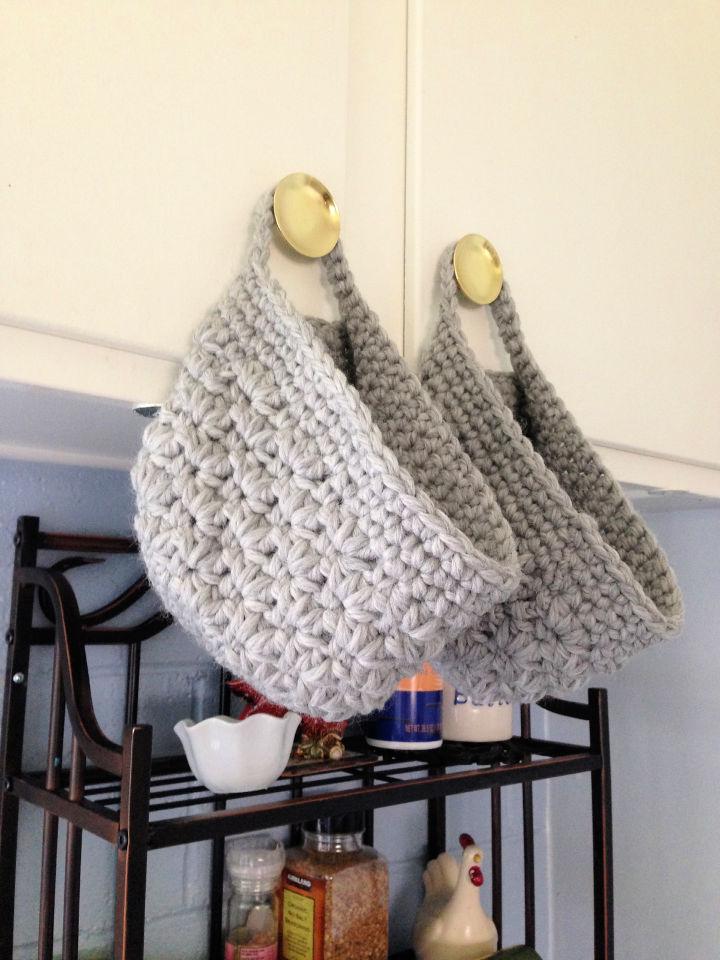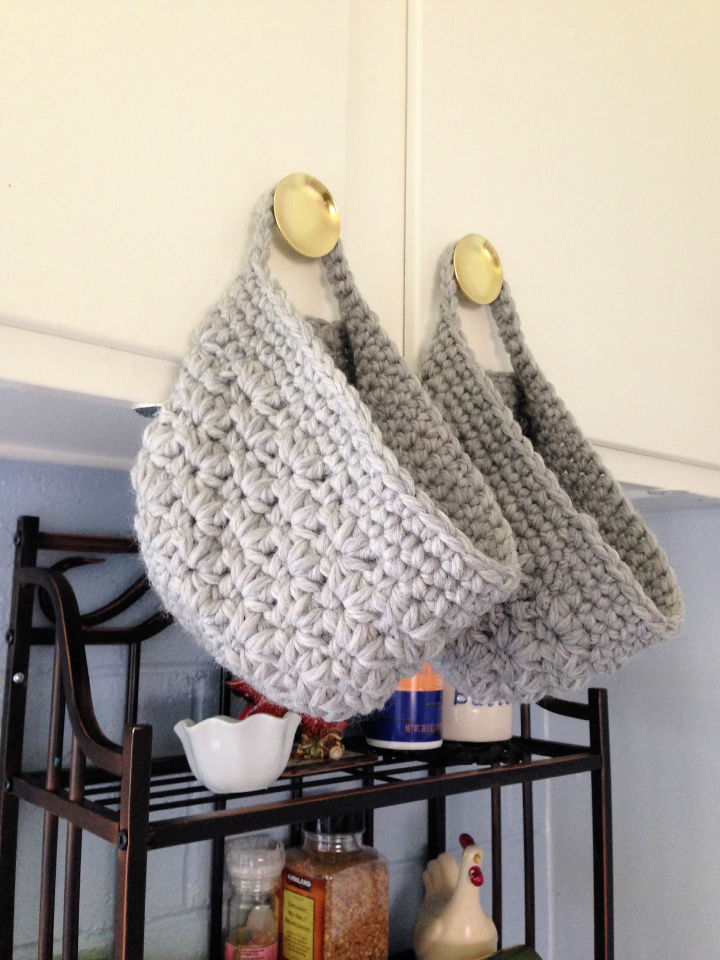 Opt for this special version of crochet hanging basket free pattern to start organizing your things like a pro on the walls. They can easily be hanged on the wall hooks and doorknobs will rock to store the stuffed toys, yarn strands, and ribbon rolls. Crochet Cascade Yarns Lana Grande with a 6.5mm hook to get this basket made. The finished diameter of this basket is 6.5" and it is 5" tall. The entire basket is beginner-friendly to crochet and will be loved dearly by all for sure. 90yds of selected yarn will be enough for this basket. Details here desertblossomcrafts
9. Crochet Storage Basket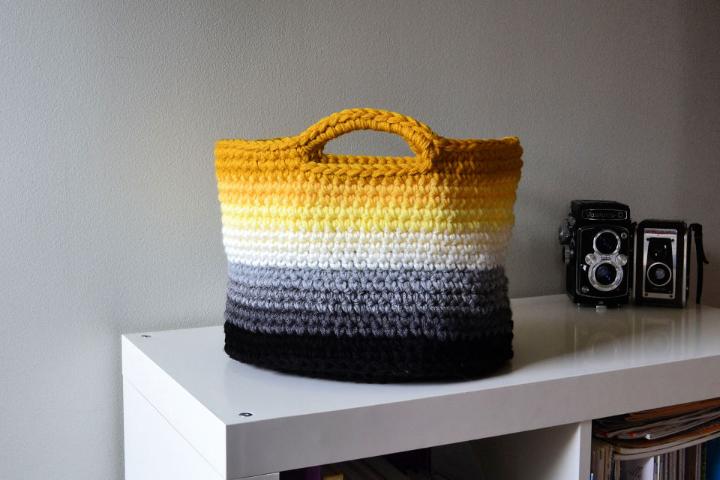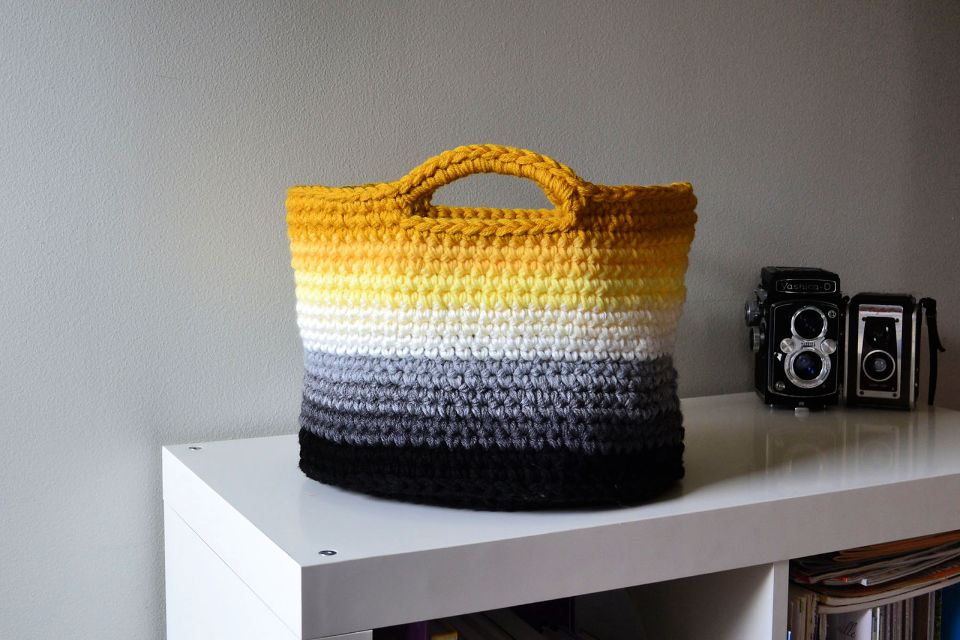 Add this basket to your home, and it will not only add the storage space but will make great decor too. One of the most beautiful crochet baskets ever crocheted. Crochet the worsted yarn weight in 9 different colors and then crochet with L crochet hook to get this basket made. The basket is 9.5" tall and 12" in diameter. With durable handles, this storage basket can hold a lot of items. This impresses first with the ombre appeal and then with the durability. Details here crochetincolors
10. Crochet Basket Tutorial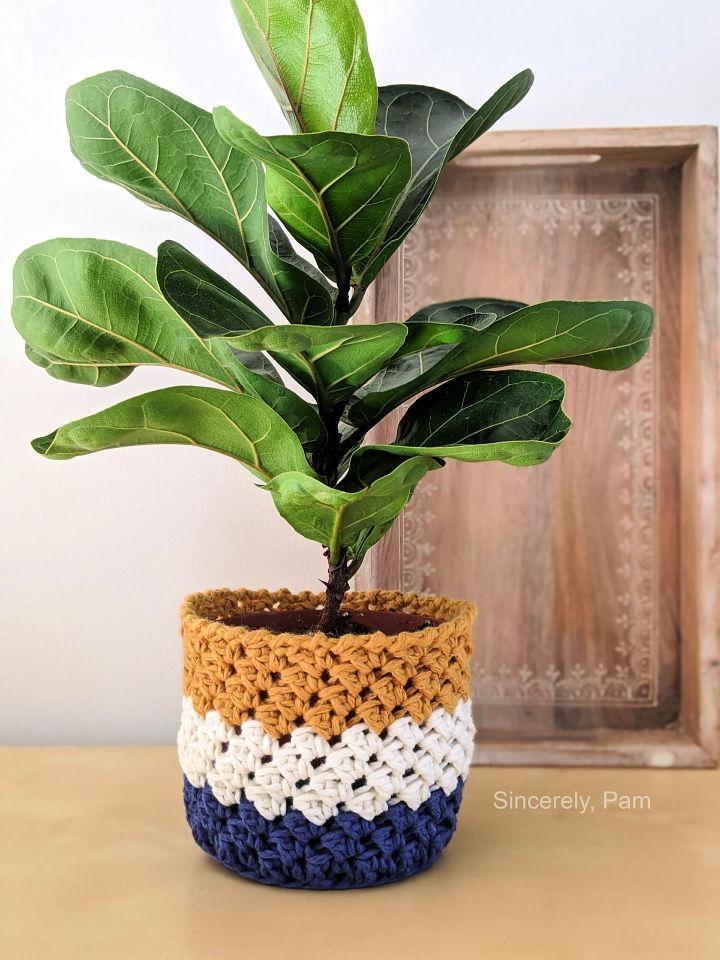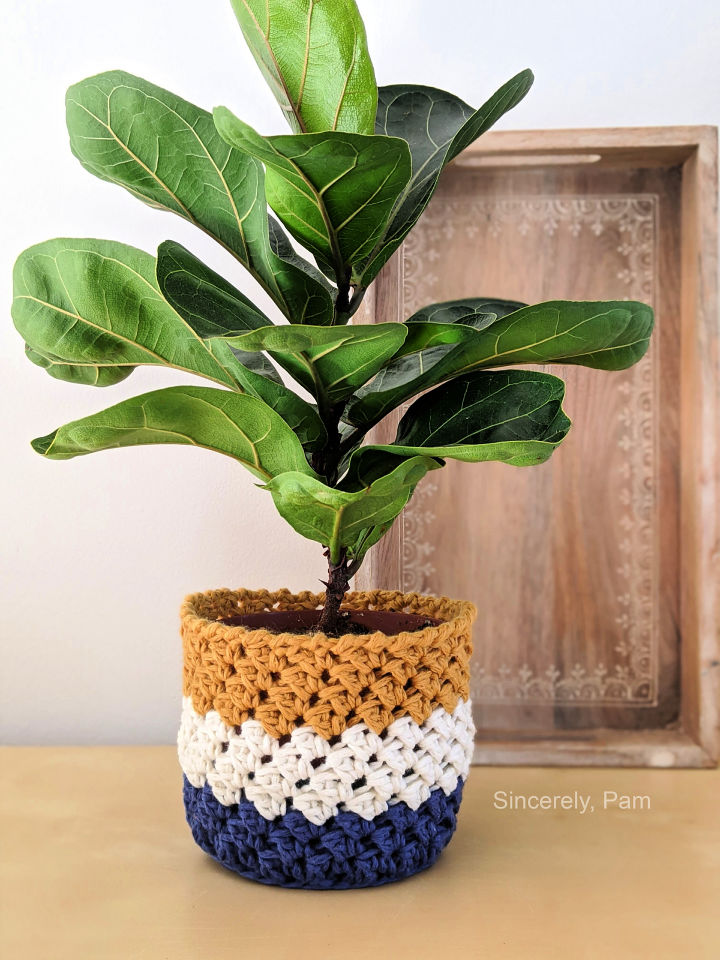 Use the colorful crochet baskets to update the look of your plants and pots too. Yes, they will instant beautiful covers for your pots. Crochet 1 skein of worsted weight cotton yarn like Loops and Threads Creme Cotton, with a 6mm crochet hook to complete this basket design. Being 14inch in circumference and 4" in height, this basket can hold a lot of things inside and even the medium size pots. The gauge for this crochet basket is the first 3 rounds that make 3.75" in diameter. The crochet bowl pattern is beginner-friendly and will complete in no time. Details here sincerelypam
11. Small Crochet Basket Pattern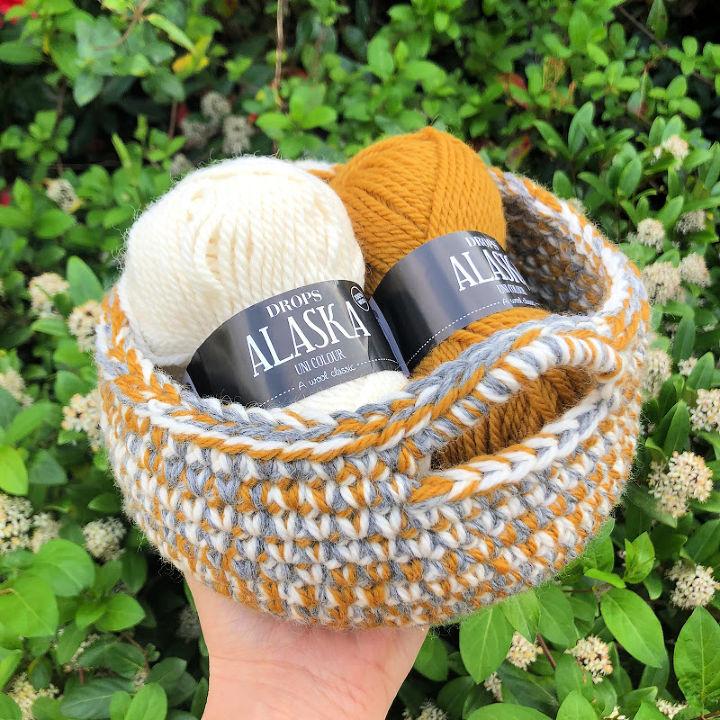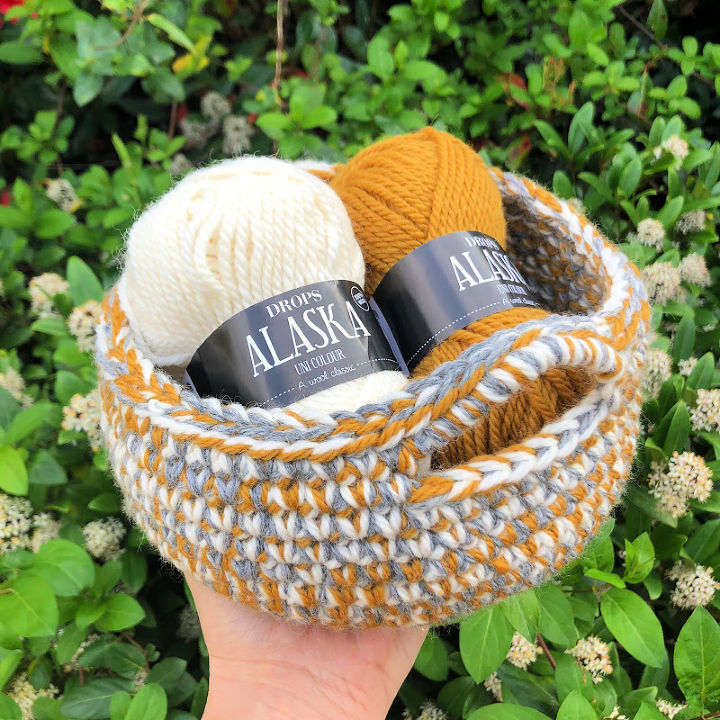 Having no nice space left for your yarn supplies? Then create yarn storage options out of yarn too. Try this crochet bowl pattern that will rock to organize the yarn strands. It provides handles too for easy carriage. Crochet Aran weight yarn in 3 different colors stitch this weight of yarn with a 7mm hook to whip up this brilliant mini basket. The completed size of this basket is 19cm wide and 9cm tall. Give this basket as a cute handmade gift too. Better storage options will increase the performance of your home. Details here mezzacraft
12. Spike Stitch Baskets Pattern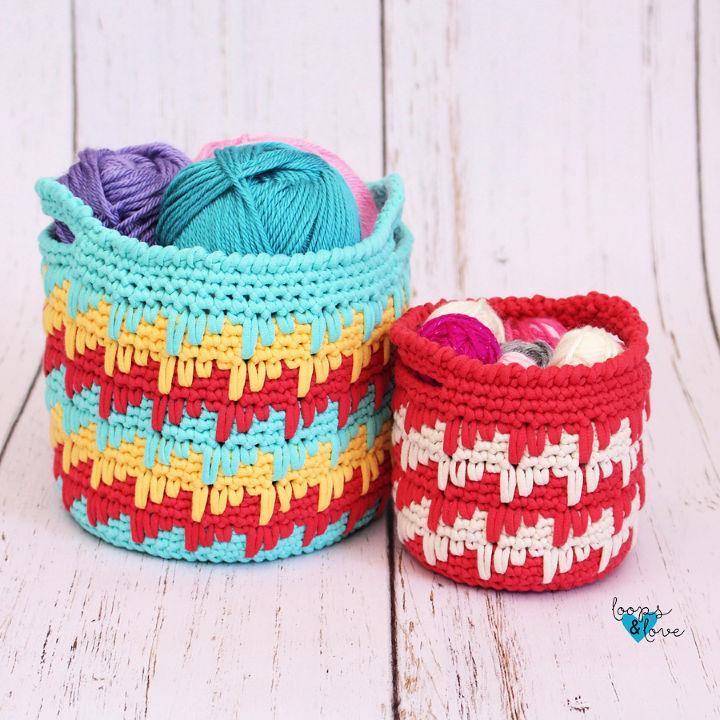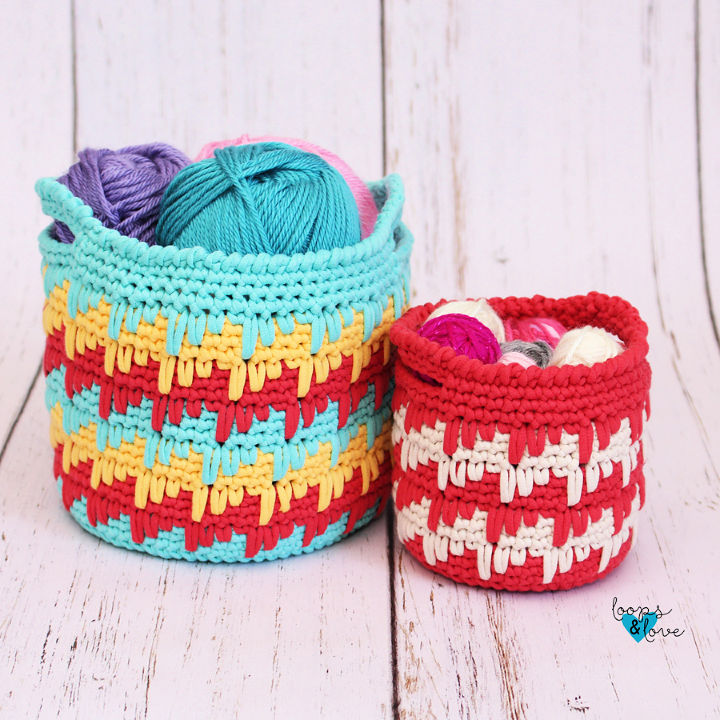 You will become a big fan of these baskets featuring amazing design patterns. The spike stitch is all responsible for such beautiful appeals of these baskets. Crochet the bulky weigh Bernat Maker Home Decor Yarn in aqua, Woodberry, and gold colorways and work majorly in the special spike stitch to get these yarn cuties made. Work with a 5mm crochet hook and use the yarn needle for weaving in ends. You have to work in crab stitch too for this crocheted baskets, having finished size 6in high and 7in in diameter. The calculated gauge for this pattern is 4 rounds of SC make 2in tall and 7SC make 2in in length. Details here loopsandlovecr
13. Crochet Basket Patterns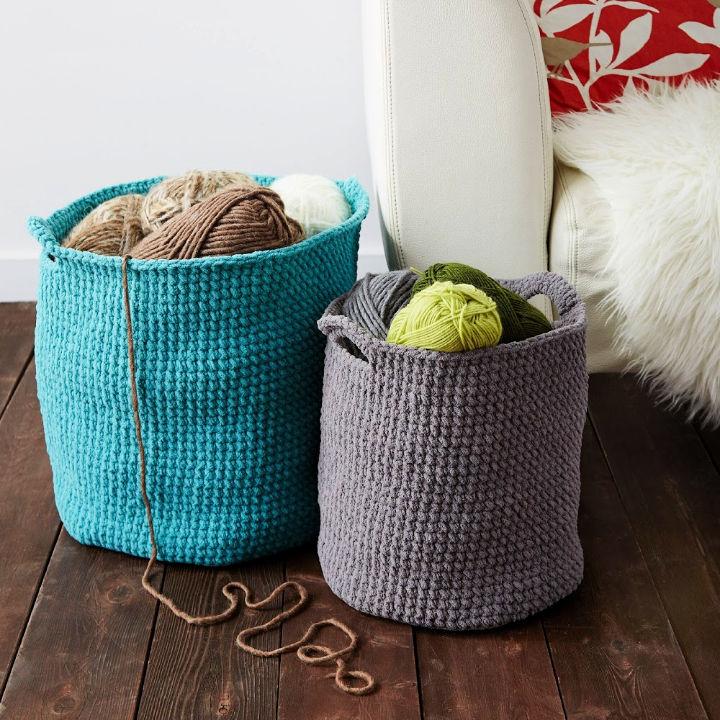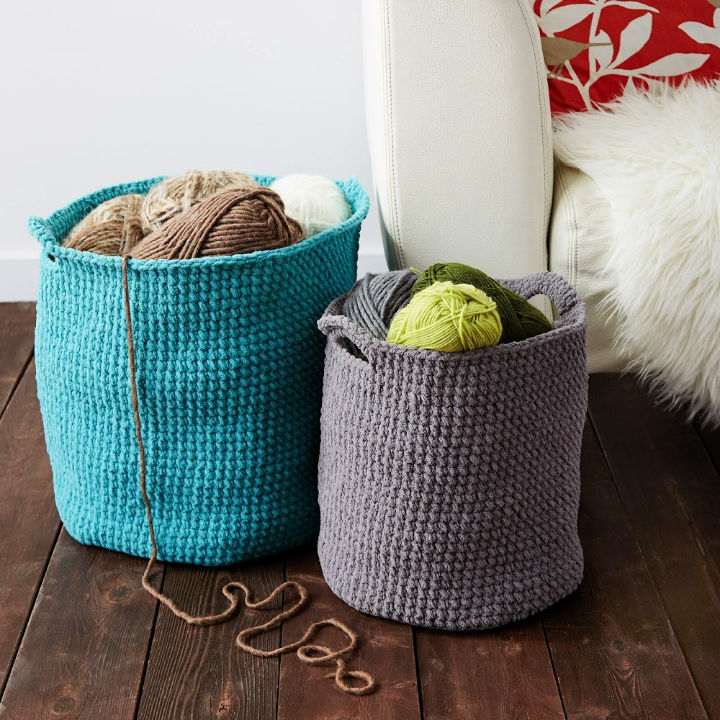 These crochet baskets are too deep to store extra and look elegant in the single color crochet appeal. Crochet Bernat Blanket Yarn, 235yds in dark grey and 380yds in light teal to whip up this pair of baskets, perfect for storing yarn supplies. Work in the 6.5mm crochet to crochet both of these baskets will help in the easy home organization. The bigger basket measures 13 ½" diameter and is 14" tall while the smaller one is 10 ½" in diameter and is 12" tall. The perfect gauge for these baskets is 9sc, and 10 rows make 4". Details here yarnspirations
14. Moroccan Basket Crochet Pattern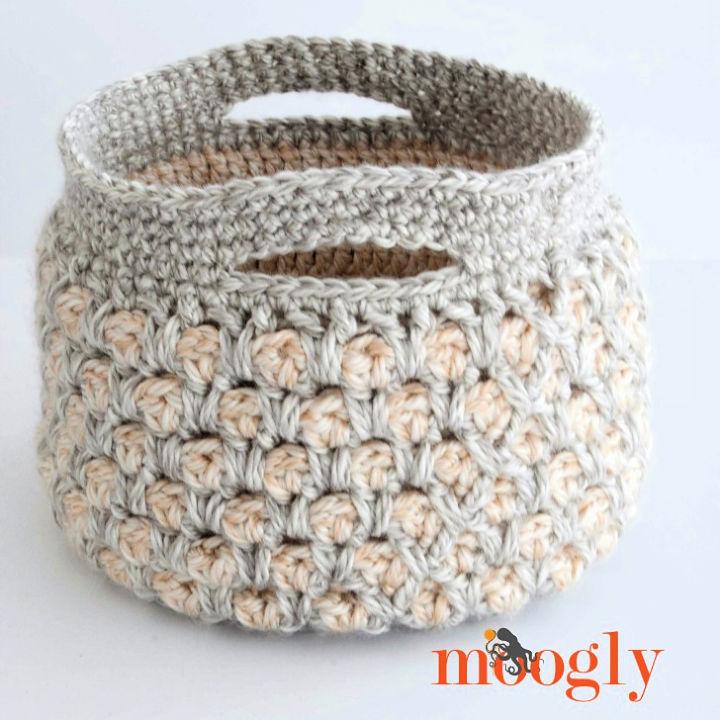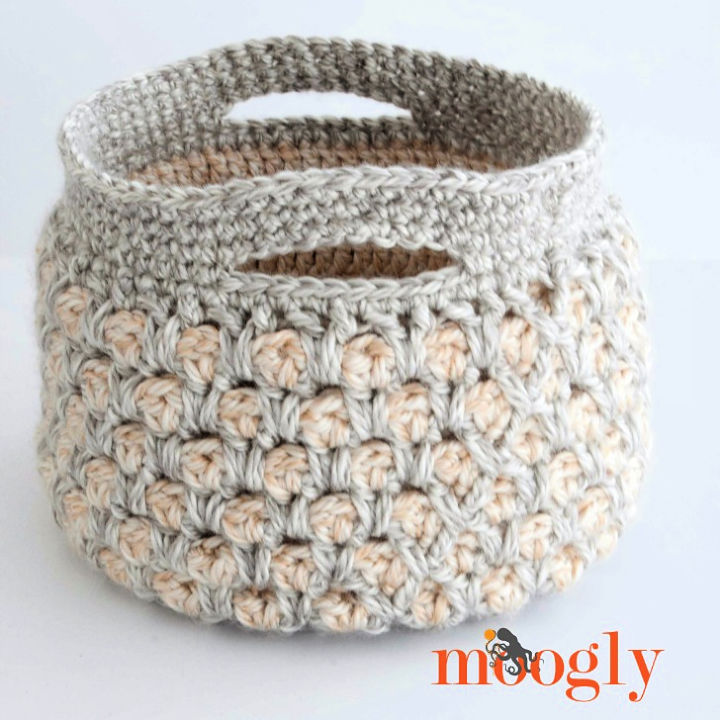 This basket impressive with the thickness and also with the flawless yarn texture. This handsome Moroccan basket is a crazy Lion Brand yarn achievement. Crochet 350yds of Lion Brand Heartland Thick and Quick 100% acrylic yarn with a 6.5mm hook to get this interesting yarn basket made. The finished size of this basket is 8" in diameter and 7" tall. The calculated gauge for this pattern is 3 rounds equal to 4". Magic circle and Dc2tog are the special skills required to stitch this basket. Details here mooglyblog
15. Crochet Bowl Patterns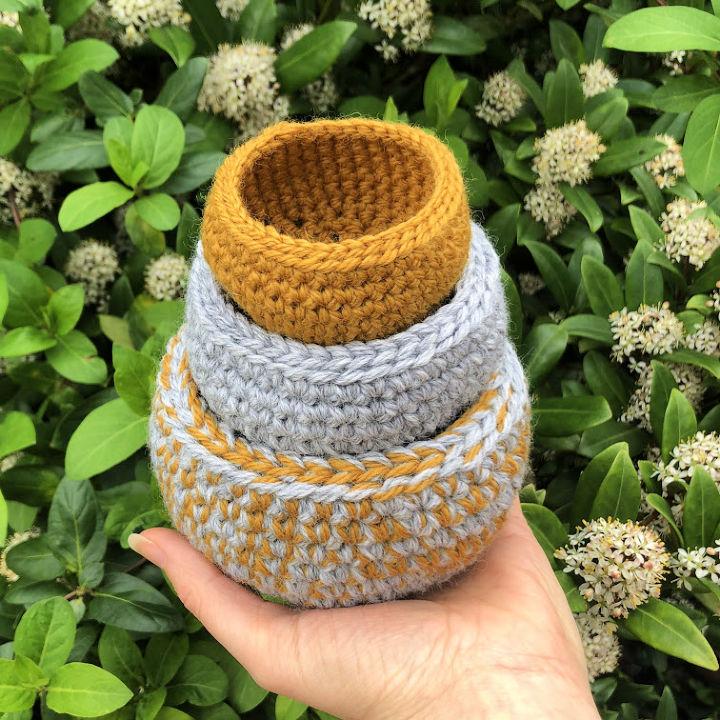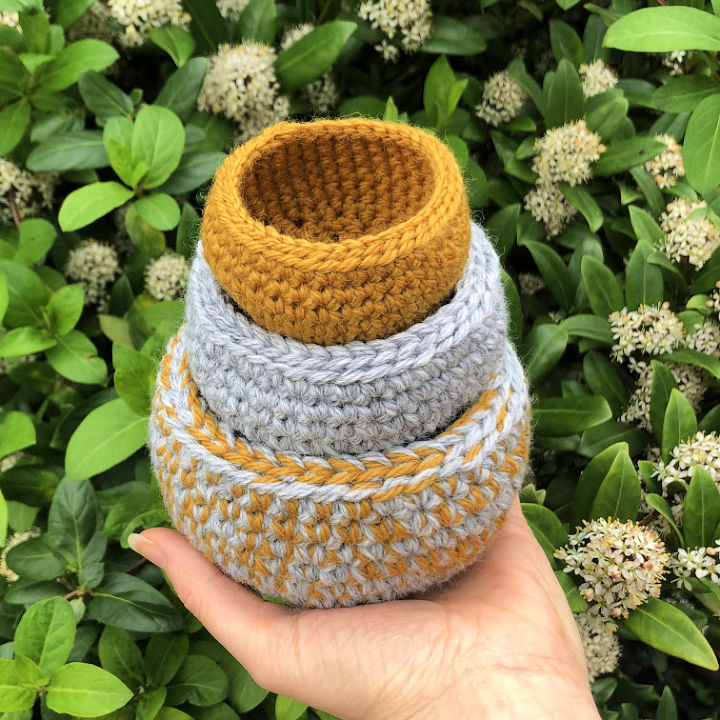 Crochet this set of matching yarn bows to impress others with your amazing home storage setting. This crochet bowl pattern can hold the fruits, yarn supplies, ribbon rolls, and lots of items of this kind beautifully. Crochet Aran weight yarn in 2 colors to whip up all these 3 baskets. The project demands to work in 3 different hooks to crochet 3 different sizes. The 4.5mm, 7mm, and 6.5mm will be the recommended hook sizes. Here you will get a pattern for all 3 sizes. The single-strand yarn bowl measures 7cm across and 4.5cm high. The double-stranded dish measures 9cm across and 5.5cm high, and finally, the triple-stranded dish measures 12cm across and is 8cm high. Details here mezzacraft
16. Crochet Bowl Pattern Free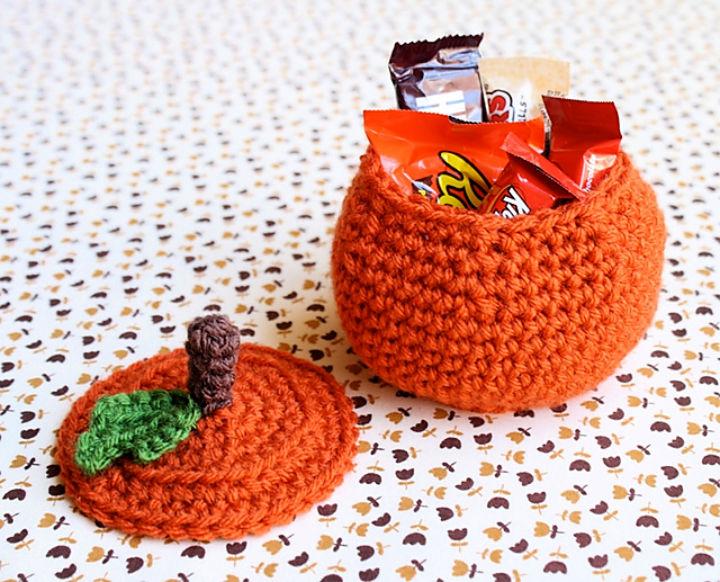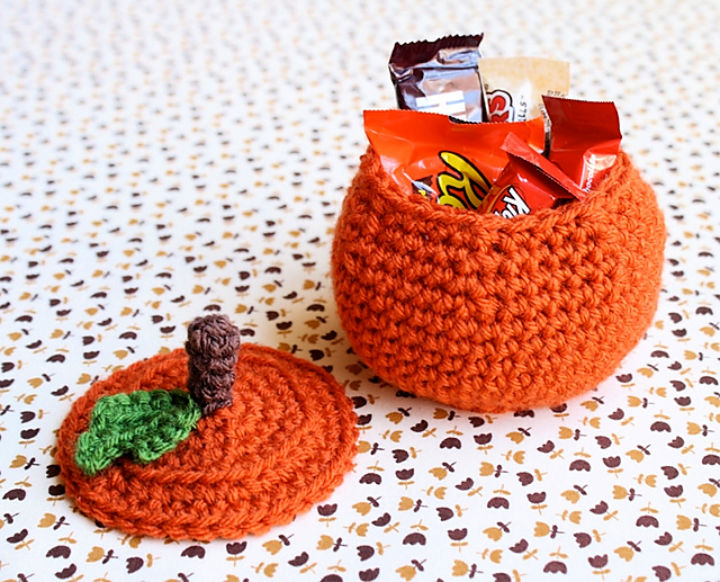 Imagine this pumpkin yarn bowl with lid storing your items on the Thanksgiving or fall party table. The best way to feature pumpkin in your fall and Halloween decors. It will make the best candy gift basket too for the kids at home. Take crocheting in rounds to the next level and whip up this crochet pumpkin bowl with lid. Crochet orange, brown and green worsted weight yarn with 5mm and 4mm hooks to create this yarn basket model. It is 7.6cm tall and 11.4cm wide. Crochet both the lid and bowl separately. Details here onesocialgirl
17. Crochet Bowl Pattern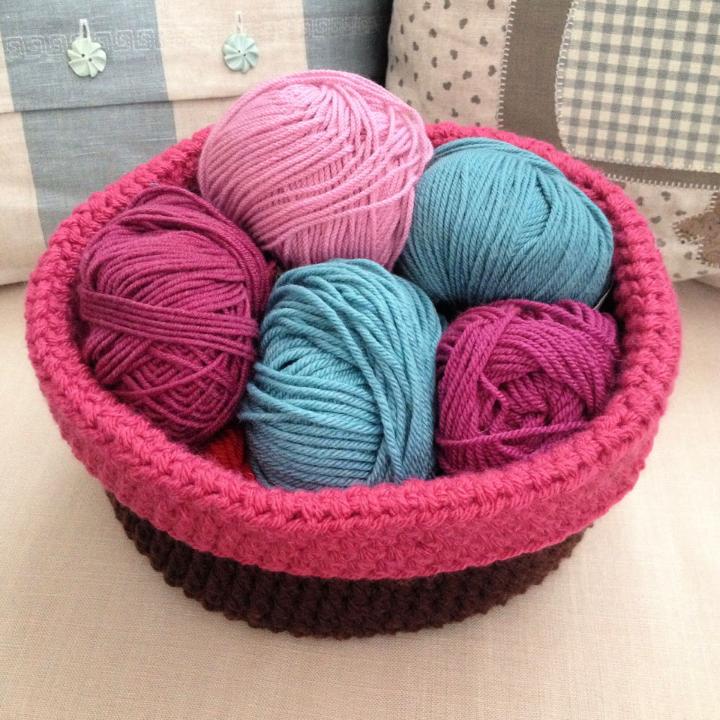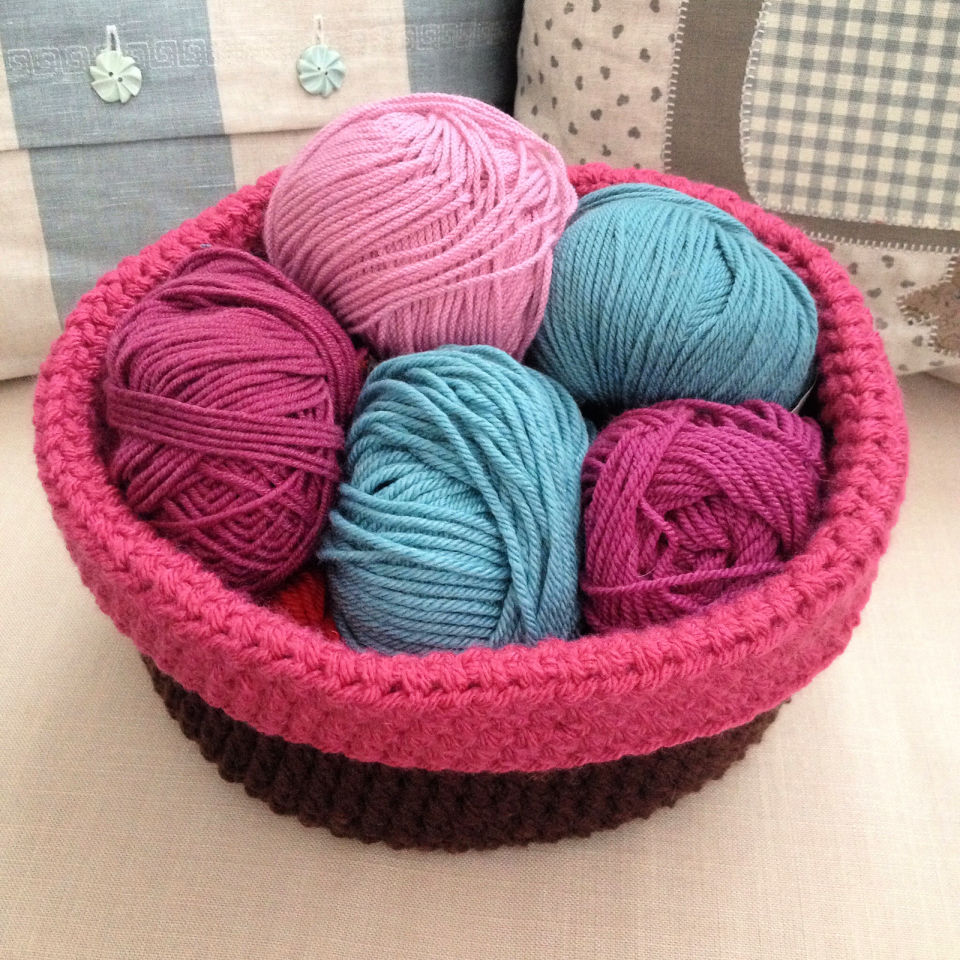 Spice up the way of storing your yarn supplies by making this rolled over the crochet bowl. This 25cm wide and 11cm tall basket is to crochet with 50g of Aran weight yarn and 110g of chunky weight yarn, chosen in custom colors. Use the 6mm and 7mm crochet hook for this stitching and loops involved in this pattern. Opt for this basket to store the fruits on the dining table, and it makes a sweet gift basket too. Make it with lid for a dust-free and more beautiful storage display. Details here crafthousemagic
18. Easy and Modern Crochet Baskets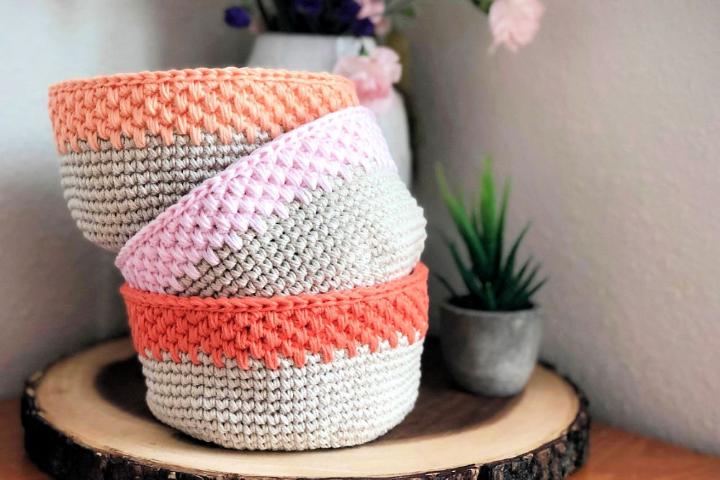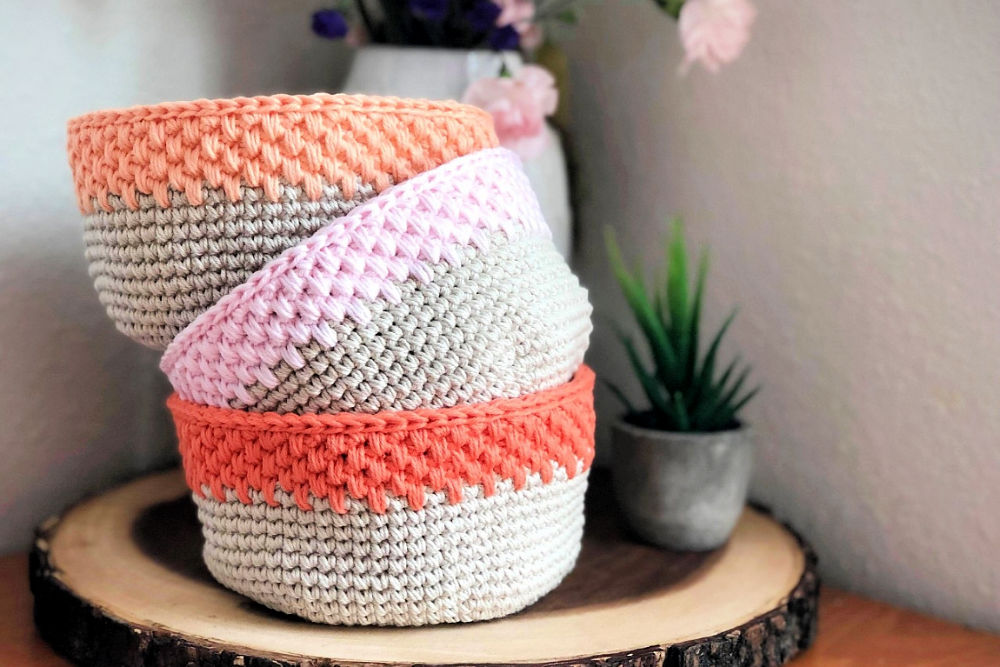 Crochet baskets are not merely the classic way to organize a messy collection of things. Create modern crochet baskets too to add to the modern home interiors. Crochet Paintbox DK Cotton yarn in vanilla cream and peach-orange colors to hook up these storage baskets appearing in enchanting design texture. The 4.5mm clover amour hook will be your best weapon to crochet these bowls. The skills required for these crochet basket patterns are a magic circle and a spike stitch. Crochet these baskets in any size you want. Details here sigonimacaroni
19. Crochet Rectangle Basket Pattern Free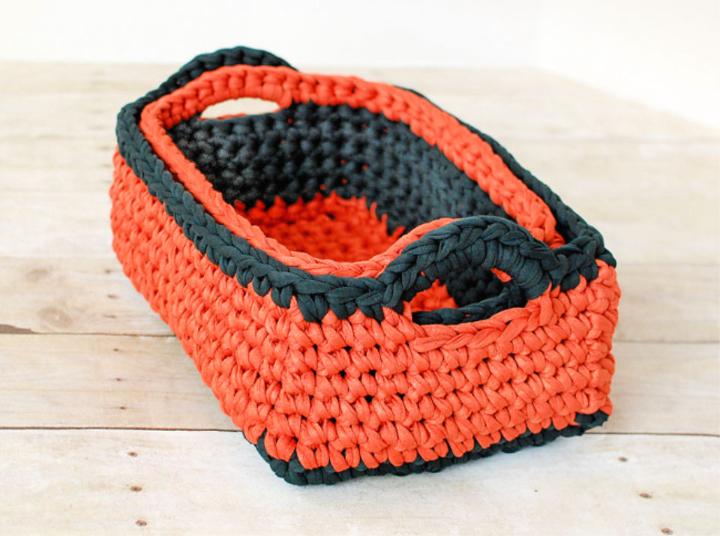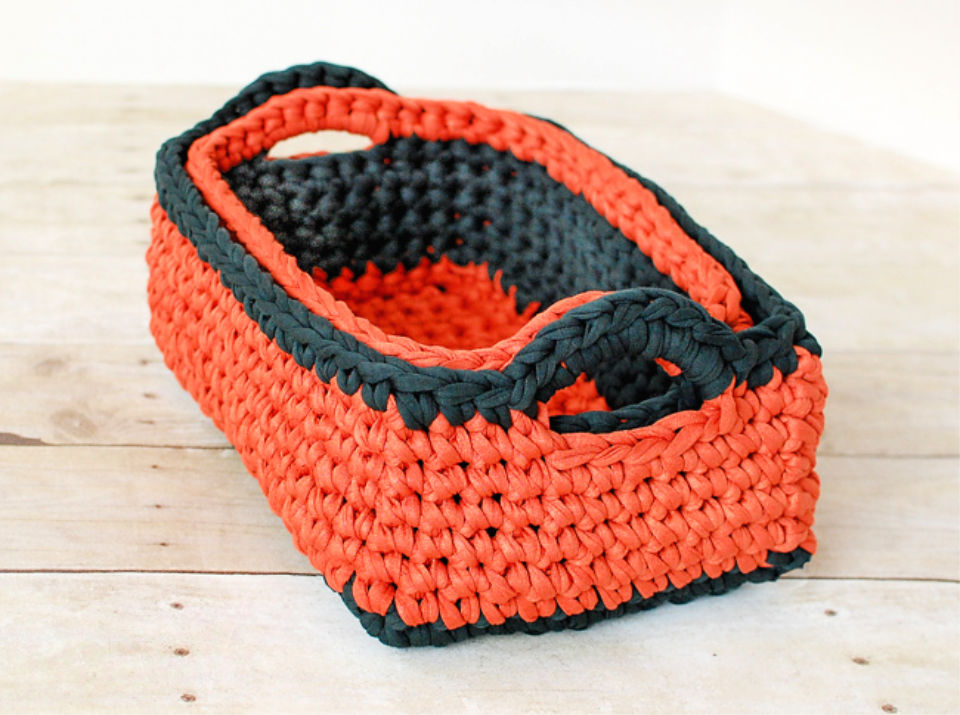 The crochet basket patterns are never-ending. Opt for this crochet rectangle basket pattern also to spice up your home storage game. This chunky rectangular basket is a T-shirt yarn achievement. Get busy with 2 colors of t-shirt yarn, select 160yds of each to create this basket looks great with handles. Use the 10mm hook for this crochet basket pattern. The finished basket measures 11in length, 8in width, and is 4 ¾" tall. The black and orange colors go great together, but you are all free to use custom colors of choice. Details here petalstopicots
20. Crochet Rectangle Basket Pattern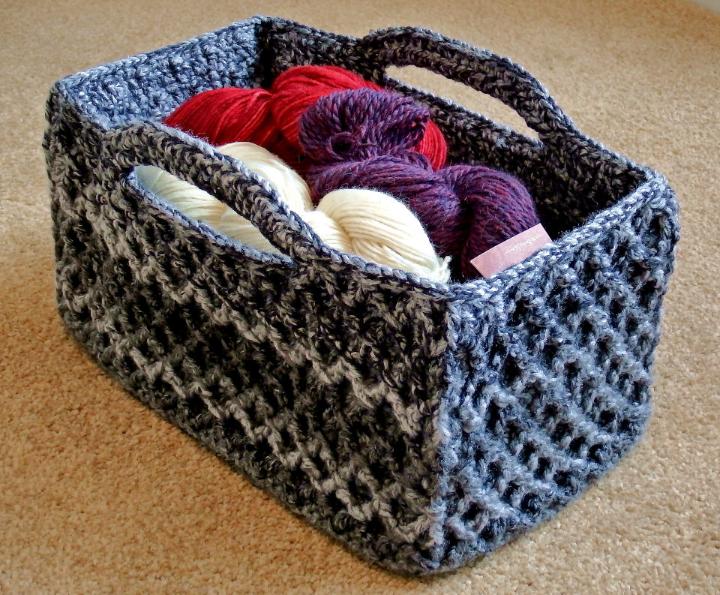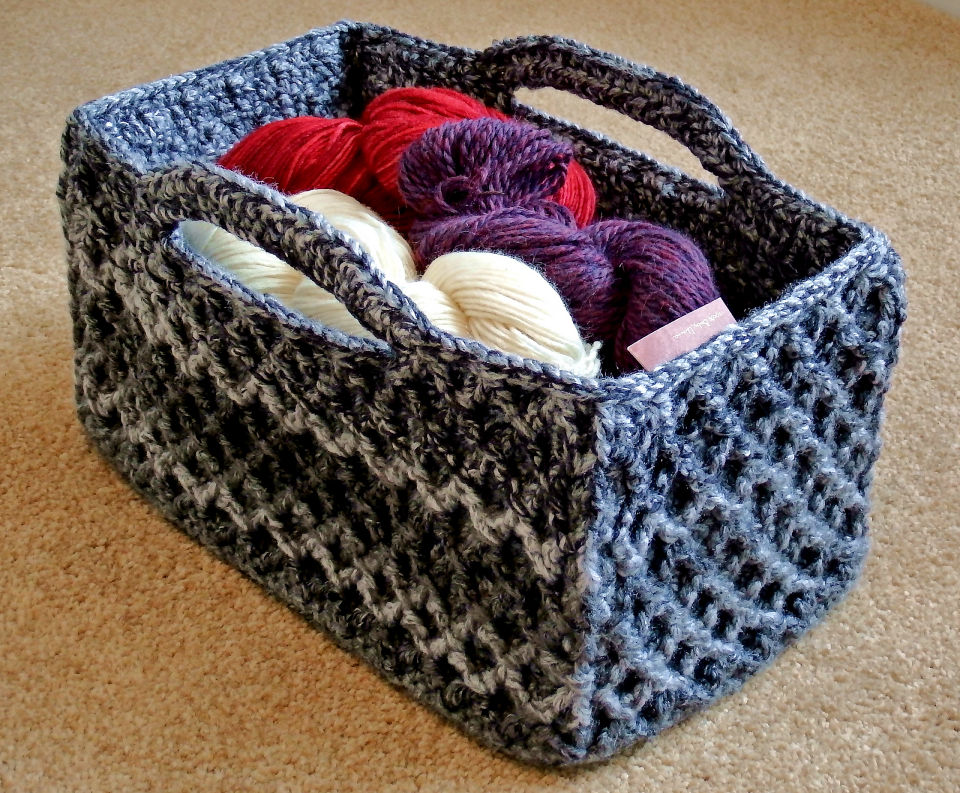 Include the yarn storage baskets to your home and instantly update your home storage options. Crochet 264g of Aran weight yarn and 158g of DK yarn with a 5mm hook to whip up this rectangle basket with handles. The basket is durable and will stay in shape. The special stitch used to crochet this basket is front post treble crochet two together (Fptrc2tog). The crochet diamond trellis basket features and amazing design texture that really impresses. You will get the tutorial here also for the diamond trellis stitch. Details here makemydaycre
21. Crochet Gift Basket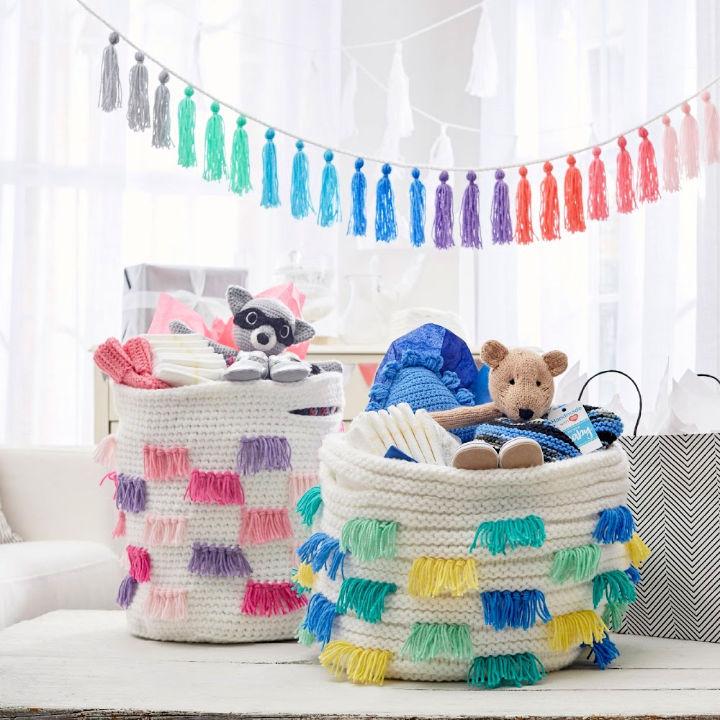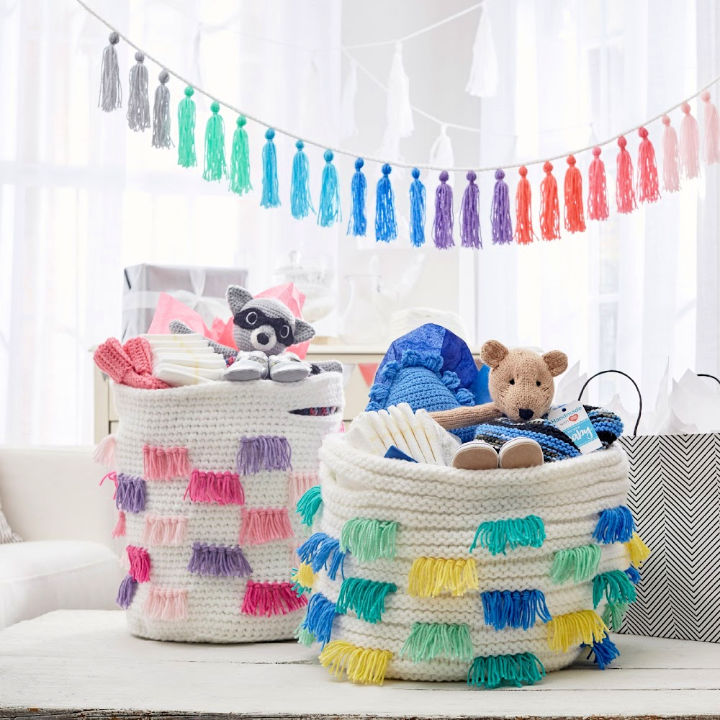 This crochet basket pattern is looking amazingly beautiful due to colorful fringe and tassel patches. The basket looks like wearing a bohemian fashion dress and is tall enough to provide amazing storage-depth. Opt for this basket to store the amigurumi toys, and it will rock for kids' toy storage too. The finished size of this basket is 14" tall and 42" in diameter. Crochet Red Heart Bunches of Hugs in Chalk A and Fairy Tales B to whip up this fantastic yarn basket. The ideal hook size for this basket will be 8mm. Use the smaller crochet hook for the fringe. The gauge for this basket is 8 sc equal to 4". Details here yarnspirations
22. Crochet Tissue Box Pattern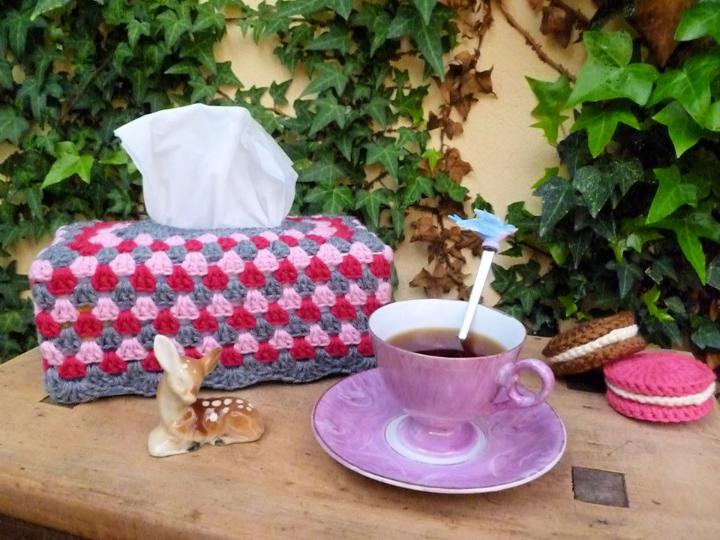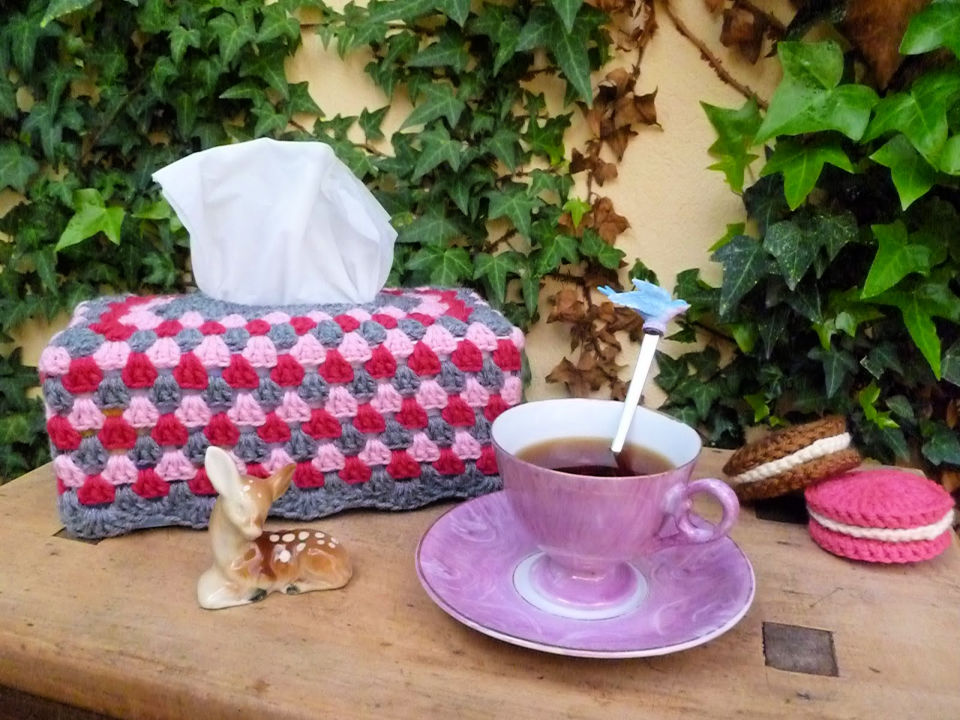 Are you an expert in crocheting the best-looking baskets? Then you can easily crochet the adorable looking closed boxes too, like this awesome looking tissue box. The best tissue box cover that even a beginner can crochet with great ease. It features light pink, dark pink, and dark grey colors of yarn that come together to create an enchanting hue of this crochet box. Experiment with this crochet tissue box cover with any color yarn that will match your decors and table settings. Details here theroyalsisters
23. T Shirt Yarn Basket Pattern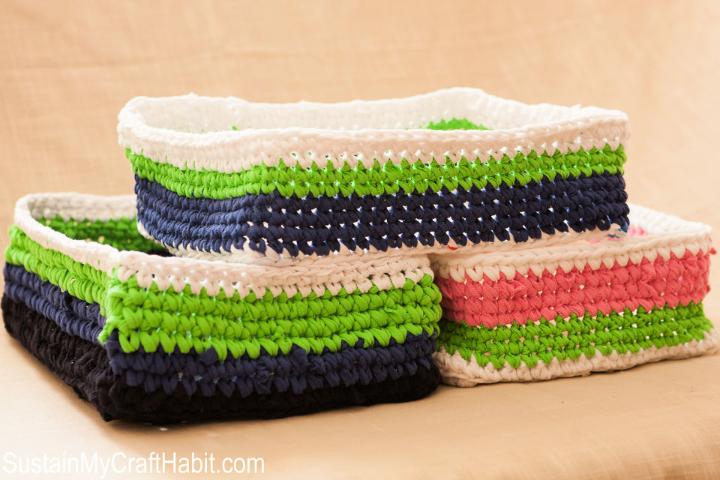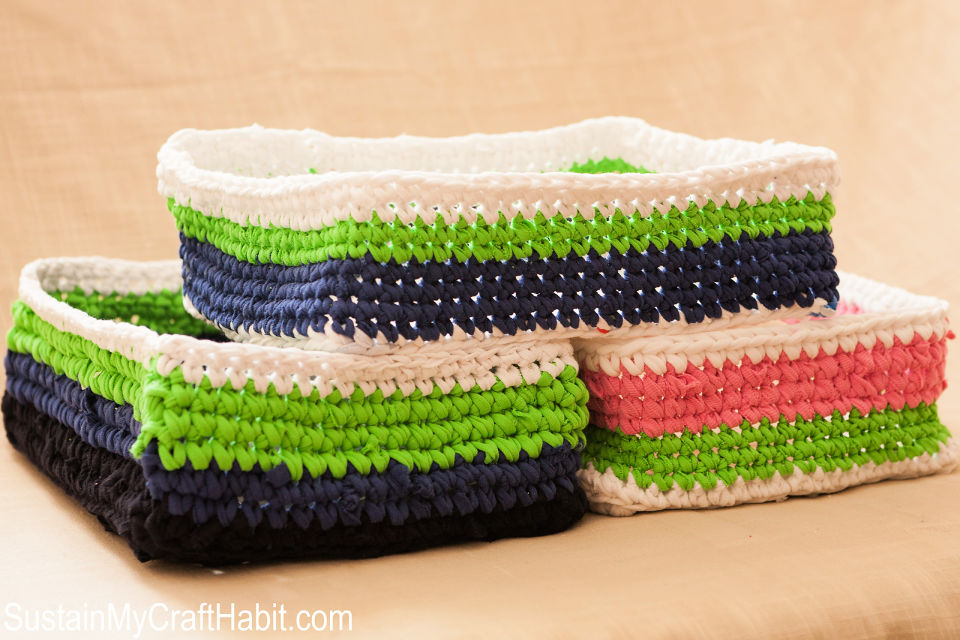 Put your old t-shirts to amazing new uses and make a brilliant looking t-shirt yarn basket. Take all your t-shirts into strips and then knot them together to make lovely t-shirt yarn. Next, start this crochet rectangle basket pattern to make the required basket. Here these baskets are 10in long, 13in wide, and 5in high. Just work in the basic yarn stitches to hook up these rectangular yarn baskets. Use these baskets to organize the craft room supplies, and they can hold your yarn strands, hooks, and other related items nicely too. Details here sustainmycrafth
24. Crochet Unicorn Basket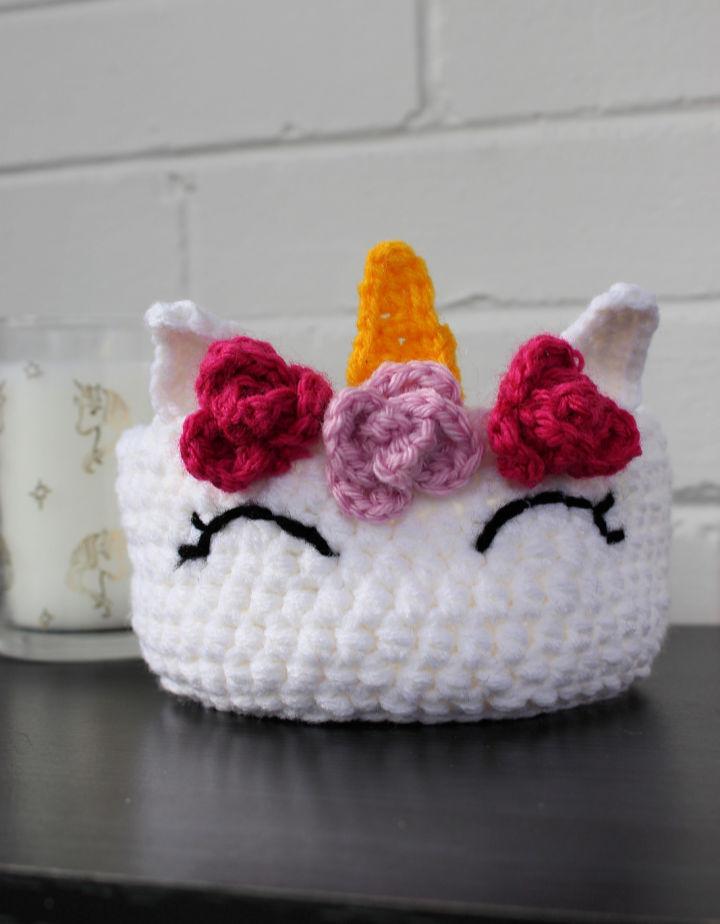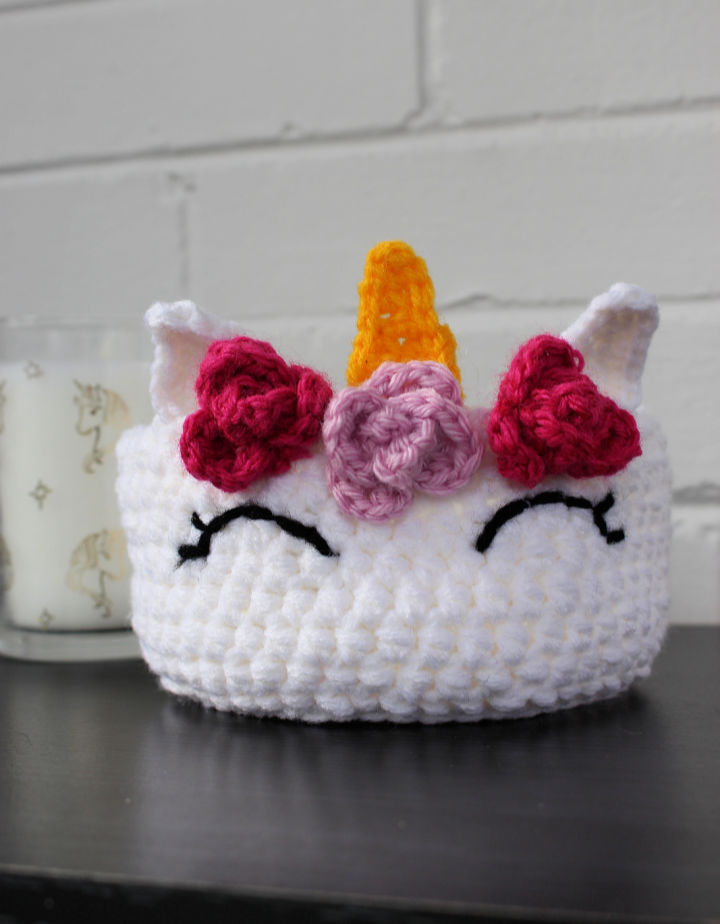 Show your love for unicorns by making this unicorn basket. The basket will bring the magical unicorn vibes to an interior, will be the big center of attention of all the kids. Crochet Worsted weight yarn like Red Heart Super Saver Jumbo Yarn in white to crochet the chic white bowl. Use yellow color for horns and various other for the flowers that will make the flower crown. Opt for back yarn to embroider eyes. Work with the 6mm hook to hook up the entire basket and use the 4mm hook for ears, horns, and flowers. Details here cozylittlemess
25. Color Block Crochet Basket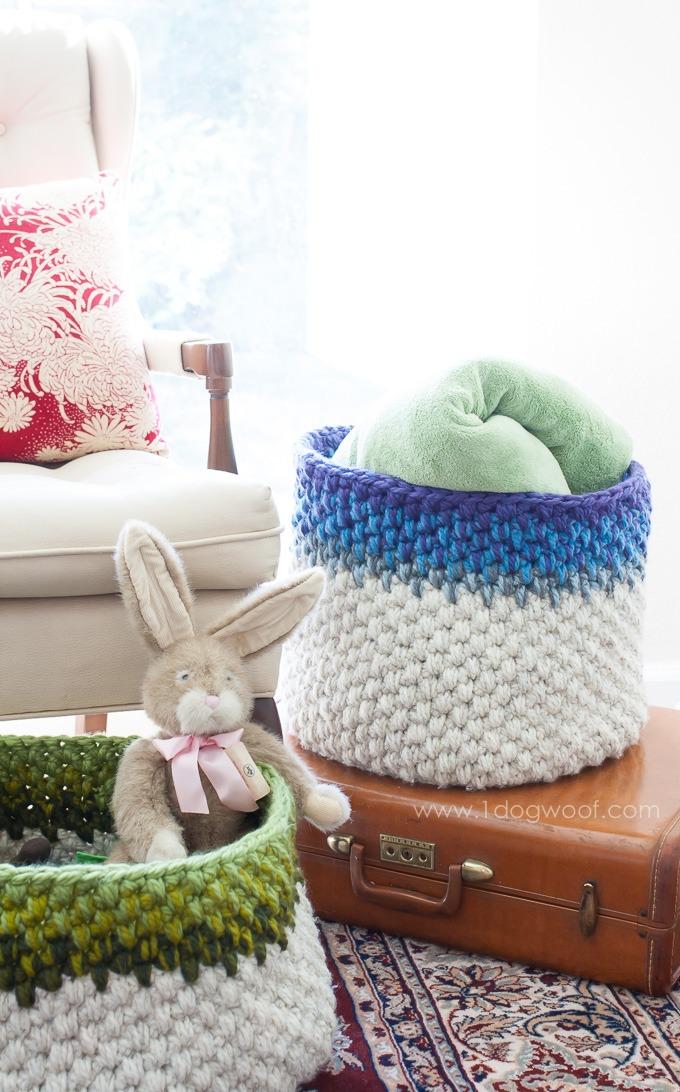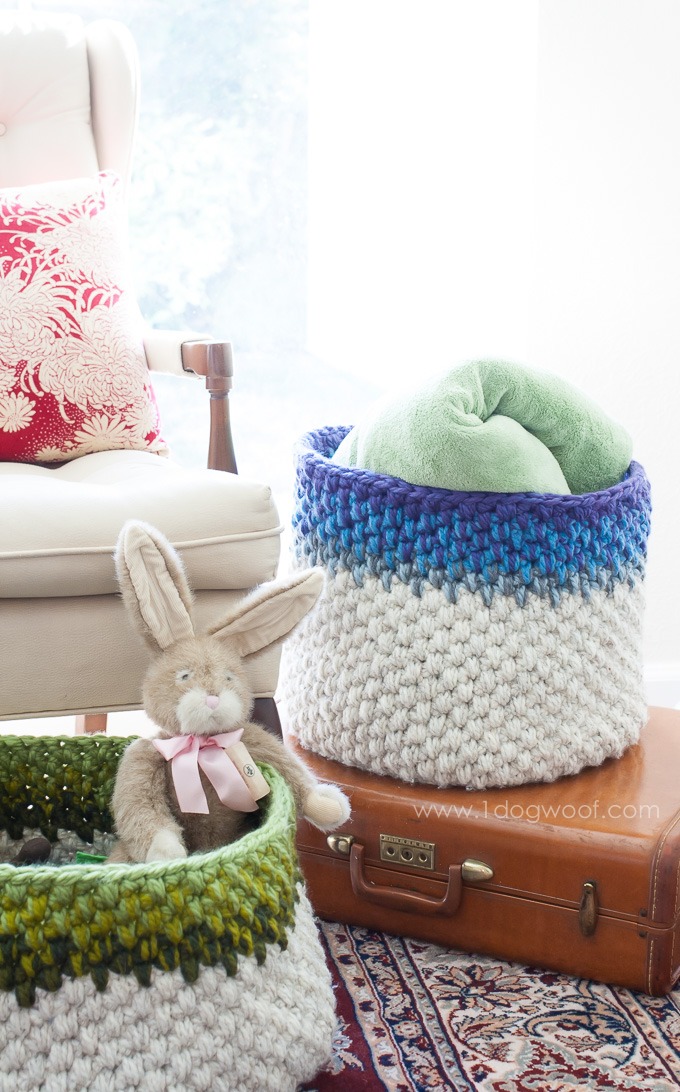 Crochet 4 to 5 skeins of bulky weight yarn like Lion Brand Wood Ease Thick and Quick Yarn and crochet it with a 10mm crochet hook to stitch this large crochet basket. Use multiple colors for an amazing color block effect. Work in the basic yarn stitches to complete this color block crochet basket will surely wow the audience. The finally finished size of these baskets is 13" in diameter and 13" tall. One can add these shelves to IKEA kallax shelving units also for an extra safe and secured type of storage. Details here 1dogwoof
26. Easy Crochet Basket – Free Pattern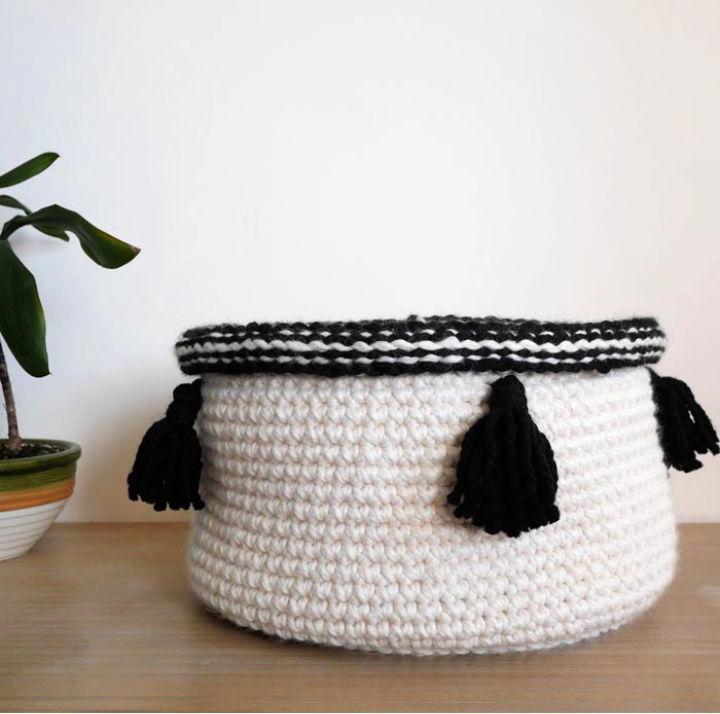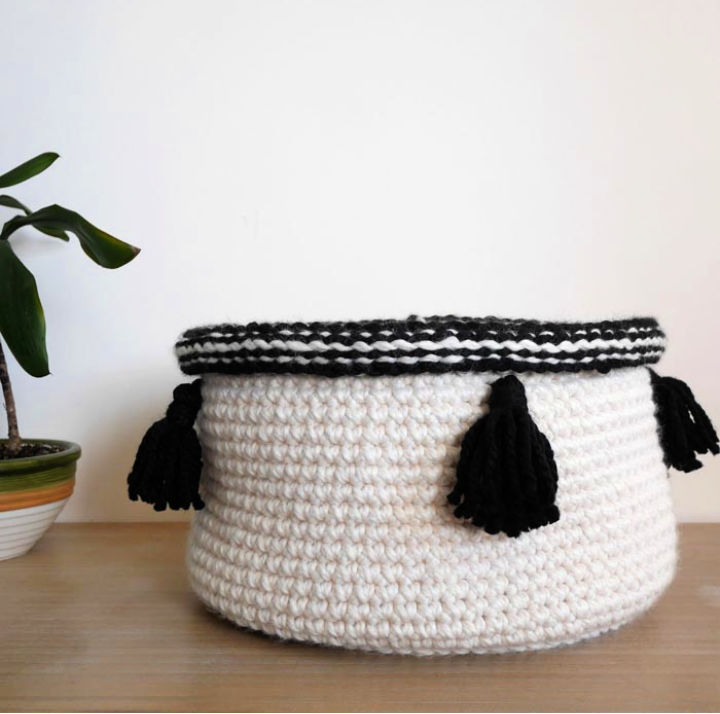 Check out here one more amazing design of crochet baskets to crochet with Lion Brand Yarn. It features white and black appeal and comes decorated with black tassels. Crochet this basket mainly in white color using Lion Brand Wood Ease Thick and Quick Weight 6 super bulky yarn and an 11mm crochet hook. Use the also the 10mm hook for adding custom edging and details. Make tassels using miniature cardboard pieces, and the finished size of this basket is 13.5in x 13.5in. Again make this basket making the magic ring foundation. One of the best Free Crochet Basket Pattern. Details here makeanddocrew
27. Crochet Hair Toy Basket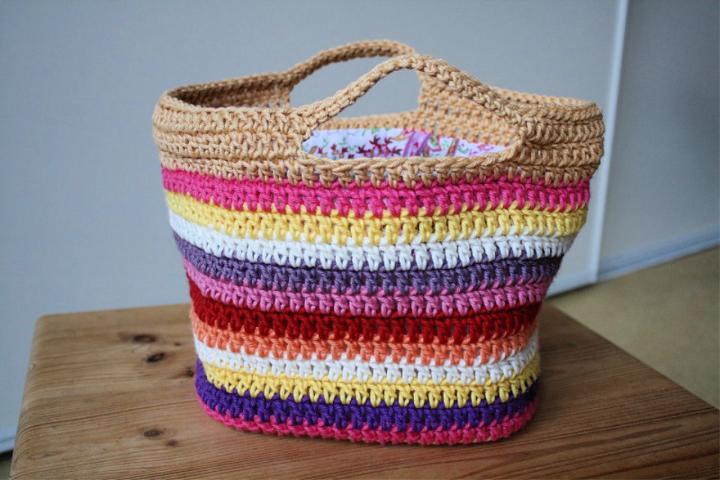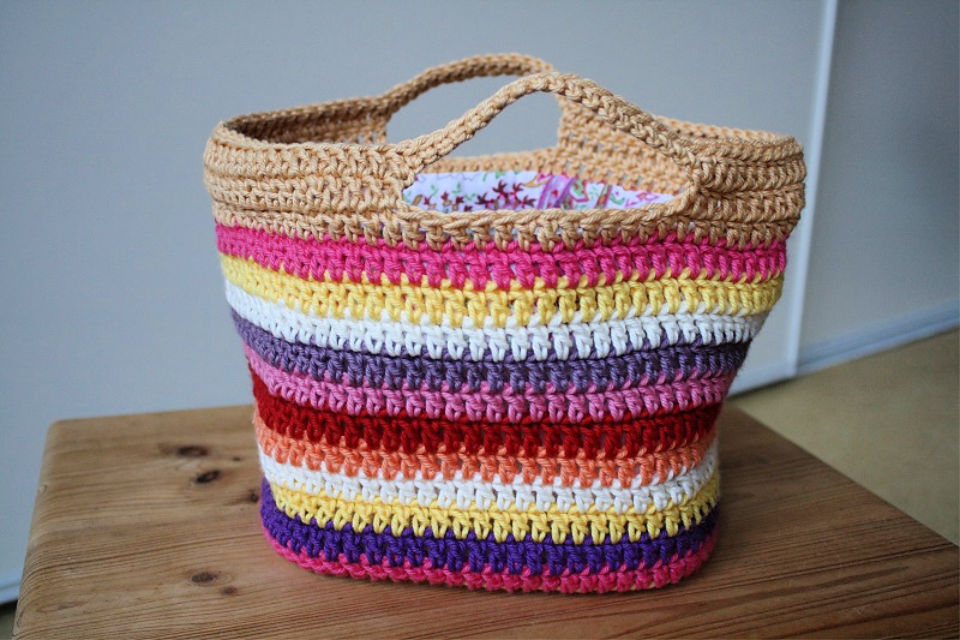 All beginners can easily crochet this fabulous hair toy basket that requires a beginner skill level. Crochet the DK light worsted weight yarn with 4mm crochet hook to complete this basket having 6.3" x 6.3" bottom and 6.5" height. The required gauge for this crochet basket pattern is 8 rows, and 14 dc make 4". For this enchanting basket design, you also need the fusible webbing and cotton fabric. The best crochet basket has a bright color striped appeal. Details here busyfingersbu
28. All the Acorns Basket Crochet Pattern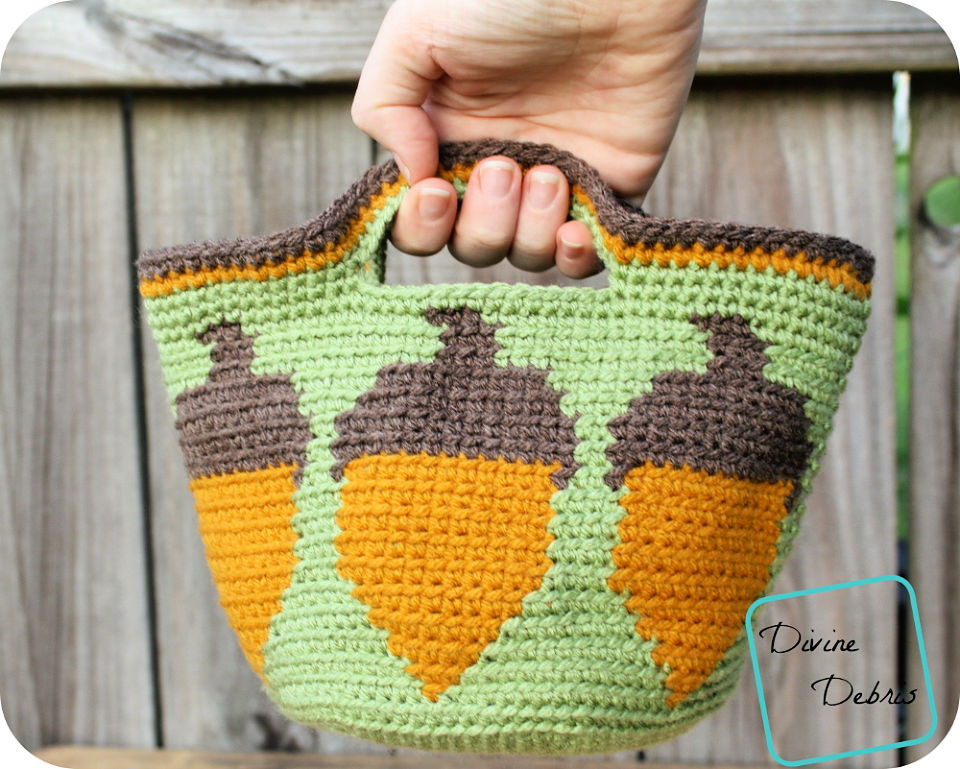 Wishing to crochet awesome baskets for the fall? They do get the acorns featured on them. Duplicate these all the acorns basket that comes with lovely yarn handles. The best fall basket to gift to a friend. Crochet worsted weight 4 yarn in any 3 colors of choice to crochet this basket. Make the foundation by making a magic ring and then work in the primary stitches to complete it. The perfect gauge for this basket is 16 scs, and 16 rows make 4". Use the 4mm hook for this crochet basket pattern. The Loops and Threads Impeccable yarn will be an ideal choice for this basket pattern. Details here divinedebris
29. Waves of Glory Flag Basket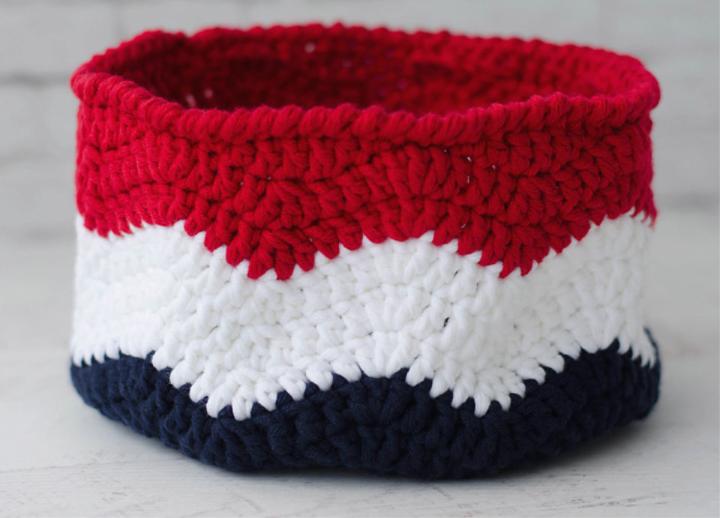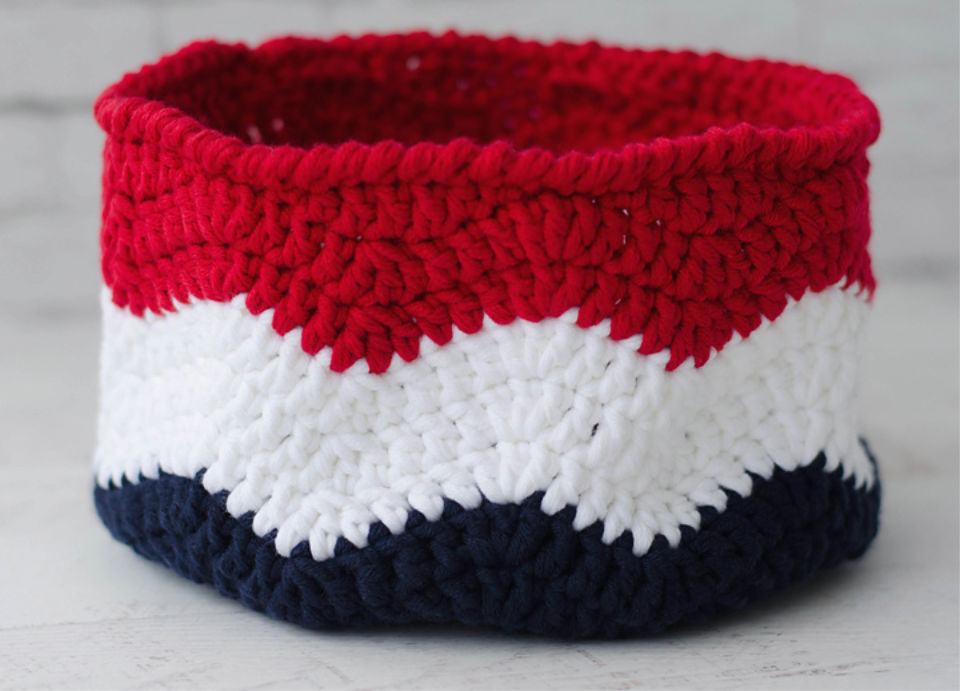 The best patriotic version of the crochet basket, featuring country flag colors in the wavy design. In other words, this here the best crochet ripple basket featuring blue, white, and red yarn colors. The best basket to crochet for 4th July, Independence Day. Crochet super bulky weight yarn in flag colors using a 6mm hook to whip up this 5.5" tall and 7.25" wide crochet basket. Make the foundation by making a magic circle, and this basket will rock to organize your yarn supplies. Details here crochet365knit
30. Morando Hanging Basket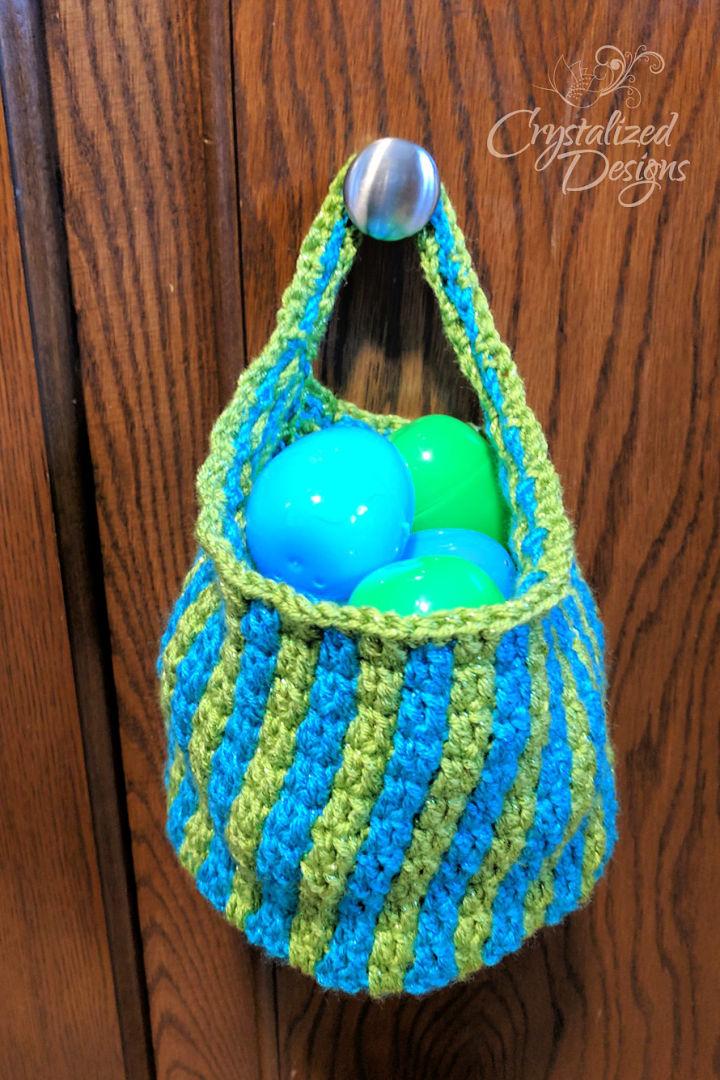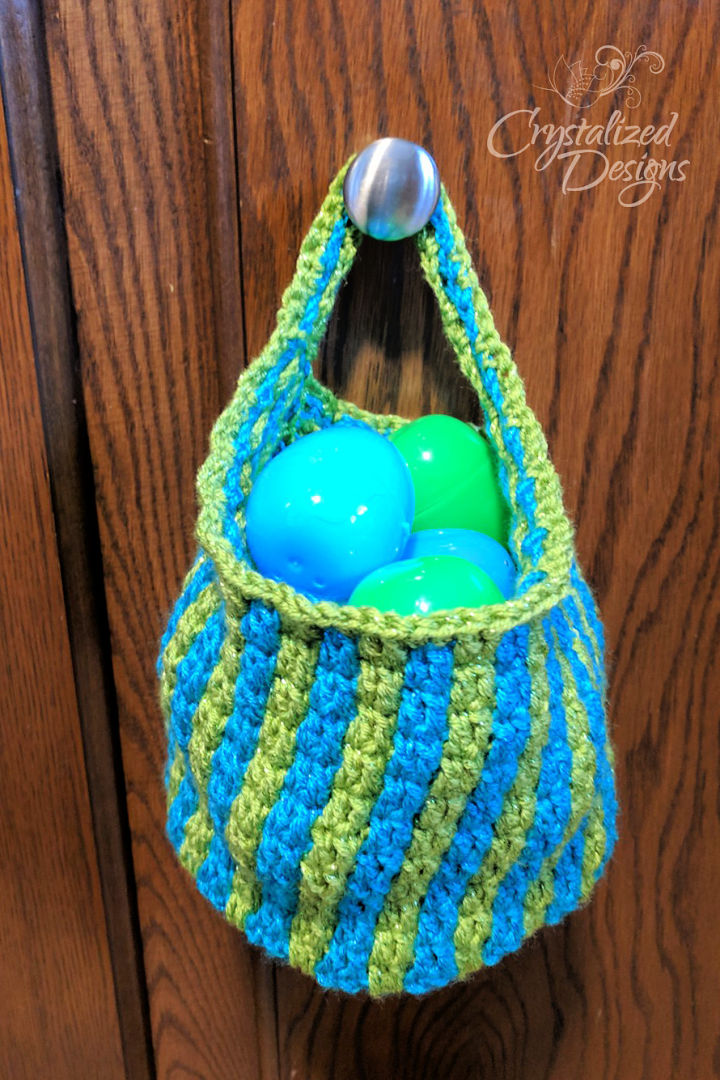 Are you a fan of hanging storage options that don't use further inches of the floor space to give a clutter-free interior? Then must crochet this hanging version of crochet baskets, can be hanged on the door handles, knobs or on the wall, hooks to nicely organize your stuff. Crochet Red Heart with Love yarn with a 5mm hook and make the magic ring foundation first to complete this Morando hanging basket. The perfect gauge for this hanging basket is, 16 dc and 8 rows make 4" x 4". Details here crystalized
Related Crochet Patterns:
Time to update your home floor decor! Start with these crochet rug patterns to create some really unique and beautiful rugs for every room.
This list of 20 free double crochet baby blanket patterns is a perfect place to find a great design to make a beautiful gift for new babies!
Conclusion:
Organizing a home can be one of the toughest tasks, and it goes heavy on your wallet too to buy custom storage solutions. So, head over to these free crochet basket patterns to solve this issue without getting expensive.
These free basket patterns will allow you to easily crochet all sizes of yarn baskets that you can add to all rooms for quick and manageable storage of things and accessories. From storing yarn supplies to custom accessories to crochet amigurumi, these yarn baskets will really rock.
Moreover, these crochet baskets are soft, flexible, durable, colorful, and frugal and hence will get ten out of ten from all homey people. You need some yarn, a little crocheting experience, and some time to get these baskets made.