Are you ready to try out these free corner to corner crochet patterns? Are you hearing about this C2C technique for the first time? So, what exactly is a C2C crochet method? It's an amazing technique used to make many different types of crochet patterns that will be impossible by only using basic stitches. "Corner to Corner" is another name used for this C2C method. Mostly it's used to work up patterns in the square; however, with a little tweaking, you can easily work it up into a rectangle, as well! The C2C crochet pattern is very handy that can be used in many different crochet projects.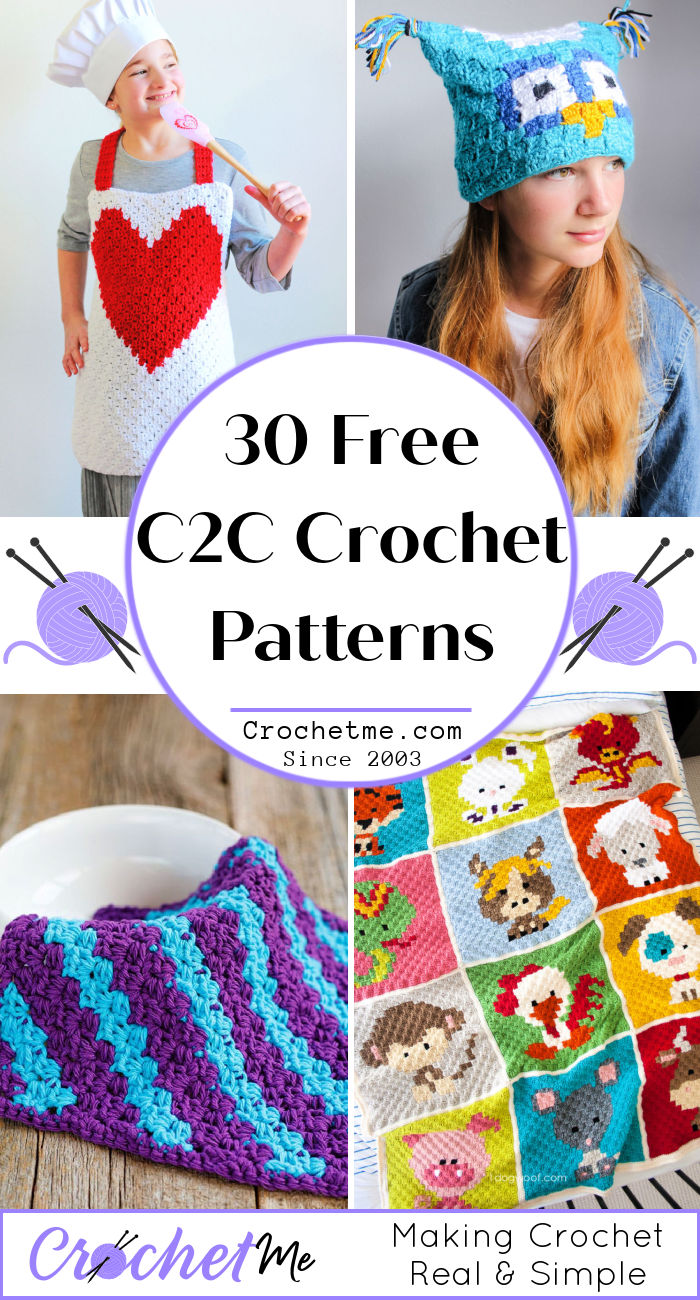 In this guide, you will learn how you can use the c2c crochet technique to make cozy and bulky blankets, crochet afghan patterns, crochet hat patterns, crochet scarf patterns, crochet pillow patterns, square patterns, and crochet dishcloth patterns for the upcoming winter season! This article will cover a range of free C2C crochet patterns of blankets, from barn quilt to concentric square patterns, from moss stitch to chevron baby blanket patterns, from plain bears to zodiacs afghan patterns. There is a huge range of 30 free C2C crochet patterns for you to choose from! This can really help you to learn the crochet c2c from start to finish.
C2C Crochet Blanket Patterns
C2C is an amazing technique that can also be used when it comes to blankets! Since most blankets have a rectangular shape to them, so these C2C crochet blanket patterns can be your winter essentials this season. Notably, the concept of increasing and decreasing is very important when it comes to the c2c crochet pattern rectangle method. You can make stunning blankets using this method and following these guides! A C2C crochet blanket pattern is perfect for following asymmetrical or geometrical design especially!
1. C2C Crochet Barn Quilt Blanket Pattern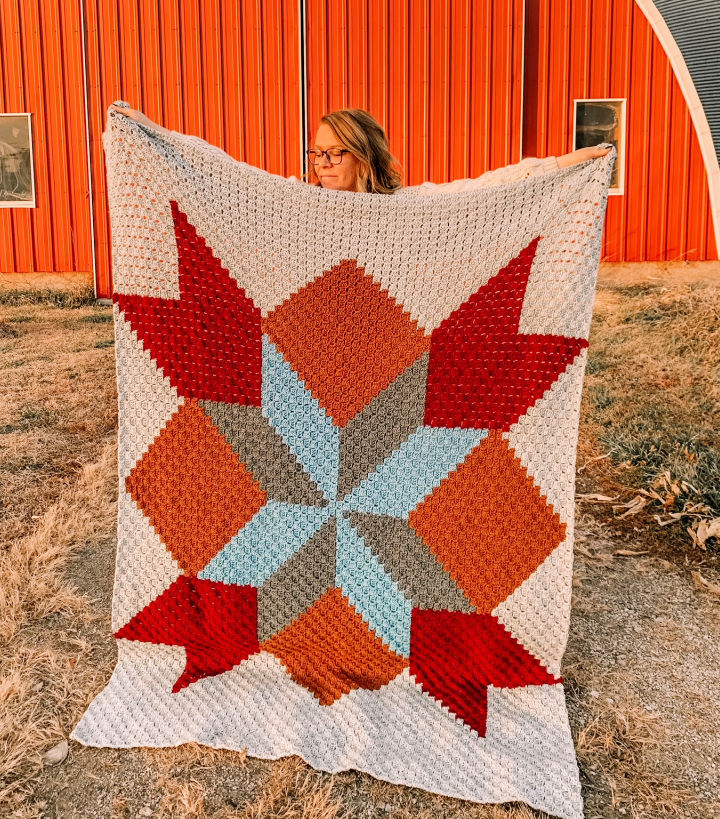 The best part of the winter season is that you get to cozy up in your favorite bulky and warm blanket! You can make a blanket like this one to add a festive and nice vibe to your bedroom. This blanket is made using the C2C method! Chaining, slip stitching, double crochet, single crochet, and a few other stitches are being used in this amazing plan. hookedhaze
What you need:
WeCrochet Brava Worsted 100% Premium Acrylic Yarn
5.0mm crochet hook
Scissors
Darning needle
Bonus tips:
You can access the written and graph form of the pattern in this guide for free! Just hit the download button, and you'll have it saved on your computer!
C2C method is a very basic technique that any beginner can learn on the basis of a few easy crochet stitches.
The graph provided with the guide should be read from the bottom right to top left corner.
2. C2C Crochet Concentric Squares Throw Blanket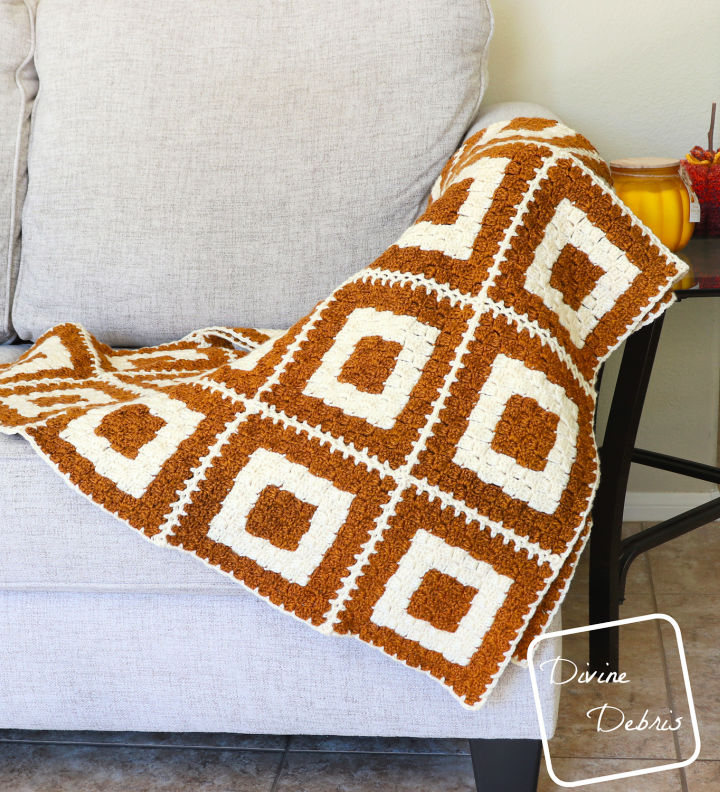 Are you a huge fan of geometric crochet patterns and want to try out something new and different? Well, here is an amazing plan that you're going to adore! It's so cool as it has a square pattern all over it. Furthermore, you need to be at an intermediate level to comfortably complete this crochet blanket pattern. The gauge is important to measure, and it should be around 4″. divinedebris
What you need:
Lion Brand Worsted Weighted Yarn
4.0mm hook
Scissors
Measuring tape
Yarn needle
Bonus tips:
No need to learn the increasing and decreasing truck for this plan as it's worked up in a square!
An excellent thing to learn before starting this project would be "the even-numbered rows are worked down, and odd-numbered rows are worked up."
You can also choose to use this pattern in other stuff like sweaters, caps, throw blankets, etc.
3. C2C Moss Stitch Blanket – Free Crochet Pattern
How adorable is this bulky and thick blanket? You can turn this into a baby blanket or make it for an adult – whatever you prefer! Furthermore, chaining, single crochet, skipping, yarn over, slip stitching a few other basic techniques are used in this plan. The final size should be around 28″ x 28″ according to this guide. You can change the size of the hook to match the size that you want. okiegirlbling
What you need:
Lion Brand Yarn
5.0mm hook
Yarn needle
Scissors
Bonus tips:
This pattern is worked up in stripes, which means that it's very easy to customize – you can make them thicker or thinner and change up the color scheme.
Do you have when there is a lot of mathematics involved in a project? Well, then here is a plan that just doesn't require a lot of counting!
The stitches are quite easy to memorize due to the repetition, so you can do it while watching your favorite Netflix show!
4. C2C Crochet Chevron Baby Blanket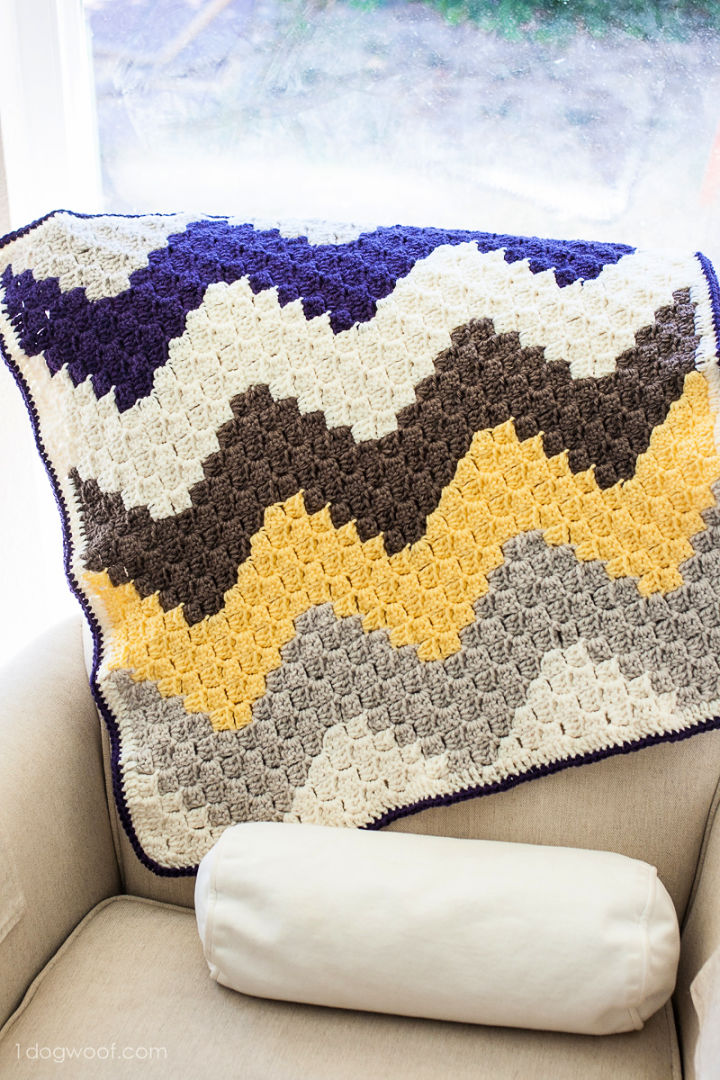 There's something very festive and old-school about a chevron pattern. What exactly does it look like! It is a design in which triangles and stripes are combined together to make something absolutely stunning. Moreover, it will be the perfect blanket to make around the spring season or St. Patrick's Day to celebrate! You can also gift this to a loved one. 1dogwoof
What you need:
Lion Brand Vanna's Choice Yarn
Bonus tips:
If you've ever made a granny square pattern, this is actually even easier than that technique!
You can also choose to add some motifs, ribbon, beads, and other stuff to make it look fancier.
You will get a thinner version by using this technique, which will help the blanket drape better.
5. Plaid Bear C2C Crochet Blanket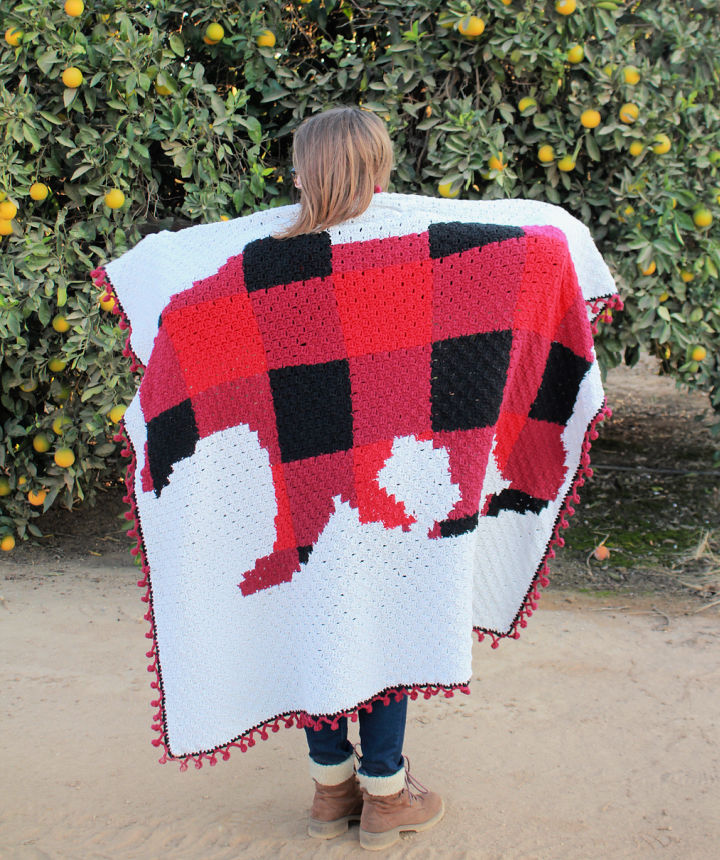 Plaid pattern has been all over the internet lately. People love using this design on their tops, skirts, and bottoms! The fact that this pattern is combined with a bear diagram makes it even more aesthetically pleasing! Double crochet is a method that's been used all over this technique – you will need to use it thrice in almost every row! eclairemake
What you need:
Lion Brand Feels Like Butta Yarn
Size J crochet hook
Scissors
Bonus tips:
Practice double crochet before starting off this plan to make the whole process a lot smoother.
There is a free graph for you to download, which will make things a lot easier for all the beginners. You can choose not to attach the pom-pom border if you want your blanket to have a minimalistic look to it.
C2C Crochet Afghan Patterns
Who doesn't love crochet Afghans, right? They are the epitome of chunkiness and cozy winter companions. A C2C stitch is considered best to work with if you are planning to crochet Afghan patterns! If you are looking for a beautifully aligned and creative throw or a bed spread, a C2C crochet afghan pattern is all you need, so hop on!
6. C2C Crochet Zoodiacs Afghan Pattern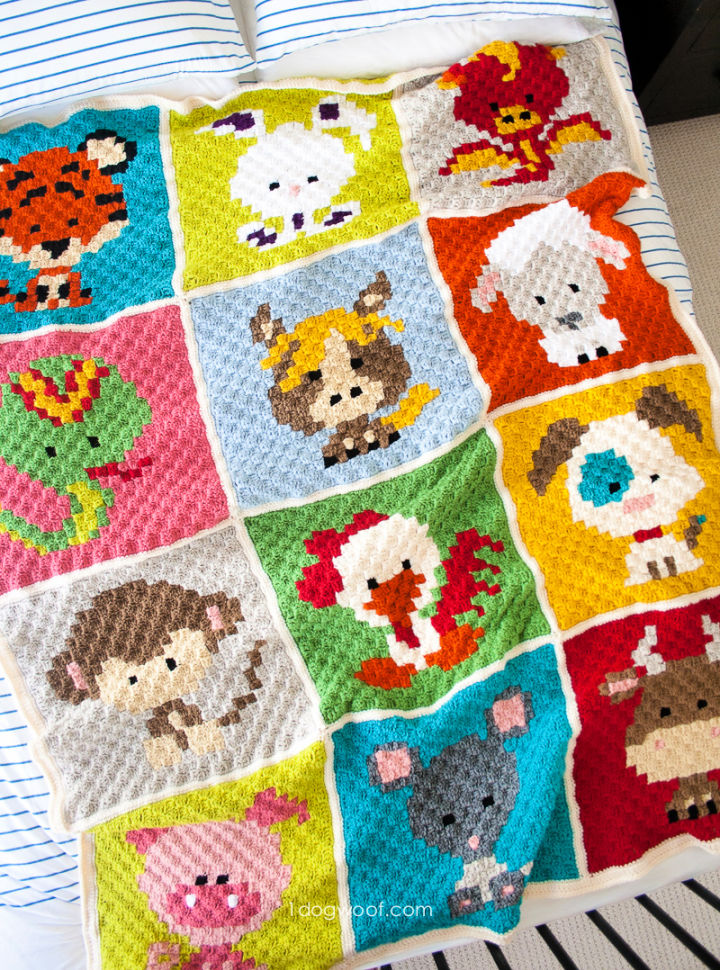 Do you love working on plans that are very artistic and creative? If that's the case, then you've picked the right crochet afghan pattern! Your family is going to love just how bright, vibrant, and cozy this crochet blanket is! You can use it as a throw blanket or something for your children's' room. Moreover, all of the animals made on it are actually inspired by the amazing Chinese Zodiac! How cool is that! 1dogwoof
What you need:
Lion Brand Vanna's Choice Solids Yarn
5.5mm hook
Modular Bobbin Holder
Embroidery needle
Scissors
Bonus tips:
Use a yarn that's very vibrant to add some color and brightness to your final result!
You need a thick yarn to make it easier for you to interchange the colors without adjusting the gauge!
Don't make the border very extra – keep it plain to balance out the extra design on the blanket.
7. Bernat Geo Folk C2C Crochet Afghan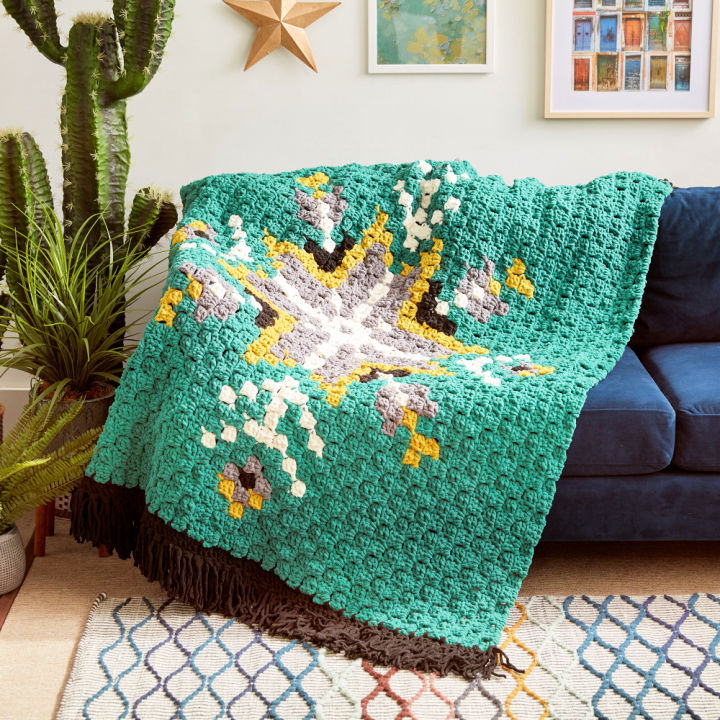 Here is another geo folk pattern that will astonish you just by looking at it! It's so traditional ad beautiful! They're tassels attached to the borders to make it look very interesting and pretty. Moreover, only a few basic stitches are being used in this plan – single crochet, double crochet, wrong side, the concept of decreasing, the concept of increasing, and a few other ones. yarnspirations
What you need:
Bernat Blanket Yarn
8.0mm hook
Bonus tips:
Make sure to work the afghan diagonally from corner to corner as it is rectangular.
It's important to start a new color at an appropriate point, or else it will not give off a clean final product.
You will be able to access a free chart from this plan! Use it to make your pattern even prettier.
8. Free Crochet Afghan Quilt Pattern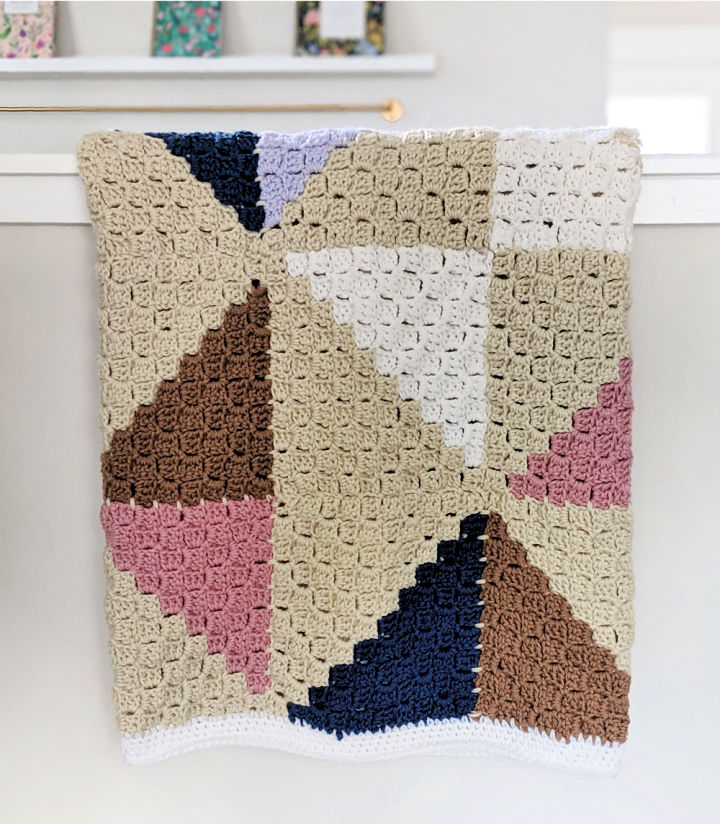 Beginners might feel intimidated just by looking at this pattern – it does look complicated, but it's actually very simple to do. Moreover, this pattern is made by working up many different corners to corner squares in contrasting colors, and then they are joined together at the end to make a soft and fuzzy quilt! How cool is that? It's time to get started! justbcrafty
What you need:
Caron one pound medium acrylic yarn
Measuring tape
Scissors
Yarn needle
Blocking board kit
6.0mm crochet hook
Bonus tips:
The stitches are very easy to memorize, so you can work this up while concentrating on something else.
The whole pattern is broken down into three different parts to make it easier for beginners to understand.
Many people can work on this project at one time to complete it faster.
9. C2C Crochet Draped In Dogs Afghan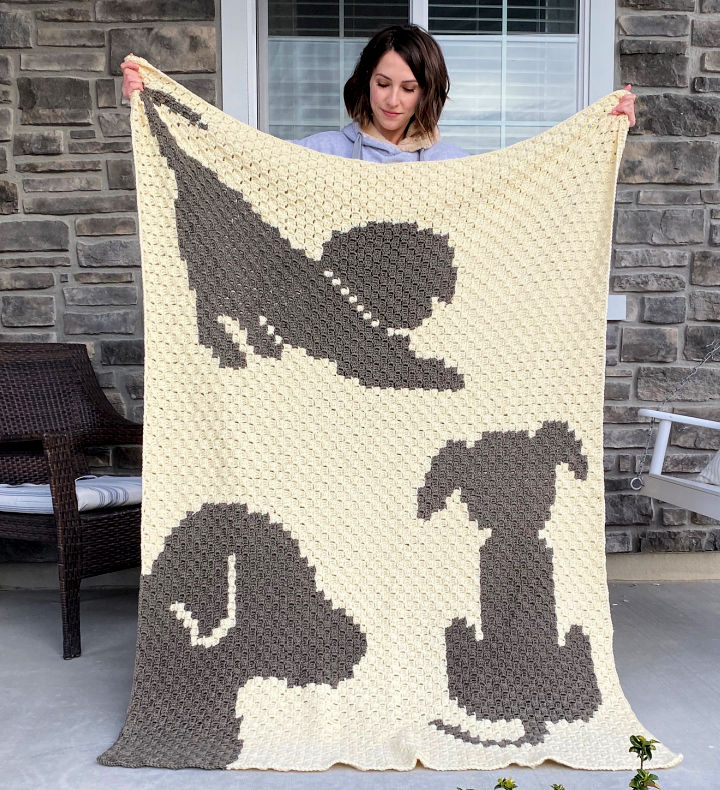 Do you have a dog that's in need of a cozy crochet blanket? Even though your furry friends are covered with a lot of hair to keep them warm, it can certainly always be a good idea to make something for them! Moreover, you can also make this for yourself or a loved one. The dog pattern on it is just adorable and a very creative idea to try out! eandpcrochet
What you need:
Basic Stitch Anti-pilling Worsted Weighted Yarn
5.0mm hook
Yarn needle
Bonus tips:
You need to read the pattern from the bottom right corner and move gradually towards the top left corner.
It's recommended to cross off each row from the printed graph as you go – it will help you keep track of the pattern.
10. Southwest Sunburst C2C Crochet Afghan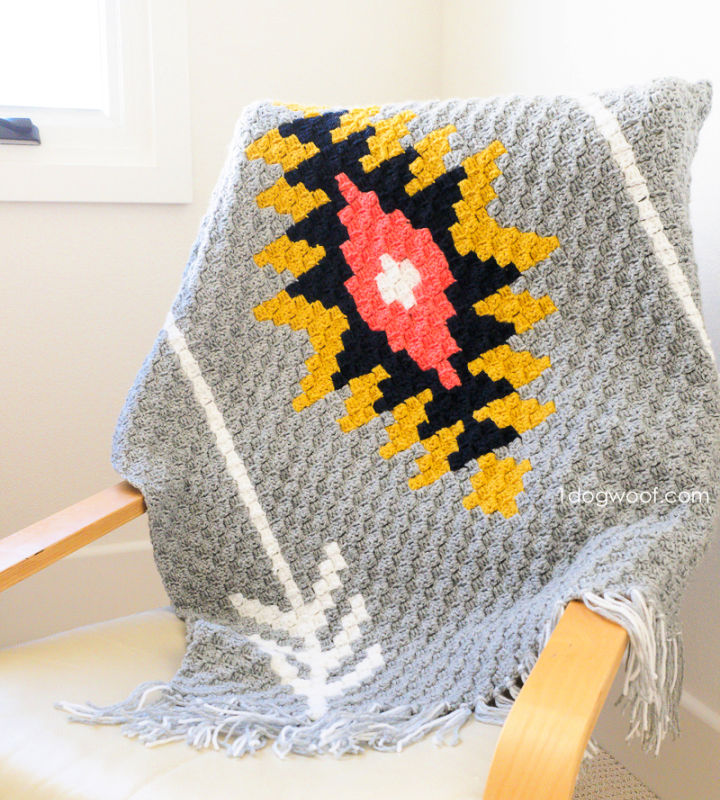 Who knew that a southwest sunburst pattern could be used on an afghan to make it look this stunning? A grey base is used along with a colorful center to highlight it! There are also little tassels on the edges to make the blanket look absolutely stunning. You're going to feel very satisfied and accomplished by the end of this project. 1dogwoof
What you need:
Lion Brand Vanna's Choice Yarn
6.0mm hook
Bonus tips:
Are you someone who tends to crochet looser? Well, this pattern requires a looser gauge!
You can skip the fringes as well if you're going for more of a minimalistic and simple look.
You can easily understand this plan as the whole process is available in video, pictures, and text form!
C2C Crochet Hat Patterns
Winters are certainly incomplete without crochet accessories! And crochet hat comes at top of the list. If you like to stay on top of your outfit game, a C2C crochet hat pattern is your savior. Why? Well, these crochet hat patterns are not only beautifully structured but they come with lovely geometrical patterns using C2C crochet! Pair it with any coat, shoes, sweaters, or what not. The options are limitless for you to always slay!
11. C2C Crochet Heart Hat Pattern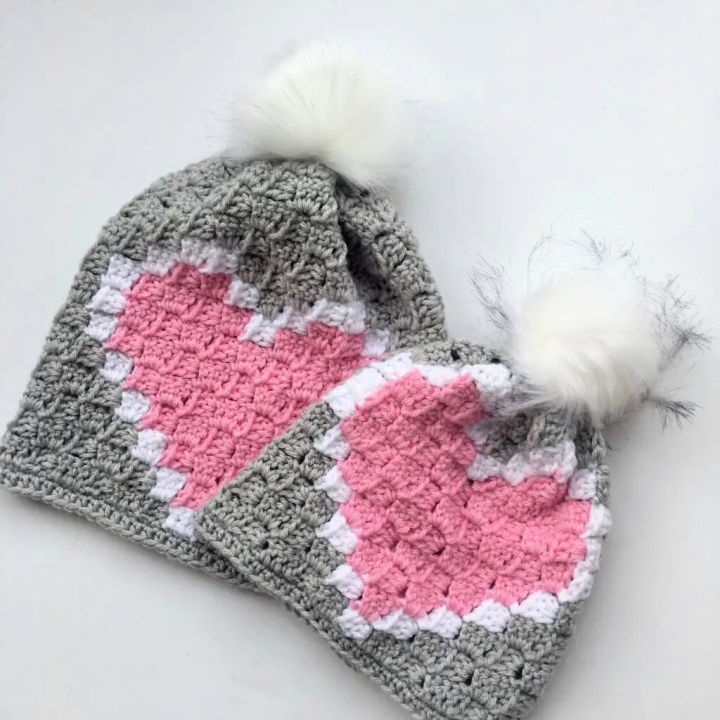 Valentine's Day is just around the corner, which means that it's the perfect time to start working on a cap like this. You don't need to be in a relationship to celebrate this special day – make this for your girlfriends or yourself! You can also make this for your mother, sister or other important people in your life! Are you excited to get started? nanascrafty
What you need:
I Love This Yarn
5.5mm crochet hook
Faux Pom-Pom
Tapestry needle
Scissors
Bonus tips:
You can also choose to make the matching scarf that's a part of this guide. It's a very affordable plan that's going to help you save a lot of money.
12. The C2C Crochet Slant Beanie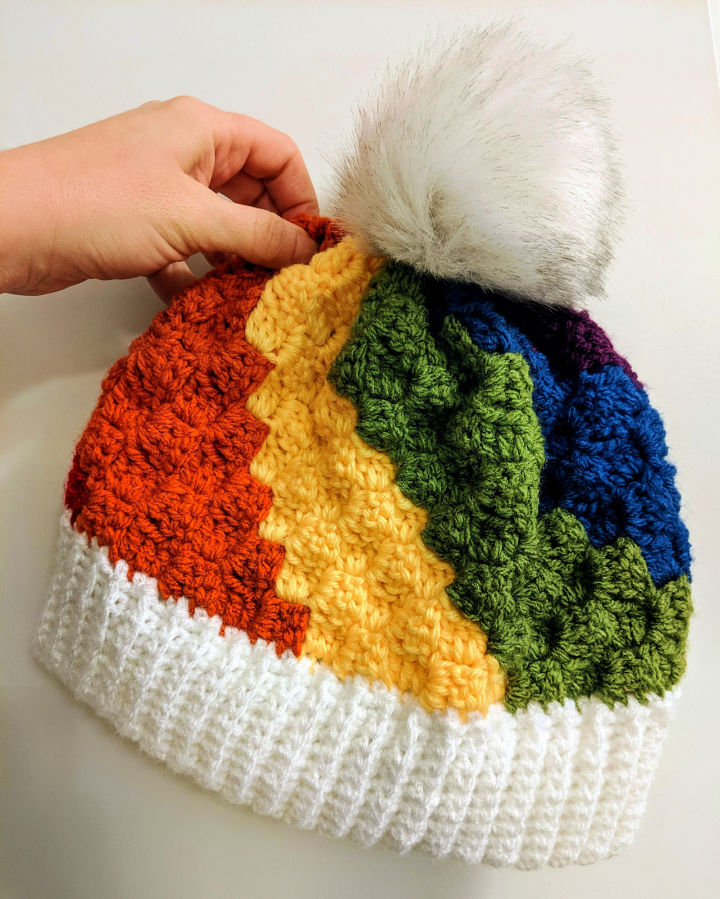 Crochet Beanie is just so cozy, adorable, and easy to wear! You can easily attach the pom-pom on the top part and then make a beautiful cap! There's also some ribbing on the bottom part of this plan, which makes it look absolutely stunning. Many different colors are used in the center part to add more vibrancy and brightness to the overall crochet pattern. yawnsandyarn
What you need:
Worsted Weighted Yarn
Size J hook
Tapestry needle
Faux Fur pompoms
Bonus tips:
You need to learn only the basic stitches for this pattern – single crochet, double crochet, half double crochet, etc.
This will be the perfect present for a loved one for this Holiday season!
13. Owl C2C Crochet Sack Hat Pattern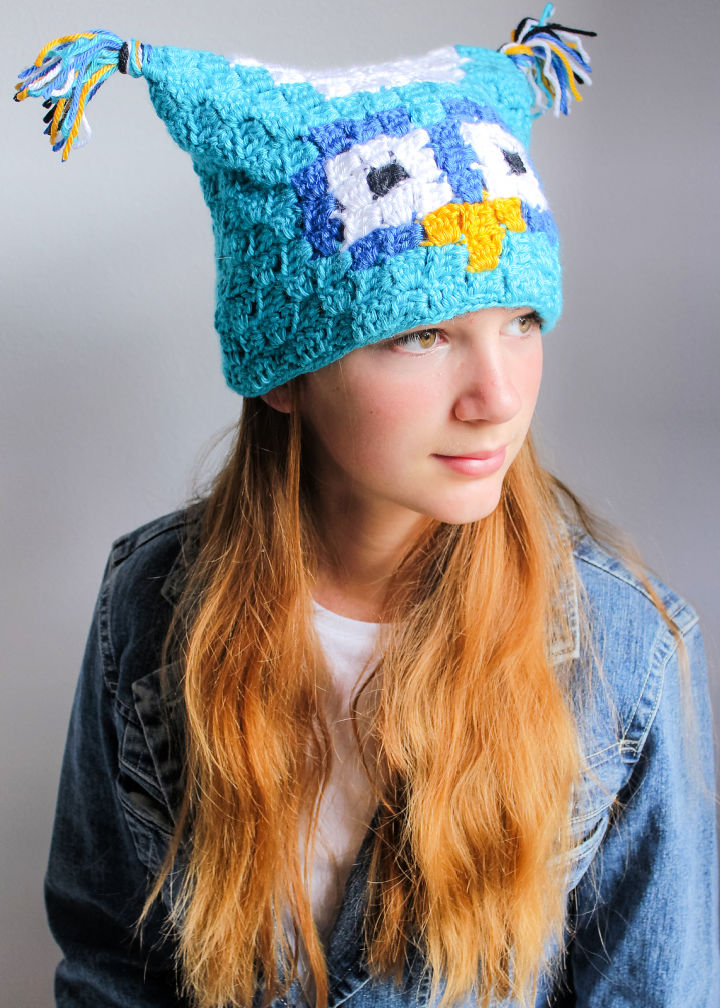 How cute is this c2c crochet hat pattern! This hat pattern is really beautiful in comparison to other c2c crochet patterns. It will just be the perfect thing to wear around the Halloween season as it is a costume type hat! Moreover, you'll need to know how to do a few techniques before starting to work on this plan. You need to know how to change colors in C2C, how to carry colors in C2C, how to add a border, and read graphs! nanascrafty
What you need:
Caron Simply Soft Yarn
5.0mm crochet hook
Tapestry needle
Scissors
Bonus tips:
You can easily learn to read a graph by following this method – start from the bottom right and read towards the top of the left corner!
Make the size smaller or bigger by changing the number of rows.
C2C Crochet Scarf Patterns
Do you like your crochet scarfs to be a little more than the solid colors of yarn just knitted or crochet together? If you do, you are in the right place! These C2C crochet scarf patterns are going to be your ultimate winter goals this season. Now, enjoy the liberty of getting as creative as you like with your crochet scarves working with C2C stitch. Go for color blocks, diagonal charms, or shapes, choice is all yours!
14. Diamond Trees C2C Crochet Scarf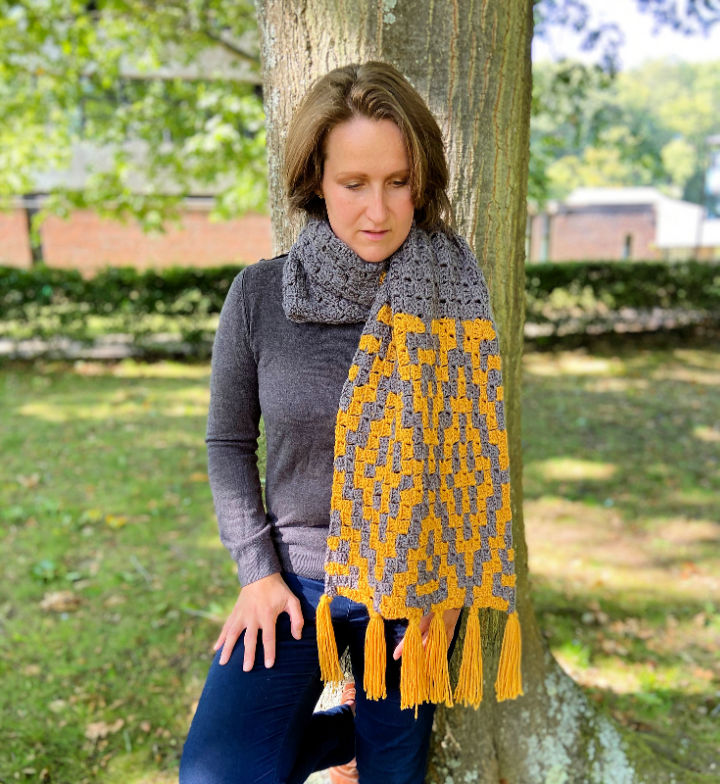 Scarves are definitely very important to have in your closet for the winter season. You need to have a cozy layering piece of clothing that can be worn on top of any outfit. We are absolutely loving the serene appeal of this diamond trees crochet scarf whipped up with C2C stitch! It's a very versatile piece which can be worn with basic t-shirts to fancy dresses! You can easily dress it up or down. Isn't that amazing? hanjancrochet
What you need:
Deramores Studio Aran Yarn
6.0mm crochet hook
Tapestry needle
Scissors
Bonus tips:
Use 100 % acrylic yarn if you choose to use a different brand from the guide.
The gauge is important to measure for a scarf; make sure it is around 10cm.
Learn the basic stitches like single crochet, double crochet to make the process smoother.
15. Half Double Crochet C2C Box Stitch Scarf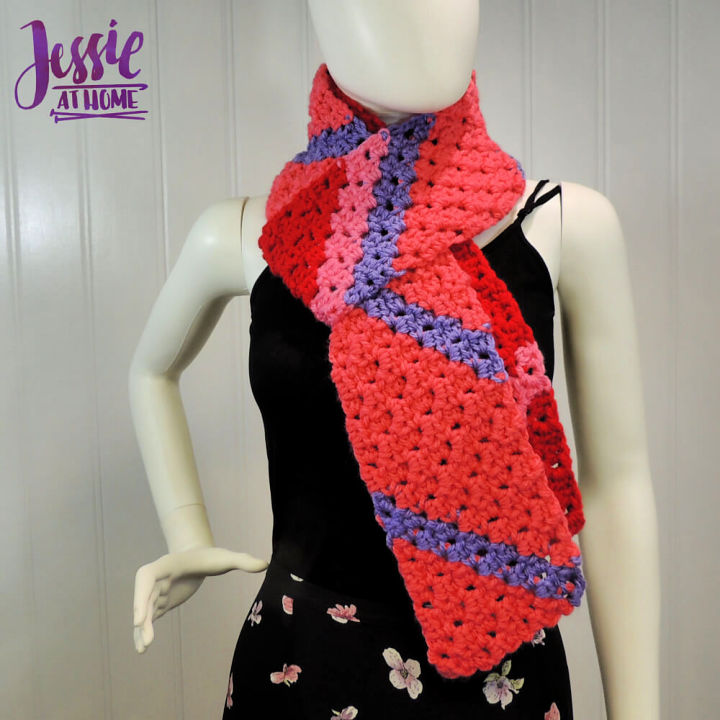 Check out this half double crochet C2C box stitch scarf! A c2c pattern is the trendiest crochet pattern there is. It can be used to make a square or a rectangle of any size, which any yarn you may prefer. It is quite an easy pattern to follow and is not that time consuming too! This pattern involves slip stitch, half double crochet, and chains. jessieathome
What you need:
Red Heart Yarn
Crochet hook size according to the yarn used.
Yarn needle
Bonus tips:
The c2c stitch is made with double crochet, but it can also be made with half double crochet
Try on a cross stitch pattern too for an enhanced look
Use a smaller hook for your stitches to not be loose.
C2C Crochet Shawl Patterns
We are absolutely in awe of C2C crochet shawl patterns. Why? Well, don't they just add so much more life and appeal to a simpler crochet design? Loaded with texture, extra chunkiness, and an uber amount of cozy. That's all a person needs with a crochet shawl. With a C2C stitch, you can either play around with the combination of stitches and rectangles joined together or add even more texture to this simple crochet shawl by staying in one slid color.
16. C2C Crochet Triangle Mesh Shawl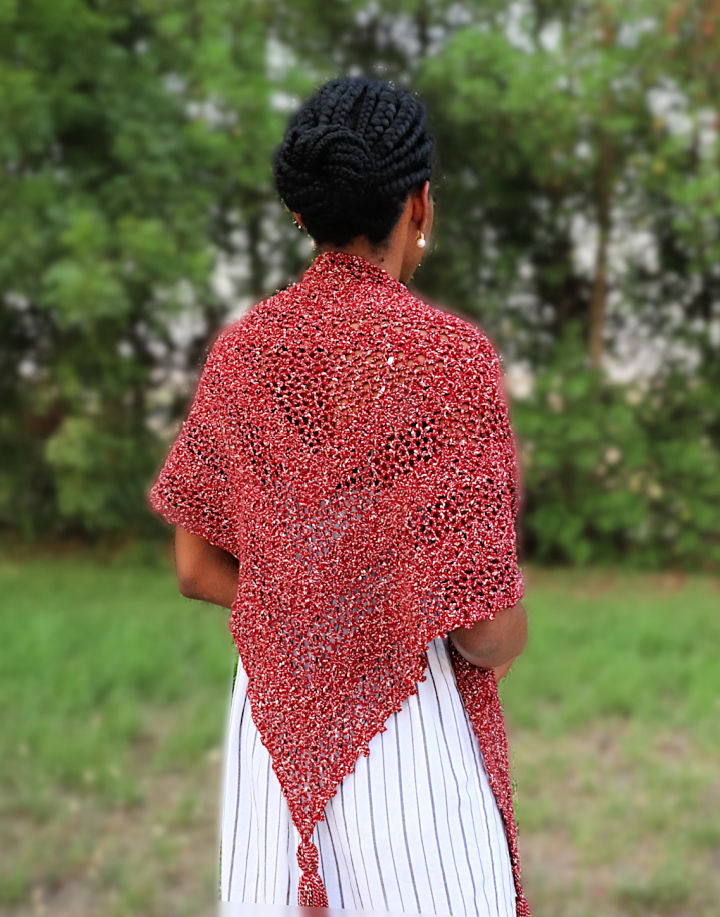 This alluring deep red shawl is to die for this winter season. It is a crochet triangle mesh shawl using a c2c crochet pattern. It is an exciting project to work on and is surprisingly not very complicated too! The design is so simple yet, lovely, and it would also make a perfect gift for your dearest friend. loopingly
What you need:
Lion brand yarn
4.5 mm crochet hook
Tapestry needle
Scissors
Bonus tips:
You can even add tassels at each corner for a charming, finished look
For perfect results, make sure to remember how many chains to make per mesh
Use a light worsted weight yarn for a lovely soft texture.
17. C2C Crochet Pocket Shawl Pattern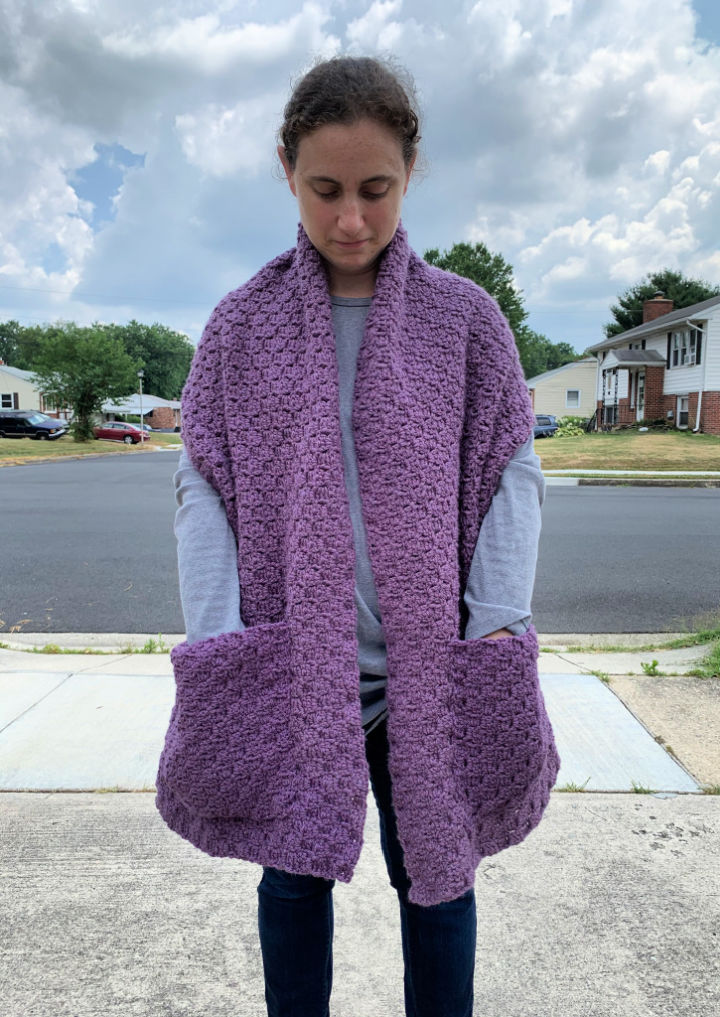 Have you ever seen a soft squishy shawl with pockets in it? This c2c crochet pattern is for a pocket shawl! The moment you see it, you will be intrigued by it and will want to make it. You can make one because this is an easy yet, quick plan to work on. Choose your most favorite color, and start now! llamaunra
What you need:
Any worsted weight yarn
9 mm crochet hook
Needle
Measuring tape
Scissors
Bonus tips:
Make sure that your shawl is wholly free to protect you from cold hitting air
The pattern involves double crochet and slip stitch
Keep the size of pockets the same and equidistant from each other.
Do you like crochet vest? Browse our roundup of free crochet vest pattern and discover unique and inspiring vests.
18. Crochet Warm C2C Shawl Pattern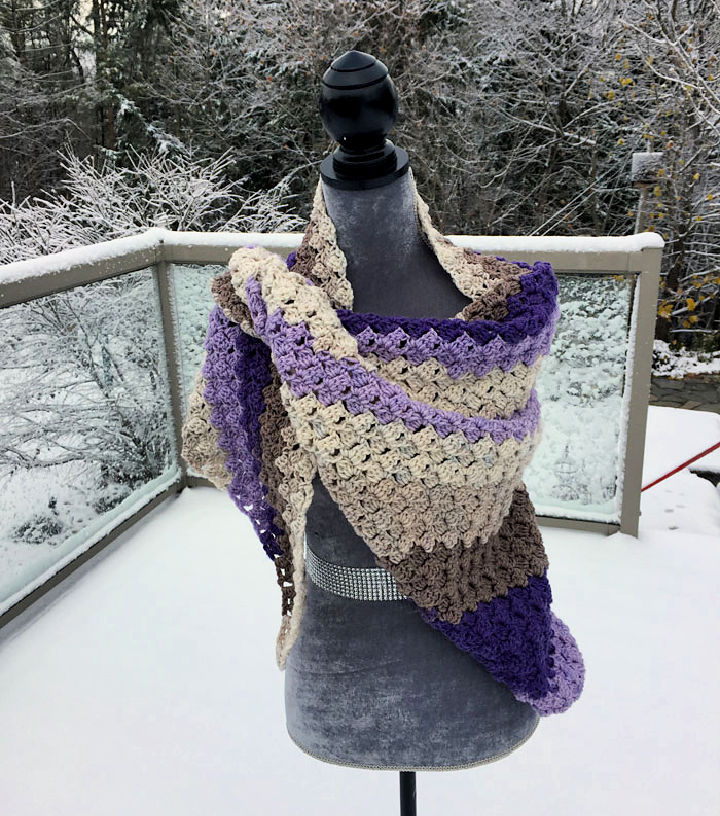 This crochet c2c warm shawl pattern is a must to try on! As it is an easy project to work on. Even if you are a beginner, it will not consume a lot of your time; instead, it will be all worth it in the end when you have a glamorous new piece in your wardrobe. Gather all your essentials and begin now! thecrochet
What you need:
Caron cakes yarn in any color
5.5 mm crochet hook
Scissors
Bonus tips:
It is worked up in clusters instead of the conventional c2c way, which is much easier
You may add soft pompoms to each corner of the shawl for a catchier look
Go with the clusters pattern as it requires less yarn!
C2C Crochet Pillow Patterns
What does every decor needs the most? A strong pillow decor game. How do you achieve that? Definitely with a C2C crochet pillow pattern. If you are bored of the same solid colors, add in some charm by combining some colorful corner to corner shapes or patterns in any crochet pillow. Go with different colors of yarn and enjoy chunky effect with a whimsical appeal!
19. Star C2C Crochet Pillow Free Pattern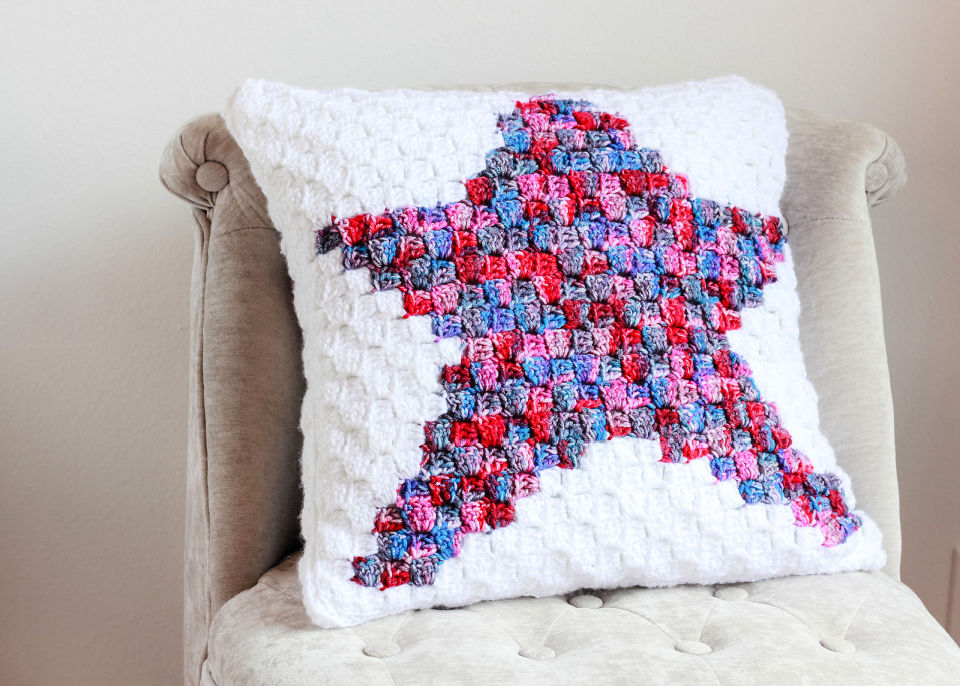 Sleeping on pretty pillows is never boring, even if it sounds cliche. We bring you this adorable star c2c crochet pillow pattern! It is a free pattern that is fully worked up in a double crochet stitch. Not only is it an extremely fun project to work on but also an easy one. If you are new to crocheting, worry not, as this is a great starting step. All you need to do is follow the instructions to make this rustic country star pillow pattern. nanascrafty
What you need:
I love this yarn in two different colors
5 mm crochet hook
Scissors
Tapestry needle
Bonus tips:
To make a smaller pillow pattern follow the mini double crochet technique
This pattern can also be used as a wall hanging or even a blanket
Choose a solid colorway for pop and catchy outlook!
20. Corner To Corner Crochet Pillow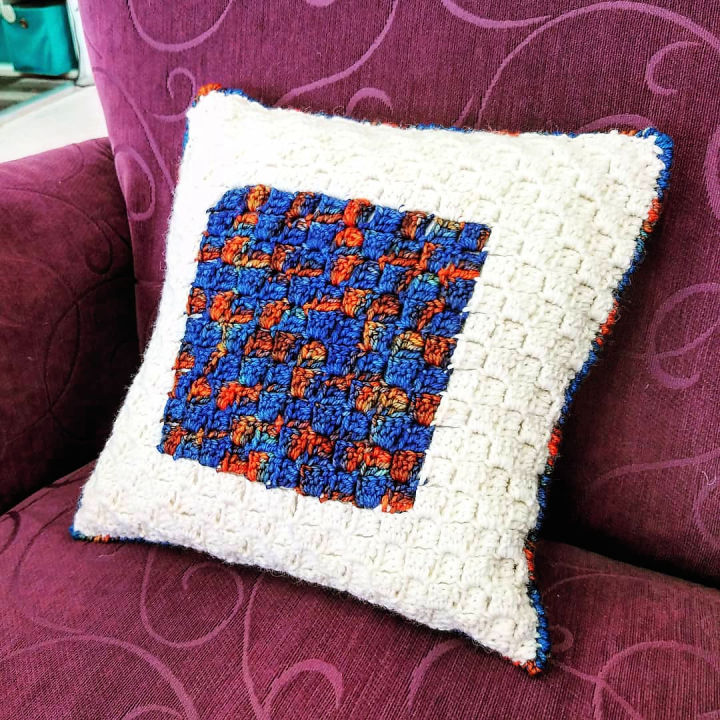 This corner to corner crochet pillow pattern will add just the look your bedroom needs! With its prettiest color contrast and check pattern, it will be an eye-catcher to all. The square design in the center is a great way to help you enhance the basic crochet technique and how to easily change between colors. Choose a bold color and a multi-color in coordination to start with your new project. ravelry
What you need:
Ella Rae worsted yarns in any color
4.25 mm crochet hook
Tapestry needle
Scissors
Bonus tips:
Use an ergonomic crochet hook as it has a large handle with an easier grip
Avoid holes in your pattern by tightening the stitches as you go along
This gorgeous can be used as your signature coffee couch pillow this Christmas!
21. C2C Crochet Pastel Triangles Pillow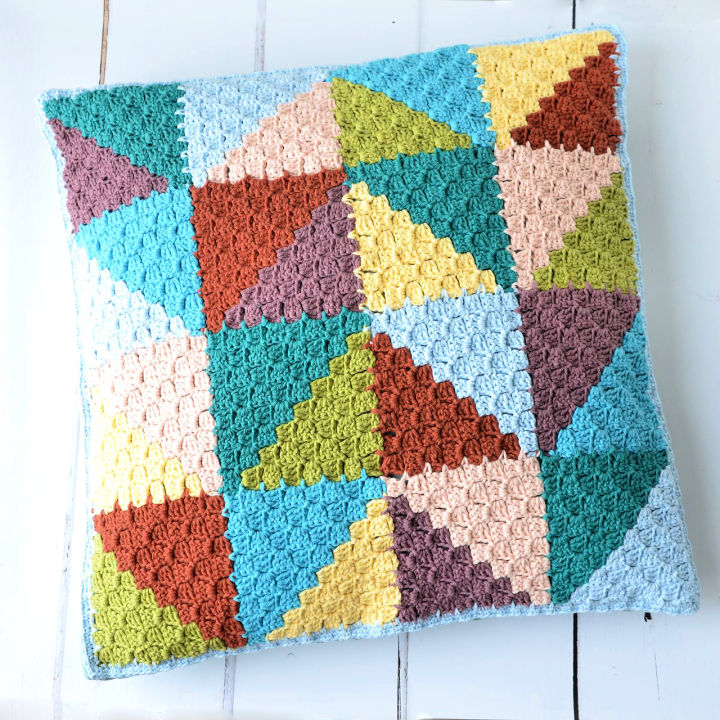 This c2c pastel triangles pillow pattern is a treat to work on! How lovely will your cushions look sitting on the lounge sofa with this stunning pattern on them? It is very logical as well as an easy pattern to follow even if you are new to crocheting. Plus, it will be a great fun-filled start for you. As it is a unique and highly intricate pattern involving rows of squares with different colored triangles in them. Follow along with the chart, and you are good to go! lillabjorn
What you need:
Soft fun yarn in different colors
Crochet hook of preferable size
Scissors
Needle
Bonus tips:
Add each new element you crochet into the previous one as you go, which is both handy and time-saving
This gorgeous pastel-colored pattern can be used as a table mat as well
Use a small-sized crochet hook to avoid loose stitches in your pattern.
C2C Crochet Square Patterns
Love creative designs more than anything? If yes, then a C2C crochet square pattern can be your personal favorite. It gets pretty easier to infuse any design or pattern or shape in a simple crochet pattern by using a c2c crochet stitch for joining the squares together or crocheting in squares altogether! See for yourself below.
22. Grey Wolf C2C Crochet Square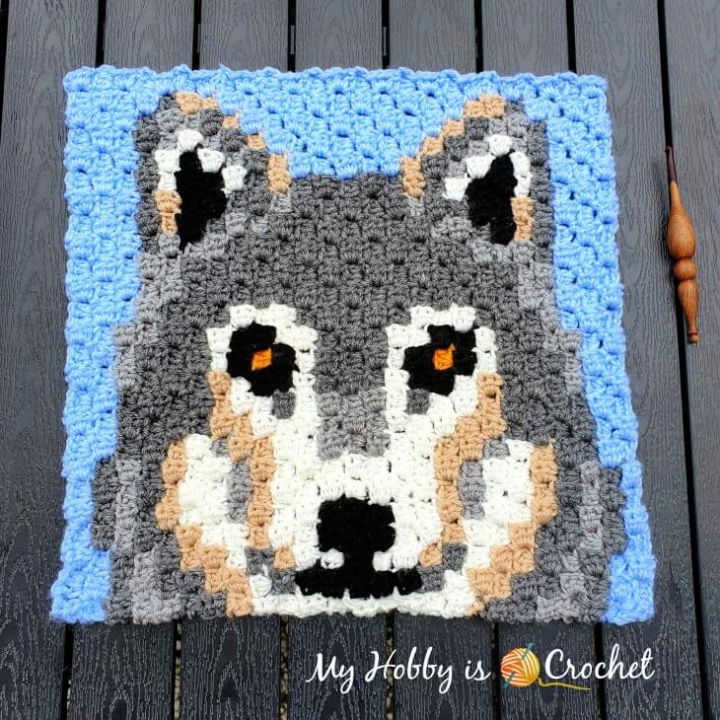 This grey wolf c2c crochet square pattern is an absolute ease to work on! If you are a wildlife lover or your kids then this pattern is a yes for you. This corner to corner crochet pattern can be made in any of your favorite animals. It can also be used as a wall hanging in your kid's room! Or else, you can also join your favorite different animals and make up a cute blanket perfect for enjoying in this breezy season. myhobby
What you need:
Red heart super saver worsted yarn
Wooden crochet hook
Scissors
Tapestry needle
Bonus tips:
Follow the row by row instructions for color counts
Use an ergonomic crochet hook for better grip and comfort
You can border the pattern with a fine hairpin lace for a beautiful finish.
23. C2C Crochet Adventure Square Pattern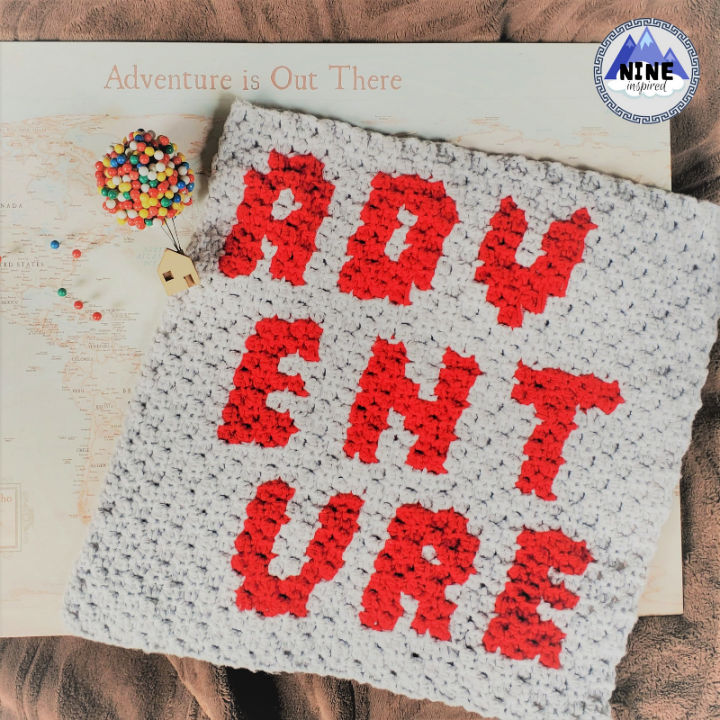 C2C crochet adventure square pattern is a must-have for you if you are also an adventurous person. Working on this thrilling pattern is no less than an adventure itself! Also, it an easy pattern to work with and a quick one. This square pattern can be hung up behind your bed on the wall to complete the aesthetics of your room. It can also make the perfect gift for an ambitious friend of yours! nineinspired
What you need:
Lion Brand yarn in your favorite colors
4.5 mm crochet hook
Tapestry needle
Scissors
Bonus tips:
The pattern also involves half double crochet and slip stitches for a defined look
Make sure to weave in the ends after you are done with the main body of the pattern
Choose a light color for the background and a dark shade for letters for a popping look.
C2C Crochet Dishcloth Patterns
Just because cleaning may seem a boring task to some people it doesn't mean that the cleaning essentials have to be boring or dull as well! Time to spice things up with these C2C crochet dishcloth patterns. They will not only add up some colorful appeal to your kitchen countertops but a thick texture will make it even easier to absorb all the liquid or to use as a crochet potholder without getting damaged as commercial dishcloths do eventually.
24. Mini C2C Stripe Crochet Dishcloth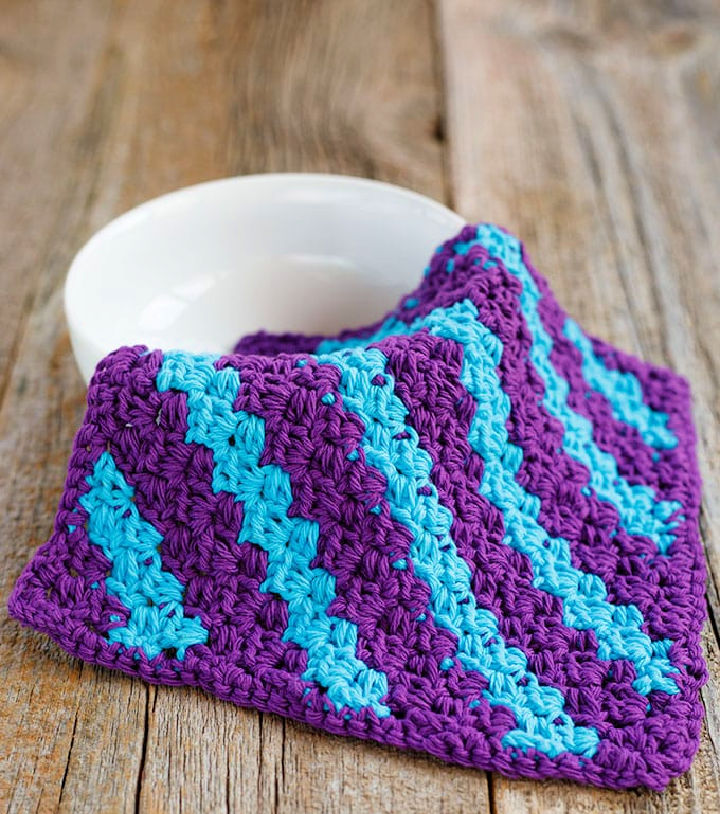 This mini c2c stripe crochet dishcloth pattern is undoubtedly adorable! If you are looking to add charming new colors to your kitchen, this is the right place for you. Not only is this pattern an easy one, but it is not-so-time-consuming as well. This mini pattern uses half double crochet stitches instead of the double crochet stitches in the regular c2c technique. It also involves slip stitches. Follow along the instructions to help you go by! midwestern
What you need:
Worsted weight yarn in tow colors
Crochet hook
Scissors
Tapestry needle
Bonus tips:
Single crochet evenly around the dishcloth for edging at the end
Use bright and bold colors for a popping look
Go with cotton yarn as it is both washable and durable, perfect for use in the kitchen.
25. Harvest Table C2C Crochet Dishcloth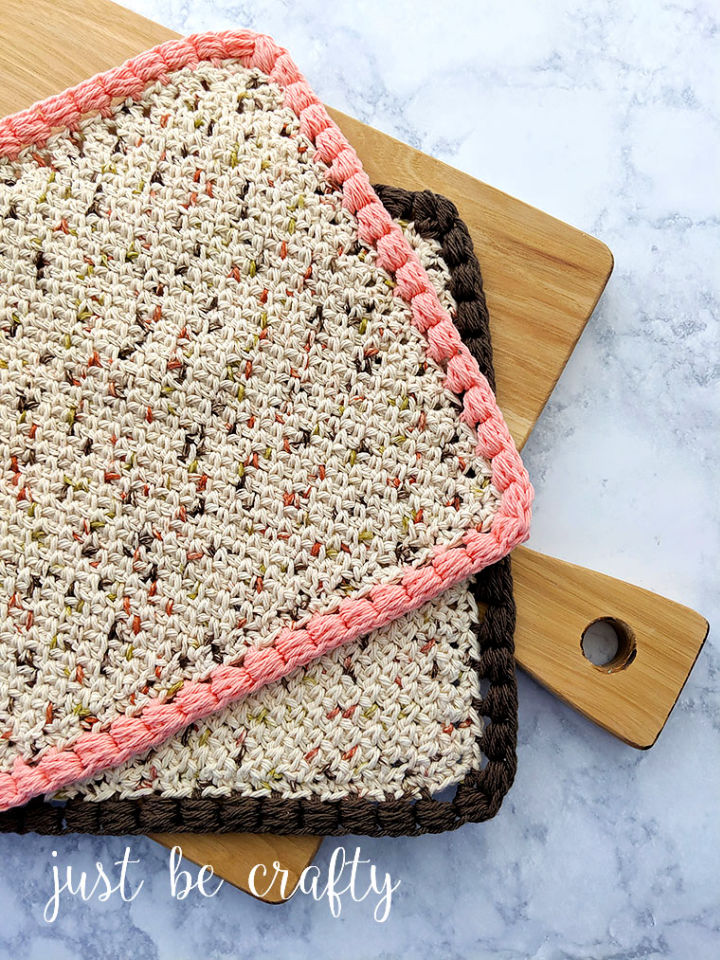 This harvest table c2c crochet dishcloth is a perfect way to make all your guests go wow at the table! It is a perfect fall project, even for beginners. The best part is, it is a fun pattern to work with, which will not take a lot of your time. It is worked up in a corner-to-corner moss stitch. It looks super cool and rustic with all the fall season colors! You can crochet a whole set of six, and it can make a beautiful to your best friend. Also, it is a great last-minute gift too! justbcrafty
What you need:
Lily Sugar n' Cream yarn
5.5 mm crochet hook
Yarn needle
Stitch markers
Scissors
Gauge checker
Bonus tips:
Use 100% cotton yarn as it works best for dishcloths as it is easily washable
You may use your stash yarn to save up money
Use an ergonomic crochet hook for a perfect comfortable grip!
26. C2C Crochet Tote Bag Pattern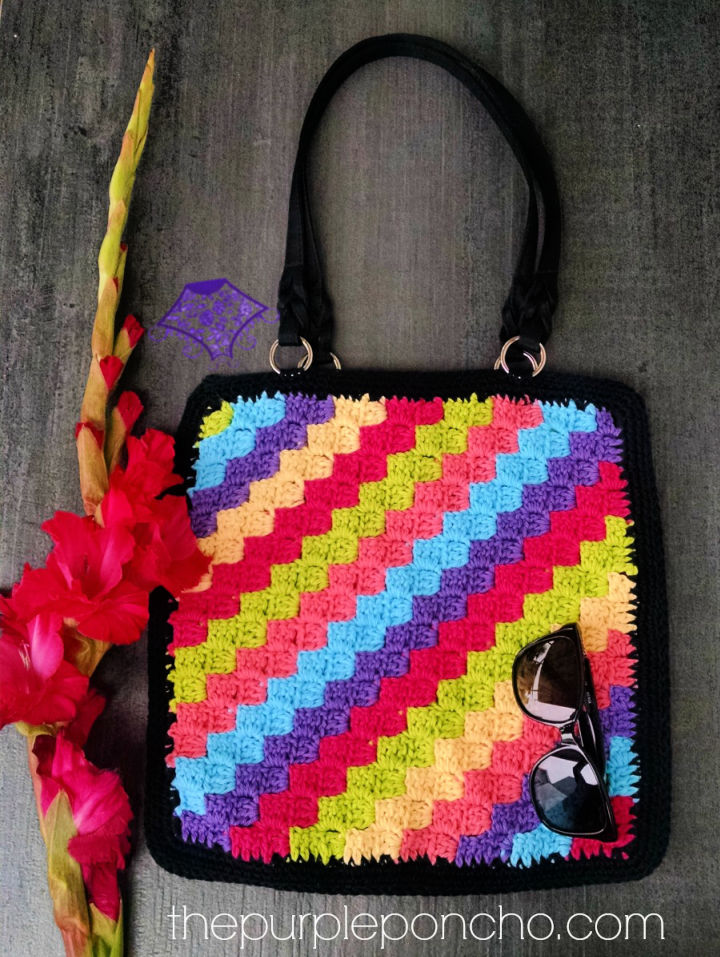 This c2c crochet tote bag pattern is an awe-struck one! If you are a handbag lover, this pattern is for you. This free pattern is easy to work with and is not so time-consuming. Even if you are new to crocheting, you do not have to worry about a thing as it comes with detailed instructions for you to follow as you go. It involves the slip, single, and double crochet stitches. Choose vibrant and bright colors for a catchy yet astonishing look! thepurple
What you need:
#4 cotton yarn
3.75 mm crochet hook
Purse handles
Yarn needle
Scissors
Bonus tips:
Use your stash yarn from previous projects to save on money
Color coordinate your rows as you go along
It involves special cluster stitches follow instructions carefully for zero errors!
27. Heart C2C Crochet Child Apron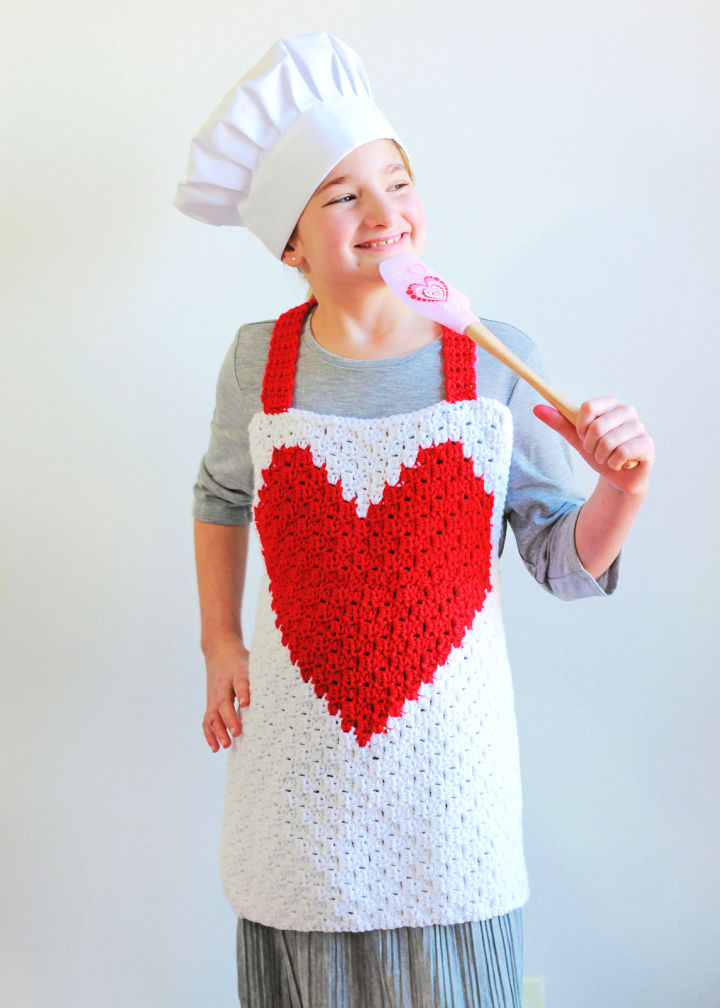 This is the best one in comparison to other free corner to corner crochet patterns. This heart c2c crochet child apron is totes adorable! This is the best thing you can make for your little chef. This beautiful apron is worked up from 2 corner-to-corner panels sewn together to create the apron body and then adding tie straps a neck strap to finish. It is an easy and quick project to work with, and you will have the most amazing time while crocheting it as well. It uses the mini half double crochet technique. nanascrafty
What you need:
Red heart yarn any two colors
10.5 mm crochet hook
Stitch markers
Tapestry needle
Scissors
Bonus tips:
Do not forget to weave in the ends after you are done with your pattern
Choose vibrant colors for a pop look
This pretty apron can make a perfect birthday gift too!
28. Sequoia C2C Crochet Car Seat Canopy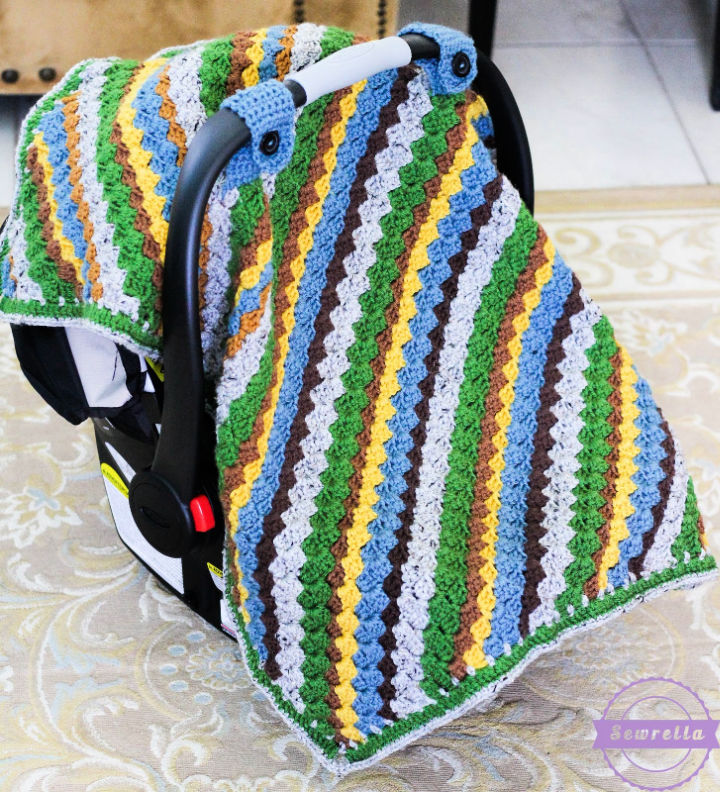 . Sequoia c2c crochet car seat canopy pattern is to drool over! If you are looking for a gift for a new-born child, you are in the very right place. In the colors of greens, blues, and browns, this pattern is a treat to work on. It uses the corner-to-corner stitch with a beautifully edged border. Even if you are new to crocheting, there is nothing to worry about, as the detailed instructions will help you go along. Sew 2 buttons on the straps to make the canopy fix to the car seat perfectly! sewrella
What you need:
Lion Brand worsted weight yarn
5.0 mm crochet hook
2 preferable sized buttons
Scissors
Tapestry needle
Bonus tips:
Use an ergonomic crochet hook for ease of grip
Go with a nice colorway to make your canopy pop
It can also be a comfy blanket with a nice drape!
29. C2C Crochet Rocket Ship Banner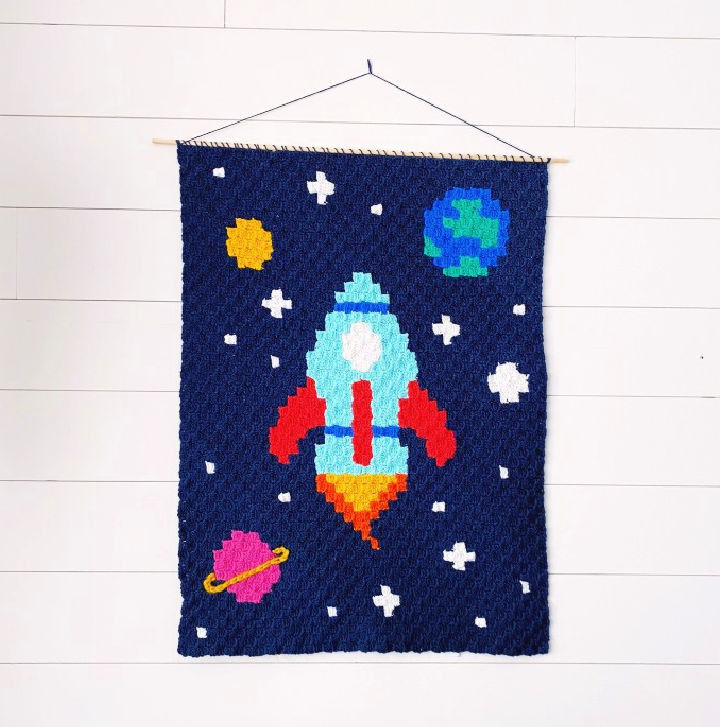 This c2c crochet rocket ship banner is the perfect new addition to your little one's room if they are a Star Wars fan! It would just look so cool hanging behind the bed. Notably, it includes the corner-to-corner increasing as well as decreasing stitch. It will be a piece of cake for you if you are already familiar with the c2c pattern. If not, no worries! As there are detailed instructions with photos for you to follow along as you go. It is such a fun and adventurous plan to work on. It will add just the colors and look you desire to your kid's room. stuffsteph
What you need:
Sugar n' Cream cotton yarn
Crochet hook
Scissors
Tapestry needle
Bonus tips:
Make sure to slip stitch across the borders for a nice, finished look
This banner is unisex and can go for both boys and girls
You can even sell this as a craft project to make good money!
30. C2C Crochet Ice-Lolly Pattern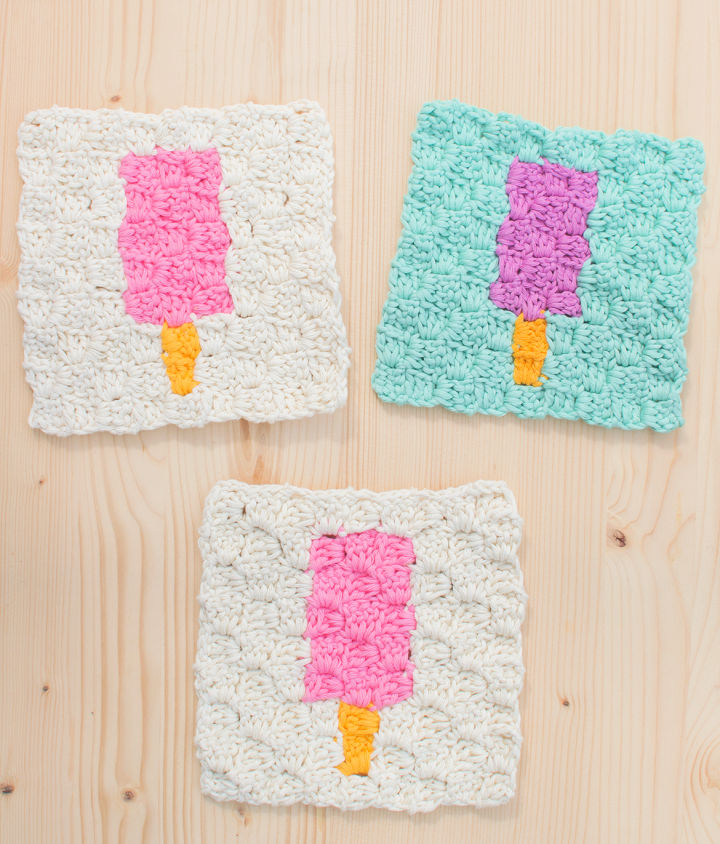 This c2c crochet ice-lolly pattern is so pleasing to the eye! Once you are a pro at this corner-to-corner technique, you will simply get addicted to it. This free corner to corner crochet pattern is both very easy and quick to work on. It is fun as well and makes a nice summer-time craft! You can even use this plan as a wall hanging, a blanket if you want to work in a larger size, or even a dishcloth if you use the mini half double crochet technique. This ice-lolly pattern will look stunning anywhere in your house as it is just so playful to be around! letsdosome
What you need:
Aran weight cotton yarn
4 mm crochet hook
Tapestry needle
Scissors
Bonus tips:
You may use bright colors in accordance with background colors to follow a theme
Make a set of different sizes which can be sold to earn a good amount of money
Use smaller hook sizes where you need to tighten the stitches for a neat continuous look!
Conclusion:
These free C2C crochet patterns are just adorable. If you're a beginner who is still new to these techniques, don't you worry! All you need to do is to have a solid grasp on the basic concepts, and then you'll be ready to work on all of these free corner to corner crochet patterns! Are you thinking of starting a business around the Holiday season? If that's the case, then you should definitely try out these plans as they're going to help you make a good profit. Single crochet, double crochet, treble crochet, moss stitch, granny stitch, and other techniques like these are used all over these crochet projects.