Crochet cactus is super easy to make and decorate your home as a houseplant. Do you love gardens and plants? If yes, then you'll love these 20 free crochet cactus patterns that come with PDF to download. Usually, the people who like plants and care about them are actually very caring in real life too. They are compassionate and have a kind heart. You can show everyone how much you love plants with free crochet cactus pattern. It can get a little hard to look after real plants due to a busy work schedule. This is why these free crochet patterns are a perfect fit for you! You won't have to worry about looking after them or to water them. The end results also look quite real, so that's just amazing!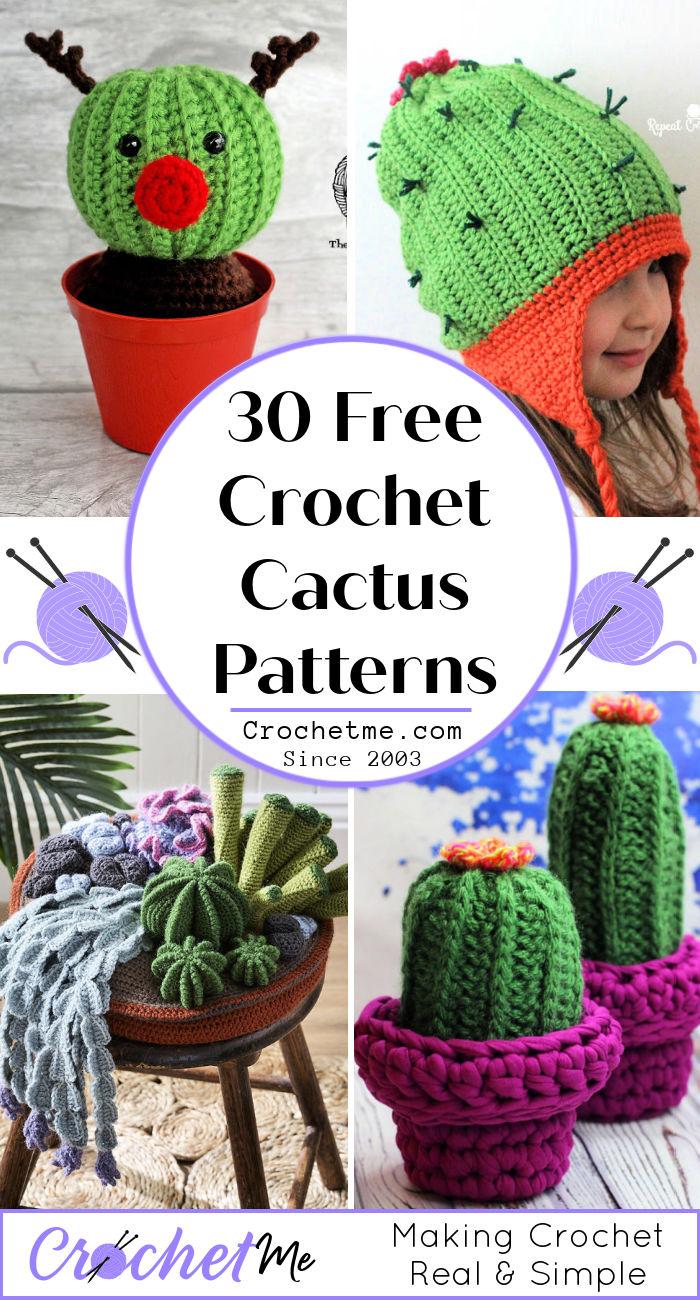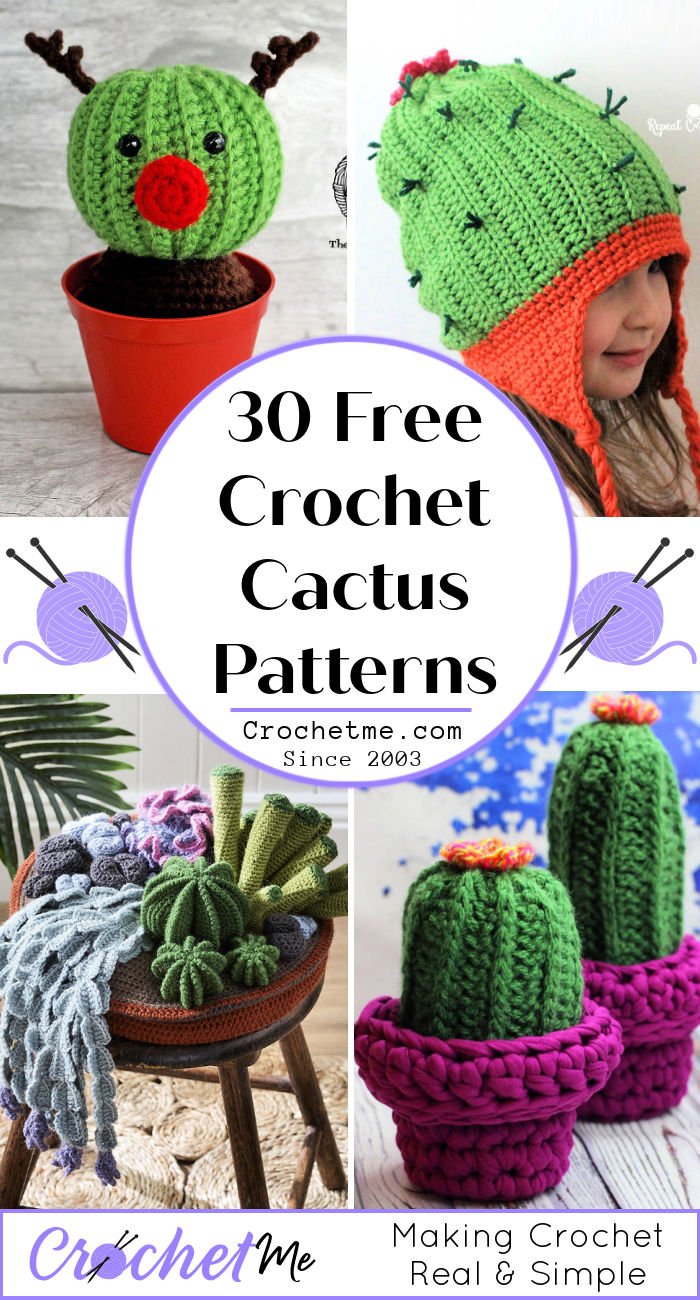 These cactus patterns are just perfect for gifting to your loved ones as they are very on-trend nowadays, and everyone seems to love them! You can choose to make it will crochet planter or real planters- whatever you prefer! You can make them look as real or as cartoon-like, that you'd like. This article will cover a range of crochet cactus patterns, from camel stitch cactuses to cactus pillows, from cactus coasters to cactus gardens; from scrubby cactus to succulent plants and amigurumi cactus! There are a lot of crochet cactus patterns to choose from. After all, who doesn't like to have a few options to decide from?
1. How to Crochet a Cactus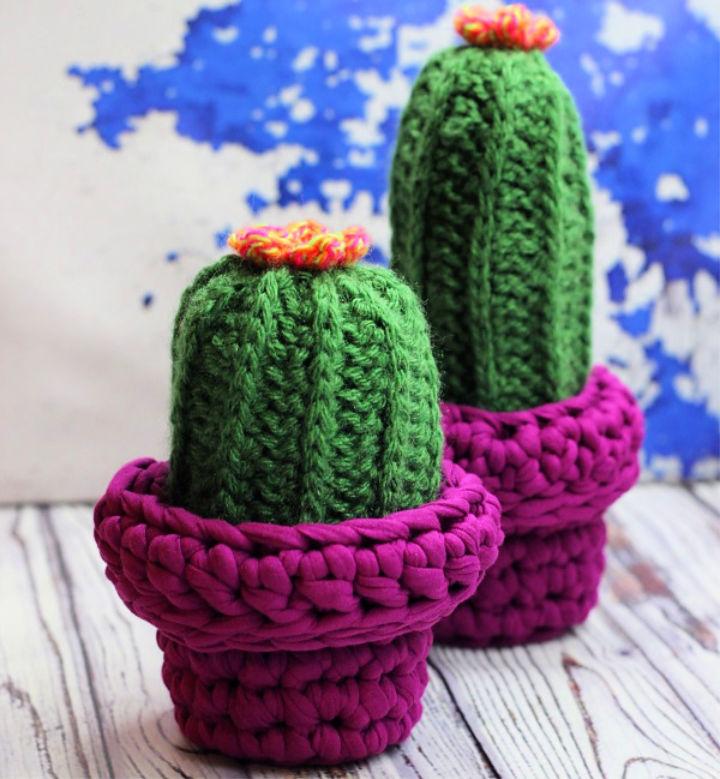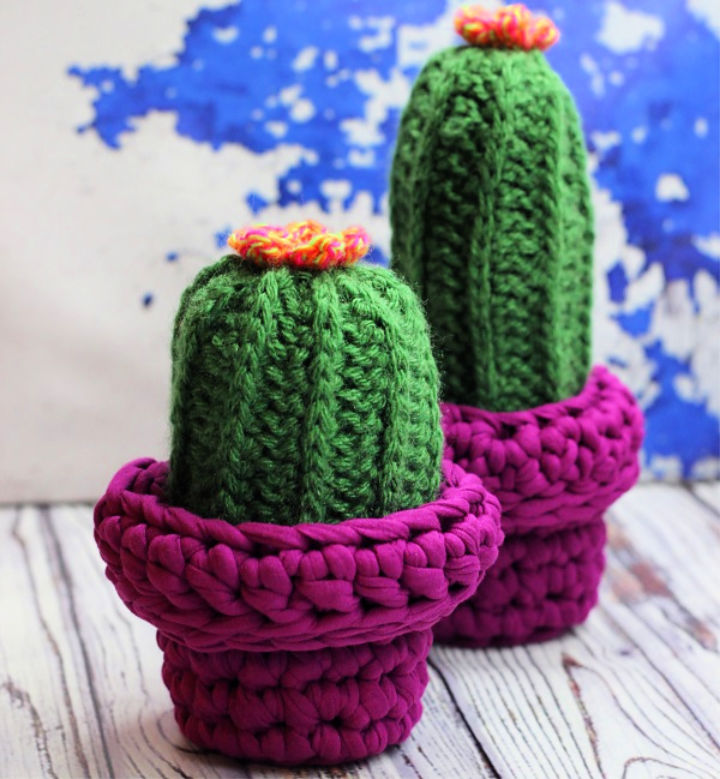 A camel stitch cactus is a beautiful way of adding some decor and detailing to your house. If you love plants but don't have the time to look after them, you could just make something like this! It will make a fantastic last-minute gift as it does not take a long time to make. You need to know how to camel stitch properly for these patterns. oomanoot
Crochet Hook: 4mm hook
Yarn Weight: Green Worsted Weight Yarn (25 gr)
2. Crochet Succulents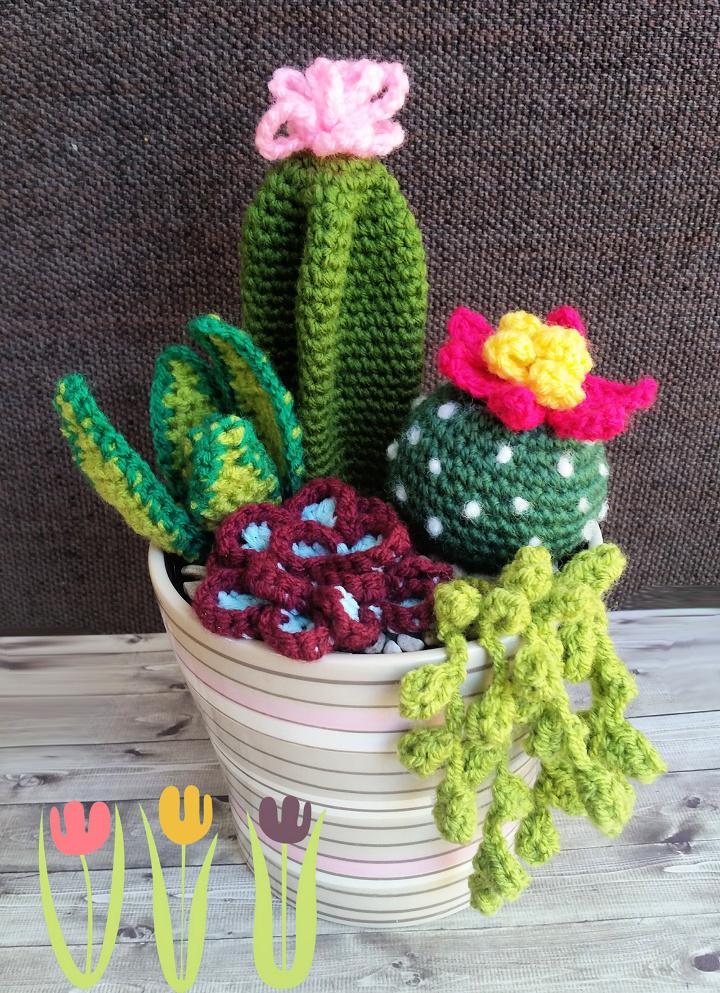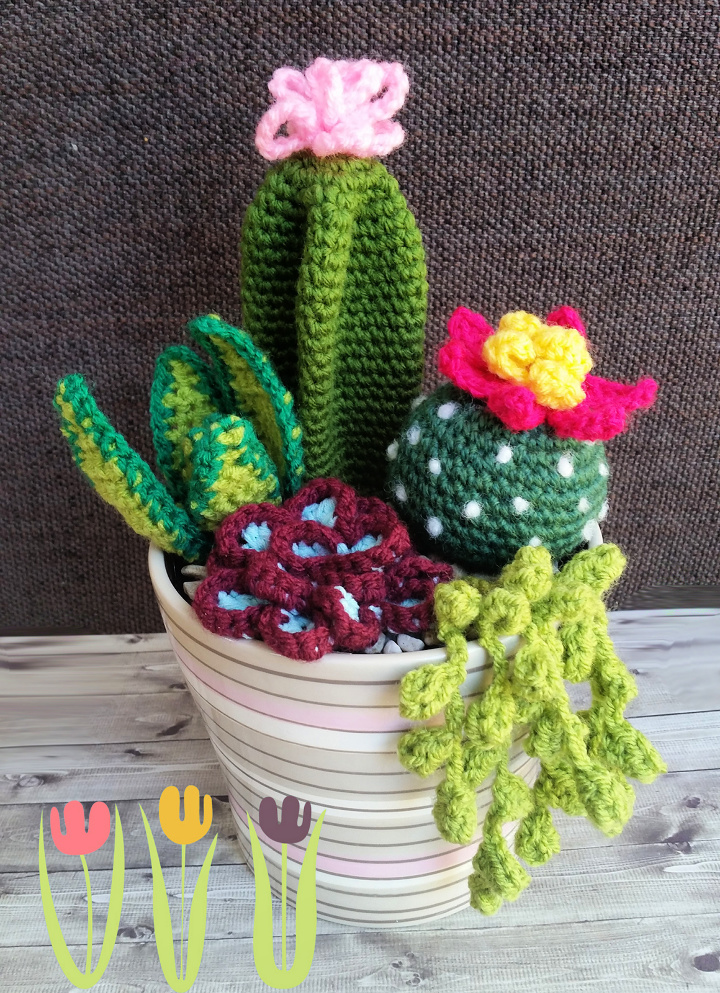 Here's a very beautiful and almost real-looking crochet succulent pattern. You can just place the finished product in a planter and call it a day. It will look very stunning and add a lot to your house without any pricks hurting your little ones. You need to know a few basic stitches and how to increase and decrease. The "Crochet Magic Circle" stitch plays an important part. yoo rs
Crochet Hook: 3.5mm/ size E
Yarn Weight: Acrylic Worsted Weight Yarn – green and pink
Finished Size: 5" tall
3. Amigurumi Cactus – Free Crochet Pattern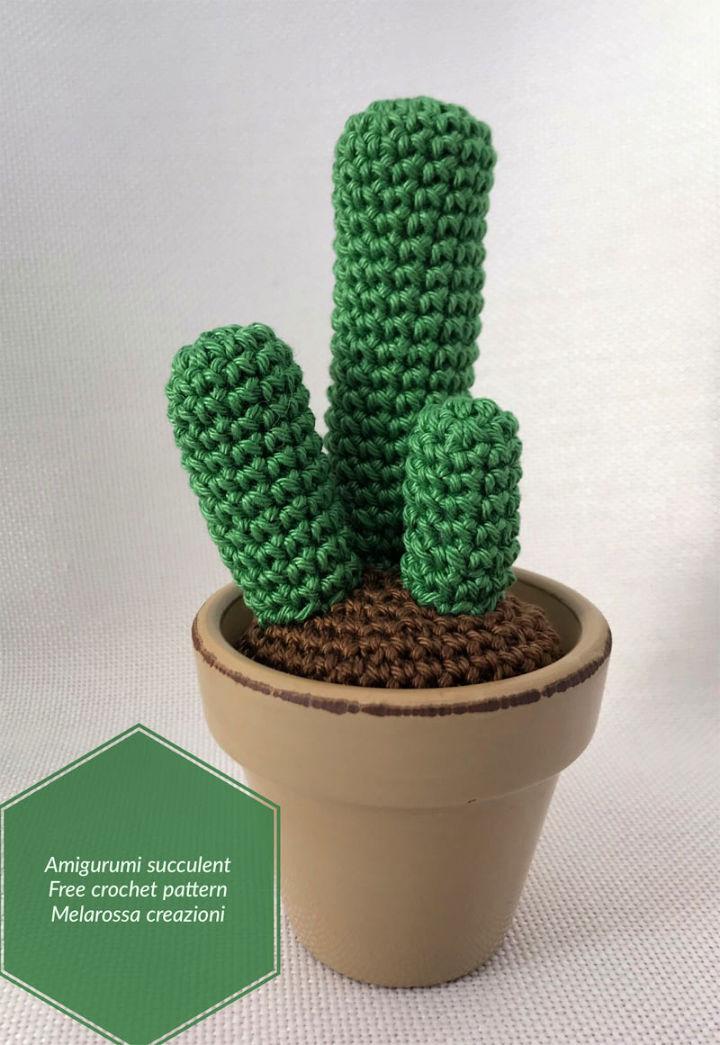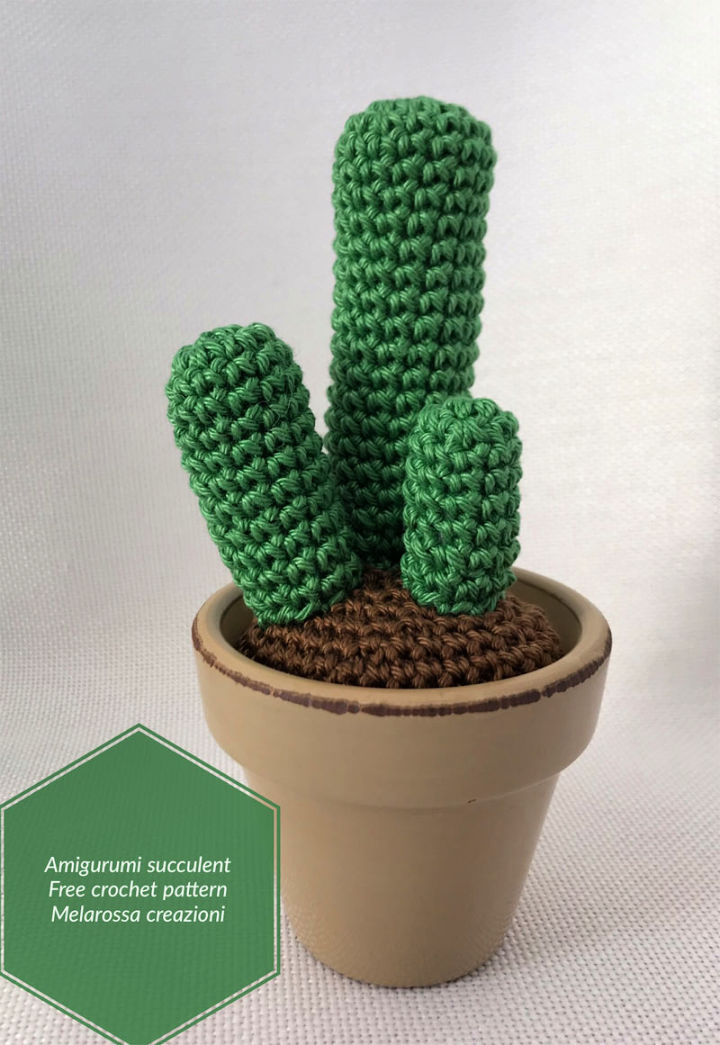 Such a pretty amigurumi pattern! Compared to the other crochet cactus patterns, this is a lot more detailed! The best part is that even the soil is made up of crochet and stitches. The brown colored soil, along with the three green little cactuses on top, really join the look together. You can work on the soil first and then attach the cactuses on top of it melarossacrea
Crochet Hook: 2.5mm
Yarn Weight: Schachenmayr Catania cotton yarn (50g/125m)-brown(157), green ( 412)
Finished Size: 7cm-diameter, 6cm- height
4. Crochet Succulent Pattern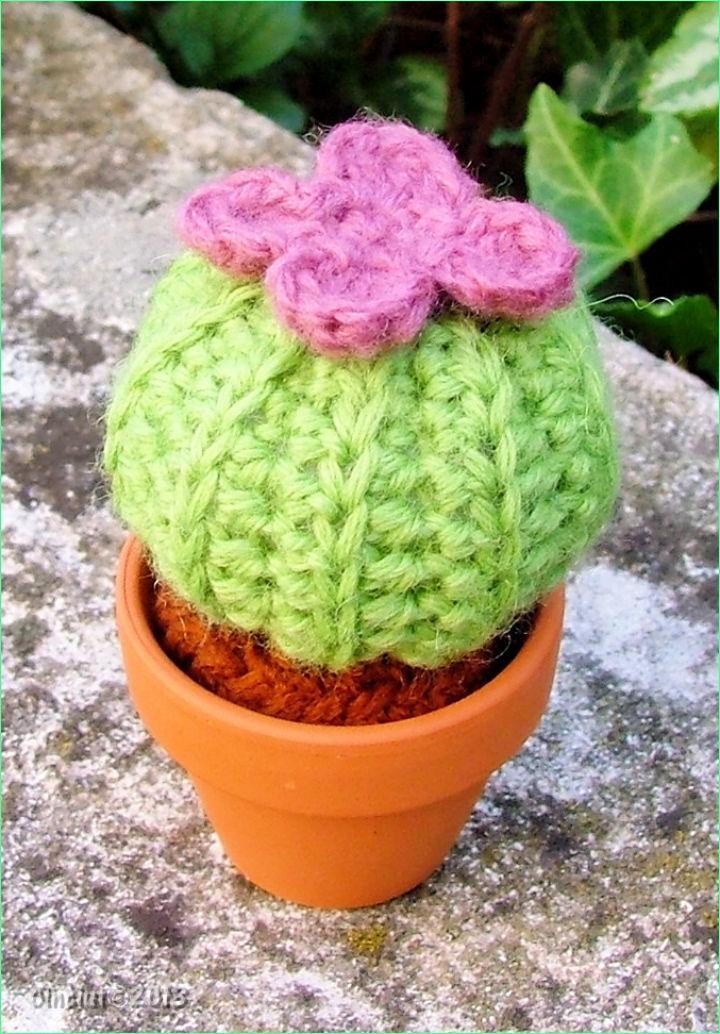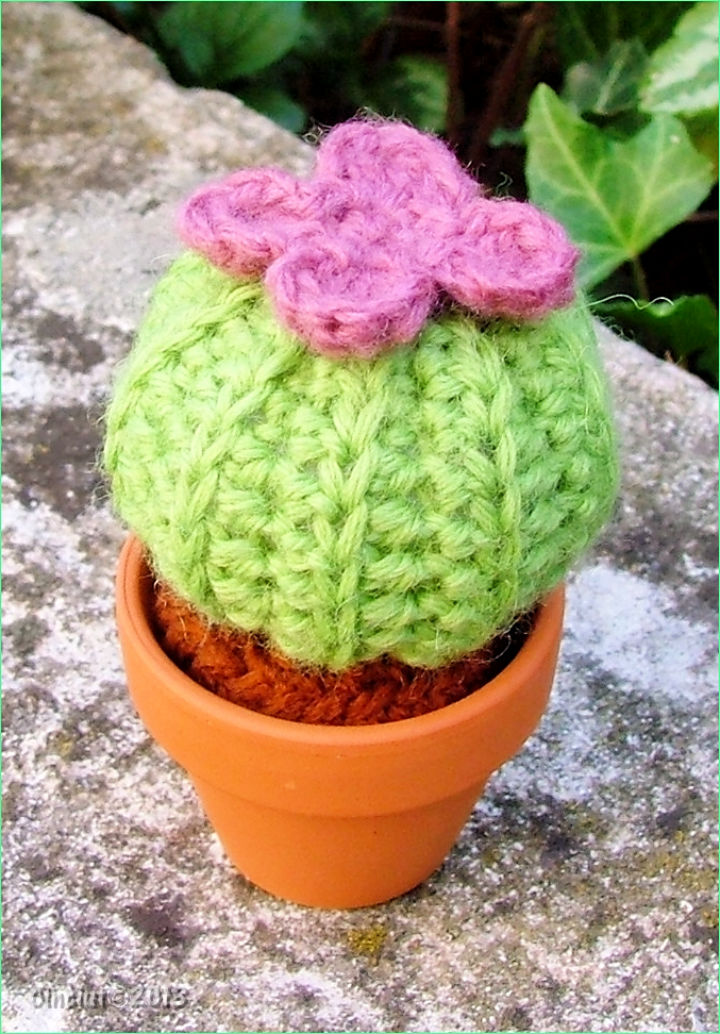 Succulents are very on-trend right now. Everyone seems to be buying them and placing them in their houses as decor. If you want to follow the same trend but with a twist, then you should definitely follow this guide. These plants look like they're out of a cartoon movie! You will love the positive energy they give off and its unique pattern. ravelry
Crochet Hook: 3.0mm
Yarn Weight: DK yarn (11 wpi)
5. Crochet Mini Cactus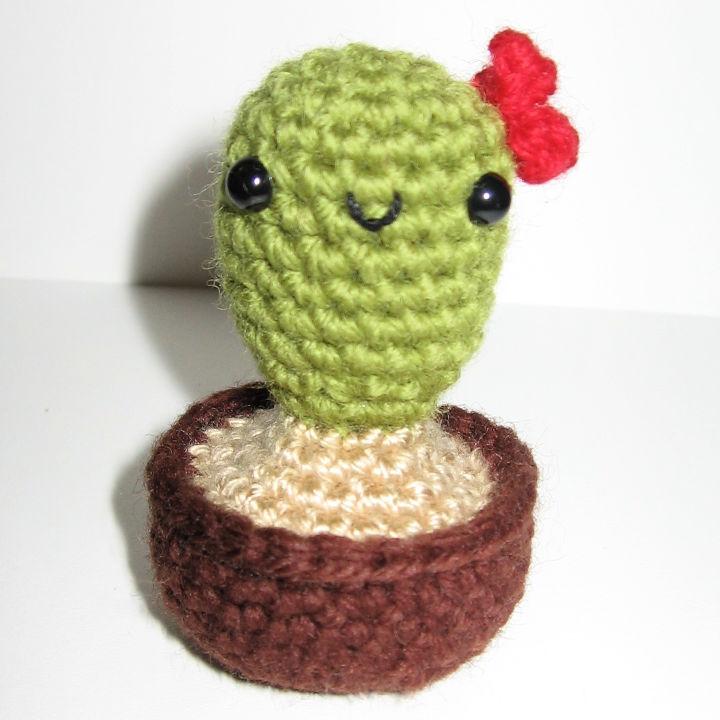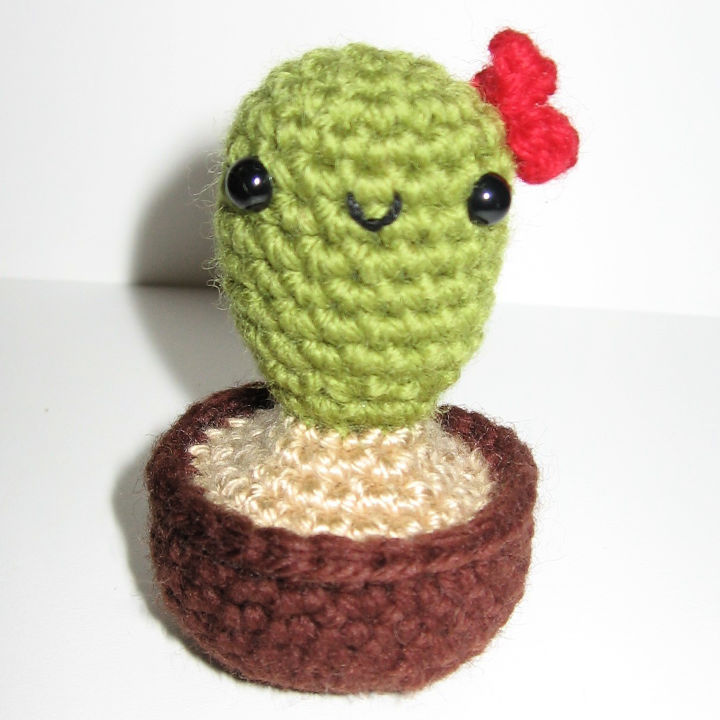 Can you even believe how cute this crochet cactus pattern is? It has a little smile with two little eyes and a bow on the head to finish it off. Who knew that the prickly cactuses could look so soft and welcoming? The planter and the soil are all crocheted, and that's just what makes this pattern so much prettier. You may skip this step if you don't have the time. Just place it in a store-bought planter. amigurumipat
Crochet Hook: size F
Yarn Weight: Worsted Weight Yarn-green, cream and brown
6. Crochet Cactus Pillow Pattern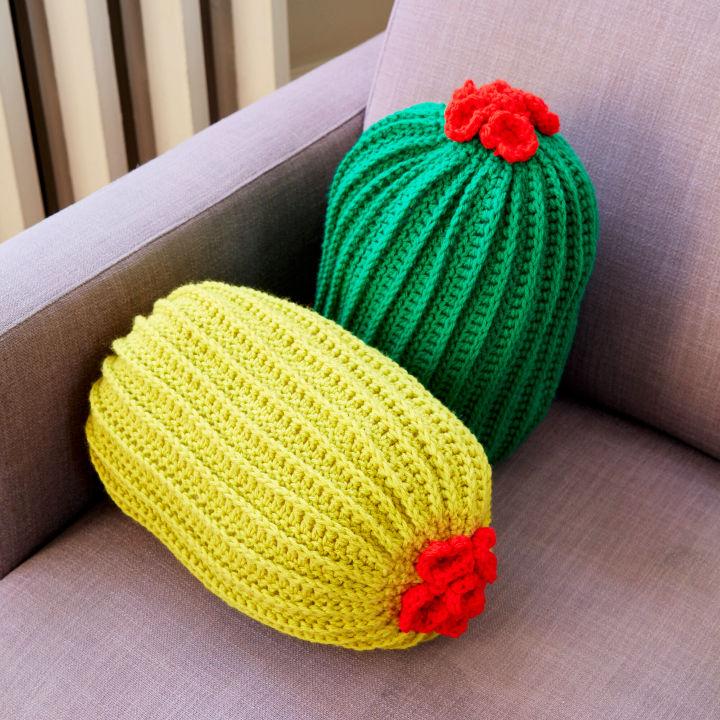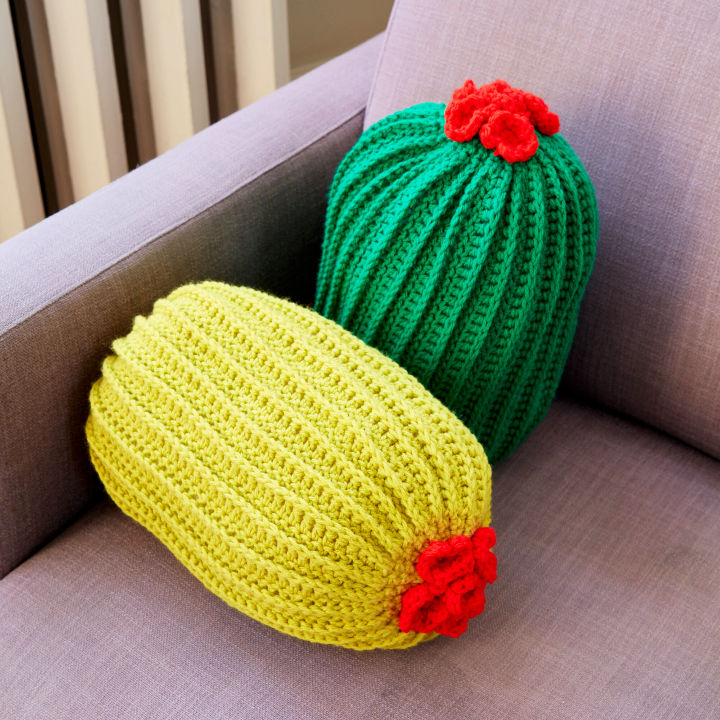 Pillows need to look cute enough to place them anywhere in your house; for example, these beautiful cactus inspired crochet pillow pattern! They have a cactus shape to them with a flower attached on top. They are also super soft and pretty at the same time. What more could you ask in a pillow? Use a color of you which will go with the theme of your house. yarnspirations
7. Free Crochet Cactus Patterns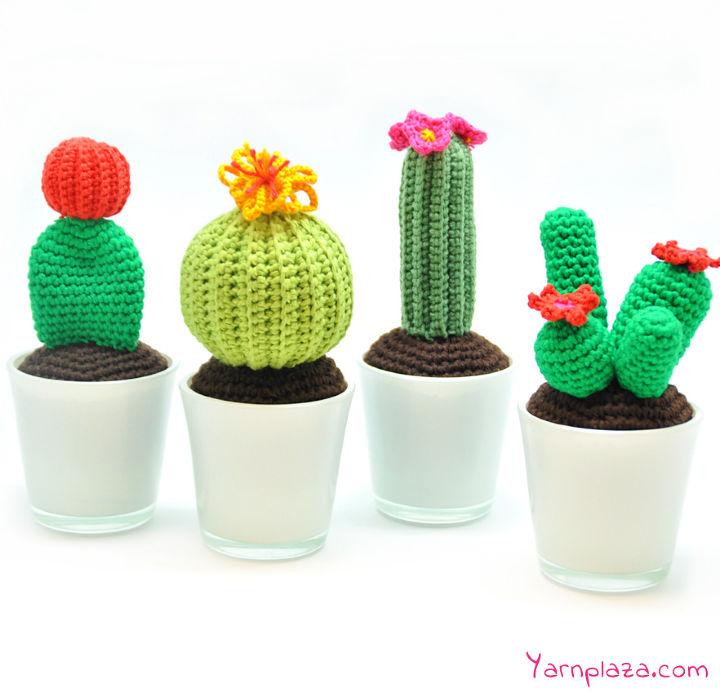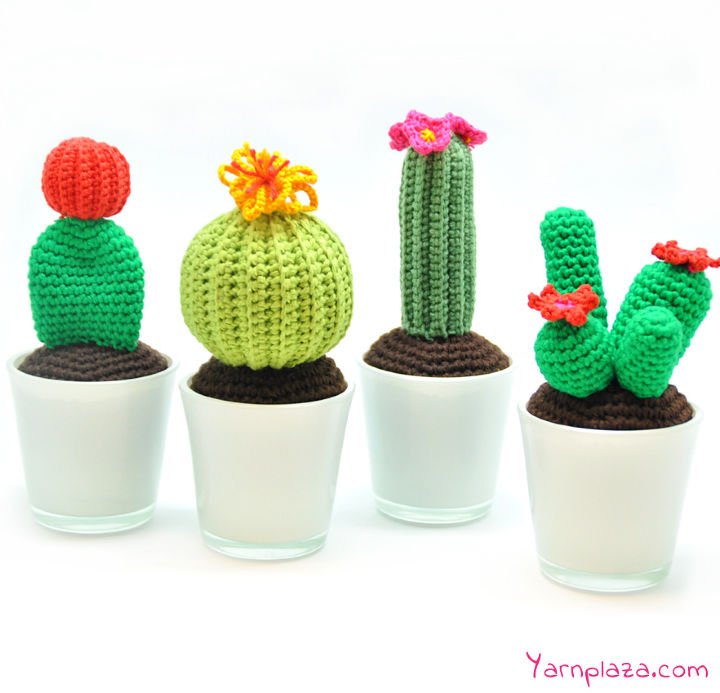 Did you think that a cactus just has a straightforward shape and nothing interesting to it? Well, you thought wrong. Look at the variety of patterns and designs in this guide. From anime like cactuses to elongated ones, a lot is going on! It's super cute and colorful- perfect for adding some green to your house! You may change the color if you want. yarnplaza
Crochet Hook: 2mm, 2.5mm,3mm,3.5mm hooks
Yarn Weight: (6 balls) ball Phildar Cabotine- color 30, Phildar Phil Coton 4-color 44, Rico Creative Cotton Aran-color 41, Rico Creative Cotton Aran- color 58, Phildar Phil Coton 3-color 84, 77, 34
Finished Size: 7cm x 7cm
8. Crochet Cactus Coasters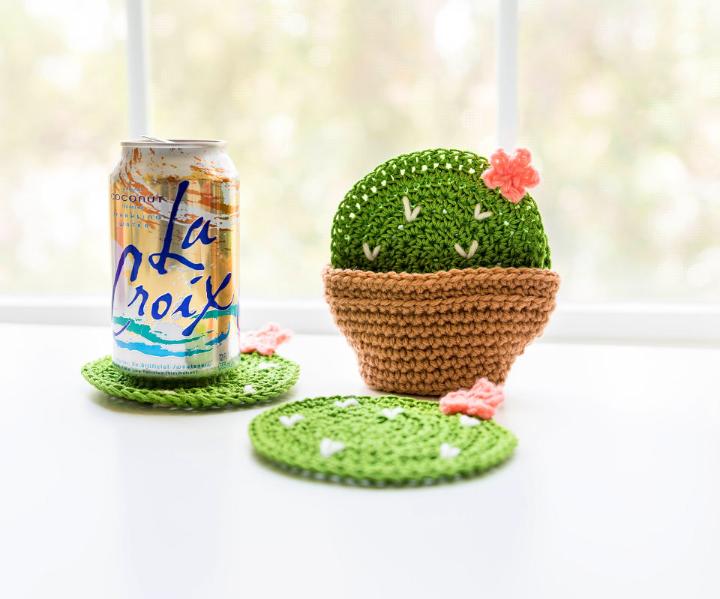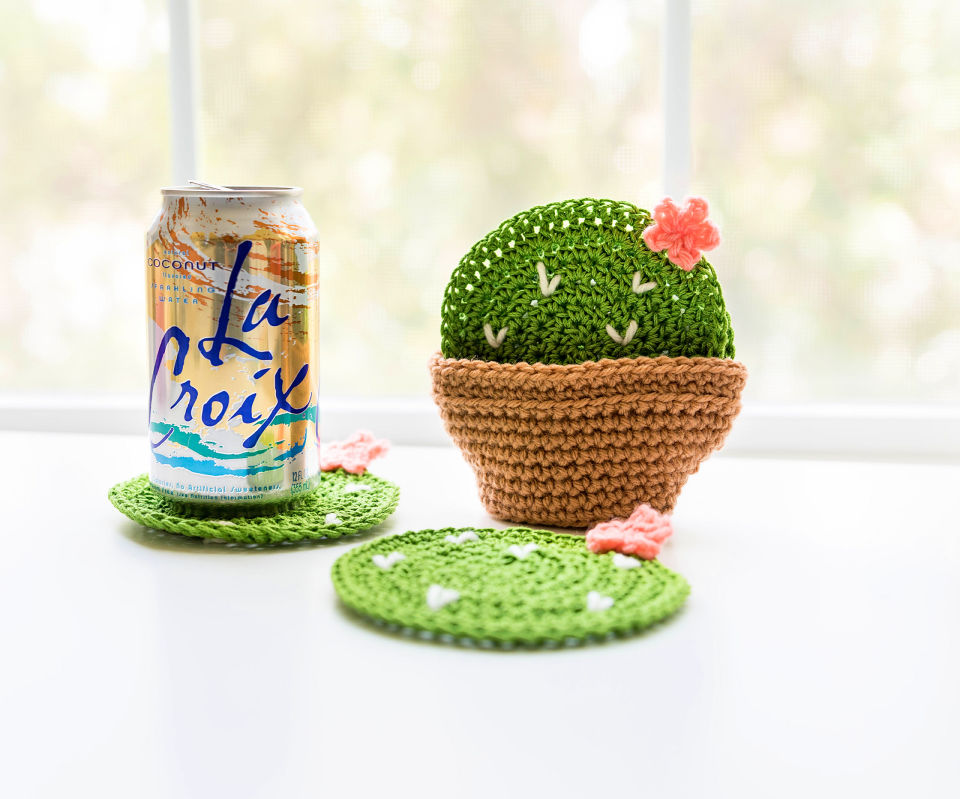 You may have thought that all what could do with cactuses for decor, well, here's when the pattern comes in handy! You can make some stunning coasters with this fantastic plan. This is such a good idea, and it also shows you how you can make a cute little holder for the coasters too! All using crochet and yarn. You can place it on your dining table and see the room light up! sewrella
Crochet Hook: Size G/6 4.25mm crochet hook
Yarn Weight: (2 skeins) Lion Brand 24/7 Cotton yarn in Grass, Camel, Cream, and Peach
9. Crochet Succulent for Pins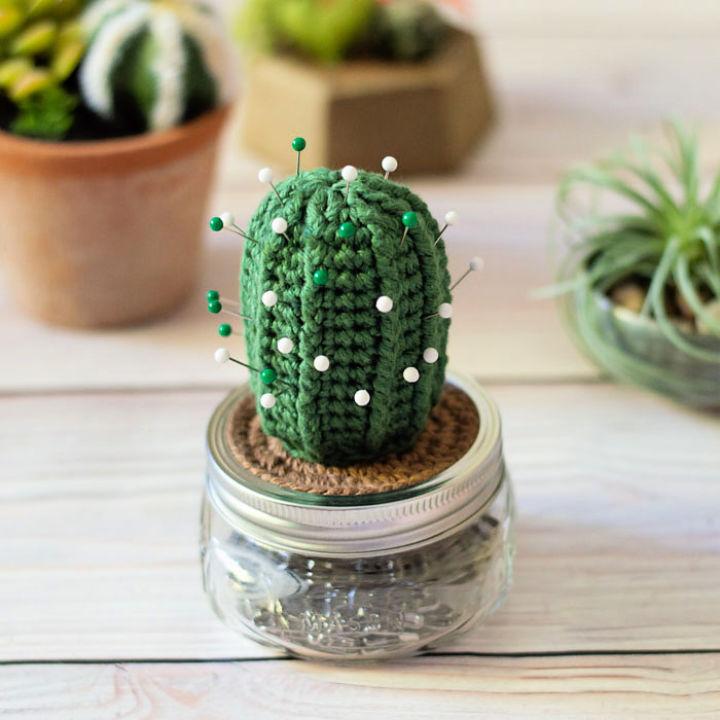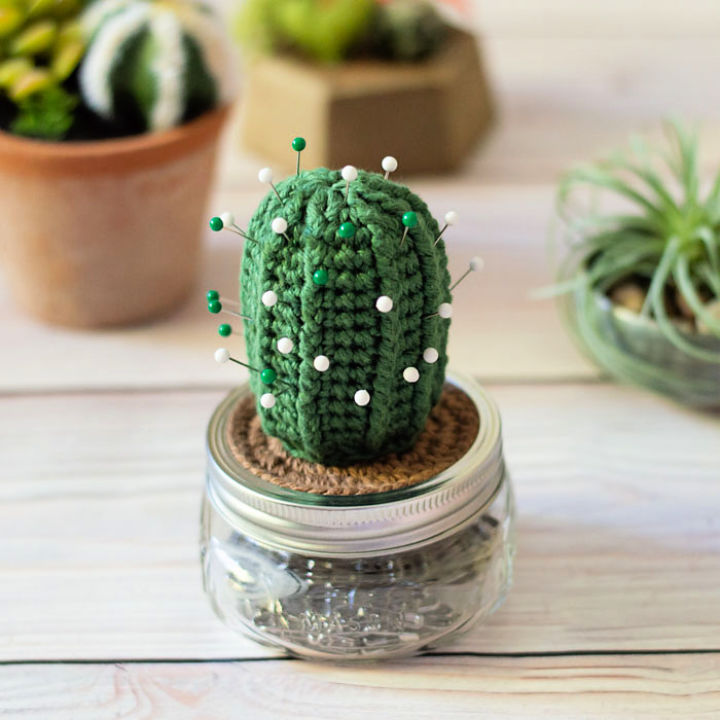 If you're really into crochet, sewing, or knitting, then you may own many pins! It's very hard to store them as you just can't put them anywhere since they get lost easily. This is a great idea to store your pins. Just make a little cactus with some yarn and then attach it to a container to keep it standing. You can just attach your pins to it and take them out when you need them. whistleandivy
10. Crochet Cactus Free Pattern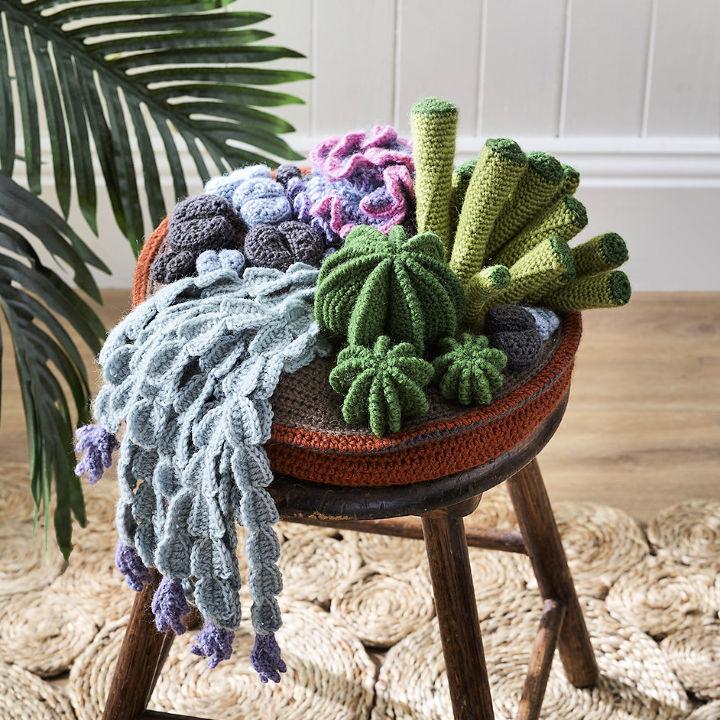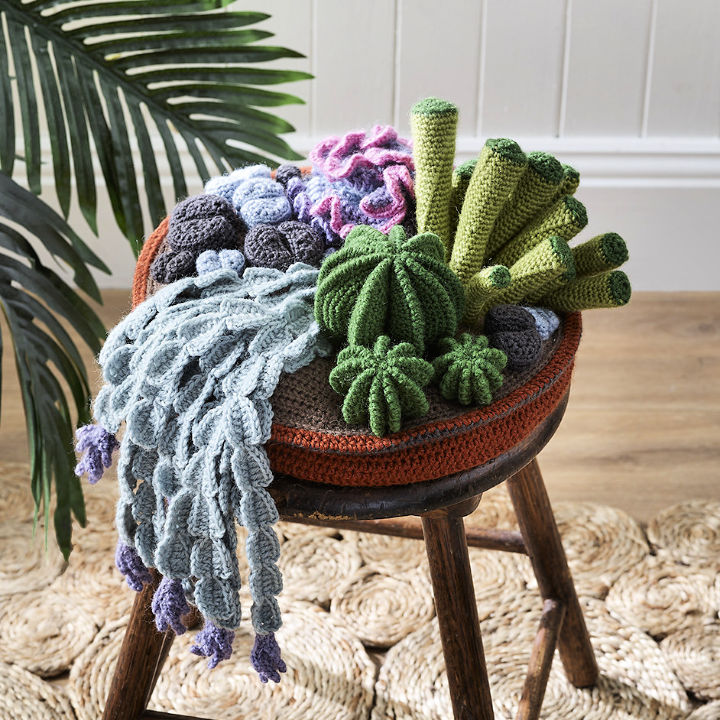 A very different approach to this pattern compared to all the other crochet cactus patterns in this article. Have you ever seen a cactus garden? It is absolutely stunning but very rare to find, at the same time. This is why it's a good idea to make one until you actually see one in real life. This beautiful pattern with a lot of detailing will be a great decor piece for your house. We all love to make our houses look a little more interesting. spotlightstores
Crochet Hook: 4mm
Yarn Weight: 4 Seasons' Pure Wool 8ply 50g: (C1) Rust, (C2) Shitake, (C3) Emerald, (C4) Pale Green, (C5) Dusty Blue, (C6) Wisteria, (C7) Pale Pink, (C8) Mint, (C9) Charcoal
Finished Size: 28cm diameter
11. How to Crochet Cactus Garland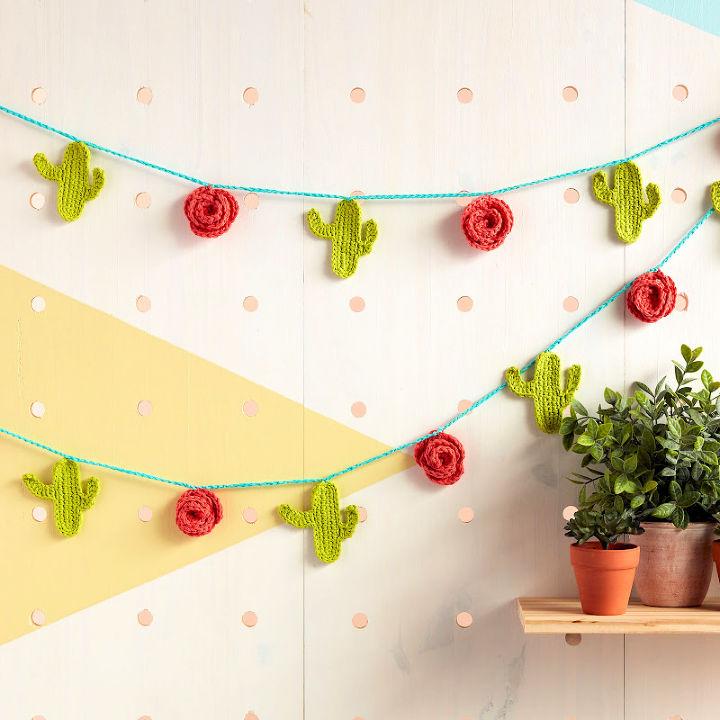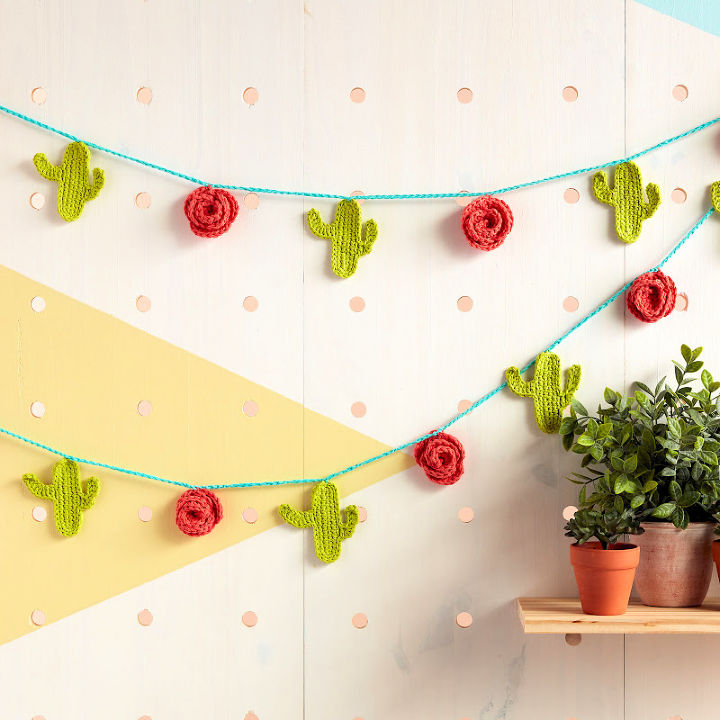 Garlands make a beautiful piece of decor. You can either use them on some special occasions or just hang them around the house because you want to! If it's a cactus and rose garland, then it should definitely be in the corner of your home. It will add so much to your house and make the plain corners look a lot more interesting, which is what we all need. Isn't that just perfect? yarnspirations
Yarn weight: lily sugar'n cream the original yarn- hot green, tangerine, seabreeze
12. Crochet Kawaii Inspired Cactus Cuddler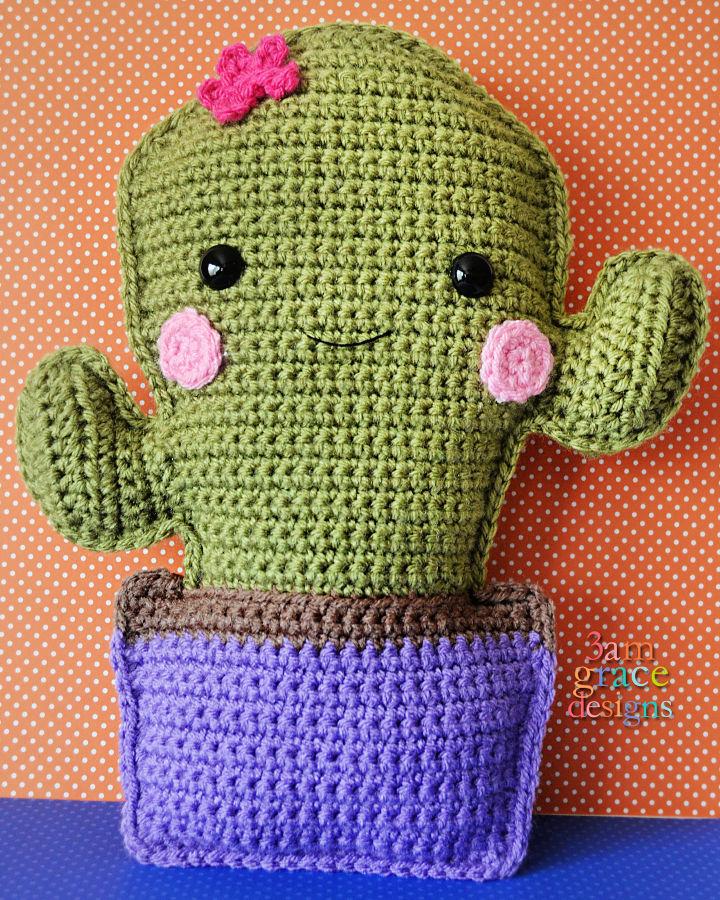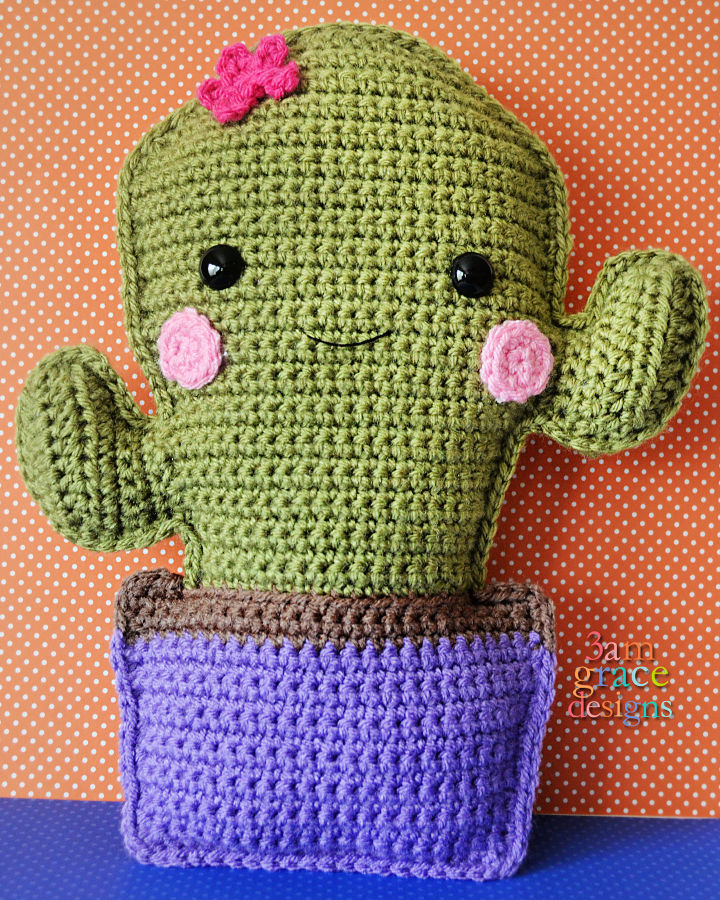 A cute little kawaii inspired cactus cuddler is just what we all need in our lives! It is so cute with the blushy cheeks and a flower on its head. If your cat just doesn't care about you and never wants to cuddle with you, don't you worry! Just make this cute cuddler, and you won't need anything else! It will also look really nice as a decor on your bed. 3amgracedesigns
Crochet Hook: size H/ 5.00mm
Yarn Weight: Worsted weight yarn- purple, brown, green, pink, and light pink.
Finished Size: 12" tall
13. Cactus Pattern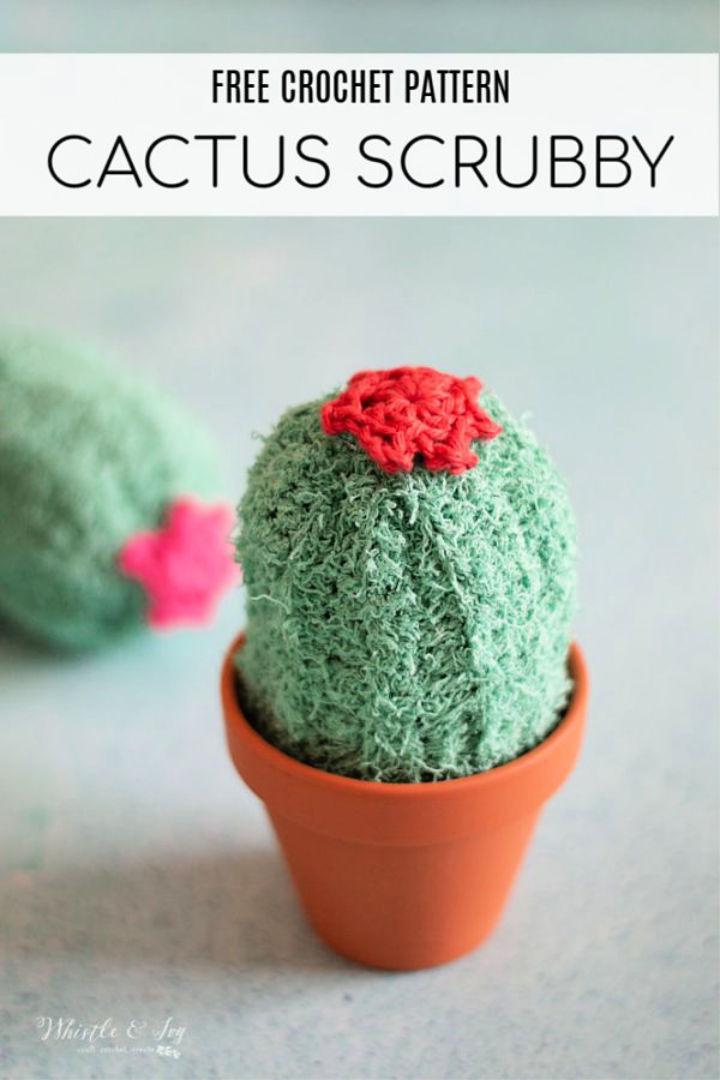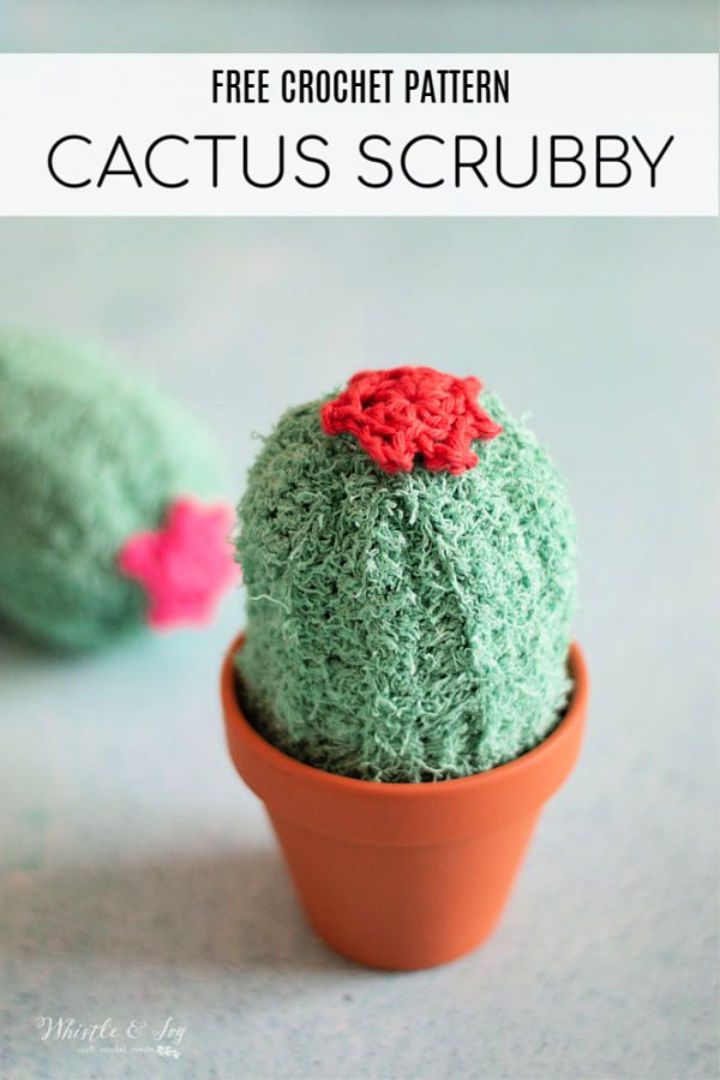 The real cactuses tend to have a scrubby look to them. If you want the same to happen to your crochet cactus, then you should follow this plan. Compared to the other crochet cactus patterns, this will have a much more realistic look to it due to the scrubby effect. The effect will have to do a lot with the type of yarn you use, so it is recommended to get the one that is mentioned in the plan. You will love the outcome a lot and feel very satisfied with it! whistleandivy
Crochet Hook: 5mm hook
Yarn Weight: Red Heart Scrubby Cotton
14. Cactus Crochet Pattern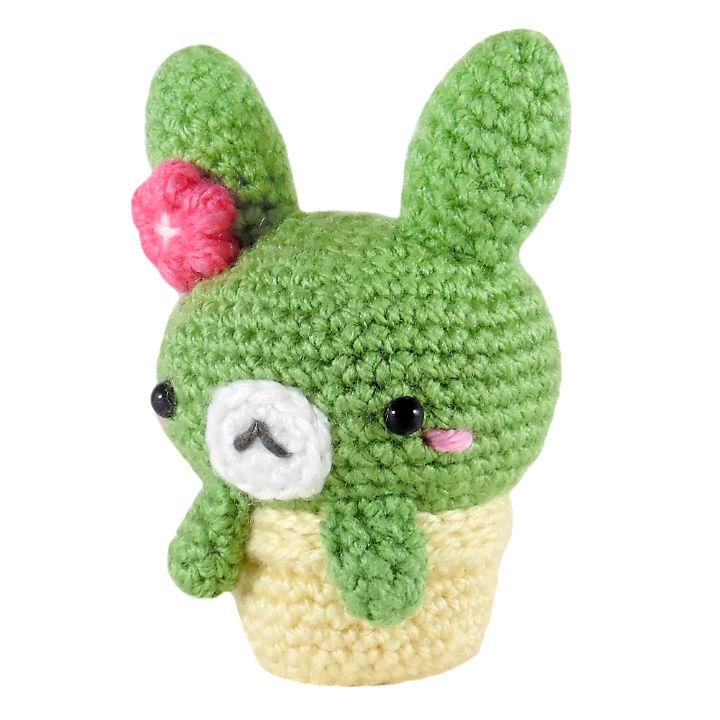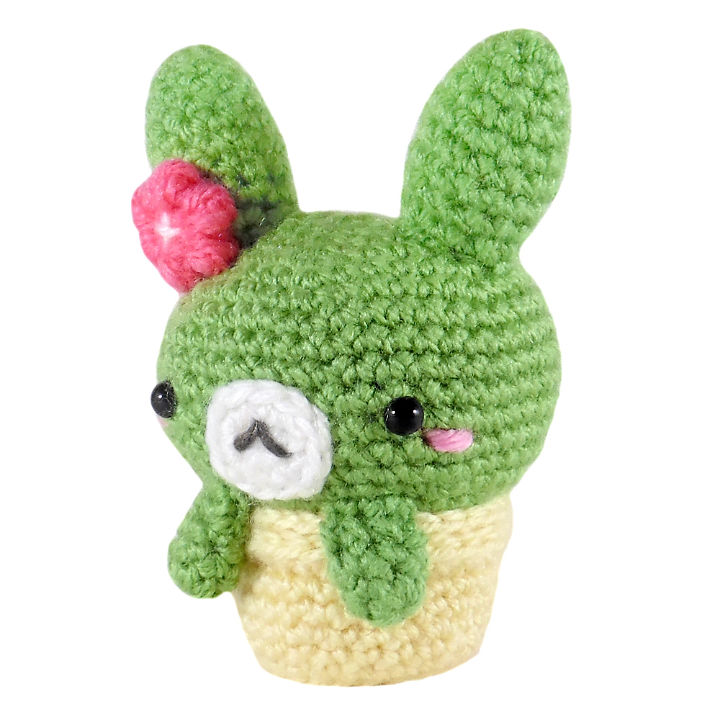 Crochet this cactus amigurumi with this easiest pattern. This is a cute 4 inches bunny that can work up very fast. For this project, you need to work with the stitches in the round, increase, and decrease pattern. Construct puff stitches and work in the front and back loops with 2.75 of the crochet hook and weight yarn. Finish this project off by putting safety eyes on and fill it with stuffing to give the bunny a snuggly look. icrochetthings
Yarn: DK weight yarn in green, cream, white, and pink.
Hook: Size C 2.75mm
Safety eyes: 6mm
15. Crochet Cactus Hat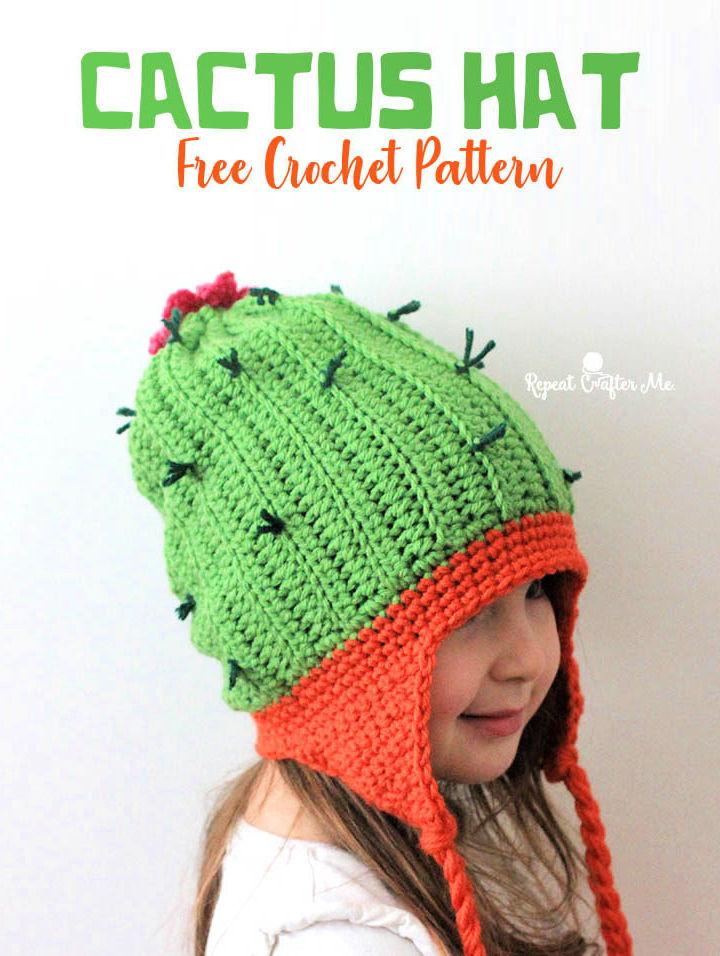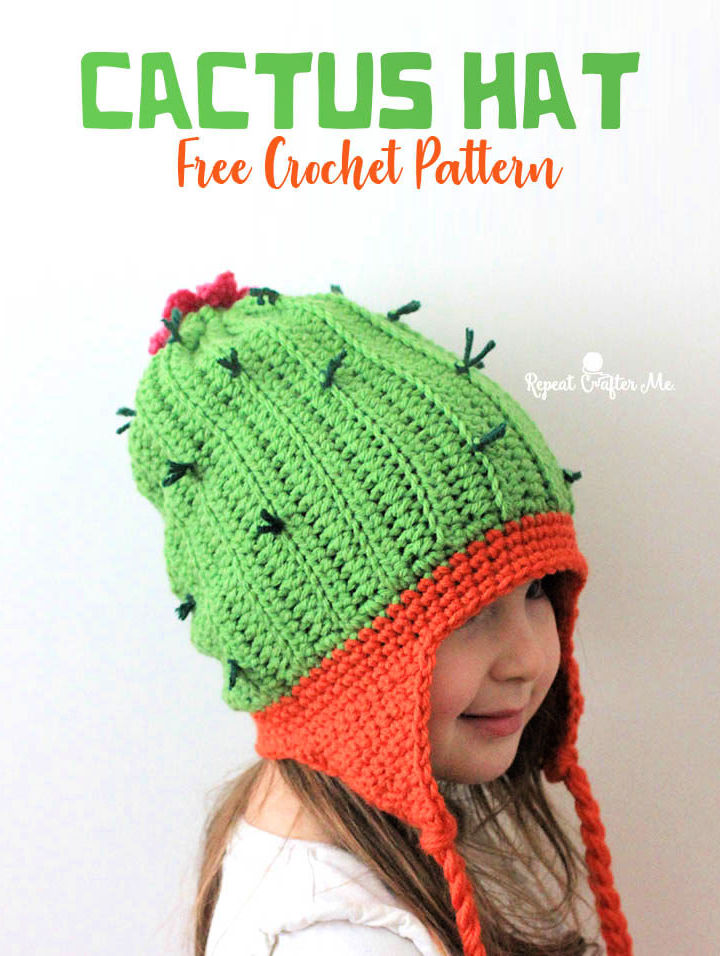 This cactus shaped hat has both warmth and beauty. You can't resist its cuteness, especially when it's on a toddler's head. This crochet hat pattern will work in long strips and then stitched seam together to form a tube. Each strip is around 18 inches long and can fit any 4 to 5-year-old girl or guy. You can also customize the size and, in this regard, check out the size chart to opt for your desired size. repeatcrafterme
Yarn: Bernat super value yarn
Hook: Size H
Bonus Pattern:
16. Crochet Prickly Cactus Pillow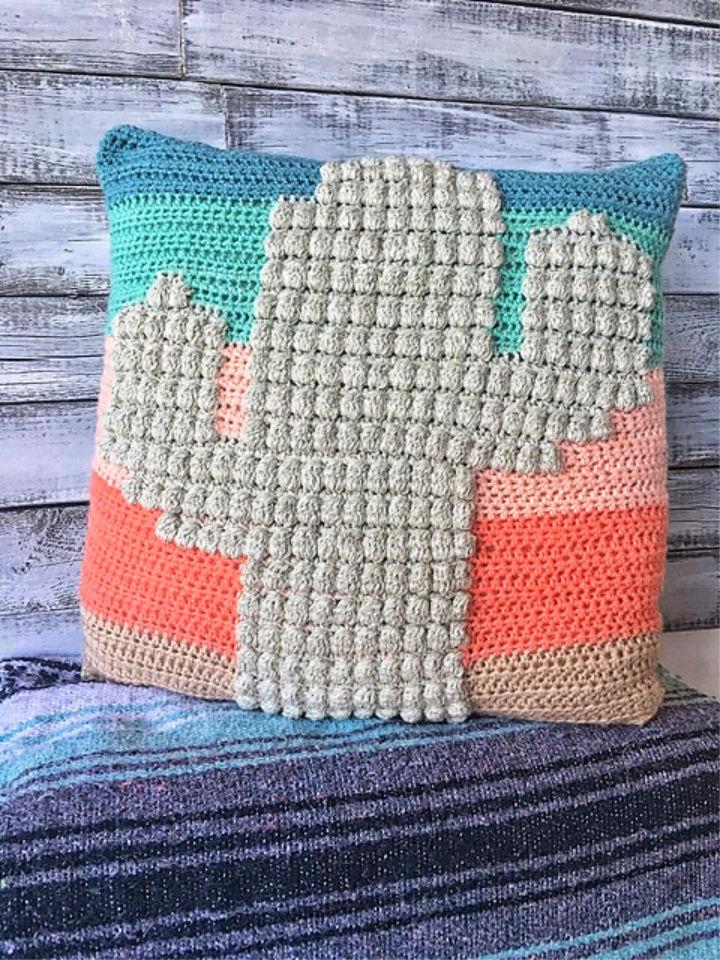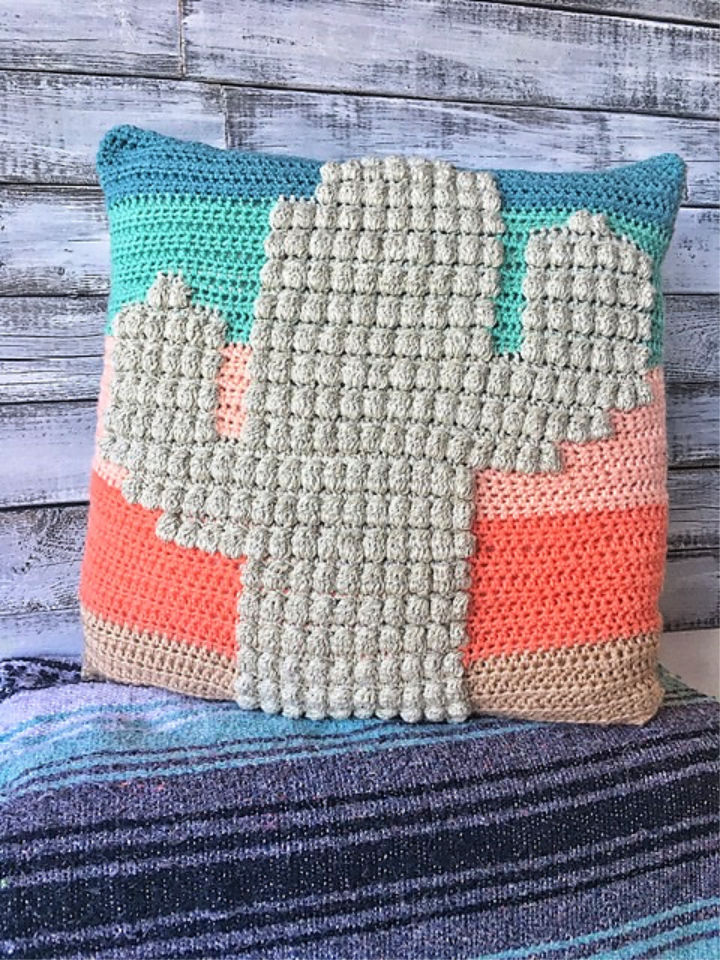 This prickly cactus got its good looks from the cactus plant. Want to crochet one? This super simple pattern will escort you all the way to the end. Size 4 worsted weight yarn with size H hook will be appropriate for making an incredibly soft and squishy textured pillow. Grab your yarn needle to weave in the edges. Fill up the finished fabric with poly-fill to give it a complete pillow look and seam the ends. cactusandlacede
Yarn: Worsted weight yarn (size 4)
Hook: size H (5.0mm)
Guage: 12 Hdc st and 10 Hdc rows = 4''
Finished Size: 20'' X 20'' or 16'' x 16''
17. Crochet Succulent Free Pattern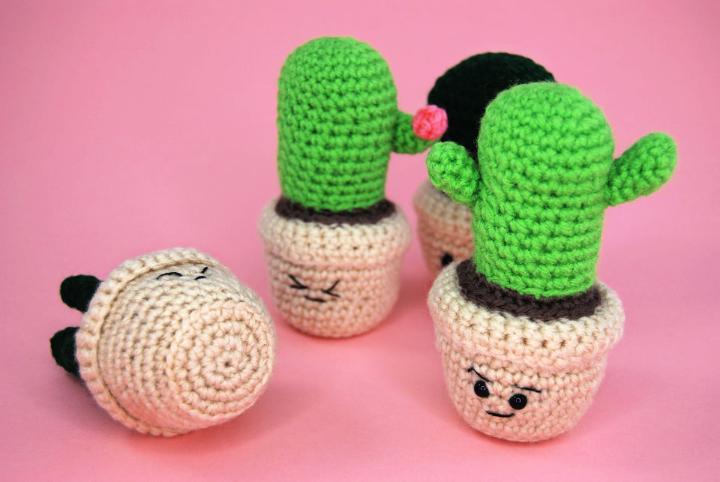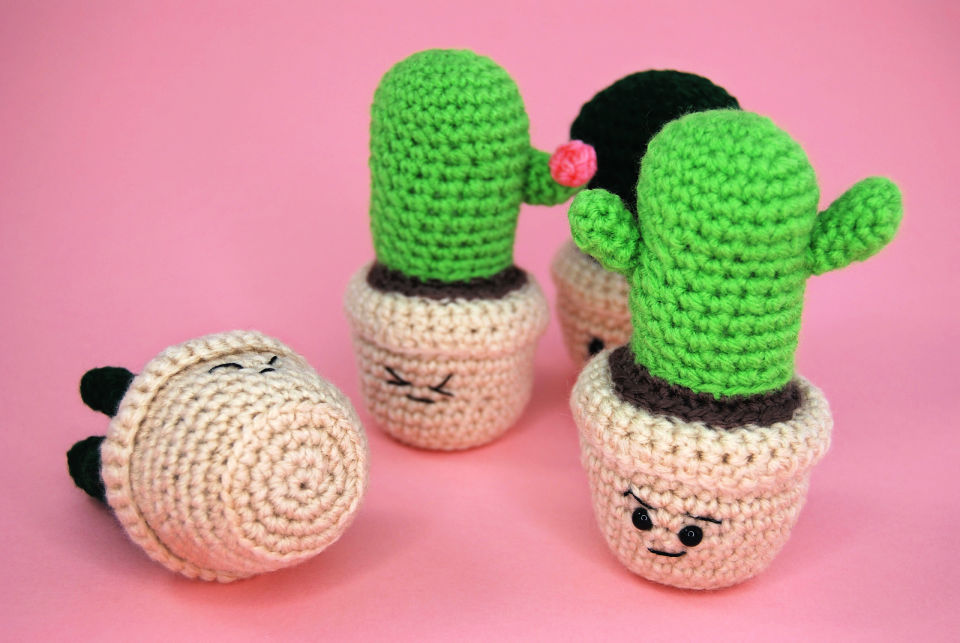 Have you ever tried crocheting succulent amigurumi before? If not, what about giving them a shot? You will love crocheting these teeny-tiny beauties. Pull out your furls crochet hook and skein of yarn to get started, each color needs half of the skein. For a fraction of the price, you can create your very own indoor garden space. The best part is no watering at all! Have a peek on the free pattern here. furlscrochet
Yarn: Red Heart Super Saver yarn
Hook: E/3.5mm furls odyssey crochet hook
Safety eye: 6.5mm
18. Crochet Cactus Garden Free Pattern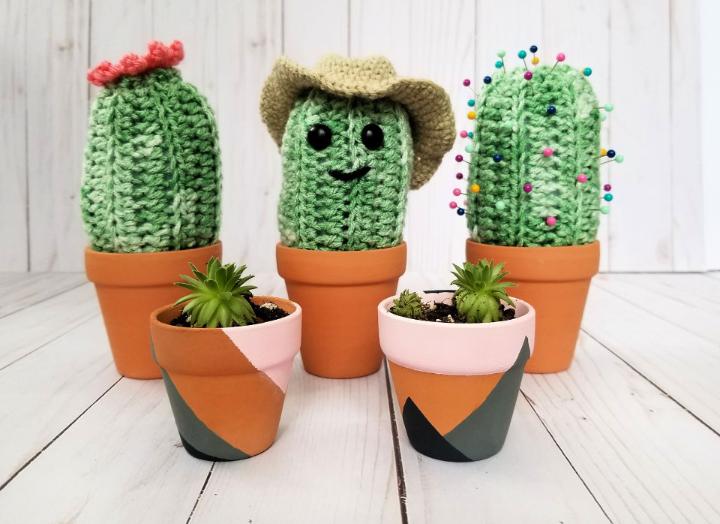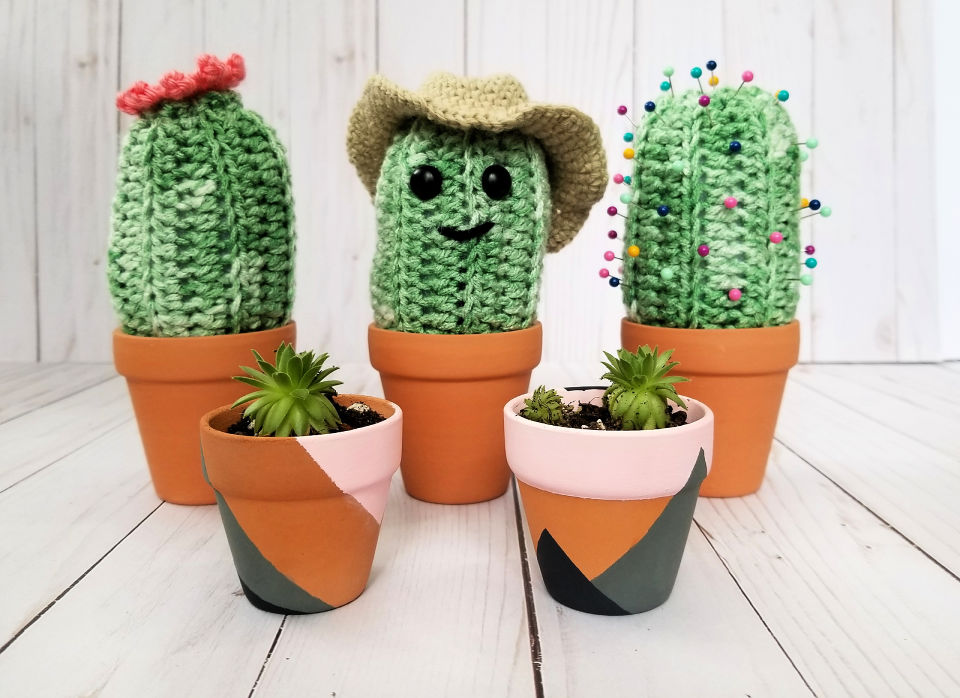 A small cactus embedded in a beautiful pot, placed at the main shelf will add a beautiful ingredient to the beauty of your house. You can make this free crochet cactus pattern as a pincushion. Also, you can improvise the cactus with a hat, goggles, or any other accessory. You can also hide small things in the cactus pot. You can crochet it even if you're a beginner. Pro-tip; you can change the length and width of the cactus by adjusting the beginning chain and minimizing dc rows, respectively. hooksnsunshine
Yarn: Worsted weight yarn (Red Heart Super Saver)
Hook size: 5mm
19. Cactus Garden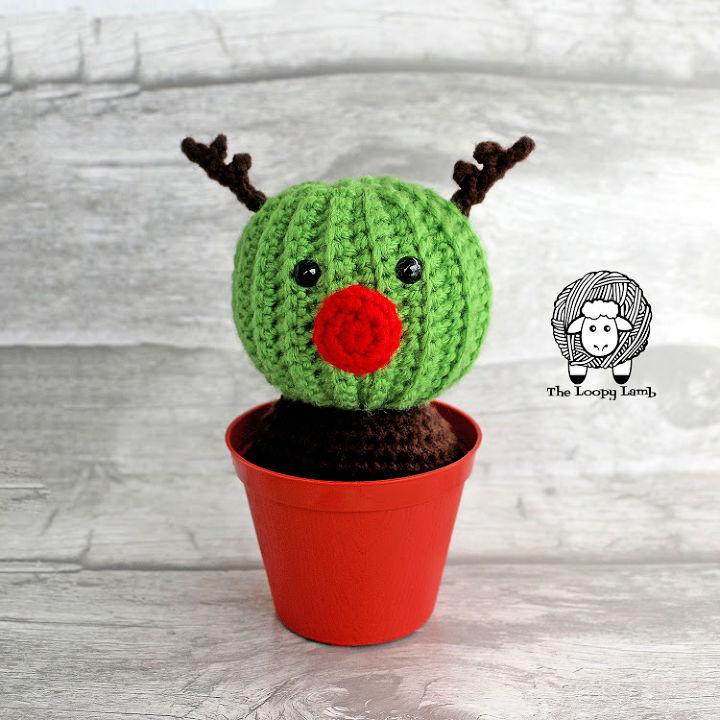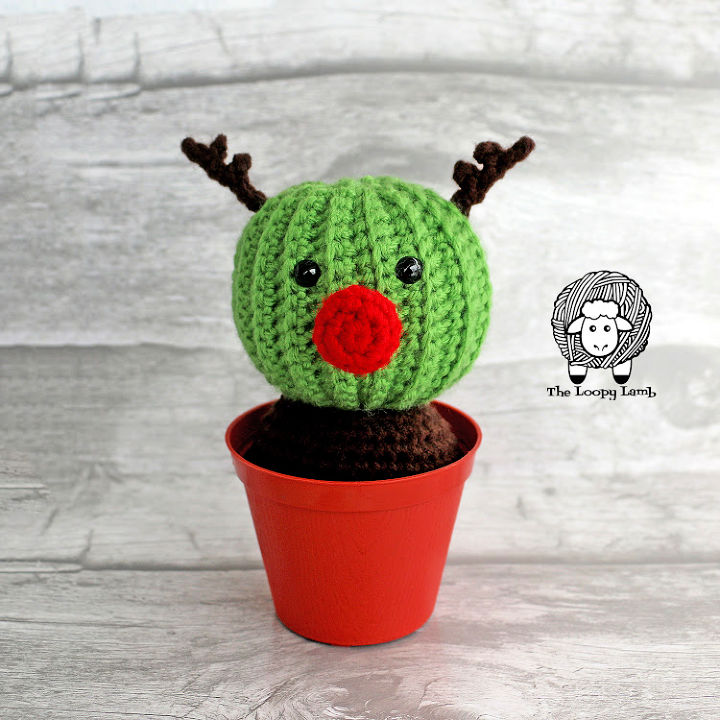 Meet the heights of creativity by making the cactus reindeer. The cactus comes with a round green face, antlers and red round nose. You can make a whole team of reindeers with the customization and place them as decoration pieces. They can also be placed with your outdoor plants. The pattern works with a magic ring, termed as the magic circle in this tutorial. This pattern also implements a single crochet increase and single crochet decrease technique. Not a difficult job as it seems. theloopylamb
Yarn: worsted weight yarn (red, brown and green)
Hook size: 3.5mm
Safety eyes size: 6mm
20. Crochet Cactus Pattern for Home Decor Piece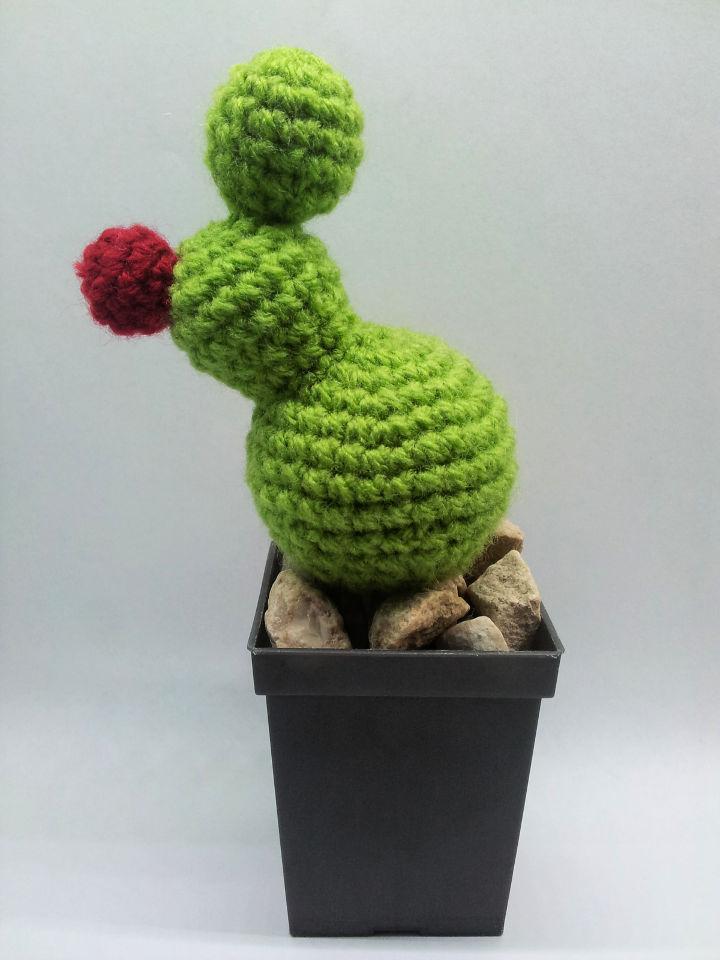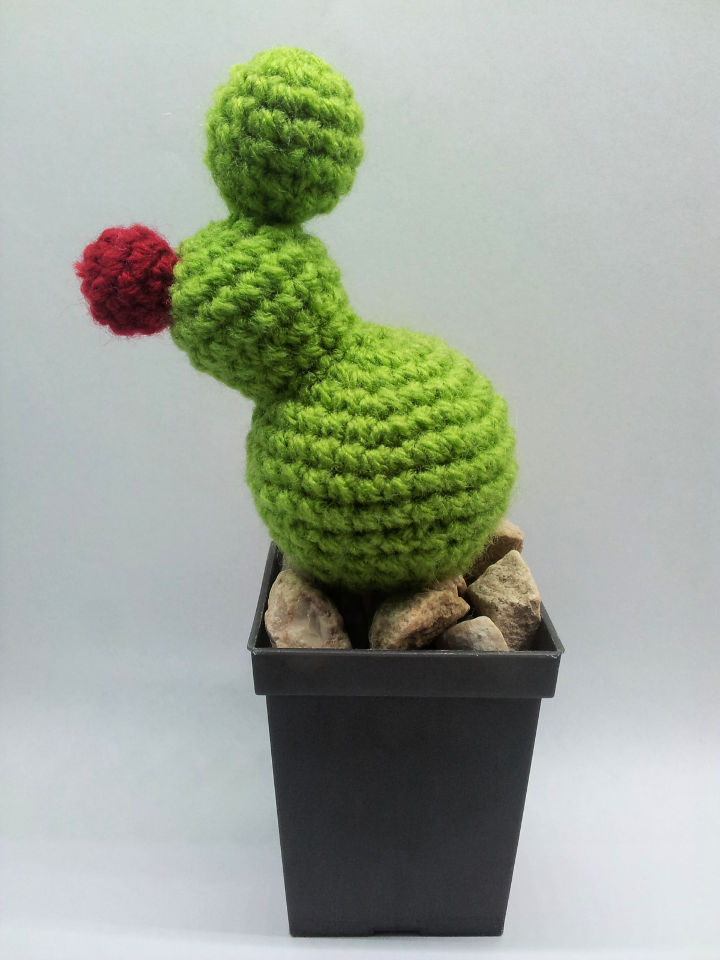 This small cactus will be a perfect decoration piece. You can crochet it very easily, without any outside assistance. To add a unique look, one piece of cactus is crocheted in a different color. This way, the piece does not look boring or typical. You can use your creative brain and make other changes as per your aesthetics. The piece will also compliment your garden or indoor plant area. Make more than one piece and place them together. ravelry
Yarn length: 27 – 30 yards
Hook size: 3.0mm
Dimension: 10cm tall
Related Patterns: Want to decorate your home floors? Looking for free crochet rug patterns? Crochet Me has everything you need for a great rug project.
Conclusion:
Are you ready to add some greenery and beauty to your house using these crochet cactus patterns? There are some things that you must do before getting started. You should try to buy the exact yarn that is mentioned in each plan to get the best results and the same effects. These crochet cactus patterns can be a little complicated as you're really trying to get the cactuses to look as real as possible! You should decide if you have the time to crochet the soil and planters. Otherwise, you could just get these two things from the market.