These bright and pretty 20 free crochet placemats pattern are just perfect for any season and any time of the year! You can gift them to your loved ones as they are of very good quality, so anyone would like to receive them. This is because everyone owns a dining table, and everyone likes to make their house look pretty. You may think these patterns are a little complicated to do, but don't you worry! They are really easy if you know a few basic crochet stitches, which include single double and half double crochet.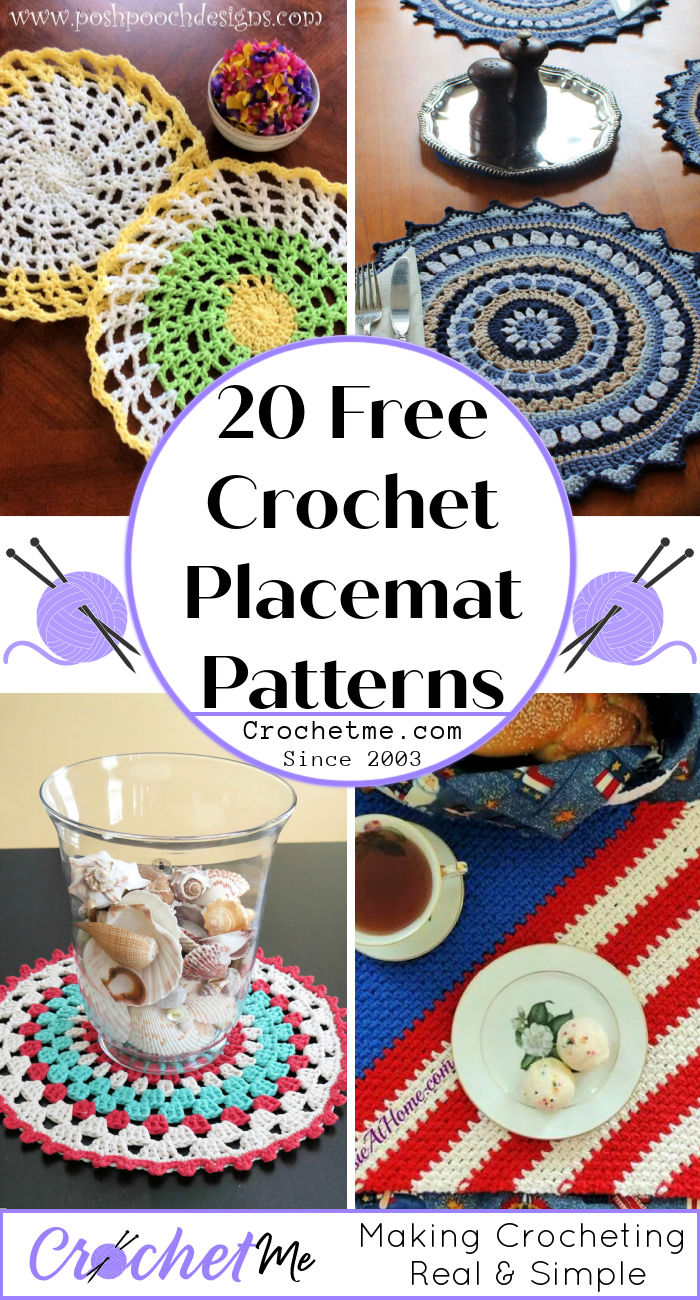 A great way to make use of these free crochet placemat patterns is by making new ones for every season or occasion. For example, you could make red and white ones for Christmas, orange and black for Halloween and so on! This article will cover a range of crochet placemats, from oval to round placemats, from doily to mandala placemats, from the American flag too bright chevron patterns. There's a lot of free crochet patterns to choose from! After all, who doesn't like a couple of options to think about?
Are you beginner in crochet? Check this guide to know how to read crochet patterns.
1. Crochet Oval Placemat & Coaster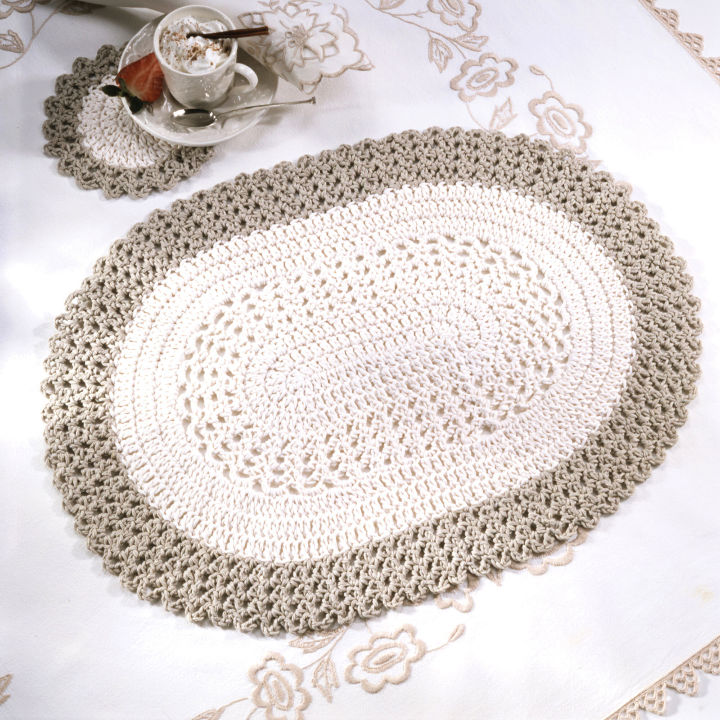 Such a pretty placemat. It has a color combination of cream and greyish-brown! Isn't that just amazing? When you place it on your dining table, it will add a very royal feel to your dining room! Start by chaining 19 stitches and work your way from there. This project may look a little complicated, but all you need to know are a few basic stitches! yarnspirations
Yarn Weight: Bernat Handicrafter (290yards- main color, 145yards- contrasting color)
Finished Size: 14" high x 19" wide
2. Crochet Placemat Pattern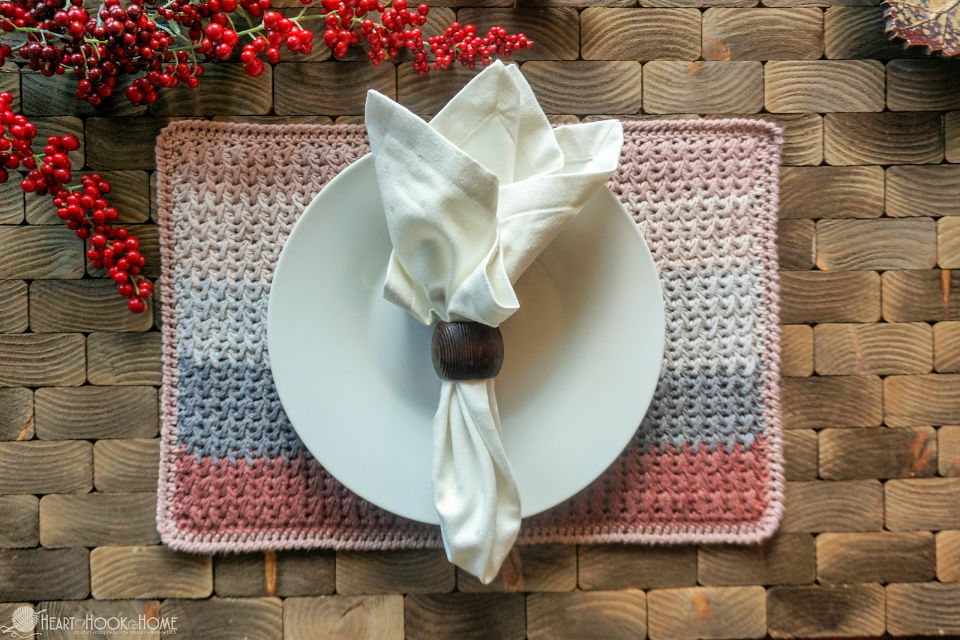 Everyone loves and appreciates a unique pattern with a combination of many pretty colors. It's very simple to master and re-create. All you need to know are some basic stitches and looping. The final product is absolutely stunning and will be the perfect way to add some color and warmth to your house! They're perfect for making around the fall season as they are very thick and bulky. hearthookhome
Crochet Hook: 4mm / size G
Yarn Weight: Yarn Bee Sugar wheel Cotton (1 skein per placement)
Finished Size: 18" wide and 12" tall
3. Crochet Placemat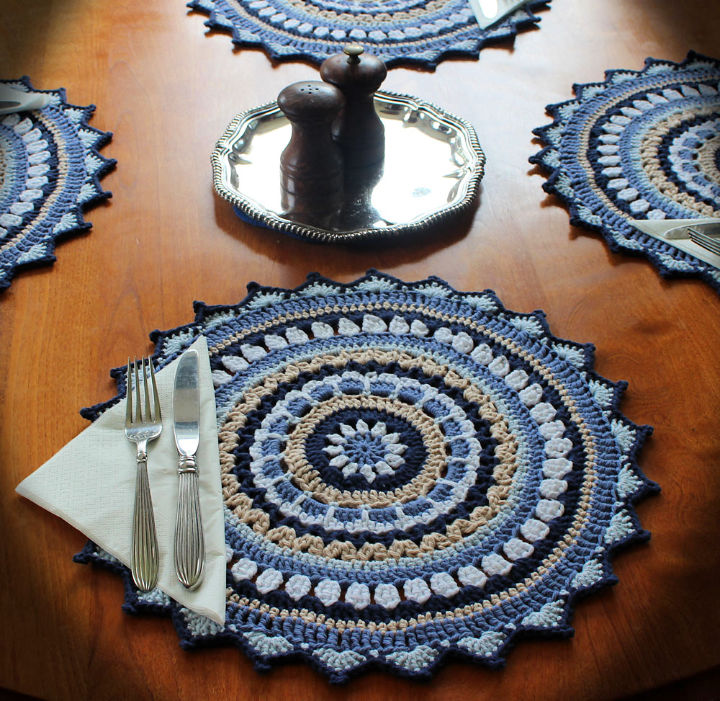 Mandala patterns are just so beautiful and royal. They add a great vibe to any house in any corner! This is because of the intricate detail in its pattern and the beautiful shape of it. You will need to know a few basic stitches like single, double, and half double crochet. You will also need to know a few of some complicated stitches like treble, spike double, and 2 double cluster crochet. heckathornturned
Crochet Hook: 5mm hook
Yarn Weight: 3.5oz 5 colors, #4 worsted weight cotton or acrylic (14" – 16"-diameter)
Finished Size: 11"
Related free Patterns: Decorate your tables in your dining hall with these crocheted table runners. You can style your dining tables up ranging from classic to modern ones.
4. Crocheted Placemats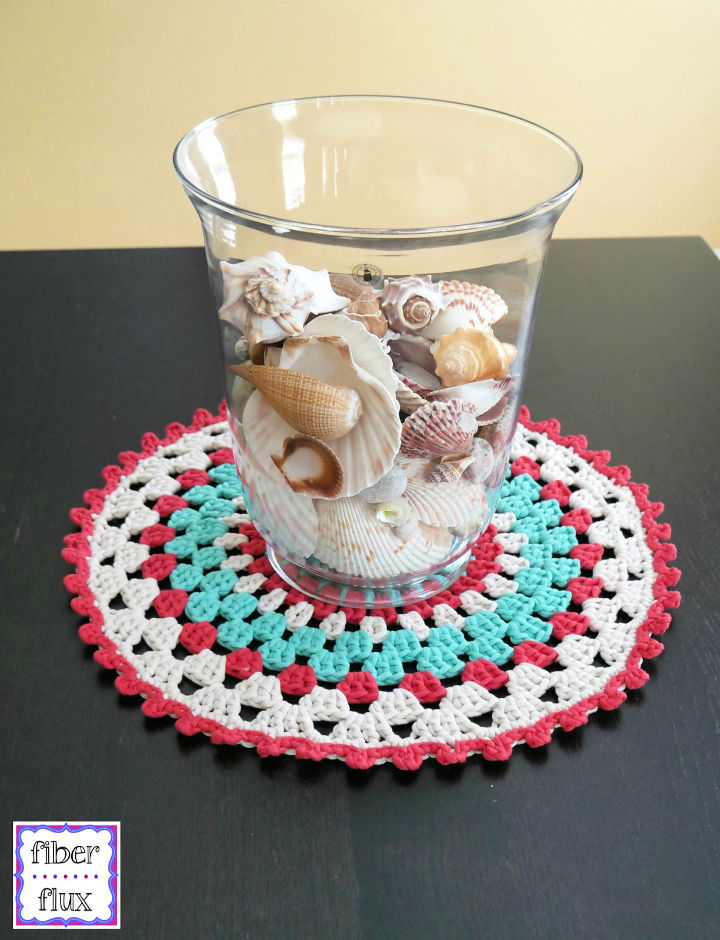 Have you ever seen something aesthetically pleasing? It's perfect for adding color and liveliness to your house. The perfect way to add detail and fun to your dining room. The cups and pots sitting on top of this will look so much more pretty and pleasing to the eye. You just have to use a few stitches until you get the desired circle pattern. fiberfluxblog
Crochet Hook: 8.0 mm crochet hook
Yarn Weight: Bernat Maker Dec (cream, wood berry and aqua)
Finished Size: 16 inches across
5. Free Crochet Jute Placemats Pattern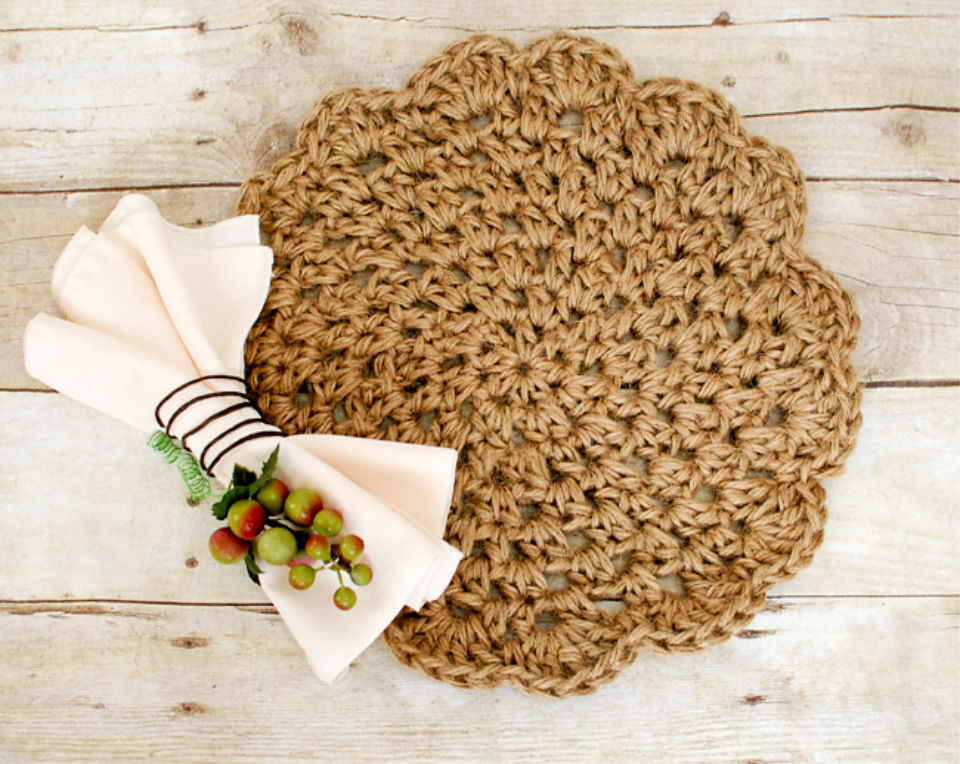 These free crochet placemat patterns are so much fun to make! Do you know what makes the perfect combination? Two basic styles can combine to make this pretty pattern – rustic and chic! Doesn't that sound heavenly? Chic will give off a clean vibe while rustic can make it look super interesting. This project is started by making a magic ring. It will help to make the final product a lot more secure. petalstopicots
Crochet Hook: 10mm hook
Yarn Weight: 3-ply jute cord (65 yards)
Finished Size: 12 in. diameter
6. Round Placemat Crochet Pattern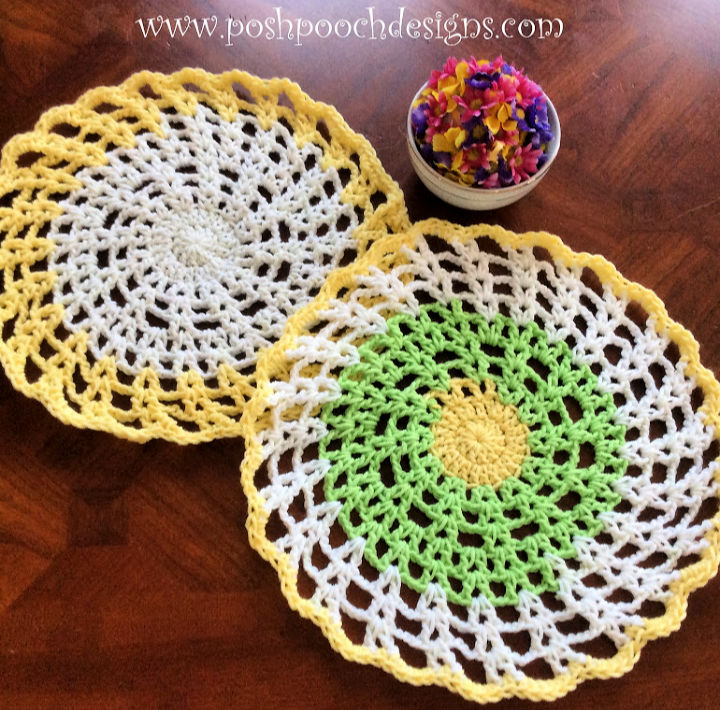 These are so fast to make, all you need is a free evening to make them for your dining table. It may be hard to get this flat effect if you use too many knots, so it is recommended to be careful and follow everything step by step. Place this on your dining table to make it a lot more interesting and make your lunch and dinner breaks a lot more lively, as well! It will make your day when you see these every morning! poshpoochdesigns
Crochet Hook: J/6.0mm, H/ 5.0mm
Yarn Weight: 2.5oz worsted weight (4) or cotton yarn
Finished Size: 13 inches across
7. Crochet Doily Placemat Mandala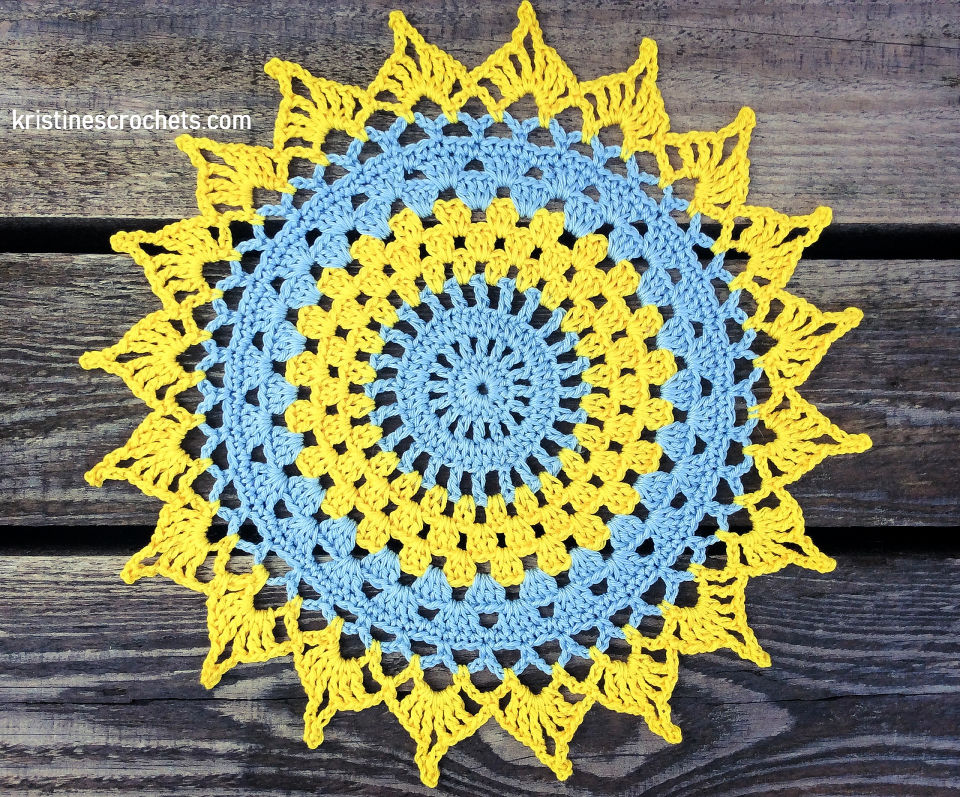 Are you looking for ways to make your house a little less depressing? You can do so by adding some bright colors. This pattern has the perfect color combination for that job! As yellow is just, and bright, happy color and blue are scientifically known to relax you and take away your depression! Place these little mats, which only require a few basic skills on your dining table. You will love the outcome. youtube
Crochet Hook: 3.0mm crochet hook
Yarn Weight: sport weight, size 2 – Madame Tricote Paris Camilla yarn
Finished Size: 30cm in diameter
8. Crochet Placemats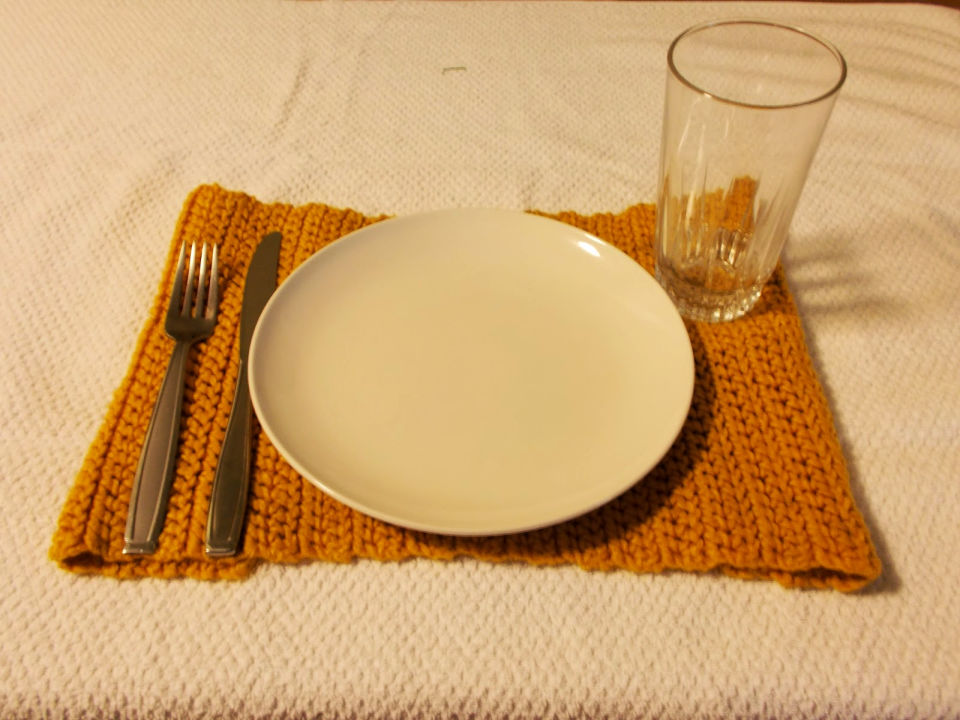 Sometimes, we just want something simple and easy to do. Something that doesn't require much work but still gets the work done. Here's the perfect piece of placemat for you, which can be made really fast, and you can even make it while watching a movie or show. It's one of those projects which require just the same basic stitches back and forth until you get your desired size and measurements. stitchinthenight
Crochet Hook: 9.0mm crochet hook
Yarn Weight: worsted weight yarn
9. Crocheted Placemats Patterns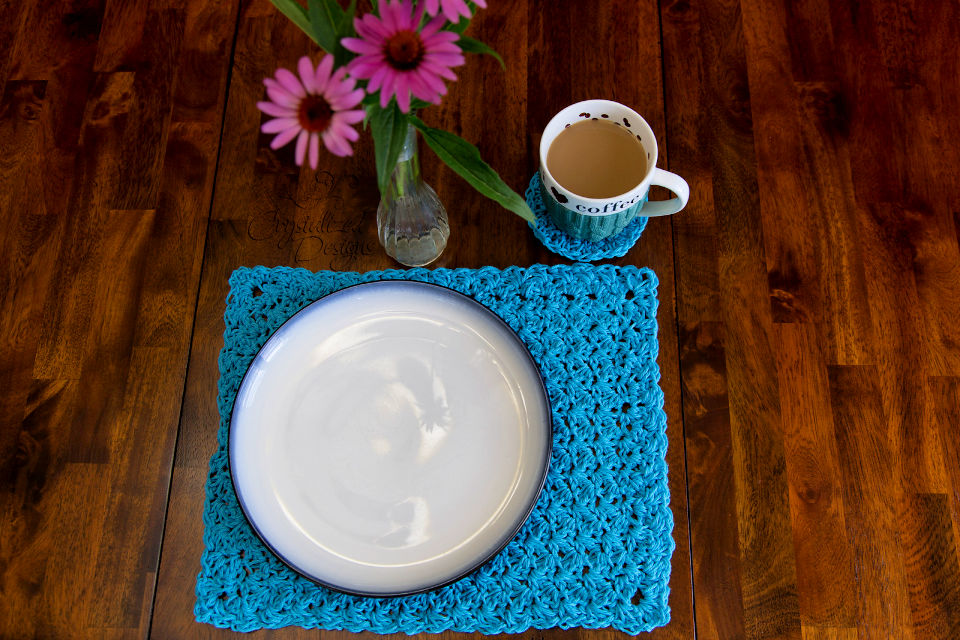 Turquoise is a great color to brighten up your day. When those cold, dull winter days strike, this will be there, making your mornings brighter while you have your breakfast. It is also super pretty to look at and is a coaster set. Since it will cover your coffee cup from the bottom, no need to worry about your coffee getting cold. You will need to know about the magic circle in order to make this project a success. crystalized designs
Crochet Hook: Size L/ 8.0mm
Yarn Weight: Lion Brand Yarn cotton (120yards-placement, 10yards- coaster)
Finished Size: coaster – 4.75" diameter, placemat- 15" x 11" width x length
10. Crochet Placemat Patterns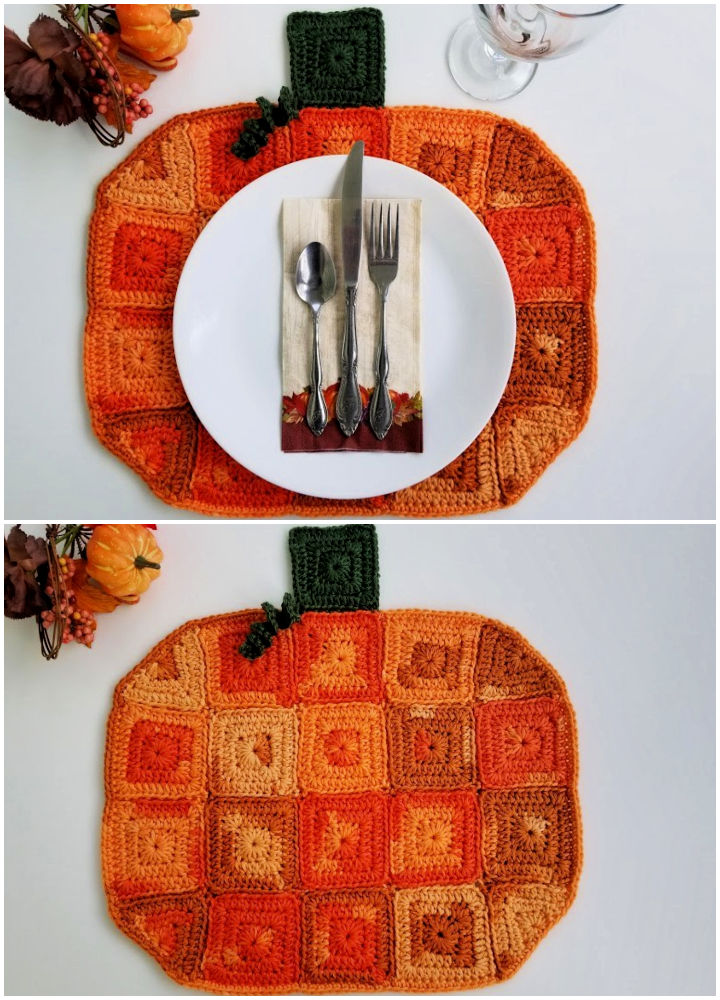 Free crochet placemat patterns play an important part in making your house look beautiful every season. Do you know what this mat is perfect for? The Halloween season! The orange shades of this mat will bring us some warmth and coziness to your house in the fall season. They will make your dining room look so pretty and welcoming! Start by making a loop and use a magic ring. highlandhickory
Crochet Hook: size H 8/5.00 mm hook
Yarn Weight: 1 skein of Caron Simply Soft – Gold Ombre – 5oz/141 g – 235yards/215 m
And 1 oz. of Caron Simply Soft – Dark Sage – 5oz/141 g – 235yards/215 m
Finished Size: 15 ½" Width x 15 ½" Height
11. Crochet Mandala Placemat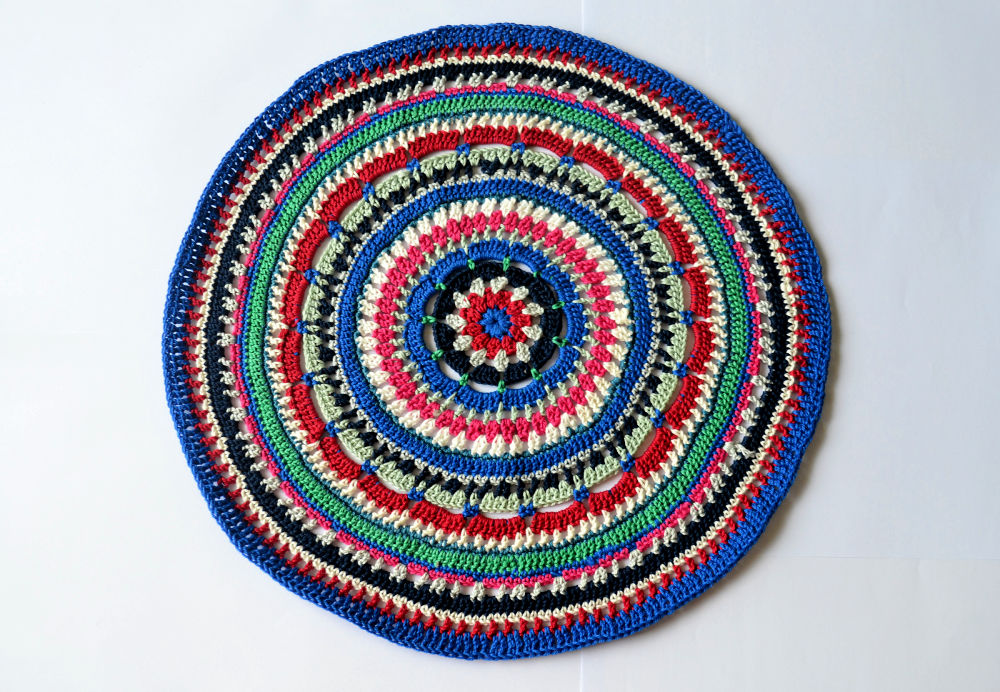 If your house is very plain and boring, just add this crochet mandala placement to your house to make it fun. It will also make a great birthday gift for almost anyone! Start with a knot and end this project with some beautiful weaving at the end to give it that stunning look. knittingwithchop
Finished Size: 37cm / 14.5"- diameter
Crochet Vest: Here are the perfect crochet vest patterns for you to choose from for all seasons. This is because our free patterns list is colorful and includes every season's color.
12. American Flag C2C Placemat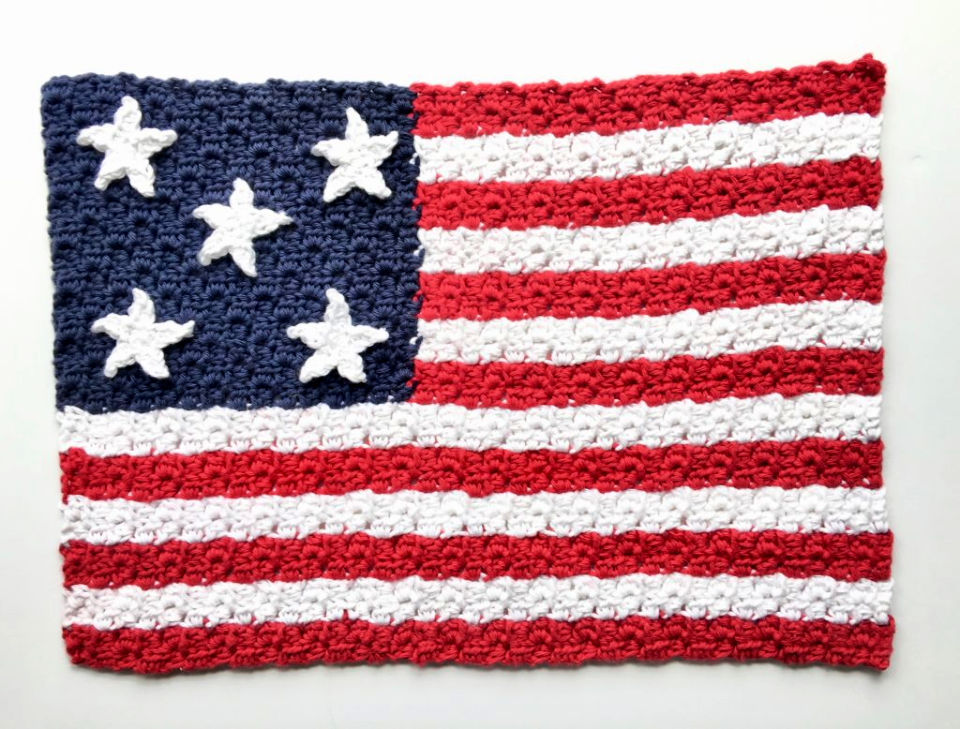 Fourth of July is just around the corner, which means that you will have to find ways to celebrate it. You can make a fun Fourth of July breakfast and lay these pretty mats on your dining table to have some spirit and festivity in your house. It will encourage your kids to celebrate the day and have a good time. The map pattern just looks amazing, and it also comes with a little heart to tie around the spoons and forks! nanascraftyhome
Crochet Hook: 5.0mm/ size H
Yarn Weight: red 2.6oz/ 134 yards, white 3.5oz/ 180 yards, dark denim 1.25oz/ 65 yards
Finished Size: placemat- 17 ½" wide x 13" tall, napkin ring- 3" wide x 3" tall
Learn C2C: Get these free corner to corner crochet patterns, c2c graphs, tutorials on how to crochet pictures and make graphgans.
13. Free Crochet Farmhouse Placemat Pattern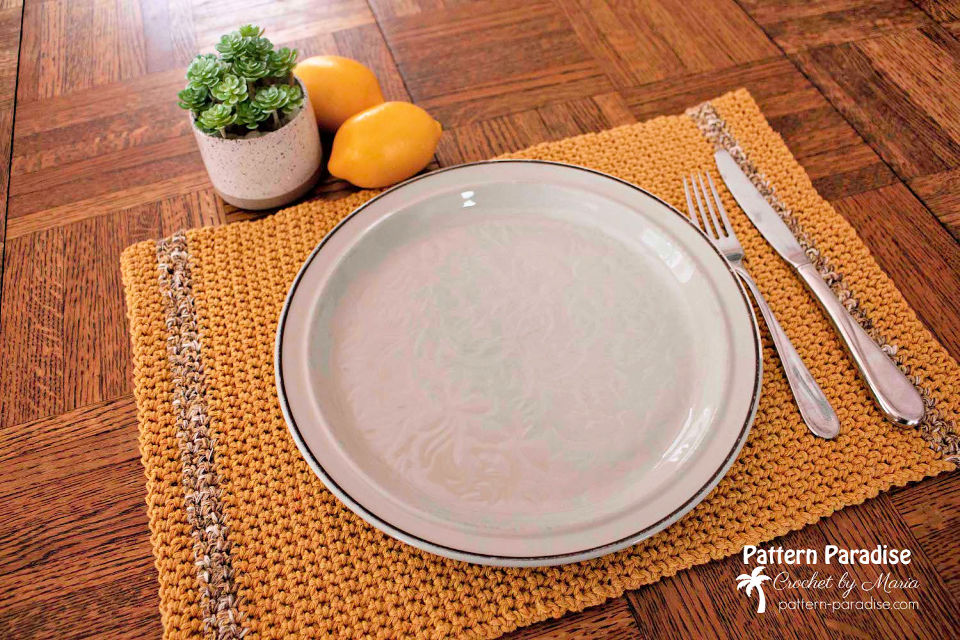 Rustic and yellow, what does this remind you of? A farmhouse! On your next trip to the farmhouse, you may want to make these and pack them with you. All of the food meals there will be very fun and right with these placemats. Their bright colors will make everyone smile. Just like the many other free crochet placemat patterns, this one is straightforward and fast to do, and you will need to know the TSC stitch for this. pattern paradise
Crochet Hook: 5.0mm/ Size H
Yarn Weight: Worsted Weight Cotton Yarn-Red Heart Scrubby Smoothie (130 yards) or Lily Sugar n Cream (50 yards)
Finished Size: 13" x 19"
14. Crochet Placemats Patterns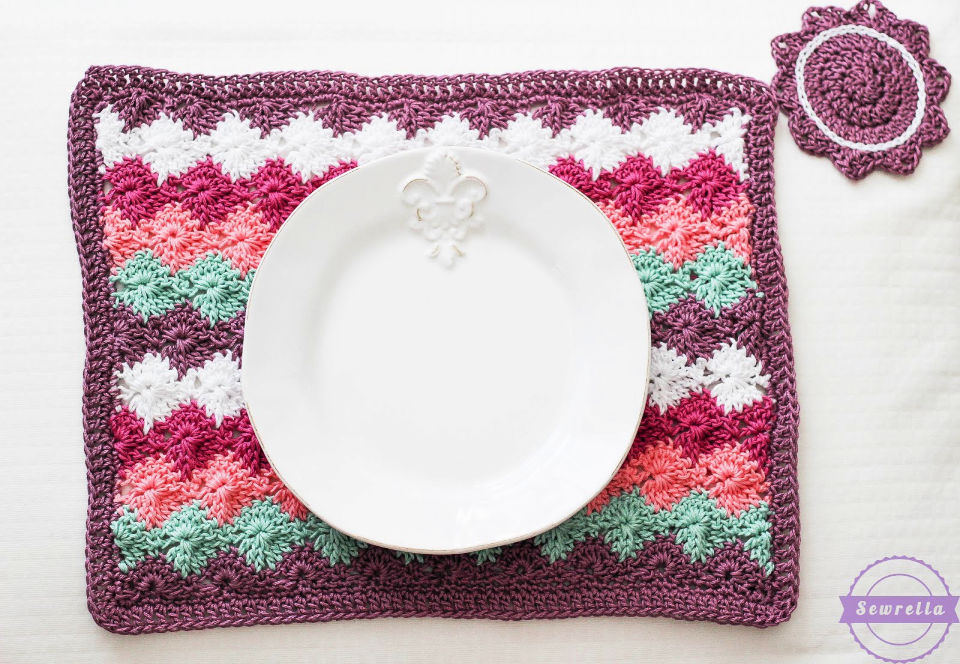 White China set placed over a bright and colorful placemat is a sight no one wants to miss. The basic stitch used in this pattern is Harlequin. If you are a beginner, you must have a hands-on this stitch before trying this pattern out. If you know the stitch, then this placemat is not a problem for you. Just follow the exact steps and make a beautiful piece for your dining table. As it is said, presentation matters more than the taste of the food. So, time to work on some presentation skills. sewrella
Yarn: Worsted Weight cotton yarn
Colors: White, Rose, Pink, Mint, Lilac
Quantity of Yarn: 2 placemats will require 1 skein each.
Hook size: H/5mm
15. Bright Chevron Placemat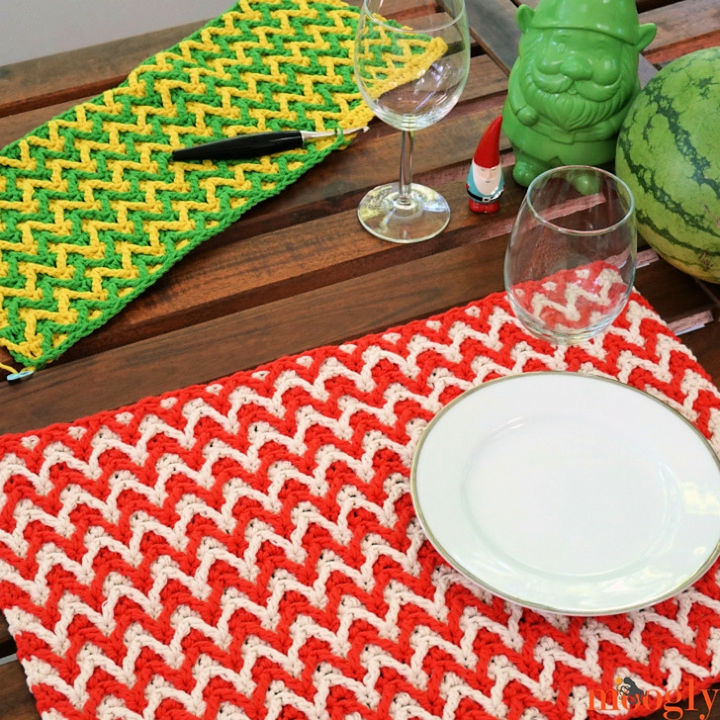 With the summery vibes, crochet this Bright Chevron Placemat. The vibrant colors of these mats will bring life to your house. Every time you see them, you will feel refreshed. You can crochet a unanimous color for all the chairs, or let your family members decide their colors. A multicolored placemat theme will be a unique and refreshing idea. The placemats will surely protect your table from getting dirty. mooglyblog
Yarn: Lion Brand 320 yards
Hook size: I/5.5mm
16. Easy to Crochet Plaid Placemats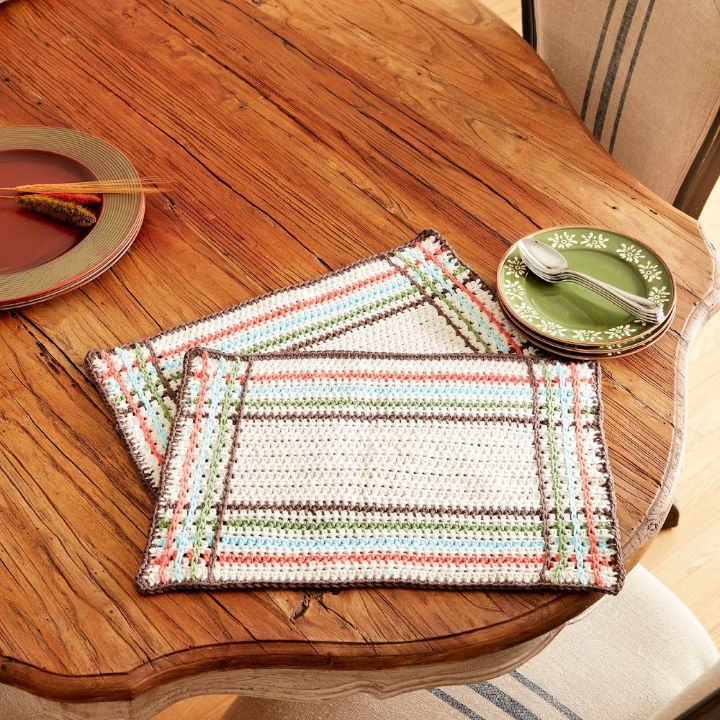 With a classic and graceful theme of your house, these placemats will be a perfect combo. Plaid crochet placemats look absolutely lovely with their neutral and subtle colors. They will easily make everything prominent once put onto them. Stripes with different colors also give life to the table. You can always choose to differ with the color scheme. You need a simple crochet kite to make these mats and add a lovely ingredient to your already delicious food. yarnspirations
Yarn: Lily Sugar's Cream, 100% cotton
Colors: Tangerine, Ecru, Robin's Egg, Sage Green, and Warm Brown
17. Free Crochet Pocket Placemat Pattern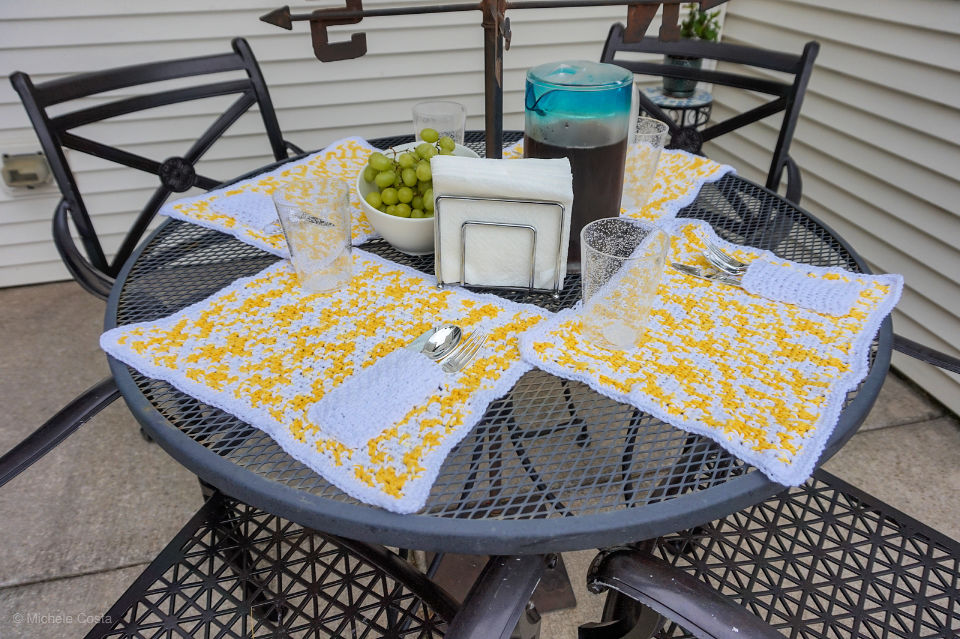 Summer Pocket placemat pattern is a unique and entirely different idea for your newly renovated home. It comes with a pocket where you can adjust the cutlery. No need to make extra napkins to fold your cutlery in. The colors of these placemats are perfect to go with the summer vibes. This pattern uses single crochet, half double crochet, and slip stitch in its making. You will begin with the main color and will slowly add the side colors. stitchandhustle
Yarn: Yellow, White
Hook size: I-9/5.5mm
Finished size: 18''*12''
18. How to Crochet Placemats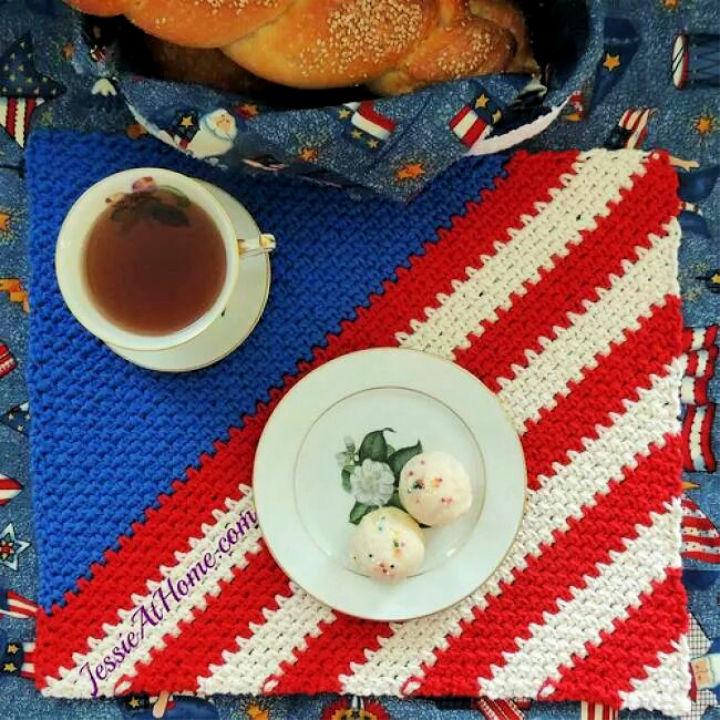 Are you a patriotic citizen? Not enough, if your placemats are not of red white and blue stripes. This placemat pattern comes with a blue triangle and red and white diagonal. The placemat does not disrespect the flag. The linen stitch is the main prerequisite for this pattern. Along with the patriotic feels, the bright colors will pop out and will be a perfect fit for the dinner set. The placemats will go along on the St. Patrick's day also. You can crochet it before planning a huge party, especially on Thanksgiving. jessieathome
Yarn: Lion Brand, 100% cotton
Colors: Blueberry, Hot pepper, Vanilla
Hook size: I/9mm
19. Crochet Rectangle Placemat Patterns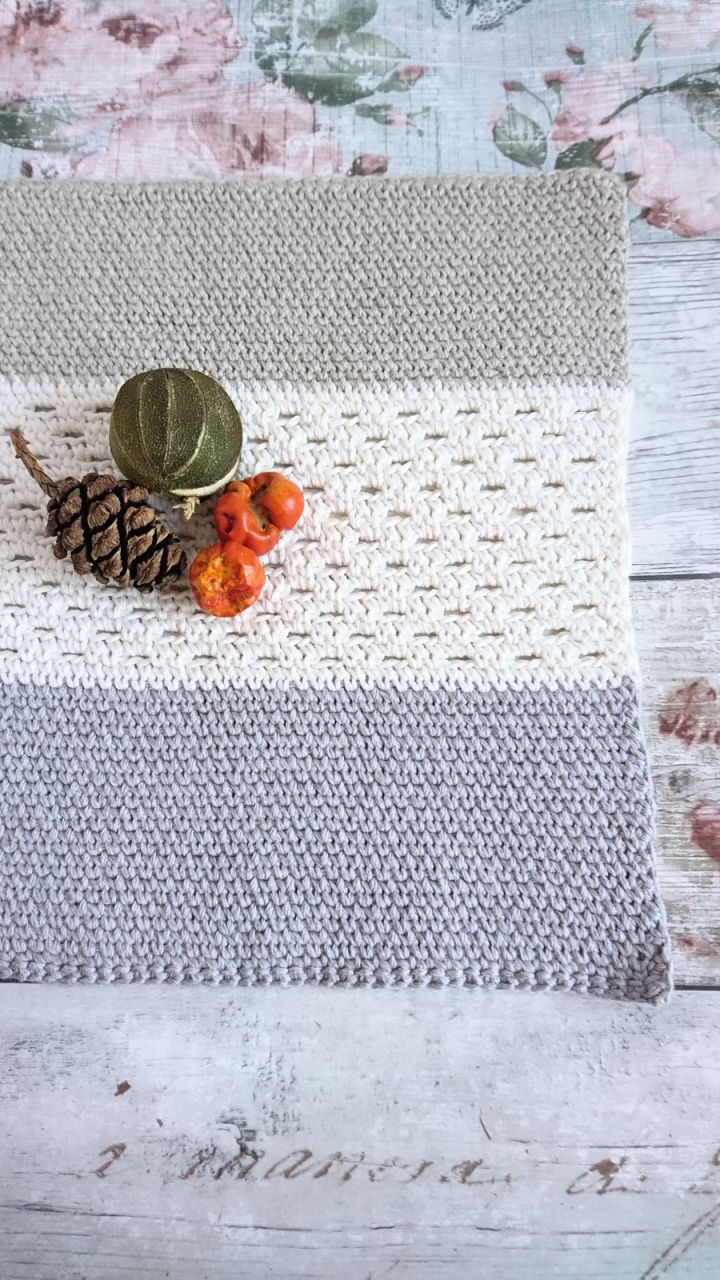 For all the minimalists out there, this crochet rectangle placemat with subtle hues and perfectly patterned design is surely going to be a delight! This crochet placemat pattern is inspired by the Nordic style color scheme. You will just need 2 skeins of this each yarn's color. The recommended gauge is 8 sts in 10 rows. Aim for a much compact finish by working with a relatively tighter tension than other crochet products. ravelry
Yarn weight: (8 wpi)
Hook size: 2.0 mm
Yardage: 327 – 328 yards
20. Crochet Table Mat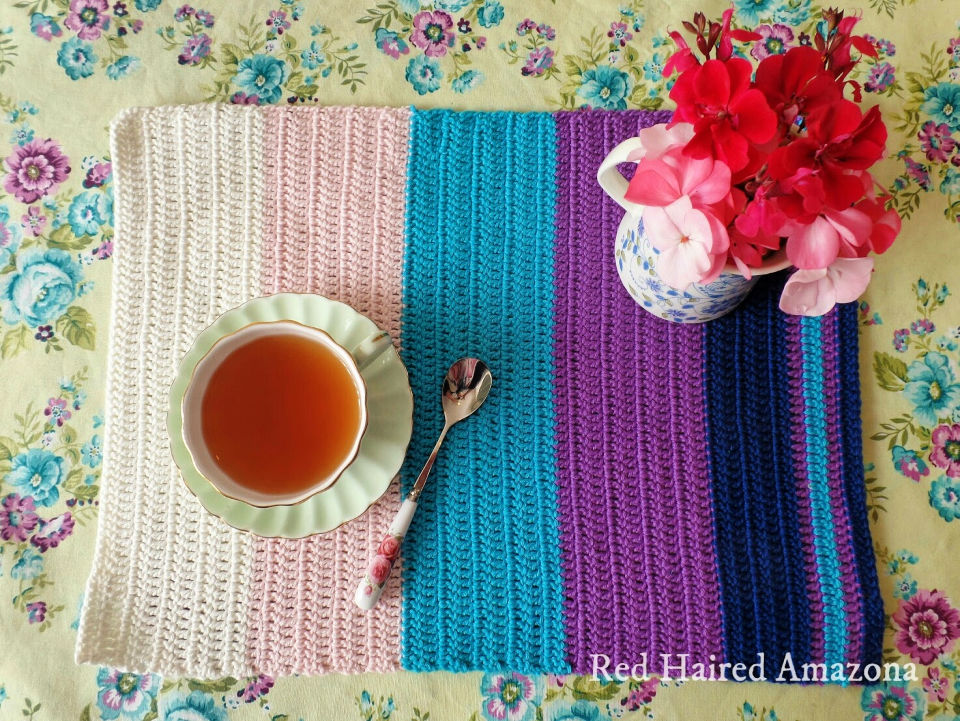 Color blocks are a delight to even look at! Love crocheting, color, and aesthetic enthusiast? You have landed in just the right place. These super easy peasy placemats are going to be a breeze to make. Even a beginner can nail these like a pro! Each of these placemats is 41 cm x 30.5 cm. Best part? It will hardly take your 5 minutes to crochet each row. Amazing, isn't it? Hit the link and get started. redhairedamazona
Yarn: 8ply cotton blend
Hook: 2.5 mm
Conclusion:
Are you ready to make your dining table look heavenly using these crochet placemat patterns? It's going to be so much fun doing these crochet placemats. You can put on your favorite show, light some candles and celebrate self-care while crocheting these for your dining table. The two benefits would be that it will prevent you from overthinking, and the results will be super satisfying. You will be very happy when you finally place them on the dining table and see them shine!
Related Free Crochet Patterns: