The pineapples are the best tropical fruit and are a great sign of welcoming and friendship. Pineapple one of the most loved fruit, and you can show your love for them by following these 20 free pineapple crochet patterns that actually the great crochet tributes to this refreshing kind of fruit. These crochet pineapple patterns allow you to make pineapple inspired fashion, accessories, and home decor projects. So, you will see this enchanting green and yellow color fruit everywhere. Enjoy crocheting lovely pineapple inspired bags, and making the lovely pineapple dishcloths, potholder, and hot pads will be a smart way to get them featured in your kitchen.
Please browse this collection of pineapple crochet patterns that are actually creative projects to include the pineapples and their texture to everyday life. Crochet amazing pineapple inspired winter warmers and hook up super cute pineapple amigurumi can be used in lots of ways in home decor.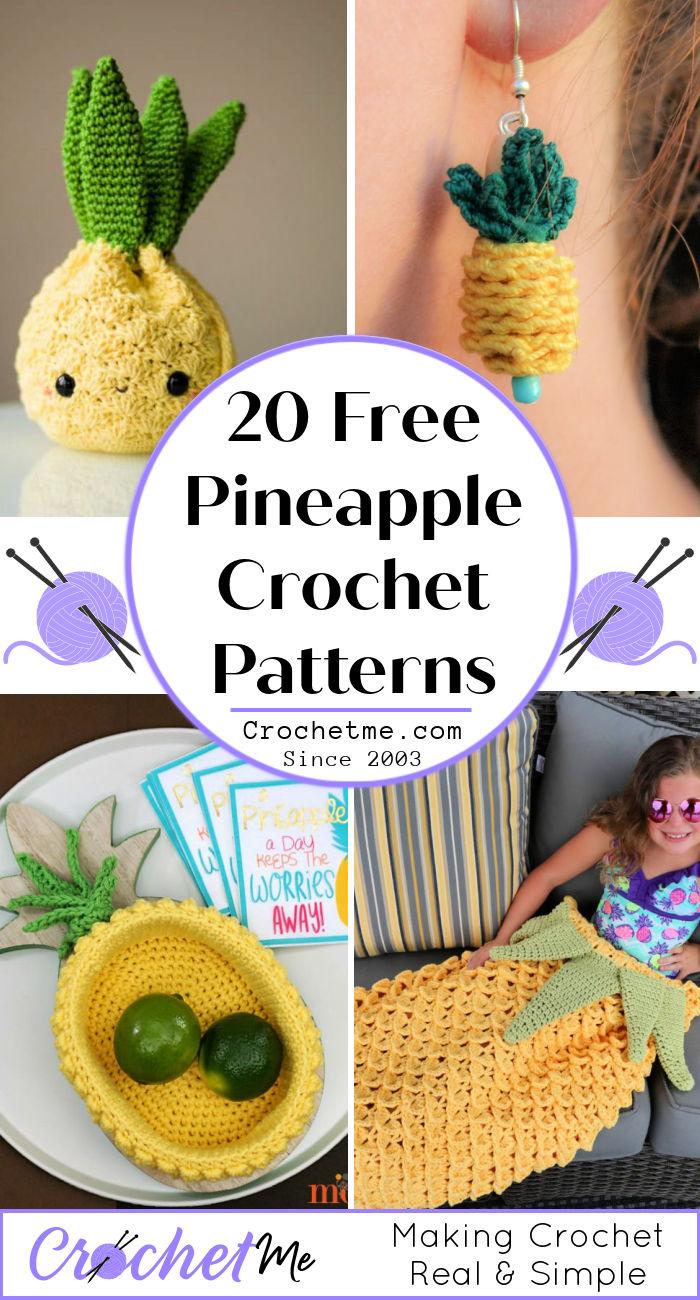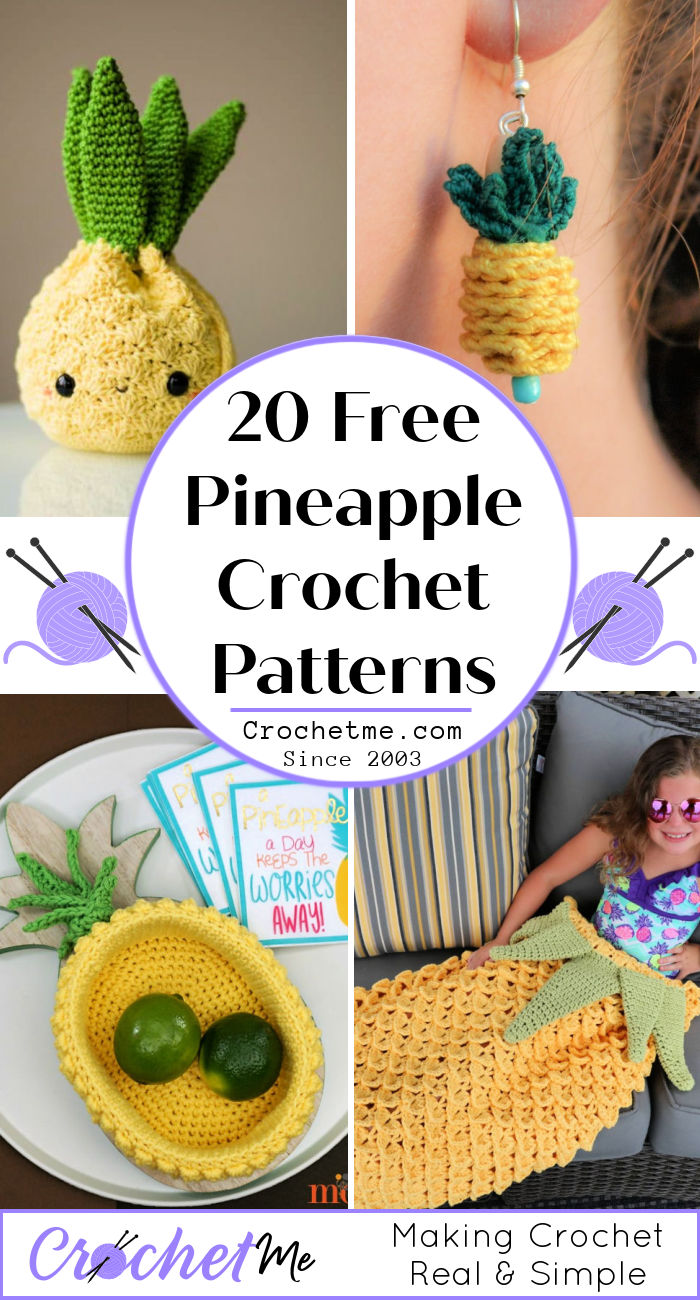 The list will show you how to add the amazing pineapple crochet patterns to your decided pattern. Moreover, you will get the guides, step-by-step instructions, and diagrams about how to crochet in the special pineapple stitches globally popular due to its amazing design pattern.
Show your love for pineapples by making a crochet pineapple lacy doily, and crochet a pineapple basket will bring a big wow factor to your dining or coffee table. From pineapple shawls to pineapple tops to pineapple blankets, you will find here free patterns for all. Browse the entire collection of free crochet pineapple patterns to see a lot more unique pineapple crochet stuff.
1. Crochet Pineapple Crown Sweater Pattern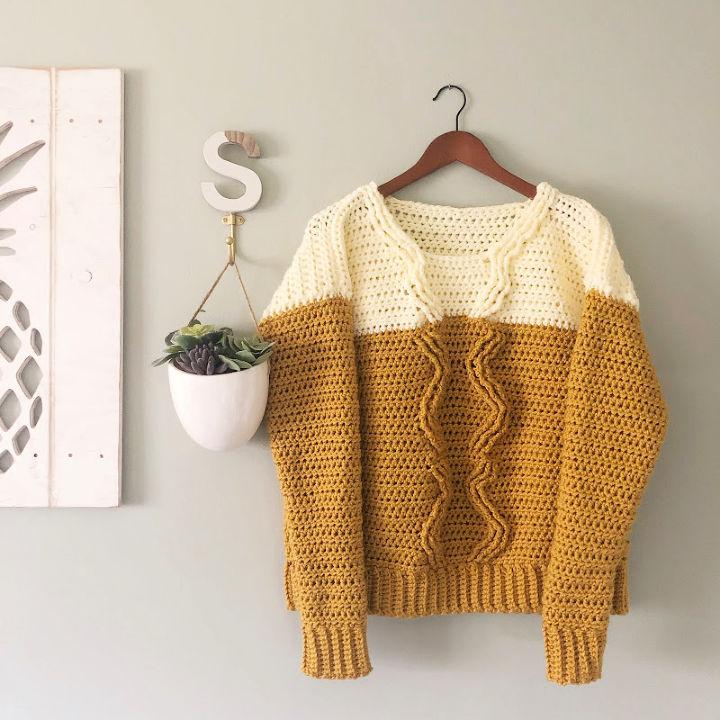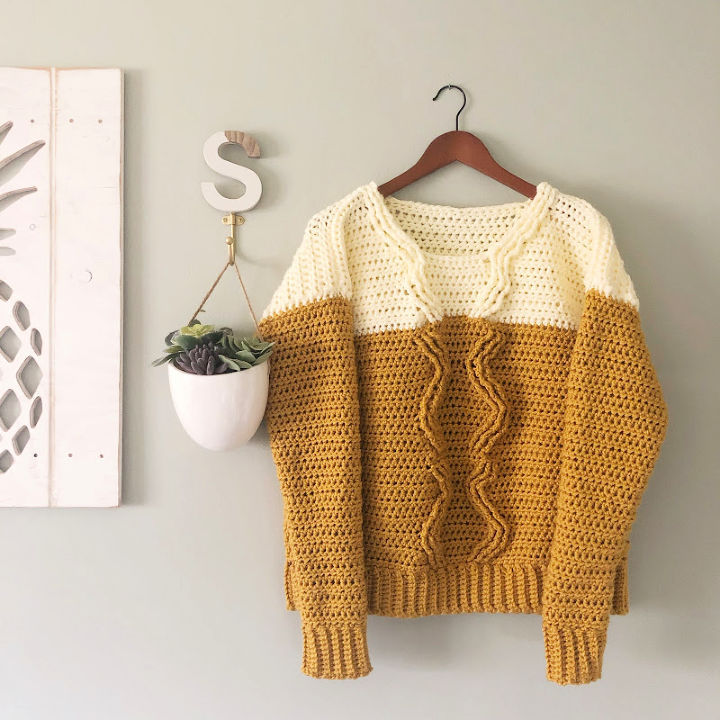 Rock your winter fashion closet with this stylish addition, the pineapple crochet crown sweater. It is a perfect cozy layering outer garment crocheted to boost your fashion. You need, an intermediate skill level and Lion Brand Color Made Easy yarn to work this crochet sweater pattern. You need 610yds of this yarn in primary color and 160yds in contrasting color to get this enchanting crochet sweater made. Here you have to work with both 8.0mm and 6.5mm crochet hook to get it made. The calculated gauge for this pattern is 10 HDC, and 9 rows make 4" x 4". This long sleeve sweater comes with enchanting pineapple details. Tutorial here aplushpineapple
2. Crocheted Pineapple Basket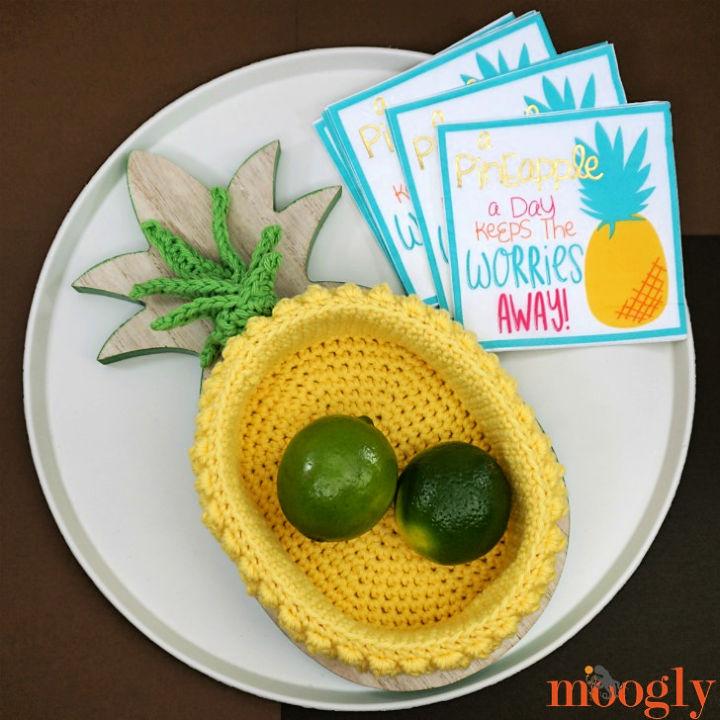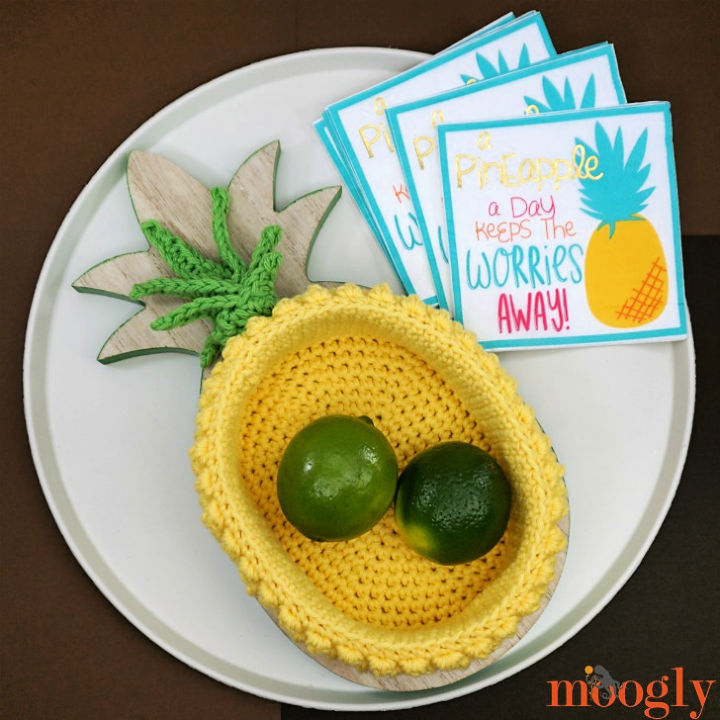 Willing to add pineapples to your home decor? Then a better trick is to create this crochet basket pattern. Crochet Red Heart Scrubby smoothie 100% cotton, worsted weight 4 yarn with a 5mm crochet hook to whip up this fancy yarn basket, a fantastic home decor Pineapple staple. Crochet 1 ball of the chosen yarn in lime and other in lemony to hook up this fruity basket. It will be a center of attention on your dining table. Further, you need Darice clear plastic canvas, clover stitch markers, and spray starch. The perfect gauge for the pattern is 14 sts x 16 rows equal to 4"/10cm in sc. The finished size of the crocheted pineapple basket is 7 ⅛" long and 5 ¾" wide. Details here mooglyblog
3. Crochet Pineapple Pad Pattern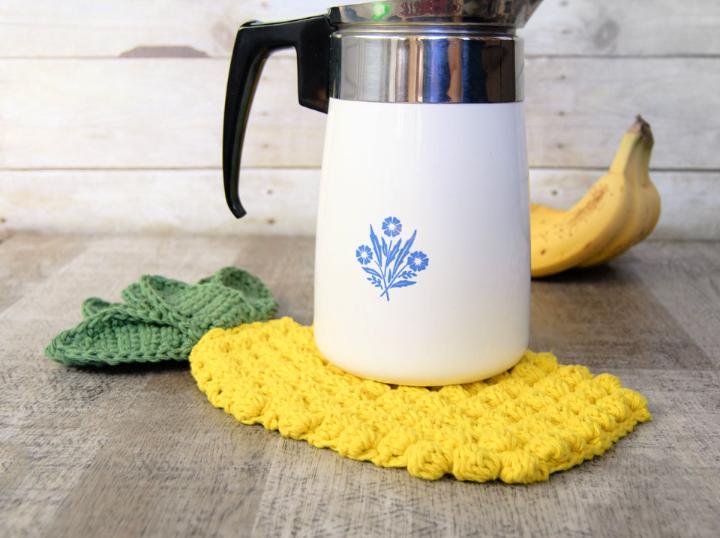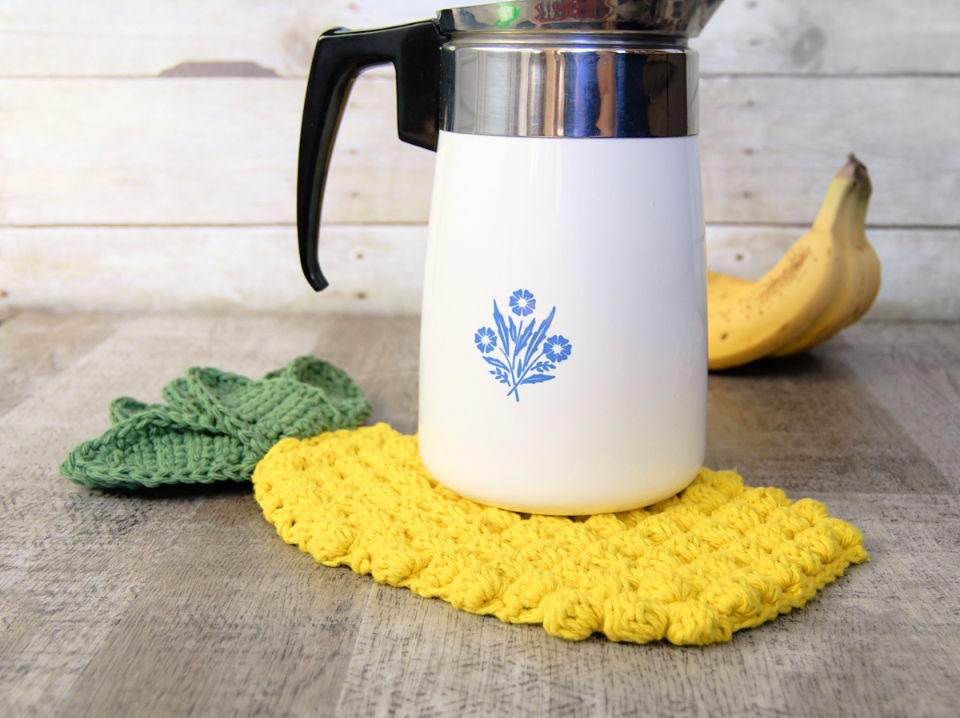 Make your hot pads on this fruity hot pad, the hot pineapple pad. The best dining table or coffee table decor to crochet super quickly. The addition of the lemon-colored pineapple will freshen up any space for sure. Get the Lion Brand 24/7 Cotton in the grass and lemon color and crochet it with a 5mm hook to hook up this flawless beauty. The 120yds of yellow and 75yds of green yarn will be enough to crochet the 15" size of this hot pad, including leaves. Work in the 5 double crochet cluster special stitch for the amazing puffy design texture. Details here petalstopicots
4. Crochet Pineapple Poncho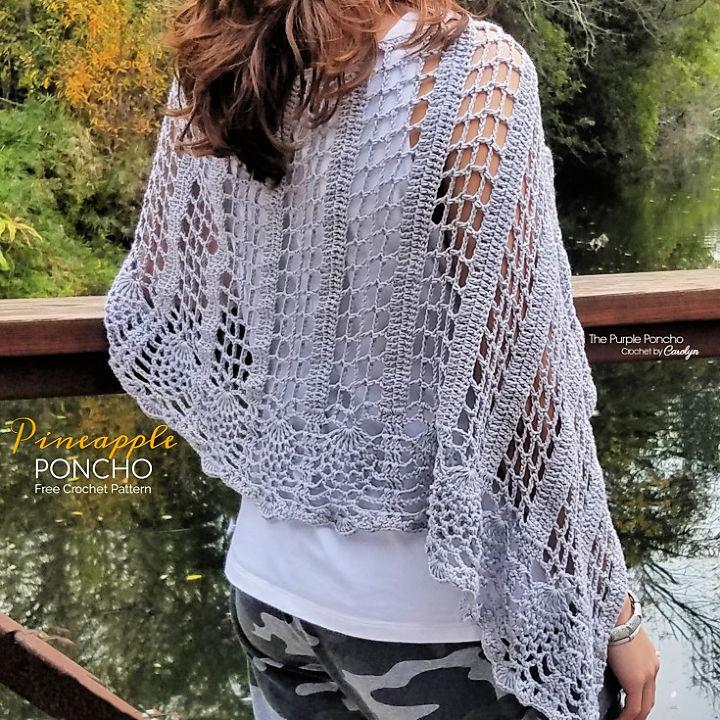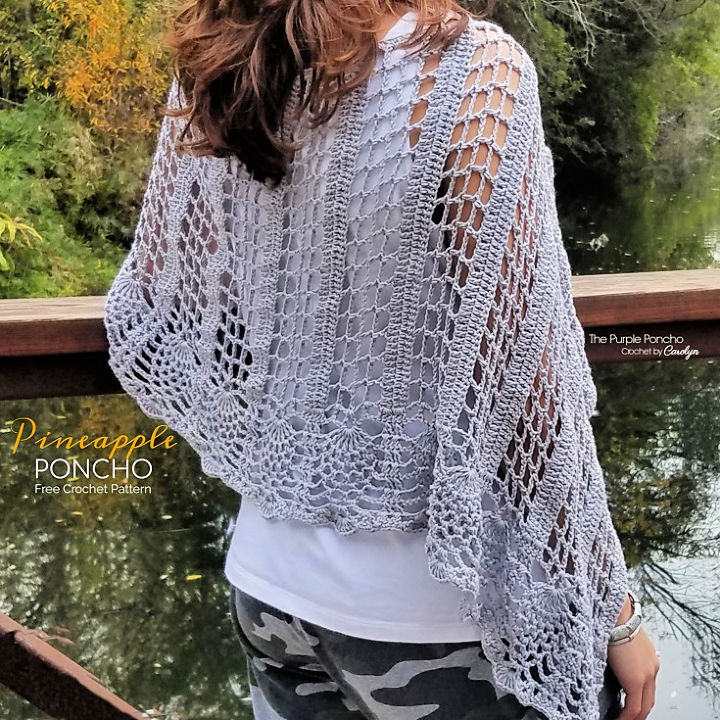 Look at the flawless combination of the lacy stitch with pineapples, repeated in the entire pattern of this crochet poncho. The breezy and airy type of outer fashion garment. A style lover can wear it all year round. It will pair up nicely with casual sweaters and tank tops. Get busy with your intermediate skill level and 3.75mm hook and crochet the fair cotton yarn in silver while work in the beg x-st, x-st-x-stitch, and sc2tog special stitches to whip up this pineapple poncho. The finished size for the medium size is 16" wide x 59" long. The perfect gauge for this pineapple pattern is, 18 dc and 6 rows make 4". Details here thepurpleponcho
5. Crochet Pineapple Shawl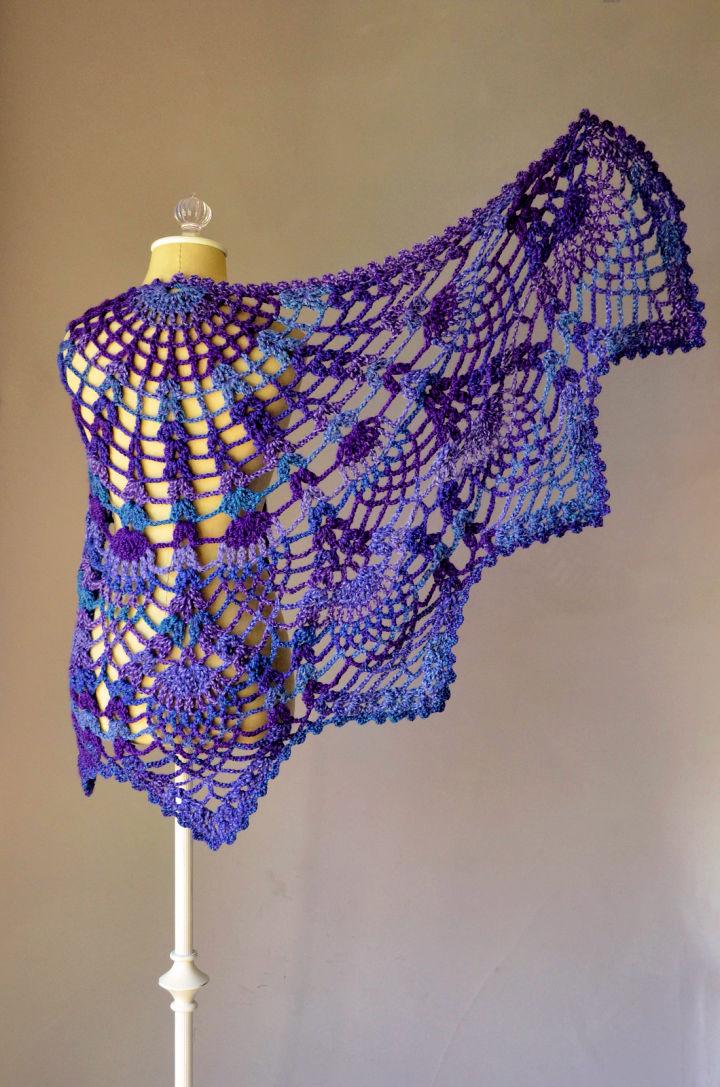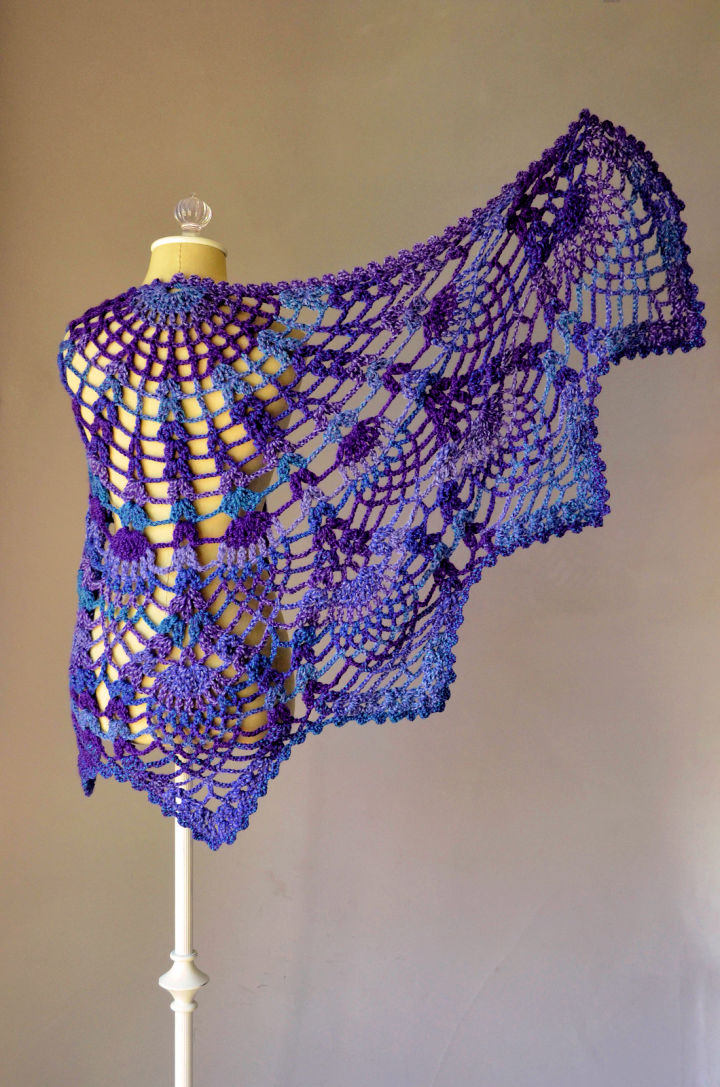 For this stylish lacey shawl, you have to crochet the 200g of Universal Yarn. Crochet this yarn with 6.5mm crochet hook to finish a 56inch wide x 28′ deep size of this enticing lacy shawl. This shawl will impress at a very first look, and the calculated gauge for this shawl is 1 to 4 rows make 4" high. This is here a half-circle crochet shawl that you have to crochet first from the center. Work in the V-stitch, Beg Cl, Picot, Triple Cl, Double Cl, and Cl stitches to whip up this design of shawl comes with subtle details. cdn shopify
6. Crochet Pineapple Bag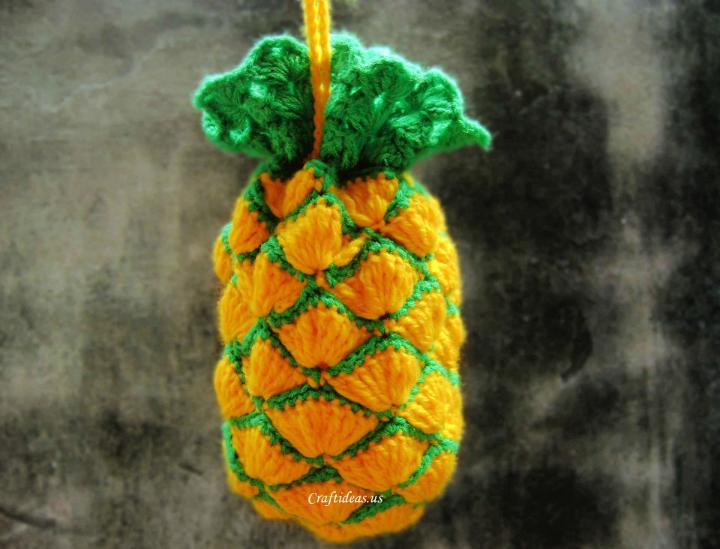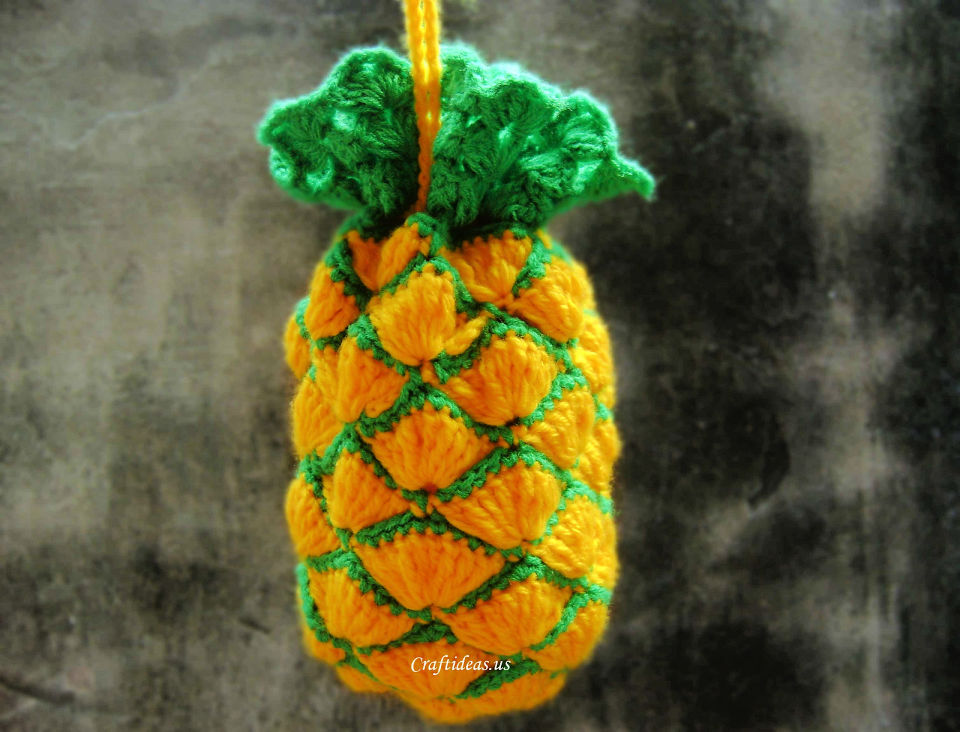 Another creative crochet attribute to pineapples, the crochet pineapple bag, the perfect cute crochet accessory, will make a lovely gift to style lovers. Start making this bag by making a circle, and you need to crochet both yellow and green yarns to whip up this enchanting fruity bag. Kids will love to have this cute bag in the possession, and next, it comes with a drawstring closure to impress the user more. Start making this bag by crocheting a yarn motif like a hexagon and next use the green yarn to add the pineapple line texture. Details here craftideas
7. Pineapple Crochet Plushies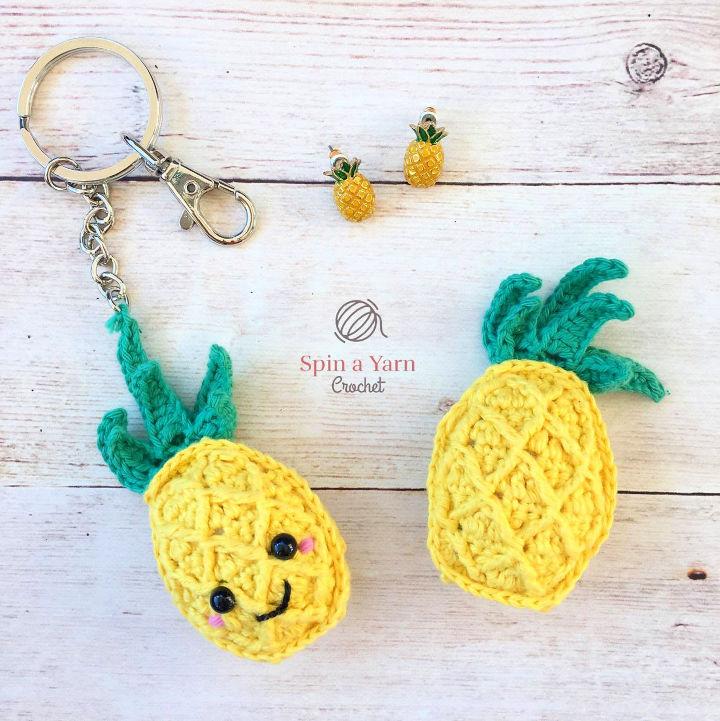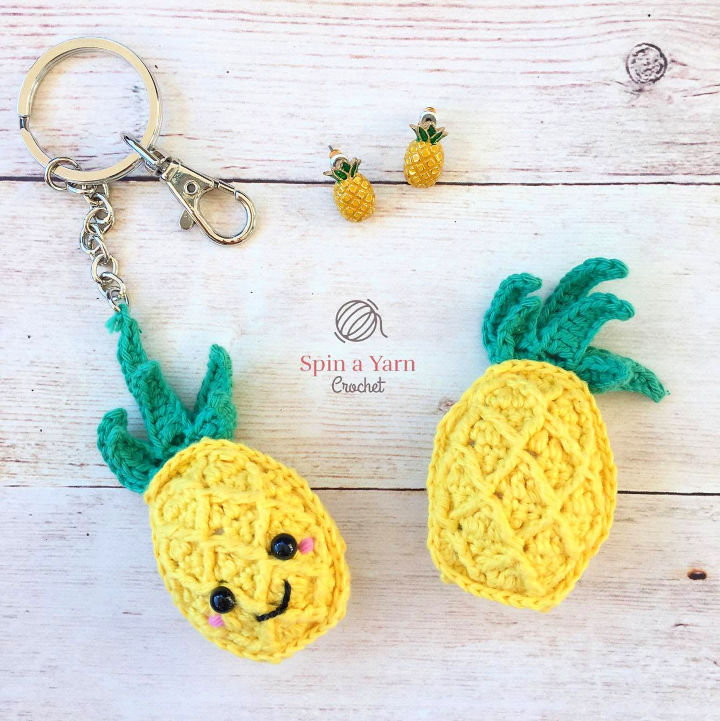 Crochet miniature pineapple plushies also that you can add up with the keyring to make sweet keychain gifts. Stitch the lightweight cotton yarn in yellow and green to make this little pineapple crochet pattern. Next, use the light pink cotton yarn for the cheeks. Make the mouth using black embroidery yarn and add the 6mm safety eyes at the end. Don't forget to stuff this fruity yarn plushie. The required hook size to hook up this miniature pineapple amigurumi will be 2.25mm. There will be a different direction to crochet face, leaves, and pineapple. Details here spinayarncrochet
8. Crochet Pinapple Coasters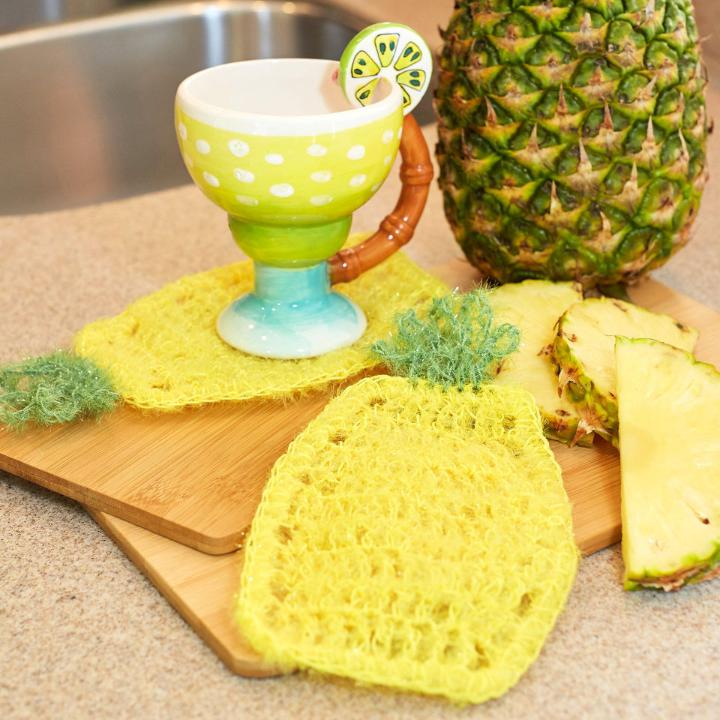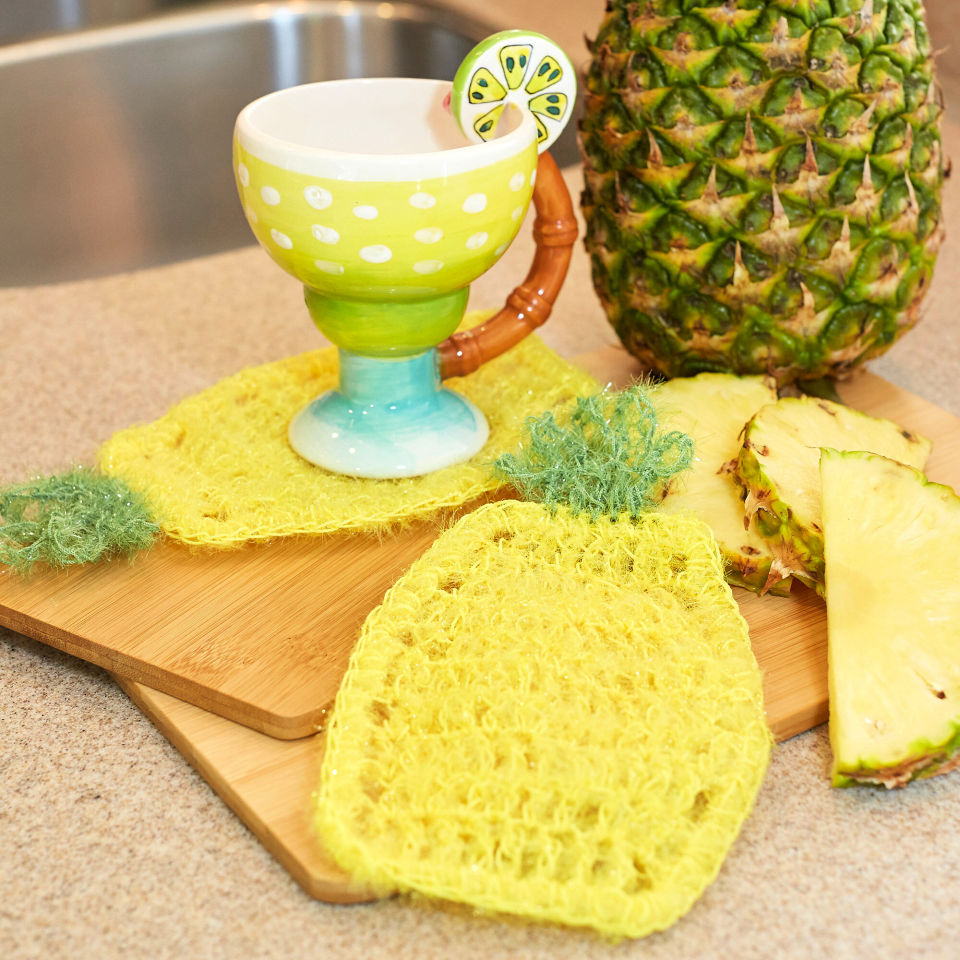 No double the pineapple is the symbol of freshness. It is also a sign of friendship and welcoming. So, bring tons of focal stimulation to your kitchen and party tables by making pineapple dishcloths and coasters. To make this scrubby pineapple dishcloth, you need to crochet the Red Heart yarn, and you need an easy skill level to whip it up. The best scrubby to clean up your kitchen. The completed dishcloth is 5" wide and 9"' long with leaves. You are all free to hook up this pineapple pattern in any custom size. Details here yarnspirations
9. Crocheted Stuffed Pineapple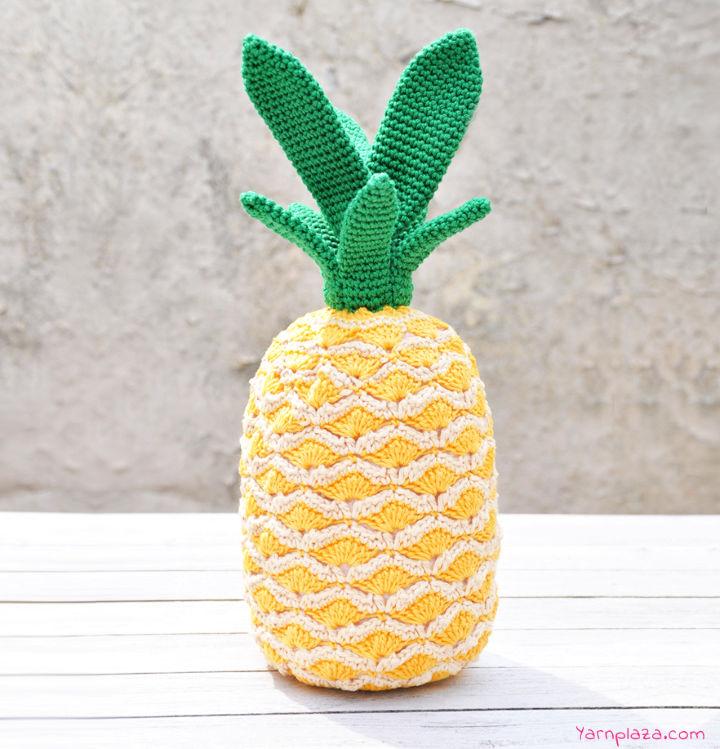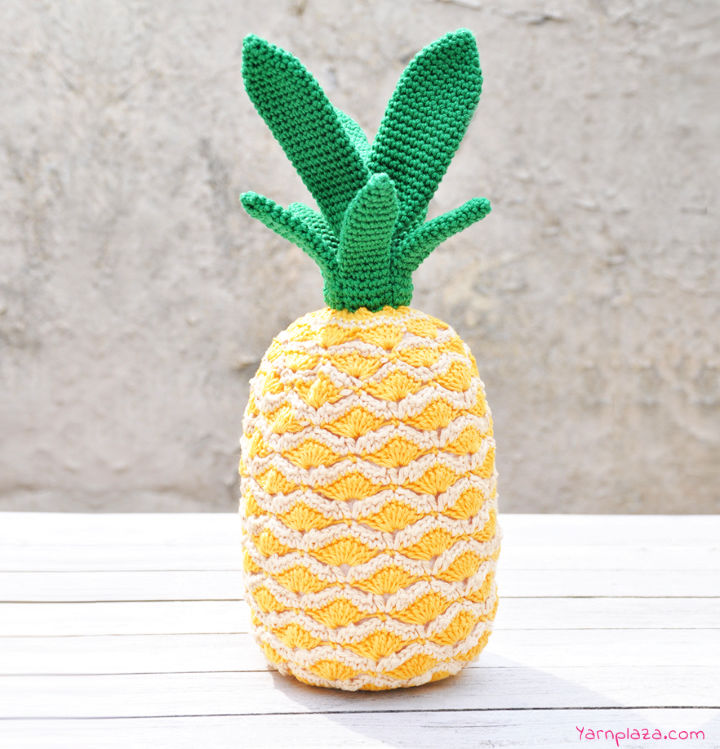 Get here the pineapple crochet patterns and guides about how to crochet a tropical pineapple amigurumi or stuffed toy. Here you need 1 ball of phildar Phil cotton 3 and 1 ball of Katia Capri to hook up this brilliant pineapple stuffed toy. Start crocheting this tropical pineapple using the 3mm crochet hook and make a magic ring first. Next, just stuff the completed pineapple with your favorite type of stuffing. One of the best crochet fruit amigurumi that can stand alone. Must learn to crochet in rounds to crochet this stuffed pineapple. Details here yarnplaza
10. Crochet Pineapple Top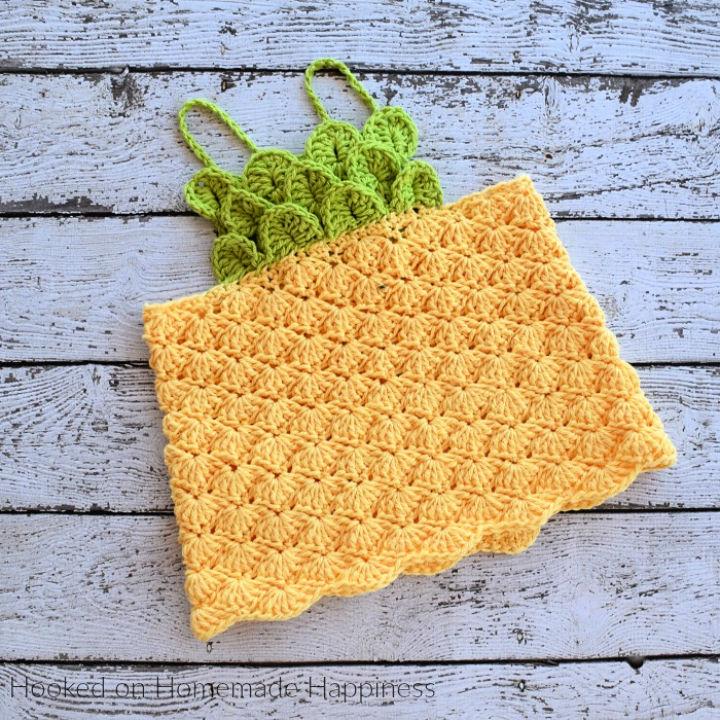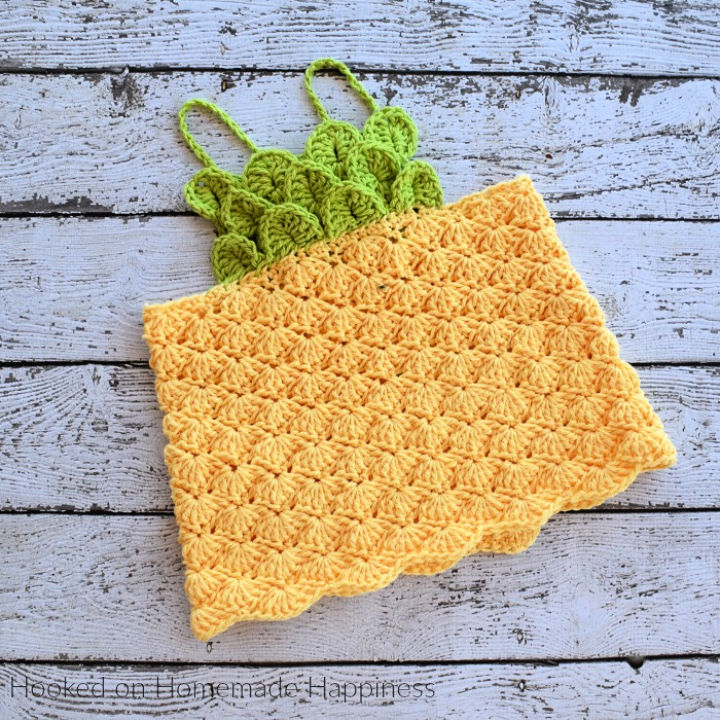 Transform your little girl into a princess by crocheting this pineapple top. Another way to feature pineapples in your everyday fashion as they are a symbol of friendship. Crochet Lily Sugar'N Cream yar in two colors like in green and yellow while using a 5mm hook to get this beautiful crochet kids' top made. For this pattern, you must have an intermediate skill level, and the perfect calculated gauge for this pattern is 2 shells, or 6 rows are equal to 4". Time to wear the fruity sensation for extra cuteness. Must crochet it to add to kids' closets. Details here hookedonhomema
11. Crochet Pineapple Afghan Pattern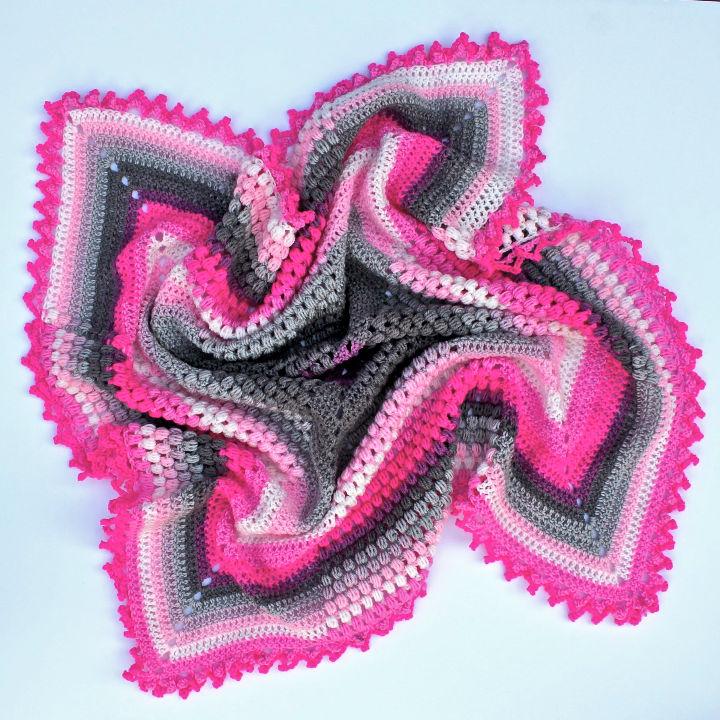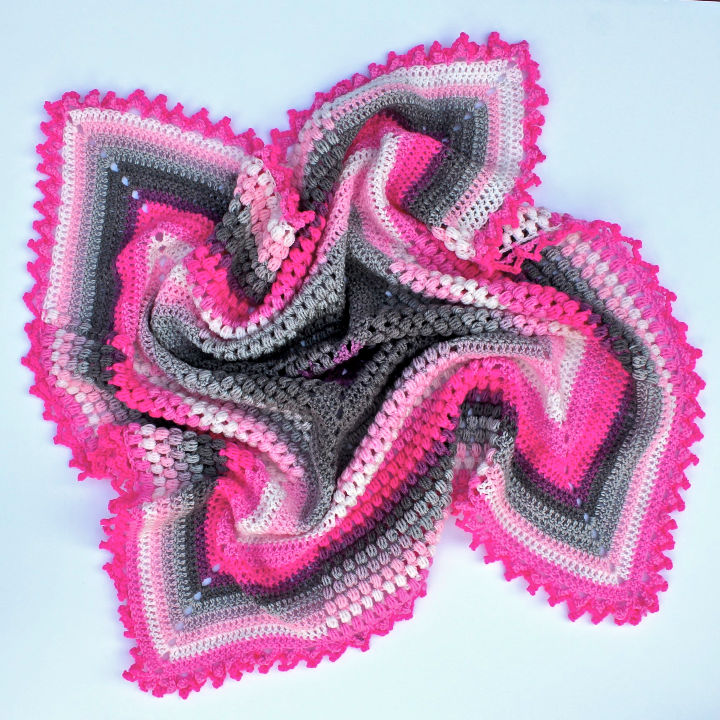 Time to bring the pineapples to your little baby's wardrobe too. The idea is to crochet this brilliant looking crochet pineapple afghan, comes with fine details. Crochet 2 cakes of self-striping Lion Brand mandala baby yarn to whip up this fantastic baby blanket pattern. Work in the pineapple cluster stitch to come up with the subtle design texture will be a big love of everyone. Crochet 1180 yds of the selected yarn with 5mm hook to gain this brilliantly colorful and comfy type of crochet afghan. Details here nanascraftyhome
Learn crochet chevron stitch by following these free chevron crochet patterns!
12. Vintage Pineapple Crochet Patterns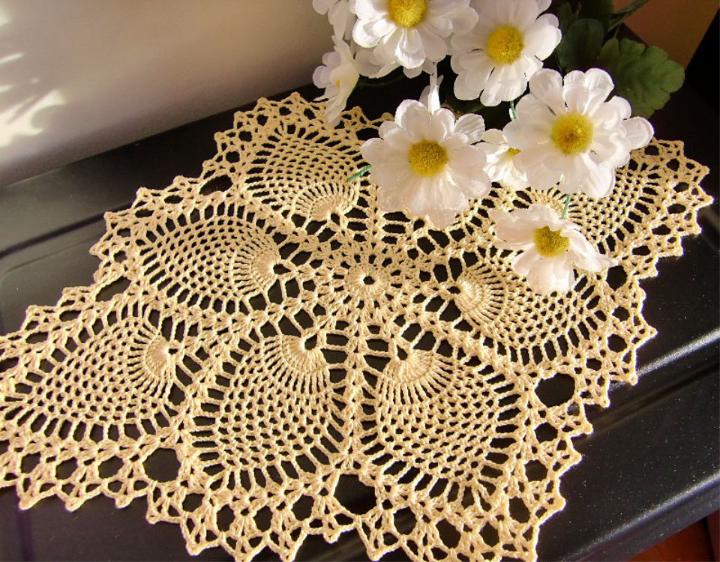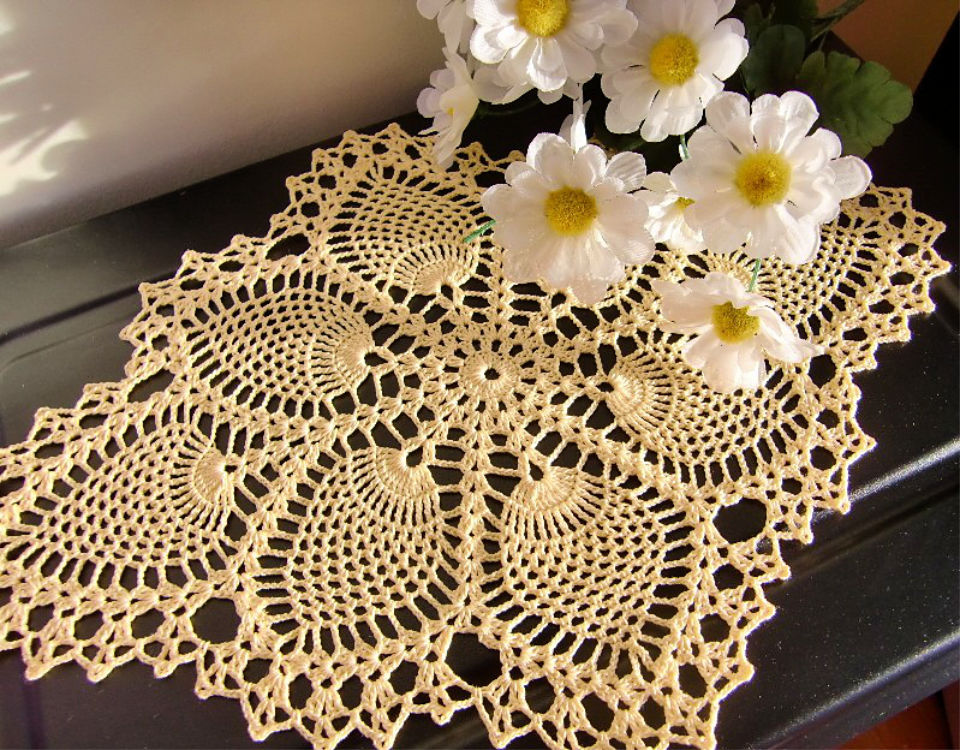 Use it as the best rug, as a table mat, and also as a great crochet table runner pattern. Crochet the matching coasters and hot pads to get a full set. Crochet J. & P. Coats and Clarks O.N.T best six cord mercerized size 20 yarn and crocheted it with hook no 8 or 9 to make this brilliant looking crochet pineapple doily. The finished size of this crochet pineapple doily is 10" wide and 14" long. Start making this pineapple doily by stitching first the center of it. This is one of the best pineapple doily crochet patterns that impress with fine details. Details here freevintagecro
13. Pineapple Doily Crochet Patterns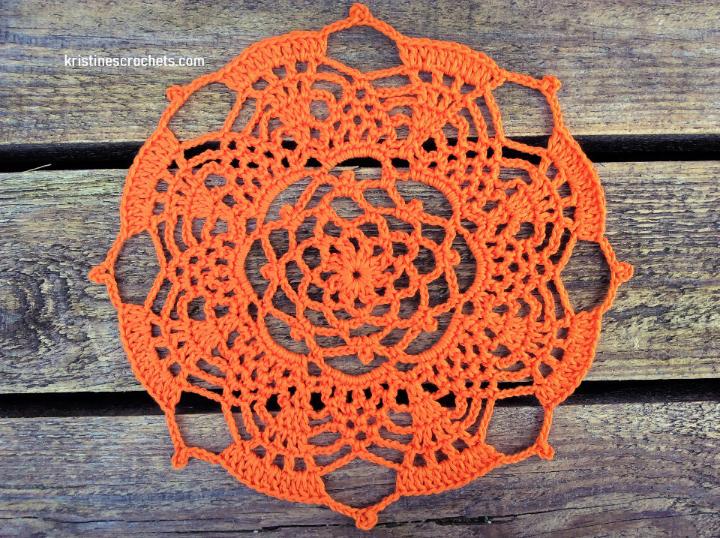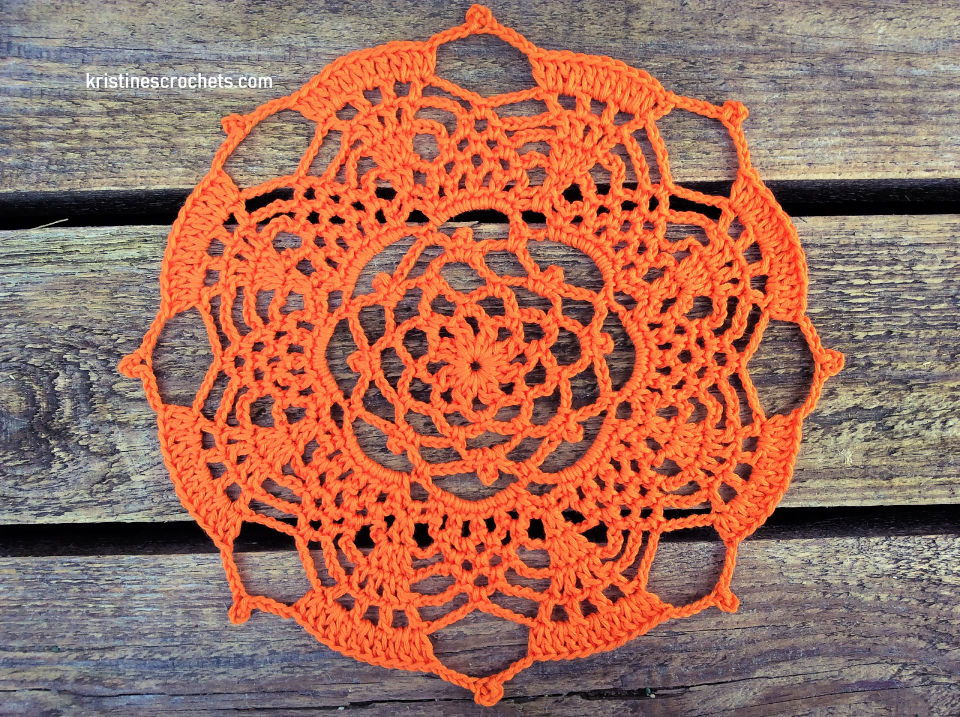 One more amazing pineapple crochet pattern is here to highlight the pineapples or their skin texture to your everyday life. Crochet this pineapple crochet doily will make a great tablecloth, hotpad, or coaster too. It is lacey and comes with intricate design details that do nothing but impress. Grab the fingering weight 100% Cotton yarn or Alize Bella cotton yarn in colorway 487 and crochet it up with the 3mm hook size to whip up this cute yarn doily. Here you have to work in the dark, port, and dc2tog special stitches to complete this doily pattern. Details here kristinescrochets
14. Pineapple Shawl Crochet Pattern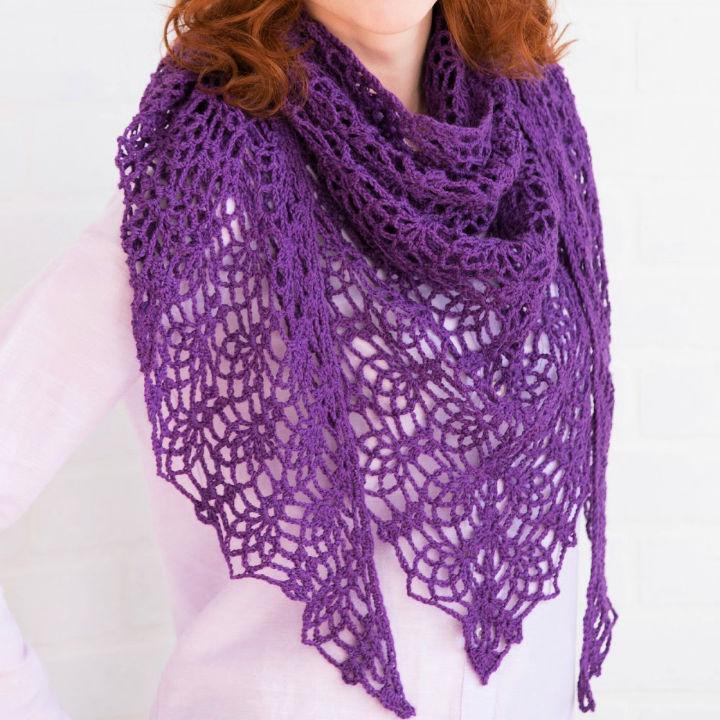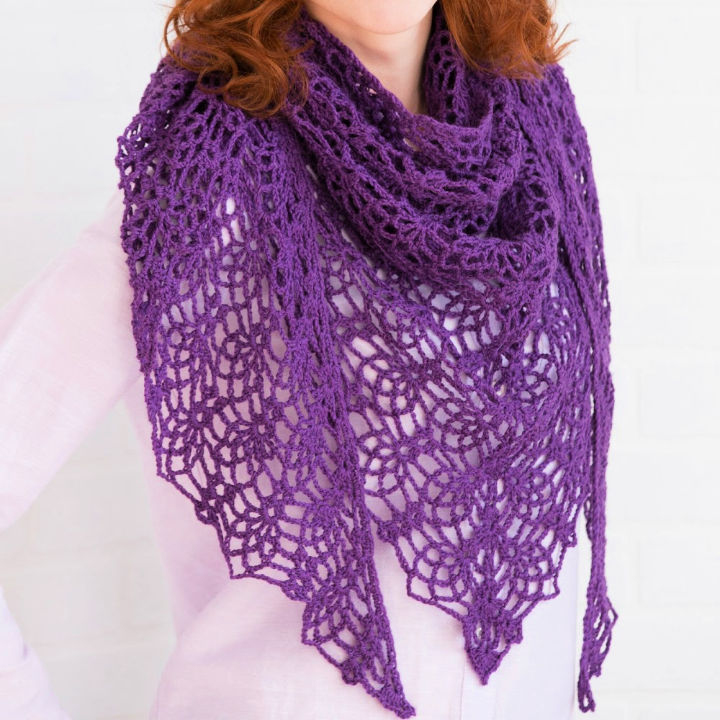 Feature the pineapple in your causal winter or spring fashion, too, by crocheting this adorable crochet shawl. Crochet Red Heart Heart & Sole Yarn with a matching hook to stitch this pineapple shawl made. Work in the pineapple stitch to complete this lightweight lacey shawl. A big must-have for all style loving ladies and use it as a prayer shawl too for your summer morning prayers. The finished size of this shawl is 68" across and 34" in length at the center. Details here yarnspirations
15. Pineapple Motif Crochet Pattern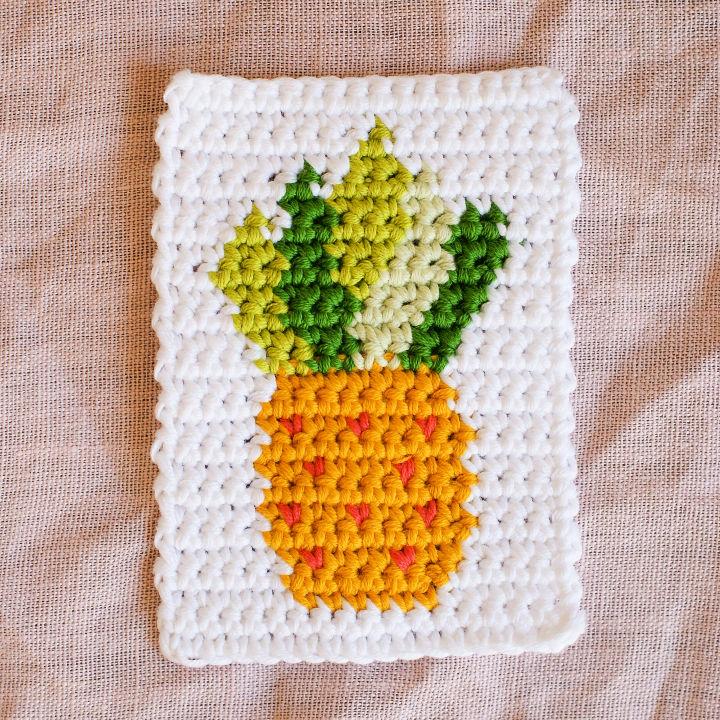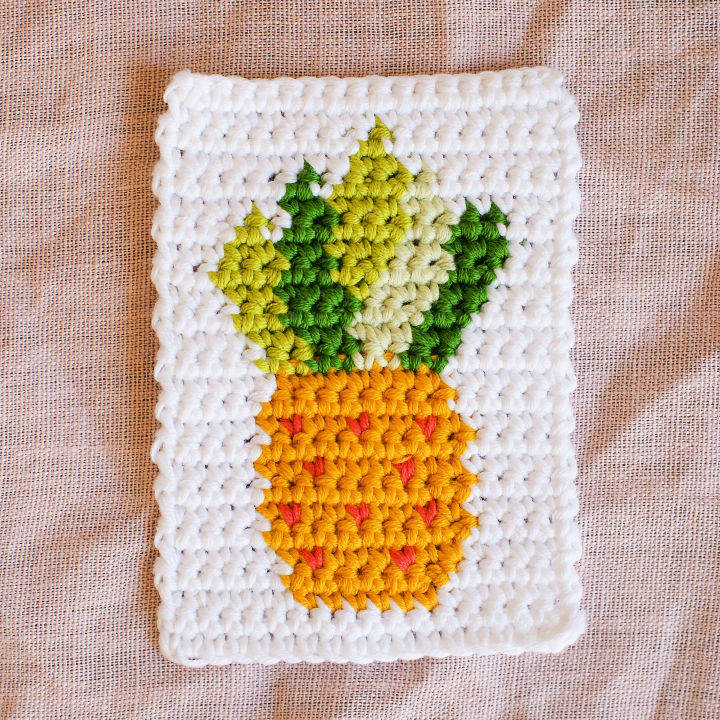 The pineapple motif is one of the most loved crochet motifs, and you can feature them in a pattern for added beauty. Crochet 50g of DMC Natura Just Cotton 100% cotton yarn to with a 2.75mm hook to whip up this amazing pineapple motif. Incorporate it into the kids' sweaters and other patterns for added cuteness. The finished size of this motif is 4" x 3", but you can prefer to crochet any size of it with the provided guides and free pattern. Use the intarsia technique to crochet and incorporate this motif to decided yarn patterns. thealmondsnug
16. Free Pineapple Crochet Afghan Pattern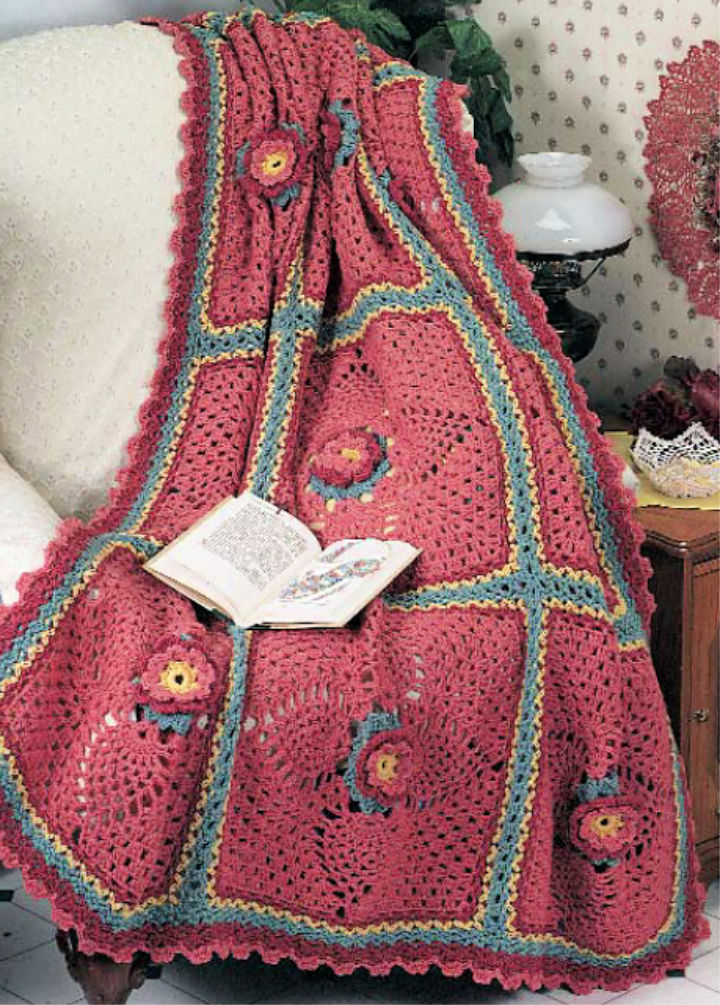 One more amazing pattern featuring the pineapples will be a great addition to your kids' wardrobe. This perfect pineapple crochet blanket or crochet afghan will make a great furniture throw and can be crocheted in custom colors, suiting a special home decor theme. You need a beginner skill level to crochet this graceful yarn afghan having the final measurements 58" x 72". Try out this fantastic crochet afghan pattern with any lightweight or chunky yarn weight. Don't forget to add the flowers in the center of each pineapple square. Details here freepatterns
17. Pineapple Crochet Cozies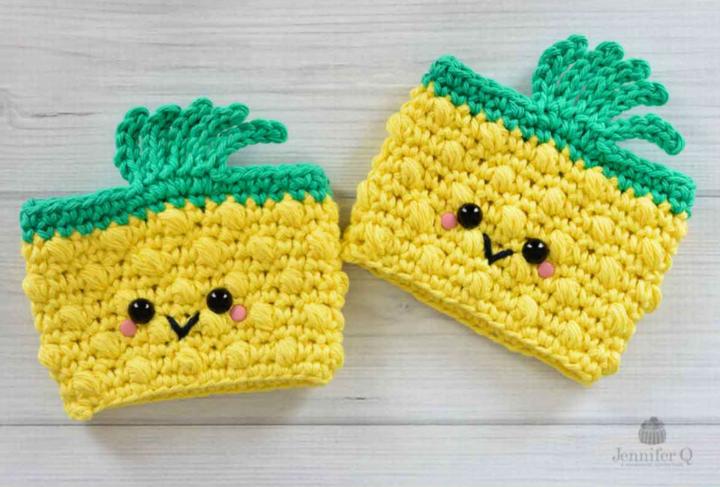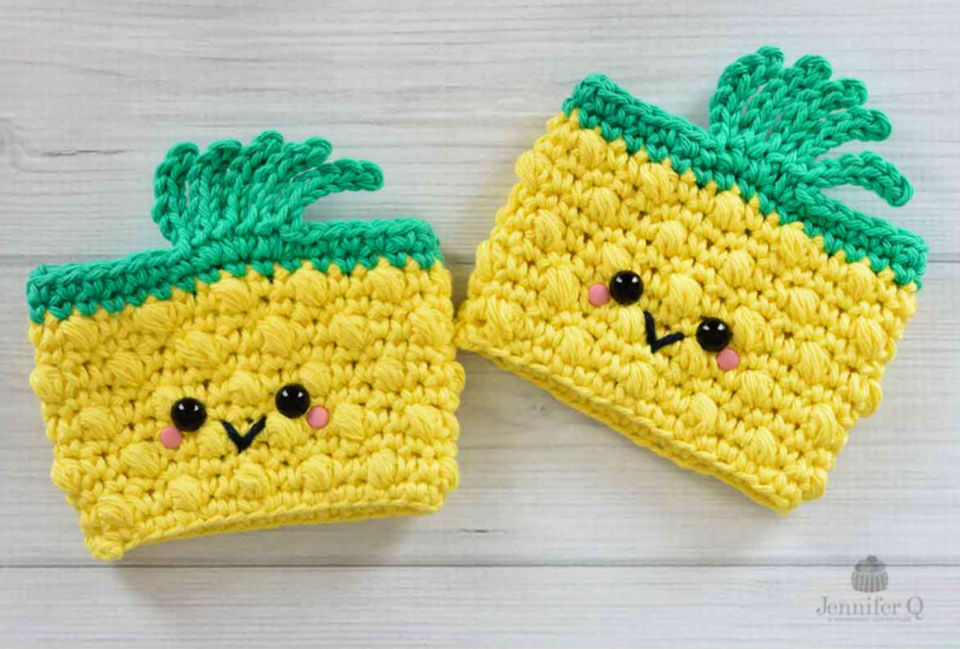 Create a fancy avatar of your coffee mugs, pots, and other items of this kind using this pineapple crochet cozy. Work in the puff and HDC special stitches to complete this pineapple sleeve. The cup pineapple cozy is 9 ¼" in circumference, and it will instantly cute up a coffee mug by creating a dramatic expression. Crochet 120yds of Lily Sugar'n Cream 100% cotton yarn in the sunshine and mod green color and crochet it up with a 4mm hook to get this sleeve made. Finish with custom buttons and adorn more with custom stickers and accents. The gauge is not critical for this pineapple crochet pattern. Details here jenniferq
18. Crochet Amigurumi Pineapple Purse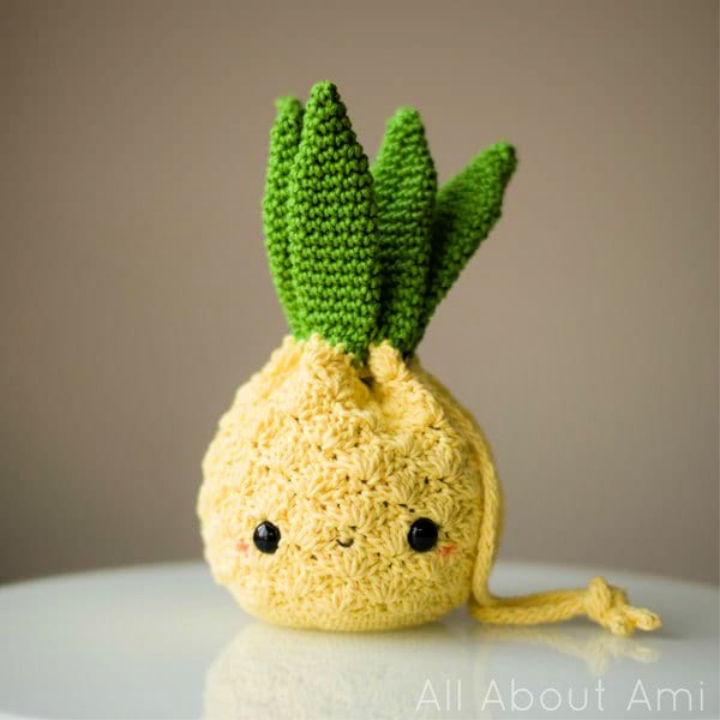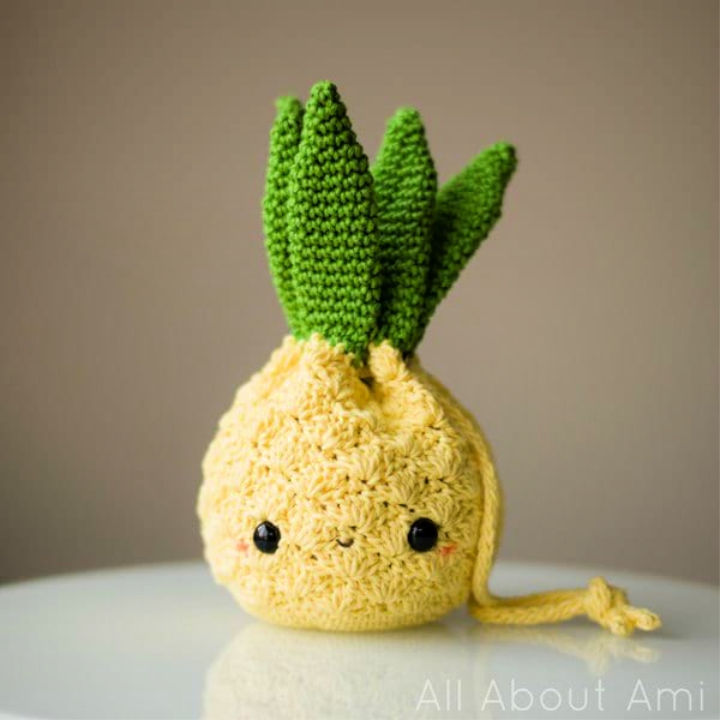 Look at the cuteness at the peak, the super cute crochet pineapple amigurumi. It comes with a drawstring closure and will be a big love of all fashion lovers. Crochet it to give as an epic handmade present to a little girl. Crochet Lion Brand 24/7 Worsted Weight Cotton Yarn in lemon and grass color to stitch this enchanting crochet pineapple purse. Here you have to work with 3.5mm and 2mm crochet hook to crochet the main body and green leaves. Finish with fiberfill stuffing, 12mm safety eyes, and also with a cord lock. Details here allaboutami
19. Crochet Pineapple Blanket Cocoon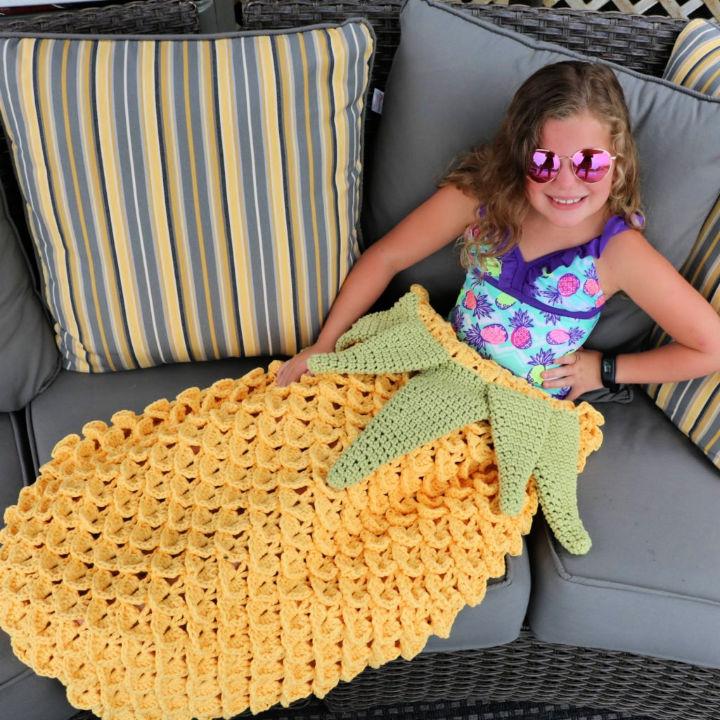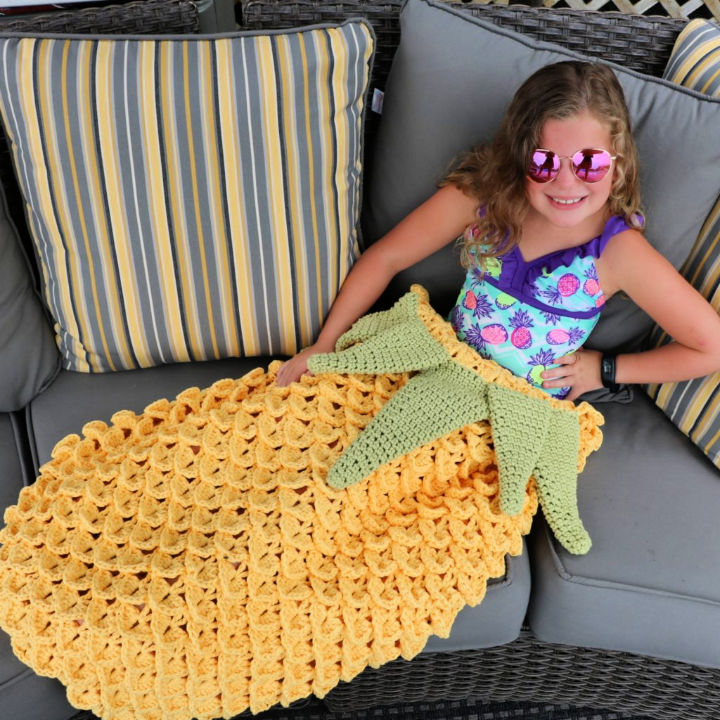 Win extra love of your kids by hooking up this super cute crochet blanket, which comes in beautiful pineapple shape. This is actually a great crochet snuggle sack that will cover the lap of the kids warm and cozy. Crochet Bernat Maker Home Decor 72% cotton and 28% Nylon yarn in gold and green pea color to make this blanket cocoon. 250g of this yarn will be enough to crochet a child-size this crochet blanket. Work with the 8mm crochet hook to complete the 25" wide and 34" long size of this pineapple blanket cocoon. Details here mjsoffthehookde
20. Crochet Pineapple Pendant Pattern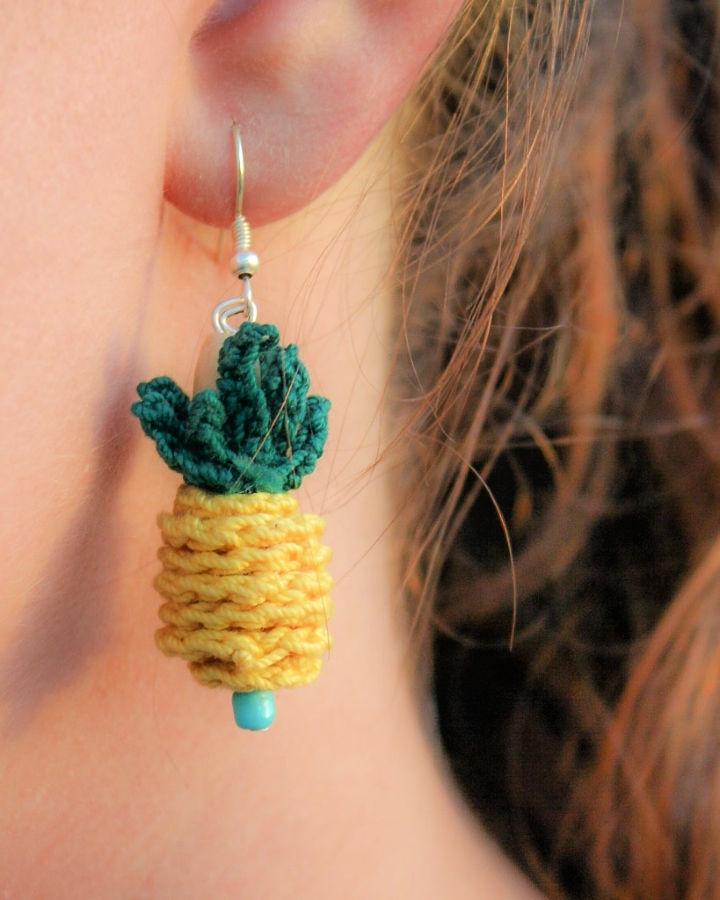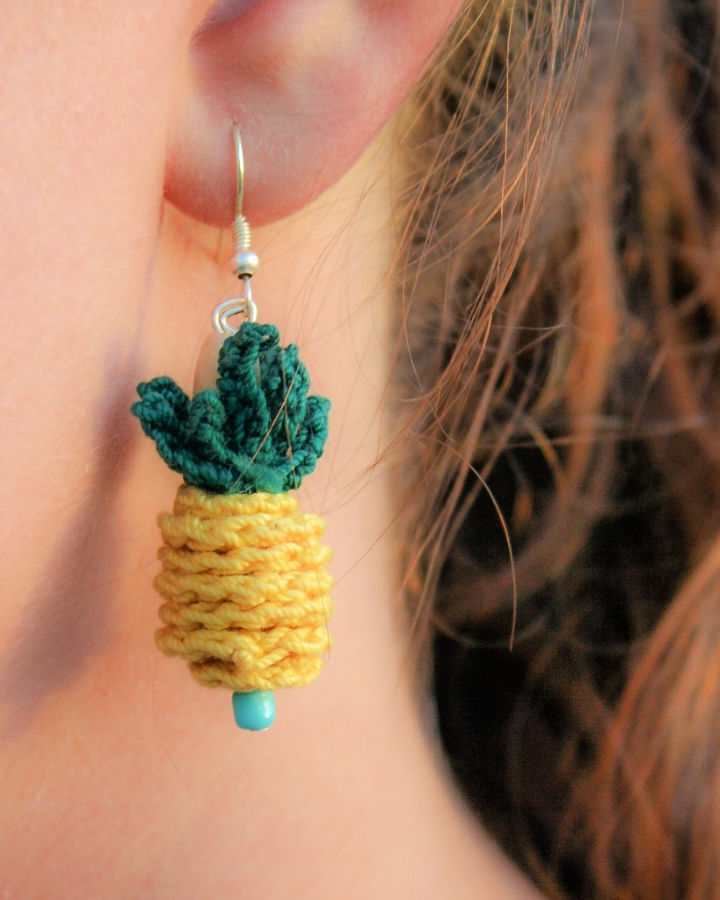 Look at this one of the brilliant crochet pineapple achievements, the amazing fashion jewelry the pineapple pendant earrings. Crochet Aunt Lydia's Crochet, Cotton Size 10 in forest green and goldenrod with a 2.25mm crochet hook to whip up these super adorable crochet pendant earrings. Next, you need the small turquoise seed bead, 2" headpins, and long oval wooden beads to whip up these pineapple yarn earrings. From top to bottom, these beads measure 1.5". Another great Free Crochet Pineapple Pattern to crochet, the style of loving ladies will surely like this as a gift. Details here windingroadcrochet
Conclusion:
The pineapple stitch is one of the most loved crochet stitches, and it is trendy due to its wonderful design pattern. It is used as one of the most famous motifs in the crocheting world, and you can incorporate this motif into any decided pattern for added visual stimulation. Crochet pineapple patterns will share all the wonders you can do by working in this stitch. Moreover, you will learn how to crochet the pineapple crochet amigurumi and stuffed toys that can be used in home knickknacks in lots of different ways. This list of the pineapple crochet pattern will boost your love for pineapples. Simultaneously, these Free Crochet Pineapple Patterns are a smart way to show you life for this tropical fruit.