Do you like dressing up and matching outfits? It yes, then you'll adore these beautiful 15 free crochet clutch patterns. There is a large range of crochet clutch purse pattern in this article, and you choose anyone depending on your style. If you like the simple life, then just go for a basic one colored clutch purse pattern to carry your everyday things! If you're very extra and want to match some clutches with your stunning dresses, then you could go for the more fancy designs! Everyone can have a clutch! It is very helpful in carrying around little things like your cards, money, and mobile in there. This way, you will have everything in one place.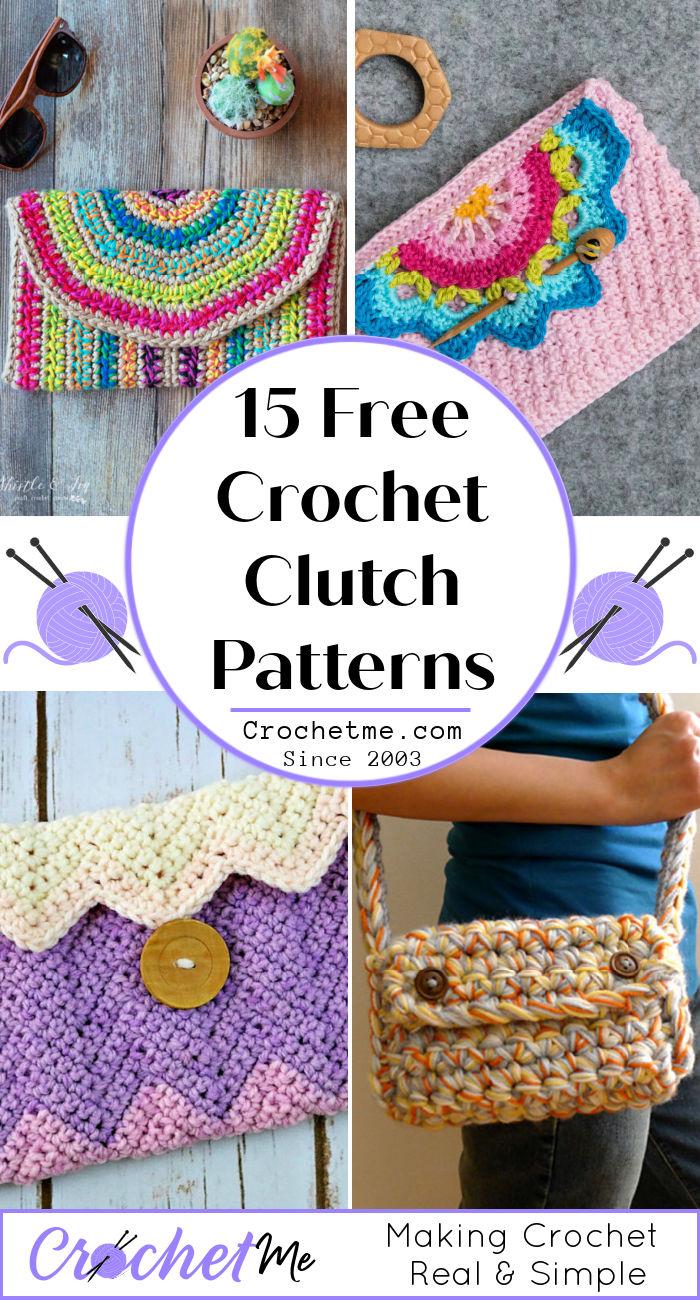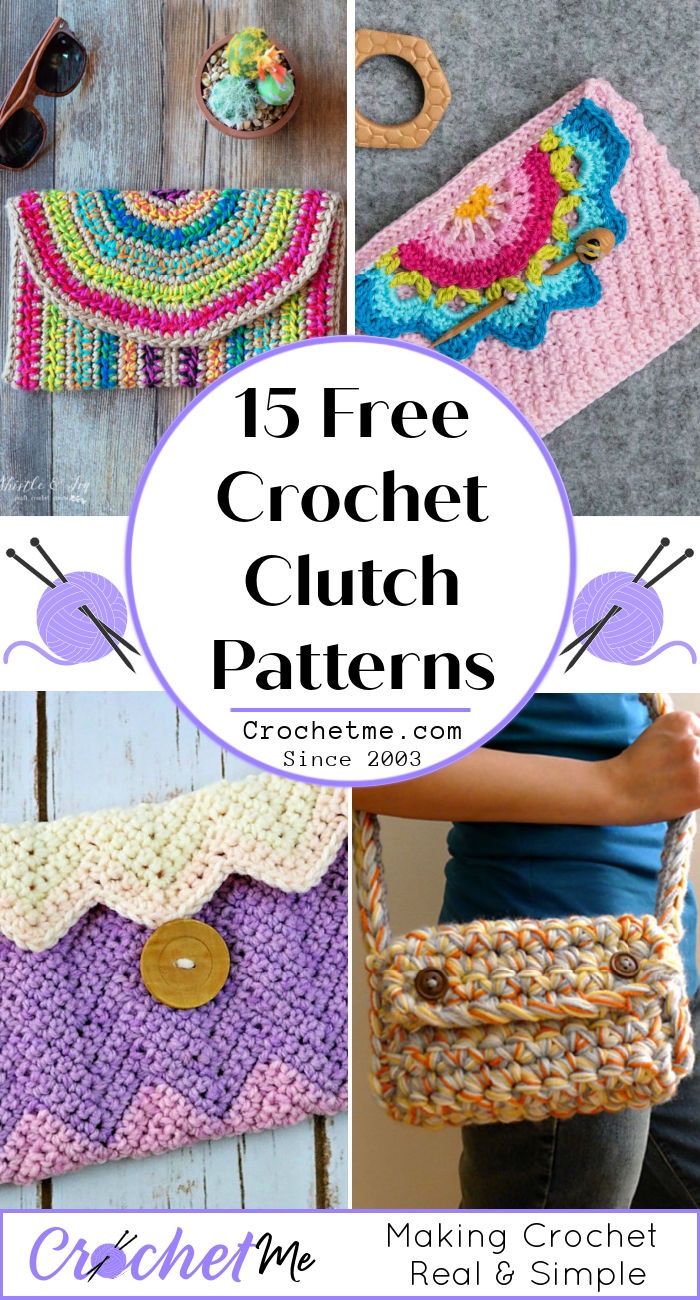 Your crochet clutch will also help you look a lot more elegant just by holding it. It's perfect to pair up with almost any type of outfit as it goes perfectly with everything! You may gift this to a girl in your life- she will love it! Just be sure to use her favorite colors and patterns. This article will cover a range of crochet clutch patterns, from mini ones to plush clutches, from circle to summer clutches, from purse to a touch of color clutch! There are a lot of DIY clutches to choose from. After all, who doesn't like to have a couple of options? More the options, the better the decision. Find a lot of free crochet patterns!
1. Crochet Clutch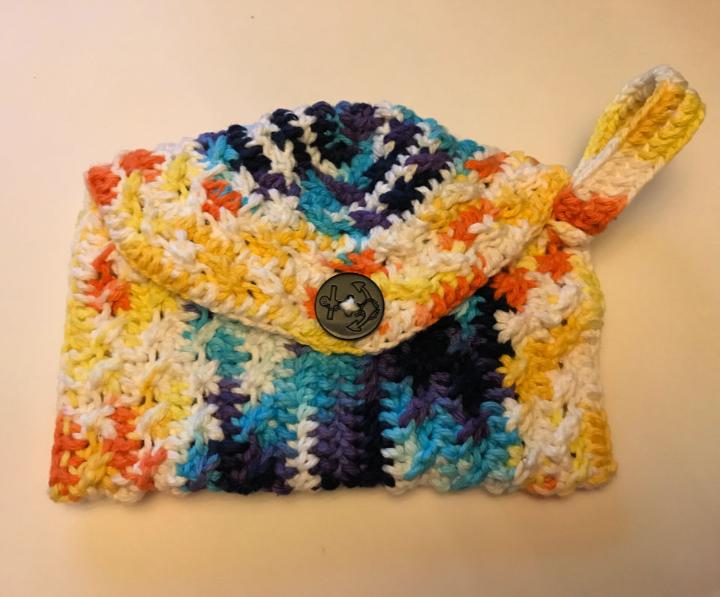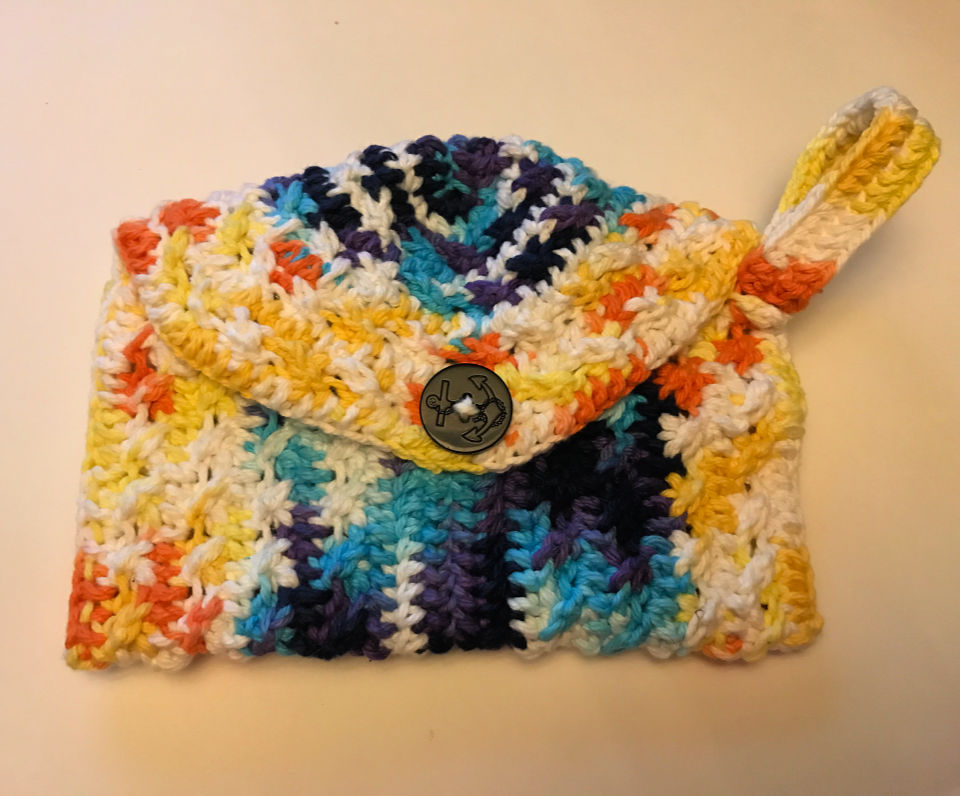 Here's a very pretty and colorful clutch. Since this clutch is colorful, it will go with all of your outfits perfectly! If you want your overall outfit to look designer – just pair this with something simple like a white or black plain dress. The simplicity of the dress will let the clutch be the main focus. Any yarn, crochet hook, yarn needle, and scissors are the only tools required for you to nail this project. pinkolaycrochet
Crochet Hook: size D/ 3.25mm
2. Crochet Clutch Pattern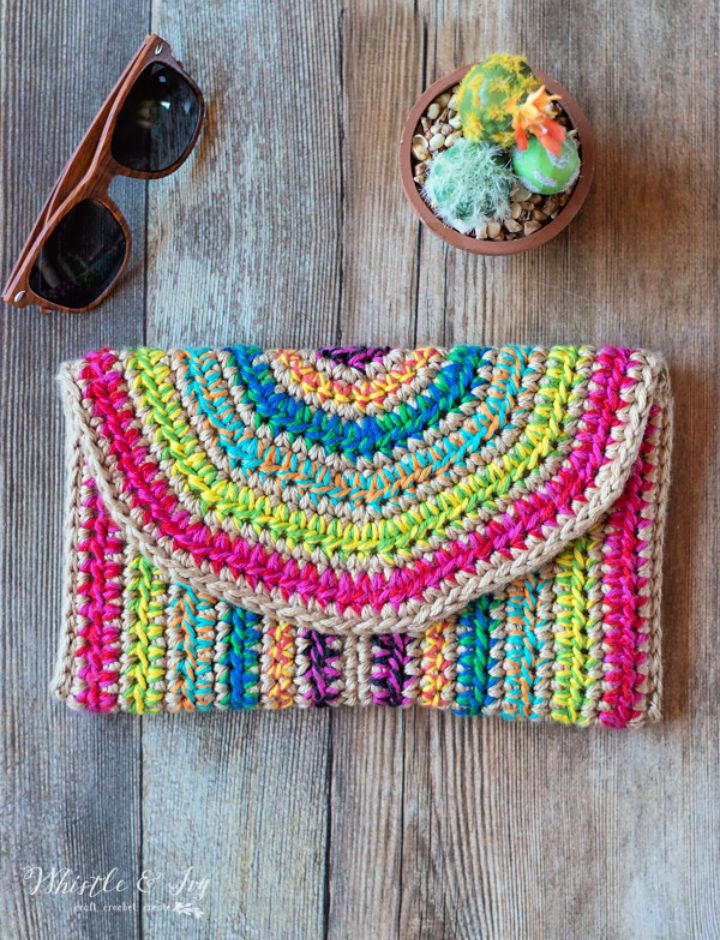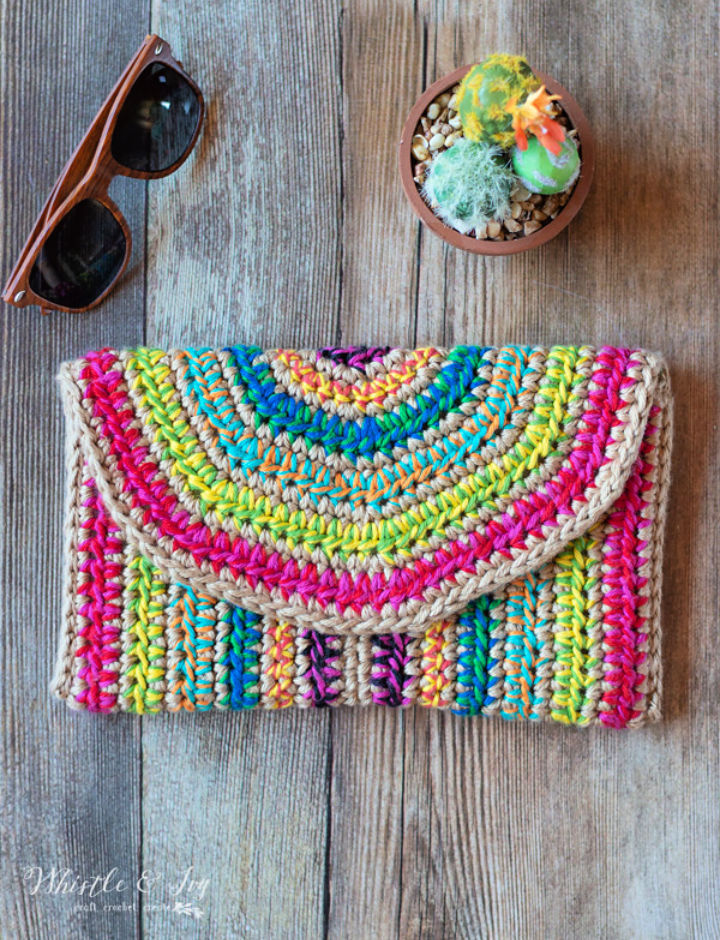 This crochet clutch has a very unique and different pattern- nothing that you'd find at the market. However, the best part is that there are many colors incorporated into this pattern. The perfect crochet clutch bag to carry with your spring outfits! You need to know some basic stitches like the chain, single crochet, double crochet, half double crochet, slip stitch, and back loops. Not many supplies are required, either. whistleandivy
Crochet Hook: 7mm hook
Yarn Weight: Medium Cotton Yarn – Shine Worsted in "Willow"
3. Crochet A Touch of Color Clutch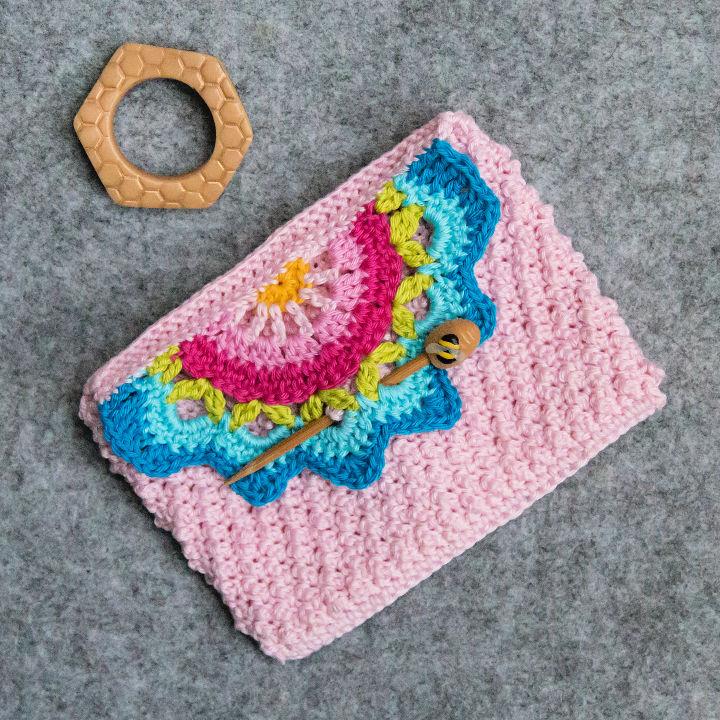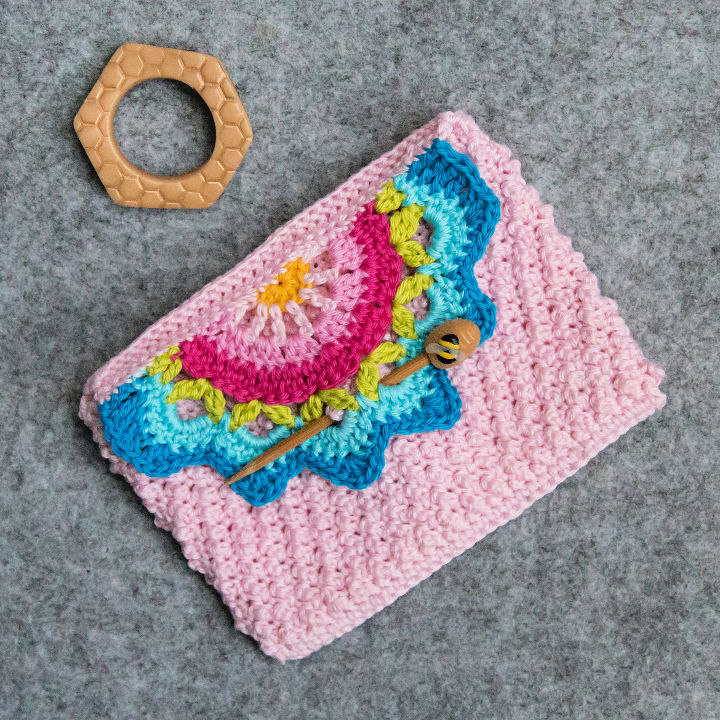 If you're looking for ways to make yourself closet a little more feminine and girly, then this clutch with being the perfect addition to your wardrobe! You can pair this with anything to add some pink to the outfit. It's so pretty and has a beautiful color combination of pink, blue and yellow! The texture is pretty cool, too, and you don't need a lot of supplies or materials for this amazing plan! lookatwhatimade
Crochet Hook: 3mm/ 3.25mm
Yarn Weight: Scheepjes Catona (137yards)-Light Pink, Scheepjes Catona (27yardsYellow) – Medium Pink, Dark Pink, Green, Light Blue, Dark Blue
Finished Size: 5.9" x 4.7"
4. Crochet Clutch Purse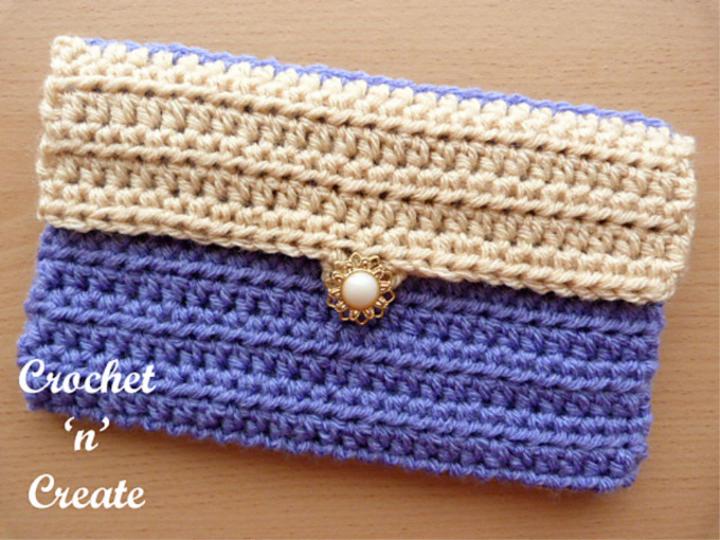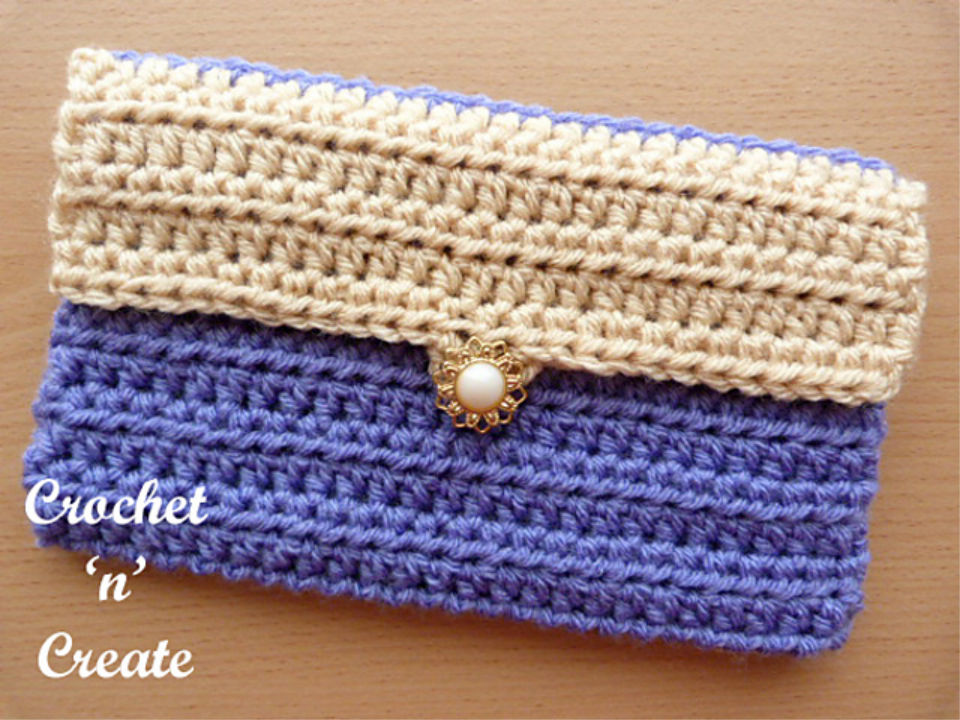 This purse is very functional as it is a little bigger than all the other crochet clutch patterns. The color combination is stunning- blue and cream! The design is finished off with a beautiful and sparkly button in the middle! This way, you'll be able to close the clutch when not in use. It will be beautiful with cream or blue outfits, and you also throw in a matching blue ribbon in your hair, if you're feeling fancy. crochetncreate
Crochet Hook: 6.50mm hook
Yarn Weight: 40g-Lion Brand Vanna's Choice-color 1, 10g-Lion Brand Vanna's Choice-color 2
Finished Size: 8.5" x 5"
5. Pattern for Clutch Bag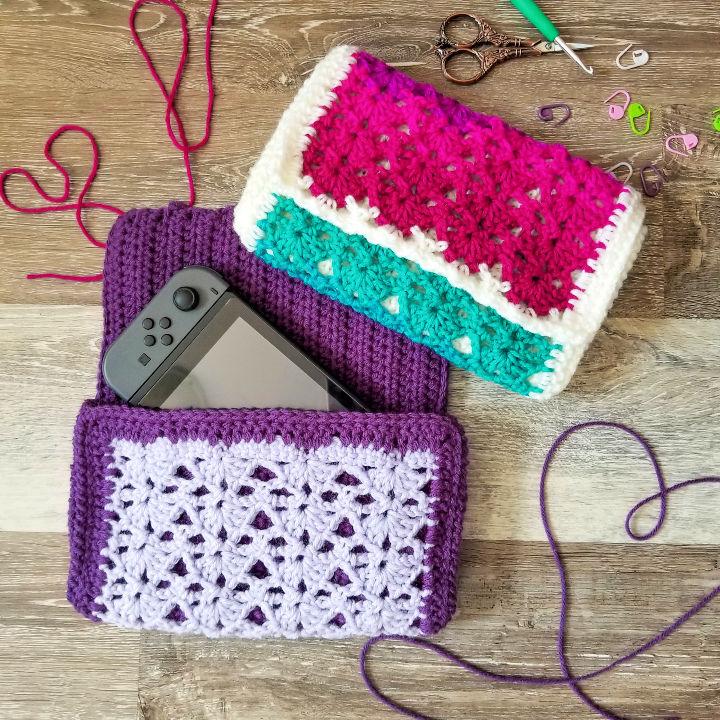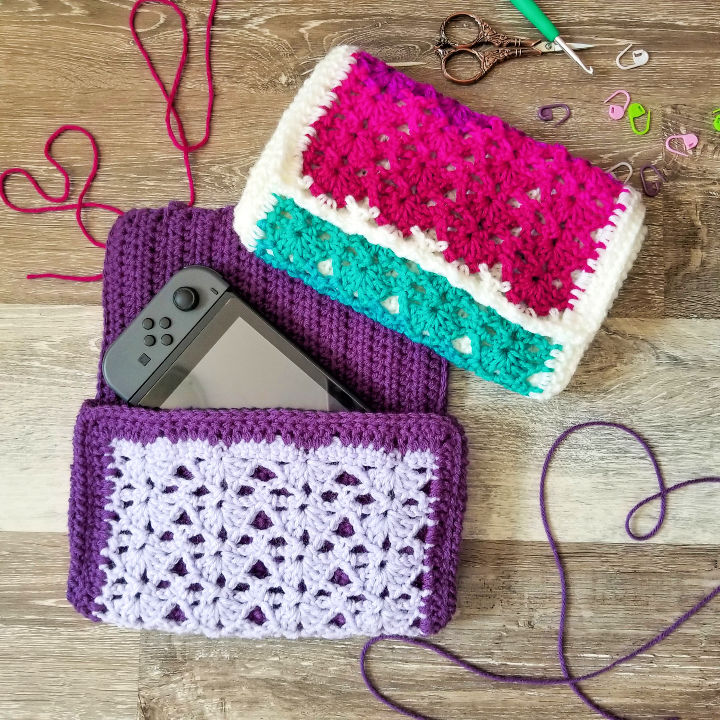 Mermaids in cartoons are found in very beautiful shades of blue, purple, or pink! These clutches are inspired by those stunning mermaid colors. This is why the color selection is just so stunning! Other than that, the pattern is very pretty too! Needle, yarn, scissors, and a few other tools will be required for you to make this amazing project a success! It's not that hard to complete as long as you concentrate fully. ravinsdesigns
Crochet Hook: 4.5mm hook
Yarn Weight: Medium weight #4 yarn-Red Heart Super Saver (rainbow-116yards, Big Twist-144yards)
Finished Size: 16.5" x 9"
6. Free Clutch Purse Pattern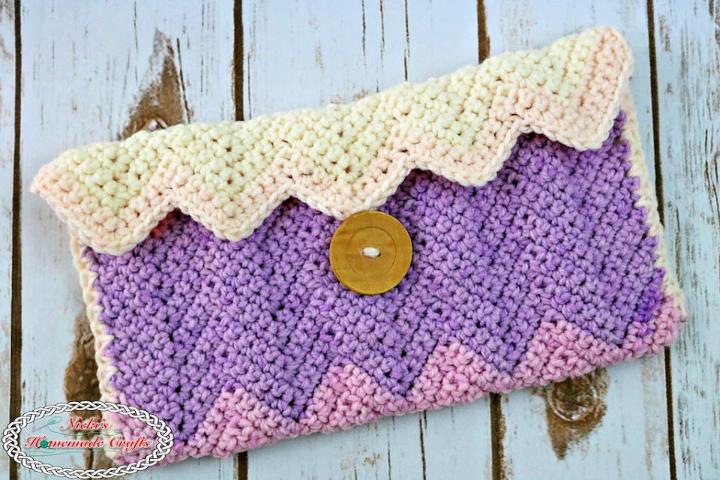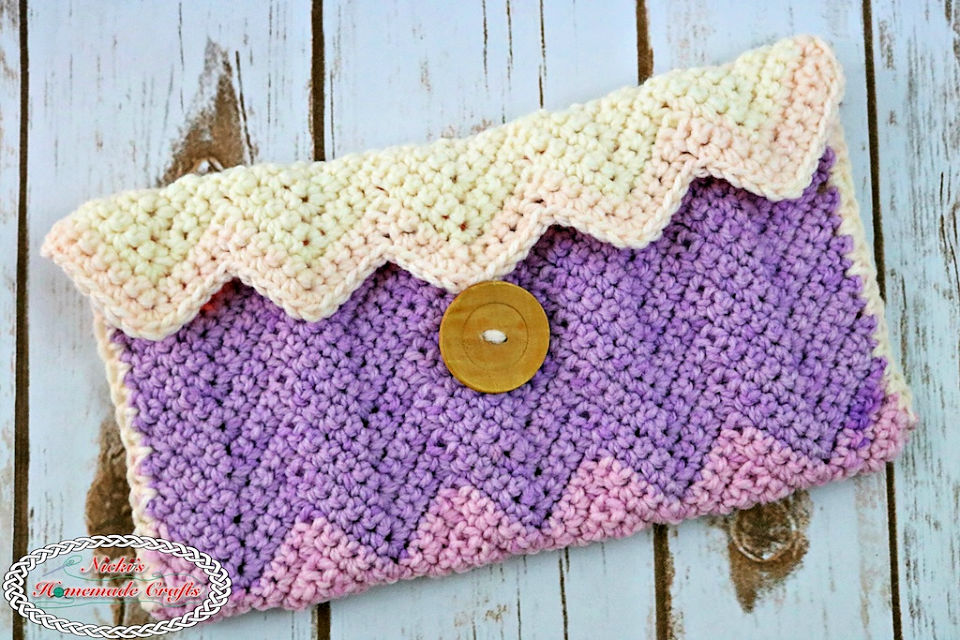 Chevron pattern is just the perfect addition to your closet around the springtime. This is because that pattern works perfectly for St. Patrick's Day! You could use any two colors or maybe make an ombre effect by using two shades of the same color. It's all up to you. You may also want to match this clutch with a certain outfit that you adore. Yarn, crochet hook, button, scissors, and a few other supplies required. nickishomemade
Crochet Hook: 5.00mm hook
Yarn Weight: Caron Baby Cake-1 cake
Finished Size: 11" x 6.25"
7. Crochet Clutch Purse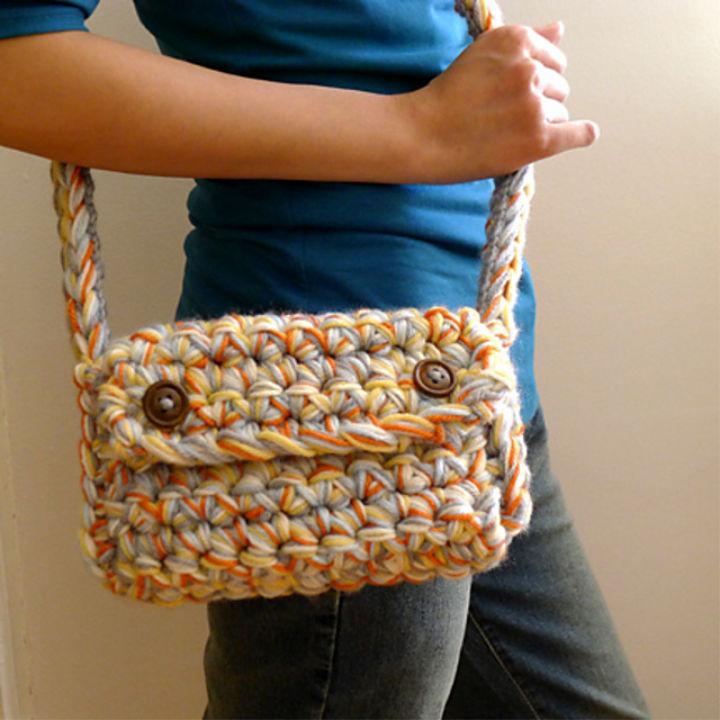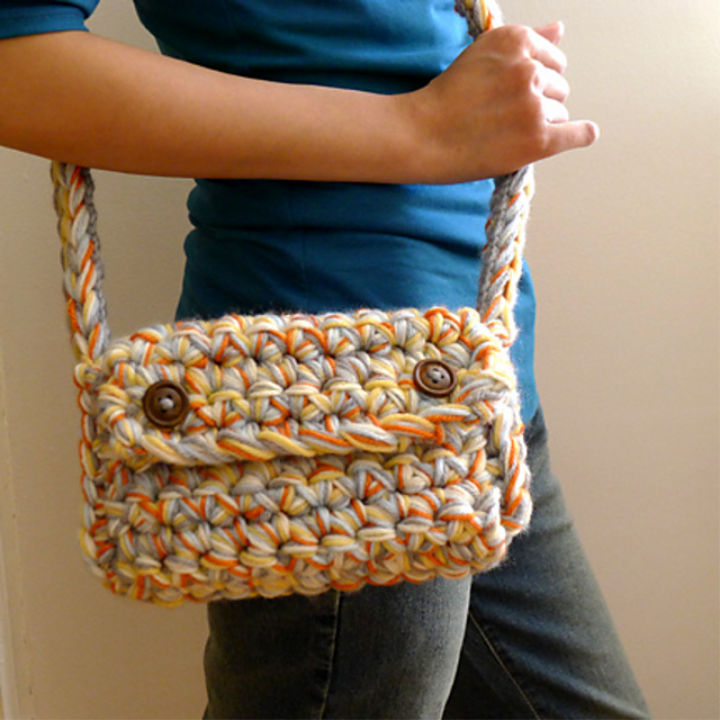 Such a pretty crochet clutch purse pattern! Compared to all of the crochet clutch purse patterns in this article, this is one of the most unique ones. It has a texture that looks very big and bulky. You will achieve this pattern by using a good yarn and a very big crochet hook! Big crochet hooks make your designs bolder and bigger. You may not classify it as a clutch since it has a strap to hang it on your shoulder, as well. genuinemudpie
Crochet Hook: 16mm
Yarn Weight: Worsted weight yarn- 6 strands
Finished Size: 9" x 5"
8. Crochet Mini Clutch Purse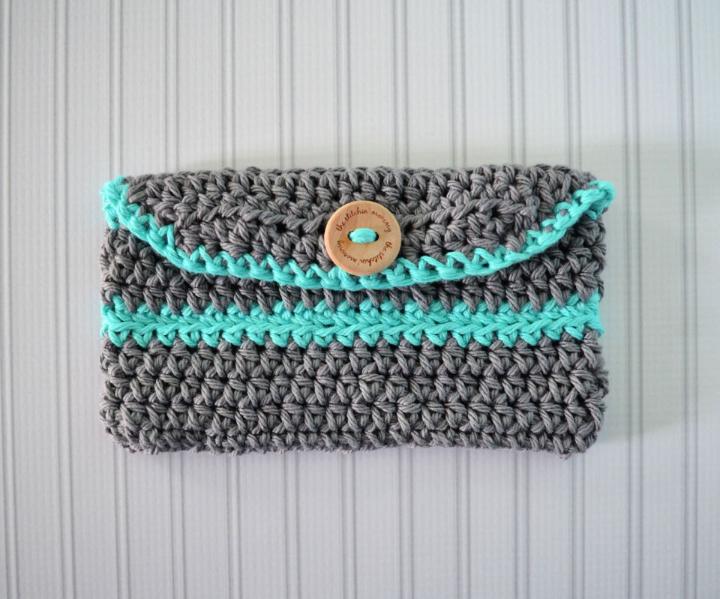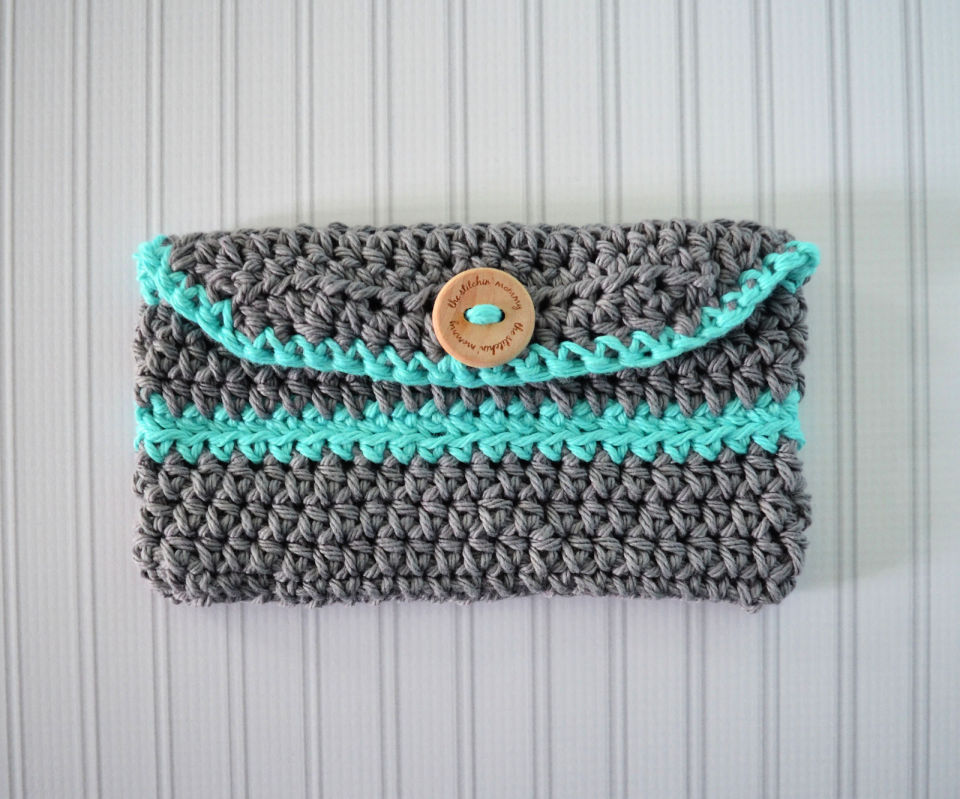 Mint and grey are one of the most beautiful combinations in this crochet clutch pattern. They work very well together, so this color scheme is just amazing! The size and pattern of the clutch are perfect too. It's so simple and pretty at the same time. You can keep any of your necessities or little things in there. You can also make it look fashionable with a pretty dress. It's straightforward and easy to make, so any beginner can make this a success! thestitchinmommy
Crochet Hook: 6mm
Yarn Weight: 59 yards- #4 Medium Weight Yarn-2 colors
9. How to Crochet Evelyn Clutch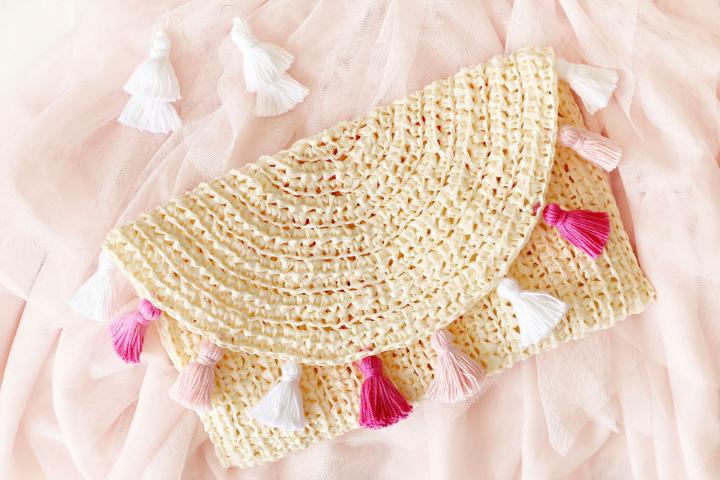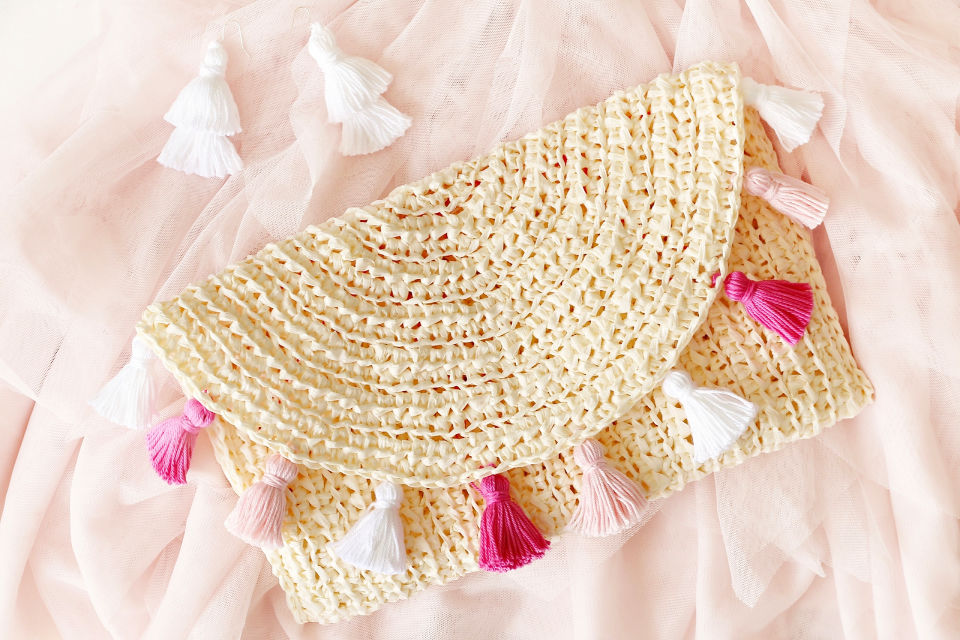 Are you looking for ways to brighten up your days? Well, this crochet evening bag is one of the best ways to do so! Think about it! You're always carrying your clutch with you! If it's in yellow and white color, it will surely cheer you up. The colors are a little faded to give this a very minimalistic and clean feel. It will work with any white or yellow outfit. You could also pair it up with some white heels, and it will look beautiful! lakesideloops
Crochet Hook: 5.00mm
Yarn Weight: Medium weight yarn-size 4-10 ply
10. Seek Adventure Clutch – Free Crochet Pattern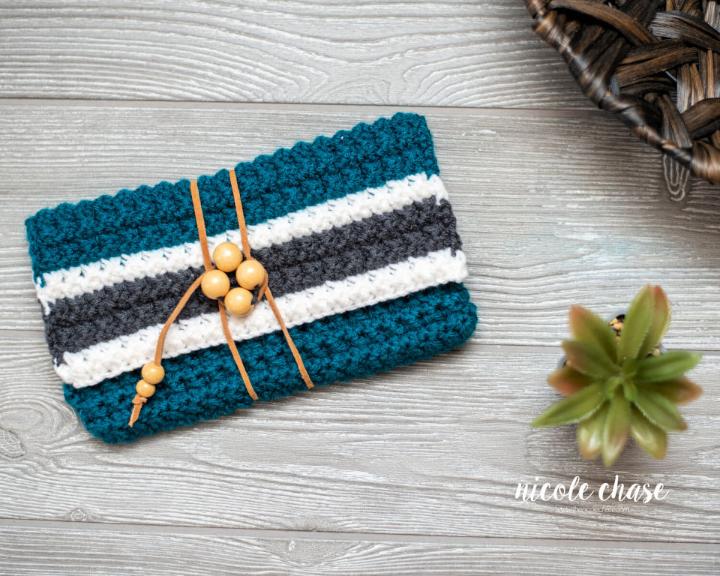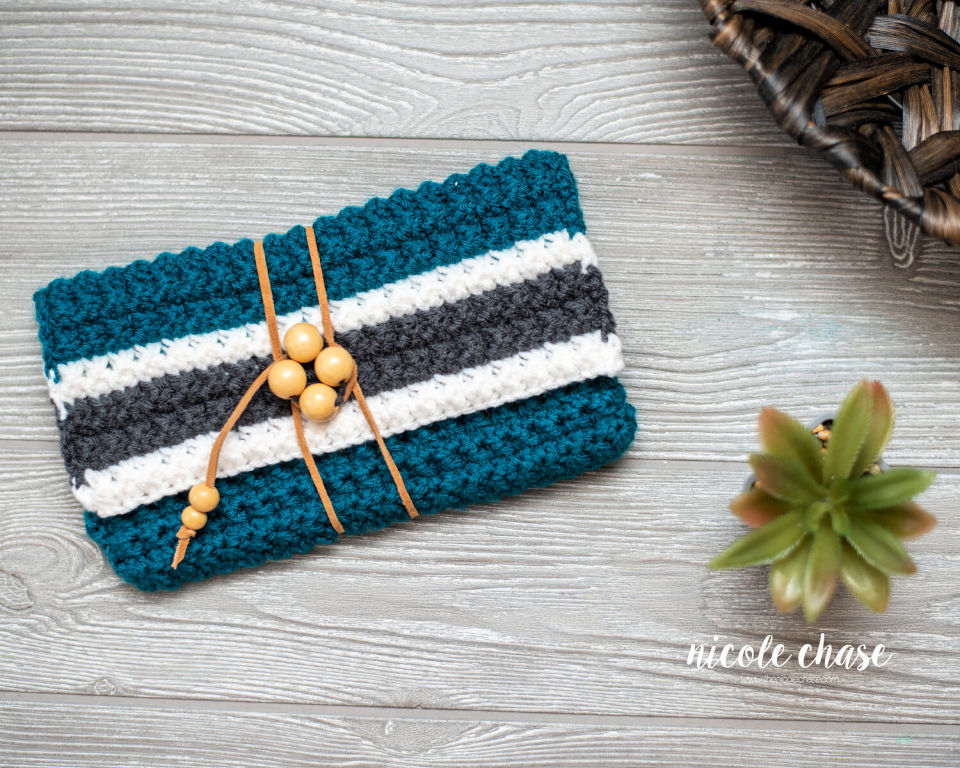 How pretty and fancy is this clutch! It looks like it's from a designer shop. The stripes make it look so beautiful and something that a model would own. It's a great staple piece to have in your closet as it will go perfectly with any dress, especially a green dress! You can use this to add some color to a basic outfit. The size of this clutch is very perfect, as well. You will be able to keep all of those little things in there. thenicolechase
Crochet Hook: 4.00mm
Yarn Weight: Red Heart Super Saver
Finished Size: 9" x 5"
11. Free Crochet Circle Clutch Pattern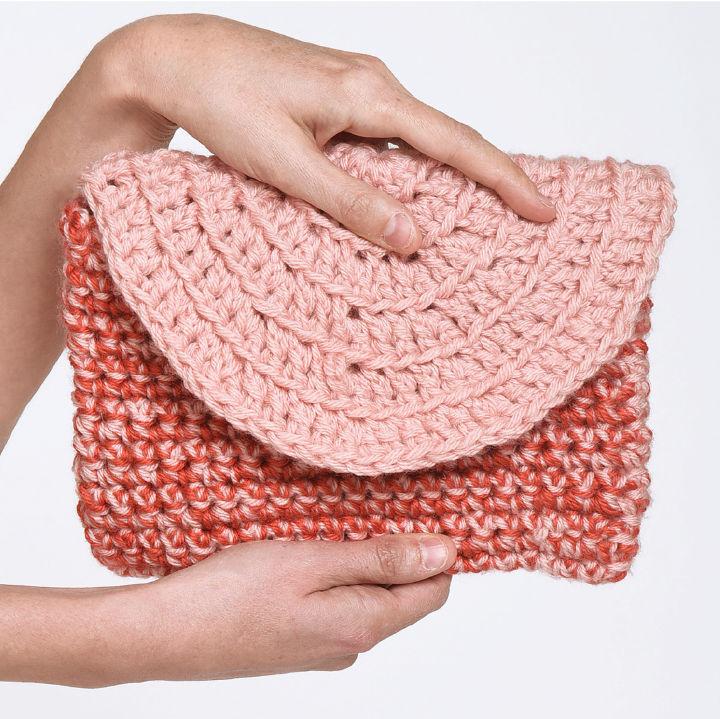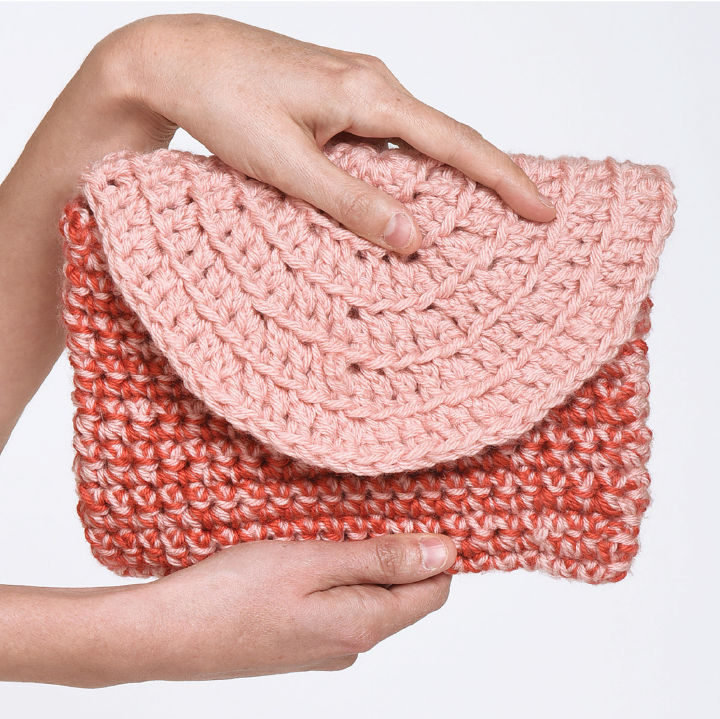 Everyone loves an iconic strawberry colored crochet clutch bag. It will go perfectly with your dozens of pink dresses and all of your pink lipsticks! Pink is a very feminine and classy color, and this is why having a clutch is that color can be a huge staple piece! It's a great habit to keep some staples in your closet as they go perfectly with any piece of clothing. The size of this crochet bag is a little bigger compared to the other crochet clutch patterns! crochetwithmary
Crochet Hook: 6.0mm
crochet stitch: this easy crochet magic circle tutorial will really help you.
Yarn Weight: Lion Brand Vanna's Choice worsted-171 yards, Red Heart Soft Yarn-256 yards
Finished Size: 16.5cm tall
12. Perfect Summer Crochet Clutch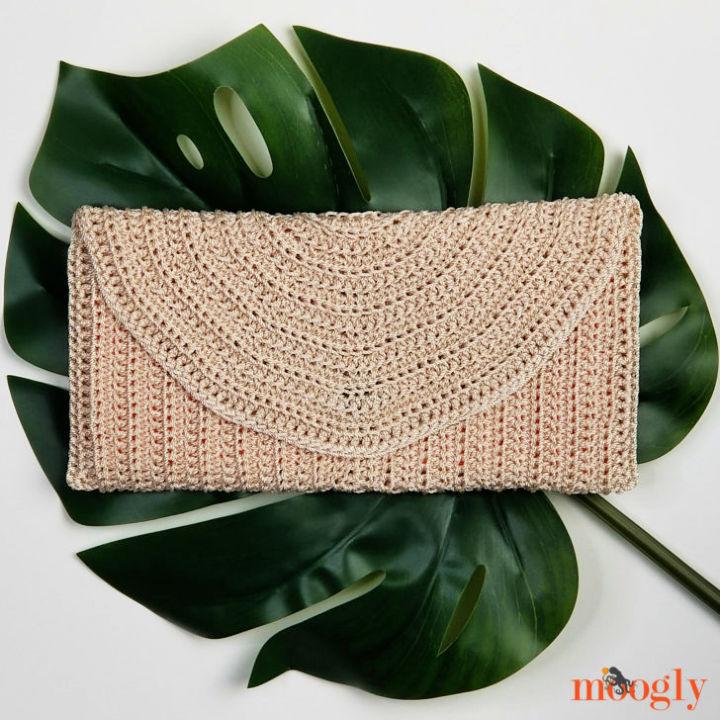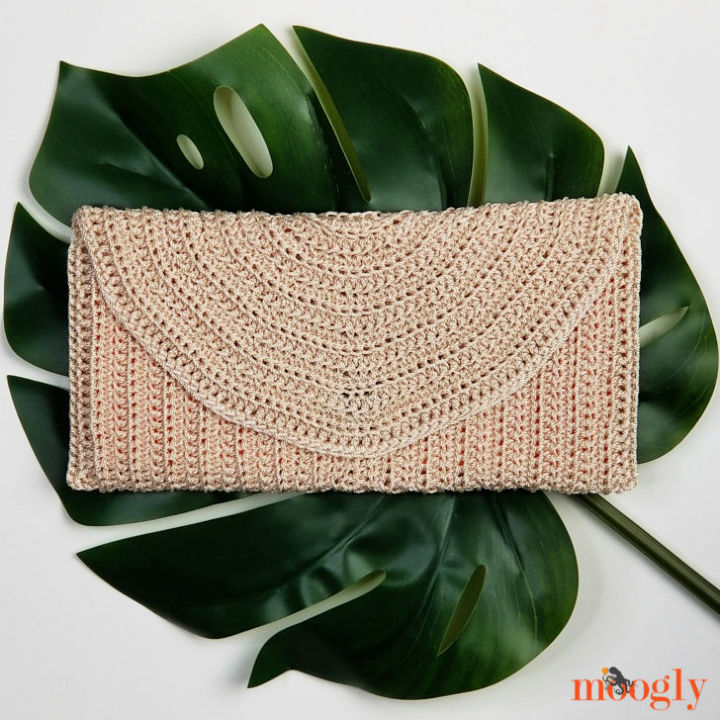 If you're a minimalist, you may be in shock with all of the colors you've seen in this article, but don't you worry! Here's a perfect piece for all of the minimalists reading this. It is very simple and plain, and this is because the stitch and pattern stand out the most. You can literally use this with any outfit. It's very plain but very pretty, as well! The size is very reasonable too, so you be able to fit everything here. mooglyblog
Crochet Hook: 4.00mm hook
Yarn Weight: 150 yards-Red Heart Crochet Nylon Size 18 (Natural-1ball)
Finished Size: 11.5″ x 6″
13. Crochet Clutch Free Pattern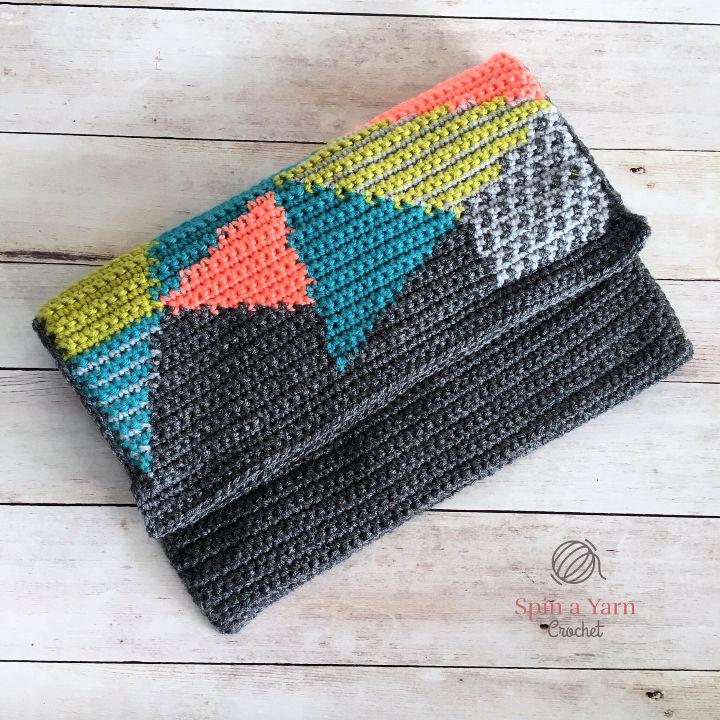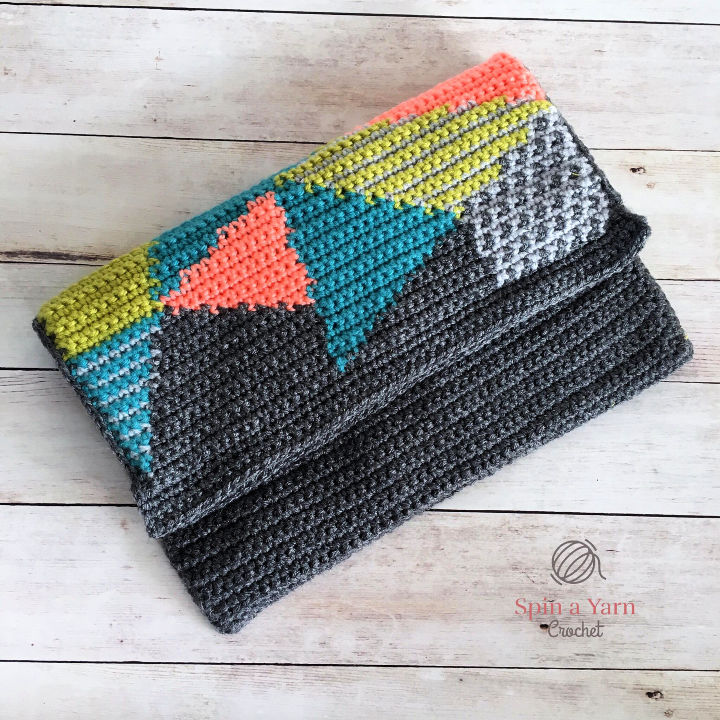 When geometry is added to stuff, the biggest staple pieces are created! Just look at this clutch- it's so pretty and looks very designer. No one is going to believe that you made it with your very own hands in the comfort of your own house! The best part is that a design this intricate still doesn't require any complicated stitches! And any beginner can make this project a success just by having a good focus and concentration! spinayarncrochet
Crochet Hook: 3.5mm hook
Yarn Weight: Bernat Super Value in Bright Teal-50g, Red Heart Super Saver in Gray Heather-100g, Red Heart Super Saver in Light Grey-50g, Loops & Threads Impeccable in Grass-50g), Needle Crafters Yarn in Bright Salmon-50g
14. Crochet Alternating Clutch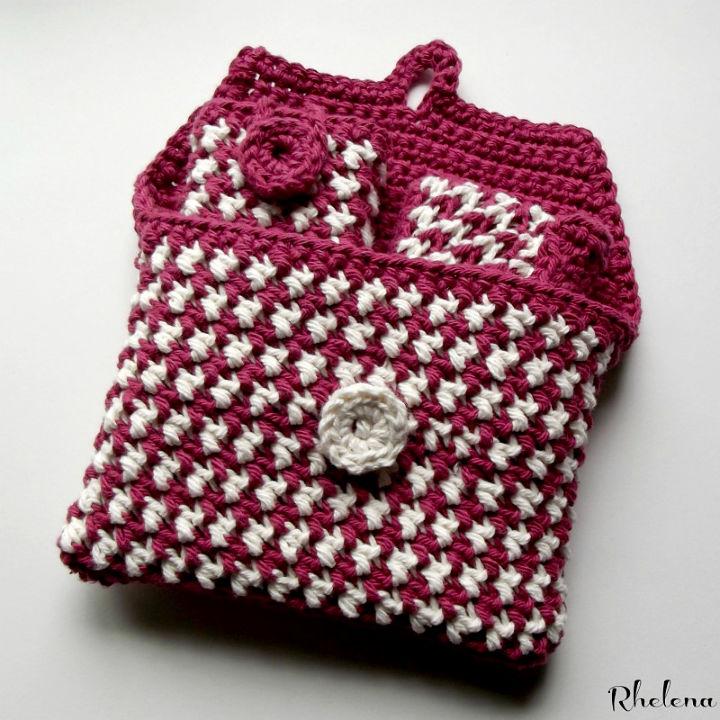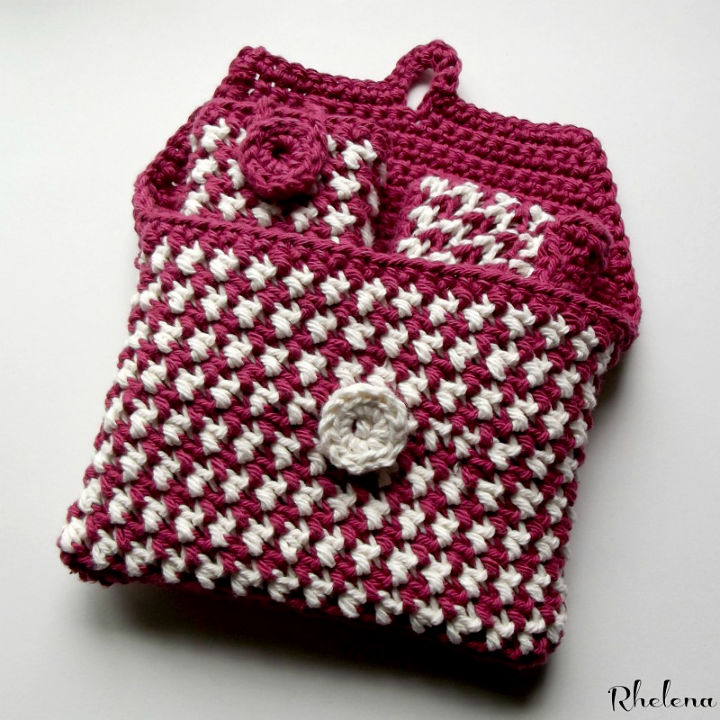 Keep your most needed items like your keys, wallet, and phone in one place so that they are easier to find. Work on a stylish clutch for your alternating bag pattern. Use stitches like back loop slip stitch, front loop half double crochet, single crochet, and standing double crochet, etc. Line it or leave it, it's entirely your choice. But you are going to love it for sure. crochetncrafts
Yarn: Bernat Handicrafter in 2 colors
Hook size: 4.50mm, & 4.00mm crochet hooks
Finished size: 7″ by 5″ excluding the flap
Gauge: 2″ over 9 stitches
15. Flirty Makeup Clutch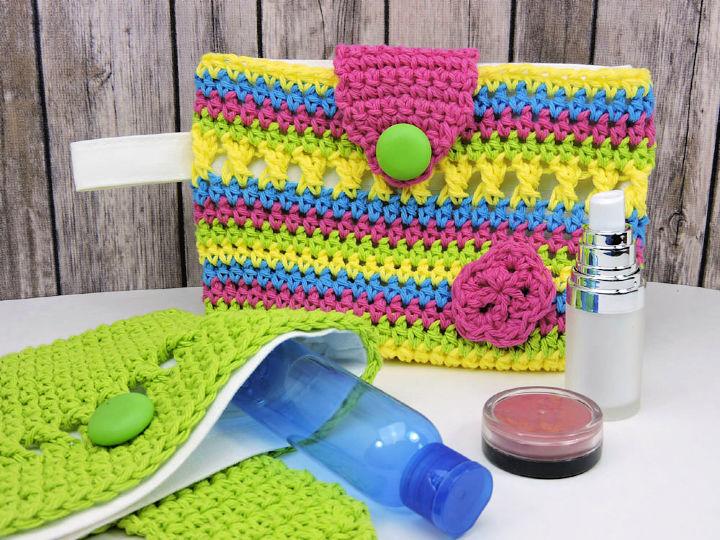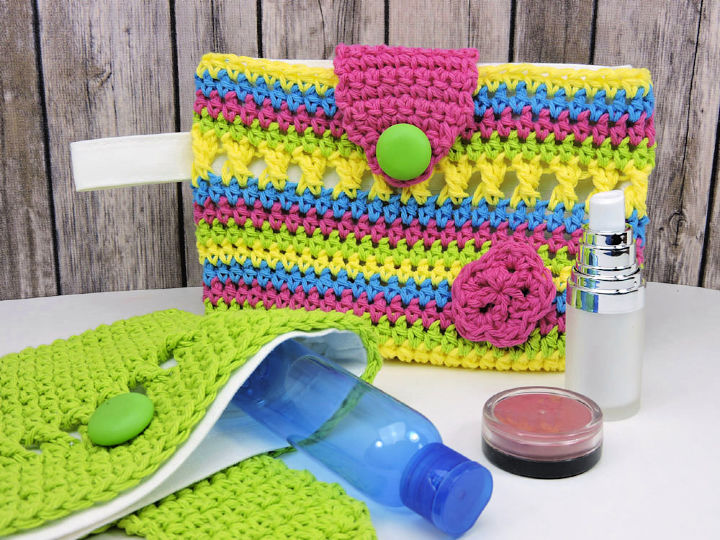 Carrying makeup around can be quite a task if you don't have a proper bag for it. How to make a clutch bag? Crochet a trendy yet flirty makeup clutch in bright girly colors. Carry it around everywhere you go. The special stitch required here is Single Crochet Two Together, which is made by combining a few stitches together. Experiment with color changes or use a single color. Finish by weaving in all ends securely. crochetkim
Yarn: 100% combed cotton worsted weight yarn, 125 yds
Hook size: J-10 [6mm] of a crochet hook
Finished size: 9″ wide by 6″ tall lying flat
Gauge: a swatch of about 10″ by 10″ with center measurement of 4″ by 4″
Conclusion
Tempted to try a few of these clutches out? Well, now is the perfect time to get started on these free crochet clutch patterns. This is because the summer season is going to bring a lot of free time on your hands! And what better way to spend it than to work on your closet? You could pick out your favorite dress and make some matching clutches for them. This will be perfect for when the holiday season rolls around, and you will have some matching crochet clutches with every dress! You will look the most elegant out of the room and just a lot more put together and pretty.