What's next on your crocheting list? Try any of these 4 free crochet dragonfly blanket patterns that will make a beautiful gift for your baby. Your babies will love these dragonfly baby blanket. The addition of a dragonfly in a simple blanket adds a funky character to it. The crochet baby blanket becomes more attractive. Above all, you can crochet them for every child. Also, you can make them and gift them to the newly born baby or to the birthday kid. Certainly, both the parents and the children will love this gift.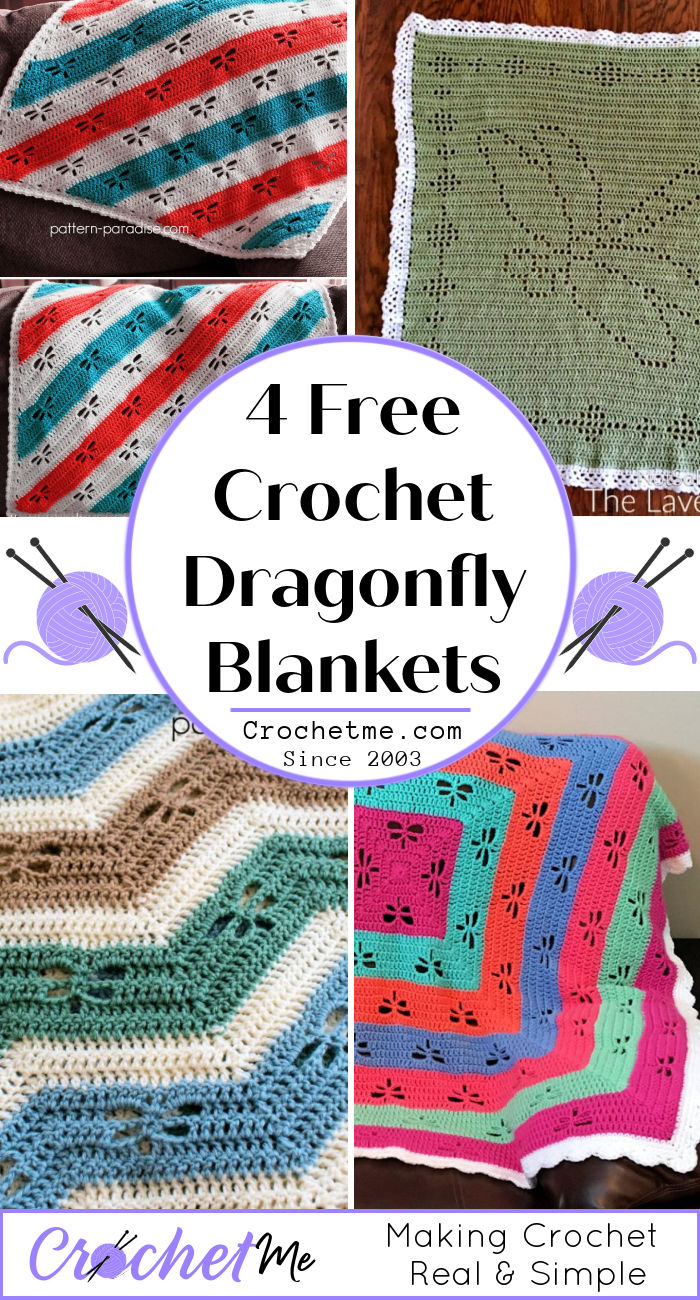 Crochet dragonfly blanket patterns are free of cost. You can follow the dragonfly crochet stitch easily as the tutorials are explained with every bit of detail. Therefore, get your needles on board and start with this new dragonflies pattern.
Do you know how to read a crochet pattern? Follow this guide to understand the crochet pattern.
1. Crochet Dragonfly Blanket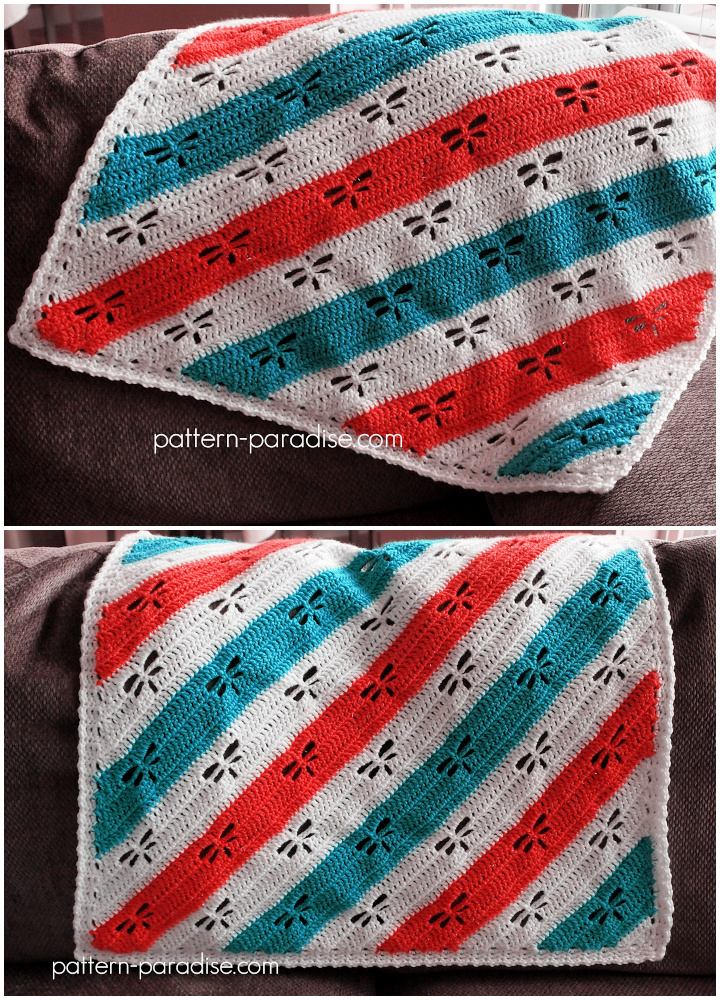 Crochet dragonfly blanket will surely be a fantastic addition to your beddings. The blanket can be made using a corner to corner, commonly known as c2c stitch. This piece of art is made using 3 different colors. Split stitch is also used to compile this project. You will not start with the top loops, rather make a center 'V' in a split stitch. The light and neutral colors make it a universal blanket. pattern paradise
Yarn: Worsted Weight Yarn
White (4 skeins)
Turquoise (2 skeins)
Coral (2 skeins)
Hook size: H-8/5mm
Dimensions: 48''*48
2. Dragonfly Crochet Blanket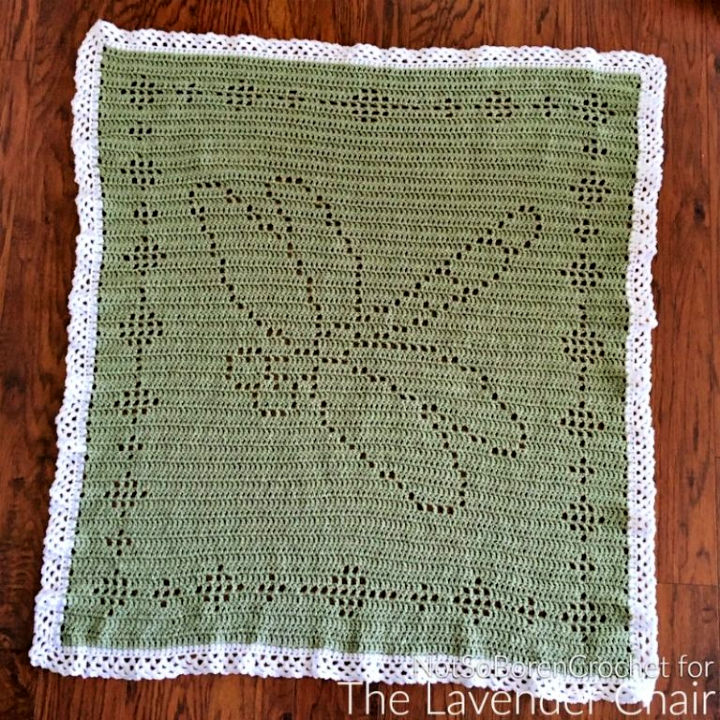 Make a dragonfly blanket for your baby or toddler. We all know how hard it is to get our babies to sleep in blankets. For smart kids of this age, parents should also think smartly. Crochet this baby blanket and attract your kids towards it. The character blanket will make their winters cozy, and you will not face a runny nose anymore. Also, crochet blankets are always warm. thelavenderchair
Yarn: Worsted Weight yarn
White (1000 yards)
Border color (200 yards)
Hook size: J 6mm
Dimensions: 35''*48''
3. Crochet Dragonfly Pattern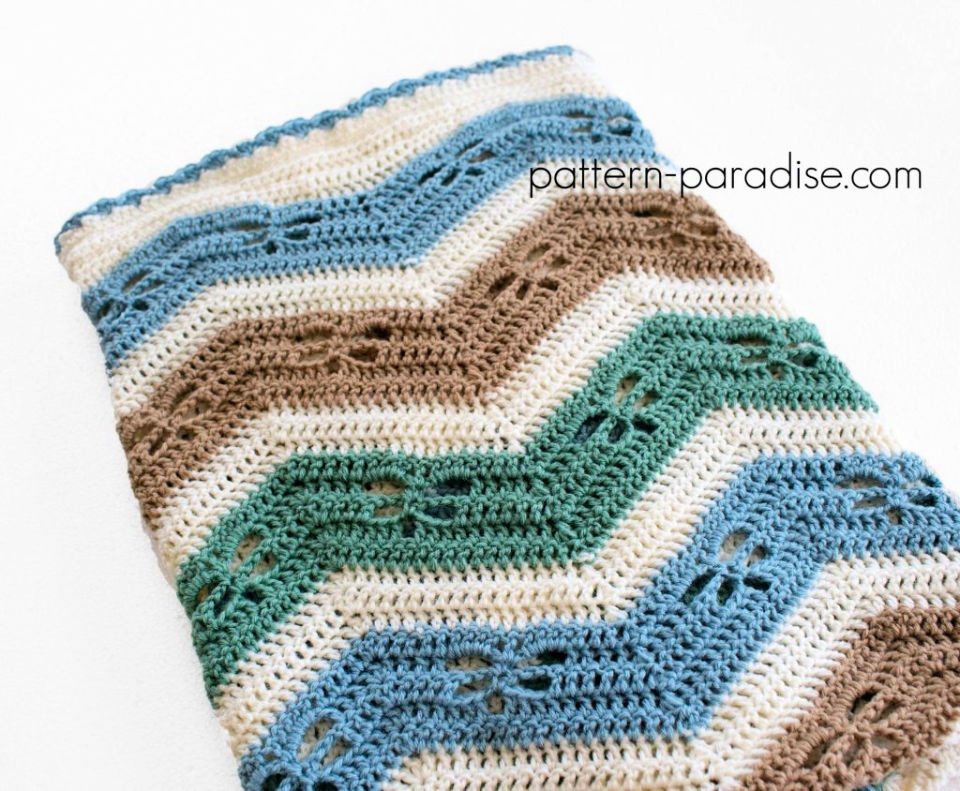 This particular design presents dragonflies in a chevron design. The texture of this chevron crochet pattern is further enhanced with different colors. Even a single color will show off the texture in a beautiful way. As it is a blanket for kids, therefore it is made with a fine DK weight yarn. The size of the blanket can be varied; just decrease or increase the chain count with every chevron repeat. pattern paradise
Yarn: DK Weight Yarn
Naked (425 yards)
Pea Pod (1 skein)
Teddy (1 skein)
Teal (1 skein)
Hook size: G/4mm
Dimensions: 30''*36''
4. Crochet Dragonfly Blanket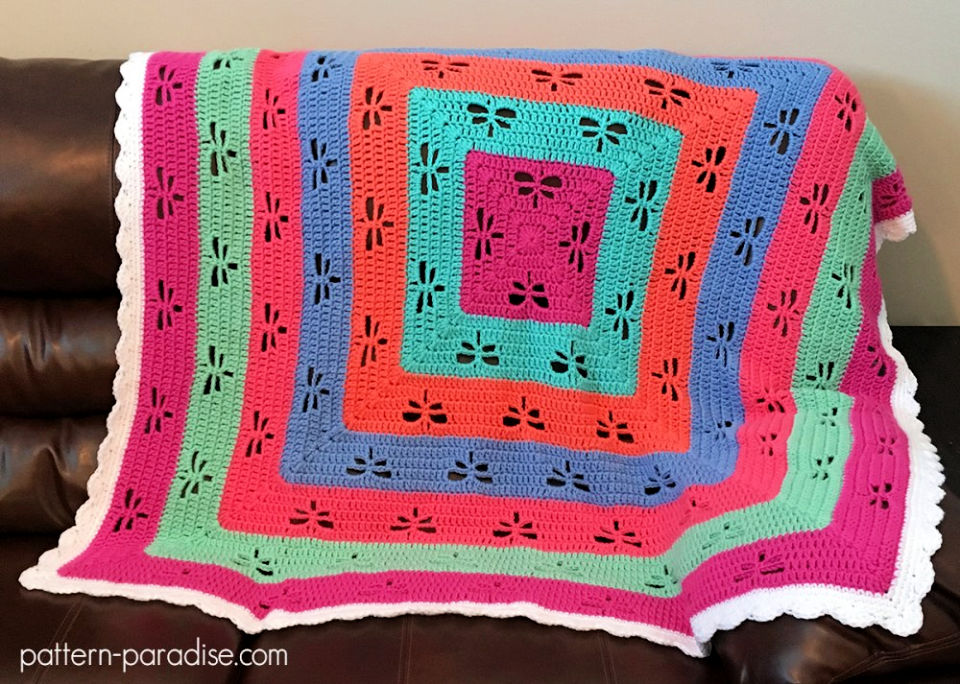 Radiating dragonfly throw will add a beautiful sentiment to your house. You can make this as a crochet blanket for your kid. On the contrary, you can use it as a throw over a sofa. Either way, the bright colors will bring life to your space. The dragonflies in every layer will be a delight to see. The white border gives a fine look to the blanket. pattern paradise
Yarn: worsted Weight Yarn (Hobby Lobby)
Colors: Hot rose, turquoise, mang0, medium blue, tropical pink, ocean, white
Hook size: H-8/5mm
Dimensions: 40''*40''
The compilation of these free crochet dragonfly blanket patterns will be worth of your time and effort. Take out your crochet kits and get started now and You will love these crochet afghan blanket patterns, which can also be used as throws.