Like to add the chevron crochet pattern to your clothes and home decoration? Go with these 25 free crochet patterns sharing all from chevron scarf to chevron afghan to chevron hat pattern. For all listed crochet chevron patterns, you will get the step-by-step instructions, gauge calculators, diagrams, visual instructions, yarn weight, and crochet hook size suggestions. Moreover, if you have never gone through the chevron stitch, you will get the step-by-step tutorial and guides for this stitch too.
The continuous series of ups and down "peaks and valleys" will bind everyone its spell. If you use lots of colors, then stacks of chevron lines will be highly absorbing and mesmerizing. This complication of the ripple crochet pattern provides for every skill level, and after looking through all the ideas, you will surely find your crochet creativity increased.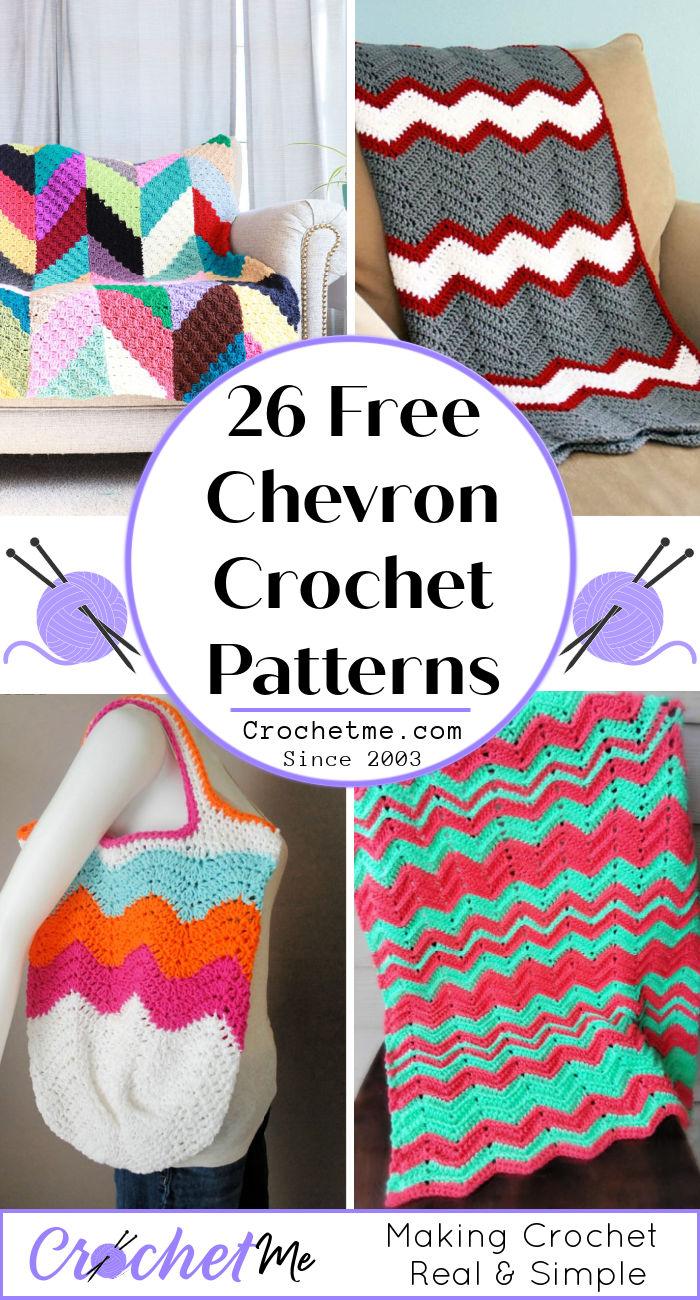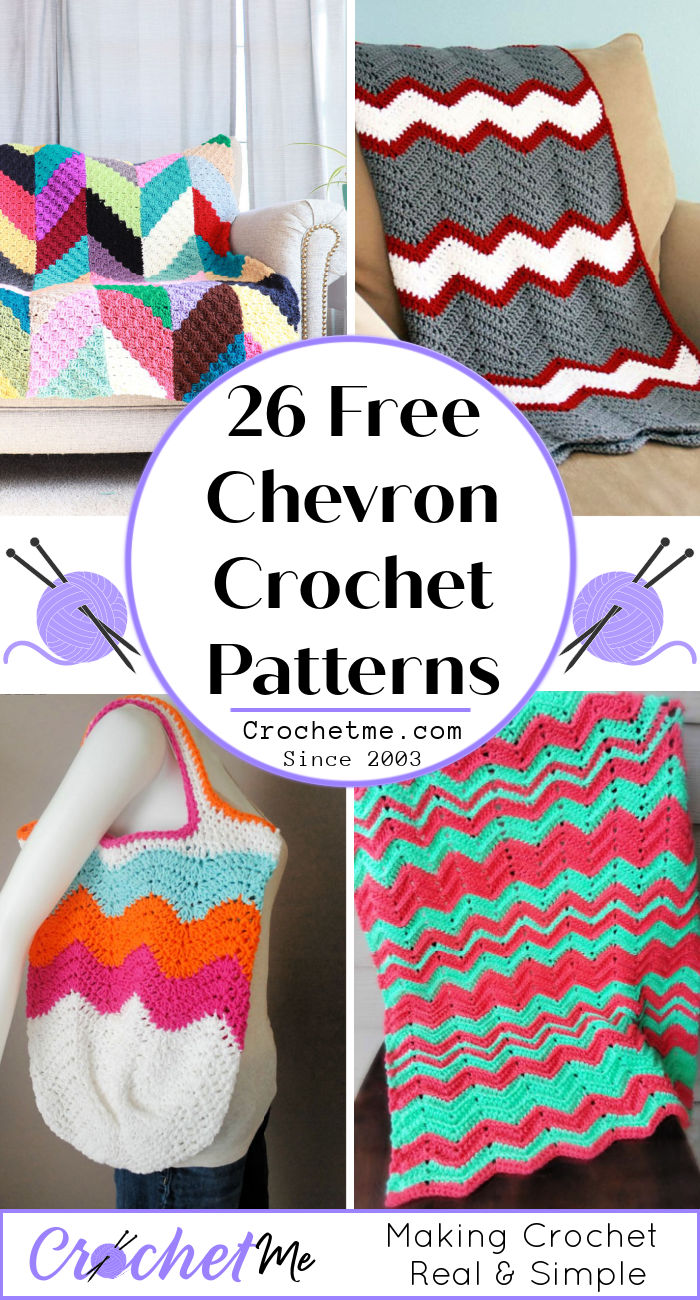 The chevron crochet pattern is going to cover all the new techniques, skills, and stitches to crochet the perfect ripples and chevron lines. From changing colors to adding spacing and custom depths, these chevron afghan patterns will throw shine on all the tricks, and you finally, you will get amazed by the next level of crocheting.
From crocheting chevron ruanas to stylish ripple throws to outstanding chevron handbags, you will get the free crochet patterns for all here. Finally, this list of free crochet chevron patterns will impress you with tons of unique color combinations that will brighten up your life. Crochet flower shaped baby afghans and also provide protection to your iPhones and tablets by crocheting chevron tablet sleeves.
Crocheting is an easy task by learning crochet abbreviations and terms. This article can help you understand how to read a crochet pattern.
1. Chevron Crochet Lace Infinity Scarf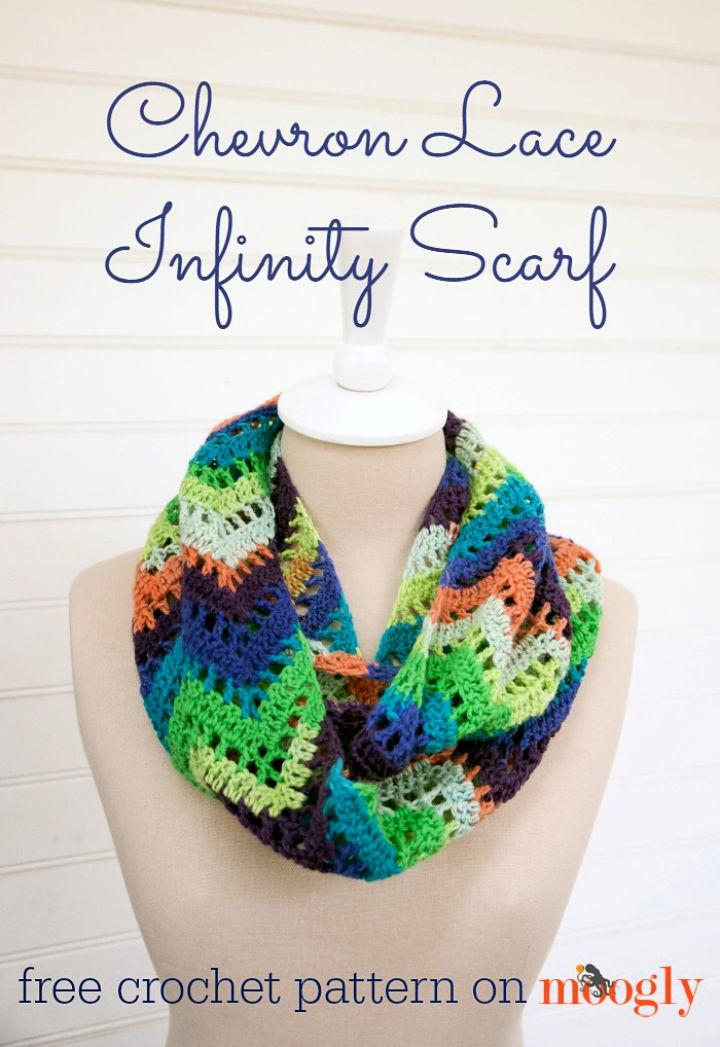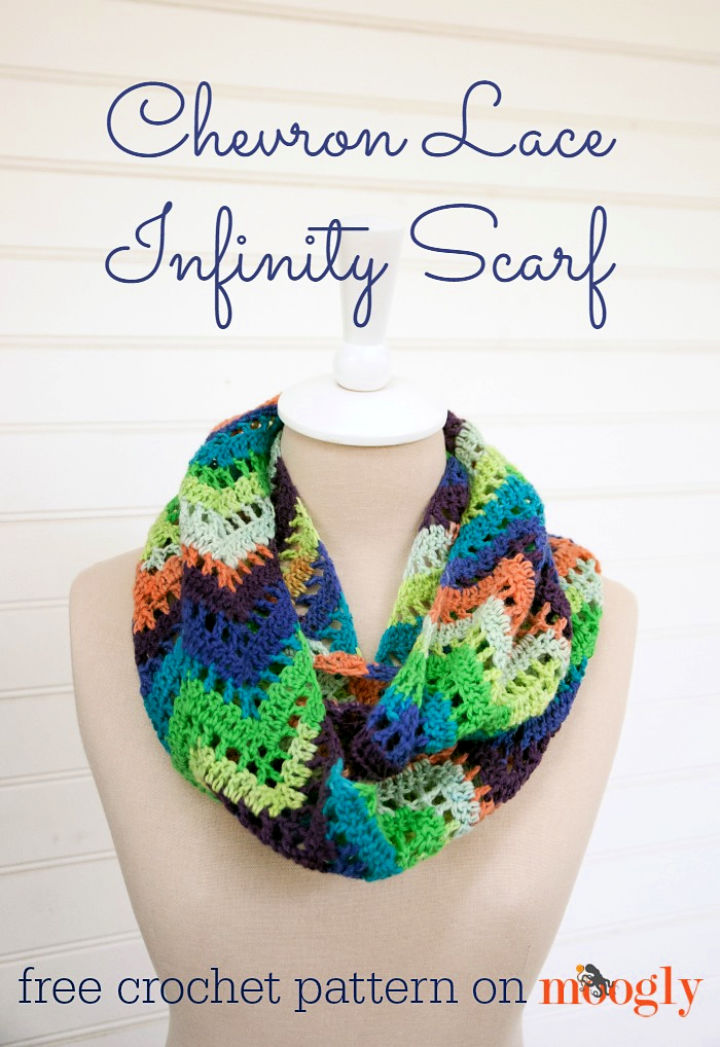 Are you a passionate lover of zig-zag crochet fashion? Then must crochet this chevron lace infinity scarf will be a glam addition to your winter fashion wardrobe. Crochet 285yds of DK weight yarn with a 5mm crochet hook to get this lace infinity scarf made. The finished size of this block is 7in wide and 58in long. If talking about the special stitches, the wide dc2tog will be the one you have to work in a while stitching this scarf. The best-calculated gauge for this scarf is 19 sts and 9 rows equal to 4" in dc. A super graceful version of the scarf. Details here mooglyblog
2. Chevron Crochet Tablet Pouch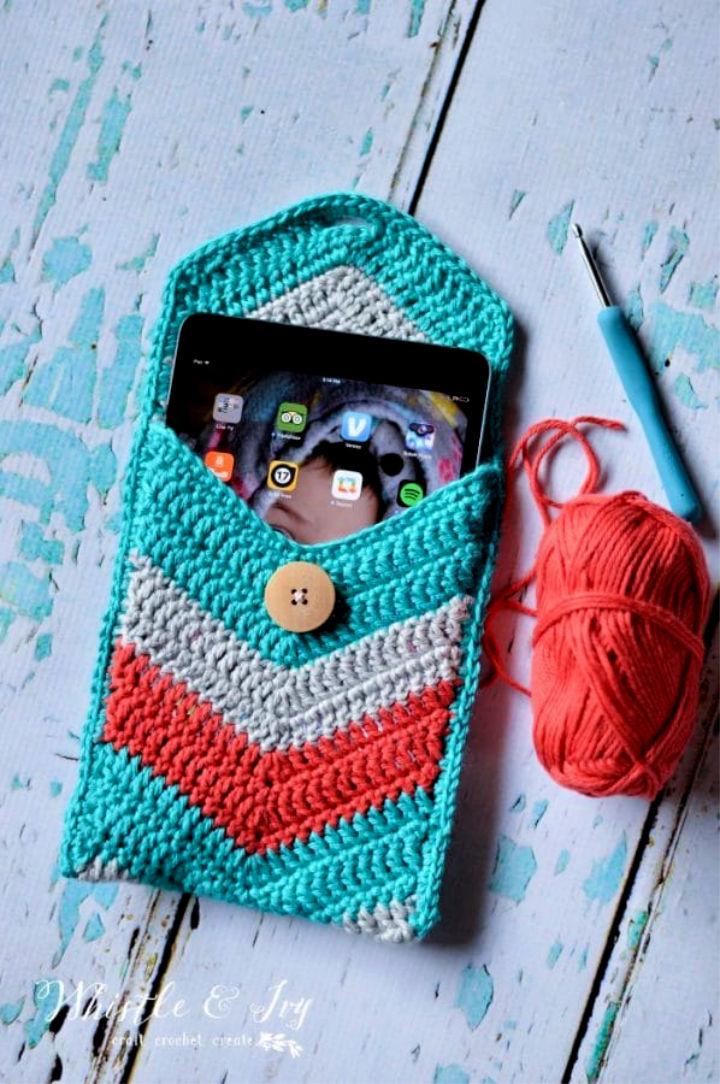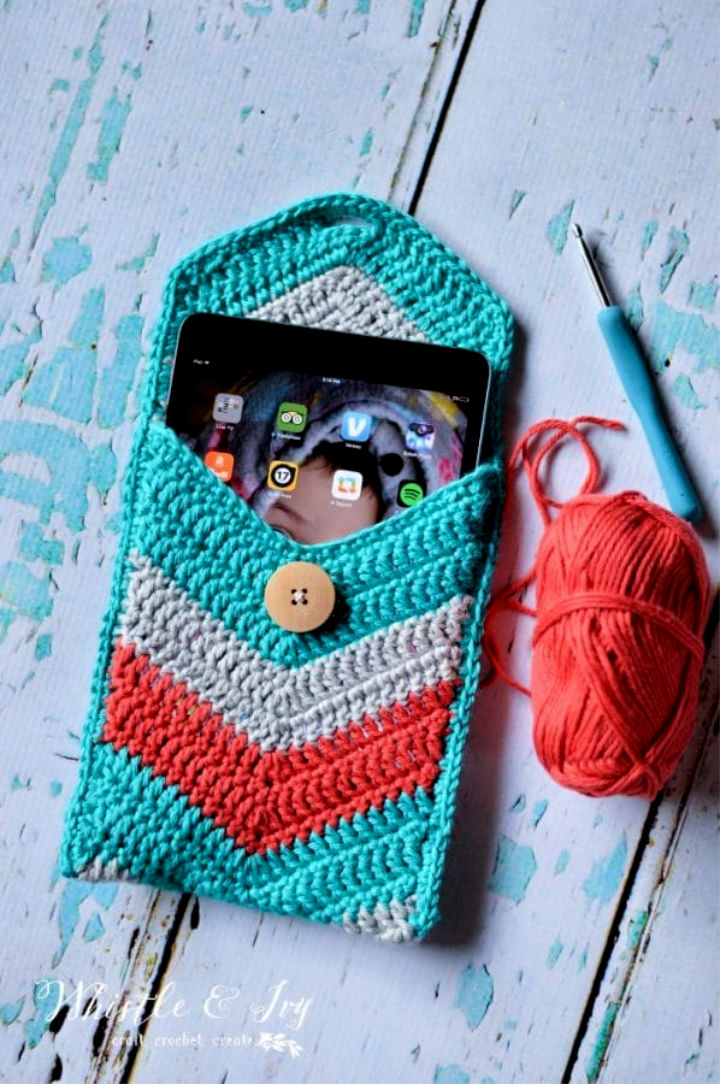 Satisfy your love for chevron by crocheting this chevron tablet pouch too. A crazy tablet sleeve is providing protection against the dust, scratches, and fall damage. Crochet medium weight yarn with a G hook to whip up this chevron crochet table or iPhone pouch. Don't forget to add a chunky button for a great closure. The gauge for this crochet pouch pattern is 8 sts equal to 2". Hook up this phone sleeve for yourself and for a friend too who is a big lover of phones. A quick to crochet gift idea. Details here whistleandivy
3. Chevron Crochet Blanket Pattern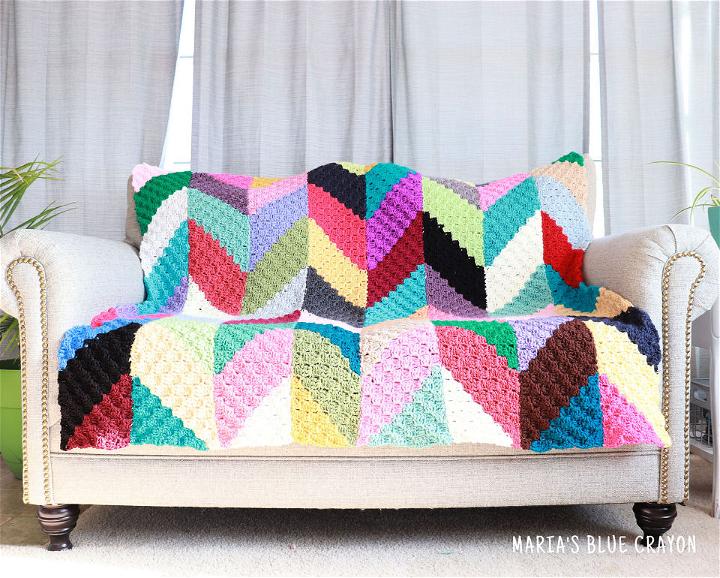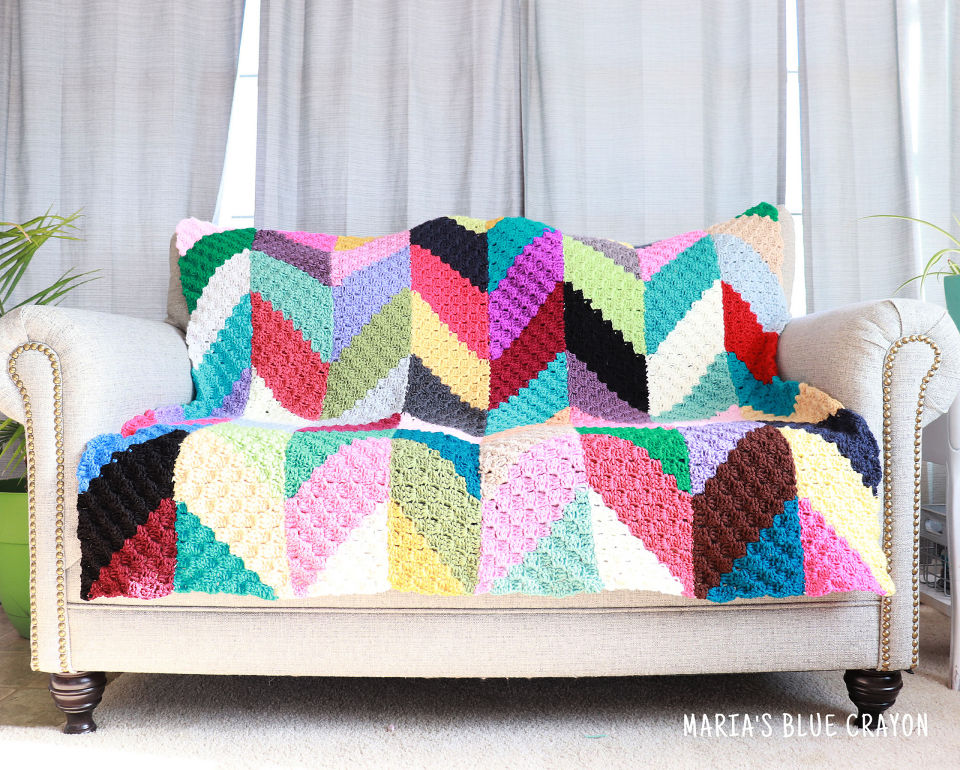 The enchanting colors of this chevron crochet blanket pattern appearing in fine-looking chevron lines will surely attract you. For crocheting this blanket at home, the very basic skill required is c2c crocheting. In supplies, grab the worsted weight yarn and crochet it with a 6mm hook to hook up this chevron crochet blanket. Weave the edge using the tapestry needle. Crochet any size of this blanket that suits your need as it will make a great throw too. Here the finished size of this blanket is 50" x 54". Each strip of blanket comes in 10 different colors, and this creates a totally unique appeal to this crochet baby blanket. mariasbluecrayon
4. Zig Zag Crochet Pattern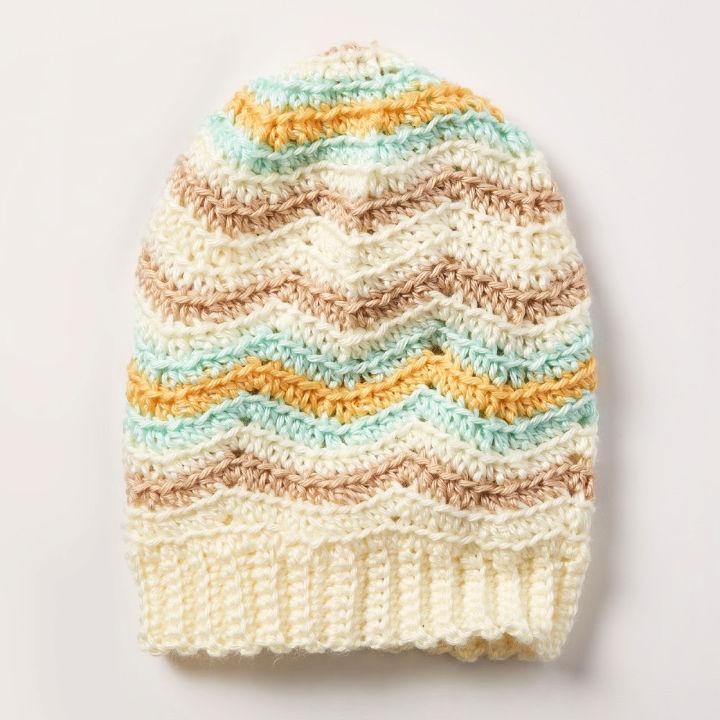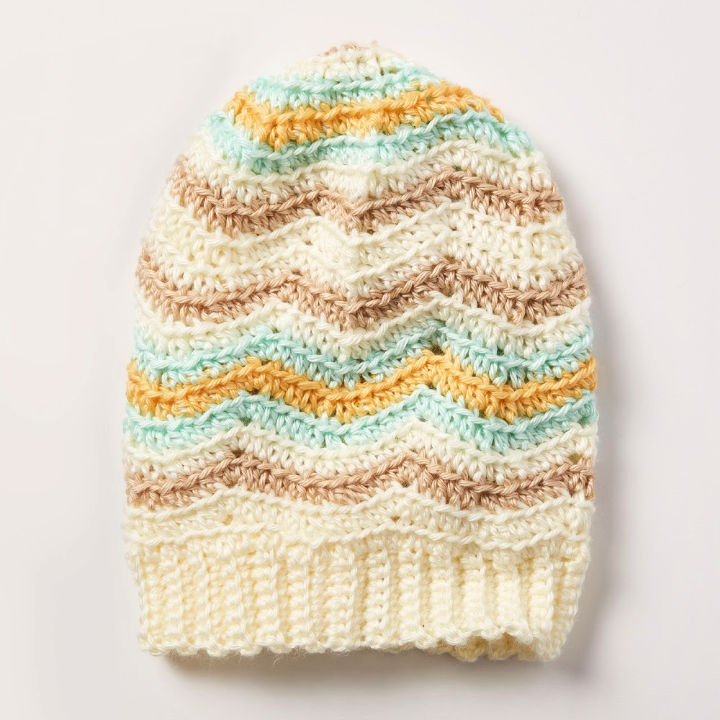 Get your head and ears protected in the dead of cold by crocheting this chunky zig-zag hat featuring mostly neutral yarn hues. Here you need an easy skill level to whip up this crochet beanie pattern. Make it using the Caron Simply Sot yarn, and it will provide a big value comfort to the user. This simple hat comes with a luxurious finish and features chevron lines for an enhanced visual. The bone, soft green, and sunshine colors make this hat appear great, and you can easily crochet it using a 5mm crochet hook. Details here yarnspirations
5. Chevron Crochet Infinity Scarf Pattern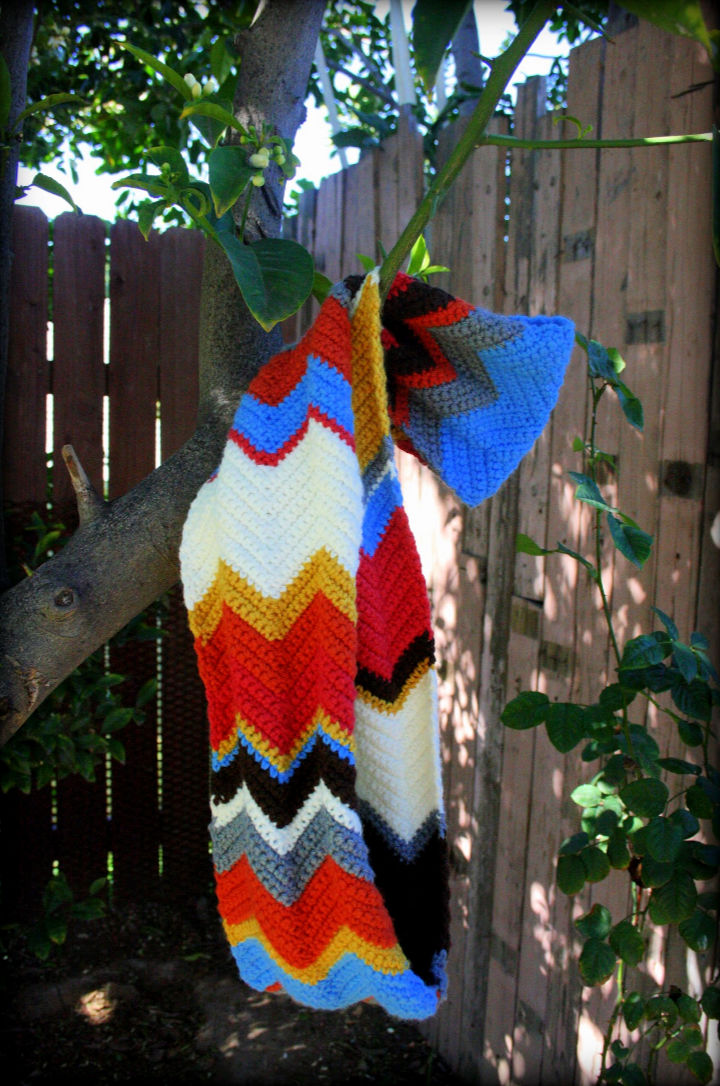 Satisfy your love for chevron by crocheting this interesting chevron scarf that is looking amazingly beautiful and graceful. The best beginner crochet pattern to crochet in no time. The colorful, unique appeal of this scarf can take your fashion to the next level, and it will be a pleasure to crochet for sure. Grab the worsted weight yarn in various colors of choice and then crochet them with 4.25mm hook to stitch this chevron crochet scarf, will be loved dearly by all fashion enthusiasts. The chevron color lines bring tons of uniqueness to this crochet scarf design. Details here dandeliondaze
6. Chevron Baby Blanket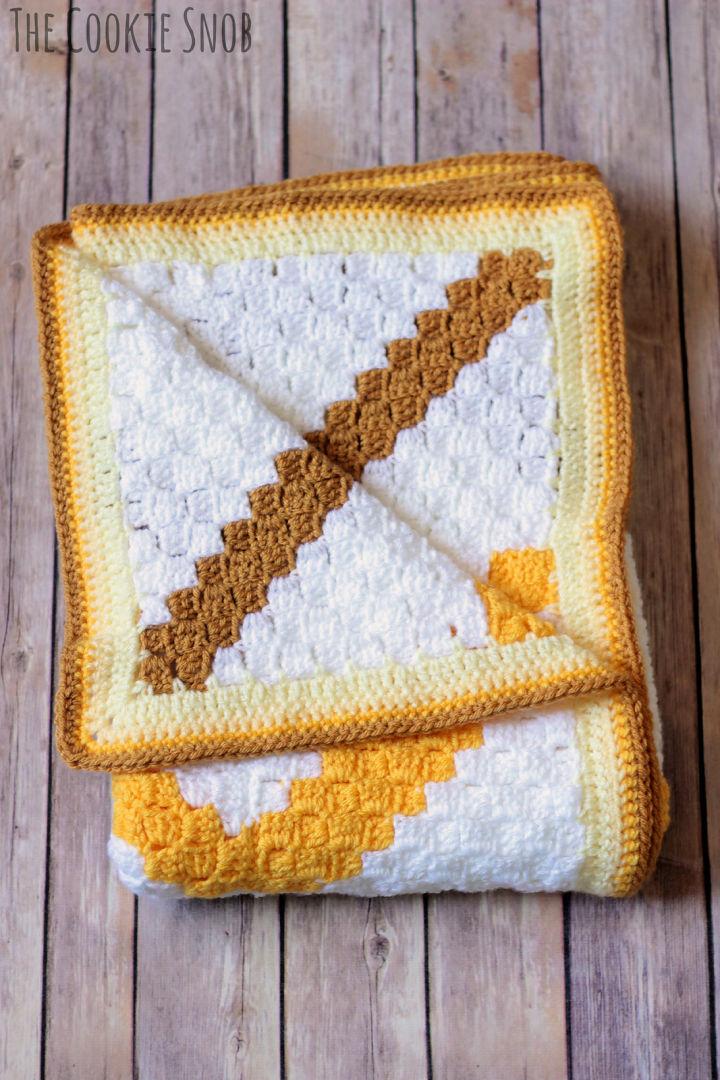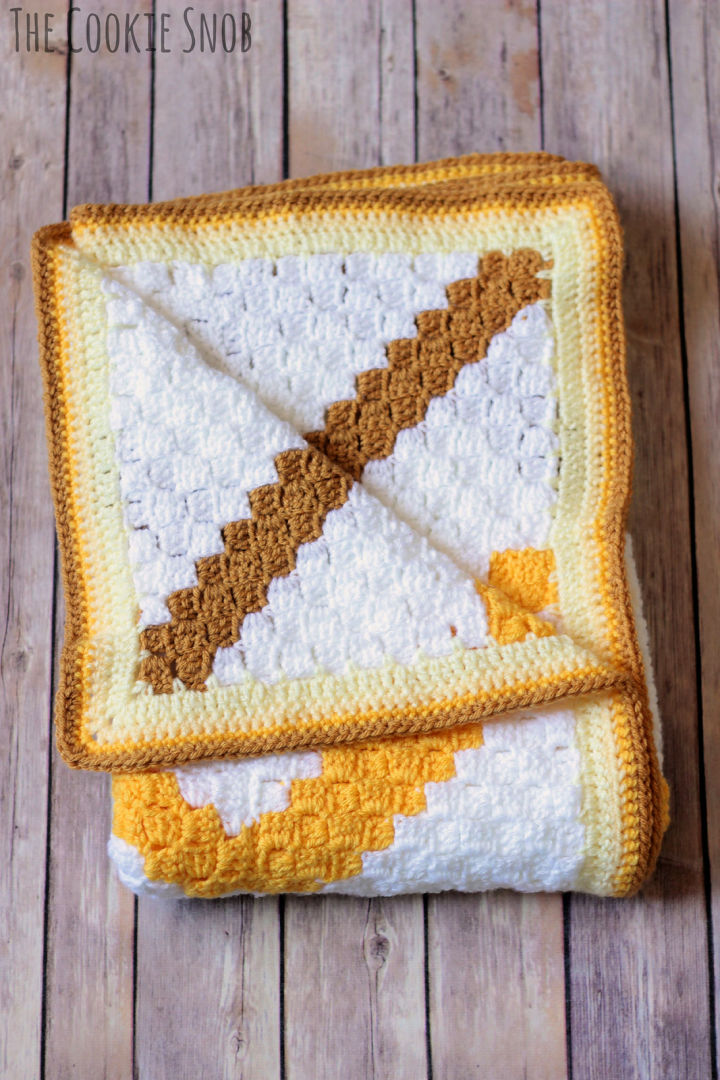 Crochet worsted weight yarn in desired colors using a 5.5mm crochet hook to whip up this beauty, the chevron baby blanket. Use the tapestry needle to weave in ends. The very required skill here is C2C crocheting which is all responsible for the tiled texture of this baby blanket. A cozy winter warmer for a newborn will make a sweet handmade gift for a mama-to-be too. You only need to be an expert in the corner to corner crocheting to get this crazy baby blanket made. Details here cookiesnobcroc
7. Chevron Stitch Crochet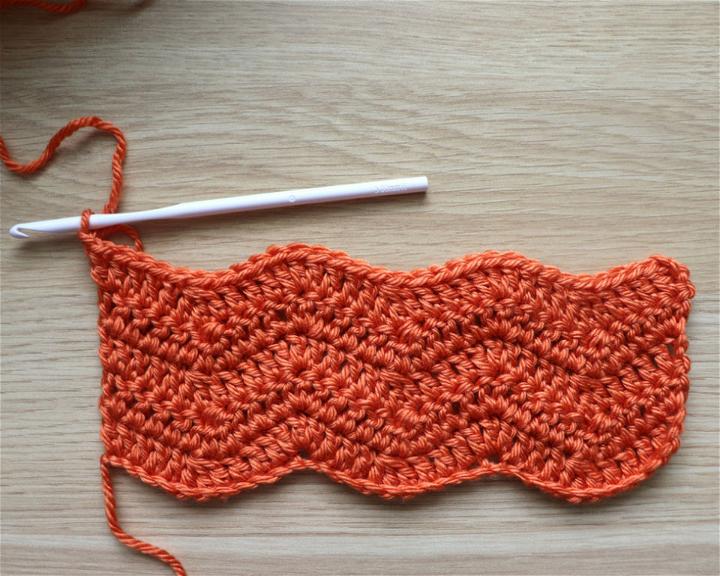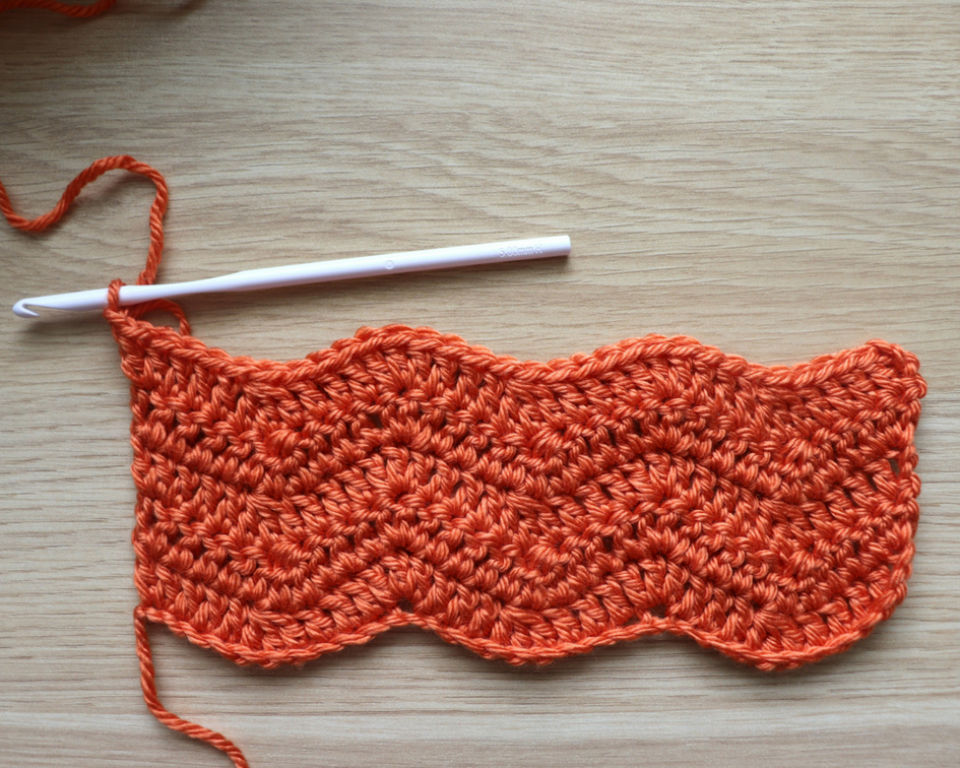 Are you a big of chevron crochet fashion and want to try out some chevron patterns at home? Then you must learn first how to crochet a chevron stitch. Get here the step-by-step instructions, visual tutorial, and guides showing you how to crochet this stitch. From crocheting the foundation row to work in the special stitch dc3tog while working in a chevron stitch, you will get all the guides here. After you learn this ripple stitch, you will be able to crochet any chevron pattern like a pro. Details here sigonimacaroni
8. Chevron Crochet Market Bag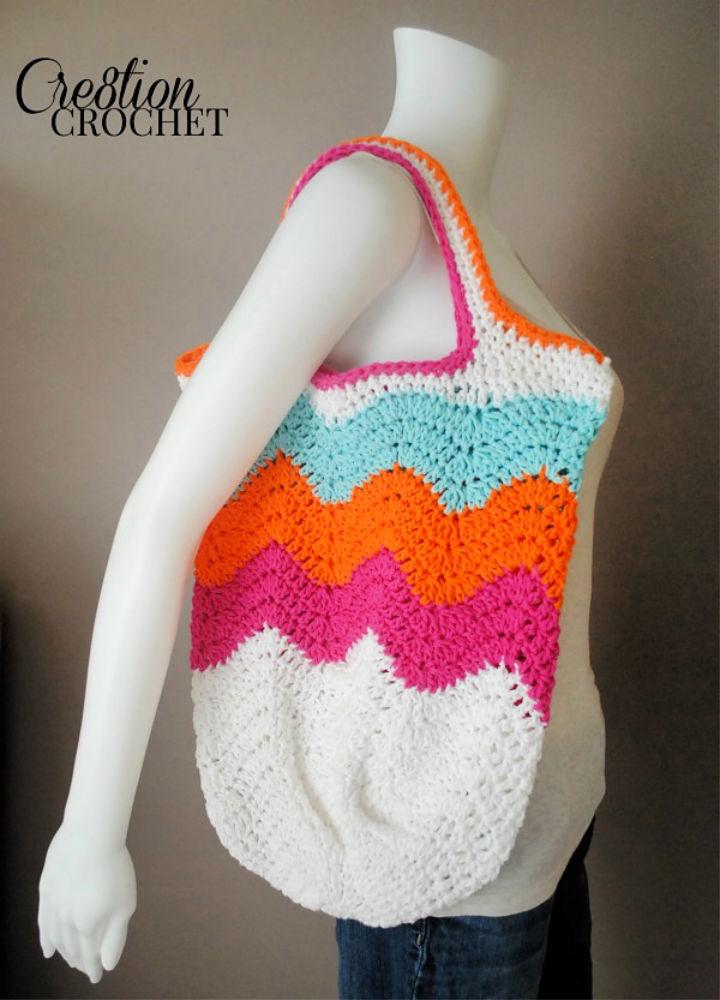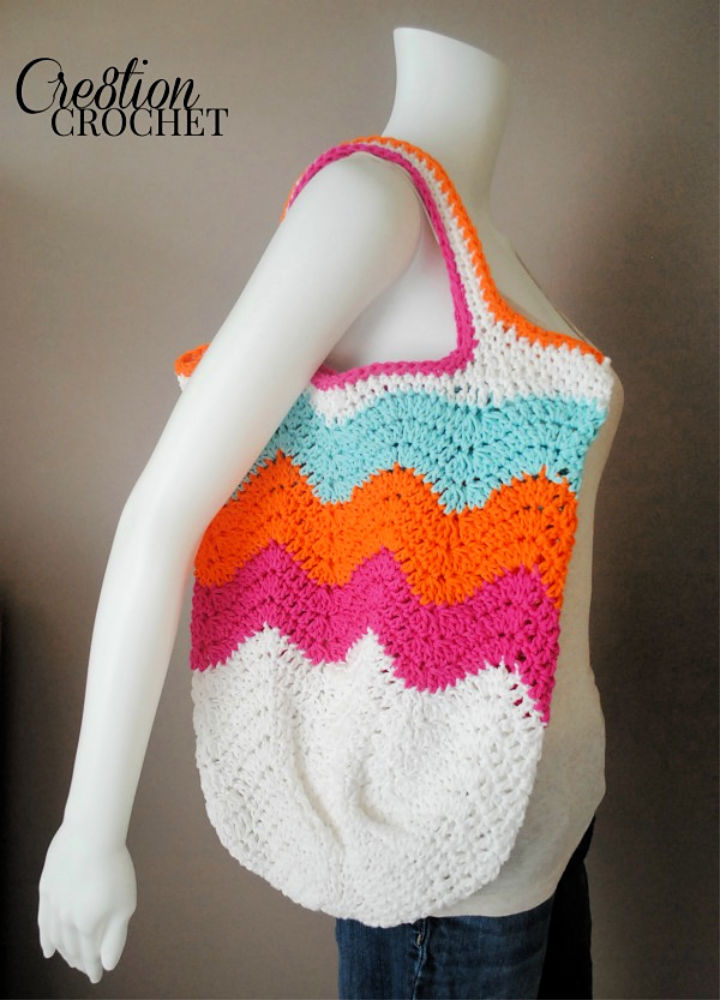 Show your love for chevron by hanging this chevron crochet market bag over the shoulder too. It comes with colorful chevron lines, will add colors to your personality also. One of the most useful crochet market bag to spice up your daily shopping routines. You need 300yds of 100% cotton yarn in worsted weight, and a 6.5mm hook to whip up these chevron bags will make sweet handmade crochet gifts too. From adding handles to properly stack the chevron to change the colors, you will have a completely free pattern. While going with the gauge first 2 rounds equal to 3", you can easily stitch the 13" wide x 16" tall model of the bag. Details here cre8tioncrochet
9. Crochet Chevron Baby Blanket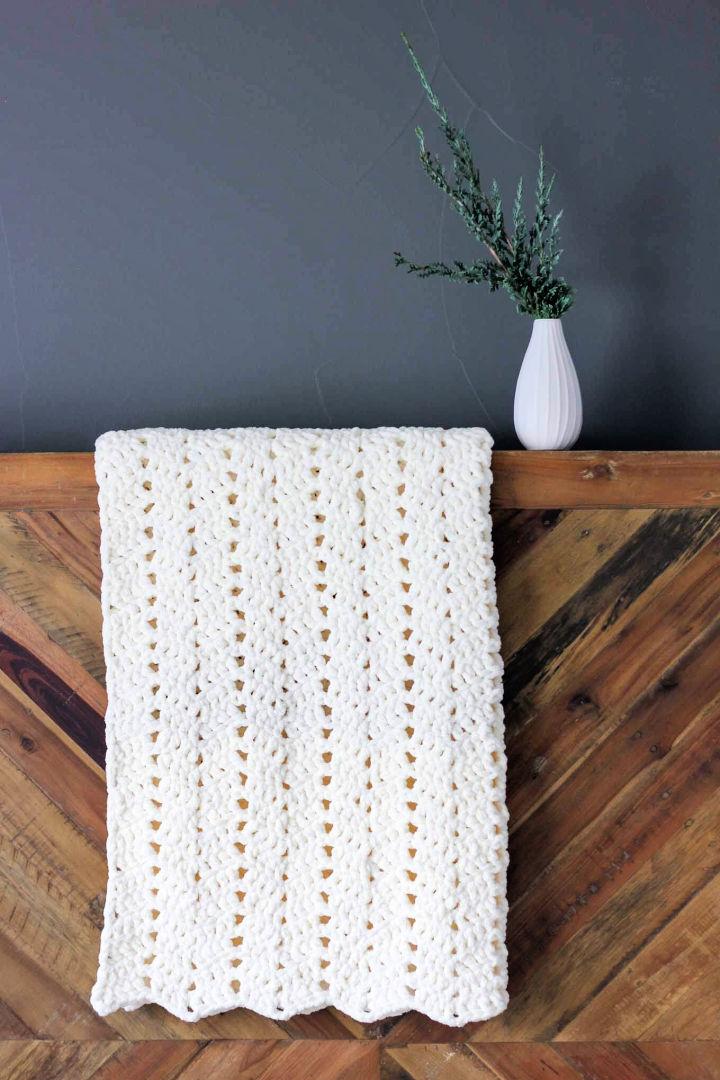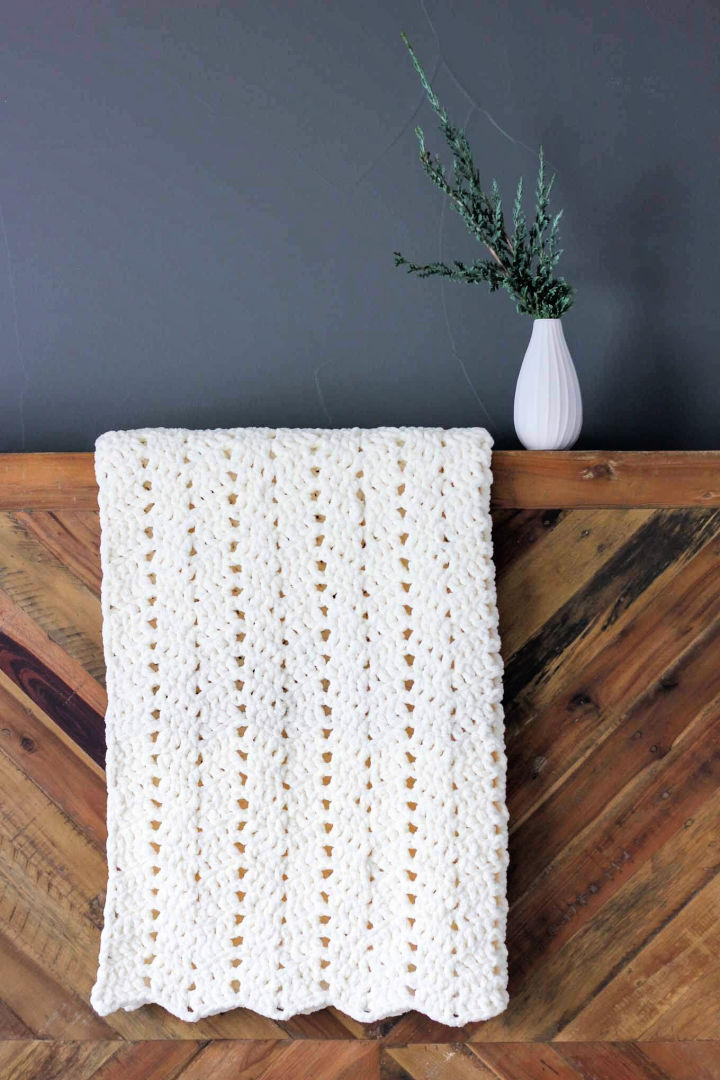 This 35" x 46" blanket featuring chevron lines and a neutral yarn hue, will make an epic handmade present to a newly became mother. Crochet 2.5 skeins of Bernat Blanket Yarn in vintage white to whip up this chevron baby blanket. However, the gauge is not critical for this pattern, but calculate gauge for this pattern is 10 st in pattern equal to 4" or 4.5 rows are equal to 4". The recommended hook size for this chevron baby blanket is 9mm. You can vary the size of this blanket to any. Details here makeanddocrew
10. Chevron Crochet Blanket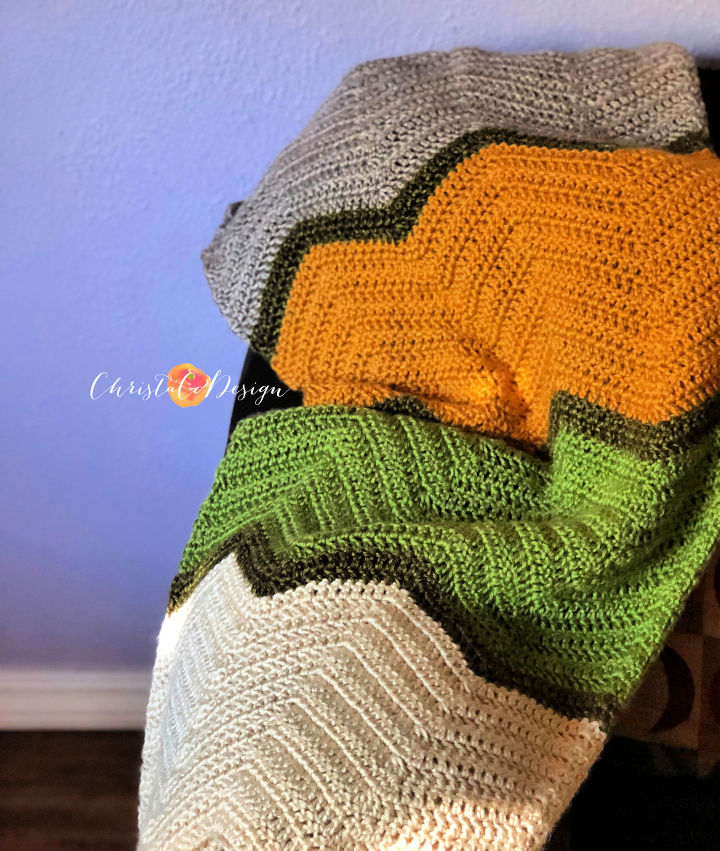 In terms of colorful design patterns, this ripple crochet blanket will surely get ten out of ten from you. This crochet blanket reminds us of those classic chevron blankets and will surely be a great addition to a baby's wardrobe. Imagine it draped on the couch, will surely make an impressive throw. Crochet 1000yds of worsted weight 4 yarn or the stitch the Lion Brand Heartland in colors of choice to hook up this chevron crochet blanket. To crochet this weight of yarn, the 6mm yarn hook is recommended. The finished size of this chevron blanket is 30" x 40". Details here christacodesign
11. Double Crochet Chevron Pattern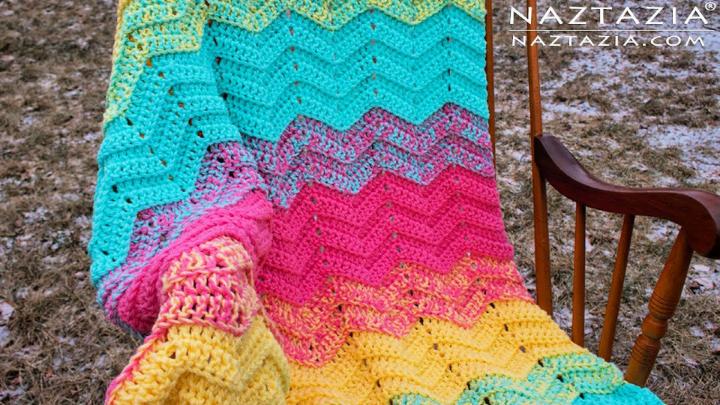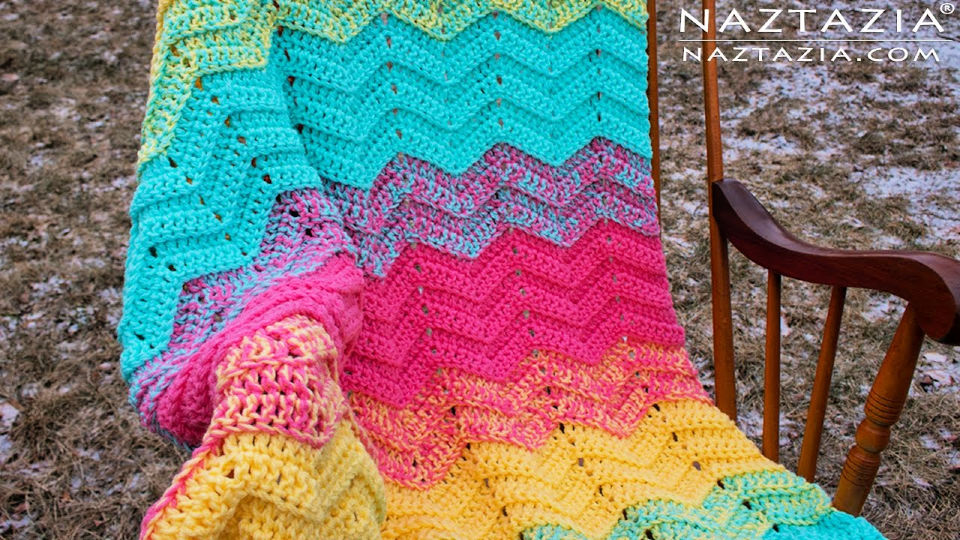 Do you really feel proud of crocheting for the babies? Crochet this sweet ripple baby blanket for a mama to be, the best to get for a baby this winter. Crochet 3 skeins of peach, pink, yellow, and green for this chevron baby afghan will make a graceful throw too. Here you have to crochet the total 56 to 60 rows to complete this chevron ripple baby blanket. Work with the 8mm crochet hook in this project. A must crochet blanket to add to your baby's wardrobe. Details here youtube
12. Free Chevron Crochet Ruana Pattern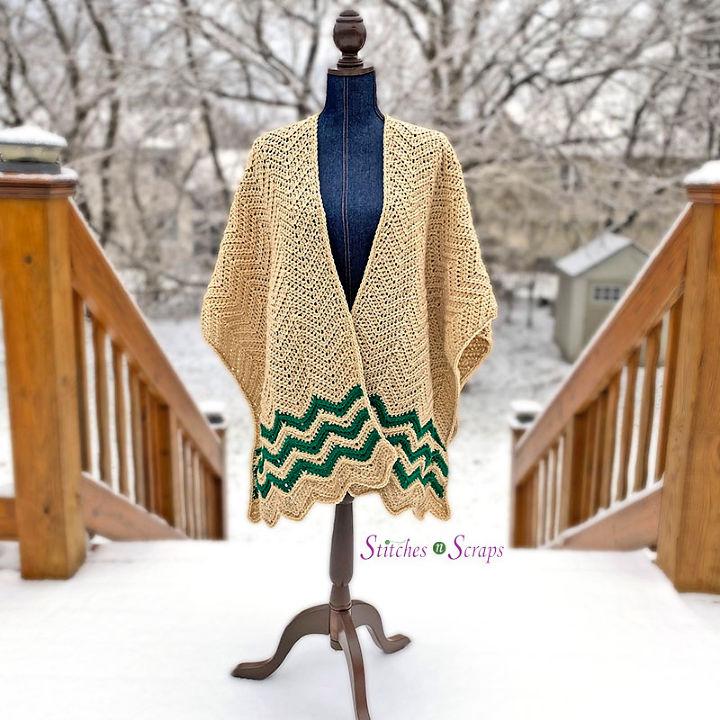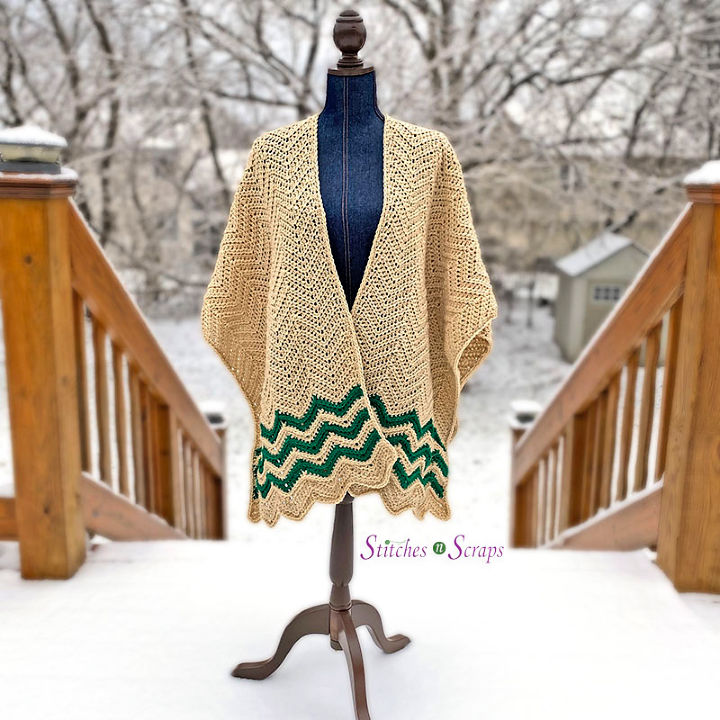 Are you willing to add the crochet ruana pattern to your winter fashion closet? Then crochet this chevron ruana that is the best poncho-style laying outer garment. It will surely update your winter fashion look along with bringing your tons of winter comfort. It features chevron stripes but mostly appears in a neutral yarn hue. Crochet 100% acrylic worsted weight yarn like Paintbox Simply Aran Yarn for this enchanting crochet prayer shawl pattern. Along with an easy skill level, you need a 5.5mm crochet hook to crochet the 40" x 61" size of this ruana. Details here stitchesnscraps
13. Crochet The Wonders Chevron Blanket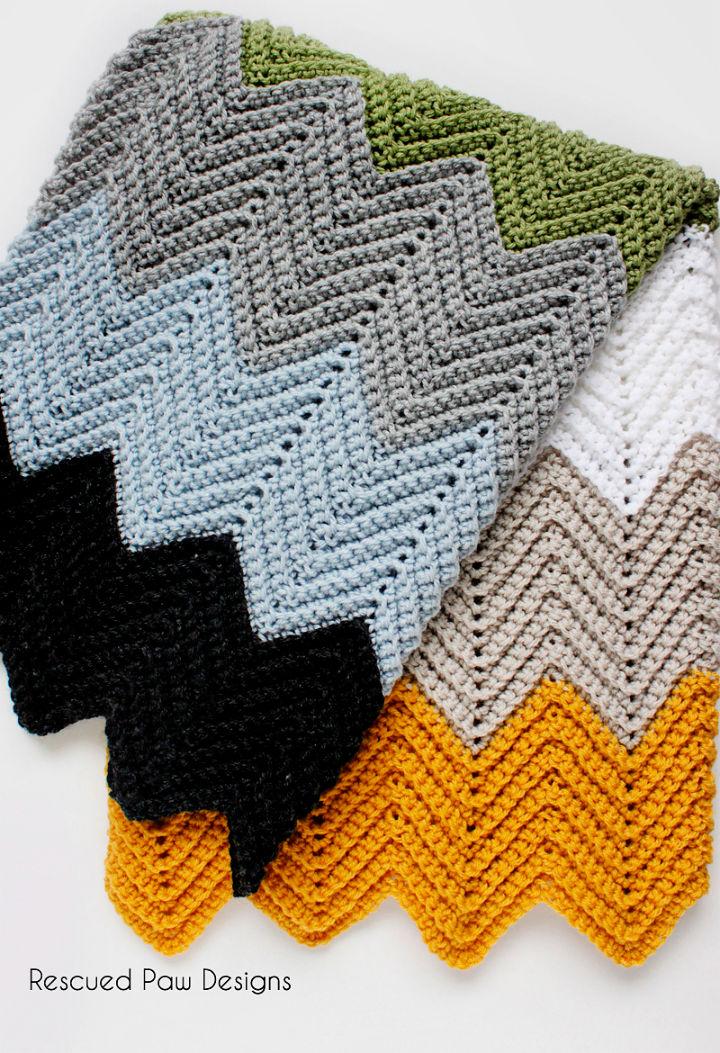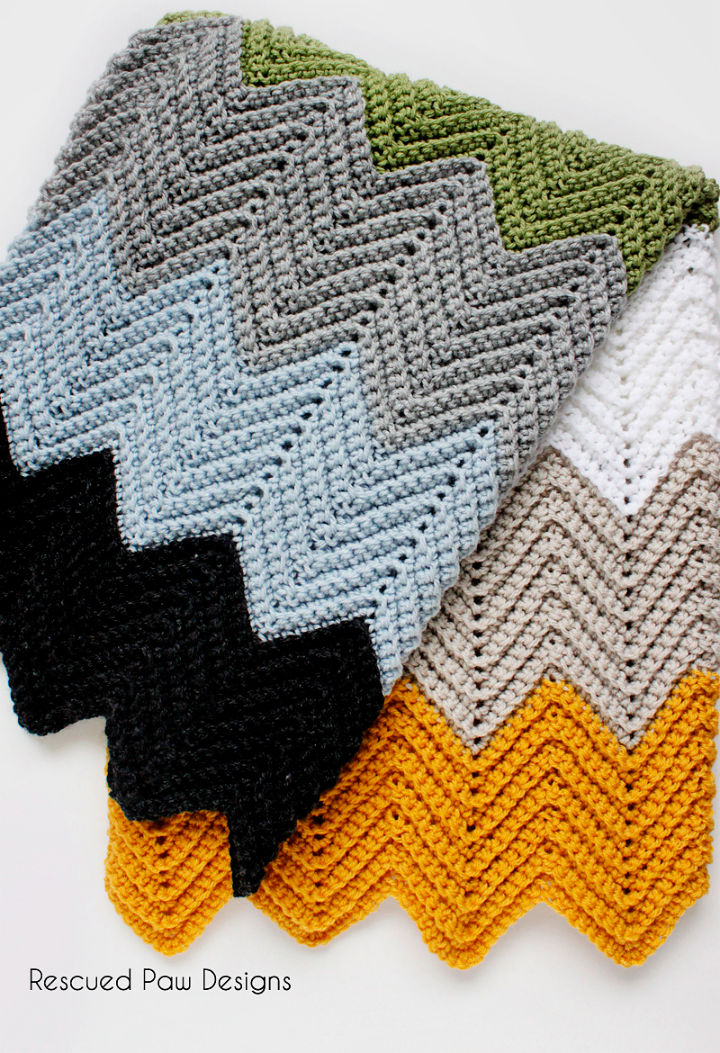 Bring tons of coziness to yourself this winter by using this the wonders chevron blanket. The enchanting stacks of colorful chevron lines and the smart selection of colors make this ripple blanket a one of a kind piece. Crochet Lion Brand Vann's Choice worsted weight 4 yarn in 7 different colors using a J-hook size to whip up this crazy winter warmer. This blanket is a beginner-friendly and will make a perfect afghan throw too. The finished size of this blanket is 34" wide and 45" in height. 13 sc for every 4" is the perfect gauge for this blanket. Details here easycrochet
14. Bernat Chevron Breeze Crochet Afghan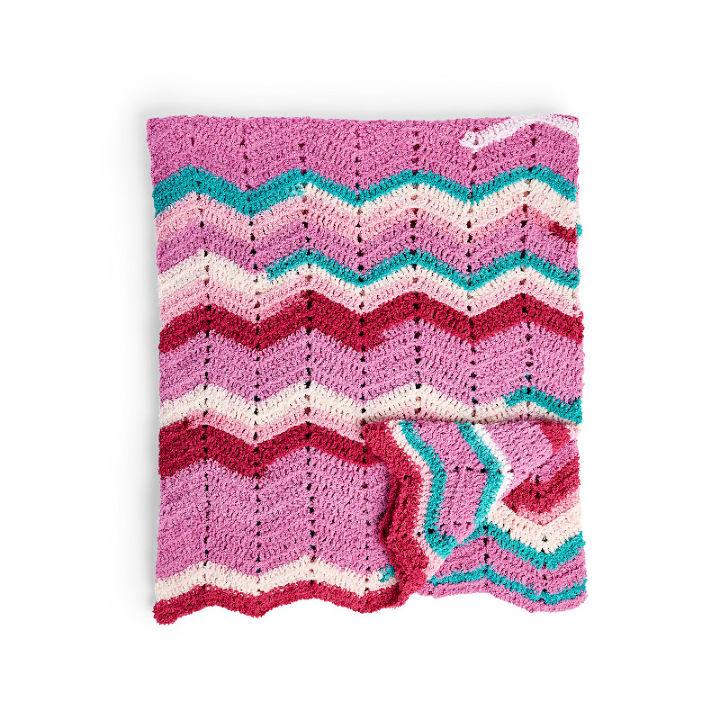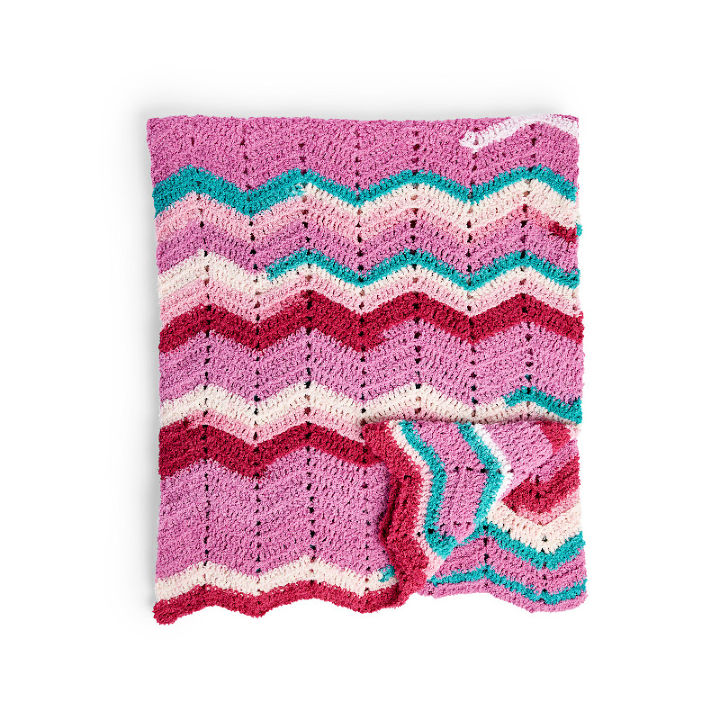 This ripple crochet afghan comes with an adorable finish and is super soft and warm to feel. Crochet the Bernat Blanket Yarn to stitch this breezy crochet afghan, wins the heart with perfectly colorful stacks of chevron lines. You need a 5mm crochet hook to crochet a 52" x 60" size of this chevron crochet afghan. Along with being a perfect reminiscent of classic ripple design, it comes with subtle ridge details too. Do add this ripple afghan to your winter wardrobe. Details here yarnspirations
15. Zigzag Crochet Blanket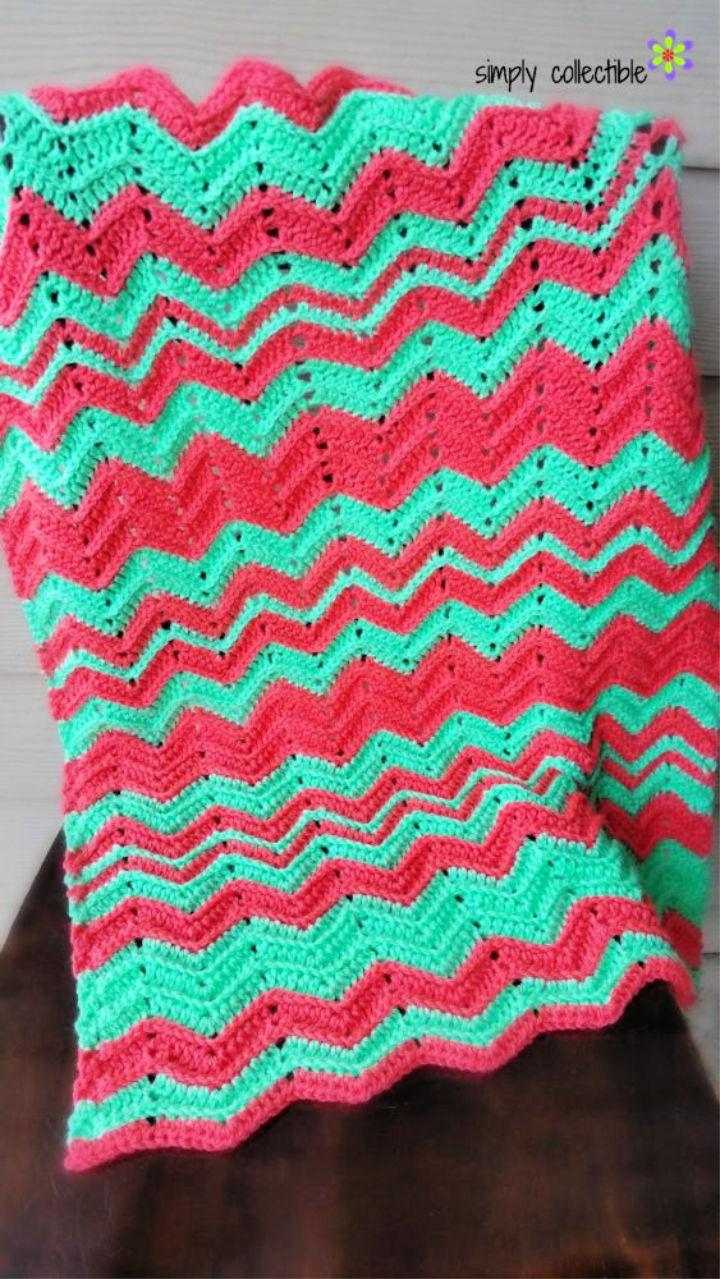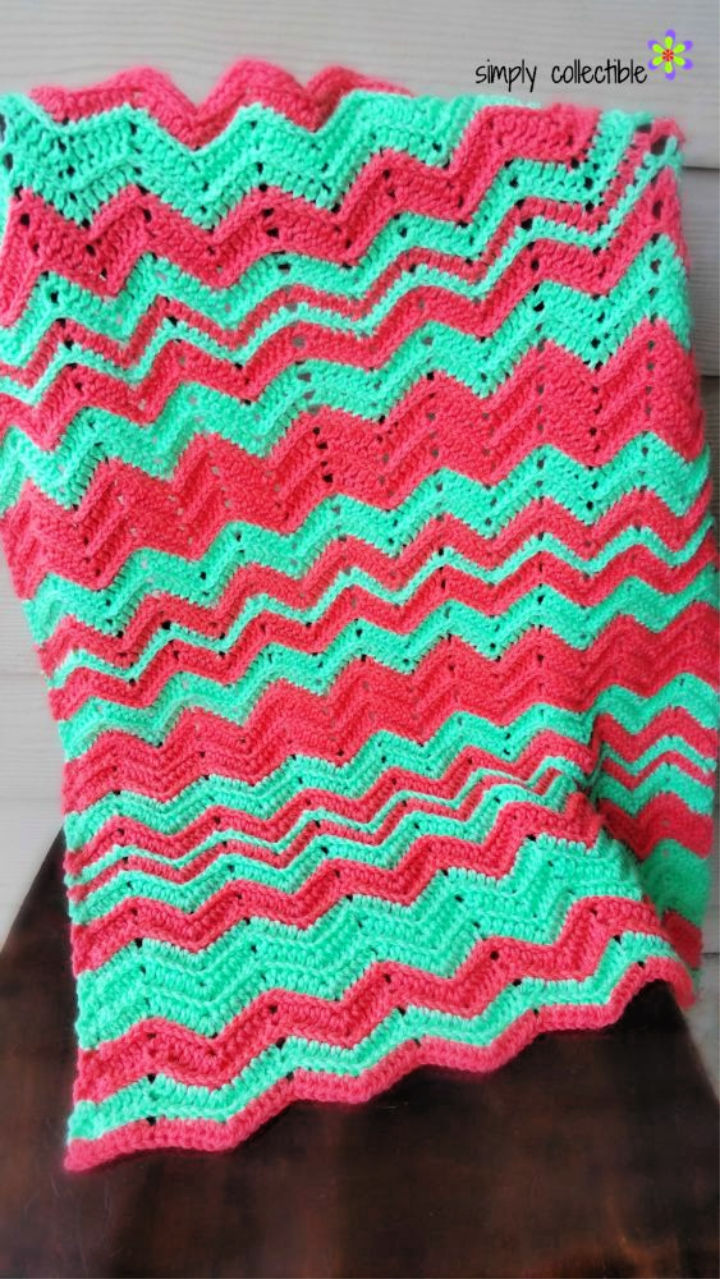 Crochet this blanket in any size from baby to king-size. It features stacks of chevron lines in two main colors. The finished baby size of this zig-zag blanket will be 30" long x 24" wide, and the large size will be 76" wide x 80" long. This blanket appears in peachie and sprout colors, and you have to crochet the 2 skeins of Red Heart Baby Hugs lightweight 3 yarn to whip up this fantastic crochet blanket. This blanket pattern is just great for intermediate crocheters, and you need a 5.5mm hook size to hook up the above yarn weight. In gauge, the 13 stitches and 9 rows are equal to 4" stand HDC. Details here simplycollectibl
16. Chevron Afghan Pattern Crochet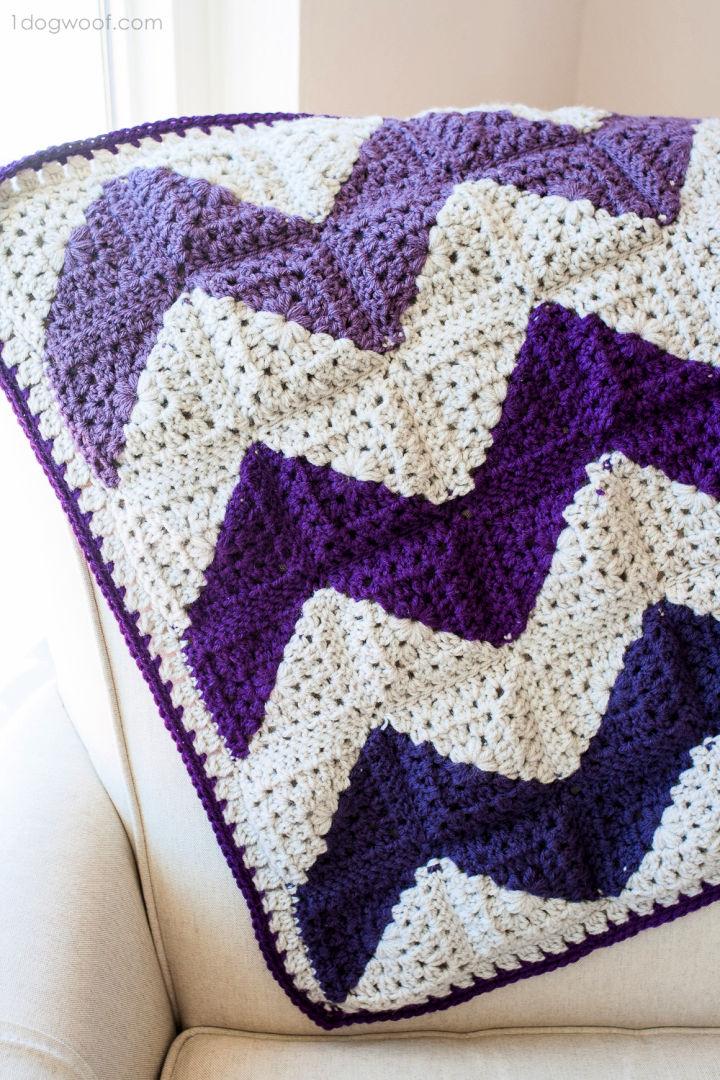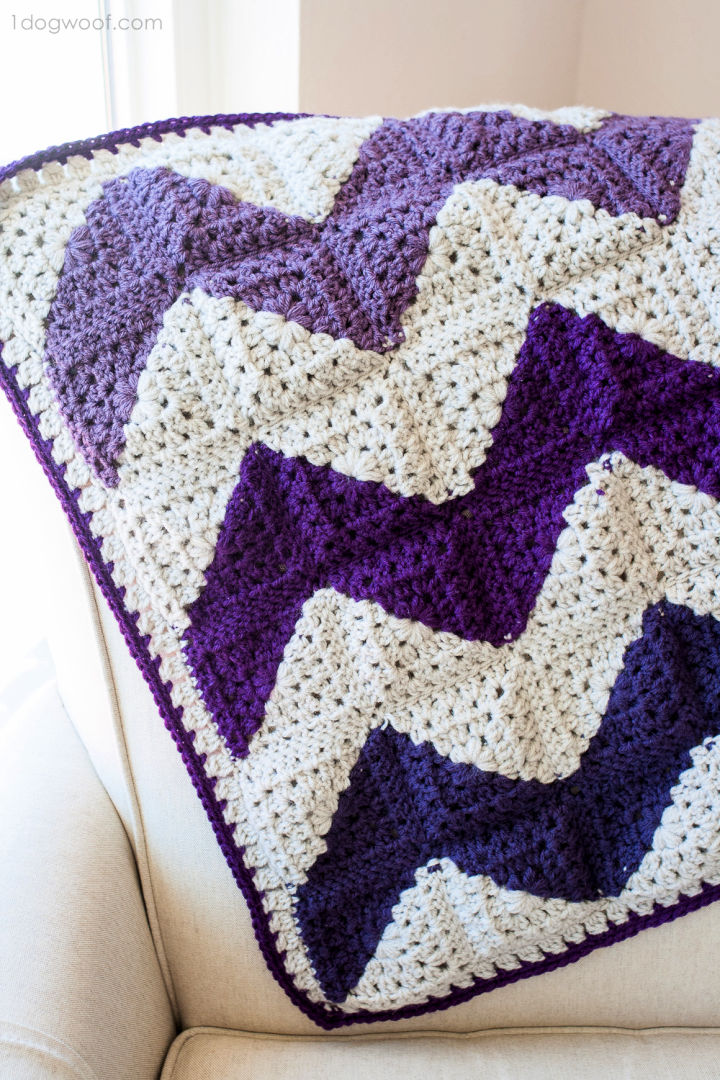 Are you handy at crocheting a granny square? If yes, then you can easily achieve this crochet chevron afghan pattern, one of the best free crochet blanket patterns. Crochet Lion Brand Vanna's Choice yarn in linen, eggplant, dusty purple, and purple using the 5mm and 6mm yarn hook to whip up this chevron crochet afghan. The special skills required for this pattern is the puff stitch, which will help bring the puffy design texture. Finally, you will get the guides here about how to crochet a granny square like a pro too. Details here 1dogwoof
17. Rainbow Ripple Baby Blanket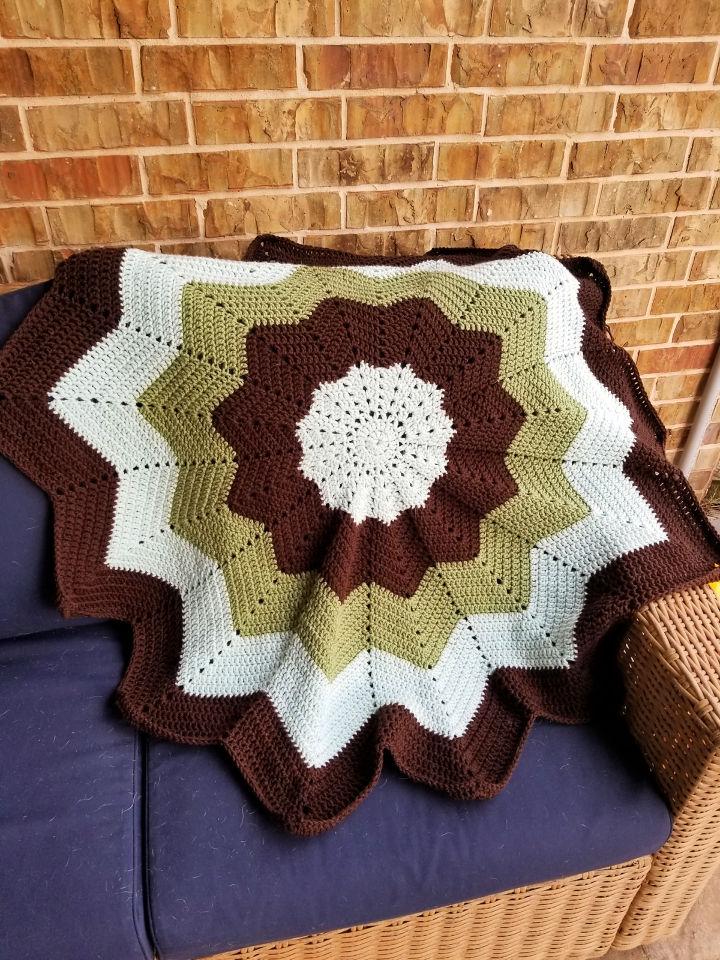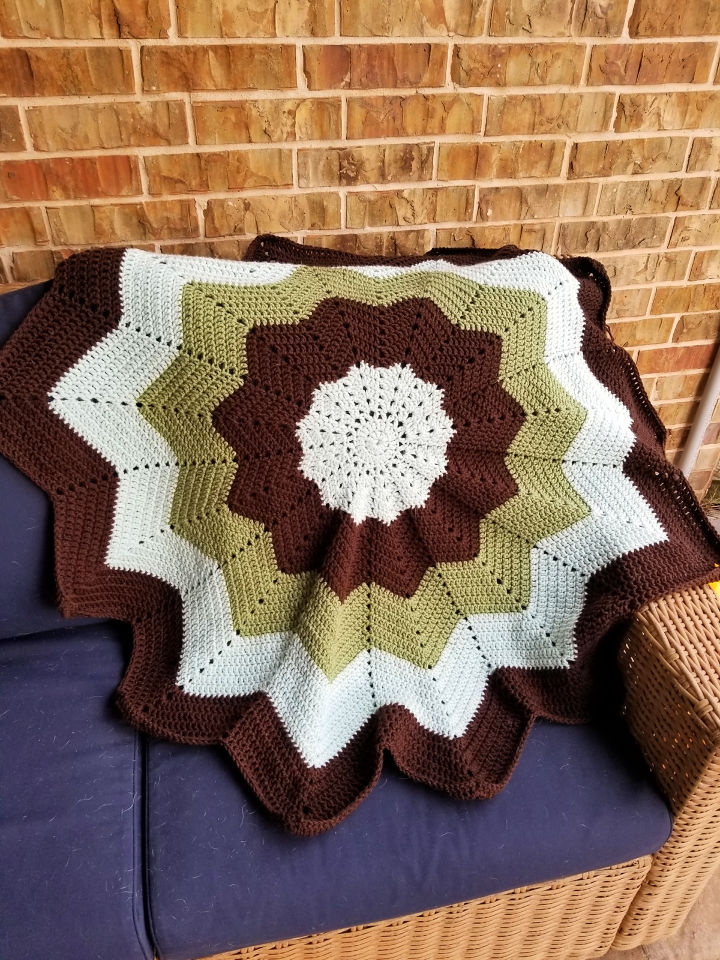 This round baby blanket looks like a giant flower and will wrap nicely around a baby for instant winter comfort. The best gift for a newly became mother and for a baby shower. Crochet 1200yds of Berroco Comfort Solids and Heather worsted weight yarn with a 5mm hook to whip up this rainbow ripple baby blanket. The required gauge for this blanket pattern is, 15 stitches and 8 rows are equal to 10cm in double crochet. A one of the best Free Rainbow Ripple Baby Blanket to stitch at home. Details here ravelry
18. Crochet Rainbow Sky Chevron Blanket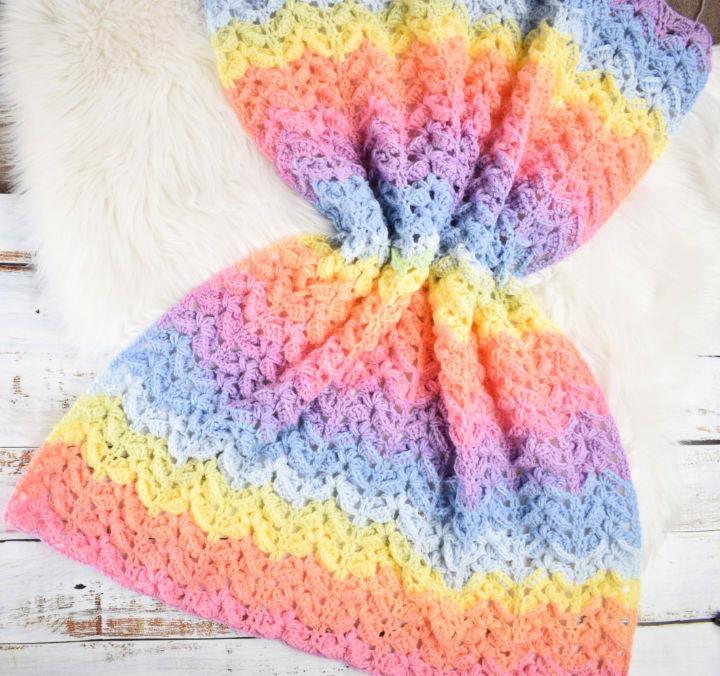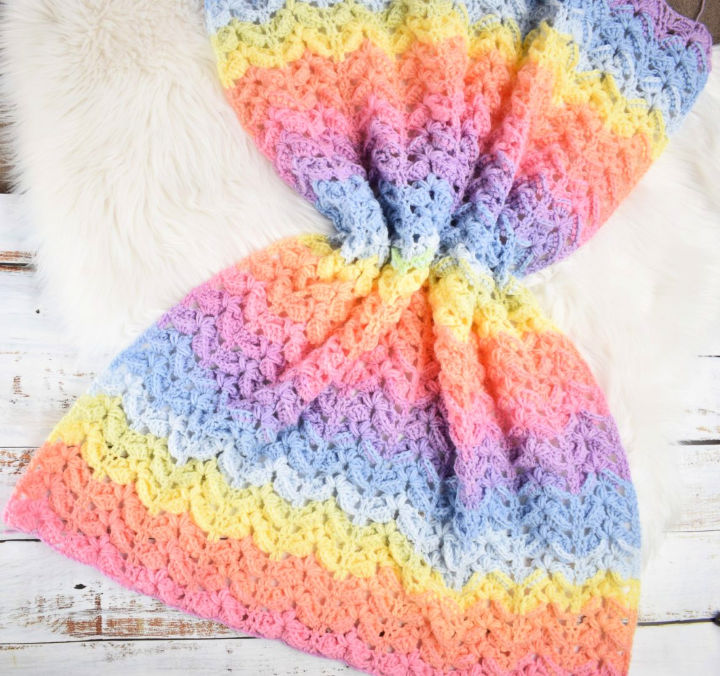 Both the rainbow hue and adorable texture of this blanket will impress you. Crochet 1500g of cake yarn DK weight yarn with medium weight 3 to hook up this rainbow sky chevron blanket. The skills required for this chevron blanket is the puff stitch that is responsible for the entire puffy design texture. The gauge for this blanket is 10sts repeal, and 1 repeat is equal 3". Crochet this chevron blanket in any size you want. Here finished size of this blanket is 30" wide x 36" long. Something super gift-worthy to crochet with your intermediate skill level. Details here passionatecrafter
19. Crochet Zig Zag Pattern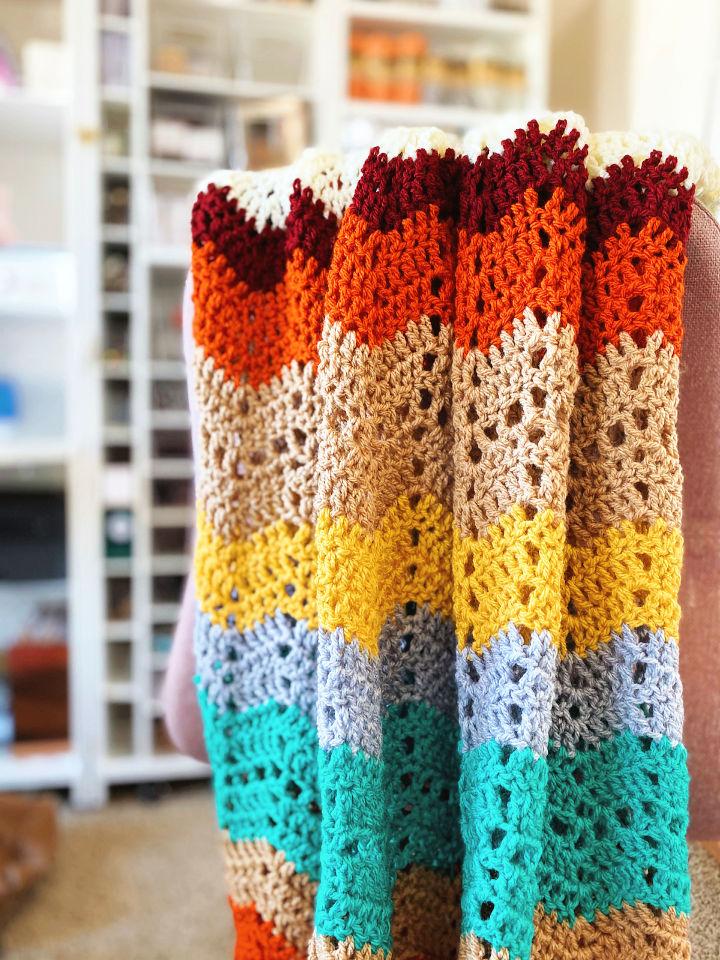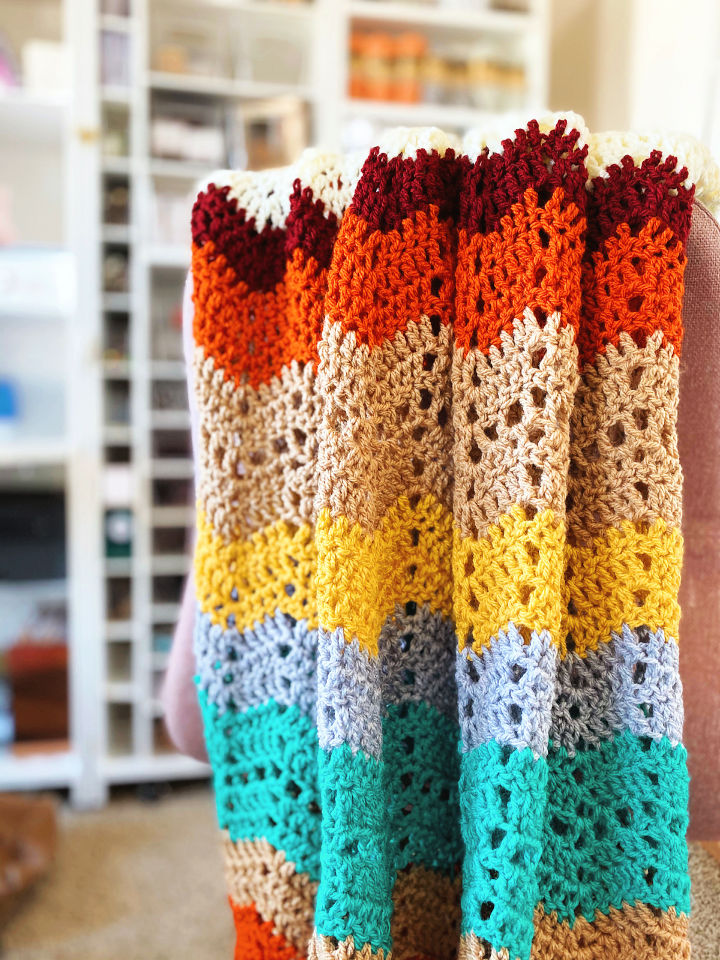 As a throw and as a blanket, it will be rock in both ways, the zig-zag crochet multi-color afghan and autumn skies chevron blanket. Crochet Lion Brand Basic Stitch Premium in 7 colors, you need 1 ball of each color to stitch this fantastic ripple blanket pattern. Work with 6.5mm hook size to crochet a 60" long x 43" wide size of this crochet blanket. The calculate gauge for this blanket pattern is, 3 chevrons wide is equal to 10". The pattern is beginner-friendly, and you have to be an expert in crocheting a chevron stitch before you get into the pattern. Details here tlycblog
20. Dragonfly Chevron Baby Blanket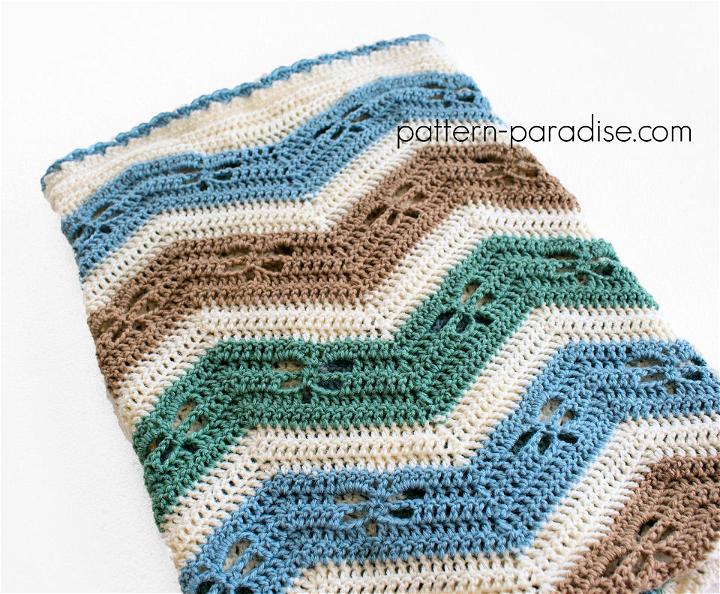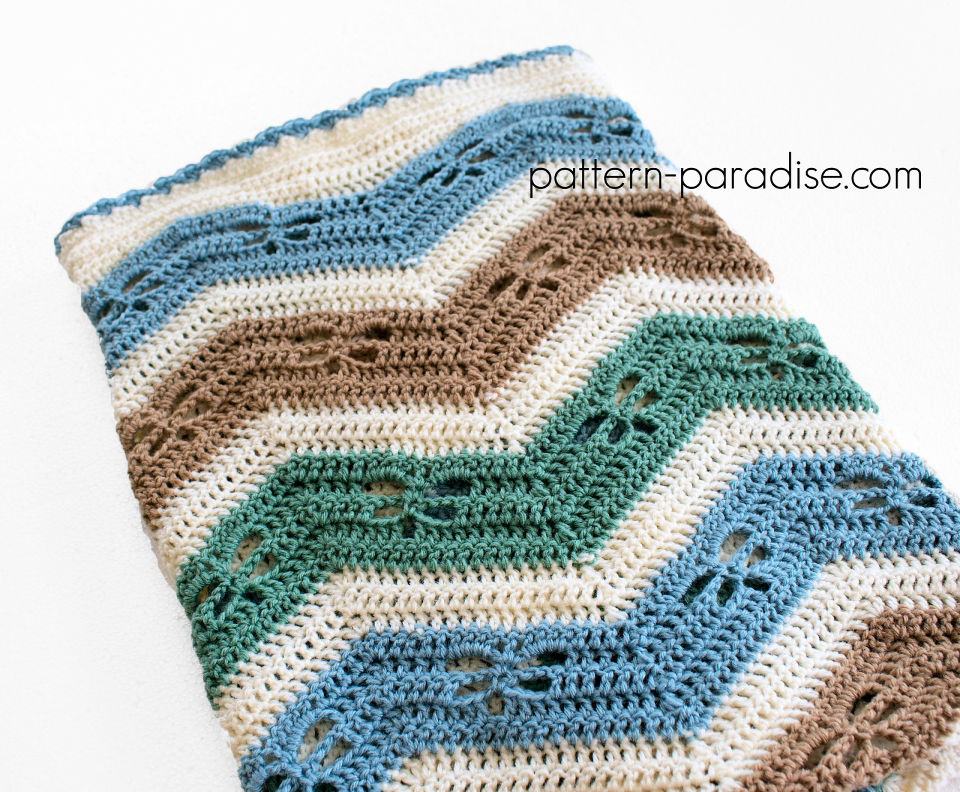 The repeated dragonfly motif in the chevron line stacks makes this baby blanket a bit airy. Crochet DK weight yarn in 4 colors of choice while using a 4mm hook size to whip up this sweet baby winter warmer. The required gauge for this baby blanket is 20 dc x 9 rows equal to 4". The special stitches used in this baby blanket pattern are the beg dc, shell, and split stitch. The finished size of this blanket is 30" x 36", and you will surely love to add it to your winter wardrobe. Details here pattern paradise
21. Sharp Chevron Crochet Pattern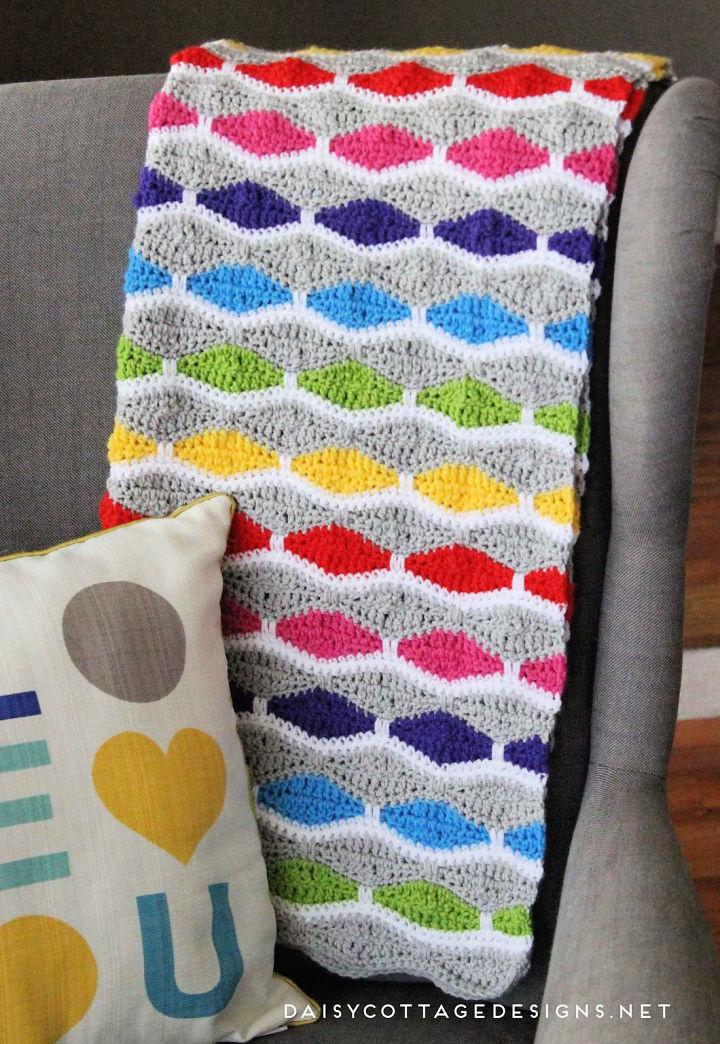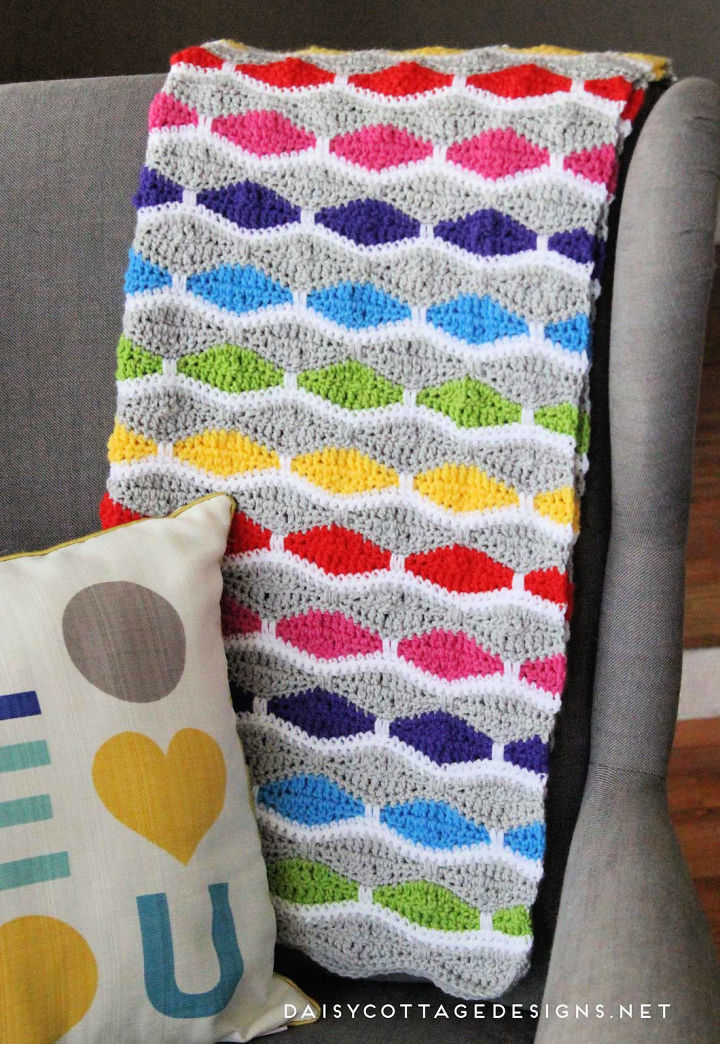 This chevron blanket pattern looks like the color card of the paint shop. The best choice of the blanket when you need to pull together some great colors in a particular interior space or room. Crochet worsted weight yarn in 8 different colors to whip up this crochet blanket beauty that is a perfect 30" square in size. You need to work with a J hook to hook up this brightly color chevron afghan, will be a great addition to your baby's winter wardrobe. A one of the best Free Crochet Chevron Blanket Pattern. Details here daisycottagedesigns
22. Vintage Chevron blanket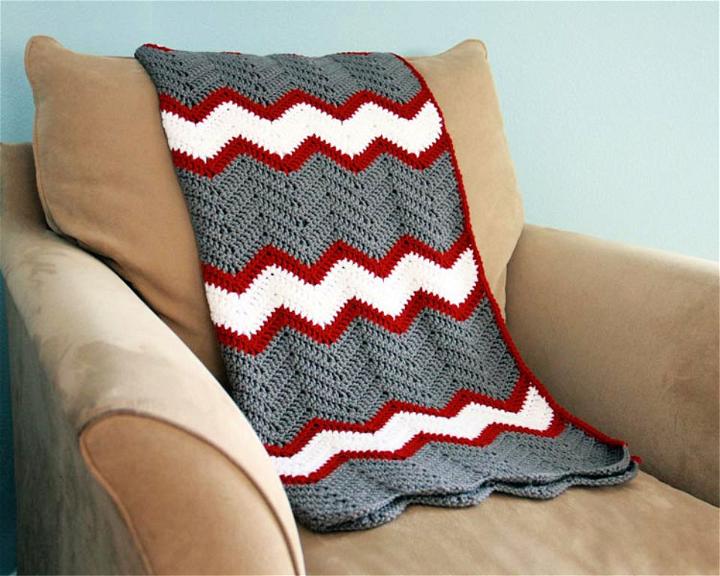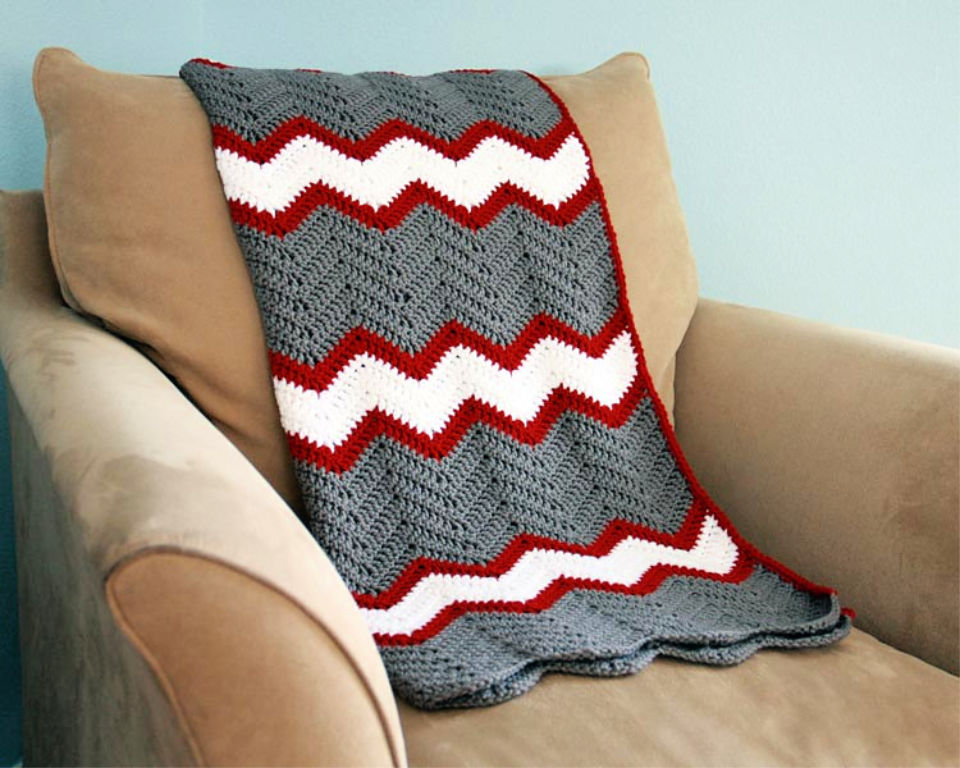 Bring the vintage classic vibes to your spaces with this vintage chevron blanket. Crochet it in any size from baby to king, and you can prefer further different sizes of the baby blanket too like throw, child, and twin size. Crochet Red Heart with Love worsted weight yarn to stitch this vintage chevron blanket, will be 28" wide x 30" long in baby size. The recommended hook size for this pattern is 6mm, and the gauge is, 1 repeat by 8 rows is equal to 4.5" square. Do try this vintage chevron blanket at home. Details here ktandthesquid
23. King Size Crochet Blanket Pattern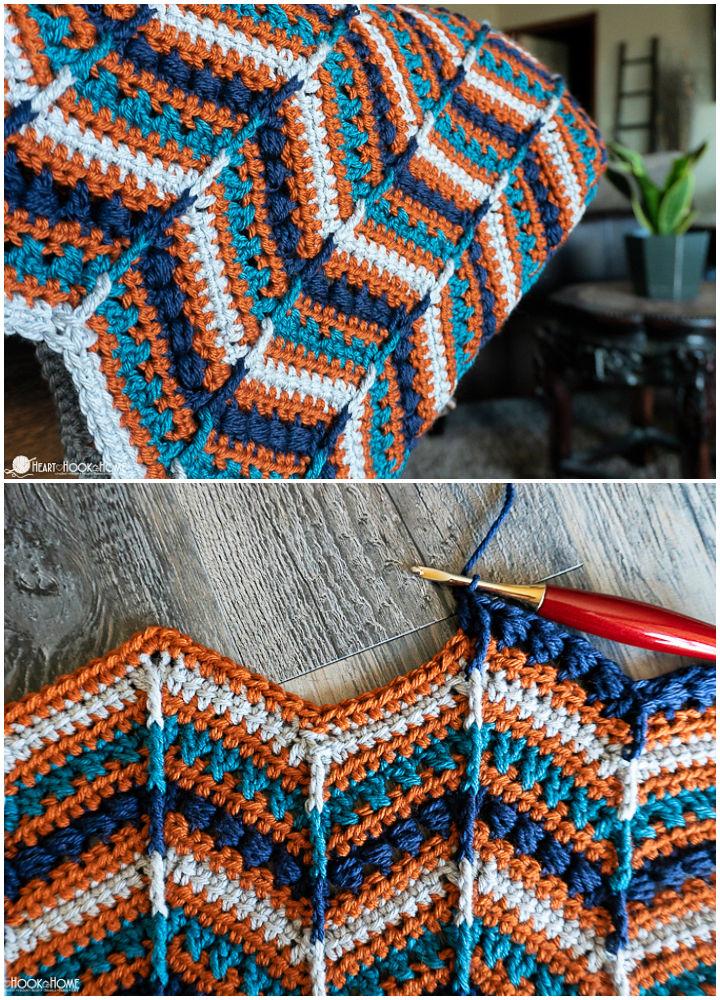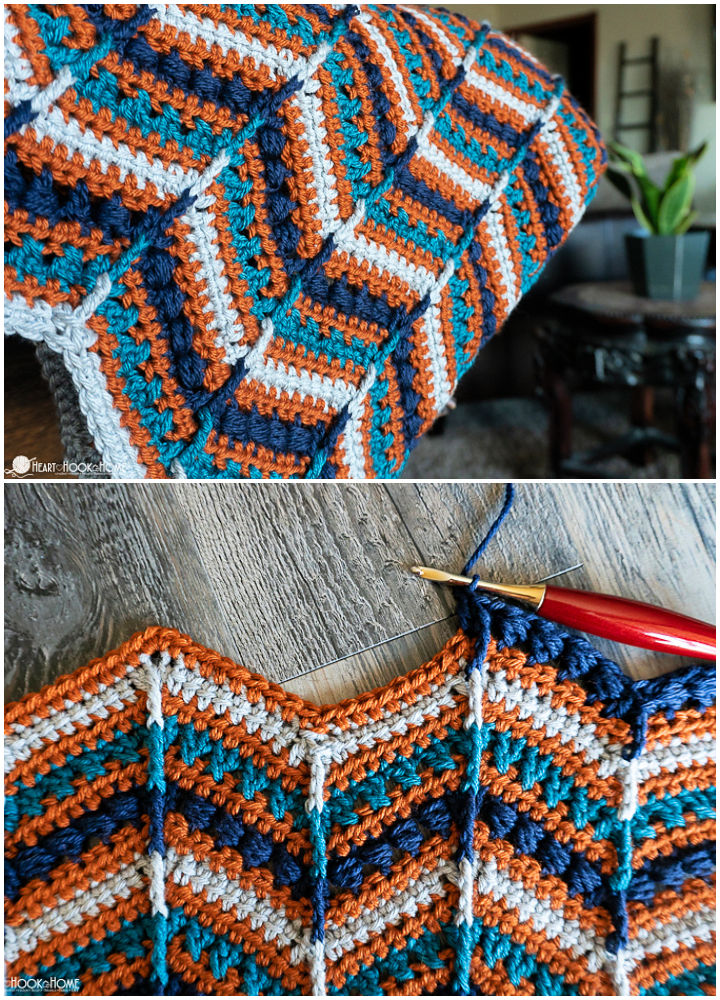 One of the striking designs of the chevron blanket is here. The king-size of it will make a soft and cozy winter warmer for sure. Crochet Brava worsted yarn in 5 colors using a 5mm hook size to stitch this crochet kind size ripple blanket. The gauge for this blanket pattern is, each chevron repeat is equal to 5" wide, and each row repeat is equal to 3" tall. This project involves working in several special stitches like in bead stitch, linked double crochet, crossed double crochet, dc2togdown and dclncup. This crochet blanket pattern is for advanced beginners. Details here hearthookhome
24. Chevron Baby Blanket Crochet Pattern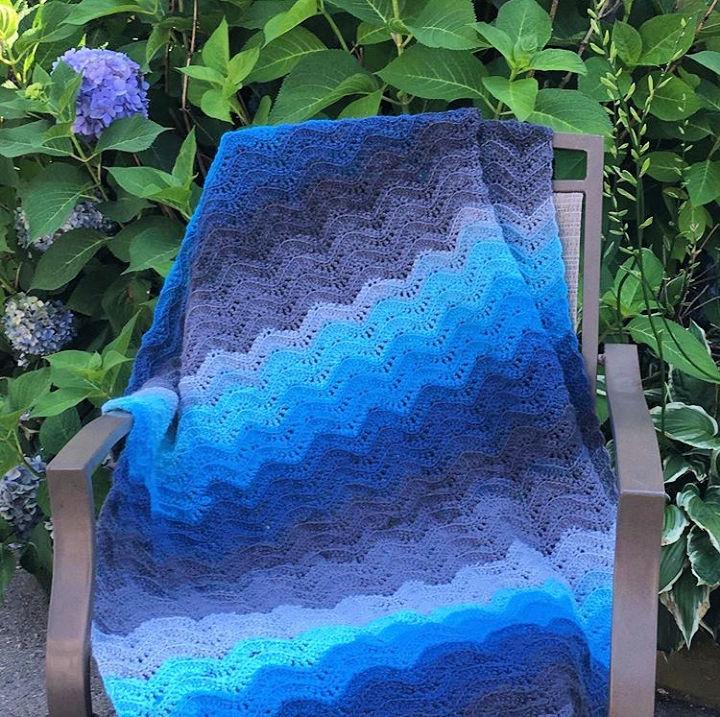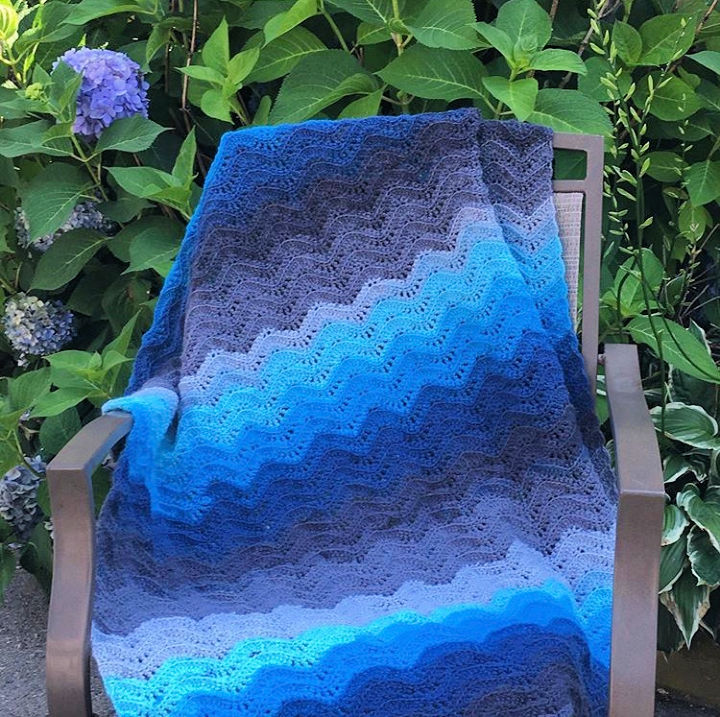 You will love the chevron stacks here, blending in beautifully. The skyfi ridge afghan will be one of the best winter warmer to crochet right in the comfort of your home. Crochet 4 skeins of Lion Brand Mandala Yarn worsted weight 3 yarn with a 4.5mm crochet hook to stitch this chevron baby blanket pattern. You can then repeat the row 2 and 3 to increase the size of this baby blanket to any. A one of the best Free Crochet Blanket Pattern ever crocheted at home. Details here crochetdaze
25. Throw-back Granny Chevron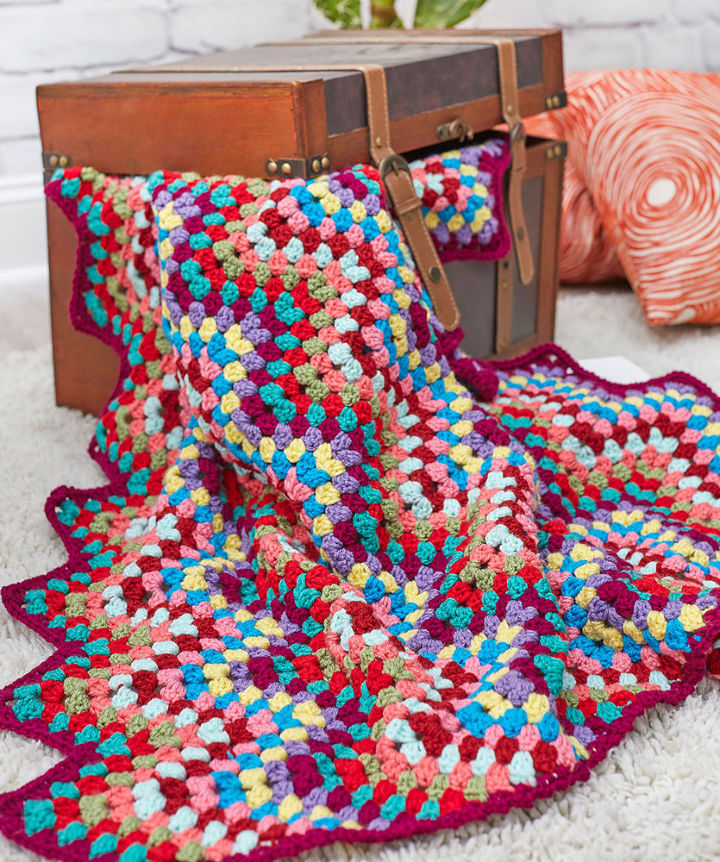 You will surely fall for this enchanting looking throw-back granny chevron blanket, will be a breeze to crochet. Crochet Red Heart with Love yarn for this vivacious afghan, and it is a totally beginner-friendly crochet pattern. This amazingly beautiful chevron blanket appears in 9 different colors and can easily be crocheted using a 5.5mm crochet hook. The finished size of this throw blanket is 46" wide and 59" long, and this colorful throw will bring tons of visual grace to any of your room. Details here yarnspirations
26. Zig and a Zag Afghan Crochet Pattern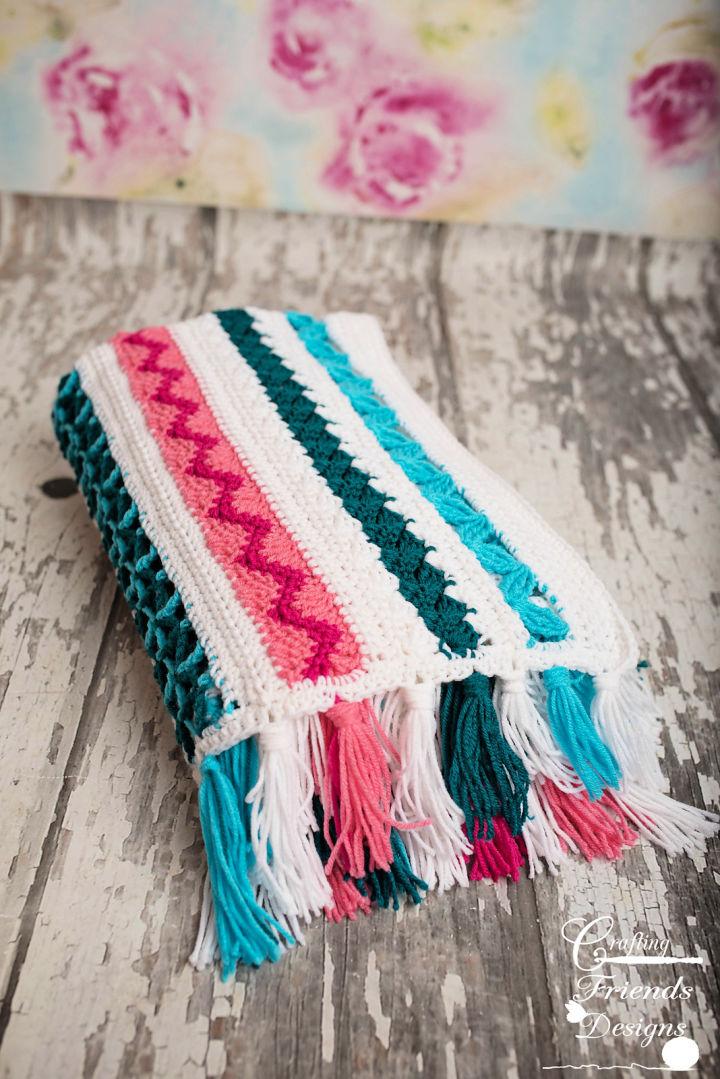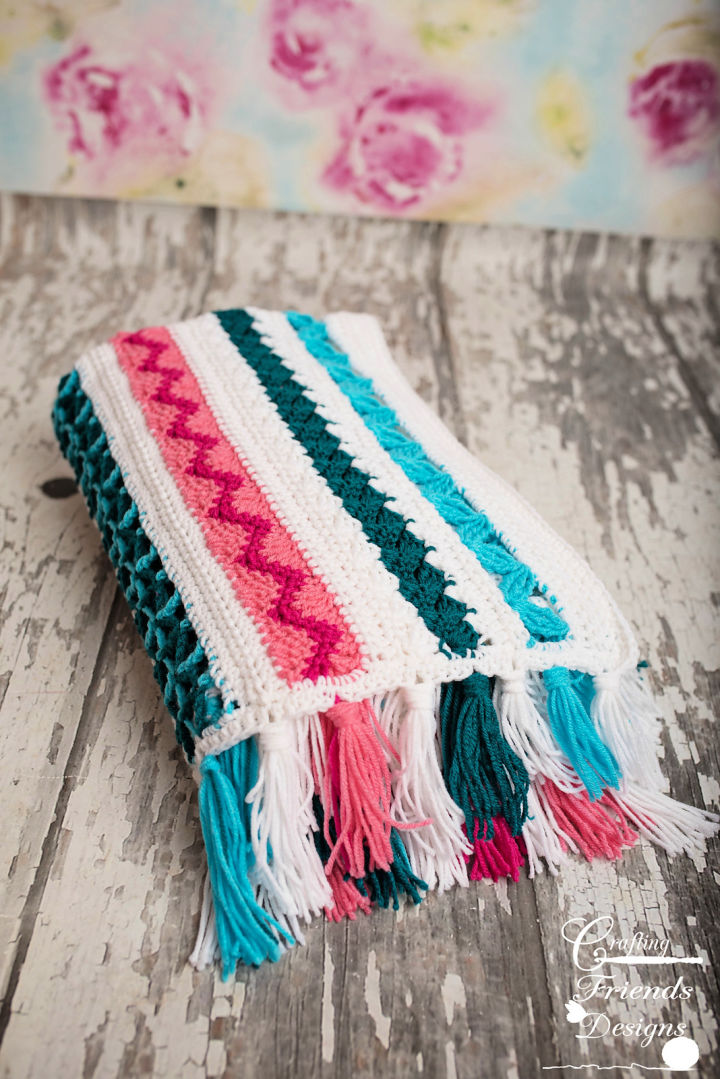 Another great crochet ripple afghan pattern for the beginners. With a size of 74" Long x 58" wide, it will make a perfect winter warmer. The special skills needed for this crochet afghan pattern are the brick stitch, single crochet 2 together, double 3-dtr cluster, 3-dtr cluster, treble crochet 2 together, double treble, and foundation chain. Here you can try out this fantastic crochet chevron blanket pattern with a 5.5mm hook size. Details here craftingfriends
Conclusion:
The chevron pattern is one of the most loved crochet stitches. So, if intending to add a chevron to your life while using the medium of crocheting, then these free crochet chevron patterns are only for you. These patterns share a whole bag of crochet tricks to stitch any pattern in the ripple style like ripple crochet blankets, throws, afghans, handbags, mobile pouches, hats, and lots of interesting. You will be an expert in crocheting the chevron stitch after looking through all the projects that are unique and creative crochet creations. So, for all who are willing to satisfy their love for chevron, they can head over to these Free Crochet Ripple Patterns that are impressive, frugal, and most beginner-friendly.