Whether you wish to give a new decorative treatment to your windows or willing to bring some privacy inside the room, go with these 10 free crochet valance pattern roundup, will surely do the trick. Crochet the perfect valances that will drape down over the windows creating a fancy look of your boring or less interesting windows. Whether you like it colorful or simply white or lacy, you will find here free crochet patterns for all sorts of crocheted valances. Explore this collection of 10 free crochet valance patterns that are sharing the best samples of home-crocheted valances. Use them in any room, kitchen, or in the cafe to bring textures, colors, and amazing visual details to the ambiance of a room. There are much free crochet valance patterns for every skill level.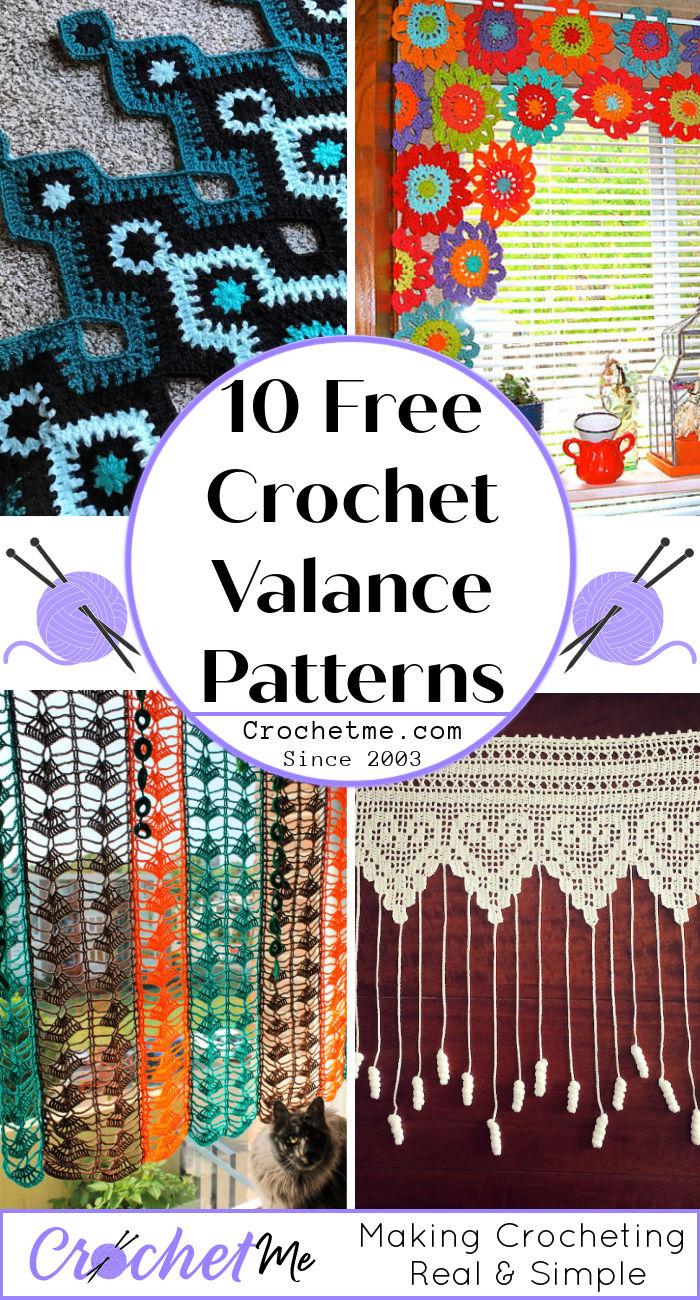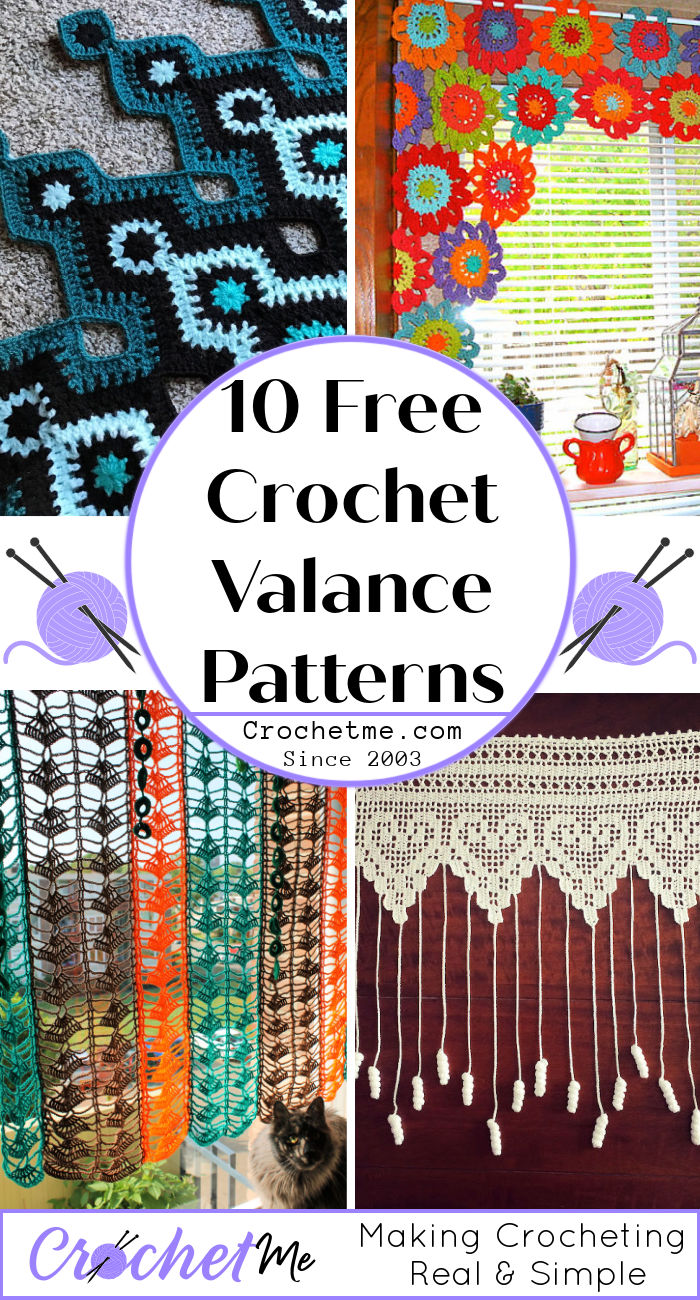 Crochet the colorful flowers that you can assemble together by sewing with hands to make the floral valances for your kitchen and rooms. Hook up the lacey heart valances also will bring love in the air and will require to crochet a lacey heart motif. Along with styling up your windows, these valances will also bring beauty and design to a targeted room or kitchen. As you will make these short crochet curtains with your own hands, so they will not cost you big. Finally, this yarn valances will also help save a lot of energy. Just take a short tour of the entire collection of these Free Crochet Valance Patterns that will simply surely wow the audience.
1. Crochet Valance Pattern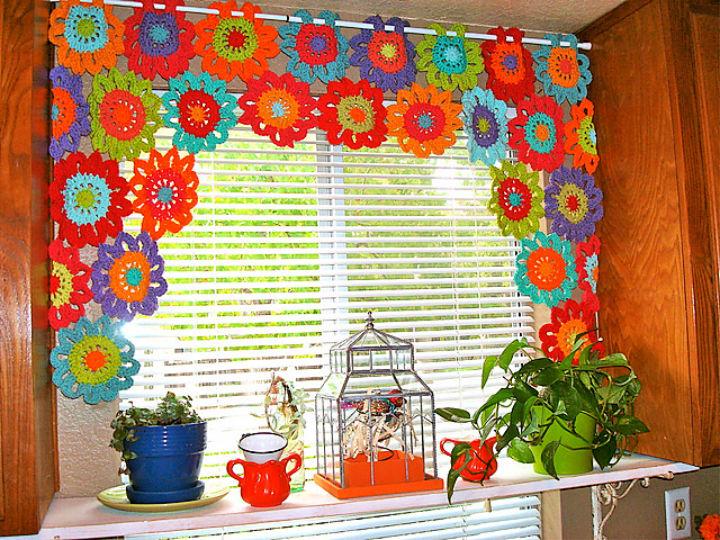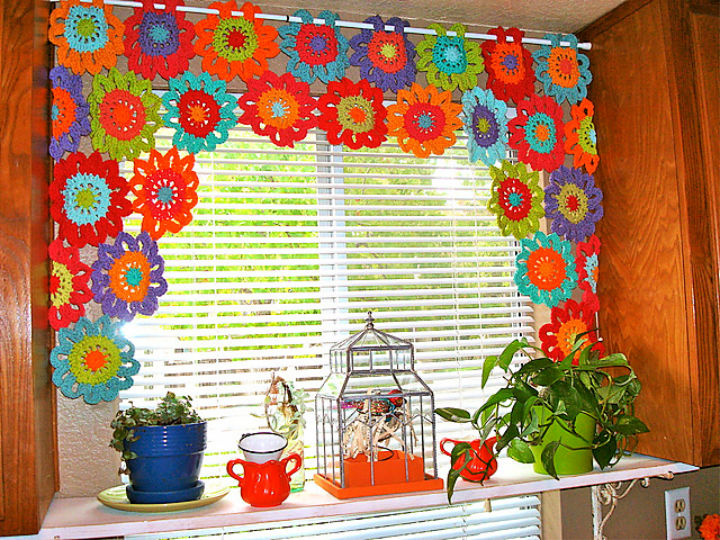 Do you love to add more privacy to your room and the beauty to your window sides? Then opt for these incredibly beautiful crochet valance pattern, featuring brightly colored yarn flower motifs. The basic skill required is the magic ring that is to use for crocheting flowers. Grab an H yarn hook and crochet the Sugar and Cream and also the Peaches and Cream yarn to get colorful flowers. Assemble them together, making an enchanting floral window valance, will create an impressive appeal of your window-side. Details here onceuponapink
2. Crochet Window Valance Patterns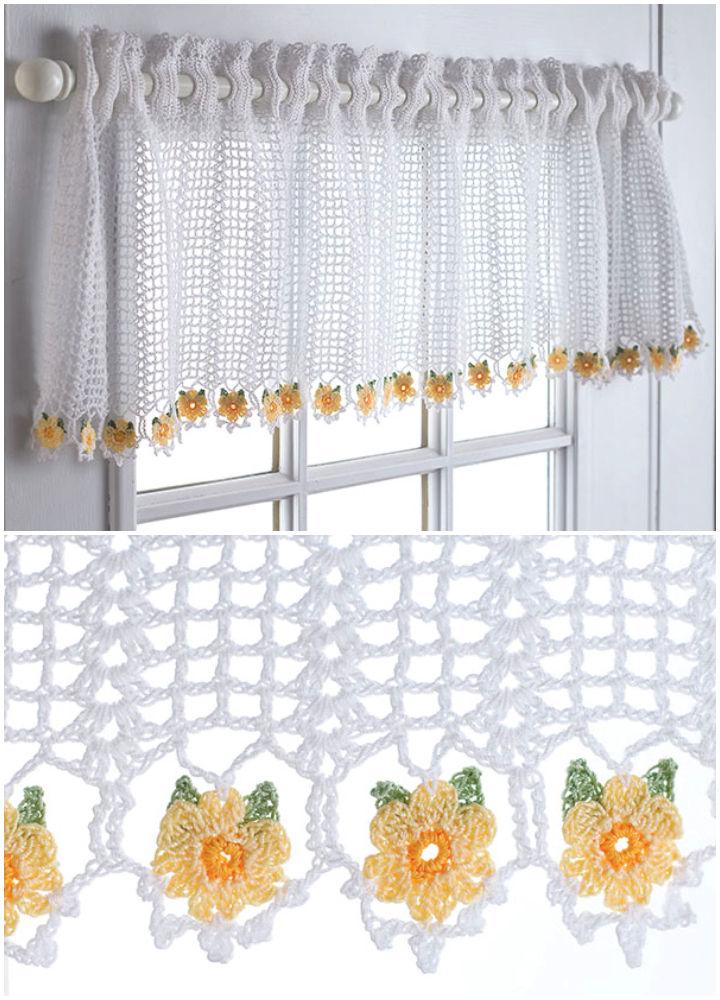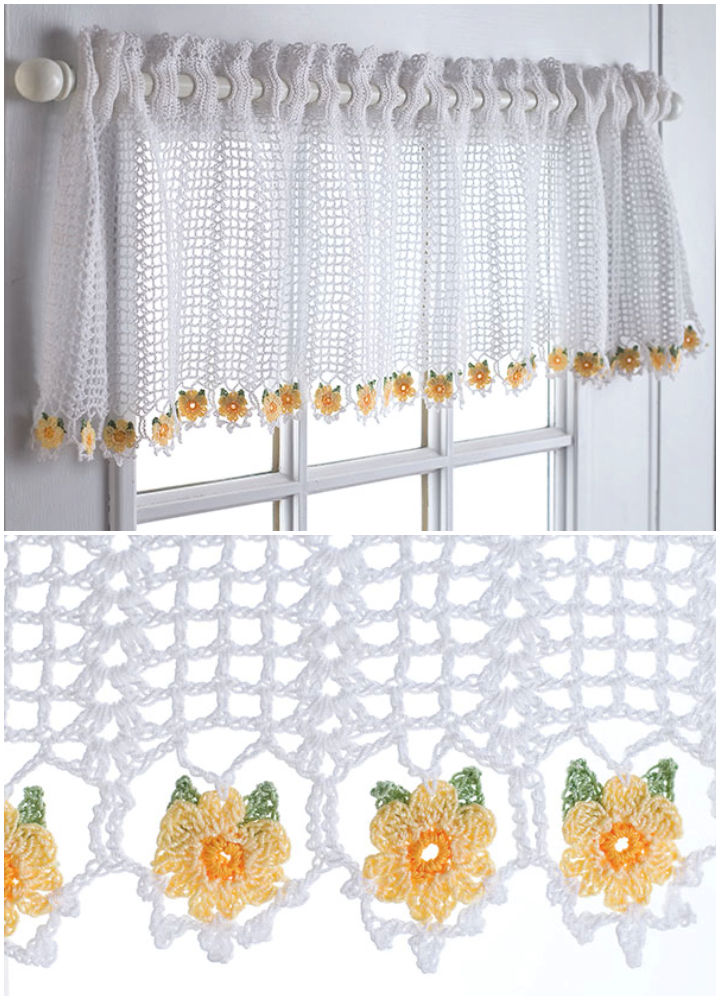 The ideal valance design for kitchen windows and front door. The finished size of this brightly white window valance is 14 x45 inches and crochet the size 10 crochet cotton, 2 balls white and 1 ball bright yellow, using a size 6/1.8mm crochet hook to stitch this window valance. The major skills or stitches required for this pattern are the triple treble crochet and shell stitch to whip up this window valance pattern. Details here crochetmagazine
3. Crochet Valance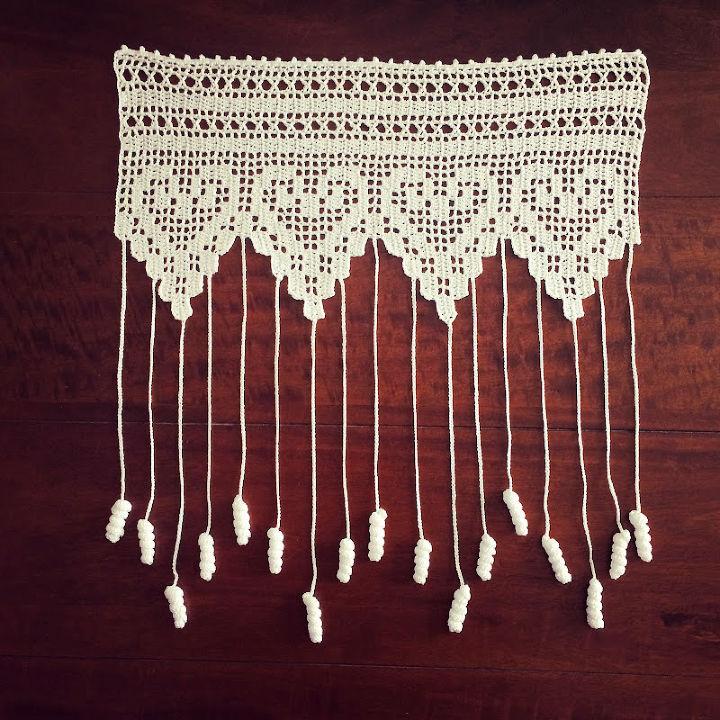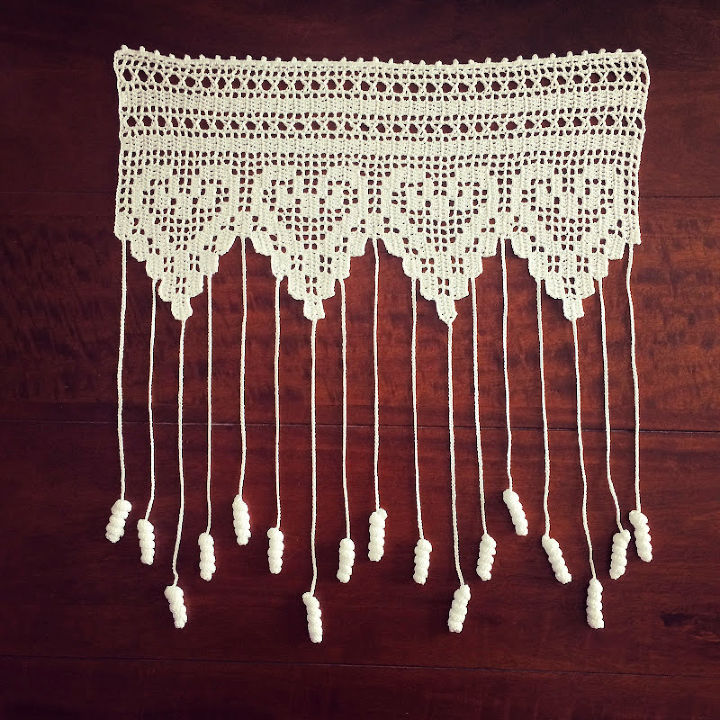 Save a lot of energy and power in the upcoming sunny days by hanging these crochet valances too over the windows. They will prettify the look of your window along with adding a bit more privacy to the room. It is just free to get them in the crochet medium, but it requires some skills. Crochet the DMC Petra size 5 yarn with a 1.75mm crochet hook to stitch this crochet valance. The major skills required here is to crochet a heart motif, and the rest of the patterns just goes lacey and smooth. Details here nathalienuisement
4. Crochet Window Valance Pattern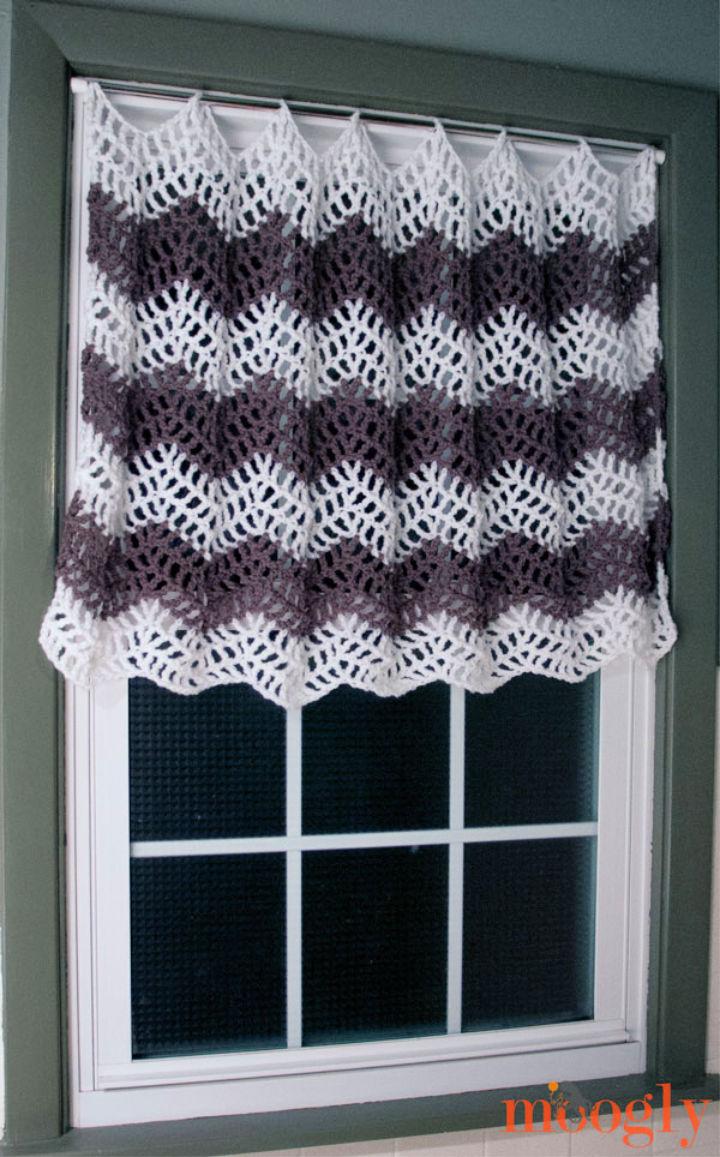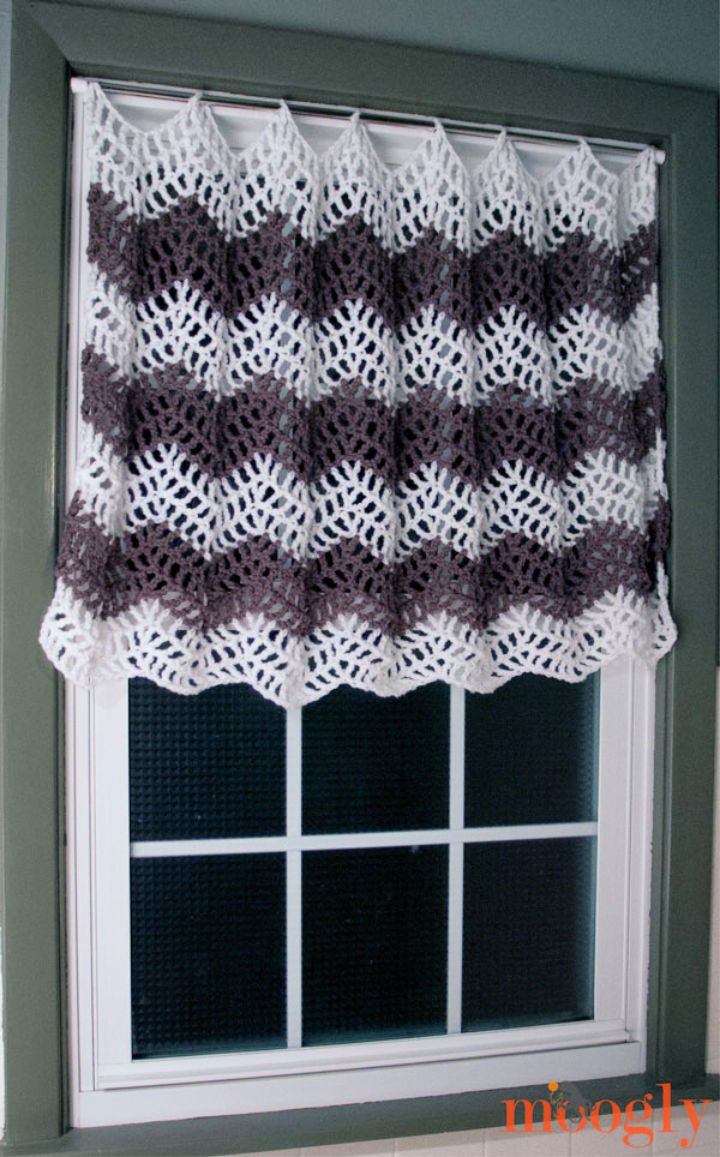 Satisfy your love for chevron by incorporating this chevron crochet window valance to your interior room decor. One with basic crochet skill in hands can easily achieve these window valances using even the scrap yarn. After you complete the pattern, just install the tension rod to hang it just above the window for added beauty and privacy. Crochet 375yds of Red Heart with Love yarn in 2 colors using 6.5mm hook while working in special triple treble crochet and Tr2tog over 4 ch to whip up this very interesting chevron window valance. Details here mooglyblog
5. Crocheted Valances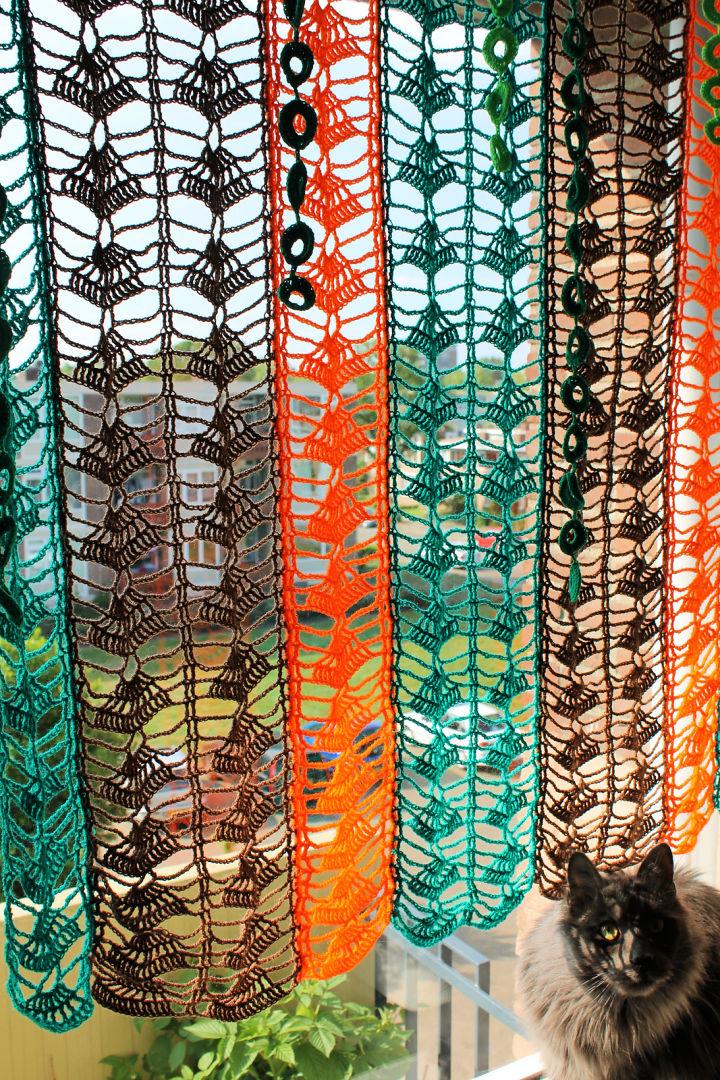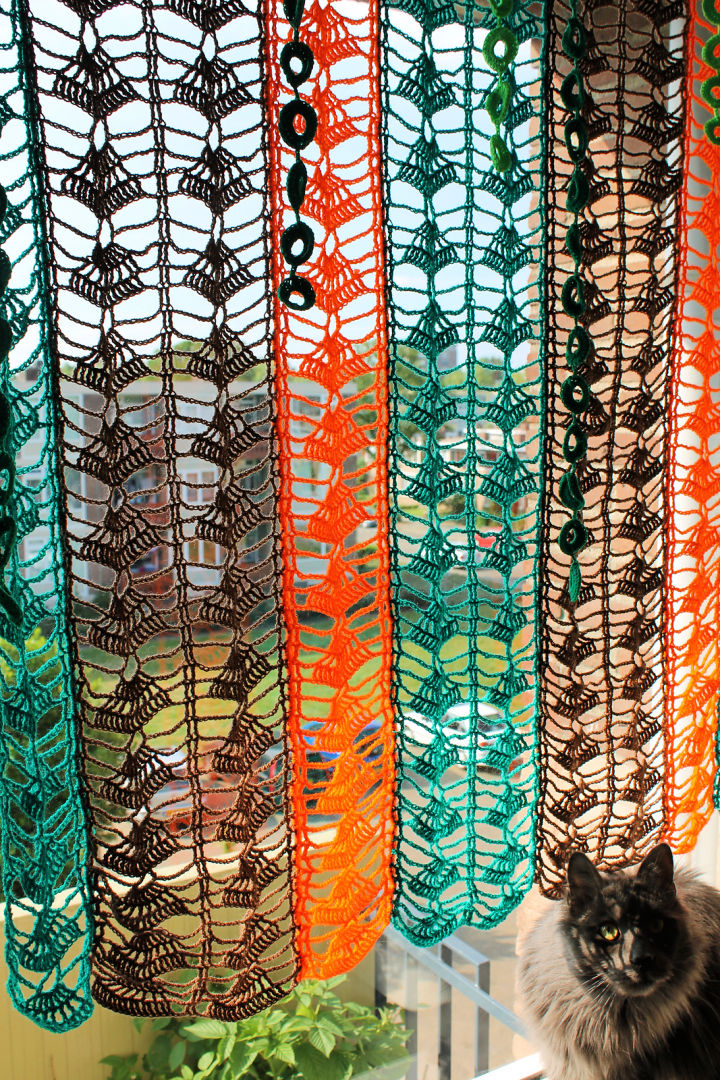 Replace your old kitchen curtain with this 3 color yarn valance that will be a little shorter in length. If your pets mostly the cats are often the culprits behind making your kitchen curtains dirty, then these crochet kitchen curtains are the solution. Crochet each piece separately and then hand sew them together to get the final valance. This valance featuring bright yarn hues is 1m and 20cm wide ad you can get any size of it according to the size of your window. Use the hook and loop fasteners to hang it just above the window. Details here zarazacrochet
6. Crochet Window Valance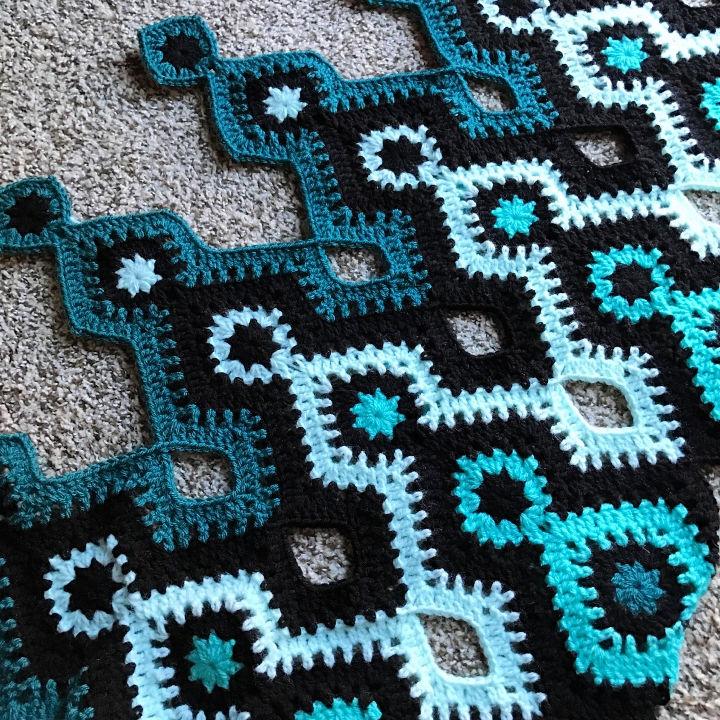 Bring tons of unique textures to your room decor by adding this window valance. It will nicely drape over the window sides and is a breeze to crochet. Crochet any worsted weight yarn with a 4.5mm hook to stitch this crochet window valance. You can enlarge the size of this window valance to make a bedspread and also a longer curtain. These window valances are going to be the best decor treatment for your boring and old windows. Details here ravelry
7. Crochet Kitchen Curtains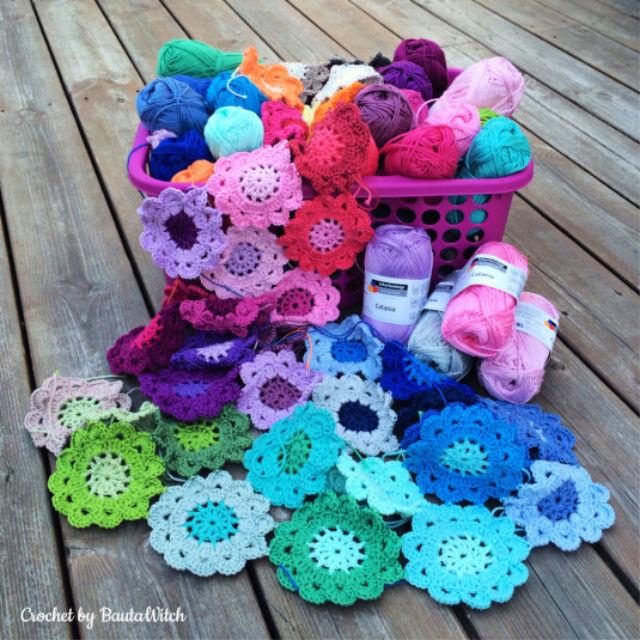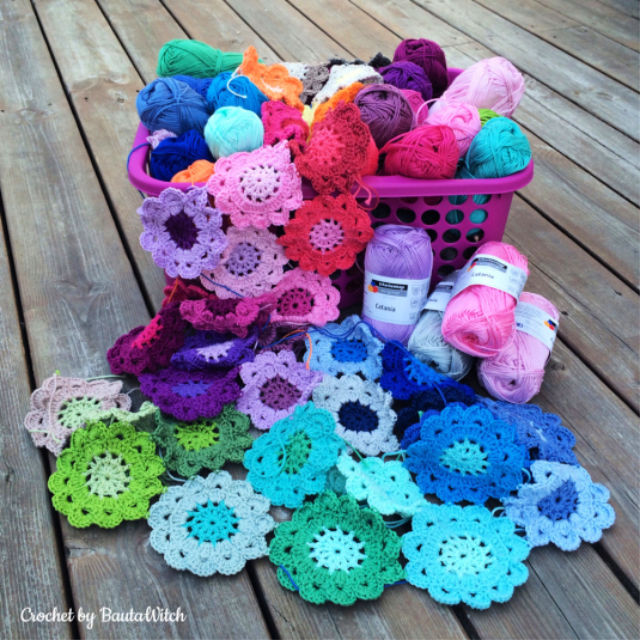 Want to bring some bright colors to your kitchen? Then choose this best DIY Kitchen Curtain that is to make with the yarn flowers. Simply, crochet the yarn flowers by making a magic ring and then assemble them together by sewing with hands to make this brightly colorful kitchen valance or curtain. The flowers are almost 10cm in diameter, and each flower will just complete in 15 minutes. These flowers are much like to crochet like African flowers and daisies. Details here bautawitch
8. Crocheted Valance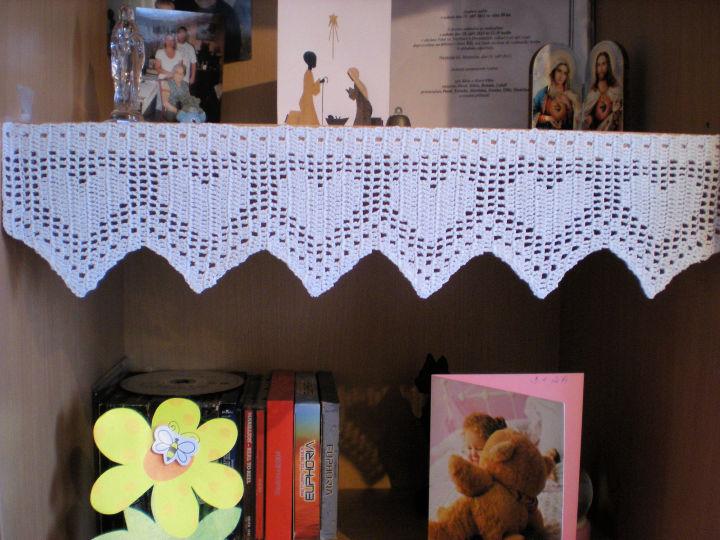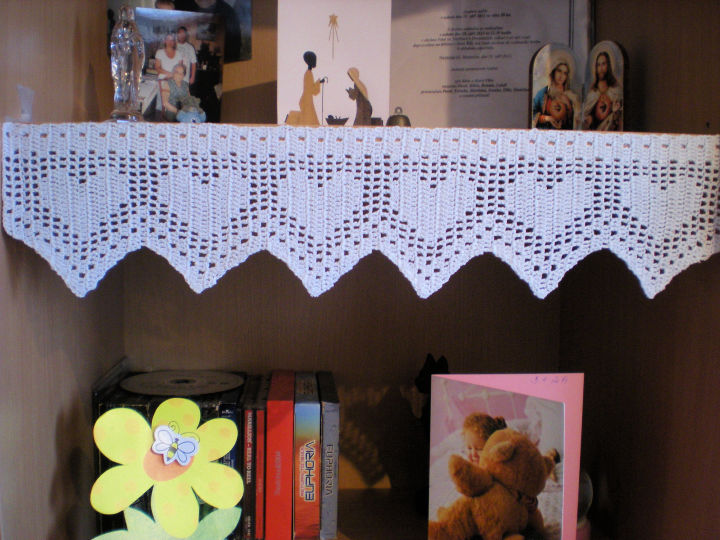 Here you have to be expert in crocheting the lacy heart motif to whip up this crochet valance, will fancy up your windows. These hearty lacey valances will surely enhance the visual appeal of your windows and will be a breeze to make. Crochet the Aunt's Lydias classic cotton yarn size 10 with the 1.25mm-1.5mm hook to stitch this crocheted valance. One of the best crochet valance patterns ever details here emmhouse21
9. Free Crochet Valance Pattern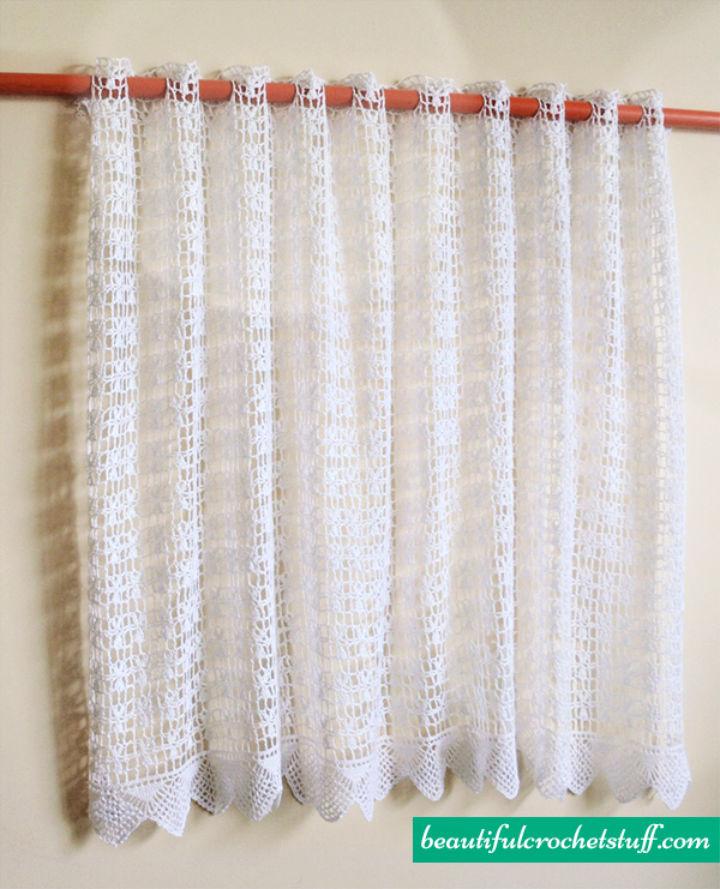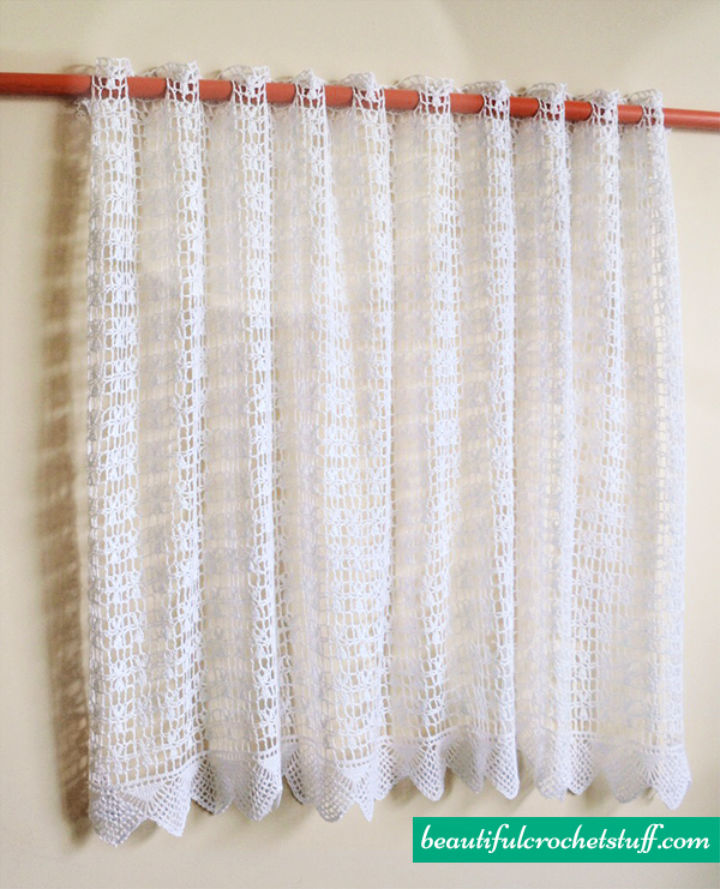 Work with 1mm or 2mm crochet hook and crochet the 100% microfiber 2ply lace yarn to whip up this valance. You need the 328yds of this yarn to crochet a 100x60cm size of this crochet valance, which will be a big love of all the home lovers. Work with the basic yarn stitches to complete this outstanding valance, will take the beauty of your windows to the next level. The lacey white appeal of this valance with wavy decorative edging is much enchanting. Details here beautifulcrochet
10. Cafe Curtain Crochet Pattern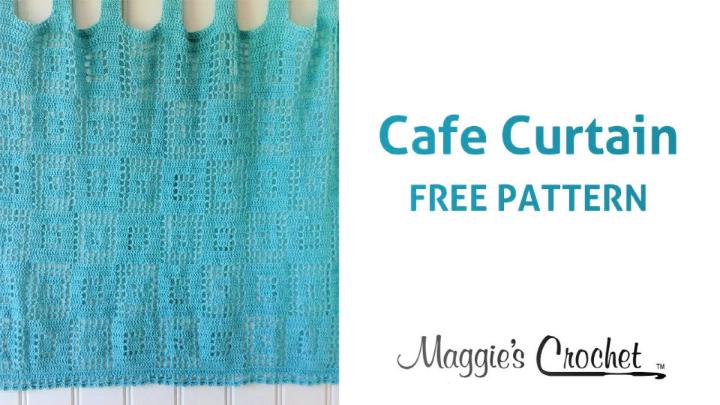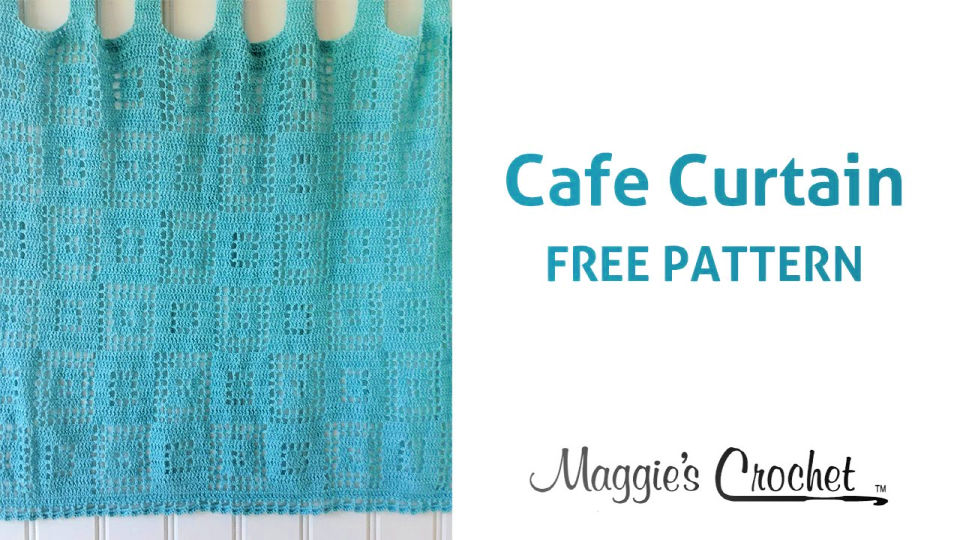 Get here the free pattern and video guides about how to crochet a cafe curtain. You have to be an intermediate crocheter or advanced beginner to stitch this very interesting short curtain for your cafe. Finish it off with the decorative edging for added beauty, and you can simply experiment it with any color and weight of yarn. If you are very new to crocheting a lovely valance, then this tutorial is just for you. Details here youtube
Conclusion:
Looking for the best window decor treatment? Opt for these free crochet valance pattern roundup that you can even make by crocheting the scrap yarn weights. Work in different crochet stitches and crochet different yarn weights and color with matching hook sizes to stitch these worldly popular yarn curtains. Some are simple, and some are insanely color, you can choose any that will suit your decor. Crochet the chevron valances that will help bring the chevron texture to your interior room decor. Just put together different crochet motifs like crochet flowers, crochet daisies, and crochet hearts to make enchanting valances.
Related Crochet Patterns for Free: