When on the lookout for some last-minute gifts for your friends or loved ones, try any of these 22 free crochet angel patterns. All these crochet angels patterns are straightforward to make and will require a few hours of your time. You will not have to spend a lot of money on this crochet angel pattern, and they can be an excellent home decor item for any part of the house, let it be your drawing room or even your lounge. If you display a crochet angel in an area where you entertain, get ready to receive a lot of praise as these little angels are very eye-catching items.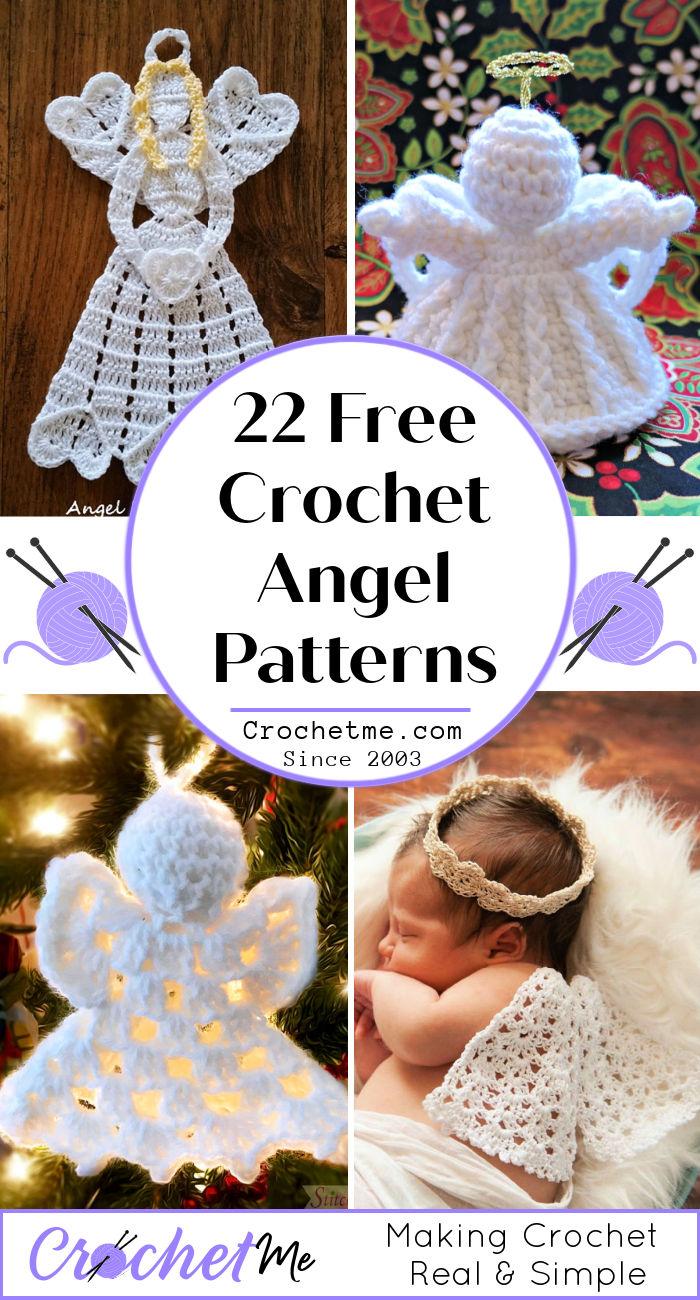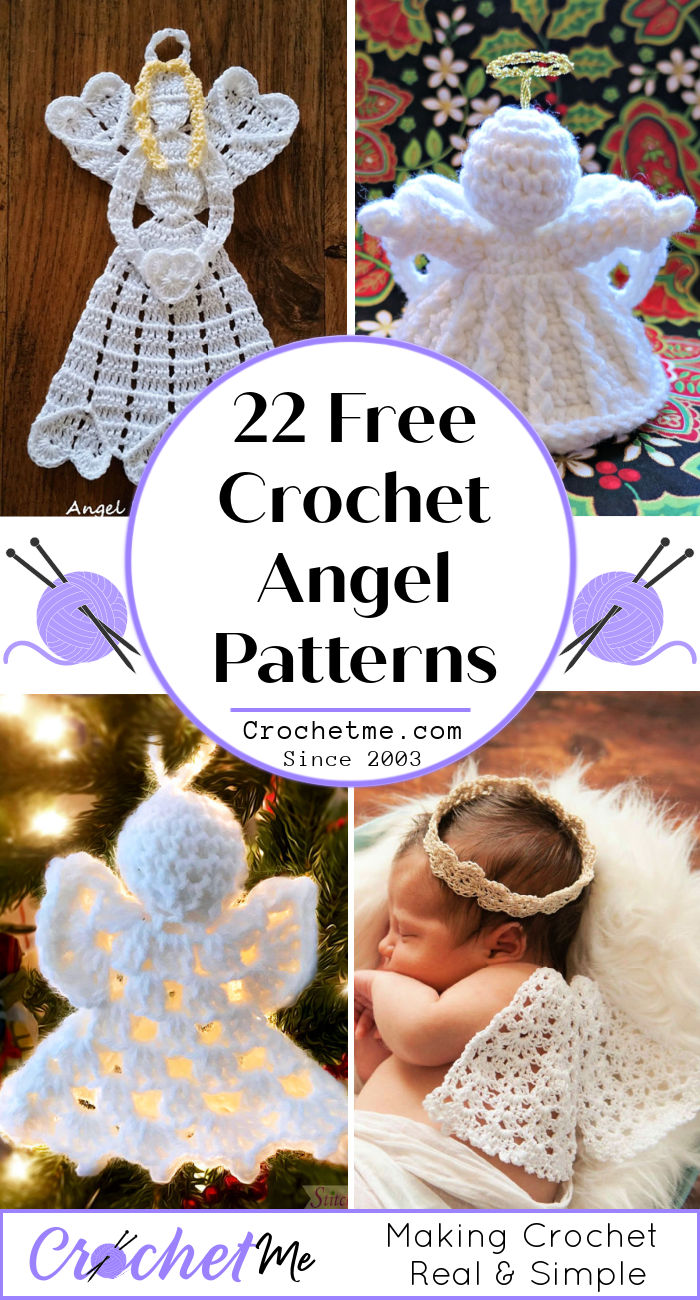 You can make these free crochet angel patterns into different shapes according to your desire. Add little crochet angel wings to the back of them to create the proper illusion of an angel. A cute little halo on the head also adds up to their charm, and you got yourself some beautiful cute angels. In this article, find quick and easy free crochet angel patterns to print and tutorial to make crochet angel ornaments, crochet angel with wings, a crochet angel bunny, an Amigurumi Angel with Wings and Halo, or an elegant angel with a topper. All these crochet patterns are free with the exact details required to finish this project.
1. Free Crochet Angel Pattern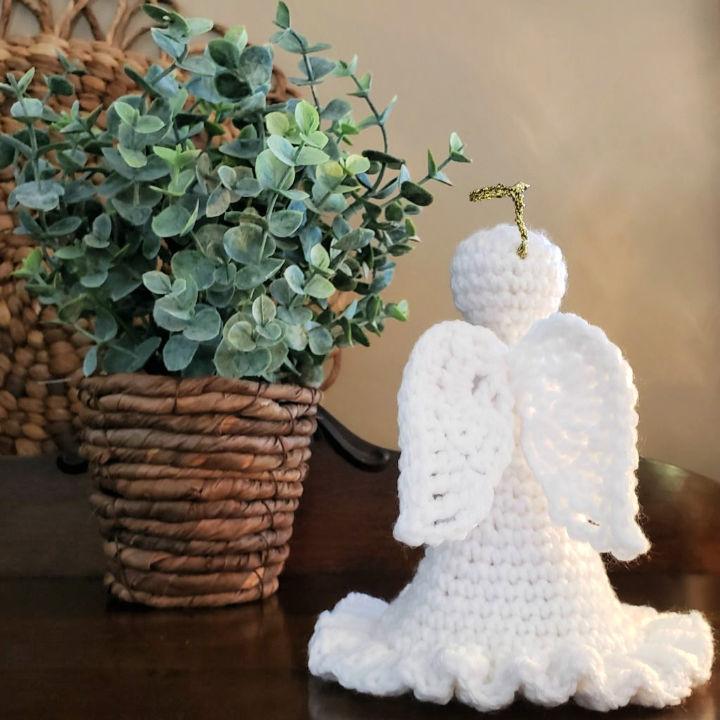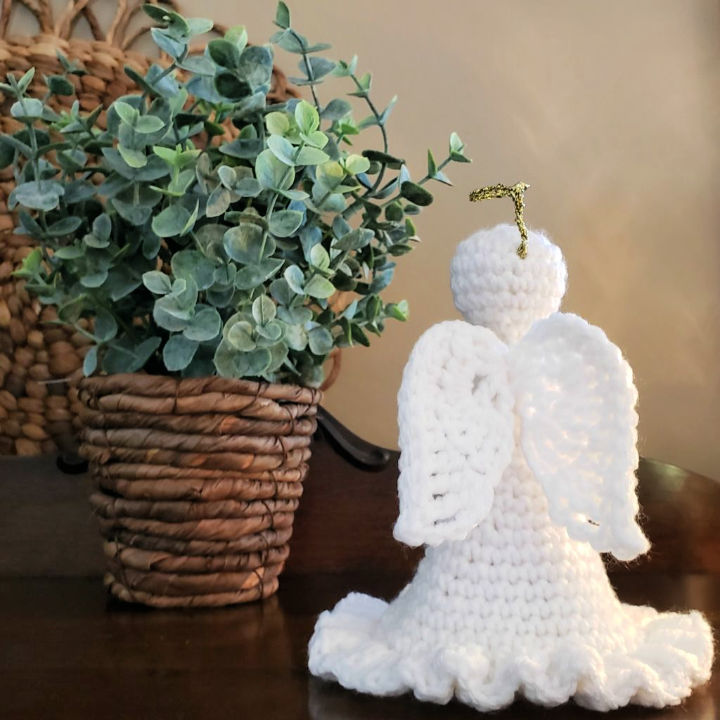 Get your hands busy with a project that can turn out to be eye candy. Try free crochet angel patterns that are simple to make yet very chic to look at. Start at the top of the head and work in continuous rounds to the base of the skirt. Using simple whip stitches, add crochet angel wings to the back. After making the arm, insert into small holes of the dress. oombawkadesign
Yarn: Red Heart Super Saver – (7 oz/198 g; 364 yds/333 m), 100% acrylic
Color: White. My finished angel used 72 yards.
Hook: 4.0 mm (G)
Finished Size: 3.5 inches tall (not including the halo), 3 inches wide from wing-tip to wing-tip
2. Crochet Angel Ornament Pattern Free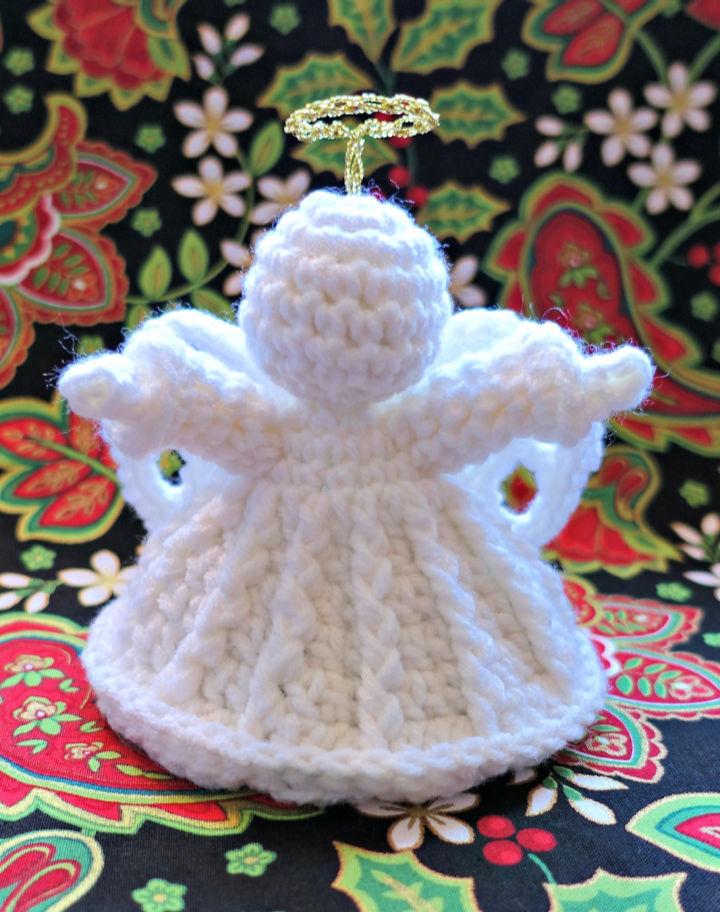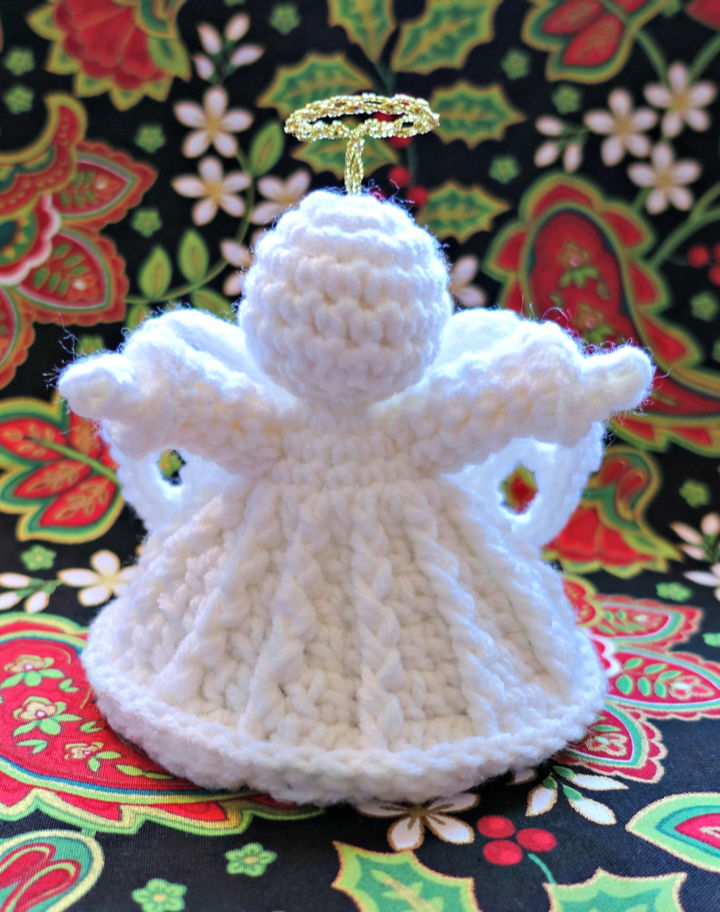 A unique item that can perk up any space you put it on is a crochet angel ornament pattern free. If you put it on a tabletop, the whole dining area is going to have a made-up look. You can even turn it into a Christmas ornament by adding a little bell. Use chain stitch, slip stitch, single and double crochet for the whole process, and complete the rounds. oombawkadesign
Yarn: Red Heart Super Saver – (7 oz/198 g; 364 yds/333 m), 100% acrylic.
Yarn weight: Medium [4] Weight.
Hook: 4.0 mm (G)
Color: White
Finished size: 5 inches tall
3. Crochet Angel Pattern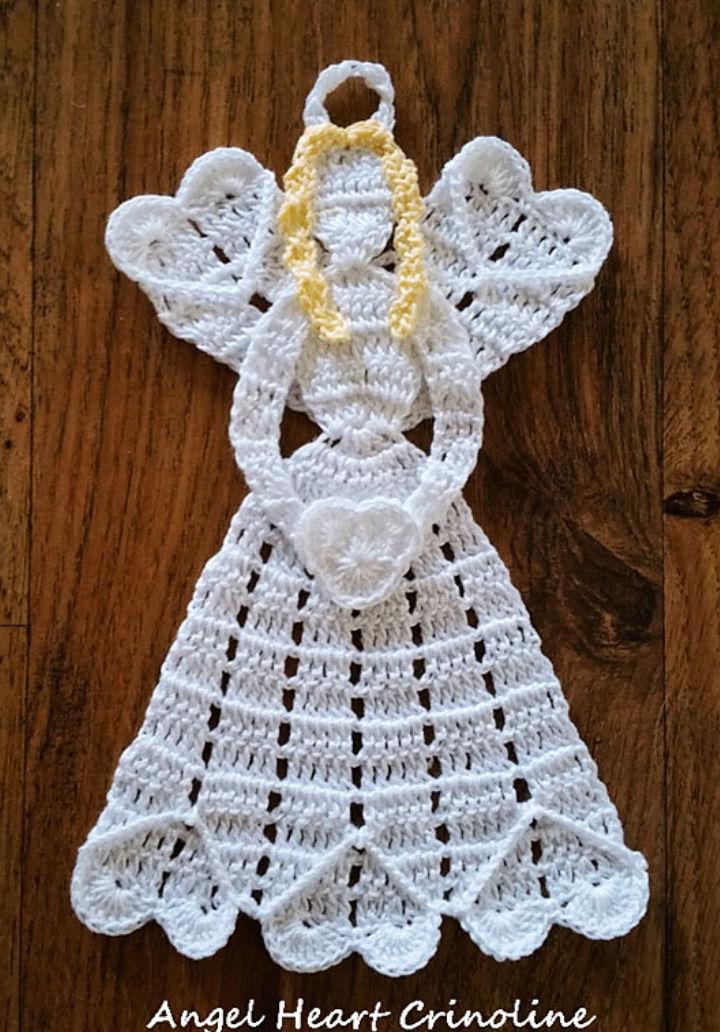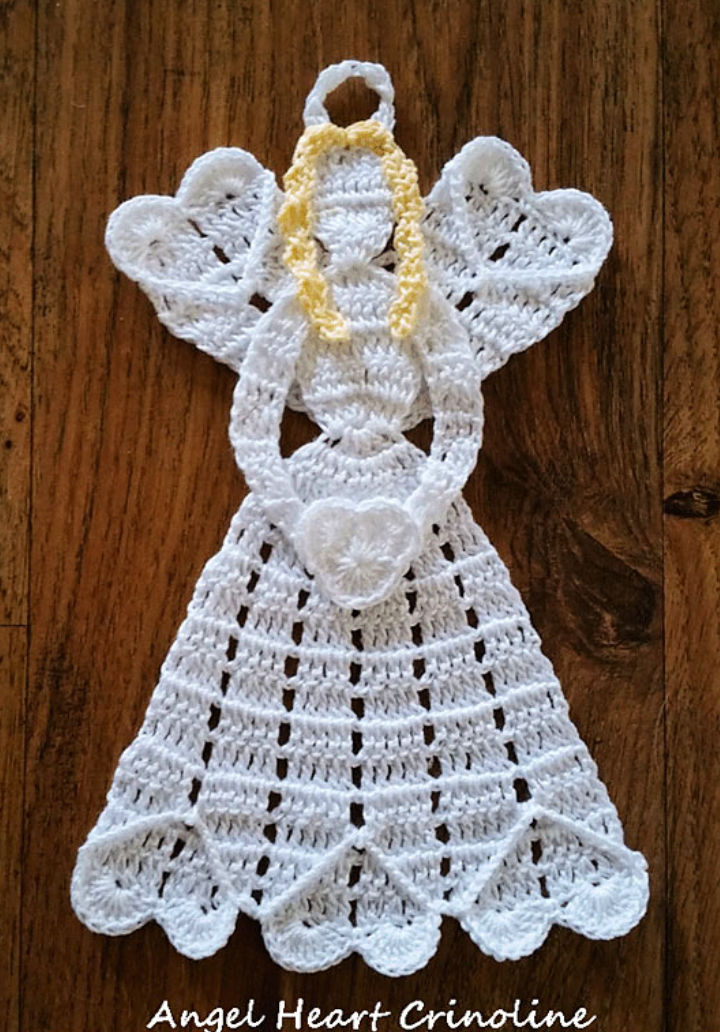 The best way to adorn your mantle or decorate your Christmas tree is with these glorious crochet angels. Lacy crochet angels look super cute when displayed. Make a design that boasts plenty of hearts and adorns it in your fridge or even uses it as a bookmark as it's petite enough. The special stitch used here is a double crochet decrease. Make sleeves, wings, halo, wings, heart bottom, hair, and heart. crochetmemories
Yarn: Sm amt 100% cotton thread, size 10 (white)
Hook: Steel crochet hook size 8 (1.50 mm)
Finished Size: Approx 7″ T x 4″ W
Gauge: 2 rows ½″ T
4. Crochet Angel Wings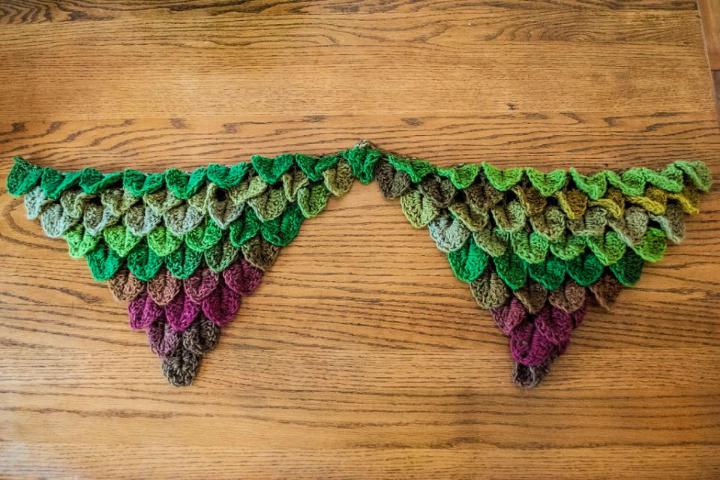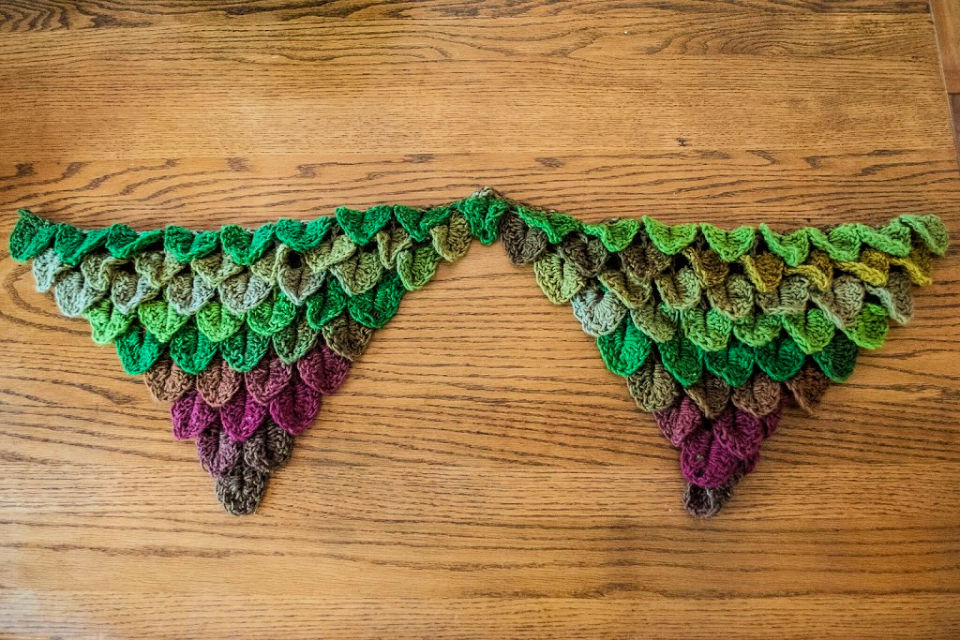 We all want our little angels to spread their wings and fly away eventually. For the literal meaning, make these amazing crochet angel wings for giving the angelic effect. Use a crocodile stitch for the pattern, which will give it a feathery look. To keep them airy for summer, add netted sleeves. Make a set of wings working from the bottom up and then make wing sleeves for both the wings. crochetkitten
Yarn: Cascade Casablanca, skeins
Size: J-10 (6.0mm) crochet hook or size to obtain gauge
Gauge: 1 scale = 2 inches across the top
Finished Size: 2T (4T, 6, 8, 10, 12, 14, 16)
5. Free Crochet Angel Wings Pattern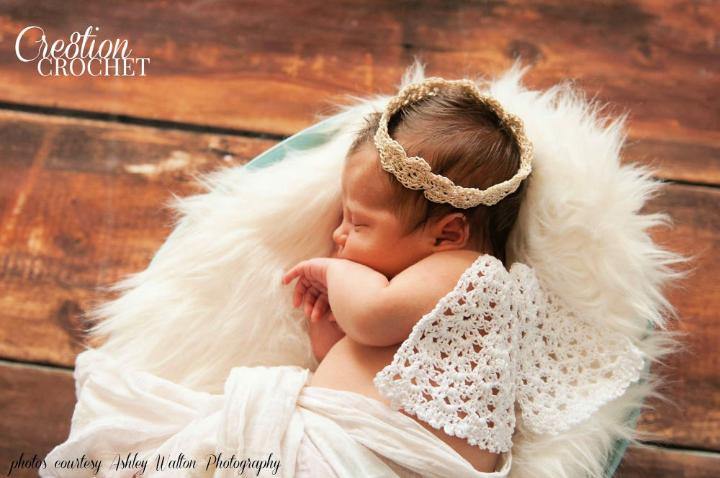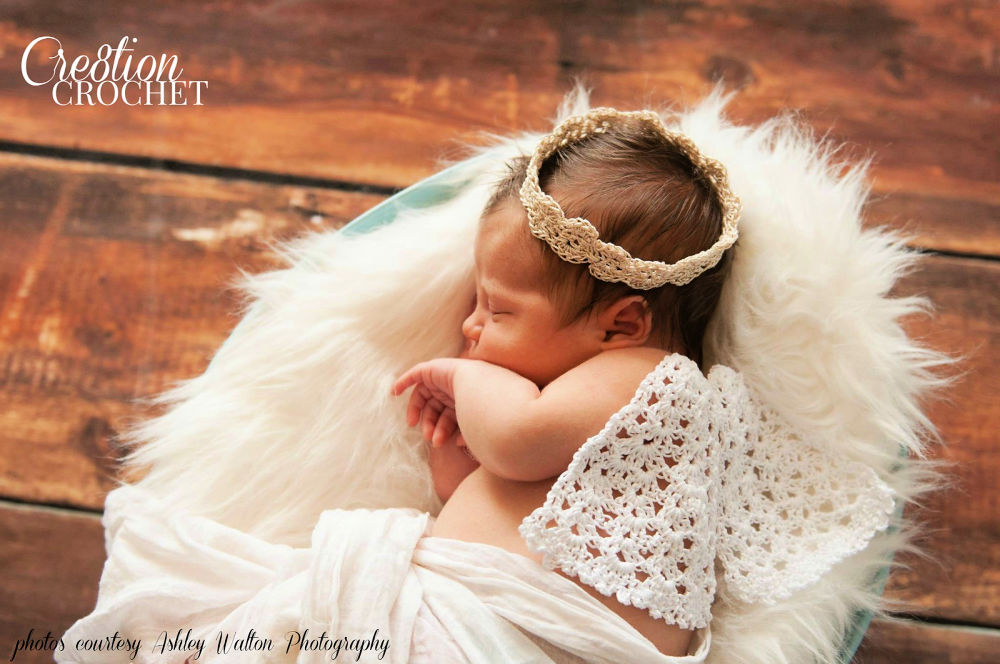 For your newborn, make sweet angel wings that turn out to be an excellent, quick, and easy prop for taking photos. The stitches used are chain stitch, single and double crochet, and half double crochet. Foundation half double crochet is the special stitch used here. Follow the steps to complete rounds of a bunch of rows and make a halo/crown for the top. cre8tioncrochet
Yarn: Aunt Lydia's #3 Mercerized Cotton Thread by Red Heart
Hook size: 3.75mm (F) hook
Finished size: 5" long x 5" at widest point- each
6. Crocheted Angel Pattern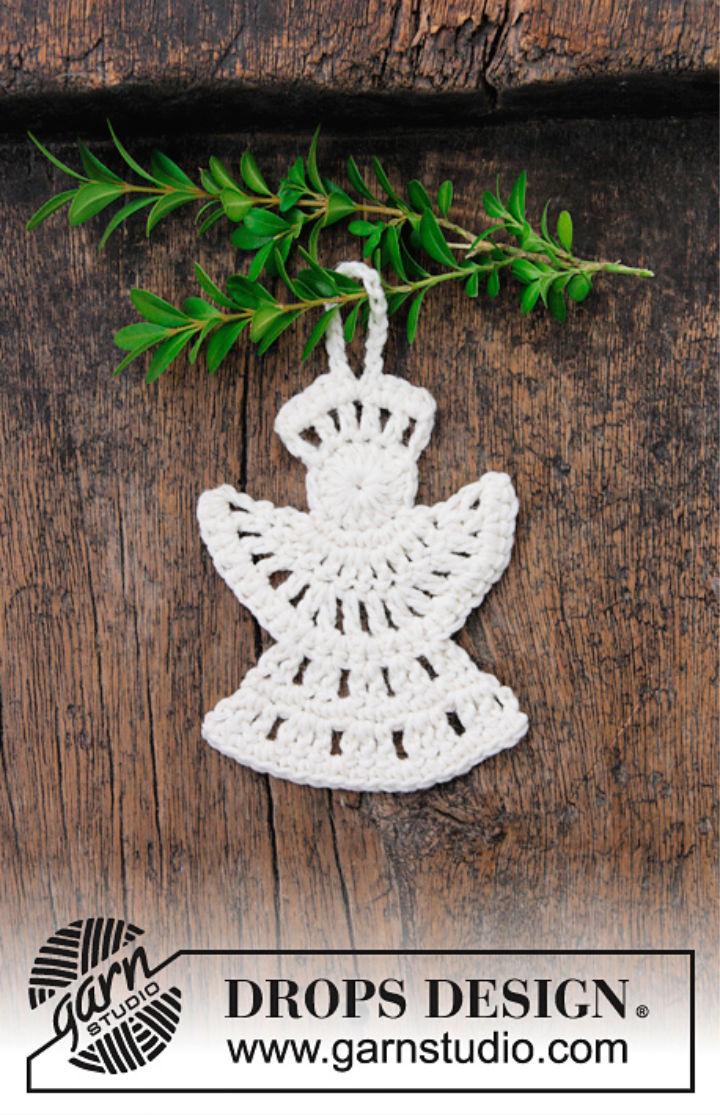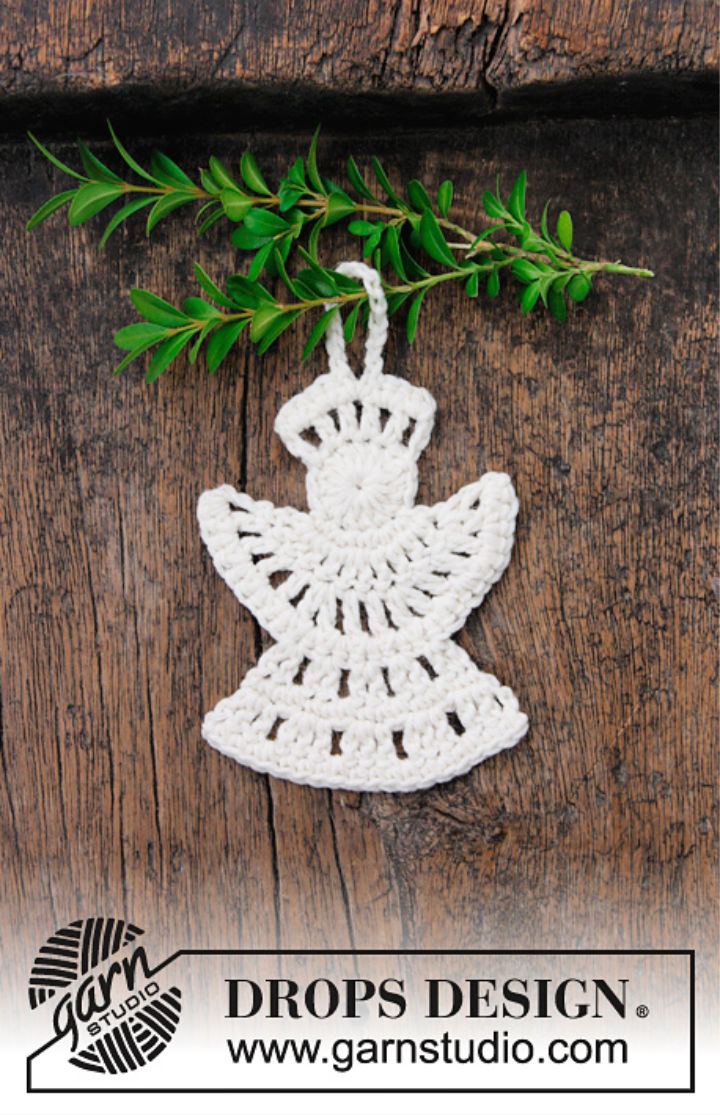 A small angel crochet pattern gives you a nice reason to get busy into doing a new project for crochet lovers. You can make this beautiful angel and use it anywhere around the house. Start the piece by making a circle for the head, then work back and forth up over. The body is also worked back and forth from the head's underside to the bottom of the dress. garnstudio
Yarn: COTTON LIGHT from Garnstudio, 50 g color 01, off white
Crochet hook size: 3 MM / C
Measurements: Width: approx. 8 cm / 3 ⅛". Height: approx. 10 cm / 4" without loop.
Angel weight: 1 angel weighs approx. 10 g.
7. Crochet Angel Pattern Free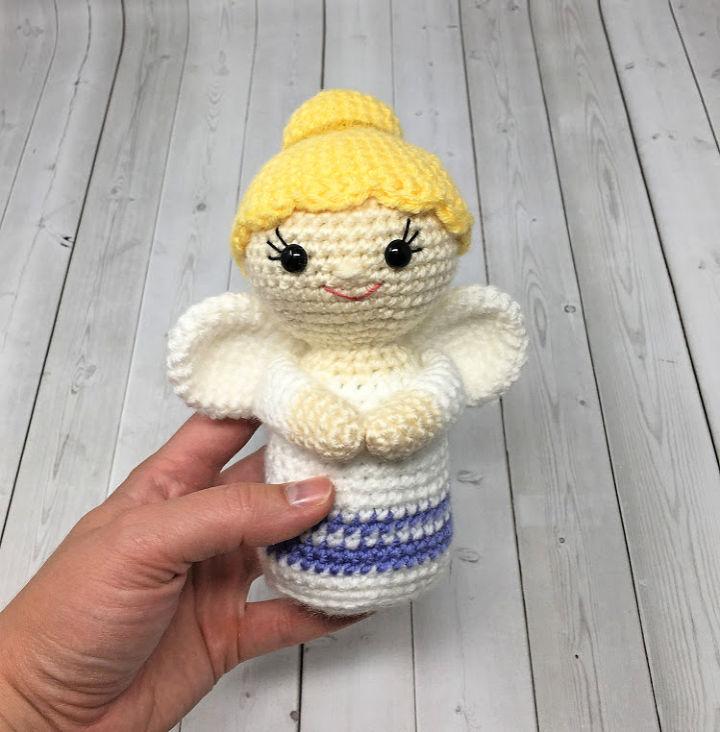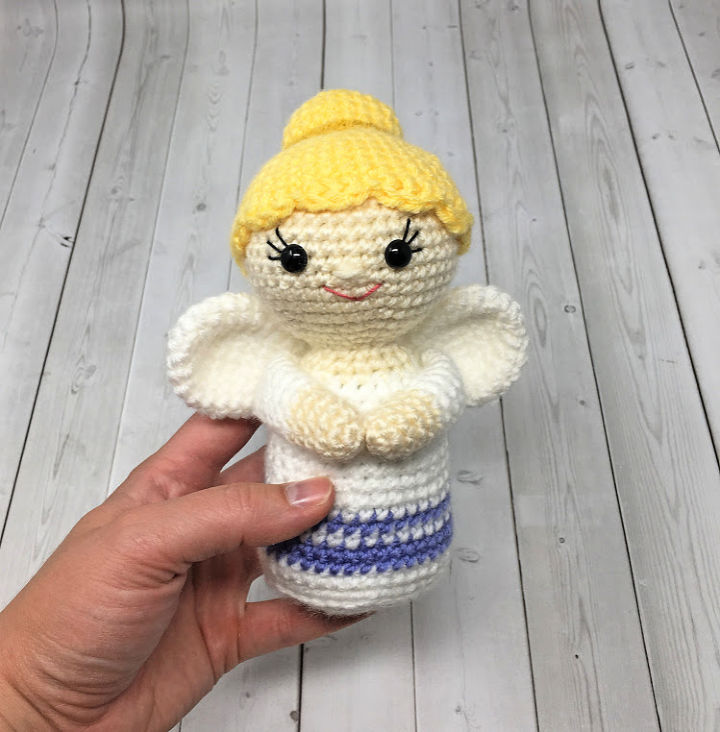 Make a beautiful crochet angel that can look magical and is a perfect gift for anyone. The whole process is pretty simple. You have to work in a magic circle and use invisible decreases. Make the design worth it by following a few extra steps by making the body and head in one piece and then sewing its arms, wings, and hair. Add bun and eyelashes. graceandyarn
Yarn: Size 4 worsted weight yarn
Crochet hook size: 3.5 mm
Finished size: about 7 inches tall
8. Free Crochet Angel Pattern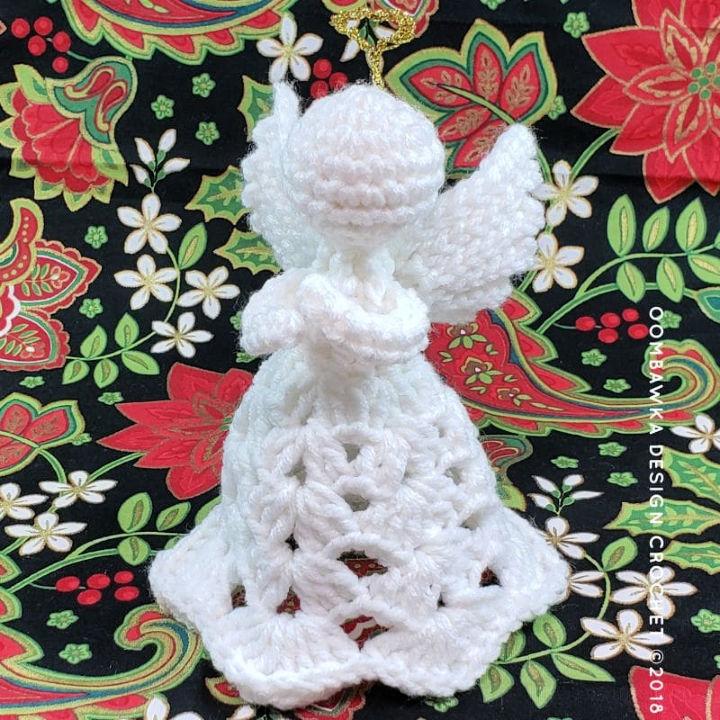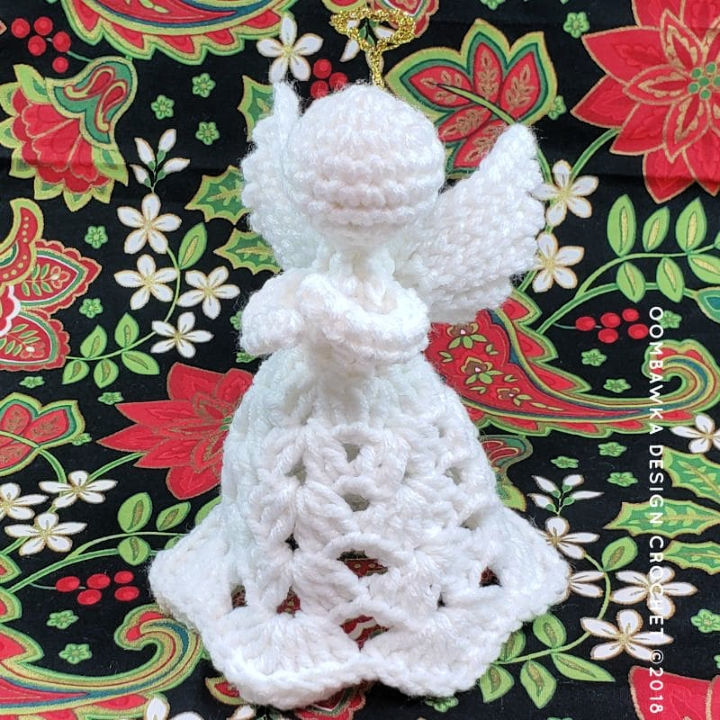 A very affordable pattern for you to crochet would be a little angel. You could make multiple crochet angels with a single ball of yarn. Begin the process by starting at the top of its head and work in continuous rounds to the skirt's base. With a whip, stitches add arms to it and also slip the crocheted halo between stitches at the top of its head. oombawkadesign
Yarn: Red Heart Super Saver – (7 oz/198 g; 364 yds/333 m)
Hook: 4.0 mm (G) except for the halo
Color: White
9. Crochet Angels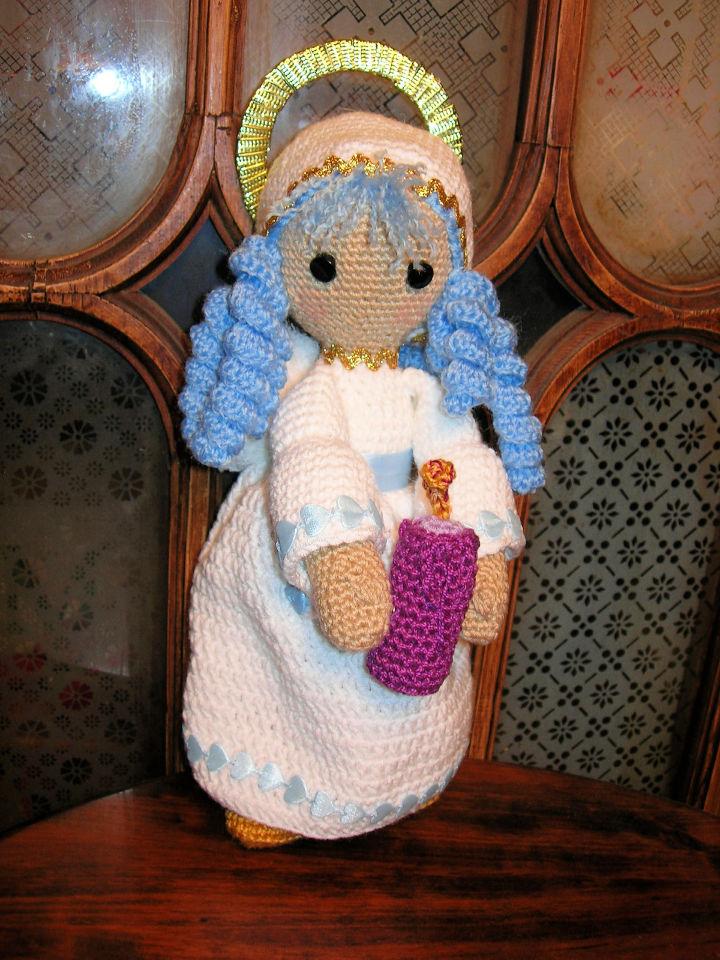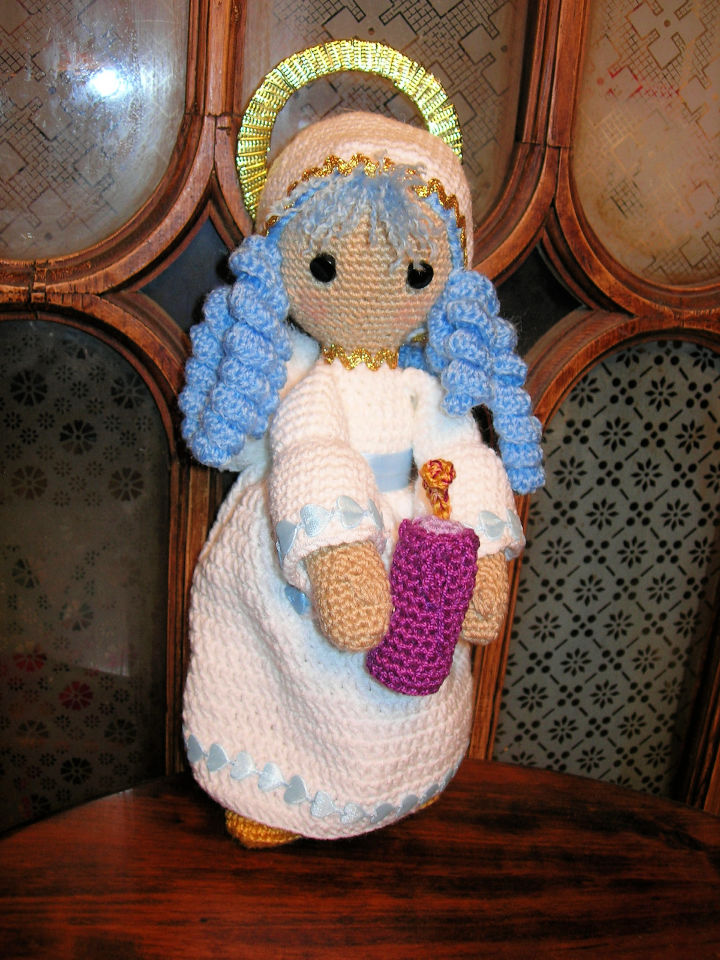 We have a clear idea of angels being definitely masculine. Make a crochet angel with a completely masculine look and add wings to complete the look. The stitches used are single crochet, slip stitch, chain stitch, and a bunch of other stitches for the overall complete project. Start with making the body, then head, feet and legs, and then the rest of the parts. galamigurumis
Yarn: cotton in color chosen for the skin
Fantasy wool for hair
10. Crochet Angel Bunny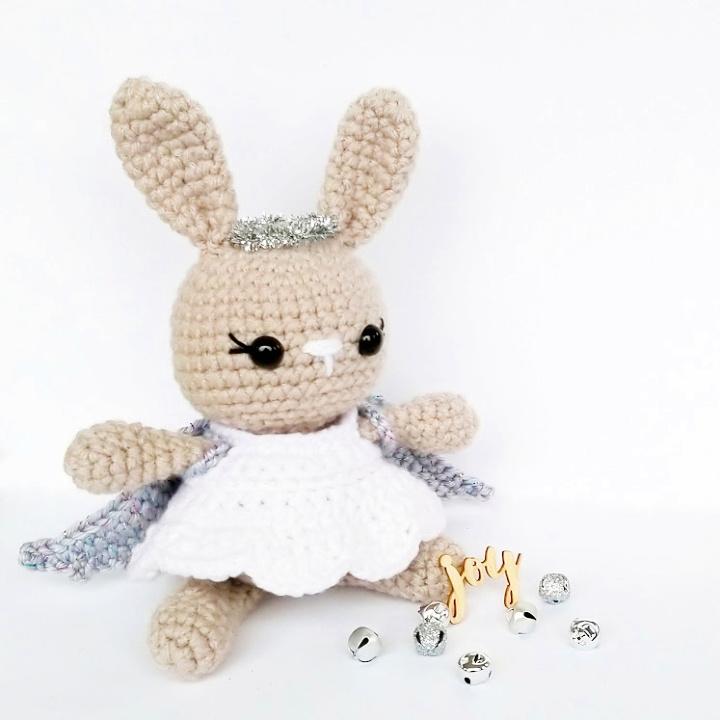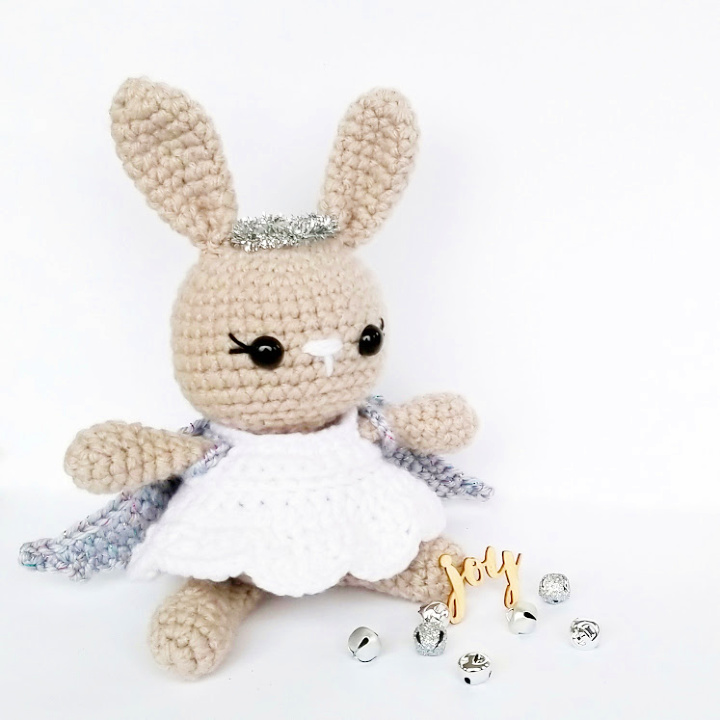 For strength, joy, love, and peace, you need to have an angel in the house. A bunny angel fits the definition properly as it has wings to complete the whole avatar. You can easily make this pretty little angel bunny by crocheting all the parts separately. You need to use many stitches like the magic ring, slip stitch, single crochet, half double crochet, and a few others. thecozychipmunk
Yarn: Worsted Weight: Approx. 120 yards
Color: White, Fur Color of your choosing, Silver/Grey
Hook: CLOVER 1043/E Magenta Amour Crochet Hook
Hook size: E, 3.5mm
Finished Size: 6.5 inches seated, from the tips of the ears down
11. Crochet Angel Ornament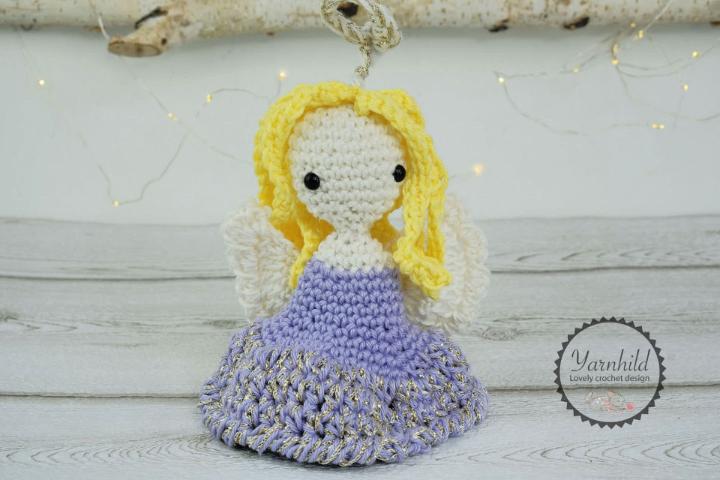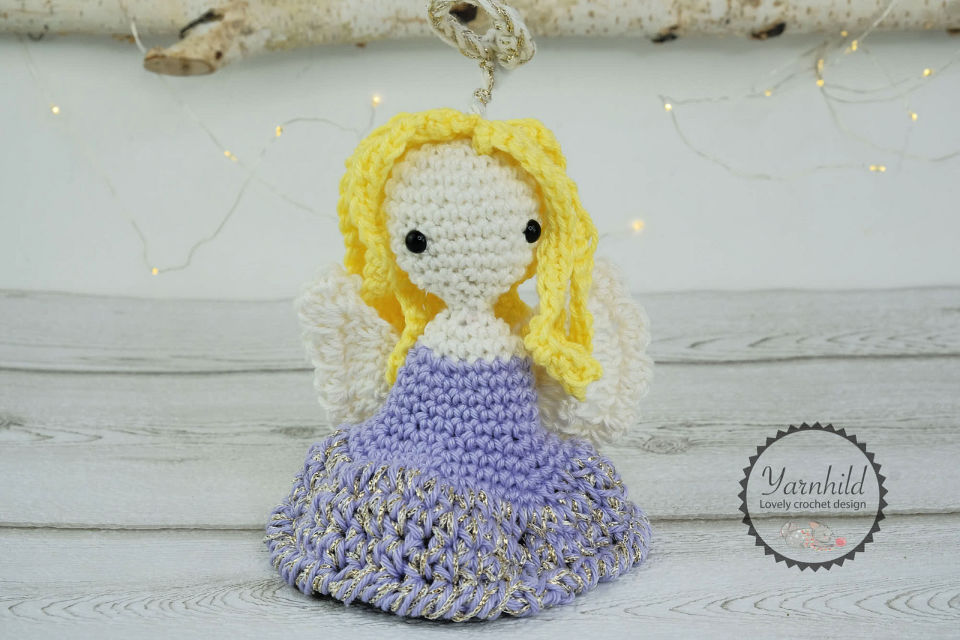 Start working on your crochet angel when you have some time left before the holiday season starts. That way you can have some new excellent decorations and gifts too! You require chain stitch, slip stitch, single and double crochet for the pattern. Special stitches include crab stitch and the magic ring. Make head and body separately but by working in continuous rounds. yarnhild
Yarn: Schachenmayr, Catania 100 % cotton
Color: blue
Crochet hook size: 3.0 mm
Finished size: 11 cm/ 4,5 " long
12. Crochet Angel Wings Pattern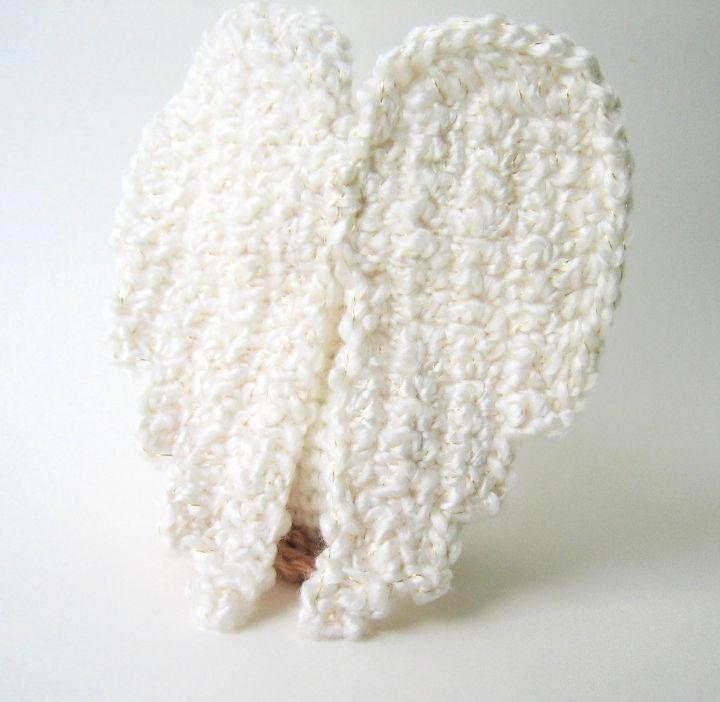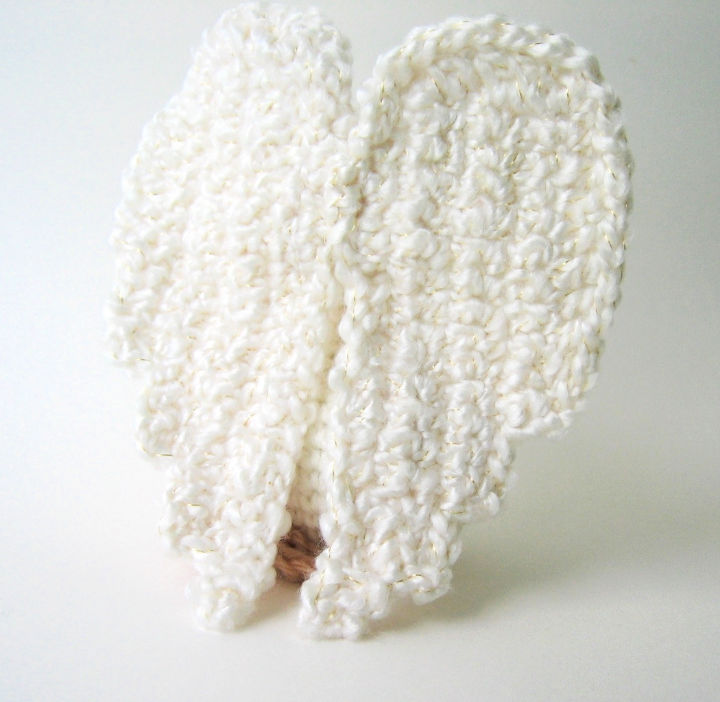 An angel wings crochet pattern is a delightful set that you can easily work up in an hour. It's best for baby photo props, pet costume, or for children costumes too. The stitches used are single crochet, double crochet, and half double crochet. Start working from the top towards the bottom and use slip stitch in last around the corner to round it off. simplycollectible
Yarn: Lion Brand Holiday Homespun in Starlight or any boucle or Bulky yarn/ 12 ply – 10 oz or less
Hook size: I/5.5mm
Finished size: Single strand wings average 4″ wide and 8″ tall & Double strand wings average 9″ wide and 12″ tall
13. Amigurumi Angel Wings With Halo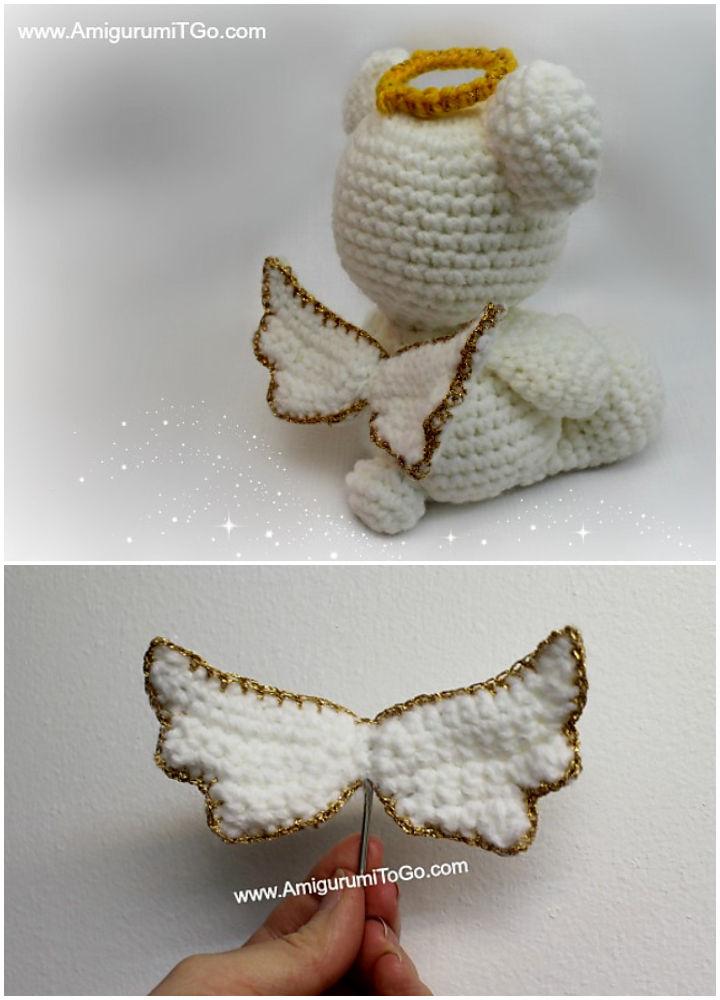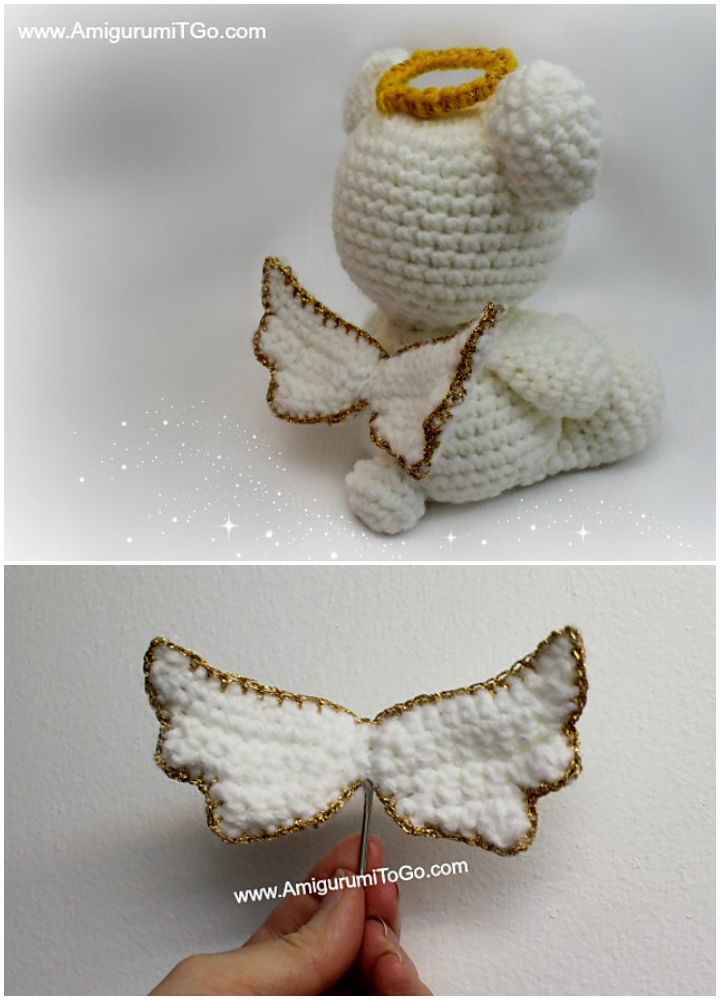 Make a simple and nice amigurumi pattern for angel wings and add a halo on top for the complete look. It looks cute used as an ornament and is also a perfect Christmas hanging decoration. With only a single crochet, chain one, and slip stitch, you can complete the whole pattern. Make the head and body separately and begin with a long starting chain. amigurumitogo
Yarn: Worsted weight yarn in white
Yellow yarn for the halo
Hook size: 4mm
Wings Size: 5 inches across at the widest points.
14. Elegant Angel Topper Pattern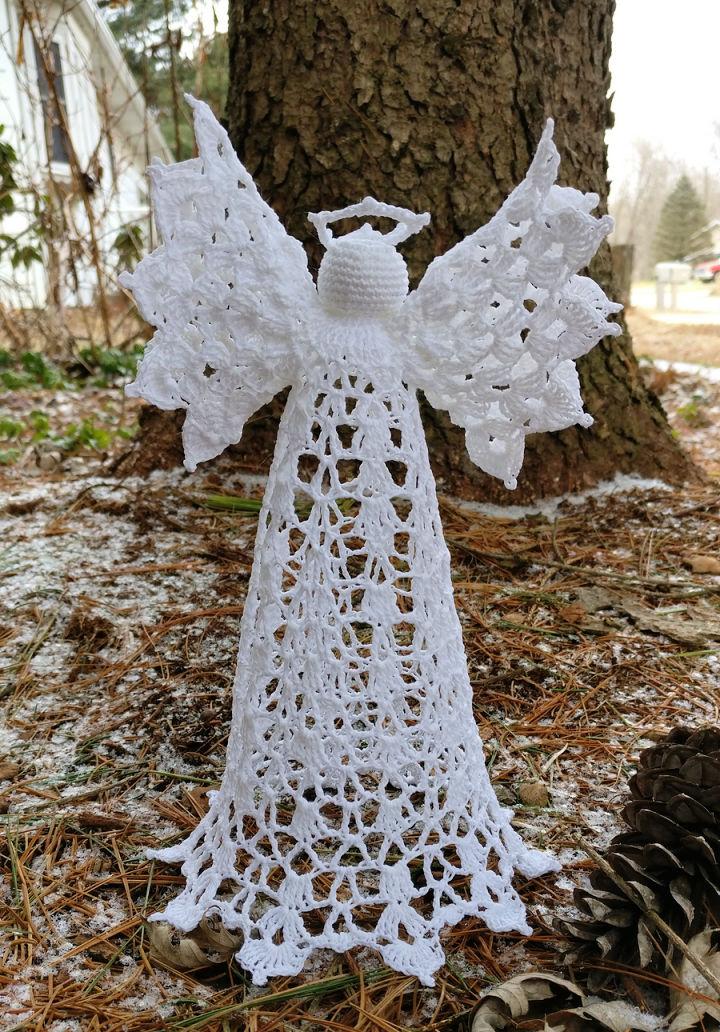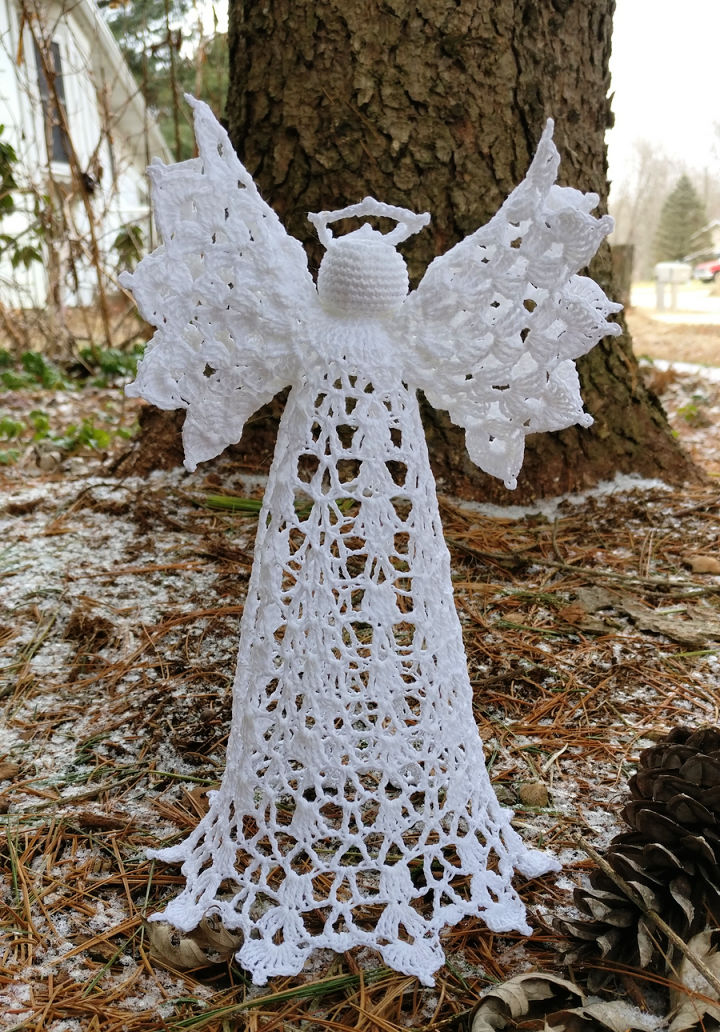 When you want to make a big sized crochet angel, create a loved angel topper. This can go beautifully as an angel Christmas tree topper while looking as lovely as a centerpiece too. The special stitch required here is the magic circle, and you have to work on a bunch of rounds before completing the whole project. Make everything separately and sew it together. madhooker
Yarn: size 10 cotton thread
Hook size: 1.50mm crochet hook
Finished size: about 9 inches tall
15. Free Crochet Angel Amigurumi Pattern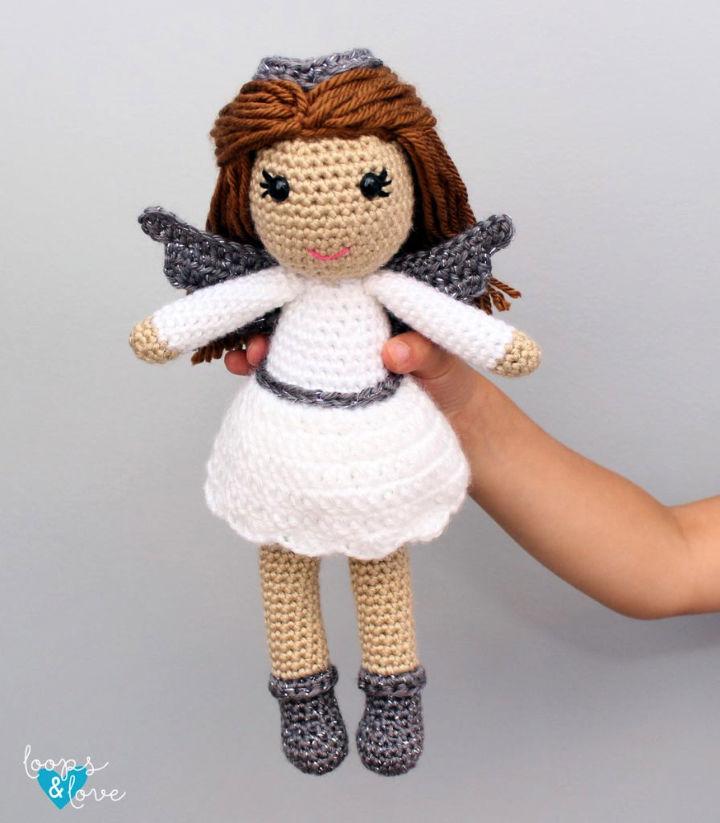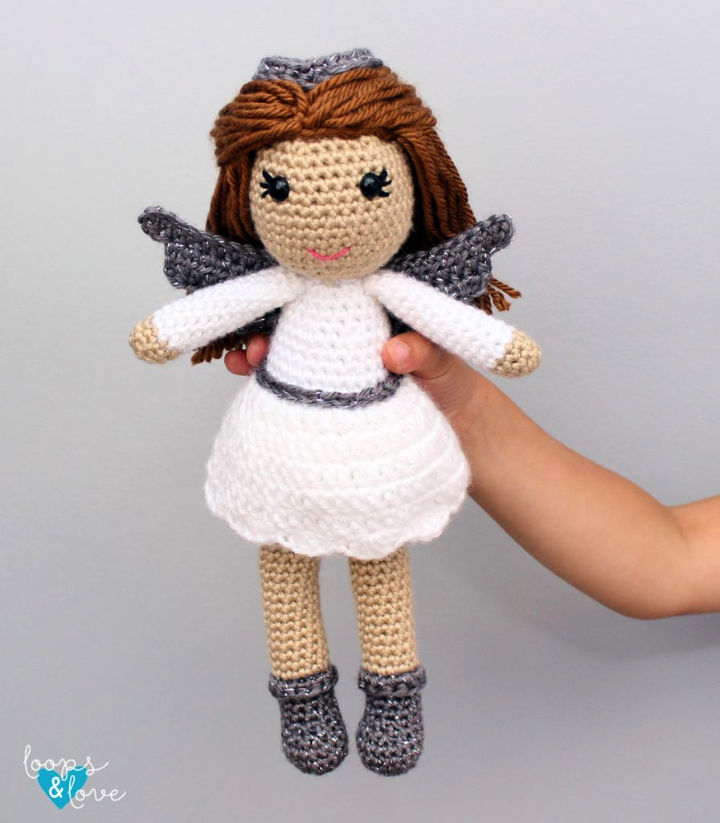 For holiday crocheting, an angel amigurumi is a perfect project. The best part is that this angel is great for cuddling, decorating, or even gift-giving. It will be able to sit and stand independently too. Use a magic circle, continuous rounds, joining rounds, and color changes to finish the project. You will have to add some stuffing to the body so that it remains stiff. loopsandlove
Yarn: worsted weight yarn
Hook size: 4.0mm
Finished size: about 12 inches tall from head to feet
16. Suzie's Little Angel Bookmark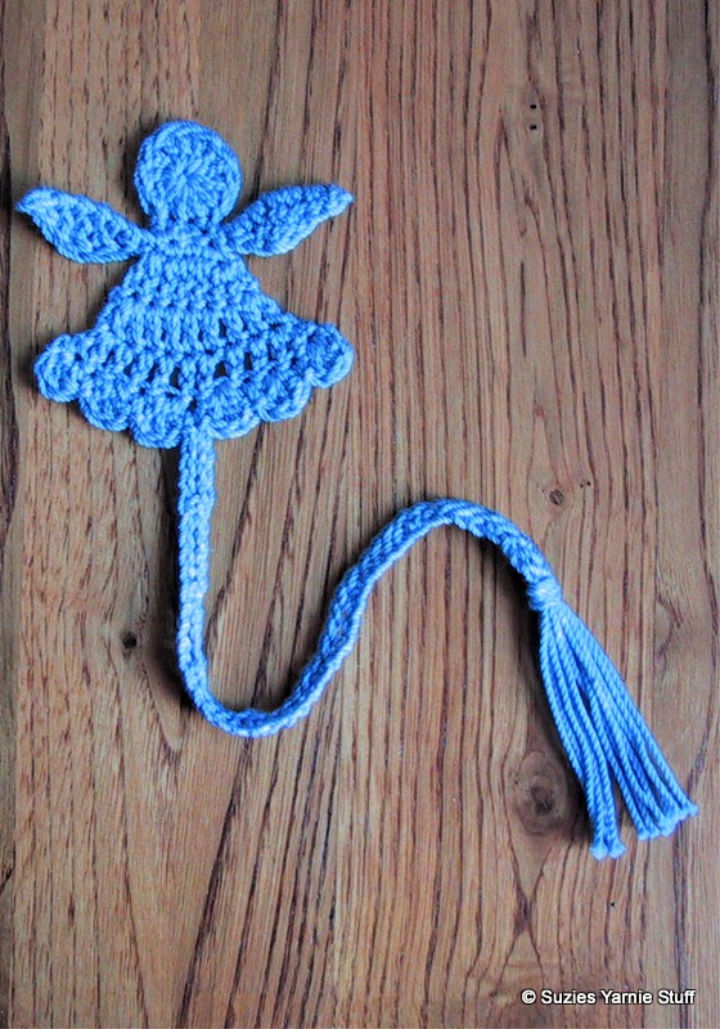 When you want to remember where you left off while reading a book, crochet an angel bookmark for your ease. It will look nice too and can prevent you from folding or turning the page. With a bunch of stitches like slip stitch and chains, you can complete this small project. Keep from pulling the slip stitches too tight and begin by working on the head. suzies yarnie
Yarn: Size 3 crochet thread
Hook size: Size E (3.5 mm) crochet hook
Finished Size: Angel 2.75 inches, overall length 13 inches
17. Cindy the Angel Crochet Pattern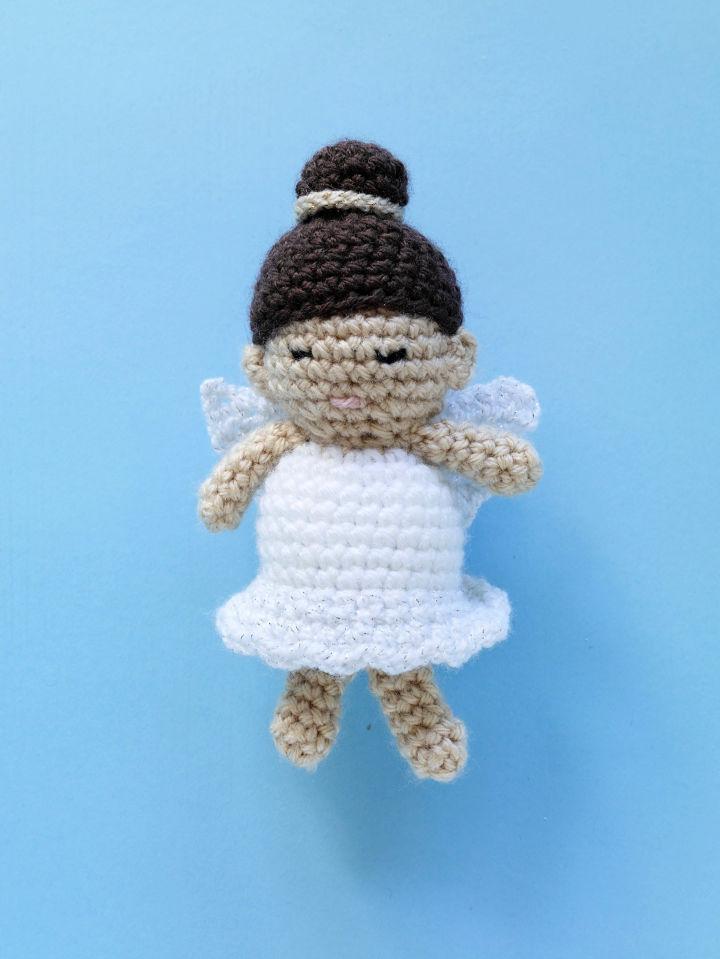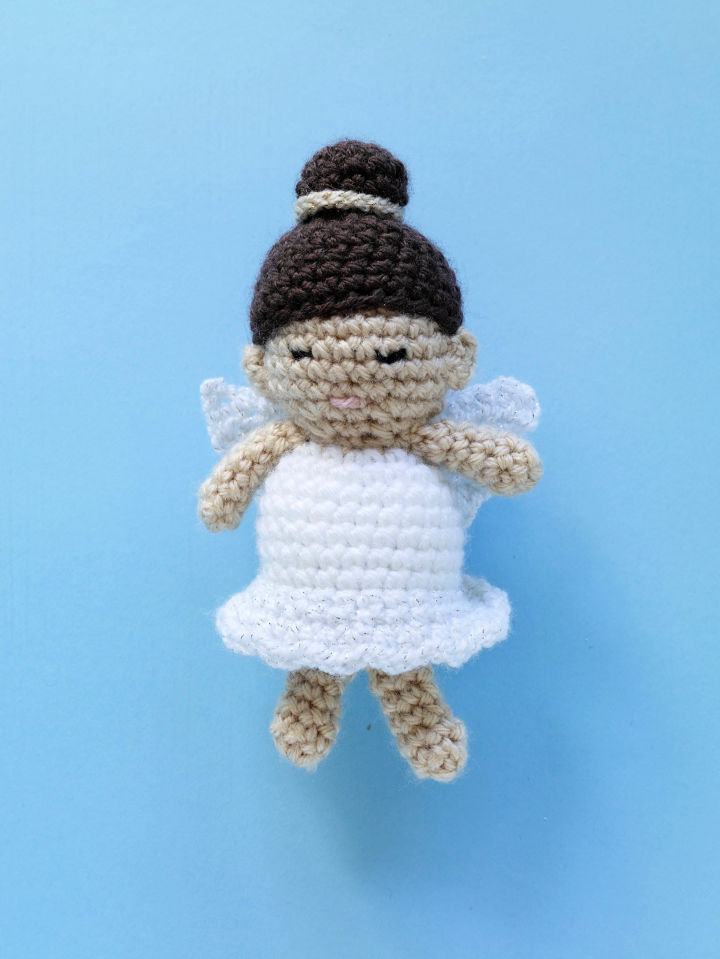 Looking for some different ideas for holiday decor this season? This adorable angel amigurumi fits your needs perfectly. Use it up on display anywhere, so whisk it off to save as a special gift. You require single crochet and half double crochet for this project. Rounds and chains will join everything together and then sew all the parts at the end. lionbrand
Yarn: Lion Brand Vanna's Choice Yarn in different colors
Hook size: G-6
Finished Size: About 6 in. (15 cm)
18. Crochet Angel Patterns Flat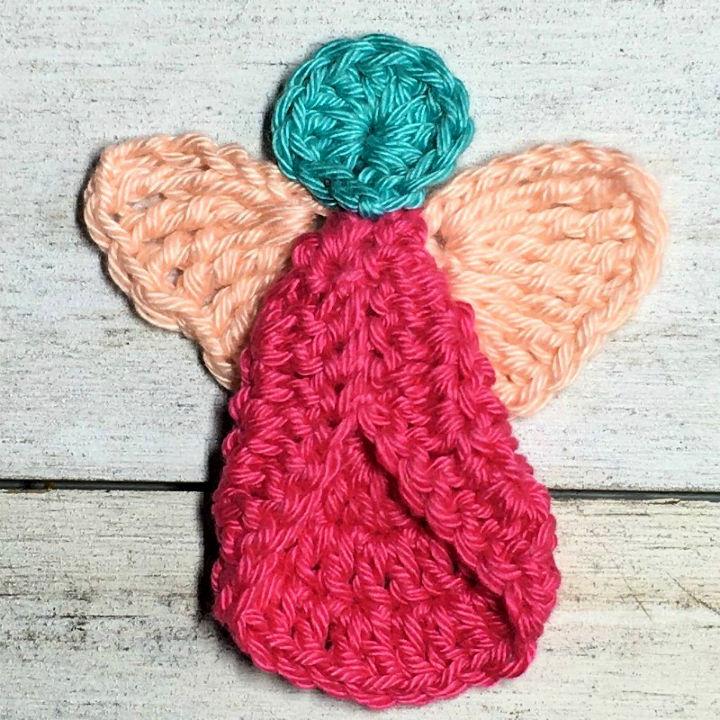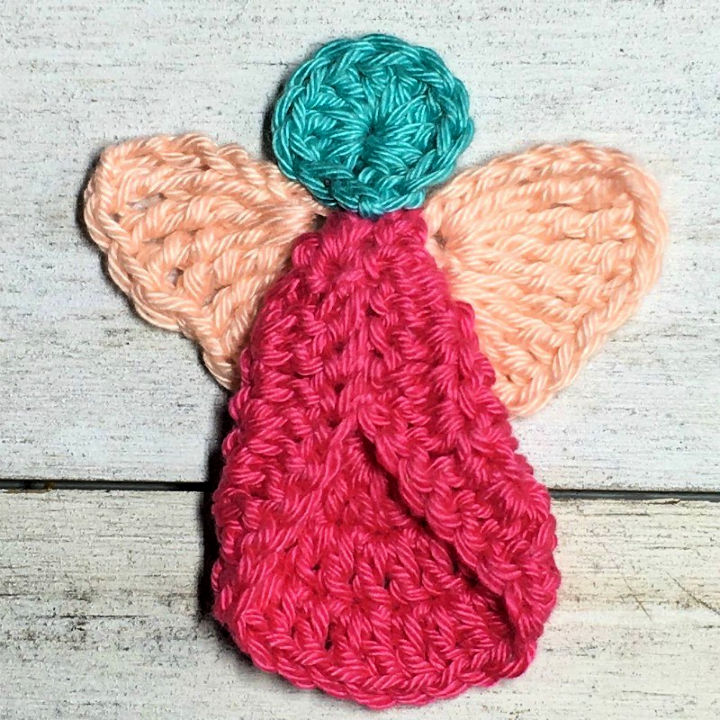 For the love of crocheting, try making these beautiful and cute little angel patterns. You can work on this project for just a few hours, and the result is really quite fascinating. After making the body, fold it in half so that you can sew the wings to its back. The end of the head can be used to put through the body and wings. atty s
Yarn: cotton-like Catania or Catania
Hook size: 3mm
Finished size: 8cm
19. Crocheted Angels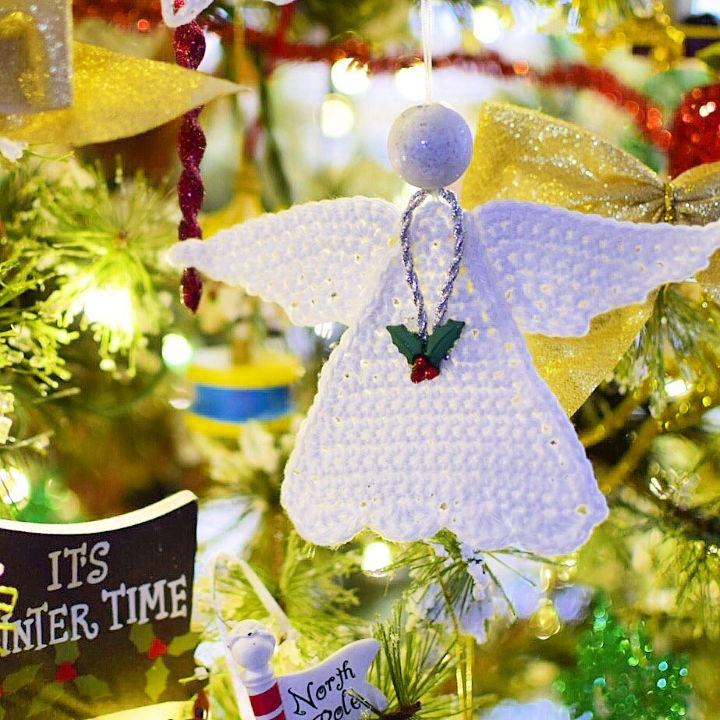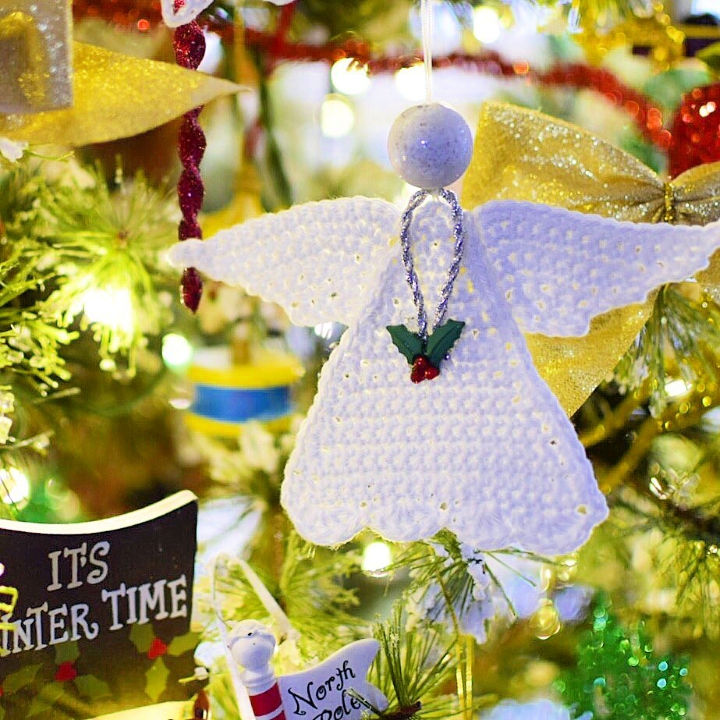 Don't reserve an angel pattern to be used only around Christmas. This can be a fantastic product to be used for decorations throughout the year to spread extra cheer. It is as simple as crocheting a triangle. With single crochet, chain, and slip stitch, you can make the body of this angel. Add a little ball for making the head of the angel and sew buttons to the dress. cynthiabanessa
Yarn: use yarn of your choice ( the thicker the yarn, the larger the angel)
Hook size: (depending on the size of the thread) crochet hook
20. Crochet Angel Ornament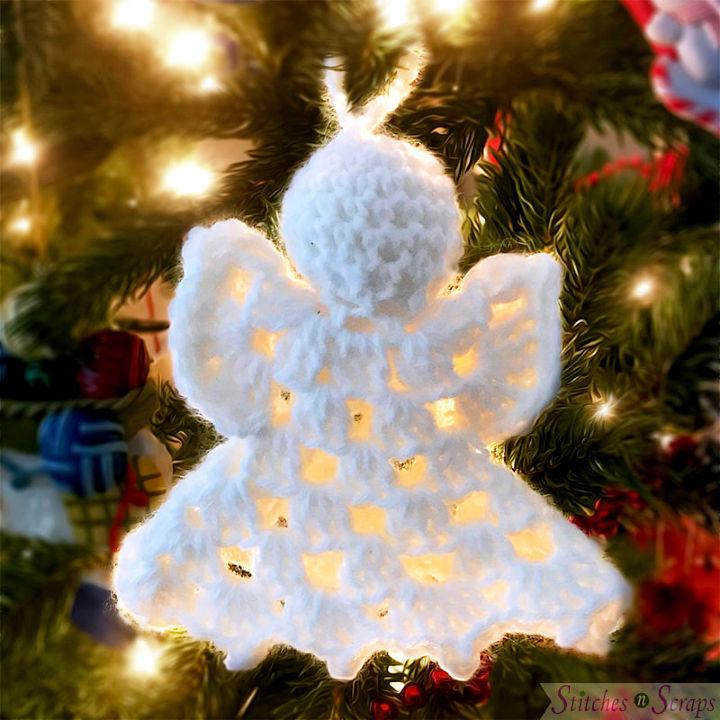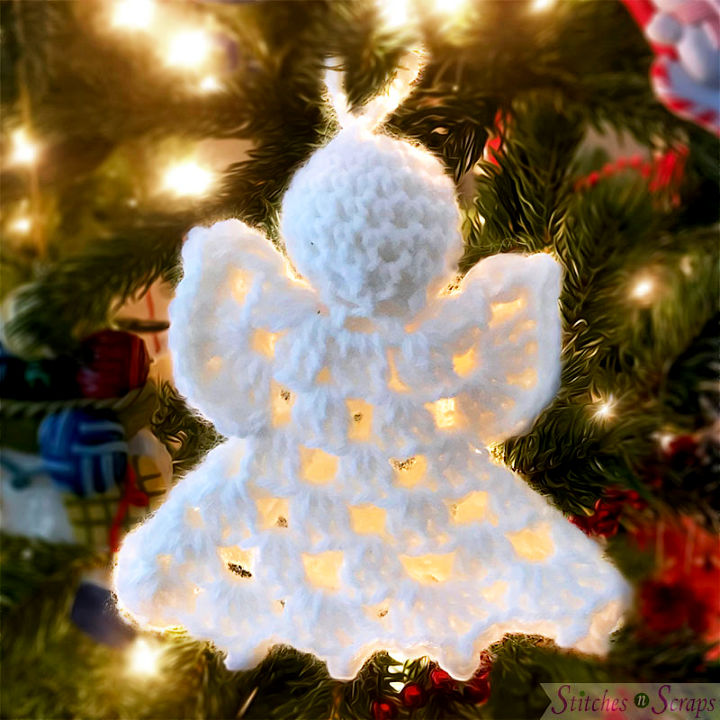 In just an hour, make a sweet little angel ornament, and enjoy giving gifts to your friends and family. It has an open granny stitch pattern so that when you hang it on a tree, the lights shine through it. Work up the whole project with single and double crochet, invisible increase and decrease and leave an 8-inch starting tail. Work the entire angel on the right size. stitchesnscraps
Yarn: 40-50 yds Worsted weight yarn
Hook Size: H / 5 mm hook
Finished Size: About 6 inches tall without counting loop
Gauge: Use head as a gauge swatch
21. How to Crochet Angel Ornament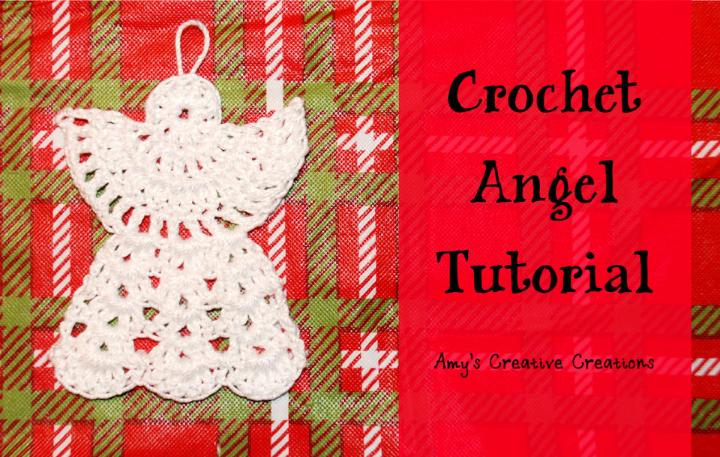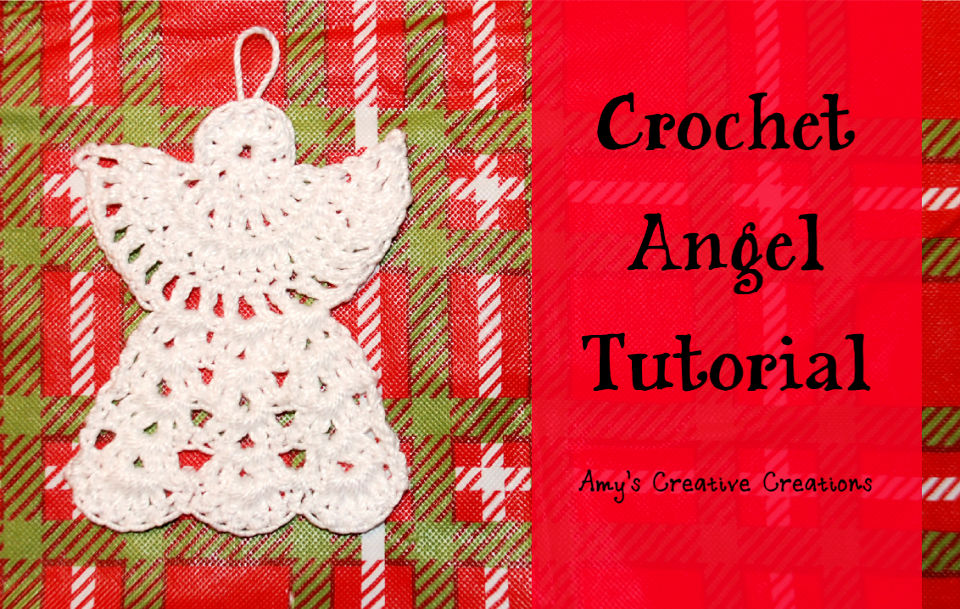 Make a beauty at its own angel pattern that makes up your time worth your while. It is perfect to be used as an ornament. Work in separate rows and complete the rounds. Chain for the head and join with a slip stitch to form a ring. Don't finish off the head, and start working towards the wings. You can starch and block the angel out to the desired size. amyscrochetpa
Yarn: bedspread weight crochet thread about 30 yds-white
Hook size: 7 steel crochet hook
Gauge: in shell stitch
Finished size: approx. 4 or ¼' tall
22. Handmade Angel Crochet Pattern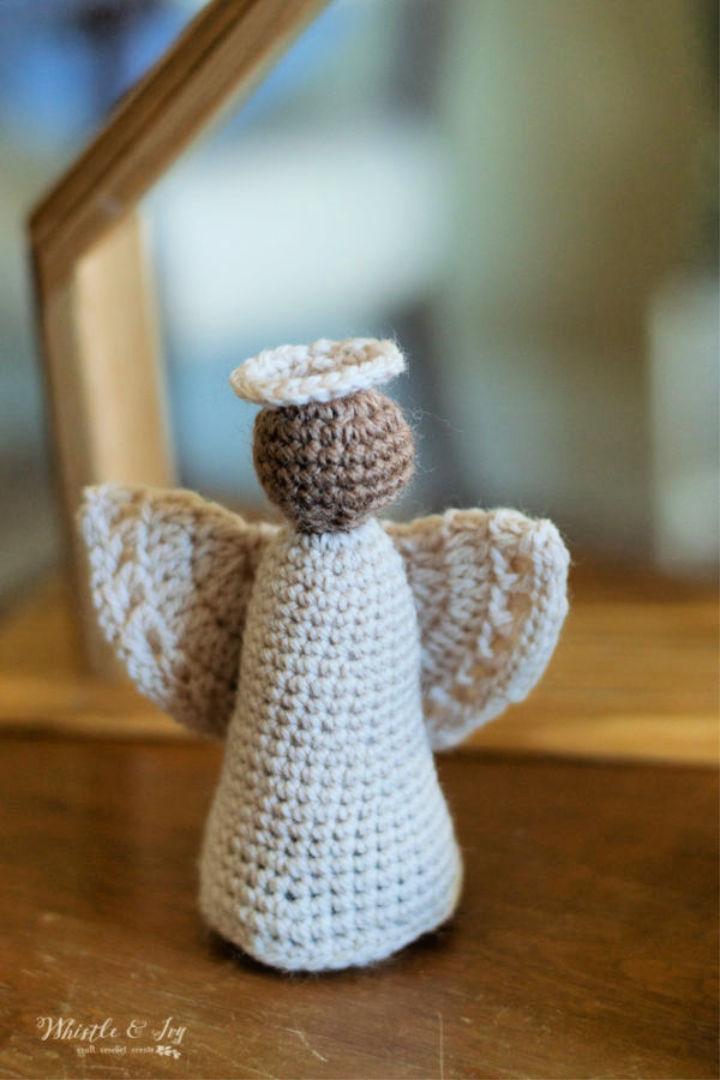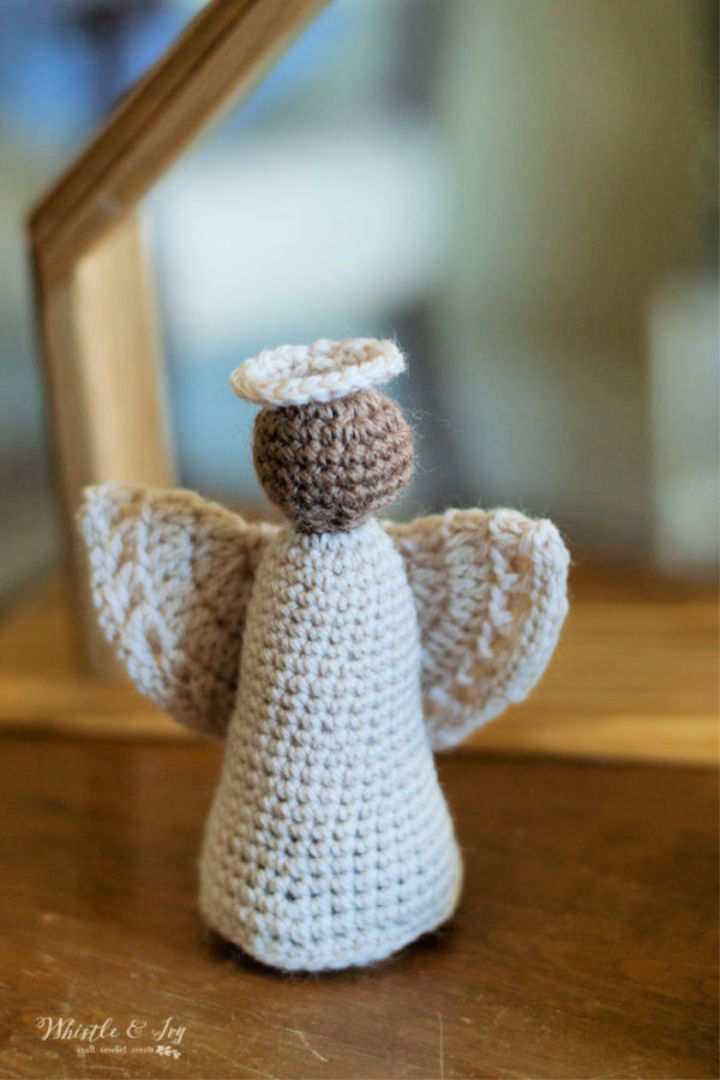 A must-have addition to your handmade crochet nativity is this rustic and easy crochet angel. It has a wider bottom, while the pattern is similar to any standing project. Make a magic ring and stuff head. Make chains and break yarn after finishing the head. Leave a long tail and sew up the remaining hole with a tail. Make halo and wings and attach the halo by using hot glue. whistleandivy
Yarn: Fingering Weight Yarn
Hook size: 3.5mm
Conclusion:
An angel symbolizes many things, including strength, love, joy, and peace. So make them have that peaceful effect around the house. These free crochet angel patterns are the best pastime projects and are so economical that you don't have to spend much on them. These crocheted angels hold their shape and stay in place easily, so you can display them anywhere. Insert them in your cards, making them the best go-to gifts for anyone. You are sure going to have fun making this crochet angel pattern. The best part is that yarn is machine washable and dryable, and solid colors also stay in place.