Never underestimate the power of fresh, vibrant colors to bring about a change in the ambiance as well as our moods. So for throwing an awesome dinner party, make free crochet tablecloth patterns and change the whole routine of your entertainment parties. Even if you have an old-style table design, decorating it with a new crochet tablecloth pattern can give it a new fresher look. While changing the whole outlook of the dining area! When you combine your love of colors with beautiful borders of the tablecloth, the whole idea is going to up your crochet pattern!! Even if you go basic with the rest of the tablecloth design.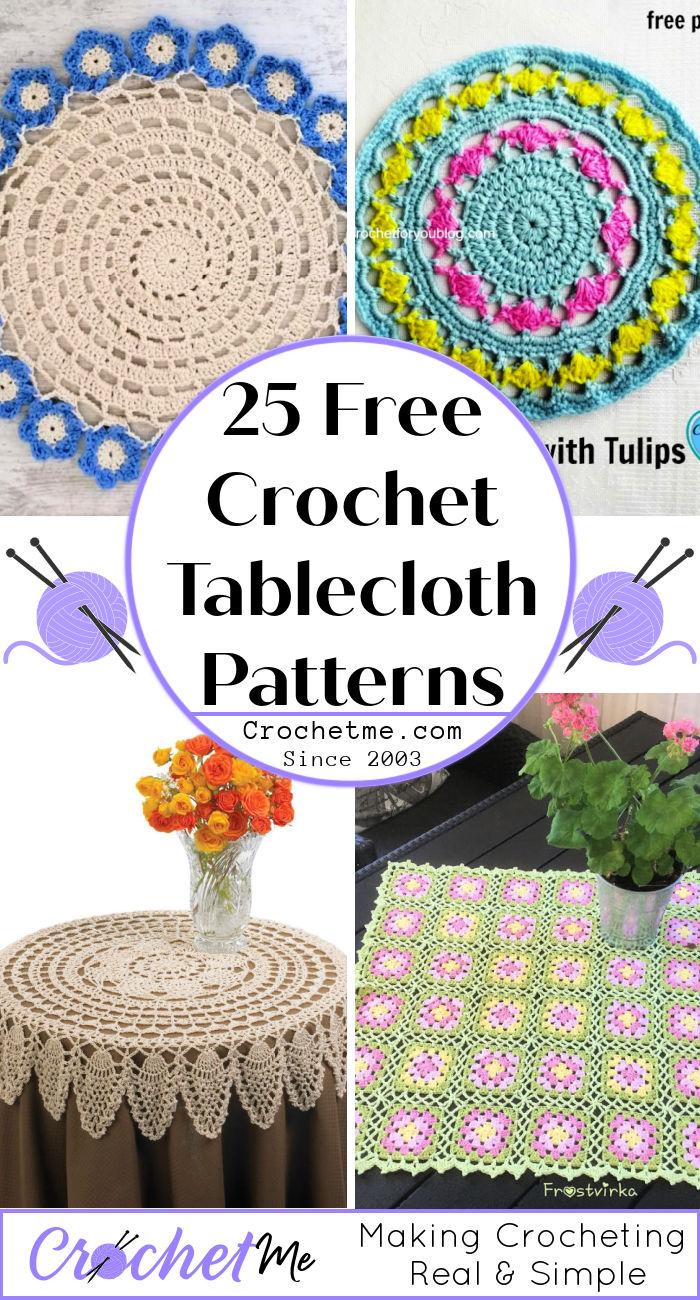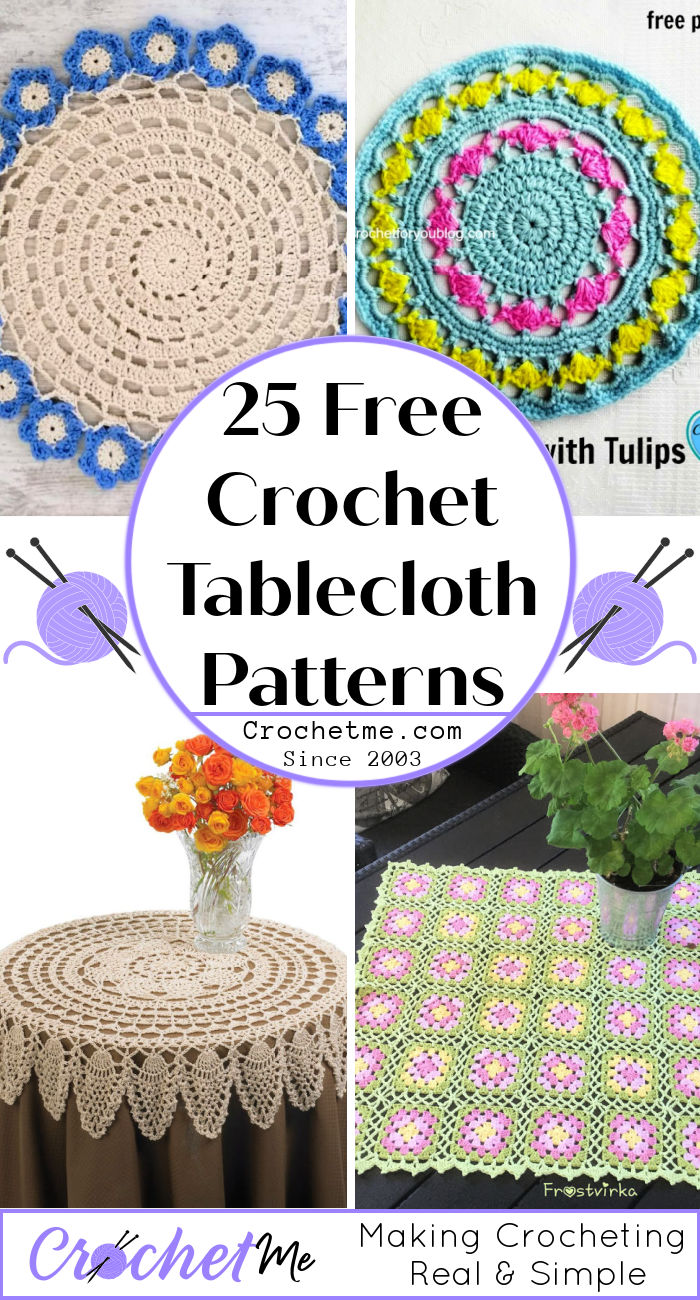 A beautiful crochet tablecloth pattern has a slightly vintage look while holding a modern touch because of the vibrant colors. Amid all the other things you will display on the table, these free crochet tablecloth patterns will stand out. In this article, find 25 free crochet tablecloth patterns and by following a few steps to make your own exciting designs. Like crochet butterflies tablecloth, a tablecloth pattern for beginners, round tablecloth pattern, or a vintage one. All in simple ways and very low cost to add some more zest to your parties or even when the whole family gathers for a nice chat over dinner.
1. Crochet Tablecloth Pattern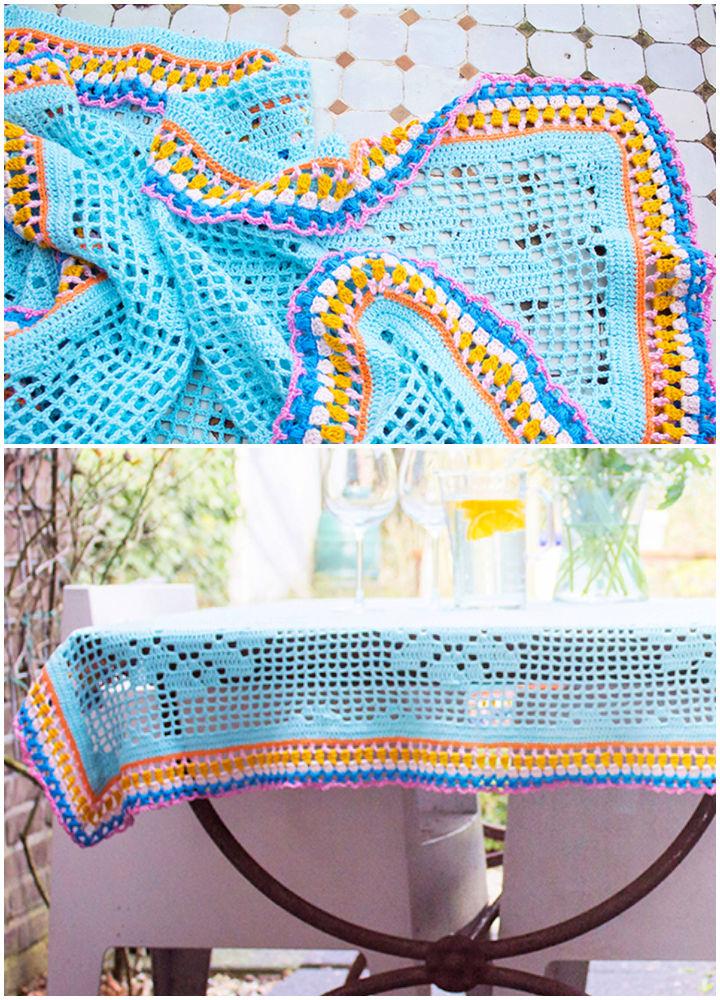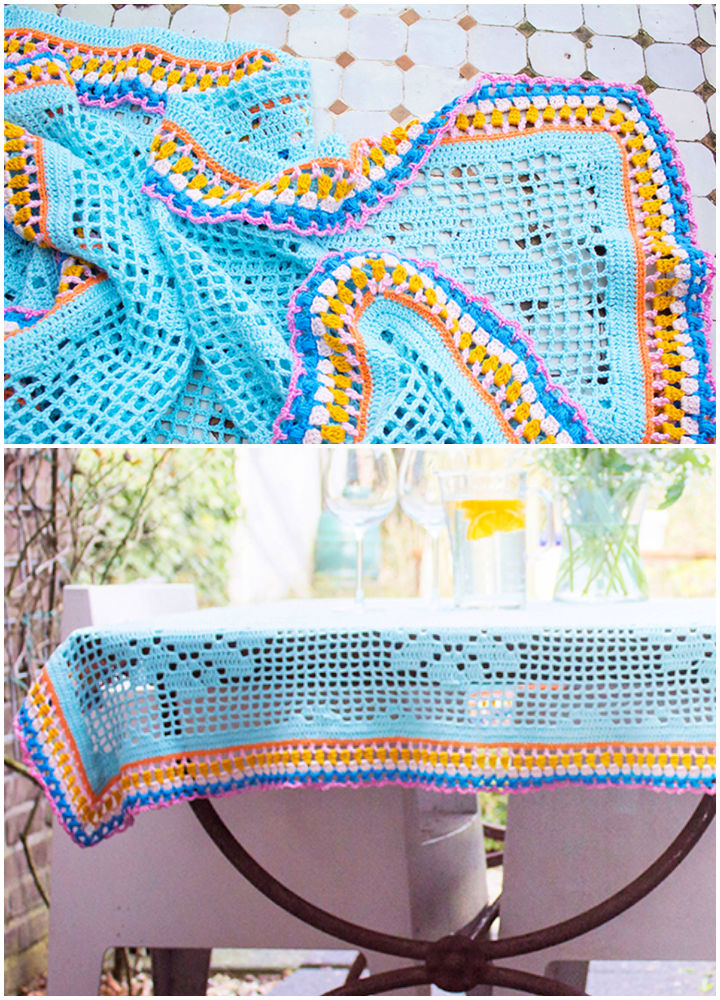 When you make your own free crochet tablecloth patterns, you will fall in love with the vibrant colors. Now holding countless dinners, brunches and picnics will be your only interest after you play with colors in making tablecloth patterns. With spring just around, you definitely need a reason to hang out and spend some time outdoors, and this tablecloth will be the reason for sure. Start with crochet hook no. 3,5mm, and continue with crochet hook no. 3 mm. Follow the filet crochet technique. yarnplaza
Crochet hook no: 3mm and 3,5mm
Size: 3x the pattern in width and 7x the pattern in length
Yarn: 100% mercerized cotton
2. Crocheted Table Cloth Patterns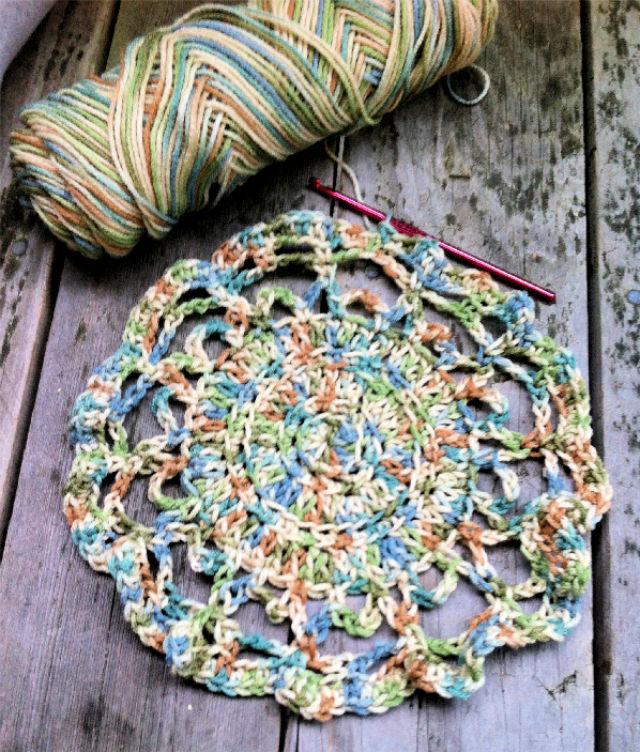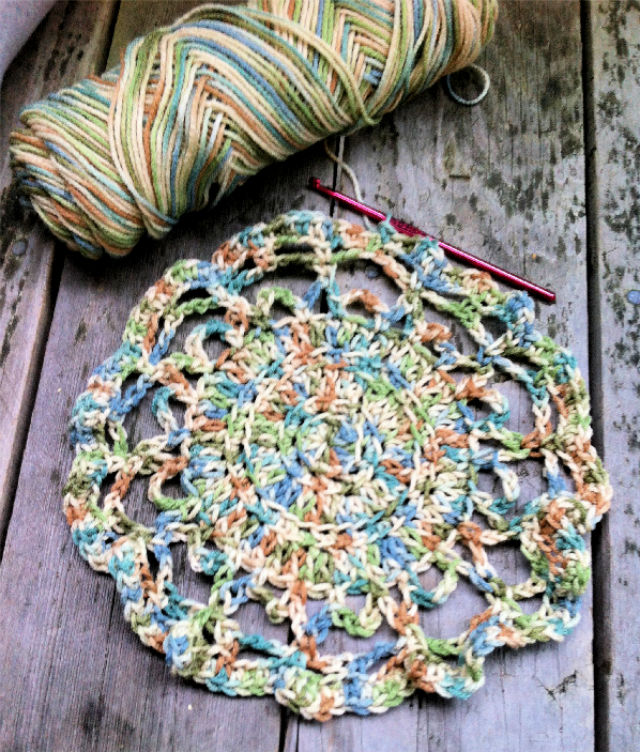 Get ready to have a little more fun at your dinner parties with a newly made crochet tablecloth pattern by yourself. You can make it into the vintage crochet pattern and enjoy the renovated look of your whole dining area. You just have to use basic stitches and symbols of crochet, and the colors will be of your own choice matching with your overall look at the house. mybluprint
Yarn: Red Heart Super Saver Yarn
Crochet hook size: 5.00 mm
3. Crochet Butterflies Tablecloth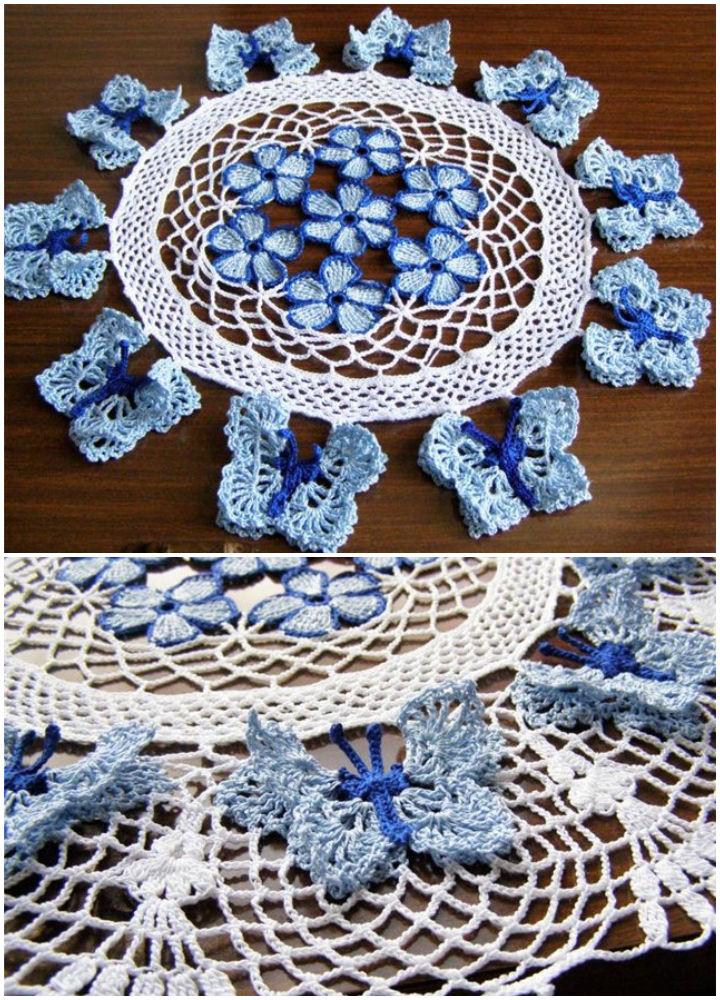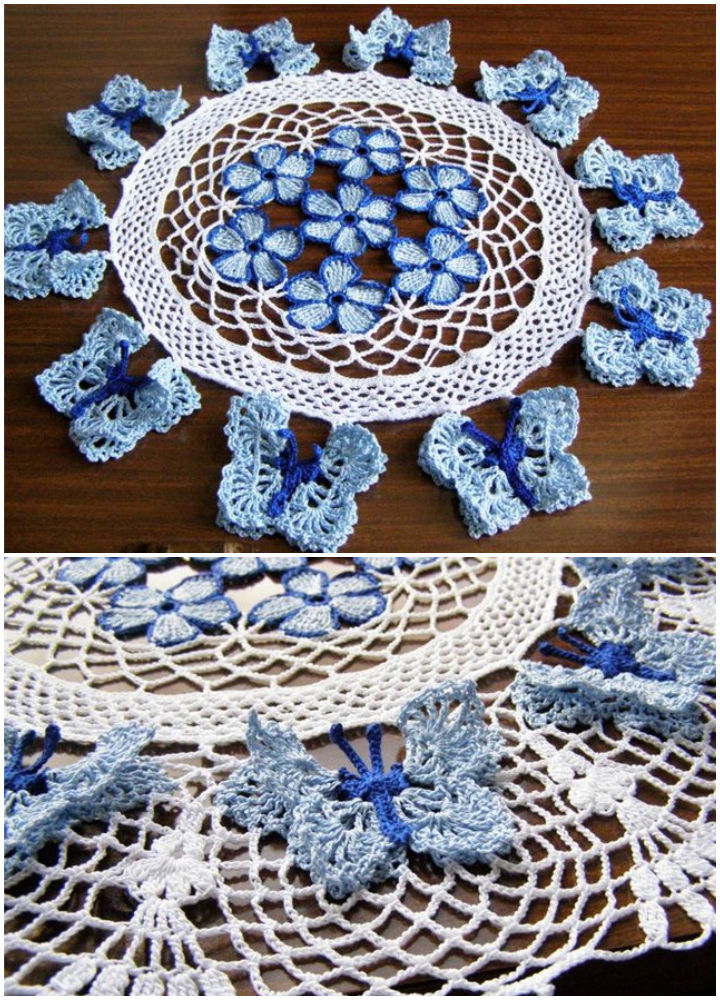 Even if you are not an experienced crocheter, you can easily give a crochet tablecloth pattern a try. Plus, who can say no to a beautiful butterfly collection over the tabletop? You can use thread crochet as it's really not difficult to work with and turns out really fantastic. Start with the hook in this crochet pattern and adjust as needed according to your gauge and comfort level. Use steel crochet hooks as they are specifically designed to work with thread. make handmade
4. How to Crochet a Tablecloth for Beginners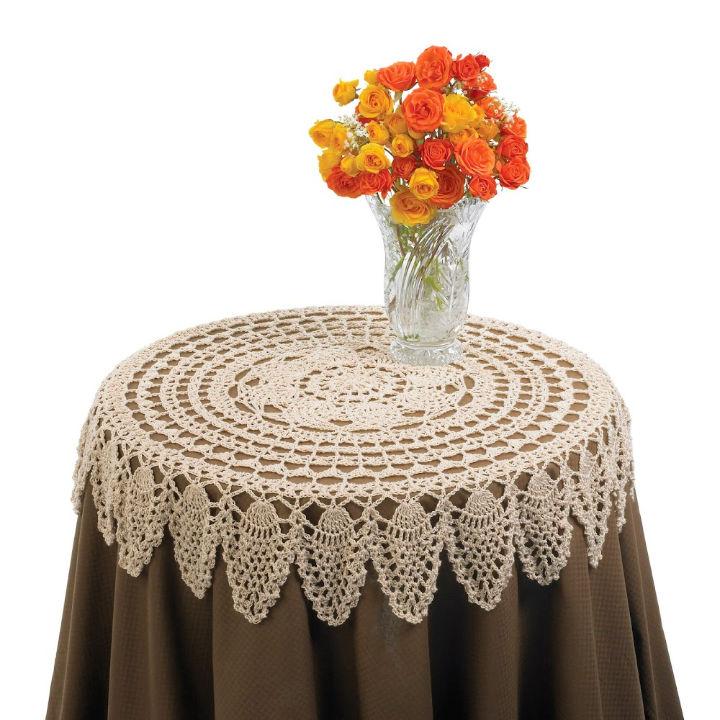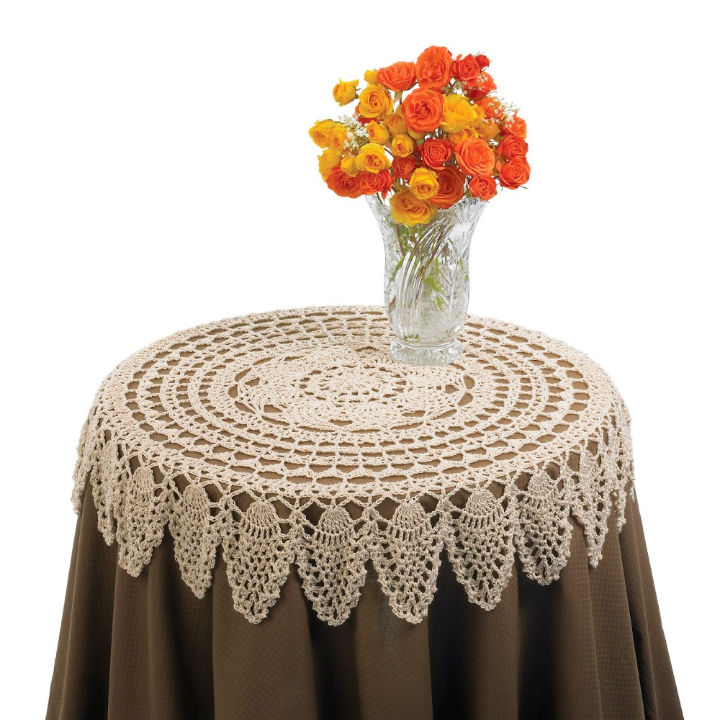 When you want to get your hands busy on a nice project, a beautiful crochet tablecloth sounds like a great idea. You can make a nice pattern so that it can be an heirloom tablecloth that you can pass from generation to generation. Make a square-motif tablecloth pattern that you can use at all family dinners. For beginners, it's important to make the yarn overs close to the crochet hook head. yarnspirations
Care: Don't bleach or iron
Crochet Hook: 3.25 mm
Size: 32″ across
5. Crocheted Tablecloth Pattern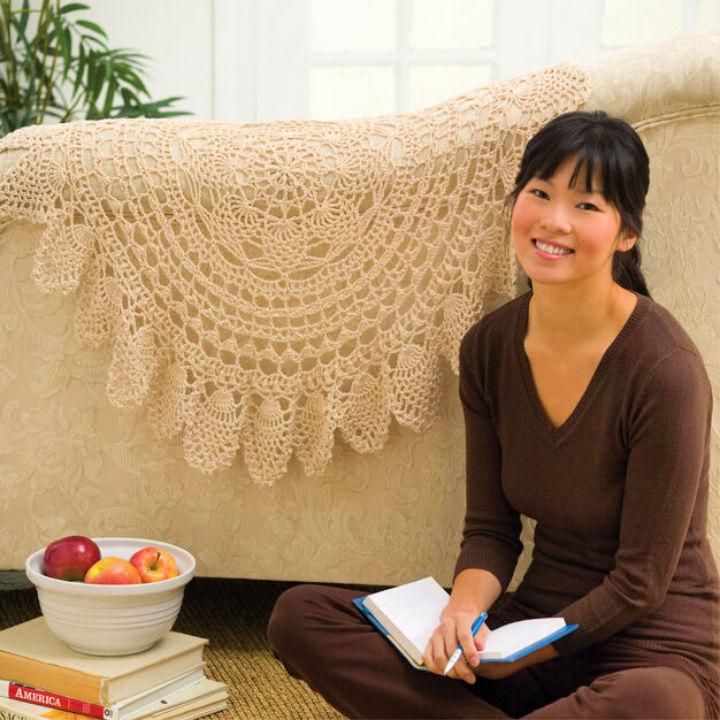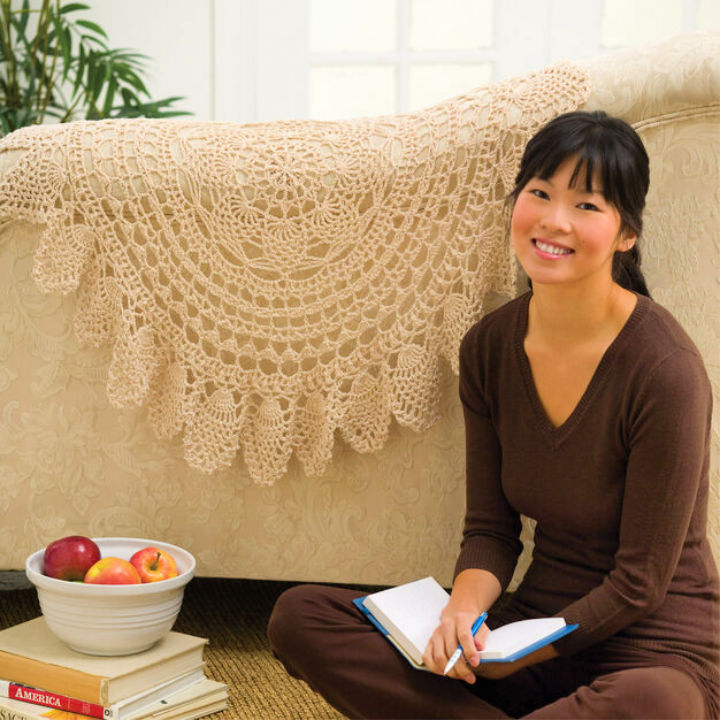 Become a little old school and try making a nice crocheted tablecloth pattern that can make your old table look modern and chic. You will have to spend almost no money, and yet the tablecloth will come out looking awesome and make you giddy with the anticipation of showing off. You can easily get the yarn online, too, and the rest of the crochet supplies can be found anywhere. yarnspirations
Yarn size: 32" across to fit 20" round table.
Crochet Hook: 3.25mm [US D-3].
Gauge: Rnds 1-5 = 4¼" across; Rnds 1-23 = 20" across.
6. How to Crochet a Tablecloth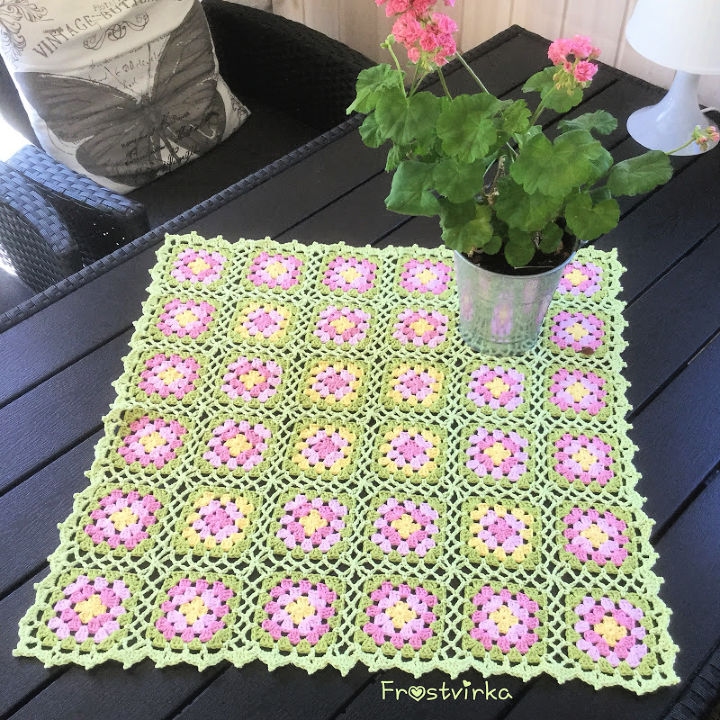 Enjoy the summer happiness with making a beautiful crochet tablecloth pattern that you can use when having parties outdoor or even indoor. With an old-style wooden table, it will hold a very modern look, and you will not feel the need to get a new dining table anytime soon. Make a slip stitch with double crochet and join with chain space. The colors depend entirely on your look at the dining area. Weave in all ends and block it for the best result! frostvirka
Hook size: 3, 0
Yarn size: 2 x 50 g 512 and four more
Yarn: Scheepjes Catona
7. Free Crochet Round Tablecloth Patterns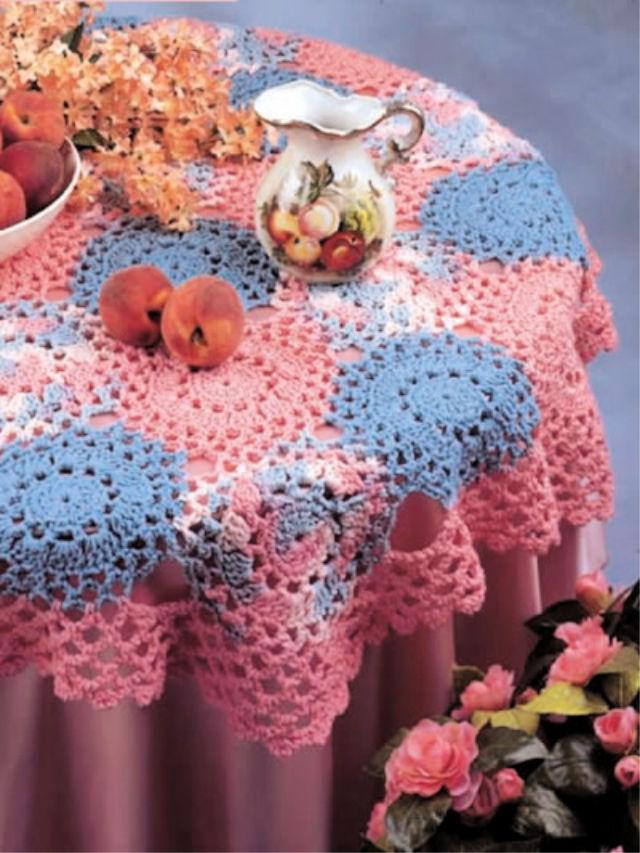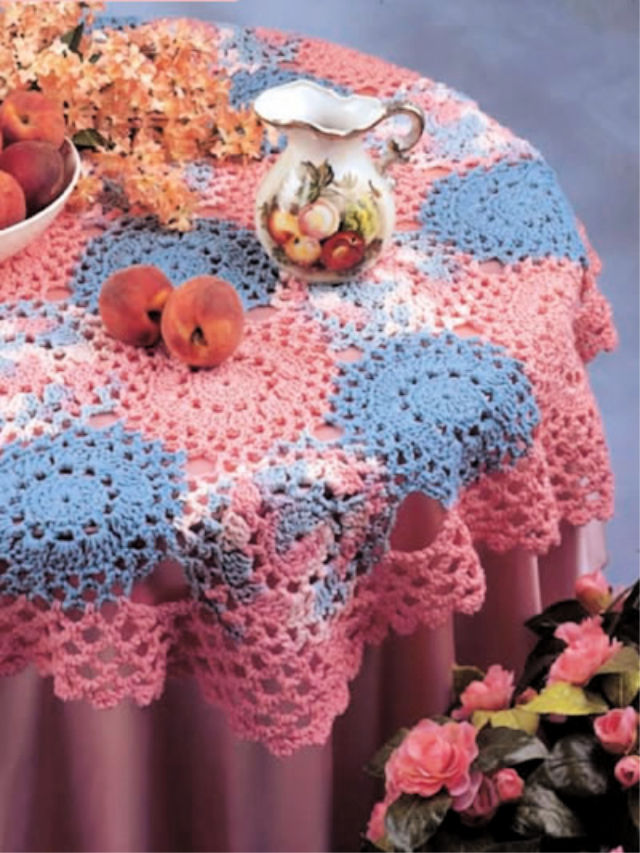 Make a beautiful handmade crochet round tablecloth to dazzle your house guests with the beauty of it. Give your dining table a stylish look and make the dinner parties more fun with your new tablecloth. The vibrant colors will hold a very special place and impress the guests. The size will be 37″ x 43″ crafted by hand using durable threads or yarn. check here
Time required: less than 12 hours
Other supplies: yarn needle, rustproof pins, spray starch (for stiffening)
8. Crochet Tablecloth Patterns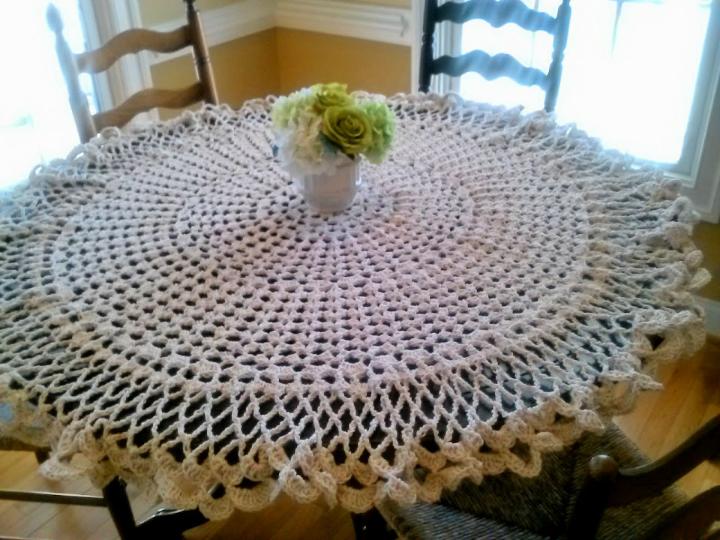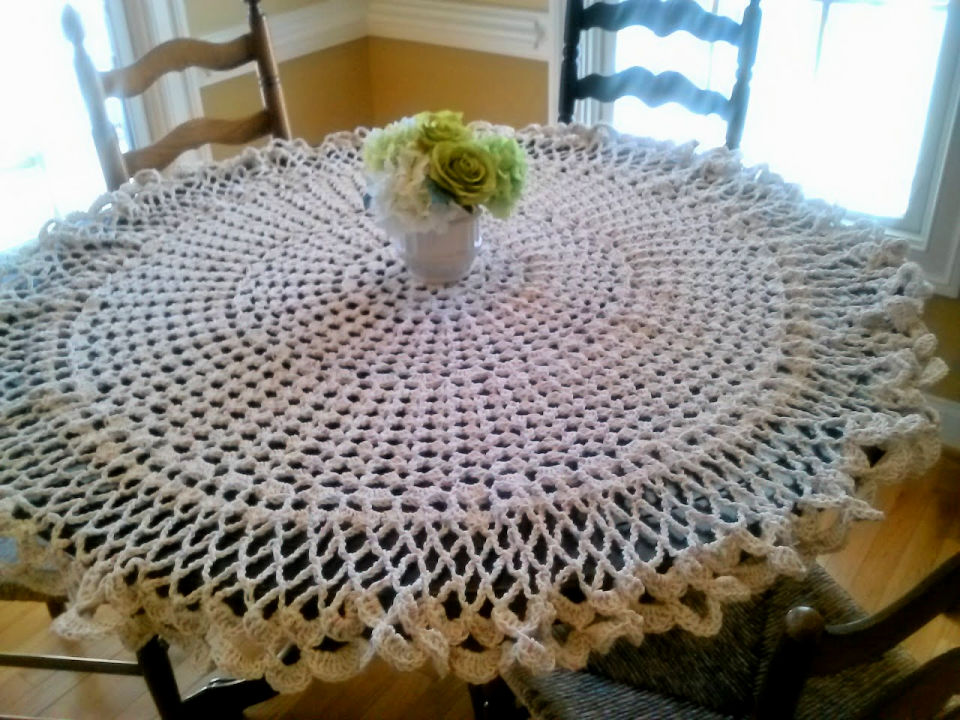 When you feel like experimenting with stitches, free crochet tablecloth patterns like here is the way to go. Simply pick up a crochet hook and some cotton yarn and start playing. You will not require professional skills, and the whole process will just turn out a relaxing experience for you. Join a round by slip stitching at the top of the first stitch so that you can adjust it to make it work. Simply finish off by working on loose ends. lifeofadailypainter
Yarn type: Peaches and Crème 4-ply worsted cotton yarn.
Yarn size: 26 ounces.
9. Round Crochet Tablecloths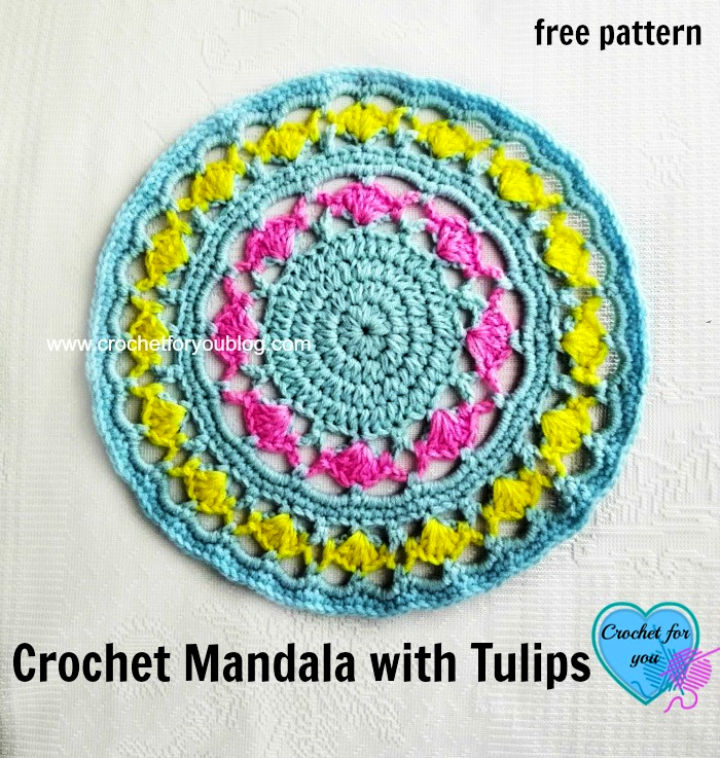 If you have a passion for making patterns with crochet, you are just in luck. Try making a crochet round tablecloth pattern that you can use anytime on your dining table for making special occasions extra special. Who can not love a beautiful mandala pattern with tulips inside? Colors you use can also be of your desire. You can go with an all-white basic look or even vibrant thread colors depending upon the type of look you are going for. crochetforyou
Thread size: no.10
Hook size: no.8
10. Vintage Crochet Tablecloth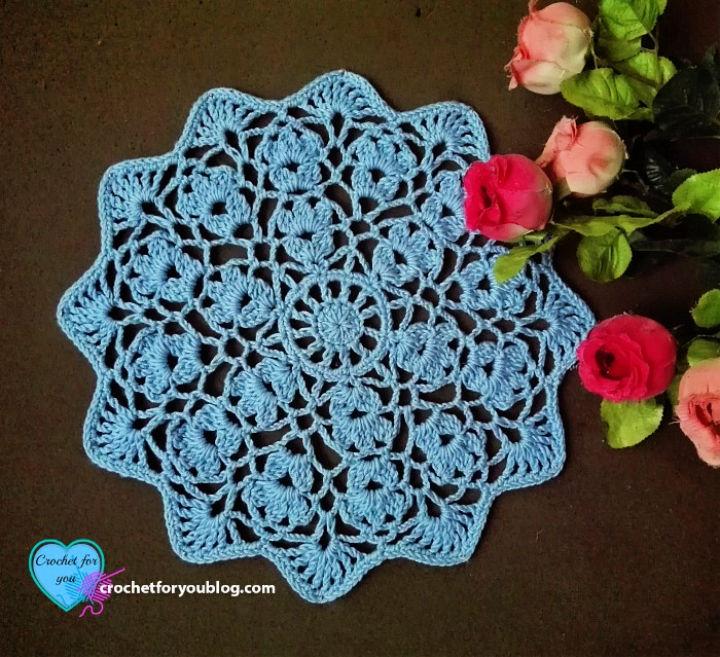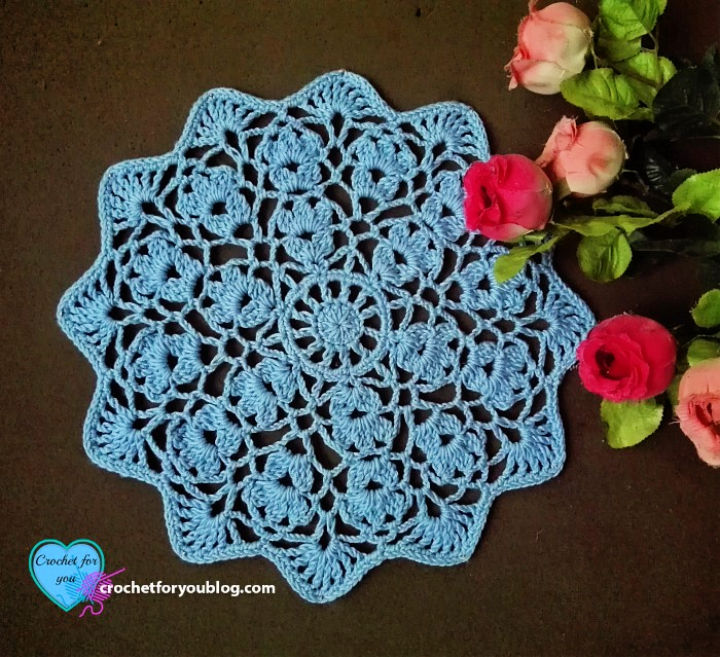 Make a nice vintage crochet tablecloth pattern and make it fit according to the size and shape of your table. It will give you an excellent work project and will get your hands busy in your free time. Of course, you would love to change the look of your dining area anytime. The size can be easily adjusted according to your table diameter. Keep continuing with the pattern or stop when the required size is attained. crochetforyoublog
Size: 12″ diameter.
Hook size: 3mm crochet hook
Yarn: Light blue color
Gauge: 23dc x 9 rows
11. Crochet Lace Tablecloth Pattern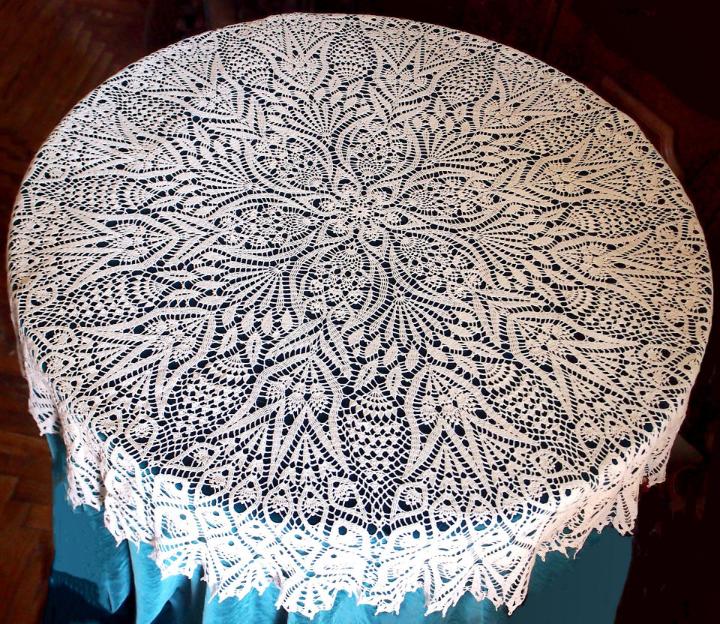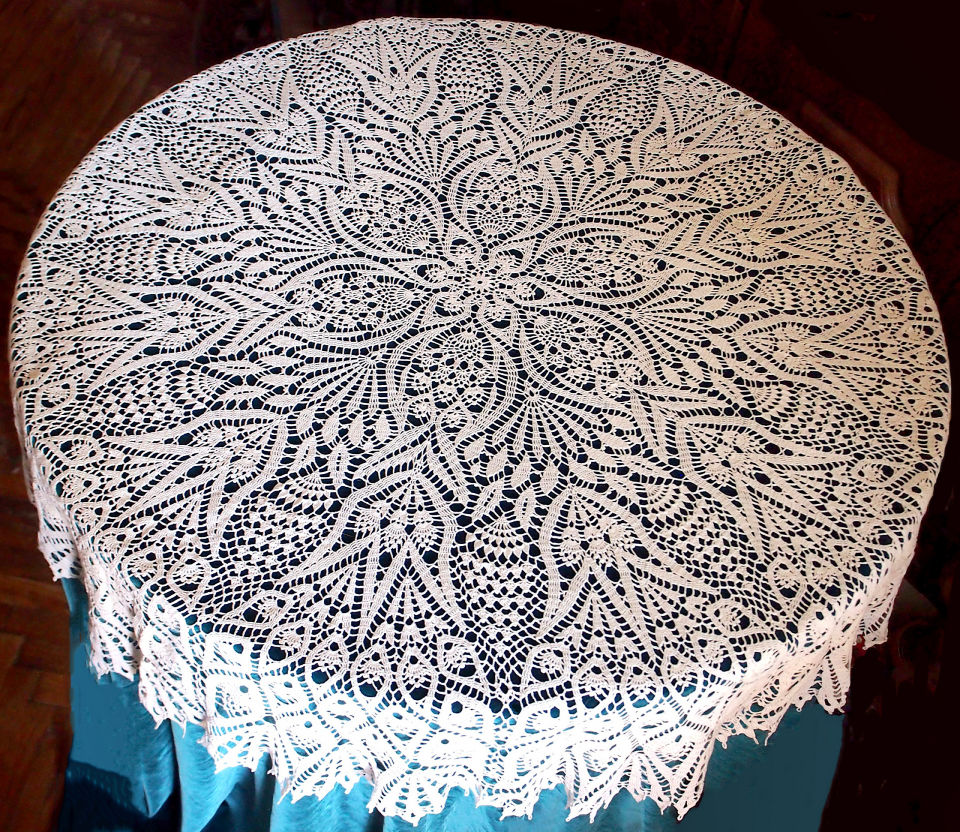 Lace tablecloth patterns look so appealing when placed in a nice setting when in a mood of throwing a dinner party. Lace tablecloth holds a very chic look while giving the whole outlook a very modern touch. You can make it into a round shape or a square one depending upon the shape of your table. Just with a slight change of stitch and colors of your own desire can also be added. ravelry
Suggested yarn: Gütermann Cotton 30
Diameter: 155 cm
12. Crochet Tablecloths Patterns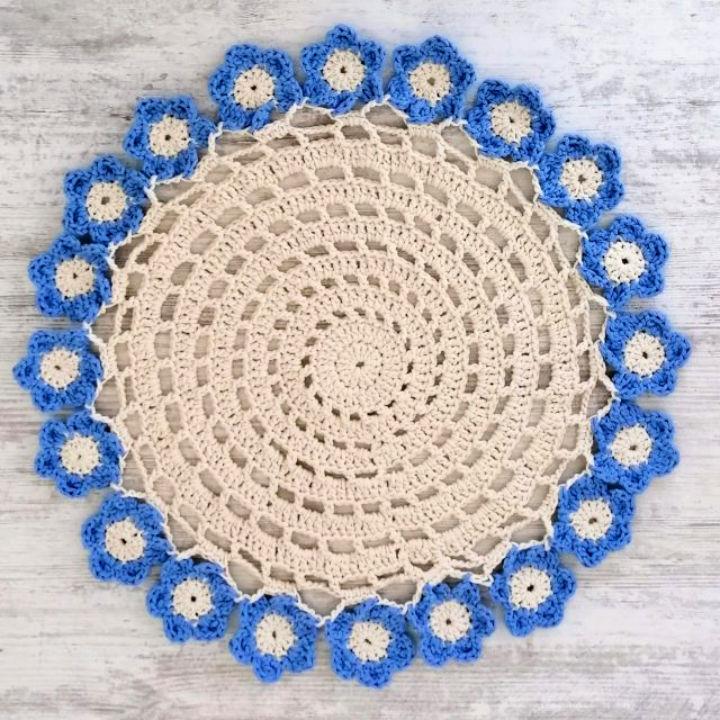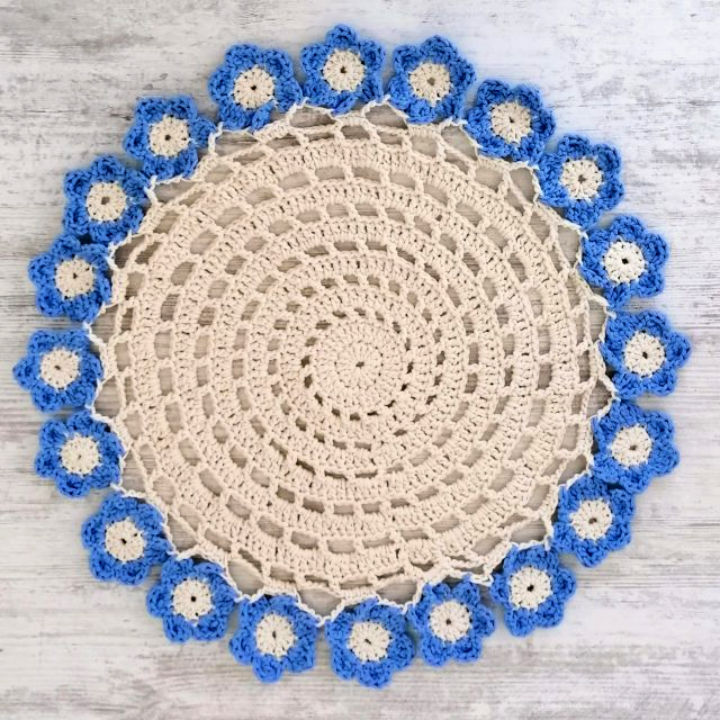 Enjoy working on a new project and make an easy breezy crochet tablecloth doily pattern and have fun displaying it. You can easily make the round shape with a steady increase in the stitches. The flower framing with blue yarn makes the whole design very special, and you can use whichever colors you like best. myaccessorybox
Yarn: 300 grams of 3 mm macrame yarn
Crochet hook: 6 mm
Gauge: 10X10cm/4*4 inch. = 14 sts X 7 rnds in dc.
Size: Diameter= 46-50cm | 18-20 inch. (Including the flowers)
Other supplies required: scissors and tapestry needle.
13. Crocheted Tablecloth Patterns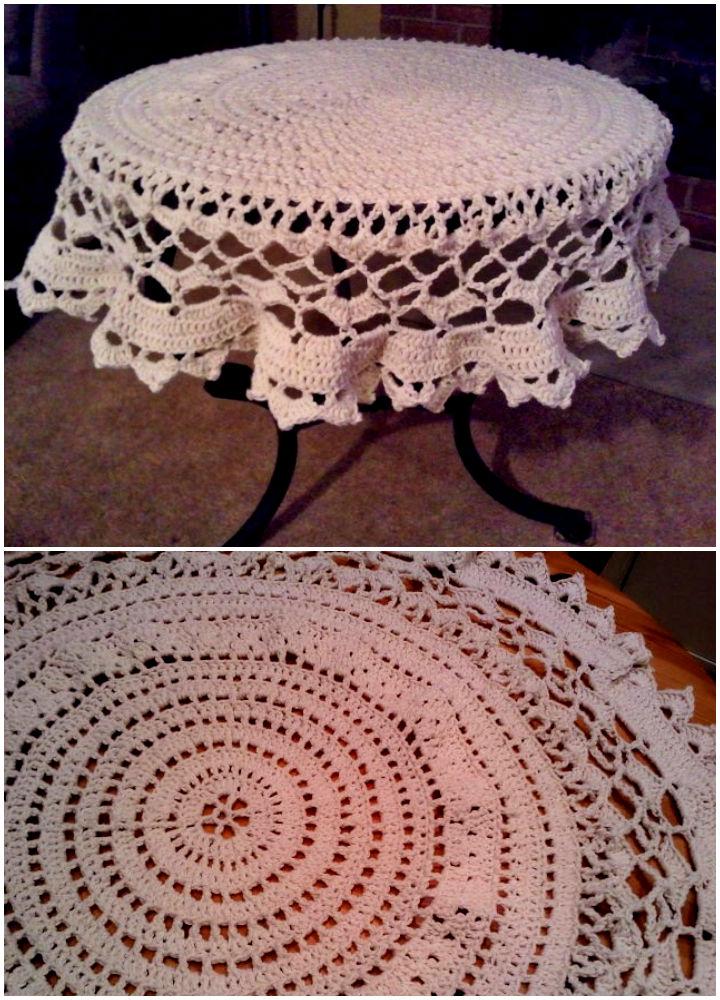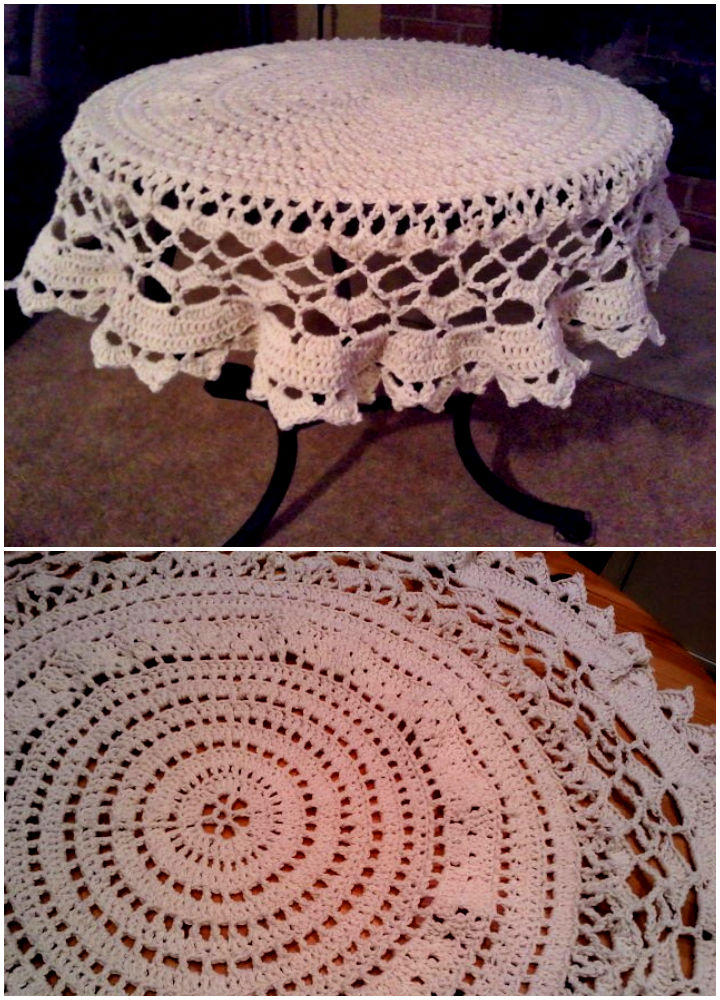 Indulge in changing a bit of the decor of your dining area so that your guests can enjoy a different ambiance. Throw the awesome parties as you do before with a fresh outlook of your dining area. You will also have a lot of fun making this tablecloth pattern, and you can play with multiple colors as you go on. So just pick up your crochet hook and grab some cotton yarn and start working. When you form the first stitch, join round by slip stitching at the top. Finish off by working on loose ends. lifeofadailypainter
Type of Yarn: Peaches and Crème 4-ply worsted cotton yarn.
Yarn weight: 26 ounces.
14. Crocheted Lace Tablecloths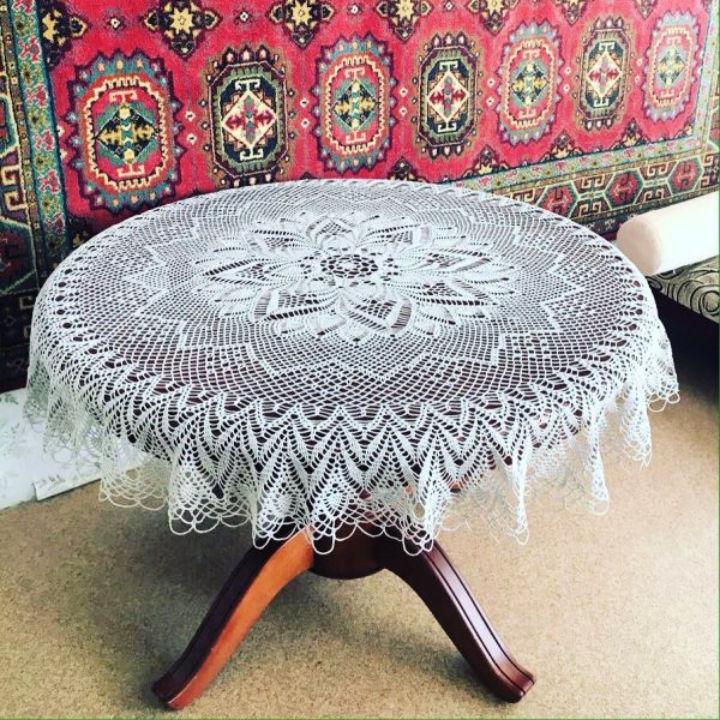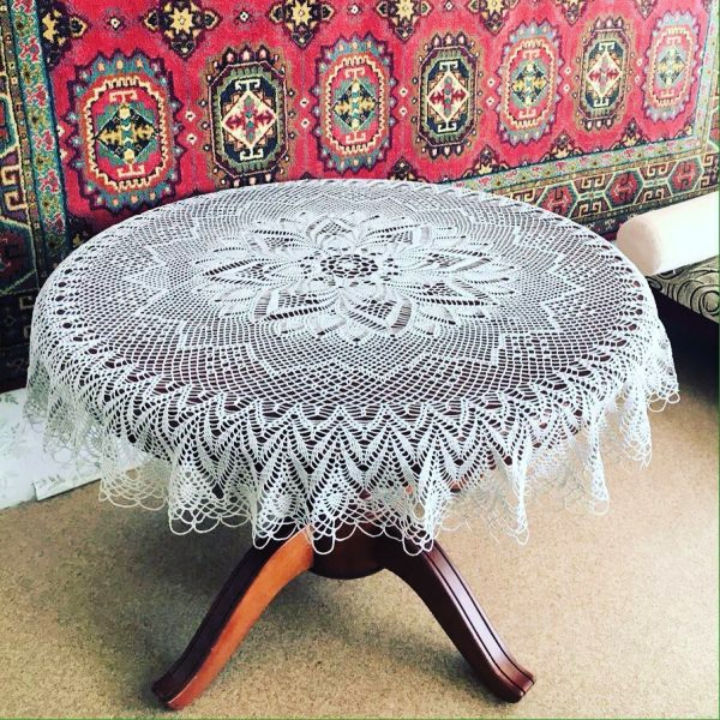 With beautiful crochet tablecloth design, you can host some great parties indoors or outdoors as you please. You just have to follow the basic crochet design stitches and the colors can also be used according to your house color scheme or in contrast to your dining area. If you're a minimalist, go with the perfect creamy white color used here. Start the whole design from the center, and make a chain on your way to the ends. freecrochetpatte
Stitches: Chain stitch & Slip stitch
15. Crocheted Table Cloth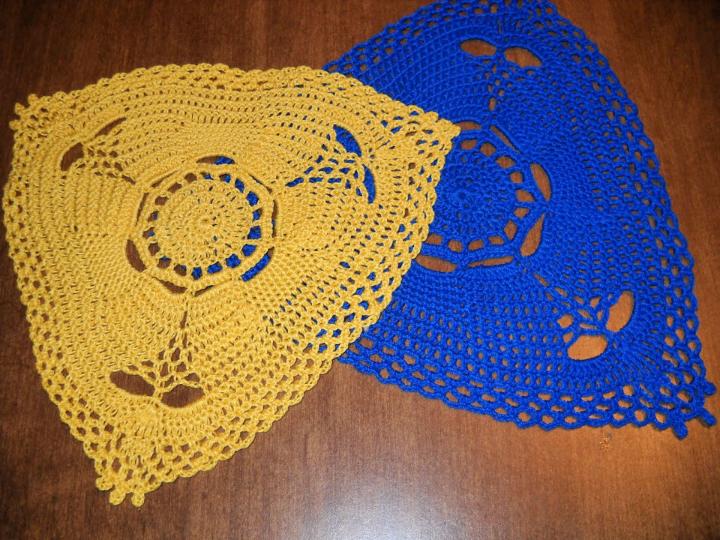 A beautiful crochet tablecloth pattern can bring about a nice change in the ambiance of the whole setting of the dining area. You can knit it into a rising sun design so that your dinner parties can have a fresher environment. Use chain stitch and chain picot stitch with single, double, etc. stitches and carry on. While you are at it, the color of the yarn can also be decided according to your taste. glor crochetgalore
Stitches: slip stitch
Yarn color: red and white
Hook size: 4
Thread size:10
16. Crocheted Tablecloths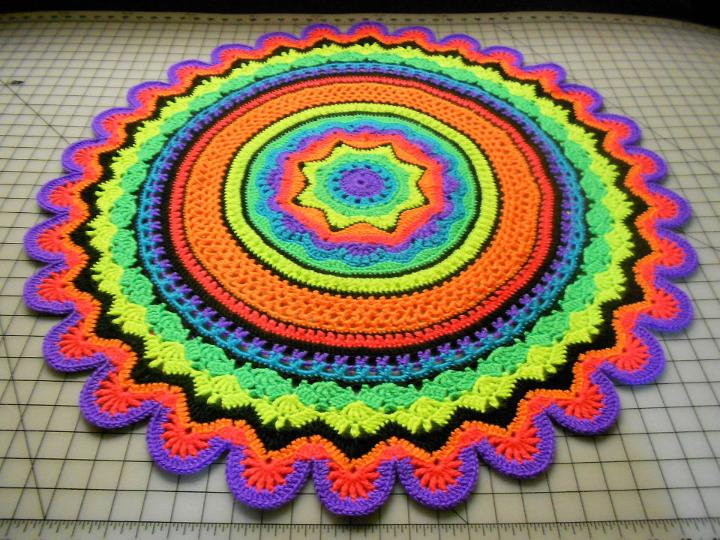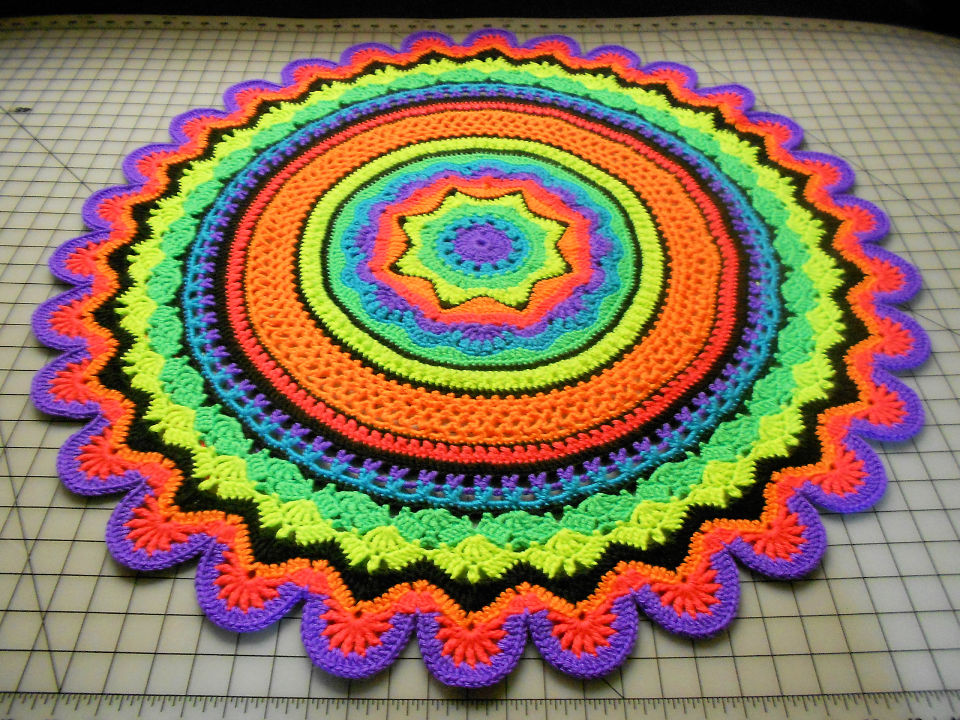 Make an amazing crocheted tablecloth design that you can use for your wooden tablecloths to give off slightly vintage vibes. You can make beautiful star pattern designs in the middle and join off with the rest of the pattern stitch by stitch. With round patterns adjoining, the whole tablecloth will hold a very nice place on your table, and the dinner parties can be more and more fun. ravelry
Suggested yarn: American Thread Company Puritan Crochet Cotton
Yarn weight: Use thread
Hook size: 1.5 mm
Yardage: 8800 – 9300 yards (8047 – 8504 m)
Sizes available: 61″ x 76″
17. Crochet Tablecloth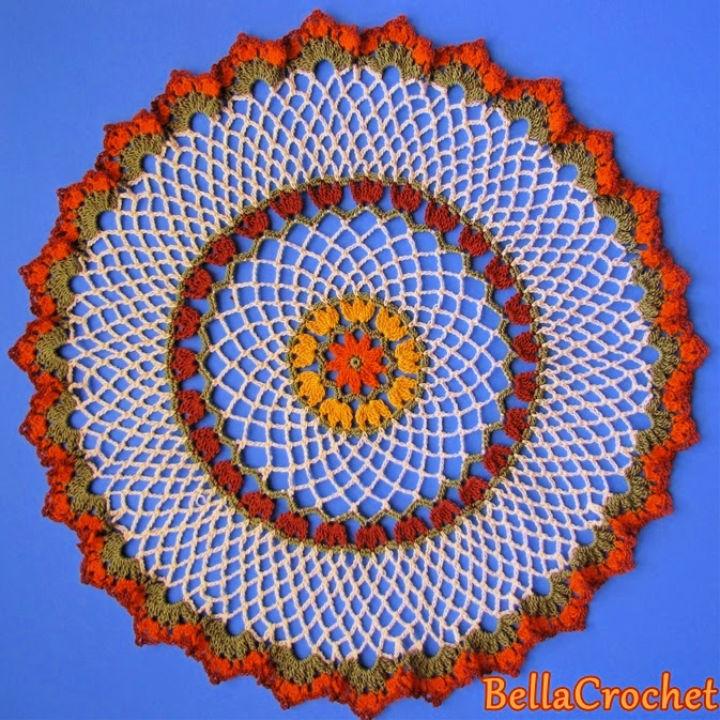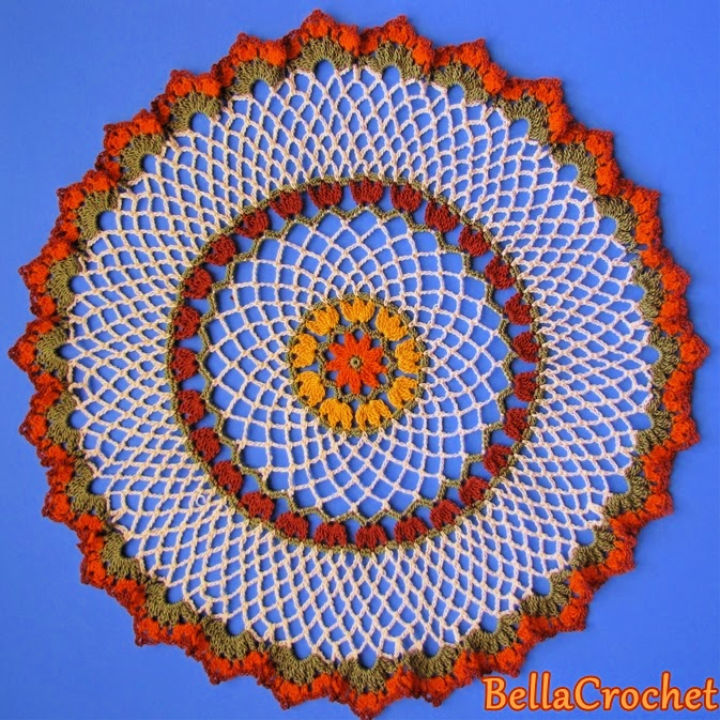 A nice set of vintage floral designs on your crochet tablecloth might be something that you would want to get your hands on very soon. For that, you can easily whisk your own design by following the step by step instructions and, in several hours, make your own. The color scheme also depends upon your choice and the overall look of your house. Utilize your advanced knowledge of crochet and get adept at working with size 10 thread and steel hooks. bellacrochet
Size: About 22 ½" long
Steel hook: Size 7 (1.65 mm)
Other supplies required: Size 10 Cotton Thread, 200 yards Shaded Blue, 75 yards each Shaded Pink, Yellow and White, Fabric Glue Heavy starch
18. Patterns Tablecloth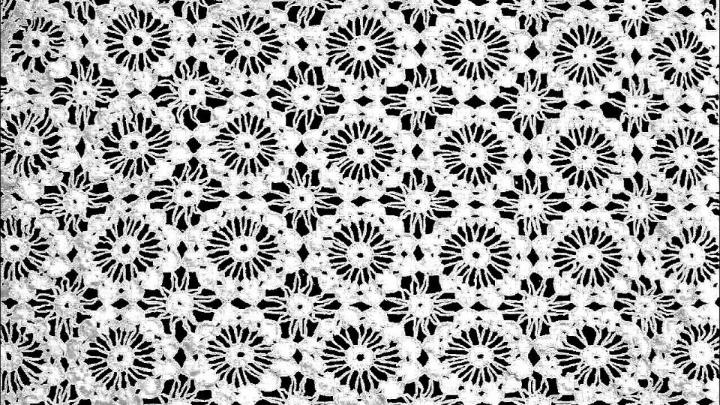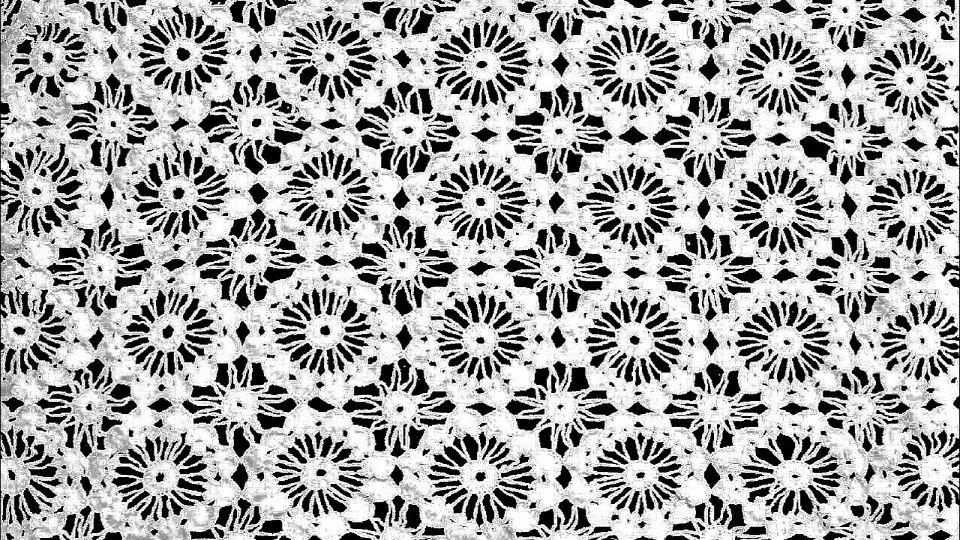 Crochet with love—make this nice handmade tablecloth that will greatly fit any holiday as decor for your home. You can even use it as a gift for your friends as there is nothing more precious than a handmade gift item for your loved ones. Enjoy working on the whole project. Use basic crochet stitches and join the whole pattern using chain stitches. youtube
Crochet thread: number 20
Hook no: 1,10 mm
19. Crochet Tablecloth With Leafs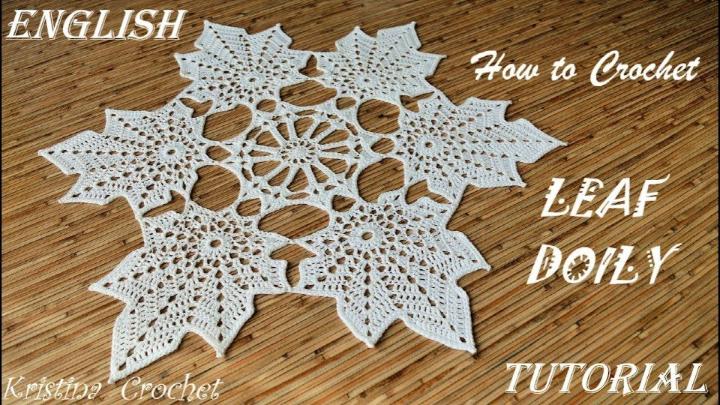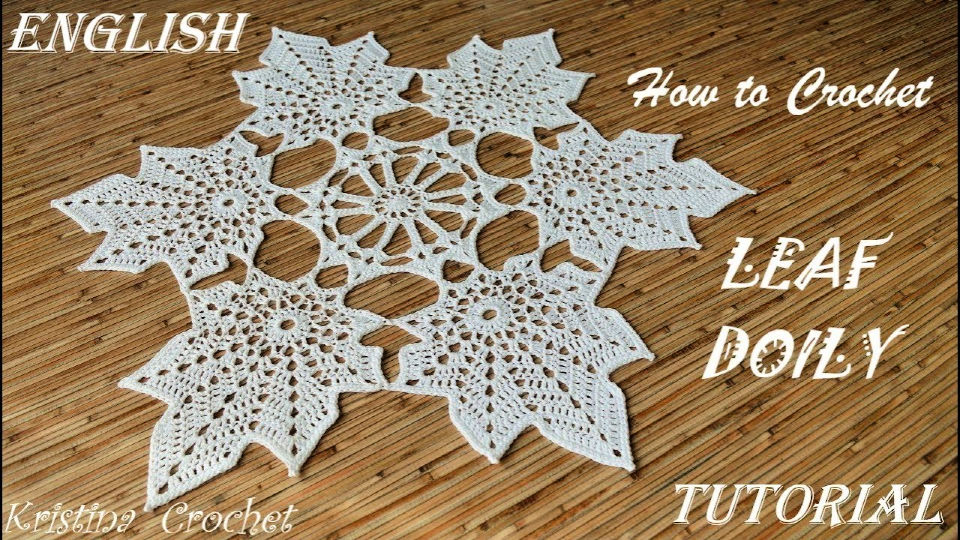 There is no better time to show off your newly made crochet tablecloth pattern design then right away. You can work on this project easily, and you just require simple basic skills to make your own design in no time. Make it into the right size that fits your table by just working on 6 crochet leaves joined together. Make it into a round design or a square with a perfect leafy appeal depending upon your style. youtube
Crochet hook size: 3.5mm
Size of the tablecloth: About 44- 46" in diameter
20. Vintage Crochet Tablecloths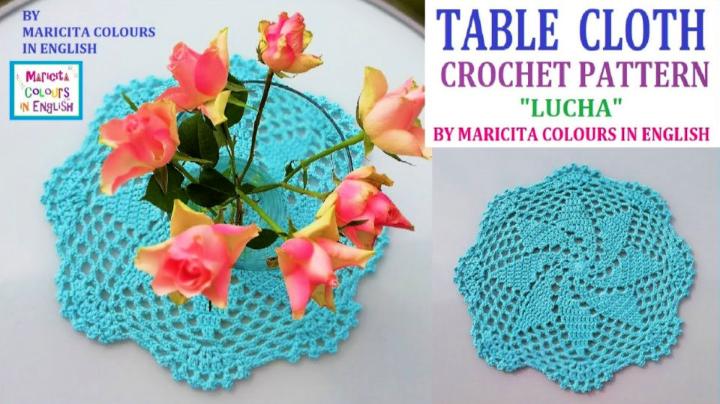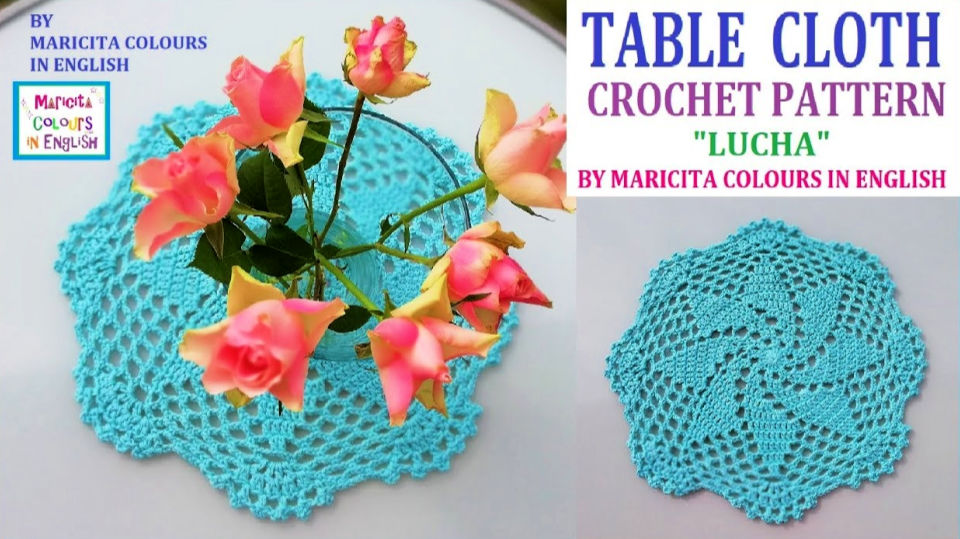 Tired of the old table you have been using for years? No need to spend a huge amount of money into buying a new one but just make a crochet tablecloth to go with it. It will definitely alter the overall look of the room, and you might get asked when you bought your new dining table too. Use chain stitch and slip stitch with single, double, and magic ring. youtube
Total rounds: 15
Diameter: approx.8, 5 cm
Yarn: 100% Cotton Mercerized
Crochet Hook: 3.5 mm
Completion: In one day
Conclusion:
Now that the dreamy Spring season is around, it's the perfect opportunity to spend some more time outdoors. For that reason, you have to make some beautiful tablecloths with these 20 crochet tablecloth patterns free! So that you can enjoy sitting outside, having dinner parties, brunches or to go picnicking with your loved ones while using your newly made tablecloth pattern. This cheerful change will bring about the perfect change you have been looking forward to! With different colors, you can make endless gorgeous color combinations! It will boost your crochet confidence for sure. Crochet is certainly one great way to build self-esteem. Happy crocheting!!
Related Beginner Crochet Patterns