If you're into fashion, then you'll adore these lovely 40 free crochet vest patterns for beginners. Each crochet vest pattern includes a detailed free PDF guide and visual instructions. They are very versatile and can be worn on top of anything and anywhere. You can use some of these in the summer season as cover-ups for your swimsuits. The crochet sweater vests are very bulky and can be worn in cool winter days, while the other ones are a little less bulky and will be perfect for the spring days. They can also be gifted to your loved ones; you can just customize crochet vest a little bit according to their preferred colors and shades.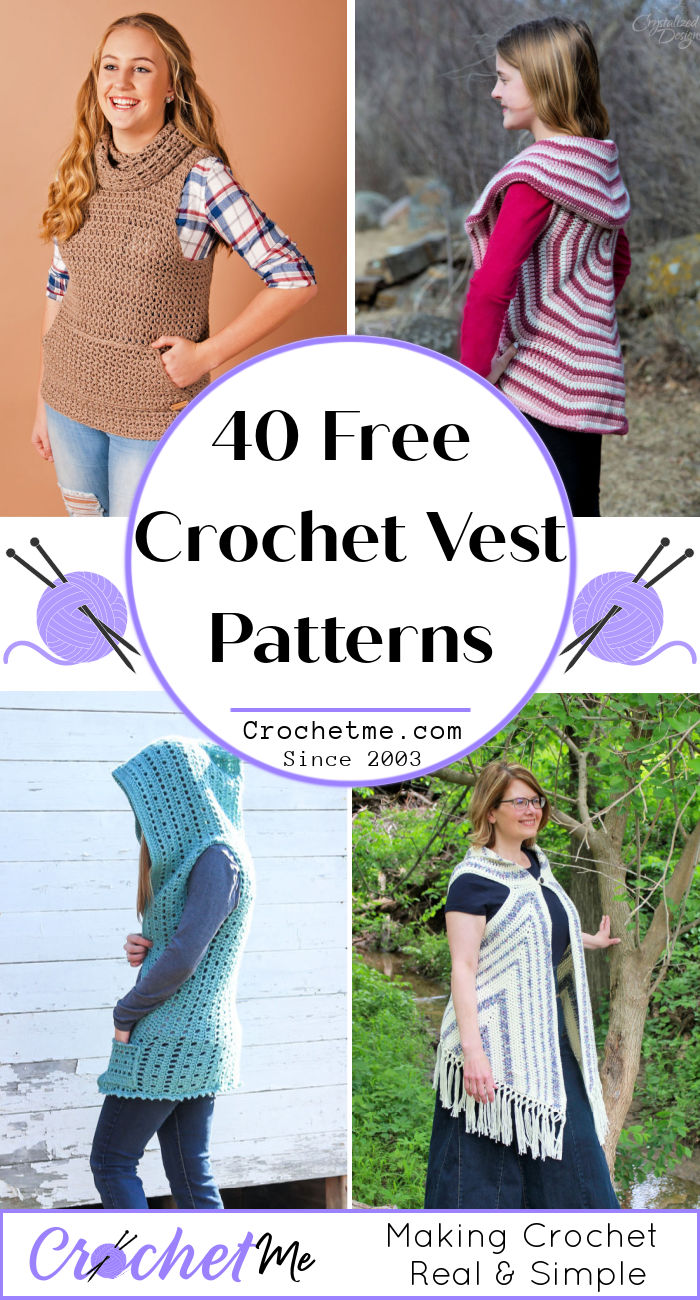 You can also dress up or dress down many of these crochet vests. If you wear it with natural-looking makeup and hair, you'll look casual, and if you glam them up, you'll like you're about to attend an event! It all depends on how you decide to pair them. Isn't that amazing? These will be your go-to vests this holiday season! This article will cover a range of free crochet vest patterns, from mandala sun to bohemian vest; from shawl collar to long crochet vest; from hooded granny square vest to striped triangle vest pattern. There's a lot to choose from!
1. Easy Crochet Vest Pattern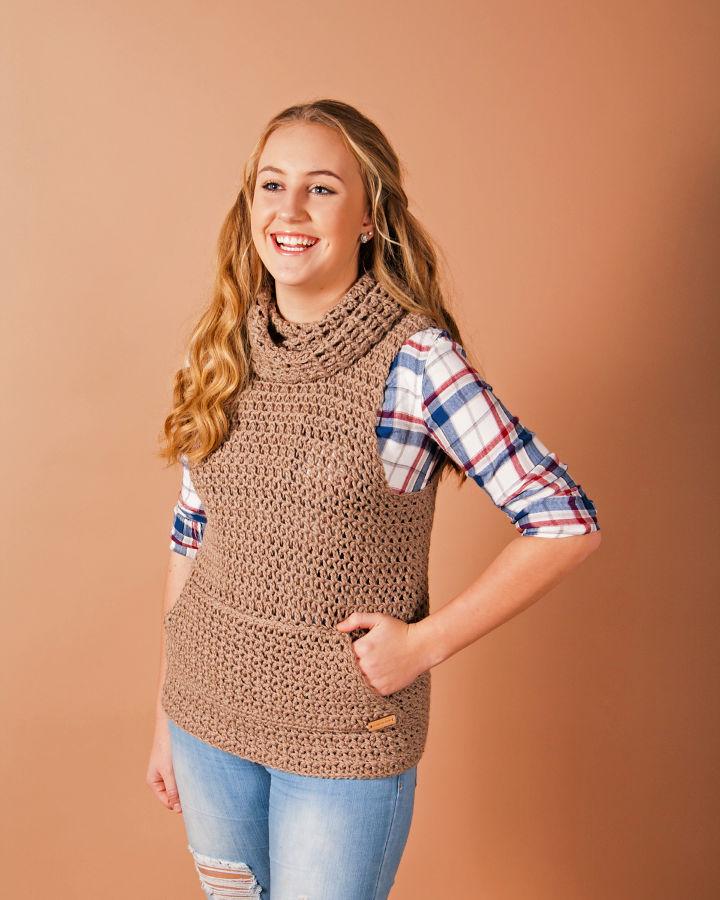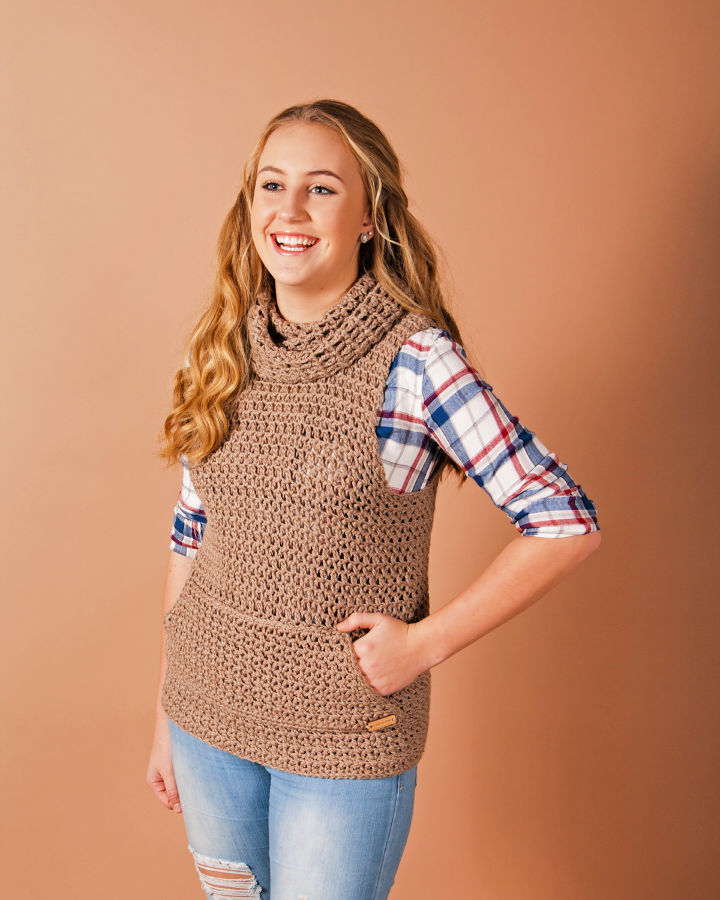 Here is a super pretty crochet vest pattern that can be worn on top of almost any outfit. It has a turtle neck to provide you with extra warmth and a feel of coziness. We all want some coziness in the cool winter months. This is because they cover your neck and prevent you from getting sick. This is a fantastic design that can be started off by crocheting the body and then the sleeves and so on. ktandthesquid
Crochet Hook: 6mm hook
Yarn Weight: Cascade 128 Superwash (100g/3.5oz; bulky/5 weight yarn)
#1926 Doleskin Heather – 5 balls
Finished Size: 36" bust in size M
2. Crochet Pumpkin Sweater Vest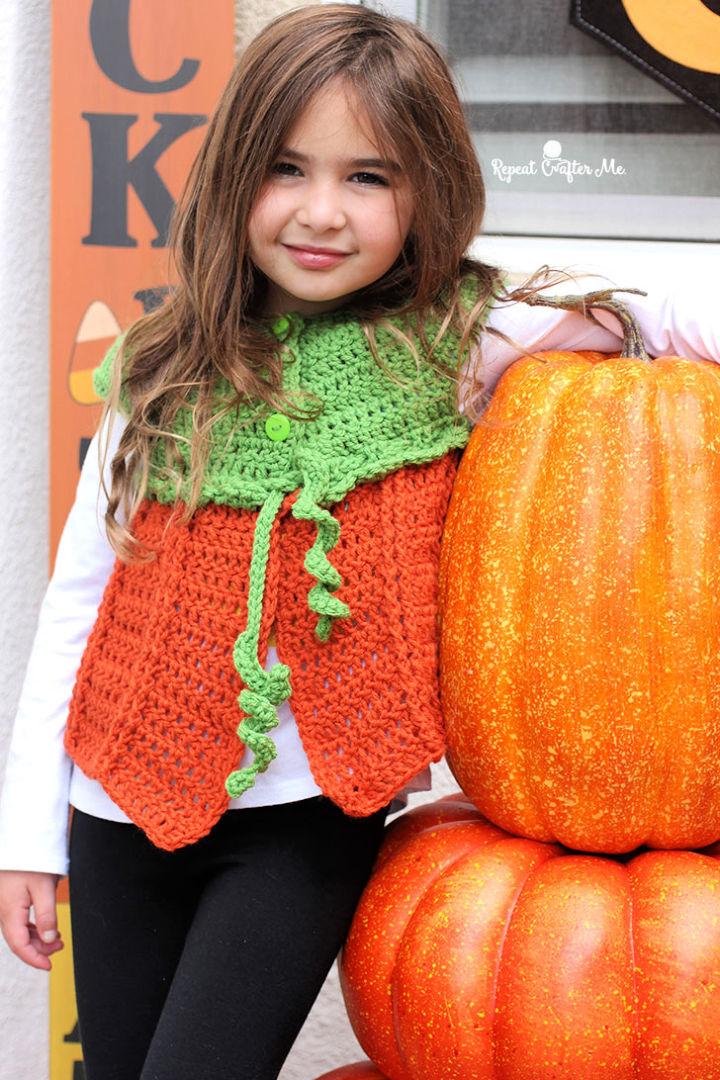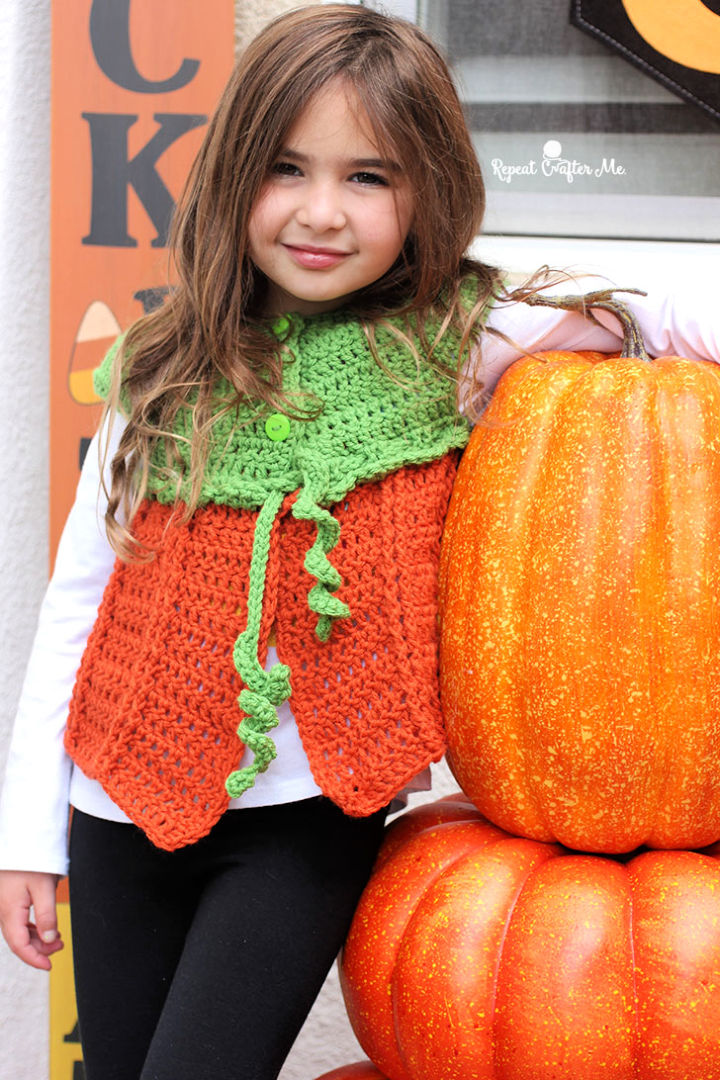 Such a cute crochet sweater vest pattern! Imagine your kids shining brightly and reflecting off happiness by wearing this on fall mornings. It's so cozy and fashionable. The green and orange combination is just so beautiful and makes this sweater so stunning while being comfy. It matches the Halloween vibe perfectly, as well. Start off by making the base and then the pumpkin coil to add some detail! This sweater can fit any child around the ages of 3-5. repeatcrafterme
Crochet Hook: size H
Yarn Weight: Bernat Super Value (pumpkin orange and lush green)
3. Girls Crochet Vest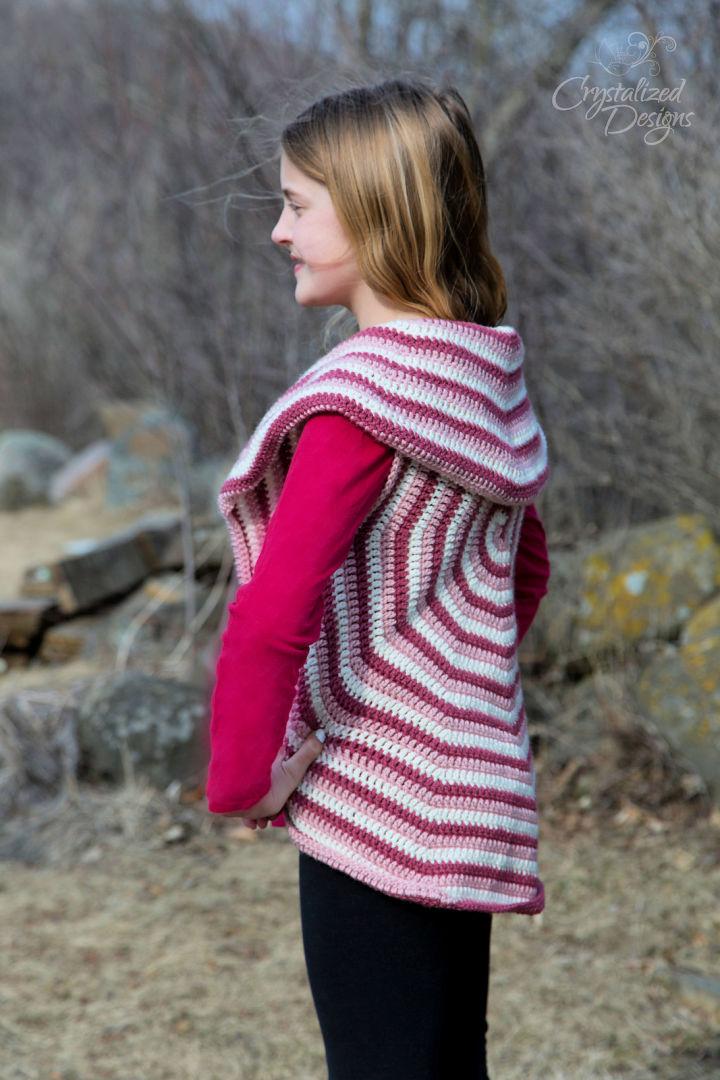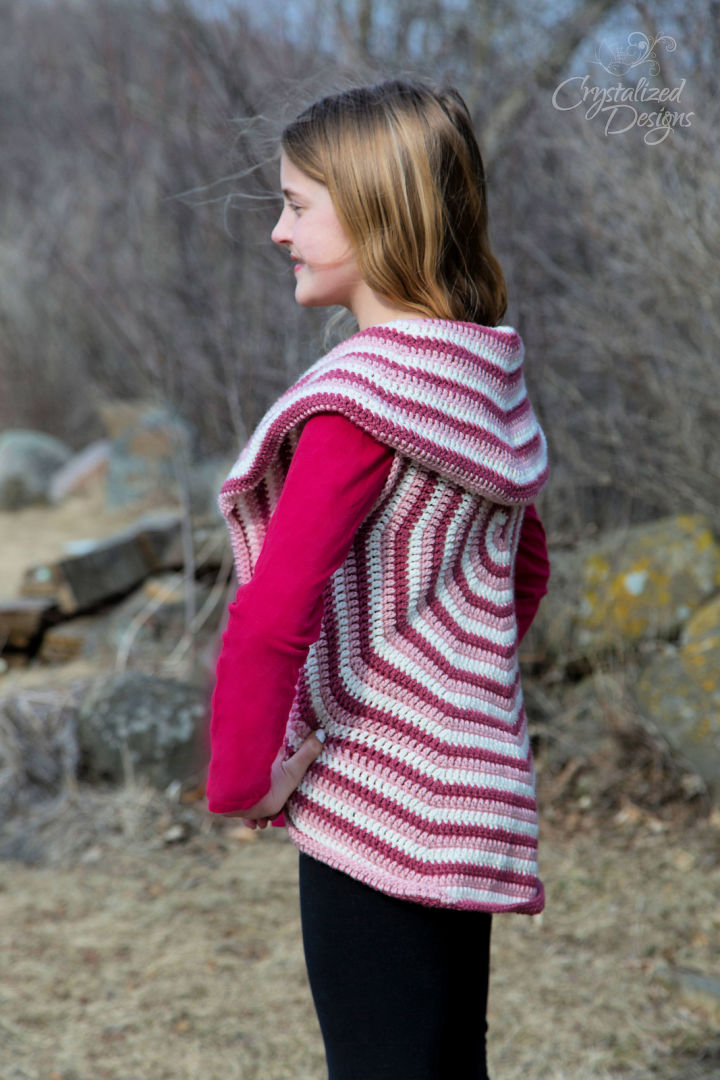 Young girls tend to love to add shades of pink! Everyone did when they were at those ages. This is because pink is such a bright and girly color. If you're looking for ways to make any young girls in your life happy, gift them something pink or related to that shade. Here's a great gift idea. This pink and white spiral sweater is super pink and has a very cool and unique shape to it! crystalized
Crochet Stitch: This crochet magic circle tutorial allows you to crochet a tightly closed center instead of a large hole in the middle.
Crochet Hook: size H/ 5.0mm
Yarn Weight: Worsted Weight Yarn (Red Heart with Love Yarn) (285 total yards – 95 each)
Finished Size: 22" x 10.5"
4. Bohemian Vest Crochet Pattern Free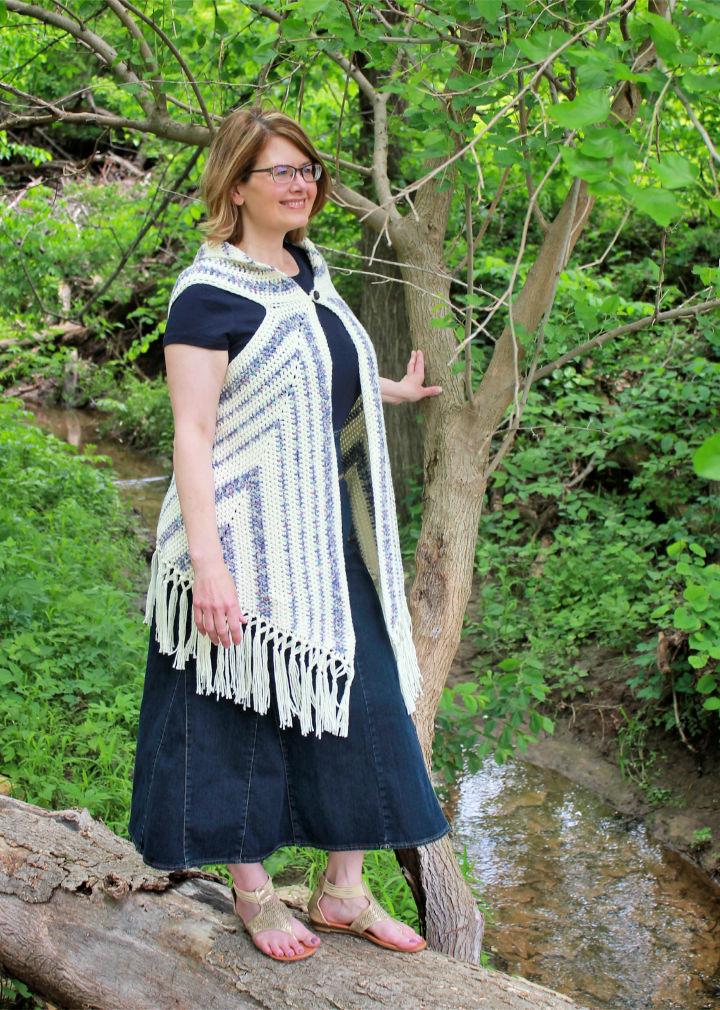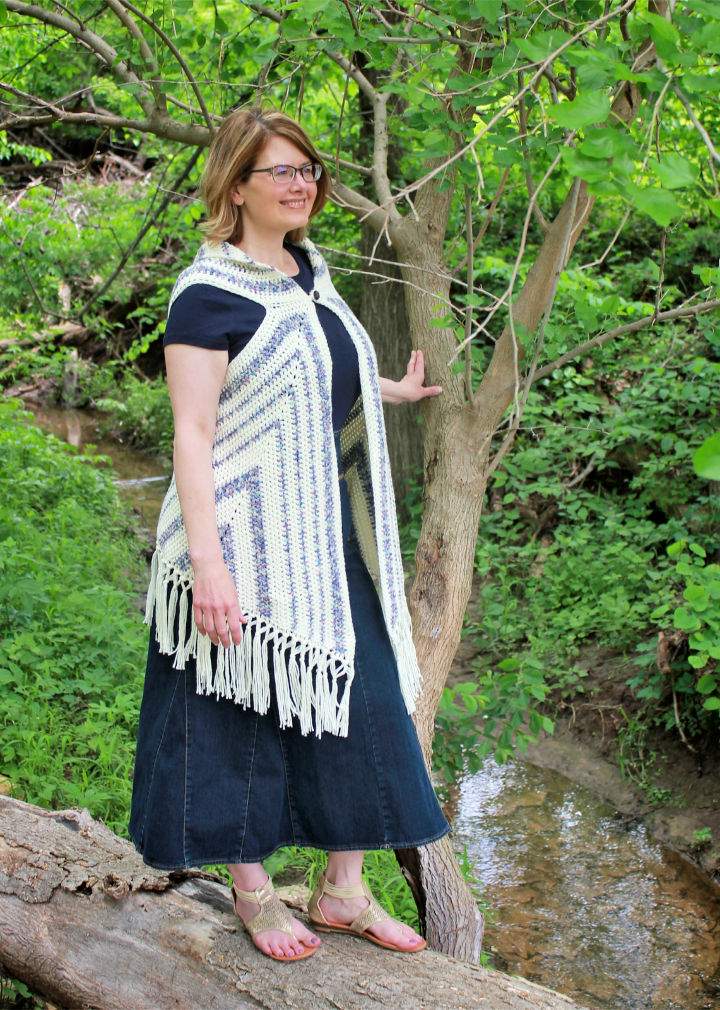 A fan of bohemian fashion? Well, then you're going to adore bohemian vest crochet pattern free! This white and grey crochet sweater has such a unique and cool shape to it and some tassels at the end, which adds a lot more detail and style to it. Since it is sleeveless, it is capable of being worn on cool summer nights, as well. This is because it won't make you feel too warm. You will need to know some special stitches for this amazing sweater such as the HDC. nanascraftyhome
Crochet Hook: 6.0mm/ size J
Yarn Weight: 2 Lion Brand Comfy Cotton Blend Whipped Cream, 1 Lion Brand Comfy Cotton Blend Cloud Nine
Finished Size: Small-4XL (27" x 20" – 39" x 32")
5. Crochet Circular Vest Pattern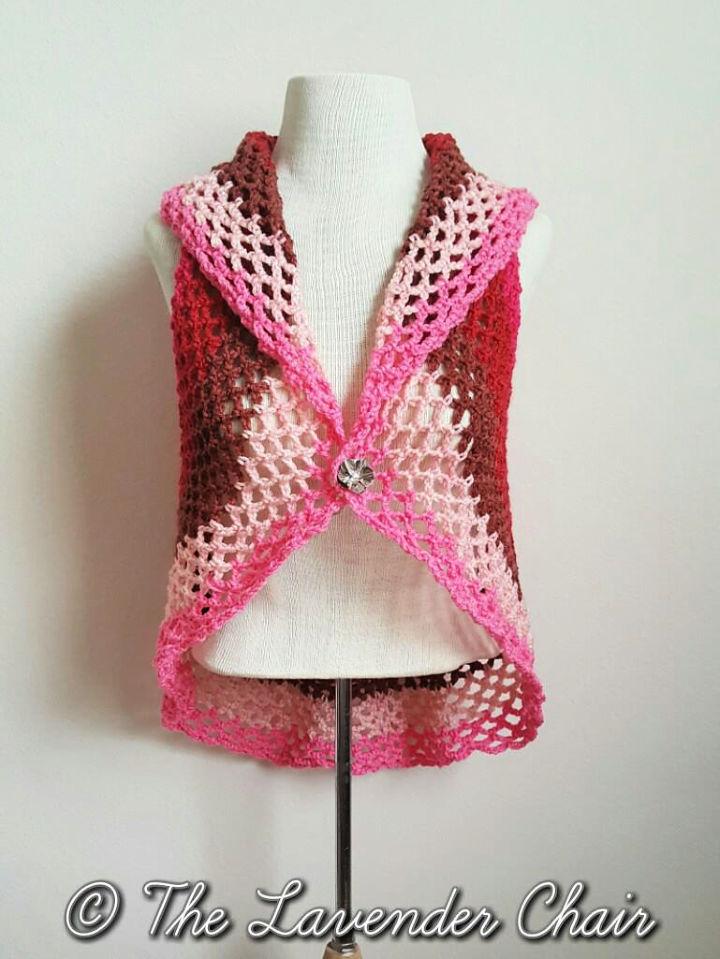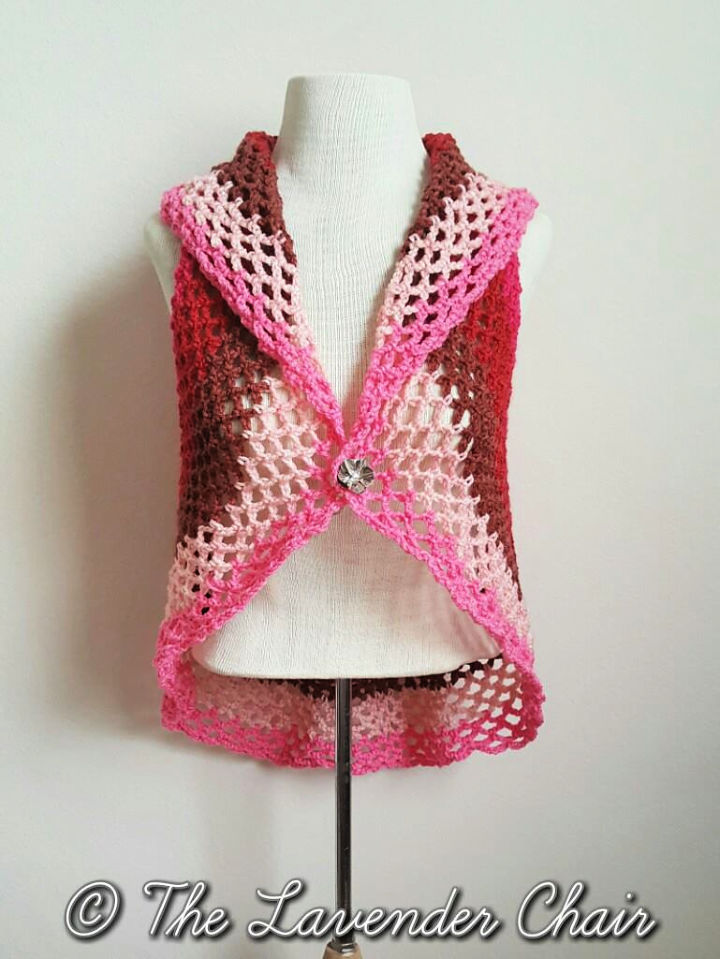 Here's a very girly and feminine pocket full of posies circular vest crochet pattern. All of the free crochet vest patterns are super out there; however, this one is something else! It is definitely an eye-catching vest and is perfect for layering. This is because the less bulky yarn is used to make this sweater, so it can be worn in late winter or the spring season. Start by crocheting the sweater and complete this masterpiece by adding a shiny button on it! thelavenderchair
Crochet Hook: 5.00-6.50mm hook
Yarn Weight: Worsted weight yarn (Caron Cakes 1 skein)
Finished Size: small-XL
6. How to Crochet a Waterfall Vest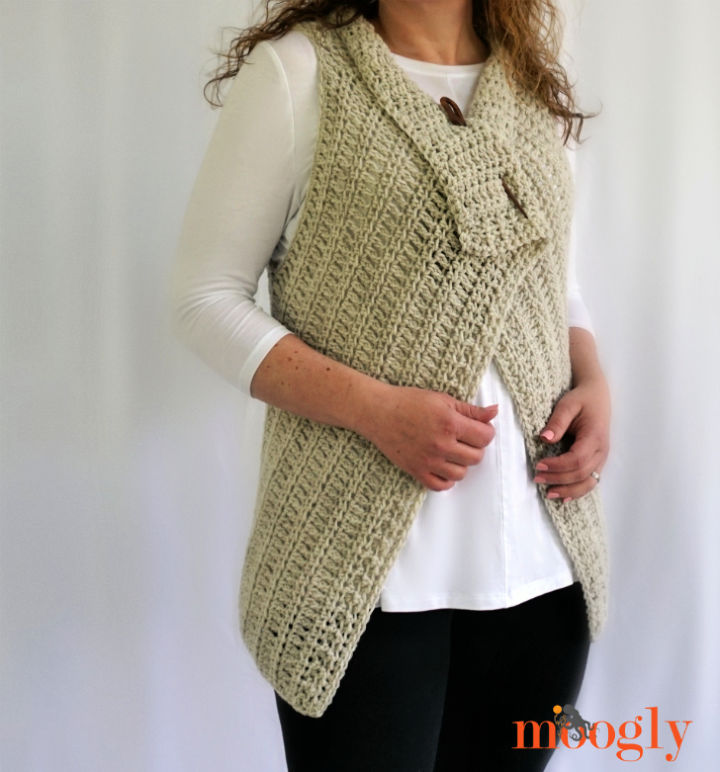 All of the minimalists might have been not so happy with the other free crochet vest patterns mentioned in this article before this one. Don't you worry! Here's a perfect crochet waterfall vest for the minimalists. It is super plain and one color, but it has a unique pattern and shape to it. Since it has a muted color, it can be worn on top of any outfit of any color. The process is straightforward as you can form the body first and then work on edging the sleeves. mooglyblog
Crochet Hook: 9.00mm hook
Yarn Weight: 600-900yards Lion Brand Wool-Ease- Natural Heather (197yards/180 m; 3oz)
Finished Size: small- 5XL (32"-38" bust – 56"-62" bust)
7. Spring Sun Mandala Vest Pattern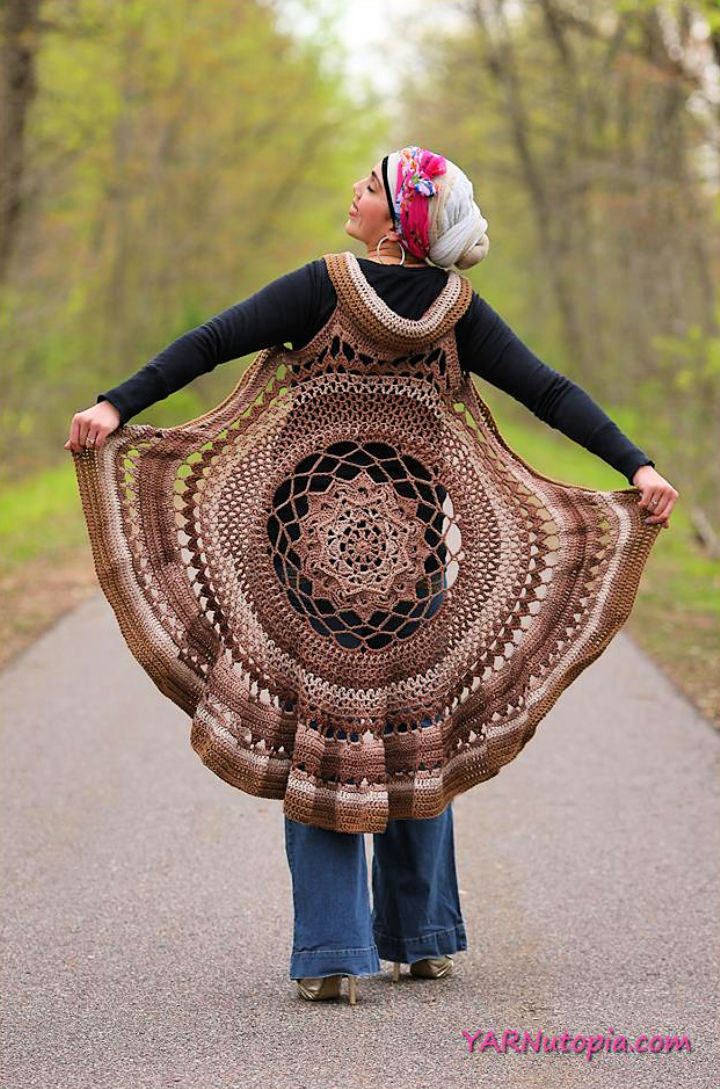 Have you ever seen anything like this before? Just look at it! Such a unique free crochet mandala vest pattern which beautiful colors and combinations. It has a perfect mandala pattern made out of Macaron color. It can be paired with something simple like a plain black or white top to give all of the attention to the pattern. The first step is to work on the basic vest. yarnutopia
Crochet Hook: 6.00mm hook
Yarn Weight: Red Heart Super Saver Ombre in the color Cocoa, Red Heart Super Saver Yarn in Cafe Latte (100yards in total)
8. Crochet Vest With Shawl Collar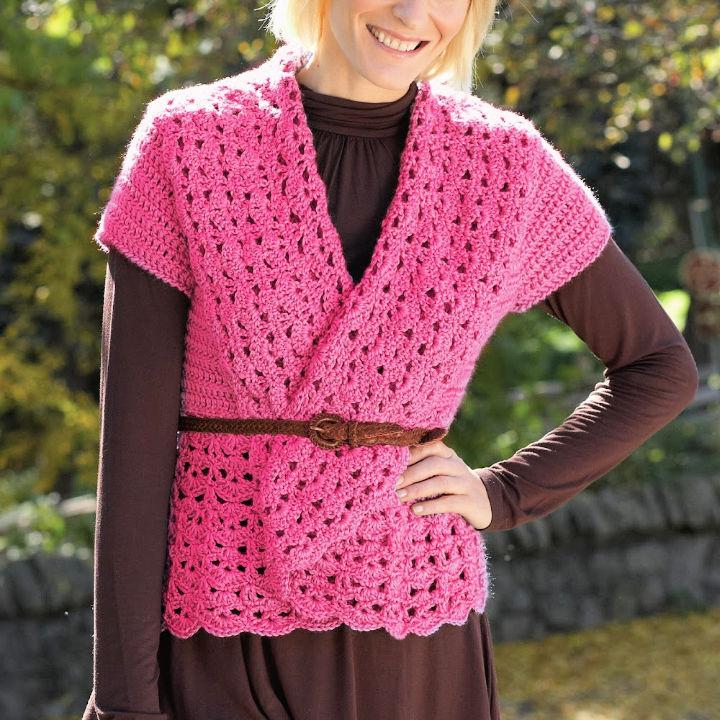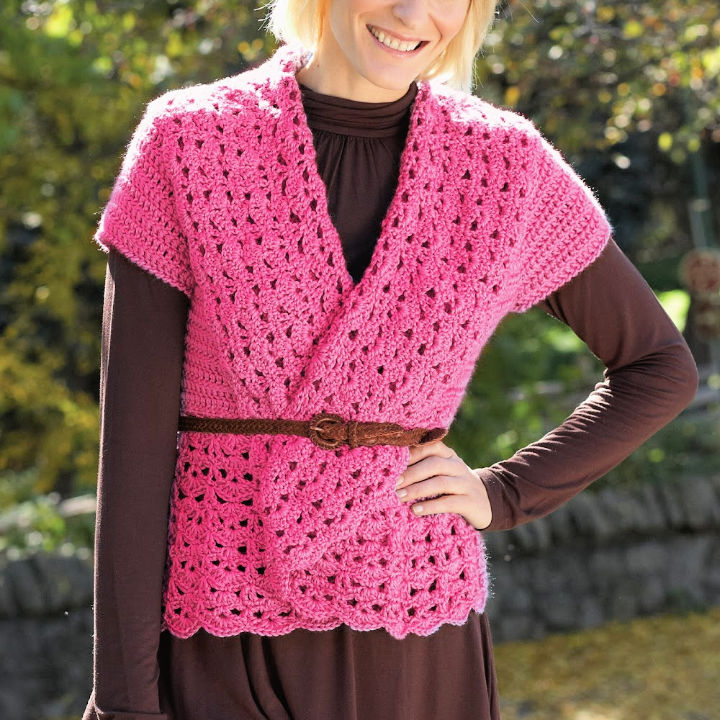 This pink and feminine crochet sweater vest with shawl collar can be worn in many ways! You could just wear this on top of something simple, do some natural makeup and hair and end up looking like a cute soft girl. It can also be glammed up by makeup and hairstyling and maybe wear this on top of a dress, and you'll look like a model! These types of crochet vests are very versatile and a must-have. Work on the base first and then move on to make those adorable little sleeves! yarnspirations
Finished Size: 44″ [112 cm] wide x 24″ [61 cm]
9. Crochet Vest for Babies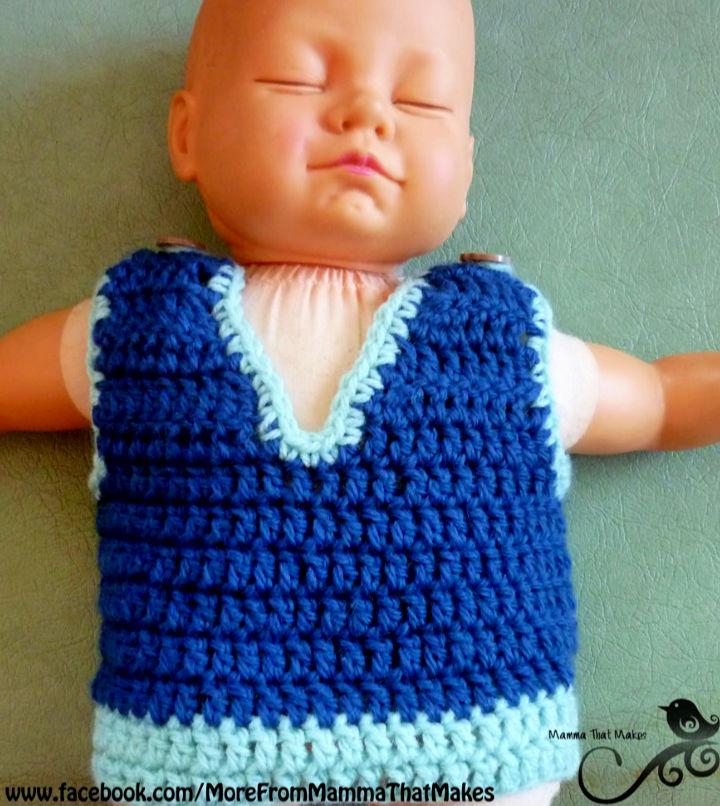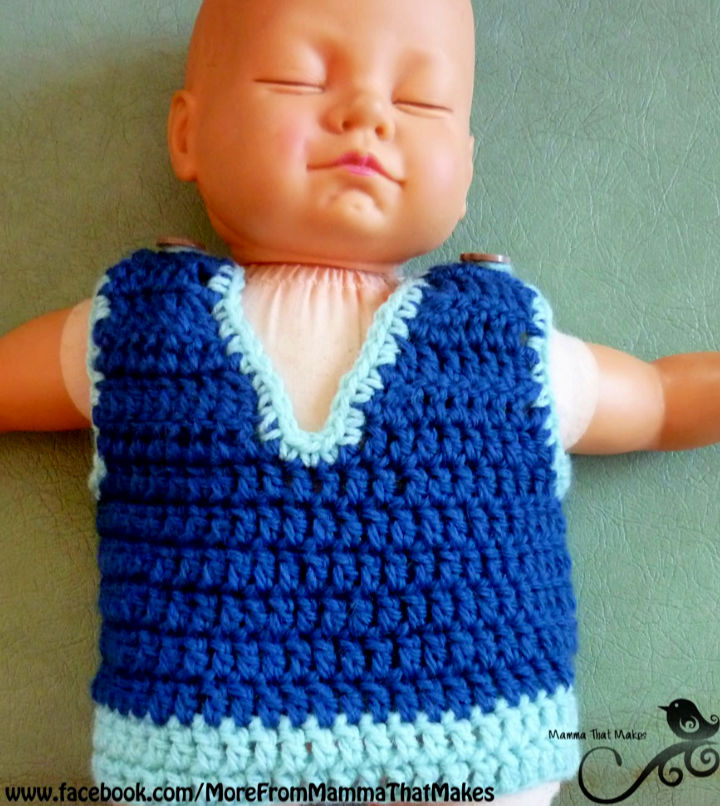 It's really hard to find some cute vest patterns for newborn babies. Here's one you can make. It's a combination of dark and light blue and looks very beautiful and perfect for a baby. Since it is so small, it won't take you very long to make this, and the outcome will be very beautiful! Make sure to use a soft yarn keeping in mind the baby's skin and the soft touch it needs! Start with contrasting colors and end it with the main color! mammathatm
Crochet Hook: 4mm hook
Yarn Weight: DK weight yarn in main and contrasting colors.
10. Crochet Vest Top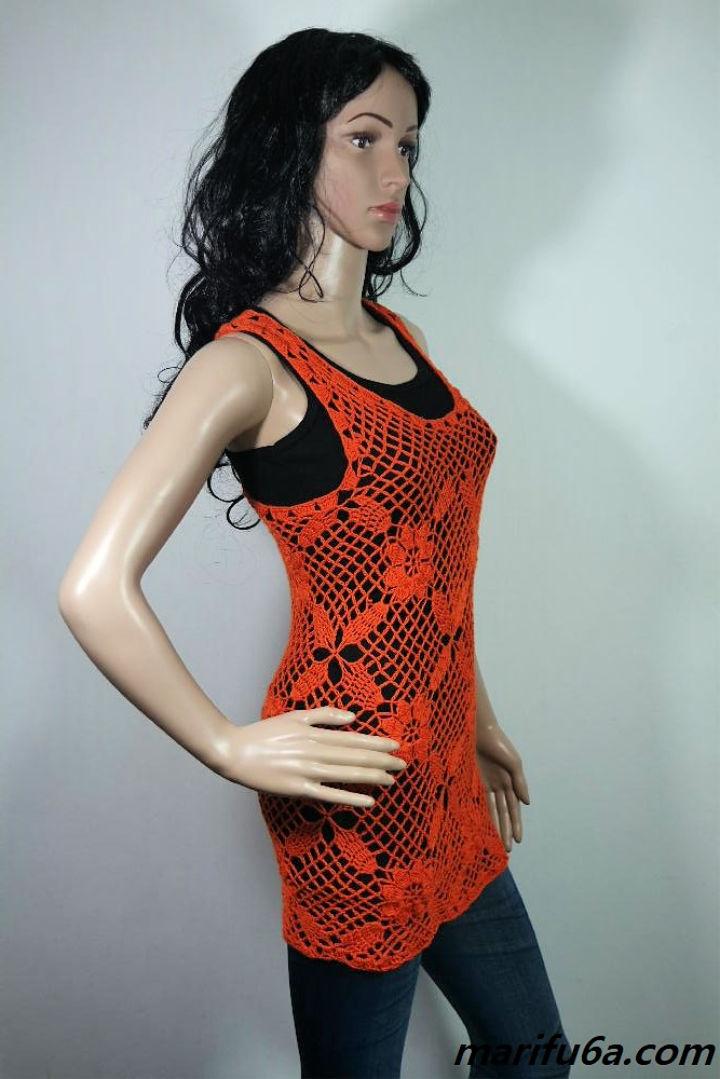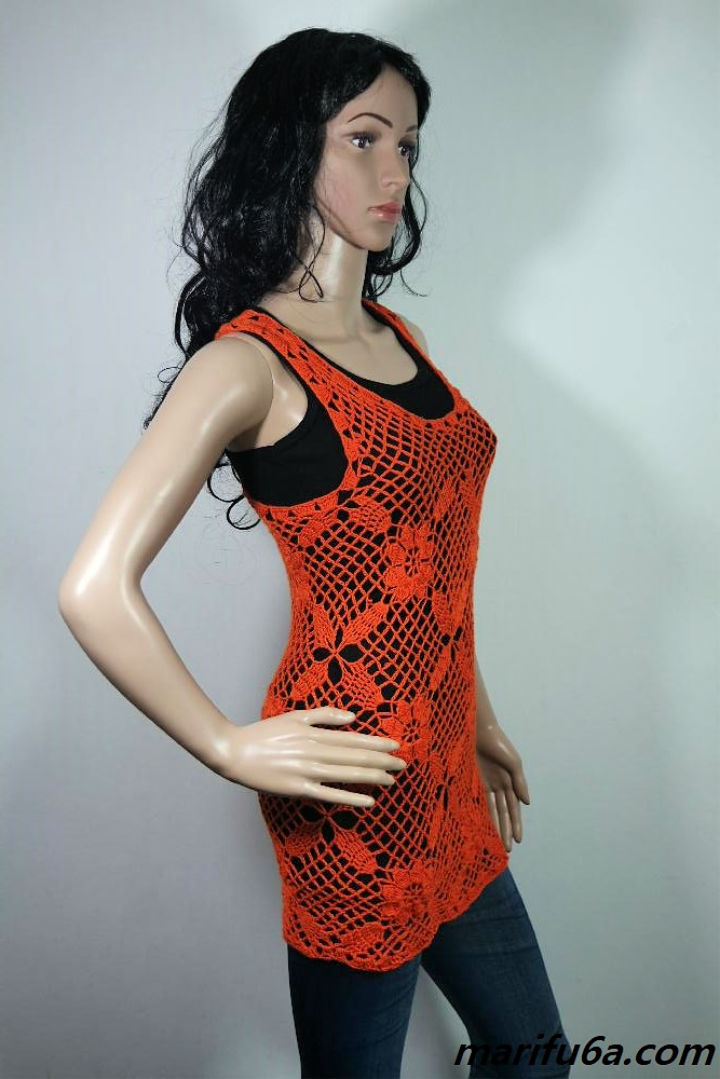 Everyone goes through those times when they feel like their outfits are getting a little too casual, and they want something girly and feminine to spice their closet up. Here's a great example of a vest top from our free crochet vest patterns, which will make your body look amazing, and the lacey look to it makes it super cute. You can pair this on top of any outfit or dress. It can be an excellent cover-up for your swimsuits in the summertime, as well! youtube
Crochet Hook: 3mm hook
Size: Small, medium, large to XXXL
11. Crochet Vintage Collared Vest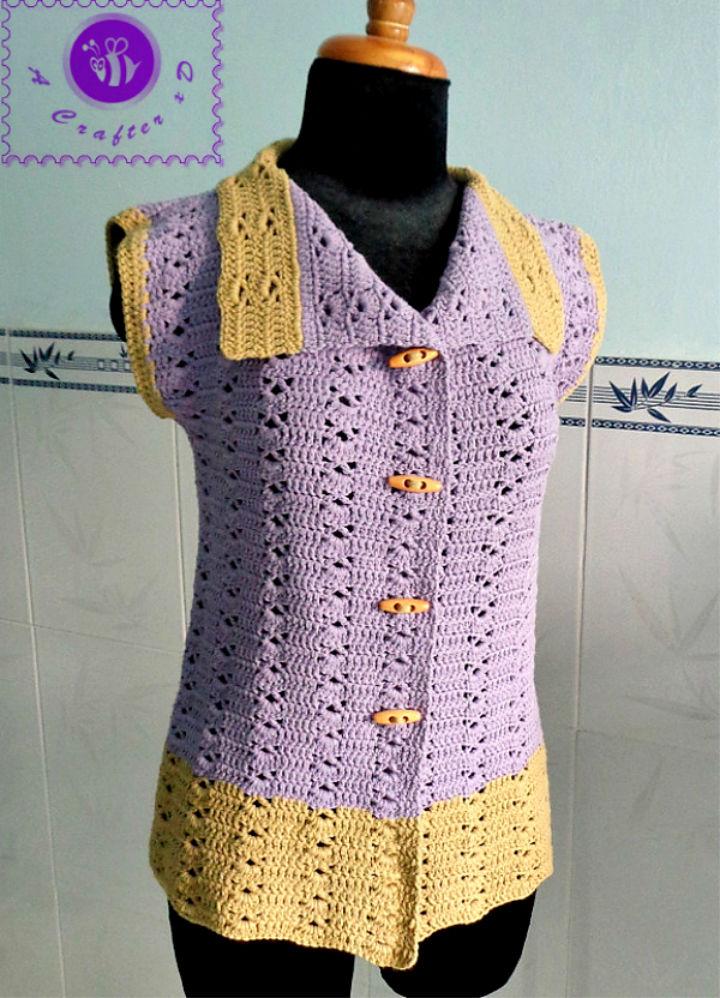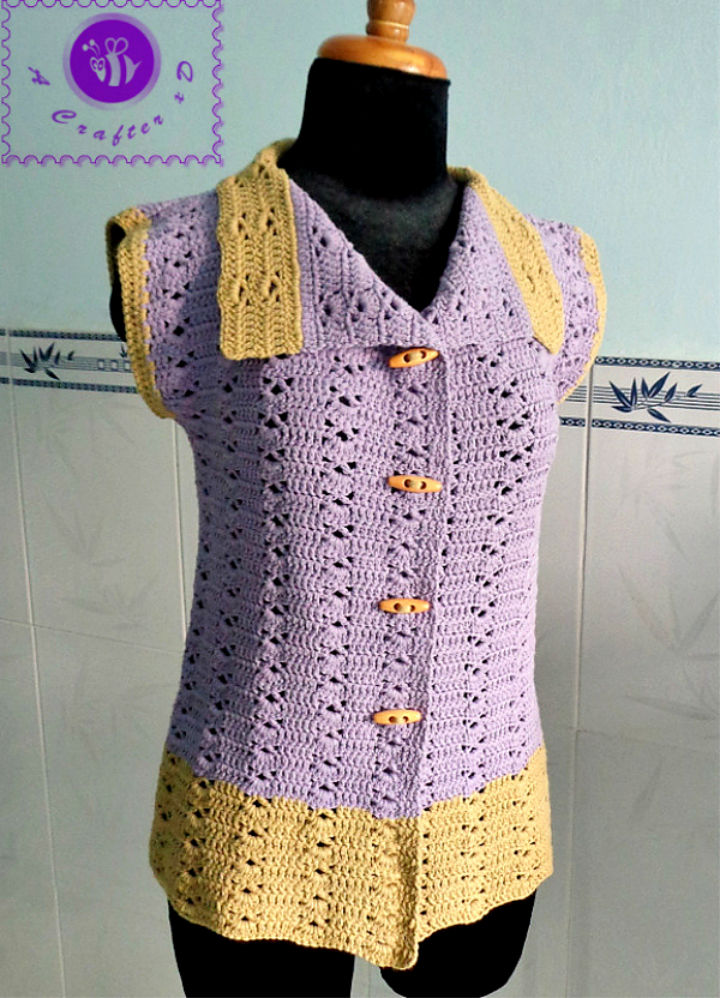 Do you love the old times? Want to know how it felt like dressing up in the '90s? Well, here is an amazing example of what type of clothes were worn back then. Simple, elegant, and classic – this Crochet vintage collared vest will make you look very beautiful. It has a very cute pattern to it, and your mother will definitely approve your outfit! You may even make this for her as a Mother's Day present, and she will feel like you put in a ton of effort! beacrafter
Crochet Hook: 3.25mm hook
Yarn Weight: Lightweight/ DK yarn: lilac and beige (328yards per skein )
12. Lotus Mandala Circular Vest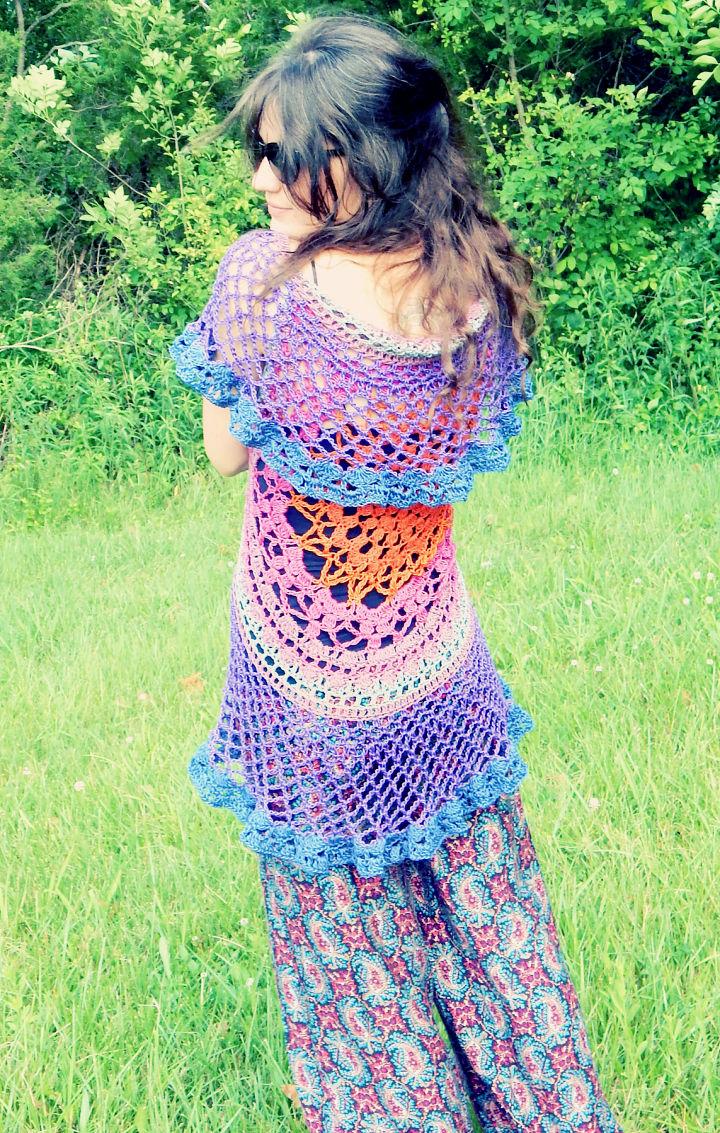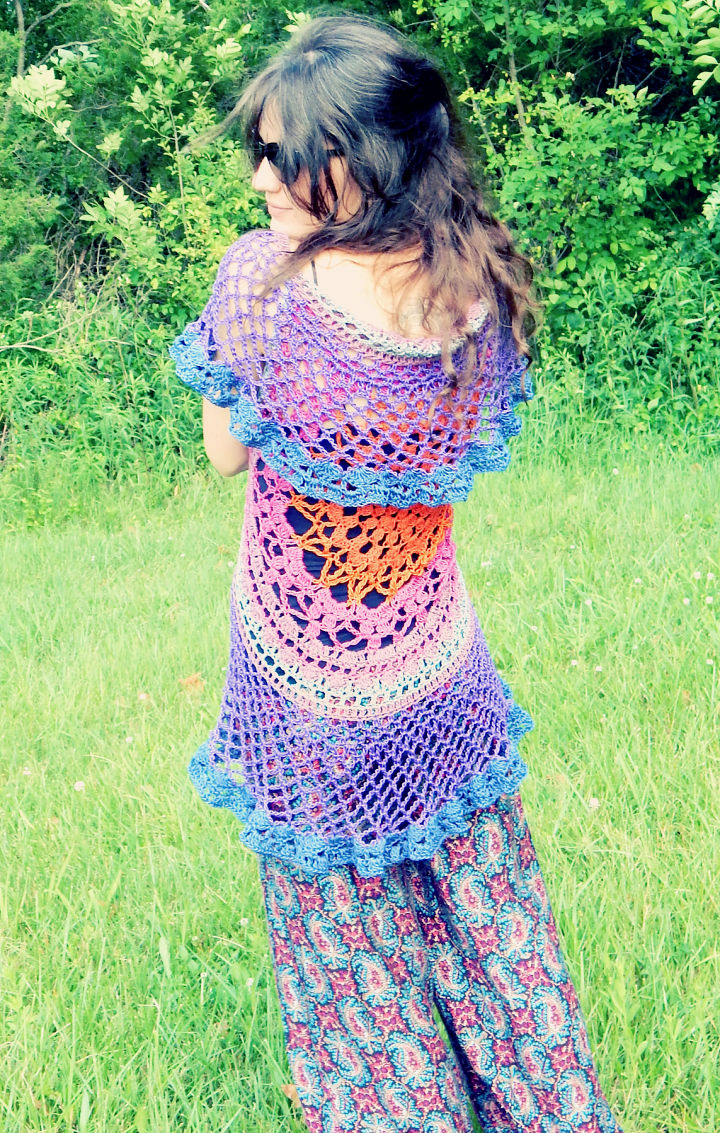 Mandala patterns are of those free crochet vest patterns, which will always be in style. No matter what age or era it is, these free crochet patterns have a timeless look to them. After all, who doesn't enjoy a little bit of bohemian in their closet? You can wear this lotus mandala circular vest at the start of spring when it's still cold out. It features an open style vest but you can make the arms closer and make it a bit more covering! You can start by working in the middle and moving your way out. moralefiber
Crochet Hook: 5.5mm hook
Yarn Weight: Lion Brand 24/7 cotton (8 skeins)
13. Crochet Granny Square Vest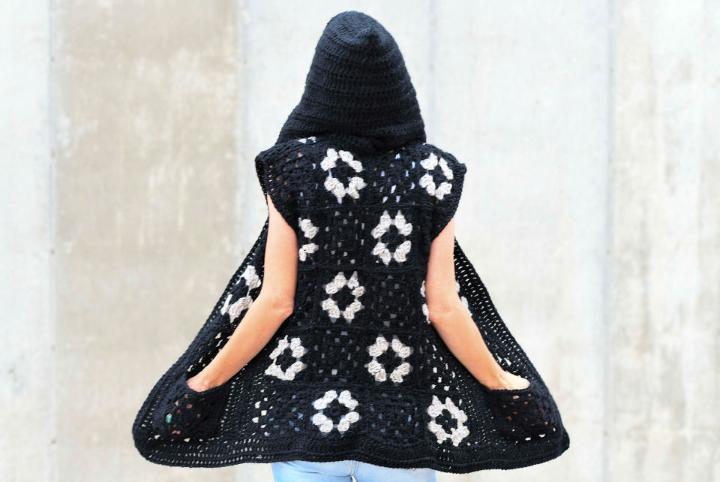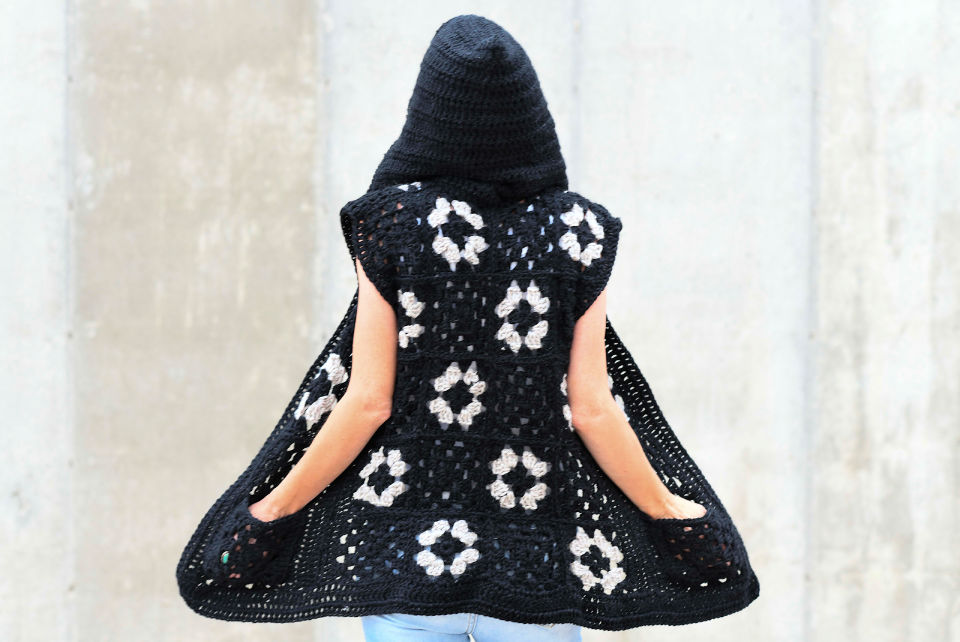 Another pattern for all of the minimalists reading this crochet granny square jacket tutorial! You're not forgotten! This granny square vest pattern features the two most basic colors – white and black! Black is a very warm and cozy color, and the white detailing will add some contrast and beauty to it. It is a timeless collection of classic granny pattern crocheted together! The best part about this vest is that it comes with a hood! All you need to know are some basic stitches for this style, so any beginner can master this pattern! mamainastitch
Crochet Hook: 5.25 hook
Yarn Weight: Lion Brand (6 skeins in total, 417g yarn used in total)
Finished Size: small-XXL (26"-18" – 52"-26")
14. Shawl in a cake patterns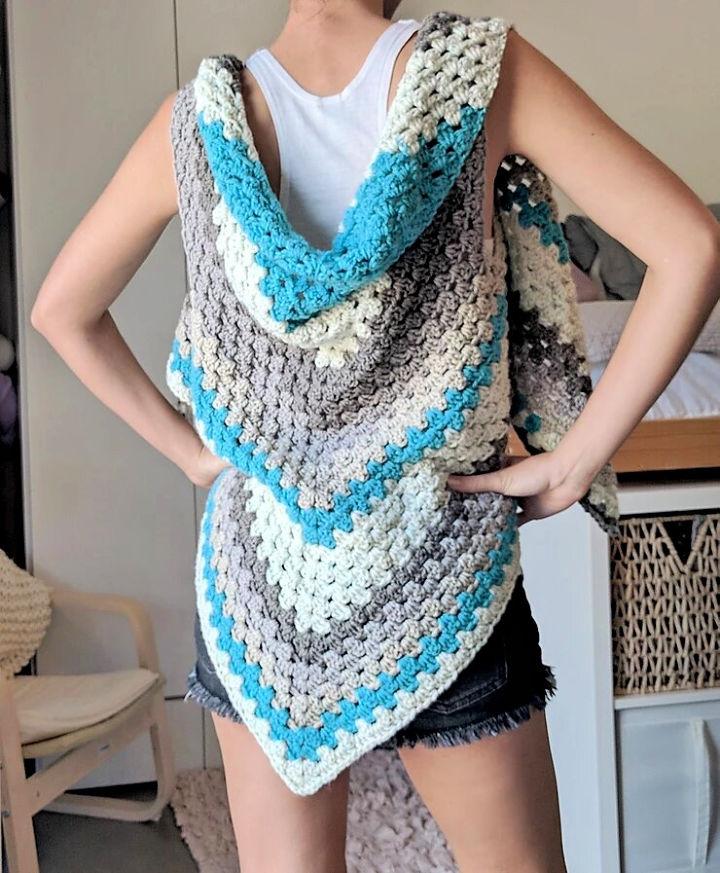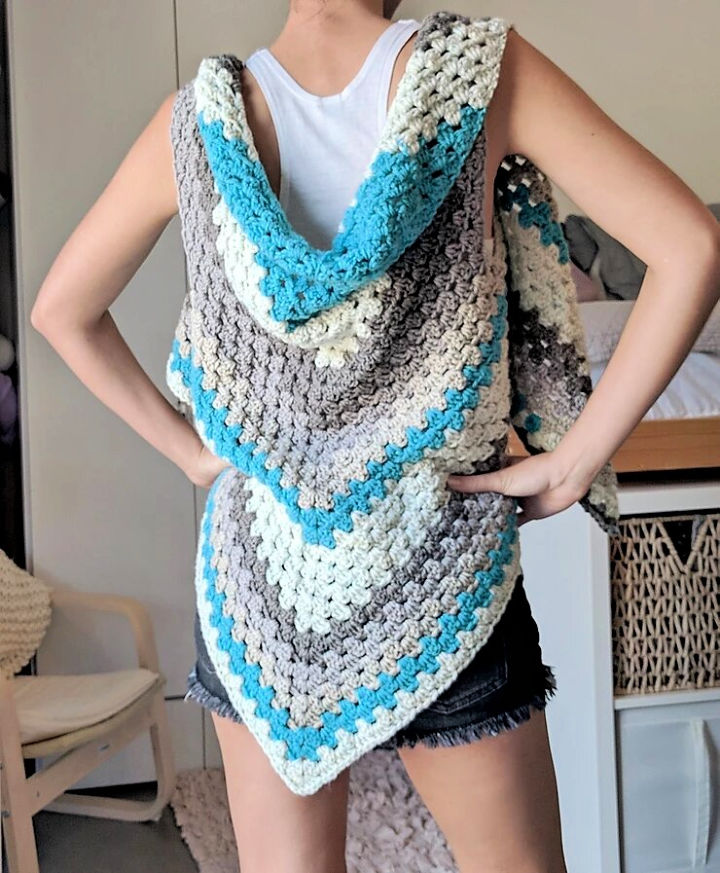 How to crochet a triangle shawl? Caron Cake yarn always makes the best-textured crochet pieces! Using it in this free crochet triangle shawl pattern, the shawl will give it more interest to the eyes. To begin this pattern, you will need a 6.5mm (k) crochet hook along with 2 Caron cakes. You can do the alteration and make this shawl in two sizes to do the "matching of Like mother like daughter". In order to nail the striping pattern, you need to have the cakes in different colors. thesnugglery
Yarn: Caron cake yarn
Hook: 6.5mm (k)
15. Free Crochet Vest Pattern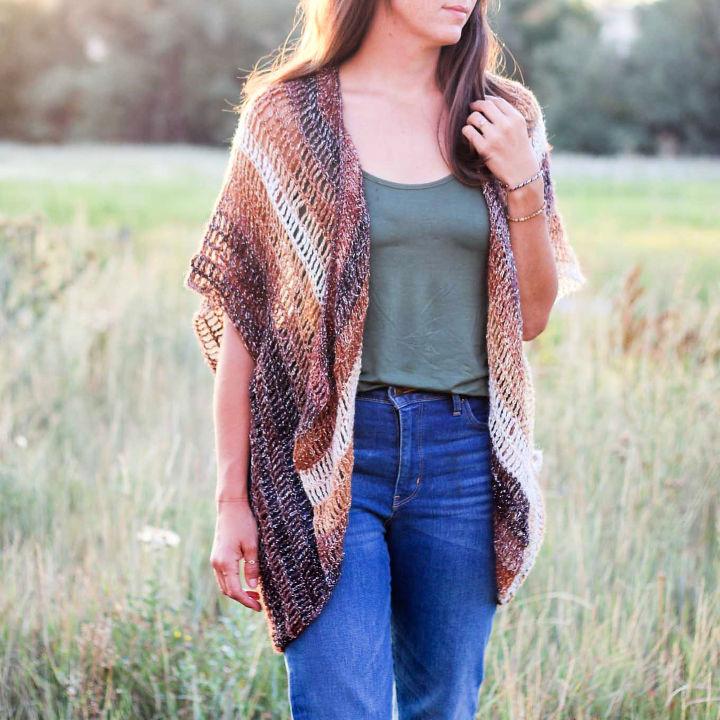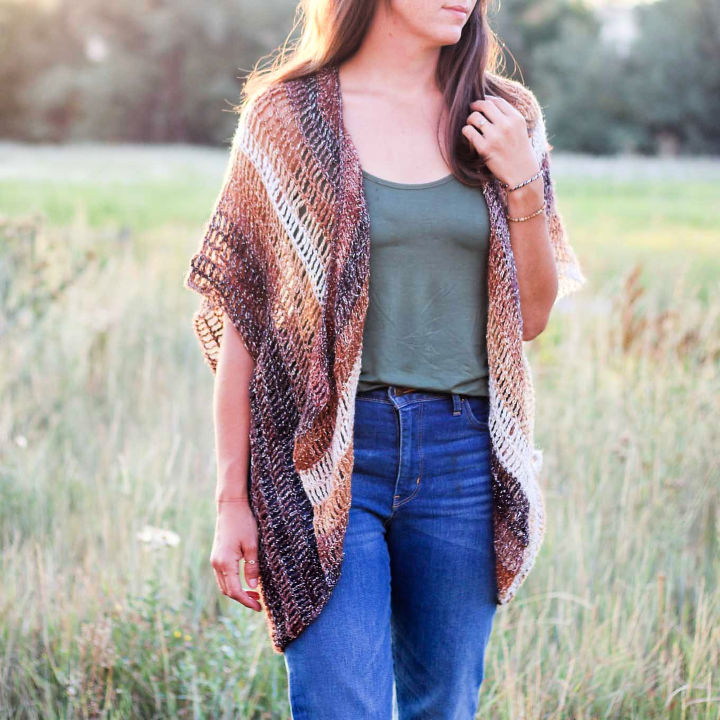 Crochet this vest it is as lightweight as air. A perfect addition to your spring wardrobe!! Customize it in any size by following the sizes and measurements. To give the vest and airy feel, The tutorial suggests using "Lion Brand" because its quality is too fine and has so much yardage per ball. The usage of simple stitches makes it a perfect and appropriate supply for the project. makeanddocrew
Yarn: Lion Brand Shawl in a Ball
Hook: J (6.0)
Gauge: 9tr= 4'', 4 rows=4''
16. Crochet Poncho Vest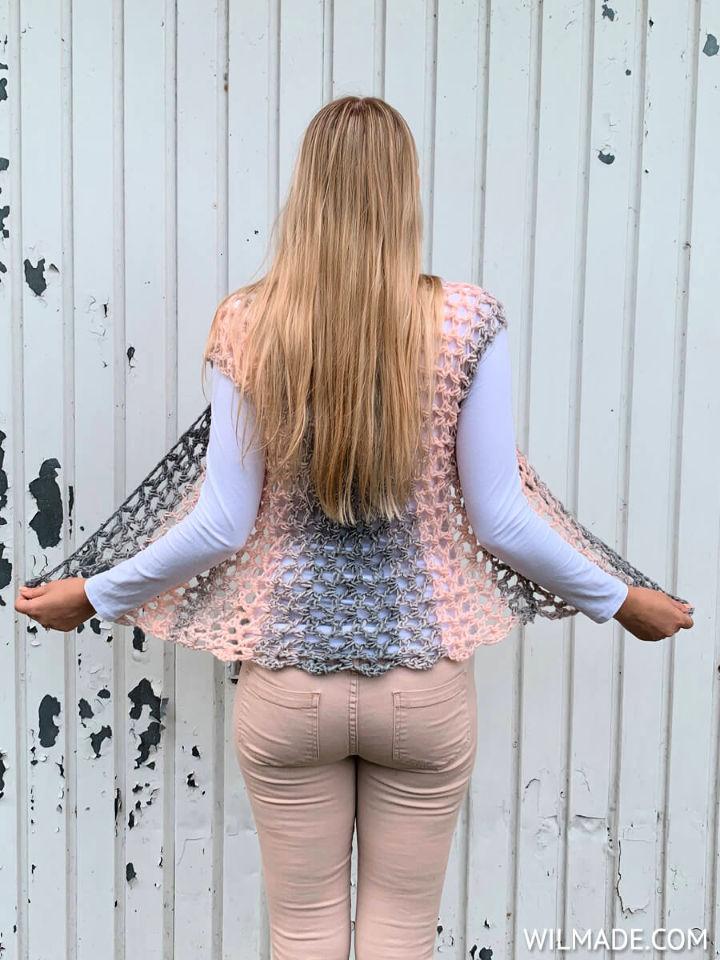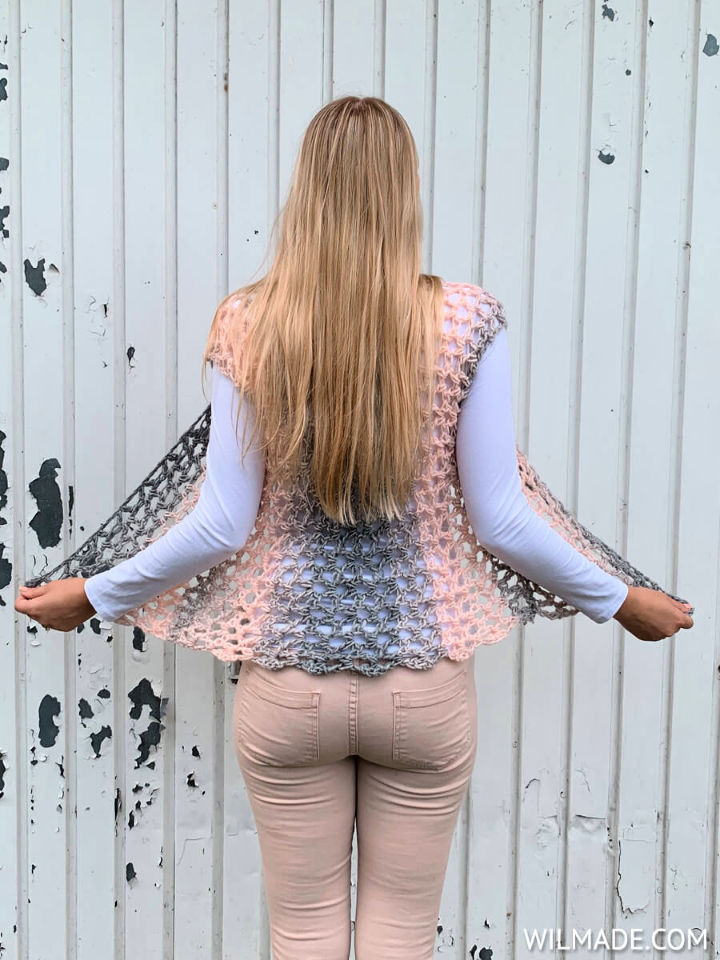 This crochet poncho vest might be the easiest and fastest to crochet. All you need to have is the basic knowledge about the chains and double crochet stitches. The amazing part is that this vest can be worked in one piece from side to side continuously and without cutting the yarn with scissors. Afterward, sew both sides together, and you are done with your charming sleeveless vest for this season. wilmade
Yarn: Lion Brand Scarfie 312 yards
Hook: 10mm
Gauge: 2.8 ch-sp x 5 rows equal 10 cm / 4''
17. Crochet Red Heart V-neck Vest Pattern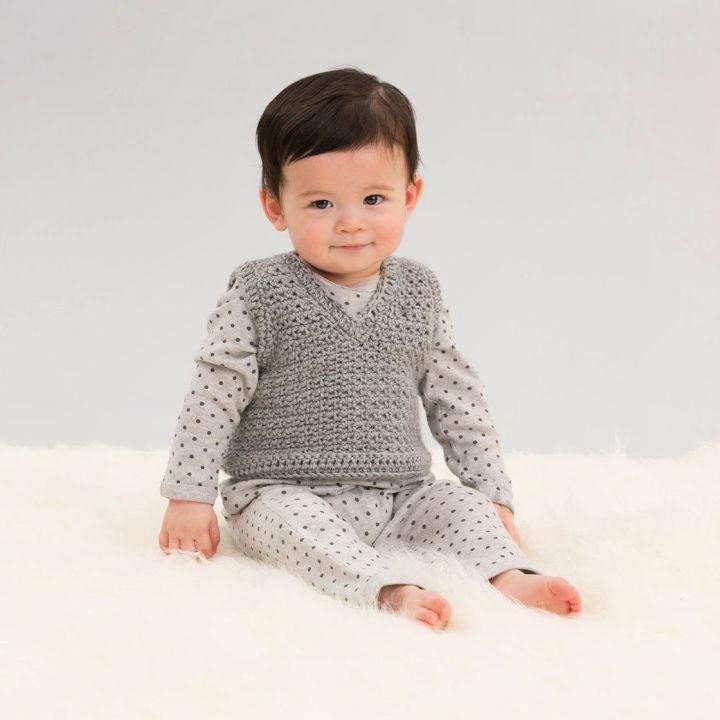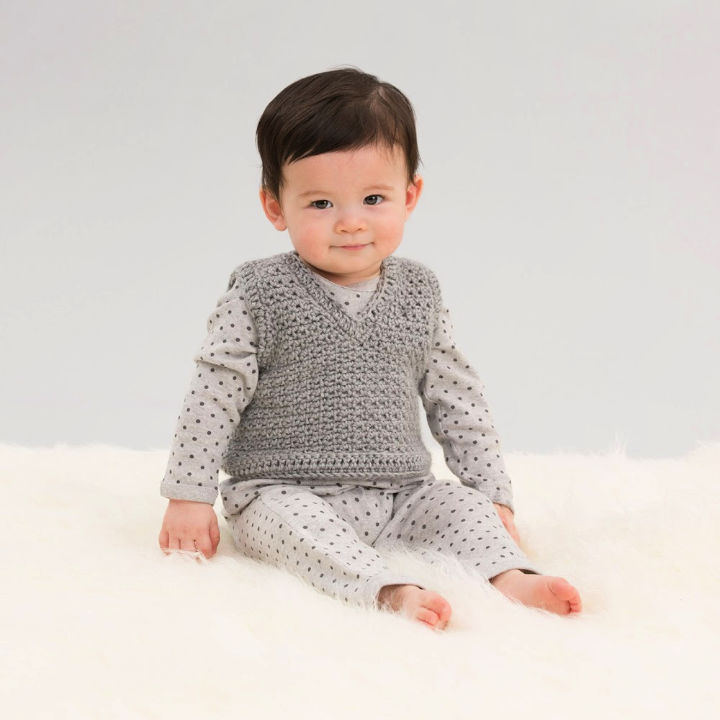 A vest with V-neck seems old-fashioned. But it will turn out the classic retro-styled vest for the toddlers. For crocheting it, you will need a red heart soft yarn ball with a 4mm of the crochet hook. Personalize its size according to your toddler's size by weaving ends of the rows in the required size. You just need to whip up to 7 rows if you want to make it for a 6 months old. Continue the rows if you need a larger one. yarnspirations
Yarn: Red Heart Soft 1 (2, 2, 2) balls
Hook: 4mm (US G-6)
Gauge: 16 sc = 4'' (10 cm):20 rows = 4'' (10 cm) in pattern st.
18. Crochet Sweater Vest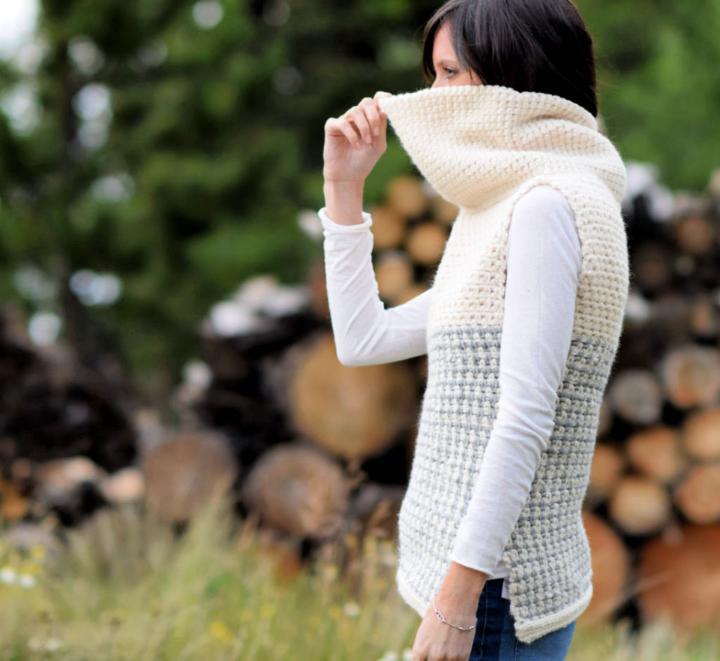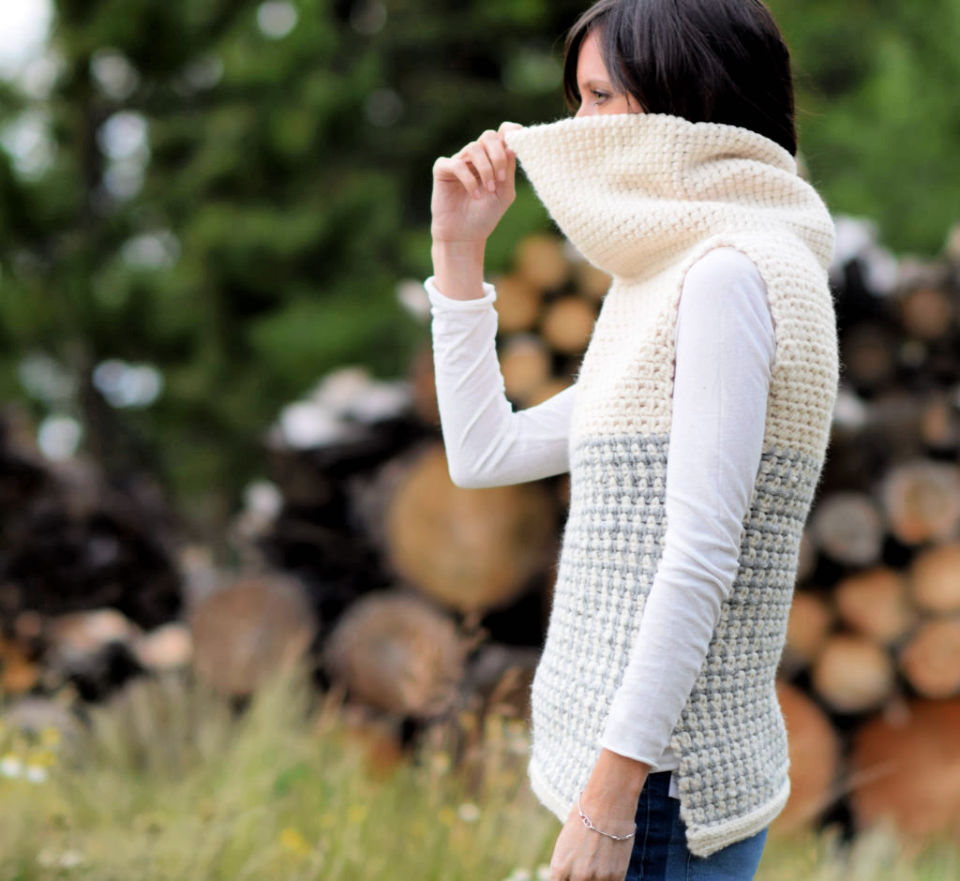 The most loveable thing about cowled sweater vest is that it will add so much warmth and coziness when the weather is a little bit colder. It is made out of granite stitches that are super easy to get hang of. Usage of chunky yarn makes the stitches pop and obvious. Choose your favorite color from the endless series of colors and follow along with the crochet sweater vest. mamainastitch
Yarn: Lion Brand Yarn Wool chunky yarn
Hook: Size K 6.5mm and size L 8.0mm
Gauge: 3 stitches per inch and 2.75 roes per inch
19. Pegasus Mandala Crochet Vest Pattern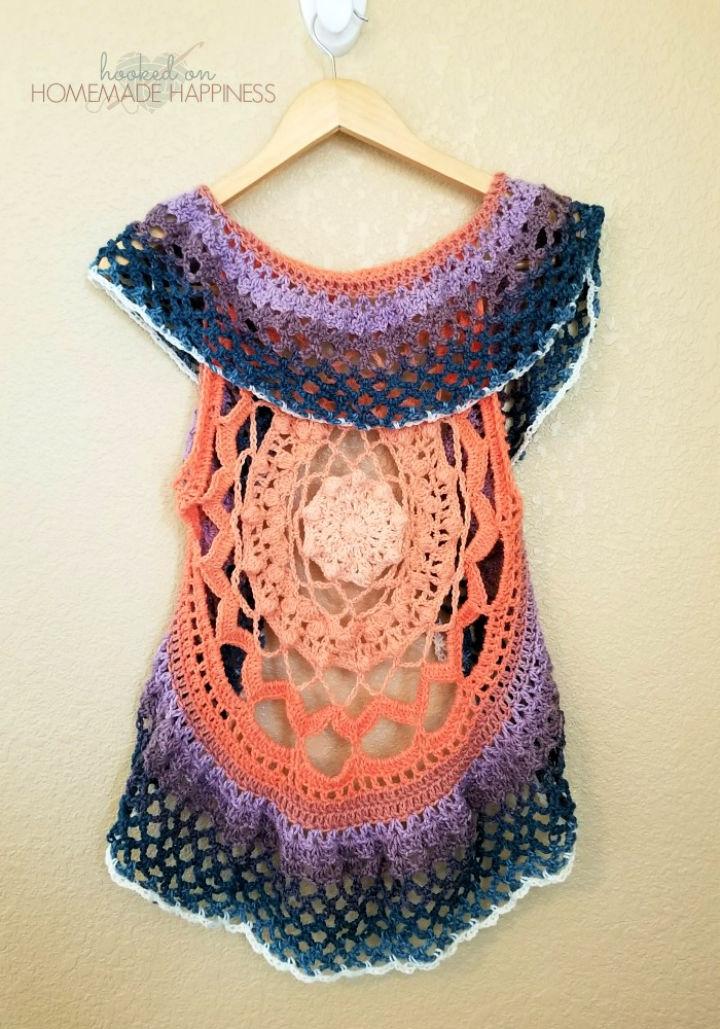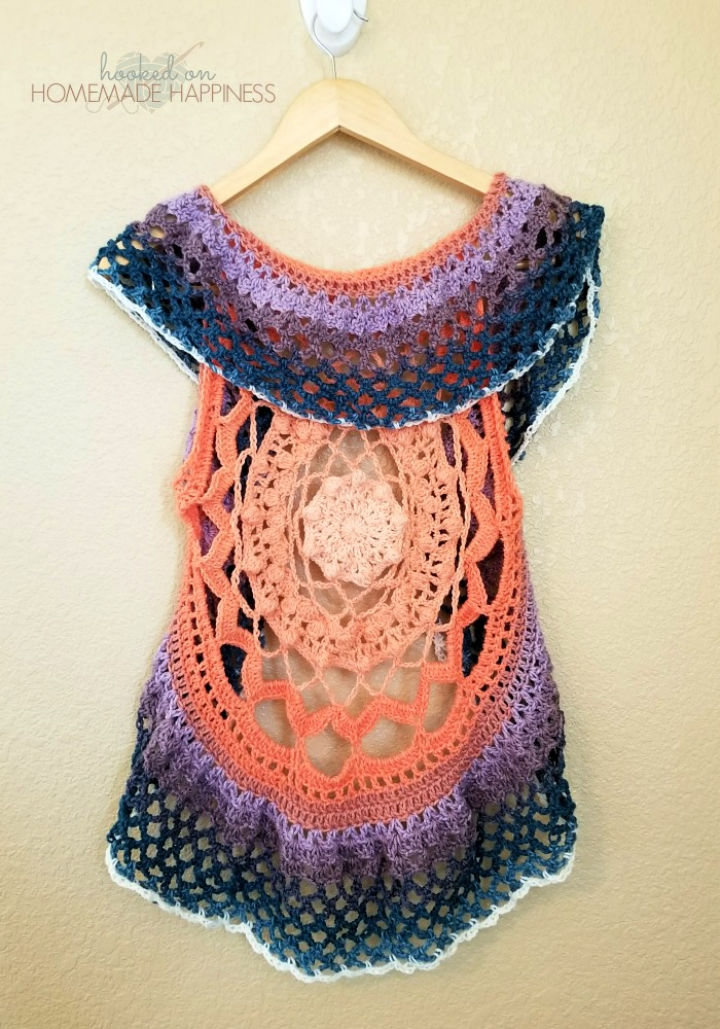 Looking for something chic to rock your plain top with? No worries, this Pegasus mandala crochet vest can be paired nicely with your top and jeans. Get your hands on lion brand mandala cake to make this delicate beauty. This vest is in size small, so you just need one skein. Weave the ends with the yarn needle if you think the size will fit you, otherwise move your 5mm hook for few rows further. hookedonhome
Yarn: Lion Brand Mandela 590 yards.
Hook: 5.0mm
20. Crocheted Vest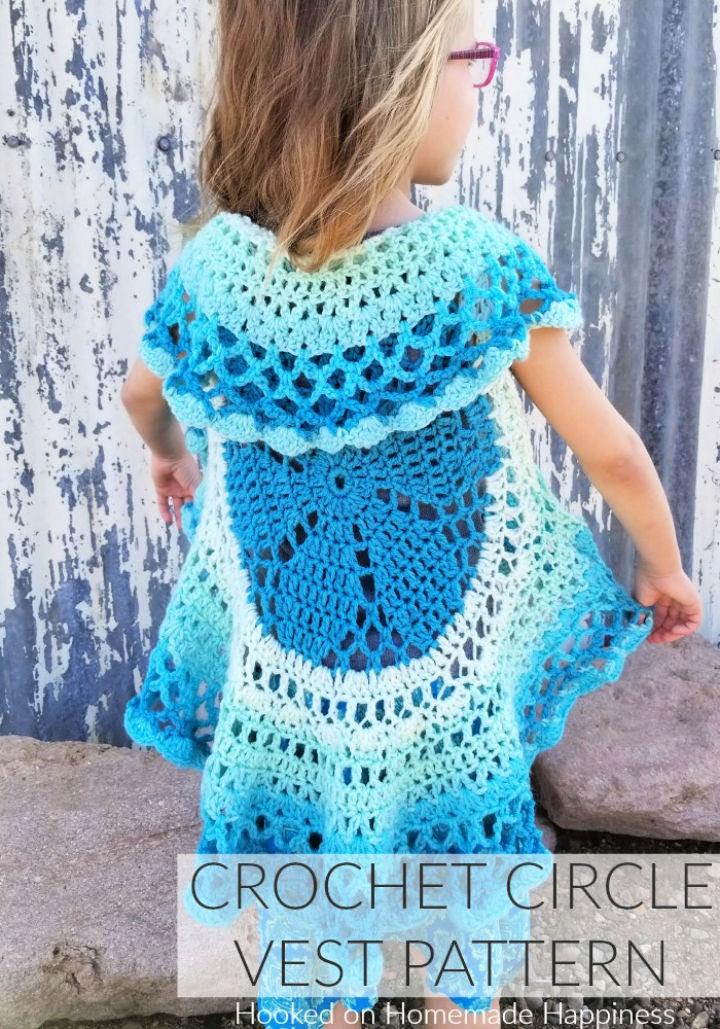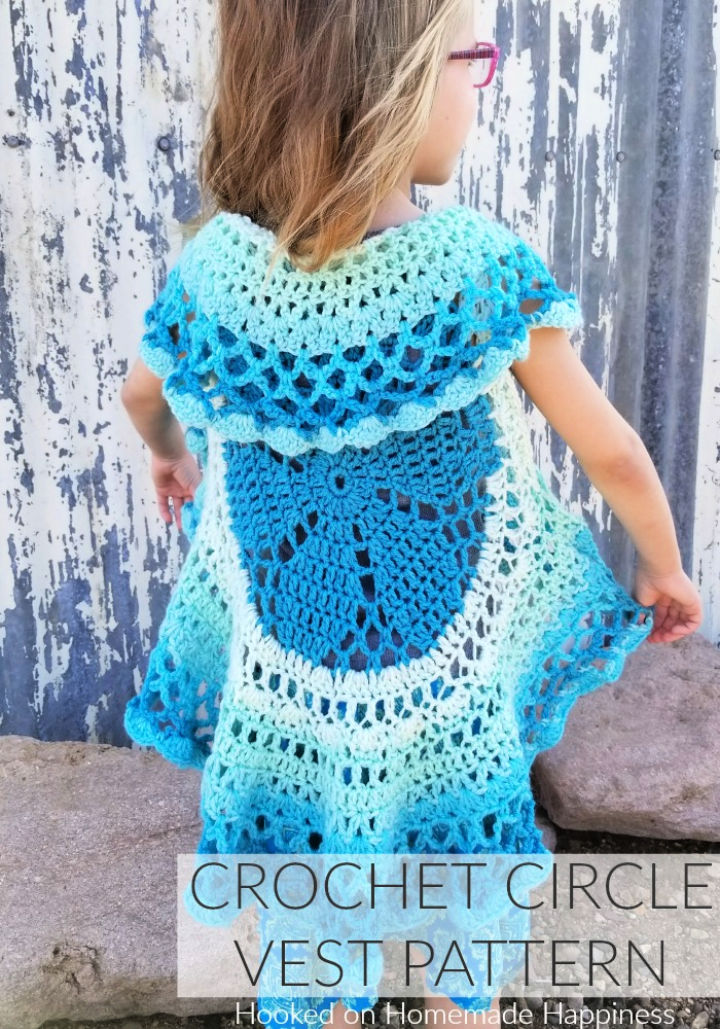 This crochet vest will be a treat to your daughters or yourself. This is a fun accessory that you can crochet with your basic skill level. Start the crochet circle vest or shrug pattern from making the center flower and go on and on with the single and double crochet stitches. By wrapping a Caron cake yarn around the 5.5mm of the hook. The vest is beautifully draped and flowy so it can fit a range of sizes easily. hookedonhome
Yarn: 1 skein Caron Cake in Faerie cake
Hook: 5.5mm
21. Crochet Lace Vest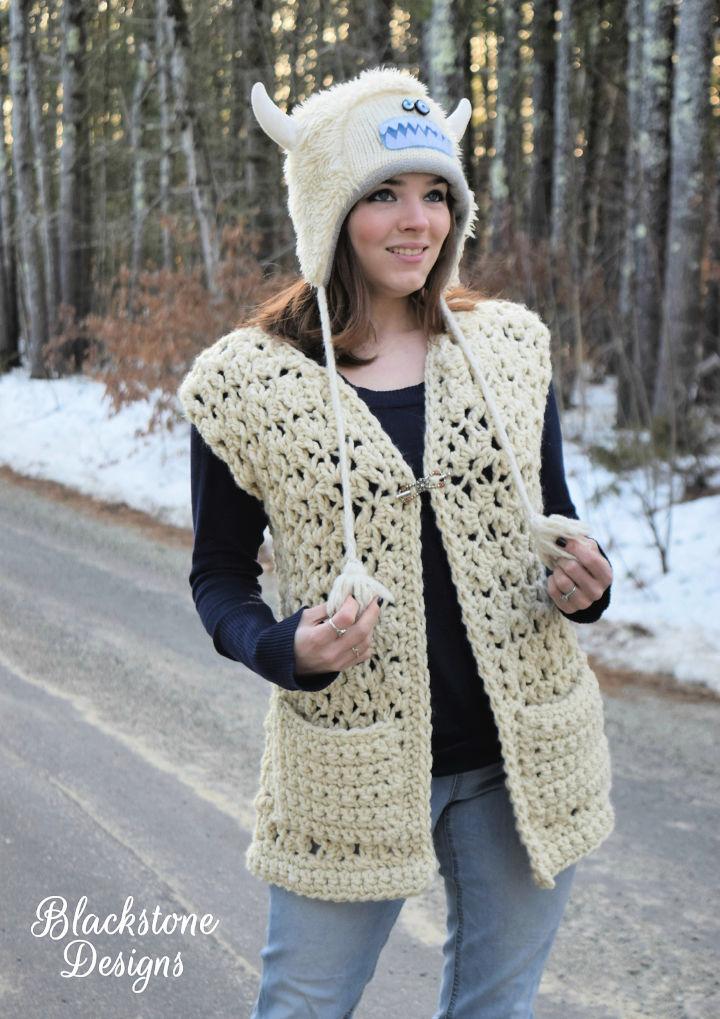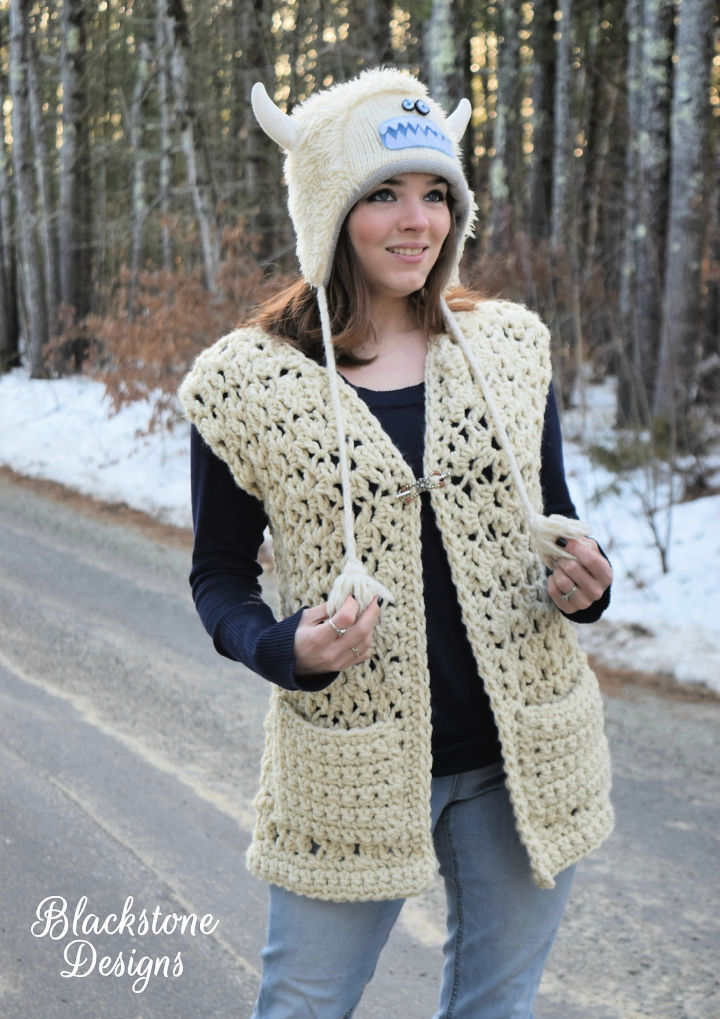 A vest adorned with lace brings much more interest and is in trend these days. This crochet lace vest pattern is so quick to work up. You can make it in any size by enhancing or reducing the yards of super bulky yarn. For making its stitches pop up and bulging, you must use a crochet hook of size 15mm. After completion of every row weave in the end with the yarn needle to avoid the cluster of open ends. blackstone
Yarn: Super bulky yarn 1300 yards
Hook: P/Q 15.00mm
Gauge: 5sts x 4 rows = 4 inches.
22. Crocheted Vest Pattern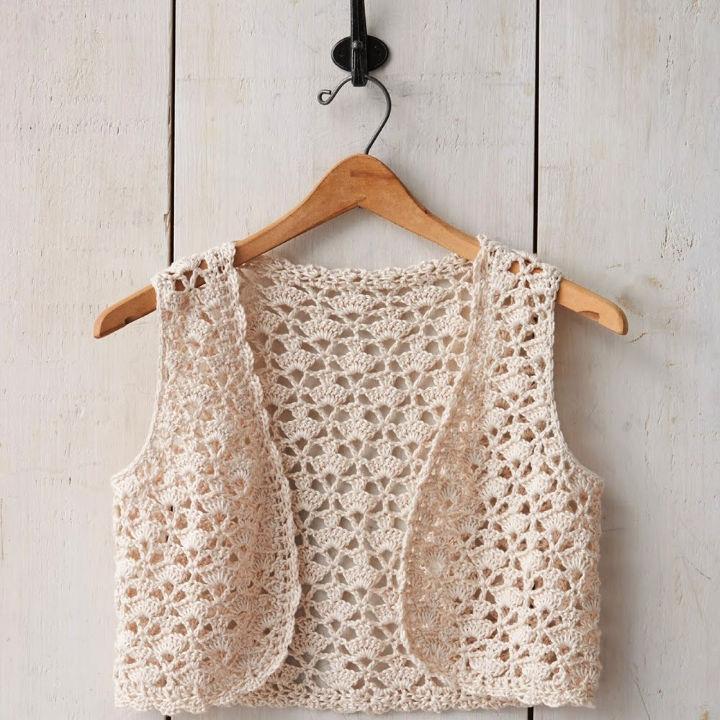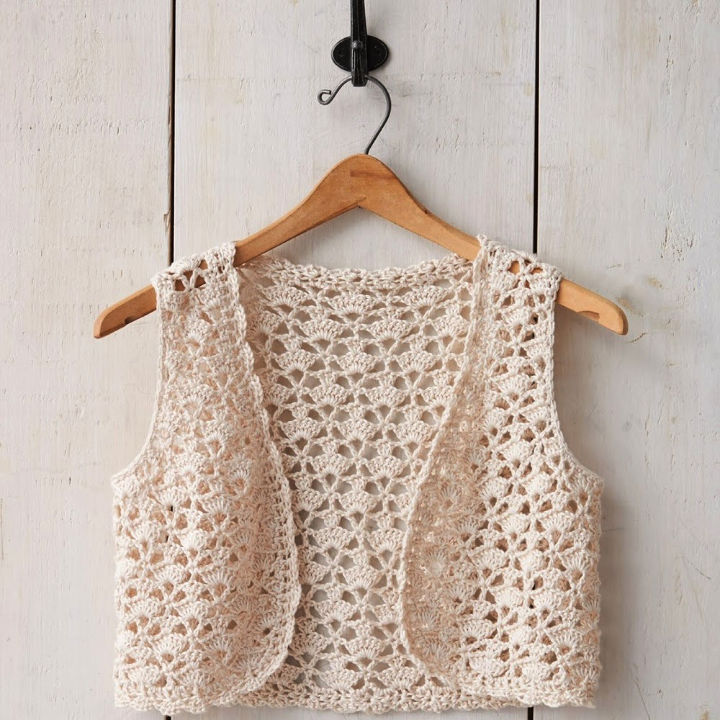 The details this crochet vest carries will bring so much grace to any outfit. Wear it with fusion top or jeans to enhance its swankiness. You can change its measurement from small to large by changing the gauge and the hook. For small size, use 4mm of crochet hook with 3 balls of Patons silk bamboo yarn. You will need to continue crocheting till the 17th row for the front and 14 rows for the back. yarnspirations
Yarn: Paton Silk Bamboo 102 yards
Hook: G/6 4.00mm
Gauge: 16 sc and 20 rows= 4", 19 sts and 7 rows= 4"
23. Girls Crochet Vest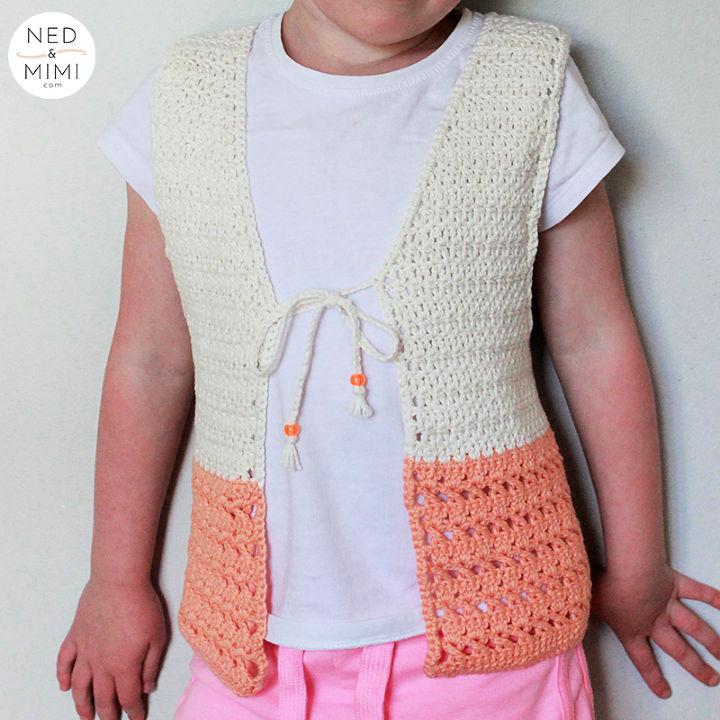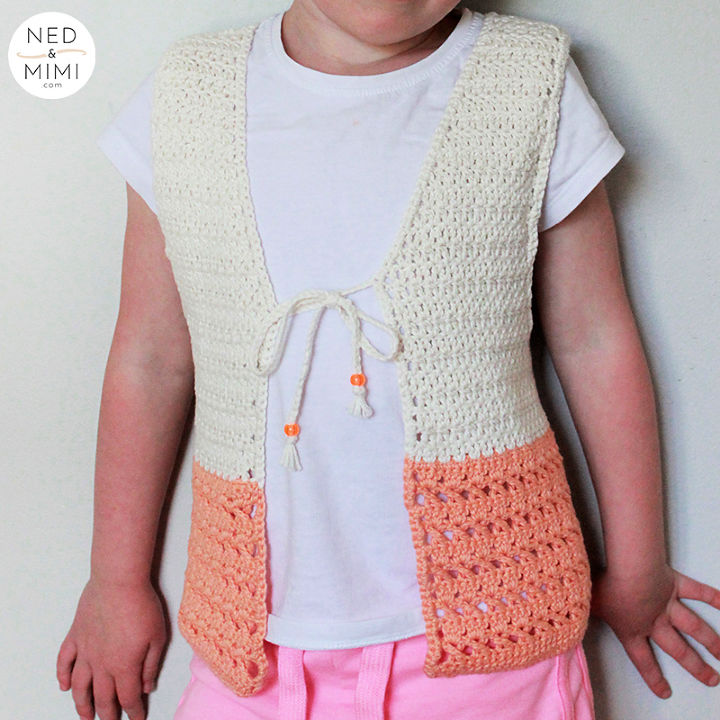 This free girls crochet vest pattern will lead you to crochet your kid, a beautiful vest that will go with any jeans and top. It is the combination of peach and green skein of yarn, sprinkling softness in the eyes, and warmth to their bodies. The paintbox yarns cotton DK will provide the hook with the flexibility of stitches. You can check the table for the size and skein you will be needing below. nedandmimi
Yarn: Paintbox Yarns Cotton DK
Hook: 3.5mm/ E-4
24. Women Crochet Vest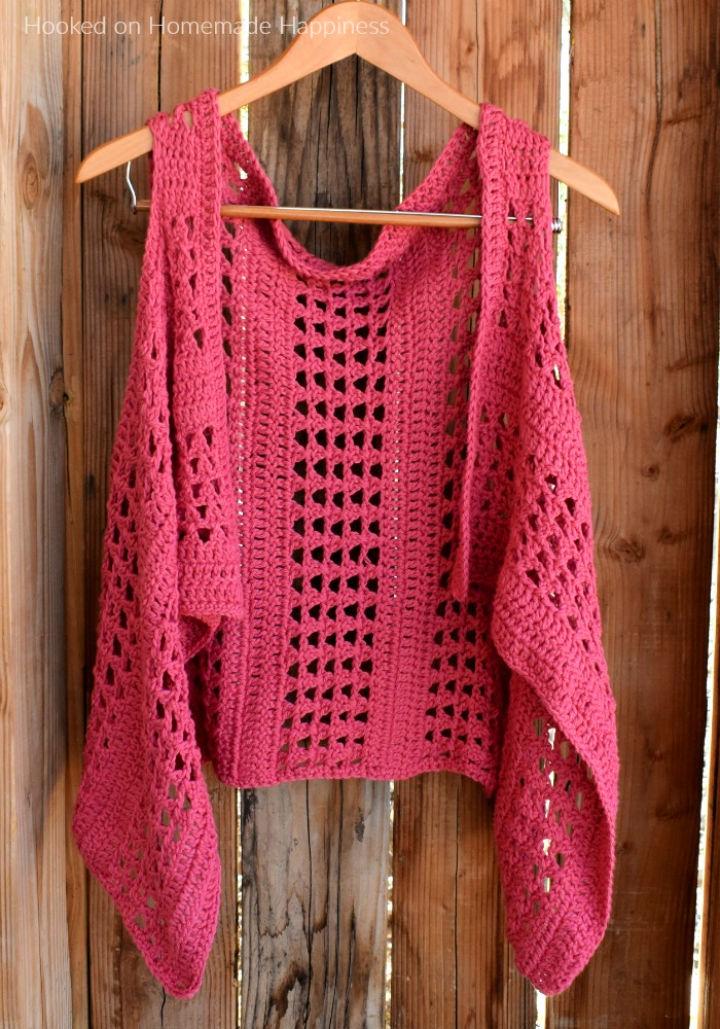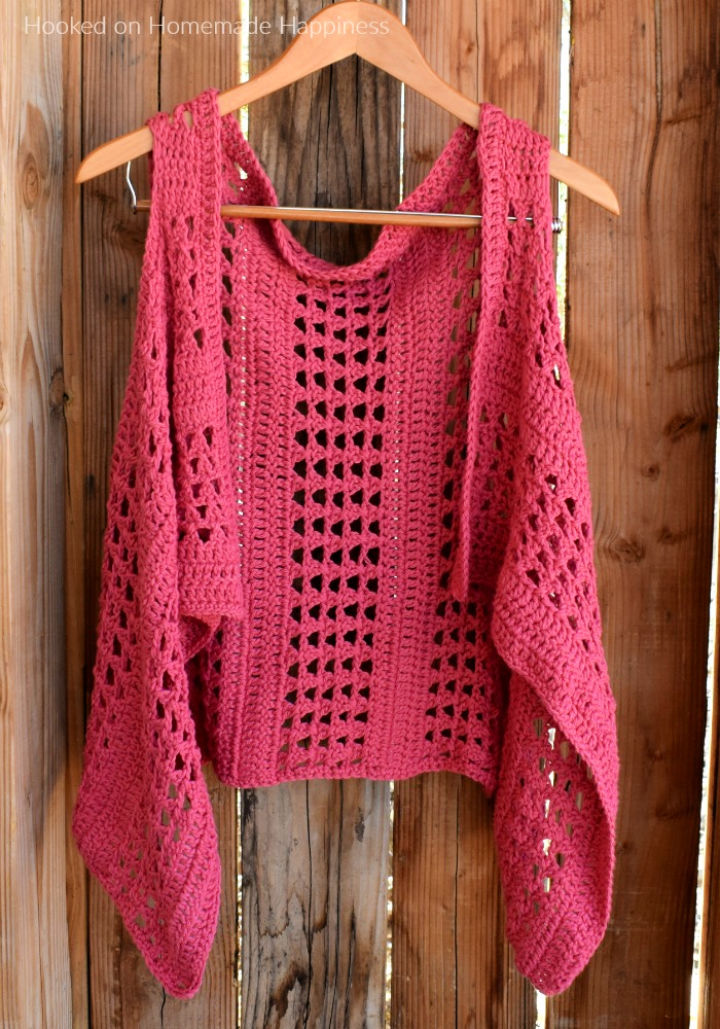 This women's crochet vest will be perfect for the changing seasons! When its colder at nights and warmer by the day. Crocheting it will be like a piece of cake for you. As it is just one big rectangle with two armholes in it. If you know the basics of crocheting stitches, you will make it like a pro. Get your hands on cotton yarn in Rosy along with 5mm hook, tapestry needle, and a pair of scissors. hookedonhome
Yarn: Cotton yarn 3 skein
Hook: 5.00mm
Finished size: length 22.5 inches, width 44 inches, shoulders 14.5 inches.
25. Hooded Vest Pattern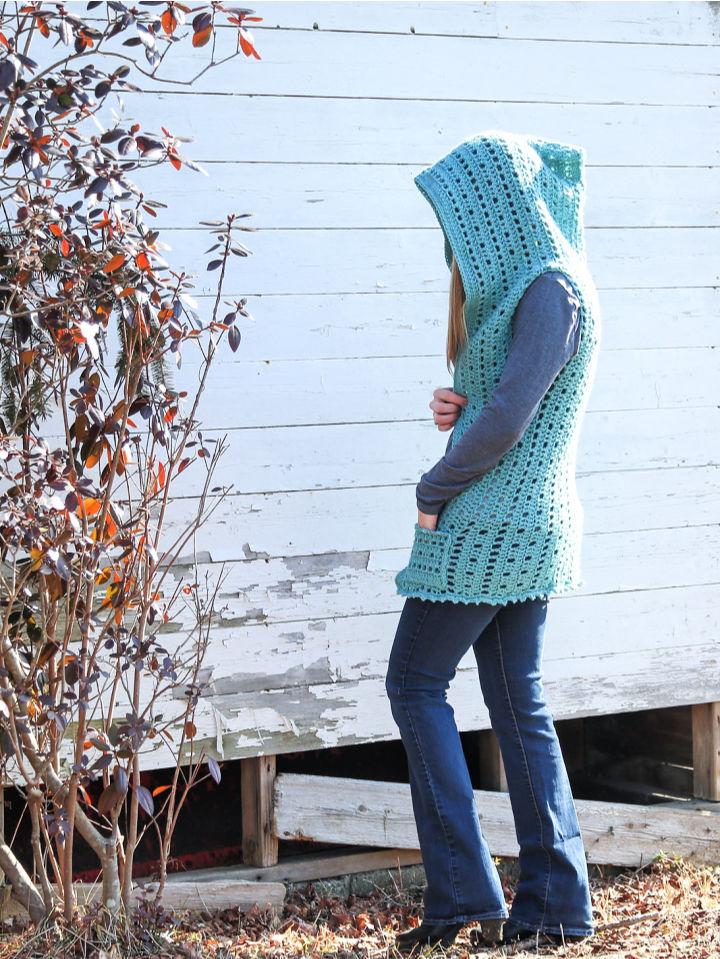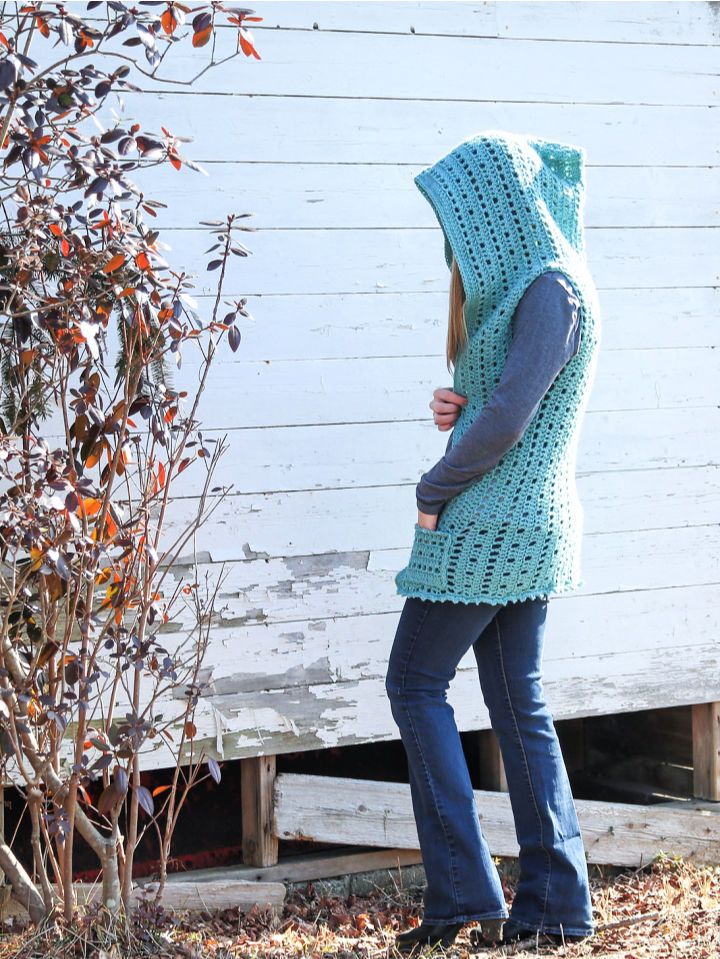 With this crochet hooded vest pattern, your fashion possibilities become endless. Flaunt this vest with a pair of jeans and monochromatic tops. Plus, who doesn't like the extra pockets in their vests? This vest has very classy edges that finishes it off just right. By setting your gauge on 6 rows X 12 sts in DC and using a hook of size 6.50mm, start up your journey by getting your hands on this easy-going pattern. lifeandyarn
Yarn: Worsted weight cotton or Acrylic yarn 1070 yards
Hook: 6.50mm
Gauge: 6 Rows X 12 sts in DC is 4'' X4''
26. Free Crochet Womens Vest Patterns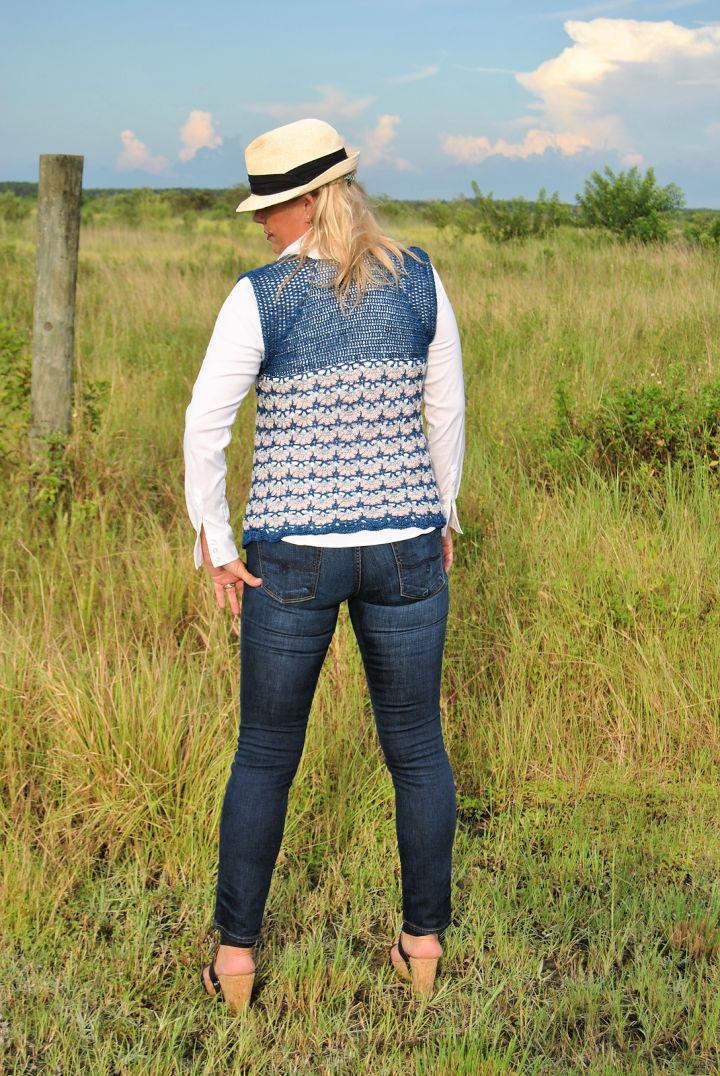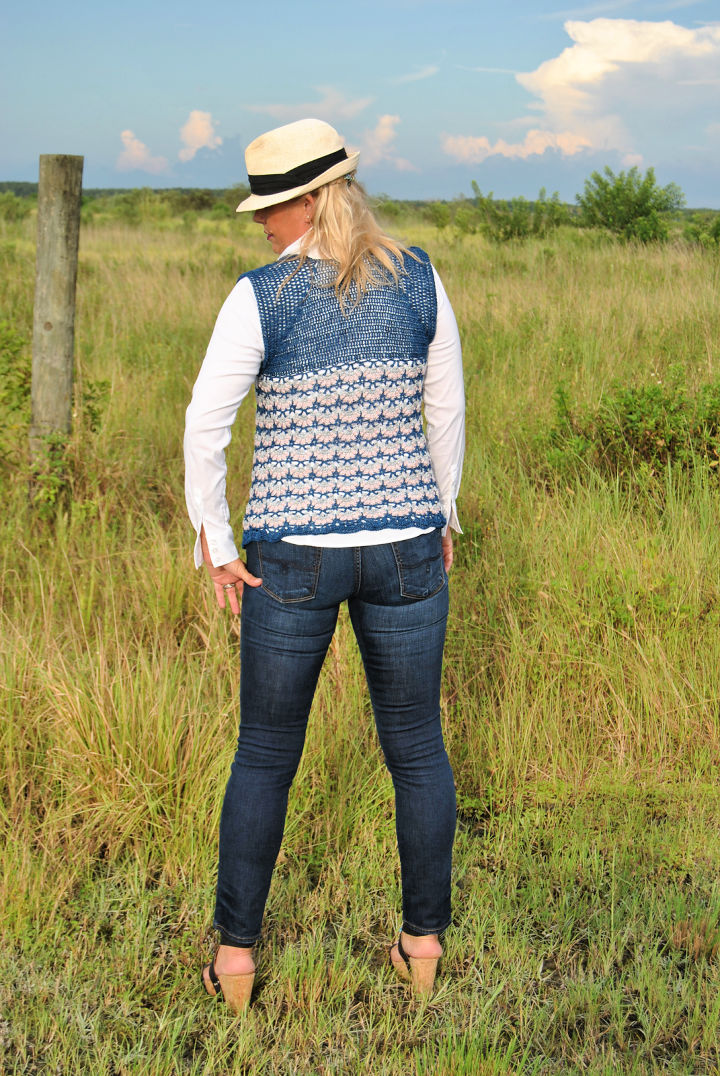 Get advantage of this free crochet vest pattern at your disposal and crochet yourself a trendy women vest. Whipping up this highland twilight vest is completely simple as you just start crocheting it from top to down! Using one dominant color and the minimal amount of the other three colors. For this project, you will need 650 yards of skein Kristin Omdahl yarn and a 4mm of crochet hook for the accomplishment. kristinomdahl
Yarn: Kristin Omdahl 115g/ 650 yards
Hook: 4mm
Gauge: 16 dc and 6 ½ dc rows = 4'' (10 cm)
27. Crochet Summer Vest Pattern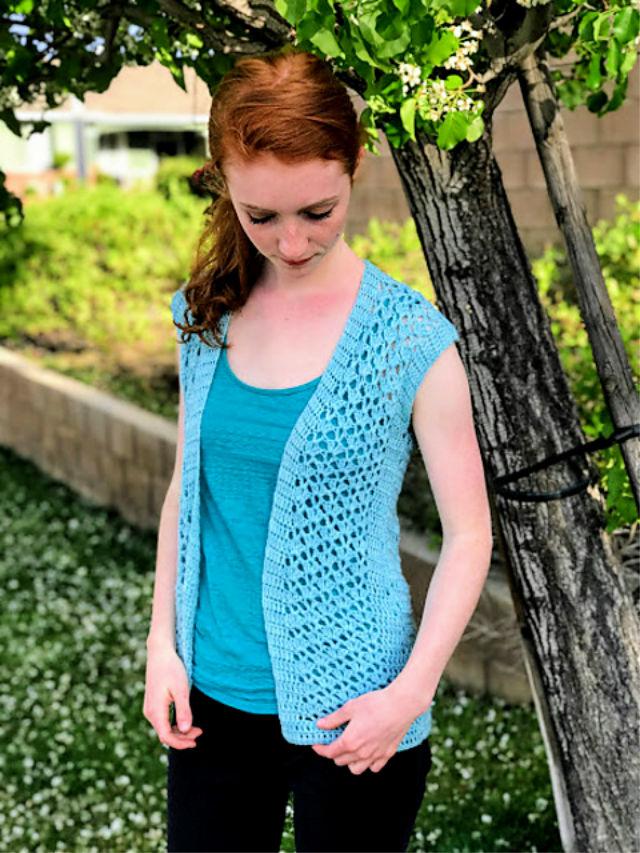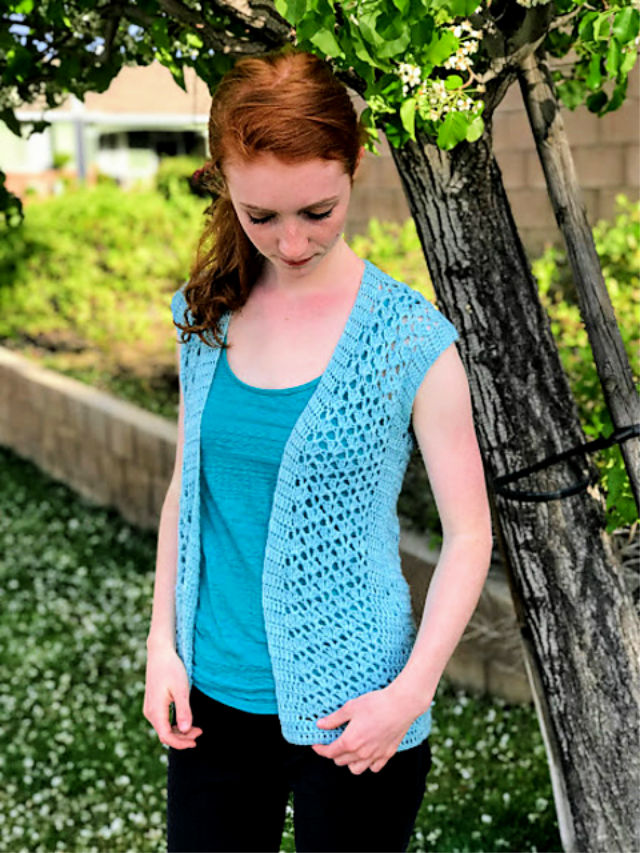 Wearing something light and airy while heading to the beach or pool adds up to the excitement. The crochet summer vest pattern is a perfect vest to handle the summer breeze. Crocheted out of fingering weight yarn that will give it mushy and flimsy texture. The hook of size 3.75mm will be appropriate for its stitches and gaps. Make sure you will tuck in the ends by weaving it inside with the help of a yarn needle. Enjoy the pattern! desertblossom
Yarn: Knit Picks Stroll Fingering 3(3, 4, 4, 4, 5) skein.
Hook: F (3.75mm)
Gauge: 4 shells and 8 rows Blocked= 4."
28. Crochet Triple Cross Vest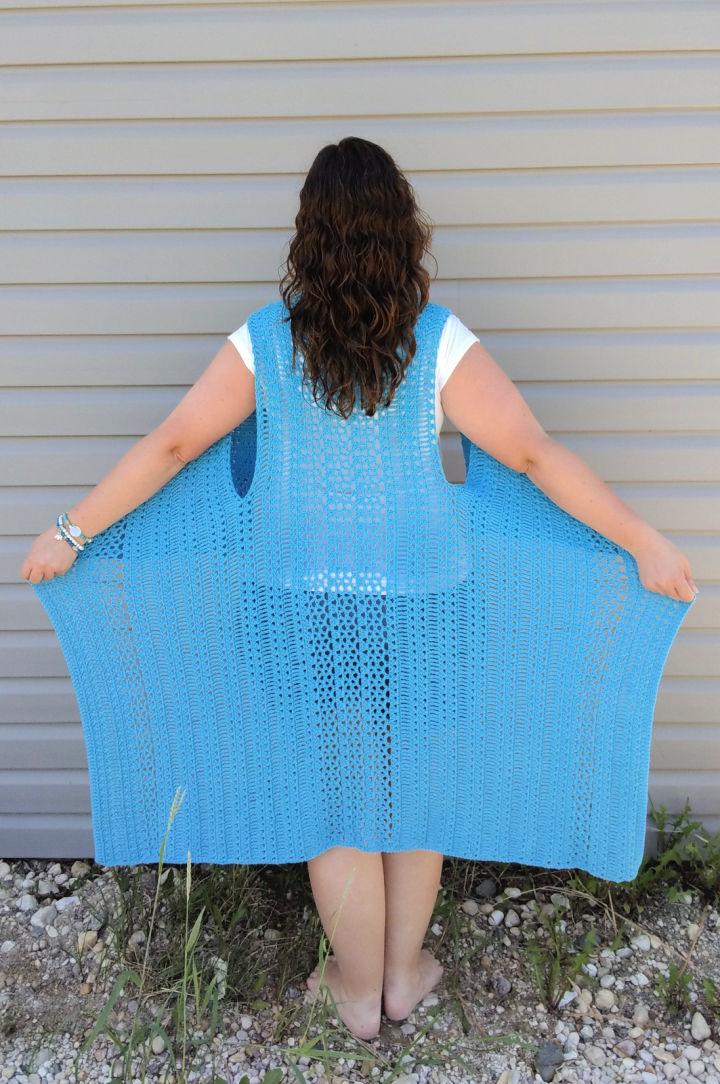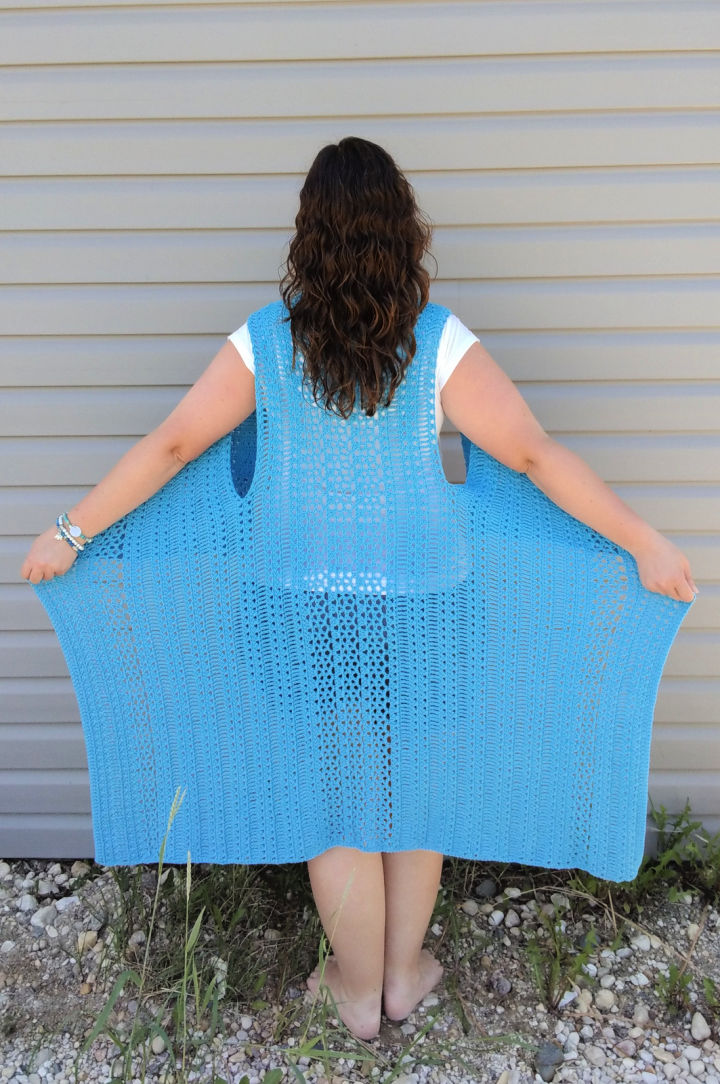 If you love a long lacy look of a vest, this triple cross vest pattern is exactly for you. Crochet long crochet vest pattern in any solid color or make an eye-catching combination of colors to escalate its look. All sizes of patterns are available, pick your very own size and start off. To bring grace in stitches, use 100% cotton yarn or any yarn with similar weight would work great. Gather your other supplies and get started! ineeditcrochet
Yarn: Nob Hill Yarns Casual Cotton
Hook: H/5mm hook
Gauge: gauge swatch (4" X 4")
29. Wildflower Vest Pattern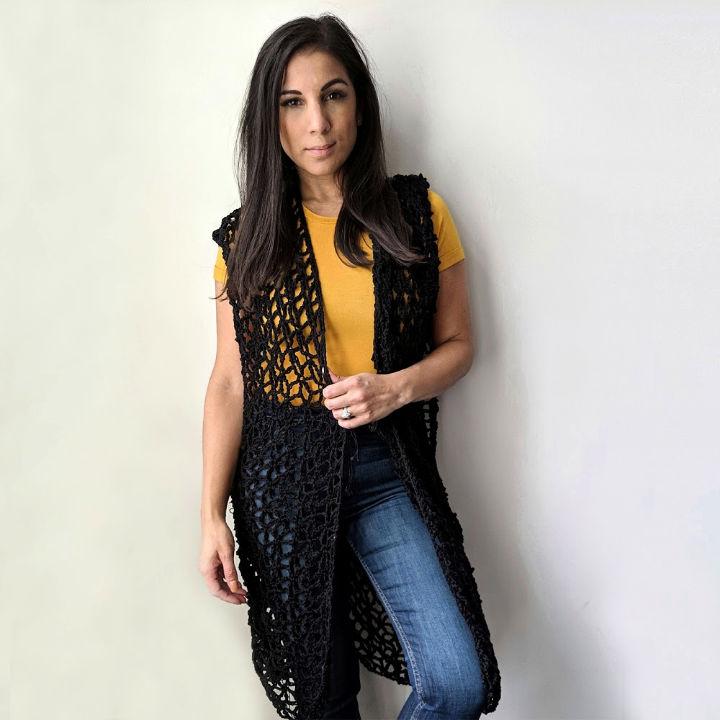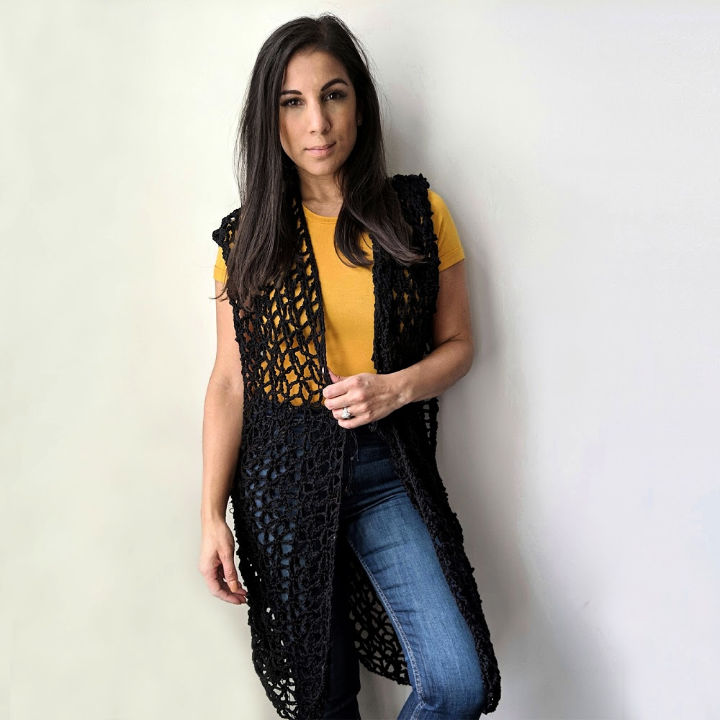 This women's crochet vest would be the focus of your outfit. Pair it with your favorite top and jeans, and you will end up slaying. This women's vest pattern is available in all sizes from extra-small to extra-large. The process only moves around with stitches such as chain, single crochet, and treble crochet. You will finish this vest off in just 3 rows, fasten off, and it's ready to wear. yarnspirations
Yarn: Patons Grace 12 balls for extra small, small, and medium-size.
Hook: G/6 (4mm)
Gauge: 16 sts and 6 rows = 4'' (10cm)
30. Crochet Lollipop Vest Adult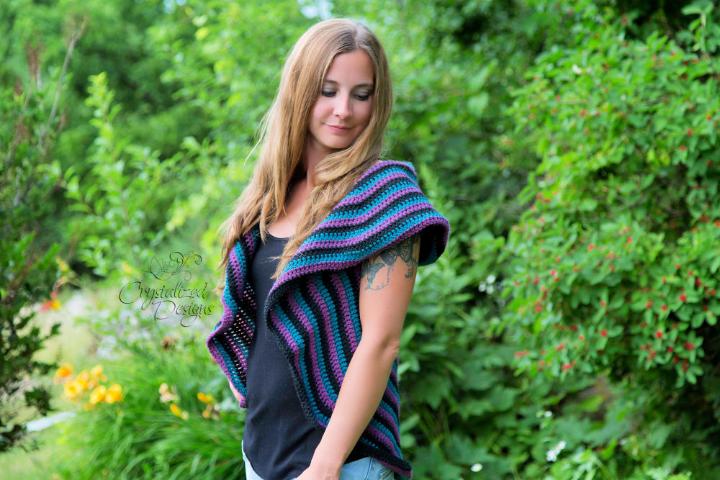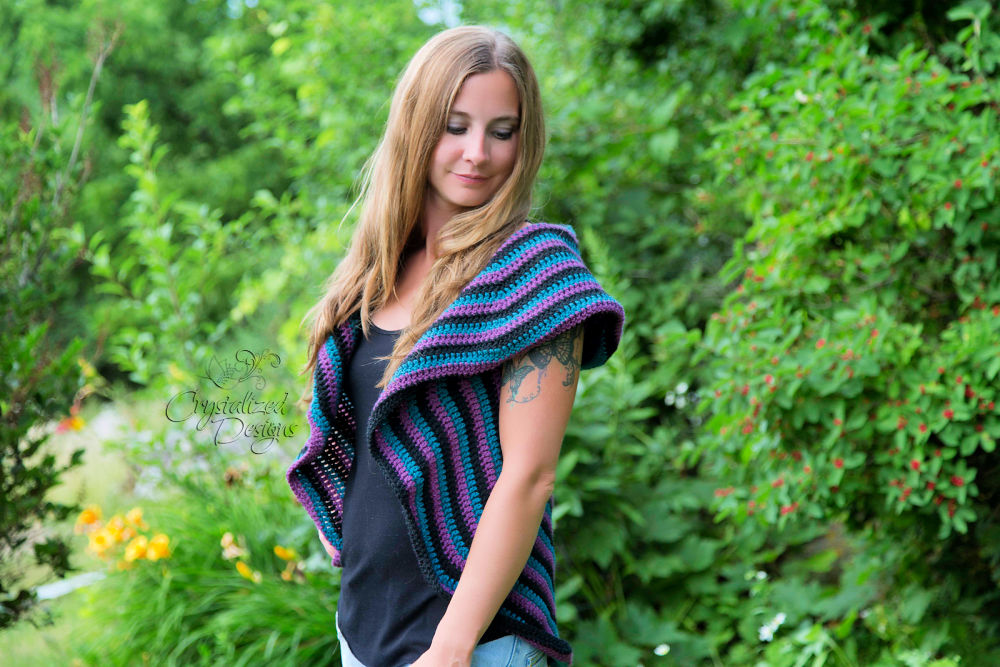 Lollipop vests are not only for kids. It looks absolutely stunning on adults as well. With a black base and layers of different colors, this pattern looks stylish and beautiful. You will need the basic crochet kit to make this vest like tapestry needles, measuring tape, and stitch markers. You can crochet this vest in any size you want. The project will be completed with a single crochet, half double crochet, and double crochet. crystalized designs
Yarn: worsted weight, 940 yards.
Hook size H 5mm
Medium size: 37.5''*15.5''
31. Crochet Boho Vest Pattern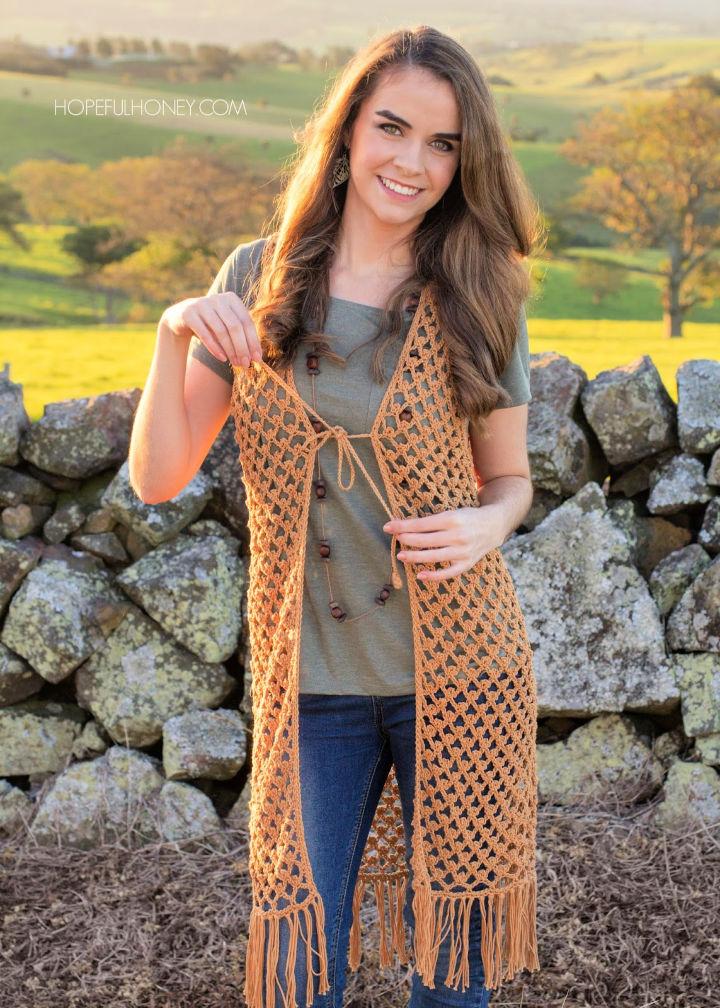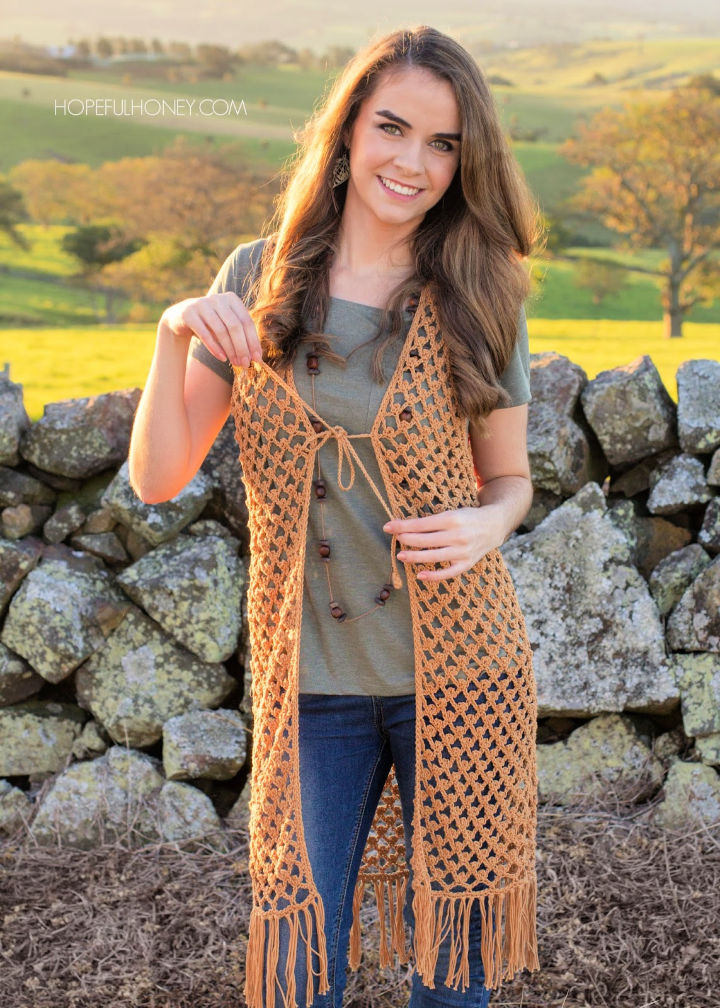 Crochet boho vest pattern is on top trends in summer clothing. The criss-cross pattern in mustard color is something you can wear over any dress. The yarn of Lion Brand, cotton 24/7, is used in this pattern. The yarn is extremely lightweight and is perfect to be carried with summer attire. The gauge directions are; 18 stitches in 20 rows. Split stitch is the basic prerequisite for this pattern. Other stitches used are double stitch, half stitch, and half double stitch. hopefulhoney
Yarn: worsted weight yarn (Lion's Brand)
Hook size 3.5mm E
32. Lacy Crochet Vest Pattern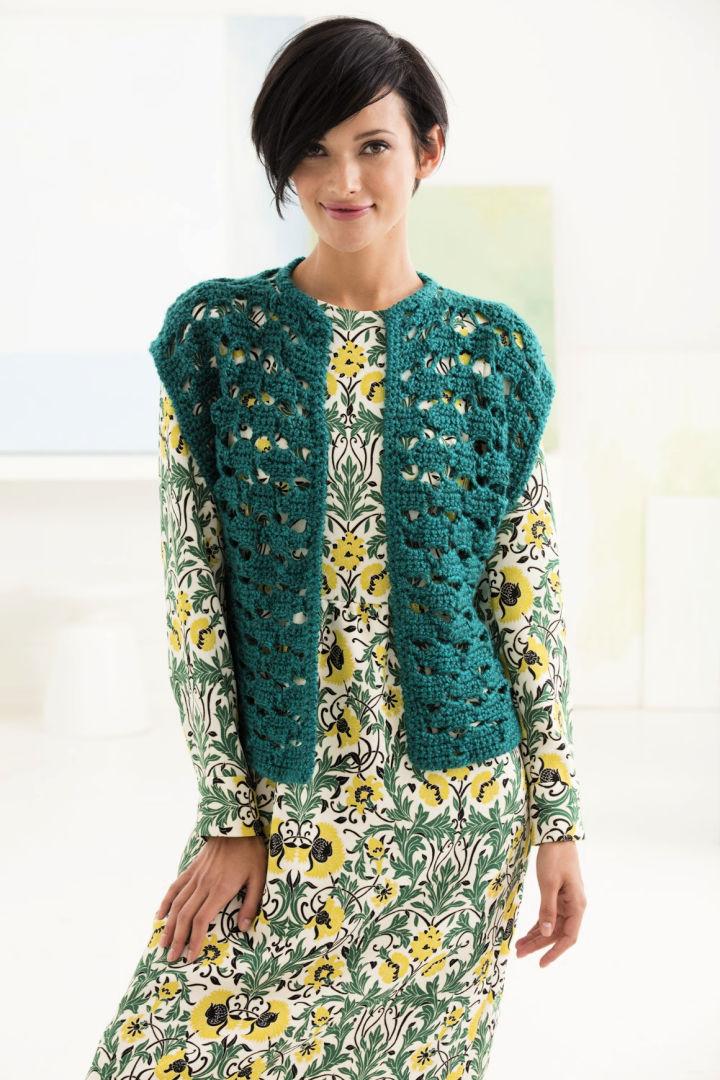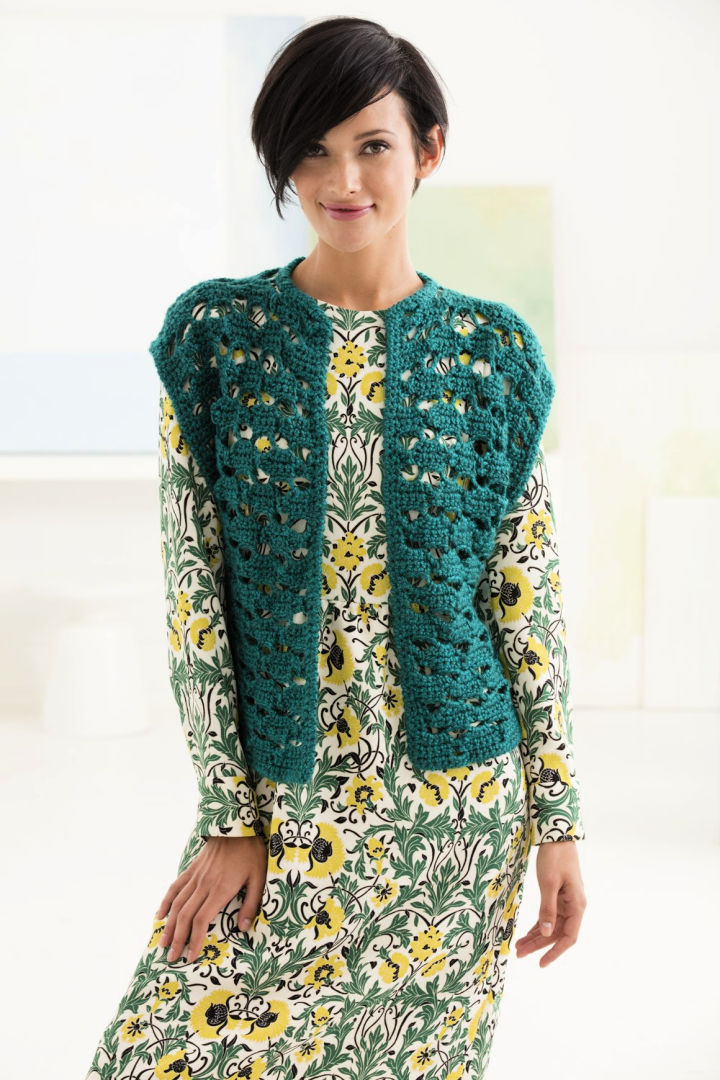 Another interesting and drop-dead gorgeous pattern for vests is Lacy Bolero. The body length vest can go with long shirts as well. The vest will add extra grace to your dress. You can wear it over a boring dress, and the vest will make it look beautiful. Also, you can choose a different colored yarn, as per your personality demands. lionbrand
Yarn: Heartland (136)
Dimensions detail: 36''*17.5'
33. Crochet Sleeveless Cardigan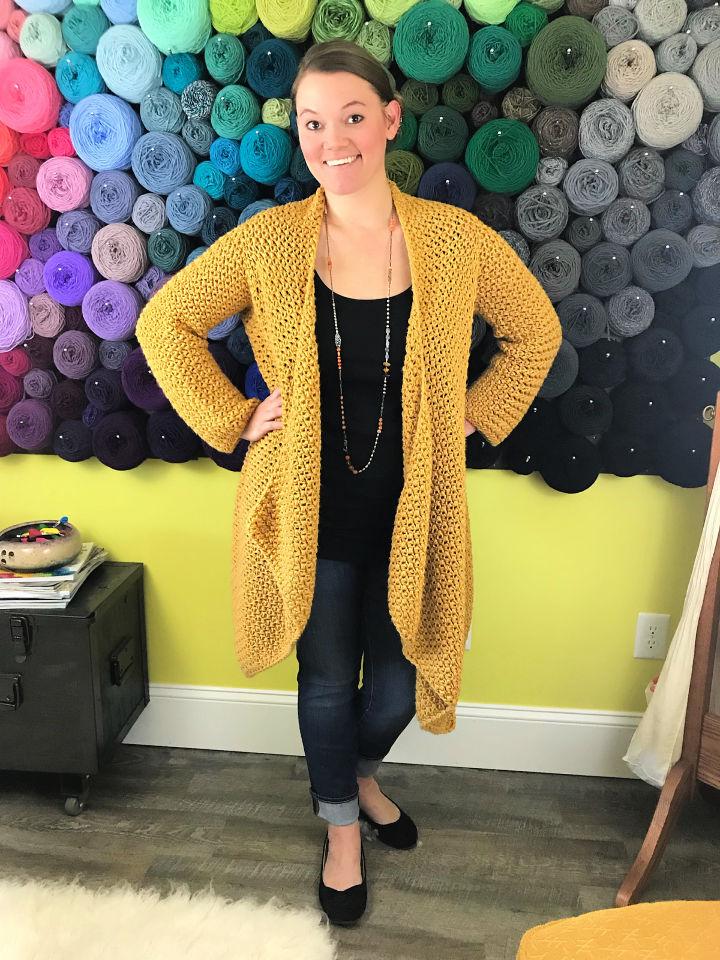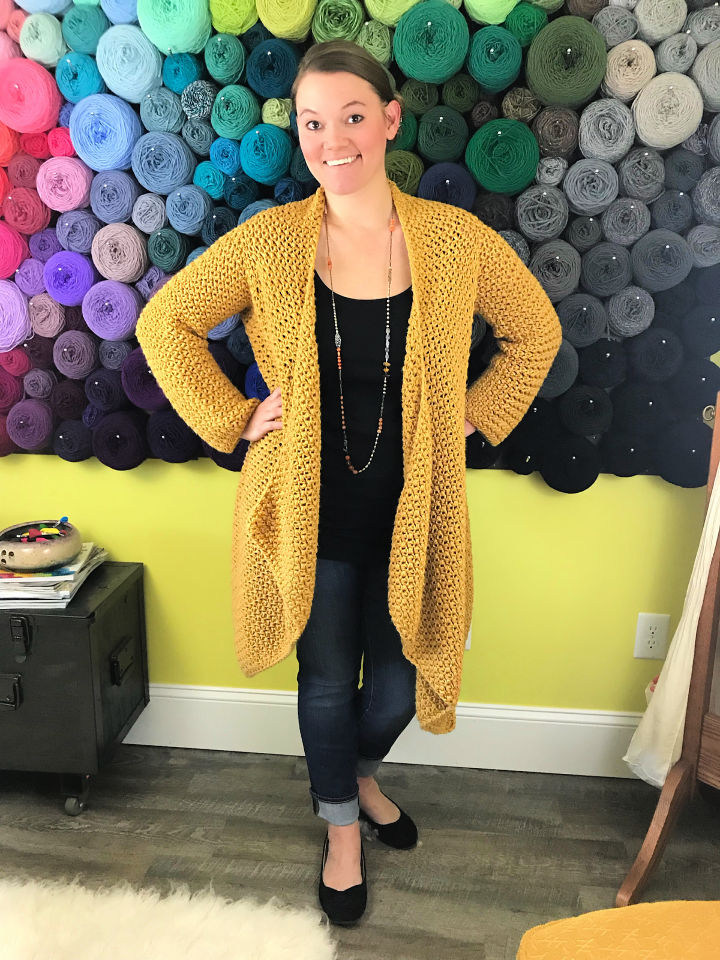 You can surprisingly crochet this cardigan on your own. Make it with sleeves or sleeveless, it's all up to you. Use any type of yarn. The yards of yarn will be required according to your body height. Because yard needed has more to do with the height than the width in this pattern. A size chart is available for your help. However, by doing a few gauge swatches find out what hook size will suit best the stitches. hearthookhome
Yarn: any yarn (cotton, acrylic, wool, worsted) 1200 yards for small size.
34. Free Crochet Pattern Vest With Fringe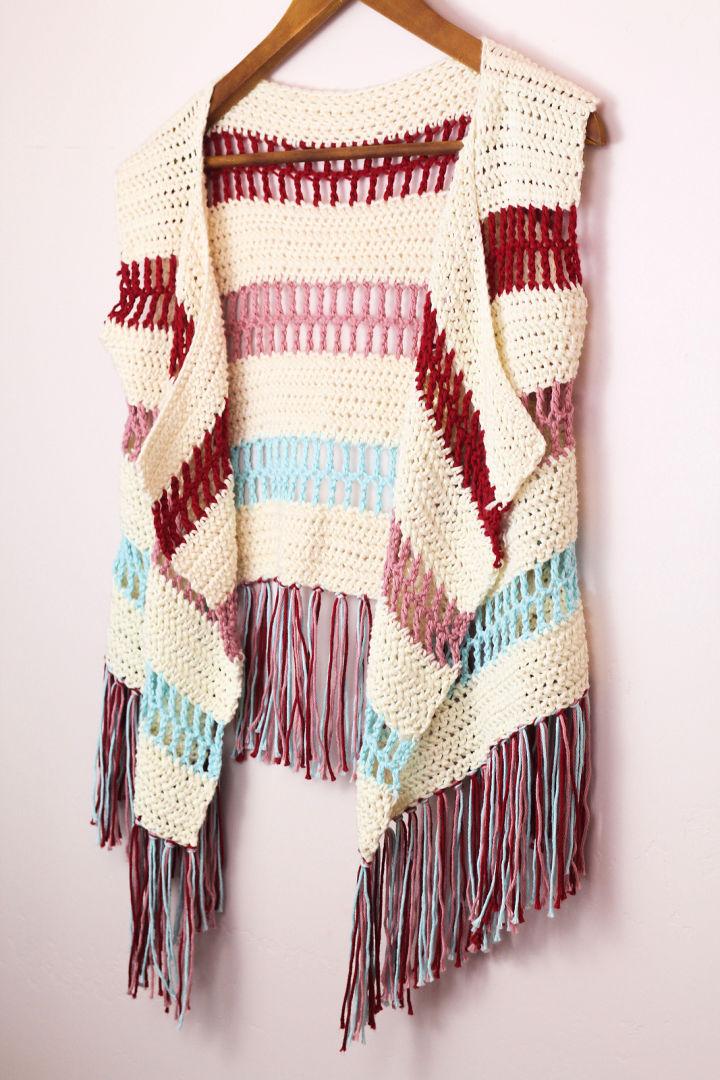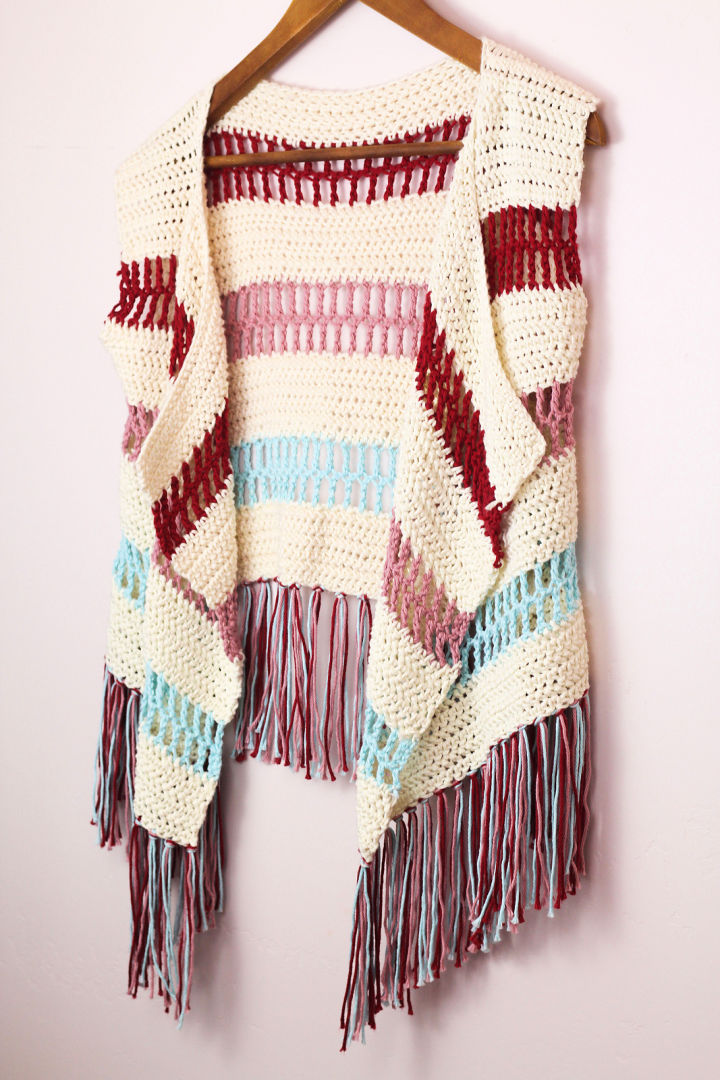 If your outfit feels a little boring, bring some fun by matching it with this saltwater taffy vest. Use 4 different bright colors in this vest and escalate its swankiness. This vest will be worked on as apiece from the bottom of the back panel up to the front panel. Afterward, attach the yarn and crochet the second panel. And seaming will be done in the end! hookedontillylife
Yarn: Medium (4) weight yarn
Hook: 6.00mm
Gauge: 13 sts = 4". 10 rows = 4"
35. Crochet Sleeveless Vest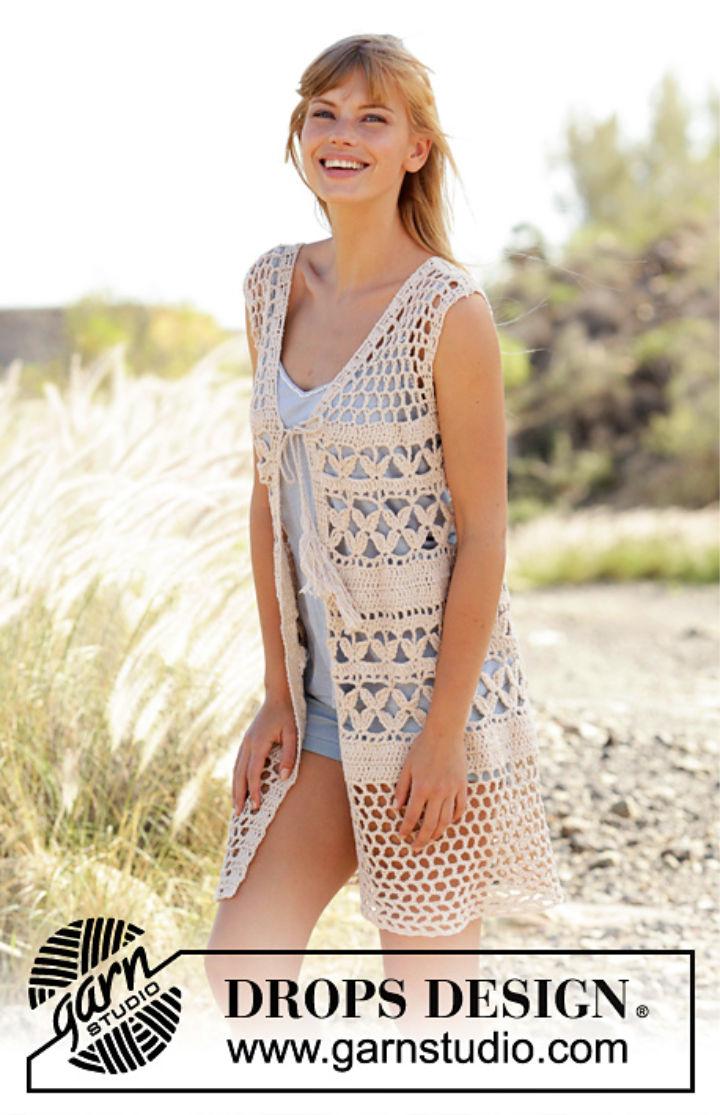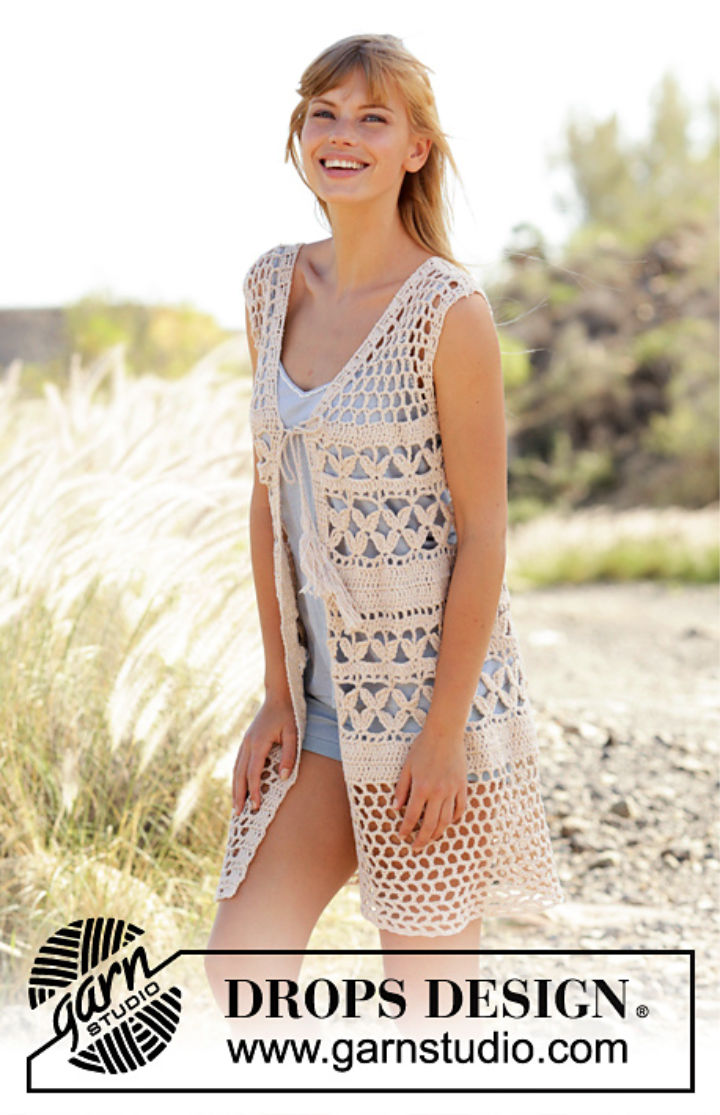 Give yourself a sweet treat by whipping up yourself this sleeveless vest. The gleam of this vest is all due to the selection of Drops belle yarn. Pick your 4.5mm crochet hook and flow with the pattern. Don't count the chains in the stitches. The stitch marker is compulsory! It will help you to mark the first stitch of each round for your convenience, especially when you are a beginner. Check out the instructions below! garnstudio
Yarn: Drops Belle from Garnstudio 500g
Hook: Size 4.5.00mm
Gauge: 16 dc x 8 rows = 4"x 4"
36. Granny Square Cocoon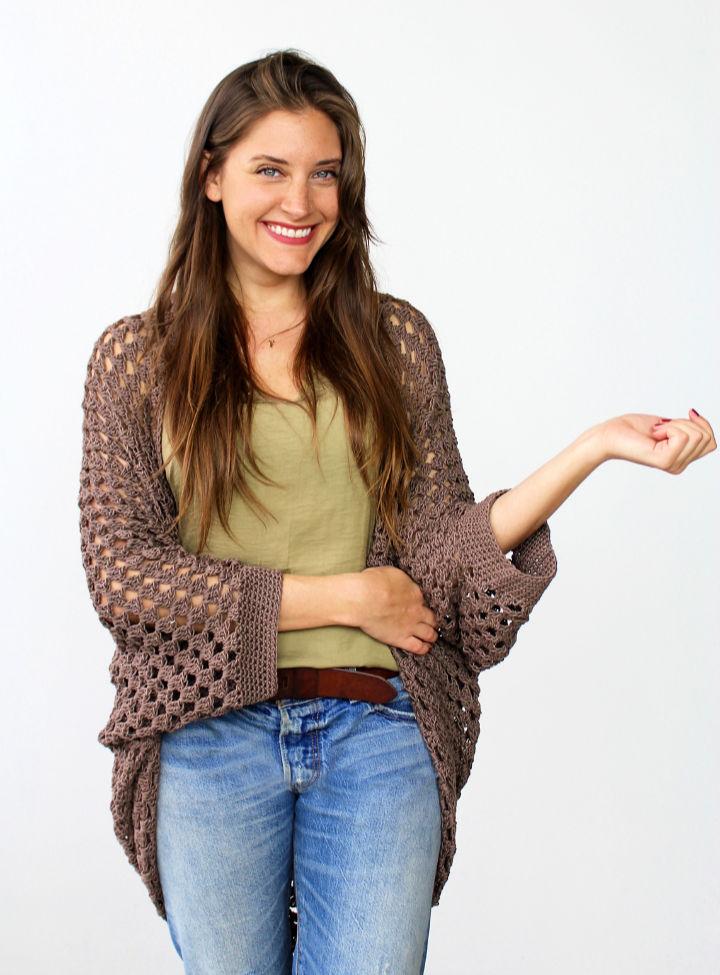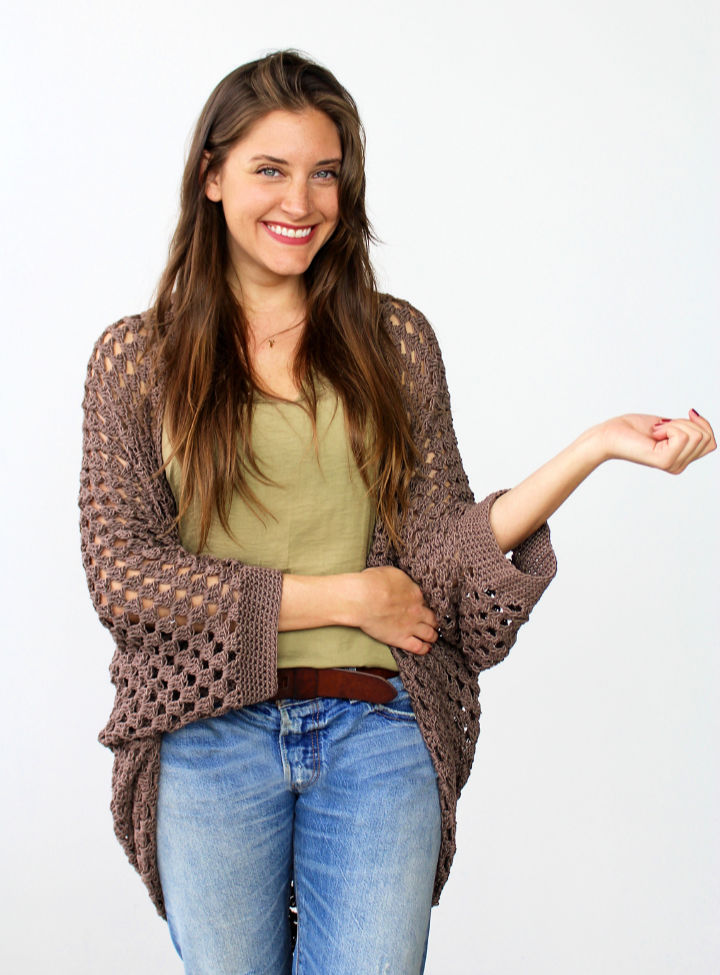 Check out this free crochet cocoon cardigan pattern, perfect for the beginners to get a pro in crocheting. The process is straightforward and not at all time taking. This pattern is in one size and will fit all, but you can adjust the size accordingly. It's an easy level of a crochet pattern that involves granny clusters along with double and single stitches. For this vest, you will have to work in the round with lion brand yarn (preferably). twoofwands
Yarn: Lion Brand Yarn 24/7 cotton 1020m
Hook: J 10/6mm
Gauge: 13 dc + 6 rows = 4"/10cm
37. Vintage Crochet Vest Pattern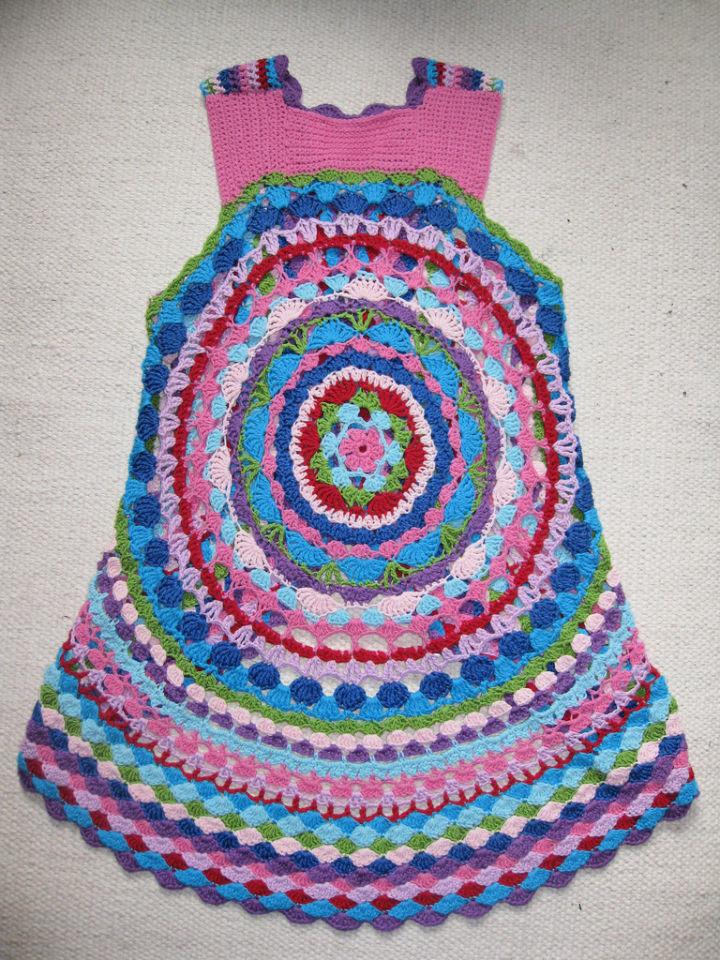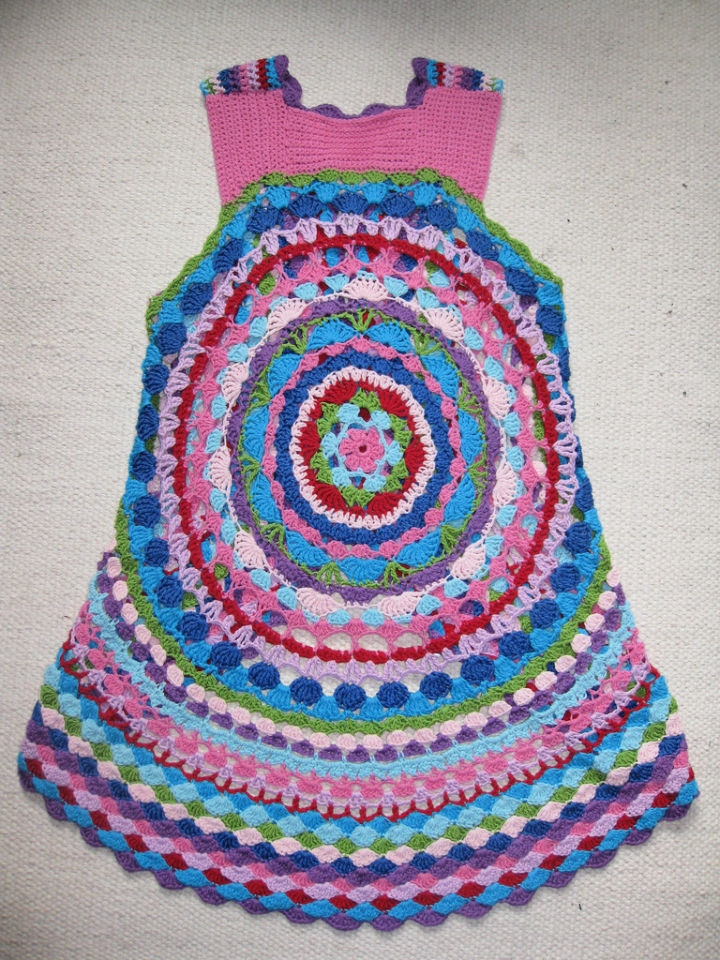 Whether you are cozying up on the couch watching Netflix or hitting the cinema, this vintage crochet vest is a perfect accessory to chill at home or while going outside. You can use your stash yarn in this project. But for the vivid stitches, you will need a larger hook and 180-240 yards of yarn. After 8 rounds, check the diameter of this vest, lose it by giving some more rows if you feel it is a bit tight. ravelry
Yarn: any yarn (cotton, wool, stash, acrylic) 180-240 yards
Hook: 3.5mm (E)
38. Crochet Baby Vest Pattern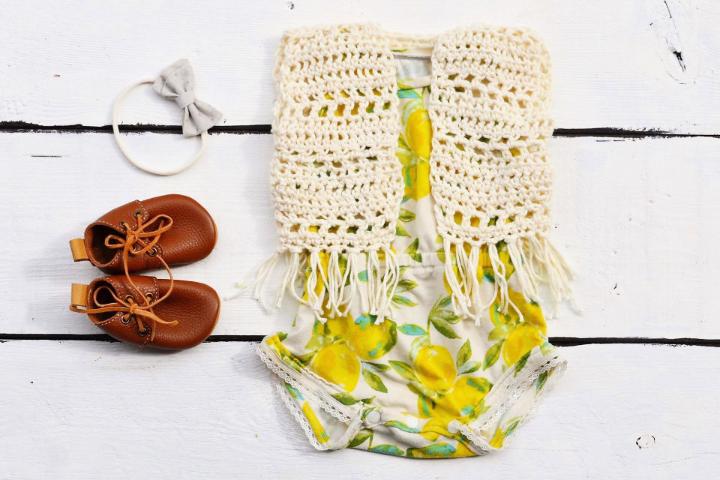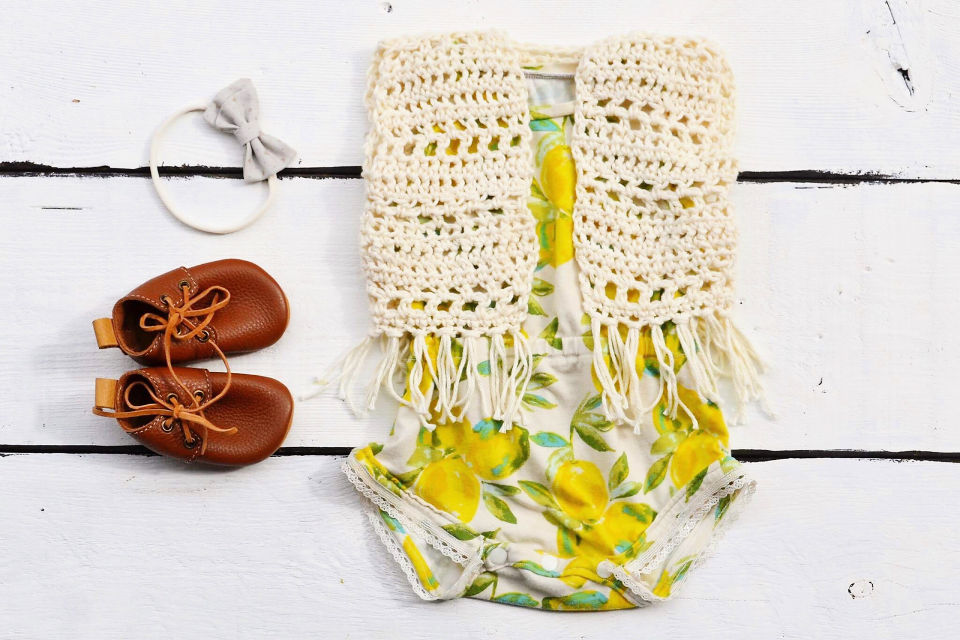 Summers are here, and so is this easy crochet baby vest pattern for you. A perfect gift to a newbie mom. It's the merger of a vest with a romper, making it vibrant and a unique costume for the baby. Grab 1 skein of worsted weighted cotton, wrapped it around 6.50mm of the crochet hook, and initiate crocheting the rows. The finished size of this boho-chic vest measure around 7.5" long x 9" wide. sweeteverly
Yarn: 1 skein of ''I Love This Cotton in Color Ivory'' yarn.
Hook: 6.50mm
Gauge: 11 sts – 4."
39. Crochet Atta Boy Vest for Baby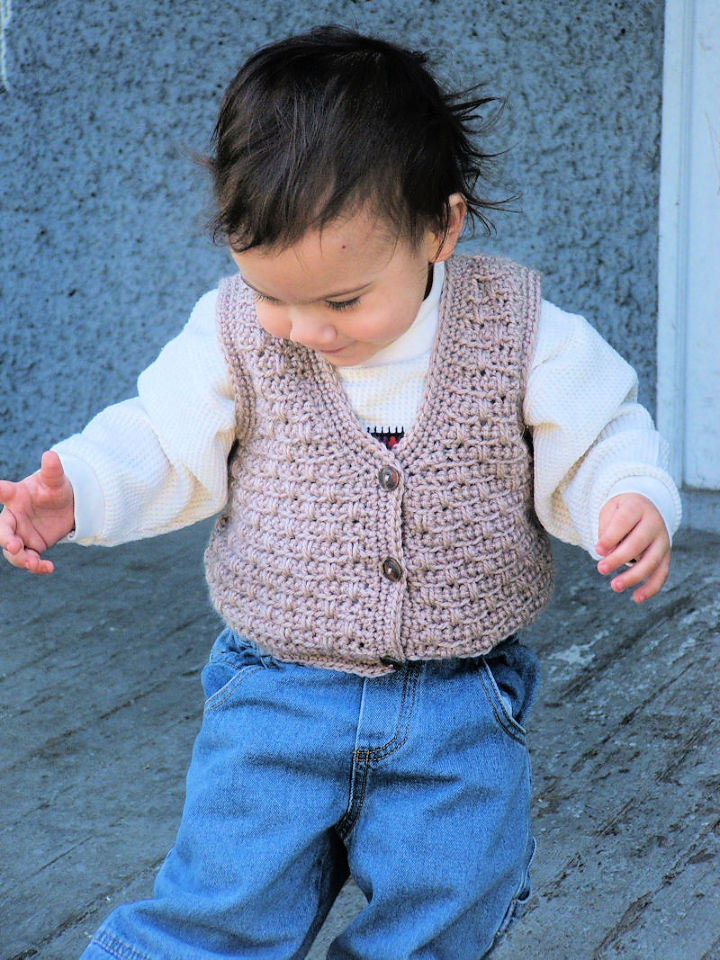 Never tried crocheting something before? Here is a cute little project for your little boy. With minimal shaping and using a small amount of yarn, you can nail this project. This pattern is for 9-month-olds, but you can adjust it for 12 to 18 months. Take 200 yards of yarn and a 6mm and 5.5mm of the crochet hook to start off with this project. Other supplies you will be needing are yarn needle, buttons, and a stitch marker. crochetkim
Yarn: Plymouth Yarn Encore Worsted 100g
Hook: Size J-6mm and I-5.5mm
Gauge: 13 sts for 19 rows = 4" square
40. Crochet Vest Patterns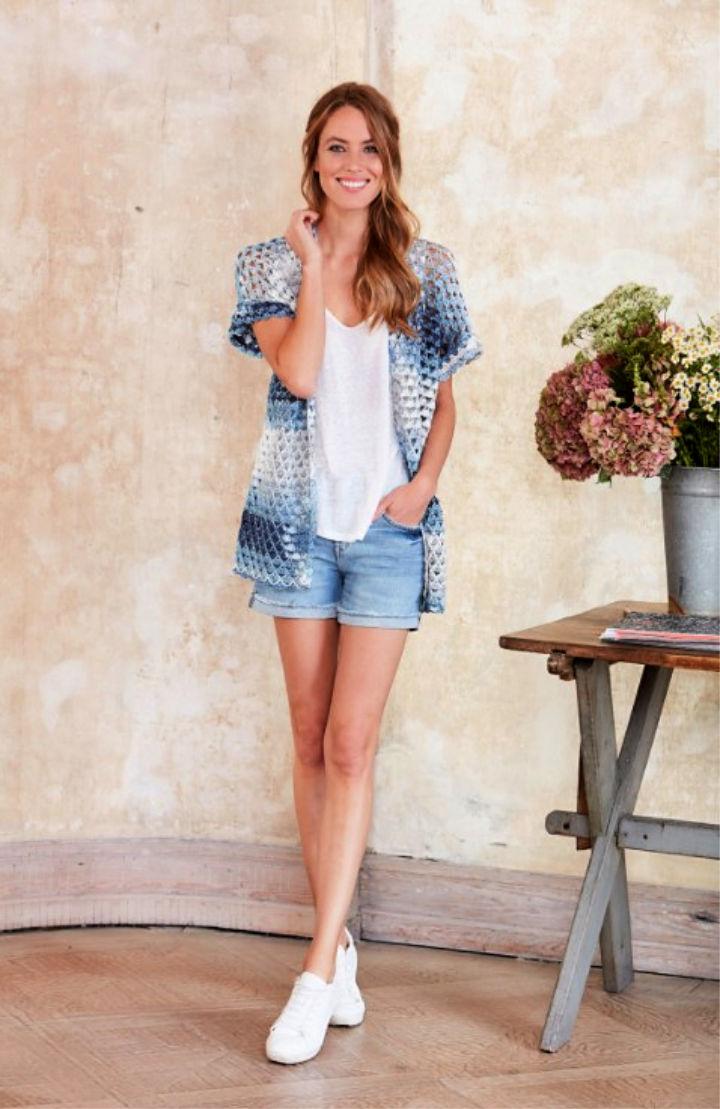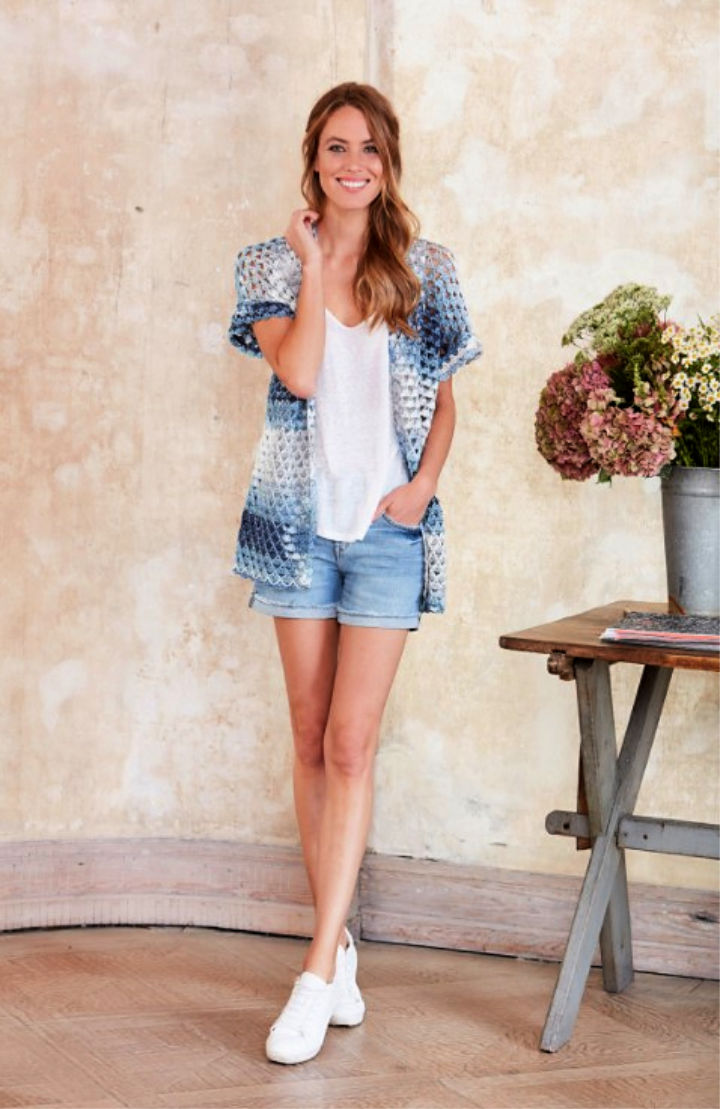 If you are intimidated by crocheting, this amazing free crochet vest pattern is bound to alter that! This is a straightforward project that can make you a pro easily. Plus, this crochet vest is going to be as lightweight as the air. Check out the size chart to decide which size suits you the best. This vest is worked from the shoulders down from the back. Remember to fasten off immediately after the last row. schachenmayr
Yarn: Schachenmayr Micro Summer Trend color 725m
Hook: 3.5mm
Gauge: 24sts and 12 rows = 10 x 10 cm
Conclusion
Tempted to try out some of these super easy crochet vest patterns? Well, then you should get started as soon as you can! This is because there is never enough time. You can look really cute on all the occasions this year by making a crochet vest for them all. Another way to use them can be by making your mother a present for Mother's Day, which is right around the corner! She will love these types of vests and be very happy. You can also make these for yourself or your little ones, to just wear something and feel beautiful in it!