The time of the year has arrived, when the biggest problem is to dress stylishly. These 10 free pattern crochet circle vest roundup below will solve this problem. Certainly, the scorching heats demand comfortable clothes. And, easy clothes usually come with minimum style. Equip your wardrobe with these free mandala vest crochet pattern this season. You can wear them over sleeveless shirts and short denim! Skirts will also go with these vests and will assist you to stand out amongst your friends. You can wear them to casual parties or while going to the beach. Any occasion will become memorable with these crochet vests.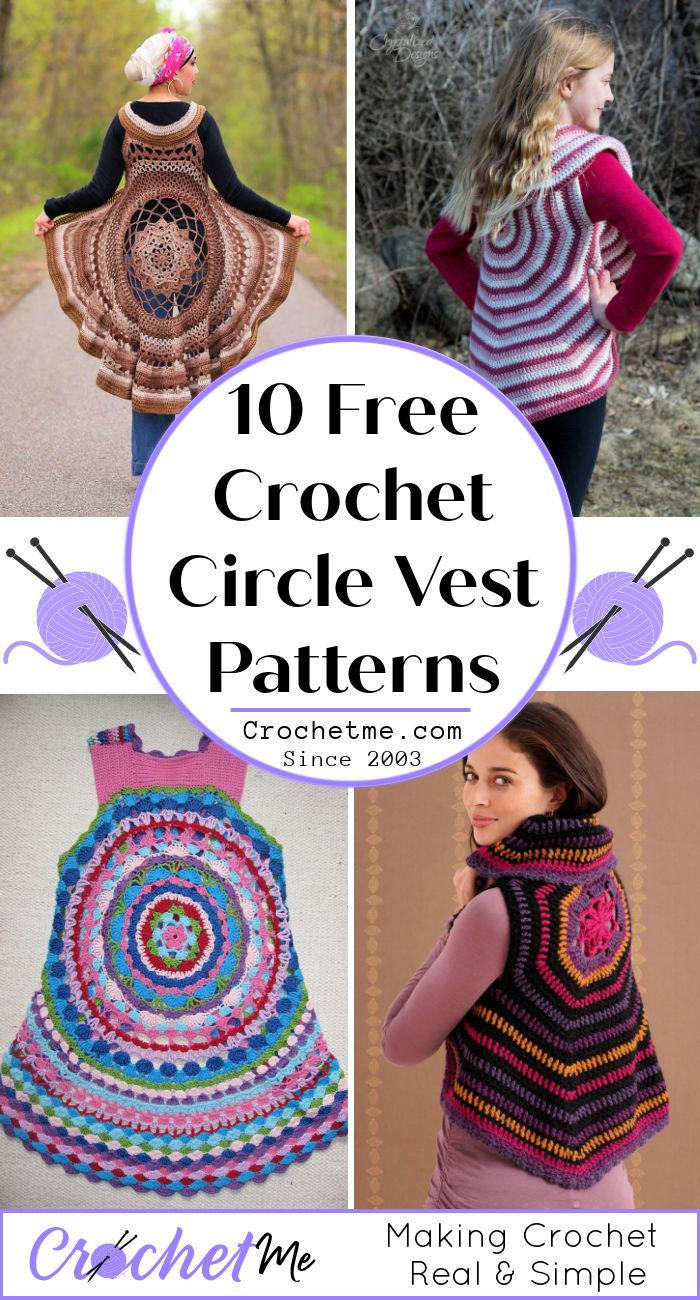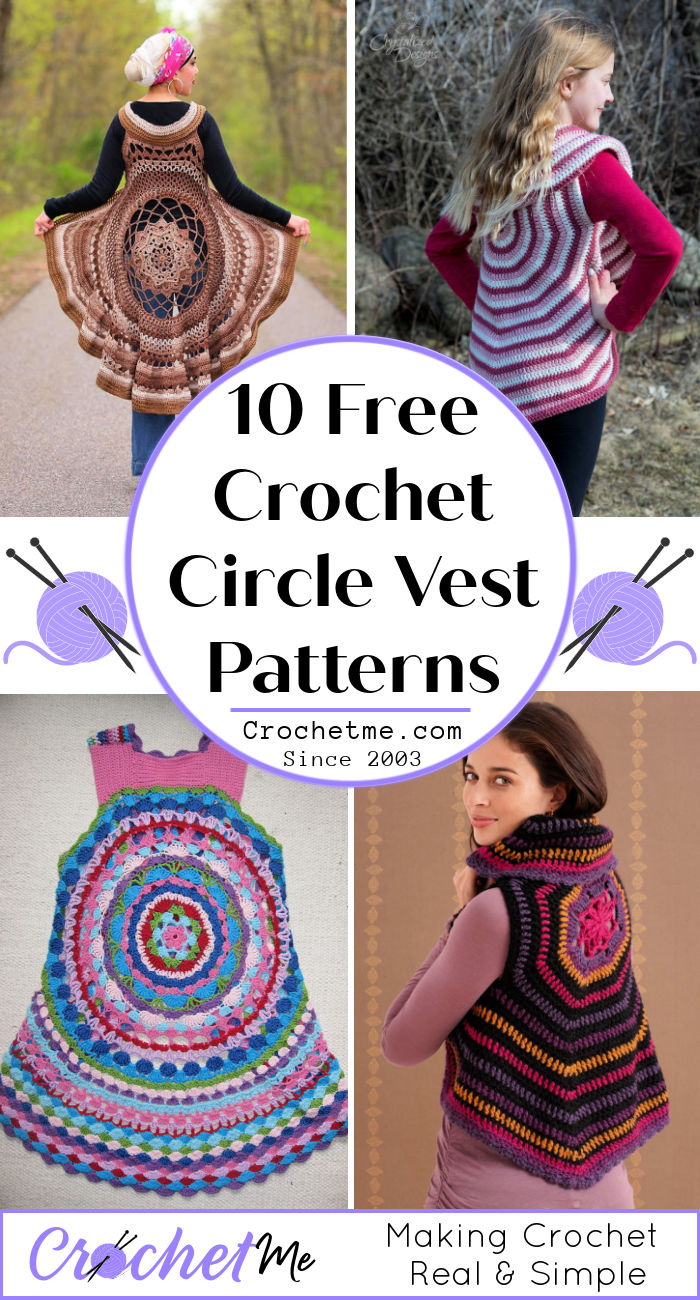 The airy crochet circle vest, made in a circular pattern, will let the cool breeze reach your body and keep it cool. The best thing about the free crochet mandala vest pattern, along with style, is that they are very light to wear. You can wear them over any casual dress and look extraordinary. The patterns for these circular vests are straightforward to follow. We have compiled 10 different crochet circle vest patterns, which you can get here for free. Watch the tutorials in detail and crochet a beautiful piece for summers. After all, it is important to keep your style intact. Also, you will need the same crochet kit; yarn, needles, and crochet hook.
1. Crochet Lotus Mandala Circular Vest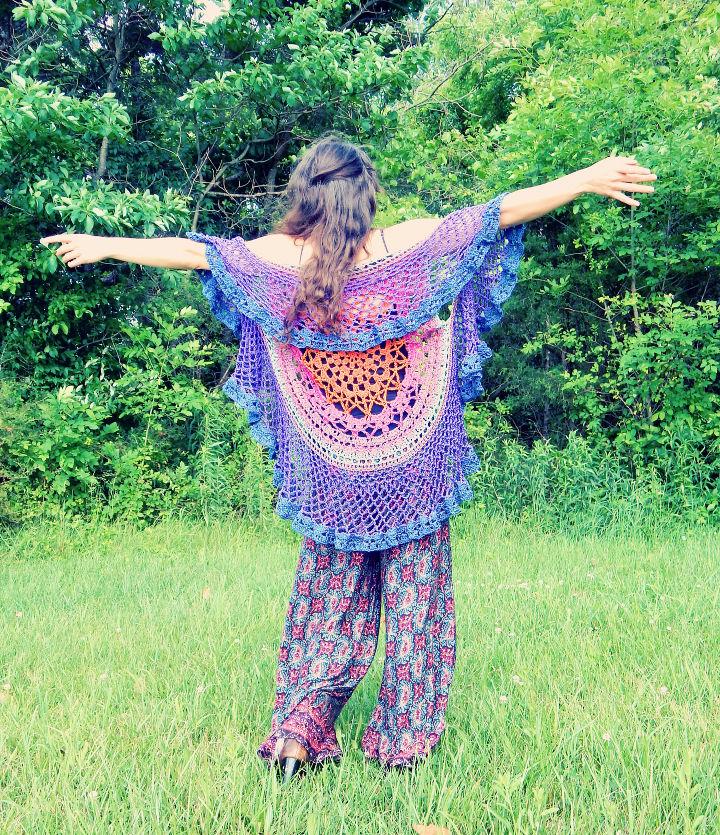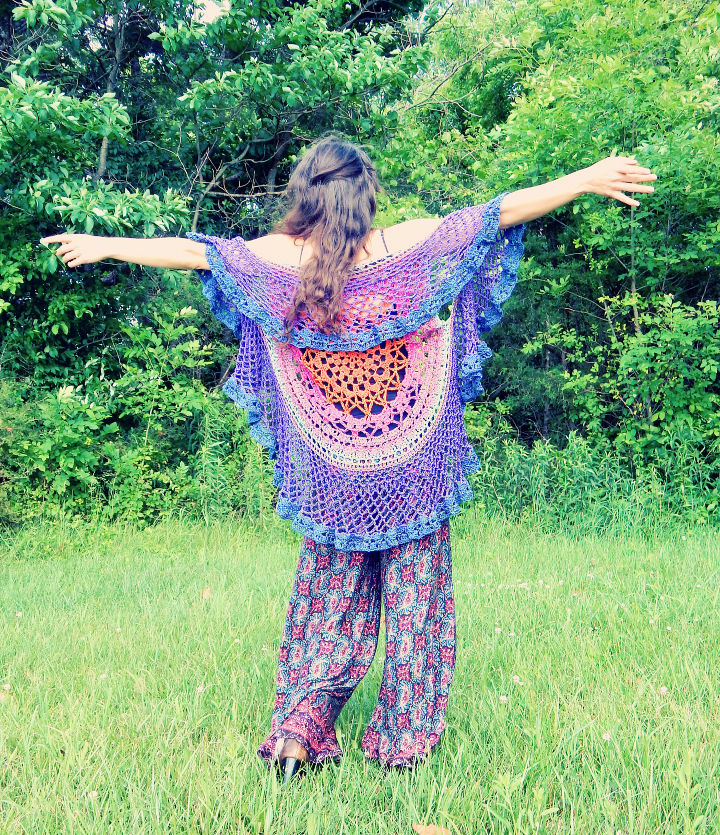 Pair your crochet circle vest with your favorite jeans and top. This spring is all about flaunting in radiant colors. This mandala vest crochet pattern will be crocheted with the help of skeins of lion brand cotton in tangerine, rose, silver, lilac, and purple colors. To grasp this cotton yarn firmly, 5.5mm of crochet hook will be adequate to give a proper stitch. Get a free pattern to crochet this mandala vest. moralefiber
Yarn: Lion Brand 23/7 cotton
Hook: 5.5mm
Gauge: 3.25'' measured across the diameter
2. Crochet Circle Vest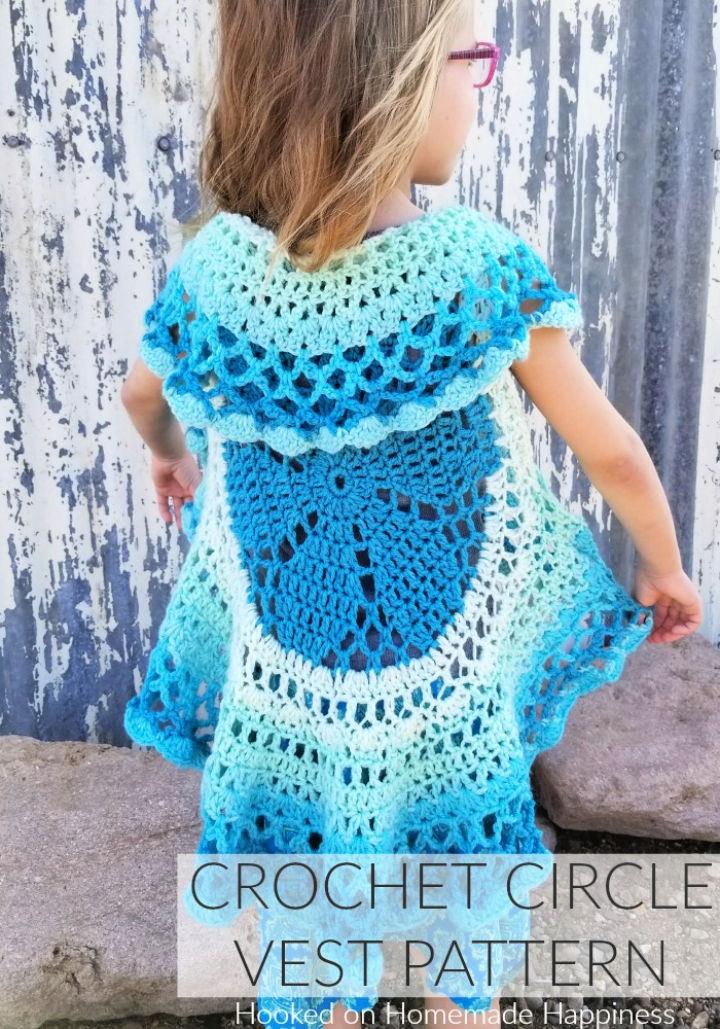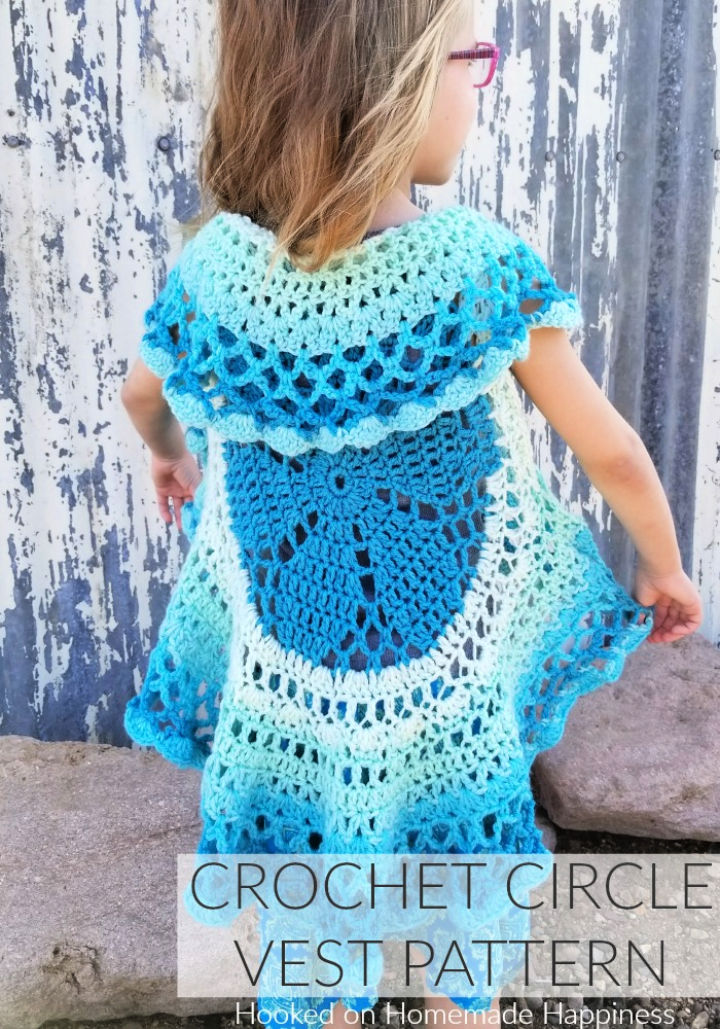 This sleek and mushy circle vest is made out of just 1 skein of Caron cake yarn. It would go with your daughter's frock or skirt. It's a perfect beginner's project that just demands you to know the simple stitches like slip stitch, chain, single and double crochet. Keep in mind, the crocheting starts with the flower center building the details while moving further. Making to end the edges flowy and pretty. hookedonhome
Yarn: Caron Cake in Faerie Cake
Hook: 5.5mm
Fitting: girls ages between 5 to 7
3. 18″ Doll Vest Crochet Pattern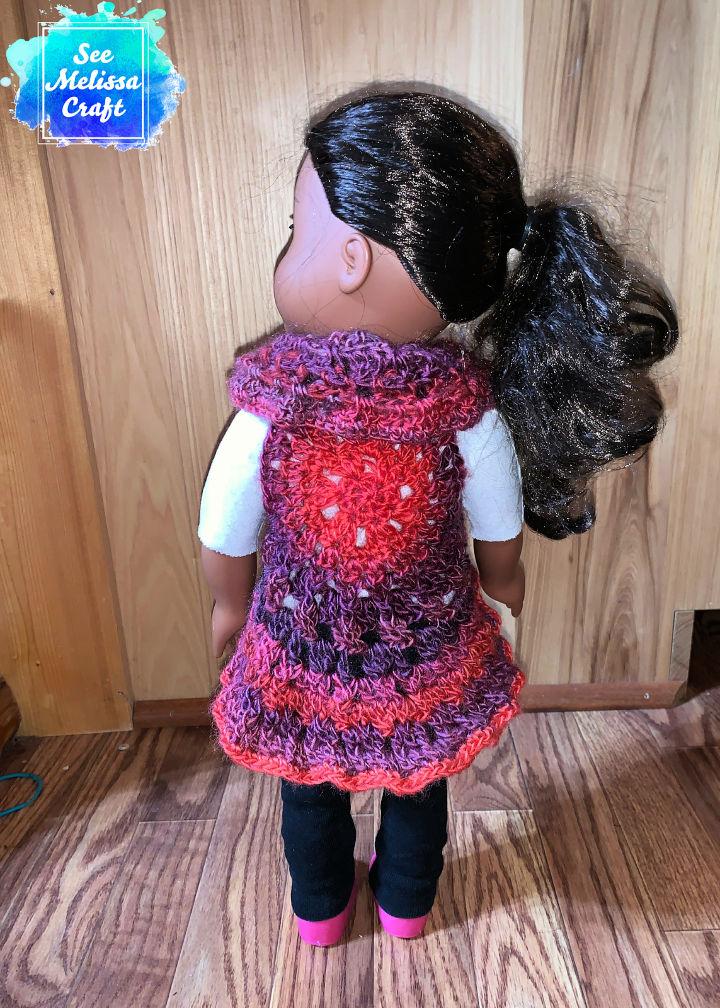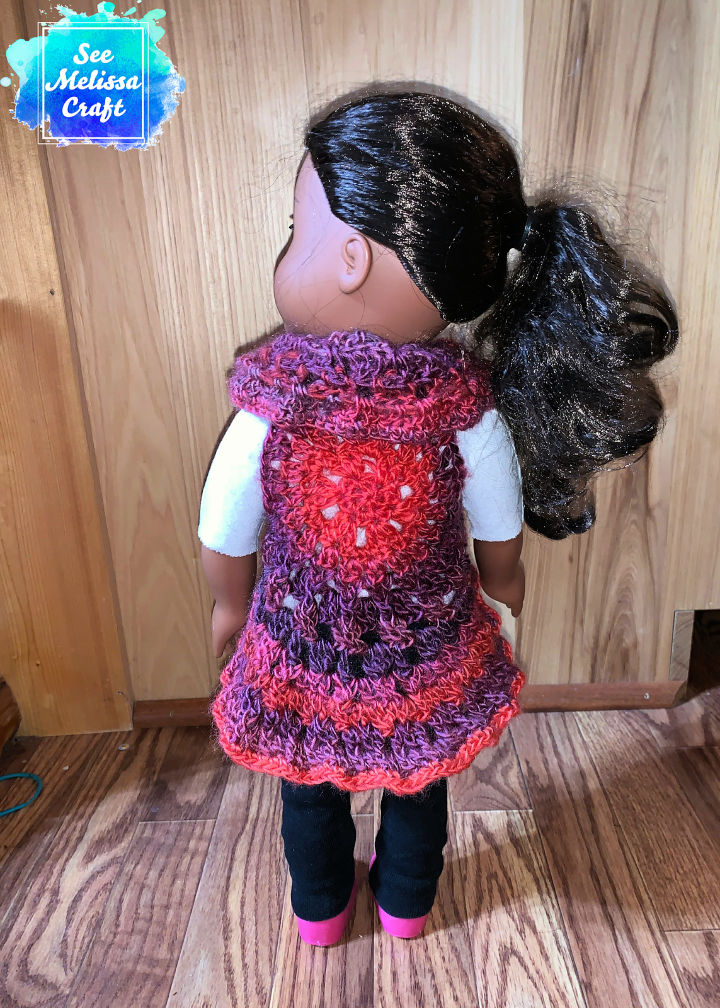 Get your doll, too, into the mix of trend and fashion. This circle vest is for 18 inches doll. You will need 120 yards of worsted weighted yarn for its shiny and silky texture. 6.5mm of crochet hook will be helpful to give the stitches an integrated chain space, used to form the armhole. Go around with stitches to crochet a fantabulous vest perfect for a child and a doll to flaunt later! seemelissacraft
Yarn: Worsted weighted yarn
Hook: 6.5mm
Guage: 15 dc, 8 rows on a 4'' x 4'' (10cm) swatch
4. Free Crochet Lollipop Vest Pattern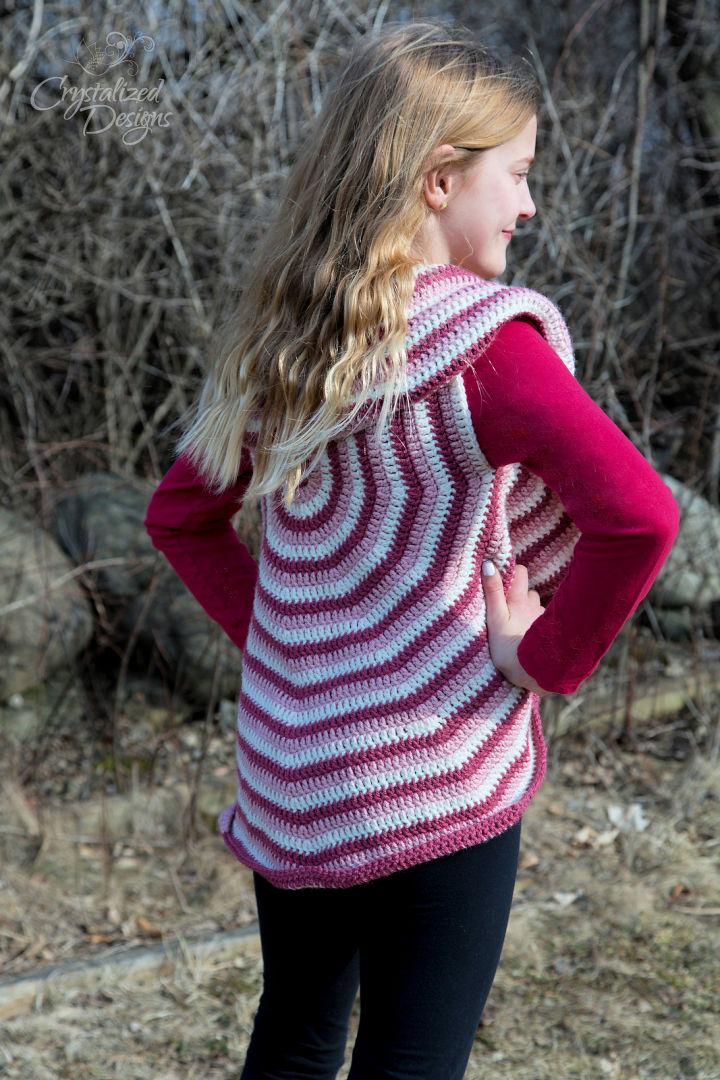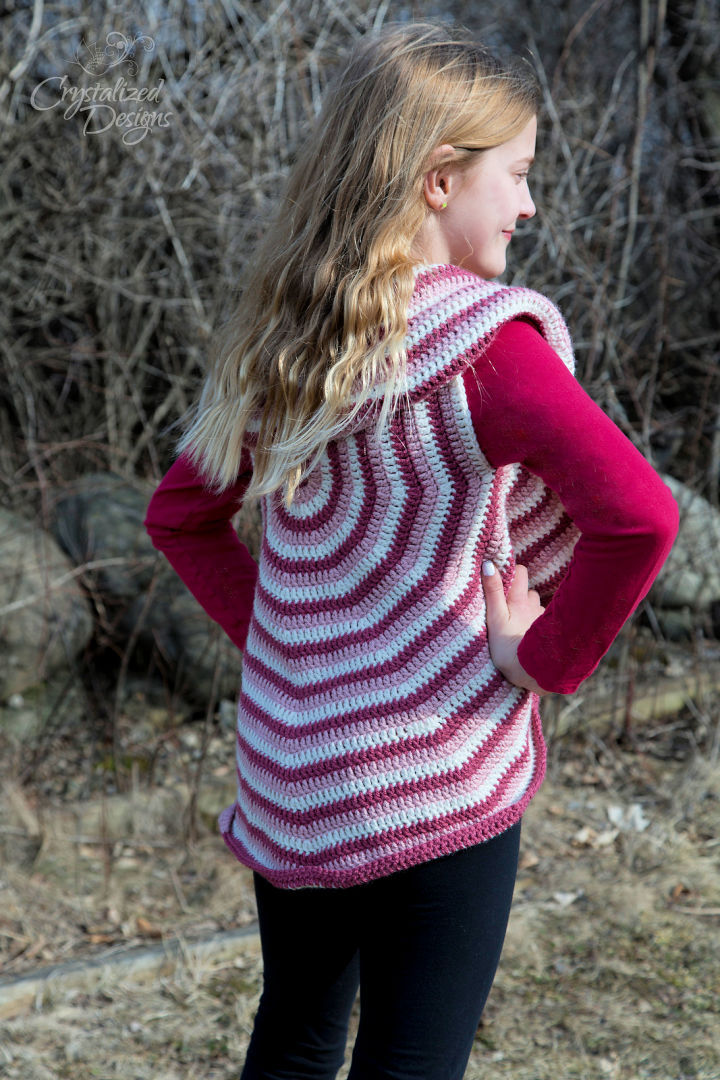 Here's another one from our free pattern crochet circle vest! With the multiple colors this vest carries, your little girl can match it with her many outfits. Well, you can also personalize it with your own favorite colors. The worsted weighted yarn will provide this vest a smooth mushy feel. Pick the size from the pattern, use a measuring tape and stitch markers to customize it, and finish off your work by weaving the ends with a yarn needle and scissors. crystalized
Yarn: worsted weighted yarn
Hook: H size, 5mm
Guage: 14 dc= 4'', 8 rows = 4''
5. Circle Vest Crochet Pattern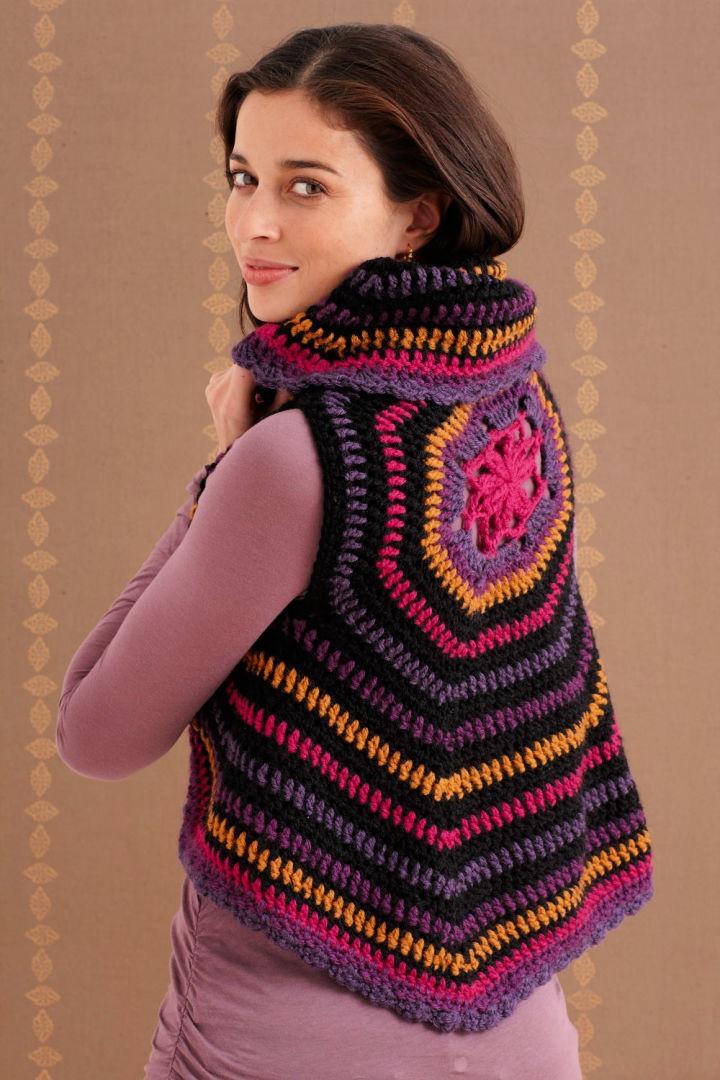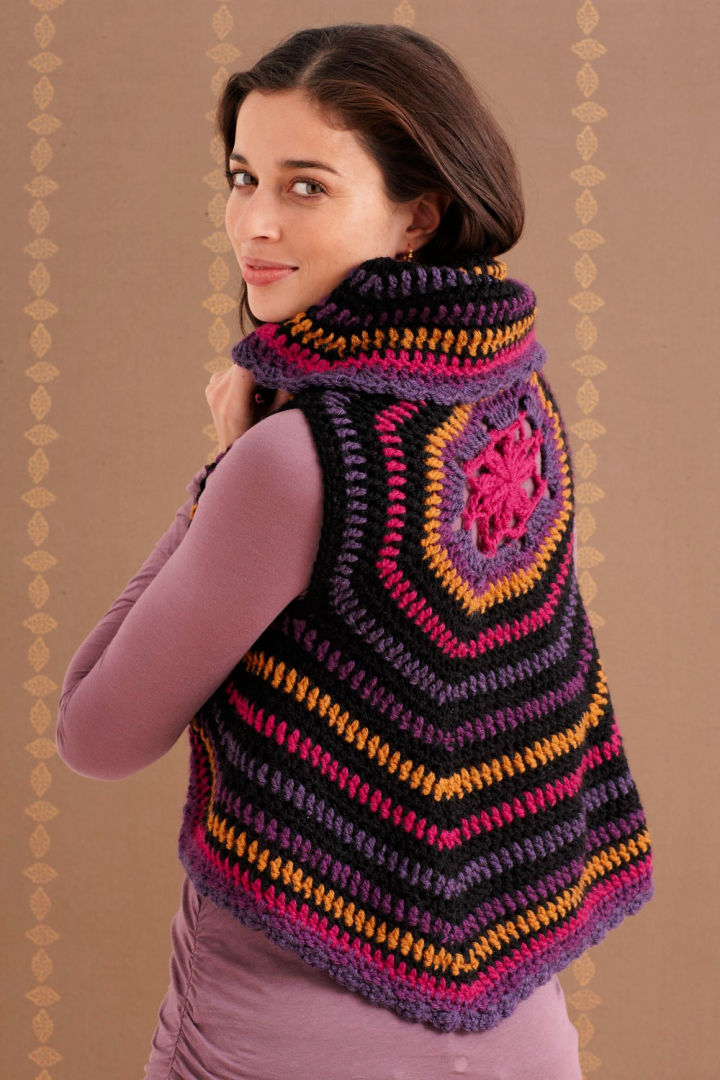 This beautiful vest is worked in the round, moves to form the center and then moves outward with stitches. Make a slit that will work as armholes. Use the lion brand yarn, wrap it around the J-10 6mm crochet hook, start your journey by maintaining the strip sequence. You can make it in all sizes-small, medium, or large. Check your gauge so that the center flower measures about 8 in. lionbrand
Yarn: Lion Brand
Hook: J-10 6mm
Gauge: 10 dc + 9 rounds = 4 in. (10 cm)
6. Crochet Spring Sun Mandala Vest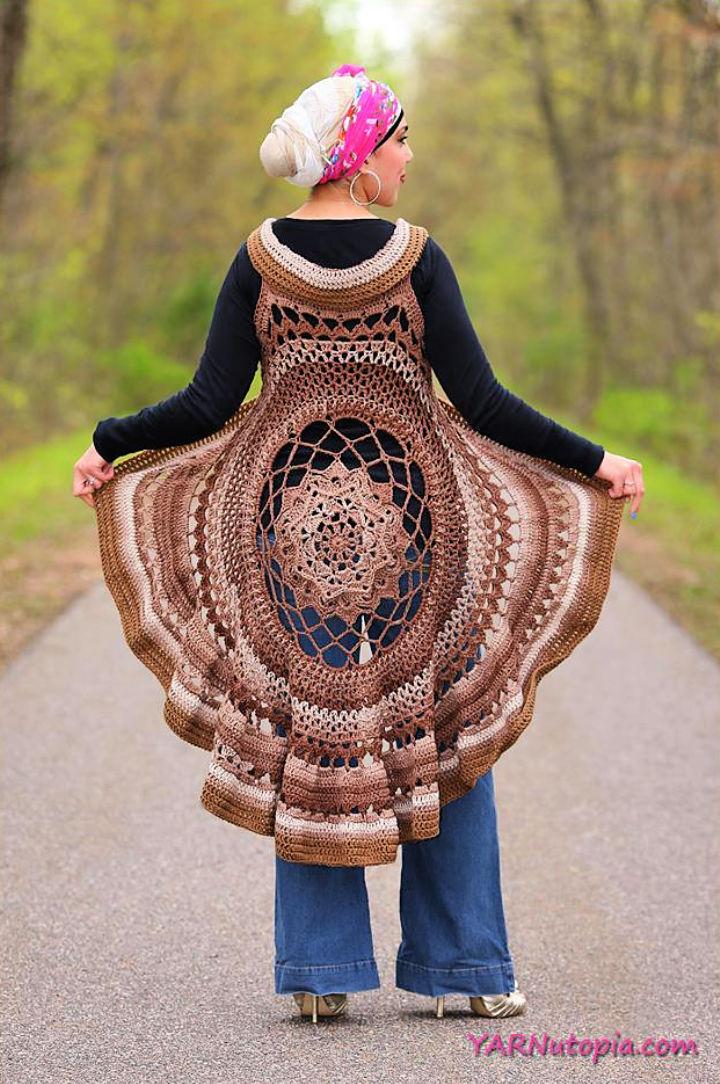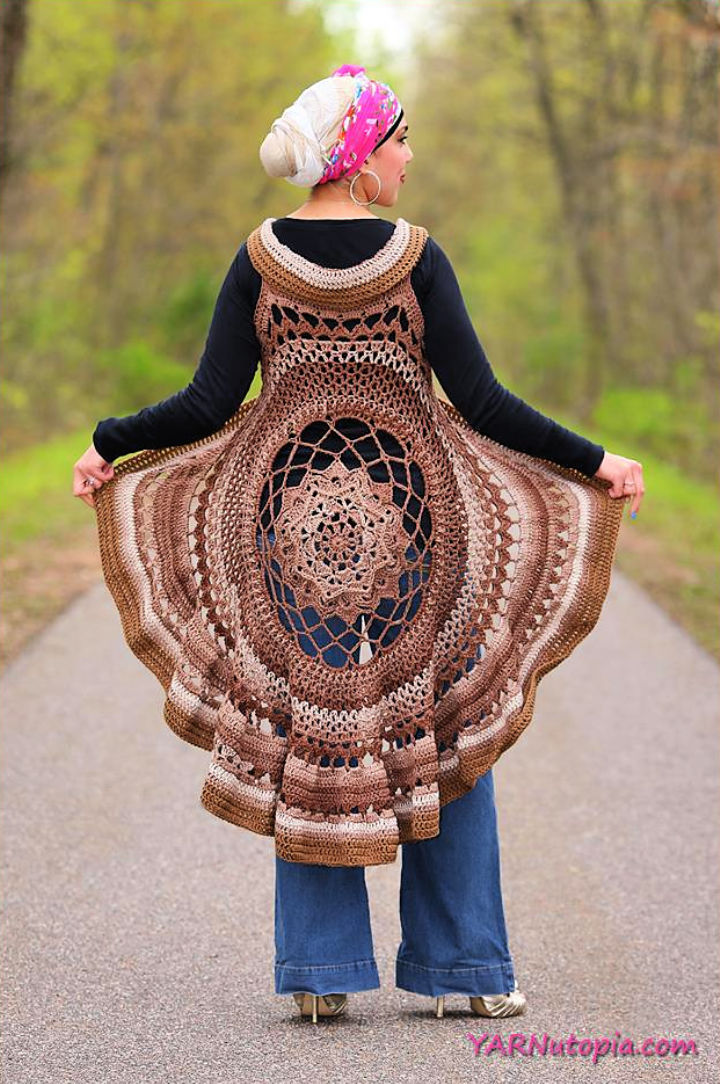 This spring mandala crochet pattern is the perfect outerwear to chill in blooms and blossoms. It is crocheted out of 1100 yards of red heart super saver yarn. This plus size crochet vest is 43 inches across with arms slits around 18 inches, giving an ideal and flawless look to it. Also, you can customize its size by increasing or decreasing the rounds. Don't forget to weave in all the ends with the yarn needle as you go. yarnutopia
Yarn: Red Heart Super Saver
Hook: J-6.00mm
Finished size: 112 cm across, 38cm shoulders and 46cm arms holes
7. Free Crochet Mandala Vest Pattern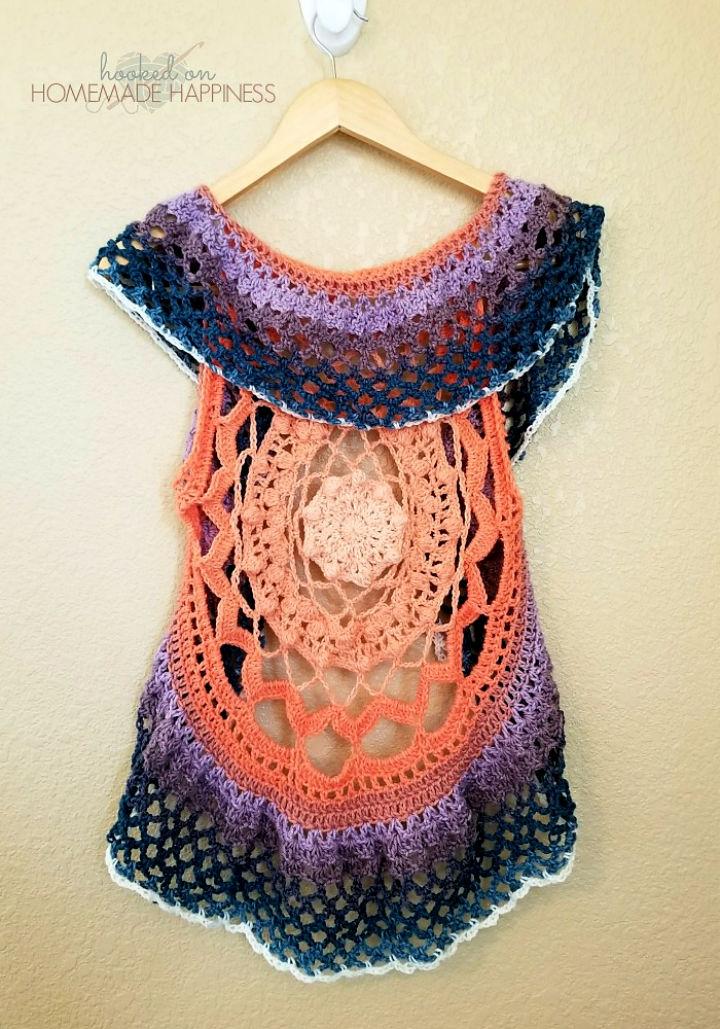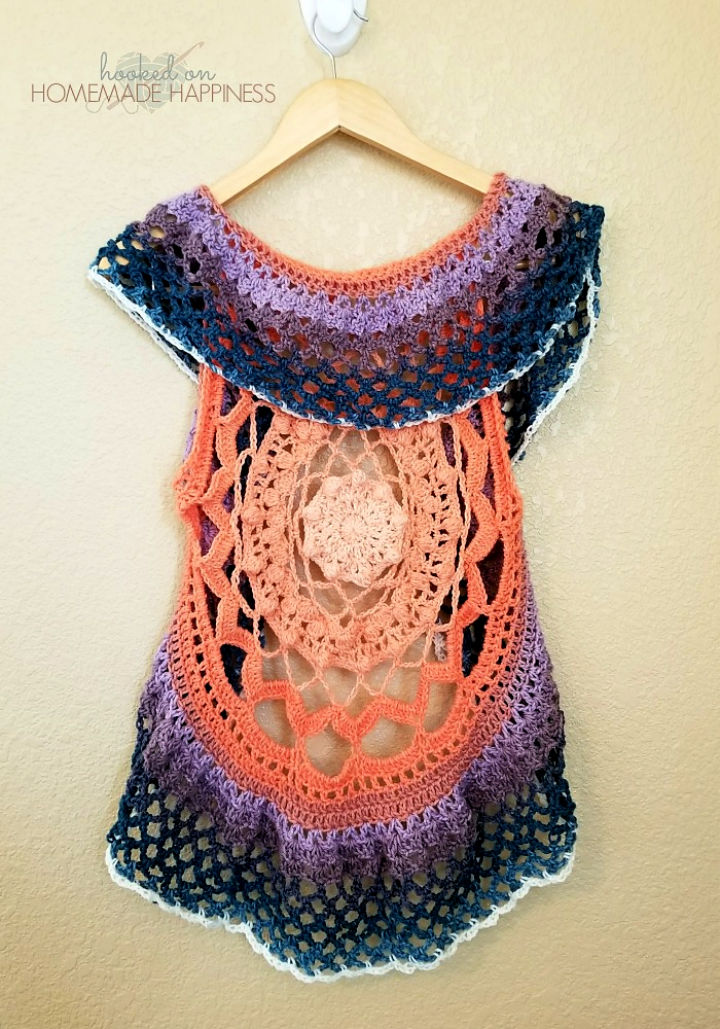 Because summers are on their way, so don't get late to whip up this free pattern crochet circle vest! Make stylish, comfortable, and fine accessories for yourself. You will need 590 yards of lion brand mandala for this free crochet mandala vest pattern to crochet a small size and 1180 yards for a large one. In just 28 rounds, you will end up whipping this in small size, fasten off and weave in the ends. But for the larger size, continue round 28 until your desired length. hookedonhome
Yarn: Lion Brand Mandala
Hook: 5mm
8. Whirl Mandala Cardigan – Free Crochet Pattern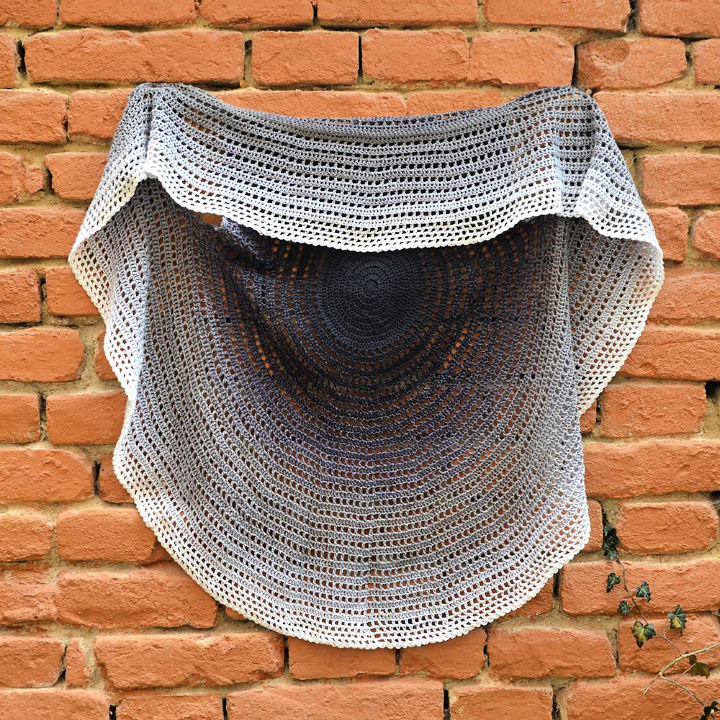 Check out this free crochet whirl mandala cardigan pattern that is totally aimed at beginners. Take a 3.25mm of the crochet hook, wrap cotton blend yarn around it, and start with the stitches and loops. Go on with the slip stitch sequence, single crochet, half double crochet, and double crochet. Use stitch markers, scissors, tapestry needle to weave in yarn tails. Your finished vest must measure around 80cm long. lillabjorncrochet
Yarn: Cotton blend yarn "whirl."
Hook: clover amour 3.25mm
Finished size: 40 cm in between and 82cm long from neck to bottom
9. Pocket Full of Posies Circular Vest Crochet Pattern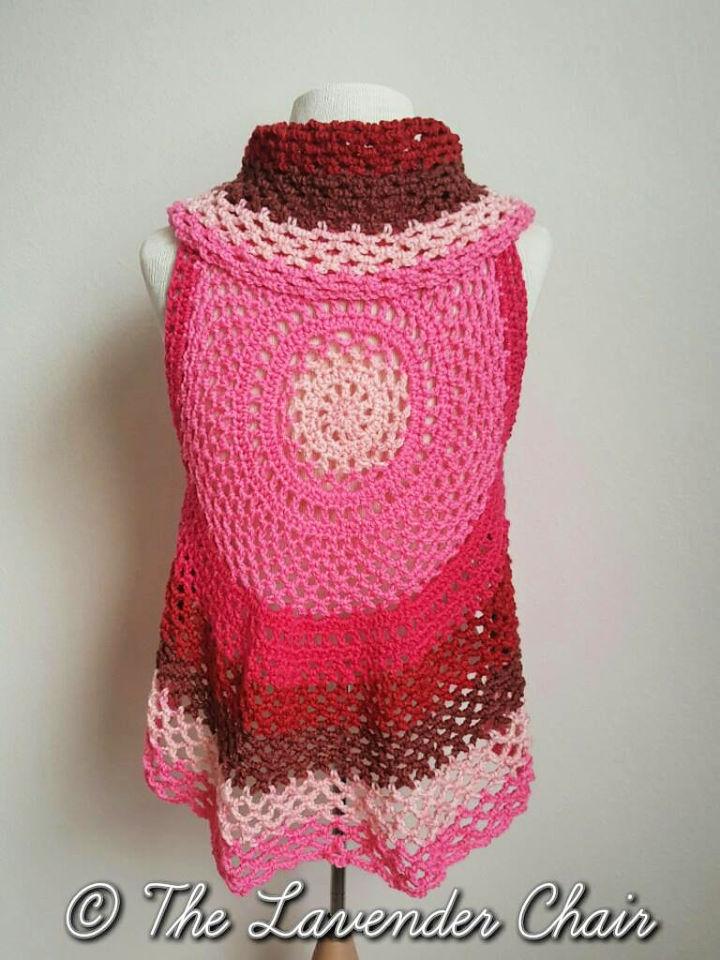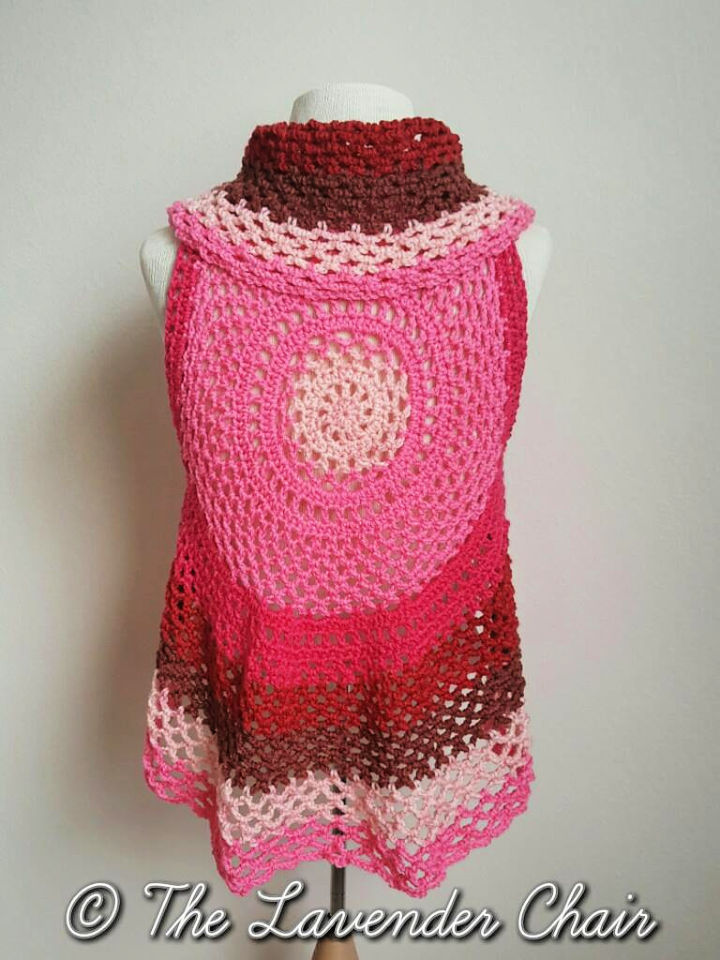 The worsted weighted yarn always provides a delicate texture to any outfit made out of it. Forgoing from small to large, you need to switch your hook from 5mm to 6mm and 6.5mm. The crocheting process is straightforward with this pattern, and you will be able to make this crochet vest pattern like a pro on your first attempt. Weave in the ends with a tapestry needle before tucking it inside. thelavenderchair
Crochet Magic Circle Tutorial · Use the Magic Circle to Start Round Crochet Project·
Yarn: worsted weighted yarn
Hook: Large= 6.5mm, medium= 6mm, small= 5mm
Gauge: 7Hdc= Approximately 2 inches
10. Crochet LUL's Flower Power Vest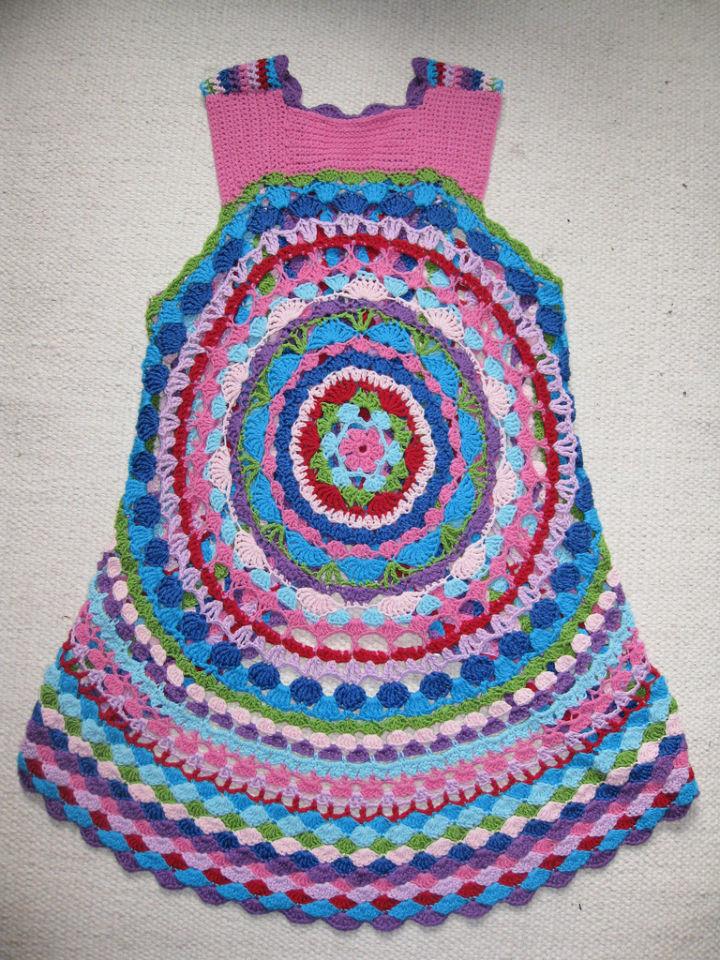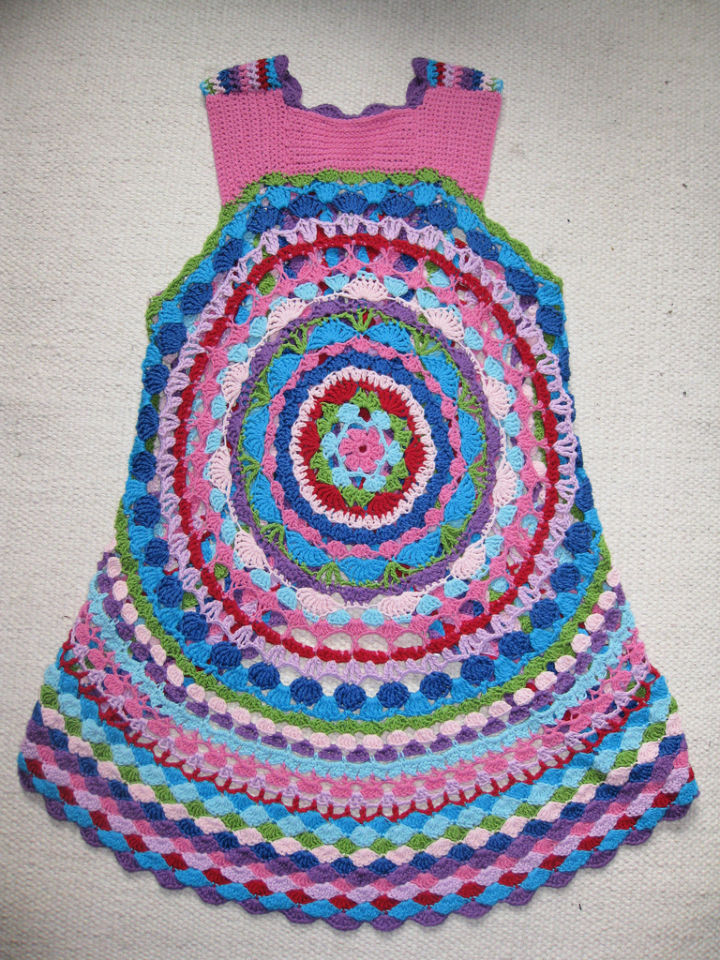 The whimsical colors and catchy transitions in every row might make this circular vest crochet pattern an intimidating project. But it is pretty easy compared to how difficult it looked! The fun part is you can play with the yarn of your favorite colors. This project can be made from any yarn such as stash yarn, cotton, acrylic, wool, etc. The hook size will remain the same as that is 3.5mm. ravelry
Yarn: 180-240 yard of yarn (any category of yarn you feel comfortable with)
Hook: 3.5mm (E)
Make this free crochet circle vest patterns your style statement. Crochet them in minimum time and with minimum material. Embellish your summer wardrobe, not with ornaments, but with stylish vests, as explained in the tutorials. You will never fail this project.