Your little kids will love these crochet dolls. Find 25 free crochet doll patterns to download and print to make cute gifts for your kids. Especially, the little girls tend to love playing with dolls a lot. You may remember your childhood and how you were so attached to your dolls. They provide you with a lot of entertainment, and you can tell your kids! How you enjoyed your dolls when you were younger; for example, by doing tea parties with them and imagining that these crochet dolls are your babies! It's entertaining to play all these games with your kids, and these will be a source of constant entertainment for them! This means that they won't ask for your attention all the time!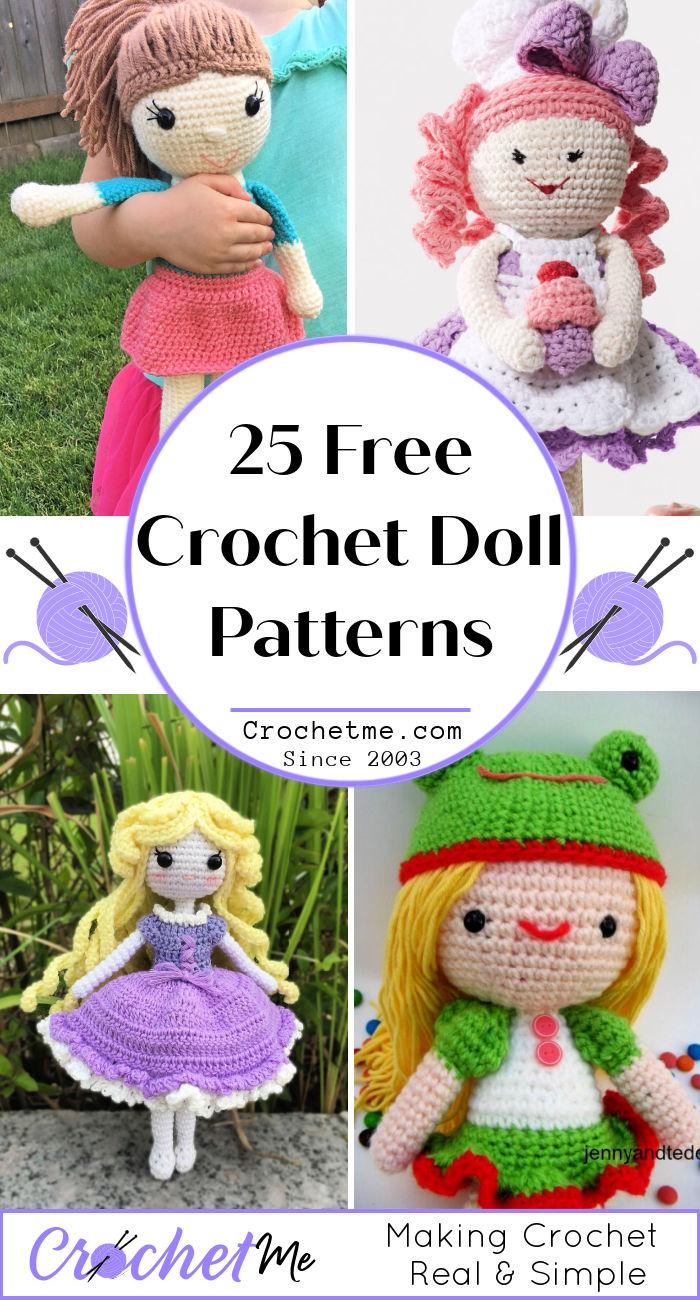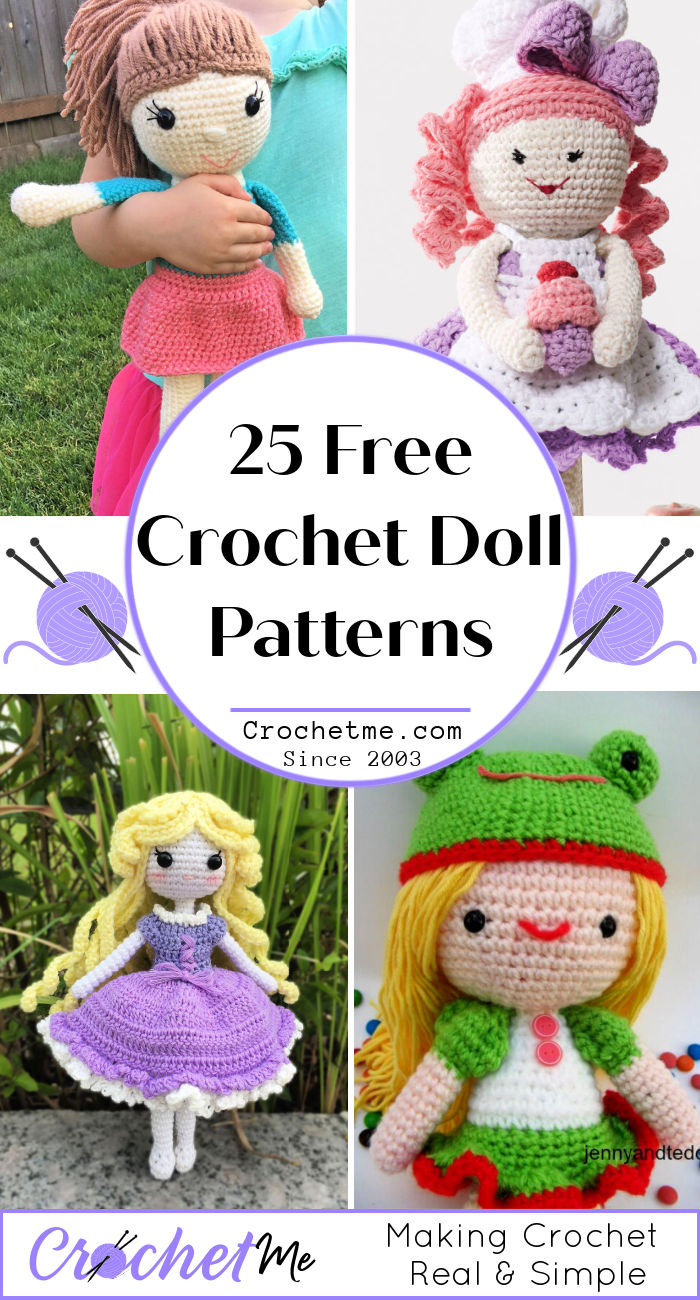 The good thing about your kids not wanting your attention all the time is that you'll have some time to yourself to relax and chill. These free crochet patterns for dolls are just the perfect gift for almost anyone. You can make a male doll for a boy and a female doll for a girl! Use their favorite colors, and they will love these new toys to play with! This article will cover a range of crochet doll patterns, from the Amigurumi doll to a crochet dress for a doll; from faceless doll to baker lily doll; from mermaid doll to doll clothes! There's a lot of free crochet patterns to choose from!
1. Amigurumi Doll Pattern Free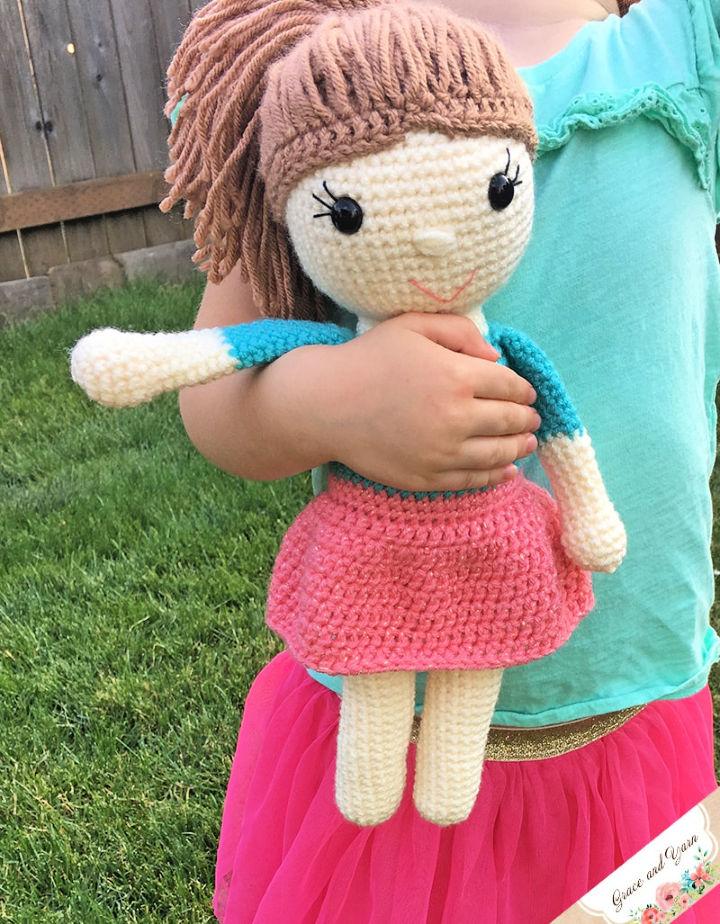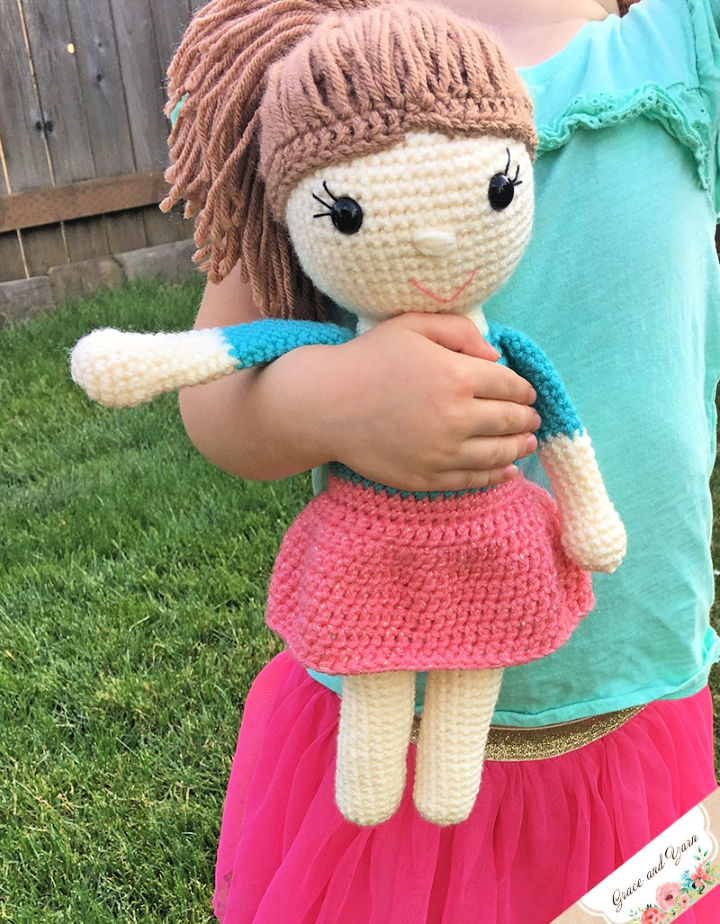 Such a pretty crochet doll pattern! The outfit is just everything with a blue top and a pink skirt. This doll is quick to make compared to the other crochet doll patterns as the body and legs are attached and a one-piece. You can choose any colors for the outfit. The dyes used are made out of plastic; however, you can crochet them as well. Single crochet, single crochet increase, invisible decrease, and a few other stitches that you'll need to know. graceandyarn
Crochet Hook: 3.5 crochet hook
Yarn Weight: Worsted Weight Yarn (4 skeins-desired skin color (50g), color for shirt and skirt (25g), desired hair color (25g), a small amount for hair tie)
2. Crochet Doll Pattern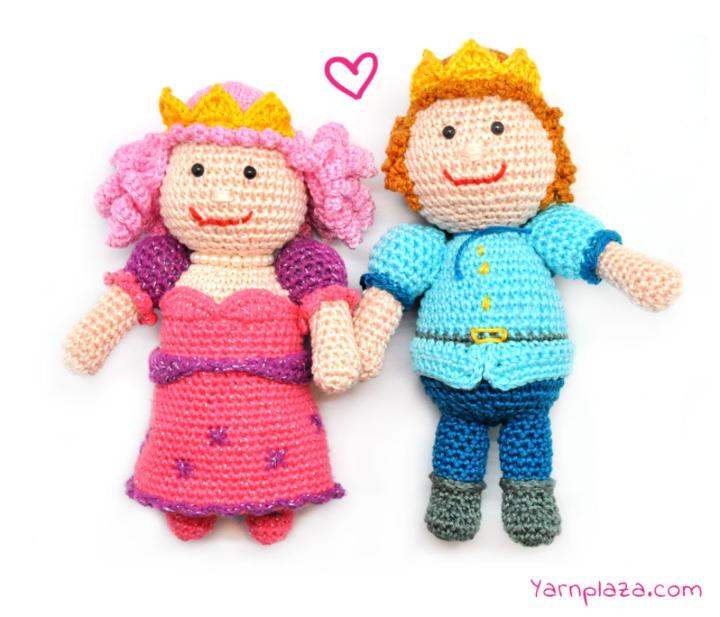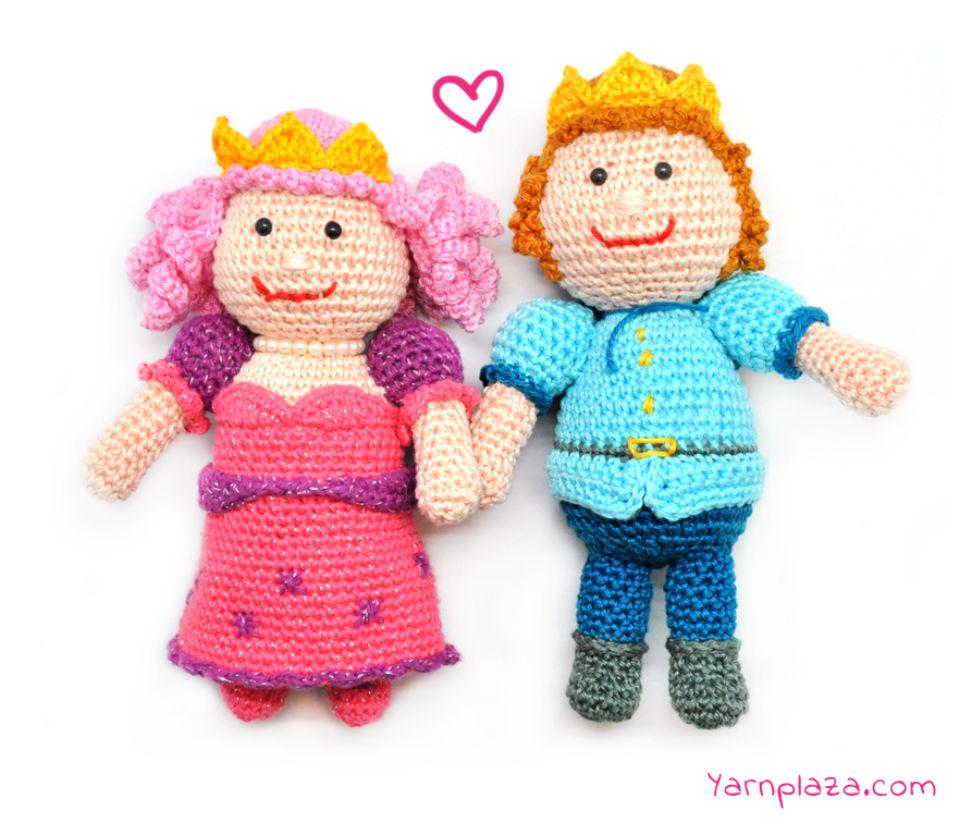 If your daughter is very dreamy and loves watching fairytale movies, then she'll love these free amigurumi doll patterns! It features a prince and princess with very cute clothes and other details. The princess has on a pretty ink dress while the prince is wearing a blue suit. The crowns look super stunning too. You can start off with the bodies and then add clothes later on. yarnplaza
Crochet Hook: 2mm for both
Yarn Weight: Prince- SMC Catania color 263, 383, 208, 400, 242 and a leftover of 115, Princess- 1 ball SMC Catania color: 263, 222, 208 and a leftover of 115
Finished Size: Prince- 17cm, Princess- 16cm
3. Crocheted Dress for American Girl Doll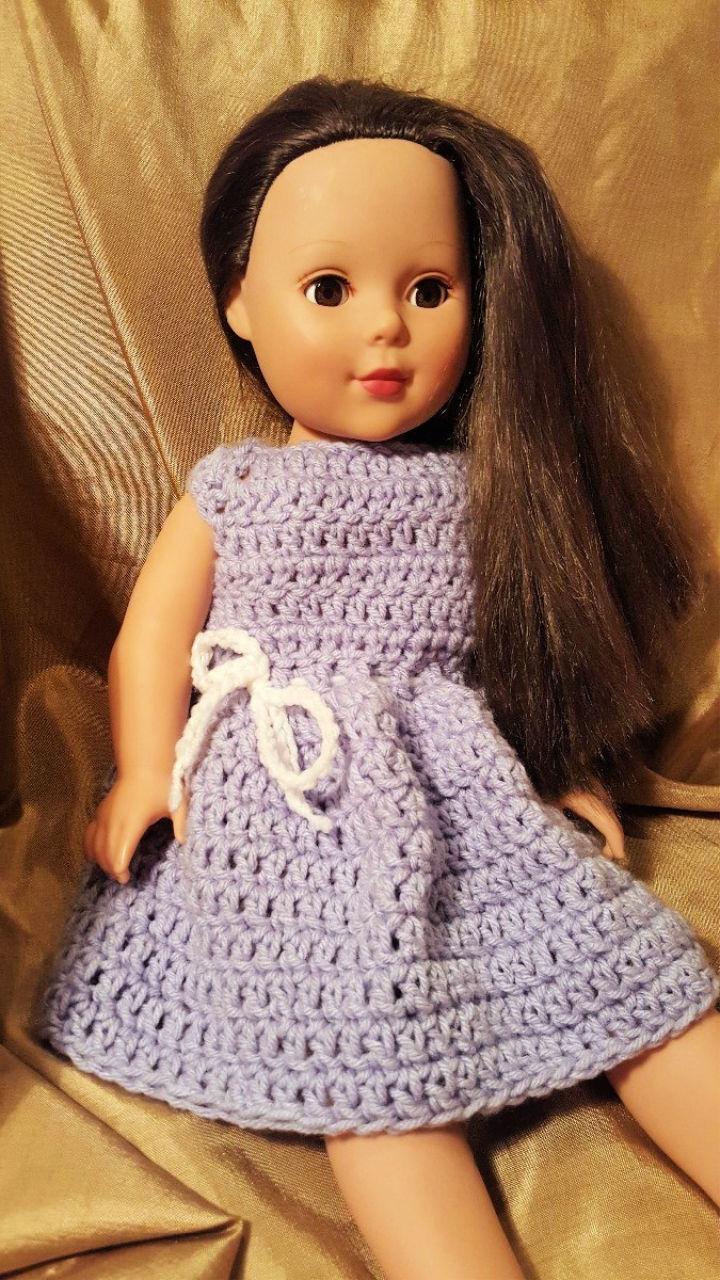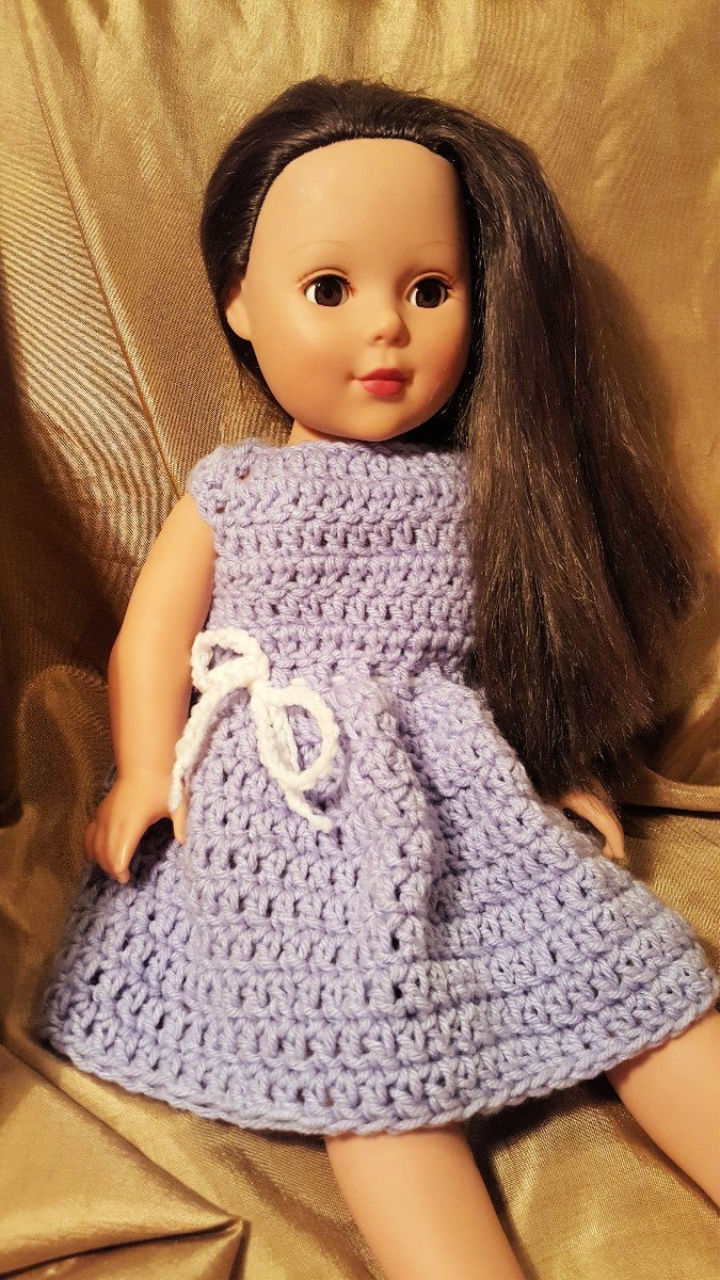 American dolls tend to be very big and huge, with almost 18″ in size. This is why it is hard to find a guide for their crocheted dress. Here's one amazing guide which will take you through the steps. This dress is in a beautiful light purple color, which is almost violet. You can make many of these dresses so that your child can be occupied while dressing huge sized dolls! thriftyfun
Crochet Hook: size I
Yarn Weight: about 175 yards #4 worsted weight yarn
Finished Size: 18"
4. Crochet Baker Lily Doll Pattern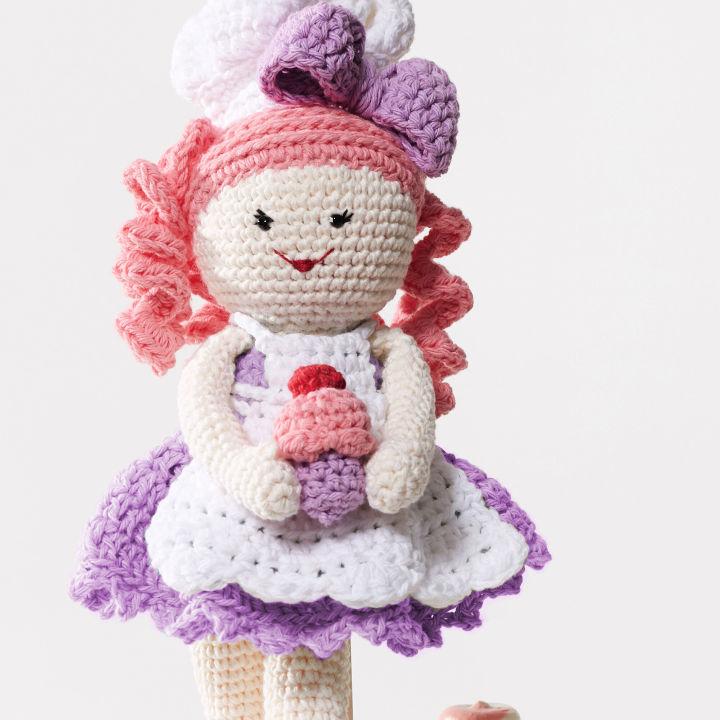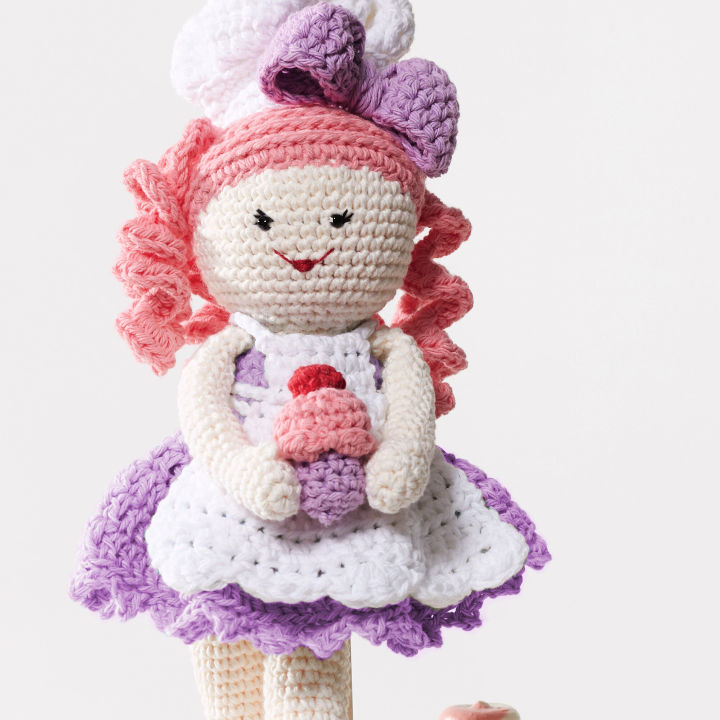 Look at this adorable little crochet doll with a purplish look to it even though there are many colors involved – pink, white, red, white, and even a little black for the eyes! However, the purple stands out the most. The doll is holding an ice cream, which is a great way to add a little detail. Yarn, needles, and a few other materials will be required. Get the free crochet doll patterns in English here: yarnspirations
Yarn Weight: Lily Sugar N' Cream- ECRU, SOFT VIOLET , WHITE.
Finished Size: 13" tall
5. Faceless Doll Crochet Pattern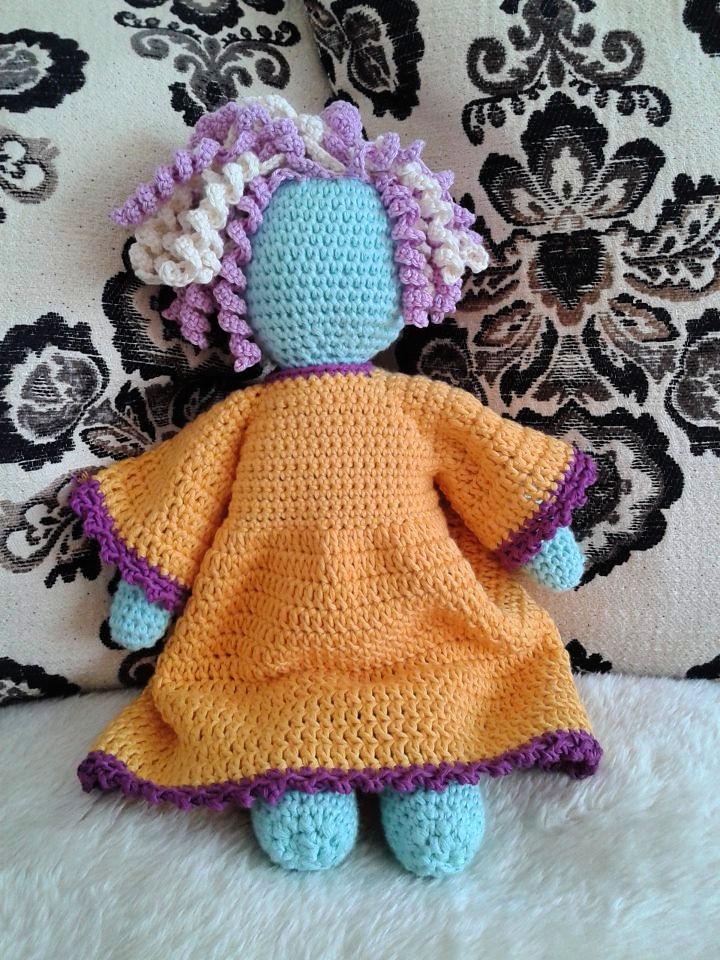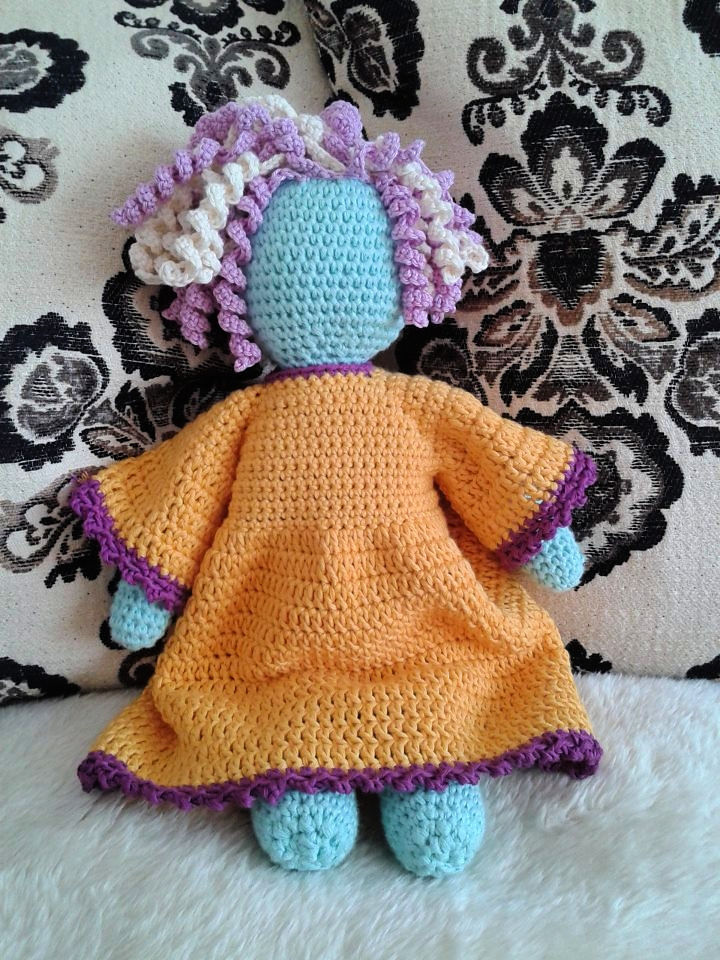 Every child is different. Some are freaked out by dolls having faces, while others are freaked out when dolls don't have faces. Whatever the case may be, if your child prefers to play with a faceless doll, follow this guide to make it! There are two options with brown or purple hair. You can choose to have the eyes or not. This pattern does require you to know a few stitches. ravelry
Crochet Hook: 3.5 mm (E), 3.0 mm
Yarn Weight: Lana Grossa Asia, Lana Grossa Linea Pura Organico Solid/Uni, Aran (8 wpi)
6. Free Mermaid Crochet Doll Pattern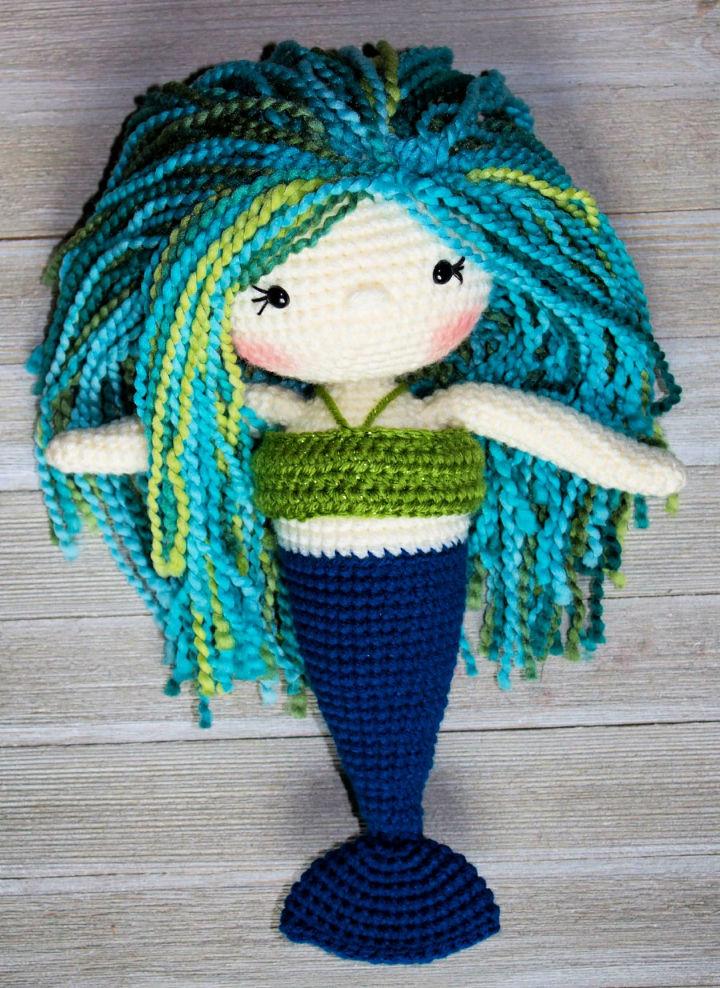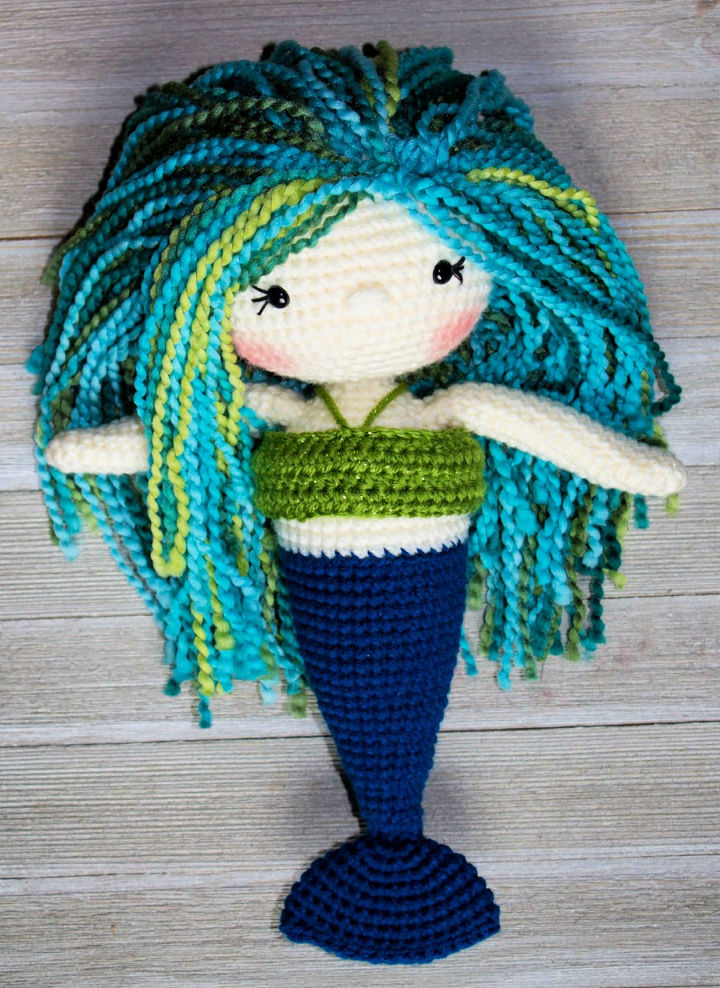 babies and toddlers are intrigued by mermaids. They like the shape of a mermaid and how it has tail-like legs. This is a very creative pattern compared to the other crochet doll patterns. Make this for your kids if they are obsessed with "The Little Mermaid." Everyone gets that phase! They will love these dolls at that phase. Everything about this doll is just super adorable, from the blushy cheeks to the beautiful hair! thefriendlyredfox
Crochet Hook: 4.0mm or 3.75mm
Yarn Weight: size 4 Worsted Weight yarn- Stylecraft's Special Chunky in Cream (150g)
Finished Size: 12" tall x 4.5" wide
7. Crochet Dress Plain or Ruffled for 18″ Doll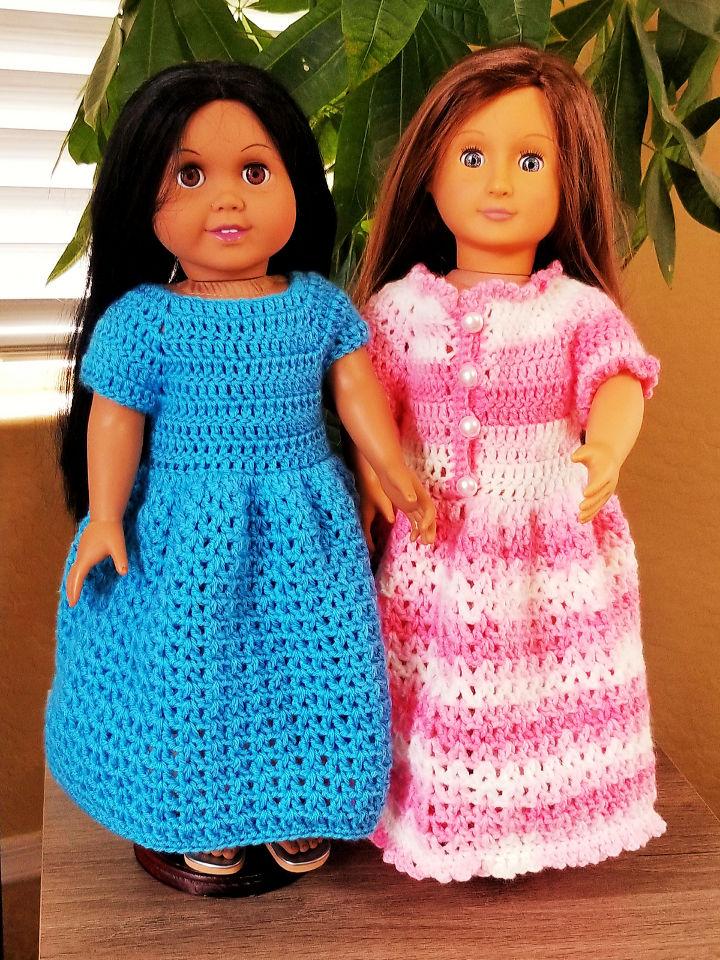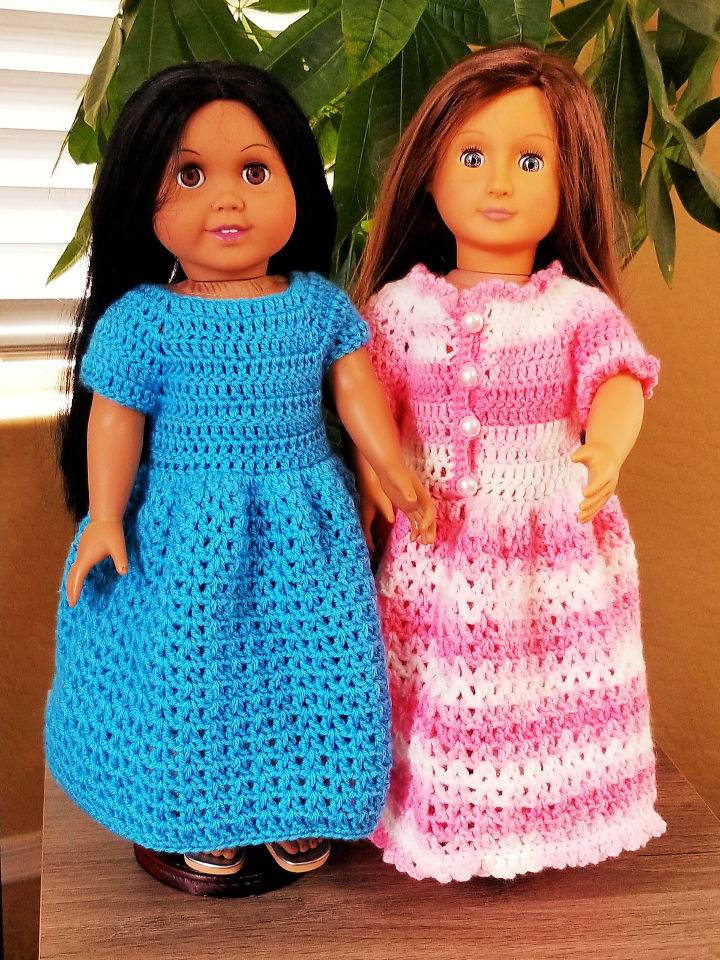 American dolls are huge, and some are as big as 18″! This guide is amazing to teach you how you can make a couple of dresses for them. Your little girl may be tired of the same dresses and want something new. Furthermore, the original dresses that come with these types of dolls are very boring. These adorable pink and blue dresses will spark a new spirit in her daughter and make her happy while playing with her doll again. grannyscrochet
Crochet Hook: size E/ 3.50mm
Yarn Weight: 1 skein 3-ply light worsted yarn (about 200 yards) Size 3, Premier Deborah Norville Everyday Baby, and Lion Brand Ice Cream.
8. Crochet Mermaid Doll Outfit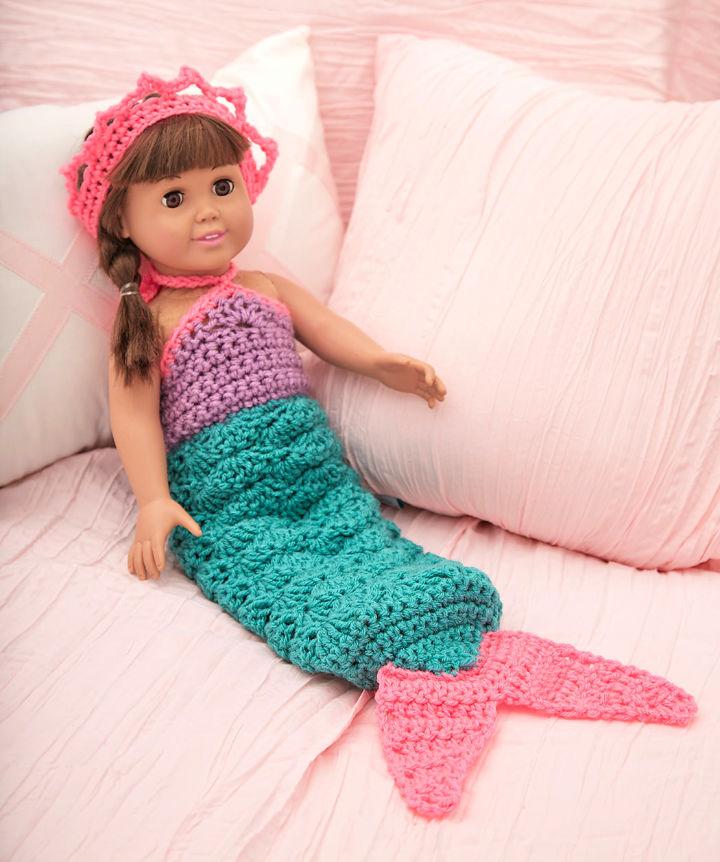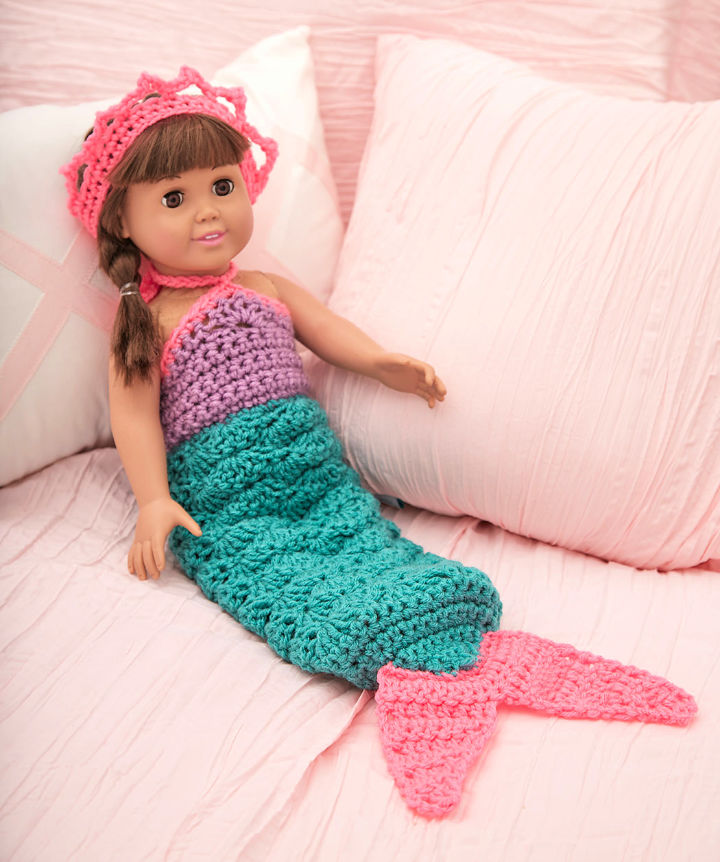 You will adore these straight to the point and super detailed guide! It is free to download, which is the best part. The outfit is a mix of some favorite colors, such as pink, blue, and purple! This mermaid outfit will make your child very happy and keep her entertained. You need to know a few complicated stitches for this outfit; however, don't be intimidated! This may look a little complicated, but it's easy to manage. yarnspirations
Crochet Hook: 5.5mm
Yarn Weight: RED HEART Super Saver-1 skein each 530 Orchid A, 722 Pretty 'n Pink B, 3862 Jade C
Finished Size: 18"
9. Crochet Doll Pattern Free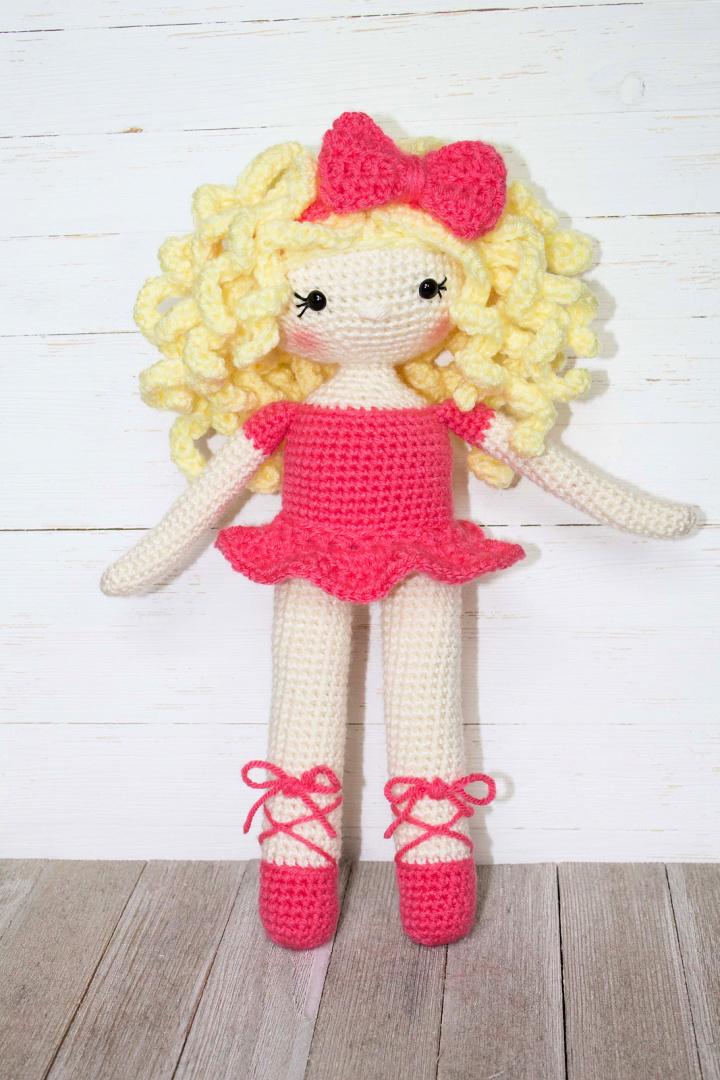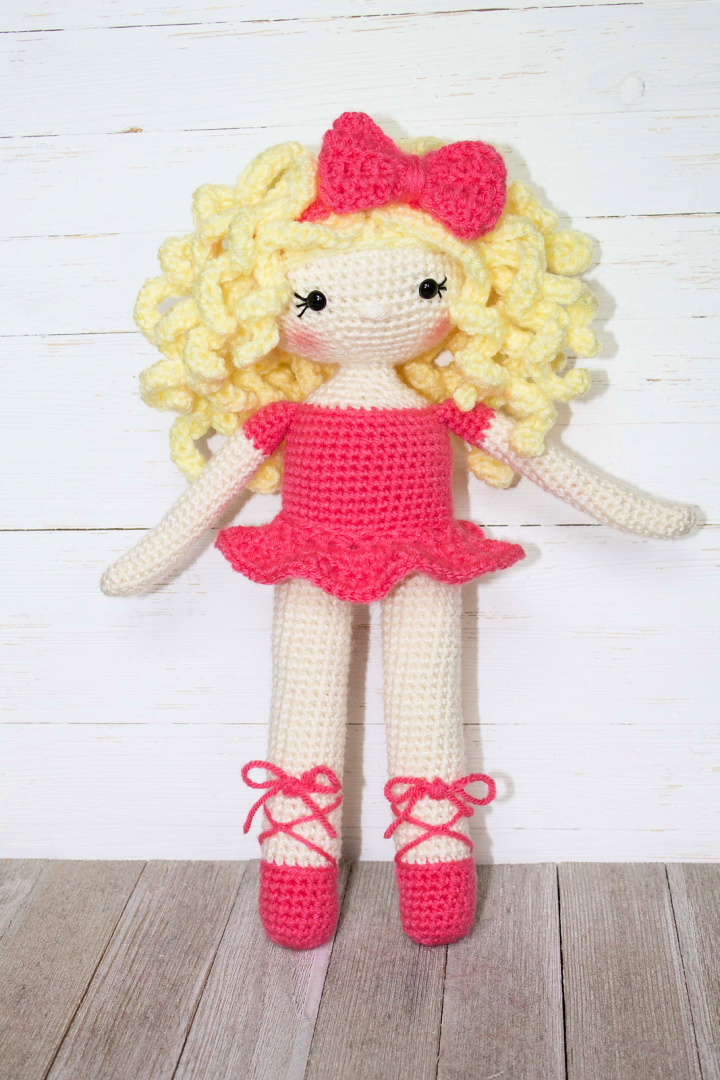 This plan features a cute little doll with a friendly face, beautiful hair, and a Pompei dress. There's also a little more detailing to this doll by the little blue bow in the hair, the hair's texture, the blushy cheeks, and pretty eyelashes. This all pairs together to make this beautiful doll. You have to start working on the body first and then make the dress. You have the option to attach it or keep it detached. thefriendlyredfox
Crochet Hook: 3.75mm/ 3.5mm
10. Crocheted Doll Clothes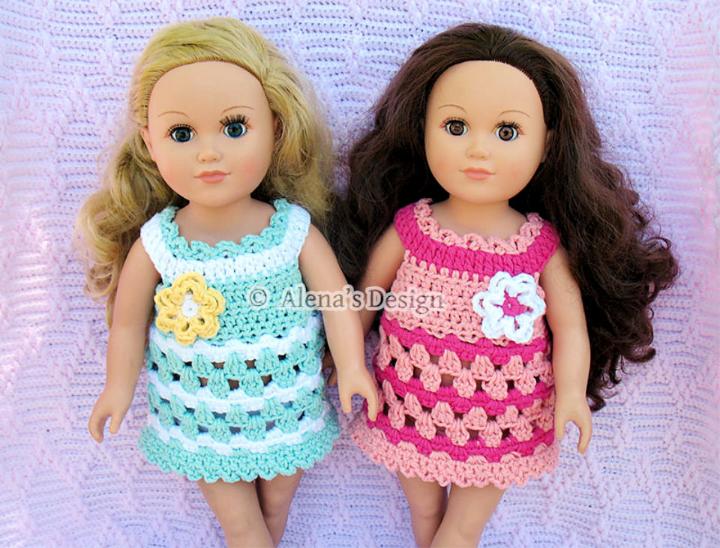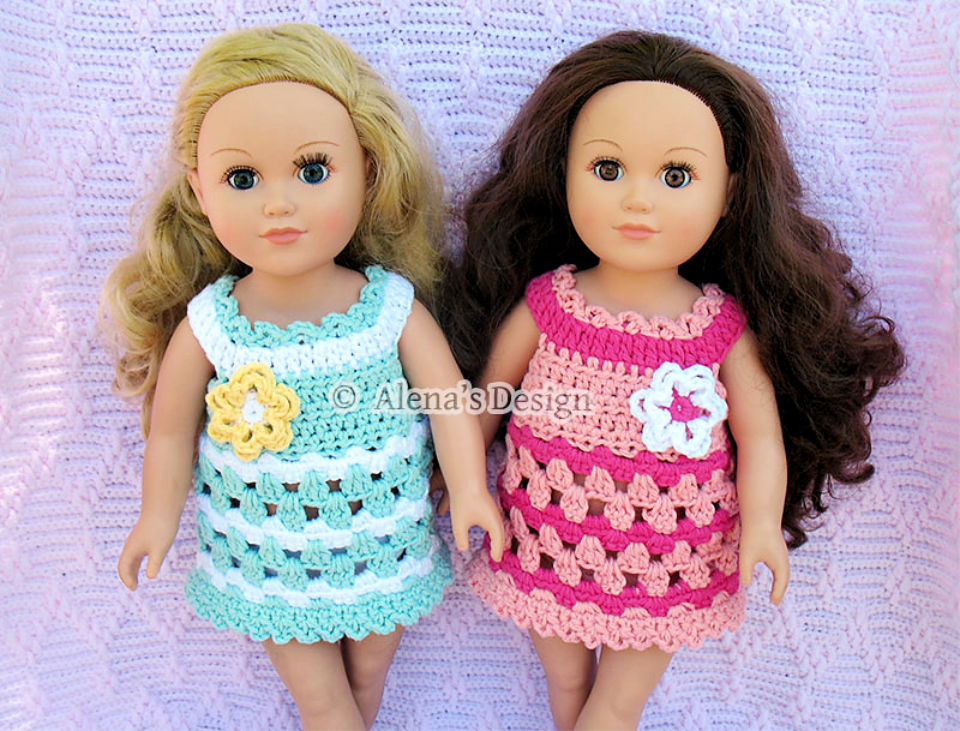 How adorable are these dresses! Just look at that detailing, and you can clearly tell how much effort was put into making these stunning dresses. The best part about all the effort is that it is paid off just by seeing your little ones smile. You may even gift it to your niece or any little girl in your life to see their faces light up with joy and happiness! alenasdesign
Crochet Hook: G-6/ 4.00mm
Yarn Weight: Sugar 'n Cream Yarn (100% Cotton; 70.9 g/ 2.5oz.; 109m/120yds); Worsted weight, medium; (1412 Country Pink or 1730 Bright Aqua) – approx. 85 yards, (1740 Bright Pink or 1005 White) – approx. 20 yards, (1005 White or 1612 Sunshine) – approx. 5 yards
Finished Size: Finished Chest: 13.0", Finished Length: 7.0"
11. Crochet Doll Pattern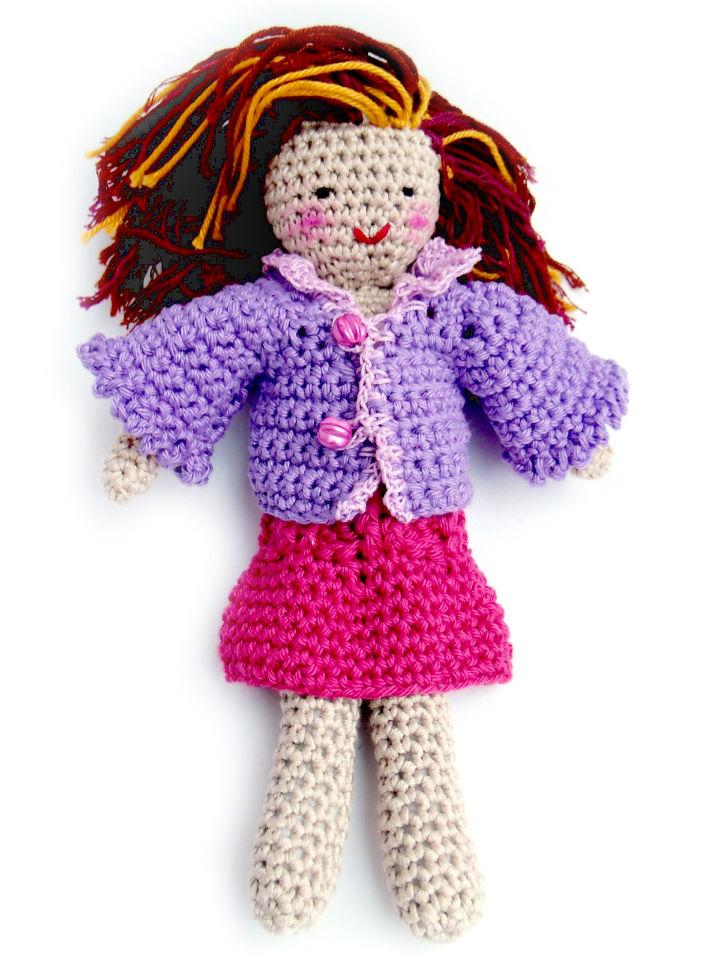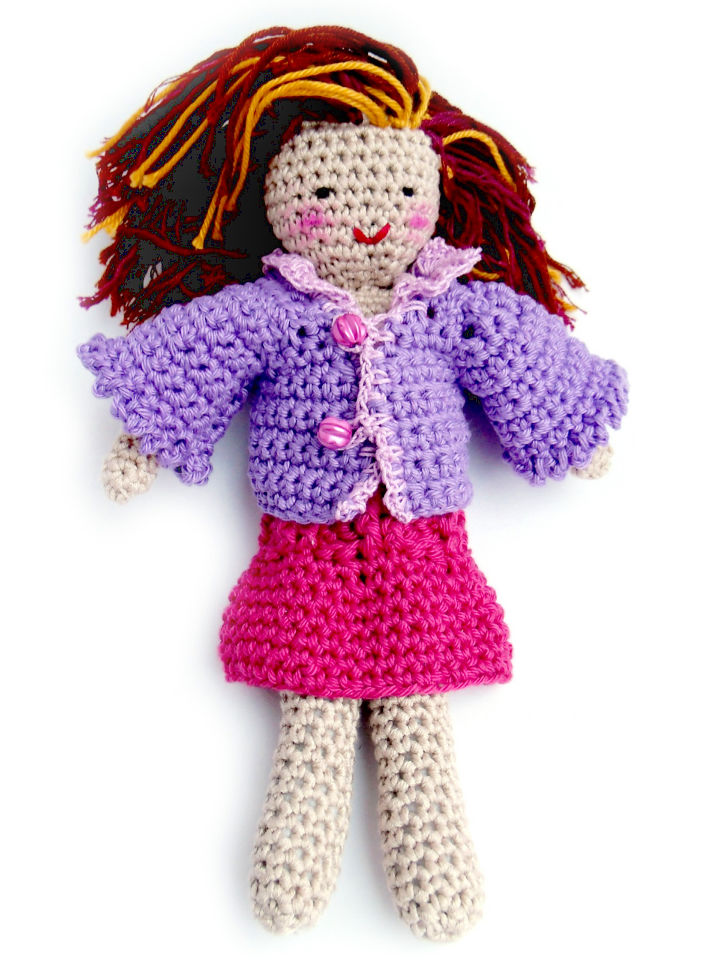 The "Bella" doll has a very unique texture to her skin. A tiny crochet hook is used, and there are a lot of different stitches involved in making a crocheted doll. The end product is so different and out-of-the-box that you may have never seen it anywhere before! You can work on the body first and then attach the cloths later. The colors can depend on what you prefer. ravelry
Crochet Hook: 2.5mm
Yarn Weight: Schachenmayr nomotta Catania Solids, Sport (12 wpi.)
12. Crocheted Doll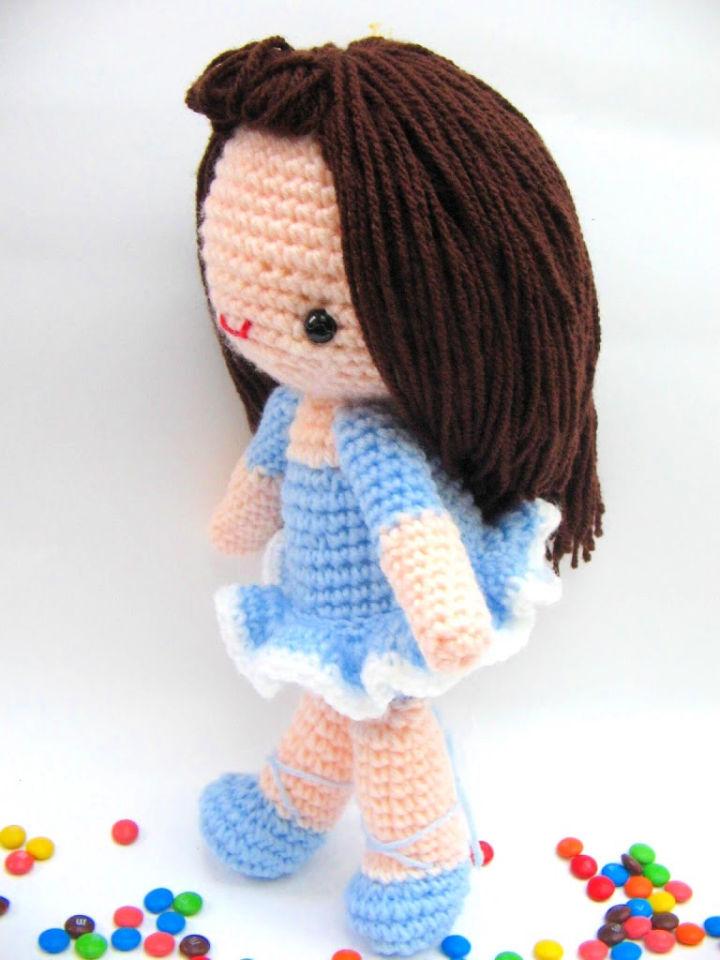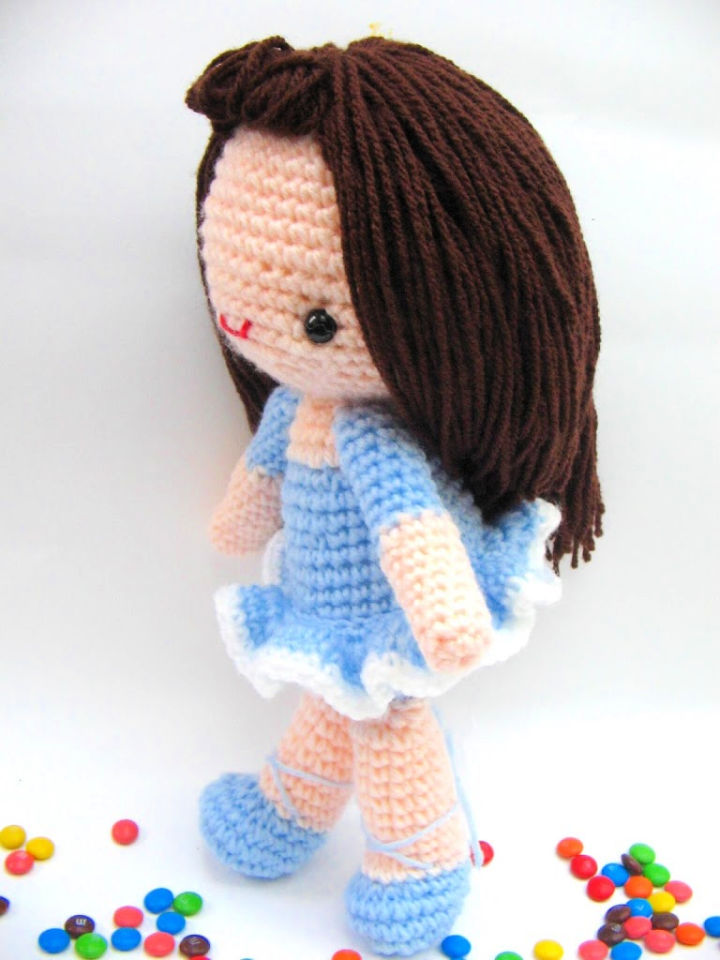 Ballerinas are adorable and tend to attract little girls. These little ones are attracted by the flowy and pretty dresses and beautiful shoes. The shoes really give this doll a lot of detailing and really make it a ballerina doll. If your daughter loves dancing or watches dancing, a crocheted doll would be the perfect gift for her! The hairstyle and color of the clothes can be customized depending on your creativity! jennyandteddy
Crochet Hook: 1.25mm
Yarn Weight: Acrsize Yarn- 8 ply
Finished Size: 7.5-8 inch tall
13. Crocheted Baby Doll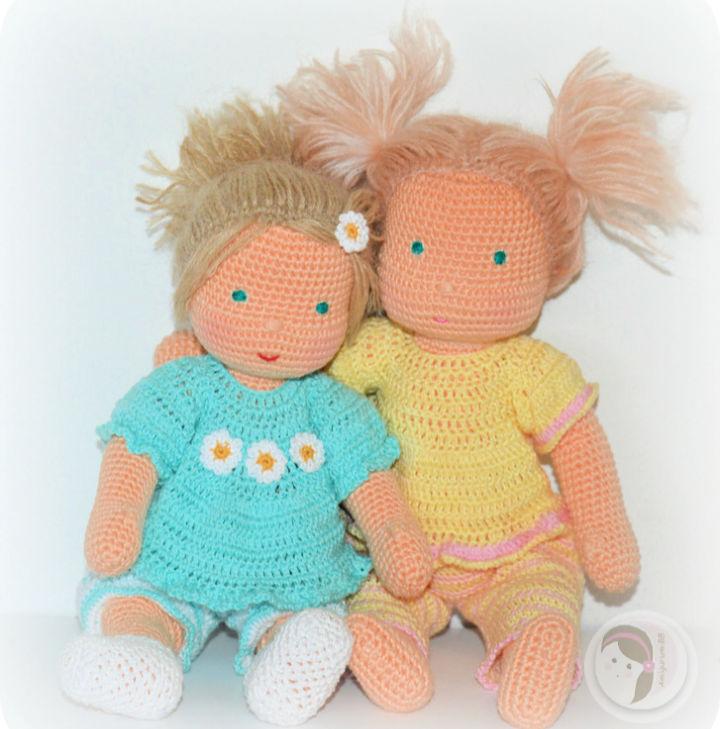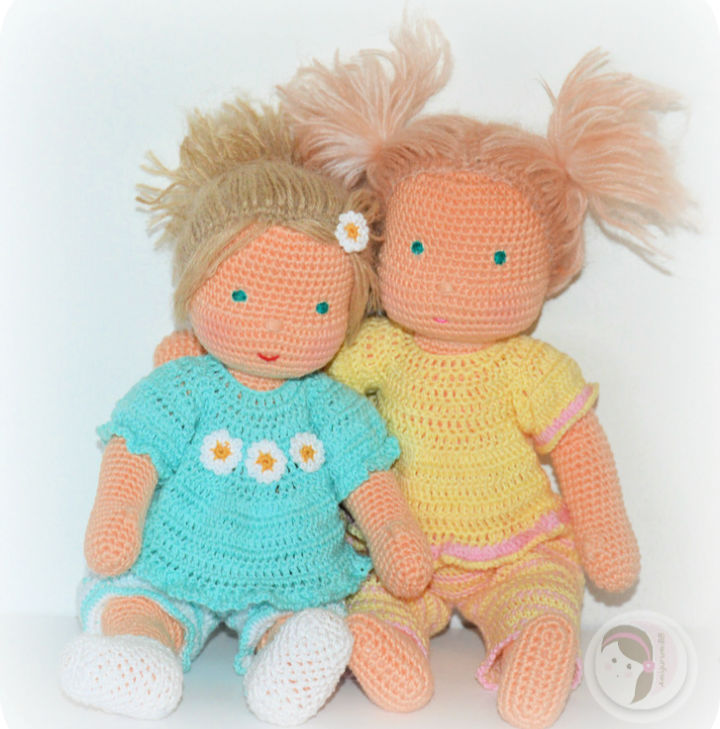 These crochet doll patterns are just mind-blowing! Look at this pattern! The skin texture is just amazing and shows so much creativity and effort. The dresses of these dolls are so cute in the colors yellow and blue! The blue dress has flowers attached to it, as well, which is a form of great detailing. If you're a little experienced in Amigurumi, this basic amigurumi doll pattern won't take a lot of time to make. amigurumibb
Crochet Hook: size G hook
14. Ragdoll Mermaid Free Crochet Pattern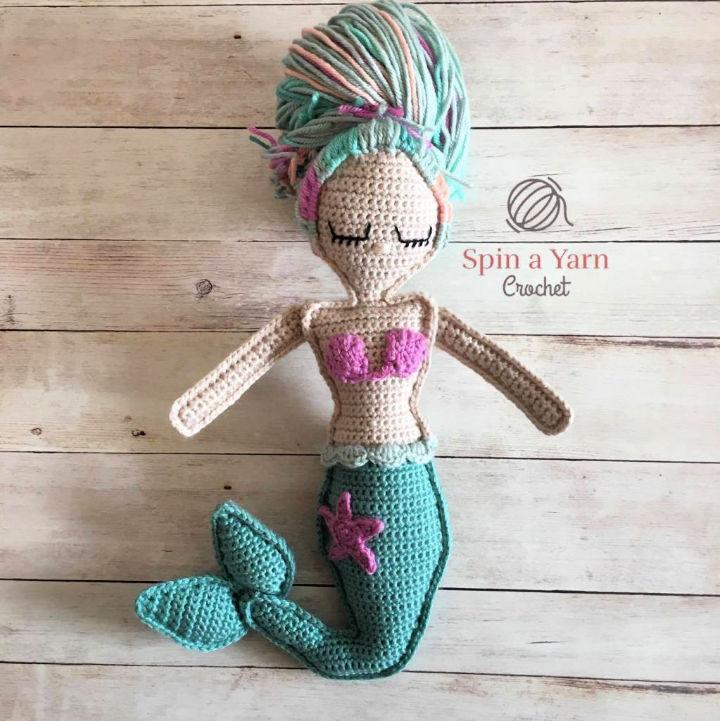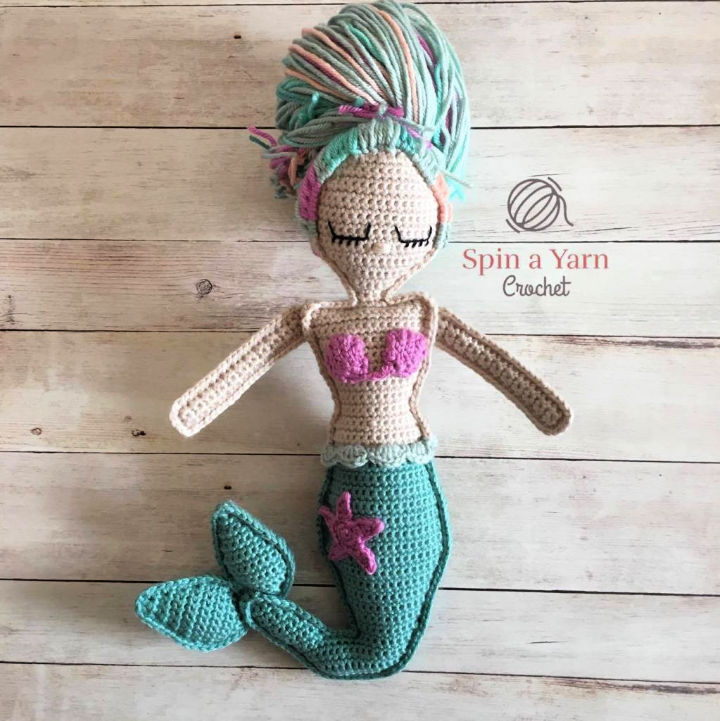 Who doesn't adore the cute little crochet mermaid pattern? Certainly, every one of us is attracted to the mermaids. For all such fans, this Ragdoll mermaid crochet pattern is compiled. The mermaid amigurumi will be an exciting gift to your kid, niece, nephew, or even friend. Even adults can enjoy this crochet doll and place it on the main shelf. The multi colors make this piece a pure attraction. Three different hooks are used along with the different colored yarn. spinayarncrochet
Yarn: Loops and Threads Colorwheel
Colors: dark mint, mint, pale taupe, purple-pink, bright mint, light coral
Hooks Size: I (3.25mm, 2.75mm, 1.50mm)
15. Free Crochet Doll Patterns to Download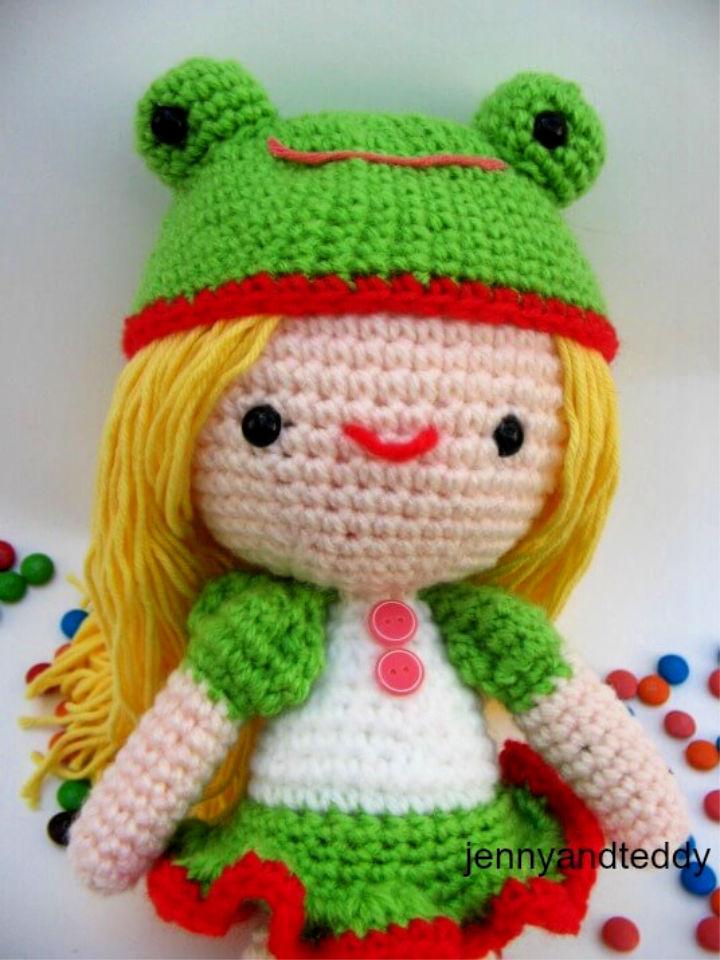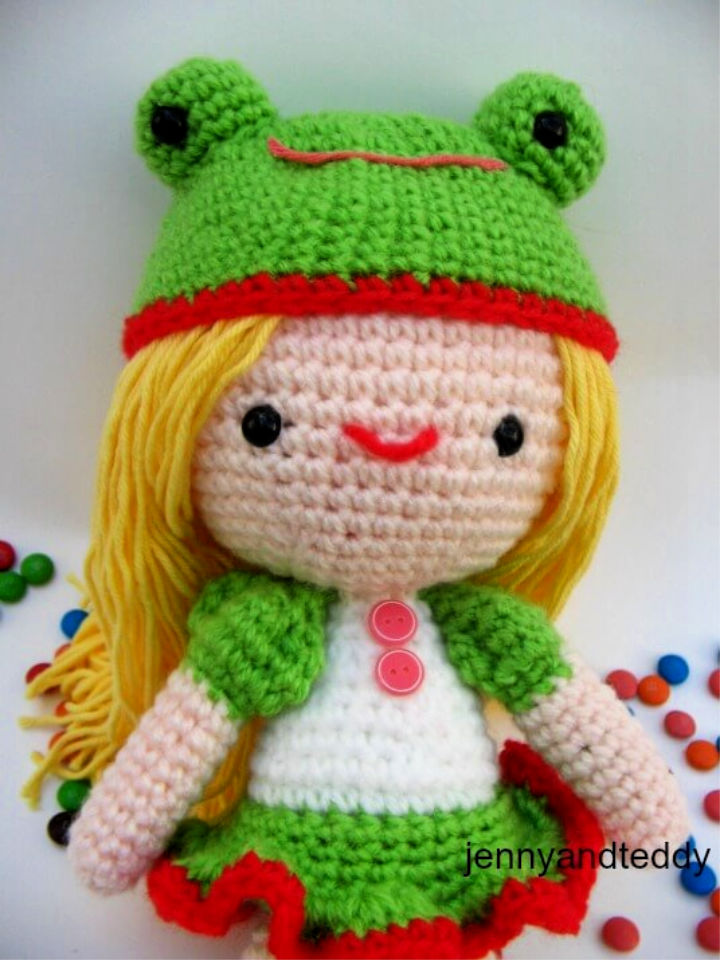 If you are interested in trying out a different crochet pattern for a doll, try this one out. Kelly girl with a frog hat will be a unique pattern that can cherish your girl instantly. If you are aware of making an adjustable ring or a magic ring, this project is a piece of cake. You will need some ribbons, buttons, and stuffing to stuff the doll amigurumi along with yarn and crochet hook. To achieve the exact Kelly girl, stick to colors advised. jennyandteddy
Yarn: Worsted Weight Yarn
Hook size: 1.25mm
Dimensions: 8'' tall approx.
16. Primrose Crochet Dolls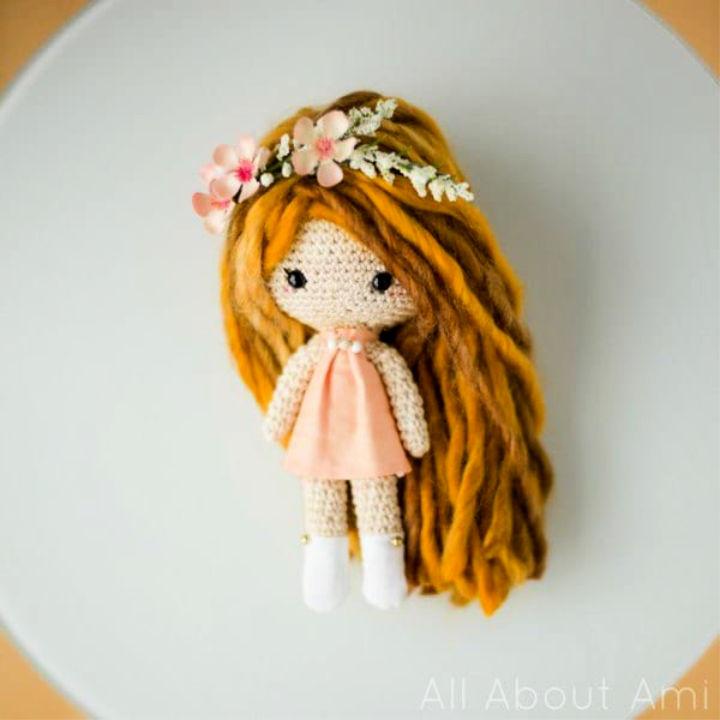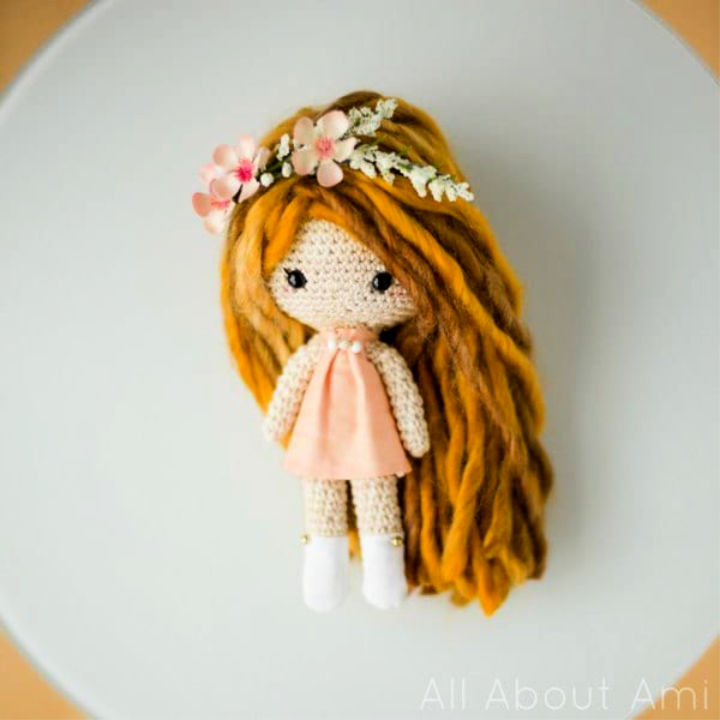 Long hair doll, with a delicate tiara on the head and classy frock on the body; a dream doll of every kid. You can fulfill this dream of your girl by crocheting a Primrose crochet doll. You can make two different types of dolls using the same pattern but different colors. Black hair doll with a mint green dress or blonde hair doll with a peachy dress. You can make your choice by changing the colors of the yarn. The rest of the material and pattern will be the same. allaboutami
Yarn: Thick and thin novelty yarn
Hook size: 2mm
Safety eyes: 7.5mm
Dimensions: 16'' tall
17. Crochet Baking Chef Doll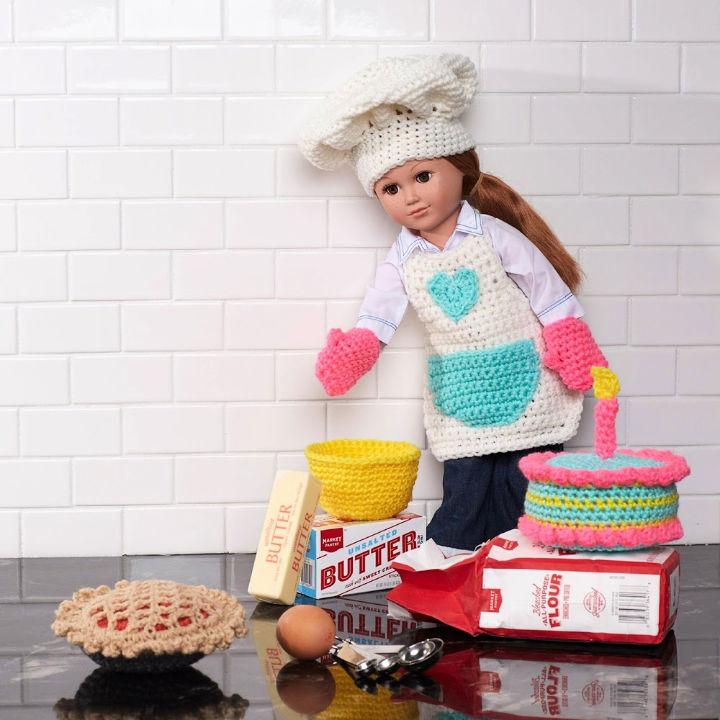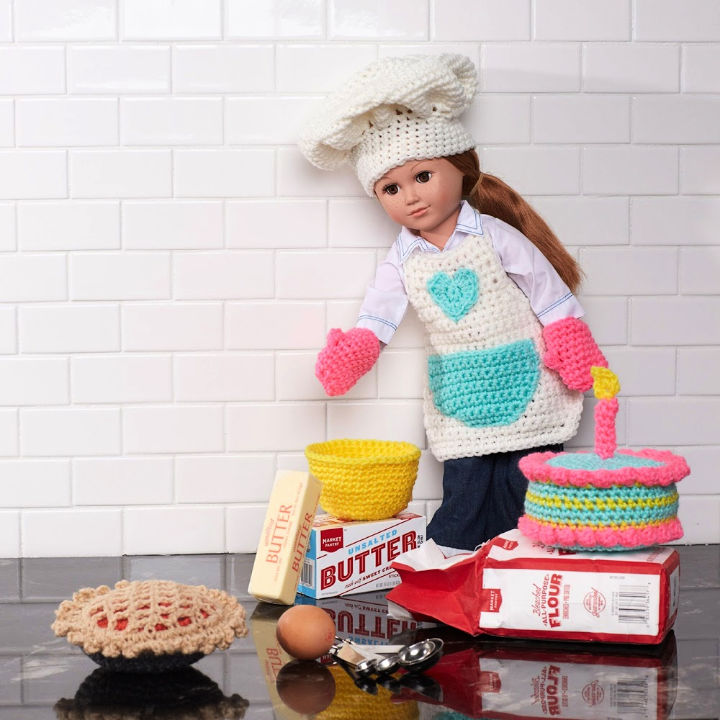 A perfect gift for your chef kid on her birthday lies in this pattern. Crochet a beautiful apron, mittens, chef hat, pie, cake, and mixing ball. Make any doll wear this costume and instigate the kitchen's love and cooking in your little ones through an imaginary play. This pattern uses Red Heart Supersaver yarn, which makes the costume fun with its enchanting colors. The tutorial tells all about the rest of the material you will need. yarnspirations
Dimensions: for 18'' tall doll
Material: 4 cardboard disks
18. How to Crochet a Doll Rapunzel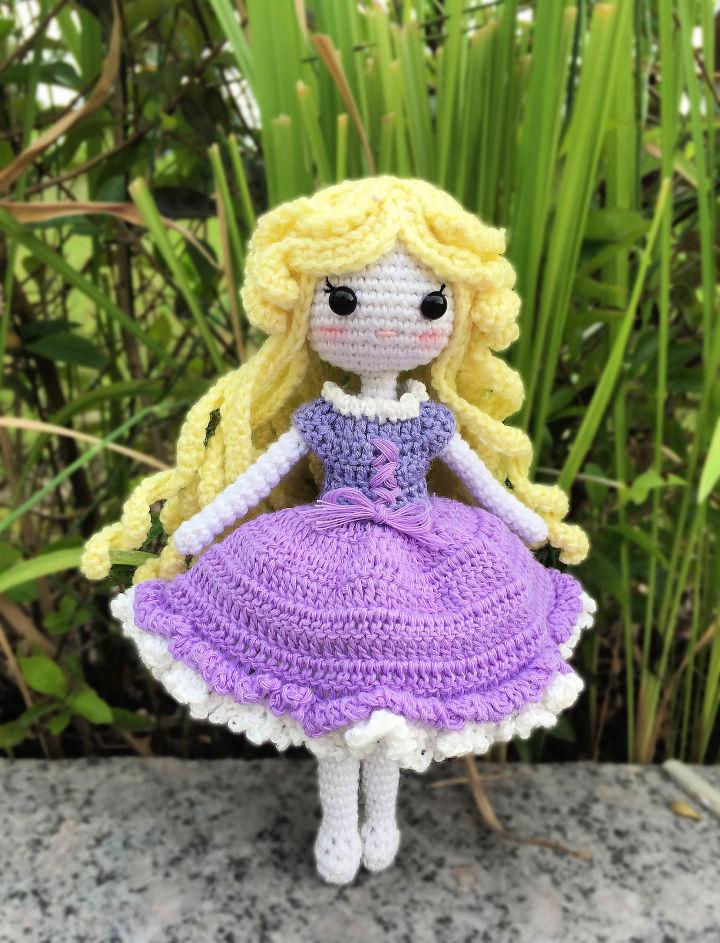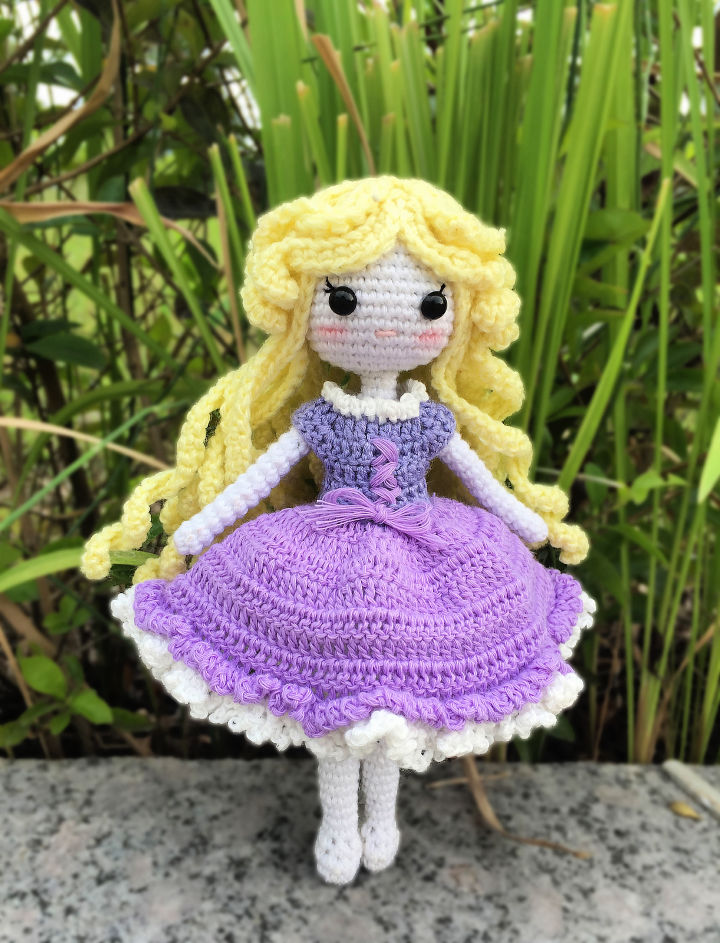 Every child has spent his childhood listening to Rapunzel and her hair. You can create one in reality and see the aww on your kids' faces when they will hold it. Doll Rapunzel is crocheted with blonde hair and a purple dress. It would be best if you learned the basic stitches, and you are good to go. For eyes, use a safety button. On the contrary, you can always use black thread to sew circular eyes. This amigurumi will be a perfect gift for your lovely little children, be in family or friends. ravelry
Hook size: 1.5mm
Dimension: 19cm
19. Free Crochet Doll The Friendly Mae Pattern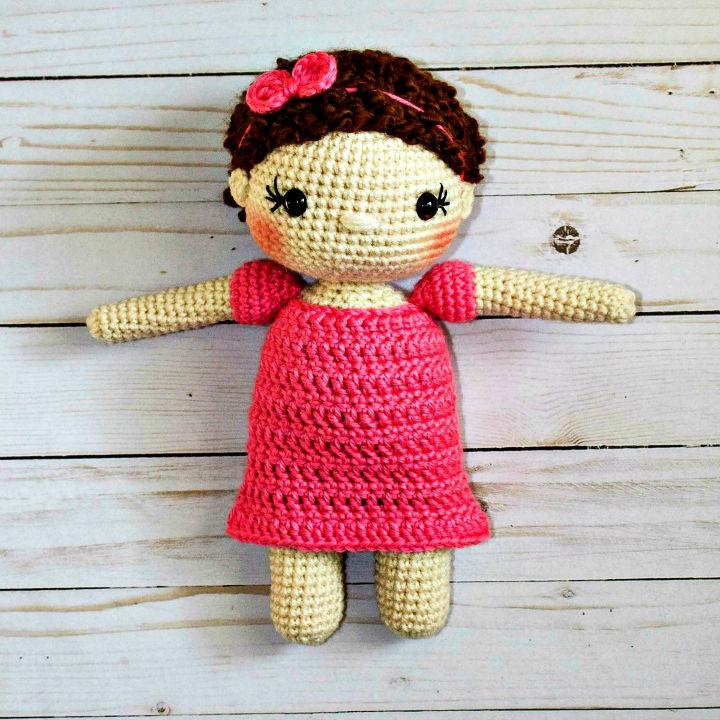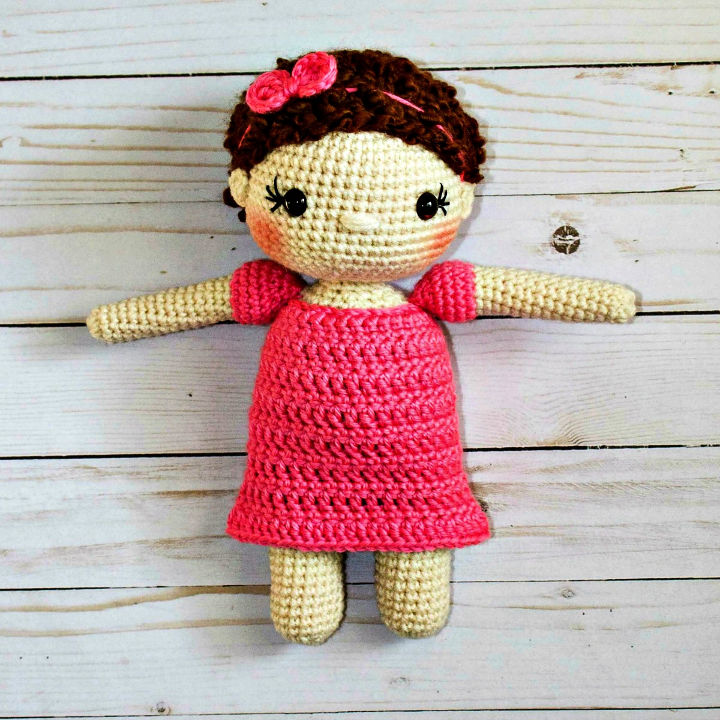 Need a last-minute gift? Whip up this friendly Mae that works up so fast and makes an excellent gift for a little girl. The doll is about 9 inches tall and 4.5 inches wide. This makes it a great cuddlesome companion for a kid. You can also personalize the size. The hook's recommended size is 4mm or 3.75mm, and you will need approximately 100g size 4 yarn to start with this project. thefriendlyredfox
Yarn: Lion Brand Silky Twist
Hook: 4mm or 3.75mm
Safety eyes: 12mm
20. 18″ Doll Crochet Pattern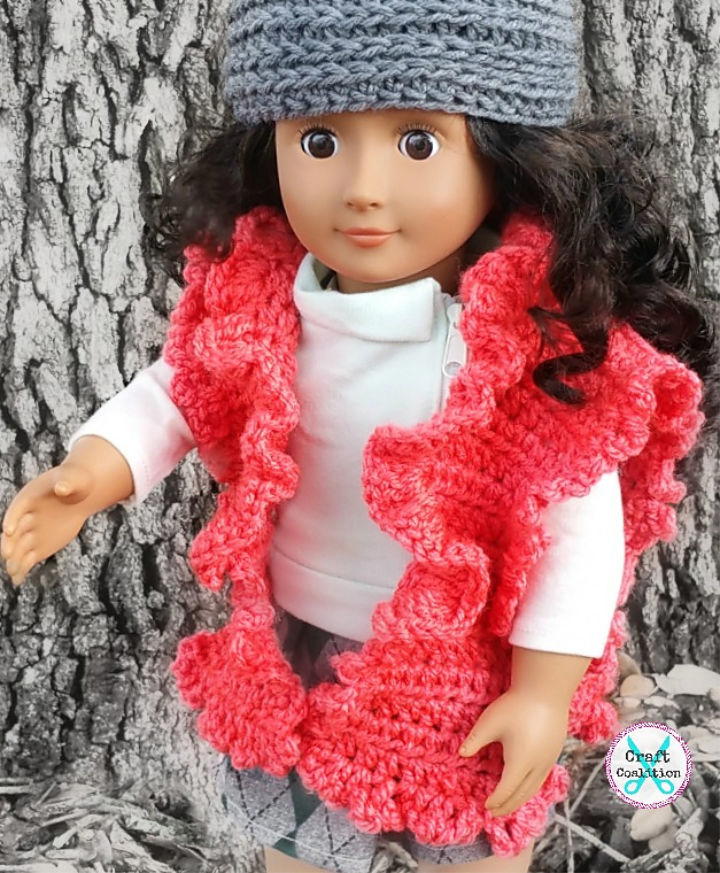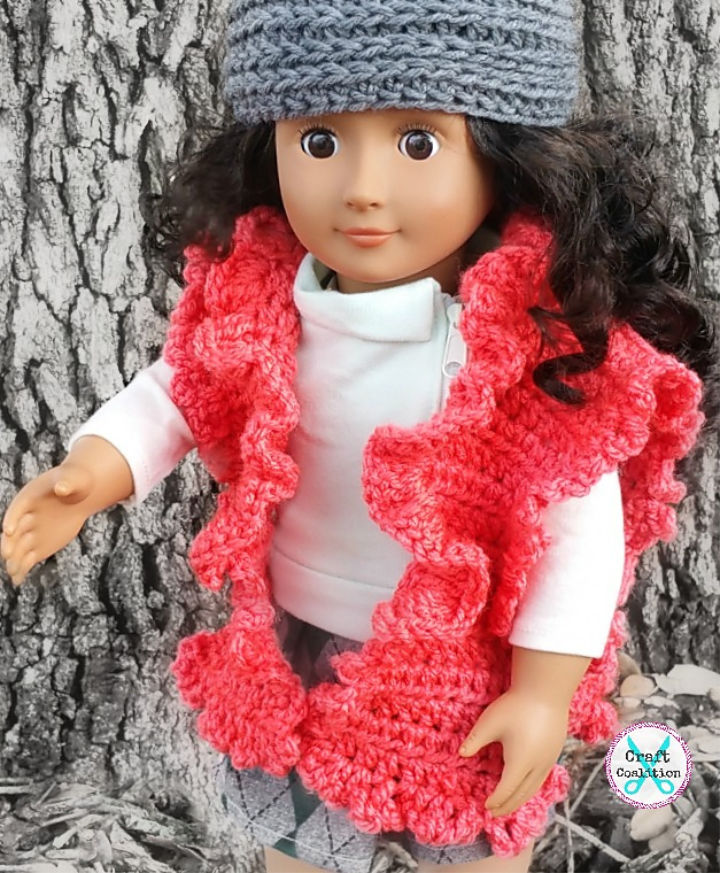 The free crochet dolly ruffle ruana doll pattern will melt your heart. It is a quick project and is a perfect one for the beginners. You can easily increase or decrease this doll's size from 18 inches and finish off by weave in the ends from any edge. The super-simple pattern will lead you to how you can transform 3.20 yards of raw yarn into a piece of beauty. Check on the other supplies too! craftcoalition
Yarn: Red Heart Baby Hugs
Hook: H-hook/ 5.00mm
Gauge: 4'' = 12 stitches, 10 rows
21. Crochet 12-inch Baby Doll Dress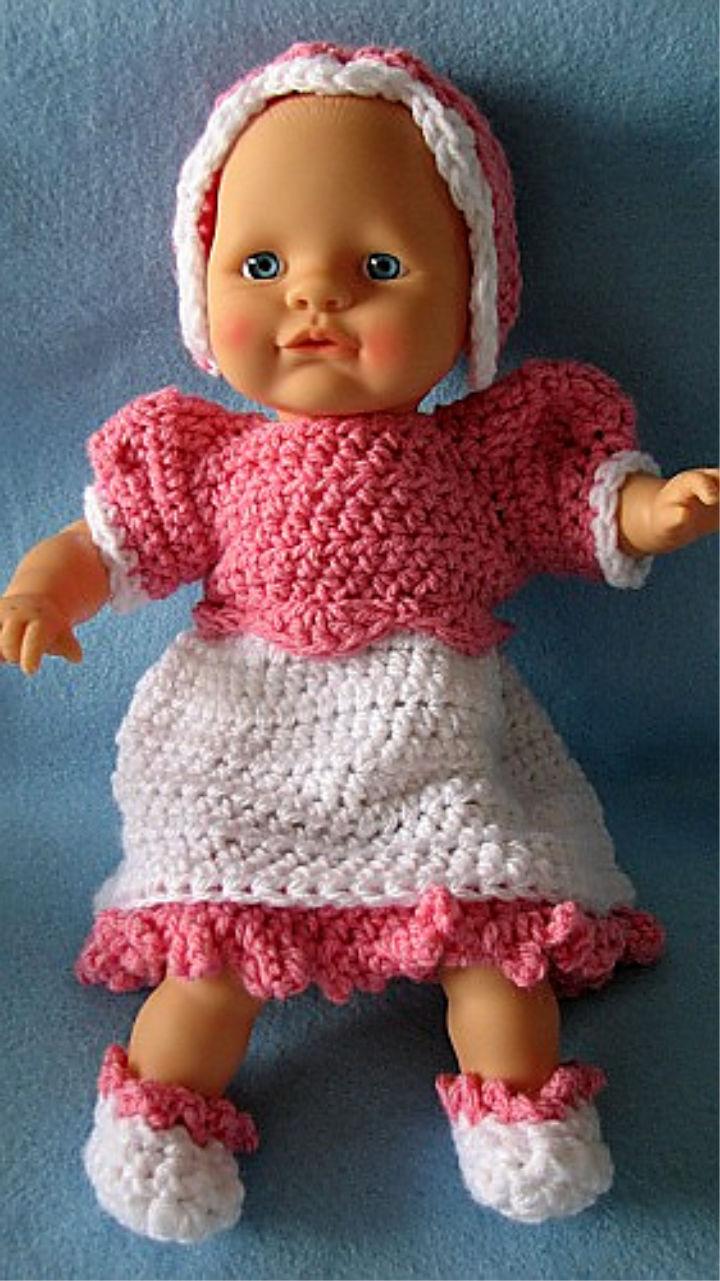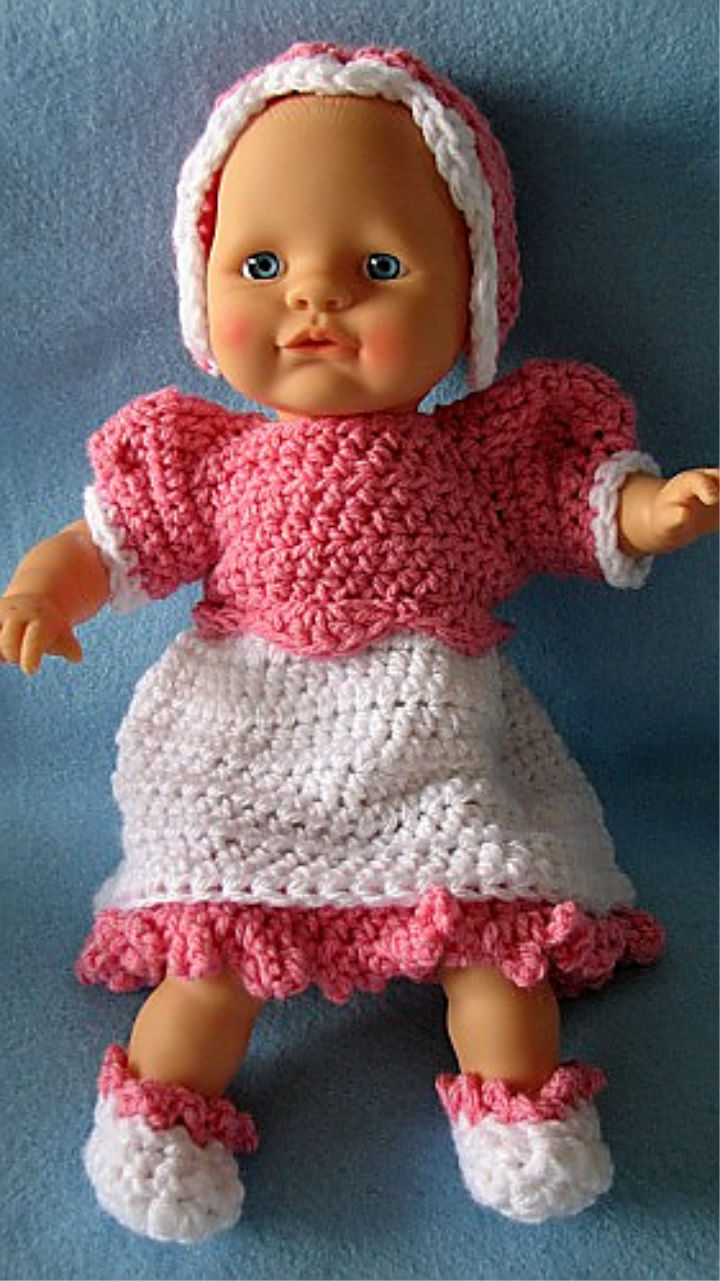 Now you can crochet and seam your favorite doll's dress by yourself. The pattern is for a 12 inches doll size. You can customize the size by adding or reducing the rows. Use a size H crochet hook or a hook to obtain the gauge. Keep on moving with the rows and after every last row, fasten off and weave in the ends through a tapestry needle. You will also need a sewing needle and thread to seam the dress. freepatternsdonna
Yarn: 1-2 oz Berant Soft Sport Yarn
Hook: Size H
Gauge: 4 hdc sts = 1'', 3 rows hdc = 1''
22. Vintage Style 12" Baby Doll Dress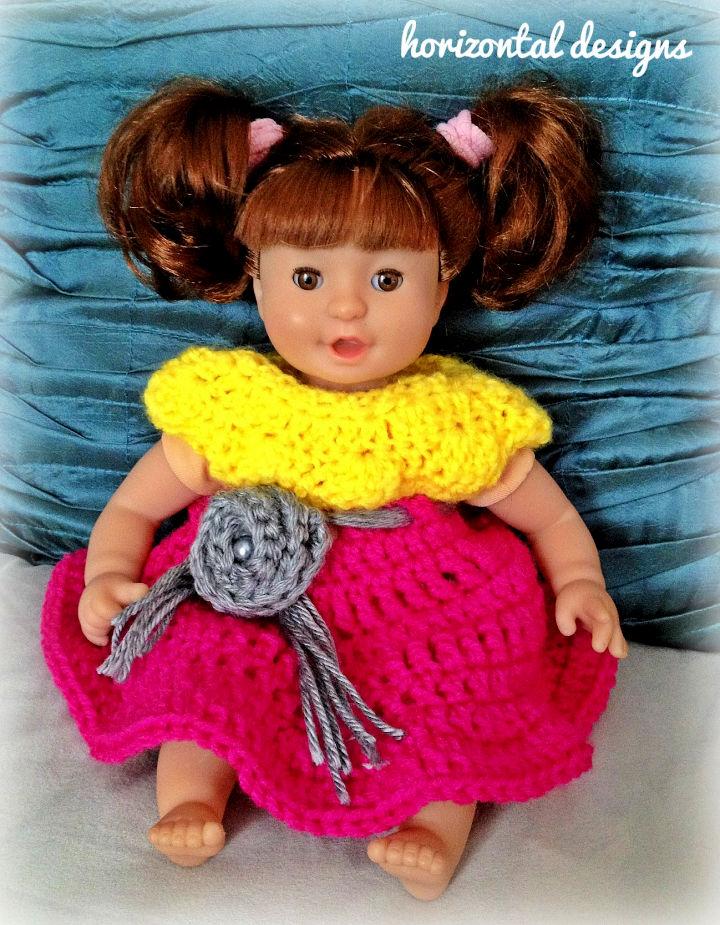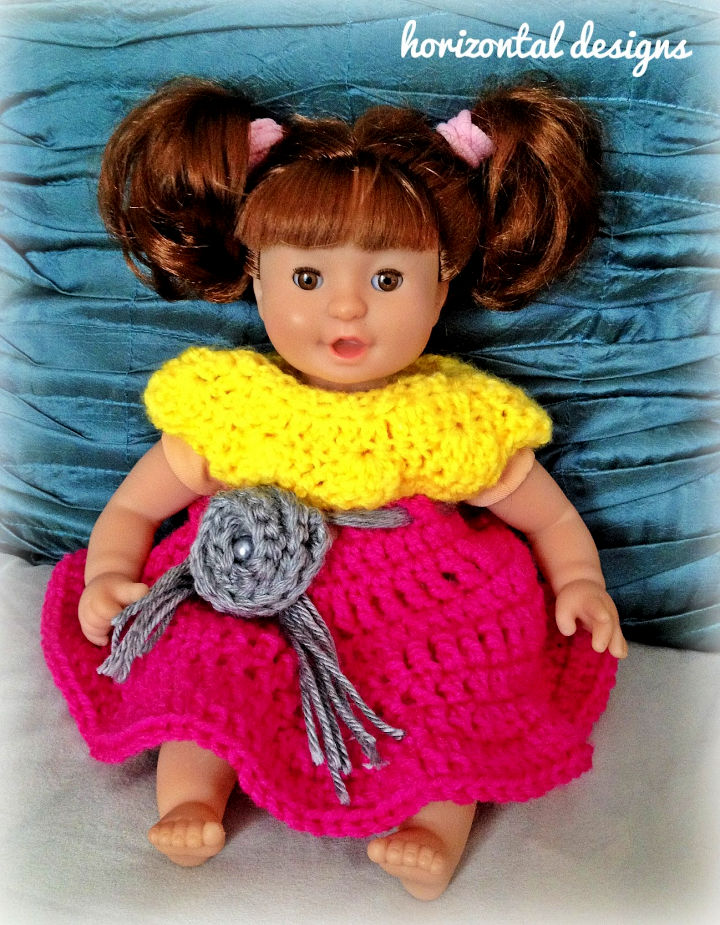 This baby doll dress will fit a 12 inches doll. The pattern is super simple to follow and will revolve around single, double, and triple crochet stitches. Comply with the sequence of the pattern and crochet the top collar first and then move on to the dress body and the belt. Sew the flower on to the dress, and you are all done. Use worsted weighted yarn and a 5mm hook to bring out the best from this project. horizontaldesigns
Yarn: Red Heart Classis and Super Saver
Hook: 5.00mm
23. Crochet Doll Clothing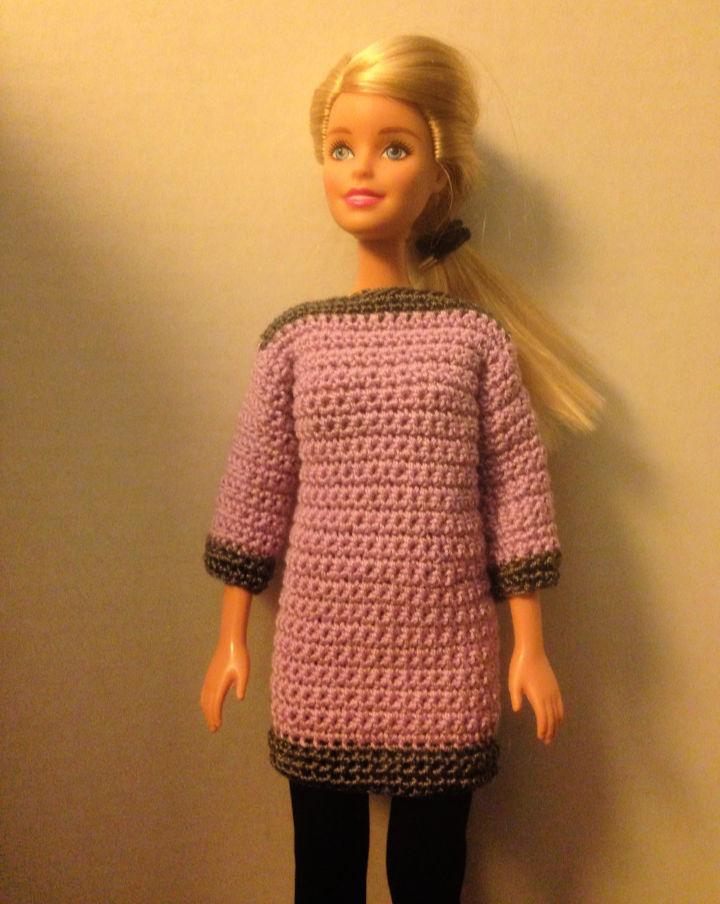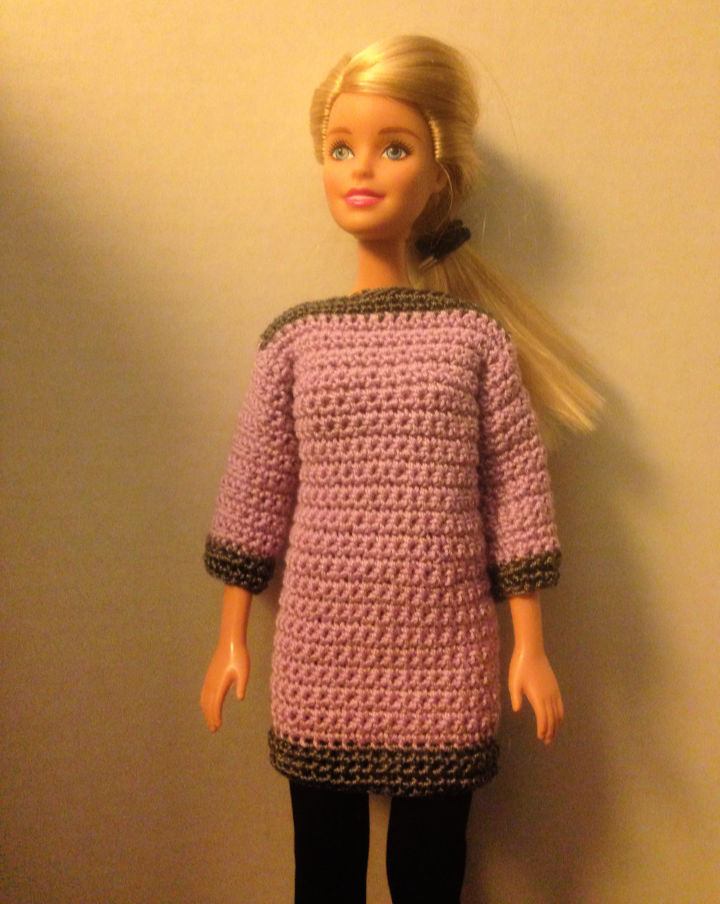 Crocheting this tunic for a Barbie doll will make your weekend worth spending. The pattern will be worked from bottom to top, start with the main color. There are only two stitches used in the entire crocheting process one is a chain stitch, and the other one is a single stitch. With size 7 of a crochet hook, whip up back, front, sleeves, and bottom edging separately and seam them up together. kjdollfashions
Yarn: Lavensize
Hook: size 7
Finished Size: 11.5 inches
24. Crocheted Doll Dress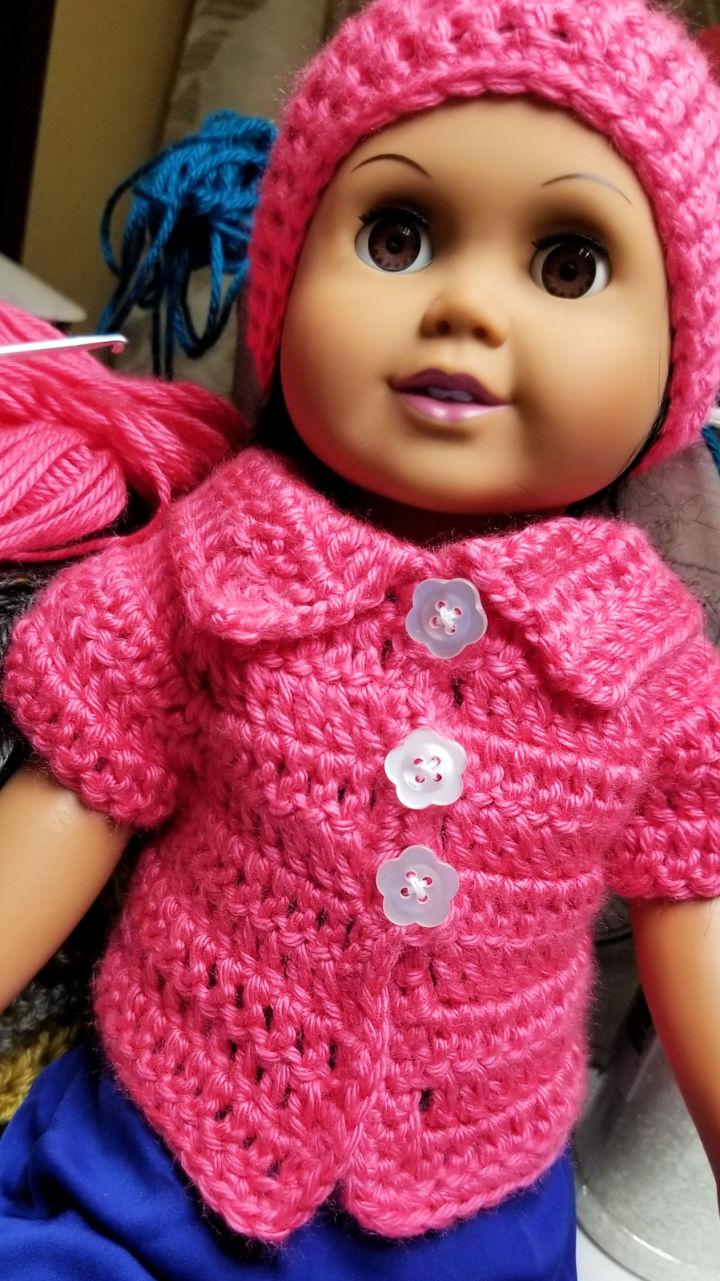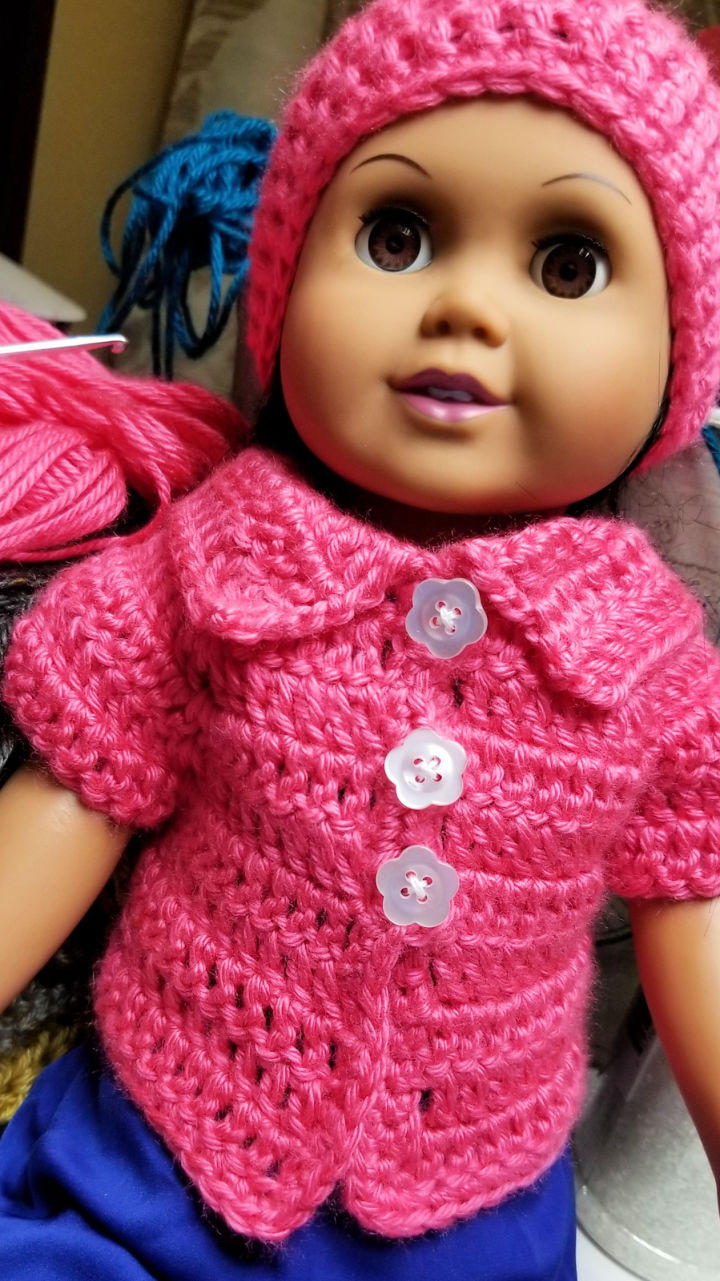 Here is another free crochet doll pattern for you to enjoy making this cute little basic sweater and beanie for 18 inches doll. A project that can accompany you while binge-watching Netflix. You will need 1 skein medium 4-ply yarn that will cover your both sweater and beanie and a size of 3.75mm of crochet hook for vivid stitches. Use any embellishment like buttons or applique to make it more beautiful. grannyscrochet
Yarn: Crayon Simply Soft or Red heart gumdrop (1 skein)
Hook: F/ 3.75mm
Other supplies: 3 buttons, 1 plastic needle
25. Free Crochet Doll Clothes Patterns for Beginners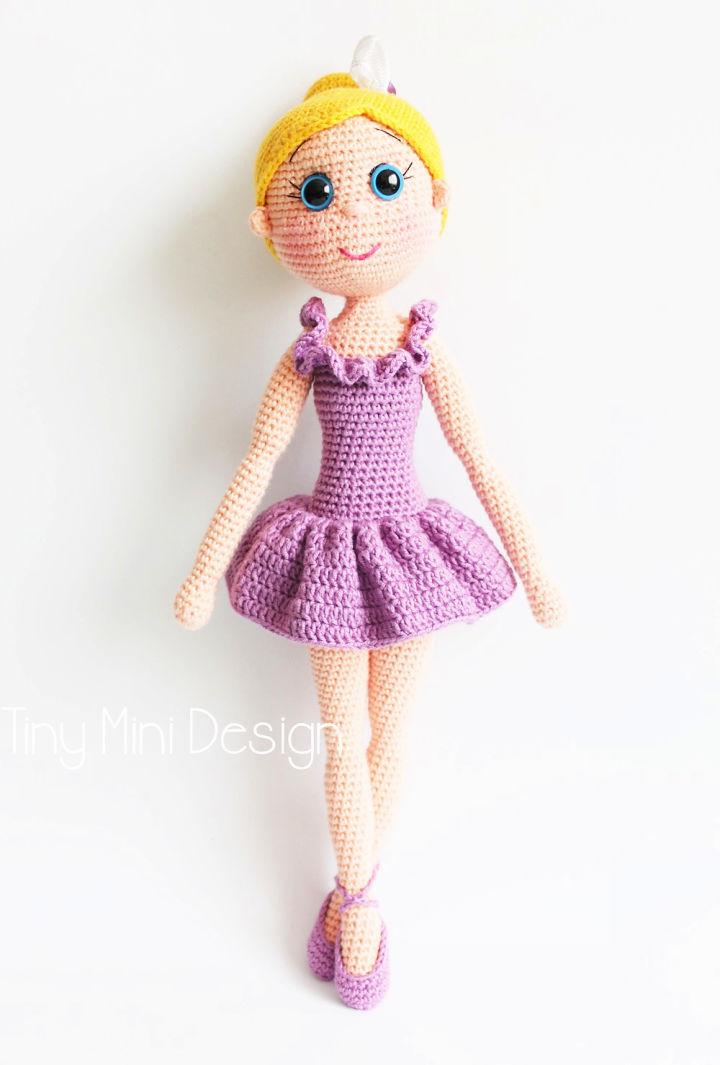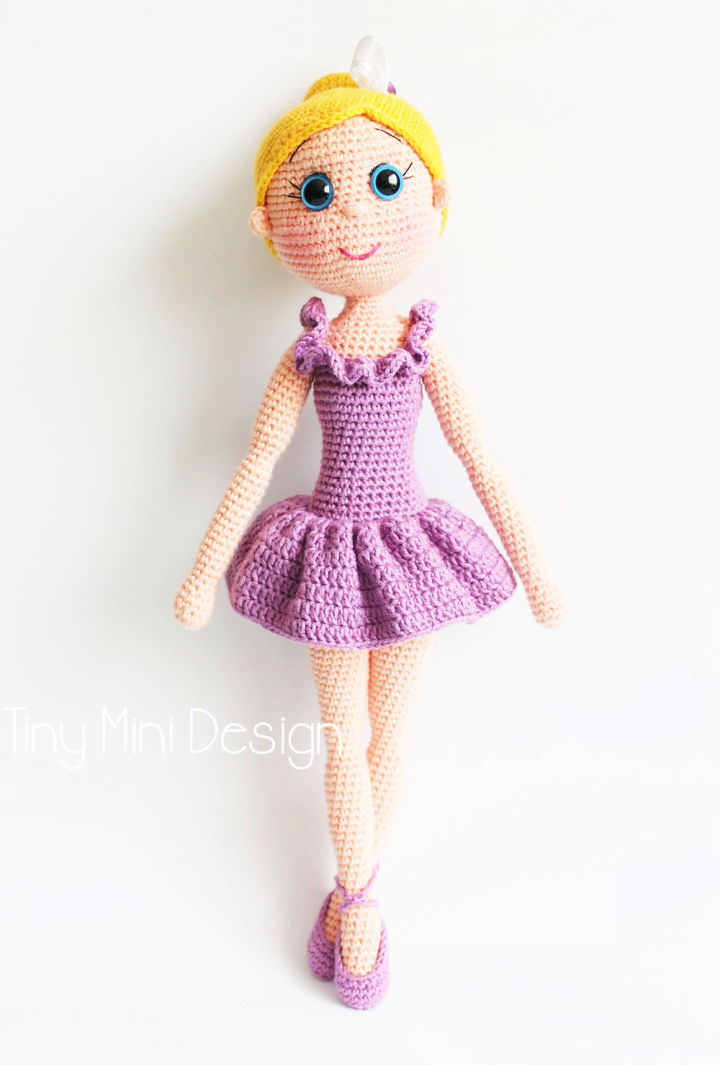 Check out this mini amigurumi ballerina doll baby pattern. Perfect crochet pattern for the beginners! It will surely glee you crocheting this miniature amigurumi, especially when it's a gift to your baby girl. Cotton blended yarn will be best to make this beauty. The project is all about decreasing, increasing, or back and front loops with the help of a 2mm hook. Please give it a fluffy look by filling the bead fiber in it. tinyminidesign
Yarn: Cotton Blended Yarn
Amigurumi eyes: 10mm
Hook: 2.00mm
Conclusion
Tempted to make some of these adorable crochet doll patterns? Well, then what are you waiting for? You should get started right away! The smile on your child's face will be worth the difficulty or complicated stitches! The outcome will be so beautiful that you will gain a lot more confidence in crochet and will want to learn even more. A crochet beginner is highly recommended to try one of these free amigurumi doll patterns with some easier stitches to gain more confidence! It is not that hard, and the complicated stitches don't take too long to learn. If you're concentrated, this project can be done pretty fast.