It's always difficult to date back to the exact moment when in life, you started carrying a handbag. Try these 20 free crochet handbag patterns so that you simply don't have to carry the same one every day. Each crochet bag pattern includes step by step detailed instructions and a PDF to download and print. The odds are you never even leave the house without tucking a handbag under your arm.
It would be best to crochet one handbag for every occasion, and you can match it up to your outfit. These crochet handbags are designed by you, and you can pick and choose the colors so that you can have a variety of options. You will completely fall in love with your crochet bag pattern and would want to take them everywhere.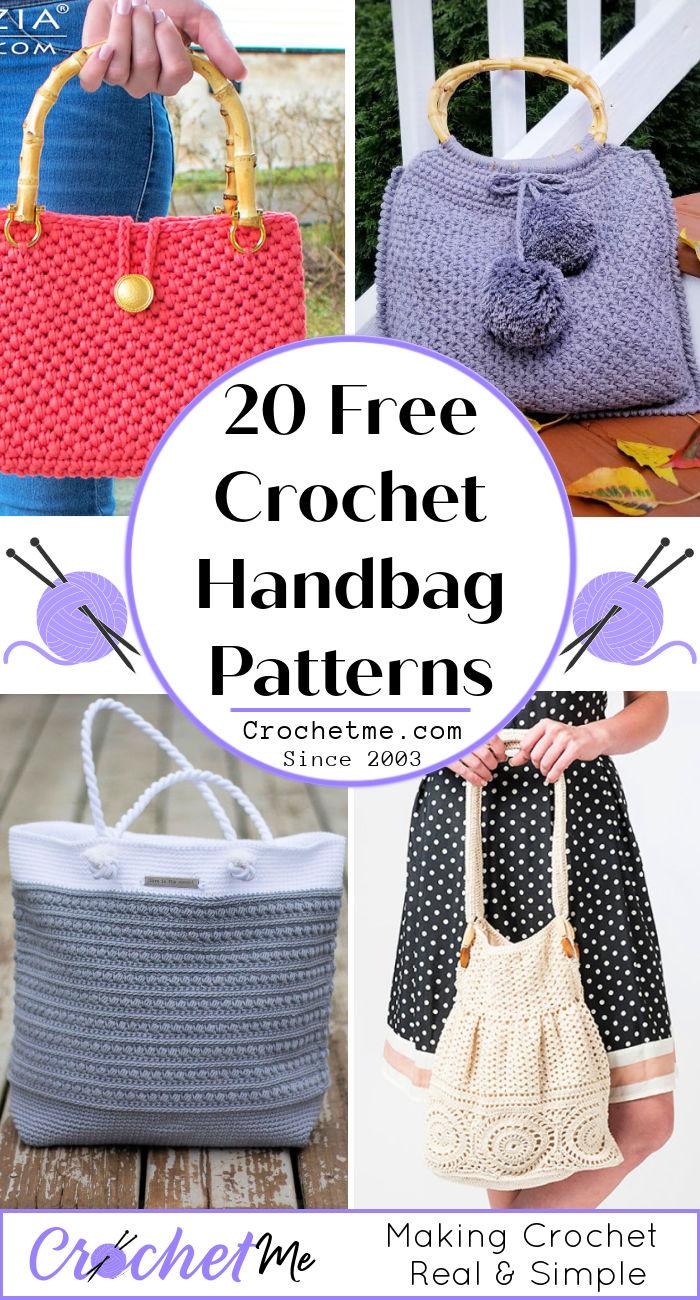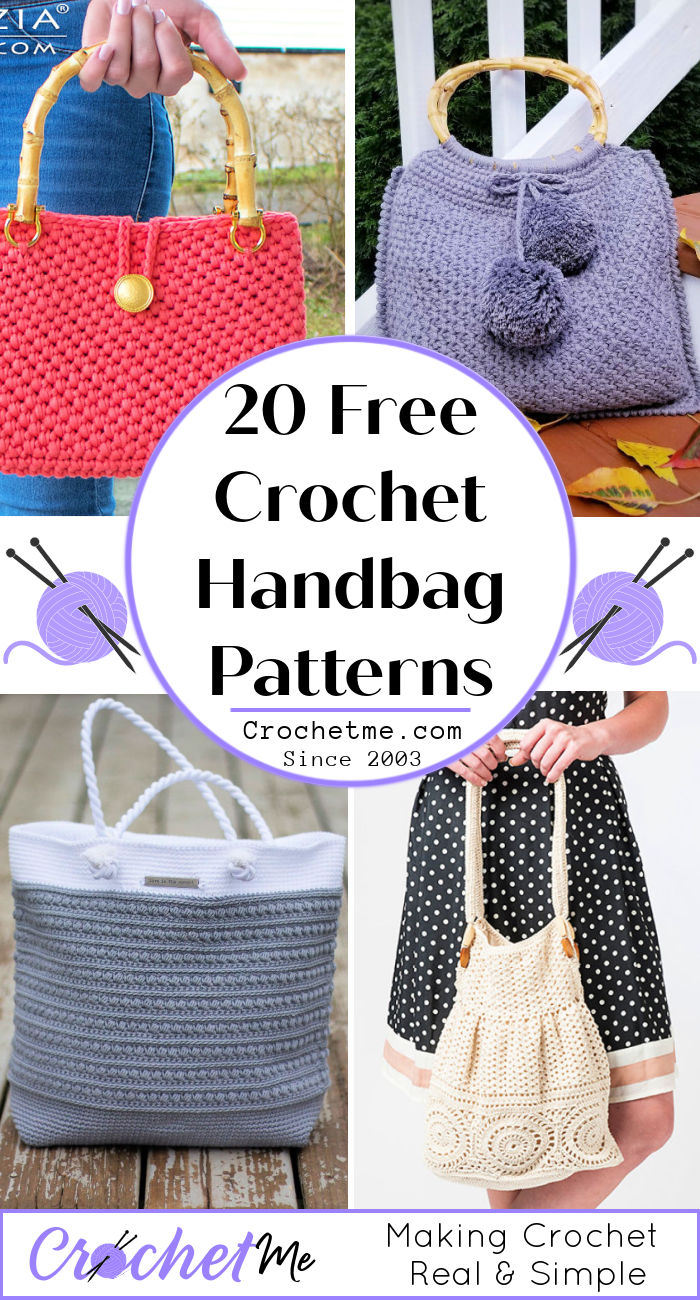 Make a fun yet stylish crochet handbag designs so that they become your go-to choice. The best part is that these crochet bag patterns require a relatively small amount of yarn, so they are definitely very economical for your budget.
In this article, find interesting ways to make crochet handbag patterns that are street fair boho handbags, titan tapestry crochet handbag, bananas, and pineapple crochet handbag! Or chevron crochet handbag, peacock tail crochet handbag, a Parisian chic flat bottom bag, and many more. All these are made by following a few simple and easy steps and voila! It's time to enjoy your beautiful creations.
1. Crochet Manchester Handbag Pattern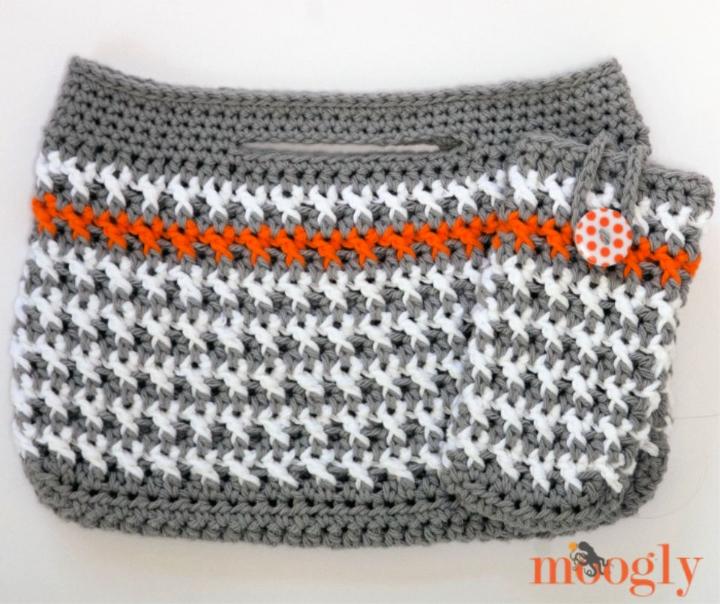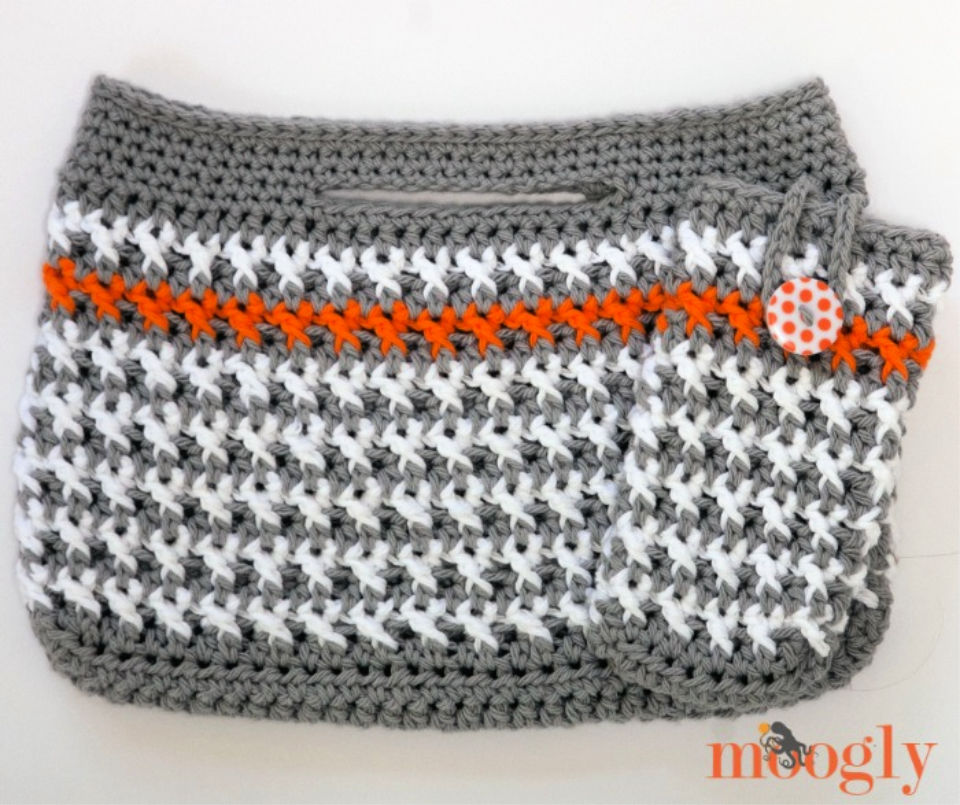 When you feel a little naked, if you leave the house without carrying a handbag, it's time to crochet handbag patterns to fulfill your need. Make different crochet clutch patterns for every occasion. Create a houndstooth tote that has a sheen to it. Make a chain, single, double crochet, and slip stitch for the whole process. At the end of the round, don't cut the yarn and carry the unused portion. mooglyblog
Yarn: Sinfonia Yarn (white and black)
Crochet Hook Size – G
Finished size: 10 inches in length and 9-9 ½ inches wide
Gauge: 10 stitches and 8 Rows
2. Crochet Street Fair Boho Purse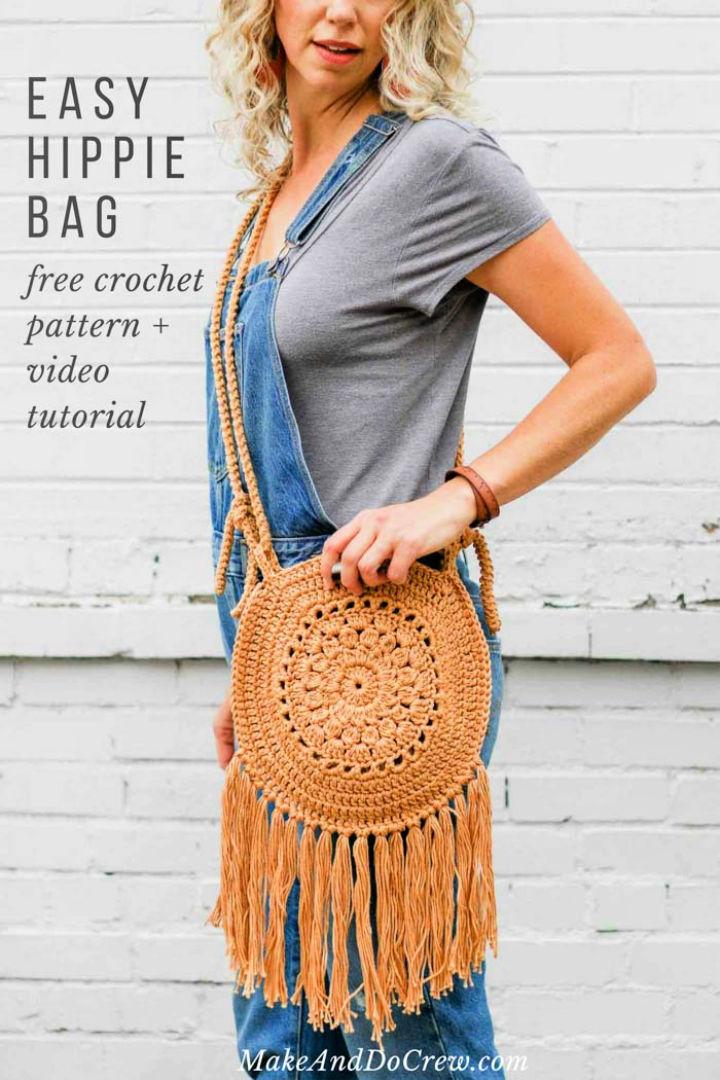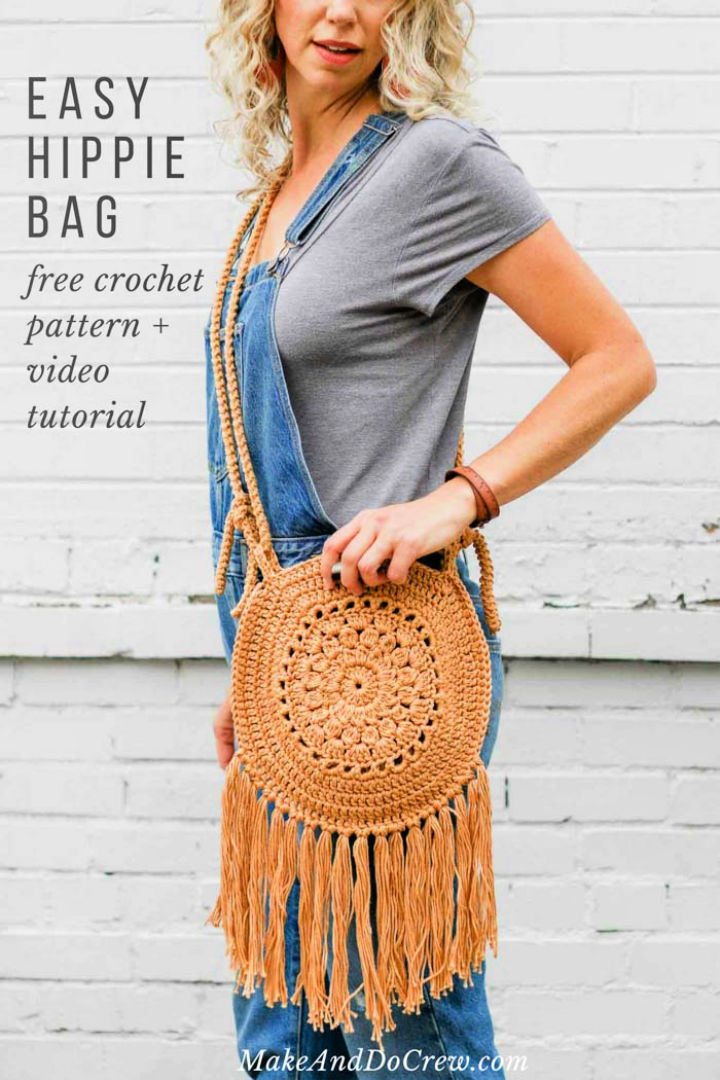 Using two fun circles make an easy crochet boho purse so that you can channel your inner free spirit. Even if your style isn't upright hippie, you will still love crochet with a little bohemian flair. This crochet shoulder bag pattern free is very easy to make, as you just have to form two identical circles and crochet them together to make a little pouch. Use chain, slip stitch, single, and double crochet. makeanddocrew
Yarn: Lion Brand 24/7 Cotton (Weight: 4/medium – 186 yds, 3.5 oz)
Hook Size: J (5.75 mm) crochet hook
Gauge: 6 dc x 3.5 rows = 2"
Finished size: Main Purse (without fringe): 11.25 x 11.25."
3. Titan Tapestry Crochet HandBag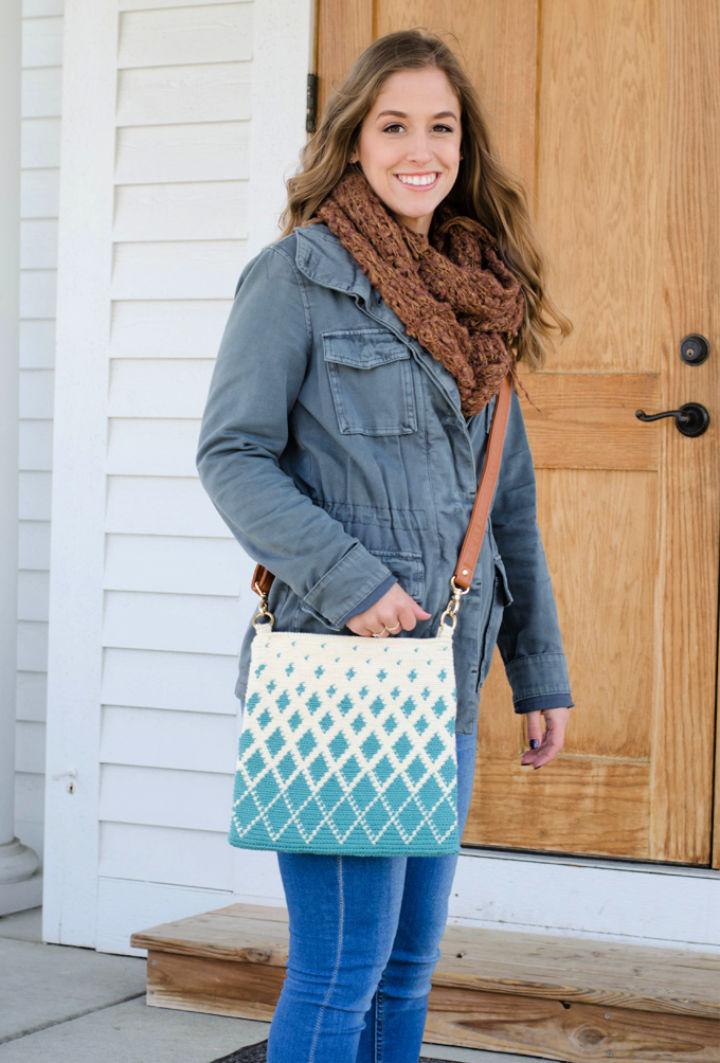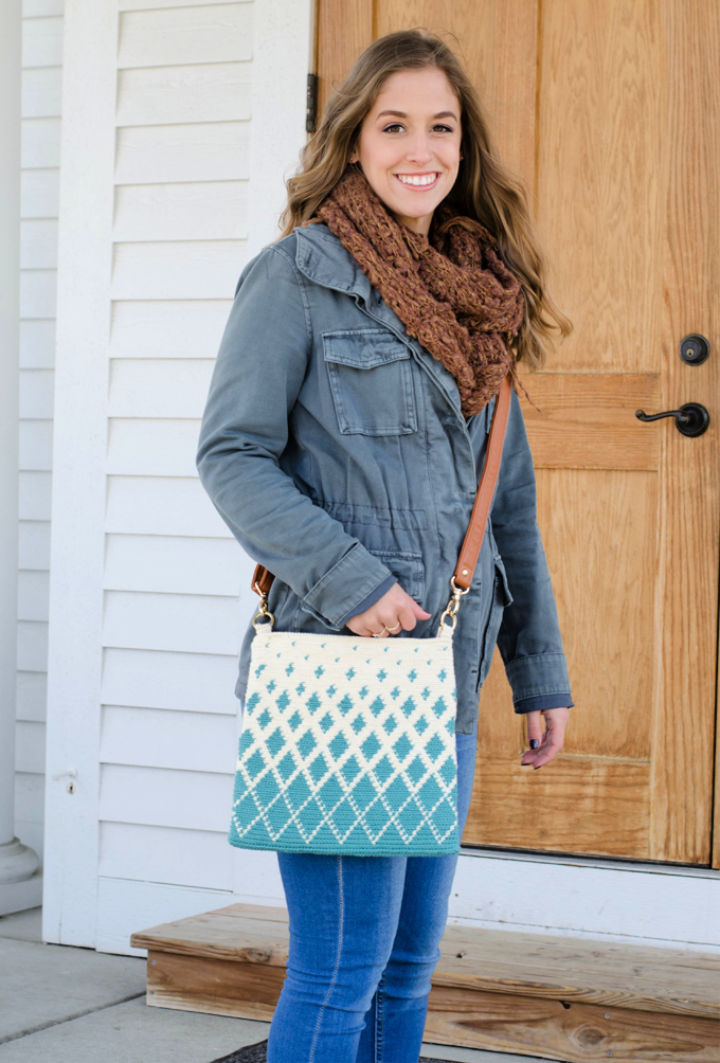 You will completely love this titan tapestry handbag that you can crochet in just a few hours but can be used for a lifetime. This crocheted shoulder bag never goes out of style and will crochet up beautifully into a high-end handbag. Start at the base of the bag and work in rounds. Then make handle tabs, and the lining is completely optional. Add a strap that you like. crochet365knitt
Yarn: Lion Brand 24/7 Cotton Yarn: Jade and Ecru, 3.5 oz each
Hook size: US C2/2.75 mm crochet hook
Finished size: 11" wide by 10-½" tall
Strap size: Leather 1″ adjustable 34″-55″
4. Crocheted Wattle Stitch Handbag Pattern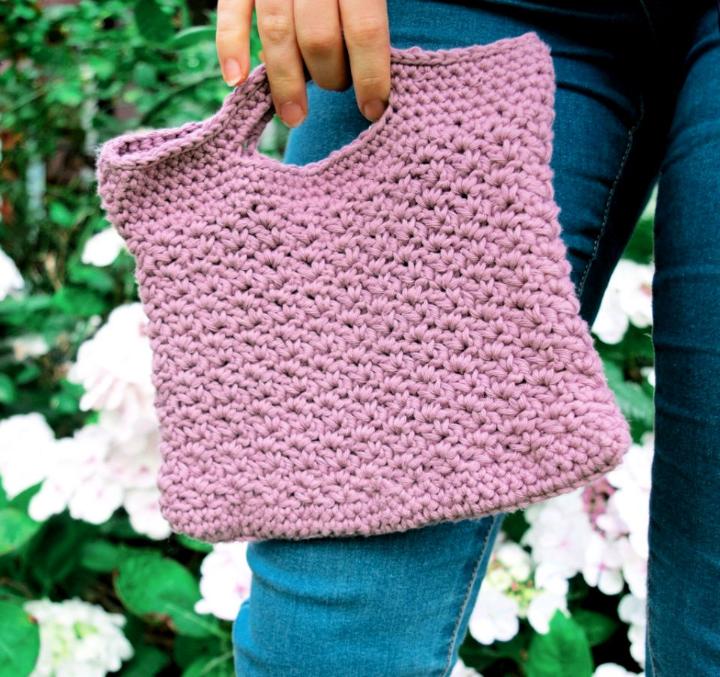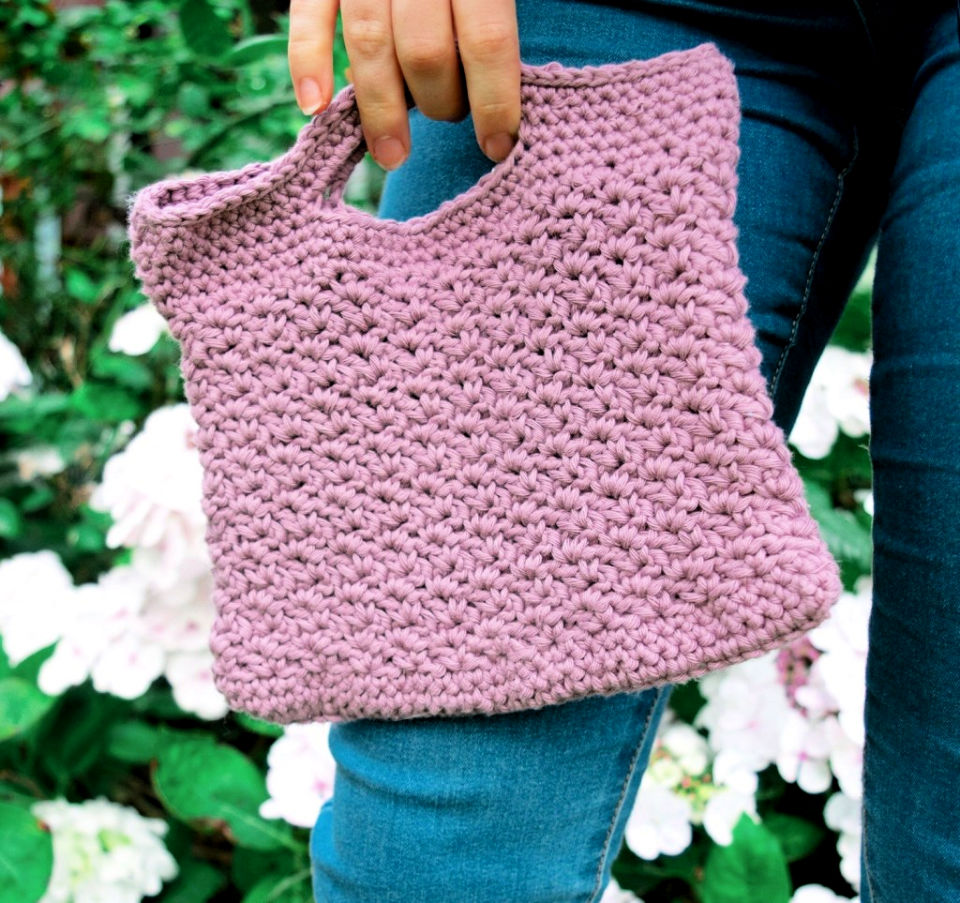 Make a super cute crochet handbag pattern that might look little but actually holds a lot. Line it with a plastic canvas so that it has some rigidity, and you can keep it for personal use. The holes are tiny in it as you will be using a closed stitch for the project. The cotton material makes it very soft and durable, and you can easily machine wash it. sunflowercottage
Yarn: Paintbox Yarns Cotton Aran
Yarn weight: worsted weight 100% cotton
Hook size: Crochet Hook 5.00mm (H).
5. Crochet Seamlessly Stunning Handbag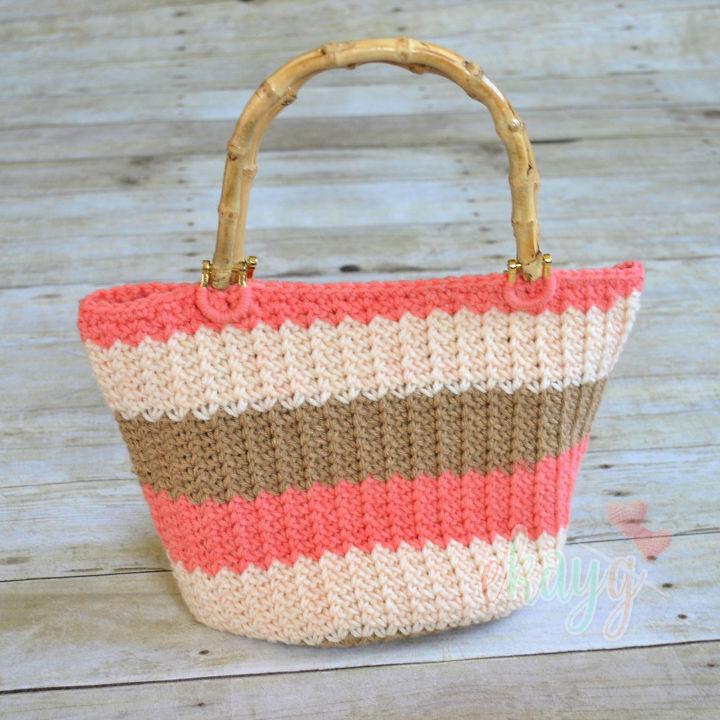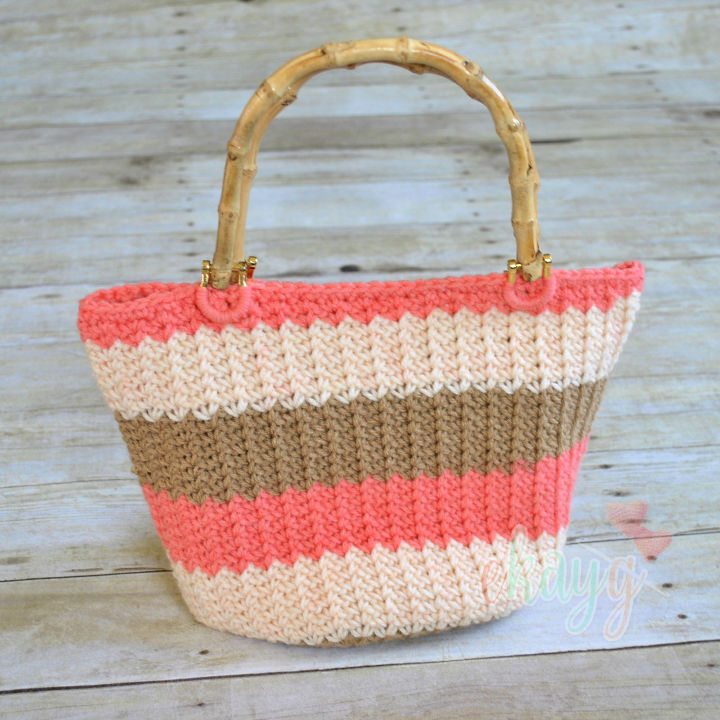 It's not always wise or practical to spend money on multiple bags. If you love a pretty crochet handbag pattern with different outfits and different occasions, simply crochet for yourself. This design is very simple yet sophisticated and doesn't require seams. Circle upwards without joining and this stitch will provide texture. Special stitches used are the magic ring. Chain and single crochet for the whole project. ekayg
Yarn: Premier Yarns Sweet Roll – Cheesecake Pop – 1 roll
Hook size: Crochet Hook, H- 5mm
Size of handles: 5.5-6.5 inches wide
6. Seaside Handbag Free Crochet Pattern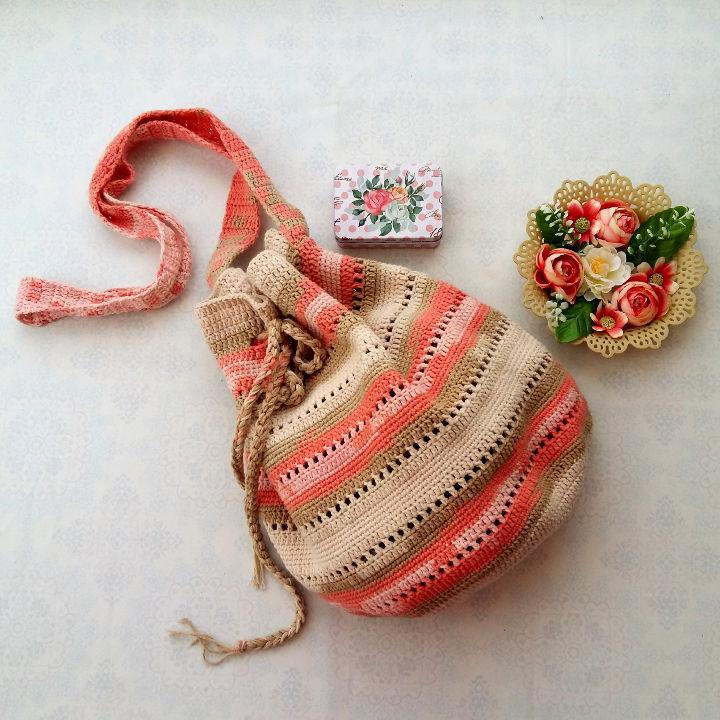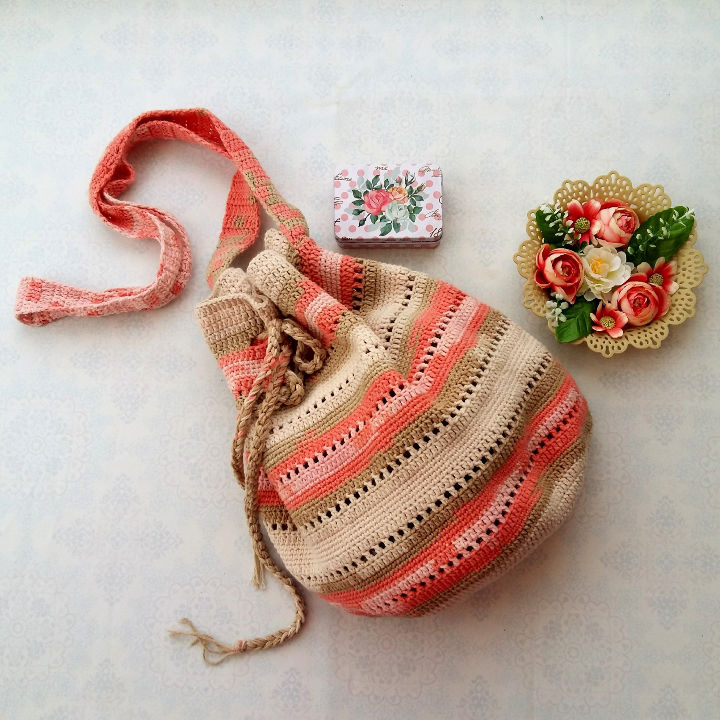 Enjoy making a take me everywhere crochet handbag that you can use for many purposes. It can be a work bag, a farmer's market bag, or even a summer beach bag if you like. Special stitch used is the popcorn stitches while chain stitch, single and double crochets, etc. are required. Start working at the base and move to the top. myaccessorybox
Yarn: 200-250 grams of lion brand twist yarn
Hook size: Crochet hook: 4 mm/ G in the US
Gauge: 18 sts + 11 rows of dcs= 10X10 cm / 4X4 inch
Finished size: Base size= 10.25*5.5 inch. 26*14cm
7. Free Crochet Handbag Moroccan Pattern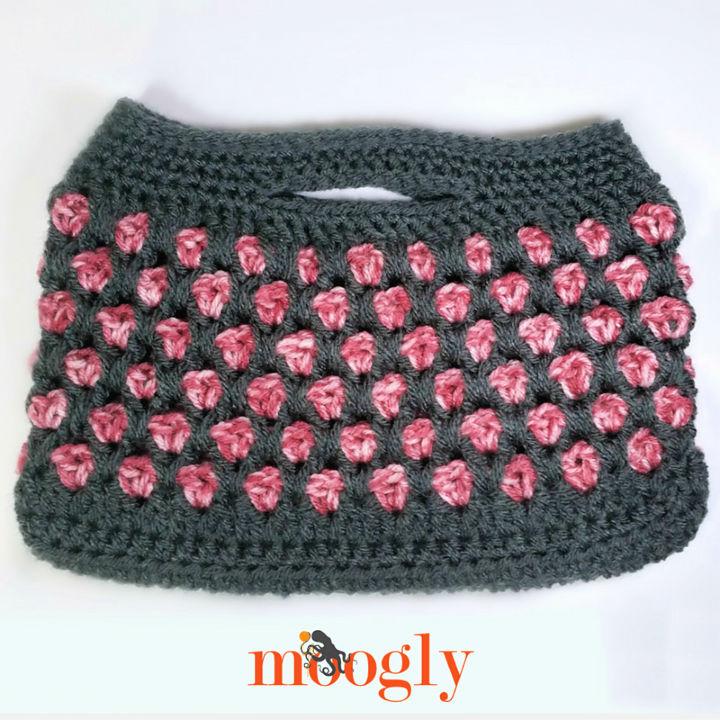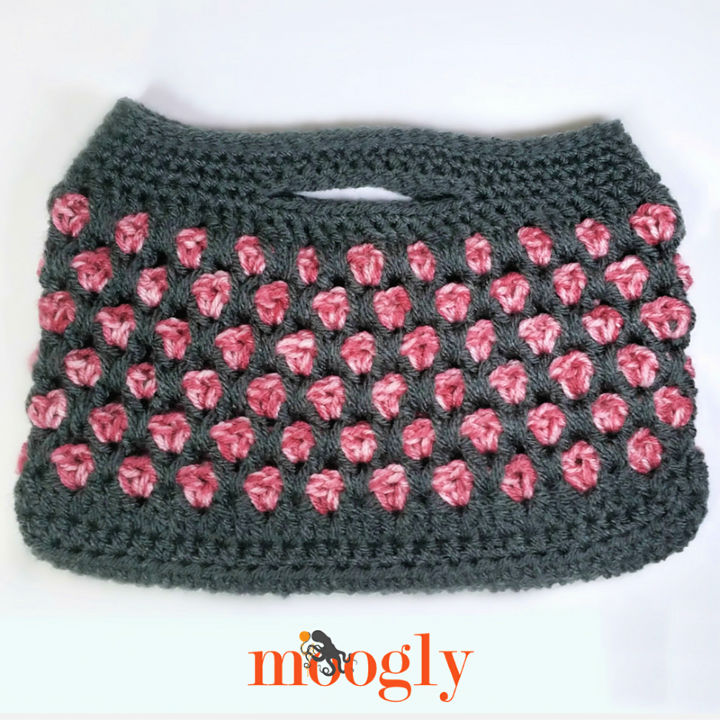 Eliminate plastic bags from your life and utilize some fun yarn to make a wonderful crochet handbag. Use simple stitch, in which you will slip the hook under the vertical bar and not under the two loops. Work through the back of the fabric and keep the hook in front of your work. Then yarn over, pull up the loop and finish the stitch as a usual pattern. mooglyblog
Yarn: 300 yds Red Heart Roll, 100% acrylic
Gauge: 12 sts x 16 rows with 4″/10cm inside split Finished Size: 11.5″ wide x 11″ tall without handles
8. Crochet Honeycomb Tunisian Handbag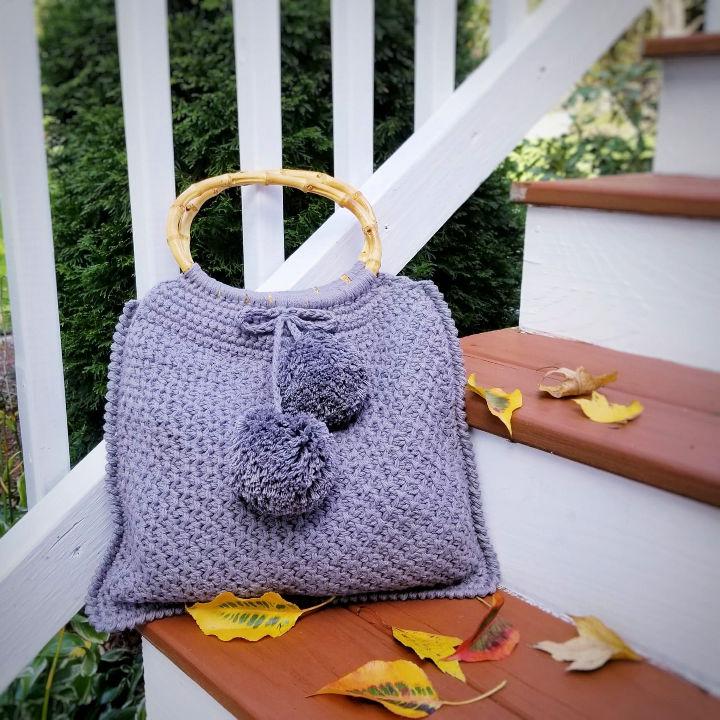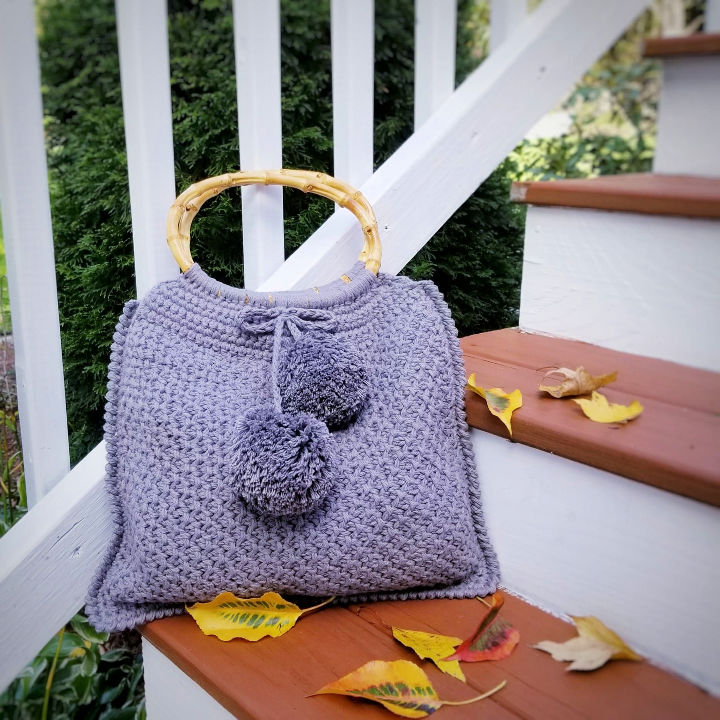 Dive into a beautiful crochet pattern that you will be thrilled to make and will most importantly enjoy using. Without further ado, just dive into the pattern and enjoy crocheting. You will only require some basic crochet and Tunisian honeycomb stitches for this design. Use simple Tunisian stitch and Tunisian purl stitch and a few other stitches for the whole project. Hold yarn together and use 2 strands. stringsandcuddles
Yarn: 6 Skeins of Lily Sugar 'n Cream
Hook: Amour Crochet Hook Size J | 6.00 mm
Gauge: 12 sts x 11 rows, in total: 4 inches
Finished size: 14.5 (wide) x 13 (tall) inches, not including the handle
9. Chic Crochet Handbag With Wooden Handles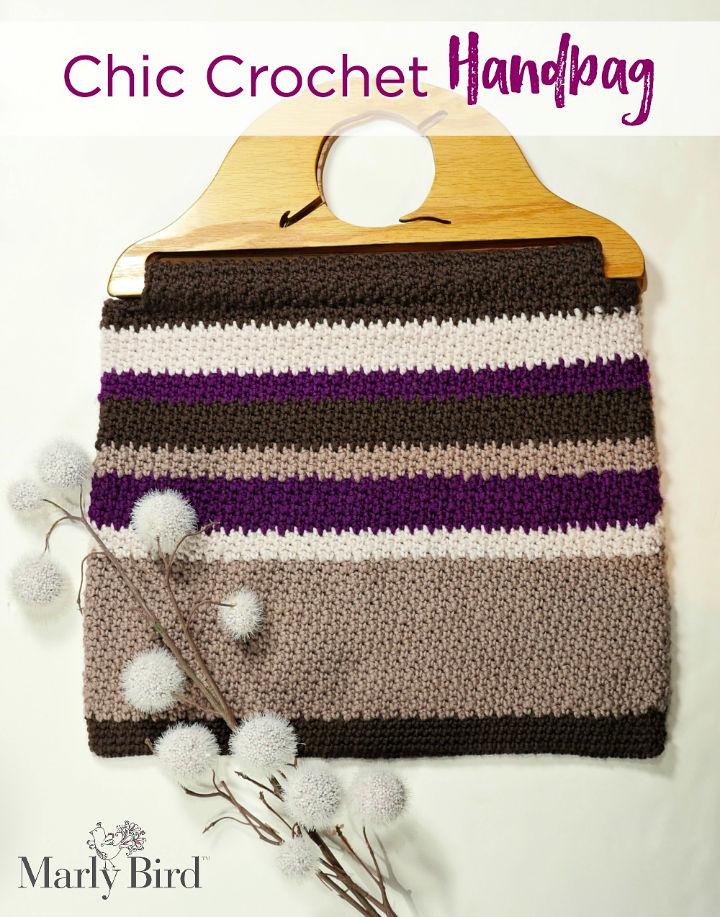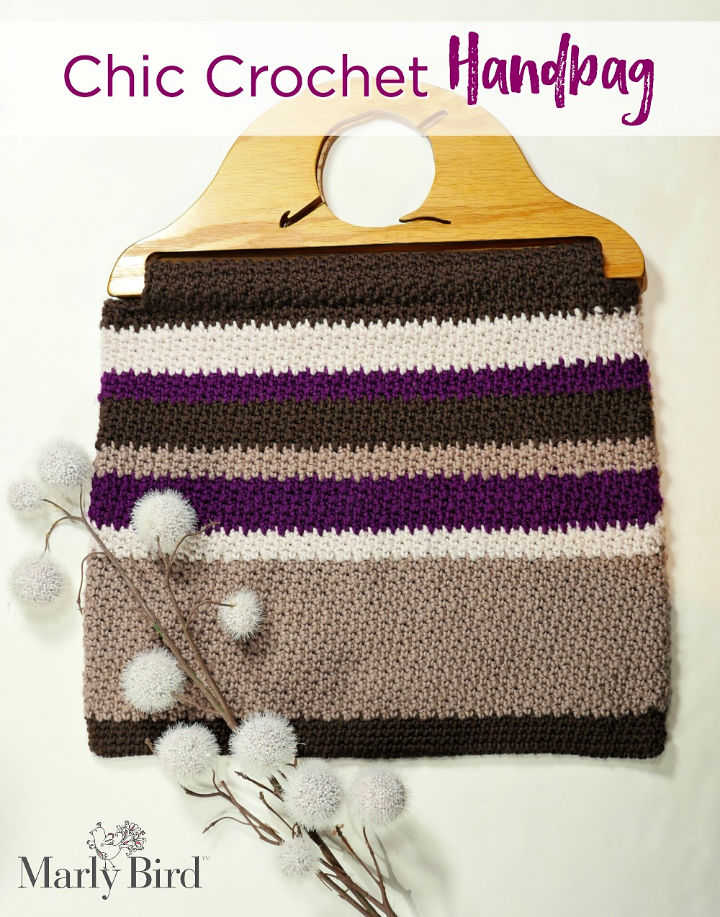 Make a chic crochet handbag and add wooden handles so that it can be useful and stylish at the same time. You will have endless possibilities, and your handles will be the stars of the handbag. Use griddle stitch multiple and start working from the base of the bag. Finish by weaving in all ends. The lining of the bag depends upon your choice. marlybird
Yarn: RED HEART Chic Sheep by Marly Bird: 1 ball each of different colors
Hook: Susan Bates: H//8 (5mm)
Gauge: 16 stitches = 4″ (10 cm)
Finished size: 12" tall (not including handles) x 15″ wide
10. Crocheted Jute Handbag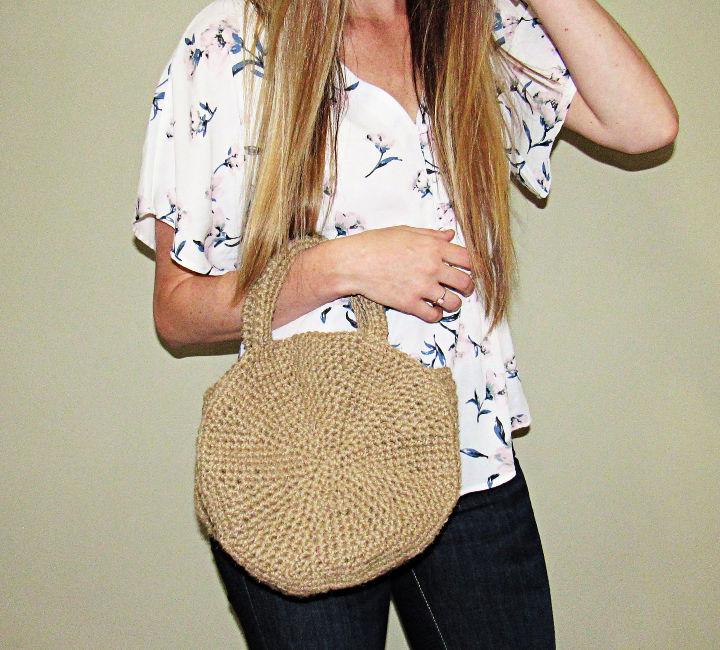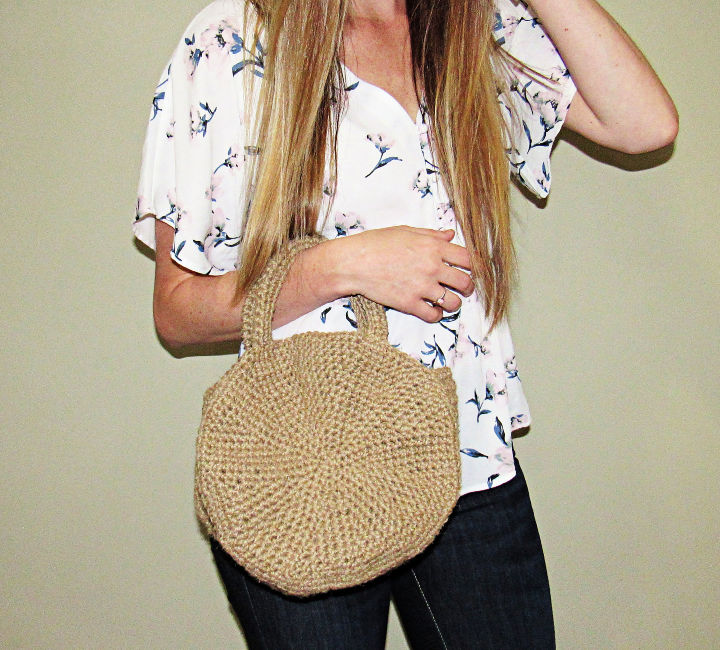 Even when you have a wardrobe full of casual and large crochet handbag patterns, you will never really find something perfect to use when you go out. Make a stiff bag using jute so that you will enjoy its looks more than it feels. You will require a magic circle for this pattern, and each row ends with a slip stitch to join the first chain in the round. yarnella
Yarn: 2 rolls of Natural Jute
Hook size: 4.5 mm crochet hook
11. Dahlia Hexagon Handbag Crochet Pattern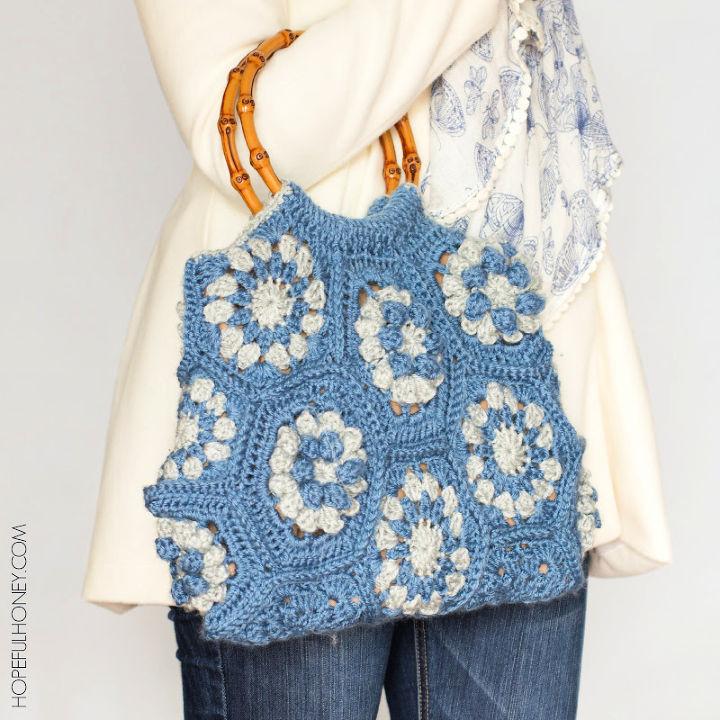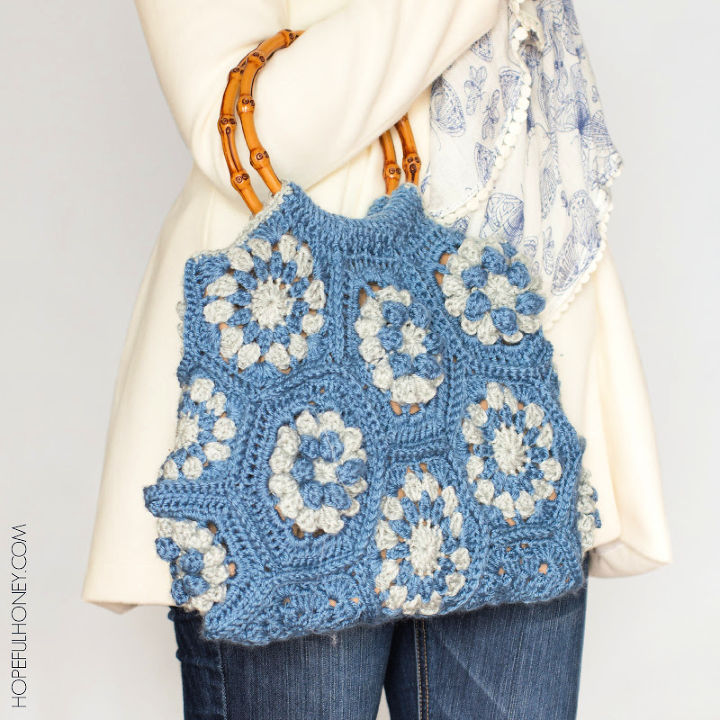 Tap right into the excitement of an impending trip with this lightweight and carefree crochet handbags. You will be excited to imagine all the spur of the moment places you will travel with this bag. For extra shape and stability, crochet two strands of yarn together. Use Fair Isle stitch, single and long single crochet for the pattern. You only require basic crochet techniques for this project. hopefulhoney
Yarn: Lion Brand 'Rewind Yarn' (242yds/100g)
Hook: 7mm (2) Crochet Hook
Finished size: Height: 12.5″ (32cm), Width: 15.5" (39cm)
12. Crochet Shell Stitch Handbag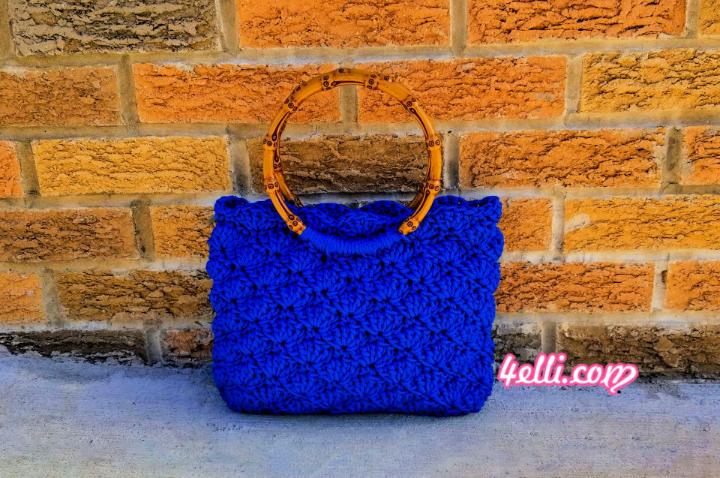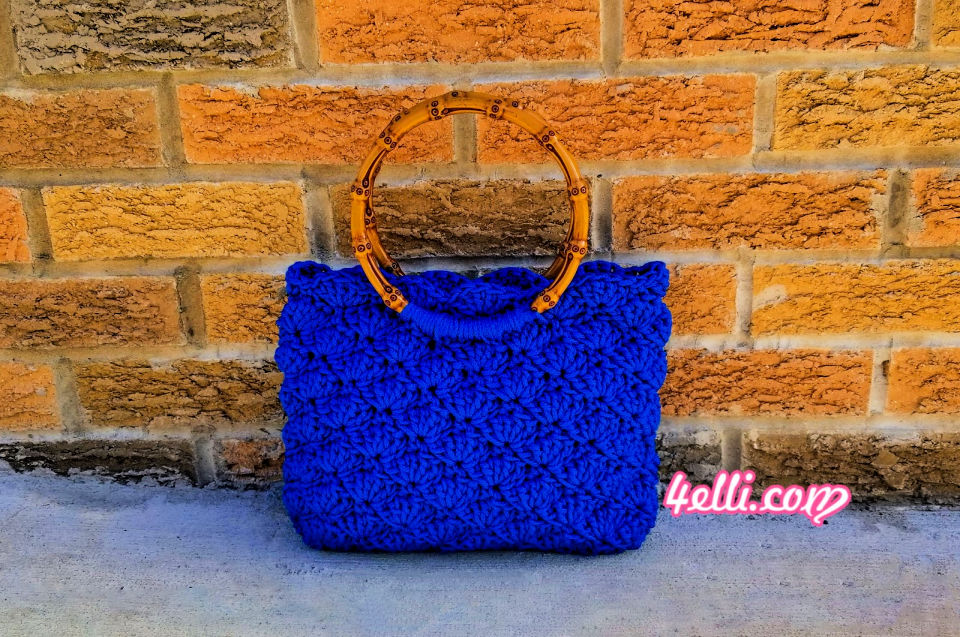 Carry your everyday essentials on your daily commute to work in this beautiful crochet handbag. This will be your all-year favorite handbag, and you will want to carry it everywhere. You will make a medium size bag by working over a multiple of 4 stitches plus 2. Finish off by joining the sides with the bag in each stitch around. 4elli
Yarn: polypropylene yarn medium size
Hook: 4.25 mm crochet hook
13. Bananas and Pineapples Crochet Handbag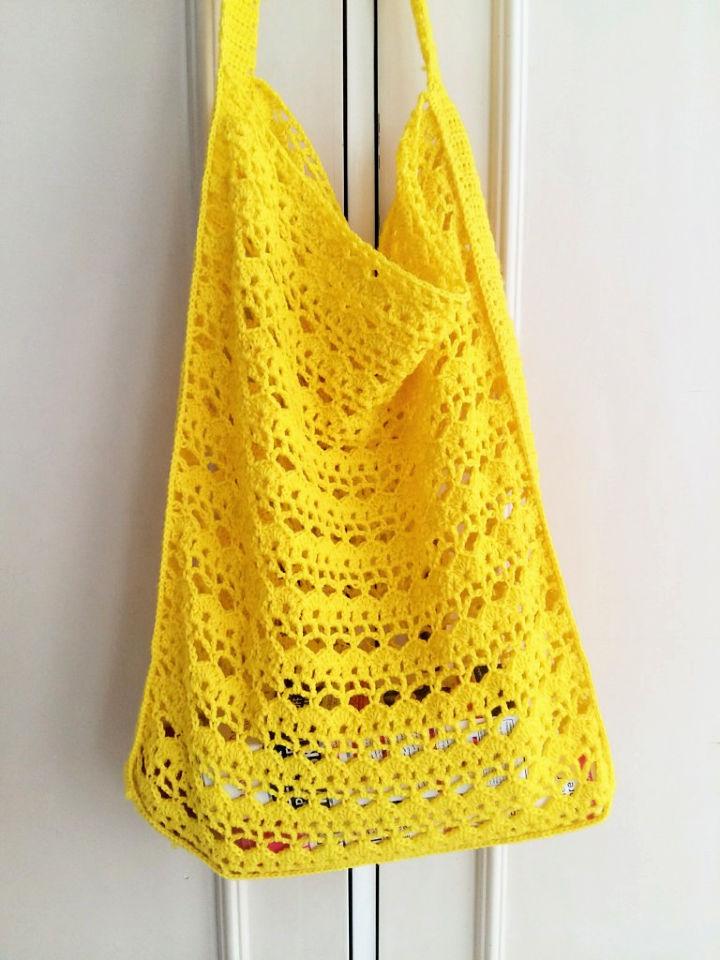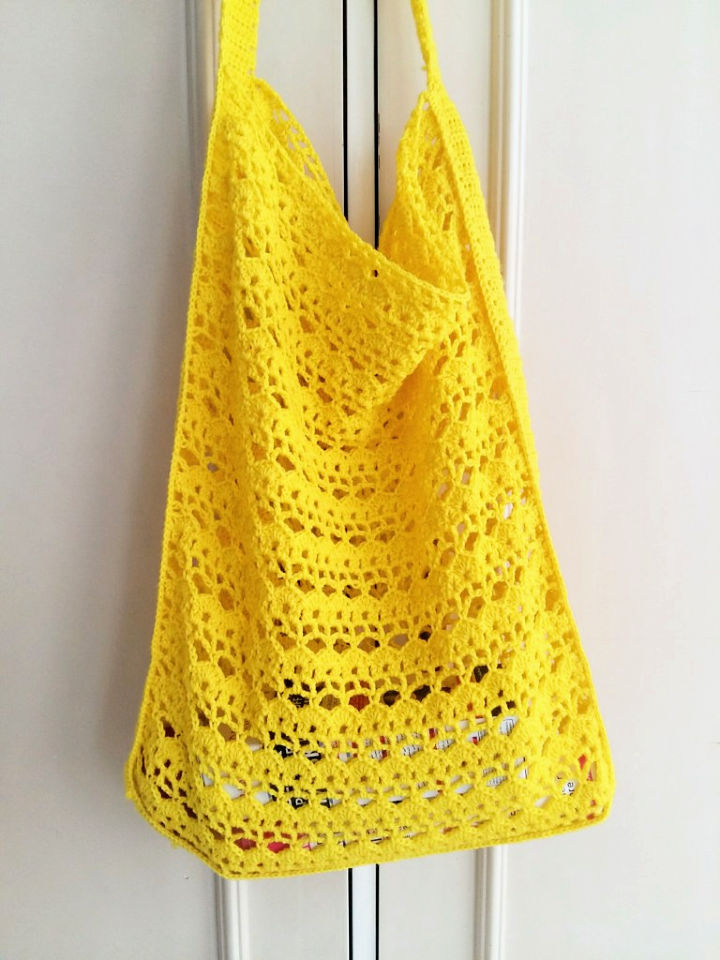 Make really awesome bananas and pineapples crochet handbag that you can use with every outfit as its super light and trendy. Its pattern is also very straight forward and easy. Use chain stitch, single and double crochet, slip stitch, and half double crochet for this pattern. You can also use colors that suit your personality. Work back and forth and make a chain 100. myaccessory
Yarn: 150 grams/ 2 skeins yarn
Hook: Crochet hook 3 mm/ C
Size: free size
14. Vintage Styled Crochet Bag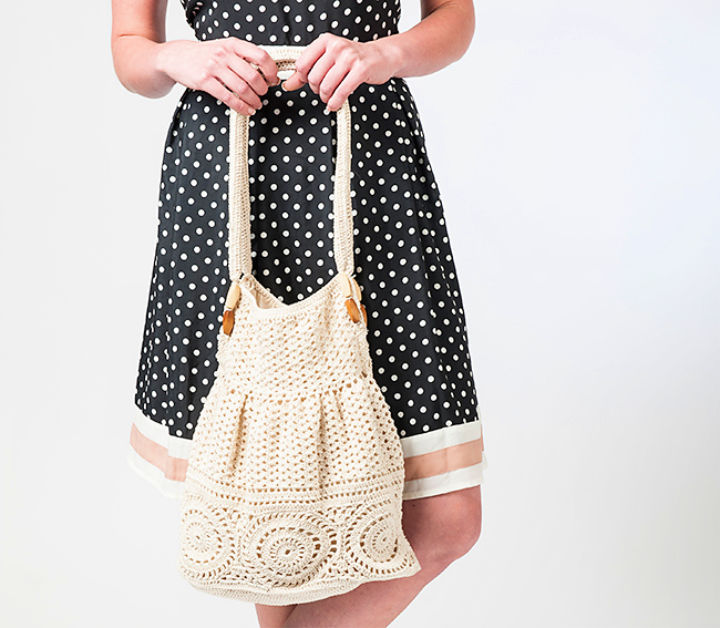 Make a roomy crochet handbag to carry your groceries, and you will forget about plastic packets. Use treble, beginning, and double crochet for the process. Make 9 chains and join with a slip stitch in the first chain to form a ring. Make the top of the bag and then create handles. This design will turn out to be not only ecofriendly but very stylish too. yourfamily
Yarn: 2 x 50g balls Rowan Handknit Cotton
Finished size: 38cm x 28cm
15. Black Crochet Handbag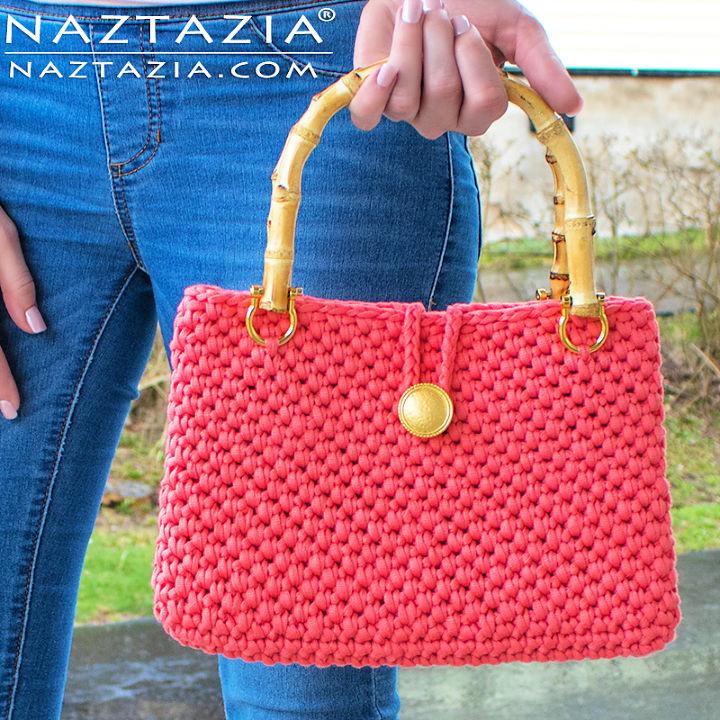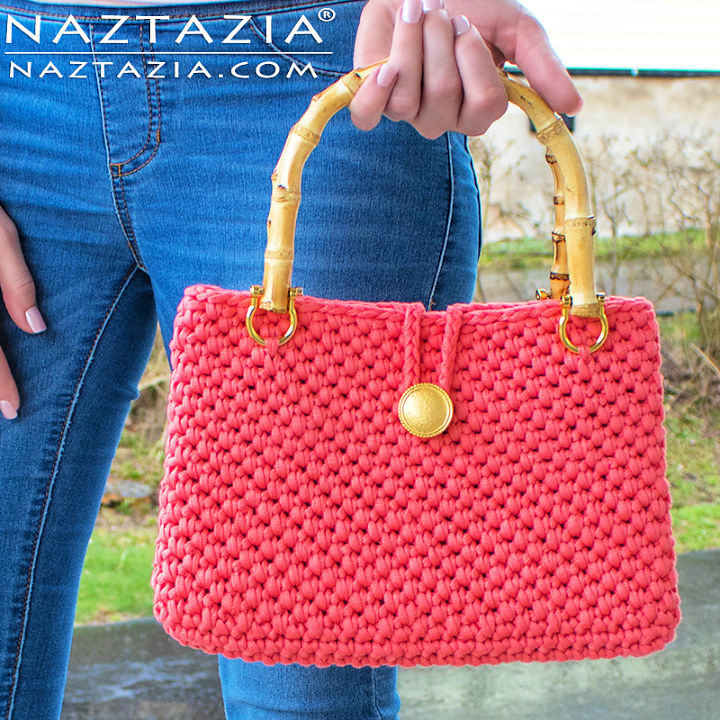 A hand made crochet handbag that you can match you with every outfit because of its neutral black color is a dream come true. Make it into a unique cross body bag giving it a chic and stylish look. The yarn will also be original, recycled, and eco-friendly. Use different colors and hand wash them easily. The pattern mostly requires a bunch of stitches and add a metal lock. youtube
Yarn: Cotton t-shirt yarn
Finished size: height 7.8 in and width 11.00 in
16. Chevron Crochet Handbag Pattern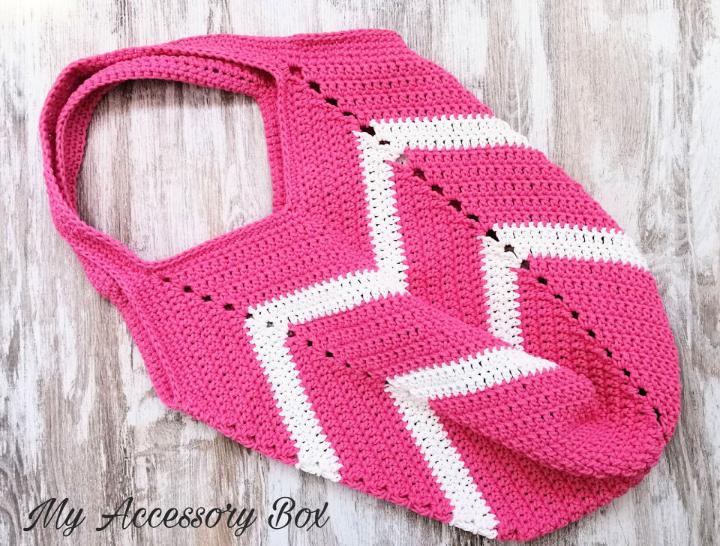 Implement a very unique chevron crochet stitch and make a nice crochet handbag pattern. Make it into a fun summer bag so that you can easily carry it to the beach or as a market bag. Use chain stitch, single and double crochet, and work in rounds for the project. Make a magic ring. For finishing weave in the ends and you are done! myaccessory
Yarn: 400-500 grams of macrame yarn
Hook: Crochet hook 6 mm/ H in the US
Gauge: 13 sts + 7 rows of dcs= 10X10 cm / 4X4 inch.
Finished size: Width= 35-40 cm/ 13.8-15.75 inch.
17. Crochet Shoulder Bag Pattern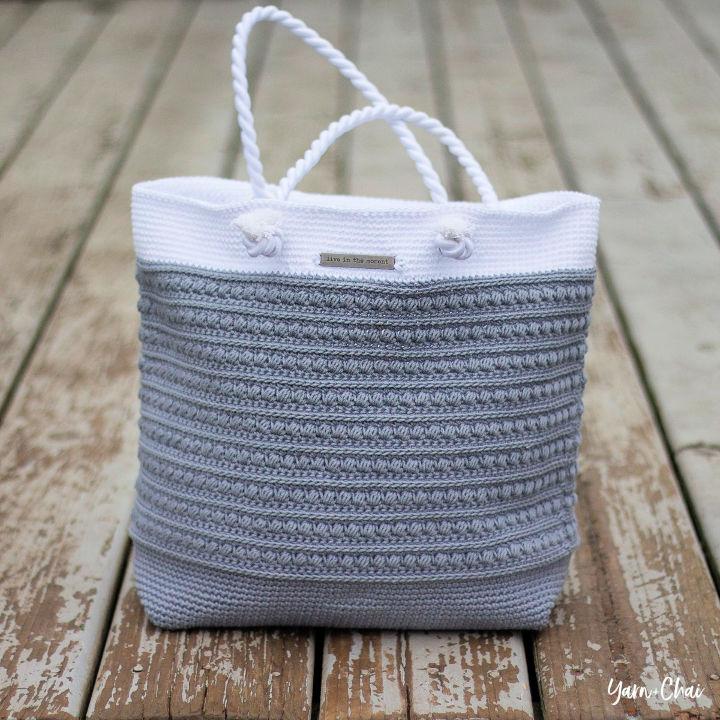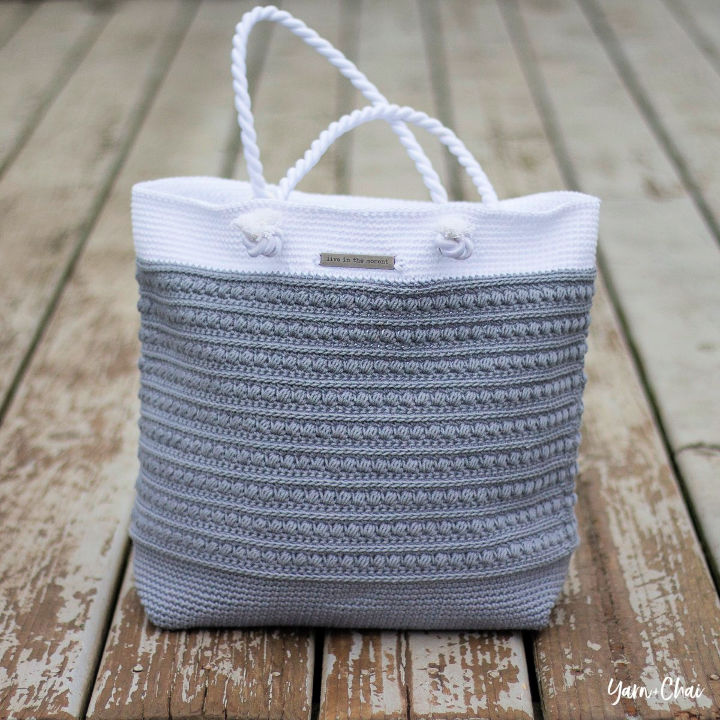 If you have an inspiration to crochet, then a beautiful crochet shoulder bag pattern is sure going to fuel your creativity. So make this beautiful crochet handbag pattern and carry it along wherever you go. The special stitch used here is the spike stitch and use slip stitch and single crochet for the pattern too. Begin working in rounds and don't count the first chain as a stitch in the final stitch count. yarnandchai
Yarn: worsted weight 3 different yarns
Hook: F/G (4.0 mm)
Gauge: 16SC x 20 rows = 4" square
Finished size: 12.5" (w) x 13" (h)
18. Crochet Peacock Tail CAL Bag OR Peacock Handbag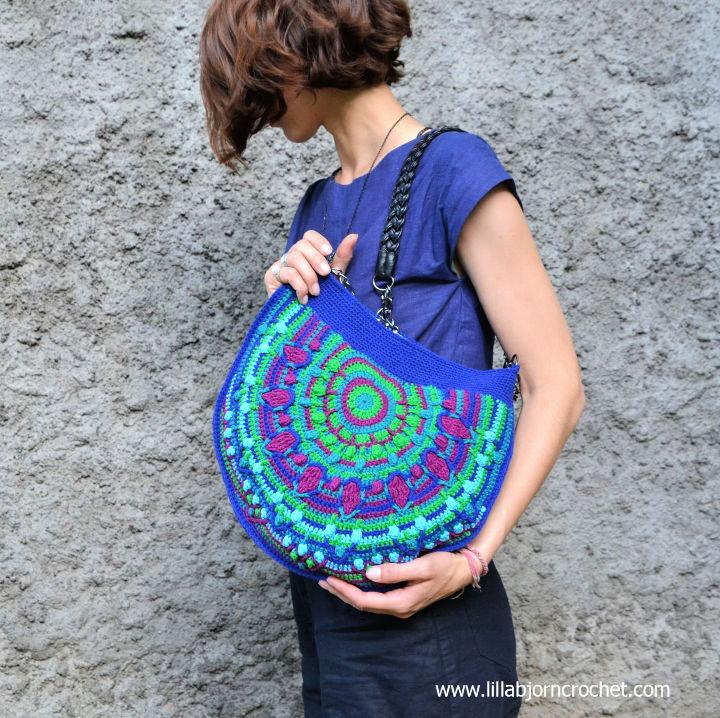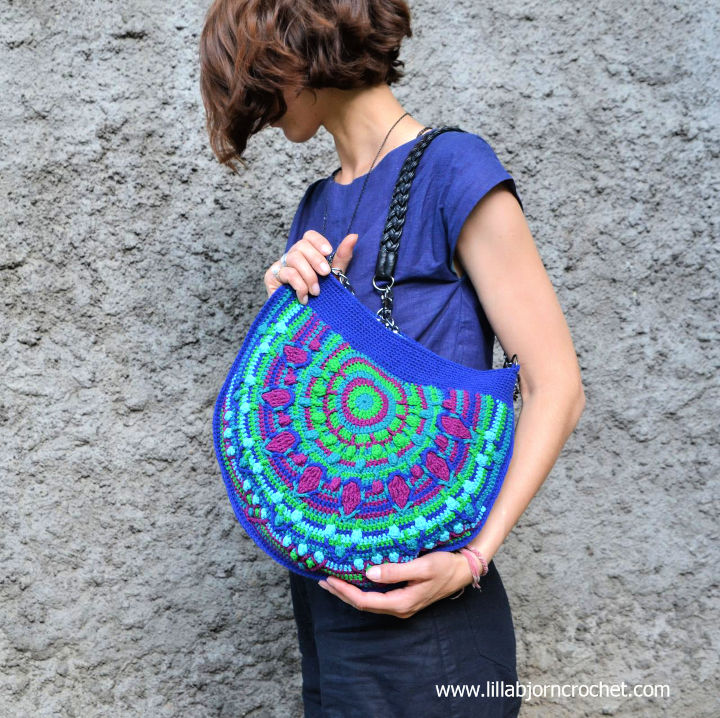 If you are into enjoying beautiful colors, then this crochet peacock handbag will suit your personality for sure. Use overlay crochet technique for making the front of the CAL bag with front post stitches and clusters. The back is made with colorful stripes and is simple. Give the bag a fabric lining and use a magnetic clasp. With an adjustable strap, you can use it as a crossbody bag. lillabjorncrochet
Yarn: Linen Soft yarn in 5 shades
Gauge: 10cm (4") in diameter
Finished size: approx. 39 cm (15 ½") wide and 35 cm (13 ¾") tall.
19. Parisian Chique Fat Bottom Bag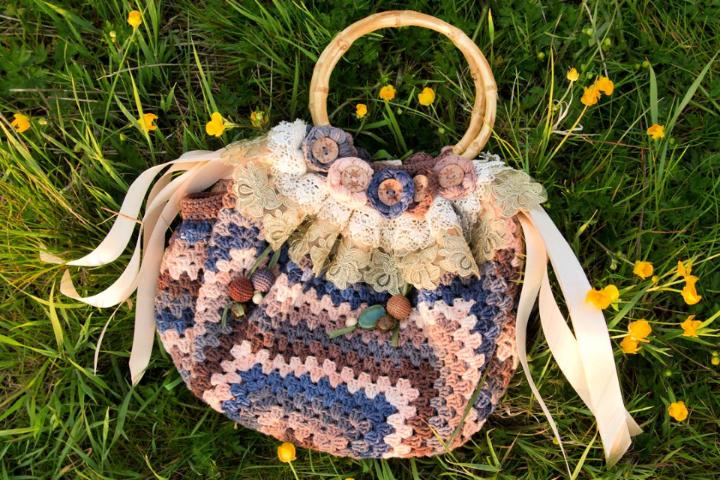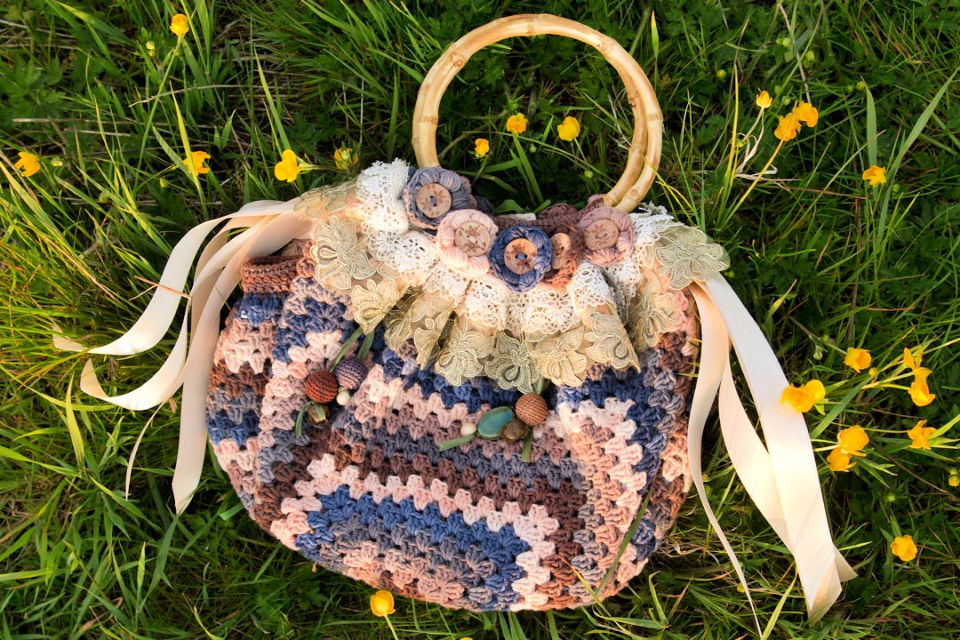 Own a nice fat bottom crochet handbag and use it to carry a lot of your junk anywhere. You will start the project by making a giant granny square. This requires no chains between the clusters but 1 chain in each corner. Sew in the ends with a darning needle and then add lining. Make top and bottom at the end, and then add embellishments. acreativebeing
Yarn: 6 skeins of Scheepjes Soft Fun Denim yarn in different colors
Hook size: 4mm crochet hook
20. Crochet Watermelons Handbag Pattern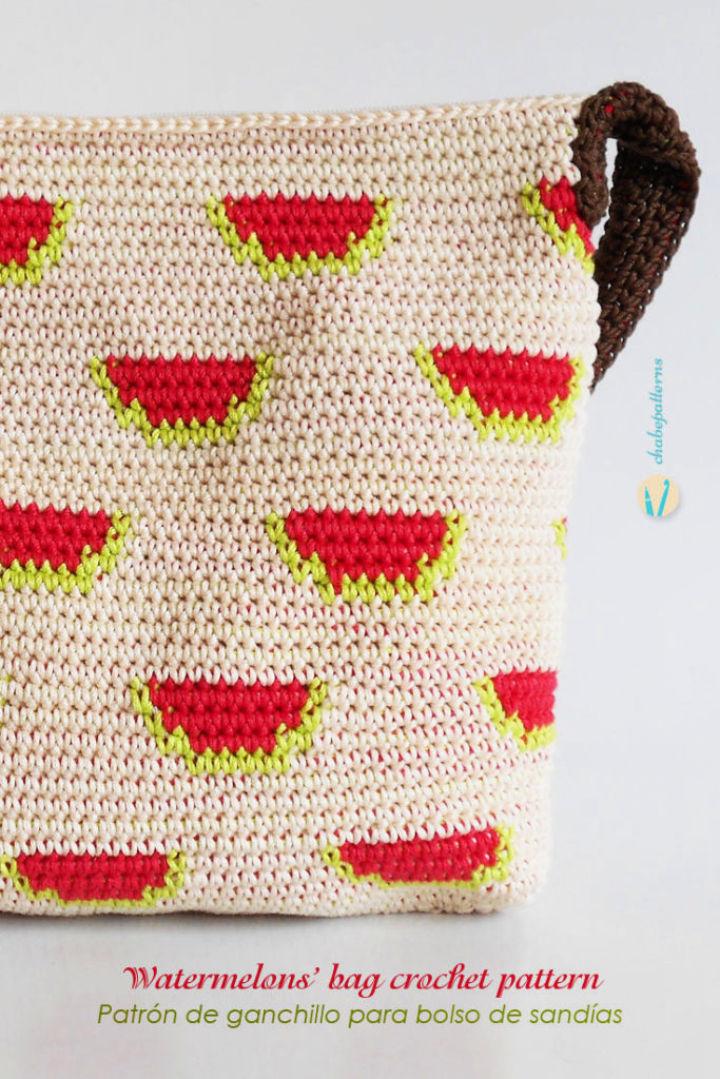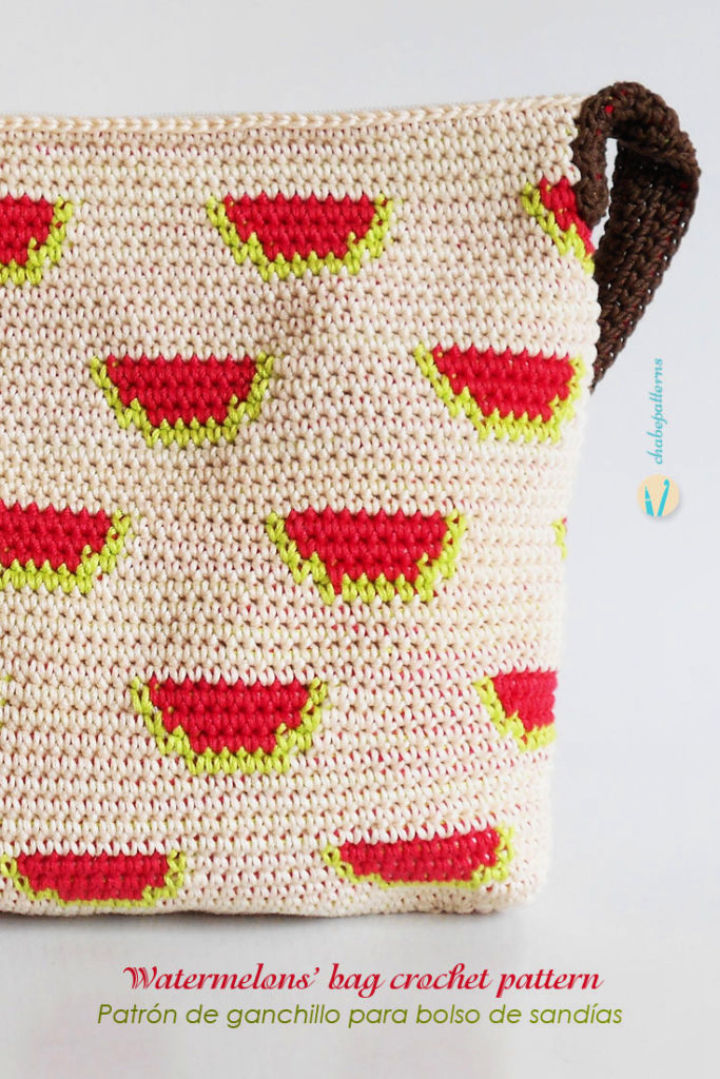 Get ready to enjoy the summer season with colorful crochet handbag patterns that can be used for many outings. In this pattern, you will use a tapestry crochet technique with more than 2 colors at a time. Single crochet and slip stitch are also required to complete the pattern. Start working from the base and crochet in the round in a spiral way. Make the bag first and then handles it. chabepatterns
Yarn: skein of fine 100% cotton yarn
Hook: 3.5 mm crochet hook
Gauge: 24 sts x 20 rows= 4"/ 10 cm
Finished size: 9.1" x 7.9"/ 23 cm x 20 cm
Conclusion
These crochet handbag patterns are so much fun to make and work up very nicely. The best part is that you can add straps according to your own height more of personal preference and can be different for each person. When you want to make a design that you can wear across the body, the length has to be longer. After making it, you will realize that it is a great project to sell at craft fairs. This crochet bag pattern will be the perfect size to fit a wallet, phone, and water bottle for an evening concert or dinner out. Just start crochet if you are a confident beginner looking to learn some new skills or even if an advanced crocheter looking for a project! That can be finished very early. Crochet is love!