Are you a fan of thick rugs? If yes, then you'll love these 10 free crochet rug patterns with bulky yarn! Bulky yarn may be a little expensive, but it does make very beautiful and good quality crochet rugs. Rugs are certainly one of those things that you should definitely invest your money in. This is because they're something that will last you for years, and they also bring a lot of texture to your decor. You can make these rugs for any room in your house or office to add a cozy and welcoming feel there. Most of these crochet patterns are very easy to make and can be completed by beginners, as well.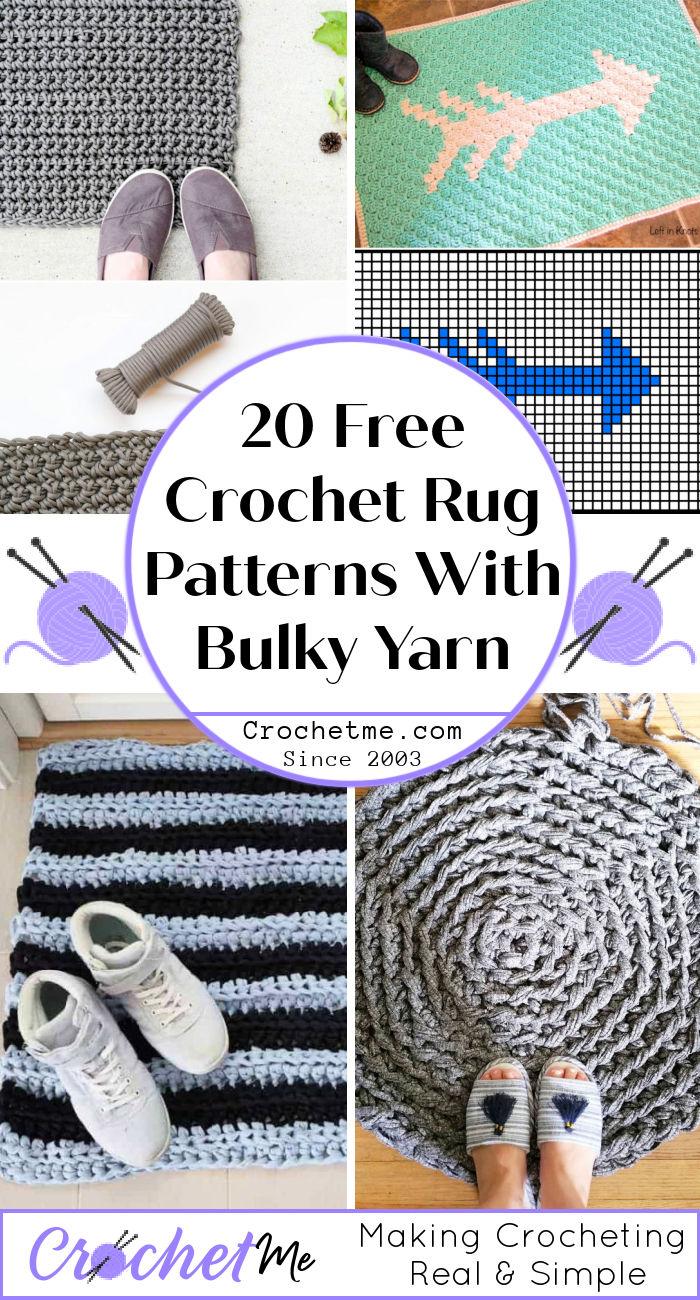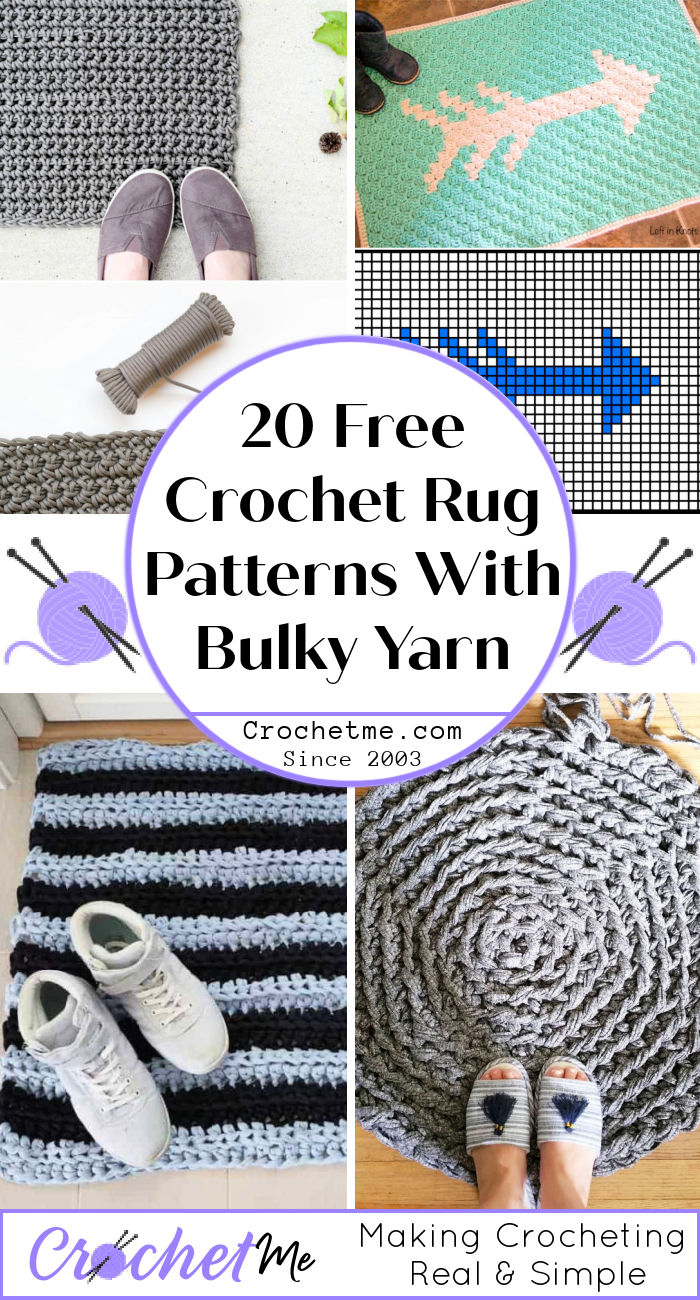 You can not only make these crochet rug patterns with bulky yarn for yourself but also as a meaningful housewarming gift. They are of very good quality and also very personalized if handmade, so it will be the perfect gift! It can be gifted to anyone with any age or gender! This article will cover a range of crochet rug patterns with bulky yarn, from outdoor to thermal stitch bath mats; from fallen arrows to wink stripy patterned rugs; from grass, rugs to hand crochet rugs! There's a lot to choose from. After all, who doesn't like to have a few options to choose from?
1. Crochet An Outdoor Bulky Yarn Rug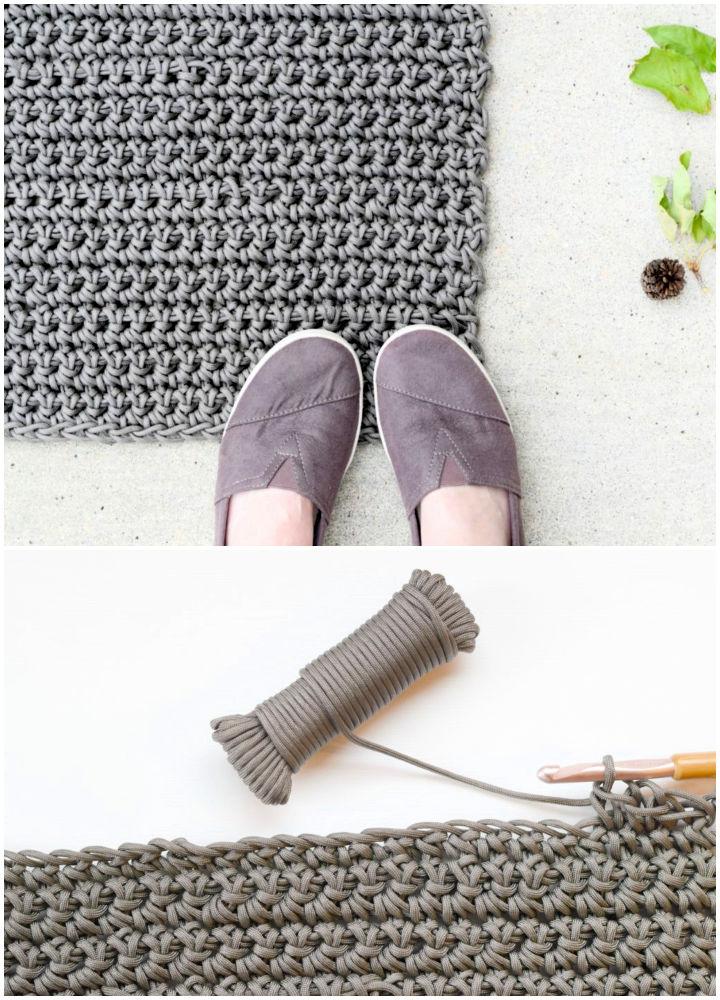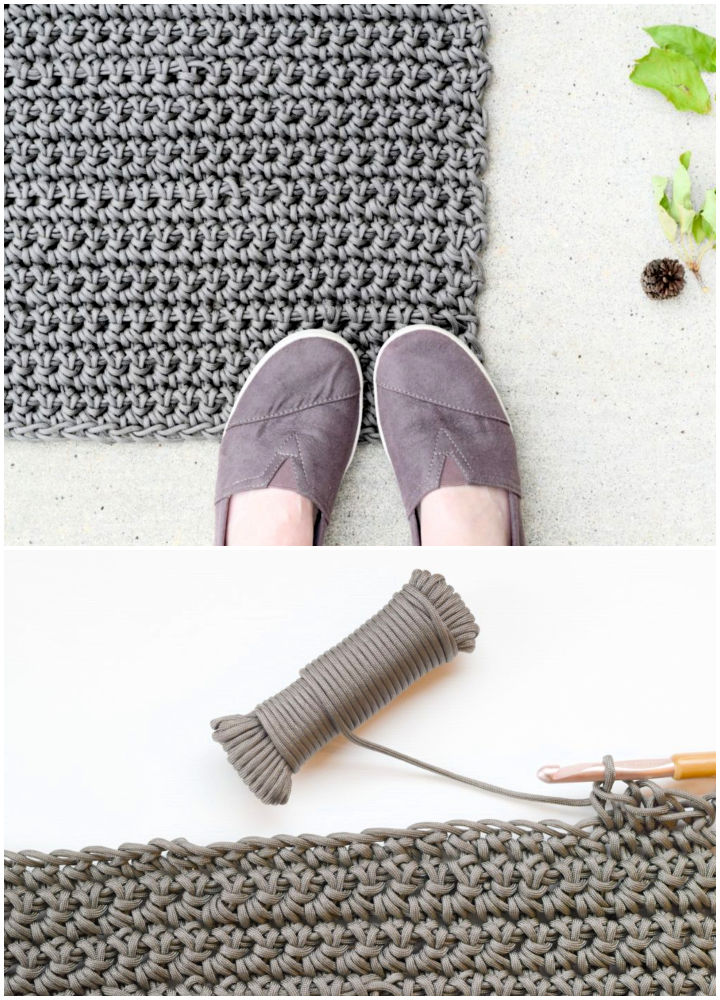 Everyone who knows a little about crocheting can definitely do a simple stitch like single crochet. Even if you can't, it doesn't take that long to learn this easy skill. This amazing project is perfect for a beginner as it can be done with only a single crochet from beginning to end. The end results are just beautiful and will be loved by anyone, especially minimalists! This is because it only uses one colored yarn all the way and is quite simple with a stunning texture. mamainastitch
Crochet Hook: 11.5mm crochet hook
Yarn Weight: (8) premium 550 Paracord (⅛ inch thick cord)
Finished Size: 14"x20"
2. Crochet Rug Patterns With Bulky Yarn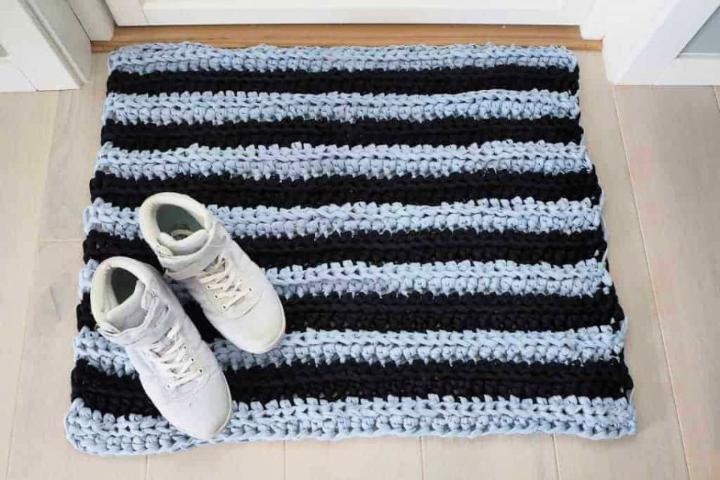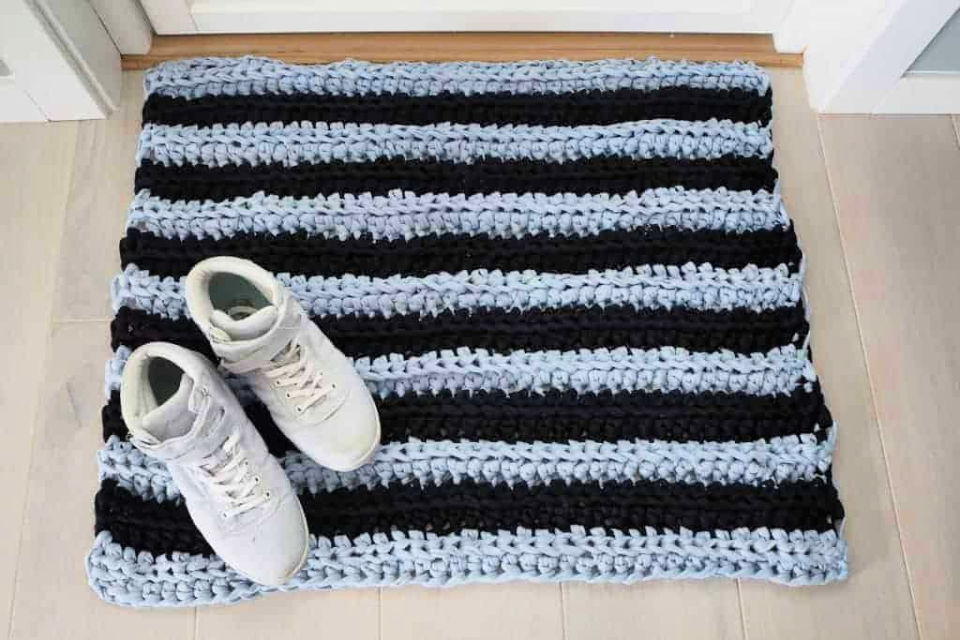 Crochet rug patterns with bulky yarn are perfect for making some good quality stuff. This is because the bulky yarn makes it super durable and compact. They will last you a long time! A guide that shows you how you can make this beautiful citrus mat with different shades of blue! Half double crochet and a few other basic stitches are the only skills you need. Start by crocheting in the back loop and working your way from there. joyofmotioncroc
Crochet Hook: 12mm crochet hook
Yarn Weight: Welcome yarn/ t-shirt yarn (850 yards – both colors)
Finished Size: width- 77 cm/ 30.3 inches, length- 65cm/ 25.6 inches
3. Crochet Thermal Stitch Bath Mat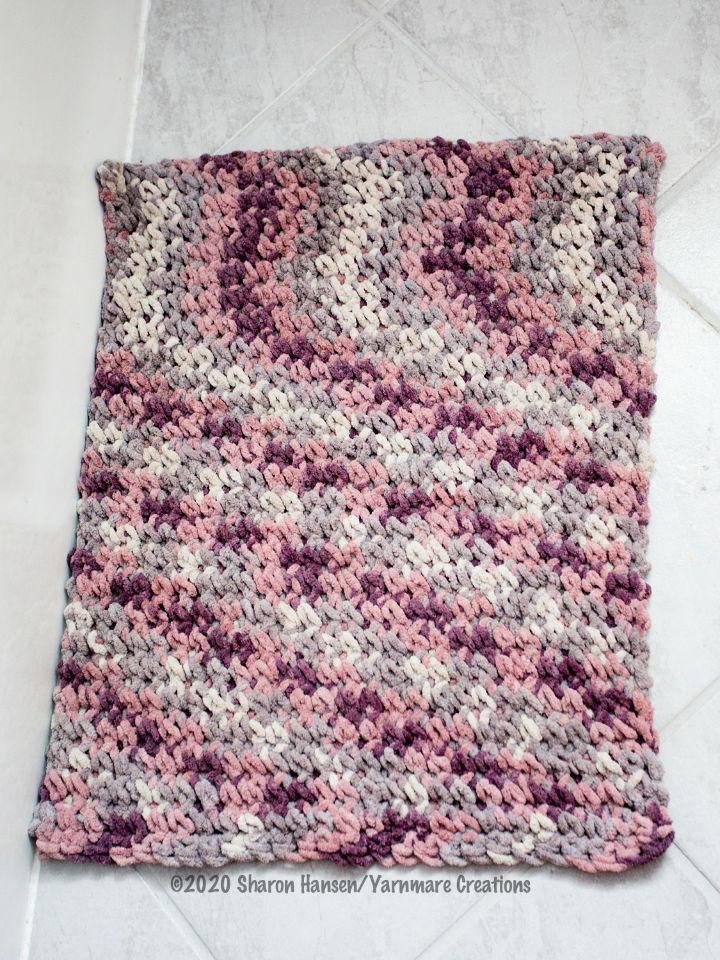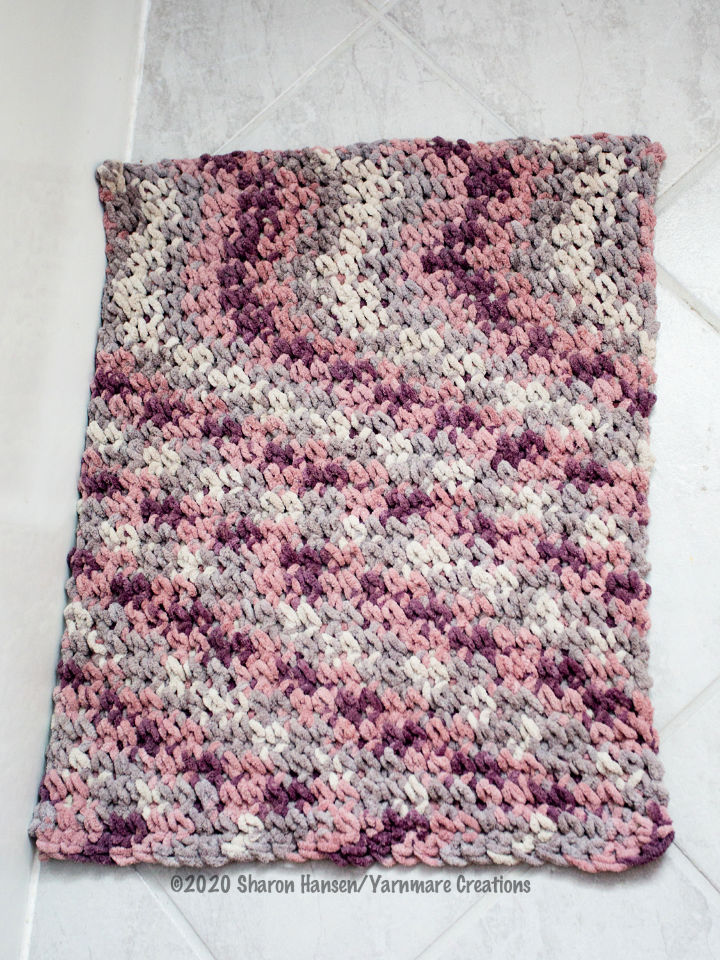 Here's a purplish toned rug pattern that actually has many different colors in there, including pink, grey, white and purple. However, the result has a lot of purple tones in it, which is beautiful! You need to learn to do the thermal stitch for this pattern, which is very easy to learn in a few minutes. All you need to do is to crochet until you get your desired length. All of your hard work will result in a very soft and thick mat! yarnmare
Crochet Hook: large hook – 15.75mm (size Q)
Yarn Weight: (1) double-sized Bernat blanket yarn (10.5oz / 300g)
Finished Size: 18" by 24"
4. Crochet Bulky weight Yarn Rug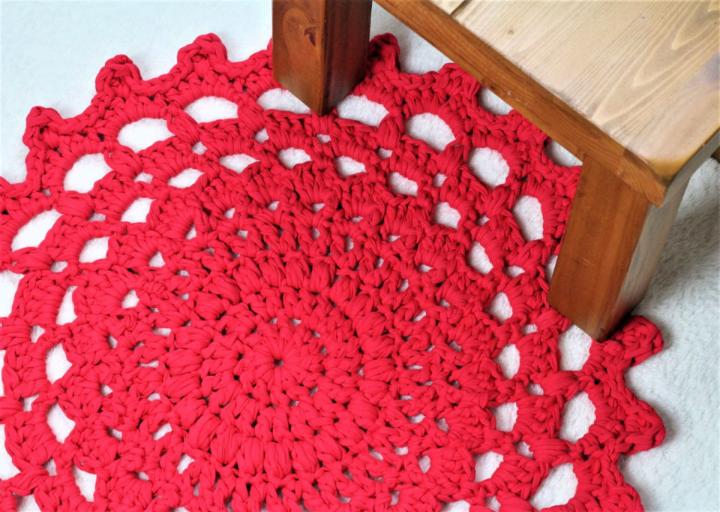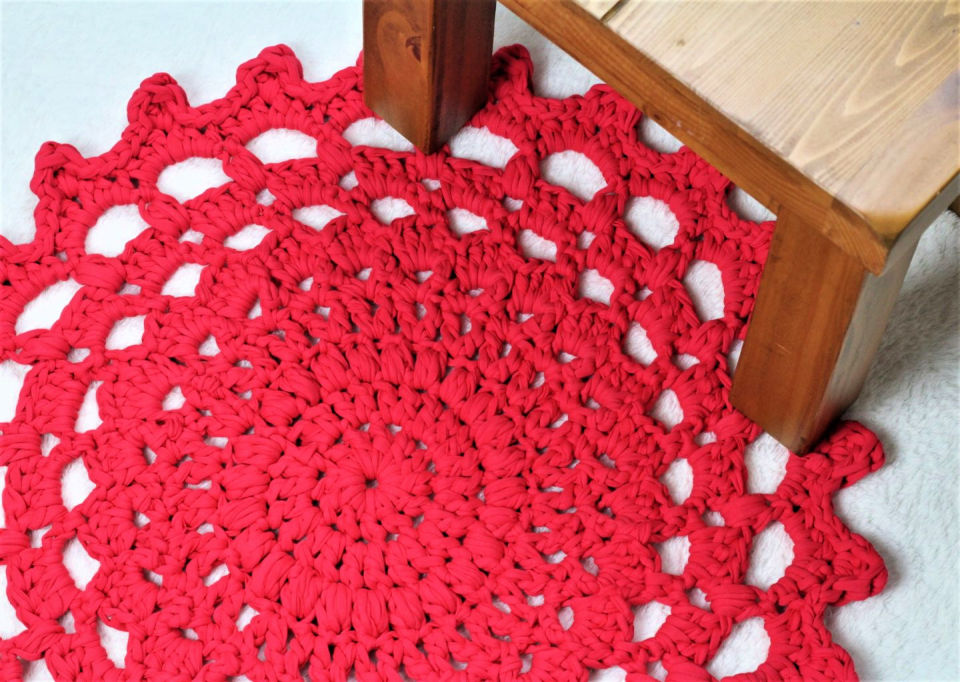 Red is a very beautiful and royal color. It can instantly add a more luxurious feel to your house, no matter where you keep it. Red is a color of celebration and happiness, so you can make this classic red rug for the Christmas holidays this year. It will add a lot more liveliness to your house. A project for beginners who only have the basic skills of half double, double, and treble crochet. Half bobble stitch is another skill that you'll need. trulycrochet
Crochet Hook: 12mm hook
Yarn Weight: Hooked Zpagetti – 160 yards
Finished Size: 25 inches
5. C2C Crochet Fallen Arrows Rug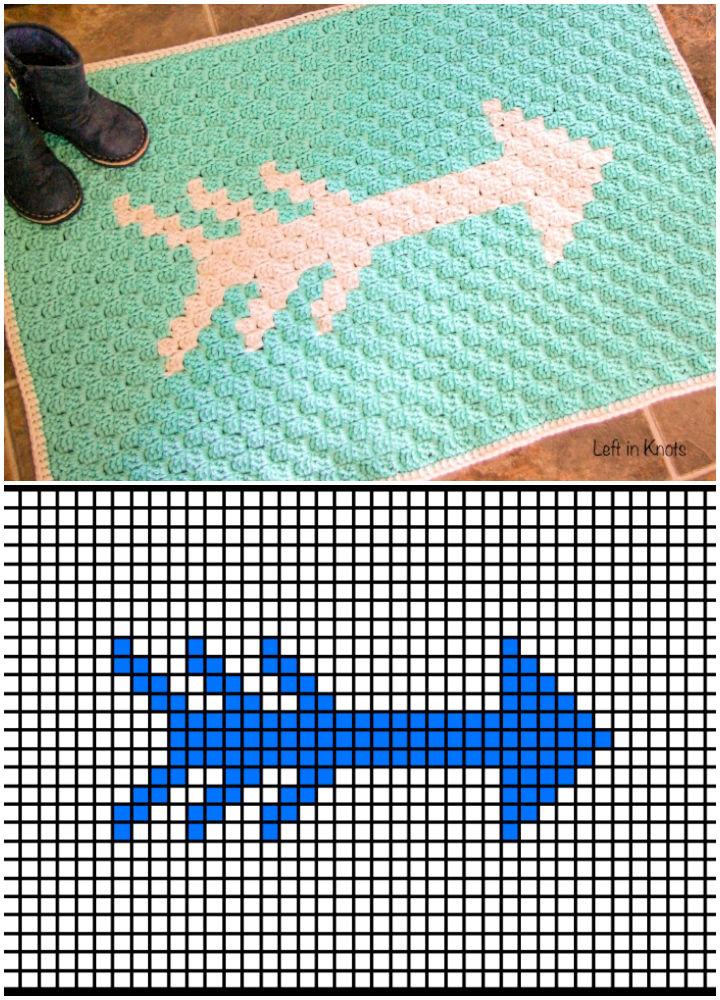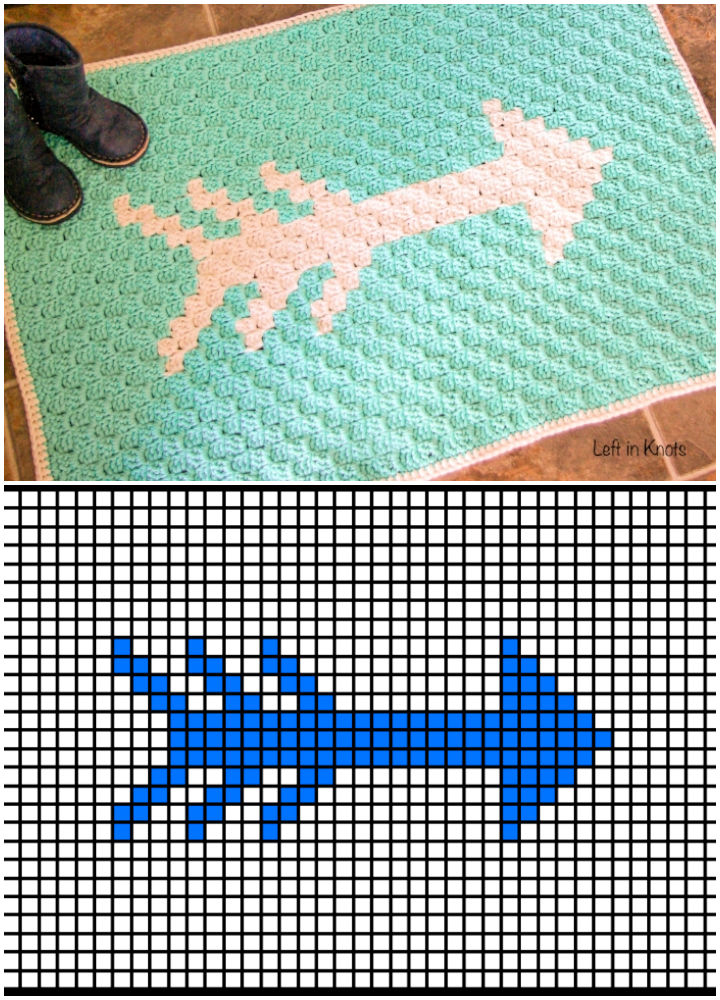 Any thick crochet rug patterns with bulky yarns are always perfect for an indoor rug. This is because they are of very good quality and won't be ruined easily. This arrow design is just so beautiful with a fantastic color combination of light blue- almost turquoise- in the middle and white borders and arrow! Check these c2c crochet patterns that require you to know to C2C stitch. The best way to start off this project is, to begin with, edging and work your way from there! leftinknots
Crochet Hook: 6.0mm crochet hook
Yarn Weight: Bernat maker yarn (just over 2 skeins of Aqua and half a skein of Cream)
Finished Size: 21" x 31
6. Crochet Bulky Yarn Rug Pattern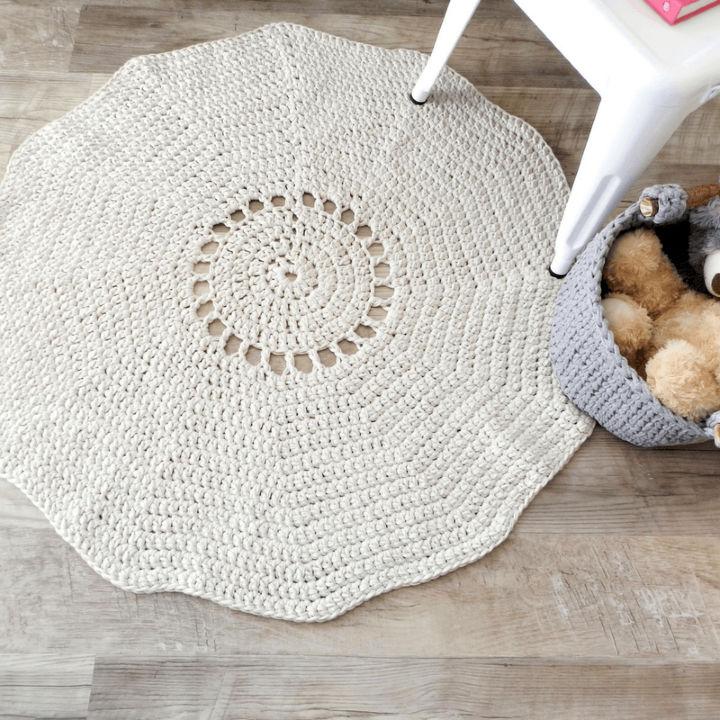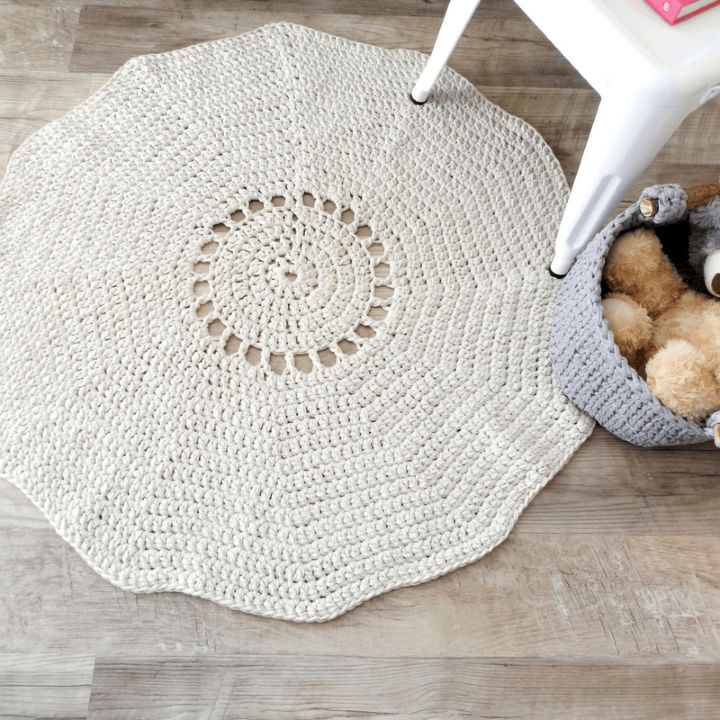 A basic and white rug never hurts anyone. It's so simple and plain that it screams "less is more!" which is this case is very true. It may be very simple, but it's still enough to add some detail and décor to your room or wherever you decide to place it! The best part is that it is straightforward to make. This is because all you need is one colored yarn and a few stitches you need to repeat continuously. Isn't that just perfect? sweeteverlyb
Crochet Hook: 12mm crochet hook
Yarn Weight: Bernat Maker Yarn (4 skeins in Cream)
Finished Size: 38" wide
7. Wink Stripey Rug Crochet Pattern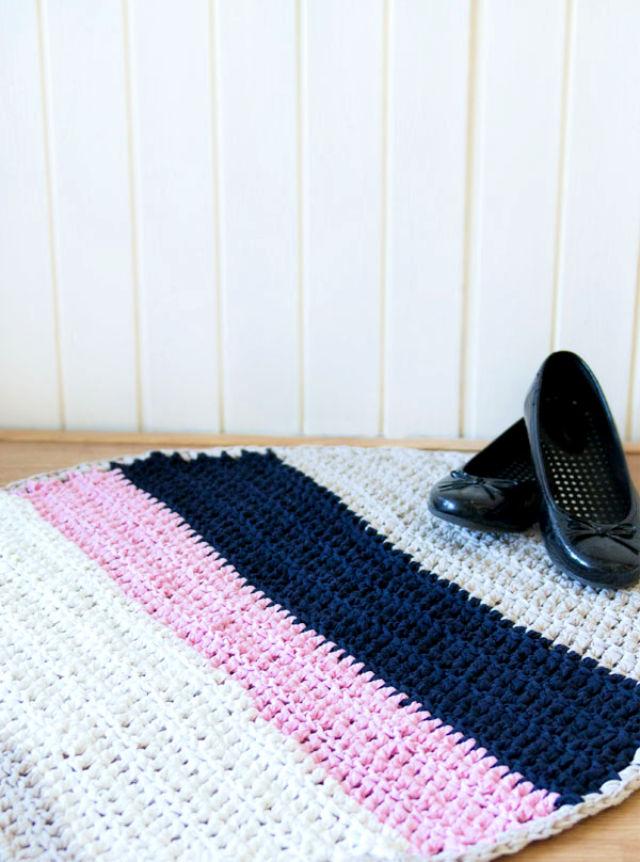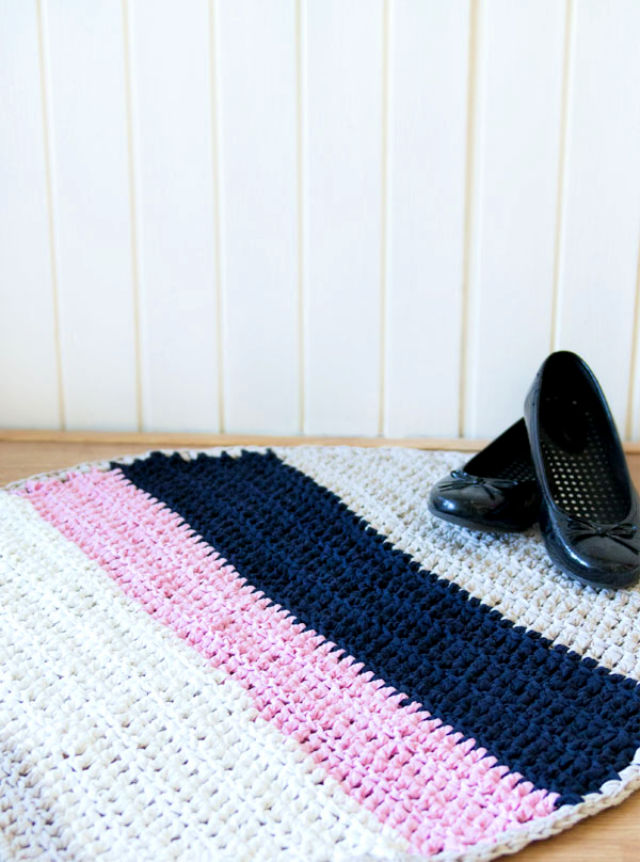 It can get quite boring to crochet for very long and to have a project lying around the house, which takes you weeks to complete. You can learn to crochet a lot faster by following this guide. To make our work faster, you must start with a slip knot and then work your way from there! The result is truly beautiful! It is thick, bulky ad good quality – guaranteed to last you for years! The strips can be customized to whatever colors you like to really make it your own. crafts tutsplus
Crochet Hook: 10mm hook
Yarn Weight: Super bulky yarn/t-shirt yarn
8. How to Hand Crochet a Circular Rug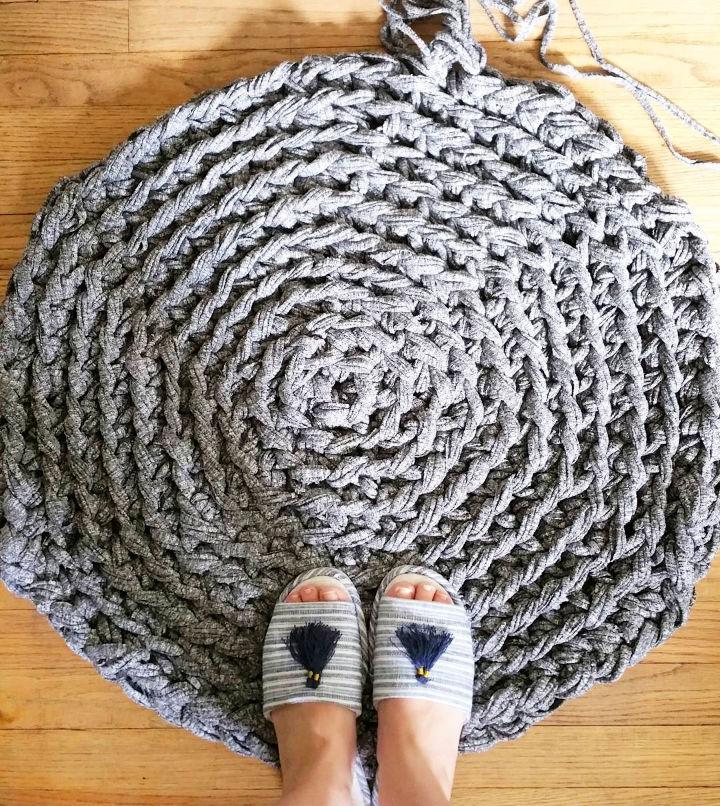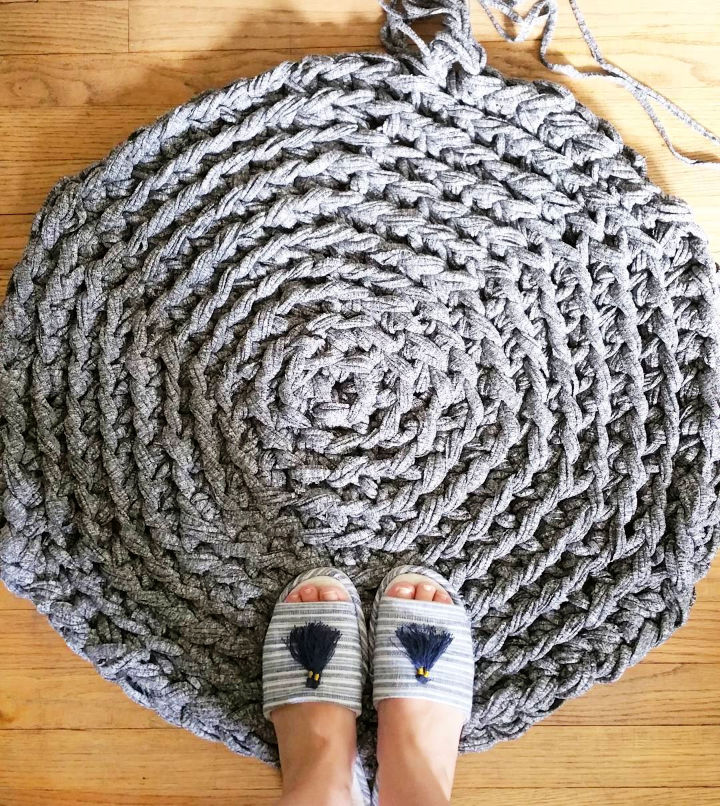 Just look at this beautiful crochet round rug! It's so stunning with a very unique pattern that is something that you won't find at a simple furniture store. The best part is that it is very fast to make. You won't believe how quickly this can be done. Hand crocheting is very fast and also a great special skill to have. However, remember to take some breaks to rest your hands! Always start with a slip knot and work from there! simplymaggie
Yarn Weight: Premier Yarns Craft Tee Yarn (352 yards in total – 88 yards each)
Upcycle your old T-shirts, stash yarn, and even old towels by making a crochet rag rug, ideal to work as a bath mat or kitchen sink rug.
9. Crochet Grass Rug With Bulky Yarn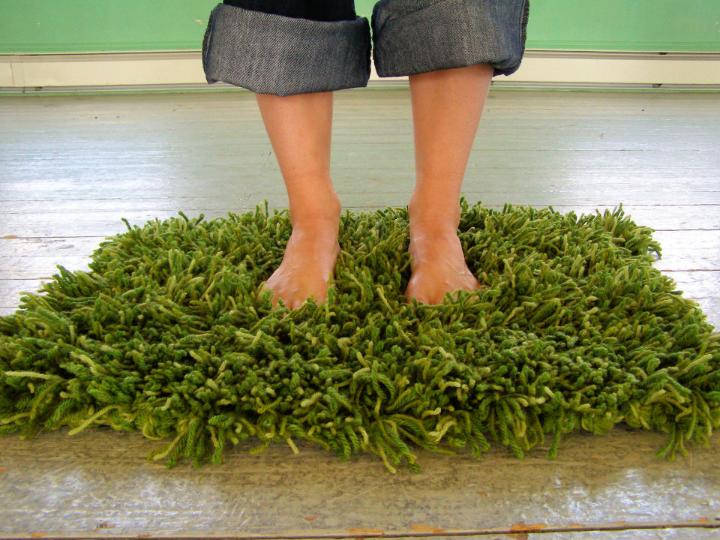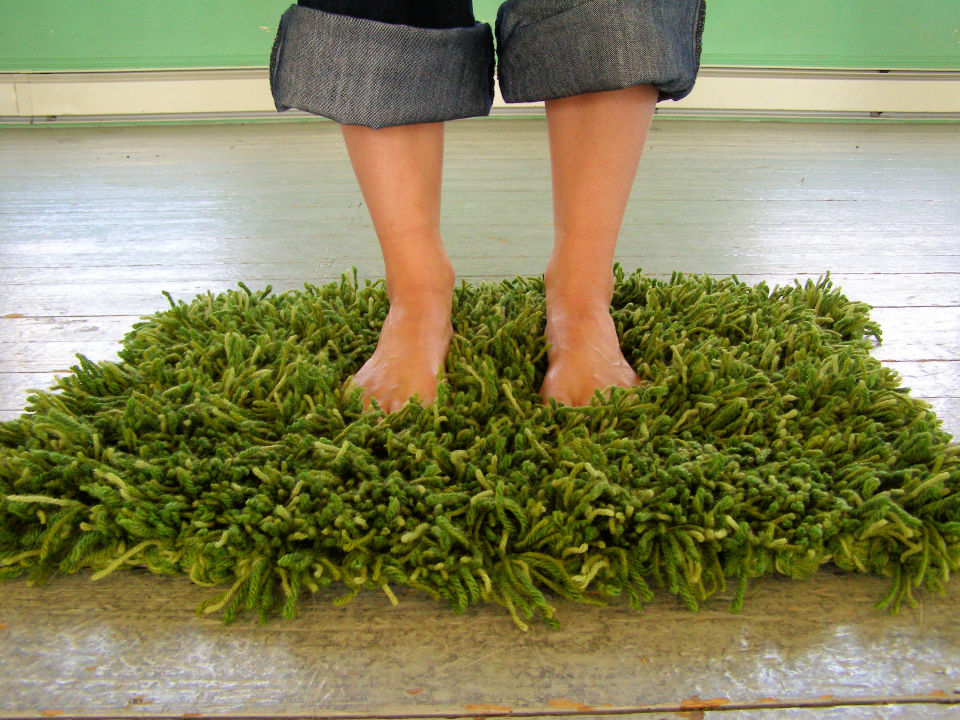 Are you tired of all those basic patterns and designs? Want to try out something new? Here's an unusual but fun pattern. A very out-of-the-box pattern that is perfect for people who love having nature and plants in their house. A grass rug! Isn't that just amazing? If you think there's any corner of your house where there is a lack of nature, just keep this rug there! This can be kept in a room that doesn't have any windows to add some liveliness and beauty! lionbrand
Yarn Weight: Wool-Ease – 620, 630 (5 bulky)
Finished Size: 56 x 76cm
10. Bee's Knees Crochet Rug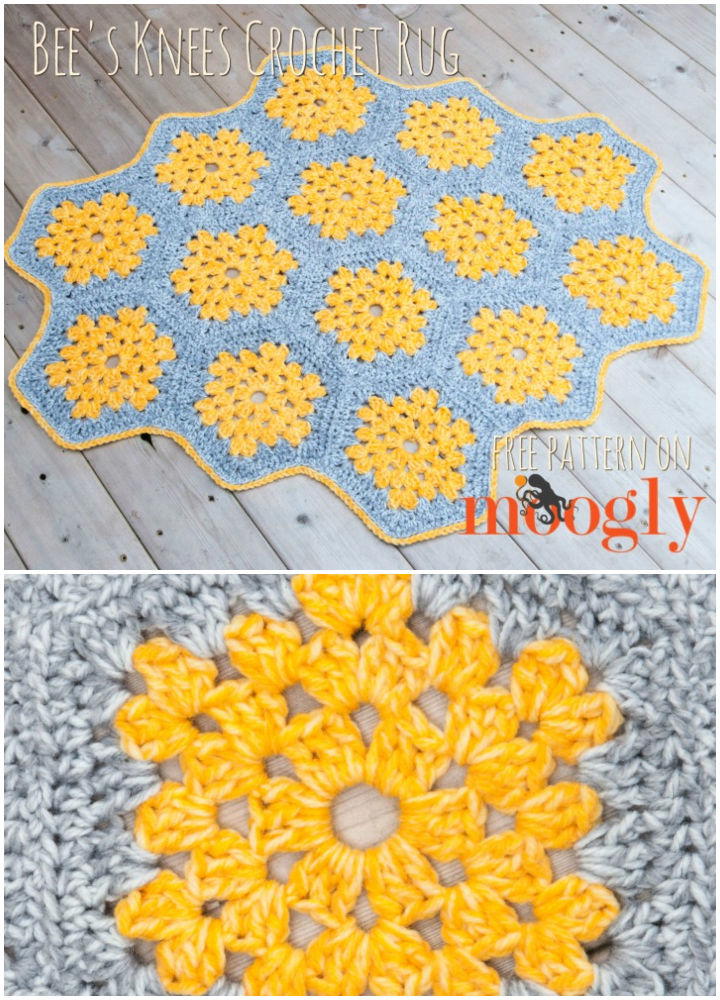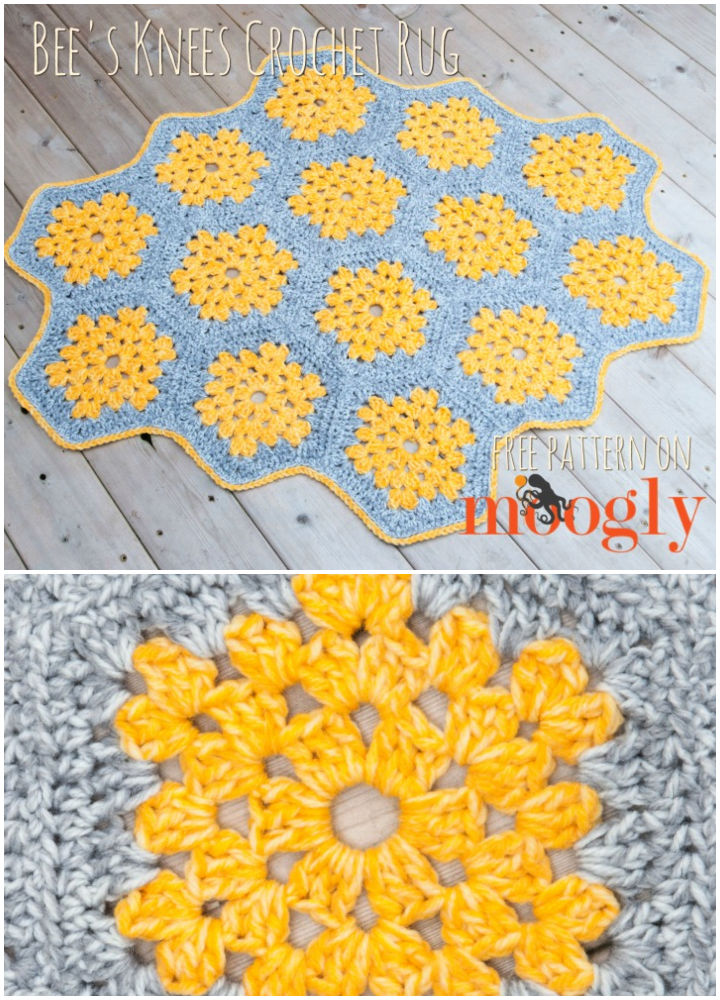 Isn't this bee's knees crochet rug a vision? A collection of perfect bright hexagons together in a finely edged crochet rug. The details of this rug are everything! Make it using bulky yarn in vibrant and crispy colors, the bulky yarn is sure going to leave a chic appeal. Work on the size, so it fits perfectly on your floor. Plus point? It works up oh so quickly, given the bulky yarn and the crochet hook used! mooglyblog
Yarn: Lion Brand Wool-Ease Tonal
Crochet Hook: 9.0 mm
Finished size: 40 inches wide x 46 inches long
Conclusion:
Are you ready to try out some of these crochet rug patterns yourself? They may look a little intimidating right now, but actually, they are straightforward to complete. Especially the ones with single and double crochet stitches. It's not very hard to learn a stitch as there are endless tutorials for it all over the internet, or you could also take an online class for it! All you need is a little time and practice to become a pro! It's not really that hard. Another thing to keep in mind is to always use old t-shirts to make yarn if they are available. This way, you can be eco-friendly!
Related Free Crochet Patterns for Beginners