From a living room to bedroom to bathroom, warm up any room with these 15 free crochet round rug patterns that are going to add new decorative dimensions too to your space. These soft yarn rugs will make your feet feel soft on the hard floors and will aid in noise reduction too. They can be the best choice for the coldest days of the year and are a breeze to crochet right in the comfort of your home. The minimal crochet skills are needed to hook up most of these crochet rugs. They are like to crochet huge mandalas, doilies, and circles.
To see all designs, explore this list of 15 easy crochet round rug patterns that are to crochet mostly with the t-shirt yarn that you can make yourself. Crochet the mandala circles with wavy edging or stitch the floral rounds, there are too many choices for these crochet circle rug patterns. Work in the granny stripes also to come up with striped crochet circles, making soft and comfortable rugs for your spaces.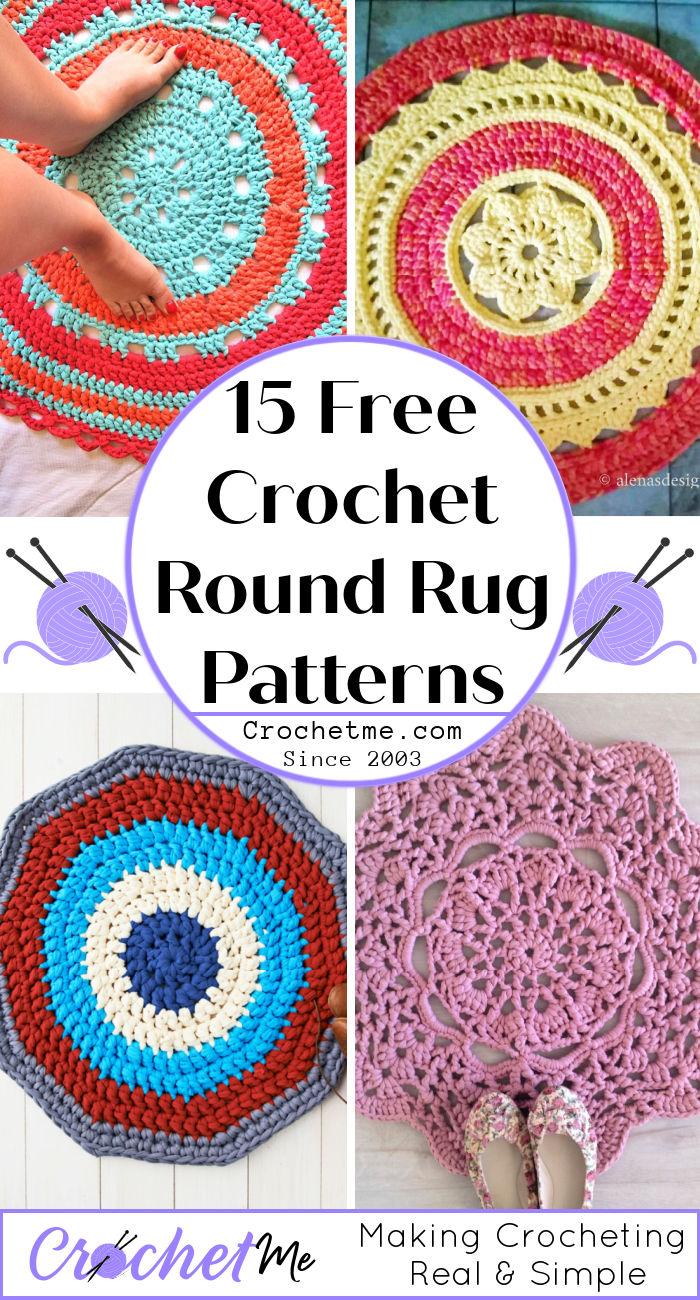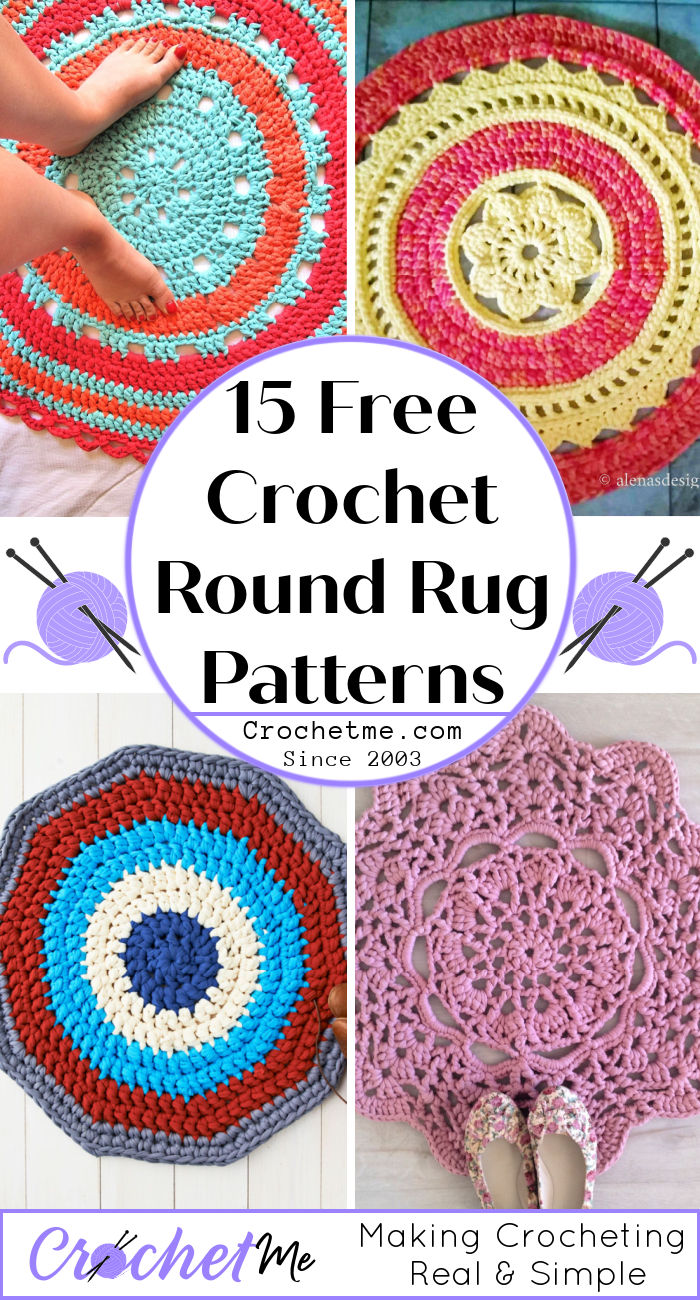 Take the old t-shirts, fabric sheets, and other scrap fabrics into ½" to 2" strips. Sew or knot them together to make the chunky fabric yarn required for these rug patterns. Make these round rugs in a single color for a solid impact, opt for a rainbow appeal of them to fancy up an interior, or hook them up in the neutral hue that will rock for the fall season. You will get here the directions also about how to dye your fabric yarn properly. Explore this entire collection of crochet rug patterns to get your hook inspired.
1. How to Make a Crochet Rug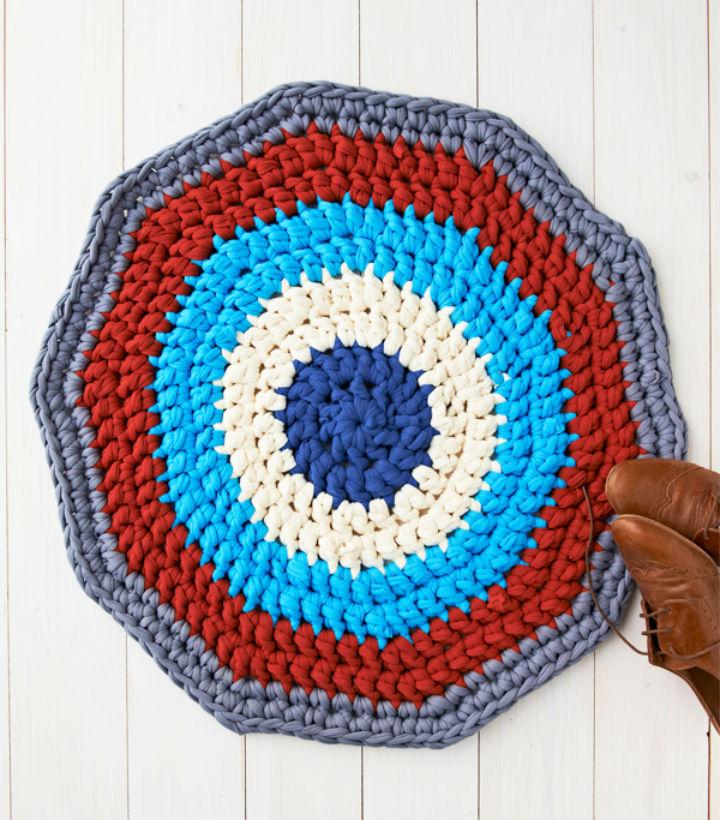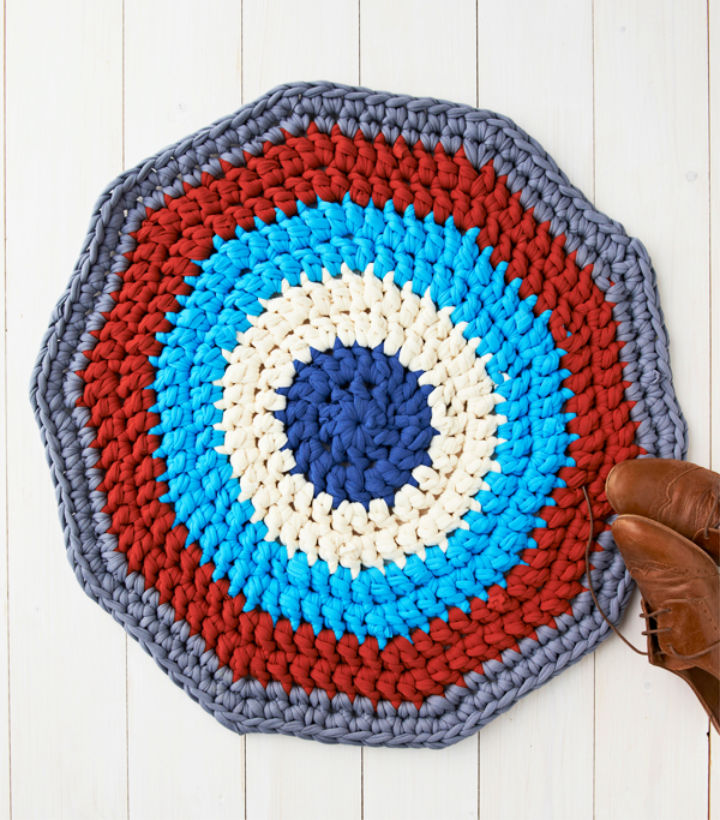 Make your interior look and feel great with this crochet rug, will be both practical and visually stimulating addition to a space. Get busy with the chunky yarn weights and with bigger yarn hooks to stitch this round crochet rug featuring 5 amazing colors. It comes in a perfect round shape in the center and finally gets the edges while coming out to edge. You need t-shirt yarn in decided colors and a 15mm crochet hook to whip up this soft and enchanting area rug. Details here molliemakes
2. Crochet Round Rug Patterns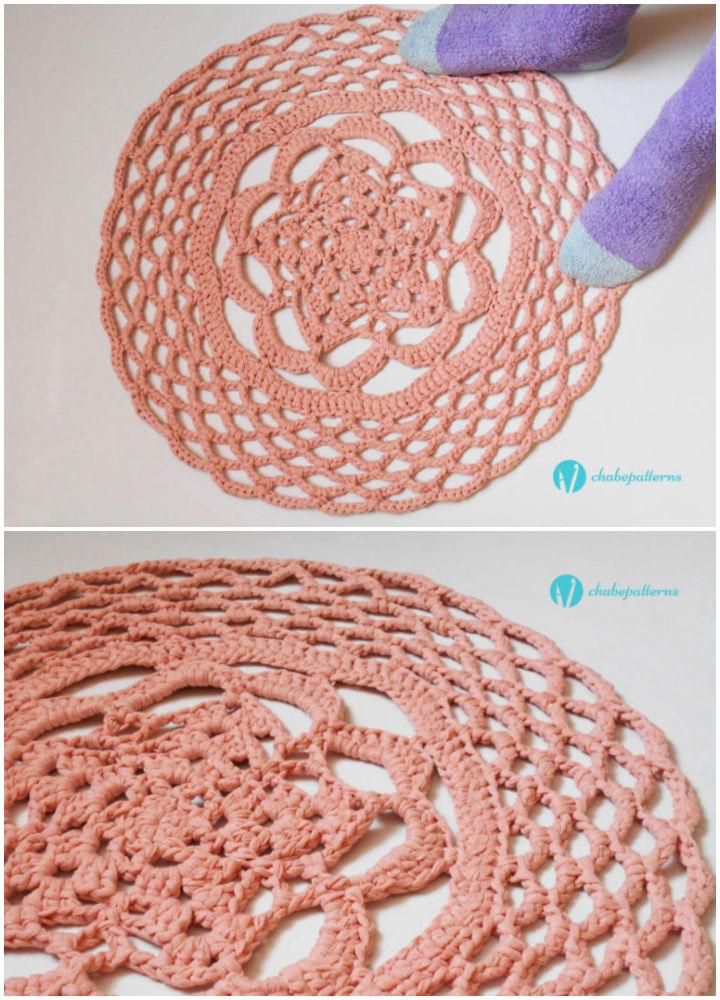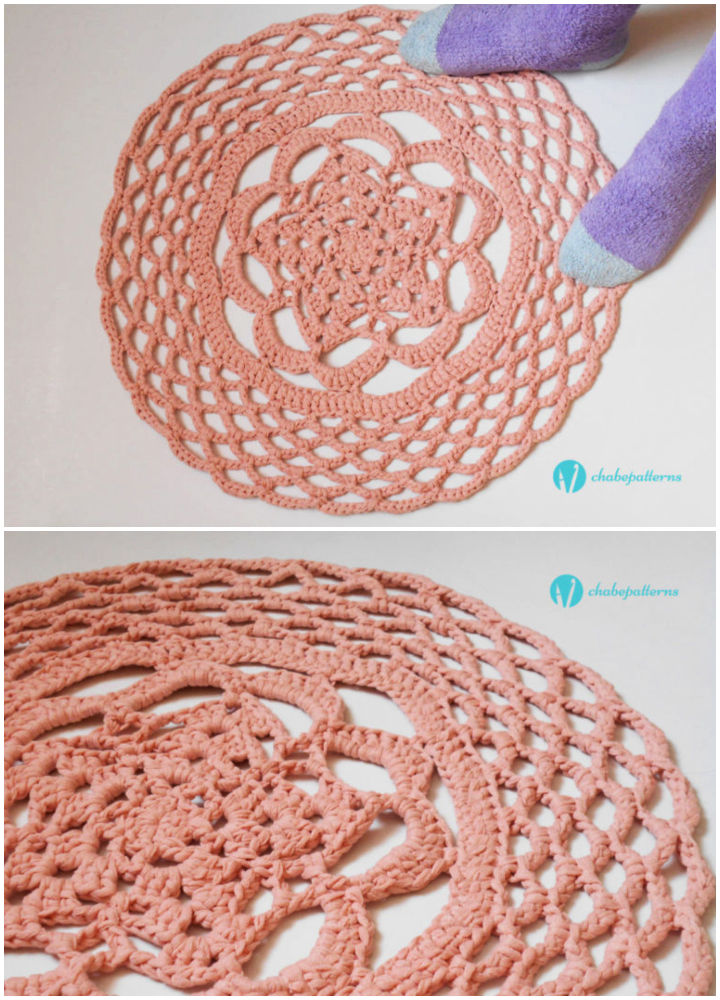 Are you big fan of the lacy but artistic things? Then this crochet round rug will surely get ten out of ten from you. You need to work in the basic yarn stitches to stitch this 22"x 22" round rug and the perfect gauge will be 11 sts x 11 rows equal to 4" or 10cm. Crochet 350g of 100% recycled cotton yarn using a 7mm hook size to crochet this amazingly beautiful rug. You need an intermediate skill level to whip up this fine looking round rug. Details here chabepatterns
3. Extreme Crochet Circle Rug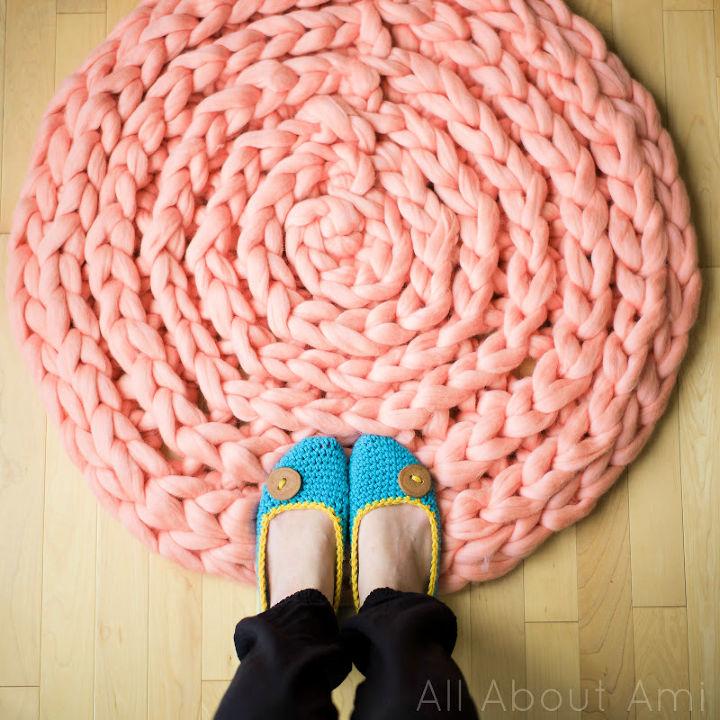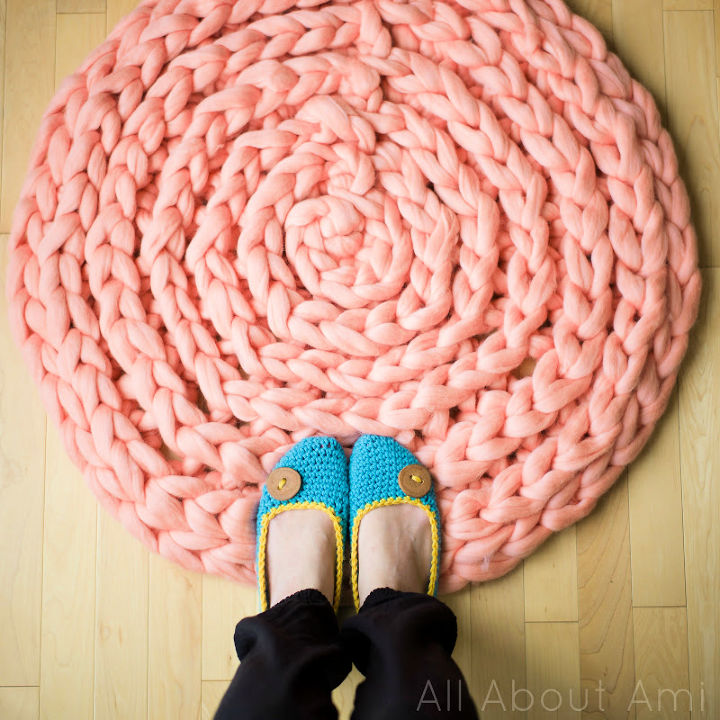 Warm up your spaces with this phenomenal extreme crocheted circle rug. It is super chunky and will provide a lot of amount of warmth to a targeted interior. Sitting and walking on this rug will be a delight in deadly cold season. Get this beautiful circular rug made using the 1 kg of unspun wood roving that you can crochet with a 40mm crochet hook. By working in rounds, one can crochet this circle rug in any size that is suitable for your space. Details here allaboutami
4. Crocheted Rainbow Rag Rug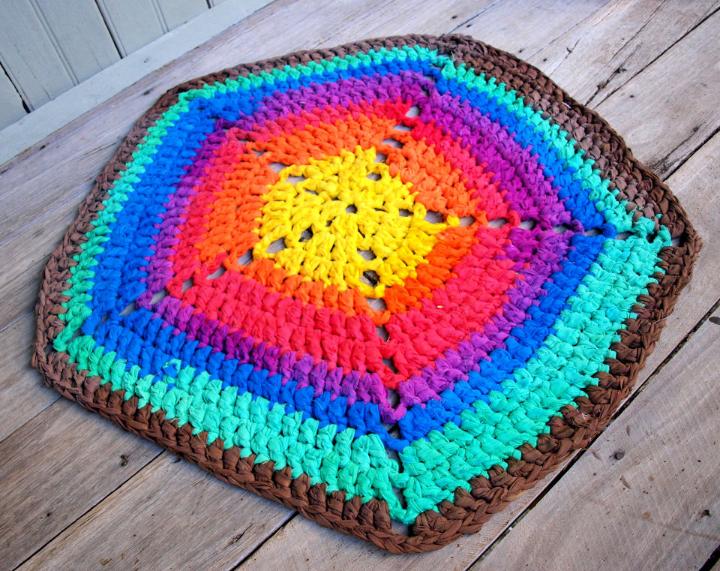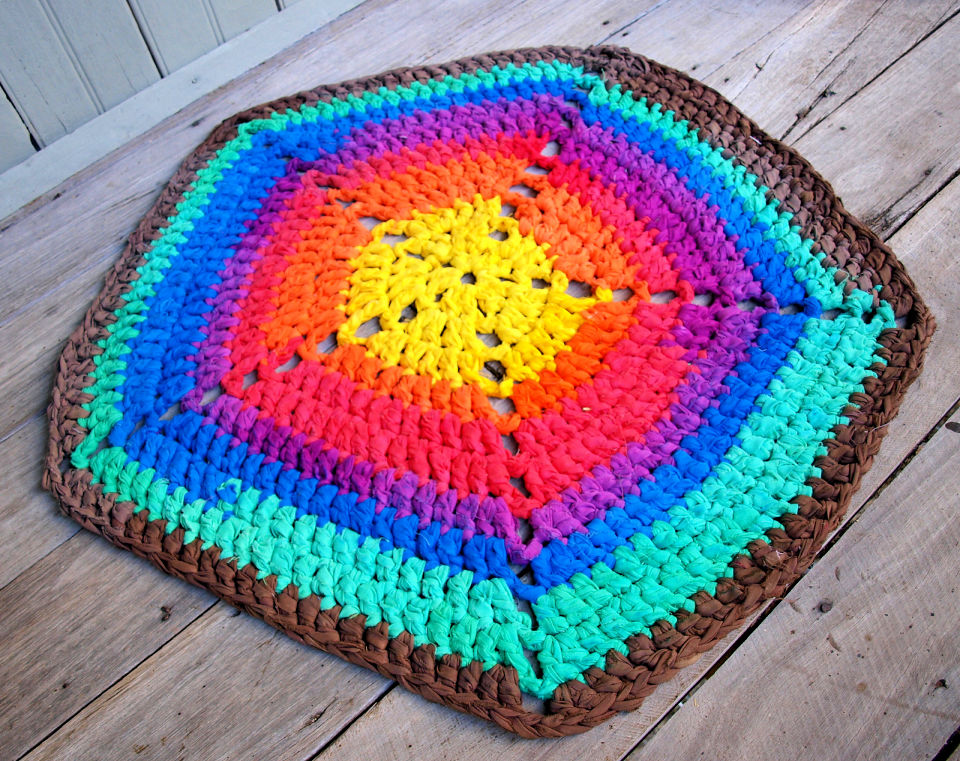 Bring rainbows to your home by adding this rainbow rag rug, something expensive to buy from the market. But here you will make it for free using your art of crocheting and with the sheet yarn. You need the two sheets that you can take into strips to make yarn. Next, dye this yarn for a rainbow appeal and start crocheting with a 12mm hook to get this rainbow rag rug made. Use the sewing machine to sew the strips together making the yarn balls. Details here pepperplace
5. Free Crochet Mandala Floor Rug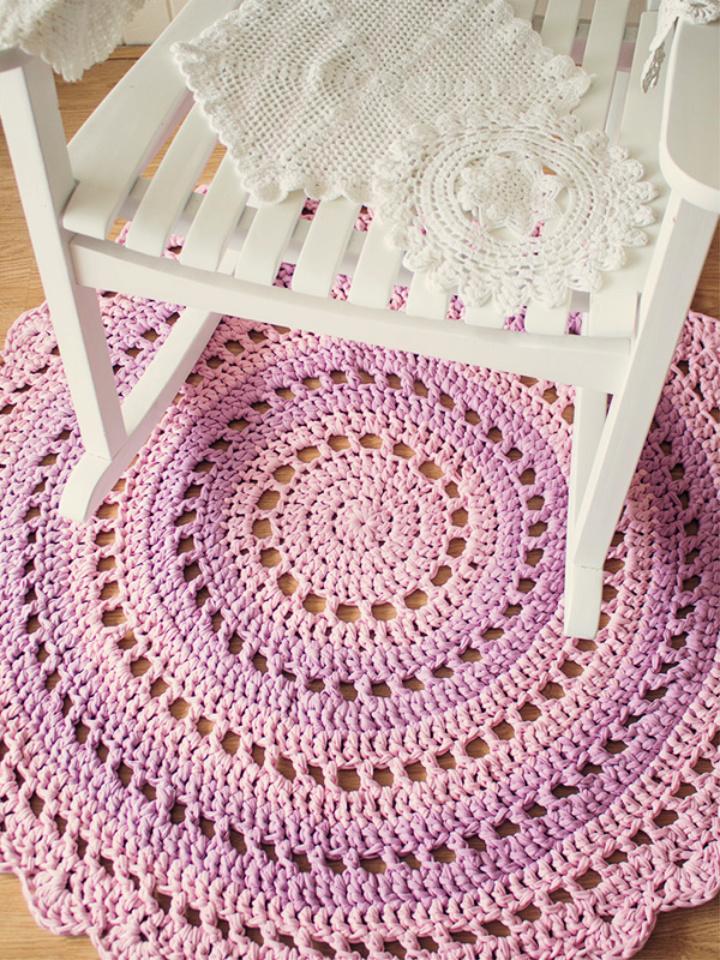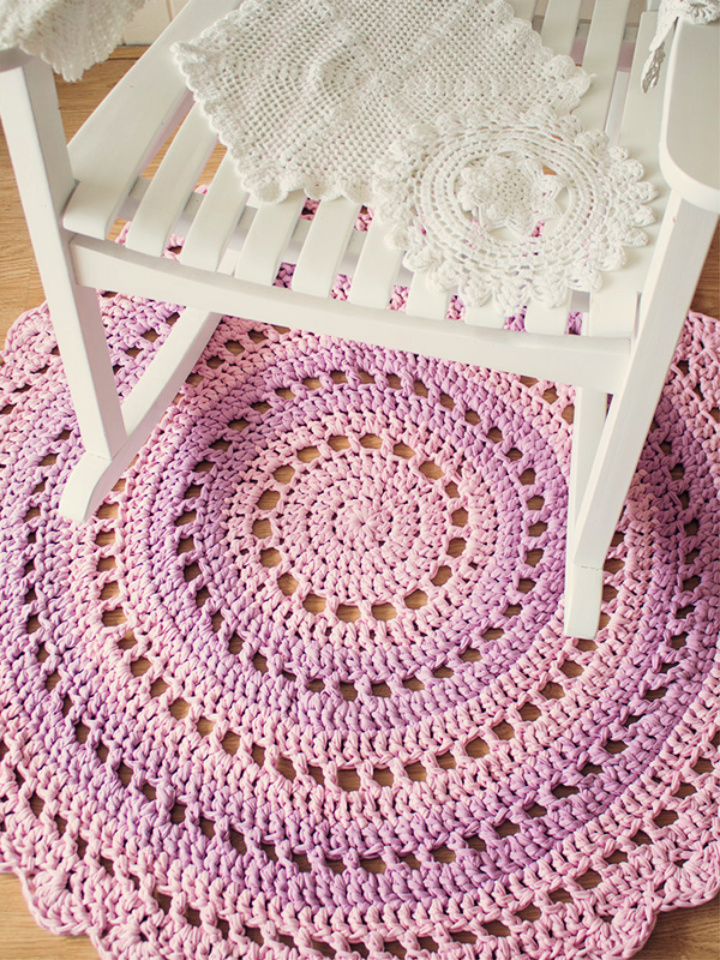 The old t-shirts can be recycled in lots of different ways but making again the fabric stuff is recommended like this fantastic area rug. If you are handy at crocheting some mandalas then simple whip up a big mandala using t-shirt yarn and use it as a sweet floor rug. Grab the t-shirt zpagetti yarn in any two colors of choice to get this mandala floor rug made. Using the 15mm crochet hook is recommended to crochet the chunky t-shirt yarn. You need an intermediate skill level for this crochet mandala rug pattern. Details here crafts tutsplus
6. Crochet Tummy Time Nursery Rug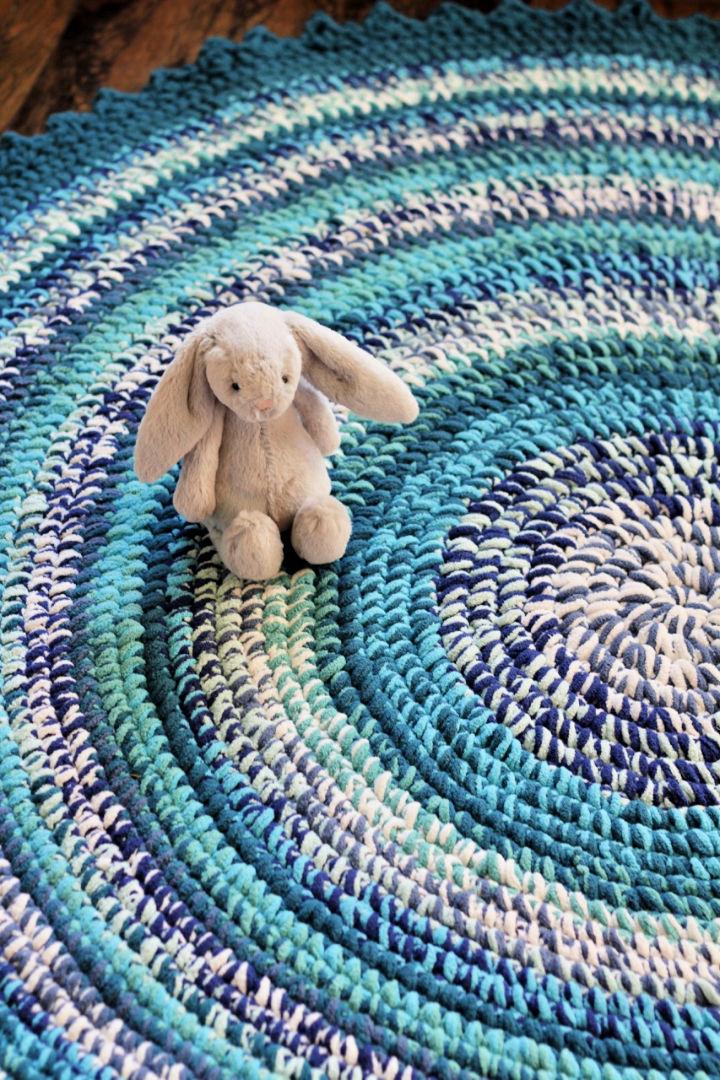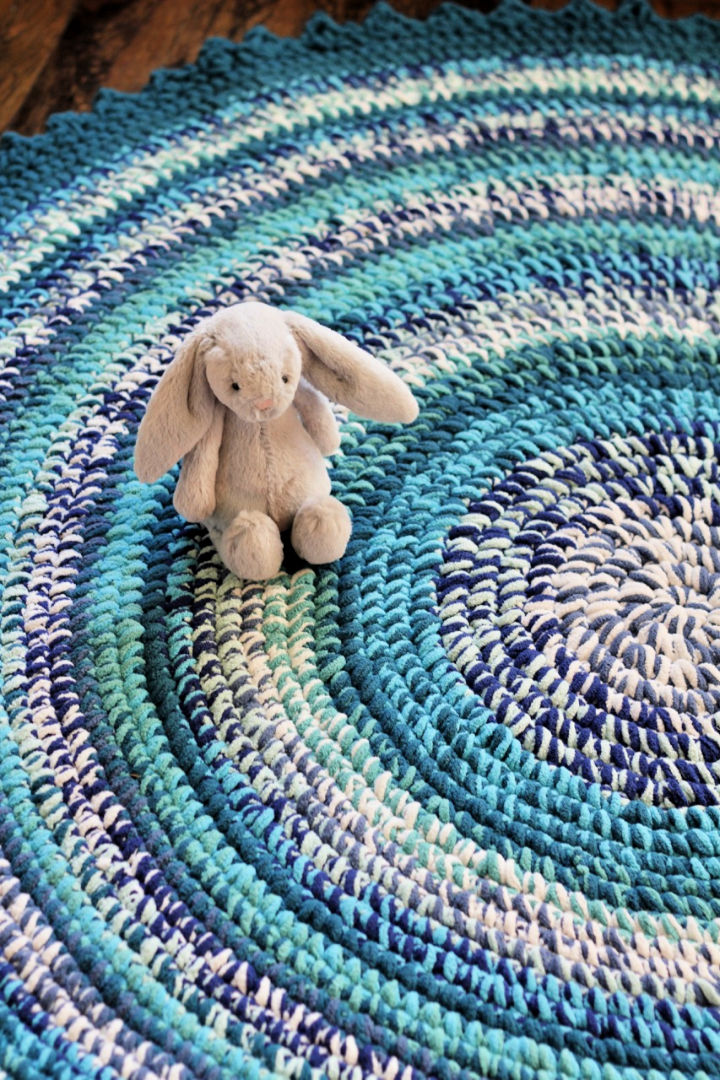 Fancy up the kids' nurseries with this adorable nursery rug, will bring tons of focal stimulation, texture and comfort to the targeted space. Crochet the Bernat Blanket Stripes in colors of choice to make this nursery rug. Tightly packed rounds will surely impress and you need a 9mm hook to stitch this nursery rug pattern. Use the darning needle to weave in ends. Finished size of this tummy time rug is 48" in diameter. The very skill needed for this crochet rug pattern is the magic circle. Details here growkneadpickle
7. Crochet Circle Rug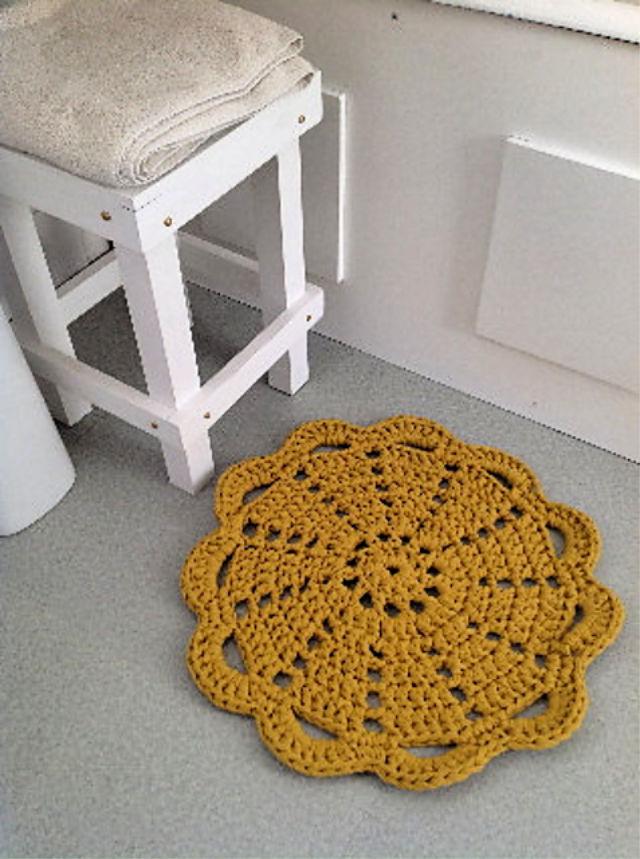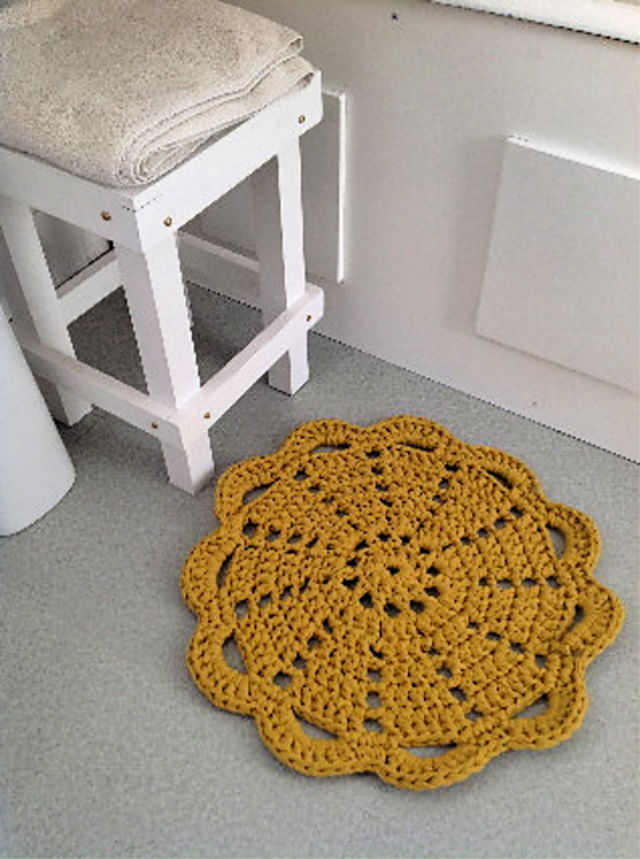 Keep on happy hooking to make your home look beautiful. This time get busy with the hooked zpagetti yarn to stitch this crochet circle rug that is bit lacey and impresses with the wavy edging. This large rug comes with 21" diameter but you can make it in any size you want. Crochet the 850g of the above yarn with a 10mm hook to get this circle rug made, will fancy up any indoor space. Make this yarn from the old and recycled t-shirts lying around in your home. A one of the best circle rug ever made at home. Details here thosedandelion
8. Crochet Round Floral Rug Pattern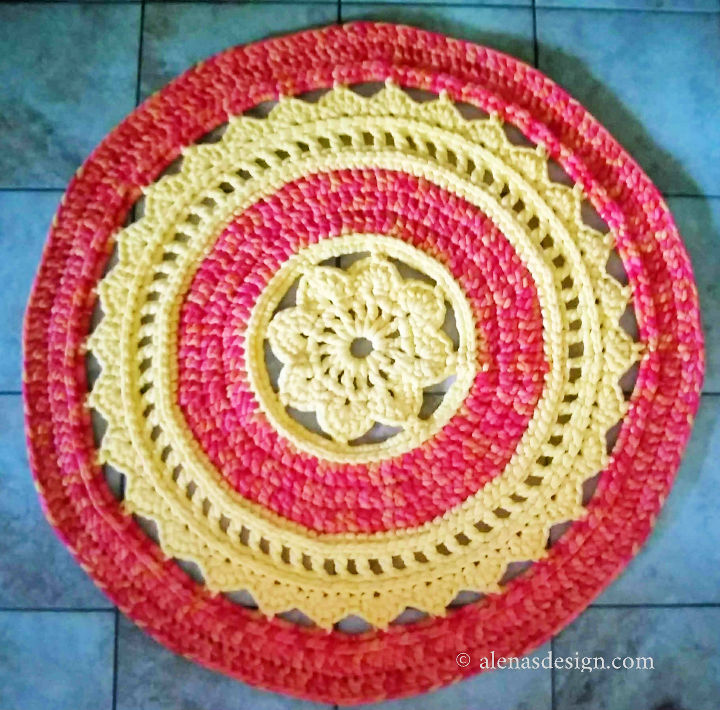 Bring the colorful floral vibes to your interior home spaces by adding this round floral rug in the center, a crazy crochet achievement. You need an easy skill level for this crochet rug pattern and the finished size of this rug is 40" in diameter. Grab the 250g of Bernat Maker Big jumbo weight 50% cotton and 50% nylon yarn and crochet it with 15mm hook to get this round floral rug made. Gauge for this rug pattern is, 7dc and 3 rows equal to 4"/10cm. This floral rug will surely enhance your interior appeal. Details here alenasdesign
9. Easy Crochet Rug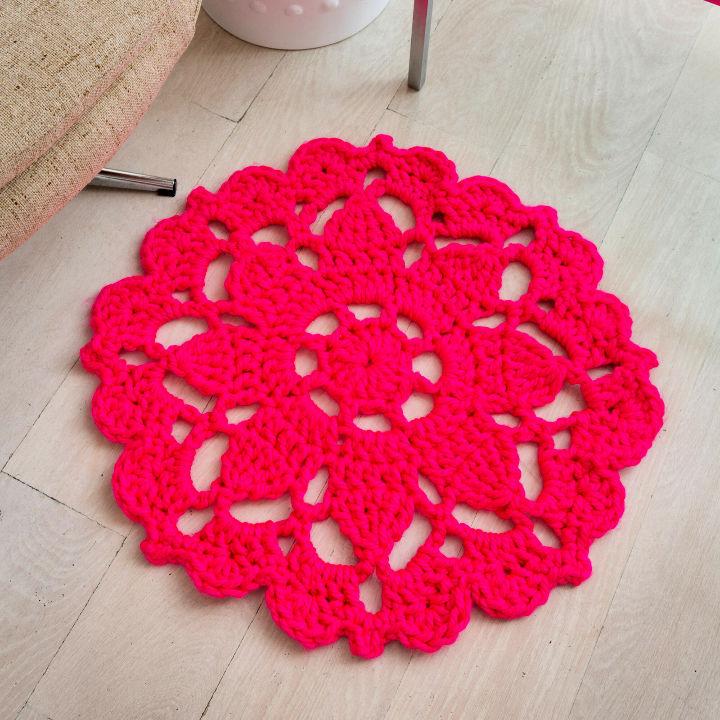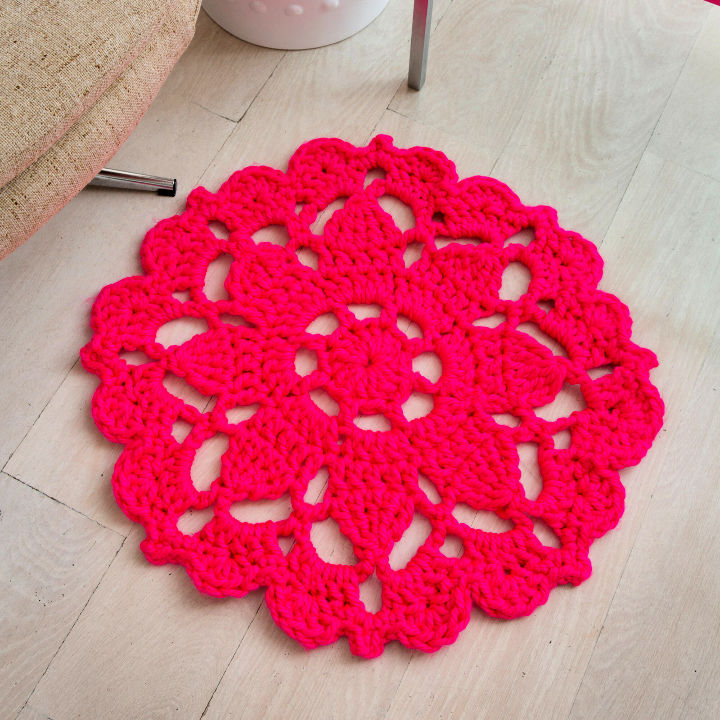 A one of the best crochet rug ever crocheted, appear in the dark pink girlish color. Add it in a girlish room for an instant enhanced visual. Get busy with your easy skill level and crochet the Red Heart Vivid to crochet darling pink rug. Use a small crochet hook or eye needle to hook up this beauty. The best crochet mandala rug that will instantly bring a splash of color to a targeted space. The idea choice of rug if you need to bring some floral vibes also to a particular interior space. Details her yarnspirations
10. Lacy Doily T-shirt Yarn Rug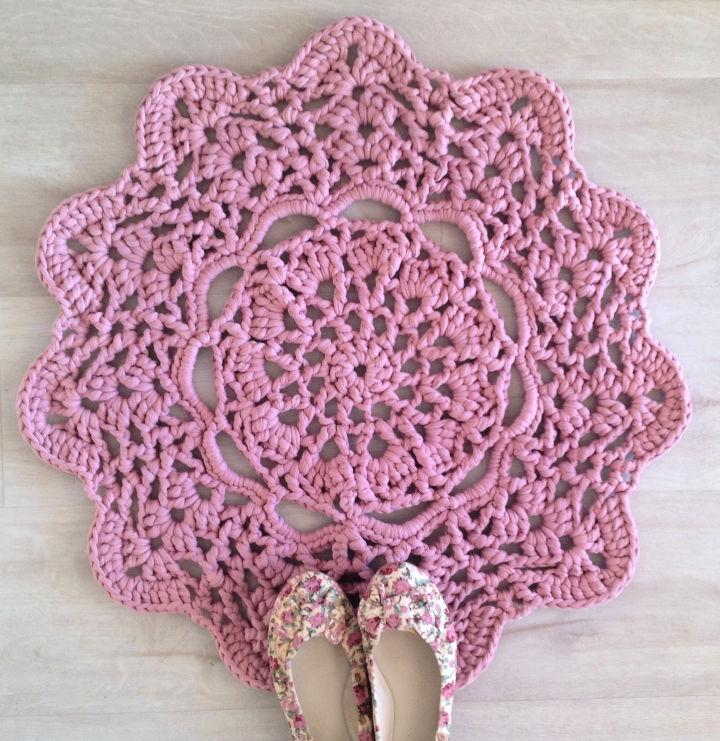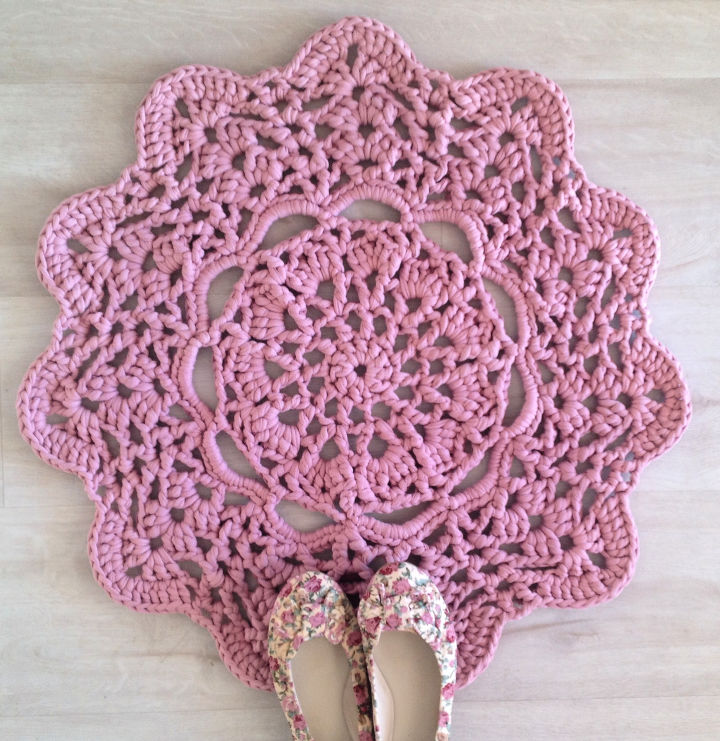 Crochet the giant lacy doilies to use as fantastic indoor rugs. Spruce up your interior with this fancy pink lacy doily rug, a crazy t-shirt yarn achievement. Grab the 1kg of t-shirt yarn made of ½" strips and then crochet it 12mm hook to get this t-shirt yarn rug made, looks like a huge doily. Choose this rug to bring colors, texture and a amazing art patterns to a targeted area. The special stitch used here is the V-stitch and start hooking it up by making a magic ring first. Details here crochetinpater
11. Simple Crochet Round Rug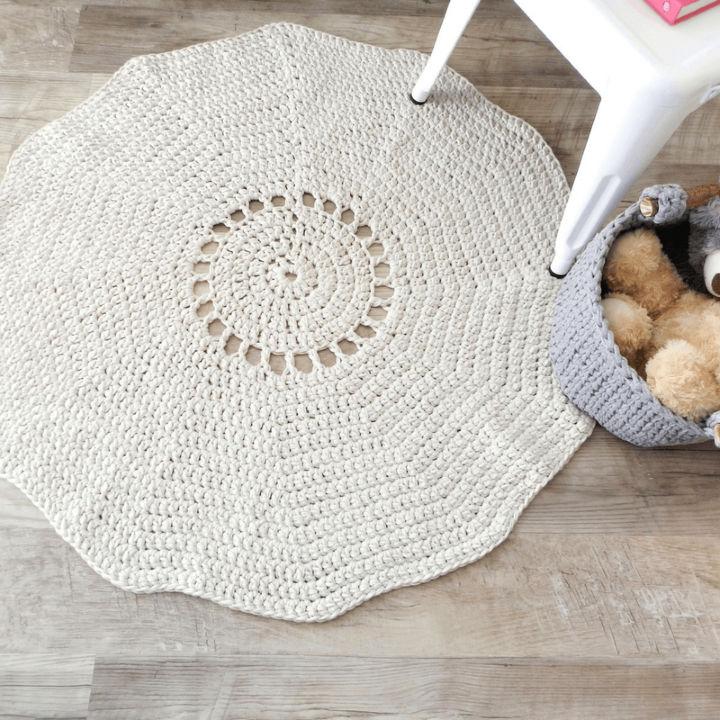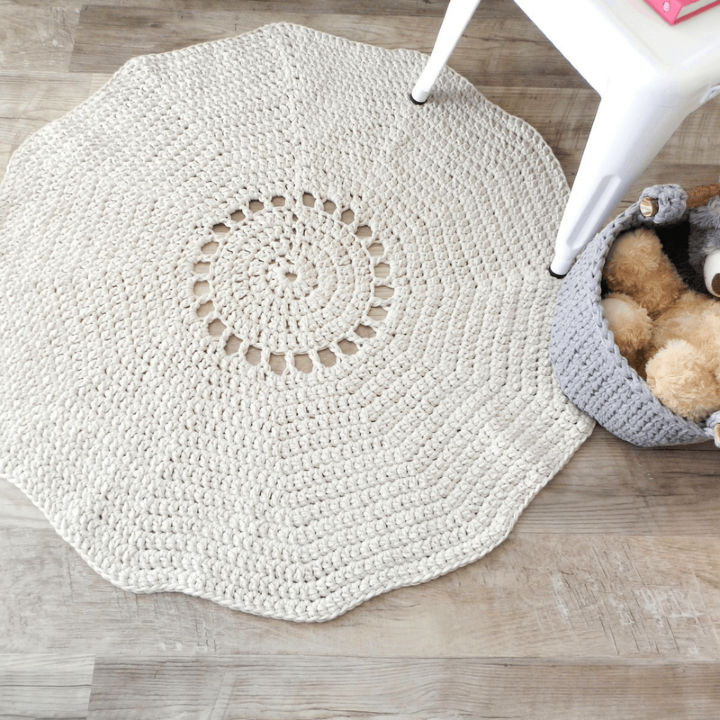 The best crochet round rug pattern that all crochet ninjas will love to crochet. This giant round rugs features a neutral hue and hence will rock for the fall season. Moreover, you will get the guides here too about how to crochet a flat circle. For this crochet rug, you need 4 skeins of Bernat Maker Home Decor yarn in cream color. Crochet this yarn with a 12mm hook size to get this beautiful crochet round rug made. The design features a graceful lacey mandala in the center for an enhanced visual appeal. Details here sweeteverlyb
12. Granny Stripe Round Rug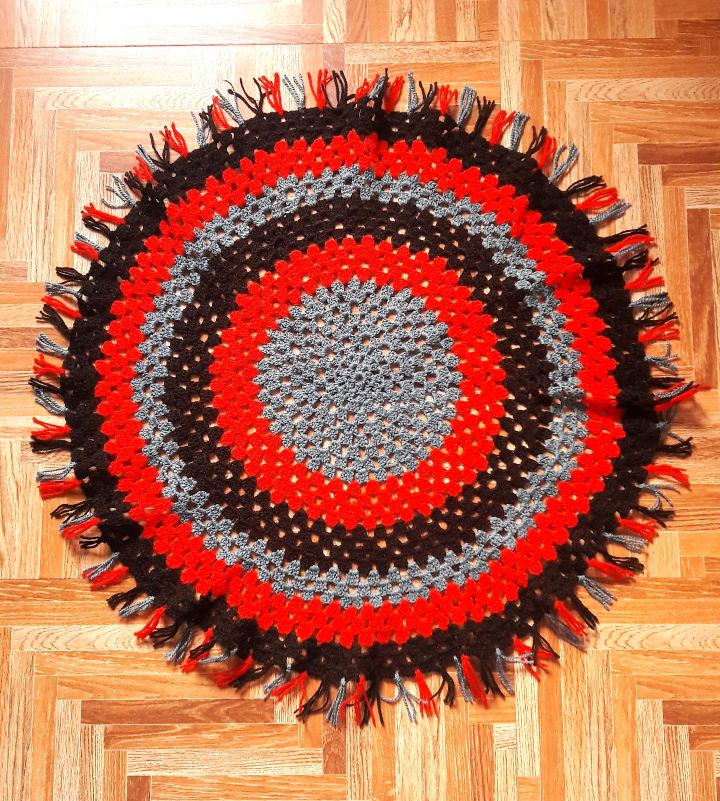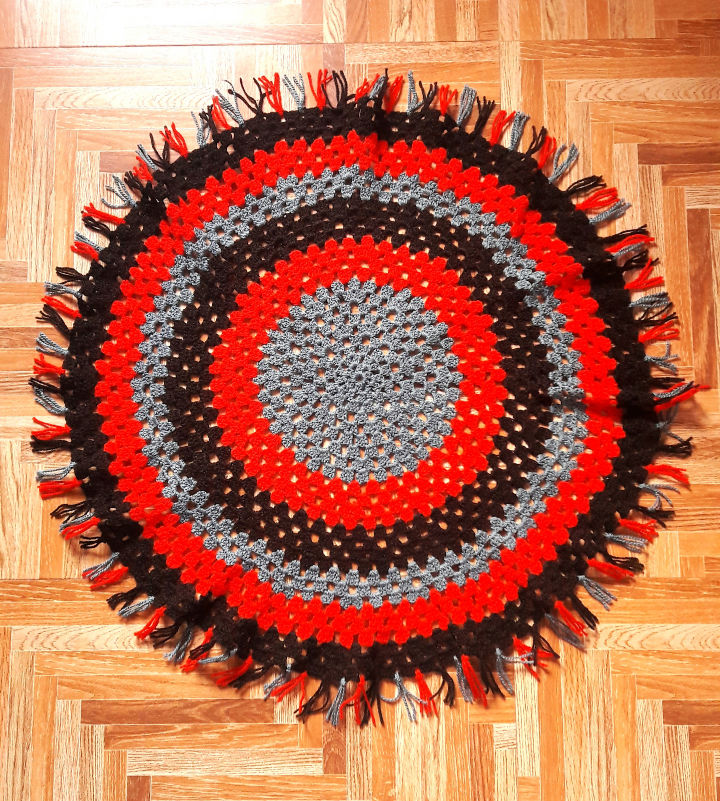 Establish sophistication to a particular interior along with bringing a splash of colors by adding this granny stripe round rug. Here you need 330g of sport weight yarn in any 3 colors to whip up this fantastic crochet striped round rug. Work in rounds to whip up this alluring around rug and entire pattern involves no sewing. Gauge for this pattern is 3 repeats are equal to 10cm and you need a 3.5mm hook to hook up this fantastic granny stripe round rug. A one of the best crochet round rug ever crocheted. Details here ravelry
13. Round Crocheted Rug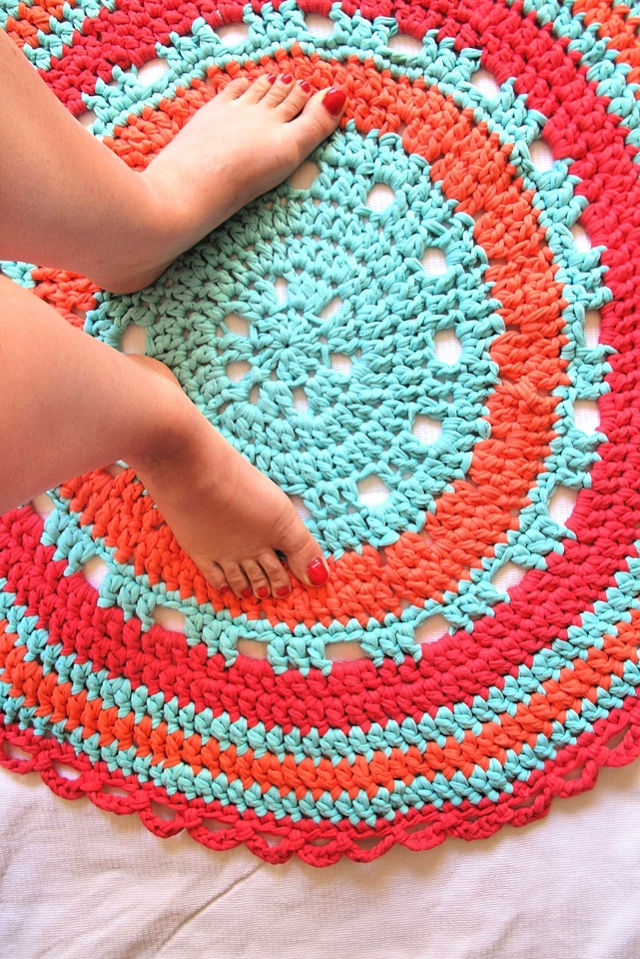 Grace up your interior with this another graceful crochet mat or rug that is actually a giant crochet mandala pattern. The completed size of this crocheted rug is 85cm in diameter but you can crochet or a smaller or bigger size of it too by adding and removing the rounds. Crochet the t-shirt or the zpagetti yarn from hooked with a 12mm hook to stitch this round crocheted rug, will be a breeze to whip up. Choose the yarn in any 3 colors of choice for this crochet rug pattern. Details here mooisvanme
14. How to Crochet Round Rugs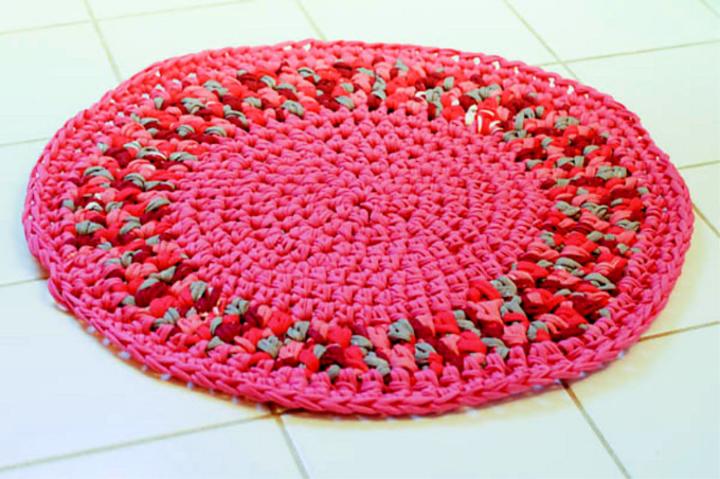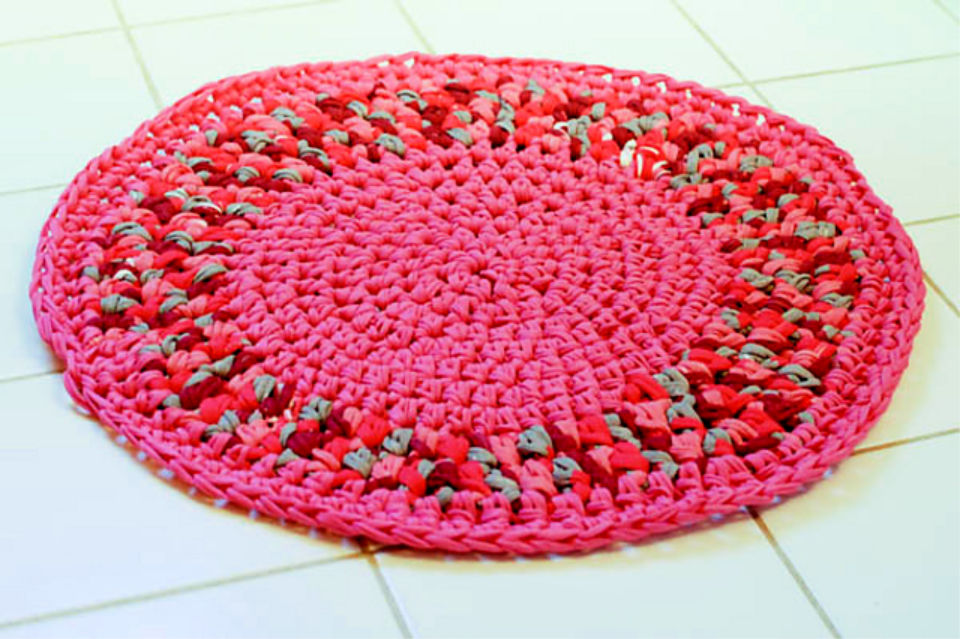 Crochet 2 skeins of Lion Brand's Fettuccini yarn in solid and assorted colors or 110yds of fabric yarn to whip up this adorable crochet round rug. You need a 15mm hook size for this pattern. The skill required for this crochet round rug pattern is the magic ring and the finished size of this crochet round rug is 22" in diameter. This rug will bring an instant splash of colors to any decided space and can be given as a great housewarming gift too. get this crochet round rug for noise reduction too. Details here petalstopicots
15. Upcycled Round Rug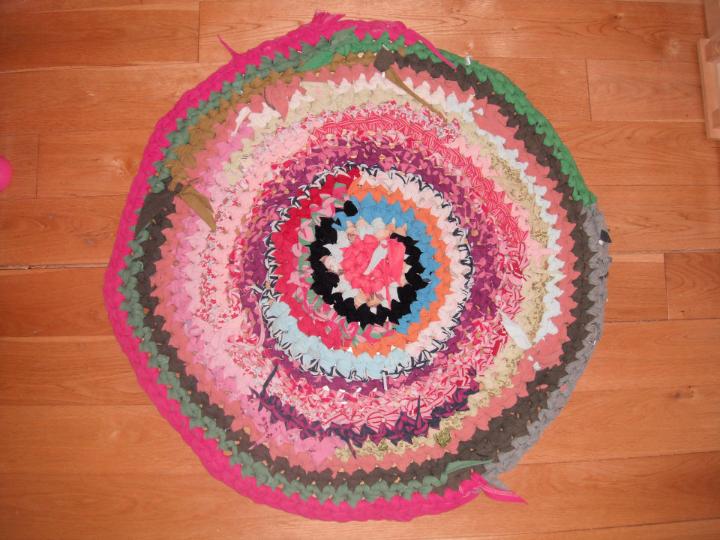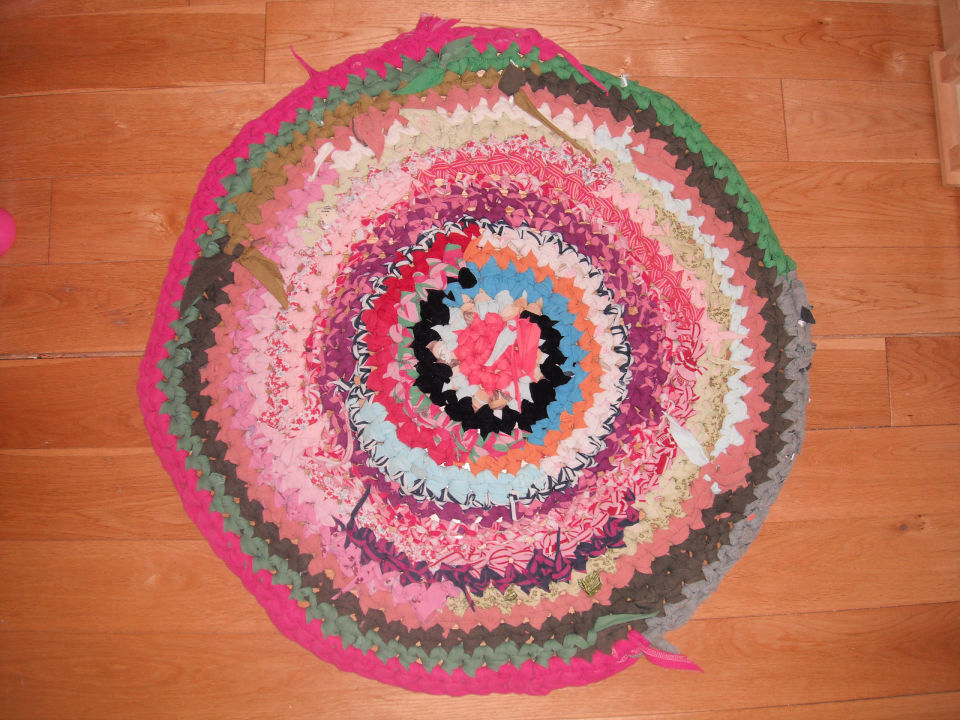 Again start with a magic ring while using a 15mm hook to stitch this fancy upcycled round rug. This braided round rug featuring the striped appeal is to make with the t-shirt yarn that you can make at home without getting expensive. Simply take your old t-shirts into 2" long strips that you can sew together making this fabulous round rug. This little crochet rug or mat is recommended to get when wishing to fancy up any bedroom or a particular interior. You are all free to try this rug with any desired combination of yarn. Details here lifewiththewildbe
Conclusion:
The crochet rugs can be a smart choice when wishing to make the interior look more beautiful, comfortable, and warm. They are the best cozy layers to spread on the hard floors that appear in outstanding colors and textures enhancing the overall visual of the room or space. Buying a custom rug design costs a lot but you can crochet a one by yourself using your art of crocheting. These free crochet round rug patterns will be a total help to crochet one of your choices like a pro. Make the yarn out of your old t-shirt and get busy with big yarn hooks to crochet rugs.
Related Free Crochet Patterns: