The kids getting ready for the back to school season will surely love the crochet pencil case to amaze the classmates. So, go with these 15 free crochet pencil case patterns will help you to make the best back to school crochet pencil pouch that your kids will love to show off within the class. From the parent's side, these pouches are the easiest crochet patterns that will make heart-winning gifts to all school going kids. Moreover, these projects are one of the best crochet stash buster patterns. Turning the yarn trash into treasure will make you feel really proud.
There can be so many different design choices for lots of different tastes. This list of 15 free crochet pencil case patterns will cover all the popular designs to choose from according to taste. Most of these patterns require a beginner and an intermediate skill level mostly. These crochet pouches here are the best way to keep using those odds and ends of the yarn you left with after doing bigger yarn projects.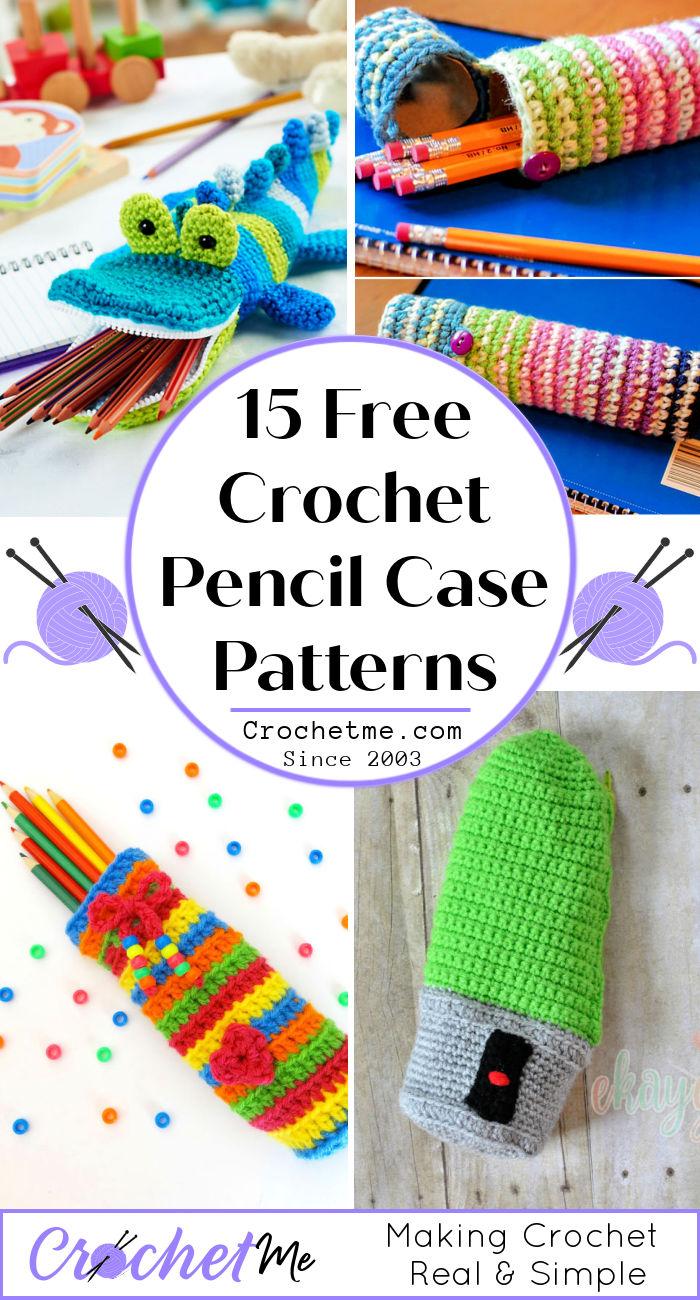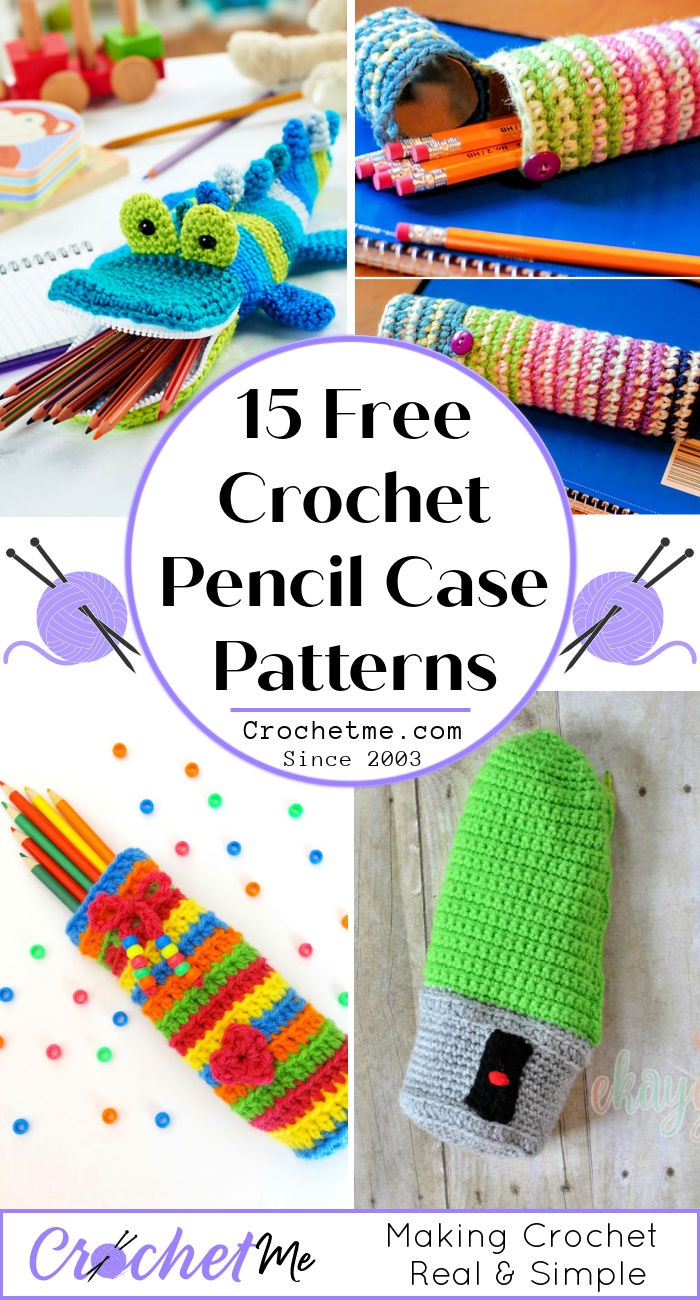 Make the scary shark-like pencil cases, will dazzle all the kids and will impress with the scary fun way of holding your pencils. Simultaneously, stitch the yarn for making crocodile pencil cases will make the best back to school gifts for the kids at home. You will get here free patterns and instructions for all from color block style to striped to crocheted-in art pencil pouches. Explore the entire list of these crochet pencil pouch patterns to get your crochet hook inspired.
1. Crochet Candy Stripe Pencil Case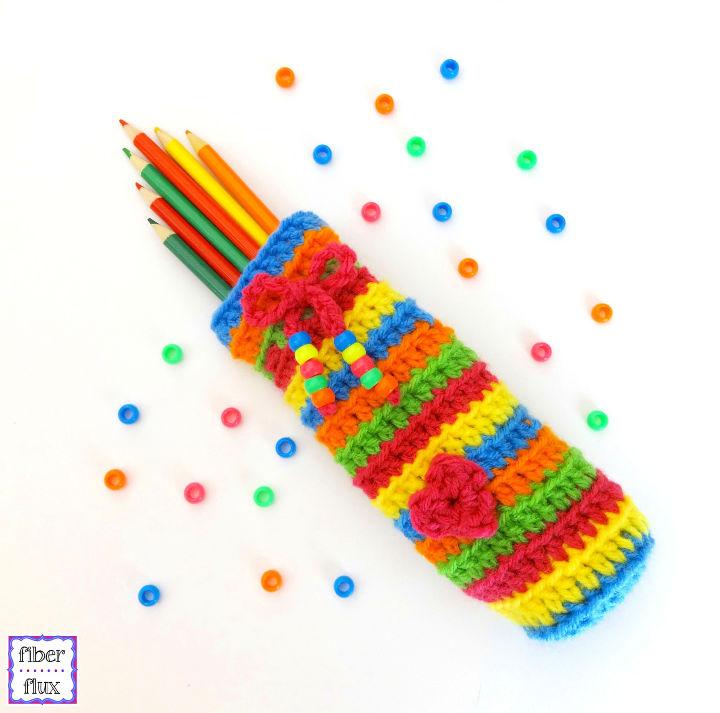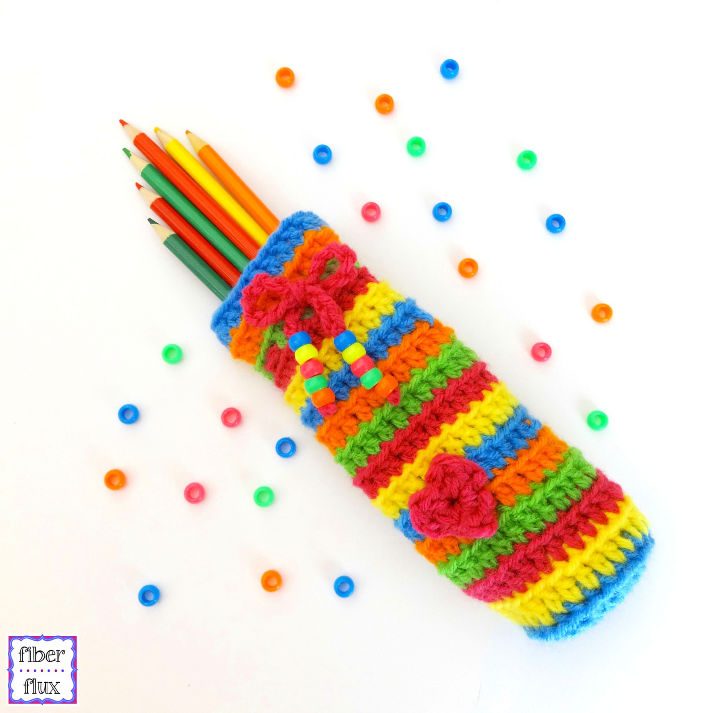 The best crochet back to school project, a lovely colorful pencil case that features bright and vivid yarn stripes. Crochet, this pouch will not be a big hassle to put together even with the scrap yarn. The beaded tie closure brings tons of cuteness more to this pencil case, crocheted to inspire. Crochet worsted weight yarn in colors of choice with a 5mm crochet hook to whip up this fantastic crochet pencil case. Use the Cr the Red Heart Super Saver yarn in green, bright yellow, blue, and pumpkin color to whip up this pencil case. Details here fiberfluxblog
2. Tapestry Heart Pencil Case – Free Pattern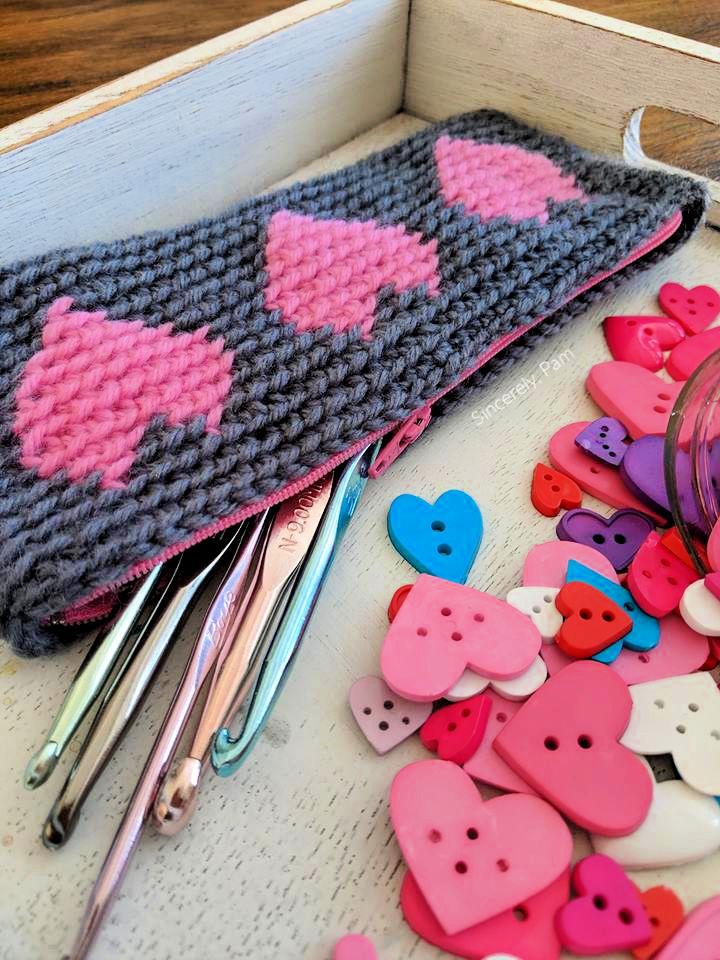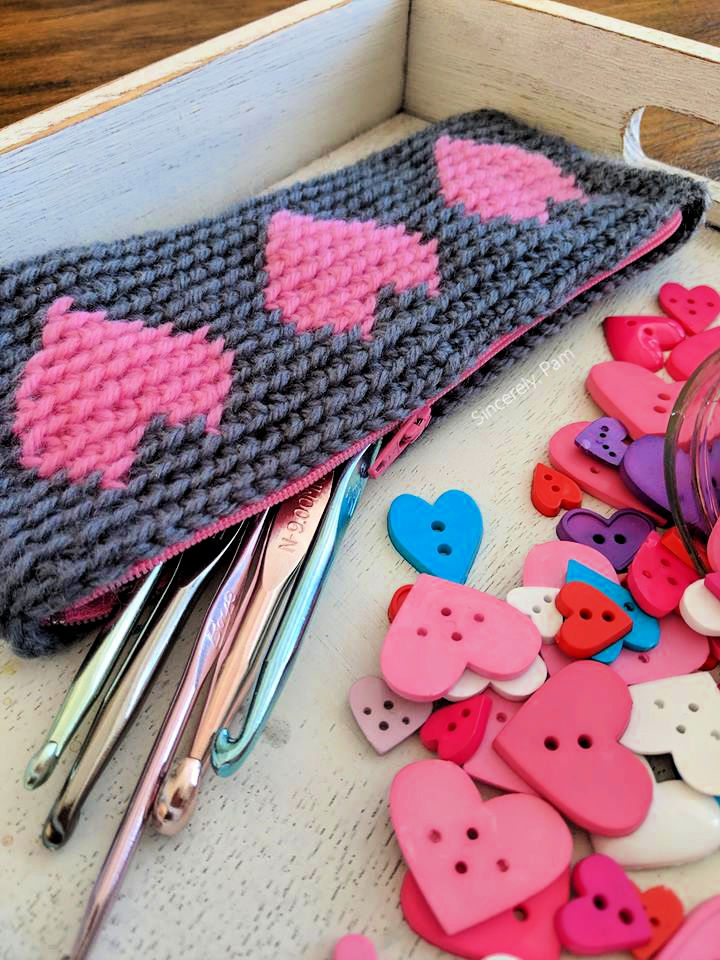 This fantastic pencil pouch comes with an enchanting pink heart motif and will make a great love gift too. Crochet any 2 colors of worsted weight 4 yarn with a 4mm hook to whip up this pouch. Finish it off with a 7" closed zipper. It will be something beautiful to give to kids going to school. Crocheting this pouch will require an intermediate skill level. The best gauge for this pencil pouch is 20 sc in BLO are equal to 4". The back loop only is the special skill required for this pencil pouch pattern. Details here sincerelypam
3. Back to School Crochet Pencil Case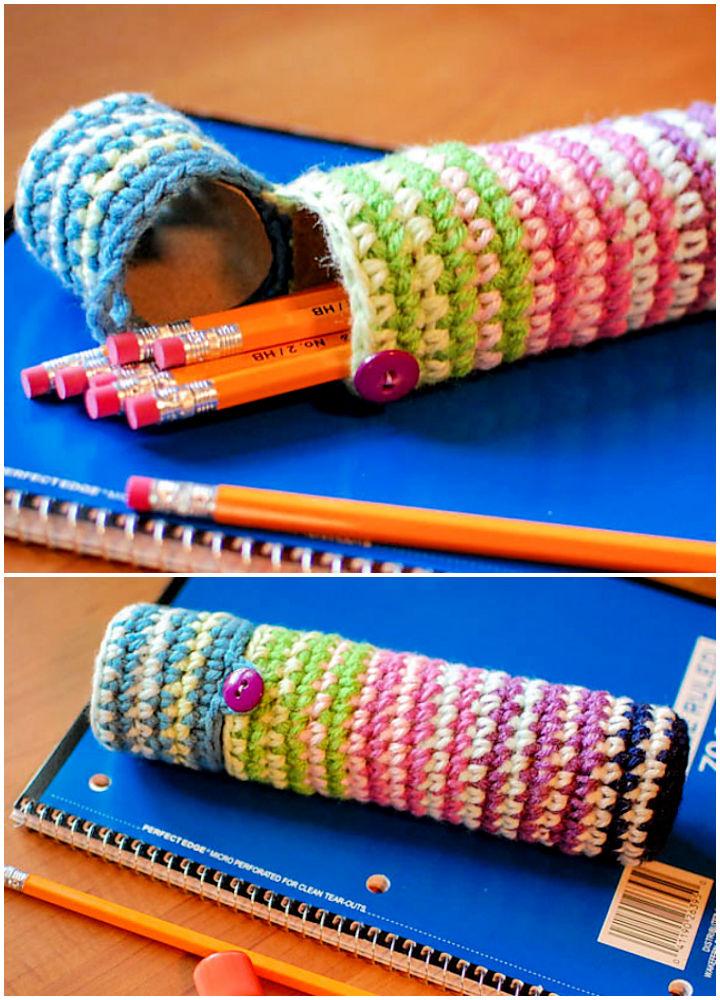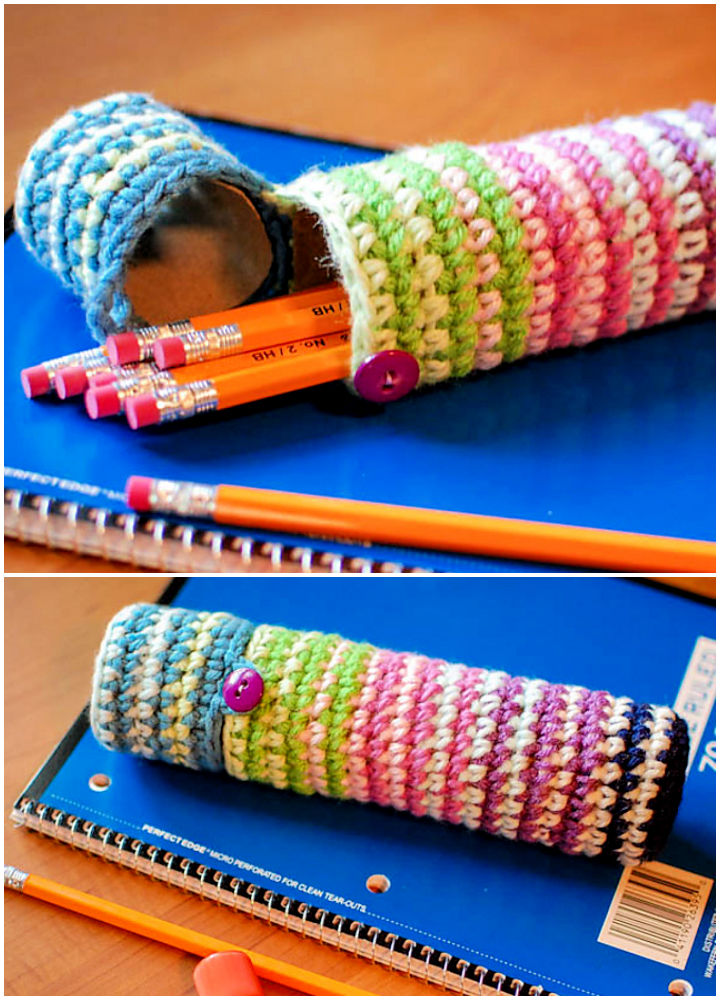 Willing to crochet something extraordinary that kids will not forget throughout the day at school? Then do whip up this cute model of pencil pouch, the best DIY back to school project. It features stripes and comes with a cardboard towel tube insert. Crochet worsted weight scrap yarn with a 4mm hook to stitch this pencil pouch that is looking adorably cute. Finish it off with the ⅝" button. Crochet the matching color striped cover for the lid too. Details here petalstopicots
4. Basic Crochet Pencil Case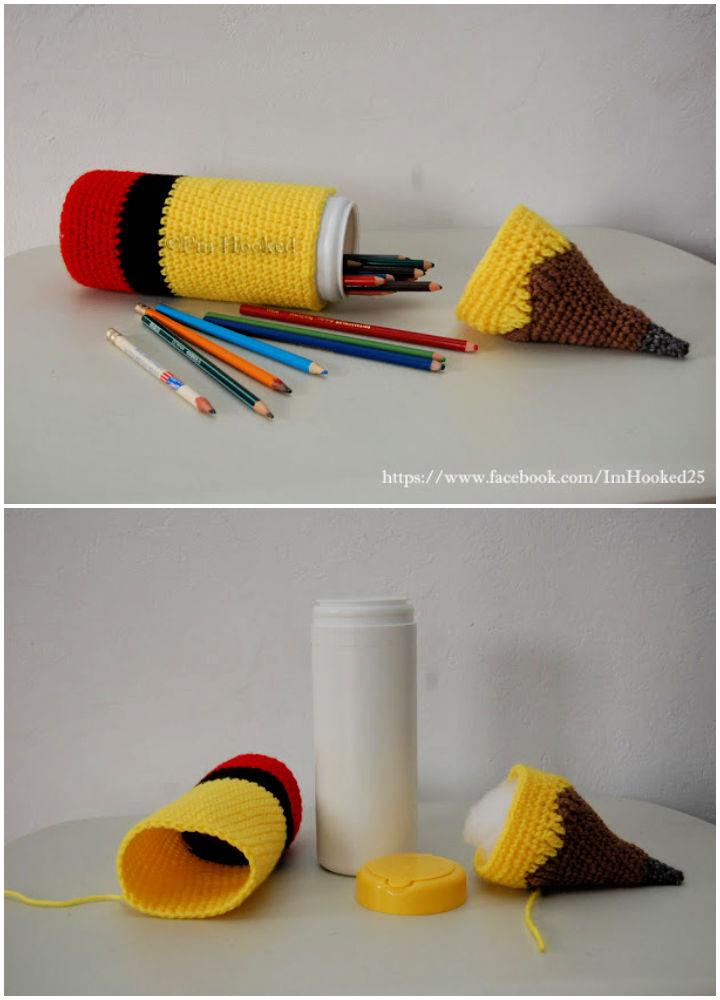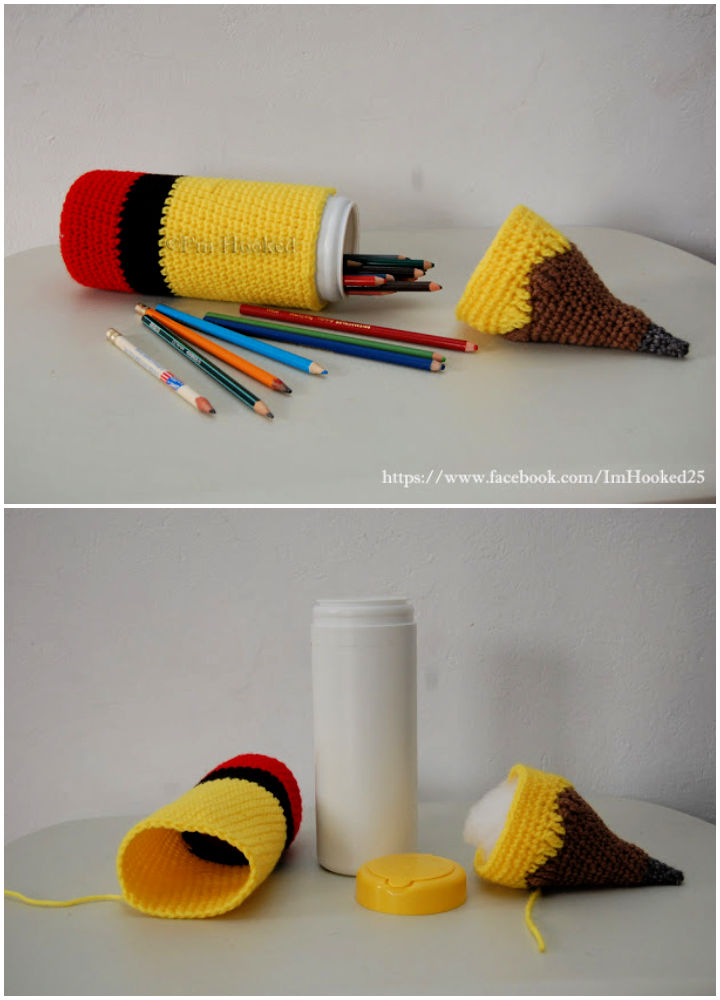 Maybe you are new to crocheting a pencil pouch. If yes, get all the instructions and guides about how to crochet a basic pencil case like a pro. In supplies, you need medium weight 4 yarn in 5 different colors to crochet using a 5mm hook to stitch pencil case. It will actually be a cover for the plastic can you will insert inside the pouch. For the lid, opt for the Styrofoam cone. A great idea to crochet the perfectly colorful sleeves for the pencil containers your kids already have in stock. Details here crochetreasures
5. Crochet Minion Pencil Case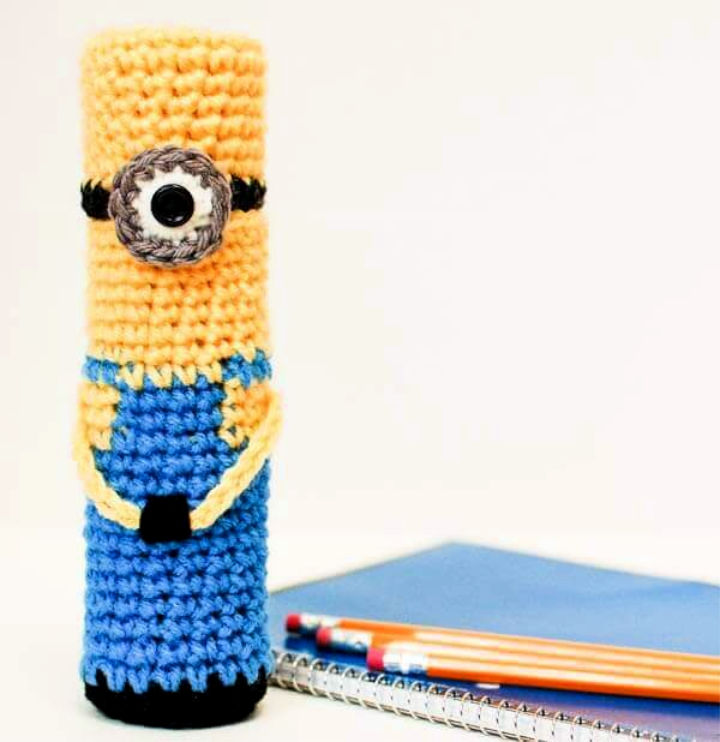 All little kids love the minions, and they will surely like the gifts inspired by those famous characters of the series Despicable Me. So, wishing to get a one in crochet medium? Then crochet this minion pencil case that is simply amazing, cute, and dazzling. This mini pencil case will be something to impress their classmates while going back to school. Crochet the pencil pouch using worsted weight yarn in black, blue, white, yellow, and gray colors while working with a G hook size. Insert the cardboard paper towel tube inside so this minion pencil case will remain in shape all the time. Finish it with ½" black buttons and also use the tapestry needle weave in the edging. Start crocheting this pattern by making a magic circle first. Details here petalstopicots
6. How To Crochet a Monster Pouch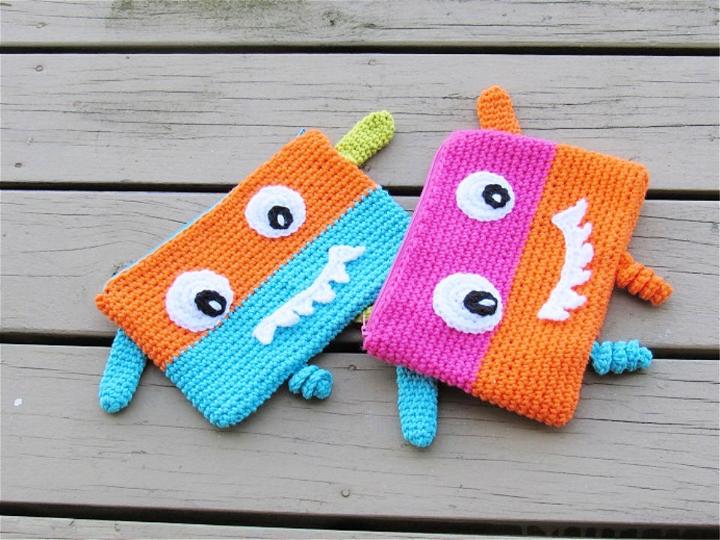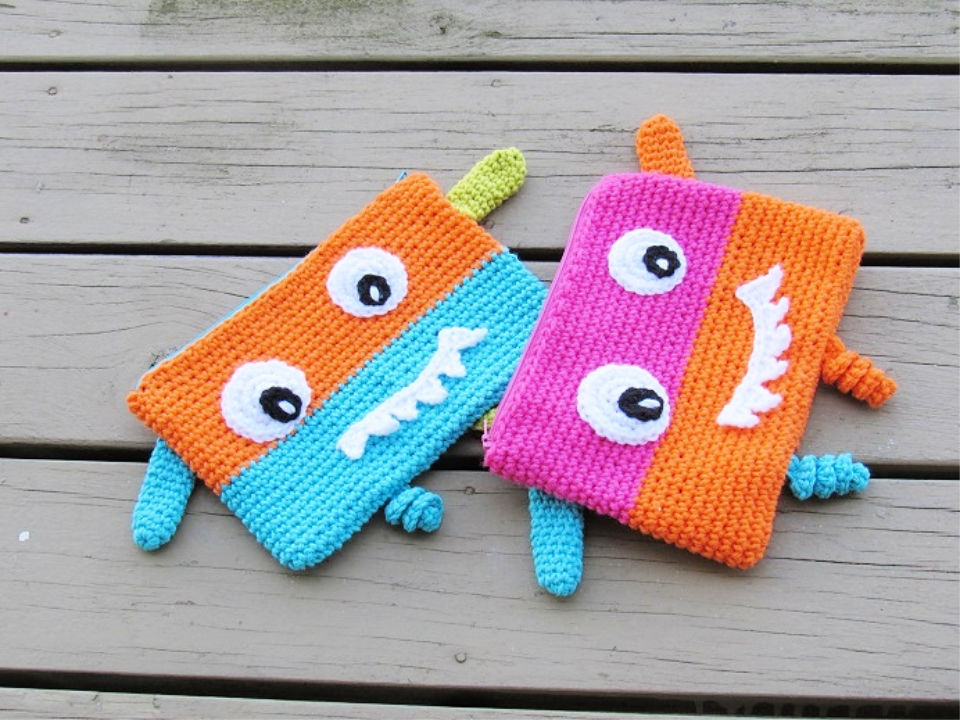 The fun little monsters will hold kids' attention with their vibrant, colorful appeal. They are fun, scary pencil pouches the kids will love to own for the back-to-school season. Crochet worsted weight 4 cotton yarn with 5mm and 3.75mm hook to work up this nice and gorgeous pencil container. This pouch comes with a 9" long zipper, and you can really add it to the pouch using needle and thread. The gauge for this pouch pattern is 14sc stitches equal to 4". The Finished size of this pouch is 6.5" wide and 9" long. Details here crochetdreamz
Crochet Batman Blanket: You'll find the very popular crochet batman blanket pattern for free.
7. Handy Dandy Pencil Case Free Crochet Pattern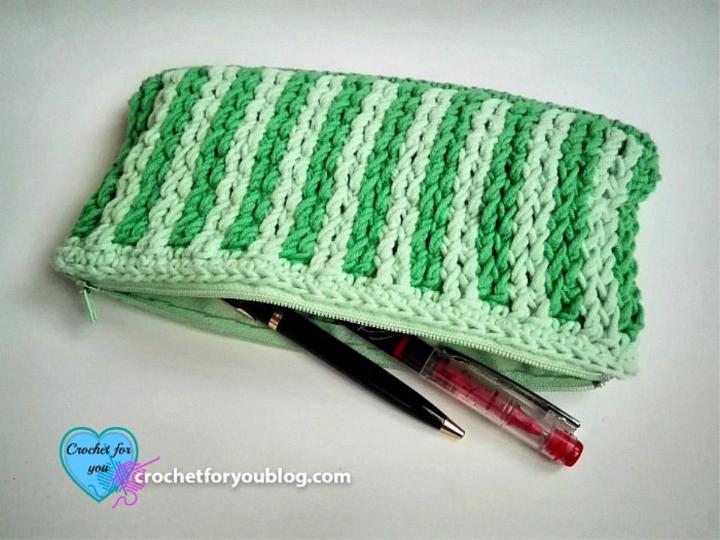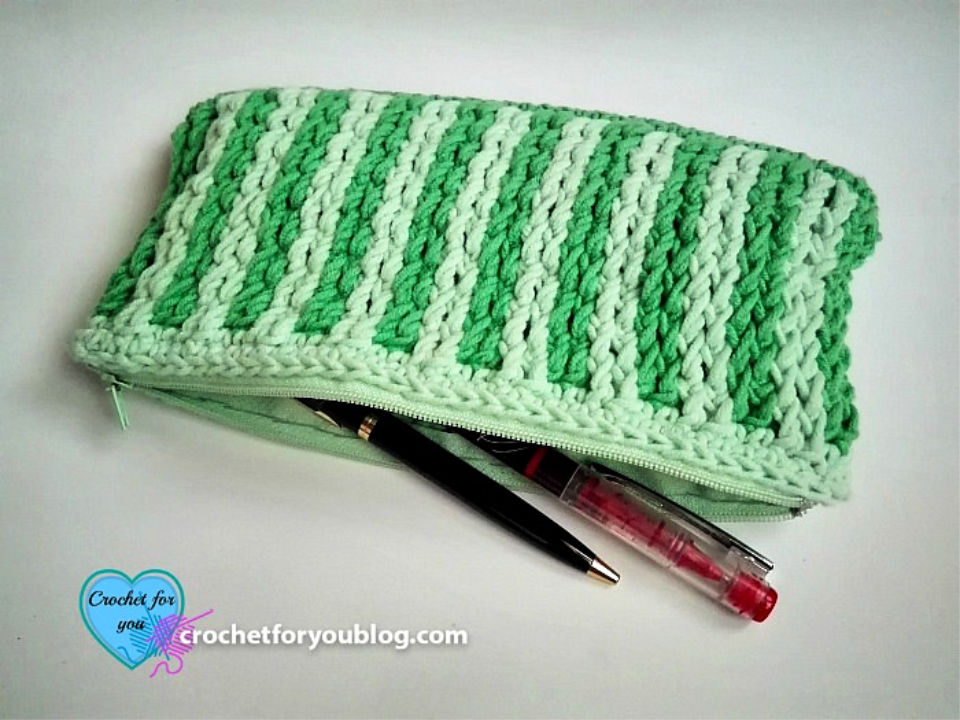 This crochet pencil bag features an interesting striped appeal in light and dark green color. It would be best if you had an intermediate skill level to whip up this pencil bag, will nicely hold your pencils. With a perfect size 4.5" tall and 8.5" wide, it will make a sweet gift to any school going kid. The 15 Hdc and 9 rows make 4" is the perfect gauge for this bag while working with a 5mm hook. Crochet worsted weight cotton blend yarn to whip up this pencil bag finished with 9" long zipper. Details here crochetforyou
8. Dolphin Pencil Case Free Crochet Pattern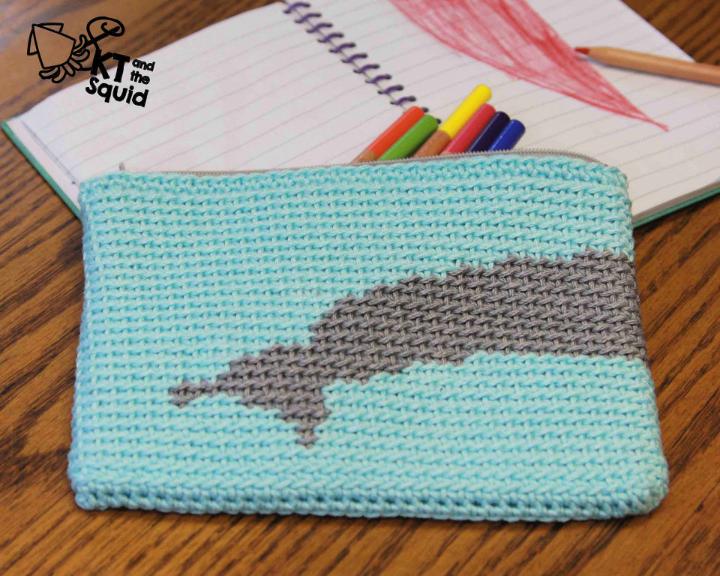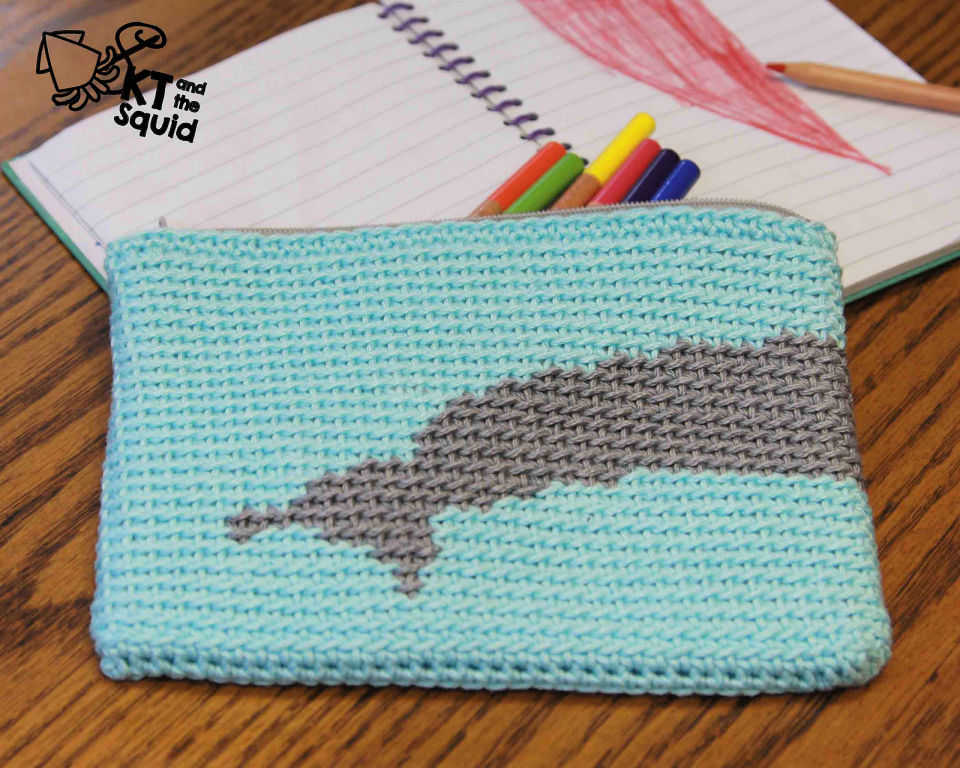 Crochet amazing pencil pouches also with lots of exciting art shapes and designs incorporated. You will surely praise the crochet creativity after looking at this dolphin pencil case. It displays nicely the dolphin art crocheted in nicely that comes half on the front side and a half on the pouch's backside. Crochet Lion Brand 24/7 cotton Yarn in aqua and silver color to put together this pouch with nice dolphin art inlay. Use the 3.75mm hook for this crochet pouch pattern having 7.5" L and 5.25" W. The perfect gauge for this pattern is 19 stitches, and 20 rows make 4". Details here ktandthesquid
9. Lightsaber Pencil Case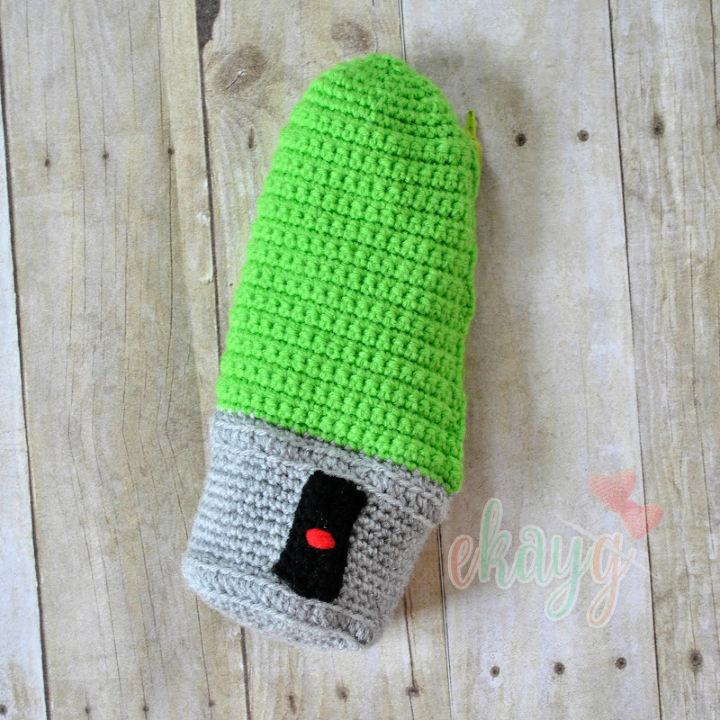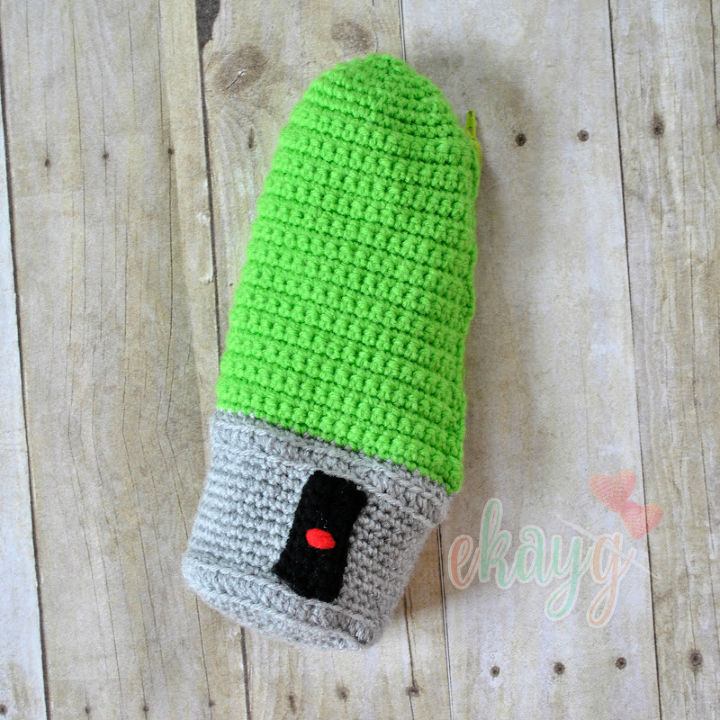 Are you kids are a big of the fictional energy swords, the lightsaber? Then Why not make this lightsaber pouch for your kids, will rock hold the pencils in style. It is durable and will go soft all around the items you will store in it. Crochet worsted weight cotton yarn in grey, black, red, and green color while using a 4.25mm yarn hook to work up this adorable pencil pouch. Add it up with the 7" zipper, and it will make a sweet handmade gift for back to school season. Details here ekayg
10. Pencil Pouch Pattern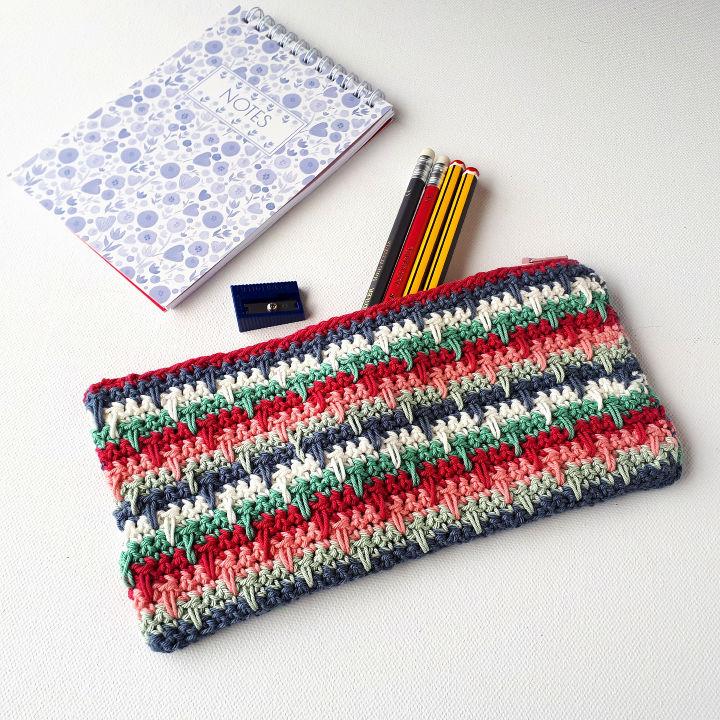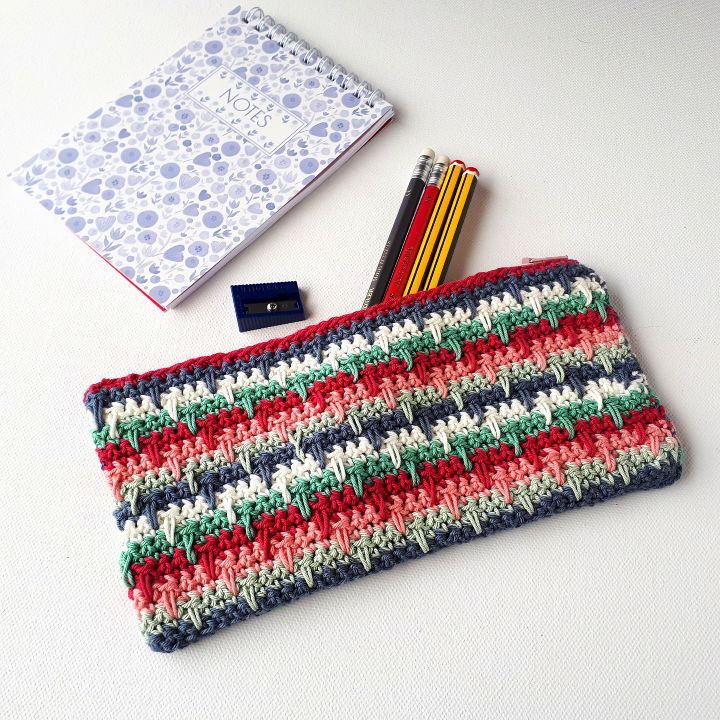 All kids like the things more that come in vibrant, colorful appeal. So, they are going to like these striped pencil pouches too. Just decide your own yarn colors to work up these beauties, the beautiful yarn pencil pouches. Crochet anchor baby pure cotton yarn for these pouches so they will be durable, soft, and cozy. The next most pleasing and heart winning gifts to give to your kids getting ready for the back-to-school season. This is something the kids will love to hold in their hands to impress their classmates. Details here anchorcrafts
11. Simple Pencil Pouch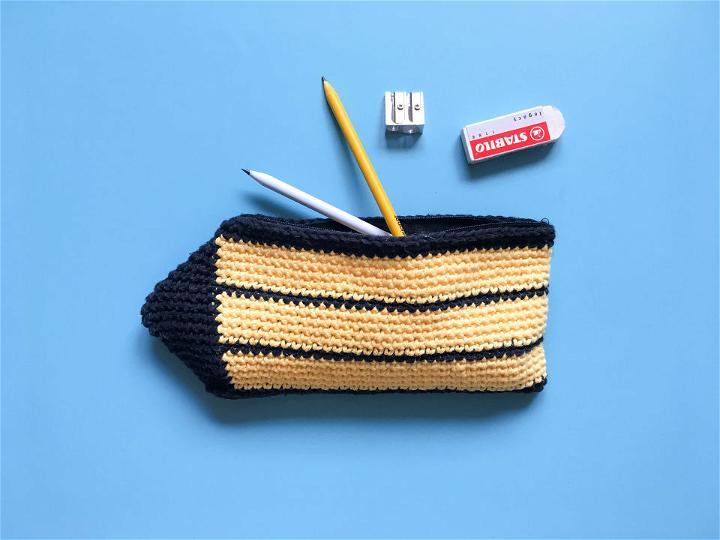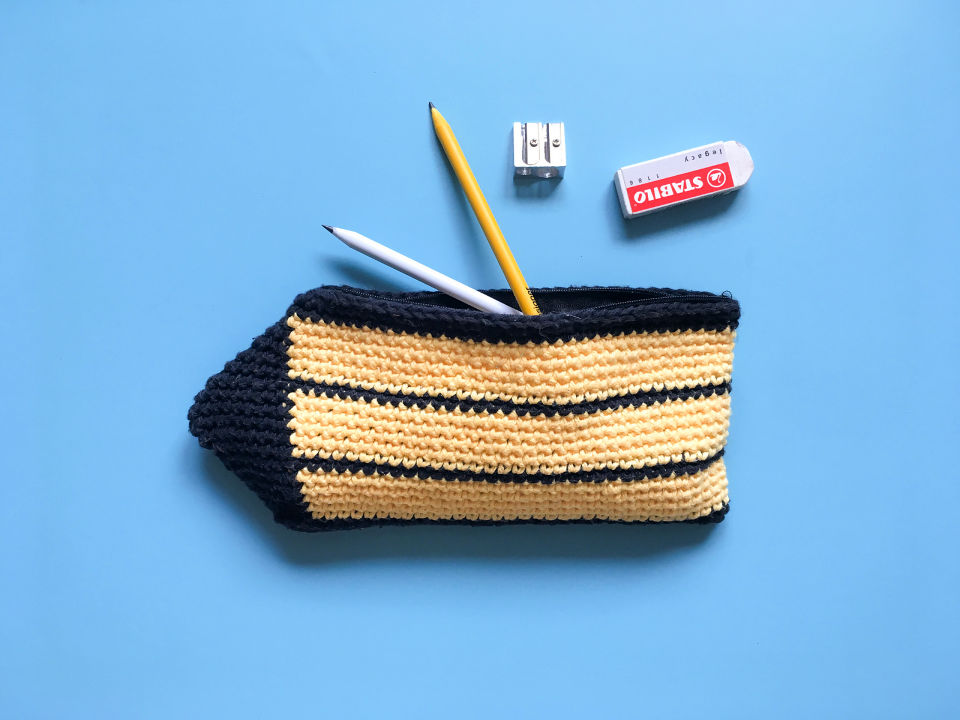 This is here a gorgeous looking pencil pouch that comes in a lovely pencil shape too. To crochet this pouch, you need the colorwork and increasing-decreasing techniques along with the primary crochet stitches. Crochet Lily Sugar n Cream Cotton Solids in the sunshine and black color to stitch this pencil pouch. Crochet 30g of this yarn in sunshine and 20g in black using a 4.5mm hook to whip up the 11" wide and 4" tall size of this yarn pencil pouch. The perfect gauge for this pattern is, 16 st and 8 rows make 4" x 4". Details here doradoes
12. Crochet a Bit Jazzier Pencil Case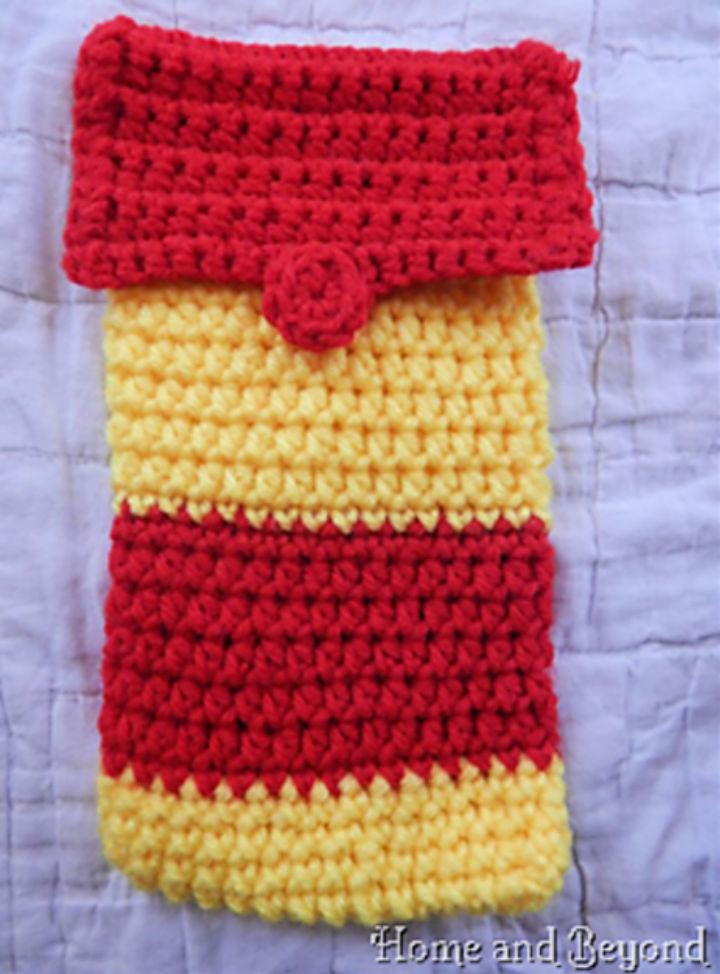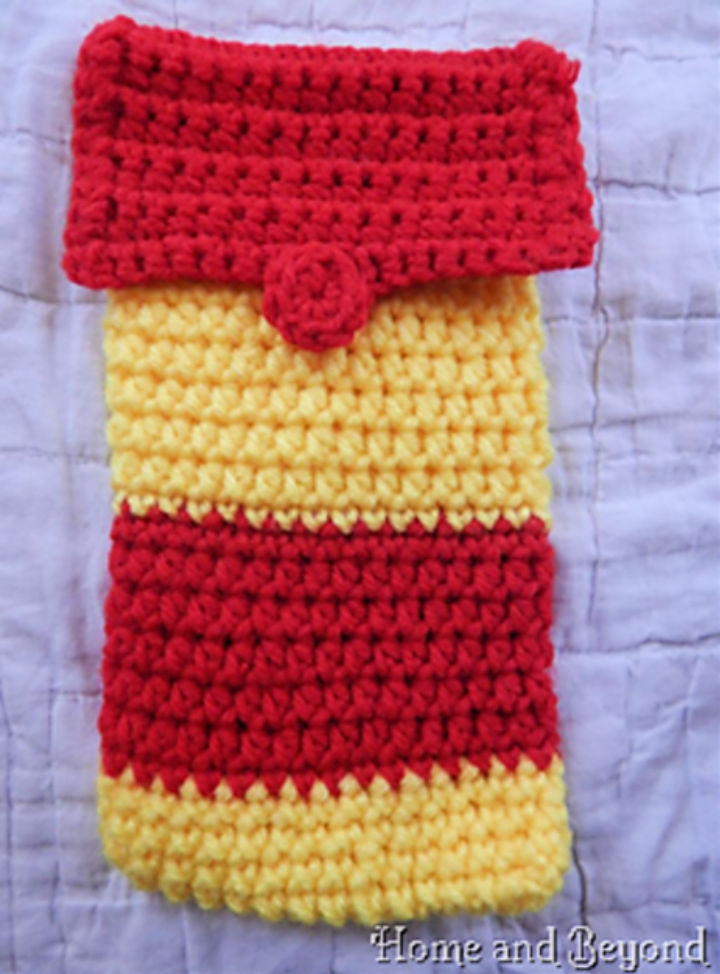 Duplicate this jazzier version of the crochet pencil pouch to crochet with 2 colors of yarn for a color block appeal. You have to work in the rounds and ovals for this pattern. Crochet Red Heart's backlight yarn in the red and yellow color while using a G hook to get this beautiful pencil pouch made. Add a folding flap, and then finish this pouch with a button and loop for a nice closure. This pouch will rock for sunglasses, pencils, mobile phones, and even for earphones. Details here suzannebroadhurst
13. Free Crochet Pencil Case Pattern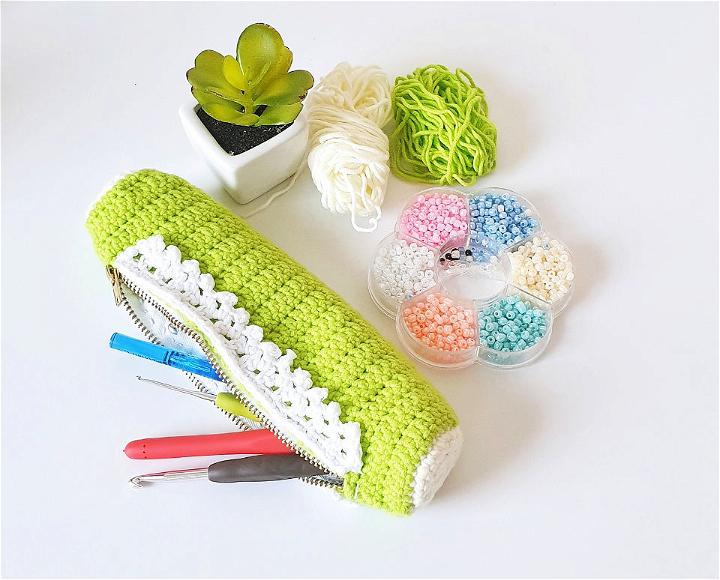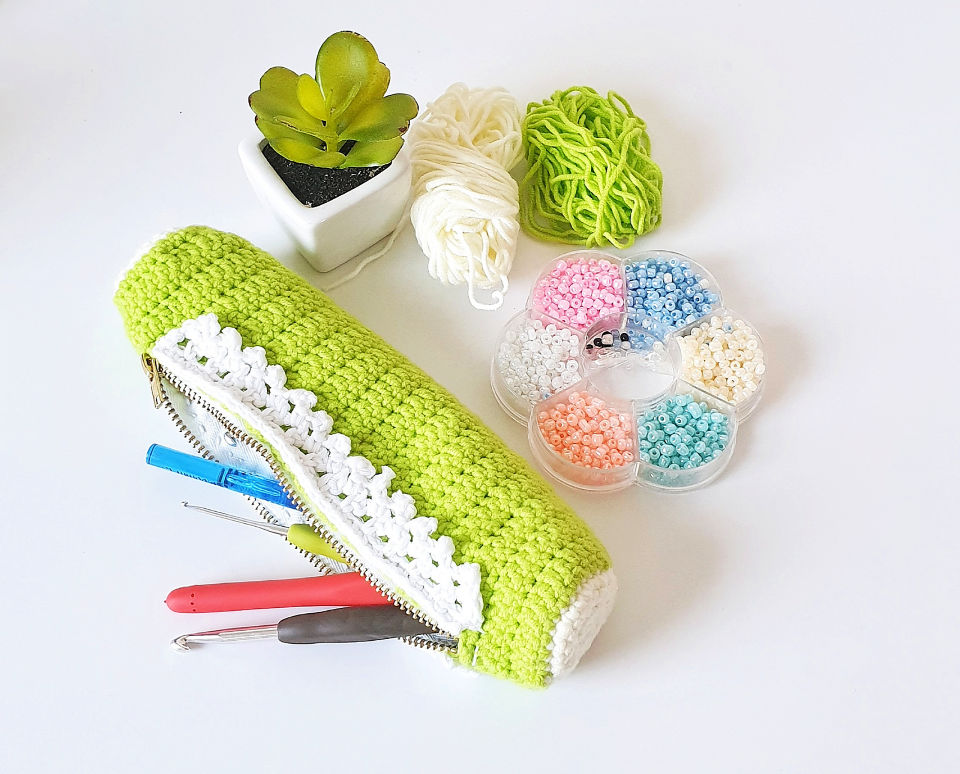 Kids will love to store their pencils in these on-the-go pencil cases that come with a bit of artistic flair. Crochet 90m of DK weight yarn in color choice and 50m in white to whip up these yarn pouches. Use the embroidery thread for sewing and a 3.5mm hook to crochet this pencil pouch. Finish this pouch with a 7" zipper, and it comes in a size 9in long and 6.5" in diameter. The gauge for this pencil pouch is round 1-8 make 1.7". Details here loopinglymade
14. Crochet Shark Time Pouch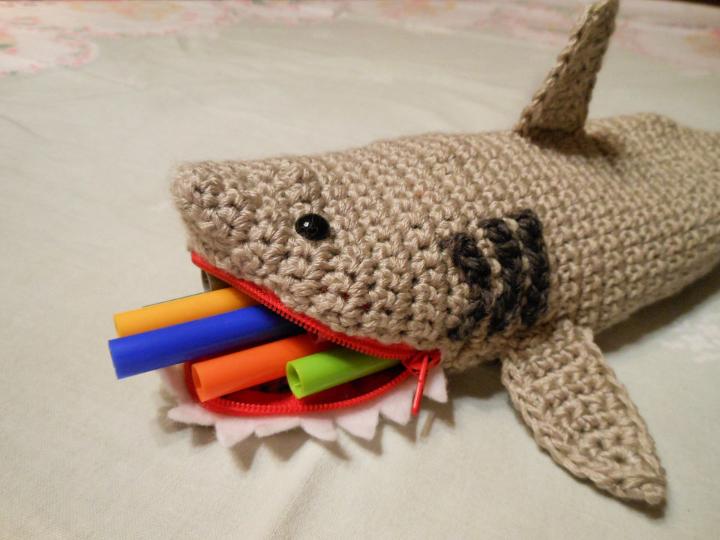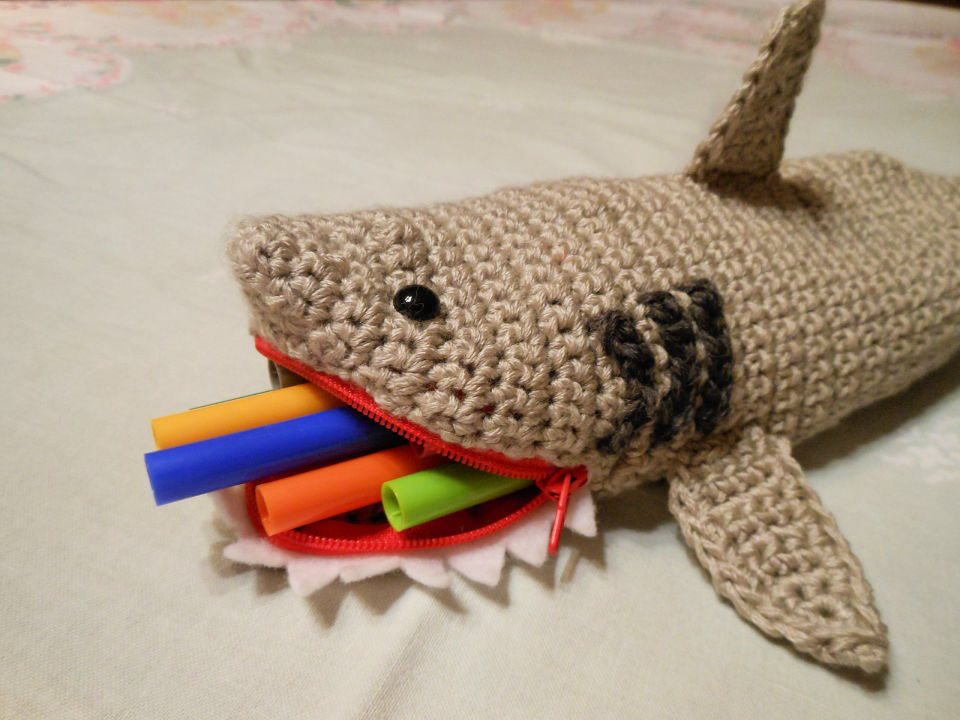 Let your kids impress their classmates with these shark time pouches that are scary and super fun-making. The pencils stored in the monster jaws of the shark will surely dazzle the audience. Use the 100yds of sport or worsted weight yarn to whip up this shark pouch. Also, use 2yds of this yarn in dark brown color for gill slit. Finish this shark with a black button or doll eyes and with a 6" zipper too. For making teeth, you need a 7" x 1" piece of white felt. One of the best dramatic crochet pouch pattern. Details here mooglyblog
15. Crochet Crocodile Pencil Case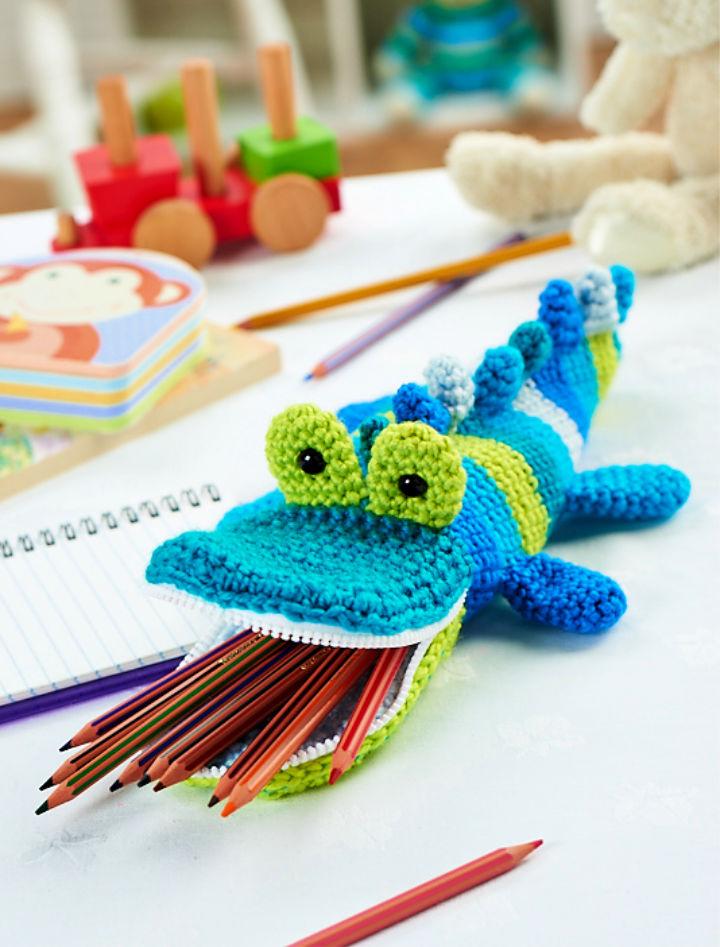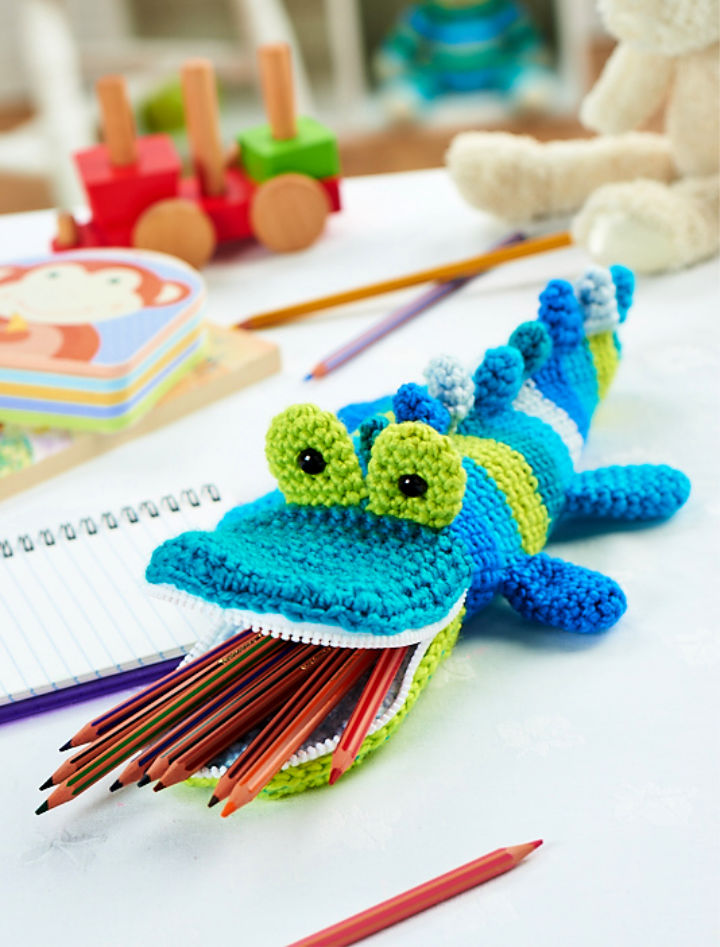 Boost the fun of your kids with this crochet crocodile pencil case too. It is more like a toy for the kids than just being a fun-making pencil pouch. This Mister Snaps pouch features bigger eyes, big powerful jaws, and a colorful hue. Crochet this pencil pouch in your own favorite yarn colors, and you need the basic crochet amigurumi skills to work it up like a pro. Finish the jaws with a wide white zipper that will make the near to real looking teeth when opened. Finish this pencil pouch with doll eyes. Details here topcrochetpatterns
Conclusion:
Crocheting for the kids is big fun. If you are sorting out the best crochet pattern that will make sweet gifts for kids, then must go with these free crochet pencil case patterns, will cute up the pencil keeping game. From creating simple pouches to adorable pencil case softies, you will see various fun samples of the crocheted pouches, will be a big love of all the kids in the home getting ready for back to school season. From beginner to intermediate to advanced skill level, the list includes a pattern for all skill levels. However, tryout out different stitches and incorporating different art shapes and patterns will make you more addicted to these free crochet patterns, shared to inspire.