Matching stuff up around the house changes the whole vibe, and the washroom is no exception. Crochet bath mat for the bathroom so that you can match it up or make in contrast and play a little with colors. When you get to work, you will have the feeling that you have accomplished something really overpowering in your home decor. When you turn to crochet, you get your hands busy doing something a lot of fun. Explore these 10 free crochet bath mat patterns to give your bathroom a unique look. You will not have to stress about how it's going or how you have to take the color combination. It's basically straightforward, and once you start on crocheting, you will have something fun to look forward to all day.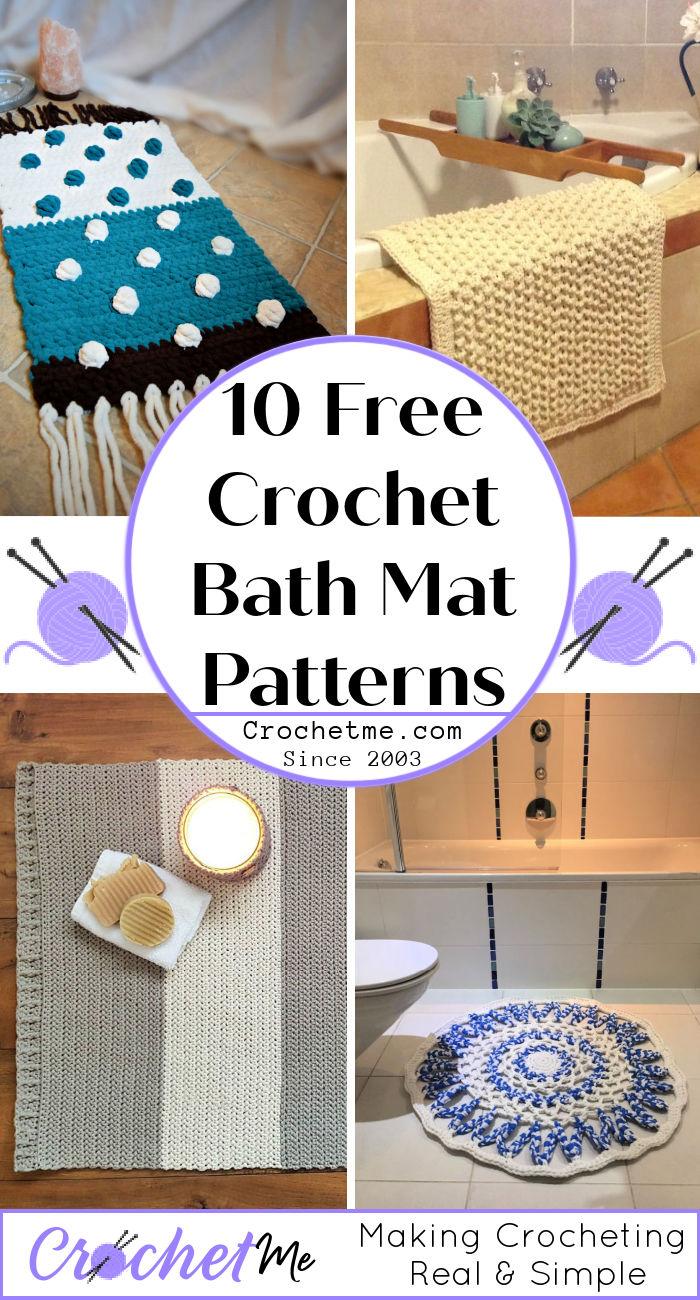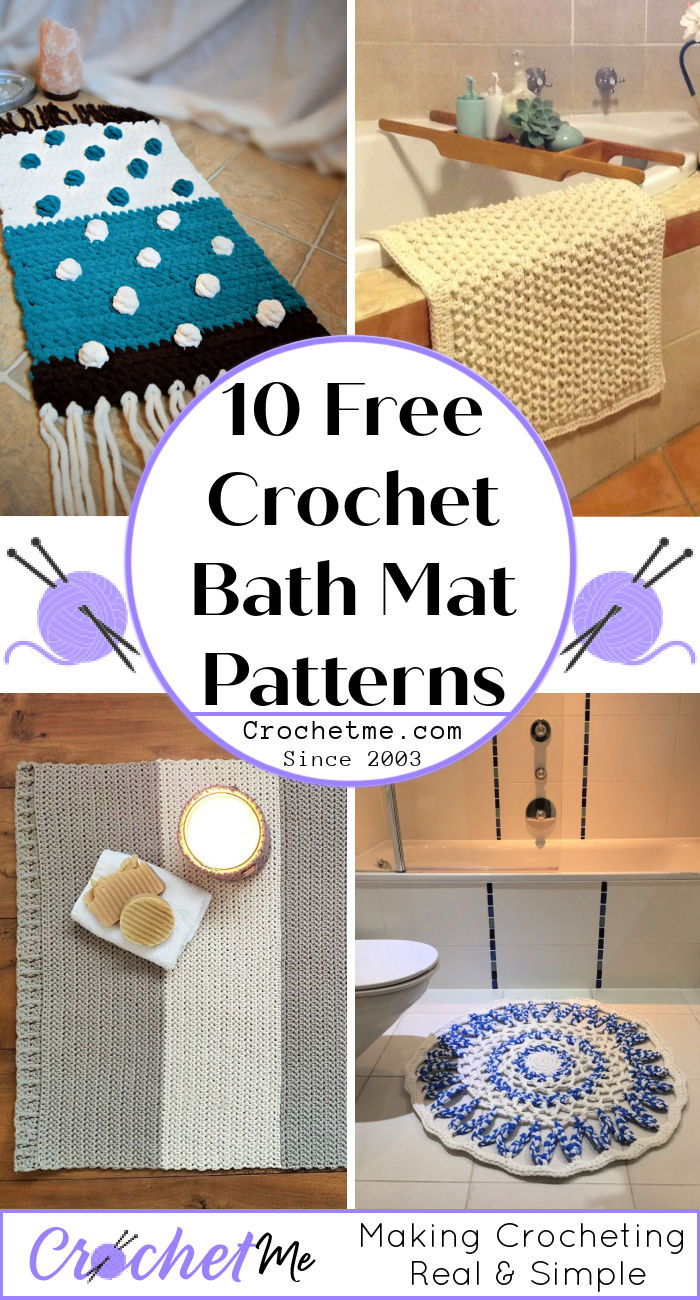 A bathroom actually requires some serious dose of color, as we concentrate a lot on the rest of the house and end up having zero energy for the bathrooms. You can call them the most neglected part of the house for sure. To add color to it with accessories and make a lovely crochet bathroom mat with standard household items. In this article, get crochet bath rungs with free patterns! Like bobble scrubby, a crochet herringbone bath mat, plush poms one, a hello spring one, or a rainbow splash bath mat for your house. Up your home decor and make some extensive changes for the interior of your house by just follow these 30 free crochet rug patterns.
1. Crochet Bobble Scrubby Bath Mat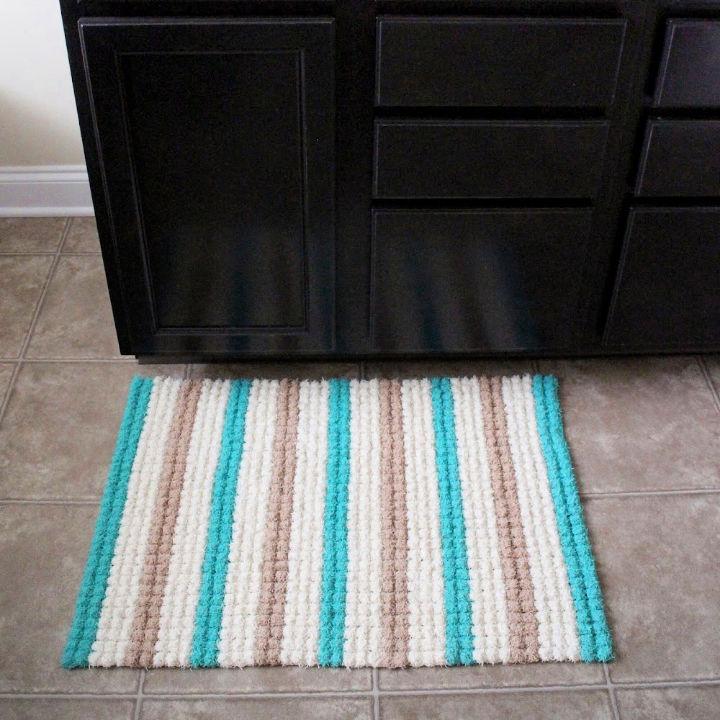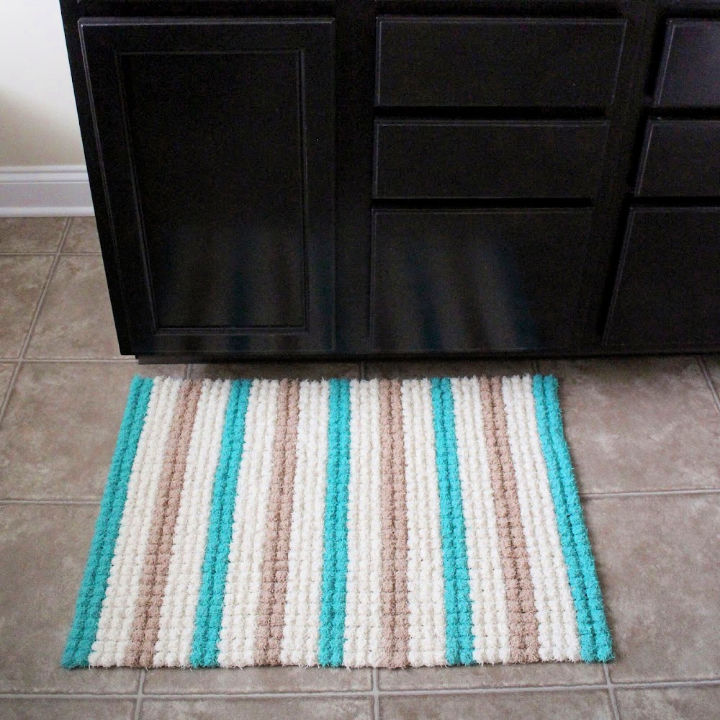 The most peaceful and calm corner of the house can be your bathroom, too, if you decorate it with the right items and maintain a soothing color combination. With some scrubby cotton yarn combined with cushy bobble stitches, you can come up with a crochet bath mat that you are going to love for sure. Some peaceful shades of absorbent yarn can be used to crochet it. Start the process with yarn over, inserting hook in the stitch, and after a few more rounds, draw through all the loops on hook. Finish by weaving in ends. yarnspirations
Yarn: red heart scrubby cotton, 4 balls
Hook size: 5.5mm [US I-9]
Mat size: 28½" [72 cm] long x 20½" [52 cm] wide
2. How to Crochet Herringbone Bath Mat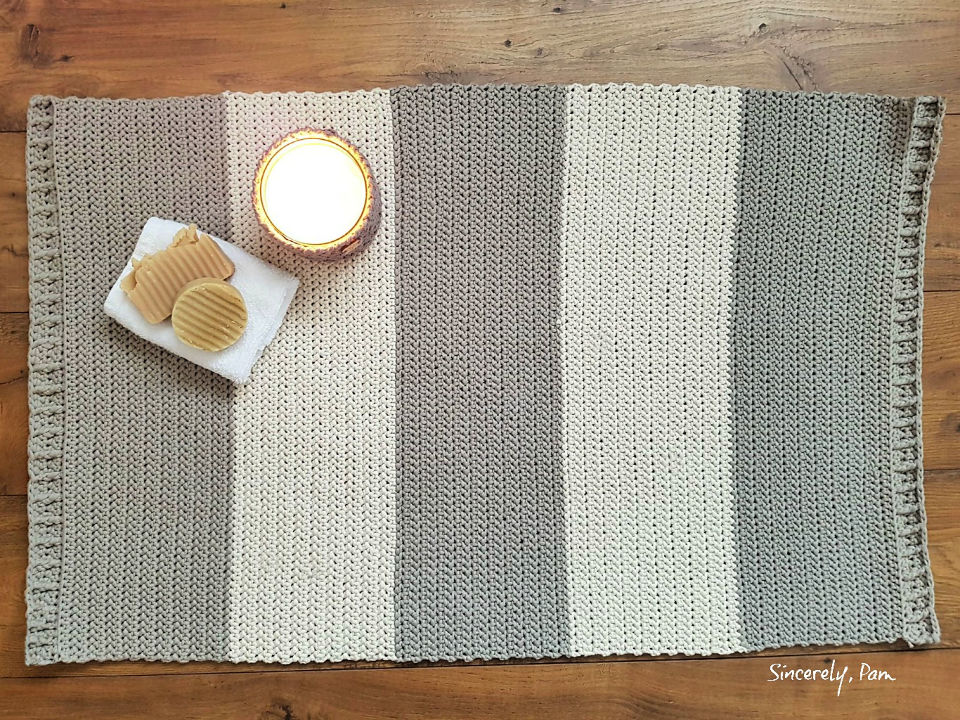 Make a bulky herringbone crochet mat for your bathroom, so that even a sneak peek at your creation can change your entire mood. Use tubular yarn with soft cotton feel so that you can easily machine wash it and dry off. Use chain stitch, slip stitch, and a series of single, double crochets for the whole pattern. Start with yarn over and inserting hook in the stitch. After following a series of steps, you have to fasten off and weave in all the ends. Find this crochet floor rug pattern here! sincerelypam
Finished size of the mat: 37″ long x 23″ wide
Gauge: 13 hhdc sts x 11 rows = 4″ x 4″
3. Crochet Bath Mat Pattern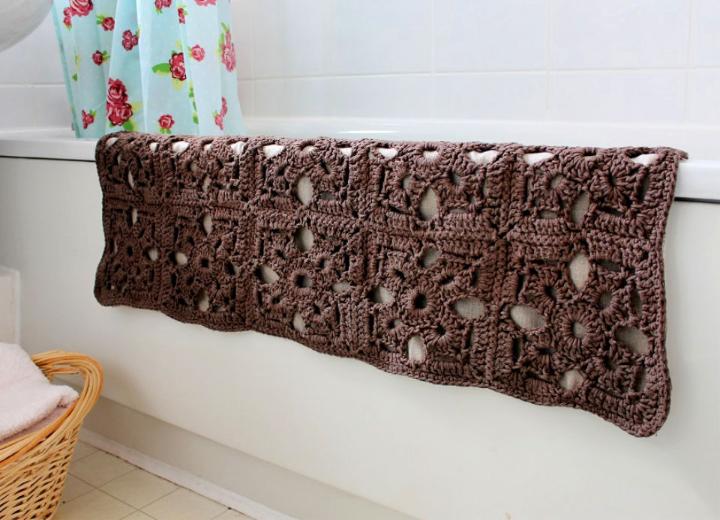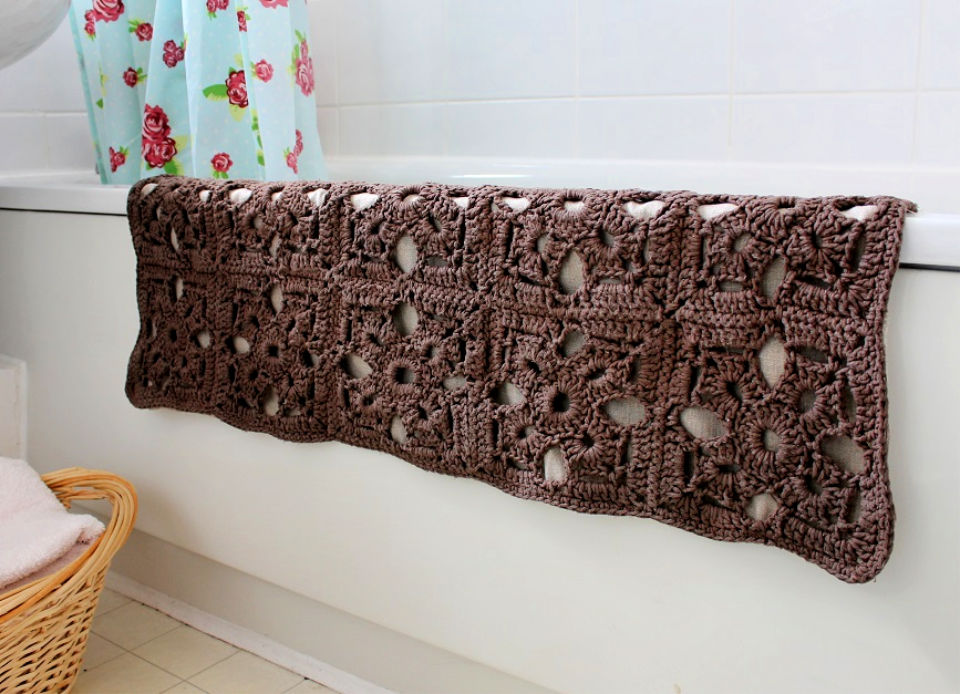 If you don't have much time for painting and decorating your bathroom, the easy way to go is to add a little color to it. You can use some accessories to do the deed. Make a lovely crochet bath mat, which can turn out to be the most economical item of your house. The pattern is the simplest standard afghan square made from the regular household cotton string. Use chain stitch and slip stitch with double and treble crochet for the whole process. You can attach a lining to make it a little lighter. moochka
Yarn: standard household cotton string
Yarn weight: around 500 meters
Hook size: a 5mm (US H/8) crochet hook
4. Plush Poms Bath Mat Crochet Pattern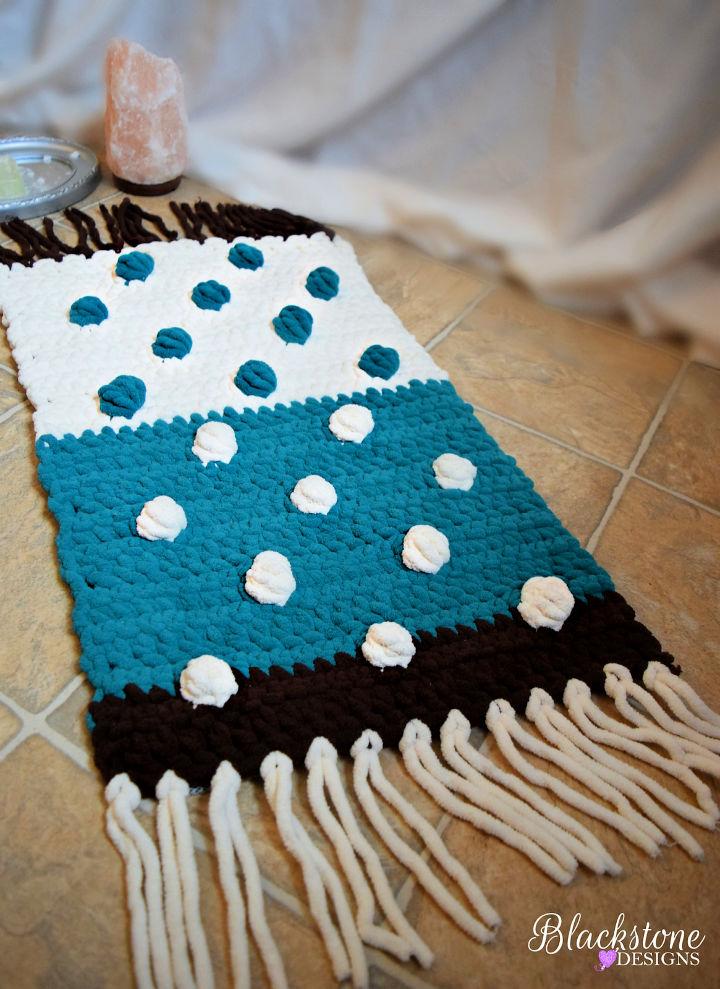 After a relaxing shower, the ultimate satisfaction would be to step on a good bath mat. It can be a dream on the toes if you make it very plush, soft, and squishy. You can even use a crochet mat as a great bedside rug also. Make a bobble stitch by inserting hook in the stitch, draw up a loop, and then draw through two loops and follow a number of steps. Finish off by adding fringe to every other stitch and hide all the strings. blackstone designs
Yarn: red heart sweet of two colors both of 6oz/77yds
Crochet hook size: P/16/11.50mm
Finished measurements: Approx. 24" x 14.5"
5. Crochet Hello Spring Bath Mat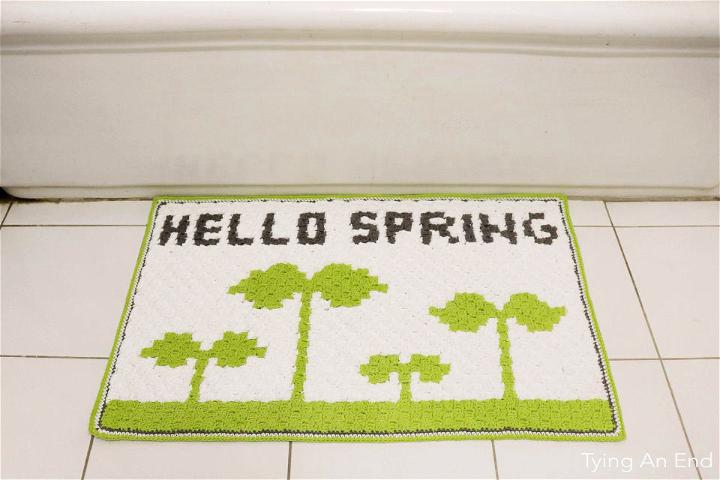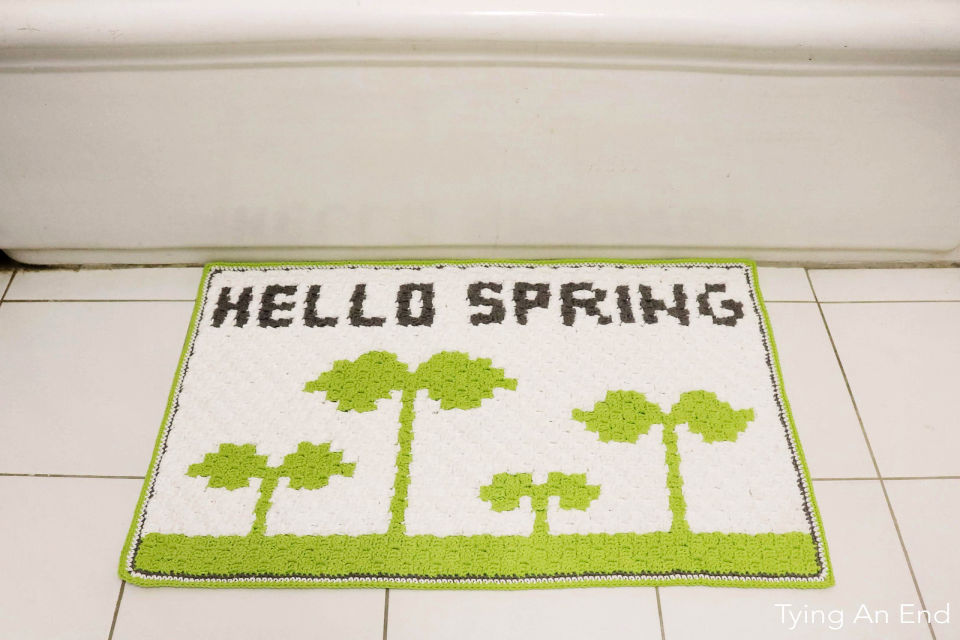 Make bath goods as a spring related item this season. After taking a bath in the hot weather, a soothing bath mat is sure going to add a little touch of "greens" and cleanliness to your bathroom. It is really easy to crochet floor rug as you will make it corner to corner. It's a simple stitch pattern using double crochet and chains. By adding a border, you will be giving it a much crisper and cleaner finish. Start with a slip stitch by using the overcast color. Make 3 rounds of the whole process and finish off by weaving in ends. tyinganend
Yarn: 5 balls of lily sugar 'n cream original in different colors
Crochet hook size: US 7/4.5mm
Gauge: 6 x 6 squares = 4″ x 4″
Size: about 32.5″ x 20.75″ (82.55cm x 52.7cm)
6. Crochet Rainbow Splash Bath Mat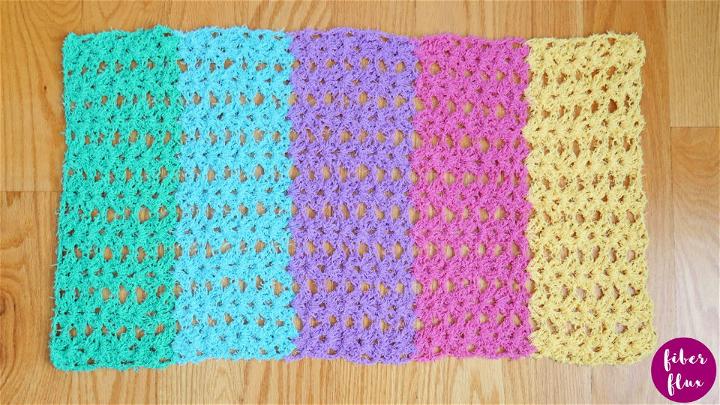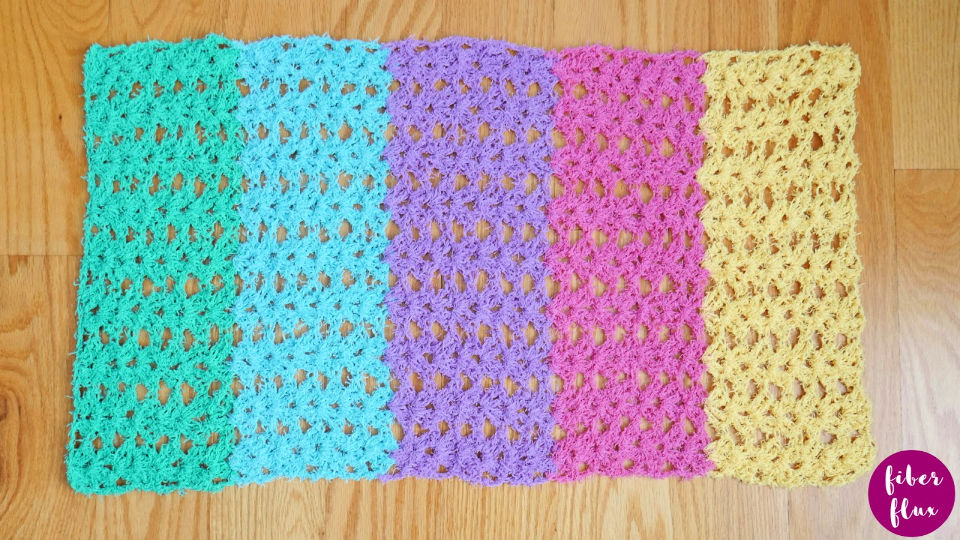 A pretty little mat that can easily brighten up your bath or shower area is a rainbow splash bath mat. To add a fun feel to it, use textured scrubby yarn. The whole process is perfect for scrubby style yarn, and the stitch pattern is super easy too. Start with green color and work 7 rows of each color in the rainbow order. Use chain stitch and double crochet. Make 2 rows and repeat until the piece is 28 inches long. You can work on your desired length. fiberfluxblog
Yarn: Scrubby Cotton from Red Heart of different colors
Size: 28 inches long and 15 inches wide
Hook size: J (6.0 mm)
7. Crochet Your Own Bath Mat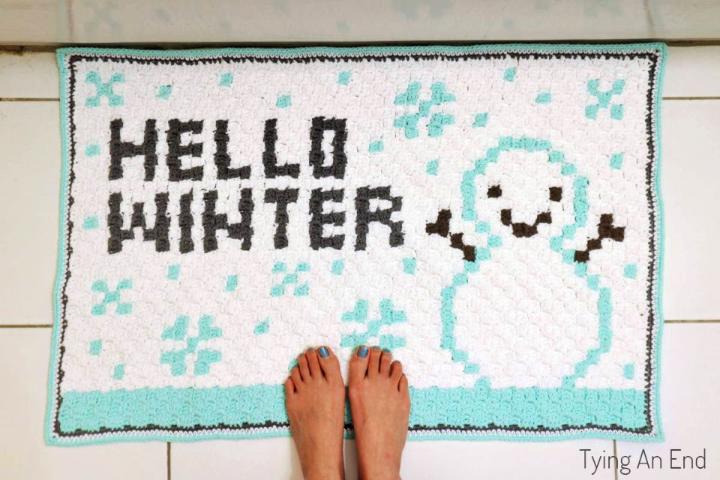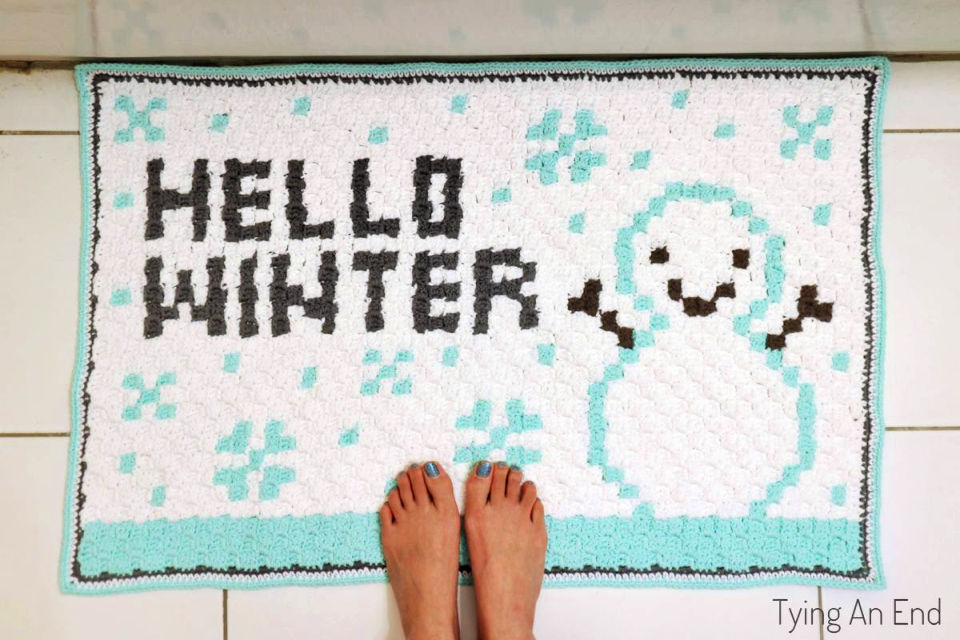 With summer and summer, there is the additional need to taking showers and using the washroom. A little perk up would be a nice and fresh hello summer bath mat. Bright sunshine and waves of the ocean crocheted on it will add up to the whole feel. You have to use a corner to corner pattern, which is really simple. For making the border, use different colors for popping it up and balance out the design. tyinganend
Yarn: Lily Sugar 'n Cream Original, 9 balls of different colors
Crochet hook size: US 7/4.5mm
8. Crochet Doily Bath Mat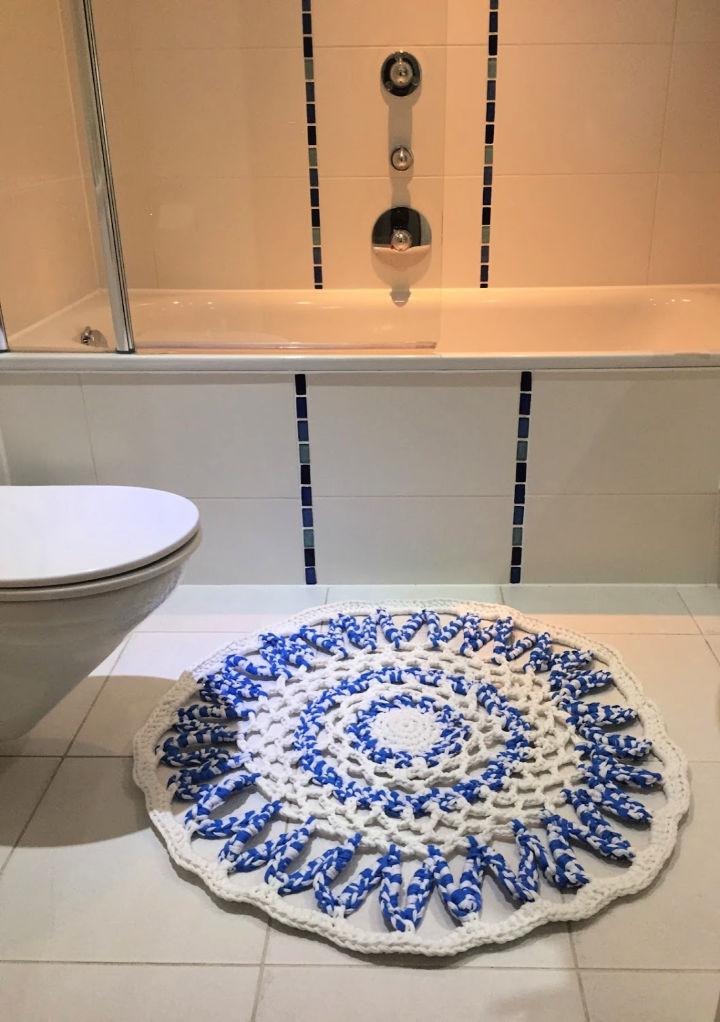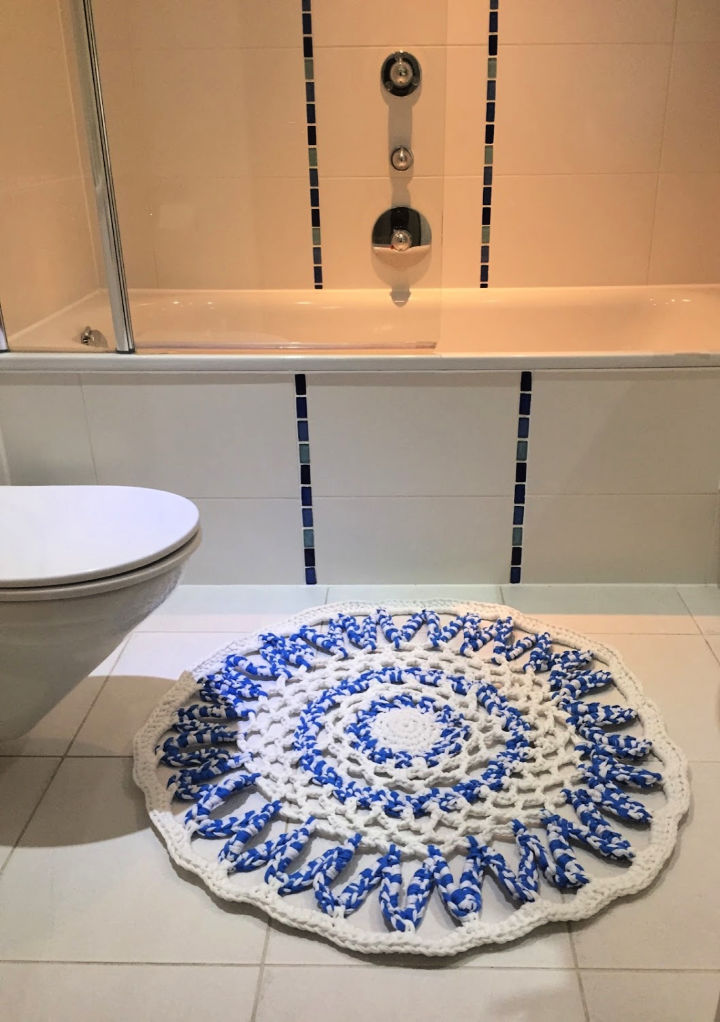 With just a slight twist of your wrist and a crochet hook, you can make an amazing crochet doily bath mat pattern. You will be working with chain stitch, slip stitch, double and single crochet. Make 16 rounds and repeat the whole process. With a crochet slip stitch, move to the top of the starting chain and fasten off for finishing. You just have to make one round of the loop so that it doesn't turn out too big. Make it to your desired size and color. crochetime
Yarn: 1 cone white Hoooked Zpagetti and 1 cone blue mix Hoooked Zpagetti Hook size: 12 mm crochet hook
9. Bathroom Mat Set – Free Crochet Pattern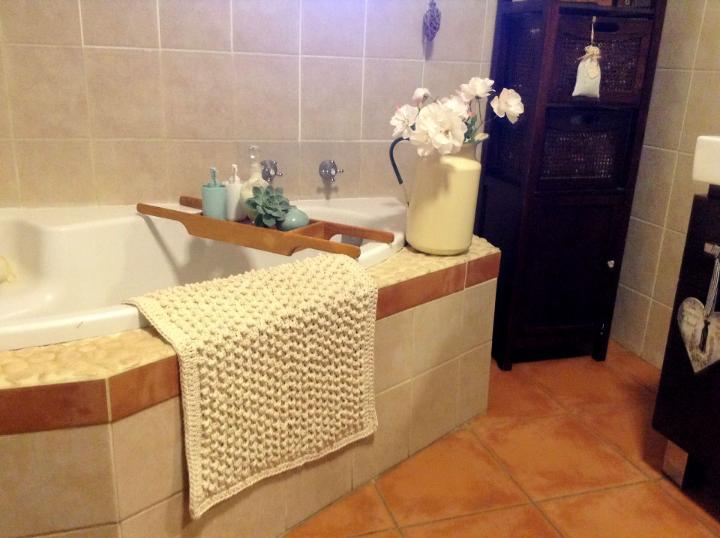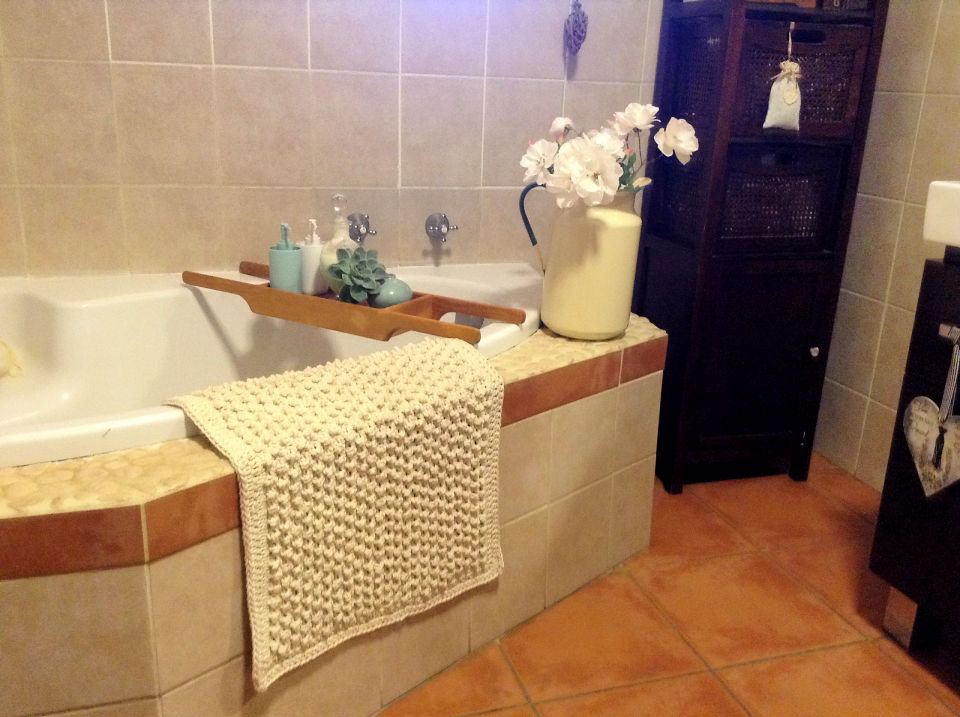 Make a set of two amazing crochet bath rugs so that they match up to be placed in different locations in the washroom. The crochet rugs will be bursting with texture, and of course, they will be eye and feet catcher! Make them have super durability and super softness. After washing, while they are still damp, you can even reshape them to your desired shape. Use a set of stitches and follow a series of rounds for the whole process. ravelry
Yarn: Dye-Version Chunky Cotton
Yarn weight: Bulky
Hook size: 6.0 mm (J), 7.0 mm
10. Pretty Crochet Puff Bathmat Pattern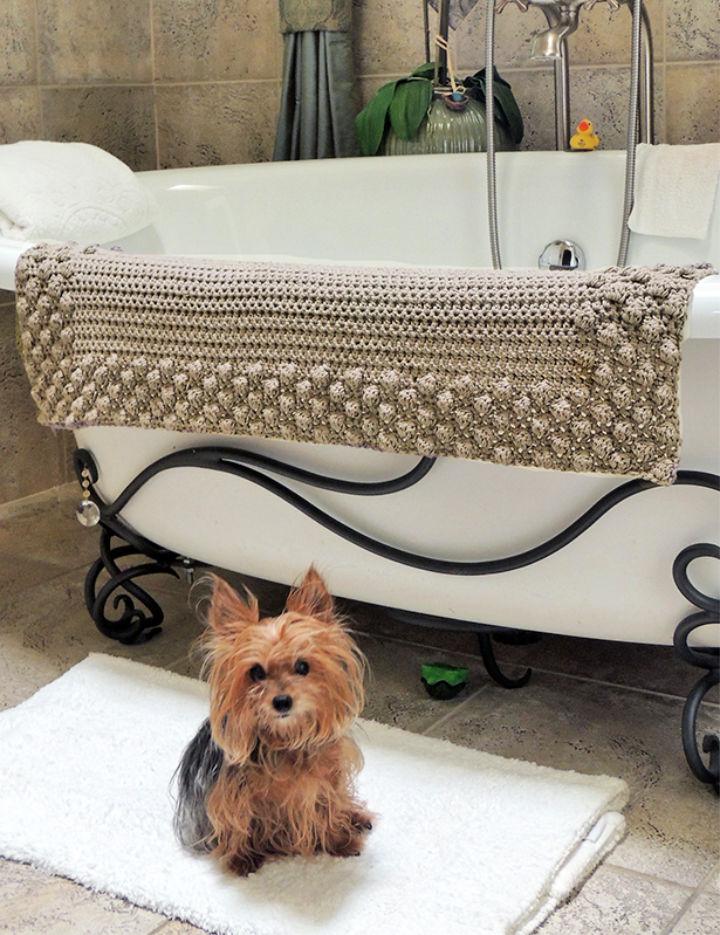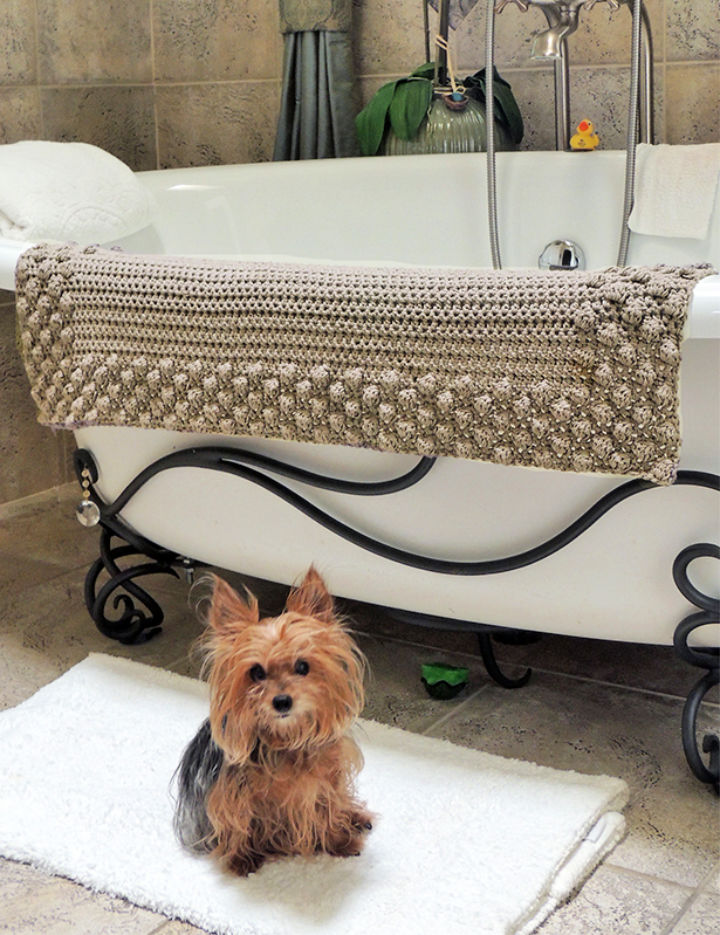 Even if you are not an overly experienced crocheter, you can make this amazing pretty puff bath mat very easily. Just follow the crochet bathroom rug pattern and make up the whole thing. After getting the hang of it, it becomes pretty simple. Use single crochet between the rows to make it super simple. Stitches you will be doing are Single Crochet, HDC Half Double Crochet, and Puff Stitch. Complete by making a bunch of rows and repeating the process. Slip stitch and tie off when you've edged all 4 sides for finishing. stonefacecreations
Yarn: Ice Park Cotton – 12 skeins at 125 yards per skein
Crochet Hook: J- Hook
Finished Measurement – approximately 24″ X 36."
Conclusion
You can easily match up your crochet bath mat pattern with the rest of the color scheme of your bathroom. It will look lovely and natural, and you can even decide to dye the bath mat with a nice color, and the whole house will approve for sure. You will absolutely love it!! All free crochet bath mat patterns become so much fun that you won't stop crocheting! In no time you will be addicted to it and the time will stop being a problem for sure. Wish you happy crocheting!
Related all free crochet patterns for beginners