Let these crochet bath rugs welcome you while stepping out from the bathroom. They will soak up the wetness from your feet, leaving behind the neat and dry room. Along with being a super practical addition to your bathroom, they add a lot to the beauty of the space. Follow each crochet bath mat pattern so they can be added to complete the color decor scheme of a room. Moreover, one can crochet them with custom art, shapes, and designs incorporated that will enhance the visual of the space considerably. Finally, these soft yarn crochet rug patterns will help insulate the interior spaces more along with aiding in noise reduction. Explore this collection of 8 Free crochet bathroom rug patterns that will make novelty housewarming gifts to a new homeowner or neighbor too. From simple to advance to upcycled crochet rugs, you will get here step-by-step instructions, free patterns, visual guides, and diagrams for all. Finally, you will get free patterns for rope bathroom rugs too.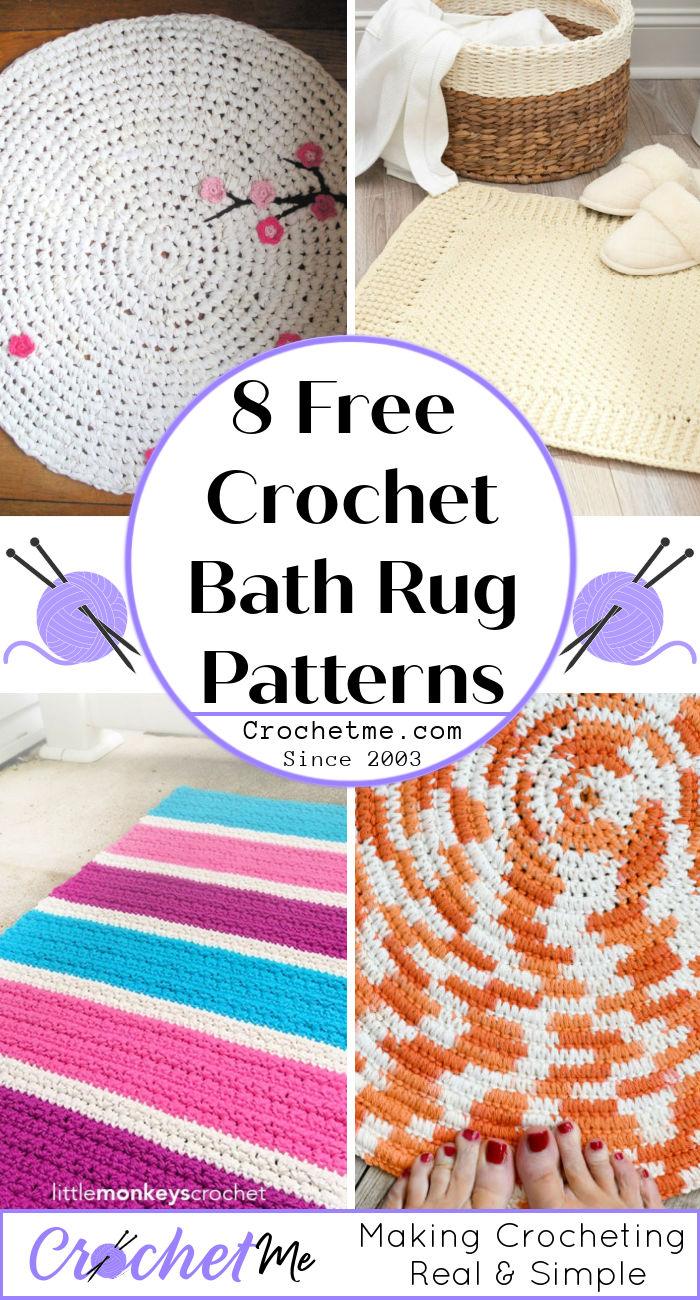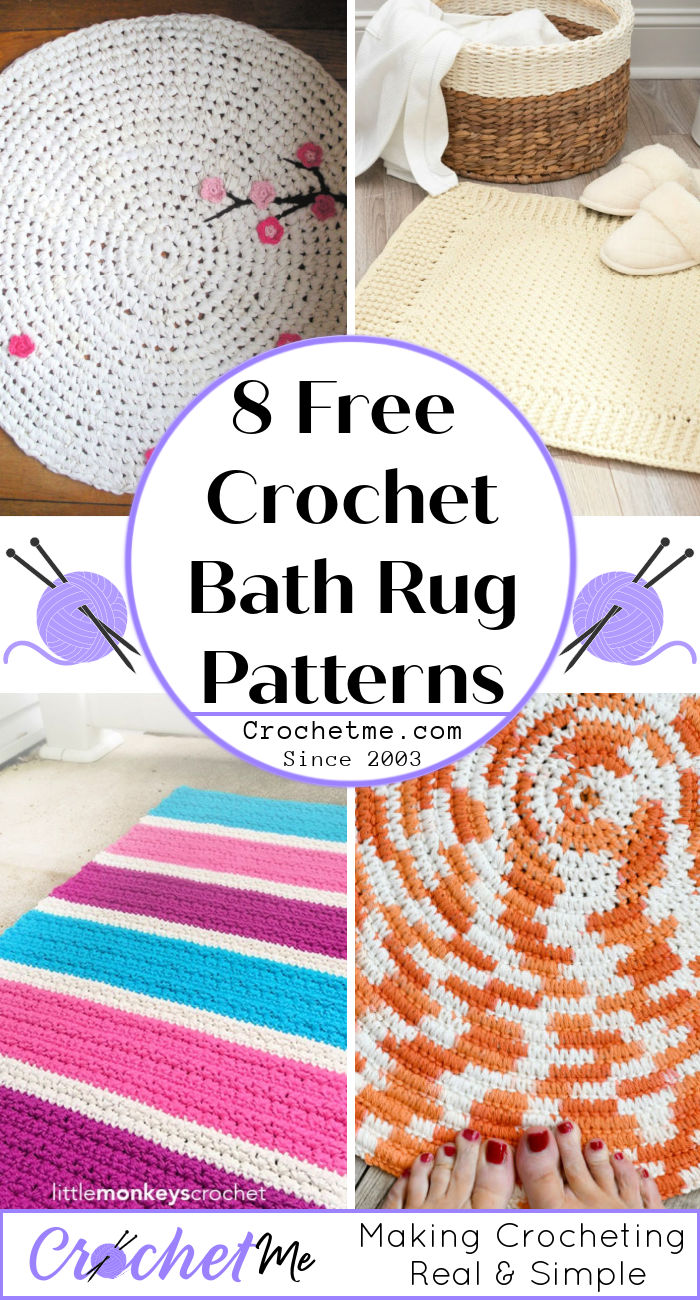 These crochet bath rugs are going to be a great fun project. Try out different stitches and techniques to come with lots of enchanting design textures that will impress. Upcycle the old bedsheets, curtains, and t-shirts to make fabric yarn, crochet it to make no-cost bathroom rugs. Most of these crochet rug patterns are machine washable, and you can crochet the puffy bathroom rugs also by working in the bobble and puff stitches. Explore this collection of Free crochet bath rug patterns to get your crochet creativity inspired. They are going to be a beautiful addition to every space for sure.
1. Crochet Little Waves Bathroom Rug Pattern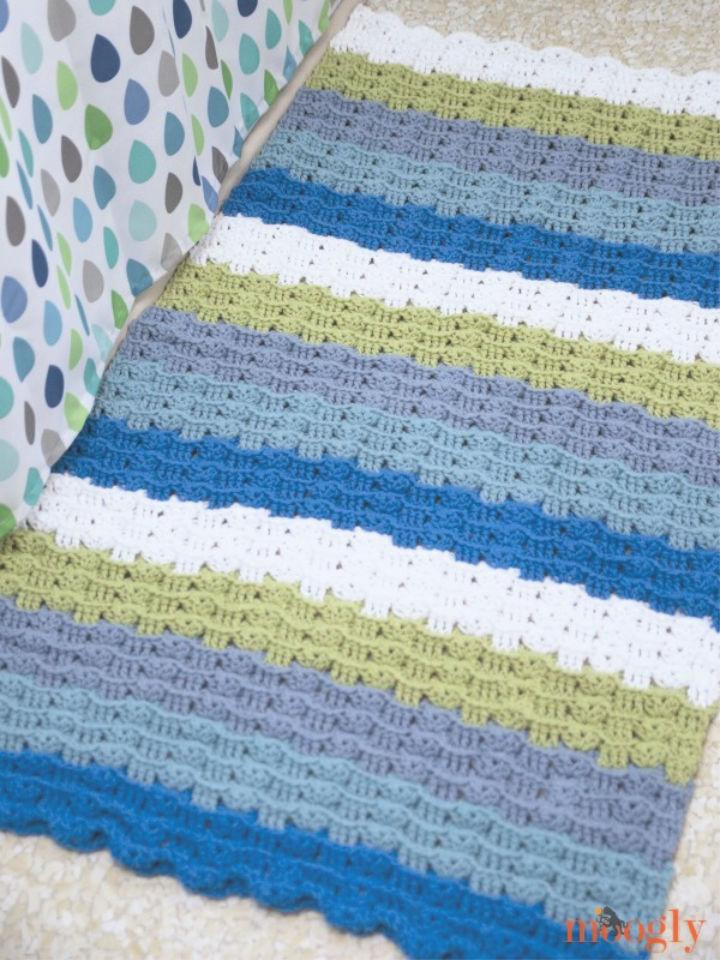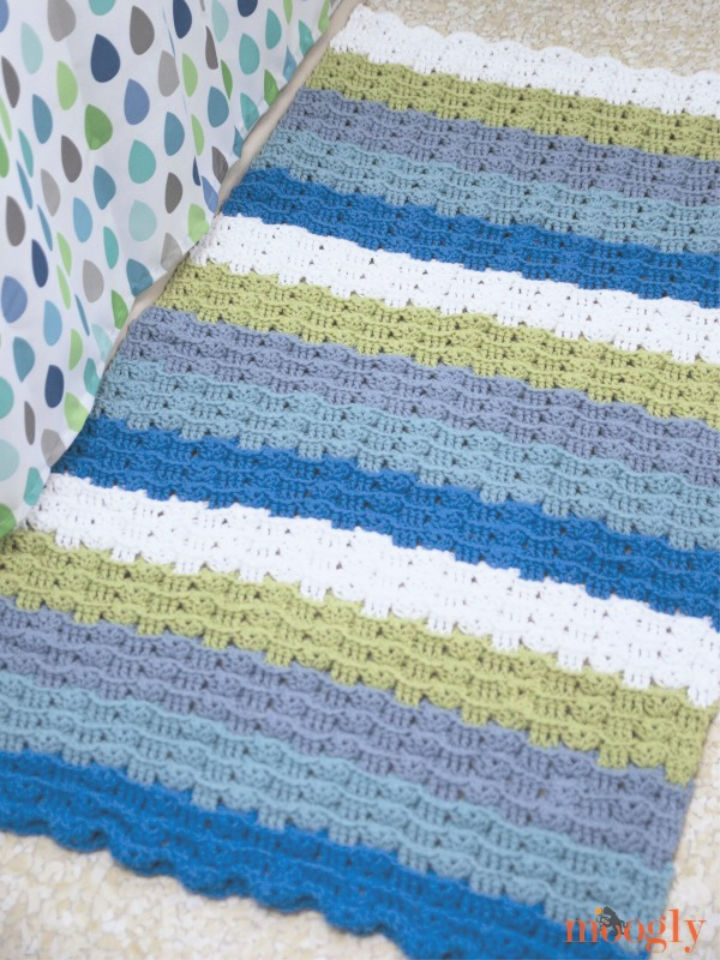 Crochet this one of the best rug to bring the nautical or ocean inspired decor theme to your bathroom. This easy to concoct bathroom rug features beautiful stripes that go much matching the raindrop bathroom curtain. Work in the double V-stitch and front post stitches to create this enchanting bathroom rug pattern. You are all free to go with any yarn color or stitches that will suit your current bathroom decor theme. Use this rug in any room for insulation, coziness, and also for awesome noise reduction. mooglyblog
Yarn: Lion Brand Cotton-Ease in 5 colors
Yarn size: 1125yds or 159m or 100g
Hook size: 5.5mm, Us-I hook
Finished Size: 38inches long x 22inches wide
2. Pretty Puff Bathroom Rug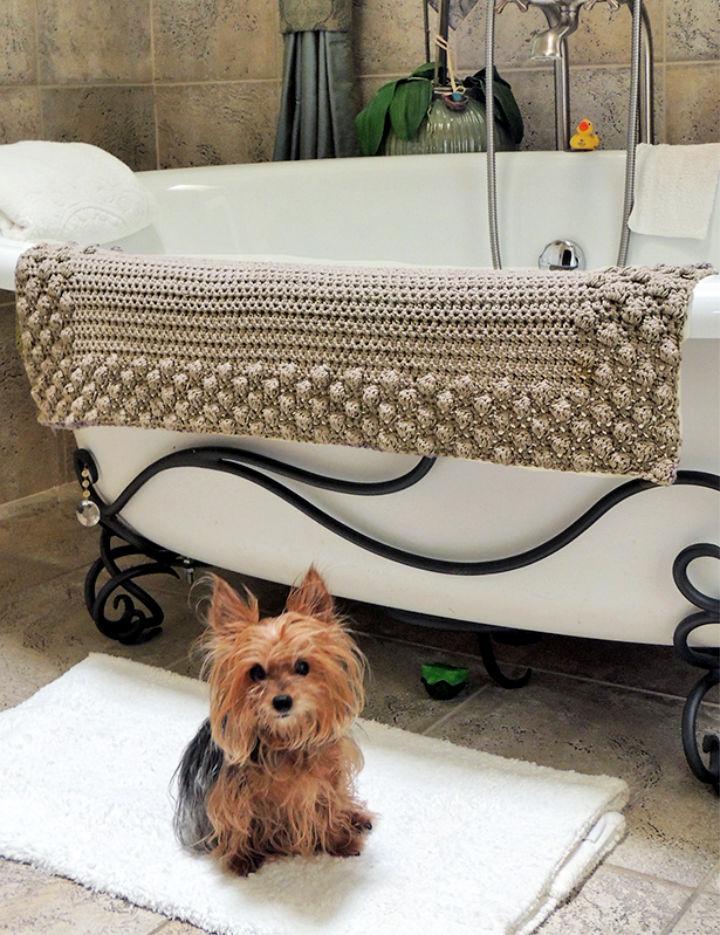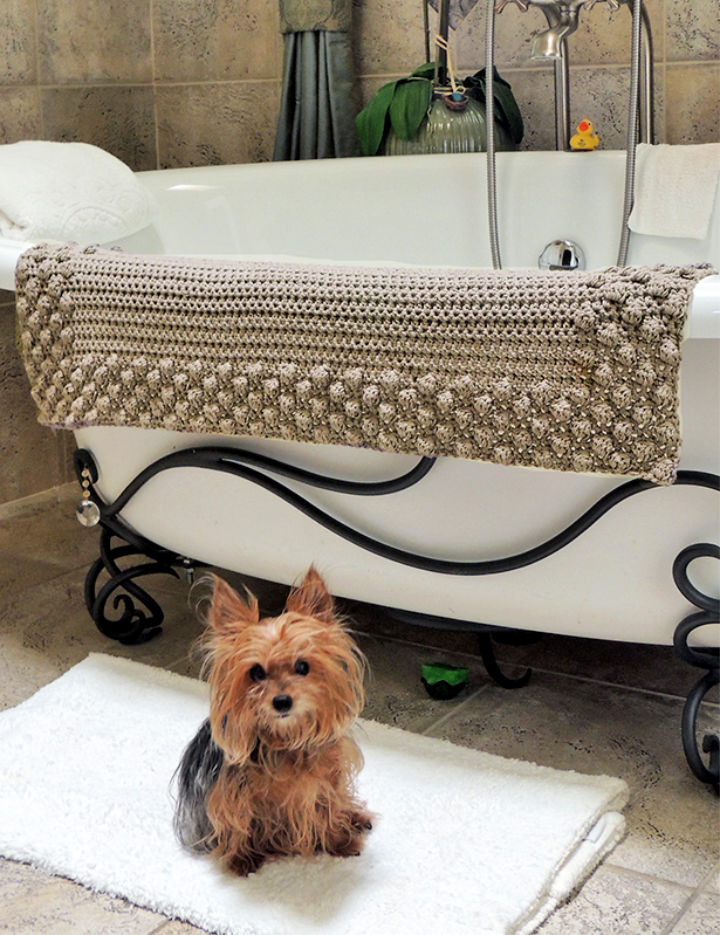 Are you a big of the crochet puffs that are soft and cuddly? Then time to feature them in your favorite interior spaces. Crochet this pretty puff bathroom rug. Work in the HDC and puff stitches, the special skills required for this pattern, to whip up this pretty puff bathroom, will dazzle the audience. It comes in clay color that is always hot and cozy, and this crochet bath mat pattern is just for every beginner. Moreover, you don't know how to crochet in a puff stitch. You will get the puff stitch tutorial here too. stonefacecreations
Yarn: Ice Park Cotton Yarn
Yarn Size: 12 Skeins, 125g per skein
Crochet Hook: J Hook
Finished Size: 24" x 36"
3. Crochet Herringbone Bathroom Rug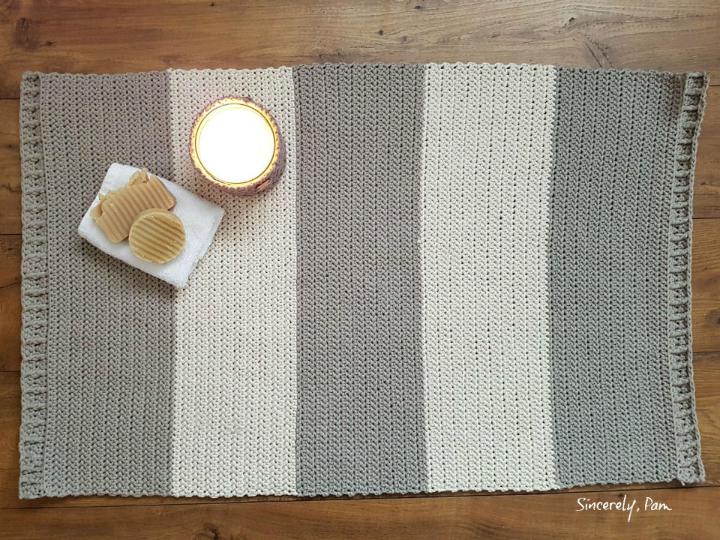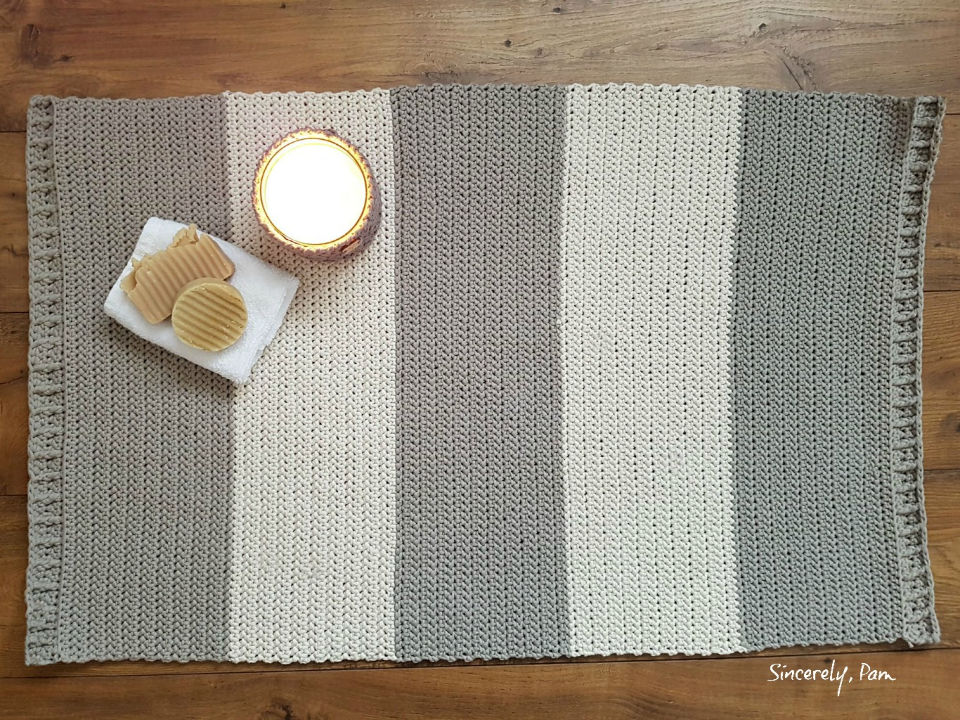 Are you a big fan of the pastel yarn hues? Then this herringbone bathroom rug is going to get ten out of ten from you. Due to the smart selection of yarn, this bathroom rug is machine washable and dryable and will make a sweet housewarming gift to a neighbor. The special skills required to crochet this bathroom rug are back loop only (BLO), herringbone half double crochet, front post double crochet, and half double crochet. The finally finished rug design features Clay and cream color. sincerelypam
Yarn: 3 balls of Bernat Maker Home Dec, 2 balls in Clay and 1 ball in Cream Color
Hook Size: J Hook
Finished Measurements: 37inches long x 23" Wide
Guage: 13 hhdc sts x 11 rows are in 4" x 4"
4. Scrap Yarn Crochet Bath Mat Pattern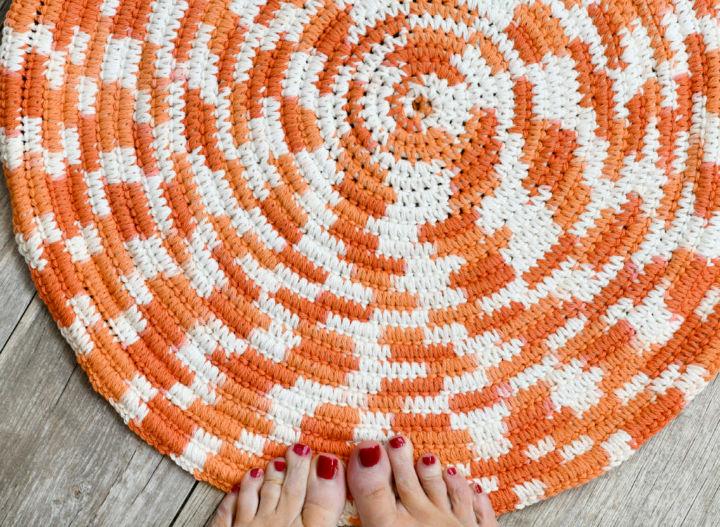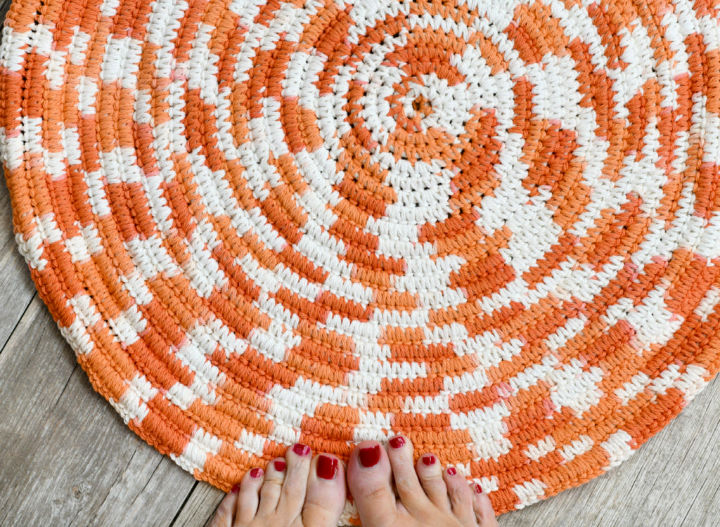 How to make a bath mat? Feature this round yarn rug in your bathroom for added visual grace. This round mat is a smart creation of the clothesline and worsted weight 4 yarn and will amaze with its durability and elegant appeal. Add a sweet touch of hospitality by adding this rug in the guest rooms or guest bathrooms, and this 100% cotton yarn round rug will nicely be under your feet while stepping out with wet feet. This rug features an orange and white appeal and will be a pleasure to crochet for sure. The clothesline used to make this round rug will cost you less than $5. mamainastitch
Yarn: Worsted Weight 4, 100% Cotton Yarn
Rope: 3/16th" x 100′ clothesline Rope, Diamond Braid Clothesline for only $4.88.
Finished Size: 21" in diameter
5. How to Crochet a Bath Rug with Rope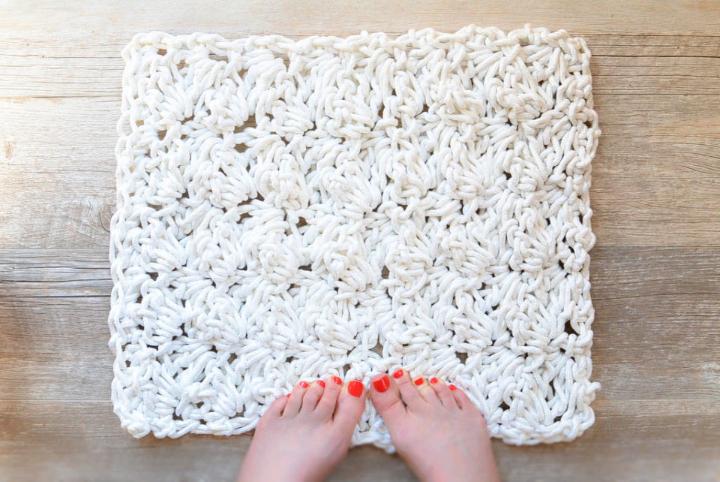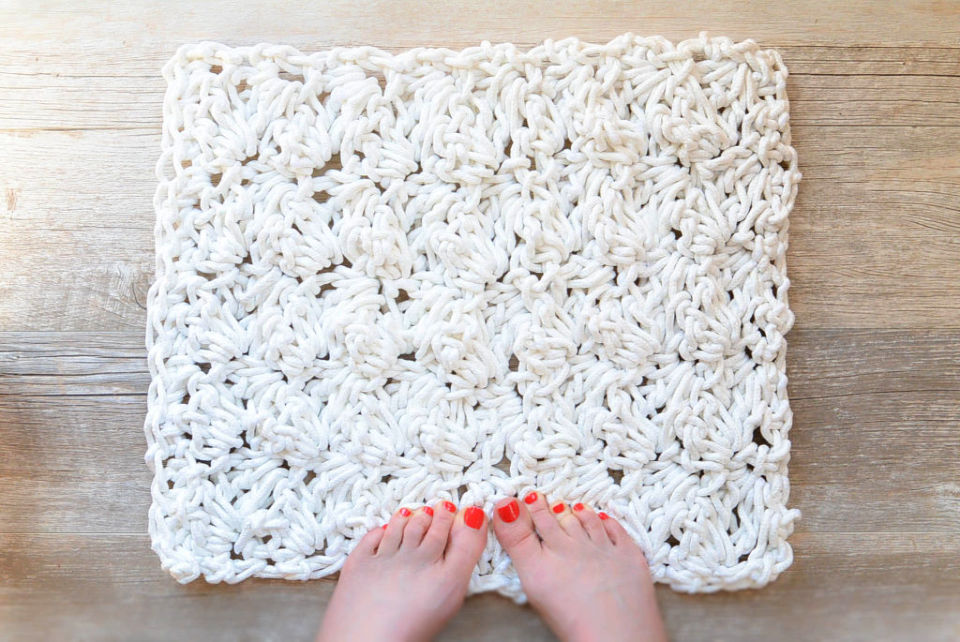 Wishing to get a super durable rug or mat for your bathroom? Then opt for this rope bath rug. Grab the clothesline to stitch this bath rug. This rug impresses with softness and also with loft and will bring a big wow factor to any interior space. You will have great fun while crocheting this rope rug, and it will really turn out great. The pattern is totally beginner-friendly and will hold the attention with its lovely design texture. You are all free crochet this bath rug in Size you want. mamainastitch
Yarn: 6 Packs of Blue Hawk Clothesline OR 300ft of clothesline
Hook: Size S 35 Speed Crochet Hook
Finished size: 18" x 15.5".
6. Bubble Gum Accent Bathroom Rug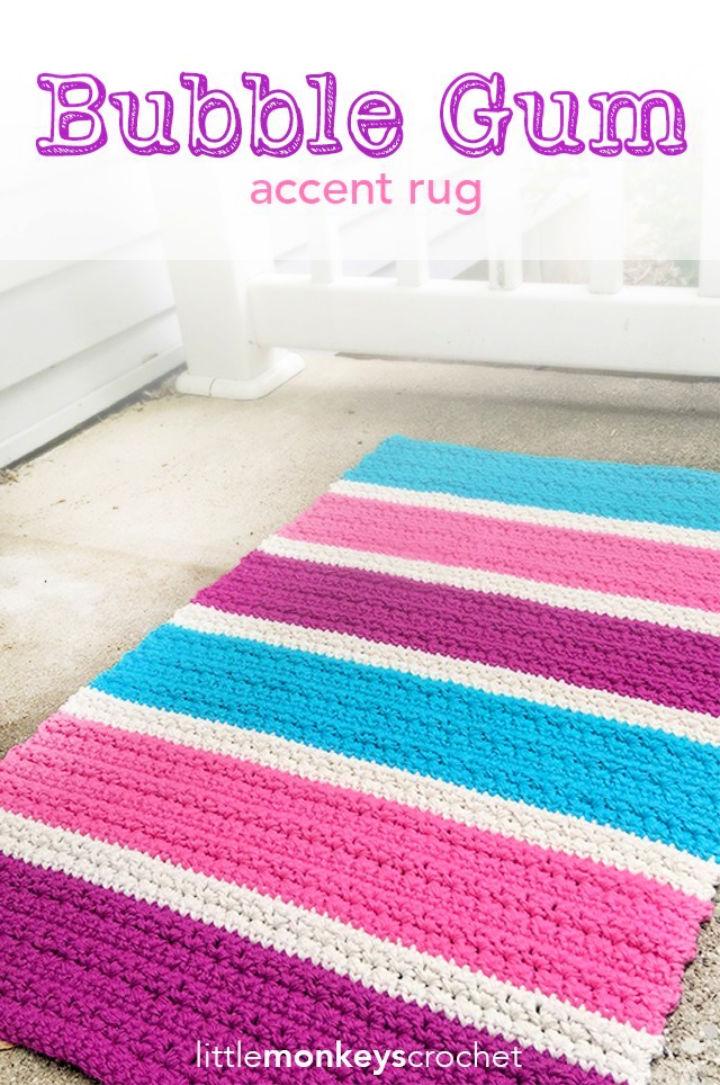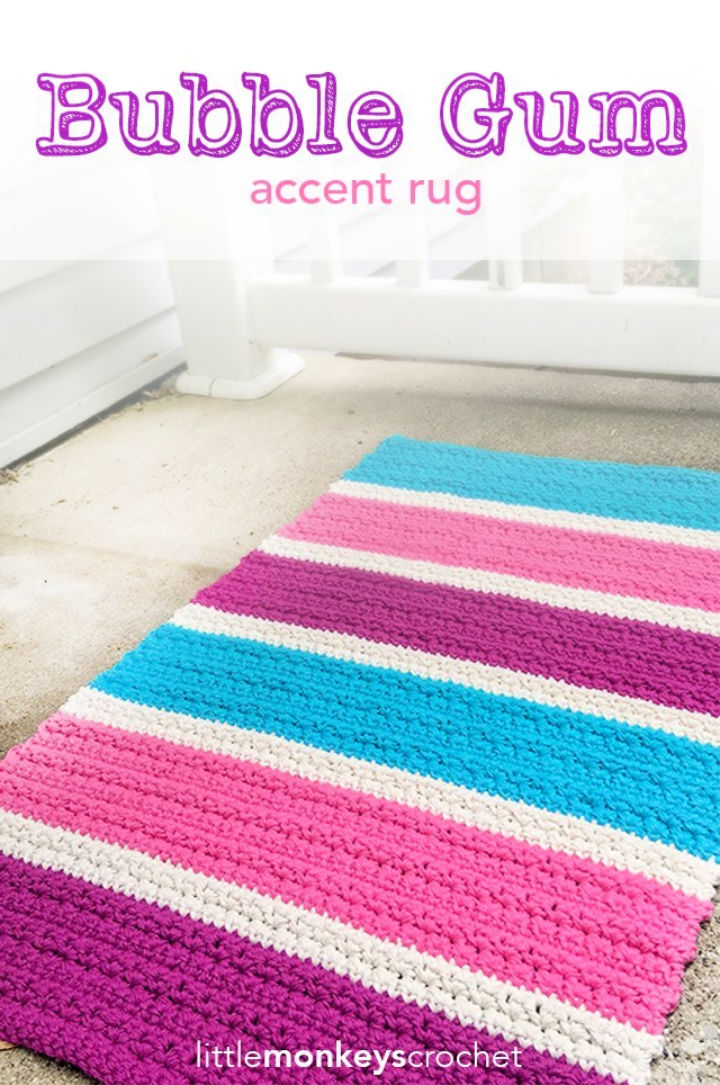 Crochet, this bubble gum accent table for a bathroom and nursery will be a smarter way to bring that all missing colors to the decor scheme of your bathroom. The striped rug is going to be a cheerful addition to any space is a great crochet Lion Brand project. The rug is a great combination of big and small stripes that simple enchant. This rug pattern may look intimidating to crochet, but it is extremely easy. Crochet it for yourself, for a friend, and also for a neighbor. littlemonkeyscro
Yarn: Lion Brand Kitchen Cotton Yarn, the worsted weight 4 yarn
Yarn Size: 1100yds
Hook Size: US -H, 5mm
Gauge: 10 sc and 6 rows are in 3"
Finished Size: 20" tall and 30" wide
7. How to Crochet Bathroom Rug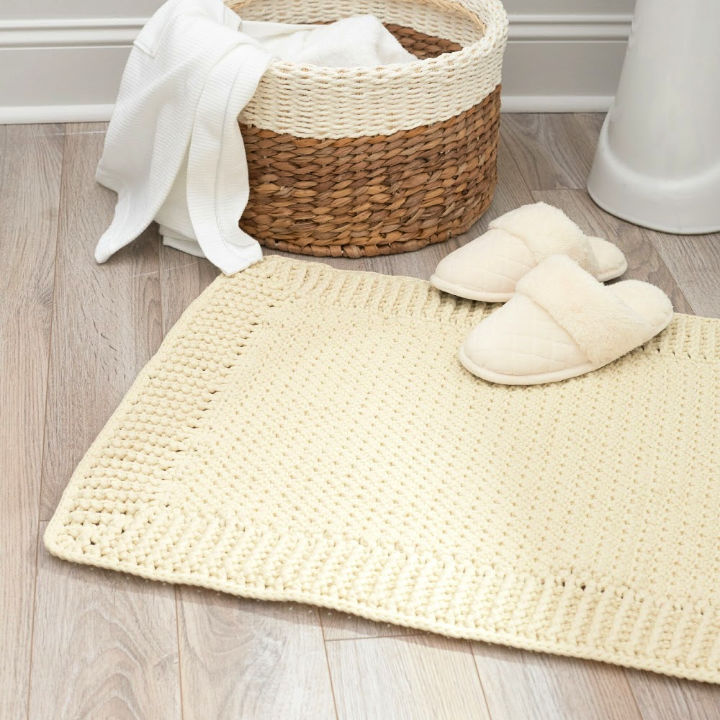 A must get crochet creation for your bathroom renovation. It will bring coziness and visual charm at the same time. Crochet this mat in any color or combination of color that will work for your bathroom. And everything you need to crochet it is the chunky crochet yarn, a matching hook, and an easy skill level. You can easily roll up this mat to store in the narrower space, and it will make a superior handmade gift for a neighbor. One of the best luxury to get out of the Red Heart Strata Yarn. yarnspirations
Yarn: Red Heart Strata Yarn
Finished Measurements: 56cm x 81.5cm
8. Upcycled Crochet Bathroom Rug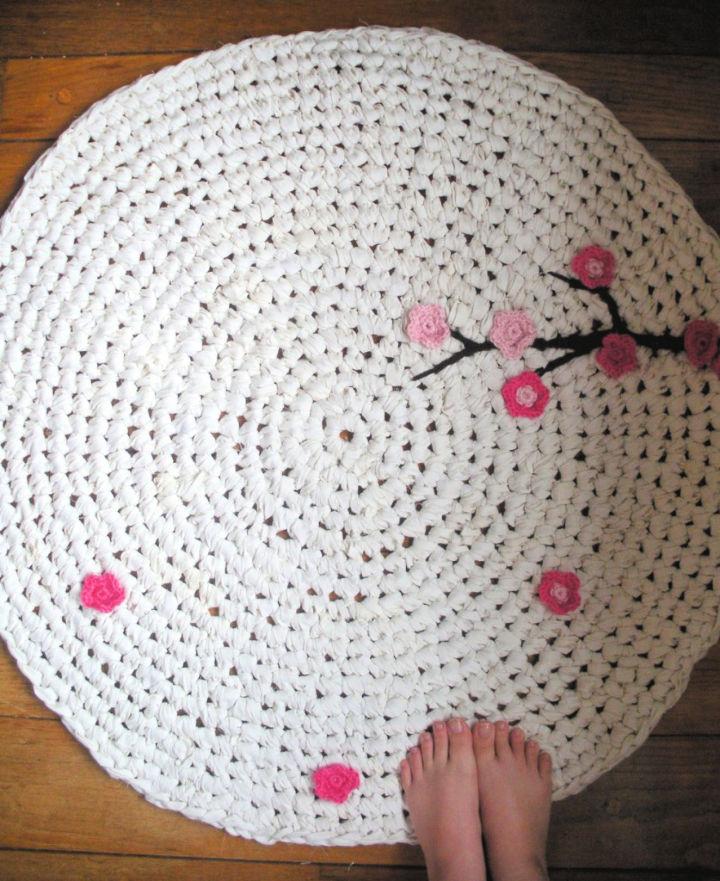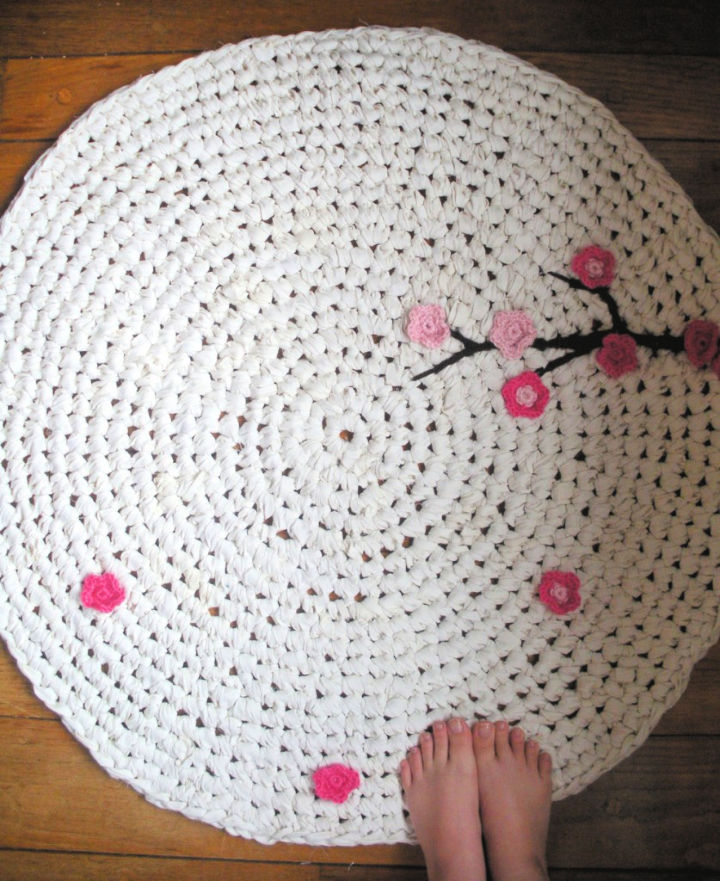 With its perfect round, this rug will be a satisfying addition to any space. For a bathroom, it will cozy, functional, and perfect stylish accessory. This is going to be the best choice to feature your handmade art in your home to get your skill praised. And it is going to be the best way to impress your guests too. This crochet pattern is truly a fun endeavor and is a great DIY upcycled project. First, make fabric yarn using old sheets, curtains, duvet covers, and even the t-shirts. Take your fabric items into 1.5" strips and then knot them together to make the yarn. upcyclemagazine
Yarn: Fabric or T-Shirt Yarn
Hook Size: Super Size Crochet Hook
Conclusion:
The crochet rugs are a big must-have when you need to make a space look cozy, comfortable, and stylish. So, fancy up your bathroom with these Crochet bath rugs that are sure to be great handmade art to feature in your spaces. These free crochet rug patterns will be durable, cost-efficient, and can be crocheted in any color of choice. From rope crochet rugs to yarn rugs to upcycled rugs, you will get here instructions for all. These rugs also come in lots of different shapes like in circular and rectangular ones to impress. From striped to color block to single-color designs, choose any that will suit your home decor theme.