Crochet pillow can be a great piece that can create an outstanding design statement in the home decor theme. So, crocheting the most beautiful pillows at home with these 25 free crochet pillow patterns comes that will surely impress. From simple plain to quotes to artful designs, there are 25 unique crochet pillow cover patterns for all kinds of pillows. Moreover, you will get step-by-step crochet pillow pattern instructions, tutorials, and diagrams to crochet all circular, heart-shaped, and square pillows that will bring tons of grace to a decided interior.
You can also use your amigurumi skills to crochet brilliant looking stuffed animal style crochet pillow covers and make toys for the kids too. Browse this collection of these free crochet pillow patterns that contain a variety of samples to spice up your cuddling game. Add them to your bedroom or any living room couch. They will get praised in every way. Furthermore, these pillows will be the smartest ways to bring the missing colors and in the room, and the quoted one will also say cutely that you want to say to the home audience.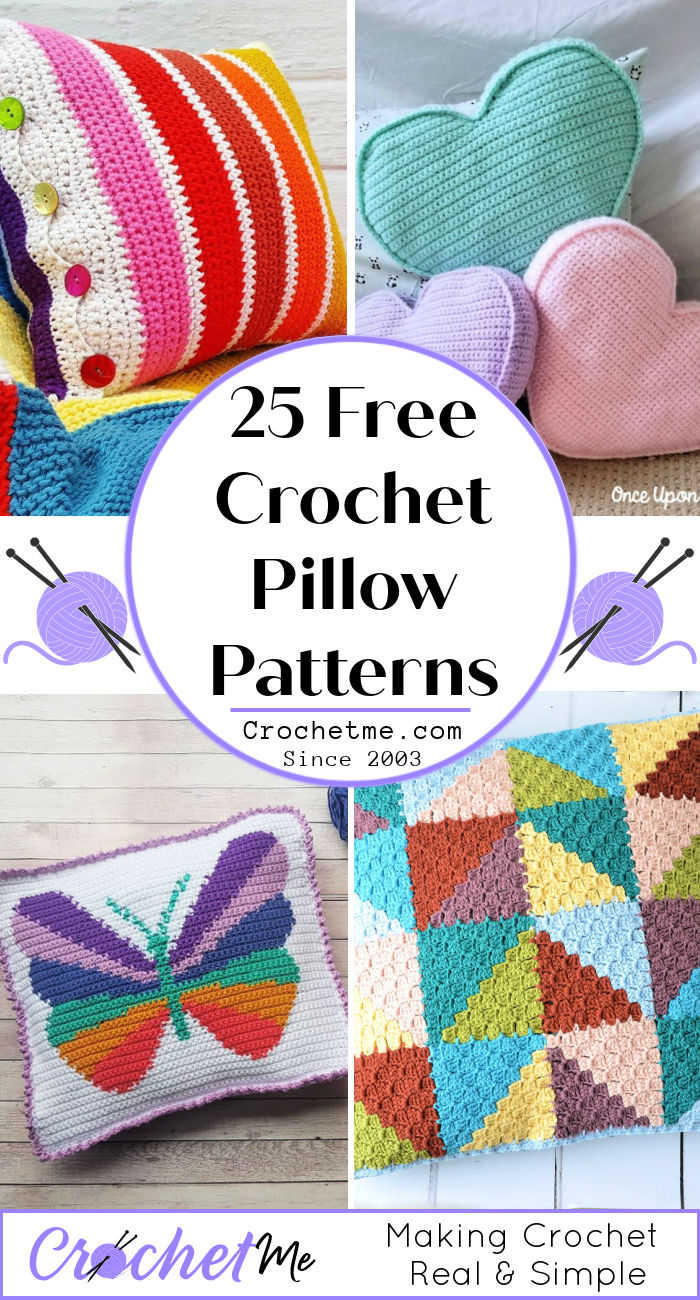 The list will detail all the crochet motifs that can amazingly create the smartest types of crochet pillow covers. The granny squares are the most popular ones. You will get the perfect gauge calculator, yarn weight guides, and finishing instructions to make crocheting a pillow too easy and quick. Browse this roundup of decorative crochet pillow cover pattern to gain all the tips and tricks, will make you an expert pillow crocheter.
1. C2C Crochet Pastel Triangles Pillow Pattern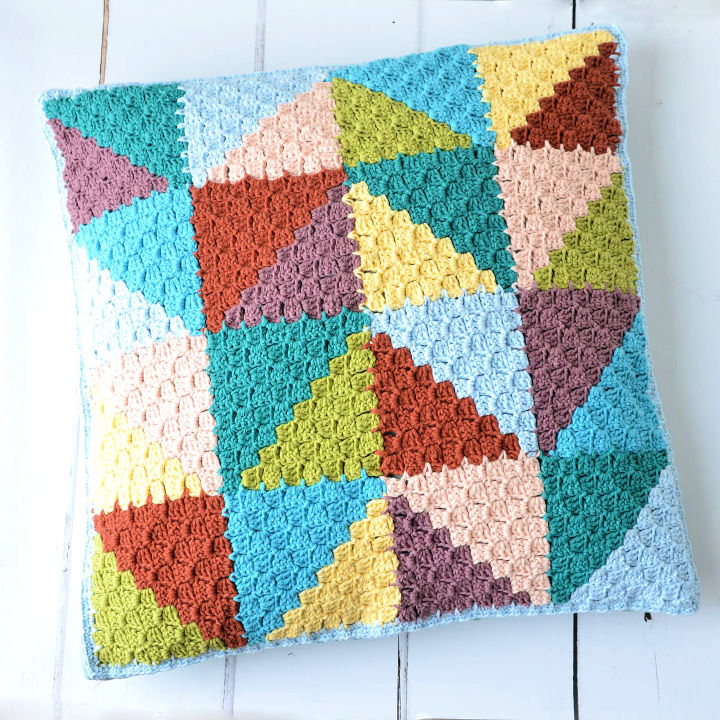 Corner to corner crocheting is a great technique that allows you to crochet pillows with fantastic art easily and shapes incorporated. Use this technique to stitch this crochet pillow that displays outstanding triangles in so many different colors and is visually captivating. This crochet triangle pillow will be comfy and will be a significant symbol of coziness on a couch or bed. You will get the full chart for the size and colors of this pillow and crochet the soft, fun yarn to stitch this brilliant looking pillow. lillabjorncrochet
2. Farmhouse Truck Crochet Pillow

Grace up your bedroom with this fascinating pillow that comes with a kids cart art crocheted in. Grab the 5mm hook and crochet the Red Heart with Love in colorways to stitch this fabulous looking pillow cover. 680yds of this yarn will be enough to crochet the 18 x 18 size of this pillow. Finish the pillow with 1" buttons. This pillow with farmhouse truck art will be a big center of attention and can be given as a sweet handmade gift too. The gauge for this pillow cover is 15 sts x 16 rows equal to 4" of this pillow cover. Details here brianakdesigns
3. Crochet Amigurumi Pattern: Spot Dog Pillow Pal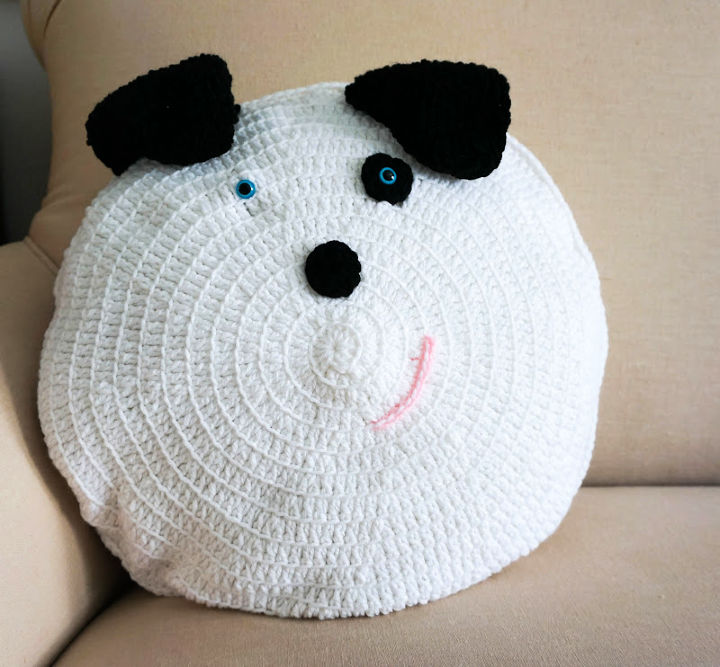 Bring tons of cuteness to your bedroom by adding this sweet crochet pillow inspired by a spot dog pillow pal. The finished size of this pillow fits a 16" round pillow form. Crochet Red Heart Super Saver Yarn in the respective colors while using a 4mm crochet hook to stitch this round pillow. You have to crochet two big white circles to stitch this pillow. Use the 10.5mm round blue safety eyes to make this dog pillow look near to real. Details here undergroundcrafter
4. Crochet A Pillowcase With Flying Hearts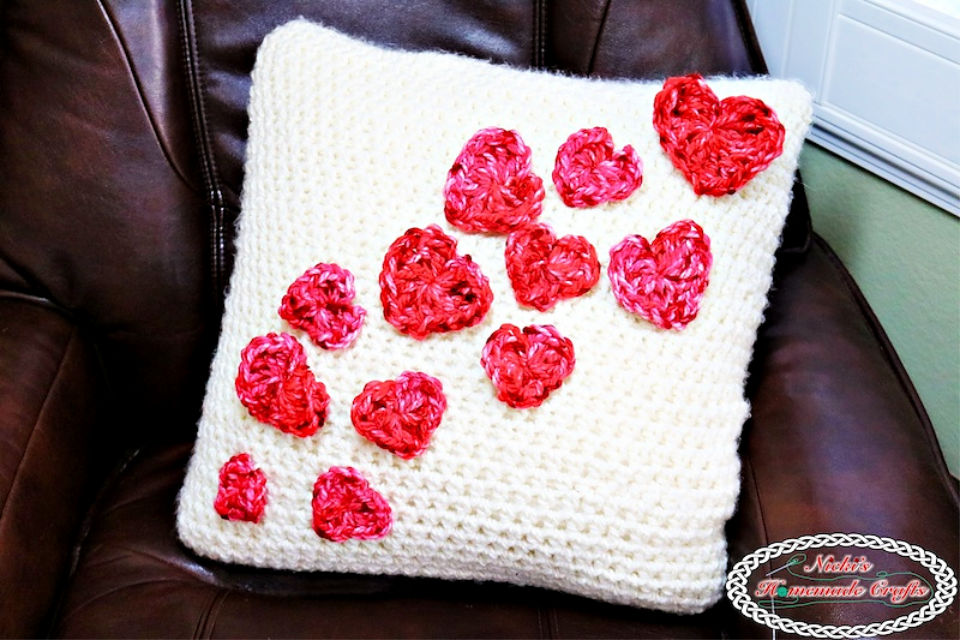 Bring love to your bedroom or living room couch with this crochet pillowcase that comes with flying hearts crocheted on. This pillowcase has been made in size to hold an 18″ x 18″ pillow form inside. Grab the 8mm yarn hook and crochet the premier yarn Deborah Norville Serenity Chunky Yarn to make this adorable pillowcase. Choose the yarn in pristine and berry burst color to stitch this fantastic love pillowcase. Grab the Hypoallergenic pillow to insert in the case to make this beautiful looking pillow. The selected gauge for this pattern 7 hdc, and 7 rounds are equal to 4". The completed size of this crochet pillowcase is 18in x 18in. Details here nickishomemade
5. Red Heart Crochet Two-color Pillow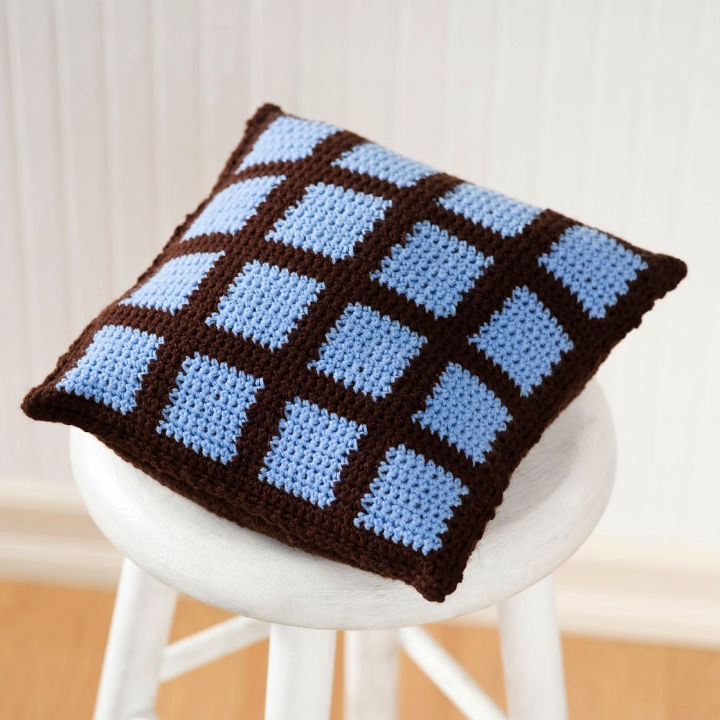 Get inspired by this another great crochet pillow that features 2 color grid-style. This pillow measures a perfect 12" x 12" size and will be a big love of all homey persons. Make the gauge that will match your tension. After you finish your pillow, insert the 12" pillow form in it. The grid-style will bring great geometrical decor vibes to your bedroom interior. A one of the best Free Crochet Pillow Pattern ever. Details here yarnspirations
6. Brioche Infinity Pillow – Free Crochet Pattern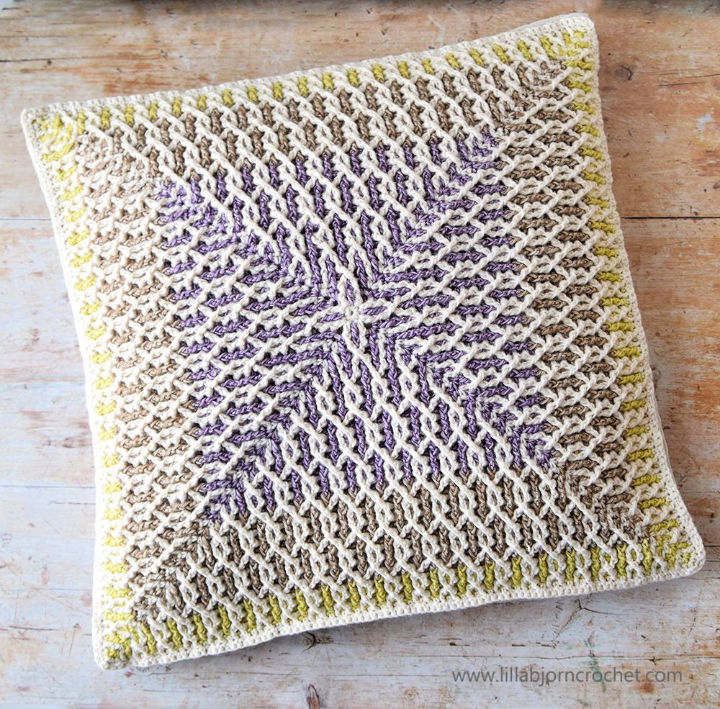 Crochet 142yds of scheepjes stone washed yarn with a 4mm crochet hook to whip up this crochet pillow cover pattern. The yarn contains 78% cotton and 22% acrylic, and you can crochet this pillow cover in 2 or more colors depending on the decor theme of your bedroom. The required gauge for this pillow cover is 8 square rounds measure 4". The finally finished pillow cover has a 20" square size and is a totally beginner-friendly crochet pattern. The design features a stunning design texture too. Details here lillabjorncrochet
7. Dioon Crochet Pillow Cover – Free Pattern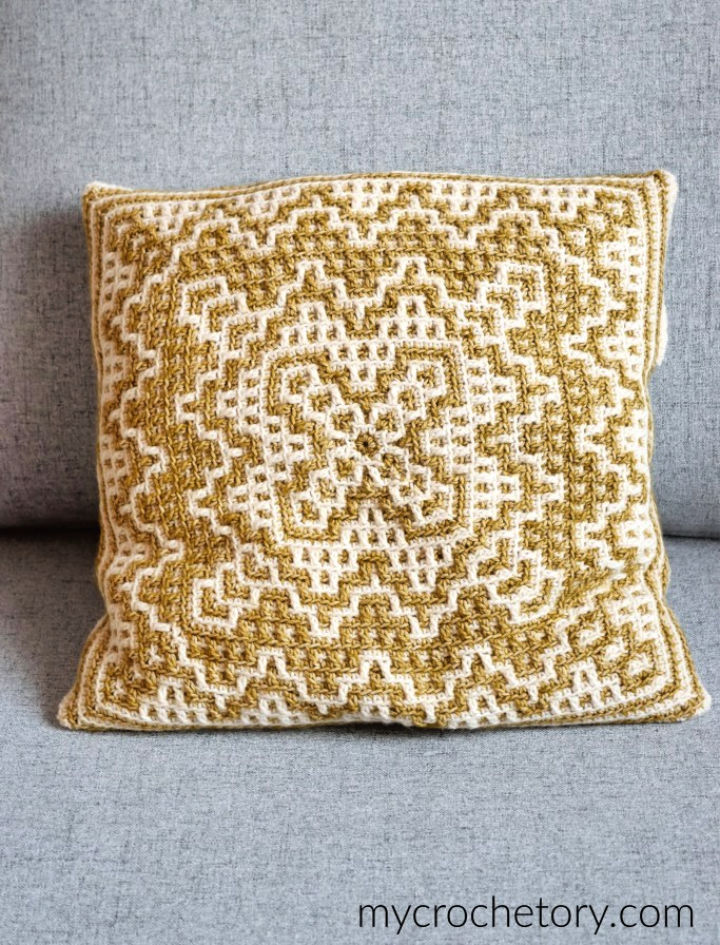 The design texture of these crochet pillow patterns is much visually mesmerizing. The pattern requires an intermediate skill level to whip up this crochet pillow having a 40cm x 40cm finished size. Crochet the 50g gran scheepjes stone washed yarn with a 3.5mm crochet hook to whip up this fantastic yarn pillow. Finish this pillow with 4 buttons and try it up with any combination of yarn colors. This pillow features a mosaic pattern and will be loved dearly by all for sure. Details here mycrochetory
8. Crochet Picking Flowers Pillow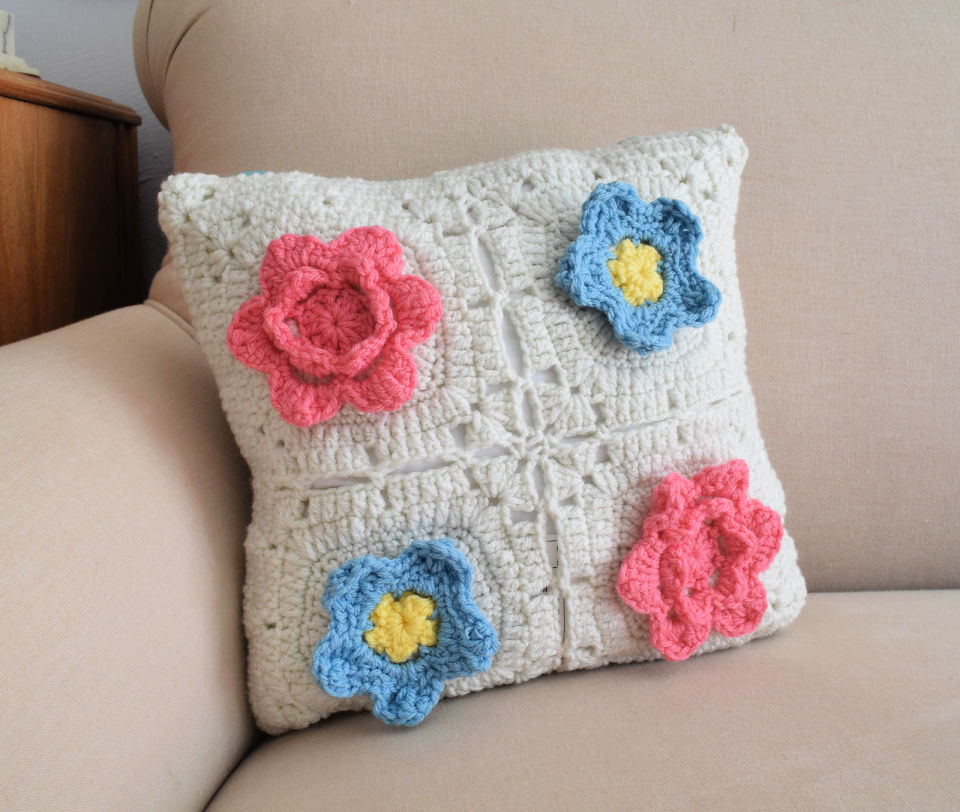 The flowers are the real beauty of this pillow that is sure to be a big visual grace of any bedroom or living room. The pillow comes with crocheted roses and forget-me-nots and will be a pleasure to crochet. Along with s shell edging, this pillow features a butter closure too. Crochet 370yds of Red Heart with Love yarn 100% acrylic to whip up this 14" pillow. Use the 5.5mm hook to stitch these fluffy yarn pillows, and it adds a lot to the visual grace of your couch. The calculated gauge for this crochet pattern is 1 square in pattern equal to 6". Learn to crochet flowers before getting into this project. Details here undergroundcrafter
9. Crochet Pillow Cover Pattern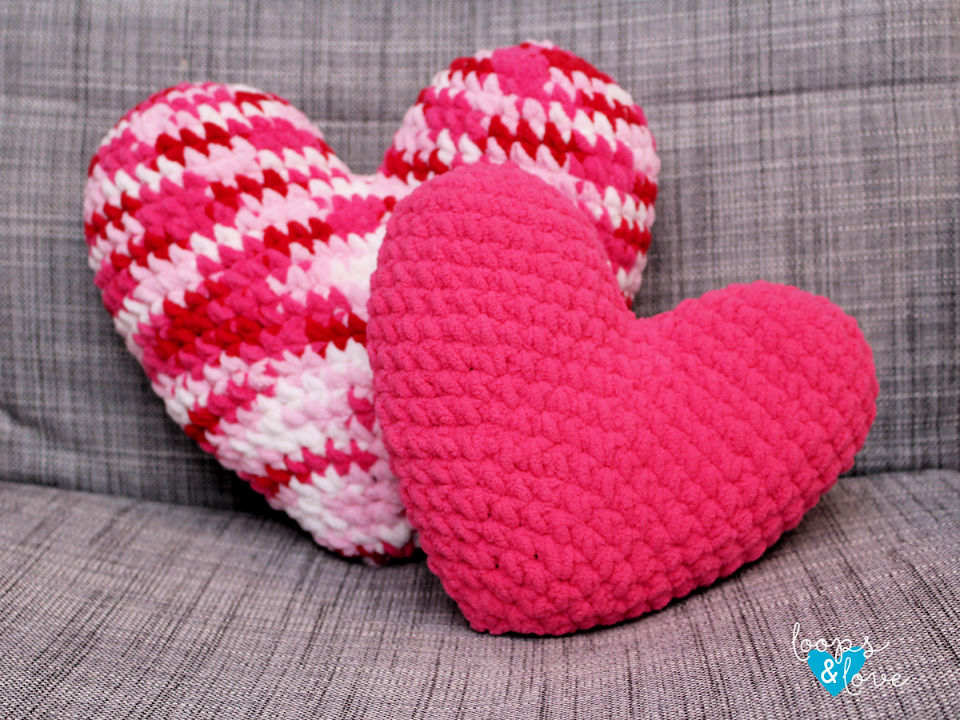 The perfect Valentine's Day gives, the heart shapes pillows will provide comfort and bring a larger amount of love in the air. Crochet the super bulky yarn like the Bernat Blanket Brights in colors of choice using an 8mm crochet hook to hook up these darling heart-shaped pillow covers. Here you don't need to stuff a pillow form, but use the fiberfill stuffing to fill these pillows beautifully. Start with the crochet magic ring foundation and then work in continuous rounds, and next, the heart bumps will come. Details here loopsandlovecr
10. Crochet Candy Heart Pillow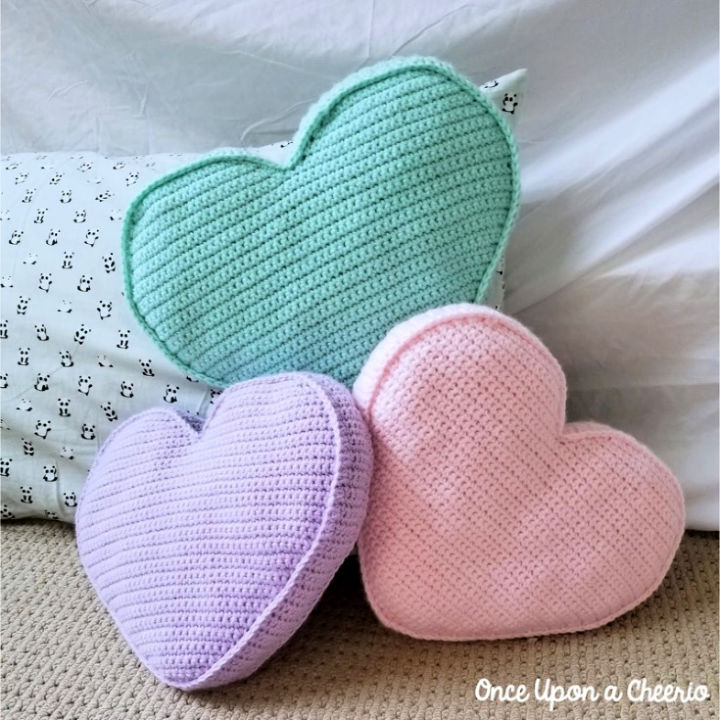 The pillows look like the giant candies are a pleasure to crochet right in the comfort of your home. Crochet these heart shape yarn pillows also for Valentine's Day as they will make sweet handmade gifts for the occasion. Stitch worsted weight yarn like Loops and Threads Impeccable with a 4mm crochet hook to whip up these hearty yarn pillows. Crochet the giant hearts and then fasten off their edging or sew to make a heart pillow. Next, stuff the completed pillow with fiberfill. Details here onceuponacheerio
11. How to Crochet Donuts Pillow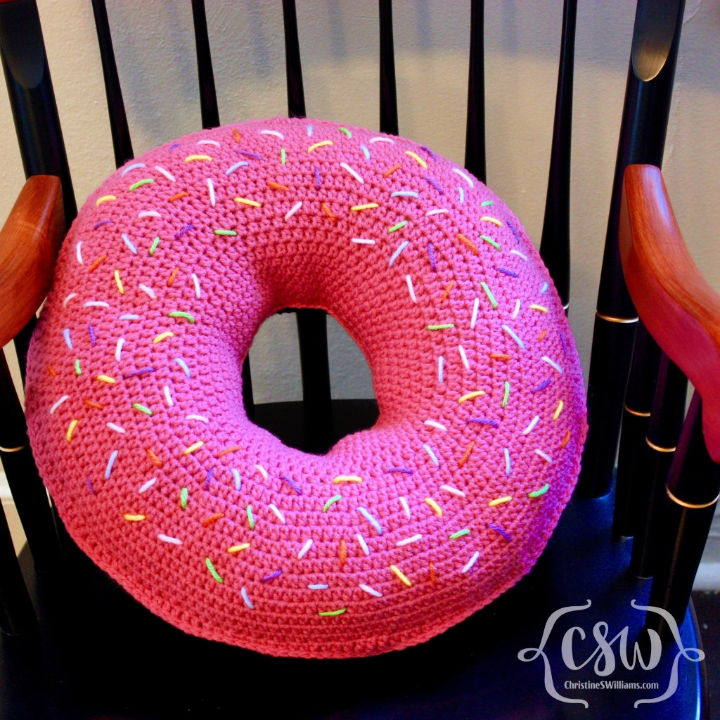 The best gift for all the foodies, especially for donut lovers, the donut shape pillow, will be big fun to hold in hands and will create a fun statement too in your bedroom. Crochet the Red Heart Super Saver yarn in colors of choice like in choco and pink and choose many colors for sprinkles. Start by making a big ring like the base of the donut and then crochet the frosting. Add the sprinkles at the end, will be quick yarn stitches in lots of different colors. Use the 4.5mm hook for this donut pillow and stuff it with fiberfill. Details here christineswilliams
12. Little Pillow Bear Crochet Pattern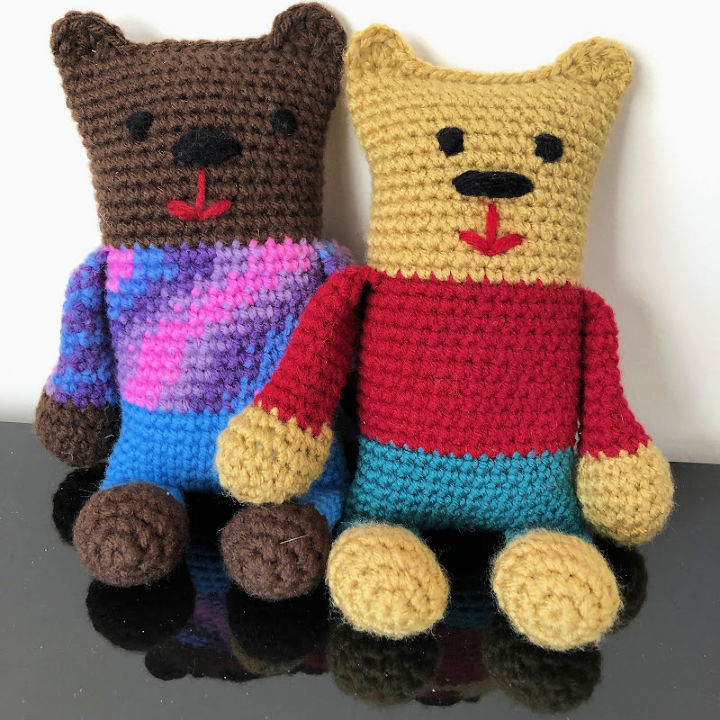 Use the amazing crochet amigurumi skills, too, for making adorable stuffed animal inspired pillows. Look at these little pillow bears; are not they adorable? Crochet 100-125yds of worsted weight yarn with 4mm crochet hook and stitch these about 9" tall pillow bears. Choose your own colors for bearskin and dresses and poly-fill to stuff the feet, legs, arm, and the entire body. These are here the best softies to use as pillows. They will rock in the kids' bedrooms and are not a big hassle to crochet. Details here ravelry
13. Free Crochet Rainbow Pillow Pattern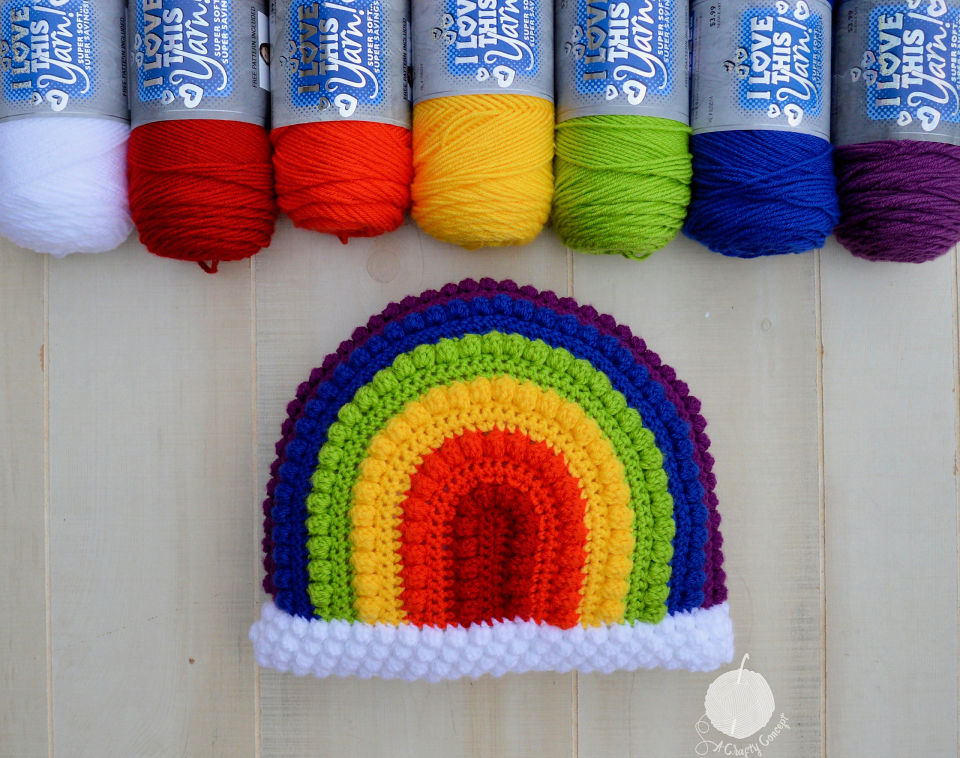 The completed size of this rainbow pillow is 12" tall and 14" at the widest part, the perfect fun pillow type to bring in the kid's bedroom. The best pillow choice to pull together all the rainbow colors to a room or the rainbows. Grab the yarn in rainbow colors and crochet them with a 4mm yarn hook. After your rainbows, stuff it with the poly-fill. You have to work in the bump and bobble special stitches to stitch this adorable rainbow pillow. Moreover, you will get the guides about how to change the colors. Details here acraftyconcept
14. Crochet Pillow Covers Patterns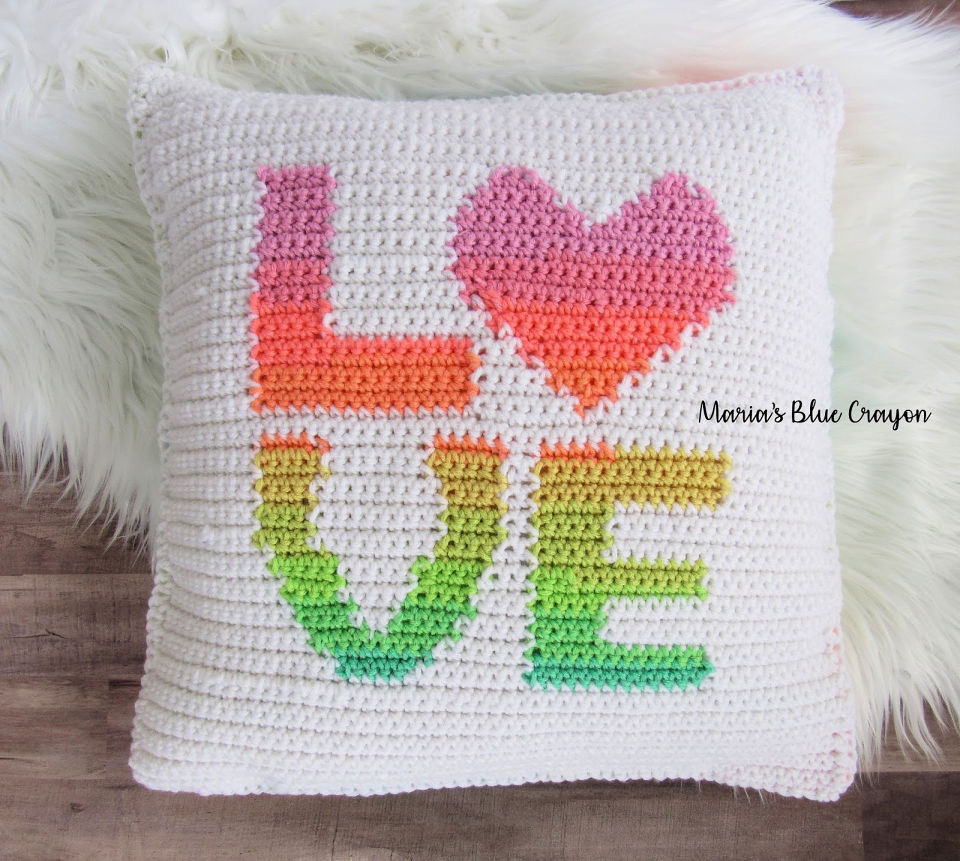 The perfect crochet gift for a hubby or a boyfriend, the love crochet pillow. It comes with colorful "LOVE" letters incorporated and will be a pleasure to whip up. Use the c2c technique to crochet this very gorgeous, lettered pillow. (Find more crochet letters patterns). Crochet worsted weight yarn in white and Red Heart Super Saver Stripes with a 5mm crochet hook to get this love pillow made. This pillow's finished size is 16in x 16in and gains the pillow form in the same size. 14st and 16 rows in single crochet make 4" x 4" of this crochet pillow. Details here mariasbluecrayon
15. Crochet Ripple Pillow Cover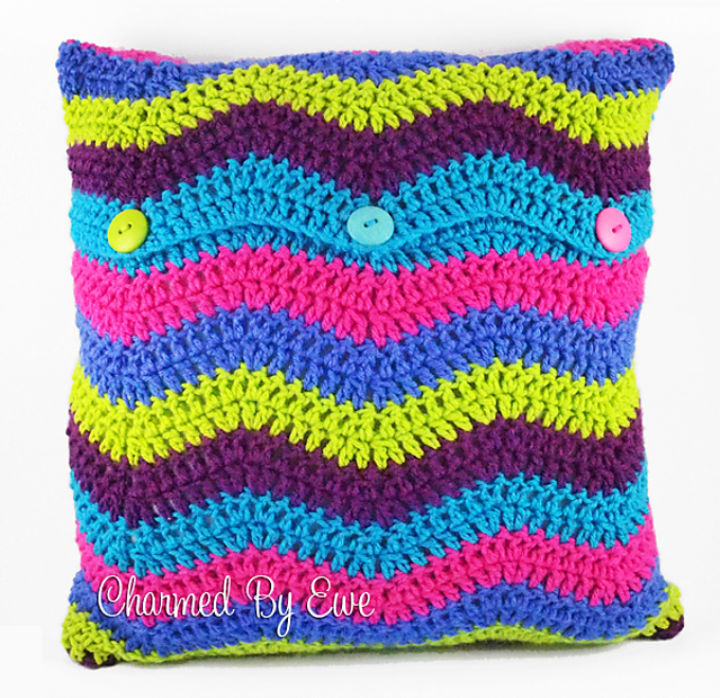 The wavy colorful stripes will arrest you all under its creative spell, a one of the best colorful pillows ever crocheted. Crochet worsted weight yarn in respective colors using a 5mm hook to whip up this yarn pillow that is 14" wide and 15" tall. Finish your pillow with 1" buttons and with 16" x 16" pillow insert. The very required gauge for this pillow pattern is 13 stitches and 7 rows are equal to 4". A beginner-friendly crochet pillow cover pattern that is guaranteed to impress. Details here charmedbyewe
16. Bloom Crochet Pillow Cover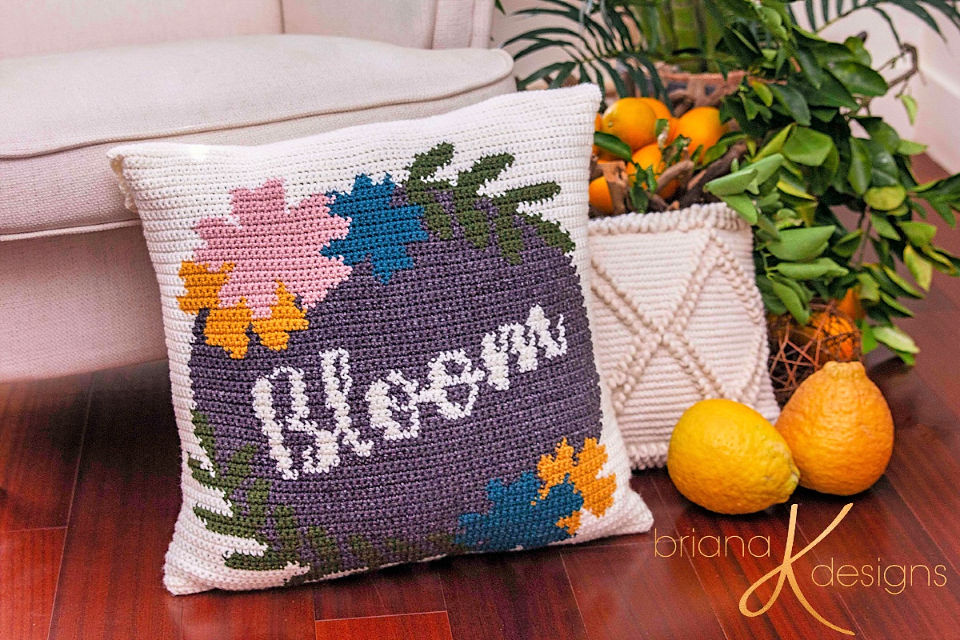 This beautiful quote pillow will be a big center of attention. Crochet this artful design of pillow cover for this spring. You need 725yds of I LOVE THIS YARN in the respective colors that you can crochet with a 5mm hook to get the targeted pillow made beautifully. The pillow's finished size is 20" x 20," and you can get the pillow insert or form in the same size too. Finish the pillow with 1" buttons and start using in your bedroom or living room. The design is super pretty, for sure. Details here brianakdesigns
17. Binge-Watcher Crochet Pillow Cover Pattern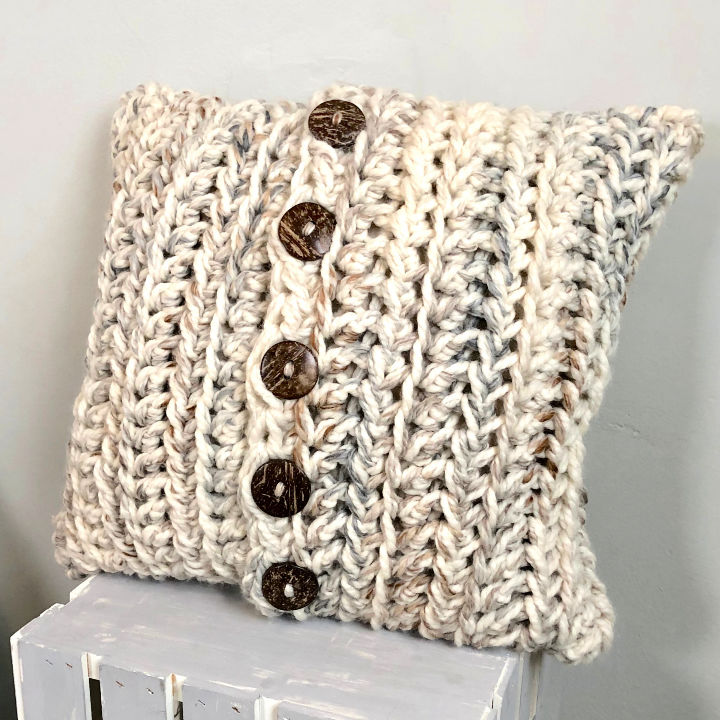 This pillow cover is chunky and gains attention from the neutral hue that looks elegance with a line of buttons. It will provide both style and coziness to a targeted space. Crochet super bulky weight 6 yarn with a 15mm hook to make this fall special chunky pillow in size 18" x 18". Stuff it up with an 18" square pillow form and finish with 1.5" coconut shell buttons; go perfect with the pillow cover's white hue. The calculated gauge for this pillow is 6 hdc stitches, and 4 rows make 4". Details here fandomknittingand
18. Granny Square Pillow Cover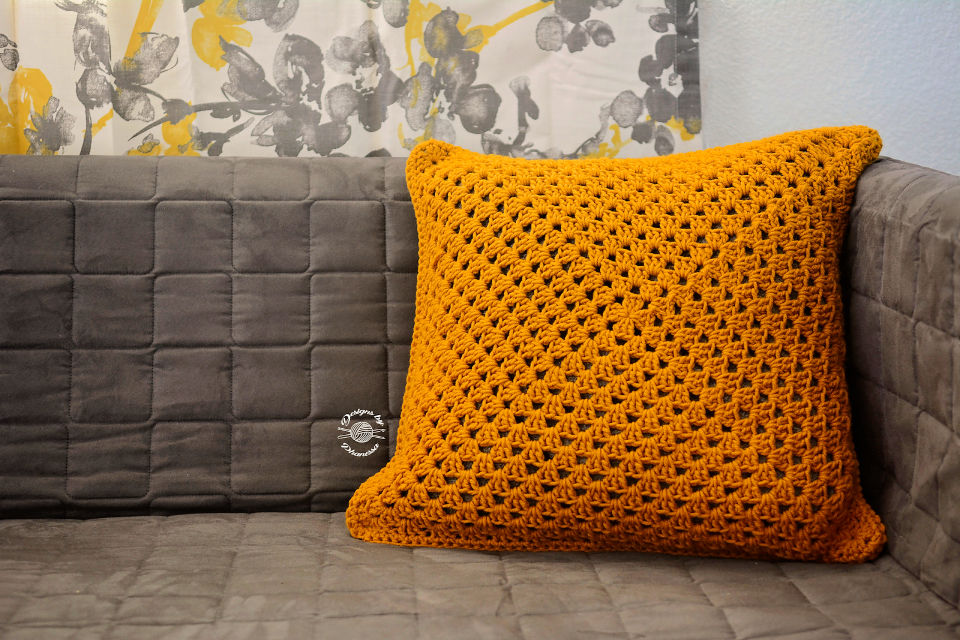 The yellow golden appeal of this pillow really enchants. The best choice of a pillow when you need to bring in some bright shades to free crochet pillow patterns. The mesh-style openwork makes this granny square pillow cover a bit more impressive and beautiful. Crochet worsted weight yarn with a 5.5mm hook to whip up this 18" x 18" throw pillow. The very required skill here is a granny square, the most loved classic yarn motif. Experiment with this pillow with any combination of yarn colors, or try it with lots of more granny square motifs that come with endless variations. Details here designsbyphane
19. Free Crochet Triangle Pillow Pattern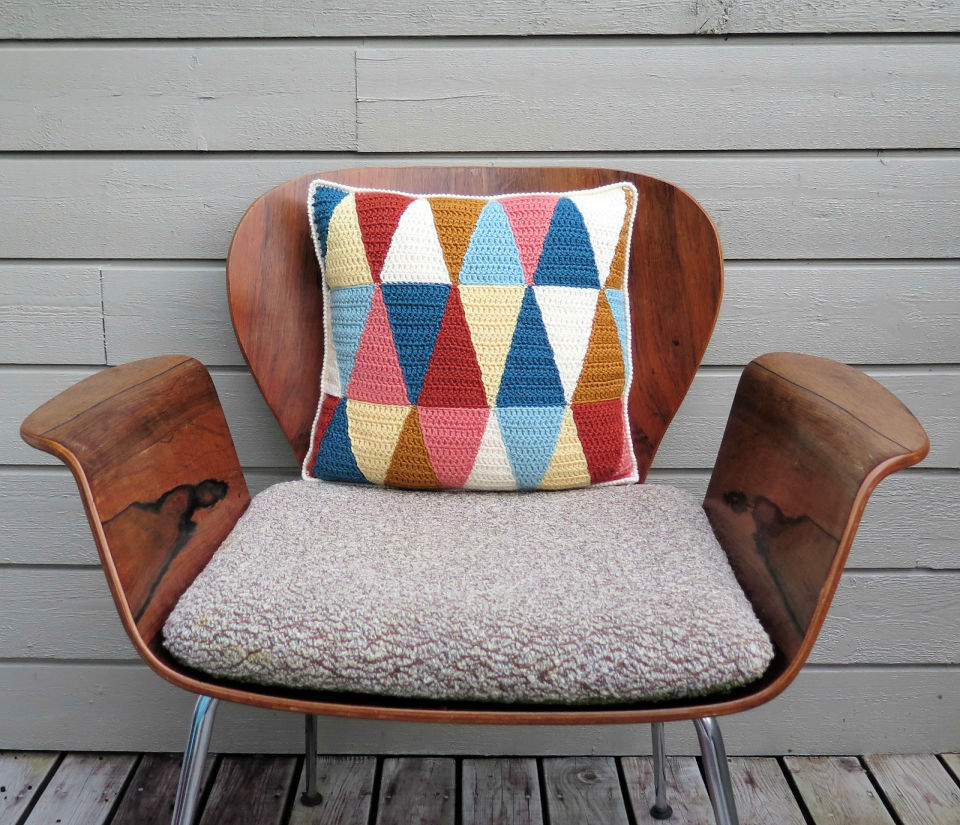 This pillow cover features colorful triangles that have a huge impact on the overall grace of this yarn pillow. The front of this pillow is made of 24 triangles and 6-half triangles, while the back of the cover is plain and is to crochet with simple dc. Crochet the DK weight 8ply yarn with a 4mm crochet hook to stitch an enchantingly beautiful crochet pillow. The perfect calculate gauge for this pillow is 9dc and equal to 5cm of the cover. Finish the completed design with the 1" pillows and stuff with a pillow form. Details here solgrim
20. Sunshine Lattice Crochet Pillow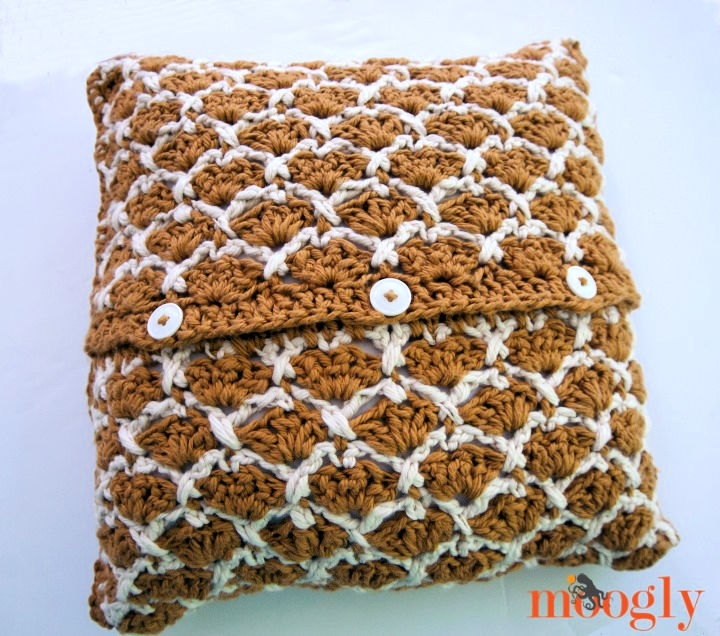 Spic up your cuddling game with this sunshine lattice pillow; cuteness and style are coming together in this brightly colored pillow. Crochet 360yds of Knit Picks Billow 100% cotton yarn with 6mm crochet hook to get this sunshine lattice crochet pillow made. The finished size of this pillow 14" x 14" and choose the pillow form for it in the same size. The special stitches to use in this pattern are the cluster and cluster shell, and 2 cluster shells and 6 rows make 4" in the pattern. Finish your completed pillow with 19mm buttons. Details here mooglyblog
21. Crochet Basket Weave Cushion Cover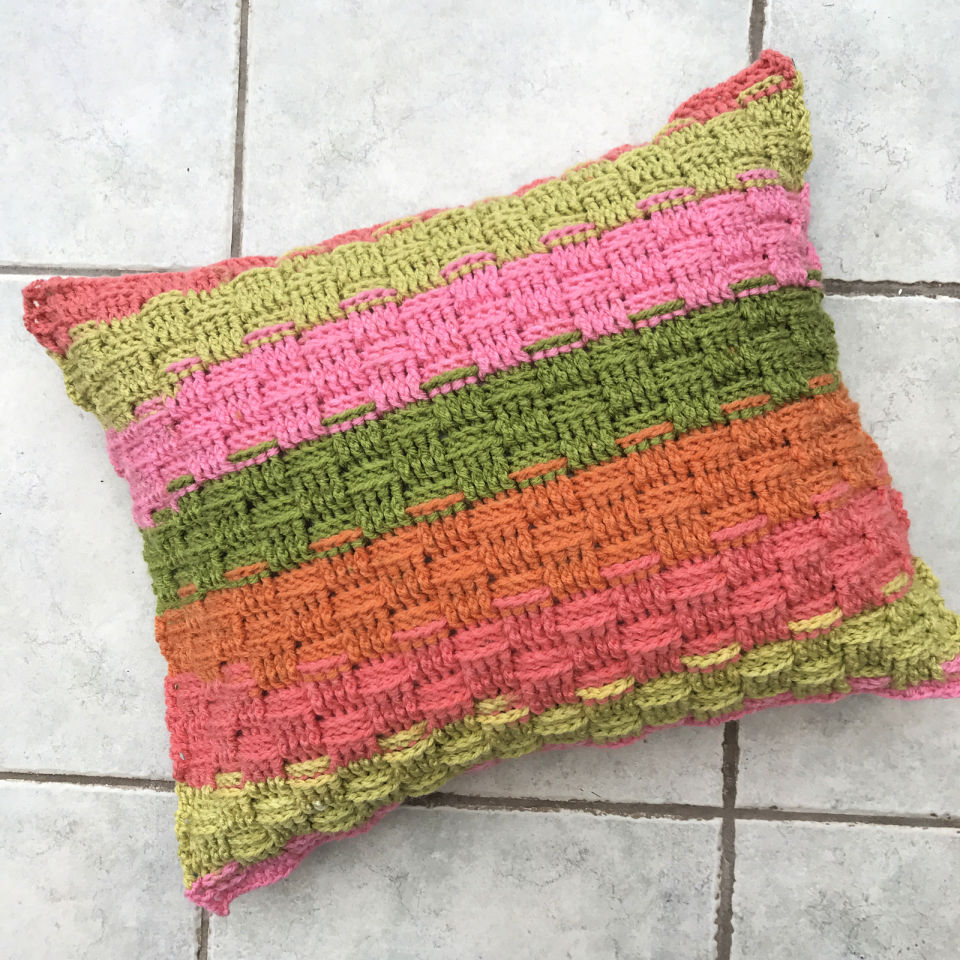 You will fall in love with the woven texture of this crochet pillow, the basketweave crochet cushion. Crochet Caron Cakes Aran Weight Yarn with 5mm crochet hook to stitch this pillow cushion. It would be best if you had 372yds of yarn to stitch this colorful crochet cushion, which will be a big breeze to crochet. The only skill required here is the basketweave stitch, which is not very difficult to learn. Here you are all free to crochet these crochet pillow patterns cover in any yarn color you are in love with. Details here ravelry
22. The Oddments Crochet Cushion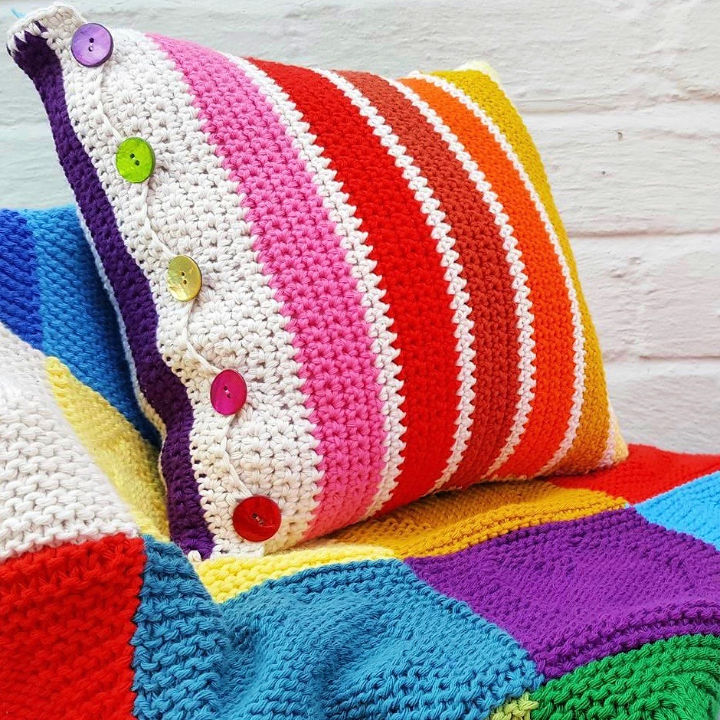 Crochet the leftover scraps of yarn too for making the adorable pillow and cushion covers. Get the instructions and free crochet pillow patterns for making this oddments crochet cushion using the scrap yarn. Here 6g to 12g scraps of Love Heart Blanket yarn has been used in so many different colors to stitch these oddments crochet cushions, fabulously beautiful, gorgeous, soft, and modern. Choose the matching pillow form for this rainbow pillow, and don't forget to finish it off with the lovely buttons. One of the best pillows ever crocheted. Details here janeellison
23. Sunshine Crochet Pillow Case – Free Pattern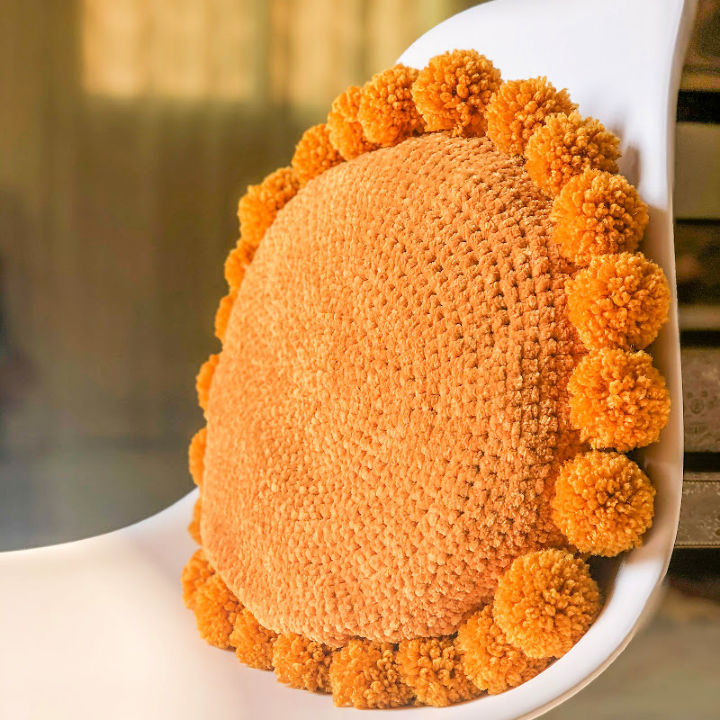 What a beauty this crochet pillowcase is, the sunshine crochet pillow having a bright yellow golden hue. The pillow is just ready for extreme cuddling. Crochet 2 skeins of Himalaya Bursa Chenille Velvet for the perfectly round pillow and 1-½ skeins of this yarn will be enough to make the pom-pom edging. Finish this pillow with a round pillow insert and crochet this yarn with a 4mm hook to get this pillow made. The finished size of this pillow is 16" without pom-poms. The gauge is not necessary for this pattern, and you can crochet with any medium weight 4 yarn. Details here topknotchcrochet
Follow our tutorial how to read crochet patterns to learn crochet stitches and and abbreviations.
24. Crochet Butterfly 2 in 1 Pajama Case & Cushion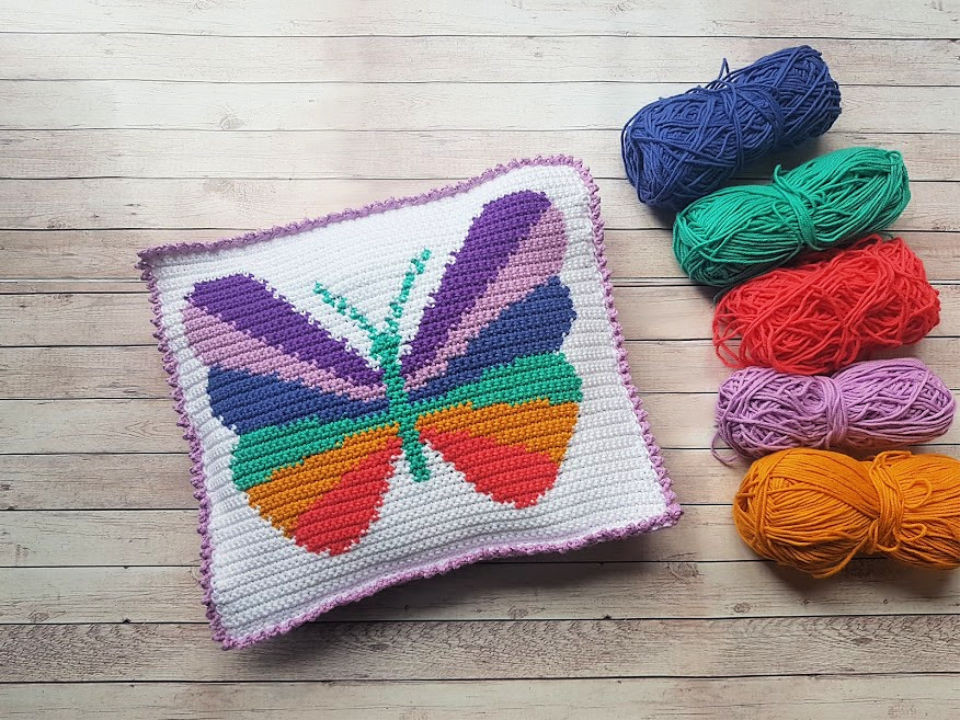 We all love the butterflies, and this pattern allows you to feature colorful butterflies in the pillow forms too. With a finished size of 12" x 12", this butterfly pillow impresses with the amazing design texture. Crochet Knitcraft Cotton Blend in 7 different colors for the butterfly and 4mm hook is recommended to crochet this weight of yarn. The finished size of this pillow is 13.5" x 11.5", and the perfect gauge for this pillowcase is 19 stitches and 23 rows make 4" x 4". craftycruella
25. Crochet Throw Pillow Pattern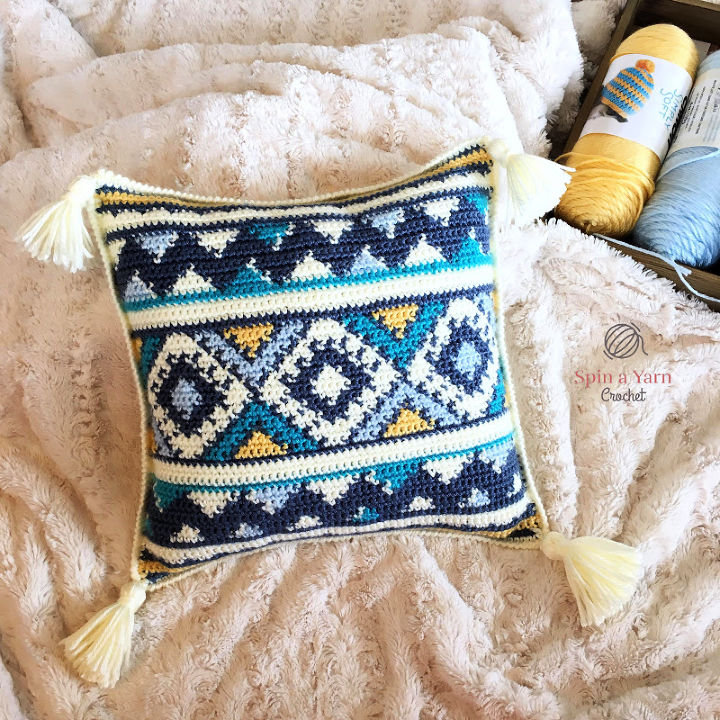 Bring an interest art design statement in your bedroom or living room by making this crochet throw pillow, much visually captivating. The Aztec crochet throw pillow that is looking amazingly graceful and enchanting. Crochet the Caron Simply Soft in 5 colors to whip up this crochet throw pillow will be super beautiful to look at. Stitch the selected yarn with a 3.5 mm hook to whip up this gorgeous throw pillow. Next, finish the pillow with custom stuffing and gain a fantastic throw pillow, which will surely impress at a very first look. Details here spinayarncrochet
Conclusion:
Crochet pillows are the main items that are highly needed for your home decoration. So, ready for the best home decor by crocheting these super beautiful, colorful, and soft crochet pillow patterns that are a breeze to crochet with the help of provided free patterns. Please choose your favorite yarn weight in color suiting your home decor scheme, ext crochet it with the matching hook. Working in different stitches will help create so many different design textures of pillows that will be a delight to look at. You will love the way these pillows will make a space look great and comfortable.
Related Crochet Patterns
Crochet Rug: Choose from over 30 Free Crochet Rug Patterns to make your own perfect rug. Maybe a beautiful round rug, rag rug or a simple one from leftover yarn.
Crochet Table Runner: Make this beautiful Crocheted Table Runner from leftover yarn or Red Heart Yarn to decorate your kitchen or dining table this winter.
Placemats: Crochet placemats are very functional that help to protect your tables or other surfaces from scrapes and scratches.
Crochet Towel Topper: Beginner friendly easy crochet towel topper. These crochet towel toppers are a quick projects and they are super practical too!
Crochet Soap Bag: This crochet soap saver pattern is so quick and easy to work up! The unique addition of an extra loop before each stitch that creates an attractive texture.