Winter season is finally here, so these 30 free crochet beanie patterns are definitely something that you should try out! It is very important to cover your head when it's cold outside! You can keep your whole body warm by covering your head and ears. Moreover, in comparison to other types of hats, crochet beanie is just so much more relaxed and casual. The best part about wearing a beanie is that it can literally make any outfit look ten times better! So, are you ready to try out these stunning crochet beanie hat patterns? It's going to very fun to take a look at these beanie crochet patterns.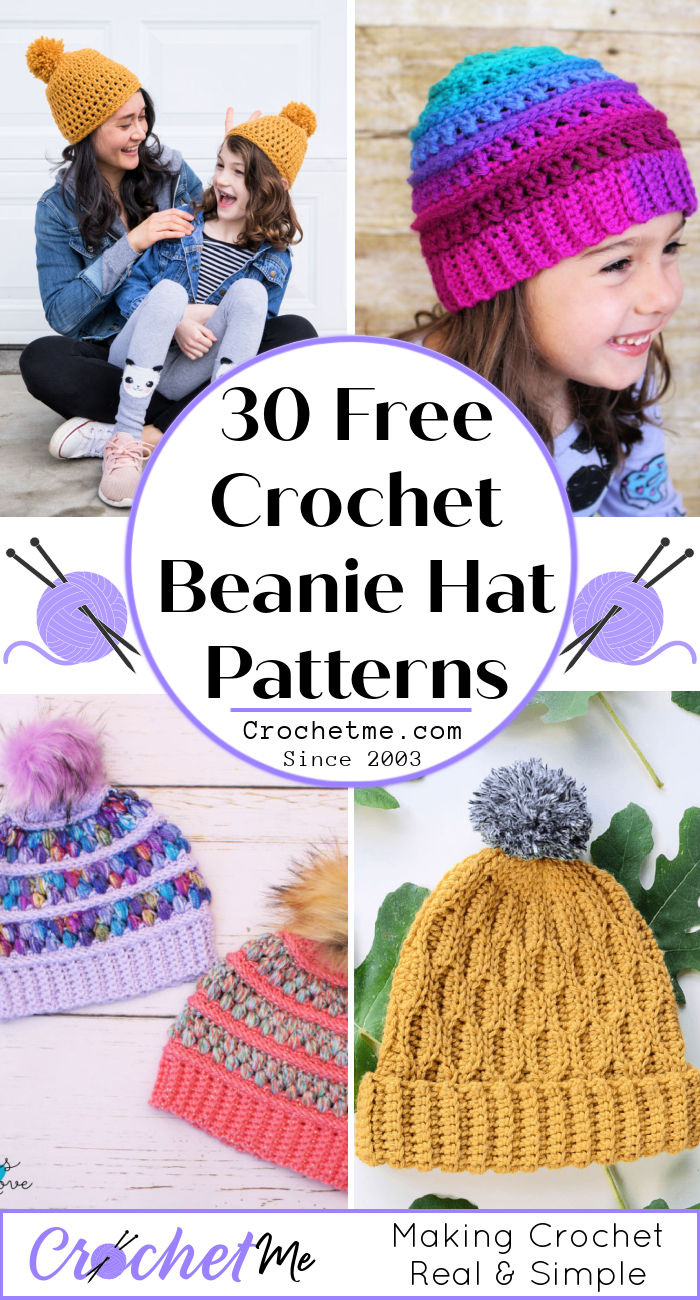 How to crochet a beanie? This article will cover 30 free crochet beanie patterns for beginners, from ribbed to bonnet ones, from puff stitch to slouchy ones, criss-cross to wave stitch ones; or from gradient to bobble stitch ones, also from pom-pom to dancing snowflakes ones; and from simple to fancy ones! There is definitely a huge range of easy crochet beanie hat patterns available for you!
Most of these crochet hat patterns include special stitches! You will get to learn new stitches like the bobble stitch, Tunisian crochet, and much more! This will help take your crochet skills to the next level! Isn't this exciting? It's time to get started!
1. How to Crochet in the Round and Make a Beanie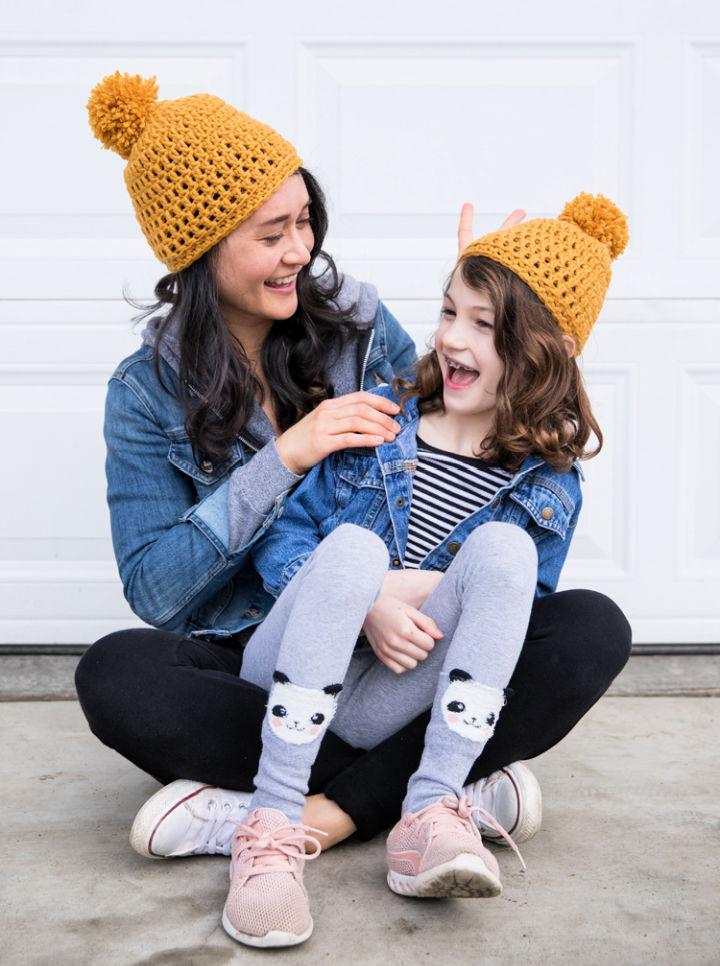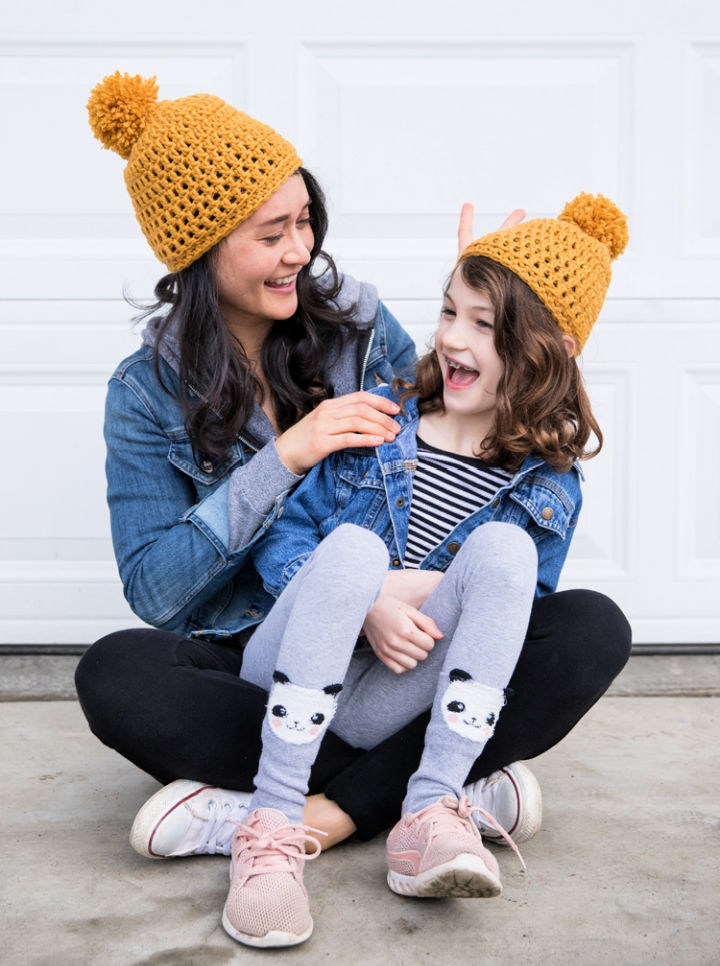 What's better than a solid colored mustard beanie? It has such a relaxed and nice vibe to it. Moreover, this crochet beanie hat is worked up in rounds, so it's perfect for those people who don't like working in spirals. Bulky yarn is a great option as it will make the crochet process a lot faster. However, if you choose to use a thinner yarn, work it up tighter. deliacreates
What you need:
6.0mm crochet hook
Bulky Weight Yarn
Bonus tips:
You can add more stitches to get a circular shape – by working two stitches in the same space.
No new stitches are being learned in this beanie tutorial, so you can ask your beginner students to make this if you're a teacher.
This crochet beanie tutorial can be customized as the technique being used can be worked up in all sorts of shapes – triangles, hexagons, etc.
2. Jelly Beanie – Free Crochet Pattern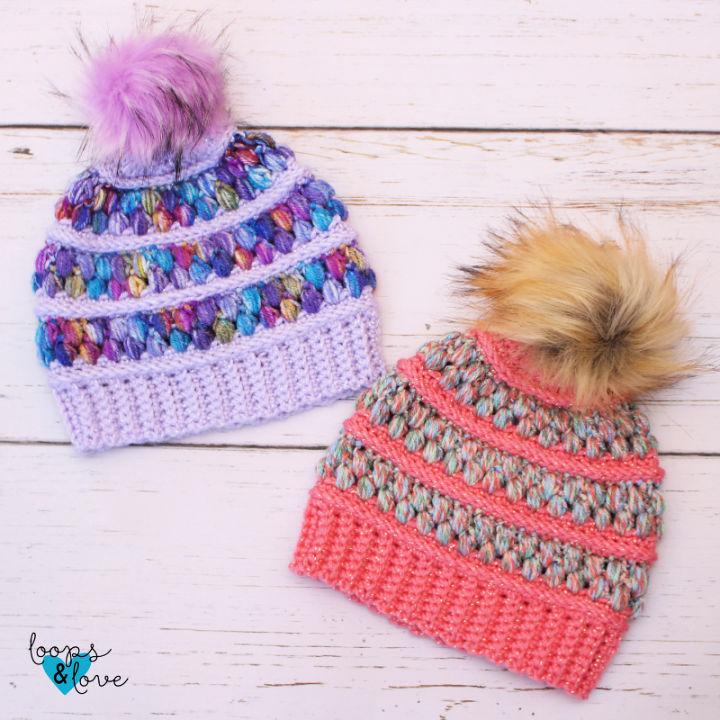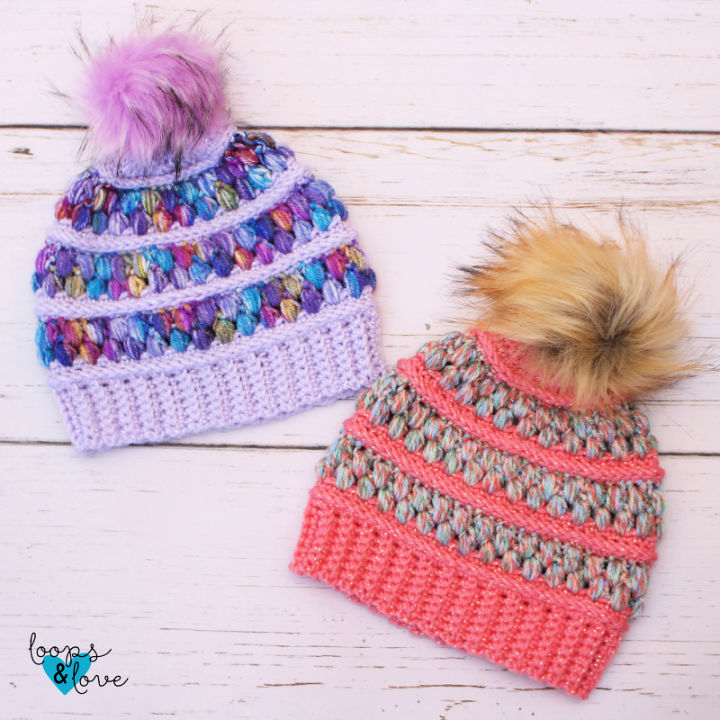 The jelly stitch used on this easy crochet beanie pattern almost looks like beads! Isn't that just the most beautiful thing ever? Moreover, puff stitches are used in this pattern to make everything look voluminous and big! You can literally use as many colors as you want in a project like this. Moreover, there are sizes available all the way, from newborns to adults! loopsandlove
What you need:
Worsted Weighted Yarn
Pom-pom
Yarn needle
5.0mm hook
Bonus tips:
If you're someone who can't crochet tight, you can just change the hook size to make it fit the yarn.
All of the stitches being used in the beanie tutorial are old; however, you can learn the puff stitch before getting started.
When you're working on the ribbed part of the hat, stretch it out gently – this will help it fit better.
3. Crochet Dancing Snowflakes Beanie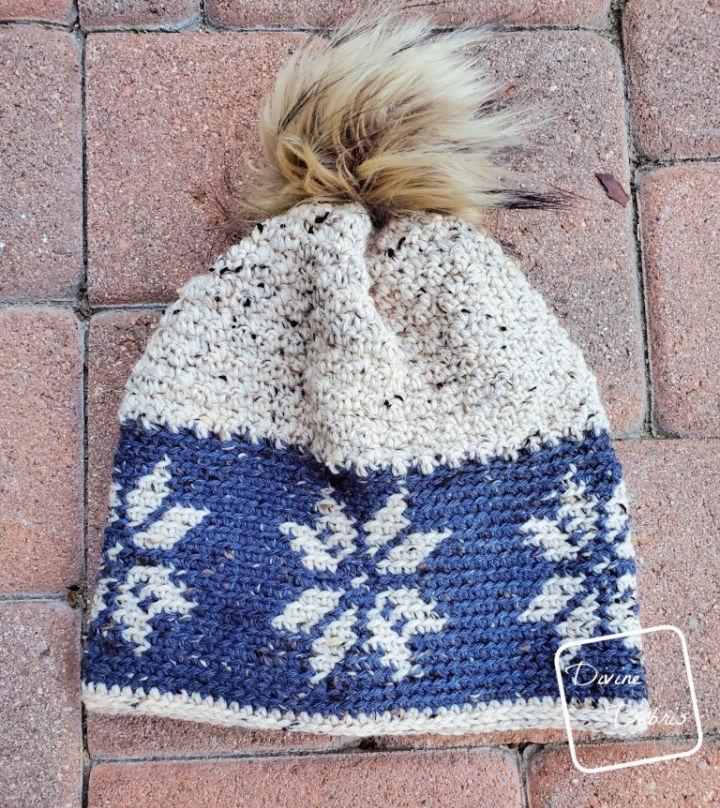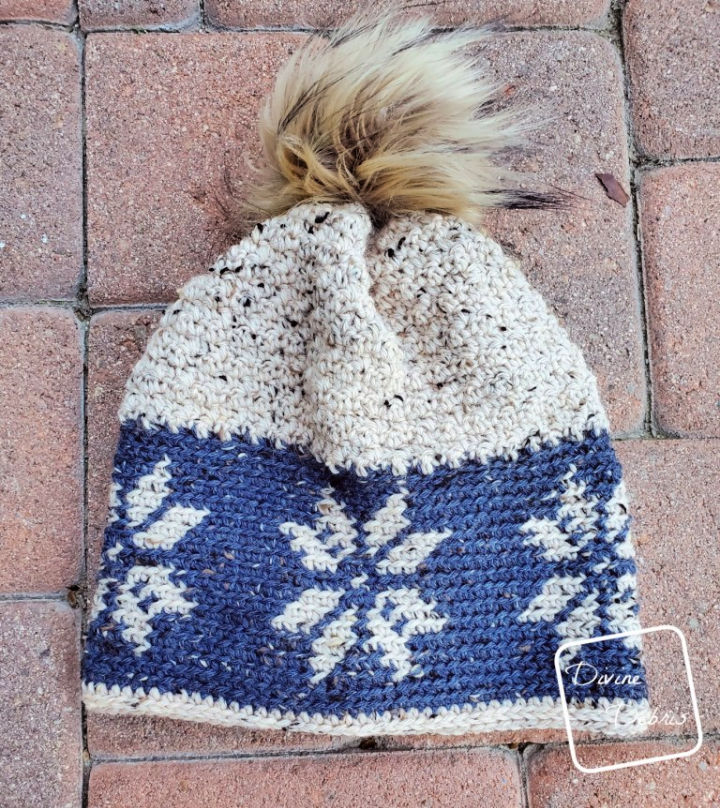 Here's another beautiful snowflake cap that is just perfect for the Holiday season! You can wear this on your skateboarding dates to Christmas dinners with your family! Right side, single crochet, double crochet, half double crochet, slip stitching, and a few other stitches are being used in this pattern – you might already be familiar with them! divinedebris
What you need:
Knit Picks Wool of the Andes
Yarn needle
Scissors
Tape measure
5.0mm crochet hook
Bonus tips:
Make sure to learn the special stitches – Back third loop etc. – before starting off the project.
This will be the perfect holiday present for someone special in your life! There are two different size options available for you – choose the one that will fit you better!
4. Pink Pom Cable Beanie Crochet Pattern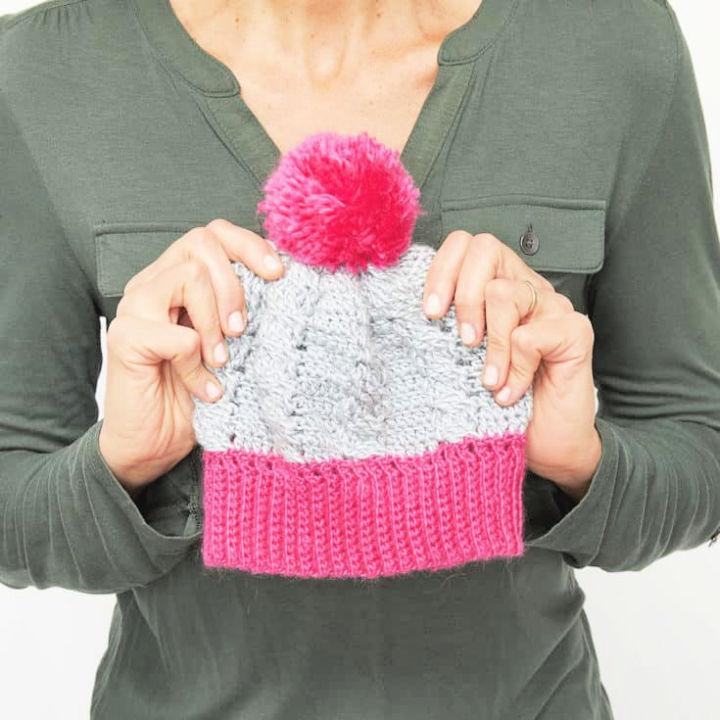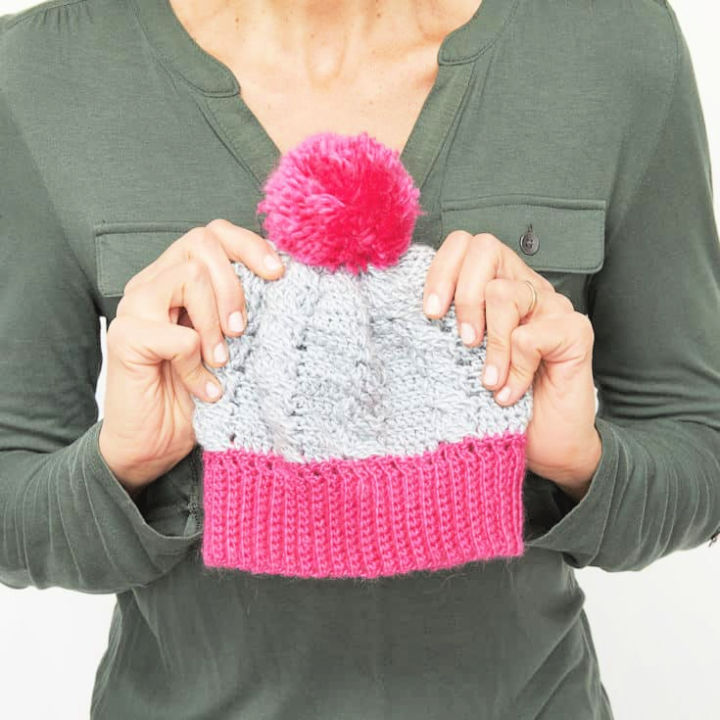 Don't you just love how detailed and girly this beanie is? It might remind you of the early 2000s due to all the pink! The cable stitch is something that you might need to learn; however, it will definitely give you a beautiful final result! This will help to light up the dull winter days – use a bright color if you're going to use something other than pink. idealme
What you need:
Sugar Bush Shiver Worsted Weighted Yarn
Scissors
Yarn needle
Pom-pom maker
4.5mm hook
Bonus tips:
Use the yarn that's recommended in the pattern for the best final result – it is a very luxurious and delicate yarn.
You can easily make this in any size by changing up the number of rows: more rows for a larger size and vice versa.
This will make the perfect Holiday present as it is warm and cozy.
5. Caron Crochet Cozy Bobbles Hat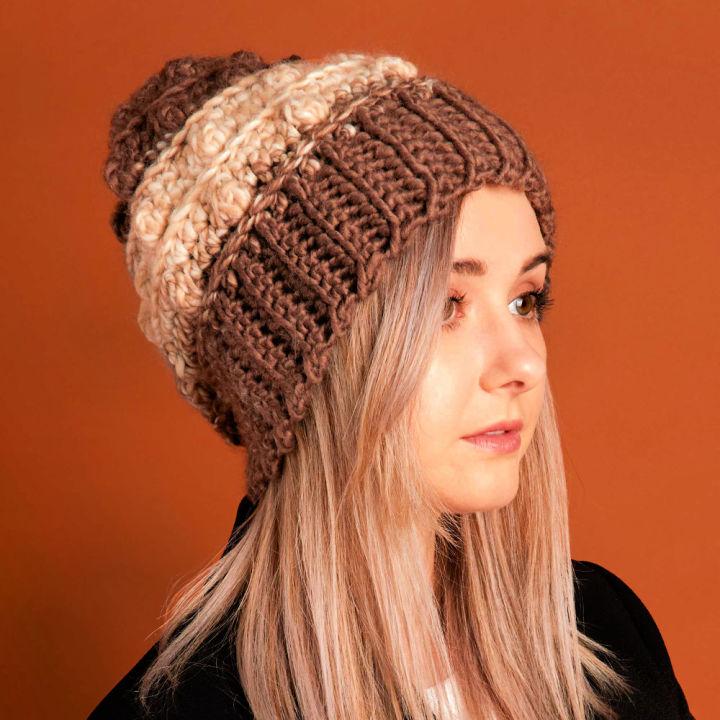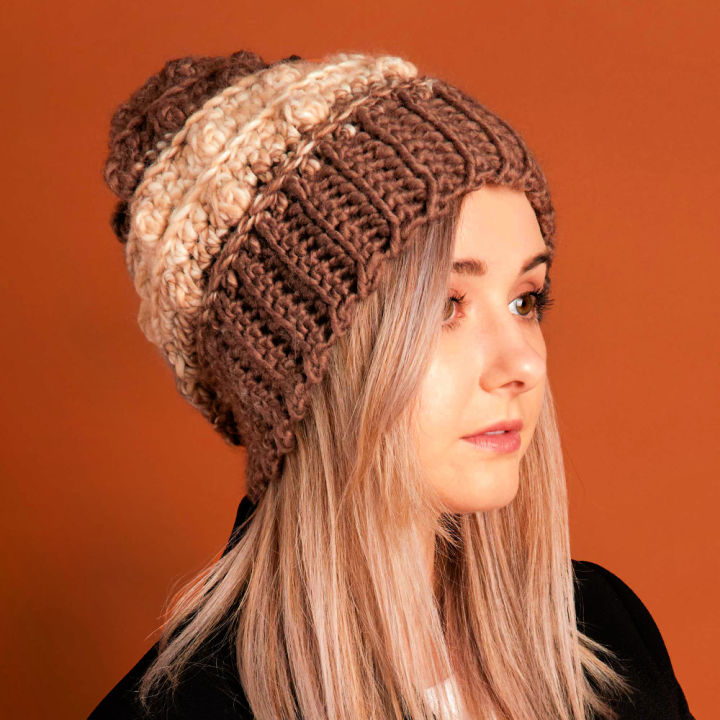 In comparison to the other free crochet hat patterns, this beanie hat pattern is definitely the most chunky and thick! It will keep you warm on those cold days. You can wear it when you take your dog in the morning for walks too when you're invited to a family dinner! This cap is just so versatile and can be worn with many different outfits. yarnspirations
What you need:
Caron Swirl Cakes Yarn
5.5mm hook
Tapestry needle
Bonus tips:
Bobble stitch is being used in this pattern, and it's advised to learn it in advance to make the crochet process faster when you work on this tutorial.
It's a very versatile piece – it can be used with many different types of looks, whether fancy or simple.
If you have lighter colored hair, this will really make them stand out and look super shiny!
6. Gradient Beanie – Free Crochet Pattern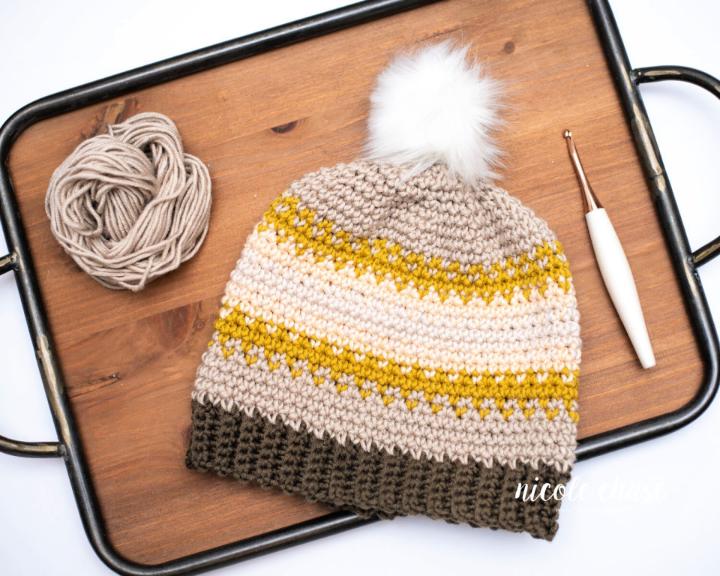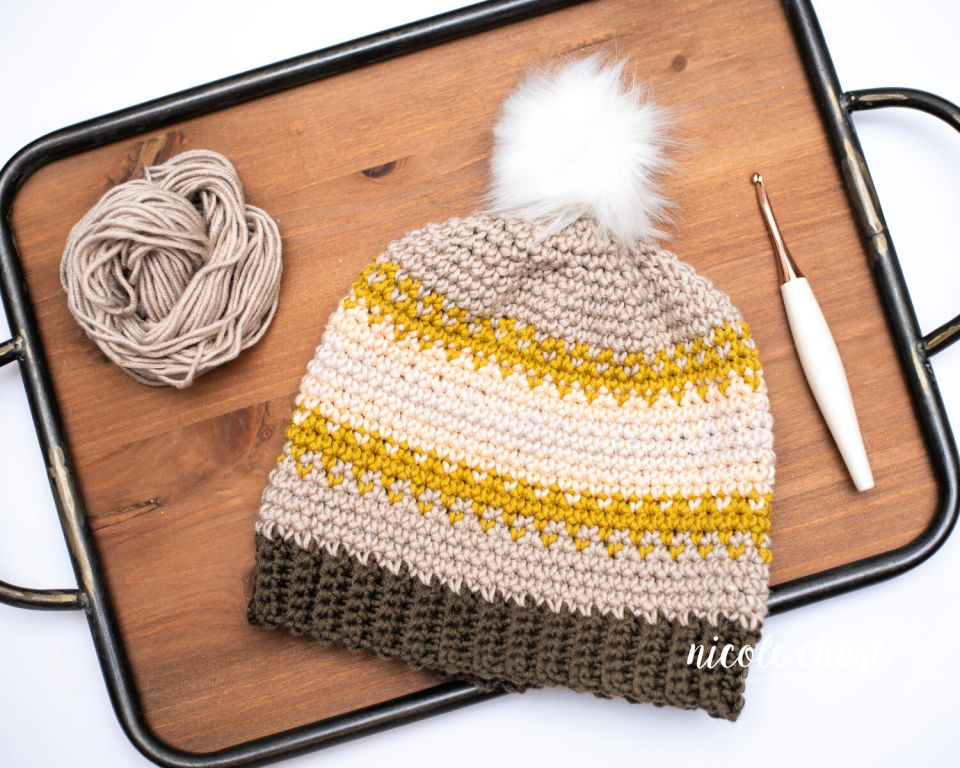 Are you someone who loves to incorporate many different shades and colors into their projects? Well, then here is the perfect pattern for you to try out! It has a very beautiful stitch – the type that you can stare at for hours! There is a lot of little detailing, which adds to the final result. Moreover, the little white pom-pom on top completes the look. thenicolechase
What you need:
Caron X Pantone Yarn
5.0mm hook
Pom-pom
Bonus tips:
Do you want to add frequent color changed to your plan? Well, then it's recommended to go up a hook size.
The pom-pom is optional, but it's recommended to make it to add to the beautiful final result.
You will need to do around 7 total single crochet rows to complete this amazing hat.
7. How to Crochet Cross Stitch Beanie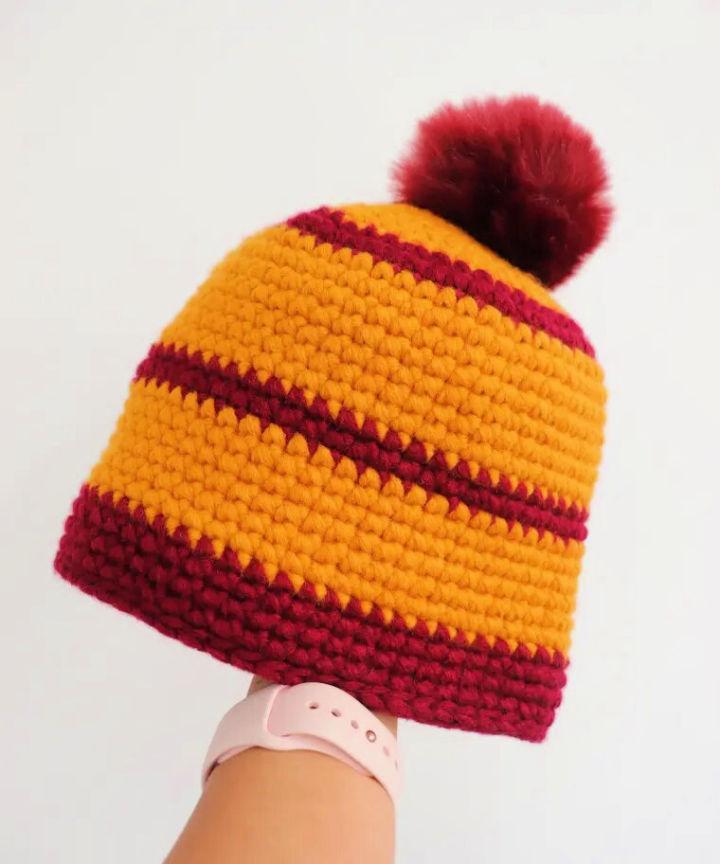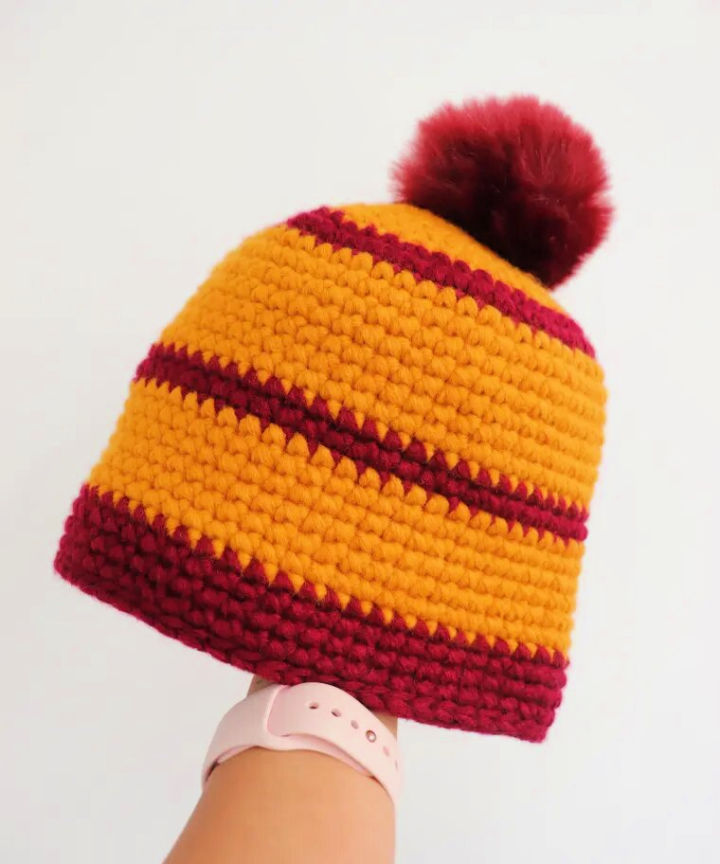 Cross stitch is definitely a new stitch that has entered the crochet community. You can use it to make beautiful stuff like this pattern! Best part? A cross stitch beanie is your ideal way to creatively take care of all those crochet stashes and scraps. Throw in some pom poms to this project and you are good to go! fluffystitches
What you need:
Bulky Weight Yarn
Pom-pom
7.0mm crochet hook
Stitch marker
Tapestry needle
Scissors
Bonus tips:
You can use up the scraps from your previous crochet projects for this amazing hat!
There are many different sizes involved in this pattern – baby, child, adult, tween, etc.
You can gift this to someone special this holiday season as it just turns out to look super festive!
8. Crochet The Wave Beanie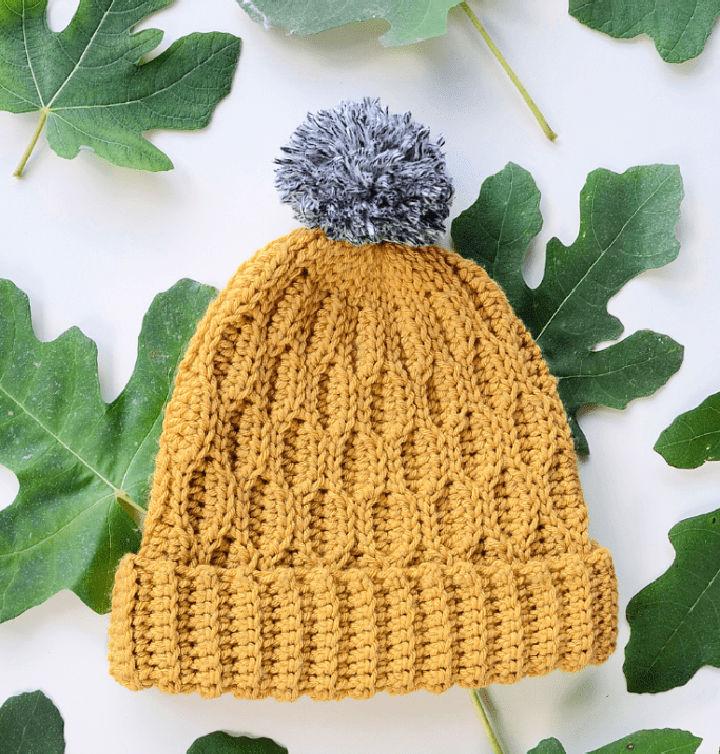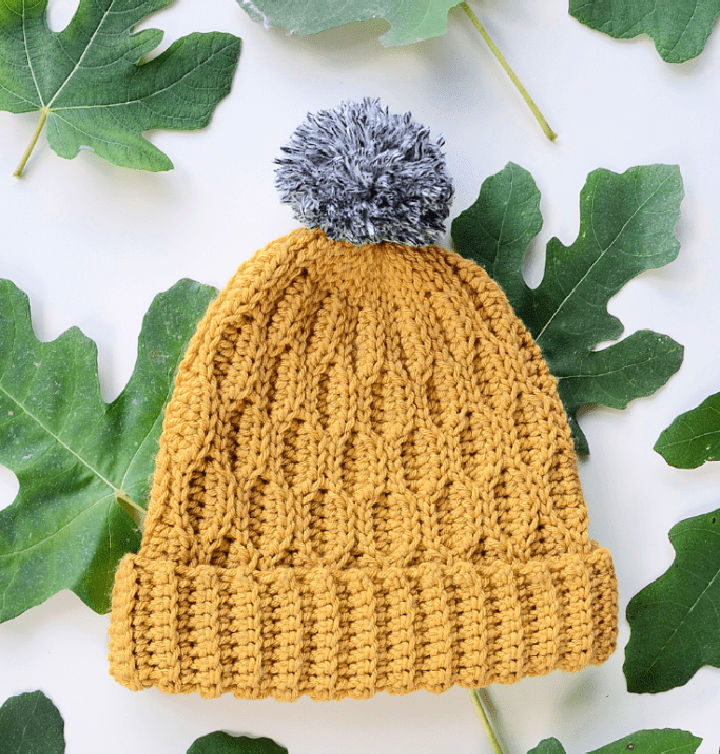 Wave beanie is quite different from the other crocheted beanie hat pattern. It has ribbed edges that stand out when you wear it. Moreover, the stitches used in the central part are just so beautiful and add such nice detail. There's a pom-pom attached on top to add some cuteness and make everything look put-together. picotpals
What you need:
Yarn Bee Soft & Sleek Mustard Shade
5.0mm hook
Tapestry needle
Scissors
Bonus tips:
Double knot the ends by weaving them together for securing ends completely.
If you are an intermediate at crocheting, this could be just the project to take things up a notch.
Confused between half double crochet and double crochet? This guide could help clarify things.
9. Criss Cross Crochet Beanie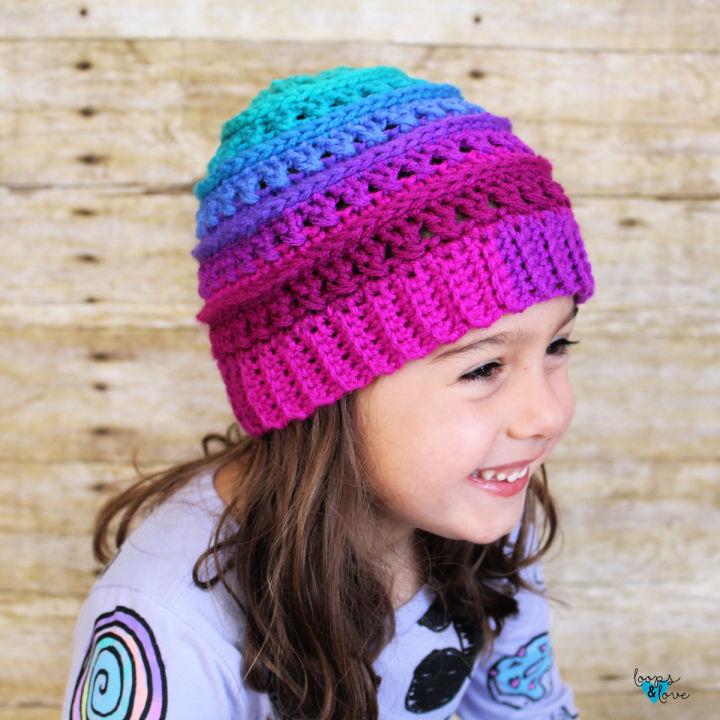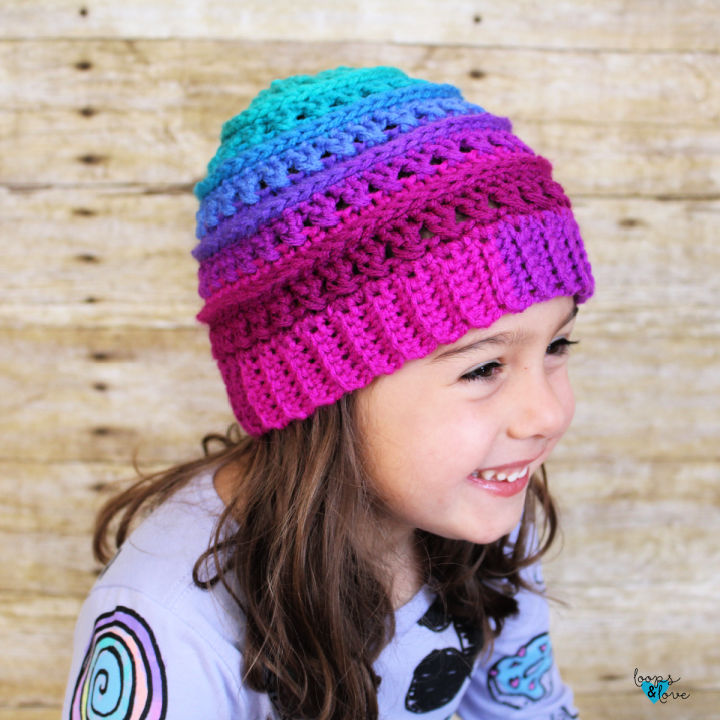 Ombre patterns like these have been all over the internet lately. People love to make stuff like this! How can you make something like this? You can do so by using the special criss-cross technique! You can pair it with basic colors to really make it stand out and be the center of attention. Don't you just love this pattern? loopsandlove
What you need:
Red Heart Super Saver Worsted Weighted Yarn
5.5mm crochet hook
Yarn needle
Bonus tips:
There are many sixes available, so this pattern is very versatile – teen, adult, toddler, etc.
There's ribbing on the edges, which will make the final result a lot more together and secure.
There are two different types of color combinations for you to pick out from – choose the one that you like!
10. Puff Stitch Slouchie Beanie Crochet Pattern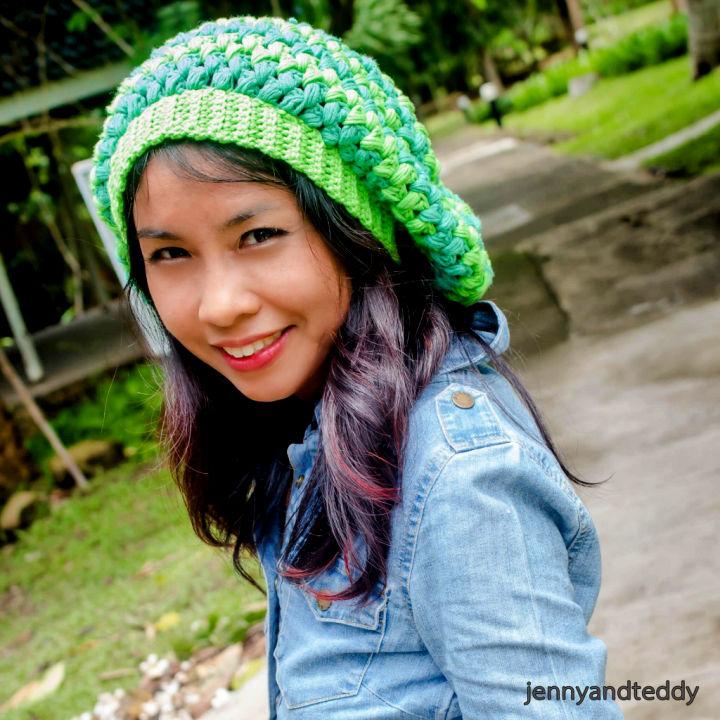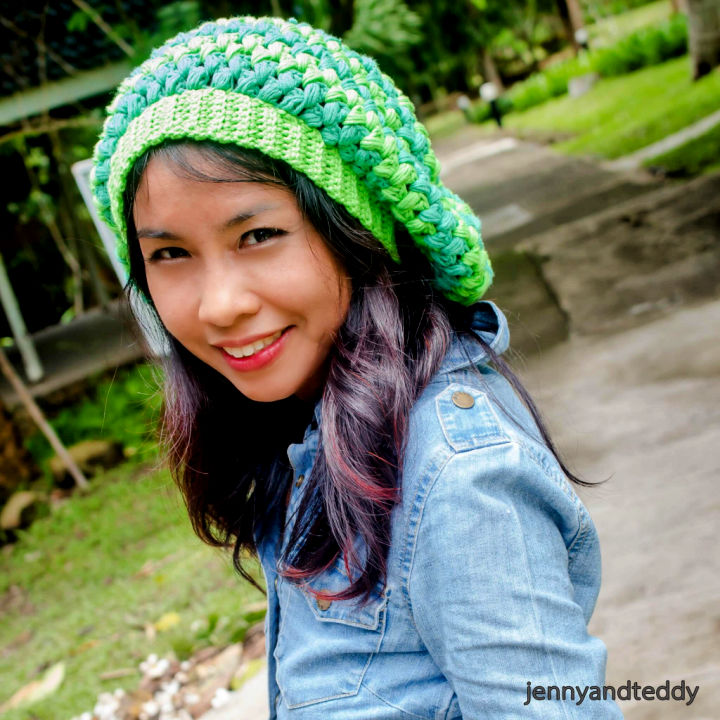 Winter season is proven to be the time when people sleep the most! It's just so cozy and warm inside the blanket. However, caps that are too tight around the head can cause disturbance when you're just trying to have a nice nap. Here is a very loose and stylish pattern with puff stitch that you can try out! It's quite different and unique. jennyandted
What you need:
Lion Brand 24/7 Cotton Yarn
3.5mm crochet hook
Yarn needle
Bonus tips:
Don't skip the puff stitch as it's making the whole pattern look very stunning and beautiful!
This is a beginner-friendly pattern, so if you're new to the crochet world, this is the crochet pattern to try out.
There is a crochet word guide available in this hat for beginners!
11. Free Crochet Bonnet Beanie Pattern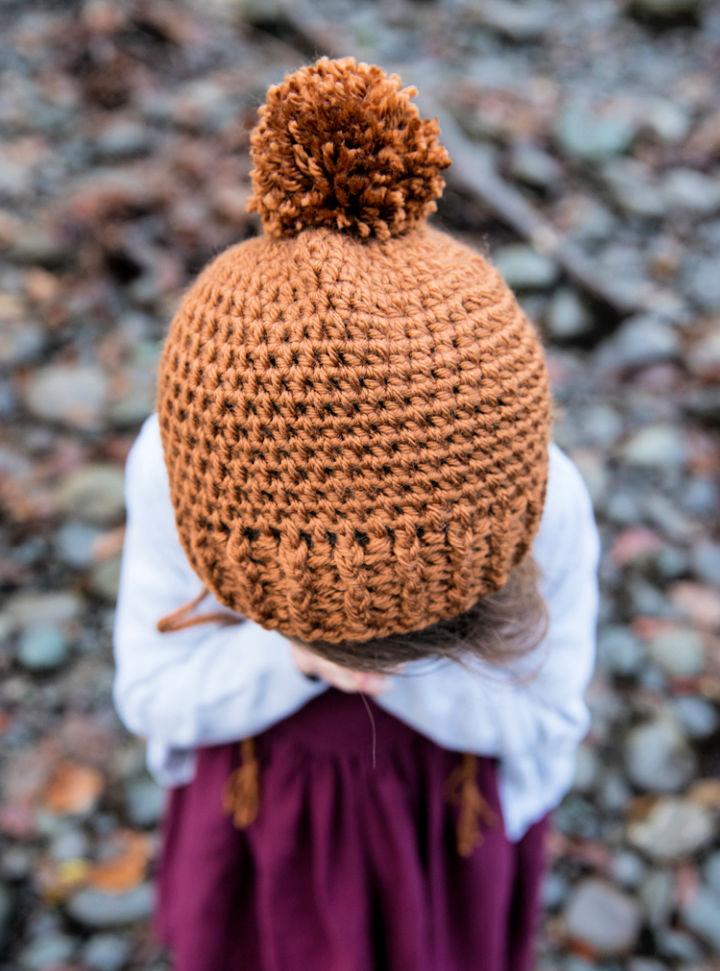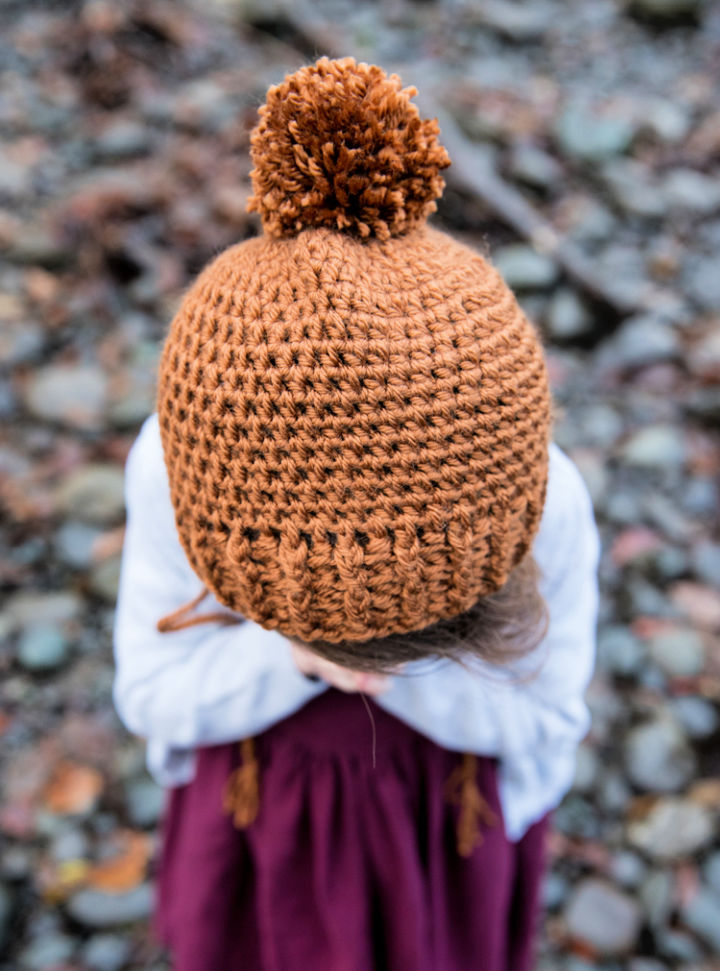 Don't you just love how beautiful band cute this pattern is at the same time? It has tiny straps around the side to make it look very adorable, along with a pom-pom on top to make it even cuter! You can use one solid color or choose to make this in many different ones. It will not cover your forehead and look amazing. deliacreates
What you need:
Worsted Weighted Yarn
5.5mm hook
Scissors
Yarn needle
Bonus tips:
It's not right around the forehead – very comfortable and amazing style.
There's ribbing done on the edges to keep it secure on top of the head, so don't skip it!
Only a few basic stitches are being used in this idea – single crochet, double crochet, half double crochet, etc.
12. Easy Crochet Ribbed Beanie Pattern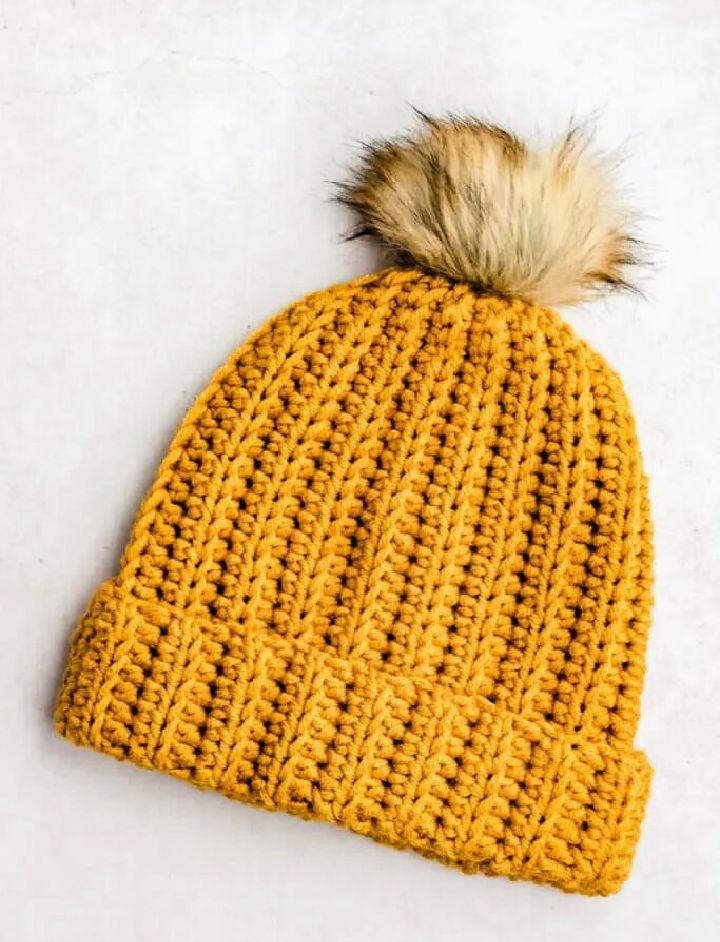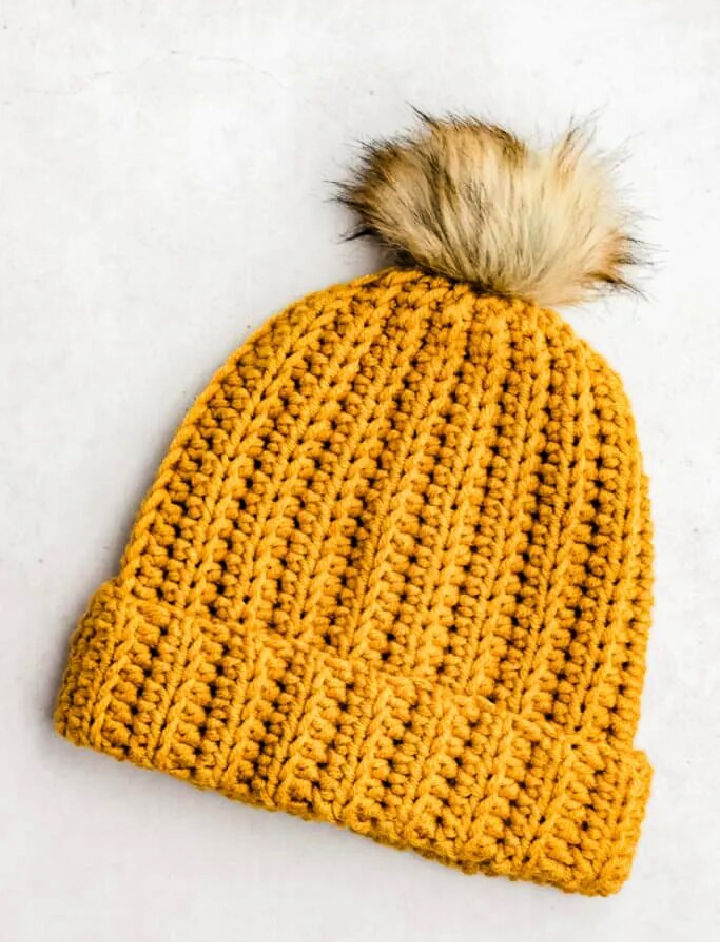 Chunky beanies are just so important to stay warm and look stylish all winter long! Here is a pattern that is super easy as the stitching process is a piece of cake for all the beginners! The ribbing part is a little complicated – you need to know how to half double crochet for that part. The rest of the hat pattern is quite simple and easy to follow! sarahmaker
What you need:
Lion Brand Bulky Weight Yarn
6.5mm
Yarn needle
Stitch marker
Ruler
Tape measure
Bonus tips:
There is a lot of repetition in this idea, so you can watch your favorite Netflix show while working on it.
Only one skein of bulky yarn is required for this crochet pattern, which means that it's a very affordable project to try out.
Hand-made gifts are the best! You can give this to a loved one to make their day a little special.
13. Free Crochet Ribbed Beanie Pattern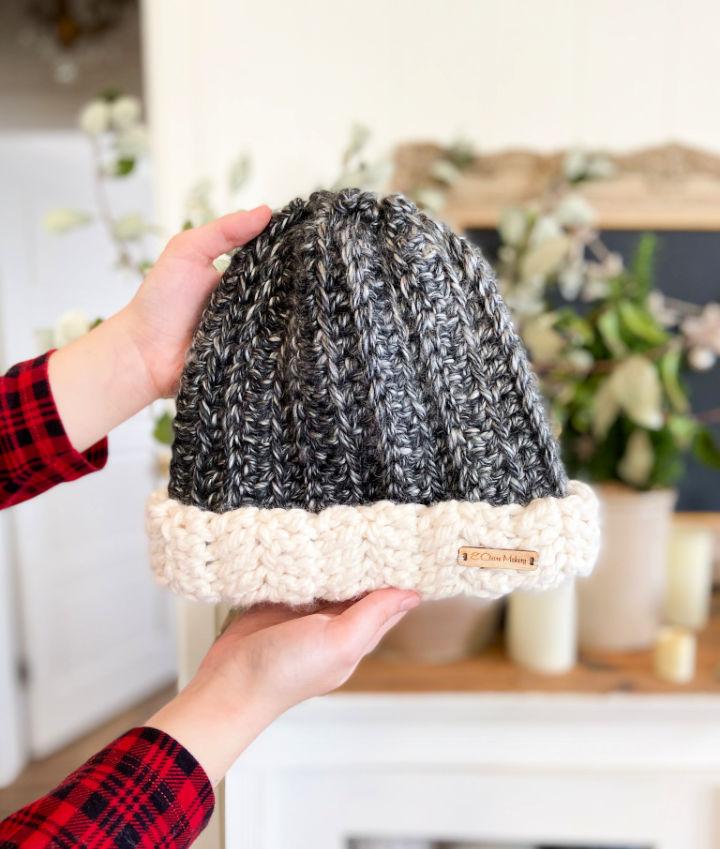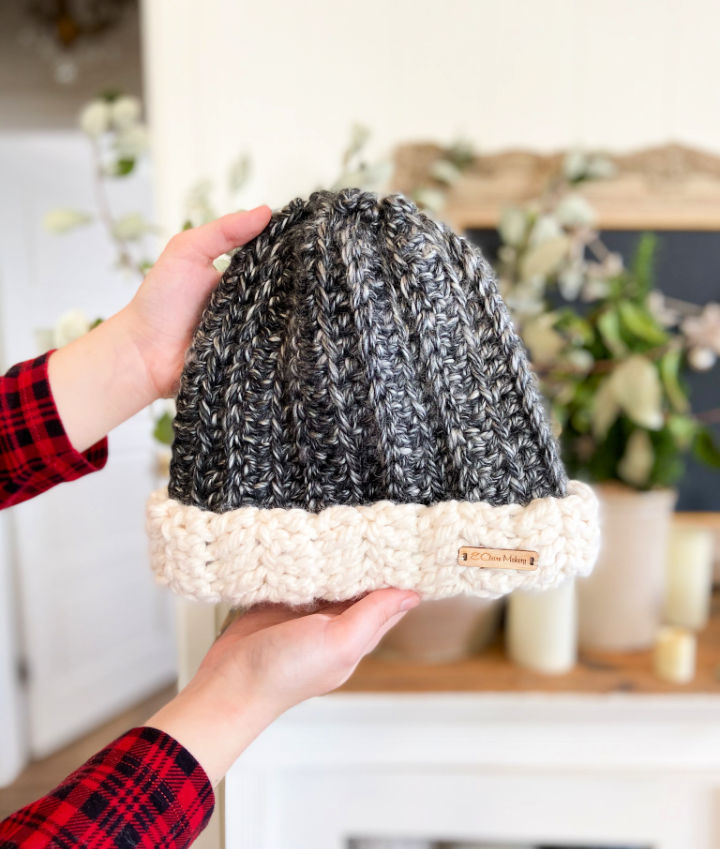 Check out this double crochet beanie pattern! This ribbed hat pattern will work up very quickly and is an easy one too. Also, this two-toned beanie is an adorable addition to your winter wardrobe! This pretty hat can also be given as a gift to your best of friends. As anything made by hand is nothing but pure love. eclairemake
What you need:
Lion Brand yarn
9 mm Crochet hook
Scissors
Stitch markers
Bonus Tips:
Use a vibrant color combo for this two-toned ribbed hat pattern to pop
These hats are easy and can be made to sell and make good money
It only involves the simple double crochet pattern!
14. The Pumpkin Beanie Crochet Pattern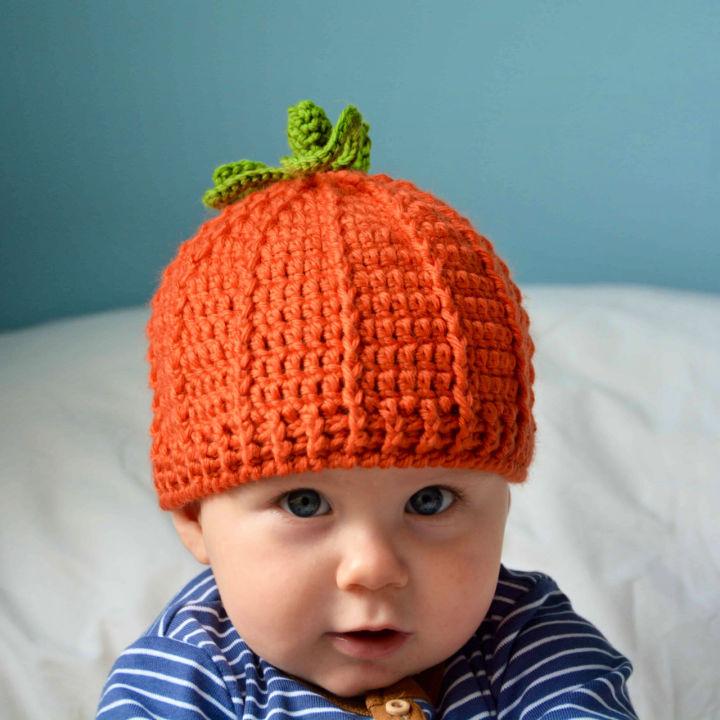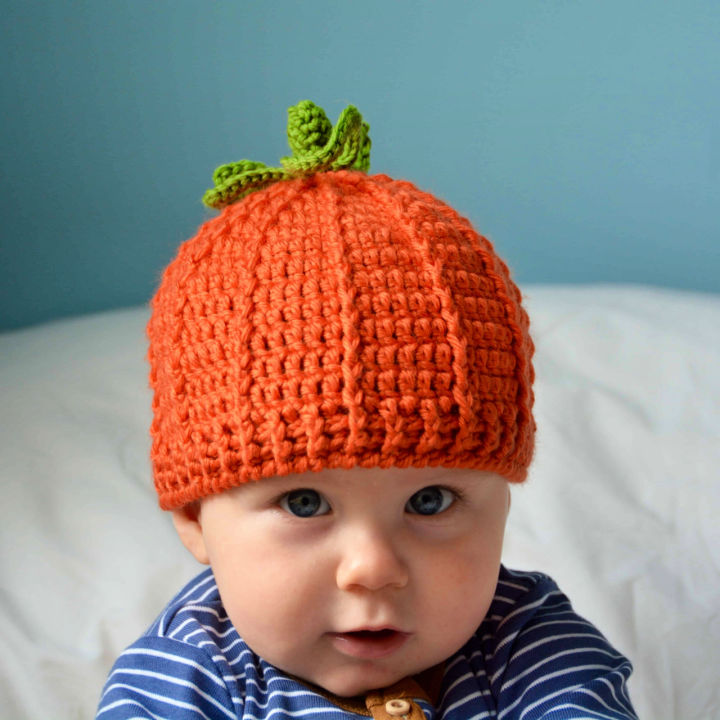 This pumpkin beanie hat is an adorable gift for babies and toddlers! However, it is not limited to any age group. This is an easy yet, quick project to work with. It is a perfect addition to your Halloween outfit this year. Make one for each of your family members and give them the best treat ever. hanjancrochet

What you need:
Caron simply soft yarn
4mm crochet hook
Crochet needle
Scissors
Bonus tips:
Make these little cuties to sell and make some quick money!
Add or subtract rows for the needed size of the hat
Use vibrant colors to make it pop!
15. How to Crochet Swirl Wave Hat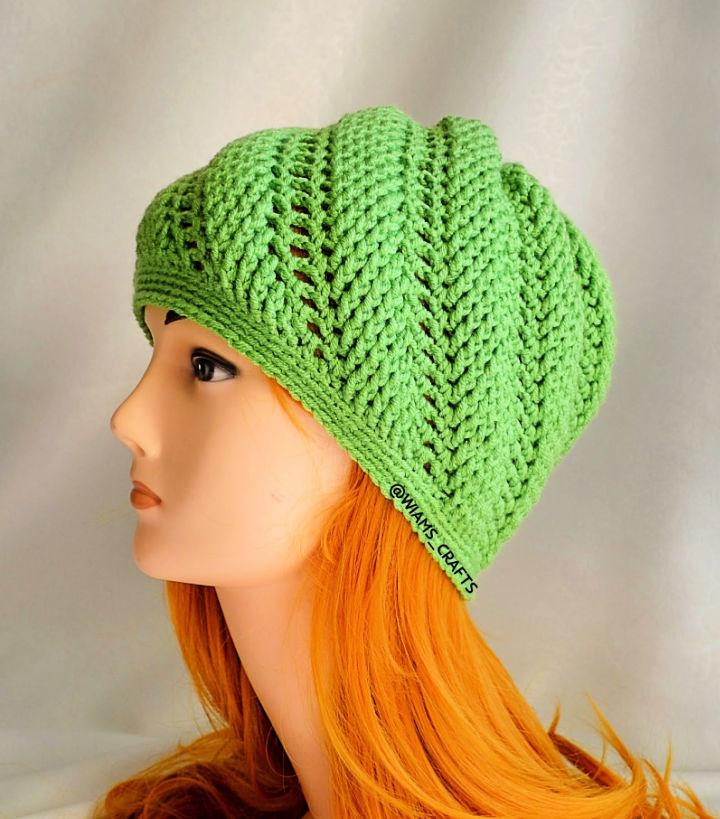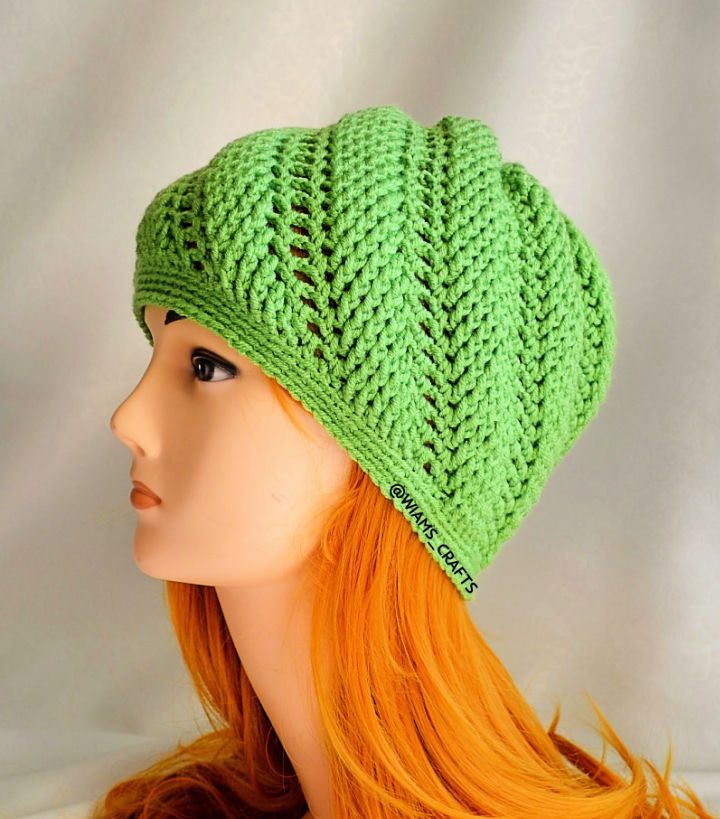 This pretty swirl crochet hat is a must-have this breezy season! Crocheting is certainly a great thing to do while you are free. So, try crocheting this lovely pattern right away. Gift it to one of your best friends or a dear family member. Crochet one for yourself to add color to your closet! wiamscrafts

What you need:
Cotton yarn
Crochet hook
Stich marker
Tapestry needle
Bonus tips:
Make sure to add the stitches right to make the perfect fit hat.
Use bright colored yarn to make it go with all outfits.
You can also sell them for good prices.
16. Rustic Crochet Diamond Hat Pattern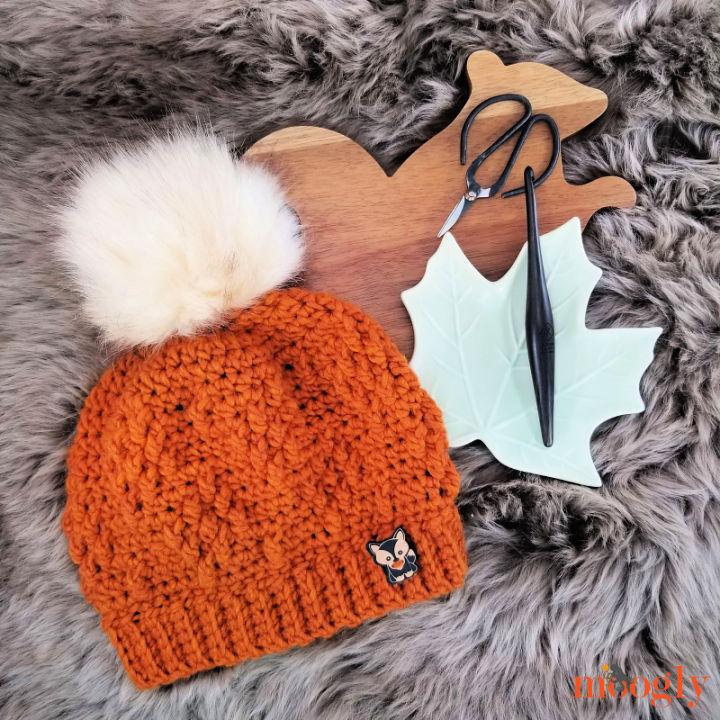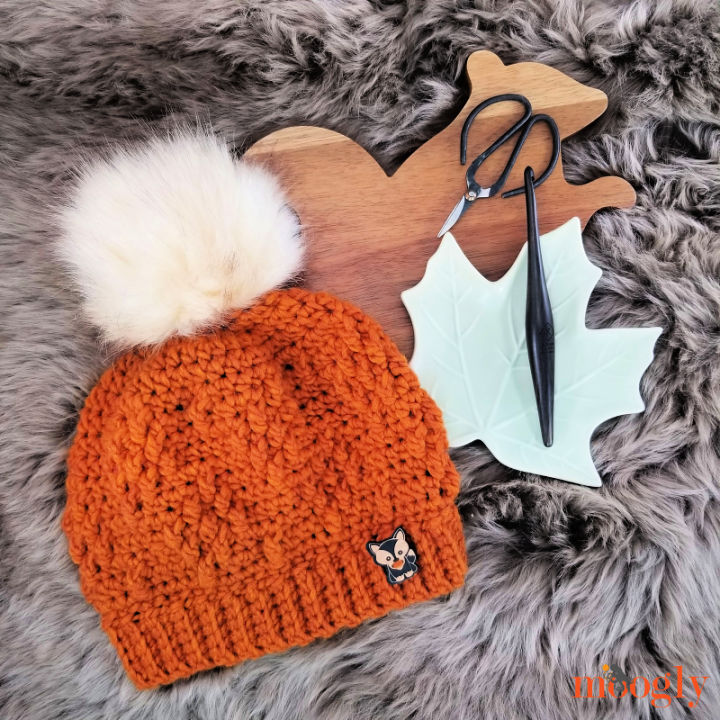 This rustic diamond hand crochet pattern is one to die for! It gives both minimalist and a trendy look to all your winter season outfits. Best part? It is very simple, as well as a versatile pattern. It would absolutely look great on you. As for the stitch details, it mainly involves repeated diamond stitch design. mooglyblog

What you need:
Yarn
6.5 mm crochet hook
Stitch markers
Large pompom
Buttons
Bonus tips:
Add a soft oozy pompom for a cute fancy look
Make sure to use bold-colored yarn for a pop
Manage stitches accordingly to adjust the size.
17. Simple Crochet Hat Pattern for Beginners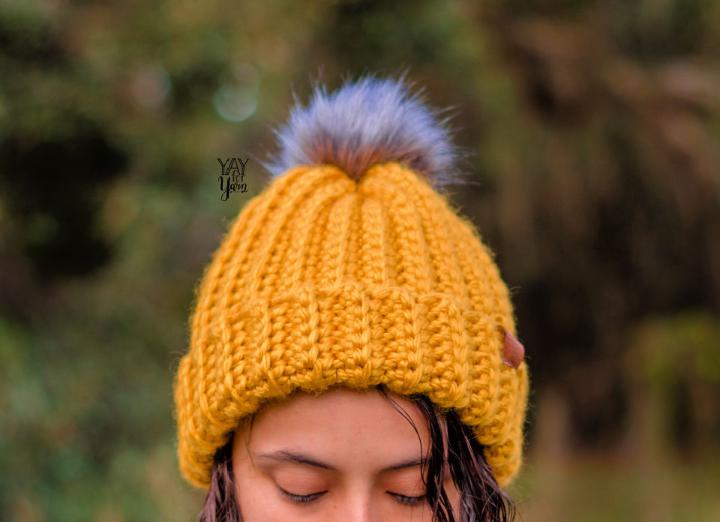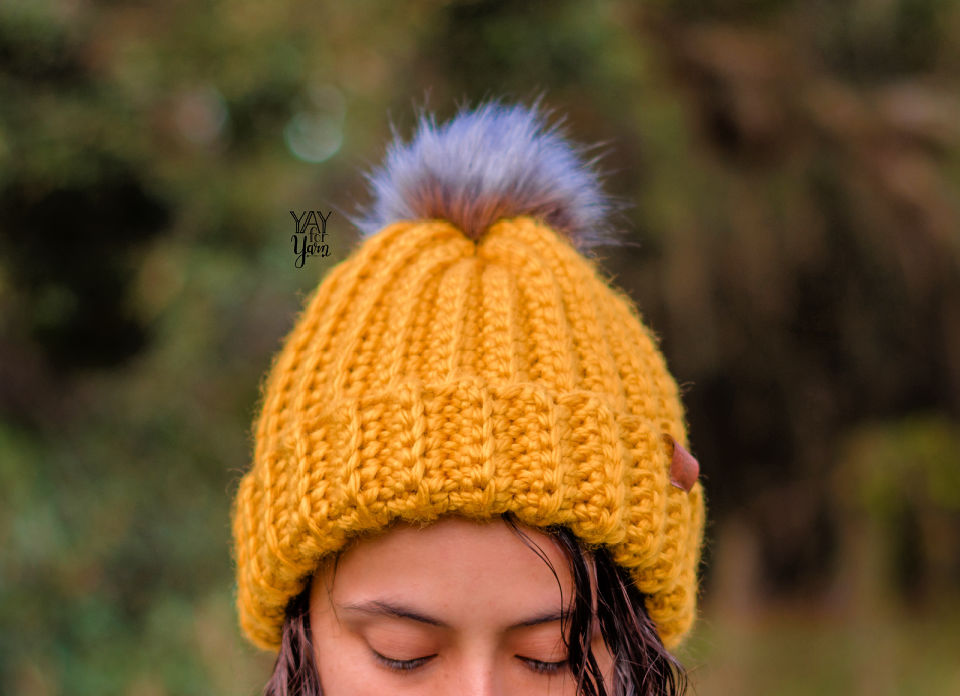 This amazing crochet beanie pattern is a great project for beginners! Not only is it very simple to make, but also a quick one. It will help you enhance your crocheting skills and be a great practice. Also, you can gift this hat to your loved ones, and it will be the perfect present for them this breezy season. Spoiler alert; it's made from a rectangle! Yes! That's true. See for yourself in the detailed guide below! yayforyarn

What you need:
Super bulky Yarn
Crochet needle
Scissors
Measuring tape
Bonus tips:
Add rows according to your desired size
Crochet a rectangle in back loop crochet for the simplest pattern
Make a bunch of these and sell for earning profits!
18. Jasmine Stitch Crochet Beanie Free Pattern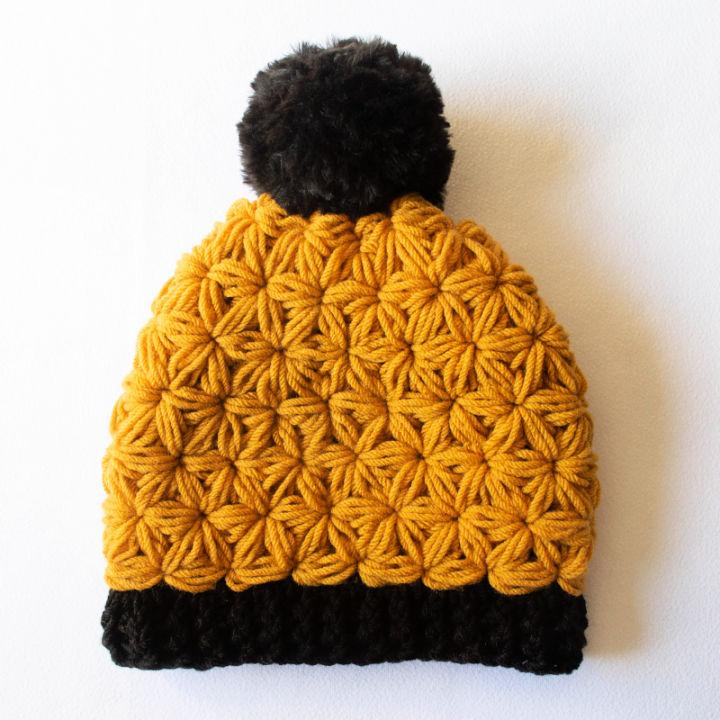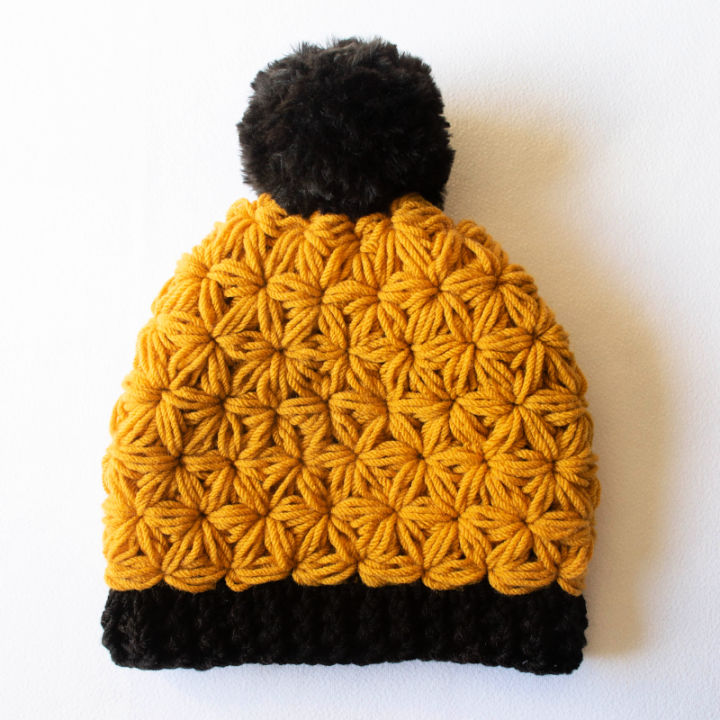 This crochet beanie pattern comes in a beautiful mustard shade! This free pattern involves a jasmine stitch crochet beanie, which is a versatile addition to your closet this windy season. You may choose your favorite color for your go-to beanie and add a little pompom on top to make a nice color contrast. ameliamakes

What you need:
Soft cotton yarn
Crochet hook
Scissors
Tapestry needle
Bonus tips:
This beanie can be made in different sizes by addition or subtraction of rows
Choose vibrant colors to make your whole look pop
You can even use your go-to stitches for a changed pattern.
19. Sunflower Slouchy Beanie Crochet Pattern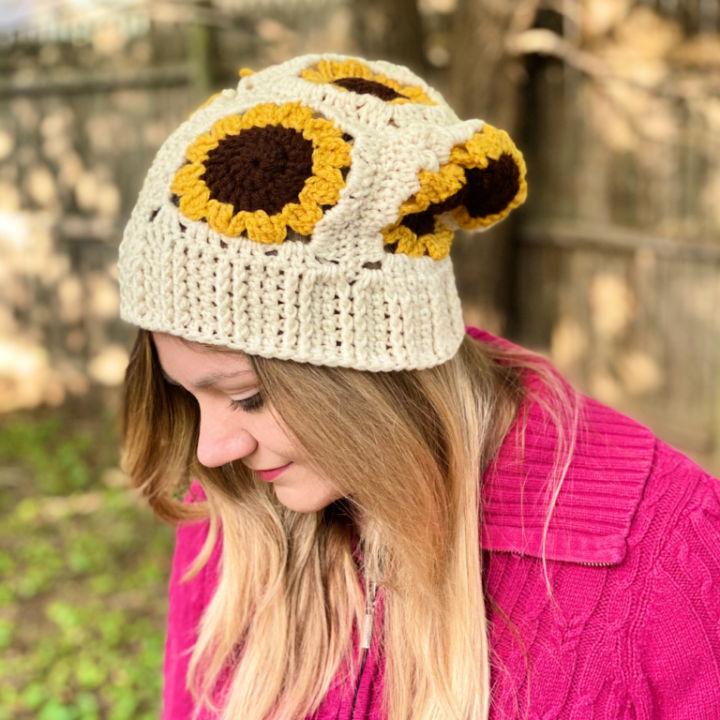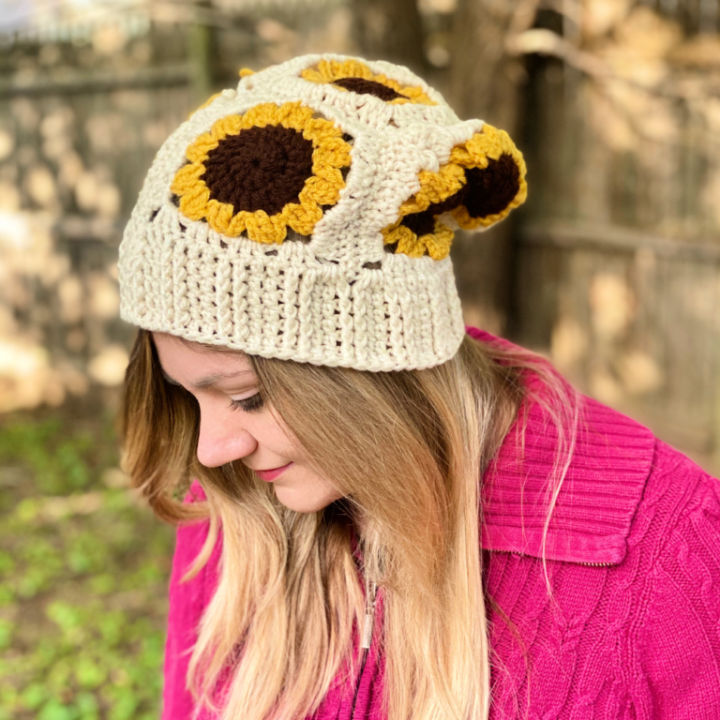 Slouchy beanies are a go-to this winter season. They just make your outfit look unique, with a vintage vibe! This slouchy sunflower beanie crochet pattern does just the job. Sunflowers are the prettiest flowers to exist. Try your luck with this easy yet, quick pattern, and we bet you will not regret it. craftykitty

What you need:
Medium worsted weight yarn
5.0 mm crochet hook
Yarn needle
Scissors
Bonus tips:
Add different shapes of sunflowers to give an exquisite look
Go with your favorite contrast and make the look pop
This beanie can be your way to make some online selling skills strong!
20. Crochet Autumn Herringbone Hat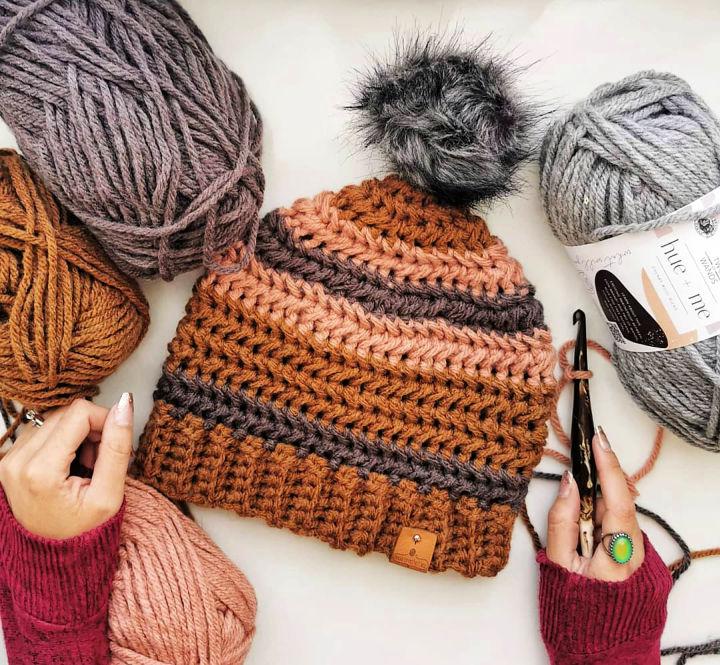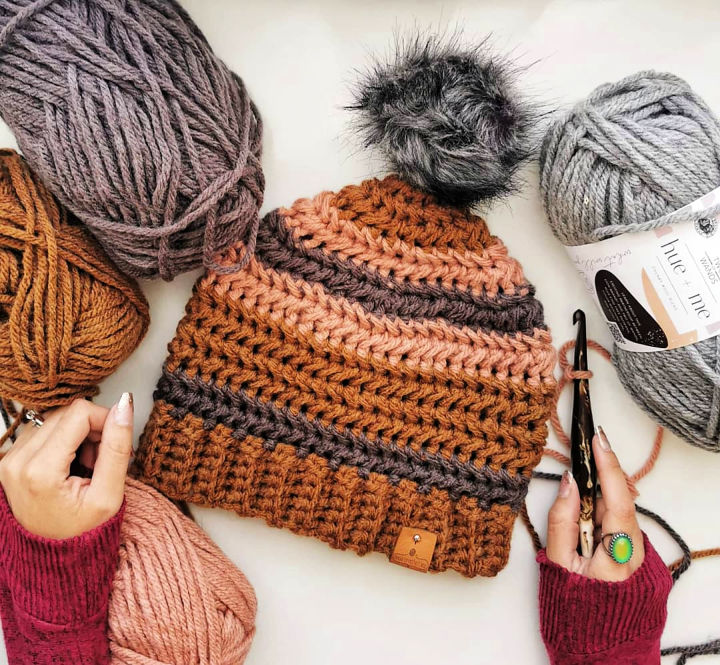 This Autumn herringbone hat is a beautiful yet, very comfy one to make this fall season. This free crochet beanie pattern is an easy one to go along with. It is plushy and soft, the best fit for a cozy outing! The pattern is mostly worked up in single crochet. cococrochet

What you need:
Lion Brand yarn
6.0 mm crochet hook
Yarn needle
Scissors
Bonus tips:
Use all the autumnal colors to give the hat a look it needs
You may also add a pompom on top for an enhanced pretty look
It can make a great last-minute gift for a friend!
21. Crochet Prismatic Beanie Pattern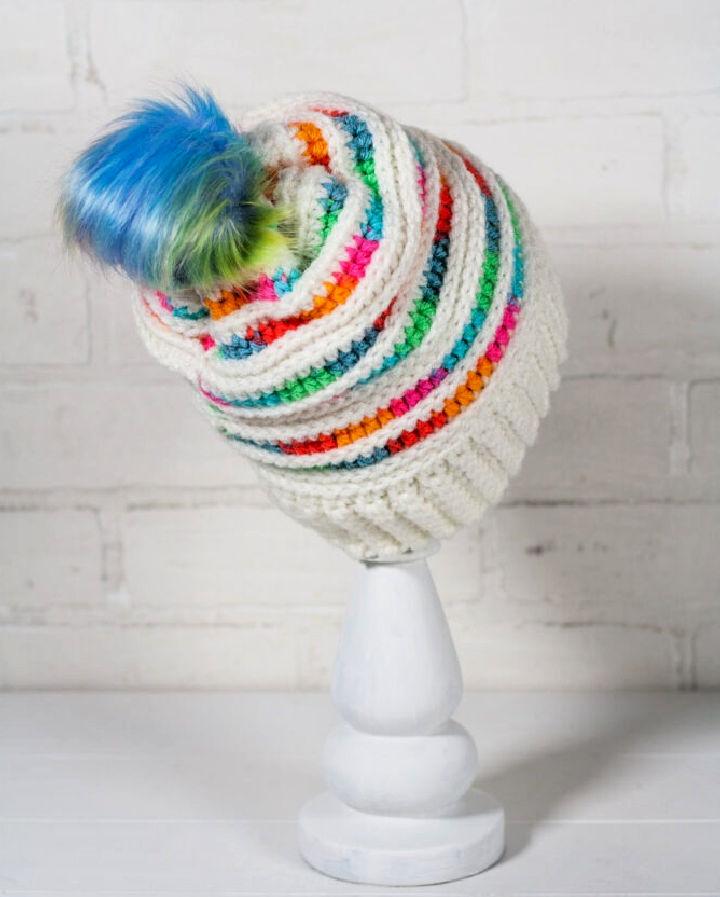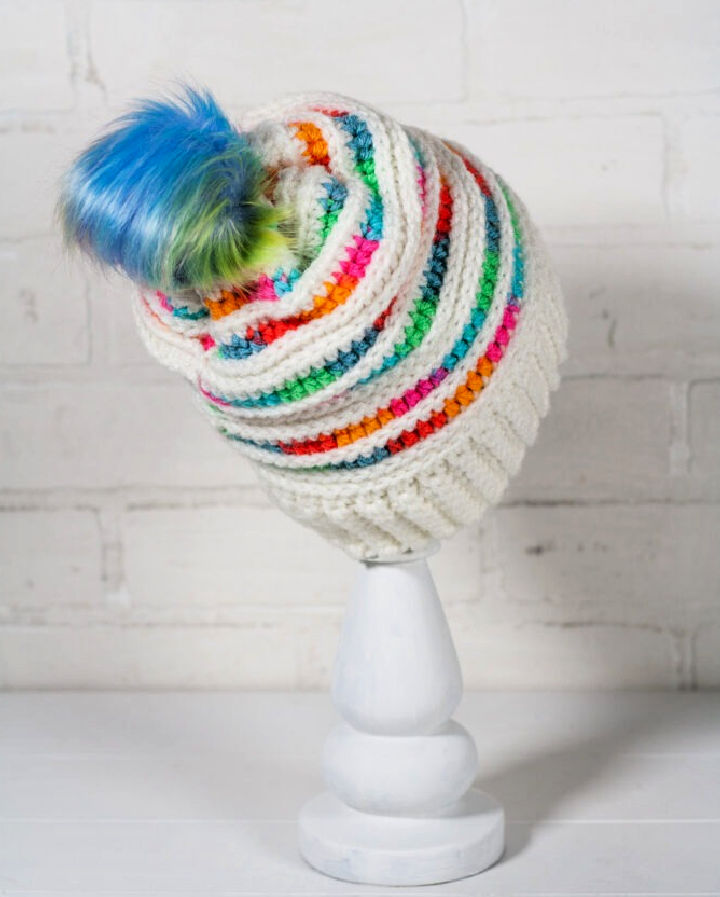 This crochet Prismatic beanie pattern is truly a unique one! If you want to receive endless compliments on how great your hat looks, this is the right project for you. It is a combination of both bright and colorful variegated yarn plus a touch of neutral colors for an awesome look. Plus it also makes a great present for a loved one, especially if they are a huge fan of prisms or colors! windingroad
What you need:
Any size #4 yarn
5 mm crochet hook
Large pompom
Yarn needle
Scissors
Bonus tips:
You can pair this beanie with a contrasting color scarf for perfect matching.
Add more vibrant colors for a popping new look!
The tutorial has the perfect learning guide for special stitches, especially the half double crochet and the third loop troubles!
22. Chunky Crochet Back Loops Hat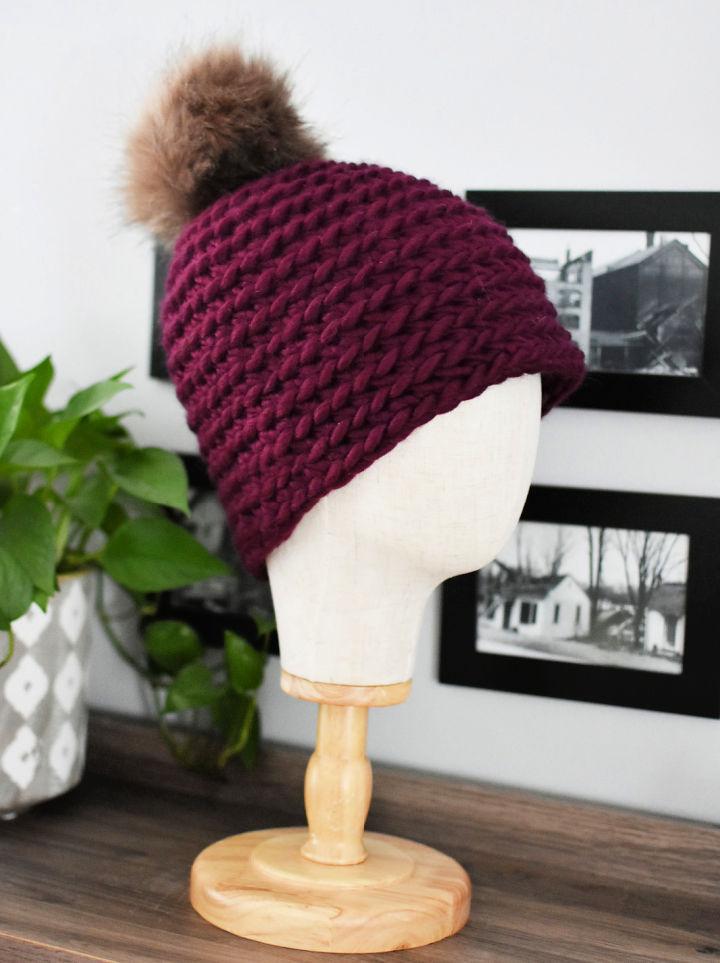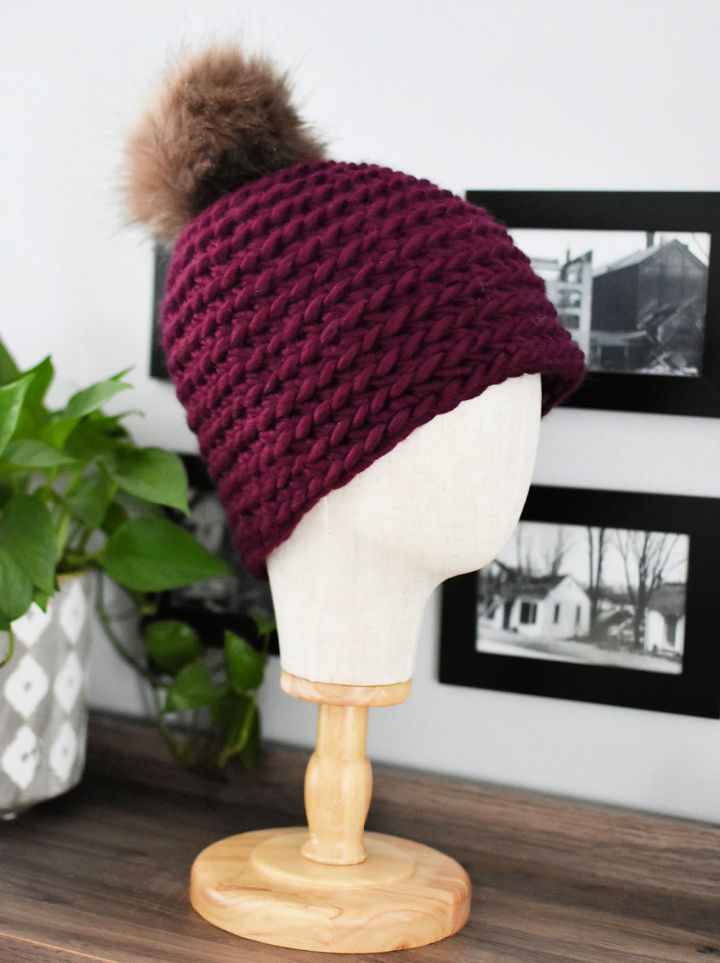 This chunky crochet hat is one of a kind. Its incredible back loop pattern gives it a unique yet, an aesthetic look. It is perfect for a winter season look and is as simple to make. It is a quick project which is not so time-consuming and a fun way to enjoy real-time crocheting! Also, it is worked up in a round top-down and has a ridged beautiful texture to it because of the back-loop stitches. ravelry

What you need:
Super Bulky buttercream yarn
10.0 mm crochet hook
Large pompom
Bonus tips:
Use a smaller crochet hook if your stitches come very loose
Tie your hair back neatly, so they do not get tangled in your work
Follow along with the stepwise instructions for desired results.
23. Crochet Zipper Braid Beanie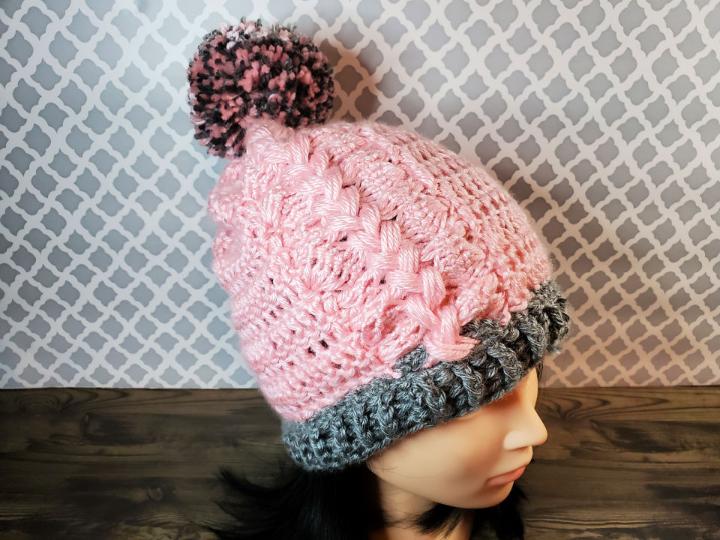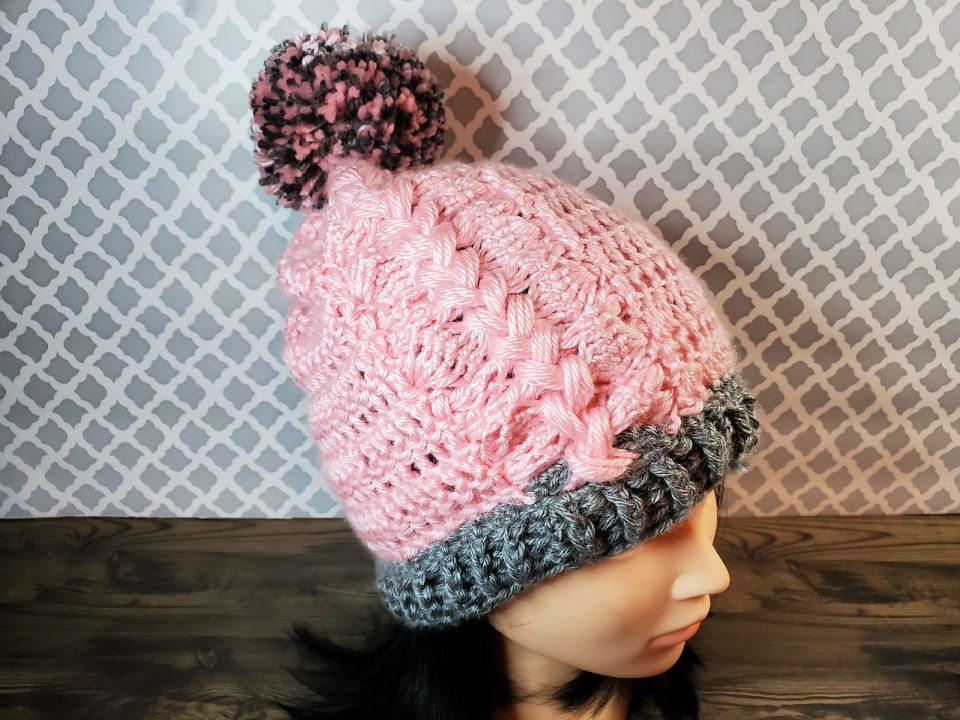 A crochet zipper braid beanie can never run out of style. This crochet beanie pattern is an exciting one. A crochet beanie is so much warmer than the in-store knitted ones. You will fall in love with this one. This simple crochet hat is worked in a top-down and begins with a flat panel. The braid is done at last with hairpin lace crochet, and cable joins. emeraldcherub

What you need:
Caron simply soft Yarn
5 mm crochet hook
Hairpin lace crochet
Yarn needle
Stitch makers
Pompom
Bonus tips:
Use a Clover pompom maker to make a larger soft pompom perfect for your beanie
Make balls of yarn instead of using skeins as they reduce tangling
Switch crochet hooks when necessary to obtain the wanted stitches.
24. Crochet Big Bobbles Beanie and Cowl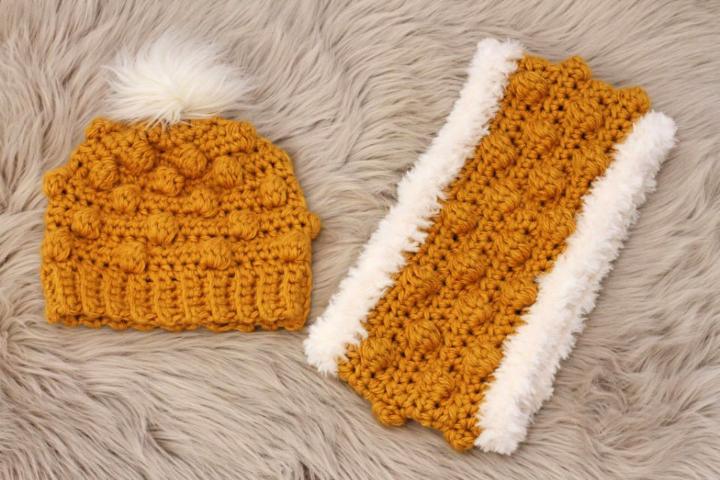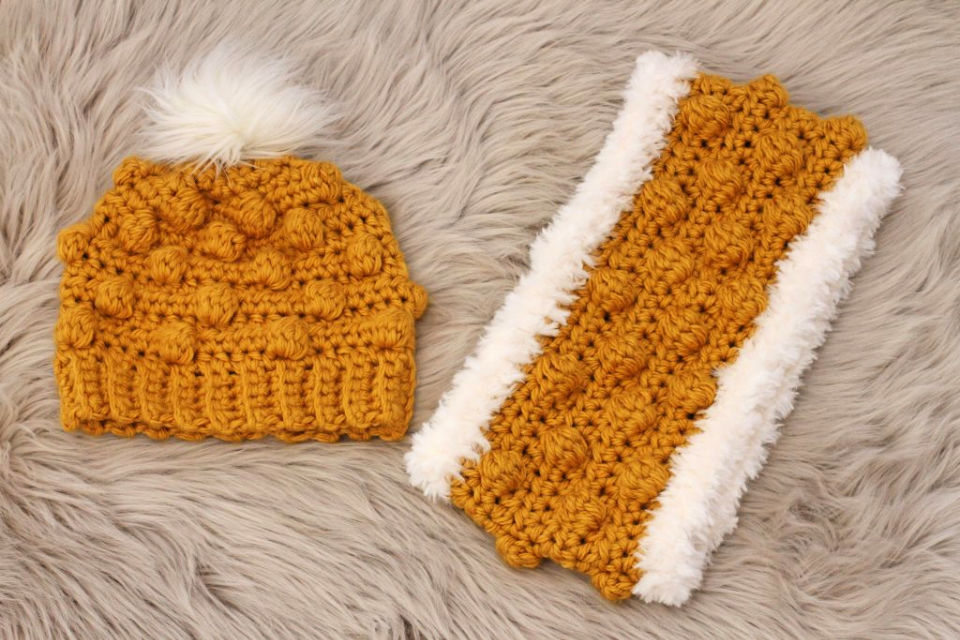 A beanie and cowl is a nice and comfy match to wear in the cold winter months! Now you can rock all your outfits with this big bobbles' beanie and cowl. This is an extremely minimalist yet, a trendy project to work on. Not only is it an easy pattern to work on, but it also works up super-fast if you are using some super bulky yarn. The best cozy addition to your wardrobe! pinkplumer

What you need:
Super bulky yarn weight #6
8.0 mm crochet hook
Scissors
Tapestry needle
Bonus tips:
Go with a bold and bright contrast to maximize a pop look
Make sure to count the loops on your crochet hook as you go along
Add or lessen rows to achieve the size you need!
25. Herringbone Chevron Crochet Beanie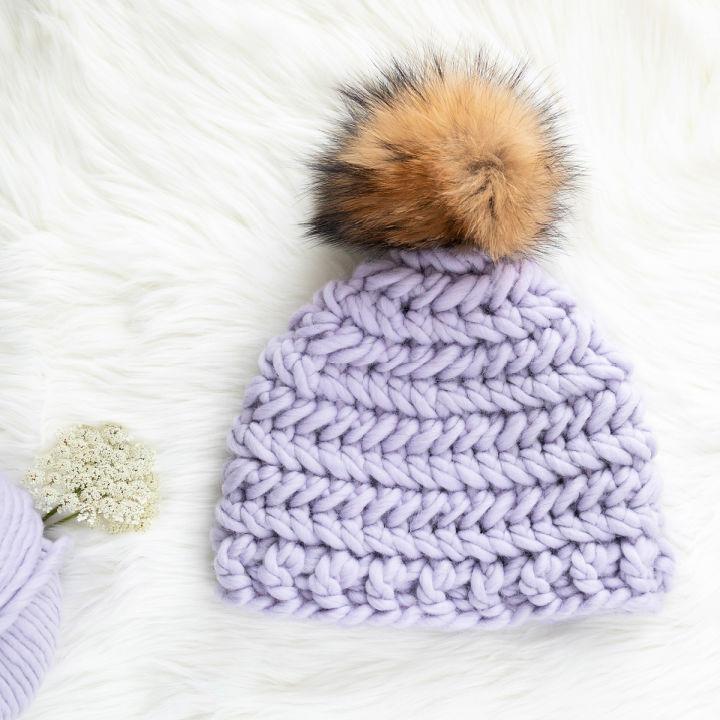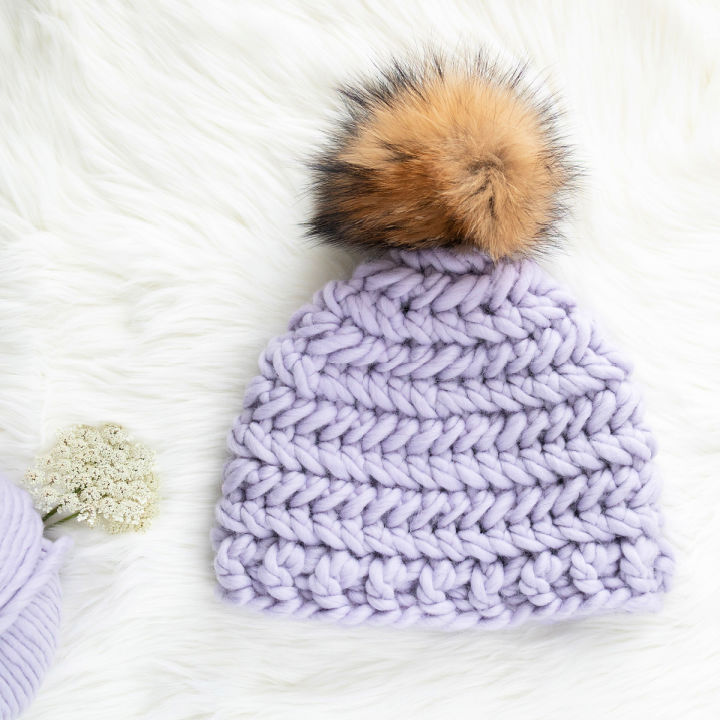 This Herringbone chevron crochet beanie pattern is one to die for! This crochet beanie pattern comes in an exquisite yet, light purple shade, which really is appealing to the eye. You can make one for yourself as it is just as simple and works up quickly too. It uses the single crochet stitch and is worked up from top-down in rounds, which gives it a modern stitch look, which is also versatile. forthefrills

What you need:
Super bulky and chunky yarn
Wool
A 12 mm crochet hook
Darning needle
Scissors
Stich markers
Bonus tips:
After deciding your gauge select a suitable size crochet hook for neat stitch
Avoid switching between hooks to ensure consistency in your design
This beautiful cap can make a superb birthday gift as well!
26. Big Bay Beanie Crochet Pattern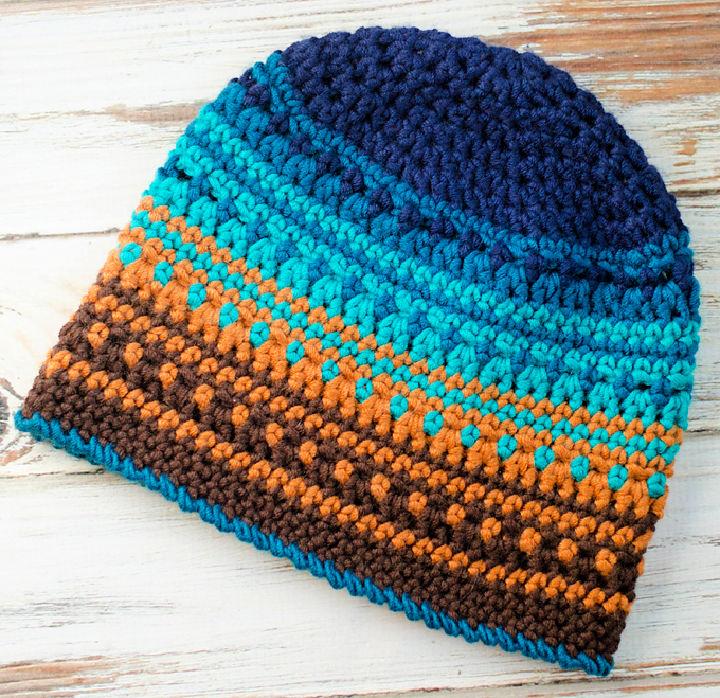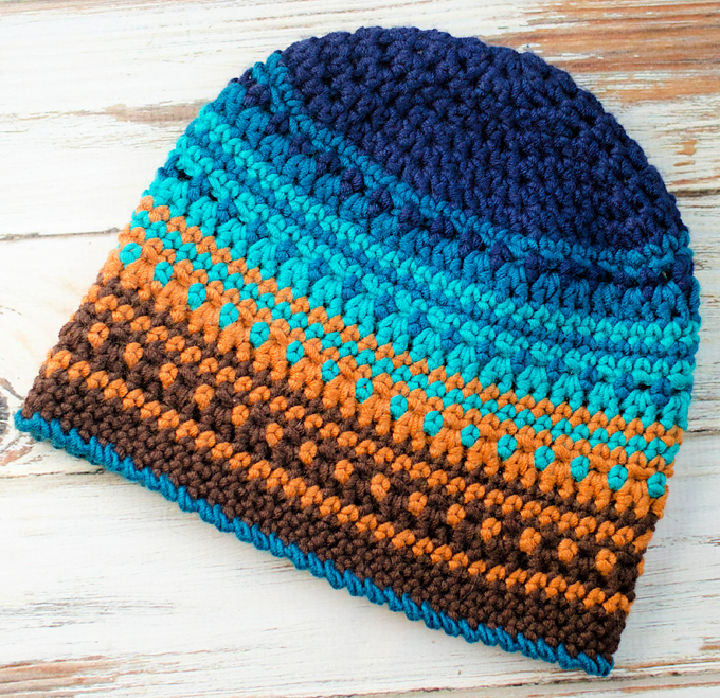 This big bay beanie crochet pattern is so soft and just as adorable! Imagine your little one wearing this beautiful beanie. Yes, you can make one as it is an easy pattern to follow and will work up quickly as well. It is worked up in continuous rows and braids. You can color co-ordinate deep and rick colors or bright and light it is totally up to you! crochet365knit

What you need:
Chunky weight yarn
6.0 mm crochet hook
Scissors
Tapestry needle
Bonus tips:
After 8 rows, begin them with chains and slip stitch in the first one
Go for a nice color combo to make your hat look attractive
You can also make and sell this beanie for a great amount of money!
27. Lolly-Poms Ribbed Beanie Crochet Pattern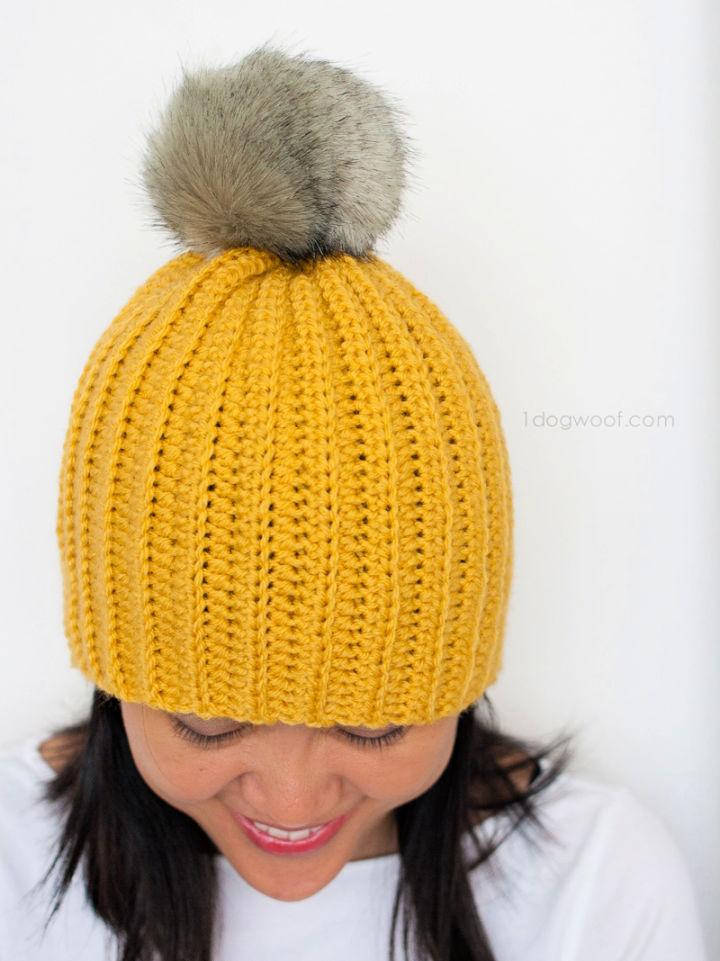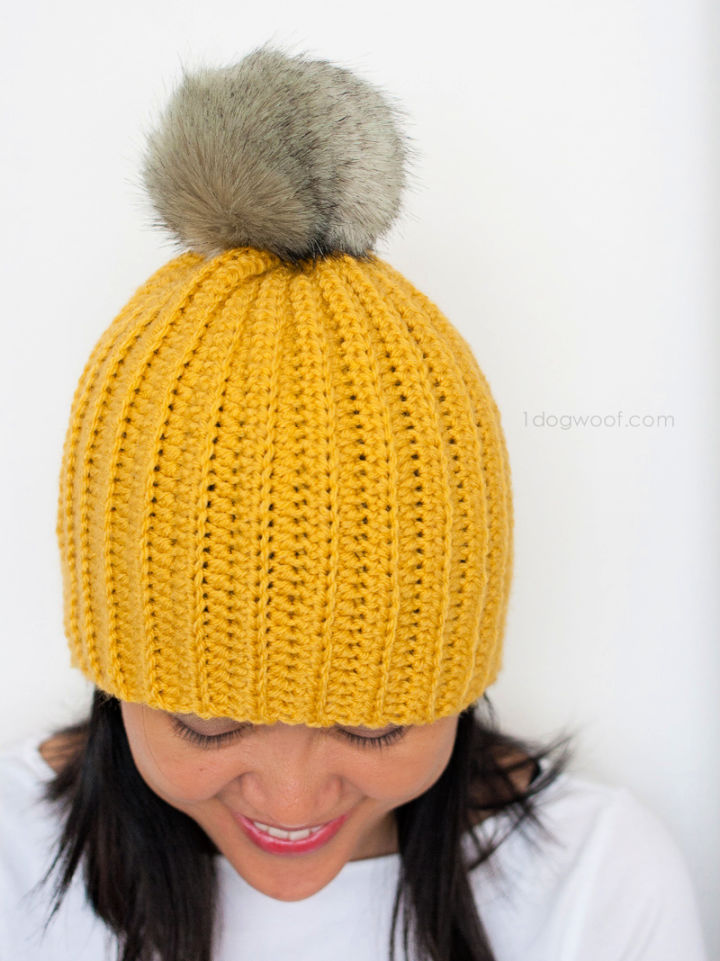 This Lolly pom ribbed beanie is a great choice to further embellish your cozy outfit. Not only will it keep you warm and comfy, but it also will be a reason for receiving a ton of compliments! Well, isn't that amazing? This crochet beanie pattern is a simple project and a great start for a beginner. It involves the slip stitch, half double crochet, and foundation double crochet stitches. 1dogwoof

What you need:
Lion Brand yarn in any color
5 mm crochet hook
Pompom
Embroidery needle
Scissors
Bonus tips:
To adjust the height of your hat, count the number of stitches in the foundation row
If you want to work up tight stitches, use a larger hook
Add a nice color contrasted pompom on top to complete the look!
28. Sherbet Beanie Crochet Pattern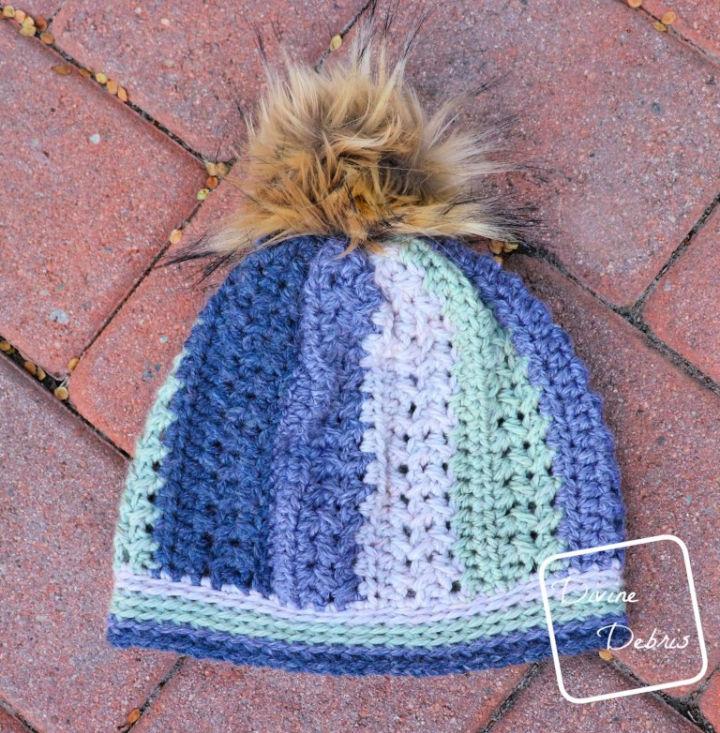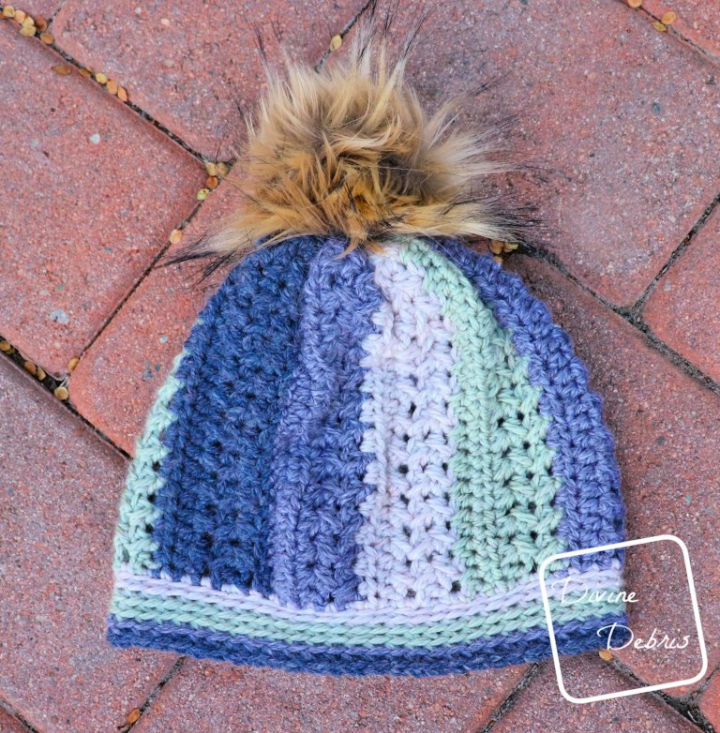 This Sherbet beanie is the perfect choice to rock on this cozy season! Make this half double crochet beanie pattern for yourself, your child, or any of your favorite friends; it would just do the job. Not only is it an easy project to work on but also a super-fast one. You can also make it up using your stash yarn. It consists of half double crochet and half double crochet cluster stitches. Just follow along the detailed instructions to help you start. divinedebris

What you need:
Size # 5 super bulky weight yarn
6.5 mm crochet hook
A large pompom
Measuring tape
Needle
Scissors
Bonus tips:
Make sure to use super bulky yarn to work up fast and for a super soft texture
Try using an ergonomic crochet hook to enjoy your time crocheting as it is comfortable
If something goes wrong, unravel and stitch again for a perfect result.
29. Family Beanie Hats Crochet Pattern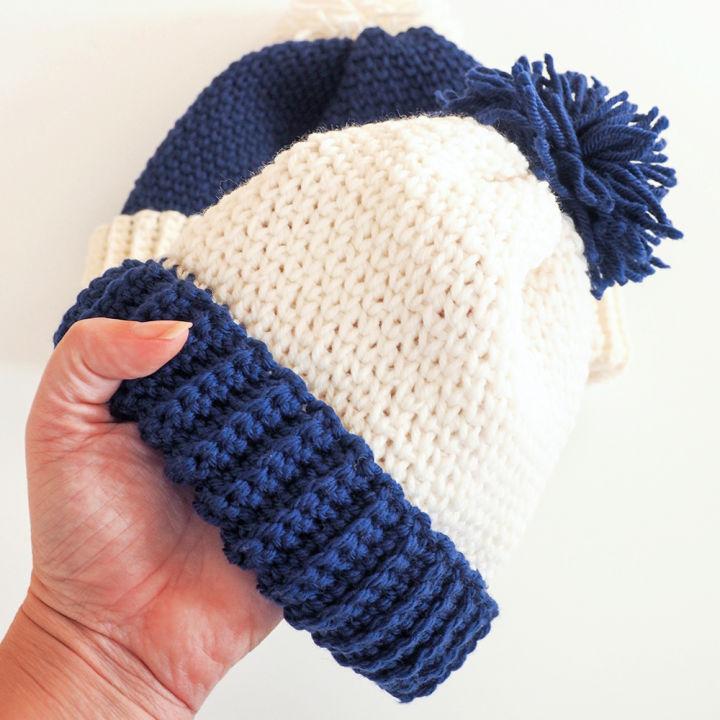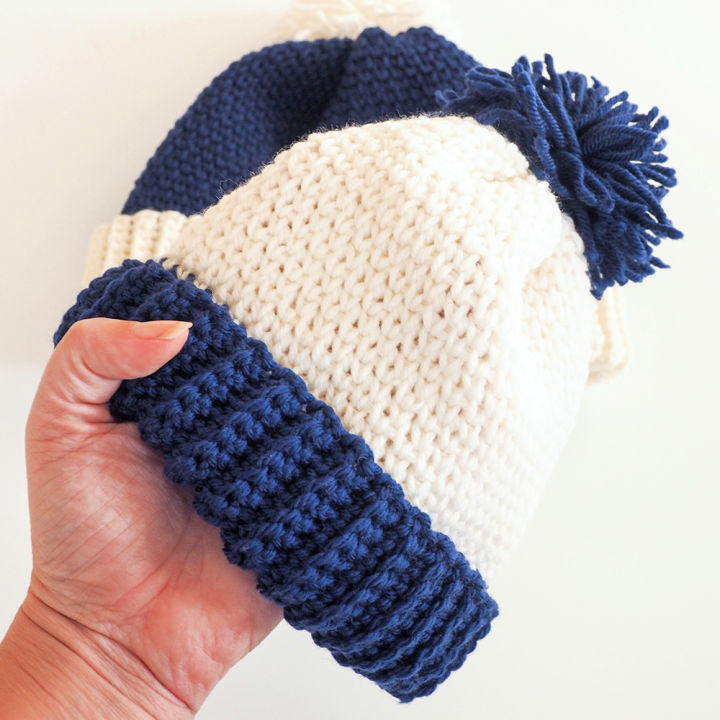 This family beanie hat is a perfect fit for any and everyone. This thoughtful crochet beanie pattern can make the perfect gift you are looking for! It is that chilly time of the year when you do not want to leave your blanket. But this beanie will keep your head just as warm. It consists of knit, single, and back loop stitches. dabblesand

What you need:
Medium worsted weight yarn
5.5 mm crochet hook
A piece of cardboard
Tapestry needle
Scissors
Bonus tips:
Choose neutral colors to make a unisex hat
Feel free to experiment with your very own designs to customize it your way
This beanie can make your perfect Christmas present this year!
30. Baby's Lacy Springtime Beanie – Free Crochet Pattern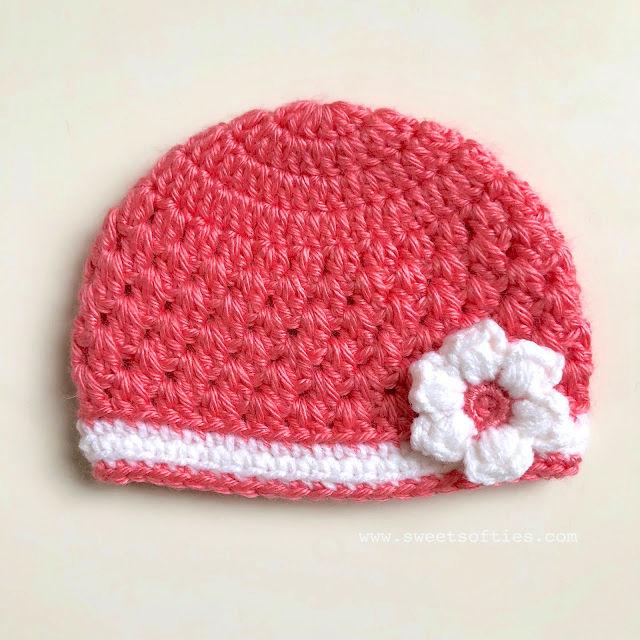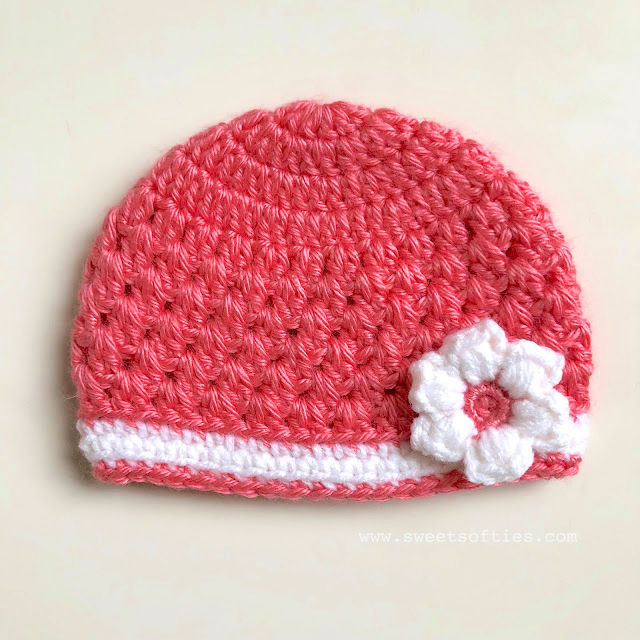 Baby's lacy springtime crochet beanie is the perfect present you can find for a little newborn angel. This free crochet beanie pattern will be a treat for anyone to make. Also, it is a great project to start with if you are entirely new to this. It is not to your surprise that this plan is the easiest and so quick to crochet as it is for a tiny little person. It involves the slip, double, single, double crochet increase, and back loop stitches. sweetsofties

What you need:
#4 medium weight yarn
4.5 mm crochet hook
Yarn needle
Scissors
Bonus tips:
Add a little flower or button design to adorn this pretty little piece further
Use happy colors as they would look great on a baby.
You can make a bunch of these to sell or gift to your loved ones!
Conclusion:
Are you ready to try out these 30 easy crochet beanie patterns? Start by gathering the supplies – you will need yarn, a few tools, and other supplies. The yarn can be found anywhere online or in-store. It's recommended to get the yarn that's mentioned in these plans for the best final results.
Even if you decide to change it up, choose one which will match the crochet hook and size of the pattern. Furthermore, the crochet tools are effortless to find – it is recommended to invest your money in many different hooks. This will allow you to make very fun crochet patterns and be creative with everything! Who knows, these crochet beanies might just turn out to be a hit in the online shopping world?!