Crocheting the alphabet can be another fun activity while wishing to go smart with your hook. From simple crochet alphabet appliques to stuffed 3D letters kids toys, find 15 free crochet letters patterns for all, which will be the next crochet fun challenge. Crochet giant stuffed letters to use as a fun crochet pillow in the kids' playrooms and bedrooms. Personalize your jeans, sweaters, hats, and t-shirts by using these letter appliques, and do add the stuffed letters in the kids' nurseries, will rock for beginner readers. They can be used in unlimited different ways for the educational purposes of your kids and do choose "a to z of crochet" to make fun party garlands.
Explore this collection of 15 free crochet lettering patterns that will cover all the hacks and tricks to crochet all alphabets A-Z and all numbers 0-9. You are all free to crochet any yarn with a matching hook to work up these crochet letters and numbers. One of the best yarn stash projects, the crochet letter patterns.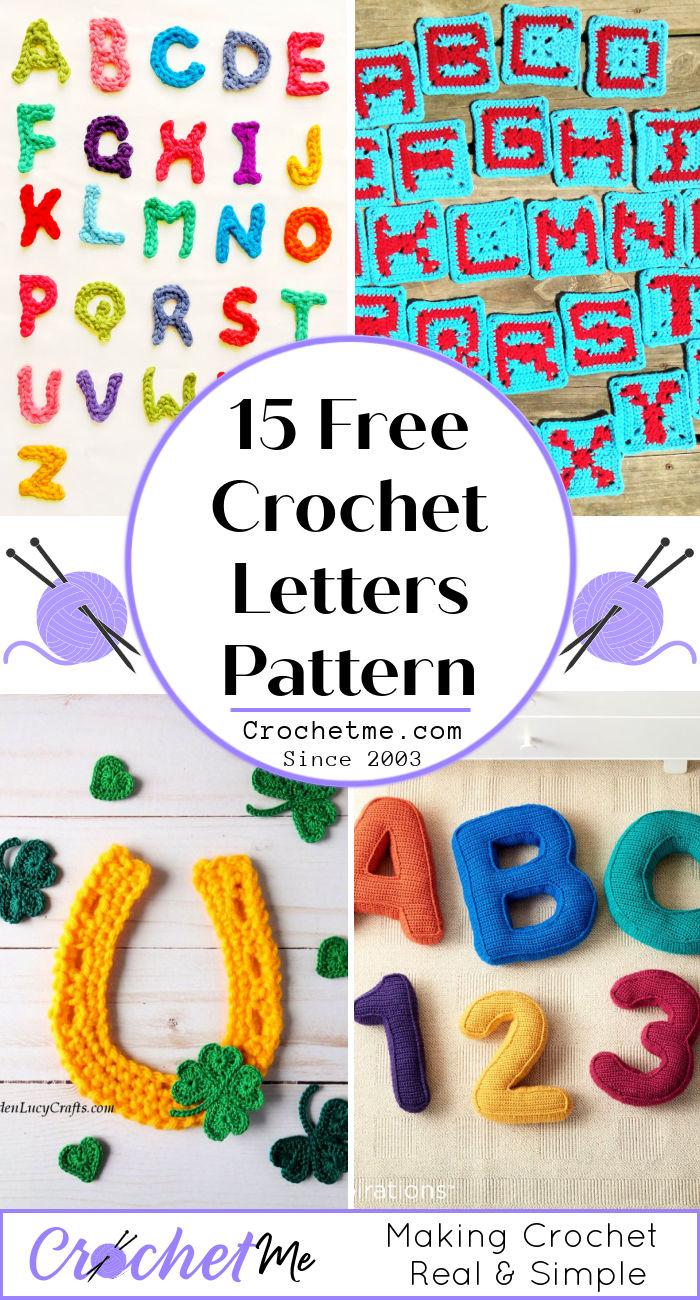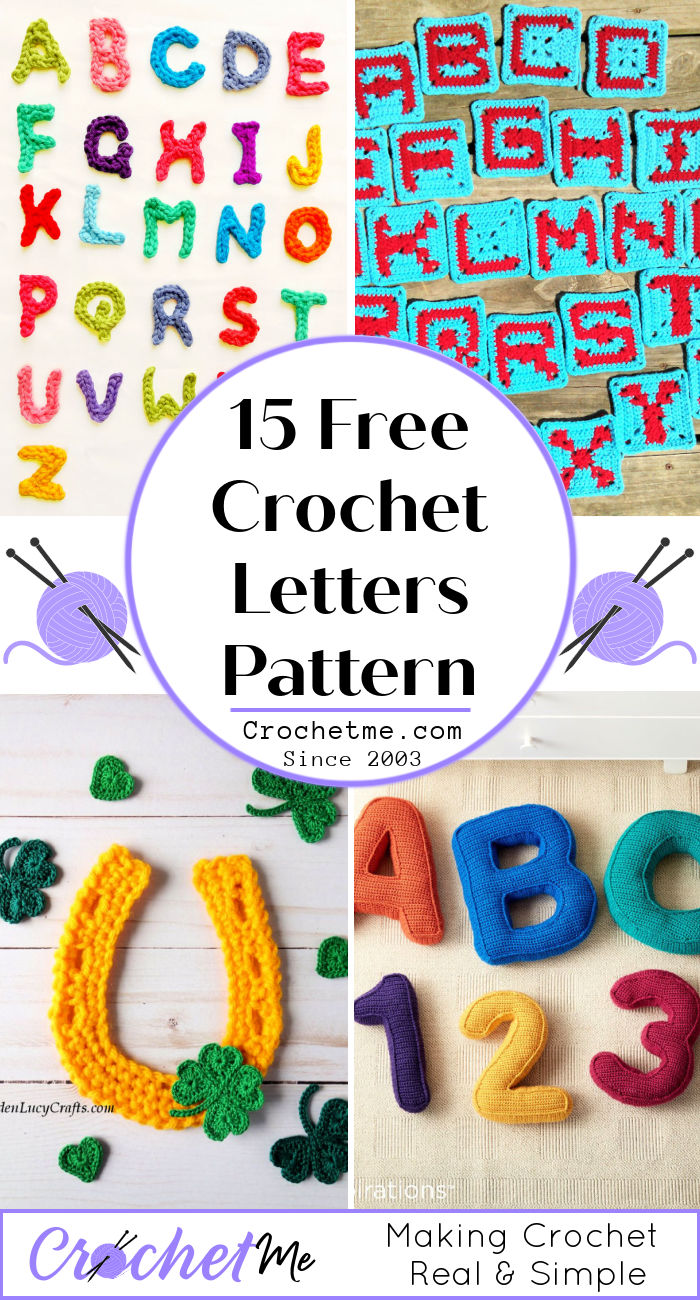 How to crochet letters? Whether you want to crochet letters with serifs or without serifs, you will get the free step-by-step instructions for all. Moreover, this compilation of Free Crochet Letters will cover all lowercase and uppercase letters to choose from. Plan these letters for any even or party decors, and they can be hanged or placed over the shelves too for a big wow factor. Explore the entire collection of these Free Crochet Letters Patterns to see what type of wonders you can do with these letters like crocheting a letter blanket, love letters, and quotes pillows.
Are you beginner in crocheting? If yes, then you must learn to reading crochet patterns first.
1. Crochet Alphabet – A to Z of Crochet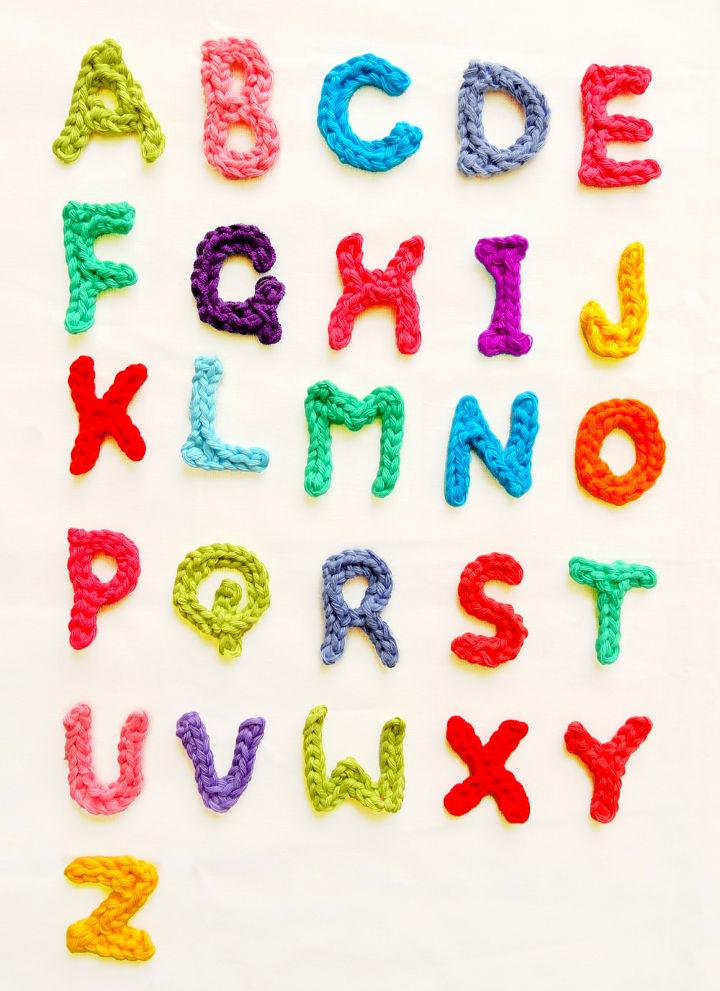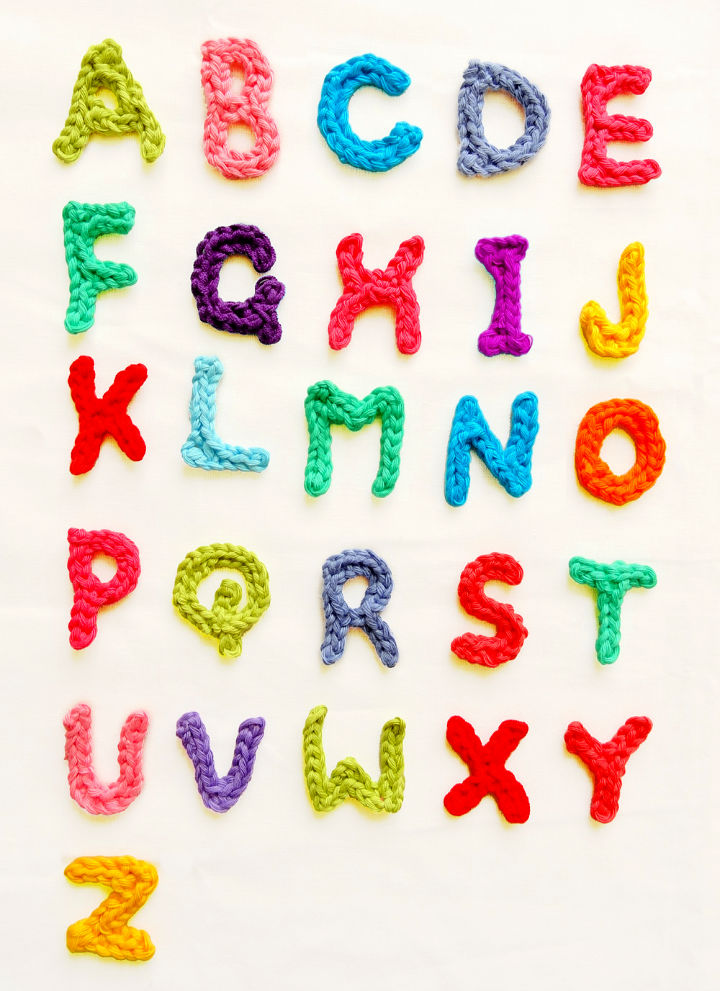 You will surely have big fun while crocheting these a to z of crochet alphabets, will amaze with it unlimited fun uses. They will make a great name letter initial applique for your t-shirts, jeans, sweaters, hats, and other crochet fashion. At the same, one can use them as embellishments for decorating a variety of stuff. This is what you need to give anything space or a personal touch. Here you will get free patterns and guides to crochet all the alphabets like a pro. Crochet worsted weight yarn with a 5mm hook to stitch these crochet alphabets. Details here ravelry
2. Crochet Letter Blanket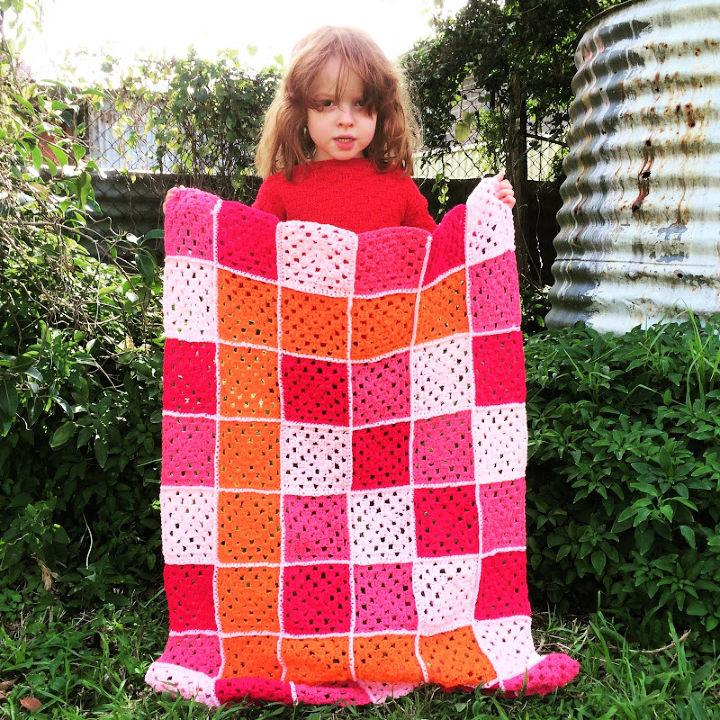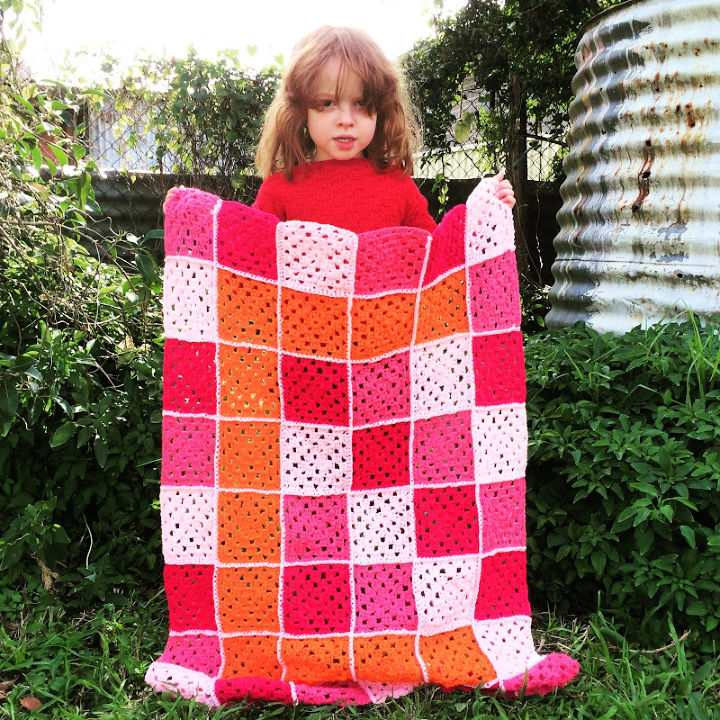 Adding letters to your crocheted patterns or just stitch them incorporated in a custom crochet pattern is a great way to personalize a crochet pattern. So, crochet custom monogrammed blankets for each individual kid by crocheting their name letter initials in them. Look at this letter blanket, made of granny squares featuring a mesh-like openwork. The granny squares of the same colors have been incorporated in the designs making a letter "C" and "A" as you can see. A fun letter crochet project. Details here amelieandatticus
3. Crochet I Letter Pattern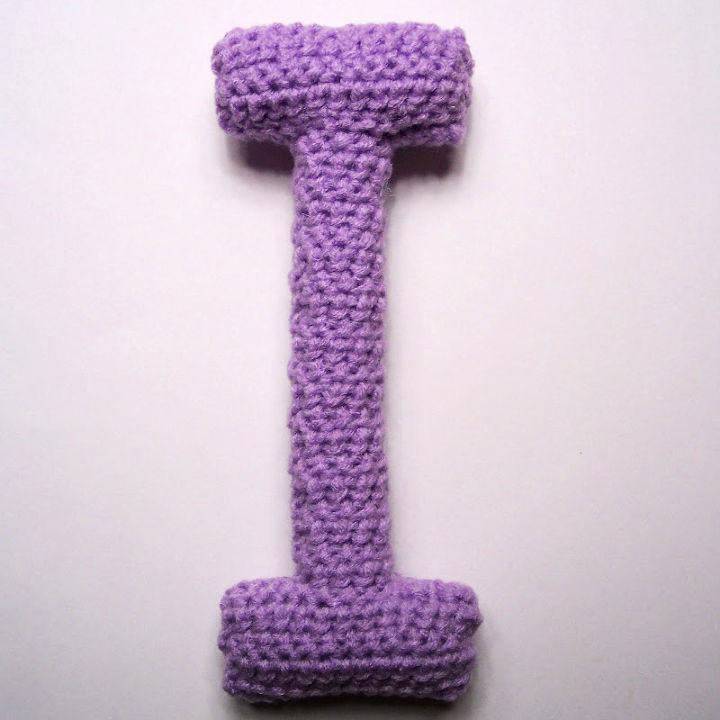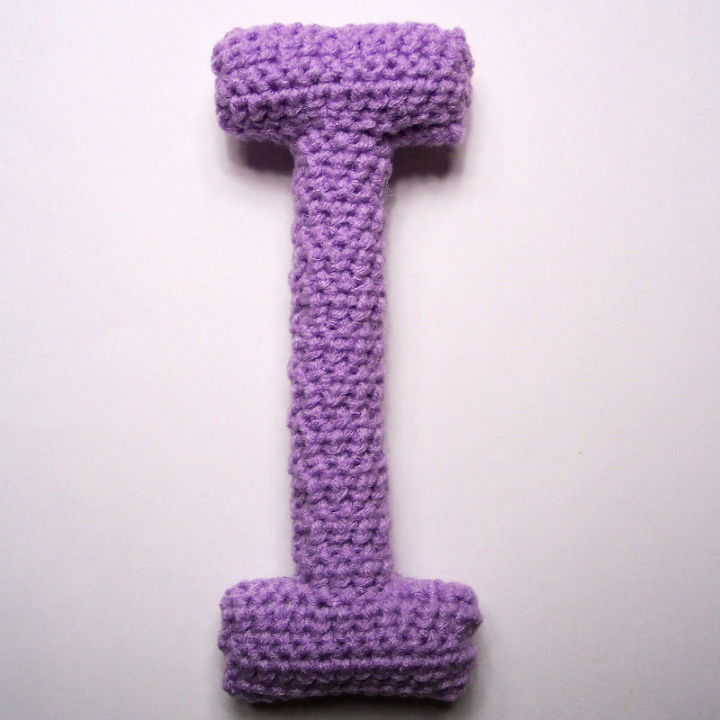 Learn here how to crochet the giant alphabet yarn amigurumi so they can be hanged on any interior wall for creating a personal decor statement. Here you will get the instructions about how to crochet both uppercase and lower case versions of the letter with or without the serifs. Crochet the acrylic worsted weight yarn with the 4mm hook to stitch this letter soft. It is 8.5" tall and 1.25" wide and do stuff it with the polyfill stuffing. The G hook will be the right choice for this letter pattern. Details here ravelry
4. Crochet L Letters Pattern Free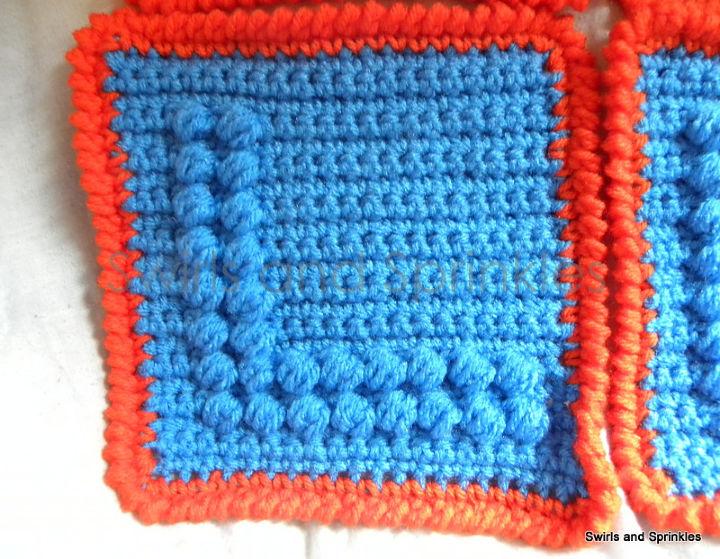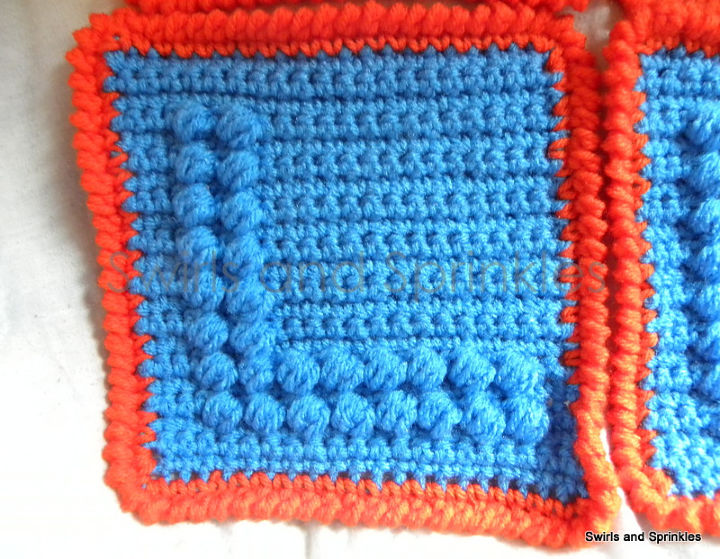 Image these crochet letter blocks hanging in the kids' bedroom, spelling out the kids' names. They will make the best gift for the kids. Moreover, they will smartly update the decors of the room along with creating a personal decor statement in the entire space. Crochet worsted weight yarns of choice while working with an H hook to stitch these 6" letter blocks excluding border. The special stitch used in the pattern for the puffy letter is the bobble stitch. Choose your own yarn weights to crochet it. Details here swirlsandsprinkles
5. How to Crochet Letters from A to Z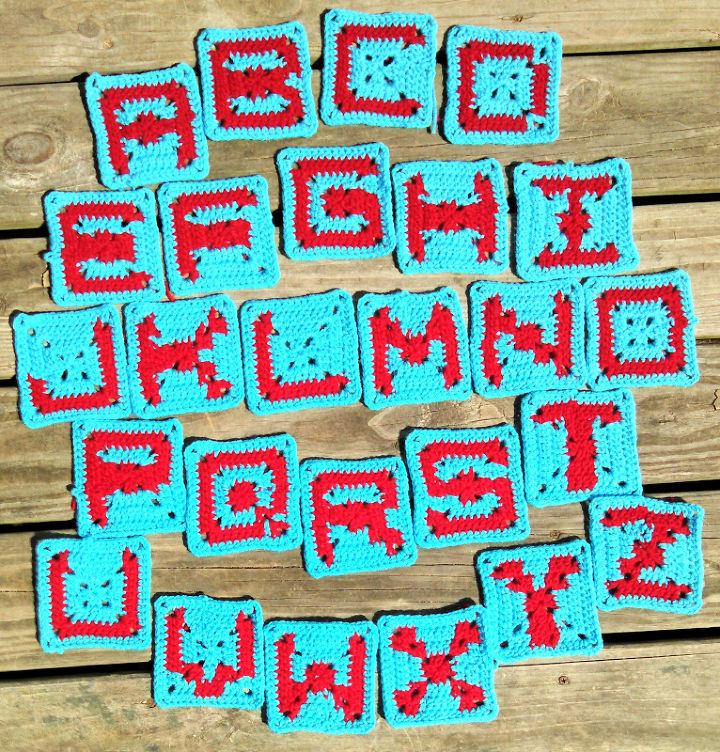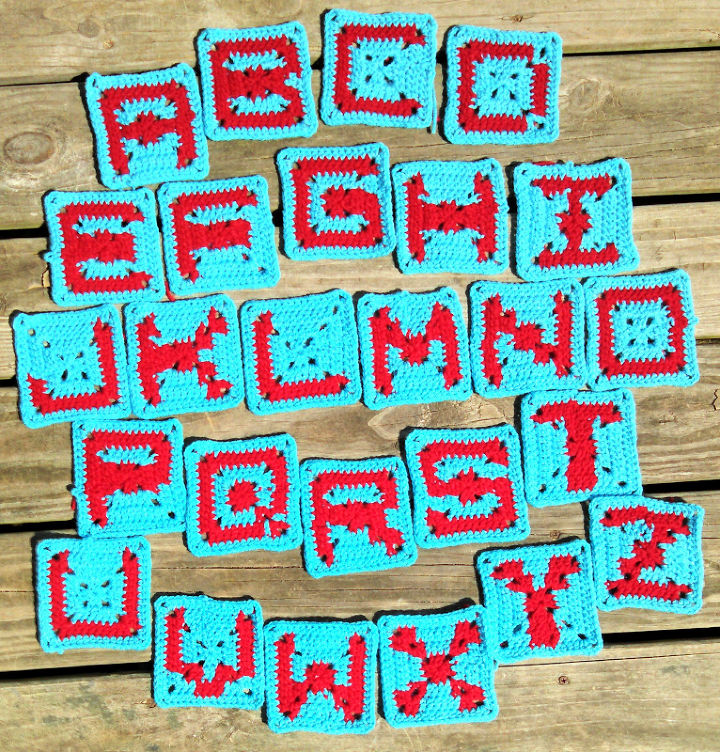 Head over to these crochet letters if you need to incorporate some words of inspirations or custom messages and even the name letters in a custom pattern. These letter blocks can easily be incorporated in blankets, throws, pillows, and afghans for a personal touch and will make interesting monograms. The granny squares will allow you to fit these letters easily in a pattern. Here you will get a pattern for each letter having its own graph. The hook size, yarn size, or weight and gauge is not very important for these yarn letter blocks or granny letter squares. Details here ravelry
6. How to Crochet Numbers and Letters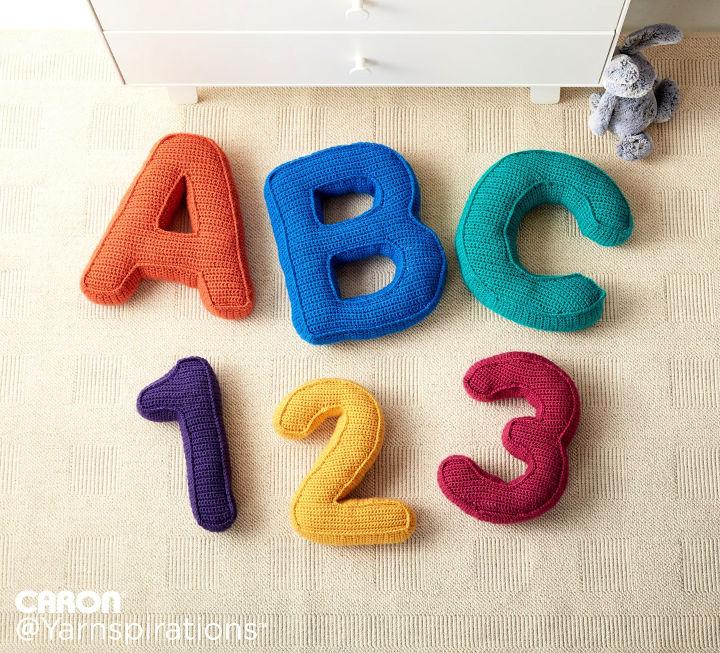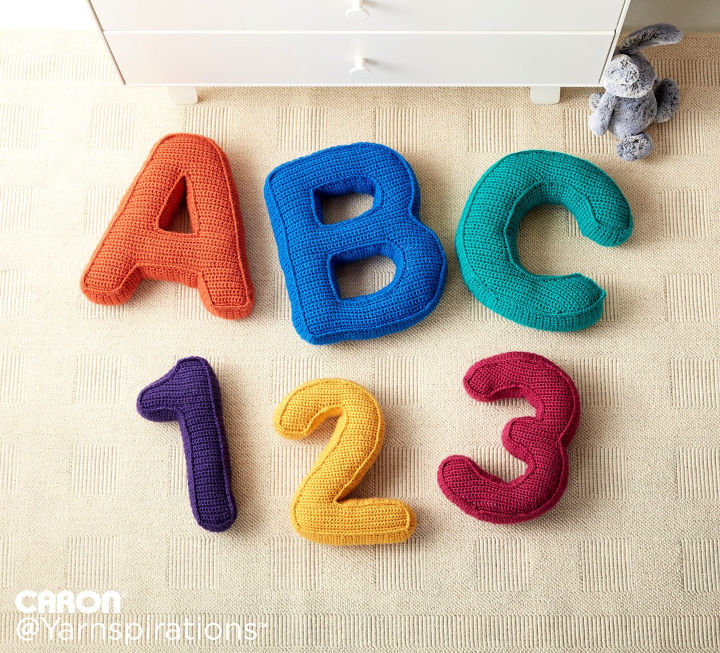 Use your beginner crochet skills and a little experience of crochet amigurumi to make these stuffed yarn numbers and letters. These crochet amigurumi letters and numbers will really rock for education purposes of kids. Furthermore, use the letters to create a personal decor statement in any room space or even in the kids' bedrooms. Kids will love to put these letters together for spelling out the names of things and even some easy math questions. The giant stuffed letters will make super comfort pillows too. Crochet Caron Simply soft yarn to whip up most of these letters. Details here yarnspirations
7. Crochet Punctuation Set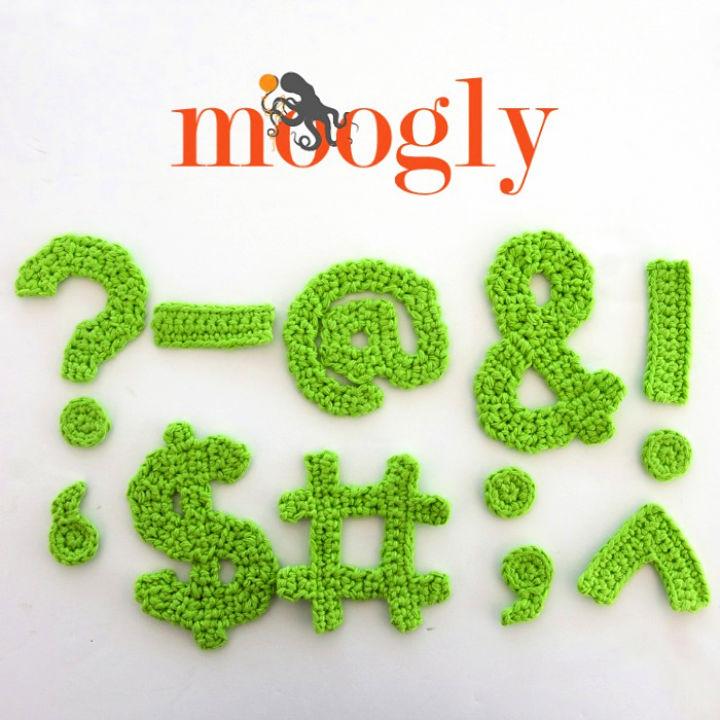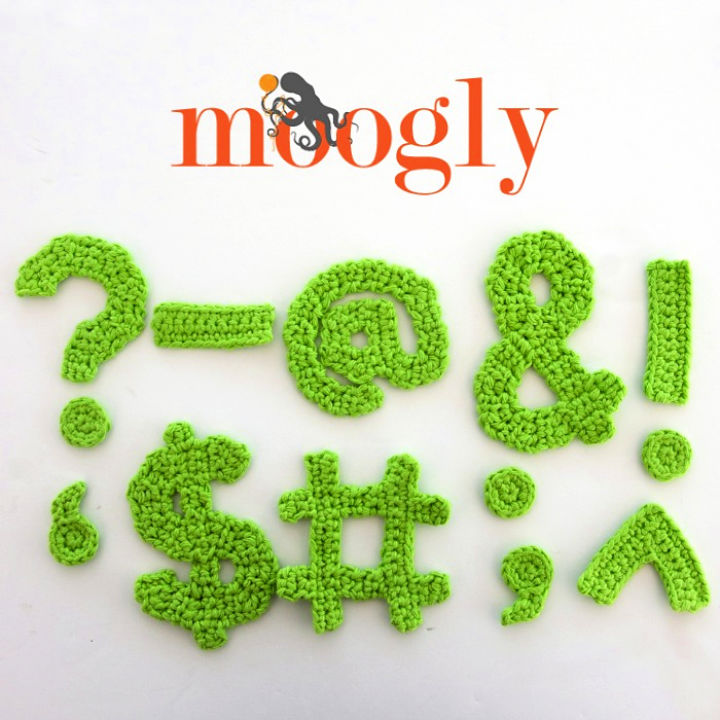 After the beautiful yarn letters, now learn here to crochet the best-looking punctuation set too. You are all free to use any worsted weight cotton yarn to crochet this moogly alphabet set. You have to work with a 3.75mm hook to stitch most of these punctuation signs. From question mark to dots to ampersand, you will get the free patterns for all uppercase and lower case punctuation. A great crochet project to make your kids learn in the fun crochet way. Details here mooglyblog
8. How to Crochet Letters Into a Blanket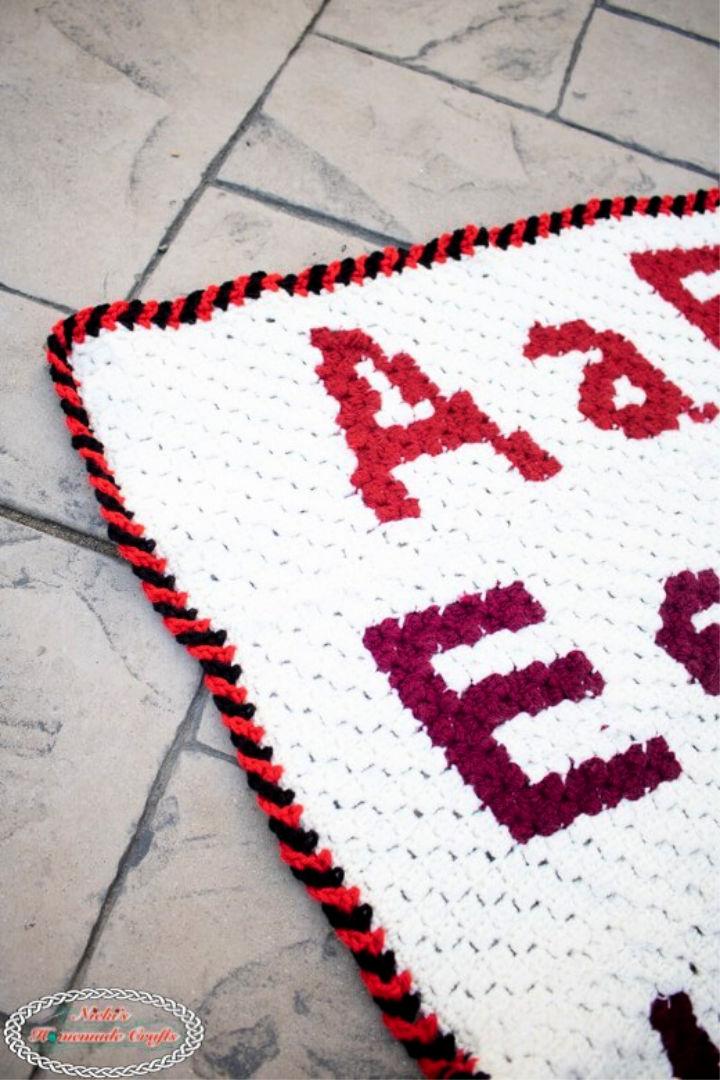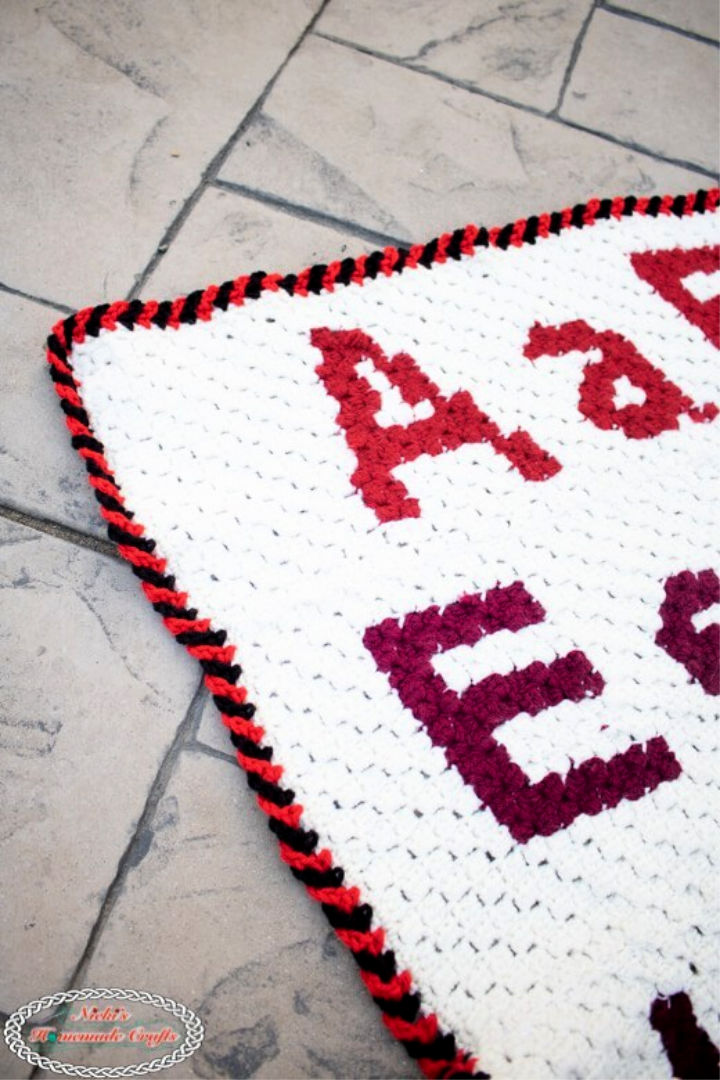 Go one step ahead and crochet this beautiful letter blanket too. It will provide winter comfort to a kid and will rock for educational purposes too. The technique used to incorporate the letters into a blanket is the C2C crochet pattern. The finished size of this crochet baby blanket is 65 tall and 60" wide. The required gauge for this pattern is two hdc C2C pixels, and 2 hdc C2C pixel make 1". Work in the strips to crochet this blanket, and you have to make each letter separately. Crochet Red Heart Super Saver Yarn in colors of choice, with a 5.5mm hook to whip up this letter blanket. Details here nickishomemade
9. Crochet Love Letters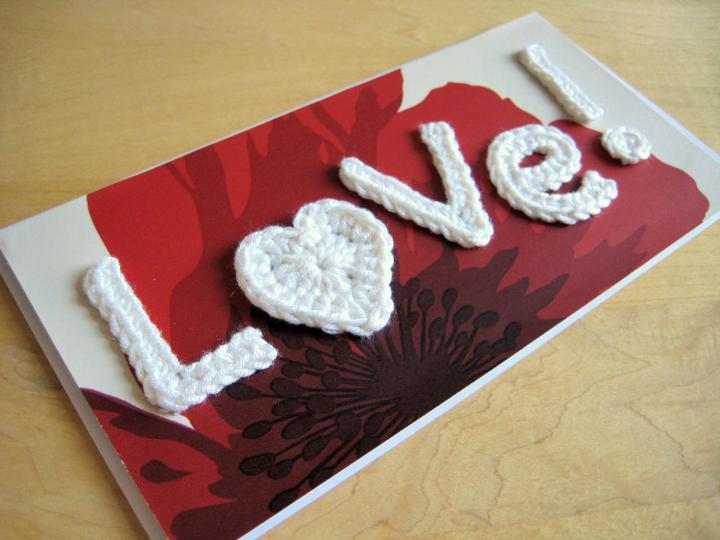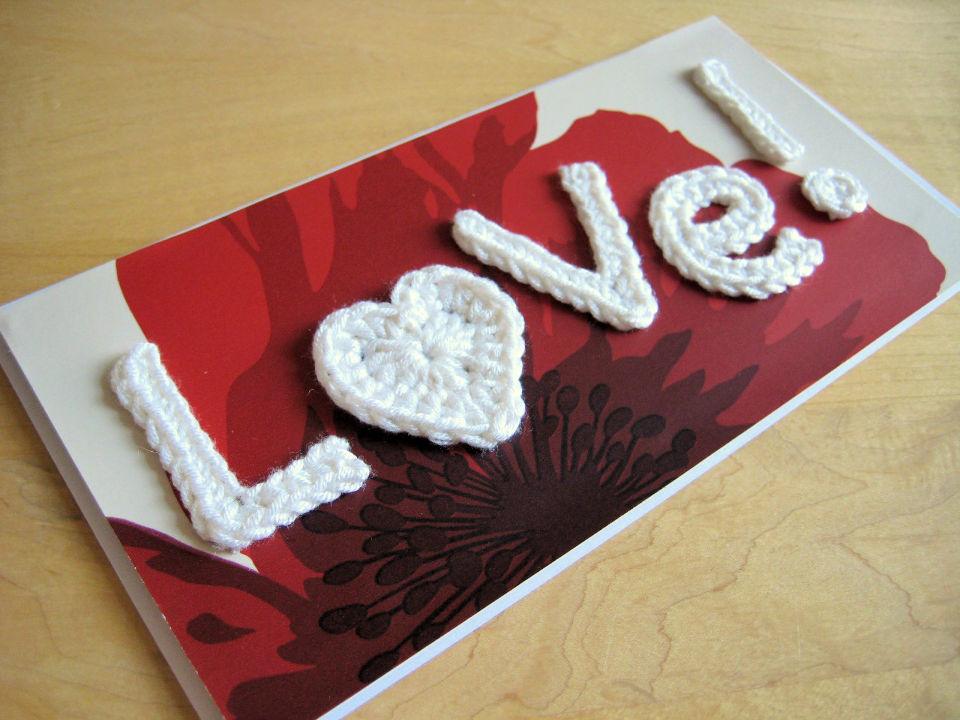 After learning to crochet all the fabulous crochet alphabet, you probably be sorting out the best crochet projects to do with them. Check out here a smart way to use the yarn letters and signs. Just make the impressive love crochet letters with them will look great with 3D words, quotes, and words of inspiration. here you will get instructions for each letter in the word " LOVE". Choose any stash yarn and crochet it up with a 4mm hook to hook up these patterns. To make the heart, start with a magic ring. Use glue to adhere to these letters on any material of choice. Details here makemydaycreative
10. Slip Stitch Pillow with Crochet Cursive Letters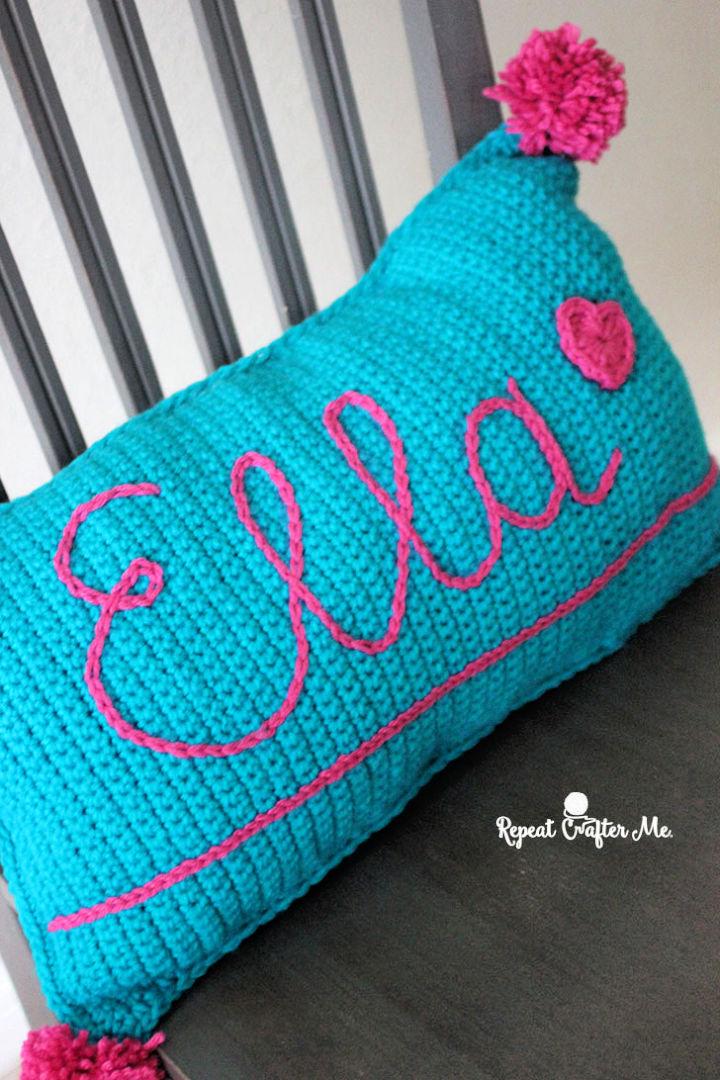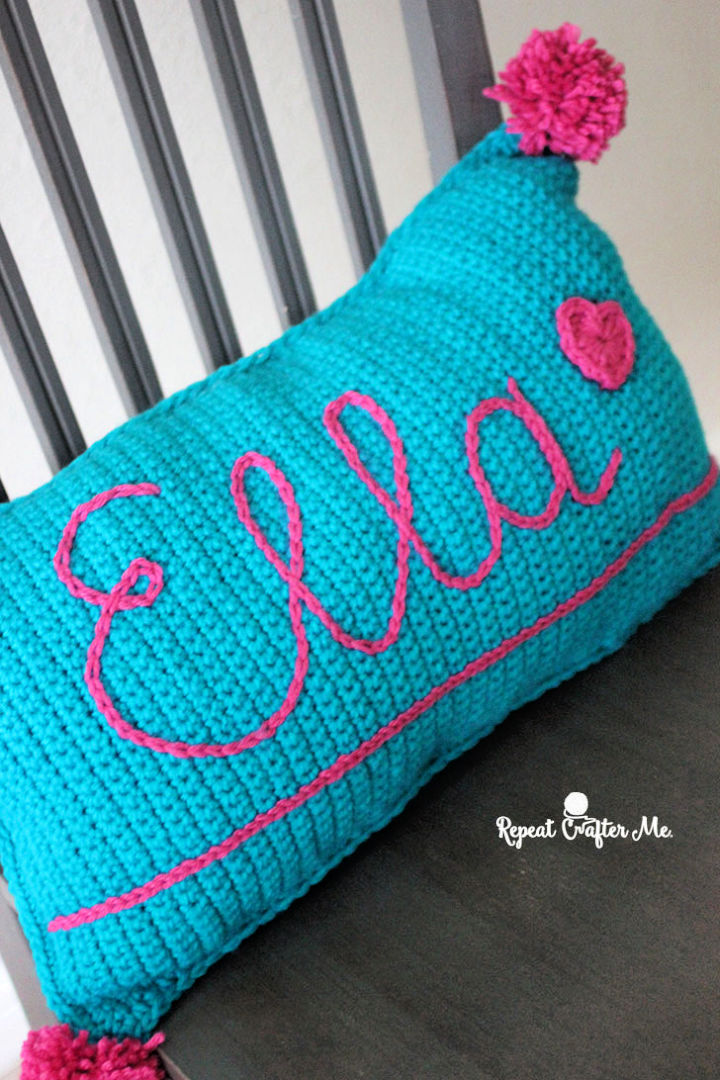 Say what you want by way of crochet cursive letters pillow will surely dazzle your bedroom audience. Here the letters are not incorporated in the pattern, but they have been stitched externally on the pillow. Crochet Bernat Super Saver Value in Bright Teal and Bernat Super Value in Magenta using an H crochet hook to whip up this lovely crochet lettered pillow. Decorate the pillow more by adding the colorful pom-pom, make with leftover yarn, and stuff the pillow with fiber stuffing. The finished size of the pillow is 18" x 10". Details here repeatcrafterme
11. Crochet Lettering Patterns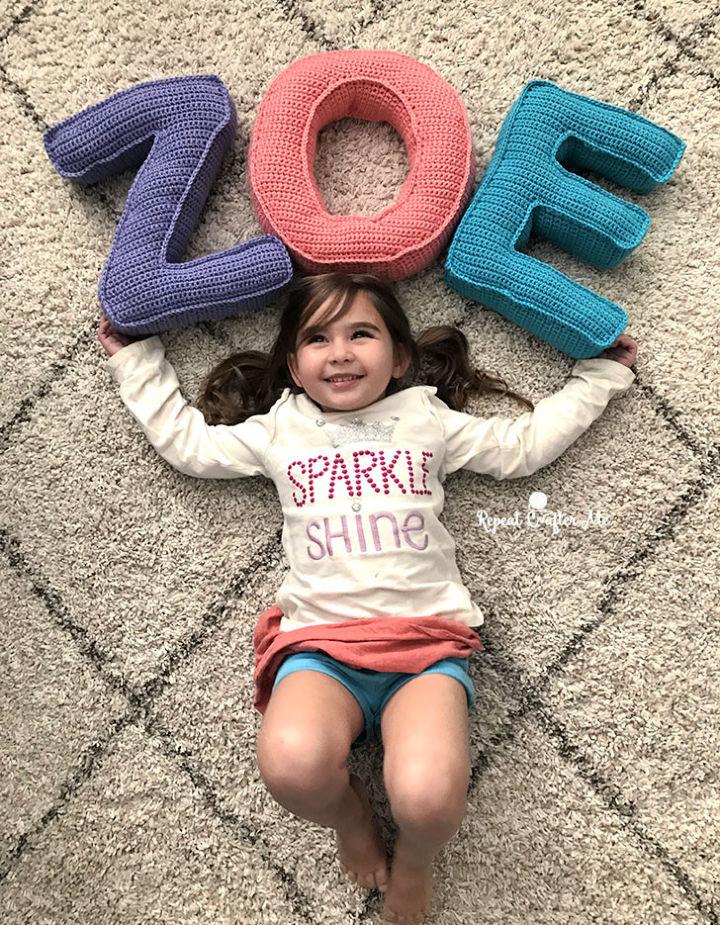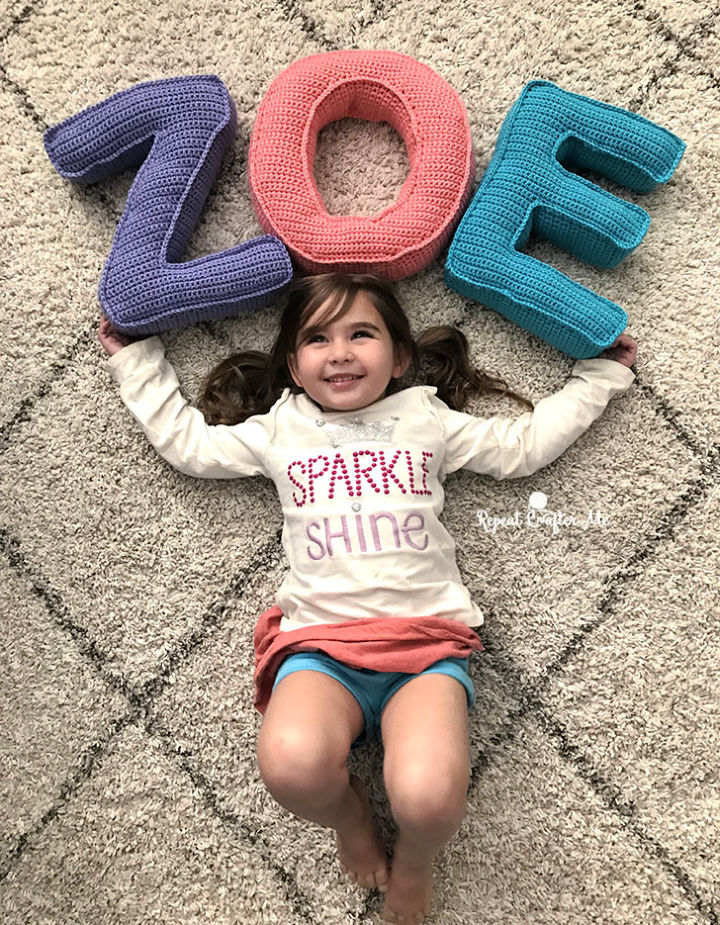 Adorn the kids' bedroom and playroom with these letters ABC's and 123's crochet pillows will be a fun way to teach your kids. Use them on the wall as words of inspiration, and they can be put together for instant great name letters and messages too. First, just crochet the letters and then stuff them. Crochet Caron Simply Soft in Lavender blue, strawberry, and blue mint to work up most of these yarn stuffed letters. Crochet letters with or without serifs will work up super quickly. Details here repeatcrafterme
12. Crochet Rainbow Letter Pattern Free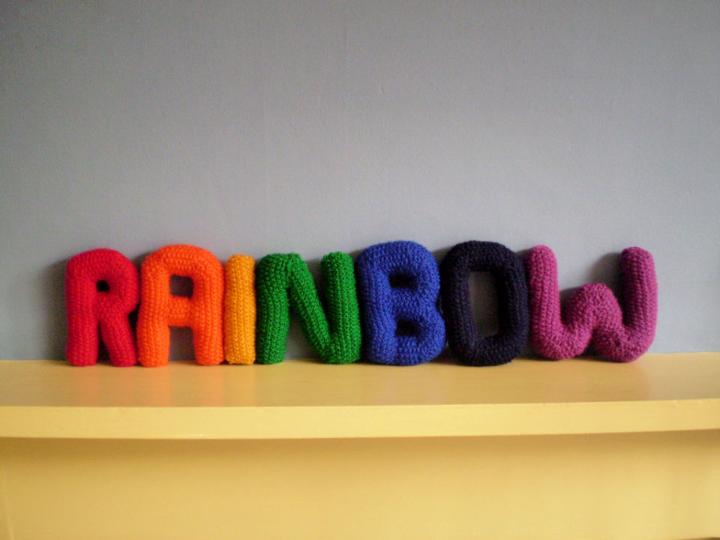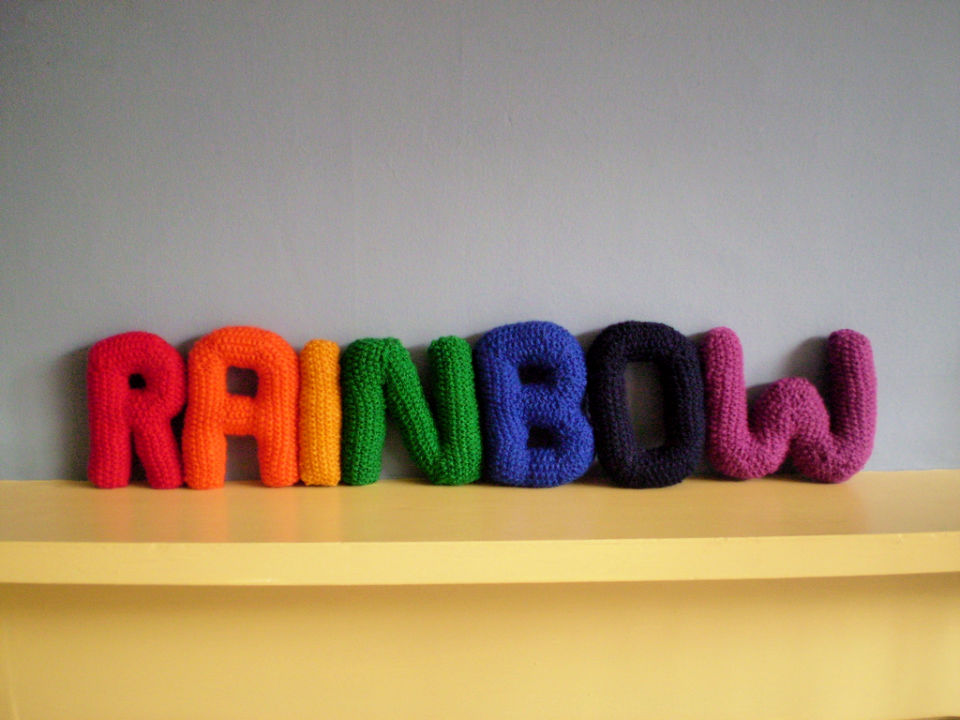 Crochet these stuffed letters in the rainbow colors and put them on a mantle or shelf as a worthy and colorful type of decor. A smart way to bring both rainbows and rainbow letters to a home will rock for the educational purposes of your kids too. First, crochet the letters and then stuff them up with the polyfill or with any stuffing of choice. Throw these letters together, making lots of words and names, and they are going to be the super easy crochet amigurumi patterns. Details here ravelry
13. Free Crochet C Letter Pattern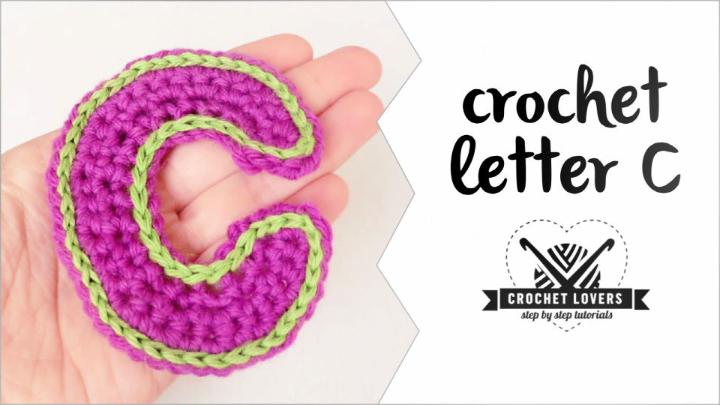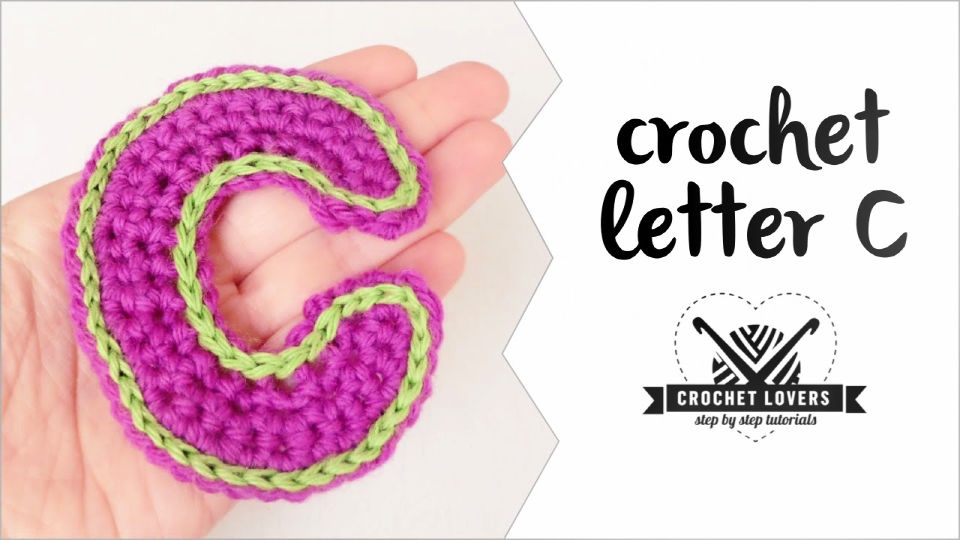 Get here the video guides about how to crochet letter "C" then get the step-by-step instructions for it here. Use it as a monogram and also a personal logo on a t-shirt, handbag, jeans, and other winter fashion items. It will all take 2-3 minutes to whip up this letter. And once you learn it, you will able to crochet all sorts of letters like this like G, Q and O and various other lower case letters too. The hook size, yarn weight, and gauge are not mandatory here. You can go with your own personal choices. Details here youtube
14. Crochet U Letter Applique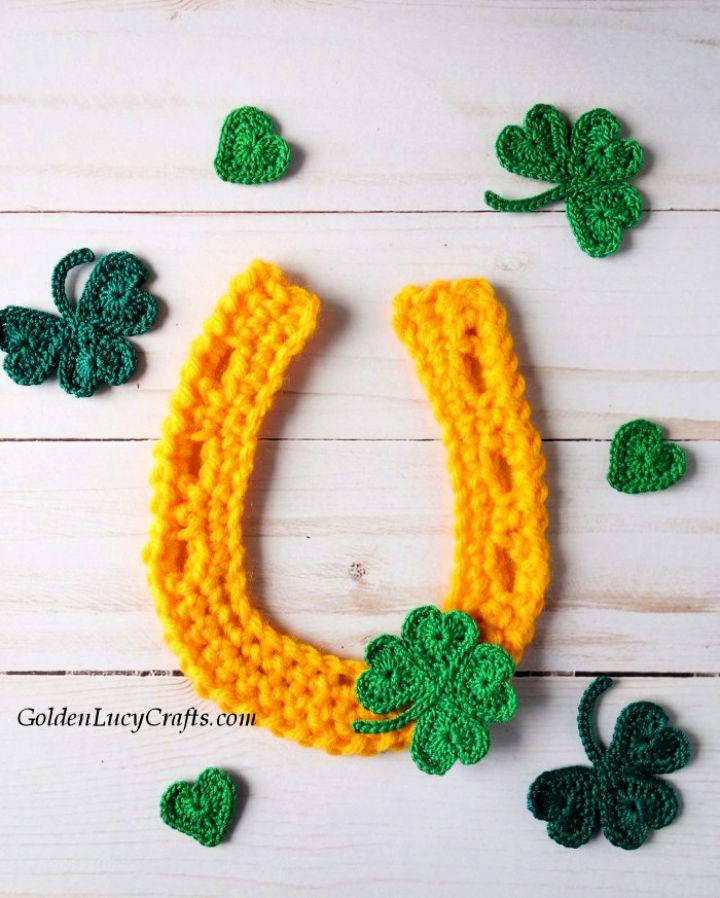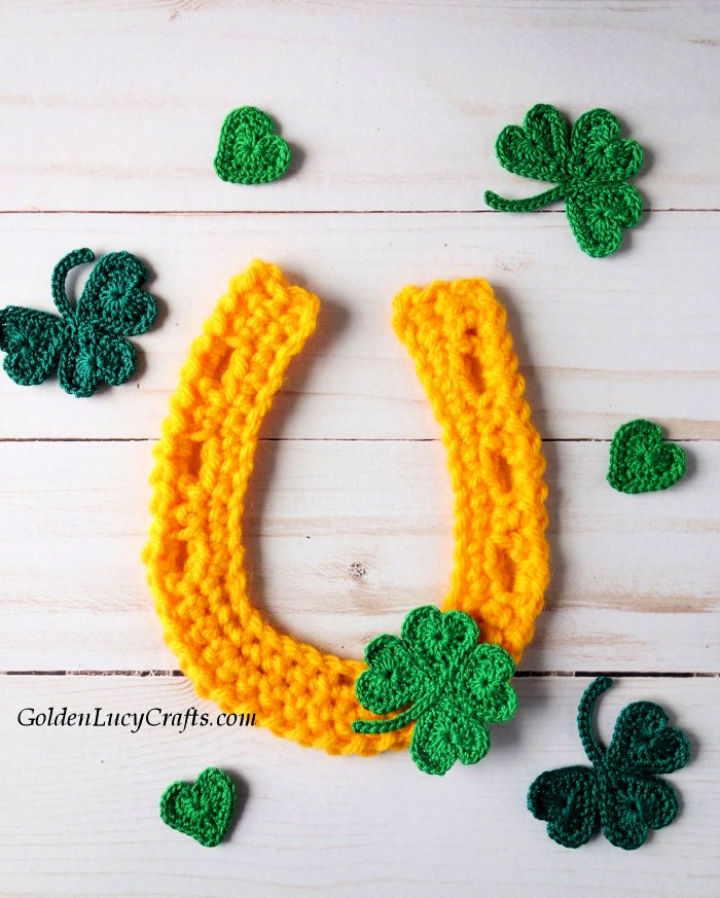 Celebrate holidays Day by making this handsome horseshoe leaf applique with a crochet shamrock monogram. It will be nicely on a t-shirt, sweater, and on the jeans for an added visual grace and beauty. This handsome crochet horseshoe applique is 5" tall and will work up super quickly. Use any yarn for the alphabet, and the size 10 crochet thread will rock for the shamrock. Use the 5mm hook to crochet the horseshoe applique, and 1.5mm crochet hook will rock to crochet the shamrocks. Details here goldenlucycrafts
15. Crochet SO Letter Pattern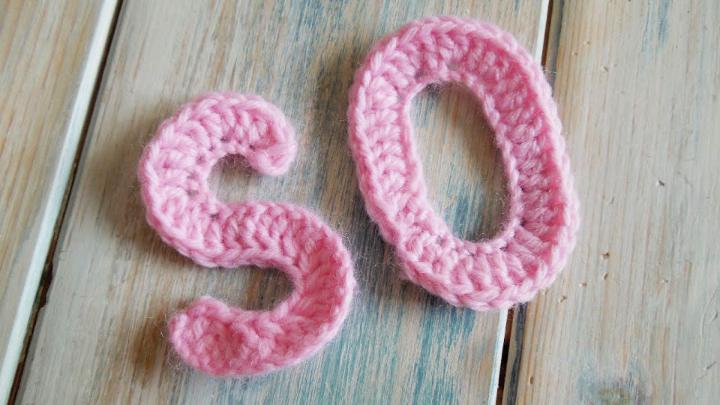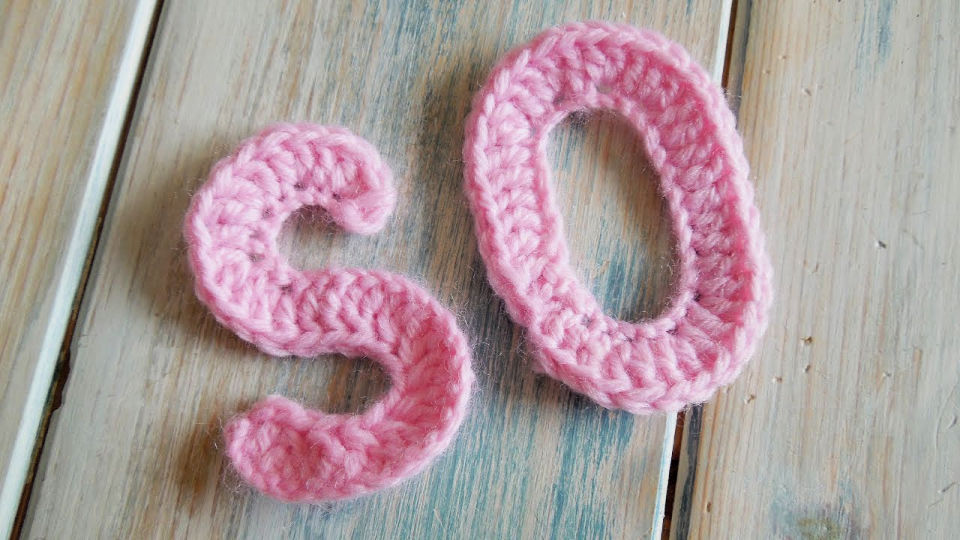 Get here the instructions about how to crochet the letter S & O easily at home. Crochet any yarn weight with a matching crochet hook and get these alphabets made quickly. Start with a slip knot and work in the basic yarn stitches to whip these yarn alphabets, will rock as monograms and logo appliques. They will work great to fancy up your t-shirts, jeans, sweaters, hats, and other items of this kind along with giving a personal touch. Crochet these alphabets for educational purposes of your kids too. Details here youtube
Conclusion:
You may wish to decorate the party environments, kids' nurseries, home spaces, and kids' bedrooms in the crochet theme. So, these 15 free Crochet Letters pattern will make an ideal choice for every of your home and party decoration plans. From crocheting letters pillows to enchanting letter appliques, you will get free printable crochet alphabet patterns to crochet all sorts of letters like a pro. Put them together on a shelf as words of inspiration or hang them as cute kids' names and also put them together to make crochet block letters for the kids' nurseries. Use these yarn letters in endless different ways.