Provide durability to your soaps that are often to find melted in the bath dish, with these 20 free crochet soap saver patterns. You will make the best crochet soap saver body scrubber too. Unlike the market bought low-quality soap pouches, these yarn soap saver bags will live really long. They are quite something much doable with the beginner crochet skill level and will require much less amount of yarn for their completion. Furthermore, they will make instant best gifts for baby sitters, teachers, neighbors, and friends too. Explore this round of free crochet soap saver pattern help you crochet the best lacey, mesh style, and chunky yarn pouches you can put your soaps in. You can put the small leftover pieces of soap inside these pouches also to keep them using them. This makes the best soap saver.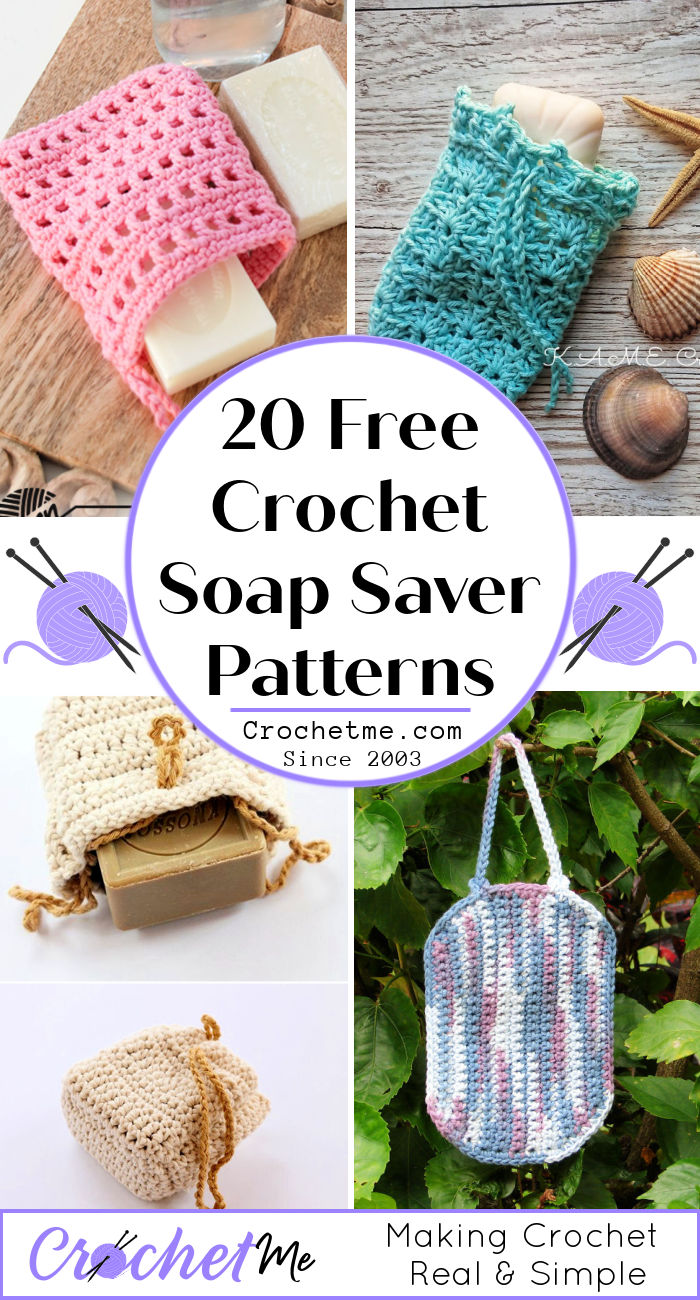 All the free crochet soap saver patterns are one of the great crochet stash buster projects. They will make great part-time wash clothes and can be hanged to dry after the use. By working in a variety of crochet stitches, you can come up with interesting design textures. Try different yarn weights and colors and even the colorways to hook up these crochet soap bag patterns as colorful as you want. Moreover, they can be added to guest bathrooms also for a great impression and will add a sweet touch of hospitality too. Browse the entire compilation of free crochet soap saver or soap bag patterns to see a lot more unique designs to choose from.
1. Crochet Soap Pouch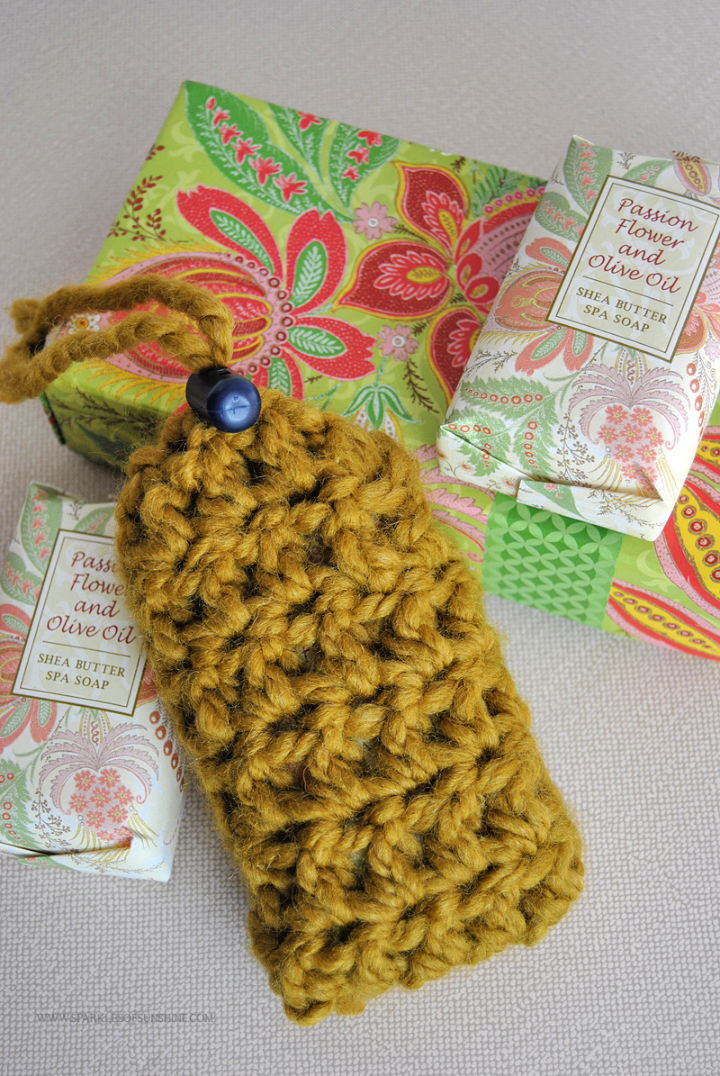 The soap saver, we buy from the market, have a shorter life so you will be purchasing them again right after some time. So, opt for the crochet to get some long-lasting crochet soap pouch. This given crochet soap bag is will really live long. Stitch this chunky soap saver using the Lion Brand Wool-Ease Thick & Quick Yarn in any desired color. Work with the N crochet hook to crochet that chunky yarn weight and finish with drawstring closure. Crochet it in any size that is suitable for the size of your soap. Details here sparklesofsunshine
2. Crocheted Soap Saver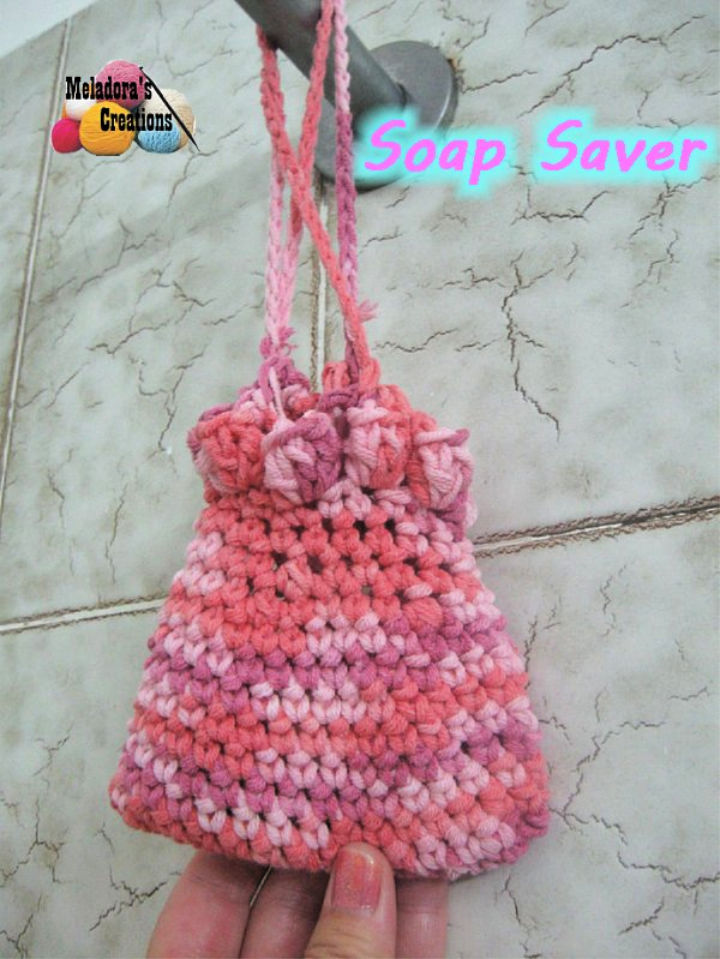 Do you know how to crochet a lovely looking mini drawstring pouch? If yes, then crocheting this soap pouches will not be a hassle for you. Crochet 4 ply US yarn with a J hook size to get this adorable little yarn pouch made. Work in the primary yarn stitches to get this soap saver made. Try the yarn in custom colors and weights, and don't forget to add the drawstring stopper or closure. You need a beginner skill level to crochet soap saver. Details here meladorascreations
3. Crochet Soap Saver Pattern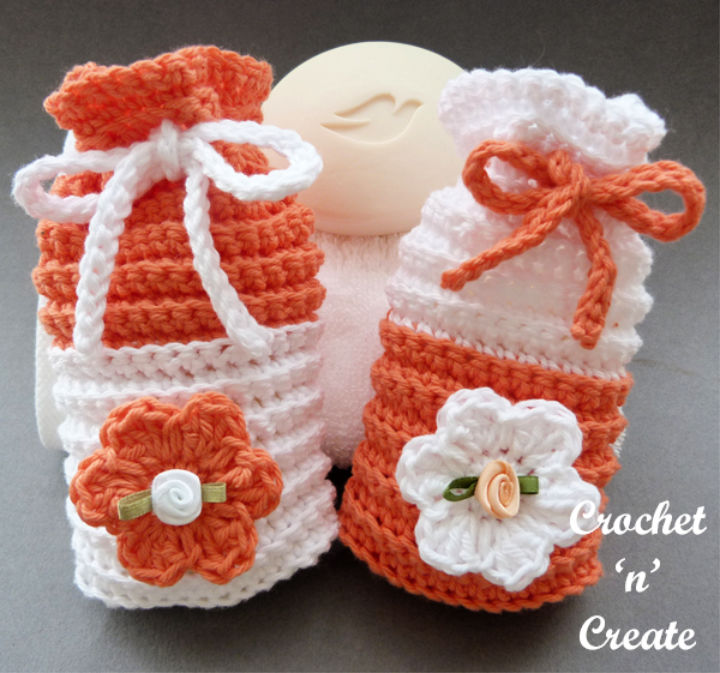 The soap savers are super cute and come adorned with crochet flower accents. The design texture of these soap savers is praise-worthy, and you have to work in the back loop ribbed stitch that you can easily learn. It will not take much time to crochet both the soap baggies and flower accents. Grab Paintbox 100 Cotton DK yarn in 2 colors, crochet 20g of each color with a 4mm clover crochet hook to whip up this soap saver. The finished size of this pouch is 5" L x 3.25″ W. The gauge for this pattern is 5sc, and 6 rows of sc make 1". Details here crochetncreate
4. Simple Soap Saver – Free Crochet Pattern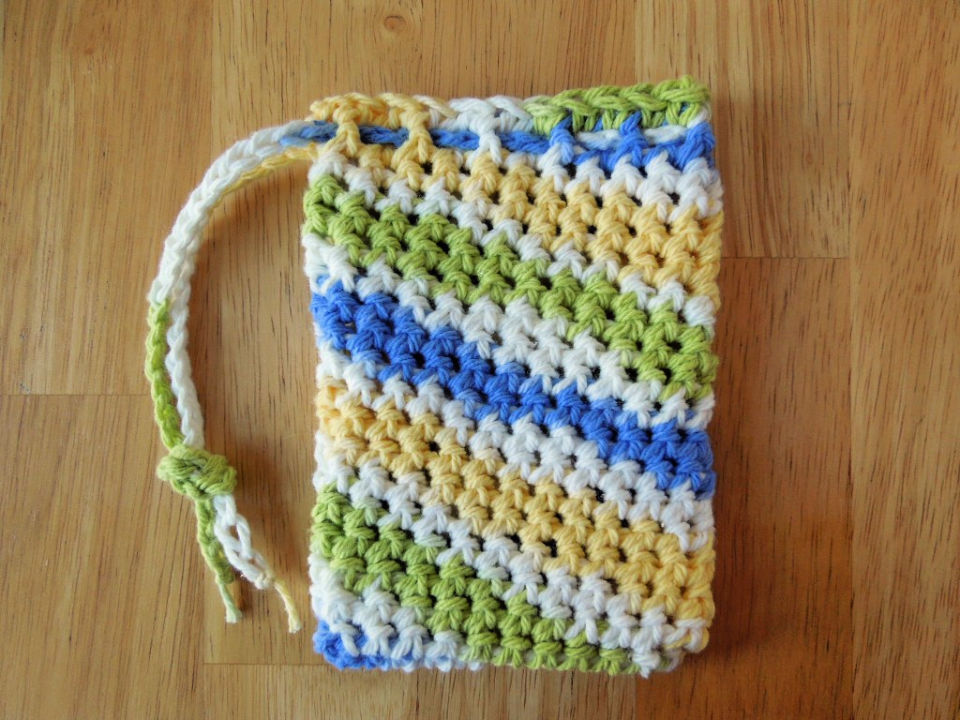 No need to throw the small pieces of your soap in the dust bin. Use them again using this crochet soap saver pattern. Add your leftover soap piece sin this yarn soap saver pouch, and they will be easy to scrub with also while being in this pouch. This pouch can hold a full bar of soap too inside. So, this is here the perfect solution if you are worried about the soap melting. Crochet 75yds of Lily Sugar n Cream Cotton Yarn in Cool Breeze Ombre yarn with a 6.5mm hook to whip up this 5 ½inch tall and 3 ⅞" wide size of soap saver. The calculated gauge for this pattern is, 6 stitches make 2". Details here thepaintedhinge
5. Free Crochet Soap Saver Pattern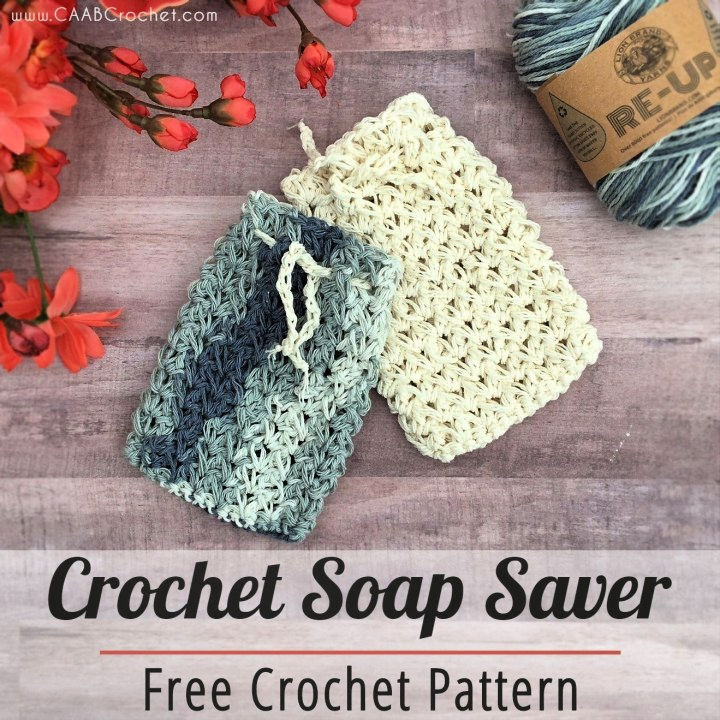 Can't scrub with the small pieces of soaps that are about to finish? Then get them in work gain by putting in this soap saver pouch instead of wasting them. This pouch will make it easy to scrub with those melted and little pieces of soap. Crochet Lion Brand Re-Up, size 4 cotton blend yarn to whip this light and airy soap saver pouch. Crochet 36yds of this yarn with a 5.5mm hook to make a 3 ¾in x 5 ½in size of this soap pouch. Gauge is not very critical for this pattern. Details here caabcrochet
6. Crochet Soap Bag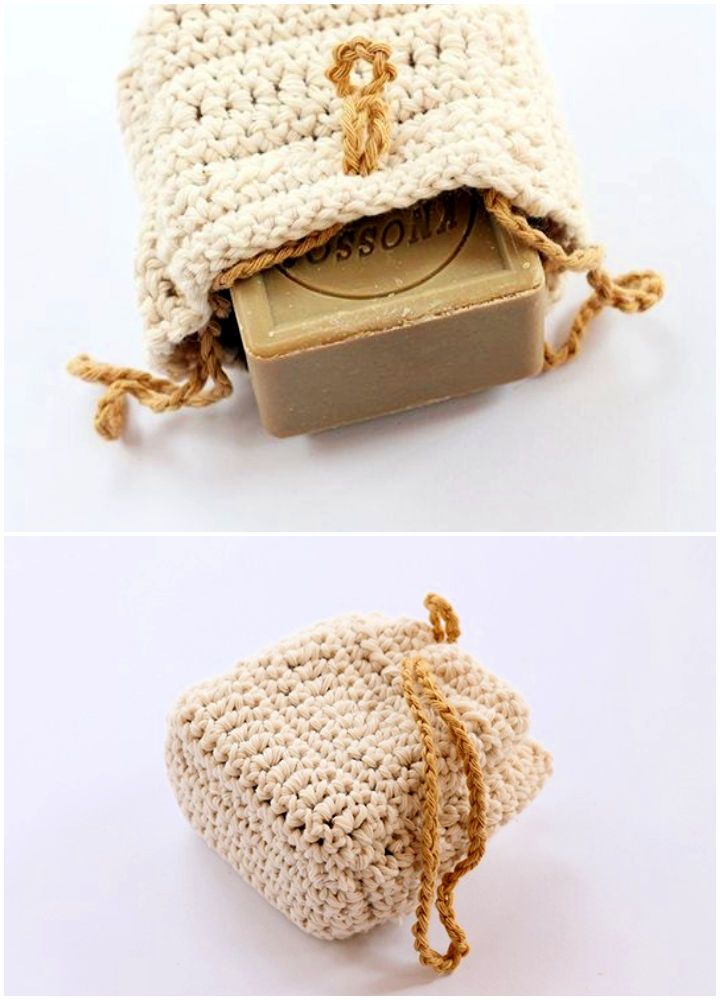 This crochet pattern is simple and straightforward and will make a great choice for beginners. One of the best Crochet Bathroom Patterns, the crochet soap saver bag. Get Rico Creative Cotton Aran in 2 colors, and crochet 1 ball of each color using a 4mm hook to whip up a 3.5in x 4.5" size of this soap pouch that will rock for a 3 x 3 inches soap bar. You need an easy skill level to complete this gorgeous soap bag. The gauge for this pattern is 4 sts in 1 inch. Details here handylittleme
7. Crochet Leaf Soap Saver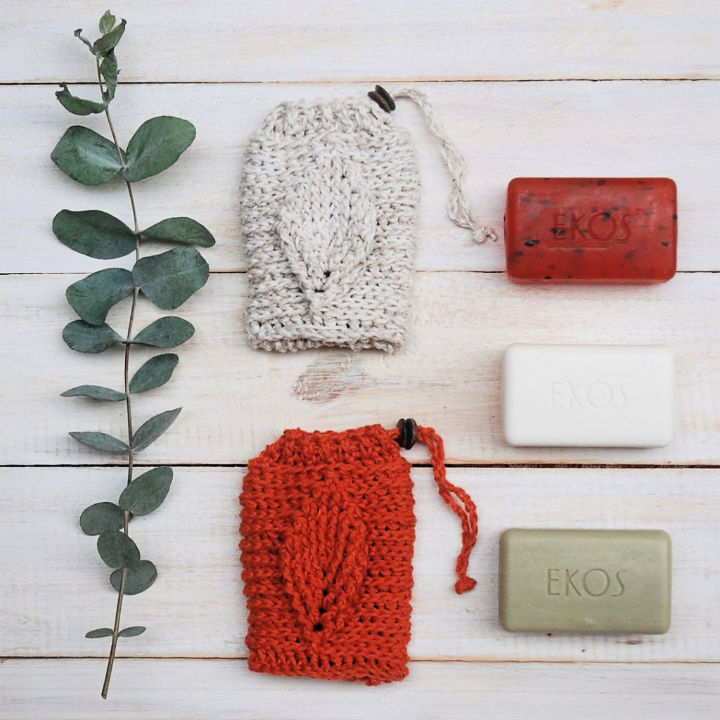 Is it make you feel sad to look at the soggy melted soap in the wet dish? Then time to change the things up with this crochet leaf soap saver will hold your soap bar inside that will still be easy to scrub with. You can make different styles for leaves by following this crochet leaf pattern. The leaf motif of these soap pouches put great visual interest in the design. Crochet 100m of DK cotton yarn with a 3.5mm hook to get this soap pouch made having 8.5cm x 11.5cm finished size. The gauge for this pouch is, 19 stitches and 10 rows make 4" x 4". Details here moaracrochet
8. Crochet Soap Saver – Free Pattern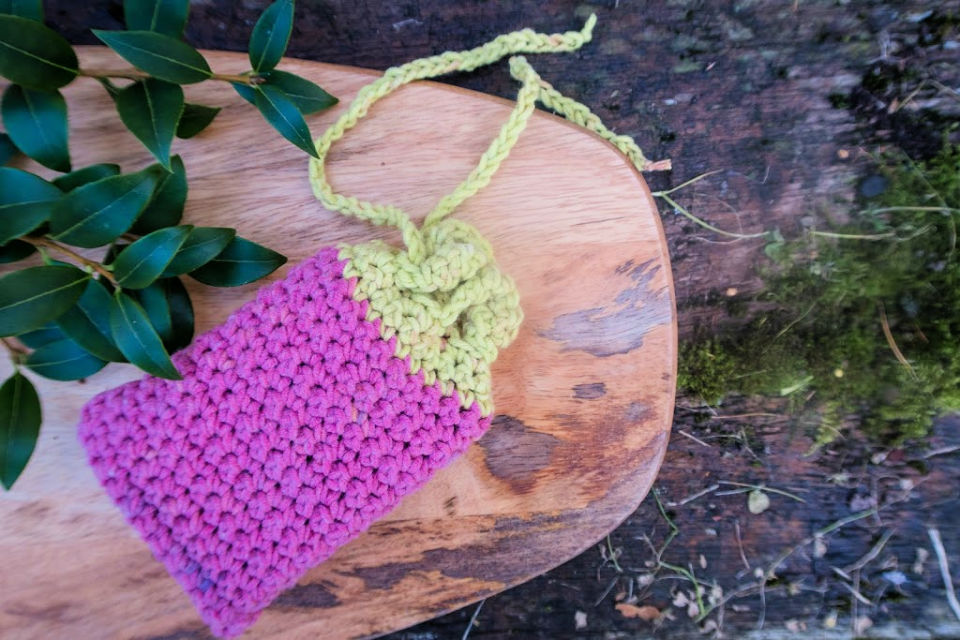 Extend the life of your soaps that are often to find as a paste in the wet bathroom dishes using these crochet soap saver pouches. Crochet the DK Wool with a 4mm crochet hook to stitch this soap saver pouch, will make a sweet handmade gift too. Finish the pouch with a drawstring closure that will allow it to hang on the wall hooks too. Crochet this pouch in size that will nicely hold inside your selected soap bar. Details here tippytupps
9. Crochet Pineapple Soap Bag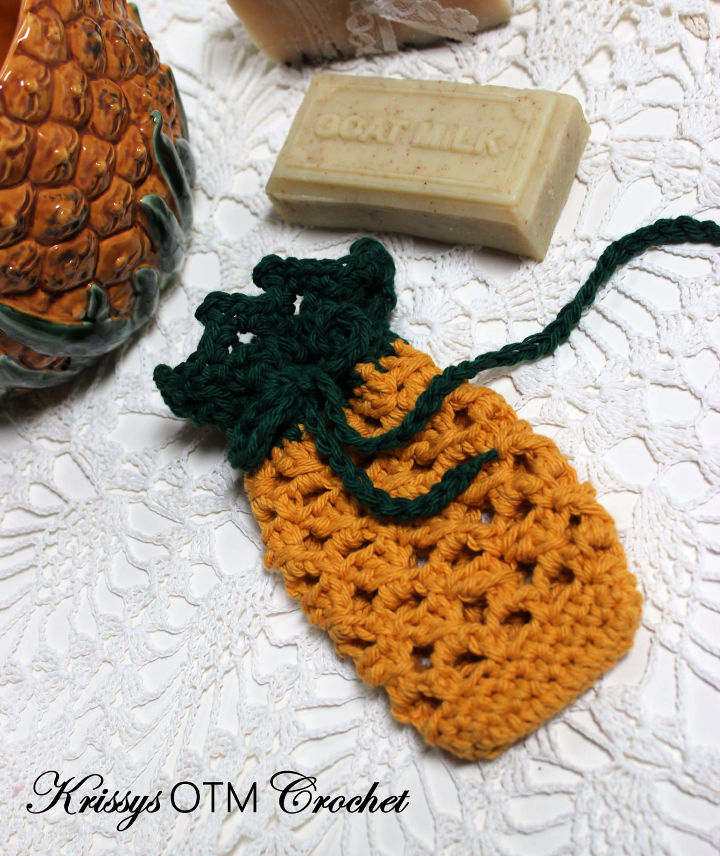 Add this pineapple to your bathroom for a sweet touch of hospitality. The best pineapple inspired crochet soap bag that is just great to carry a soap bar inside and even the leftover soap pieces. Crochet Peaches' n Cream 100% Cotton yarn with a 5mm hook to whip p this interesting soap bag. The special skills required to crochet this pattern are picot, V-stitch, and wrapped DC. Crochet the yarn in orange and green to whip up this soap bag that is a bit lacey. Finish with a drawstring closure, and here you go. Details here krissysoverthemoun
10. Crochet Soap Holder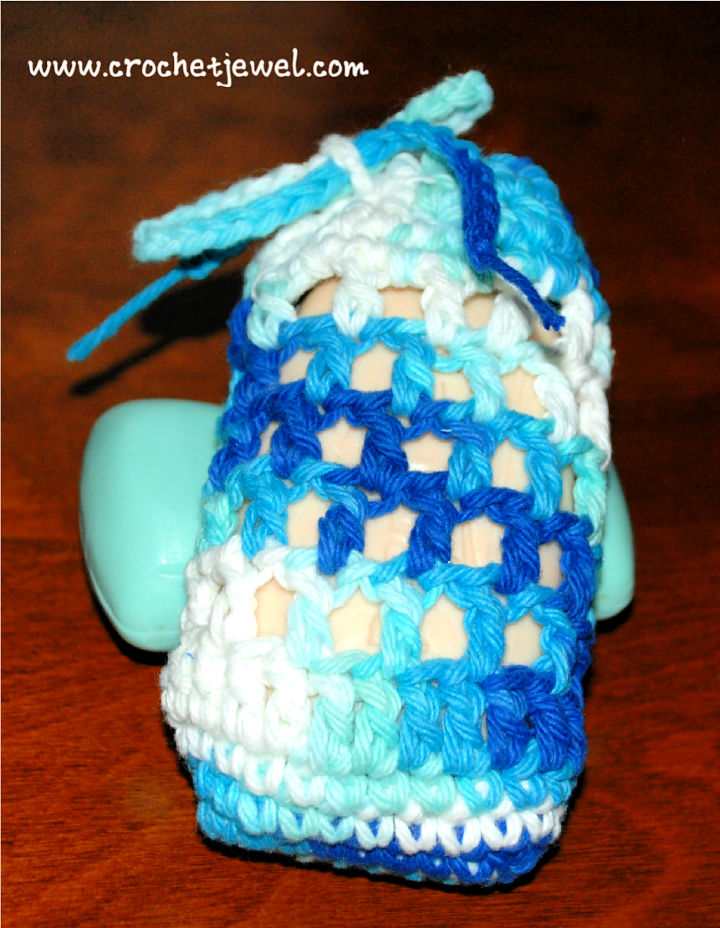 Protect your saps from melting using a special crochet soap holder. Crochet the cotton multi-colored blue yarn with a G hook size to stitch this soap holder. The pattern is easy, and you can easily achieve it by working in the primary crochet stitches. It is a little lacy and looks great with mesh style design texture. This crochet soap holder will still allow easy scrubbing of soap. Complete this project, even using the scrap yarn lying around. A great crochet stash buster project. Details here amyscrochetpat
11. Free Crochet Soap Cozy Pattern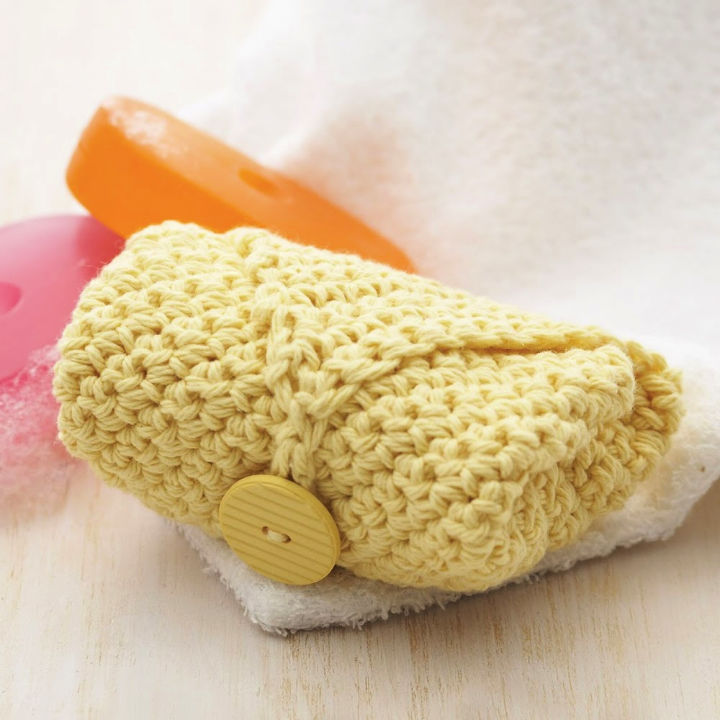 This crochet soap sleeve pattern provides the visual diagrams also and will be much doable even for a beginner. Along with your an easy skill level, you need Lily Sugar'N Cream yarn to whip up this soap cozy having gauge, 12 sc, and 14 rows make 4". Crochet 120yds of your selected yarn using a 5mm hook that will really rock to obtain the required gauge. The final size of this soap cozy is an 8" square, and you can easily finish it with a button loop. Details here yarnspirations
12. Easy Mesh Soap Saver Crochet Pattern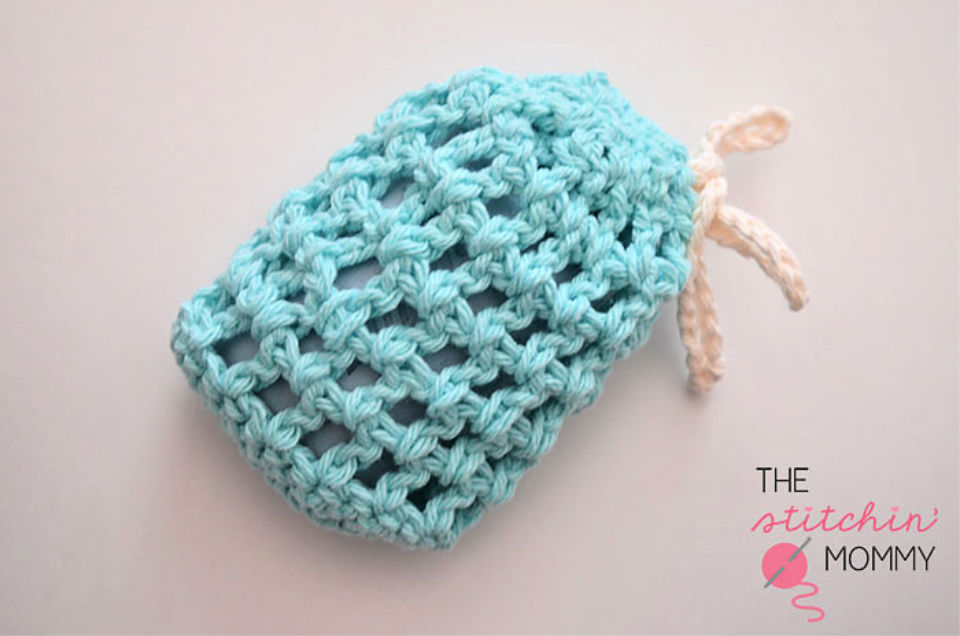 Prevent your soap from melting and wetting using this yarn mesh cover, which will increase the lifespan of your soaps. This enchanting soap cover is to crochet at home using much less amount of yarn. Crochet Lily Sugar N Cream, worsted weight 4 yarn in egg blue and ecru while working with 5.5mm and 5mm crochet hooks to work up this soap bag. The pattern is beginner-friendly, and the best gauge for it is 4 stitches, and 3 rows make 1". A one of the best airy soap saver to crochet in no time. Details here thestitchinmom
13. Crochet Soap Saver Body Scrubber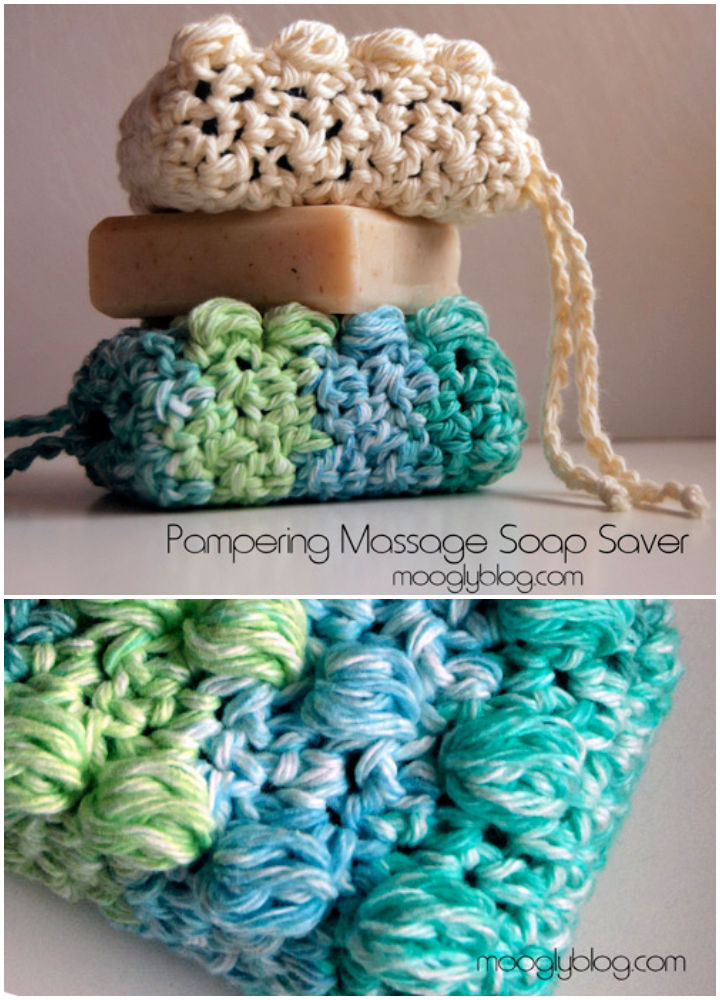 This yarn soap saver pouch comes with multiple bumps, will rock for pampering massage. This bag will boost the bathing soap fun and will be the best gift for friends, neighbors, and baby sitters. Grab the 40yds of Red Heart Scrubby Smoothie with a 5.5mm crochet hook to whip up this soap saver body scrubber. For bumps, you have to work in the special crochet cluster puff stitch, will give that fluffy texture to your soap saver. The best yarn protection for your soaps that everyone can crochet. Details here mooglyblog
14. Crochet Thistle Stitch Soap Saver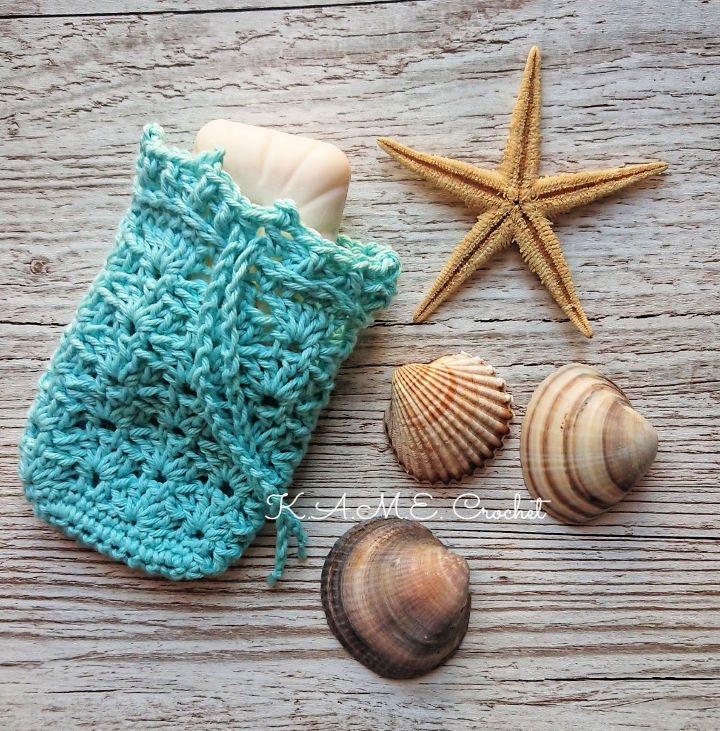 This crochet soap pattern is for advanced beginners and will really work up super quickly. Crochet 41yds of 100% Cotton Paintbox DK Yarn to stitch this thistle stitch soap saver. Crochet it with a 4mm hook and let it be on your soap for a long life of your soap. The gauge is not critical for this pattern, but you have work in the special stitches like HDC and picot stitch to achieve that gorgeous design texture. Just add this pouch up with a soap bar and get the best body scrubber for your bathing routines. Details here kamecrochet
15. Free Crochet Soap Cozy Pattern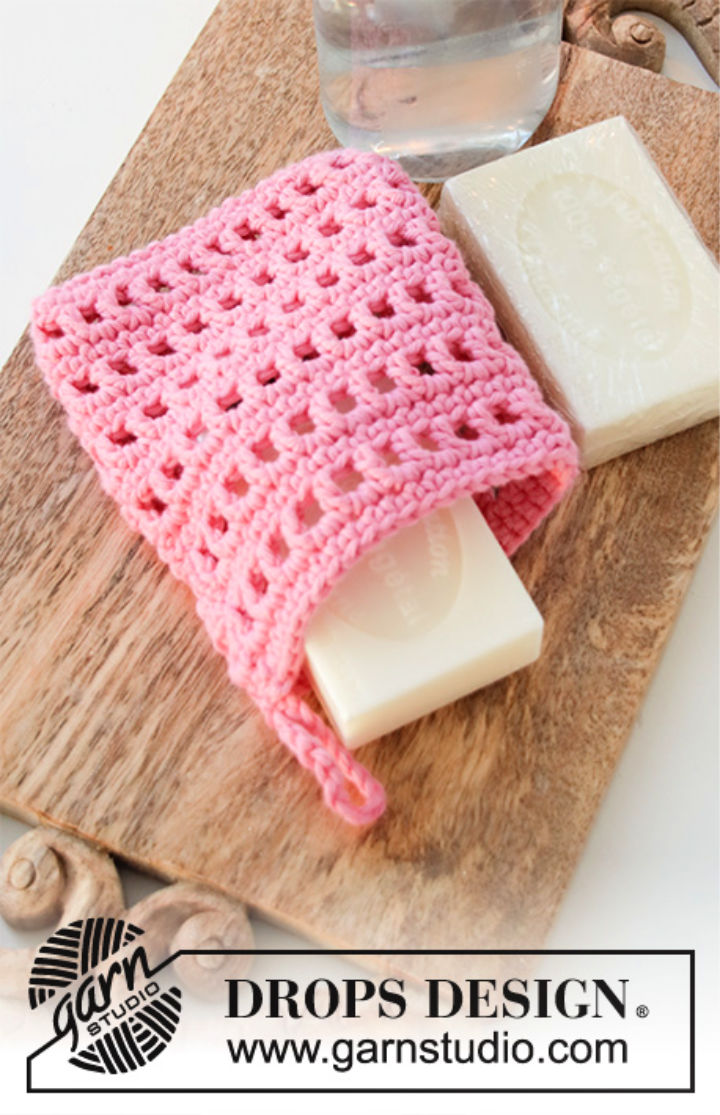 Whether you are wishing to stop the instant melting of your soaps or wishing to hospitalize your guests in the best way, this soap cozy will be a must to add to your bathrooms. it will impress with the mesh style design texture that will make the soap still visible through the mesh, giving you the best body scrubber. You have to work bottom-up to whip up this soap pouch having 12cm width and 13cm length. Crochet 50g of Drops Paris pink yarn with a 3.5mm hook to achieve this soap bag. The gauge for this pattern is 18sc, and 21 rows make 4" x 4". Details here garnstudio
16. Crochet Large Size Soap Saver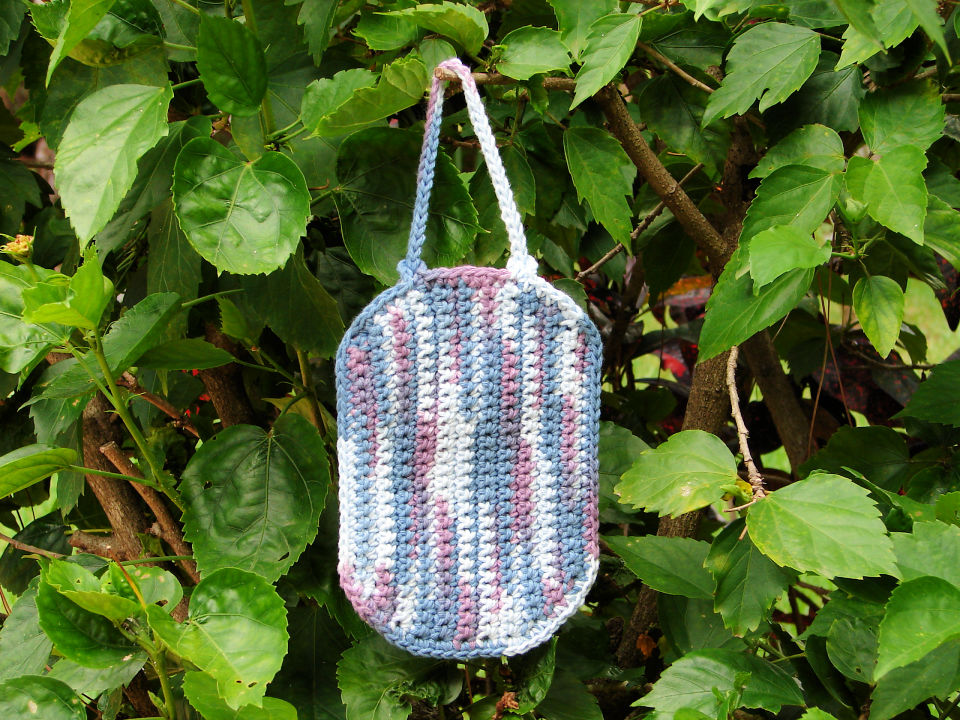 Have you gotten bored buying the soap savers that get damaged after a few uses? Then time to go durable, so crochet your own soap savers at home. Crochet worsted weight 100% cotton yarn with a 4mm hook to stitch this large size soap saver. The finished size of this soap pouch is 5" x 71/4", excluding the handle loop. You have to work in the primary stitches to get this soap bag made, and it will make the best gift for a friend or teacher too. Details here joyknitcrochet
17. Cobble Soap Saver Bag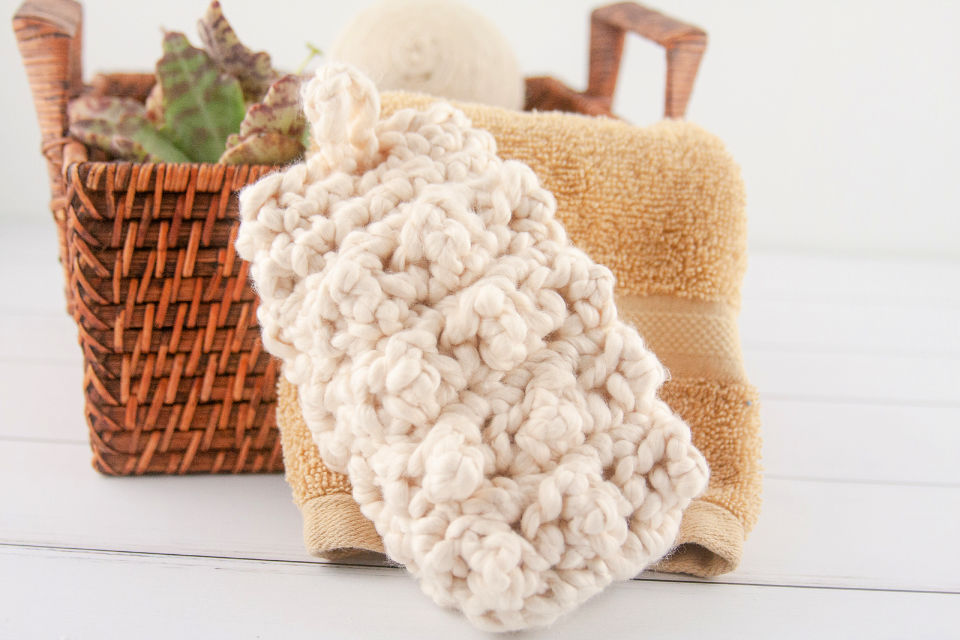 This soap saver is chunky and has a 3inch wide and 6" tall size, perfect for holding a standard soap bar inside. Crochet 1 skein of Yarn Bee Cotton XXL using a 9mm crochet hook to work up this beautiful soap featuring a neutral yarn hue. Add this cobble soap saver in the guest bathroom, too, for a sweet touch of hospitality. You need an easy skill level to crochet this soap pouch pattern, and the gauge is not very important for this easy crochet pattern. Details here madewithatwist
18. Mesh Soap Saver Crochet Pattern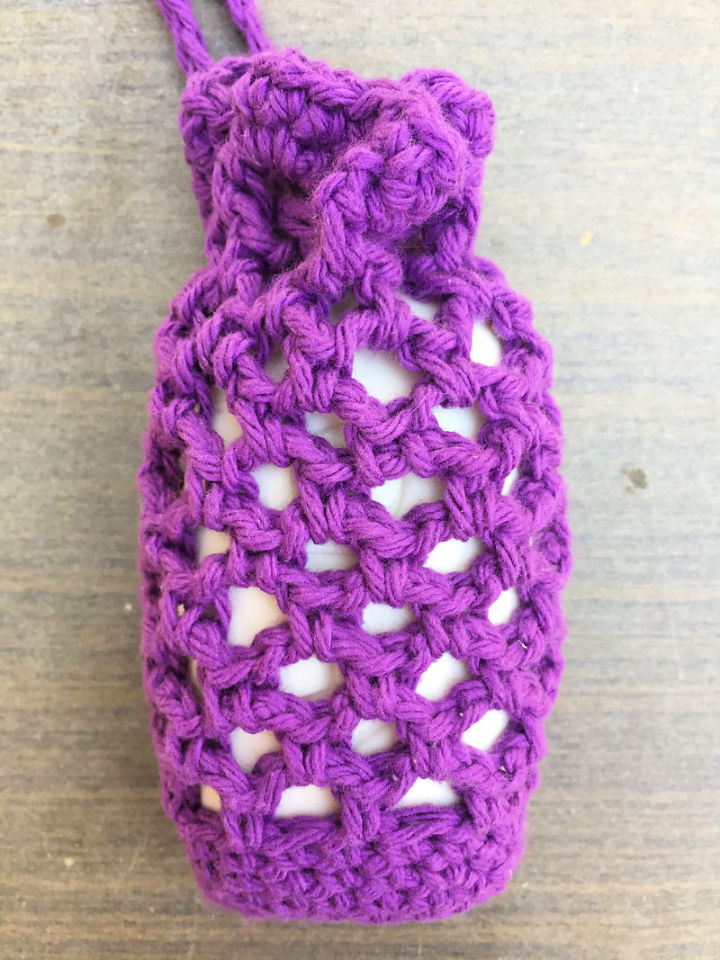 You will become a big fan of the mesh design texture of this crochet soap saver, will nicely hold your soaps inside. This soap bag is chunky and will work up super quickly. Crochet Lily's Sugar N Cream Yarn with an H hook to whip up this mesh soap saver made, will make a sweet gift to a friend. The best crochet soap scrubber that will not let the soap melt easily. Hence, extending the life of your soaps considerably. Another amazing and beginner-friendly crochet soap saver pattern. Details here beaniesandween
19. Easy Peasy Soap Scrubby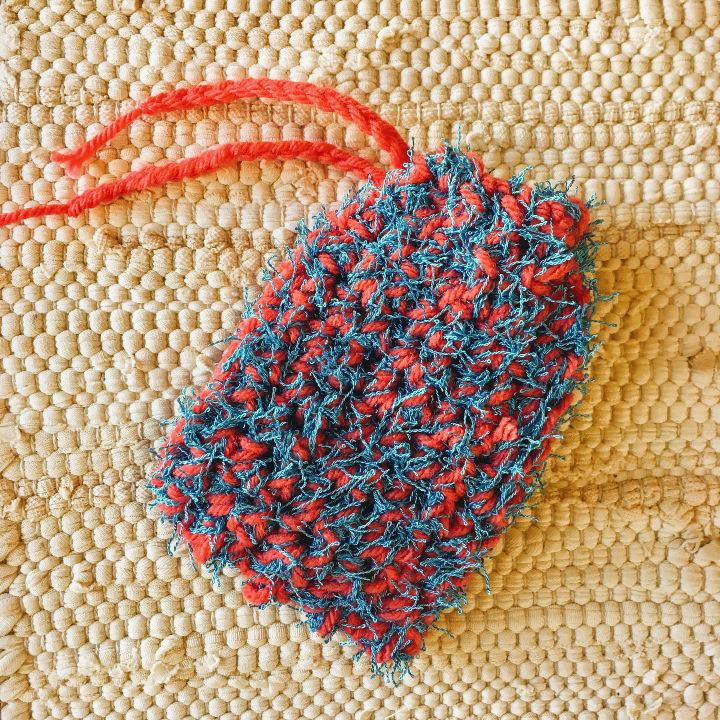 Grab the 100yds of Red Heart Super Saver Solids or Red Heart Scrubby yarn to hook up this easy peasy soap scrubby pattern. Crochet the Aran weight of this yarn with an 8mm hook and get this drawstring crochet bag made, will nicely hold your soap. Use it to hold your makeup, keys, and other little treasures too. This pattern is great for beginners and will be in your hands in no time. Turn-taking showers into a big fun this crochet soap body scrubber. Win some hearts of friends, too, by giving it a sweet gift. Details here ravelry
20. Crochet Cross Stitch Soap Saver Pouch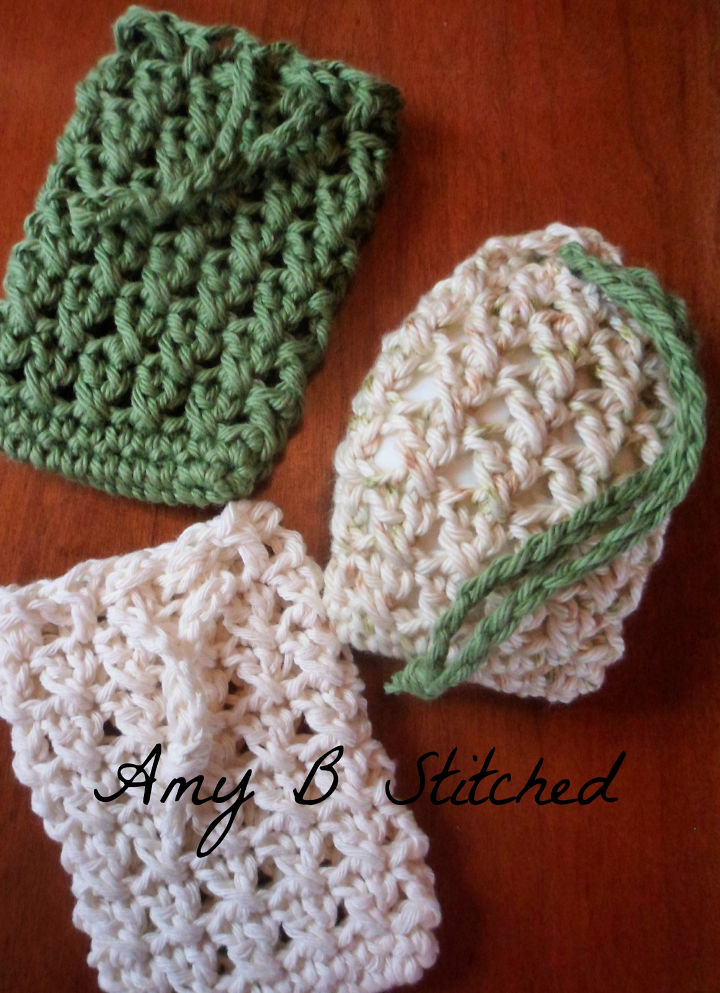 Grace up your bathroom with this cross stitch soap saver pouch having size 4 ¼" long and 3" wide. To get this size, crochet 50yds of I Love This Cotton yarn with size G crochet hook. Work in the basic crochet stitches to work up this graceful crochet soap pouch pattern. The gauge for this pattern is, 4 dc in 2". This handsome little soap pouches provide a loop to hang on a hook easily and is super gift-worthy crochet pattern too. Details here amysastitchata
Crochet rug patterns: We all love crochet rugs so satisfy your home decor with this crochet rug pattern that will adore the floors.
Conclusion:
Maybe there is a great soap consumption in your bathroom. If yes, then have you ever tried to sort out the issue. The major problem is always the soap's melting that may be due to several different reasons like water in the soap dish or water showering over the soap. So, resolve this issue with the crochet soap saver pattern extending the life of your soaps. Some come with a drawstring closure and some with loops to hang aloft to dry right after the use. Moreover, much less yarn needed to crochet these soap savers will be great party time body scrubbers. So, save both your leftover yarn and soaps from wasting by whipping up these smart soap saver bags. Consider giving them a sweet gift too.