Do you want to crochet a leaf? Crochet beautiful leaves design with these 25 free crochet leaf patterns and used them in any project. These crochet motifs have always been very popular and are so easy to make. Each crochet leaf pattern will not take more than 10 minutes. The look will be complete with or without the stem, and you can use whatever colors you like to turn it into a fall, or winter leaf tree.
The best part is that even if you are a crochet beginner, you can easily make it your first project. The design is small enough to be finished in one go while having really simple stitches that are easy on the hands. Stitched crochet leaves together, to make great bunting for decorating your home, classroom, or any party. As motifs, crochet leaves can be used to decorate hats, scarves, purses, and different accessories.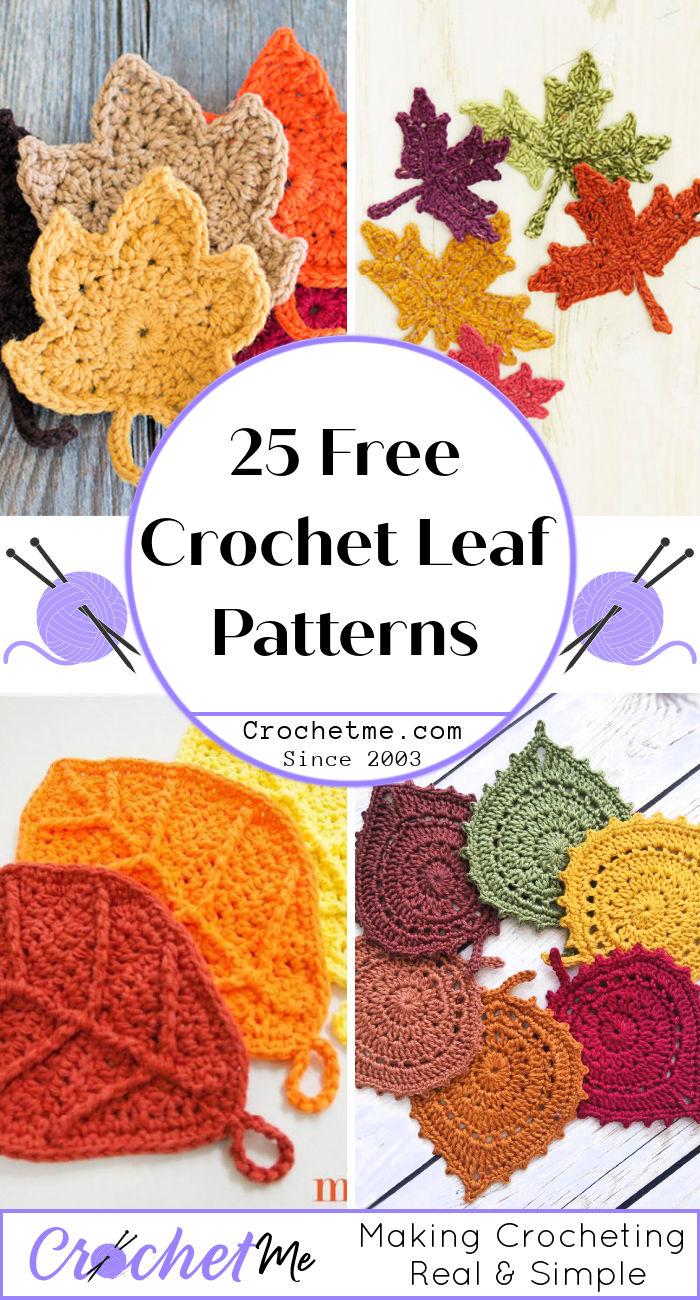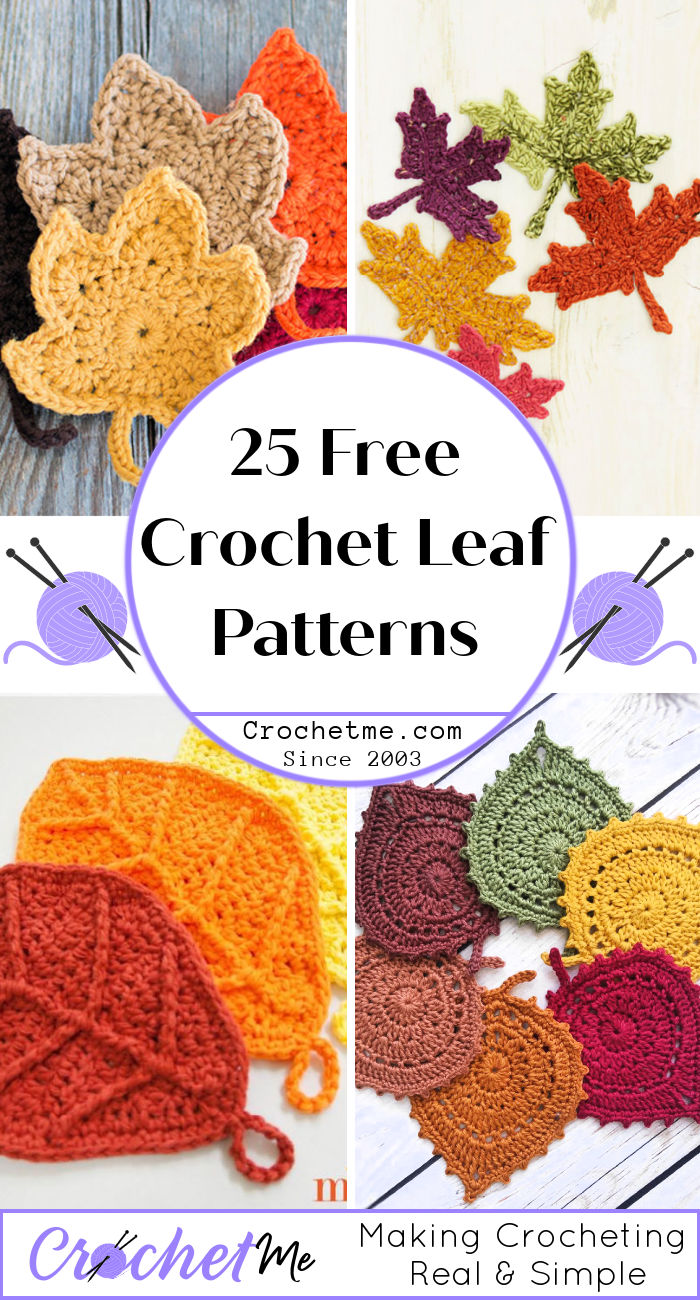 Sit in front of the television and work on these crochet leaf patterns so that you can keep your hands occupied. They make an excellent gift for mother's day, father's day, or holidays if you use the proper colors suited. Take a look at this article, so that you can find some interesting crochet leaf pattern with step by step details and a downloadable PDF. Try making a maple leaf pattern, dogwood flower, simple crochet leaf pattern, large crochet leaf pattern, autumn or fall leaf pattern, and many more. All you have to do is follow the free crochet patterns and instructions and get in work your previous knowledge of basic crochet skills.
1. Crochet Leaves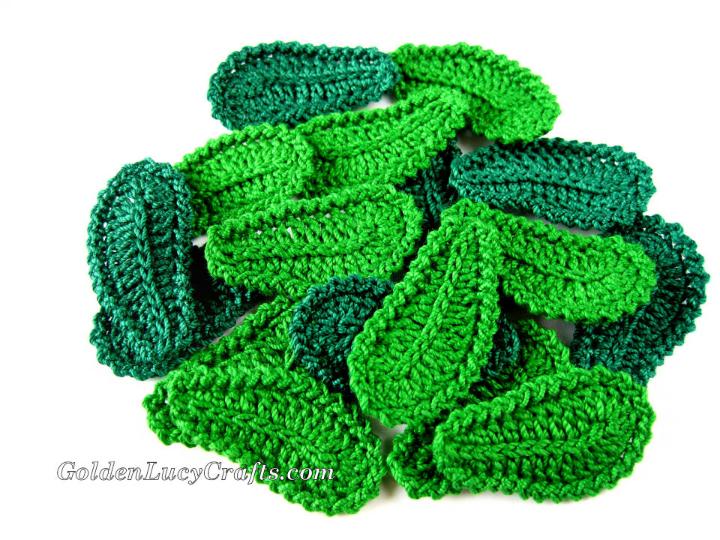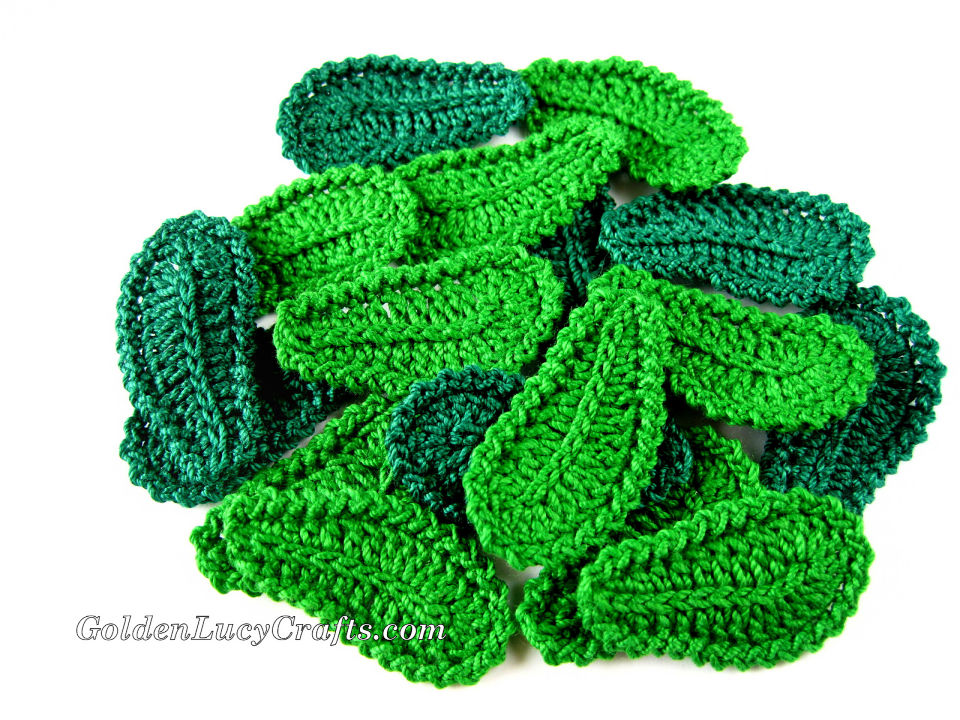 Work on easy and basic crochet leaf patterns that are very popular in crafters all over. You can make it with or without the stem and even add it to your Easter decor collection for display. You will work by making chains, slip stitch, double and single crochet, half double crochet, etc. for the pattern. Chain 9 will be the foundation chain and fasten off at the end. goldenlucycrafts
Yarn: cotton crochet thread size 10
Hook size: crochet hook size 6/1.8 mm
Finished size: 1.5" long leaf size
2. Crochet Leaf Coasters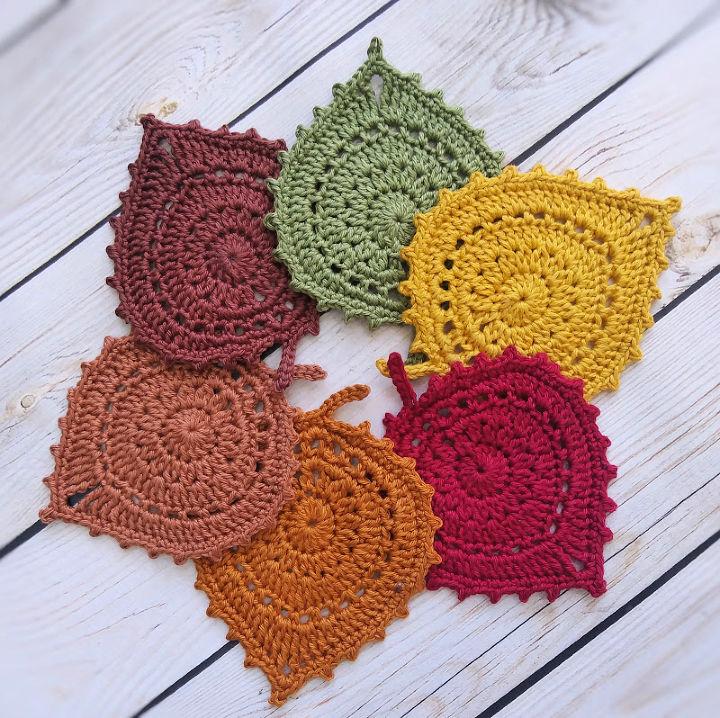 Crochet adventure is one thing that you would really enjoy if you are into crafting. So on the lookout for fun stuff to crochet, make a crochet leaf pattern for your summer collection. Use any of your favorite colors, and you only require basic crochet skills to complete this pattern. Use simple stitches like slip stitch and chains. You have to work in small rounds. thepaintedhinge
Yarn: DMC Petra Crochet Cotton 8, crochet thread green in color
Yarn weight: 800 meters
Hook size: 1.5 mm
3. Crochet Four Leaf Clover Pattern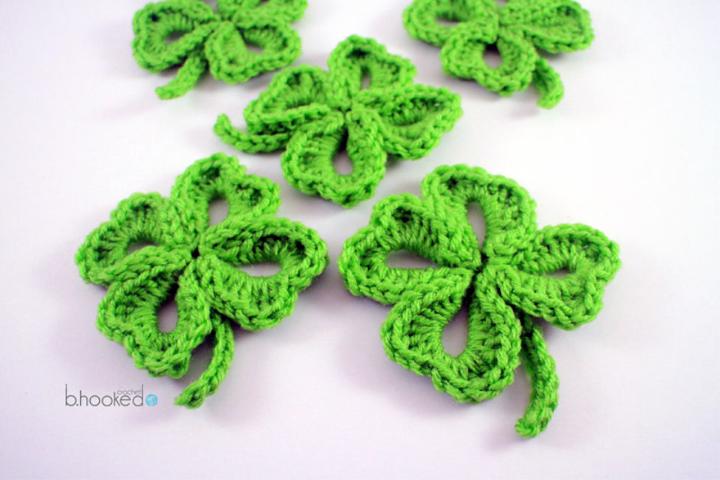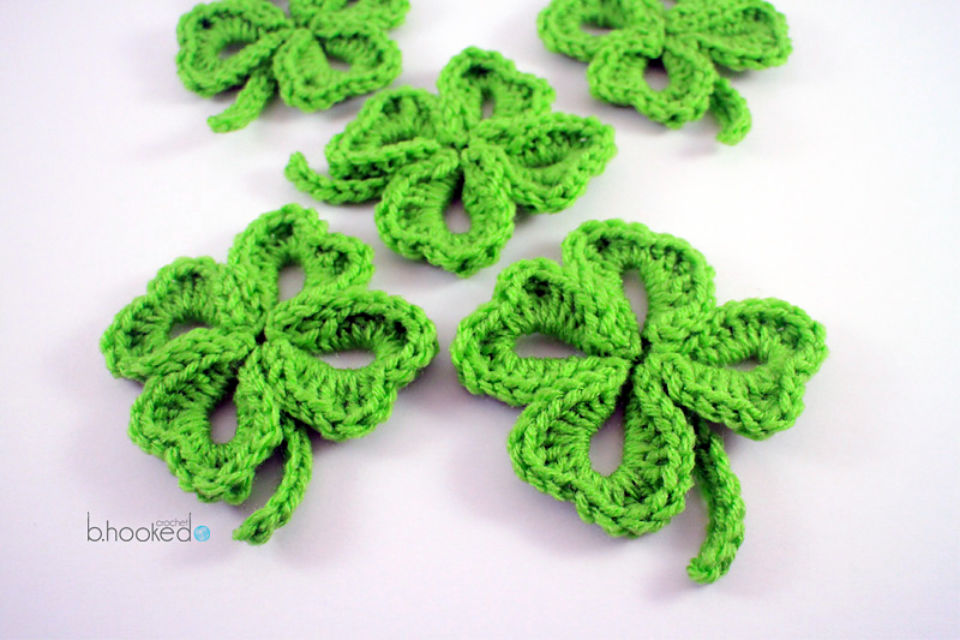 Make small and simple basic crochet leaves that you can turn into an embellishment for any of your crochet flowers. This pattern is very beginner-friendly, so anyone with a knack of crochet can give it a try. You require the basic stitches as half double crochet, single and double crochet and chains, etc. make small chains and then bind off by weaving in ends. bhookedcrochet
Yarn: any worsted weight yarn of about 15 – 20 yds
Hook size: 5 mm crochet hook
4. Crochet Shamrock Pattern Free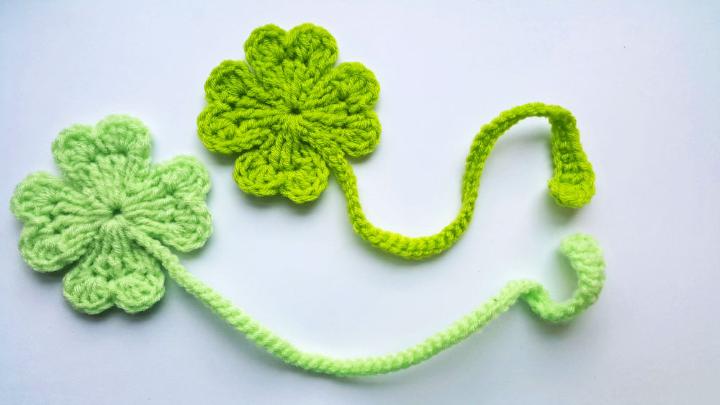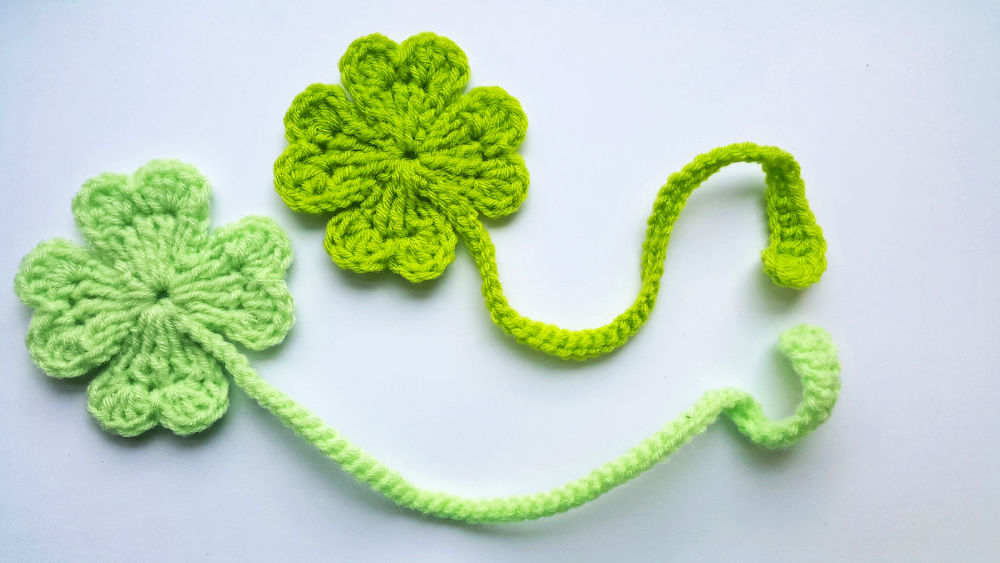 How to Crochet a Leaf? Bring out your love for crochet and work on making a simple yet cute little crochet leaf pattern. This pattern is really fast and easy to work on and becomes a very nice gift for anyone. Use stitches like a chain for triple crochet, slip stitch, single crochet, etc. for the whole pattern. Iron the pattern in low heat so that you can make it set and flat. amigurumipiano
Yarn: worsted weight yarn, 4 ply
Hook size: 3.5mm hook, 6/0 J
5. Small Crochet Maple Leaf Pattern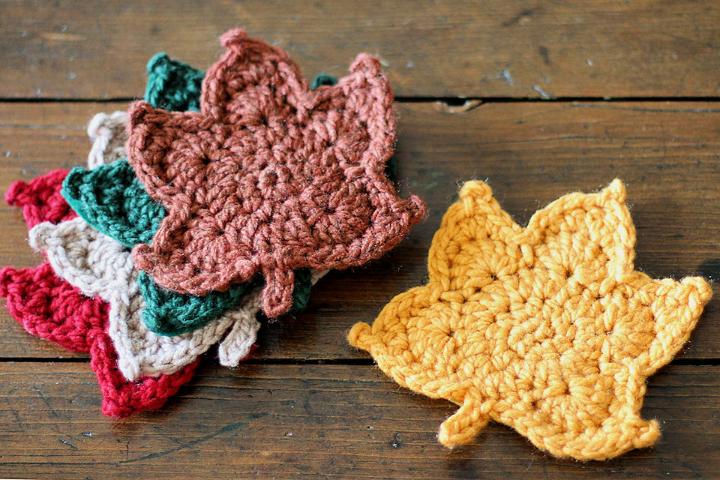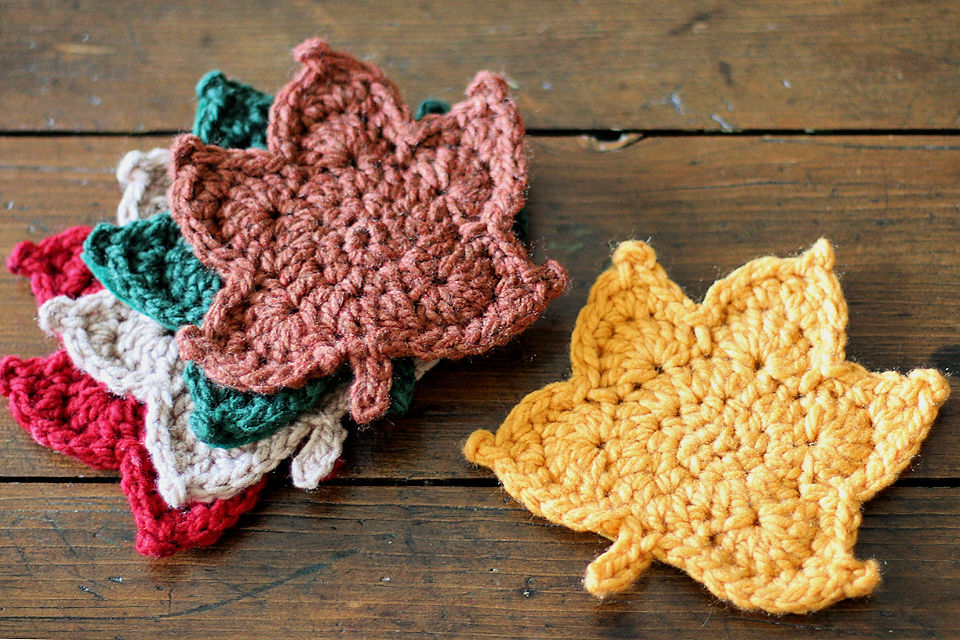 With the change in weather and fall coming, it is inevitable to feel like bringing the fall colors to your home with this crochet maple leaf pattern. Make beautiful and colored crochet fall leaf patterns for your house and enjoy working. You will use single, double, and triple crochet, chain, and slip stitch and work in continuous rounds for the pattern. First, make the crochet leaf applique and then the leaf stem. prettydarnador
Yarn: 5 Bulky Yarn or old scraps
Hook size: 5.5 mm hook
6. Leaf Crochet Pattern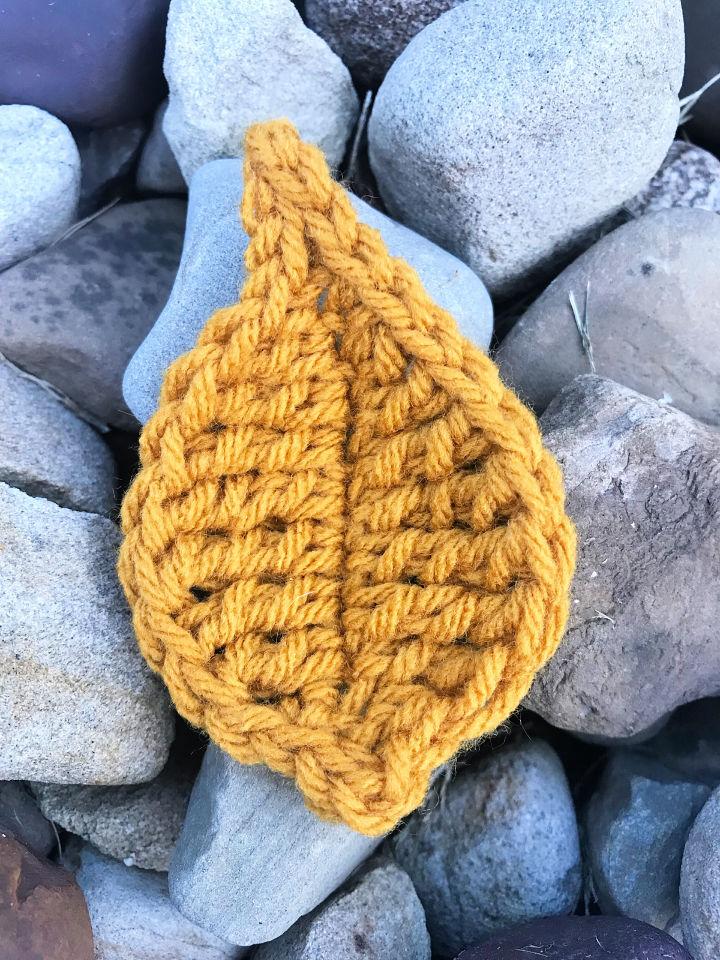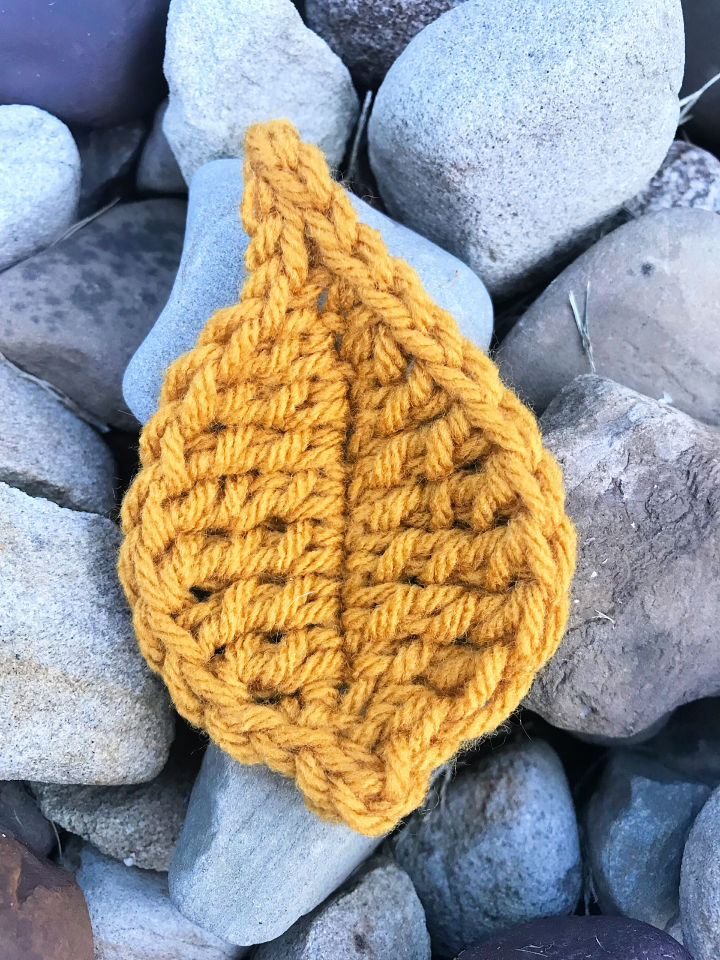 When autumn is already here, beat the blues by making beautiful crochet leaves. The display is entirely dependent upon the type of materials used for the pattern. So you can use it as a napkin or even as a crochet rug by making it in large size depending upon your choice. You can use this crochet leaf as an accent on a hat or new sweater, make a beautiful garland, or hang as it is. The special stitches used here are the magic circle, knit stitch, vocal bar, and side cabinet. At the beginning of round, knit 3 chain stitches. ravelry
Yarn: Ariadna Kaja, 100% Cotton
Hook size: 1.75 mm
Gauge: 2.5cm made by 7 stitches and 4 rows using double crochet
7. Crochet Budding Leaf Bookmark Pattern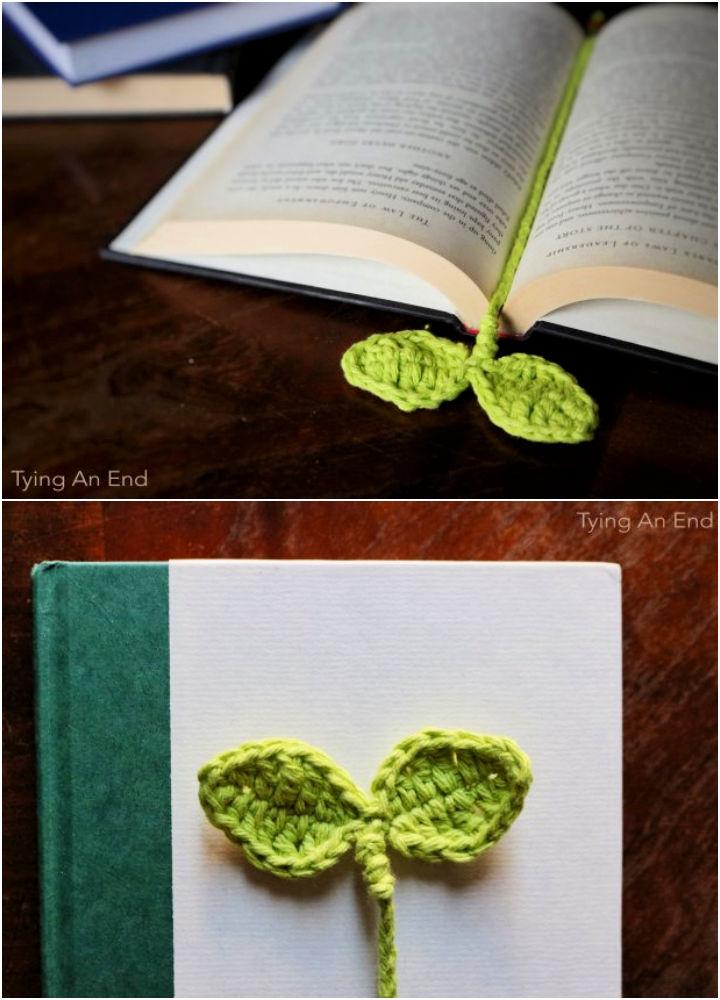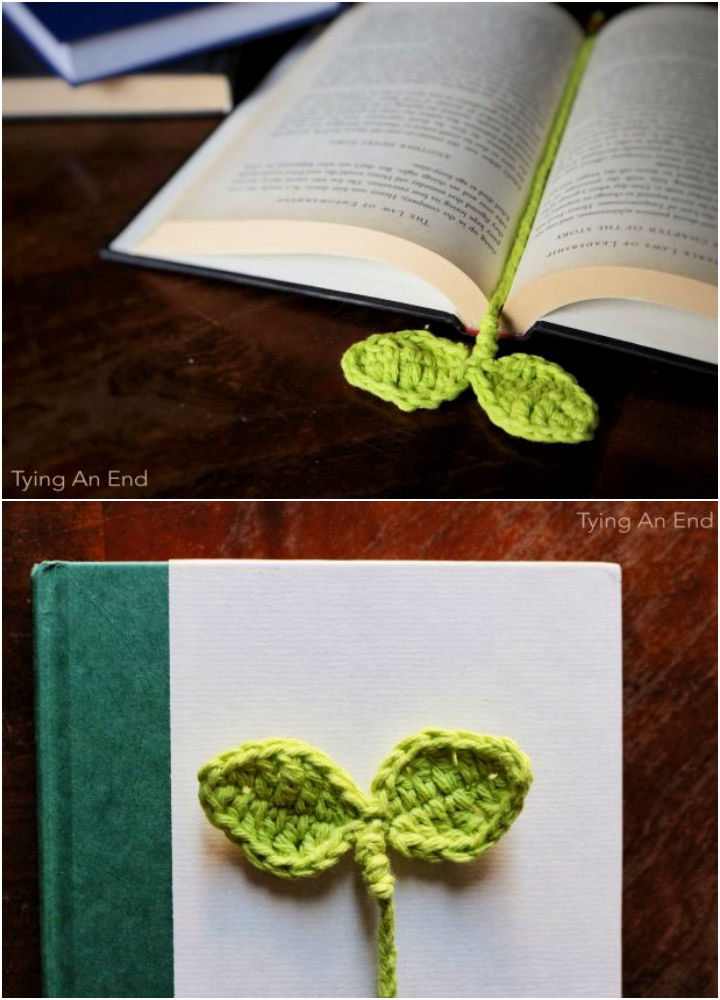 With the inspiration of spring season in mind, make beautiful crochet budding leaf bookmark patterns to enjoy. This is a very beginner-friendly leaf bookmark pattern, so try your hand at it for sure. You will use treble crochet, slip stitch, single and double crochet, and a bunch of chains to make this project. Adjust the length to make the loop longer or shorter. Work in rounds around the chain. tyinganend
Yarn: 1 ball of Lily Sugar n' Cream Original yarn
Hook size: 7/4.5mm crochet hook US size
Finished size: 13″ (33cm) long and the leaves are about 3.5″ (9cm) wide
8. Crochet Leaves Pattern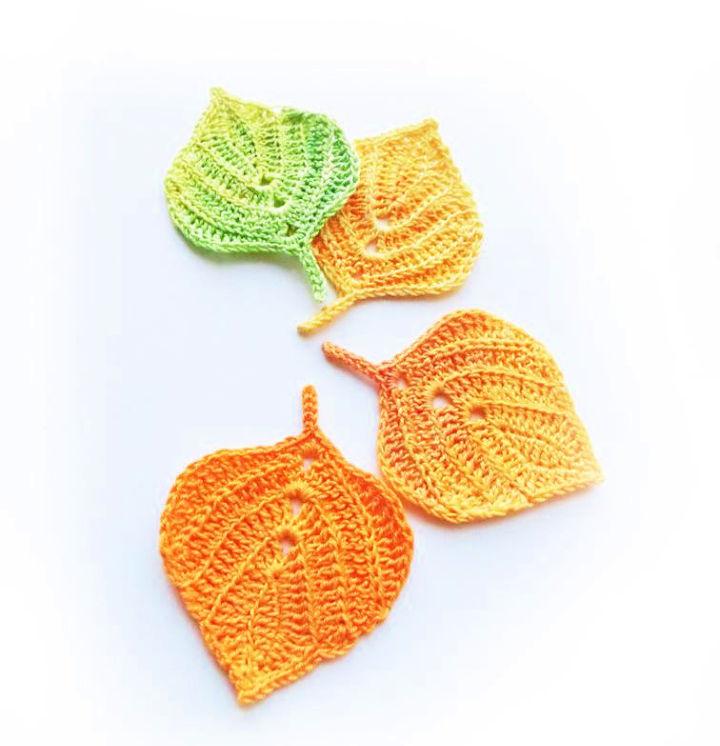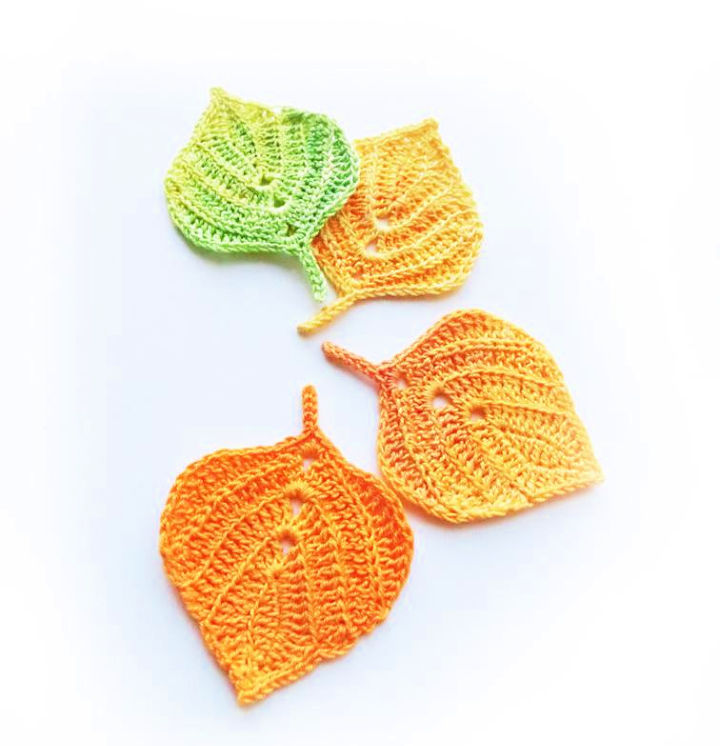 When the dream of being a plant lady is still fresh, say hello to beautiful crochet leaf patterns that are super-fast and easy to make. It's possible to work on this pattern easily as long as you can hold a crochet hook. You will have to make the leaves by working flat in rows, and the first chain at the end of the leaf doesn't count as a stitch.
Yarn: Worsted weight yarn of many colors
Hook size: Size F (3.75mm) use a crochet hook
Finished Size: About 8″ tall
9. Crochet Dogwood Flower and Leaf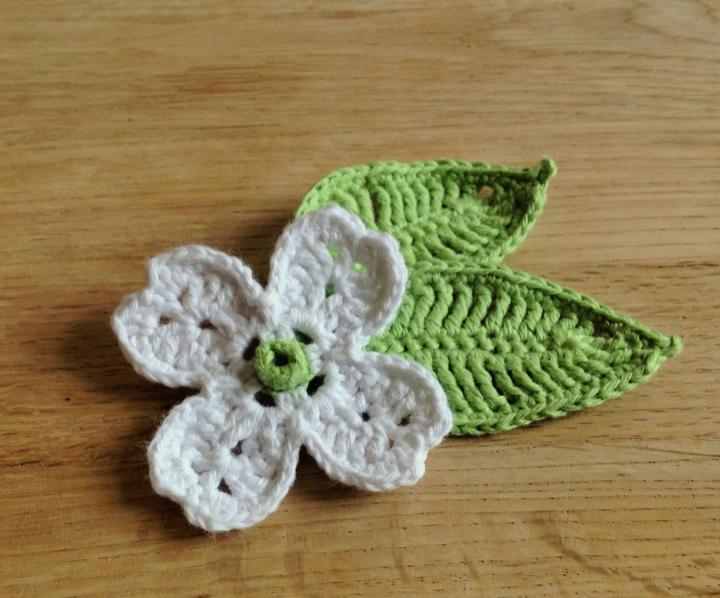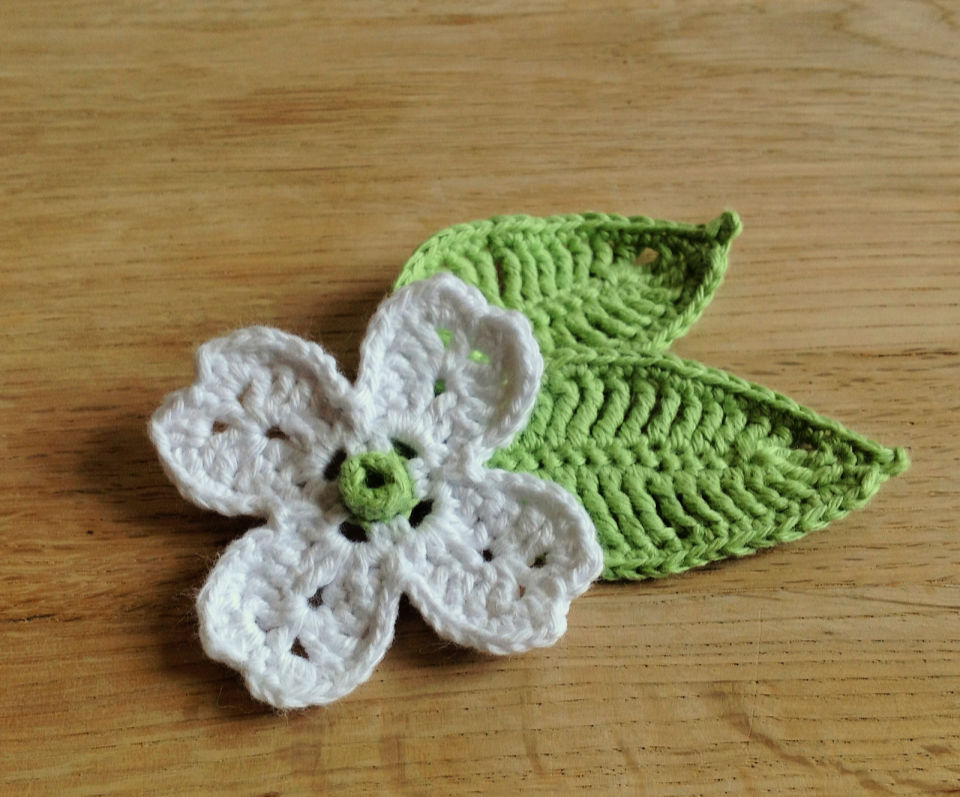 Make a free crochet flower pattern with a highly realistic dogwood flower and leaf. You can use it as a beautiful mother's day gift or even keep it for yourself. The special stitches required for this pattern are Double Treble Crochet and Spike Single Crochet. Make the flower first and then work on the leaf underneath. Tie off then weave in the ends to finish off. suviscrochet
Yarn: fingering weight cotton yarn
Hook size: 2mm
Finished size: 2.5-inch diameter of flower and the leaves are 3 inches long and 1.5 inches wide
10. Crochet Maple Leaf Pattern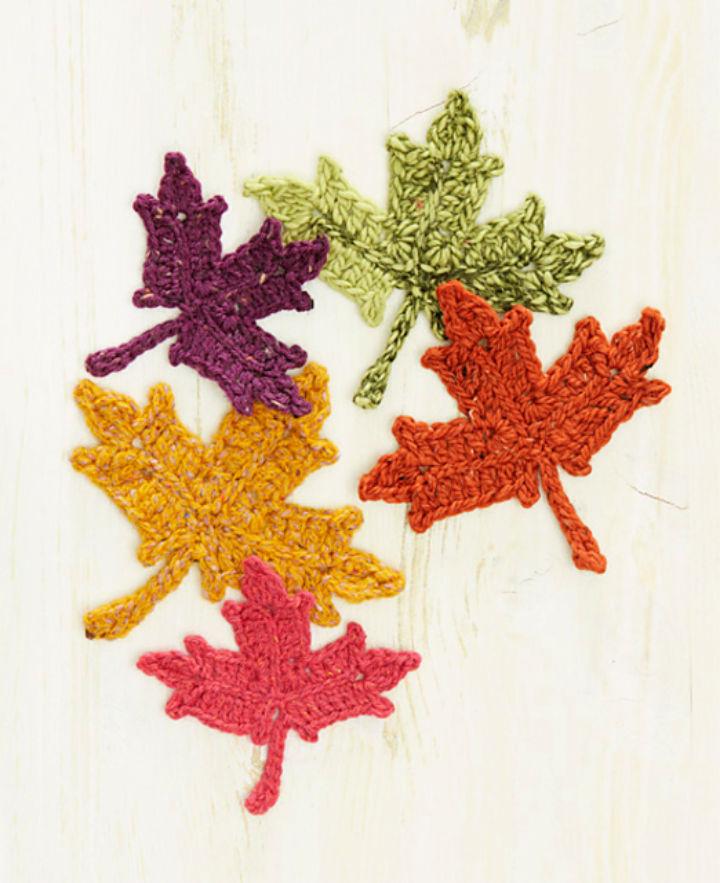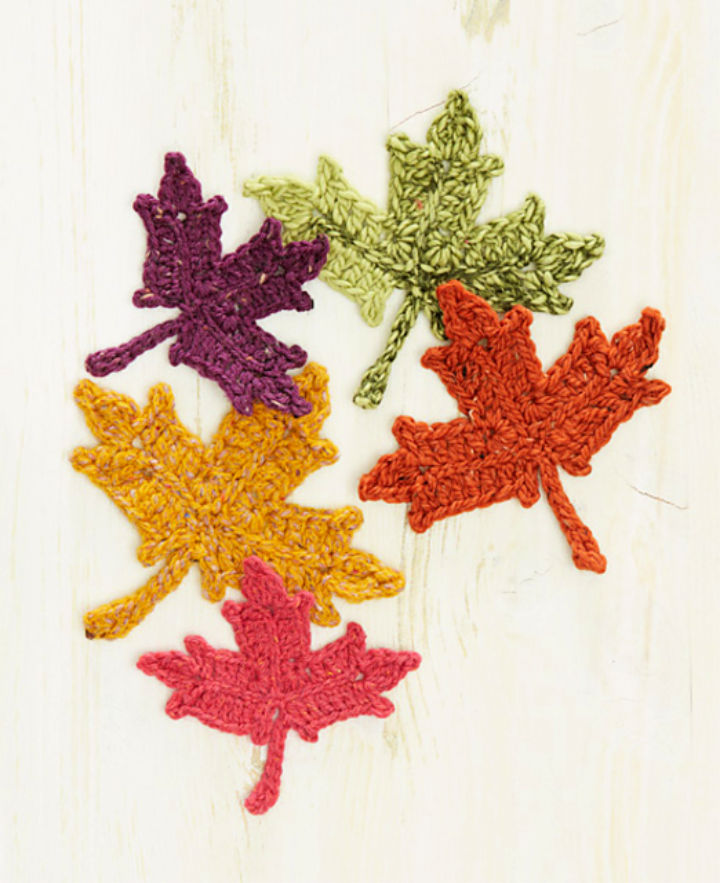 When you can't resist a crochet pattern, make a beautiful crochet maple leaf to enjoy the look of the fall. Use any different colors that you like, and you may even use them as coasters or fall napkin rings. Make the chain, repeat rows, and work around both sides of chains. You can easily hand wash this pattern and let it air dry flat for some time. ravelry
Yarn: 2-ply roving style
Hook size: J / 10 (6.00 mm). Different colors require a different sized hook in this pattern
11. Crochet Maple Leaf Dishcloth Pattern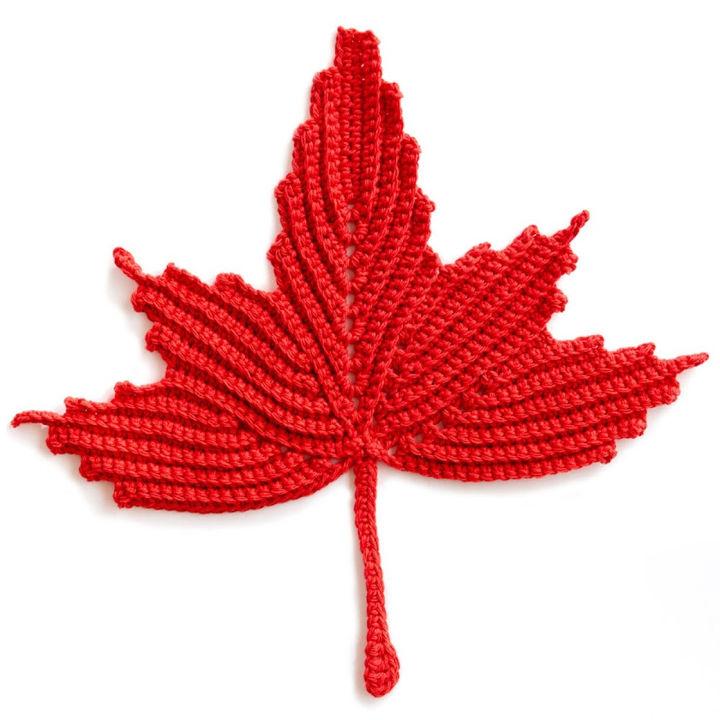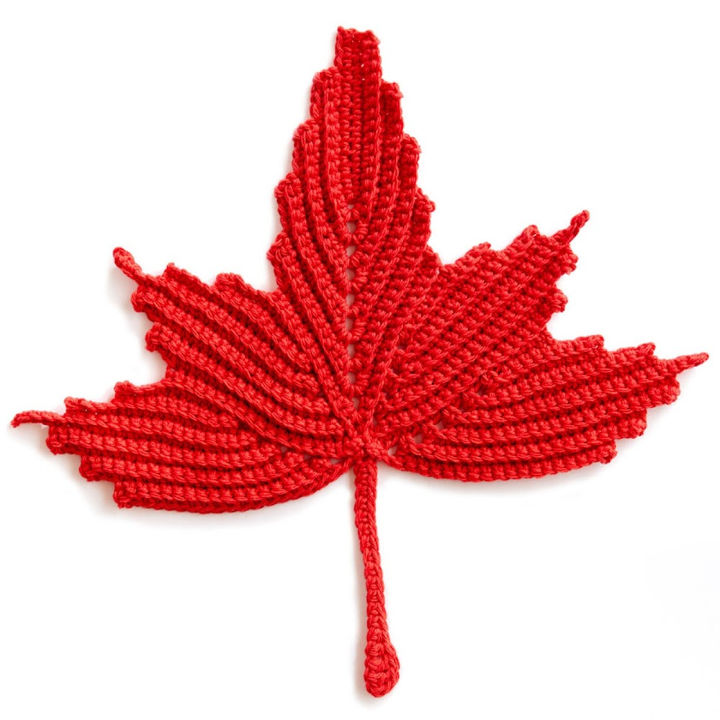 Add a hint of nature to your house by making this beautiful crochet maple leaf dishcloth pattern. Wherever you place them, they will give a relaxing vibe and will add a new dimension to the decor of the house. Use slip stitch, single crochet, chain, and yarn over the hook for the pattern and draw up a loop after a few stitches. Different colors, in contrast, will look perfect. yarnspirations
Yarn: caron simply soft 60z
Hook size: I/9 (5.5 mm) crochet hook in the US
Finished size: 47″ x 62″ approximately
12. Crochet Autumn Leaf Pattern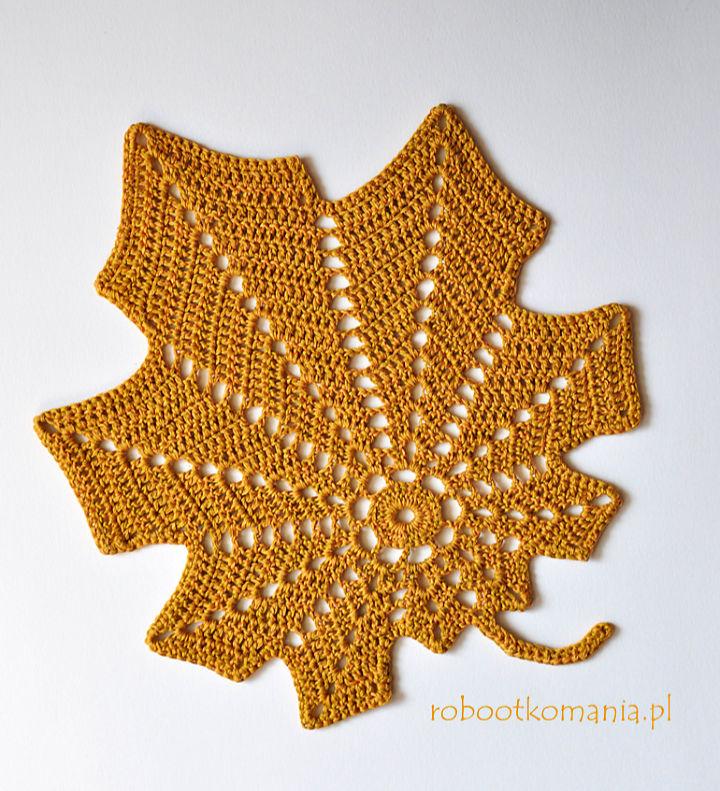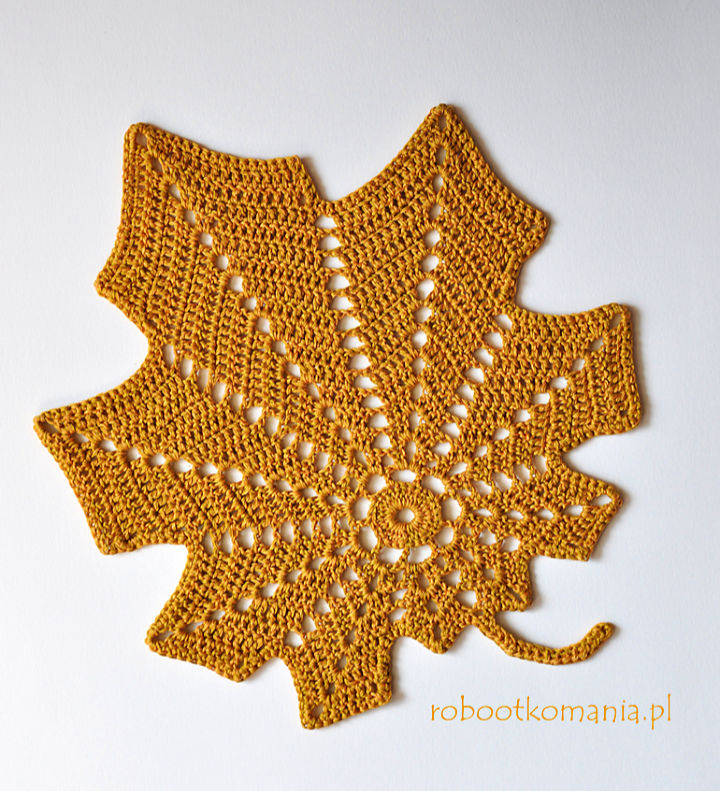 Celebrate the autumn season by crocheting nice little leaves so that you can decorate them with garments at home or any other accessories you want. You can use them as coasters as they will perk up the look of your dining table too. Use simple stitches like the chain, slip stitch, etc. and work in small rounds for the pattern. Different colors used will complete the autumn look. robootkomania
Yarn: Rowan Cotton Glace of 12 wpi
Hook size: 3.5 mm (E)
Finished size: 15 into 11cm/6 x 4½in.
13. Crochet Fall Leaves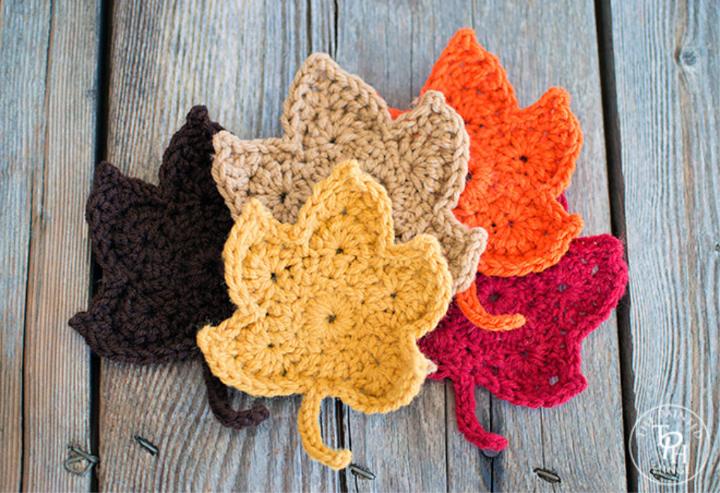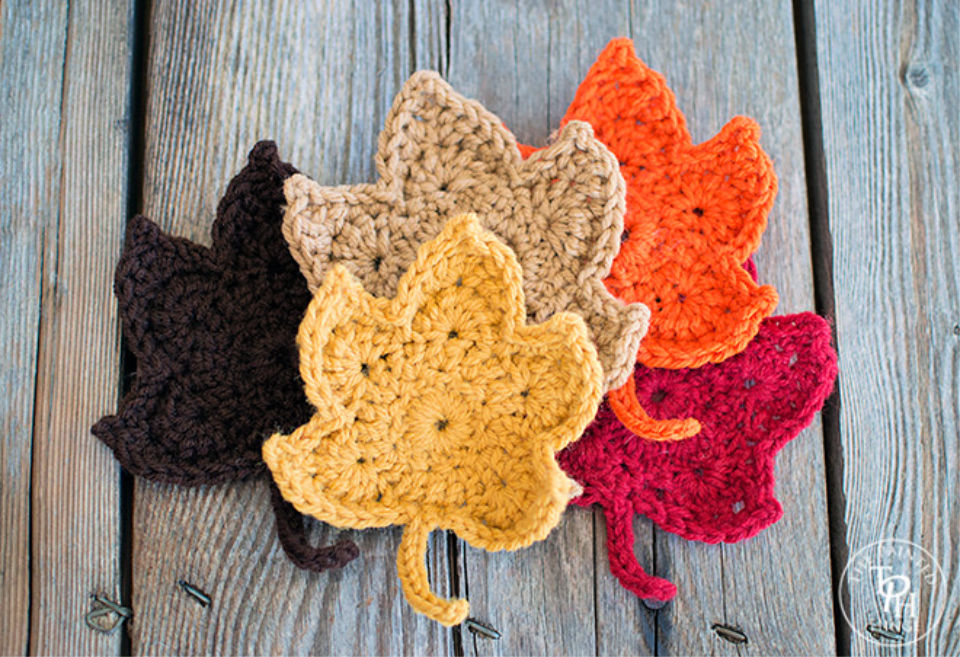 You may consider the changing climate very suitable for crocheting. The leaves are changing colors outside, and you can bring these colors inside. Make beautiful crochet fall leaves and enjoy working. Make double crochet, slip stitch, yarn over and triple crochet, etc. for this crochet fall leaf pattern. Start by slip stitching ends together to form a loop. Work in small rounds and join the chains together at the end. thepaintedhinge
Yarn: Red Heart Super Saver Yarn
Hook size: 8 / 5mm crochet hook
Finished size: 4″ long and wide
14. Crocheted Fall Leaves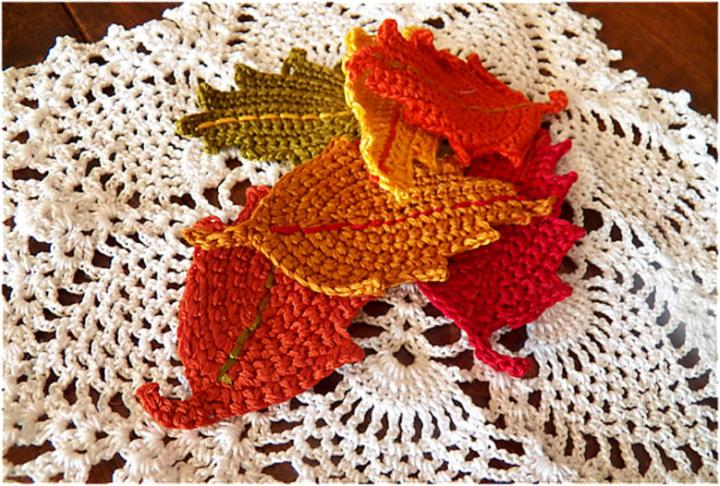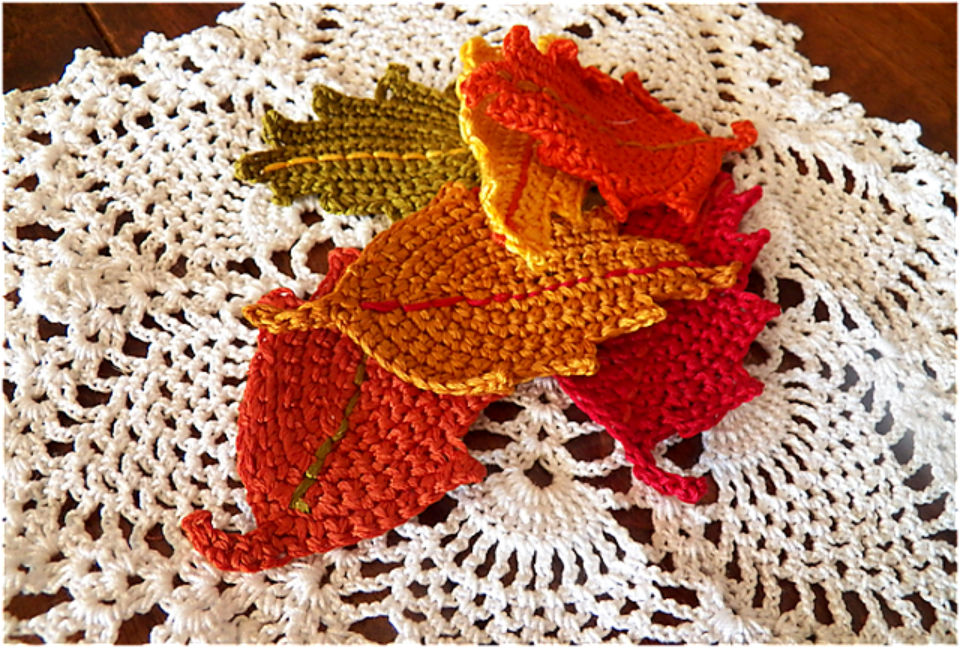 Try your hand at making a common free crochet pattern and make beautiful crocheted fall leaves. They are quick and easy to make while being a lot of fun too. You will have to make chains and single crochet in the second chain. Then without turning around, keep on single crocheting till the end. To make the top point of the leaf, you will make chains. Make a running stitch for the vein. artthreads
Yarn: embroidery floss – one skein for one leaf
Hook size: 4 sizes of a crochet hook
15. Free Crochet Fall Oak Leaf Pattern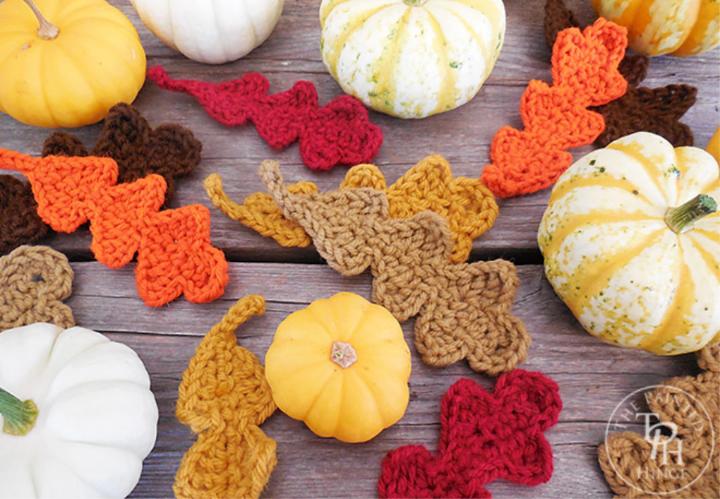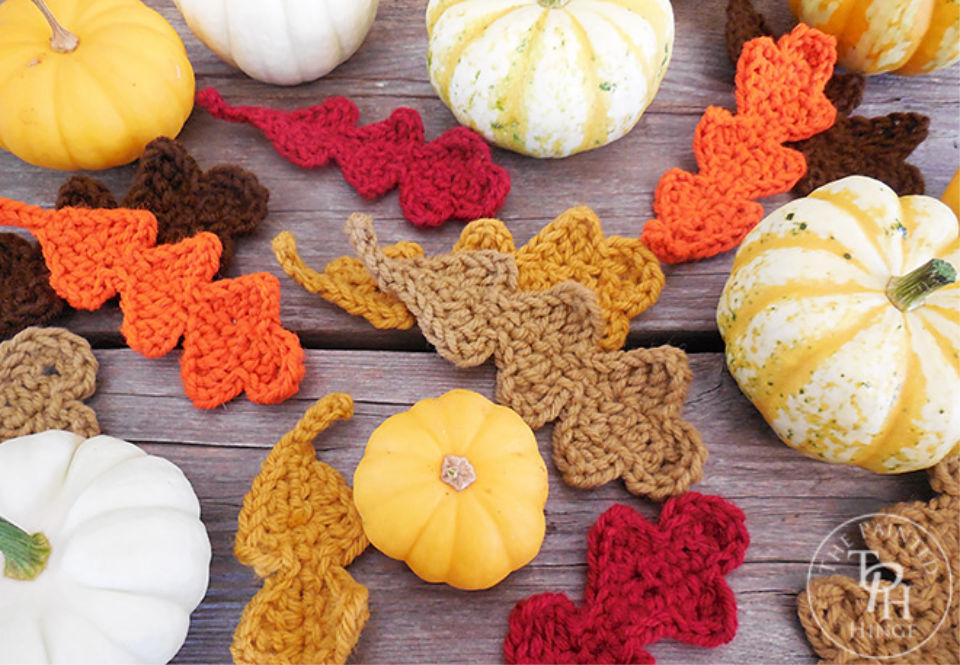 With the weather cooling off, crocheters become alert! The crochet season is approaching. Make a nice little crochet oak leaf pattern to have a kick start of your favorite season. Begin working with the leaf-spine, and then make the first side of the leaf. After making the top of the leaf, make the second side of the leaf. Use slip stitch, single crochet, and double crochet for the pattern. thepaintedhinge
Yarn: Red Heart Super Saver Yarn
Hook size: 8 / 5mm crochet hook
Finished size: 5″ long and 2″ wide.
16. Crochet Rose Pattern With Wired Stem And Leaves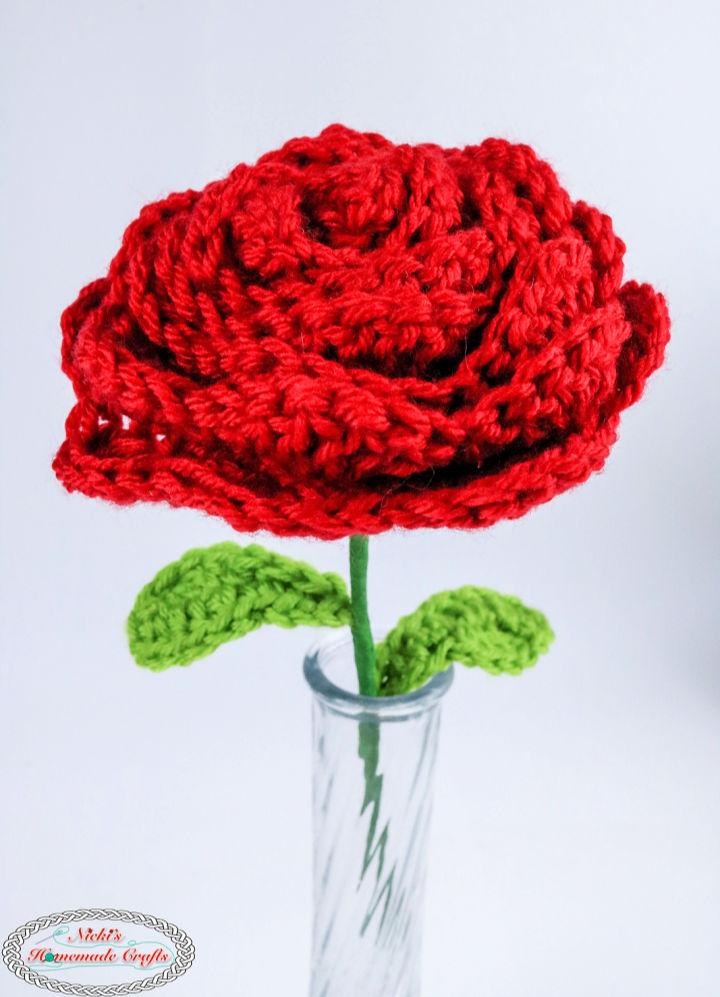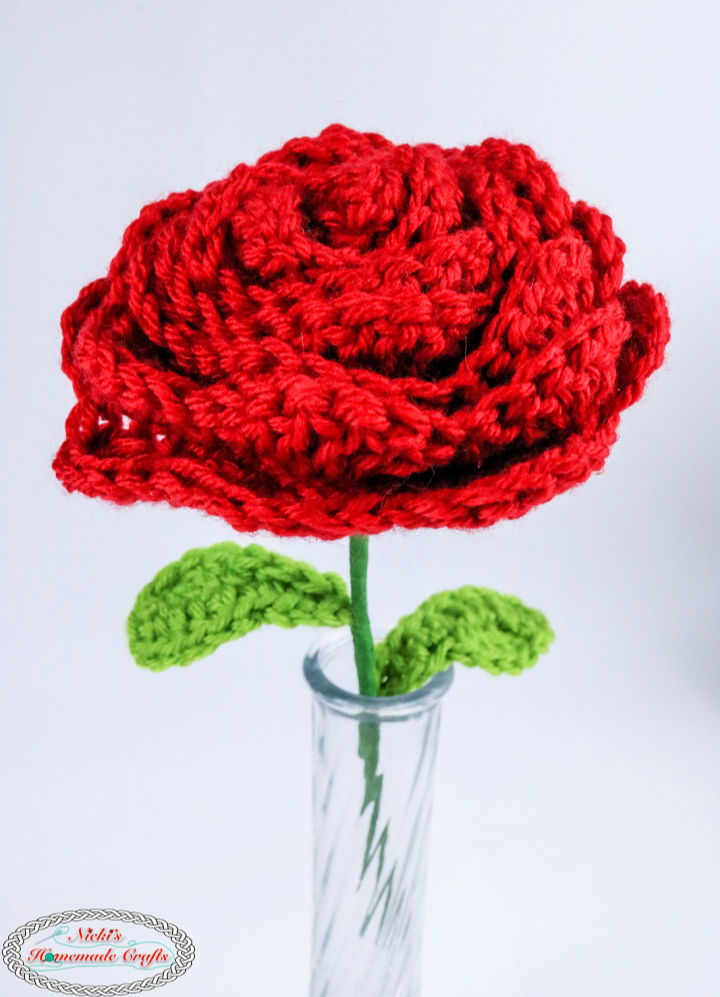 Make crochet rose pattern with beautiful stem and leaves that is a perfect gift for your friends or loved ones. This crochet rose pattern is really easy to make, and you can even adjust the flowers to make a big bouquet. Use slip stitch, chain, single and double crochet, half double crochet, etc., for the pattern. The important point is that turning chains don't count as stitches in this pattern. nickishomemade
Yarn: Premier Yarns Deborah Norville Collection in different colors
Hook size: 5.0mm
Finished size: 4.5 inches wide and 10 inches in height
Gauge: 2 rows into 4 sts make 1 square inch
17. Crochet Pumpkin Leaf Pattern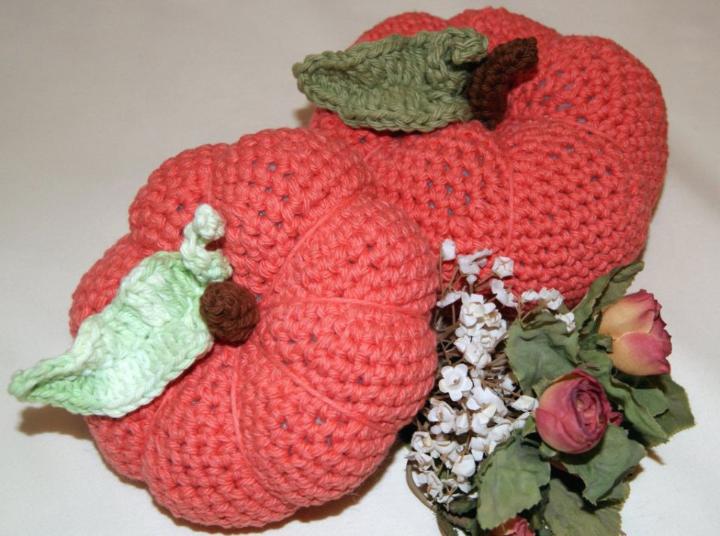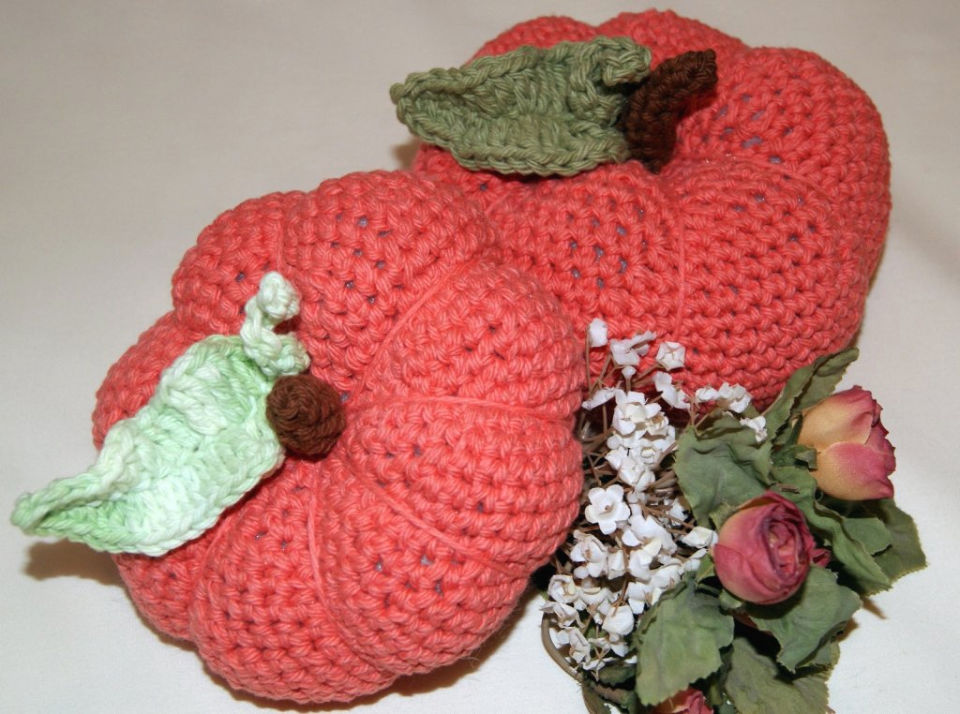 Spend an evening in designing a beautiful pumpkin leaf using a simple and great to look at the crochet pumpkin leaf pattern. You can display it just as it is or attaches it to a small flower, so that's also entirely your choice. You have to make chains while working in small rounds. Use single crochet, double crochet, and a bunch of other stitches in the chains. Stitch to the center of any pattern. stitch4ever
Yarn: Lily, The Original Sugar 'n Cream cotton of any color
Hook size: Size H hook and size E hook
18. Crochet Leaf Stitch Pattern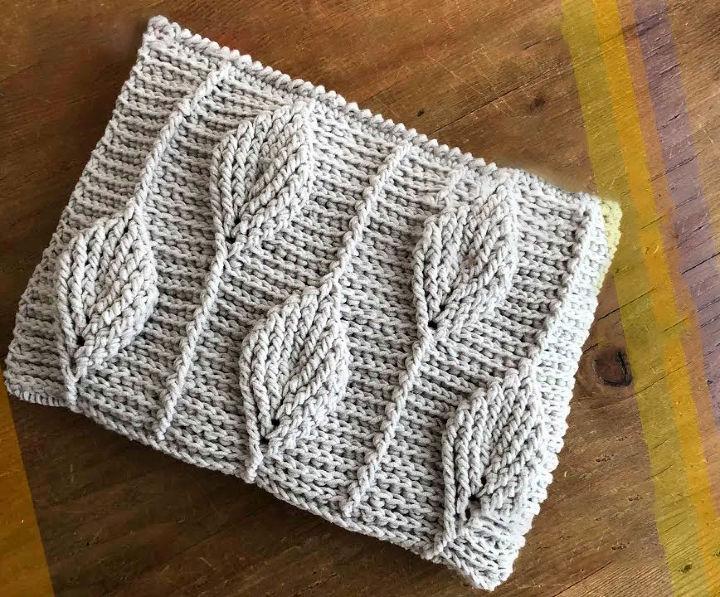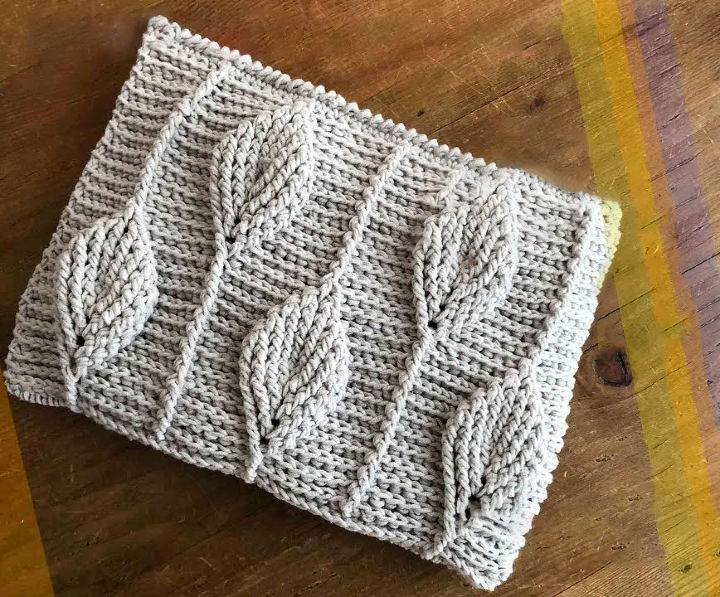 Crochet with love by making a beautiful crochet leaf pattern that everyone is going to love. It's the ultimate symbol of loving nature and enjoying changing weather! Use basic crochet skills and take your crochet projects to the next level with this pattern. Make chains, single crochet, and slip stitches for the pattern. Work behind the leaf stitch and skip the next double crochet stitch. youtube
Yarn: 55% cotton 45% acrylic
Hook size: 2-3mm crochet hook
19. Crochet Autumn Leaf Pattern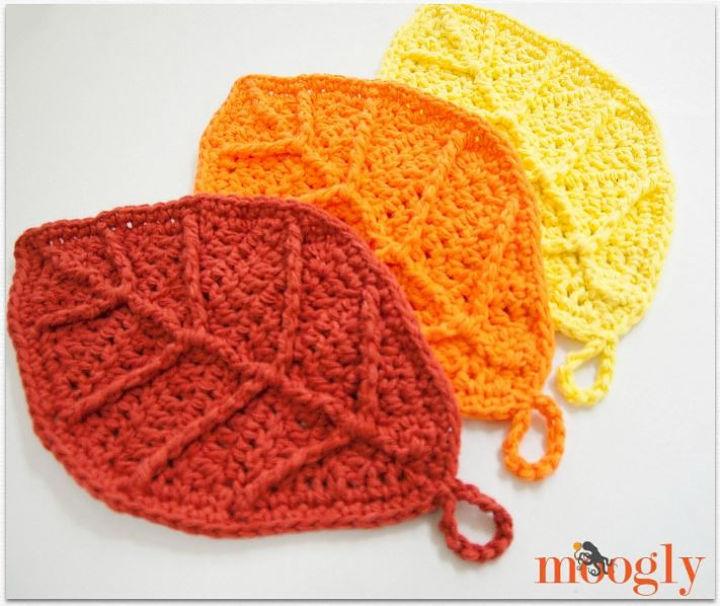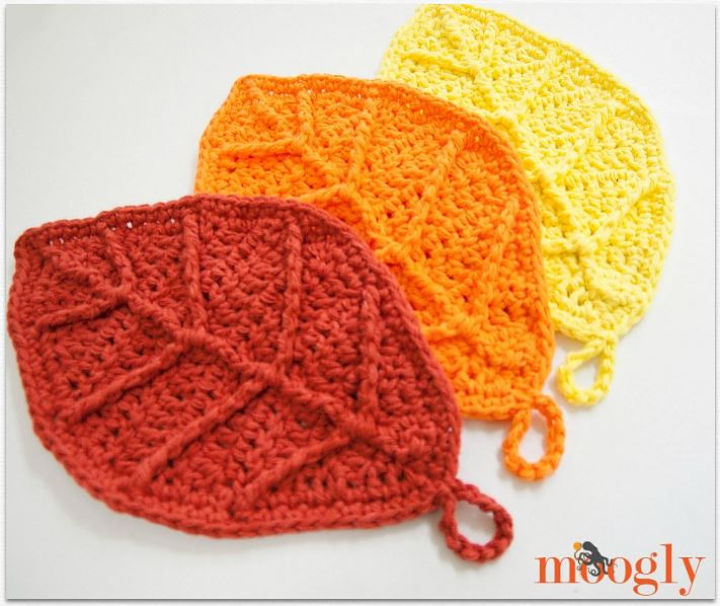 Make beautiful wall decor, centerpieces, dishcloths, and table settings by crocheting leaf patterns. Display them anywhere in the house by using different colors. You have to work in rows by making slip stitch, double crochet, and chains, etc. along the way. Several long stitches are also required for this crochet autumn leaves, so they are worked as post stitches. Chain two doesn't count as a stitch in this pattern. mooglyblog
Yarn: 40 yds Red Heart Scrubby Smoothie
Hook size: H, 5.0 mm hook of US
Finished size: 9″ long x 5.75″ wide without the loop
20. Maple Leaf Crochet Pattern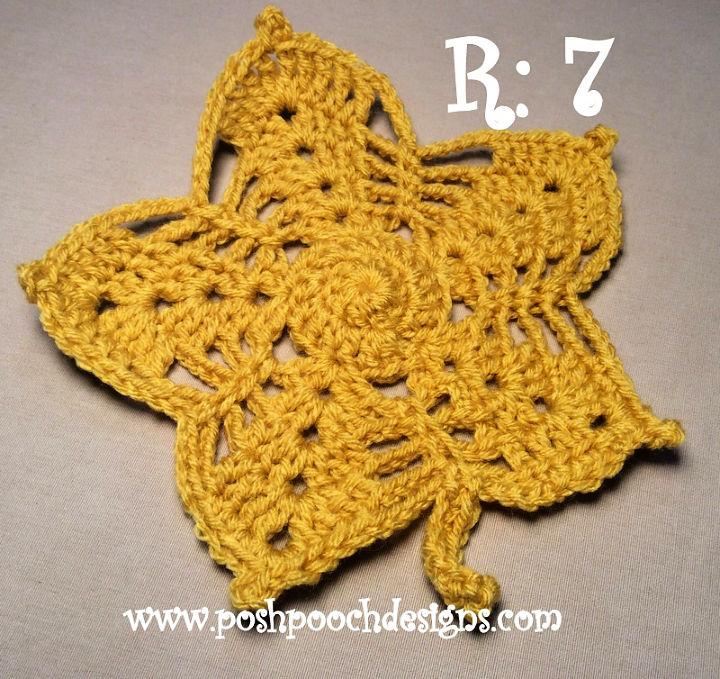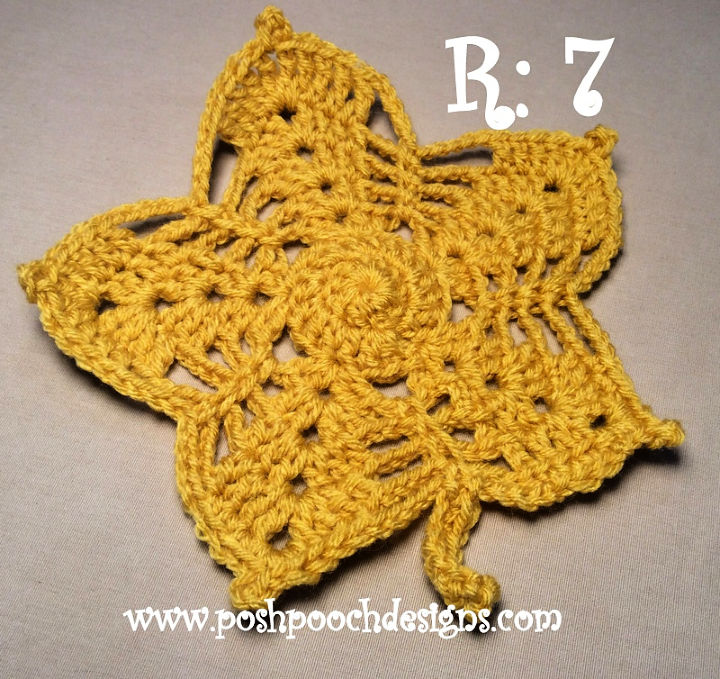 Up your fall decoration with these beautiful crochet maple leaf pattern that can be used as a doily or even a washcloth. With basic crochet skills, you can make several leaves for table setting too. Make double crochet, slip stitch, and chains while working in small rows for this pattern. Add slip stitch with a double crochet in several rounds also. poshpoochdesigns
Yarn: WW(4) Acrylic or cotton yarn
Hook size: H/ 5.00MM of crochet hook
Finished size: 9 X 9 Inches
21. Fall Leaf Crochet Pattern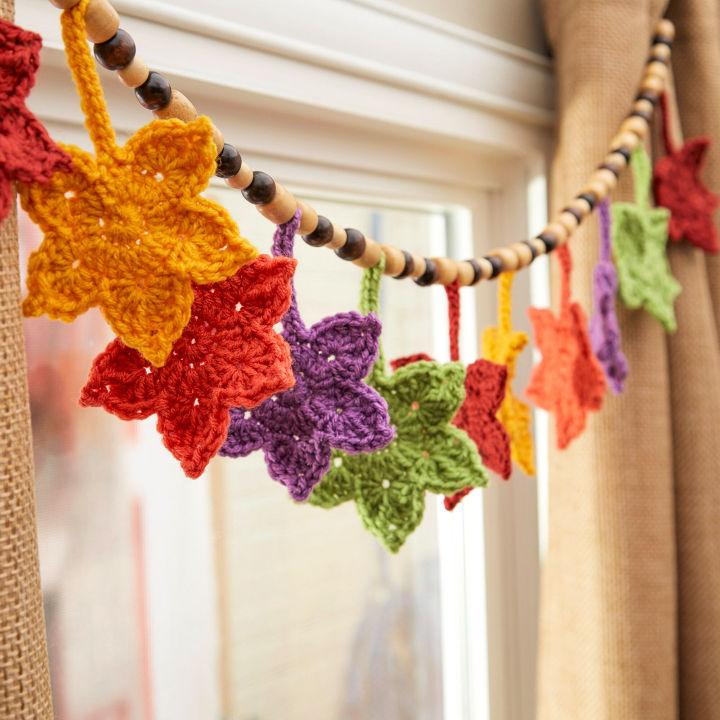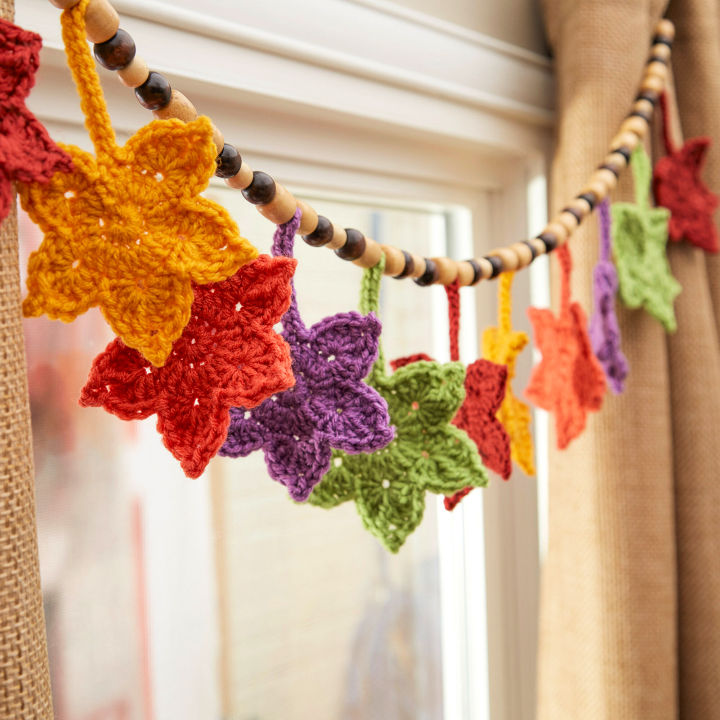 A colorful crochet garland with the crochet leaves on the entrance, on windows as crochet valance, or over your desk will bring refreshing vibes to the overall environment of the house. You can also celebrate fall and autumn with this amazing idea. The rusty colors for crochet leaves used in this project are perfect for the autumn season. You can choose different colors to celebrate different decor themes with these crochet leaves. Not only home decor, but you can also use these leaves for other embellishments. yarnspirations
22. Crochet Fall Wreath with Buttons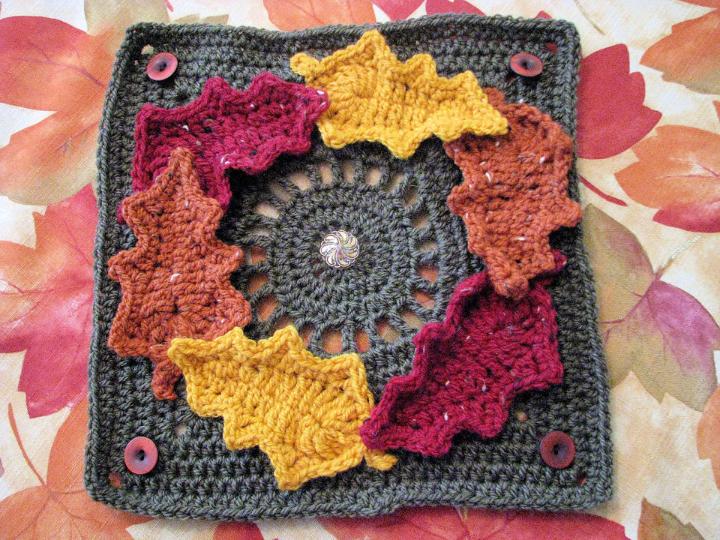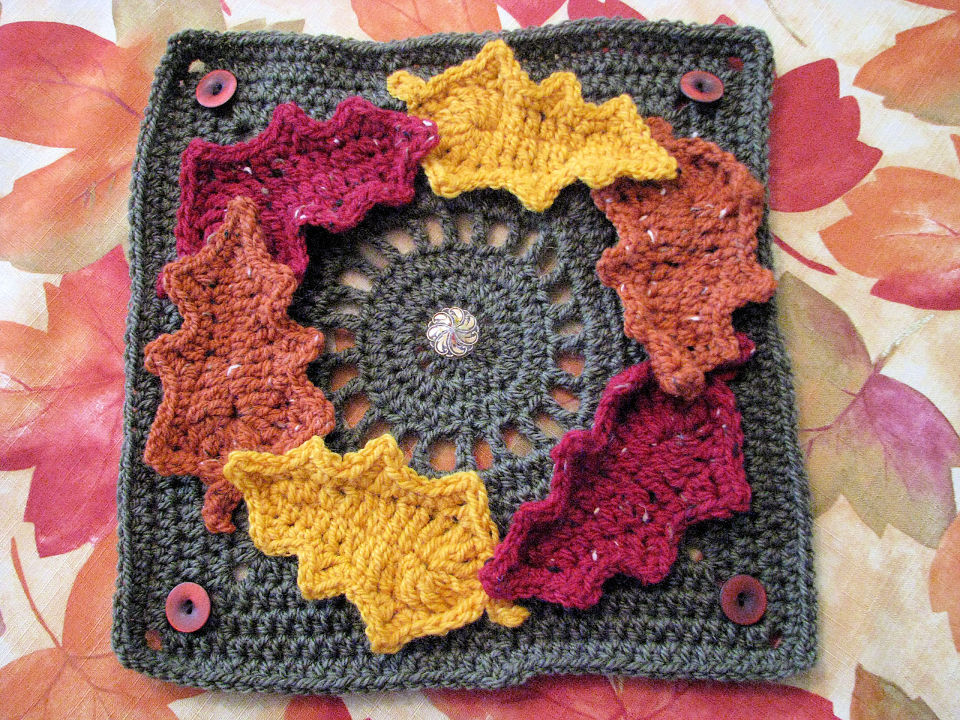 A leafy fall wreath with buttons ornaments is a unique idea to decorate your home with. You can hang this crochet fall wreath, or use it as a table mat. The beautiful piece will let everyone know about your creative skills. The celebration of autumn will be memorable with these fall wreaths. The colors of the leaves give the perfect autumn-ish feel. Similarly, crochet also gives cozy effects. The leaves in this pattern are 3D, which looks very creative. ravelry
Yarn: worsted weight yarn
Hook size: H 5.00mm
23. Crochet Leaf Patterns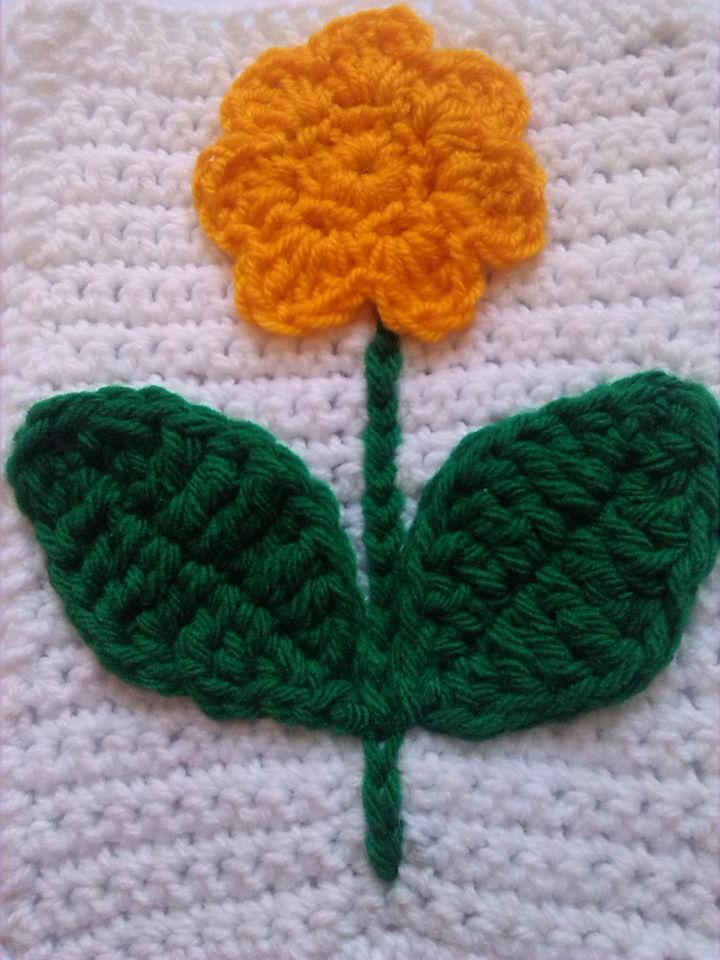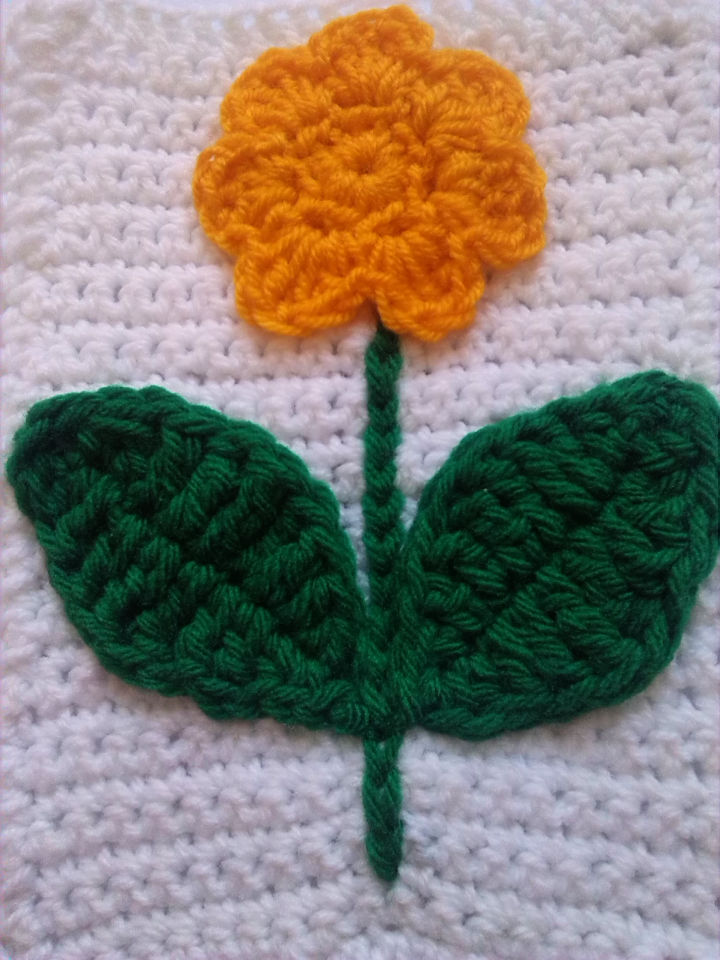 This perfect yellow flower with green leaves, on a white dress, certainly a perfect delight to see on a piece of cloth. Most of you might already know to crochet a flower, but crocheting a leaf is a whole different world. You can easily make a beautiful and neat leaf using this pattern. The pattern starts with a square shape of single crochet followed by making of edges. Then comes the stem and last the crocheting of the flower. crochetcrosiaho
24. Crochet Pansy Leaf Pattern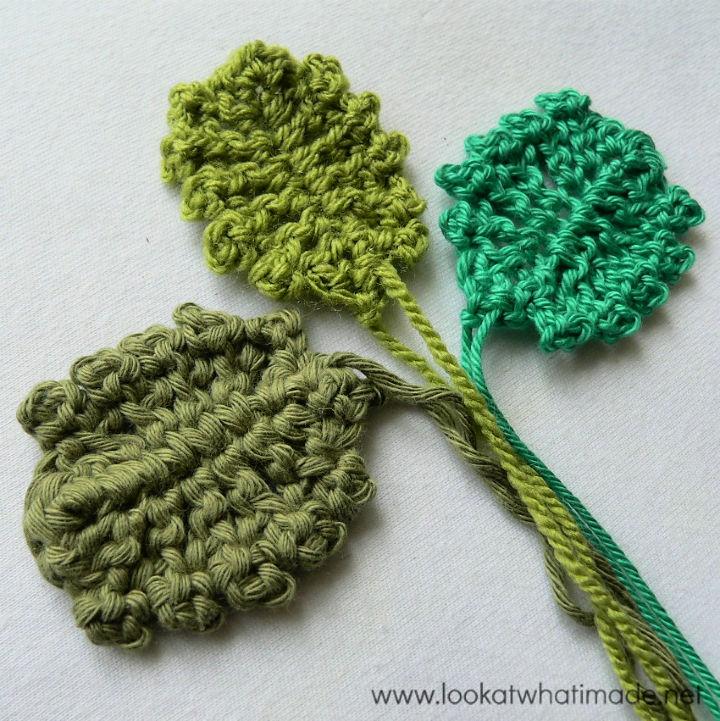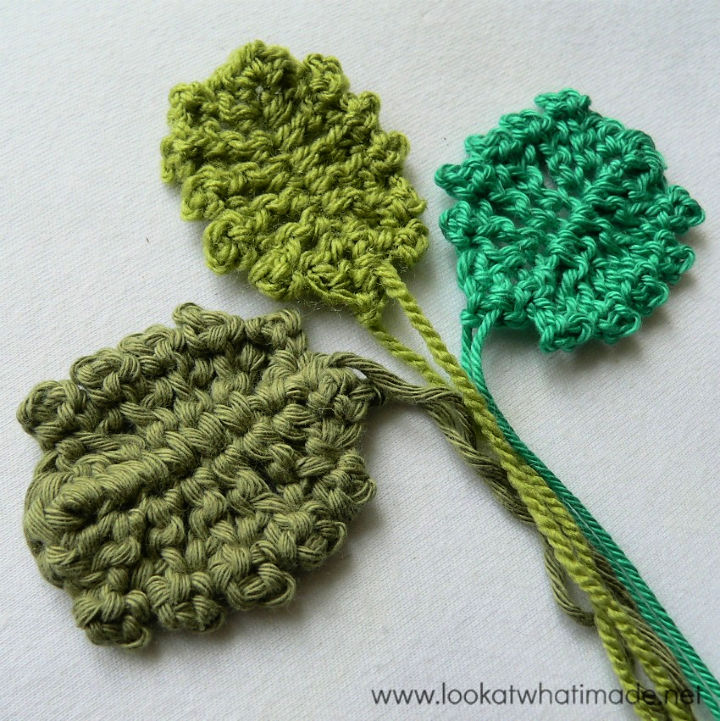 The ruffled edges of a leaf are the highlight of pansy leaves. The pansy leaves pattern is a quick recipe and very simple to follow. This leaf comes with a different front and backside. A little sloppy from the back while gooey from the front. Here, the pansy leaf is crocheted using a single-colored yarn. If you are already a pro, you can mix and match multiple colors and hang them on a dull corner of the house. The slip stitch is the prerequisite for this pattern. lookatwhatimade
Yarn: Double knit yarn
Hook size: 4mm
25. Crocodile Stitch Heart or Leaf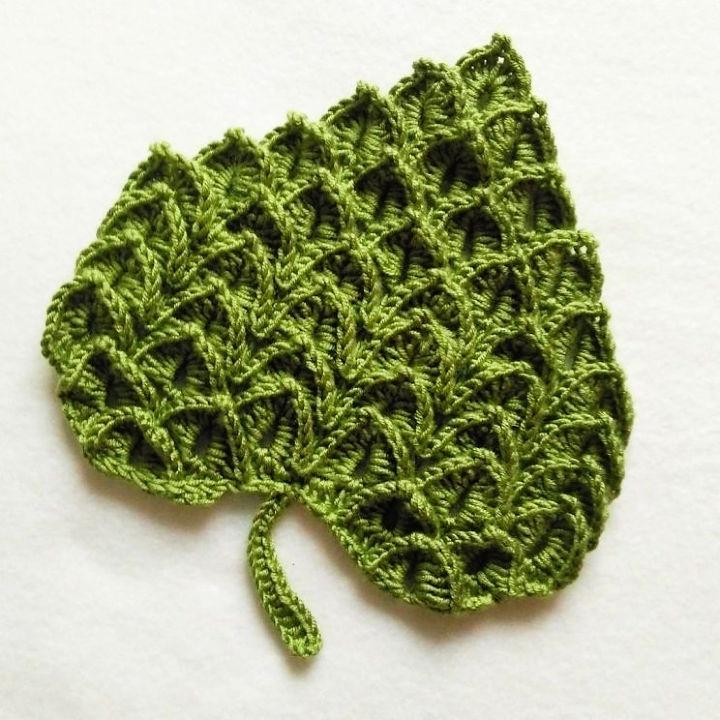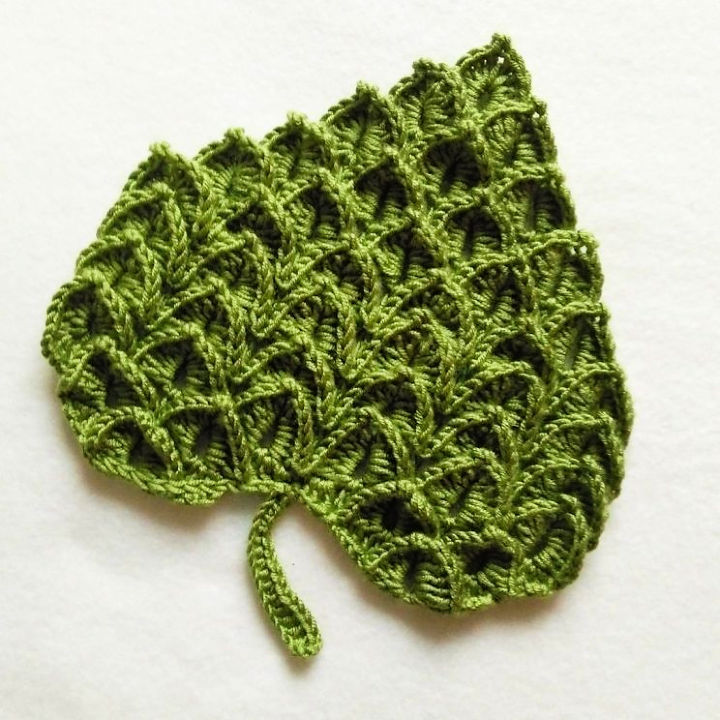 Crochet a heart and a leaf on your favorite blanket using a crocodile stitch. The heart and leaf will cheer you up in the time of distress. Sometimes, small things are enough to drag you to get through a tough day. Therefore, try to make small things special. We are sure, this heart with a leaf will bring a smile on your face every day before sleeping. The crocodile stitch is the easiest thing on Earth to follow. gradinacufluturi
Yarn: Acrylic yarn
Hook size: 3.5mm
Conclusion
These 25 free crochet leaf patterns are going to be the most addictive patterns you have ever tried your hands on! The best part is that you are welcome to experiment with different yarns and hook sizes to achieve any size of the leaves you want. These free crochet patterns will start to take up quite a lot of your free time – the process involves thinking the design up, writing it down, changing stuff, making mistakes, getting the design right… but for sure you will love this adventure!
As you crochet, you will feel that nature is sending you wishes for a bright and vibrant fall and a relaxing and inspiring season filled with beautiful crochet patterns.