Board games are fun. They are a great way to keep all the family members and friends in one place. Follow these 12 FREE crochet dice bag patterns to keep the dice off the board games intact in one place. We all know what a huge hassle it is to find out the dice every time you plan to play. We need a mechanism to refrain from this hide and seek activity with the dice. Certainly, a crochet dice bag is a perfect idea to stay organized. And a one made from crochet will be an accessory that will run from generation to generation. As anything made from crochet is durable and long-lasting.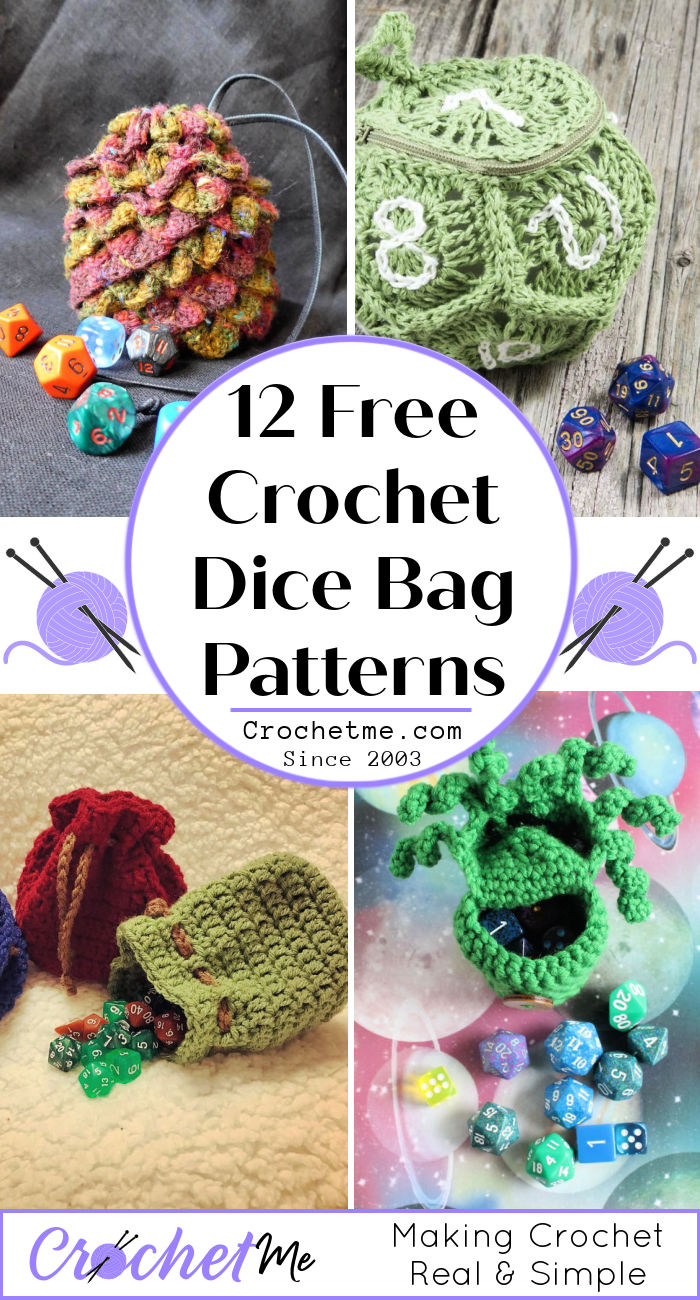 These crochet dice bag patterns will provide you with constructive DIY activity! These tutorials consist of a variety of crochet dice bag pattern. The most popular amongst all is the dragon egg dice bag. You can crochet it for your kid and his friends as well. Pentagon dice bag is a unique idea with a geometrical attraction in it. On the other hand, the Tardis dice bag and squid bag for dice are simple and can be crocheted by beginners as well.
1. Free Crochet Dice Bag Pattern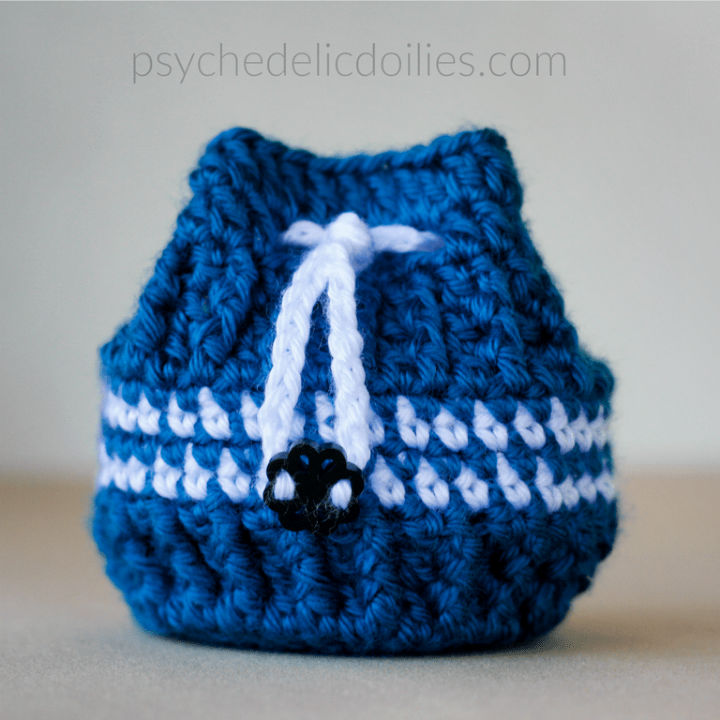 We all know what a big hassle it is to keep the dices of a board game safe over a period of time. It is wise to give a home to these wandering homeless dices. The crochet bag for this purpose will be a long-lasting and durable option. The TARDICE dice bag is a straightforward piece to crochet while sitting leisurely at home. Along with the single and double crochet stitch, you must be aware of the front post double crochet and slip stitch to crochet the dice bag. psychedelicdoil
Yarn: Caron simply soft ocean, Caron simply soft white
Yarn size: 57 yards approx.
Hook size: 5.0mm
2. Crochet Dragon Egg Dice Bag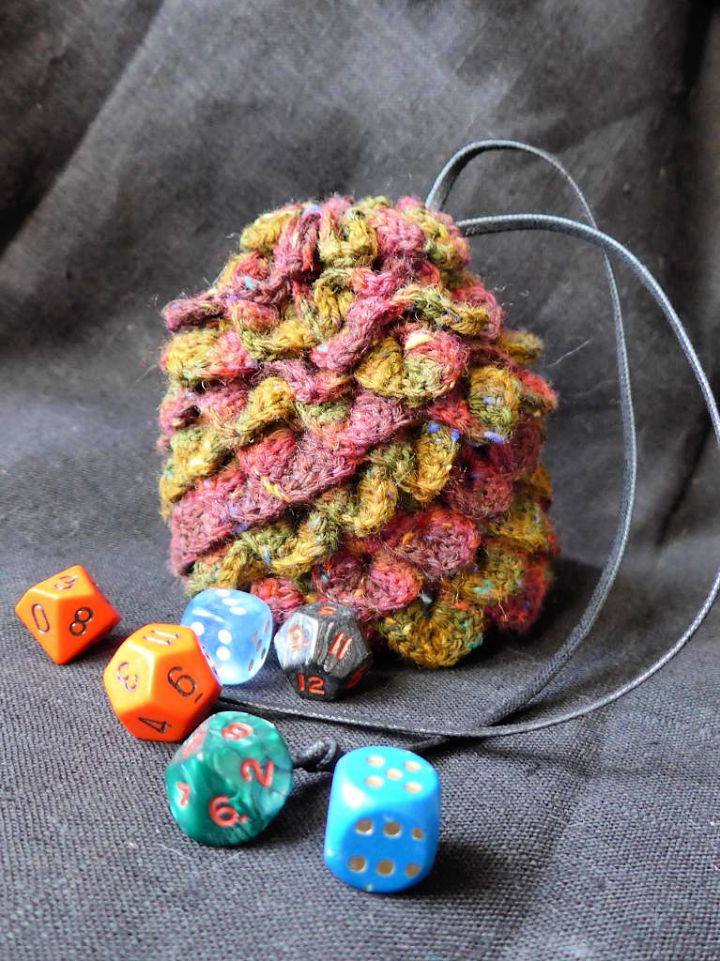 Make a different crochet dice bag with this dragon egg dice bag pattern. The multi-layered dice bag will be a unique and classy addition to the board games accessories. This pattern holds no strictness for the gauge. You can also adjust the size of the bag and adjust as many dice as you want. Plus, you can also vary the color of the bag. Either make it with a single color or add multi colors to give a bright look. ravelry
Yarn: DK yarn, 82 yards
Hook size: H 5.0mm
Dimensions: 3'' dia, 4'' height
3. Bulgy Eyes Dice Bag Crochet Pattern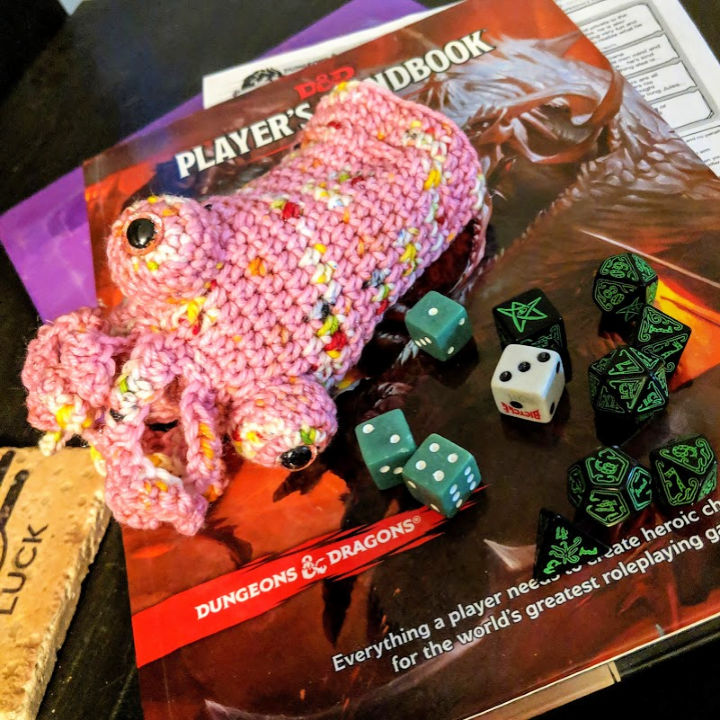 All the board game fans must try out this squid dice bag pattern. The bulgy eyes bag will always hold your dice at the place. If you are aware of the split stitch, you are good to go with this pattern. This pattern also demands to work in the round to crochet a perfect piece. For yes, you will need some extra fiber stuffing. The rest of the details are available in the instructions. 12squaredcrea
Yarn: Worsted weight yarn, 50 yards
Hook size: 5.5mm
Safety eyes size: 12mm
4. Crochet Dice Bag Pattern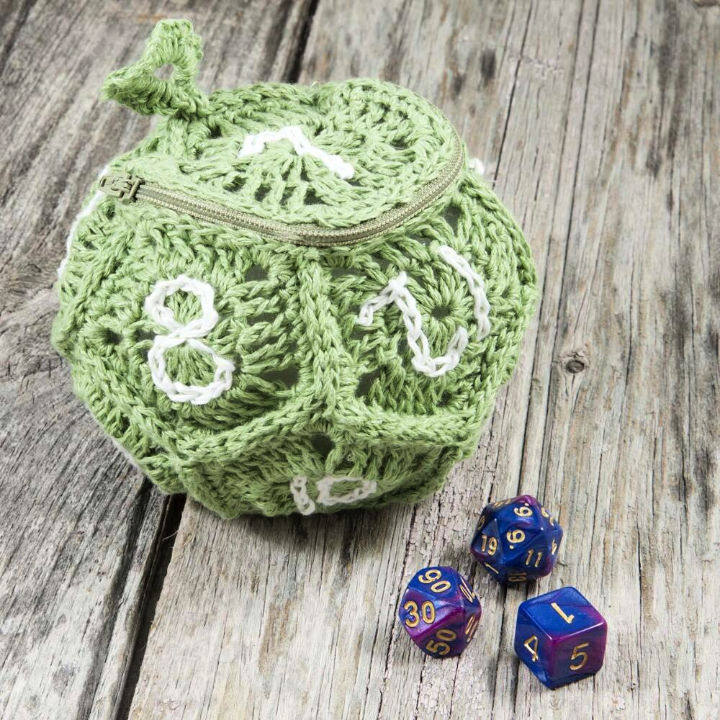 Here's another one from our crochet dice bag patterns! D12 dice bag is a pentagon bag that comes with a zipper. Your dice have no chance to run away with a zipper barrier. The sweet and mild colored bag is a perfect pouch for board game lovers! They can protect their precious dice in this beautiful piece, stylishly. The pentagon shape gives an intelligent kind of 3D look to the bag. Magic ring stitch is something you should be aware of other than the regular stitches. You always have an option to customize the colors of the bag. willowyarns
Yarn: Willows yarn (Parakeet, Snowy owl)
Hook size: F-5 3.75mm
Dimensions: 4'' tall
5. Crochet Dice Bag Pattern Free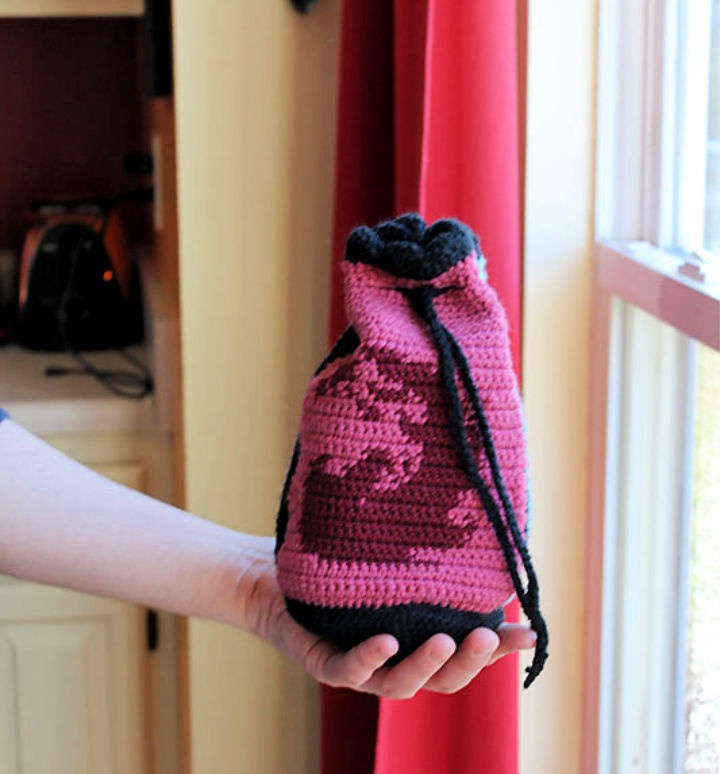 This is not just a dice bag, but it's a magic bag. You can hide anything in there, be it your dice, your pencils, or even your ego! The bag is made with mana symbols. Out of the five symbols (plains, island, swamp, mountain, forest), you can choose any two, for front and back. Crochet them with the respective colors and make a tall bag for all kinds of dice. Make each side separately and then join all of them together. wonderstrange
6. Dice Bag Pattern Crochet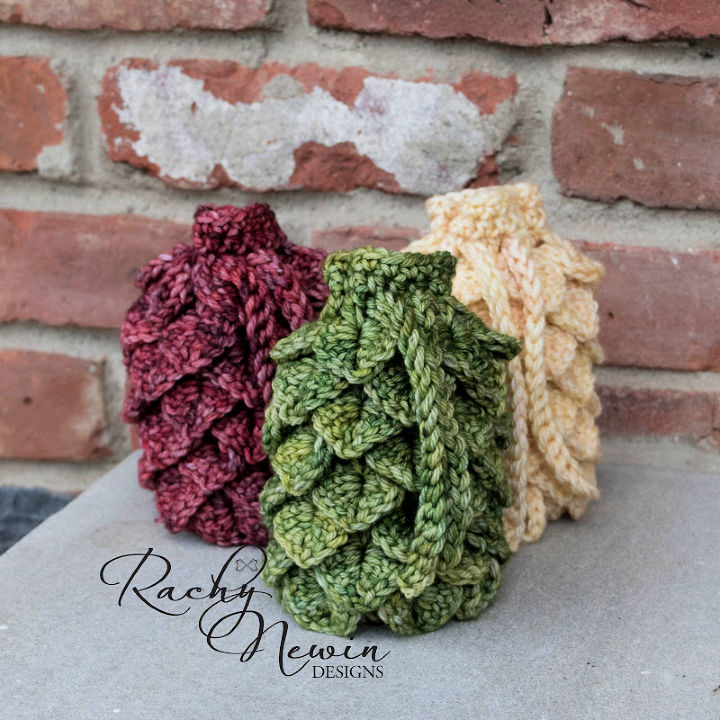 Crochet this beautiful mother of dragon egg dice bag with drawstring. Use different colors for each dragon scale dice bag and associate them with respective board games. We have made these bags in green, maroon, and cream color. You can choose colors s per your aesthetics. Even more, than one color can be used to make one bag. The gauge for this pattern consists of 4 rows and 8 stitches. ravelry
Yarn: Worsted weight yarn (100 yards)
Hook size: H 5.0mm
Dimensions: 7.7''*5.5''
7. Crochet XL Dragonscale Dice Bag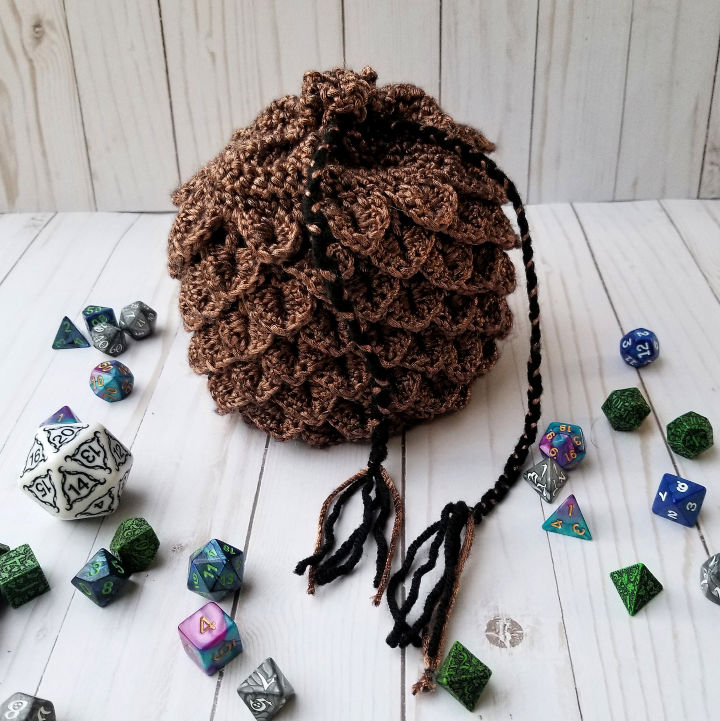 This one is a jumbo piece, which can accommodate all of your dice and related small objects. Therefore, if you have a large dice collection, you can definitely try this pattern out. The bag functions with a drawstring. Drawstring makes it helpful to open and close the bag. If you have prior knowledge of split and basic crochet stitch, you can make this bag easily. Color choice is always an open slot. Choose as per your personality. hooksnsunshine
Yarn: Worsted weight yarn (240 yards)
Hook size: I 5.5 mm
Dimensions: 8''*6''
8. Simple Dice or Trinket Crochet Bag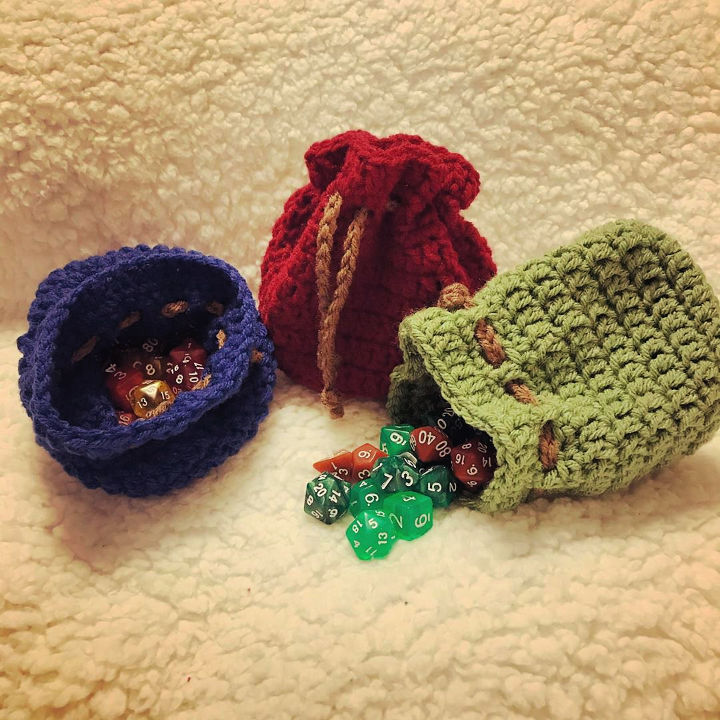 Dice bag can also be used for other purposes. You can place your crochet supplies, small toys, and buttons kind of stuff to stay organized. The best part about these crochet dice bags is that they stand still and stay upright. No chance of spilling what treasure is inside. Also, it can accommodate itself in any corner of the house. Hence, your dice will be safe, and the bag will be a savior in every way. sunshinesgrove
Yarn: Worsted weight yarn
Hook size: 5.0mm
9. Zelda Triforce Dice Bag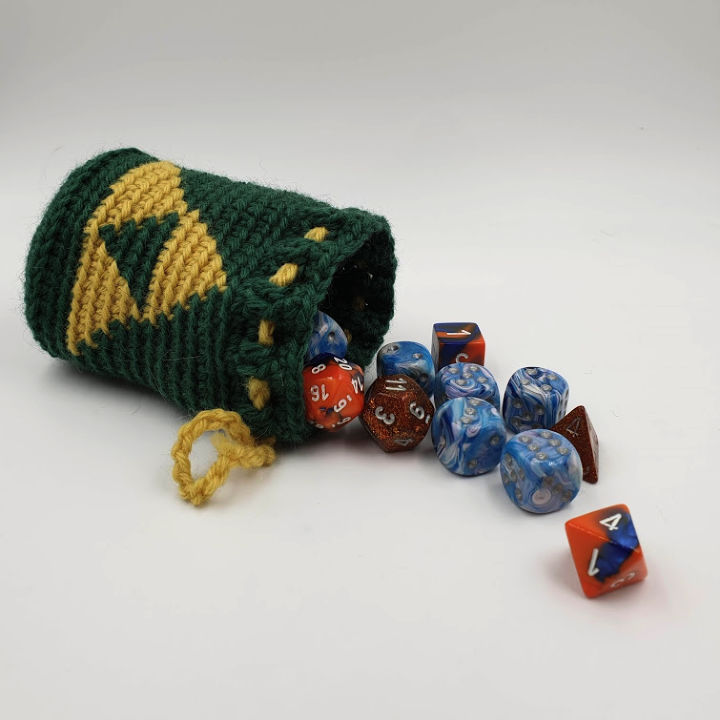 Create an excellent gift for someone who's into bags and like pretty designs. Make your own Zelda inspired drawstring dice bag that can be used for many purposes like keeping dice or leftover crochet bits too. Make it look worth its weight in rupees by creating a simple tapestry crochet design. The stitches used in this pattern are chain, single and double crochet, slip stitch, etc. Work in rows. ninjacatcrafts
Yarn: Sports weight yarn in colors yellow and green
Hook size: 3.5mm crochet hook
Finished size: approx. 13 cm tall and fits 20 dice
10. Free Cthulhu Dice Bag Crochet Pattern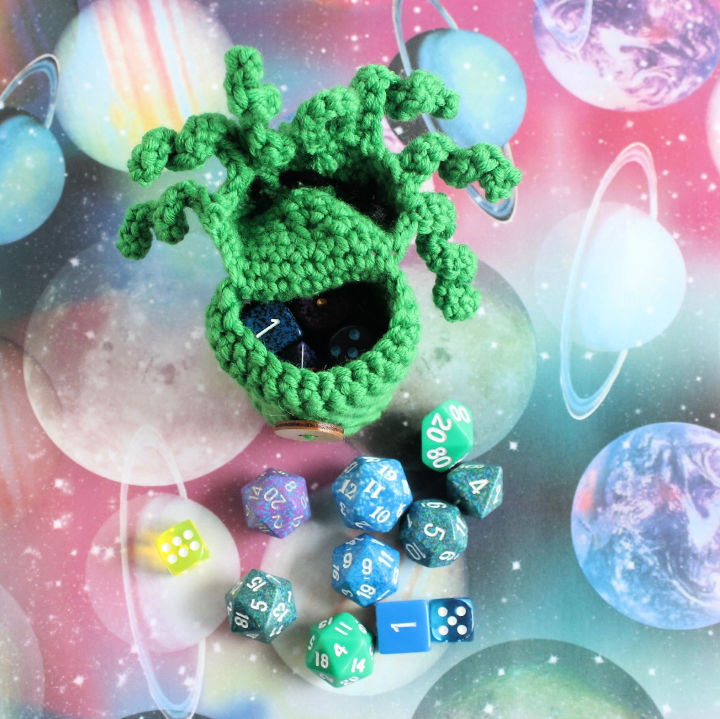 If you are a hoarder of dice, you must have a huge collection tucked away somewhere. There then arises the problem of where to store them. Make a simple, pretty little dice bag that can be equally functional. With the love of Cthulhu in mind, make a cute pattern to meet your needs. Make a magic ring by working in rounds so that you can make the body first. gamercrafting
Yarn: 4-ply yarn chunky weight
Hook size: 3mm
Finished size: the body is about 2.5 inches tall
11. Crochet Pokemon Oddish Dice Bag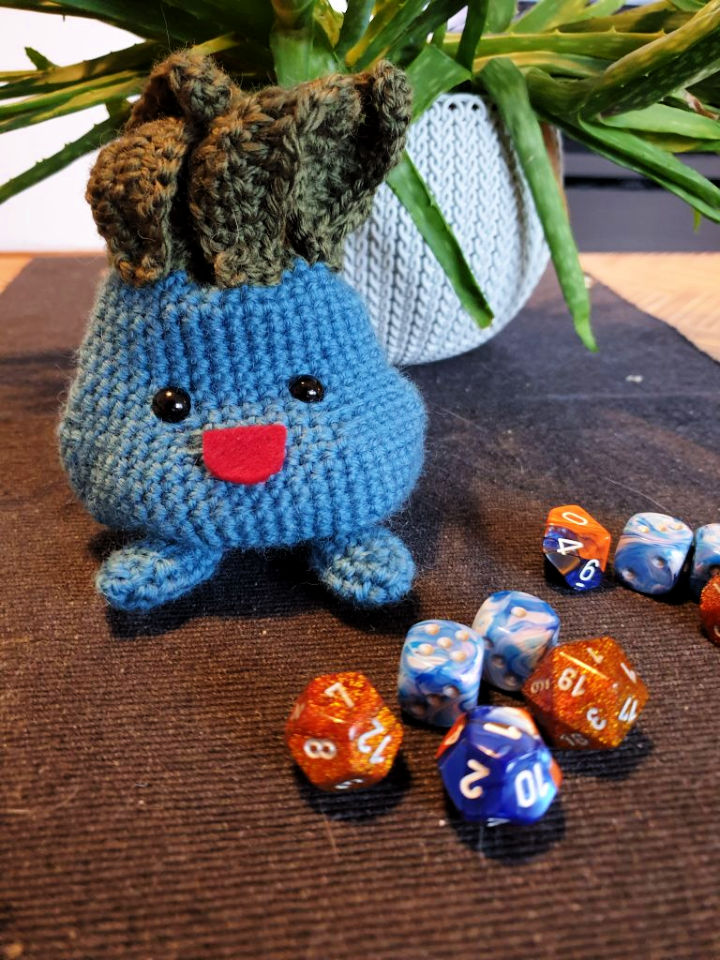 No one can deny watching Pokemon cartoons in their free time. With that idea, you can make an Oddish inspired drawstring bag. It is multifunctional as you can give it as a gift, or storing small things if keeping for yourself. Work on the bag first by making rows in the round. For that, you have to use a slip stitch to join and chain at the end of the round. ninjacatcrafts
Yarn: blue and green colored sports weight yarn
Hook size: crochet hook used of 3.5mm
Finished size: excluding leaf height 13cm tall
12. Ninja Turtle Dice Bag Crochet Pattern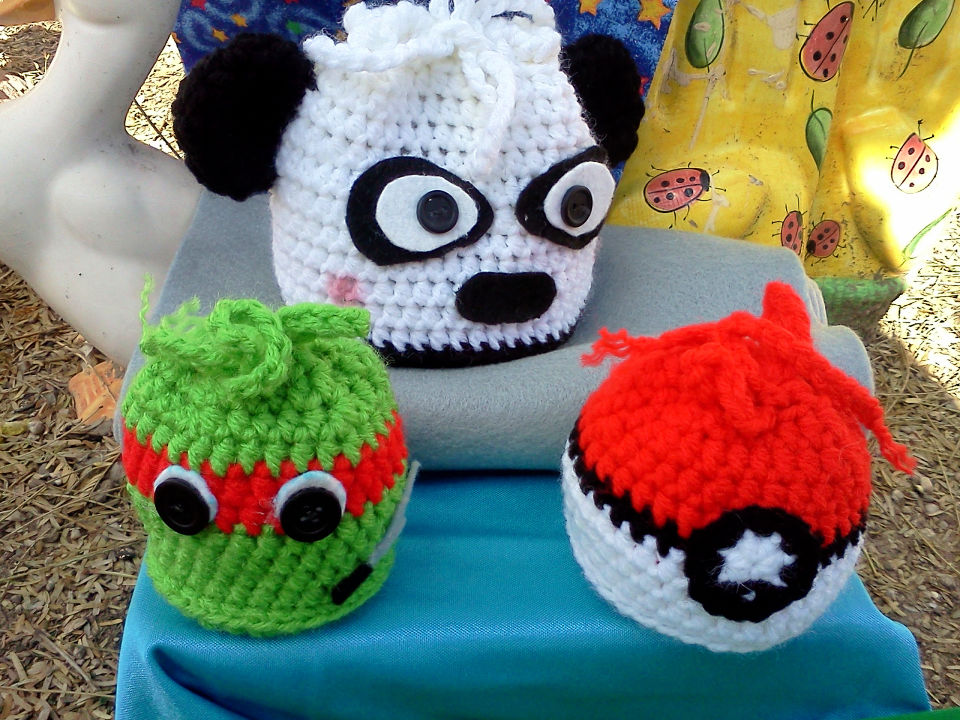 When you want to have a nice and fun little bag to store away small stuff without it looking ugly, make a ninja turtle dice bag in the crochet pattern. You can take it out for the game day, and everyone will sure envy this pretty little item. You just require some basic craft skills and the special stitch used here is the magic ring. Join the stitches when required. ravelry
Yarn: Red Heart Super Saver Solids
Yarn weight: Aran (8 wpi)
Hook size: 3.75 mm (F)
Finished size: one size is fit for all gamers
Crochet Handbag: Looking for crochet patterns for the perfect bag? This collection of crochet handbags will be all the inspiration for you to make one for yourself.
Crochet Phone Case: We've shared easy free crochet phone case patterns that will keep your phone more protected.
We hope these crochet dice bag patterns pumped you to leave your couch and make your day productive. These dice bag patterns are easy to crochet and will be a huge help in keeping your house clean. If you love to organize things, you will miss out on a huge deal if you won't crochet these dice bags.