Store your earphones, glasses, keys, and all little treasures in these 20 free crochet pouch patterns that will have the amazing ability to keep your stored items scratch and dust-free. As these crochet pouches will require much less amount of yarn, and hence they can be done with the leftover yarn too. So, this confirms these crochet pouches to be great crochet stash buster patterns, creative enough to make you say a big wow. Kids' can store their stationery items in these crochet pouches. So, opt for the crochet pouch pattern to organize your cutlery on the dining table too. The choices are simply endless.
Check out all the popular crochet pouch samples by exploring this list of 20 free crochet pouch patterns sharing visual guides, step-by-step instructions, hook sizes, and gauge suggestions. From single color to multi-color, these listed pouches appear in a variety of colors and have so many enchanting appeals to impress with.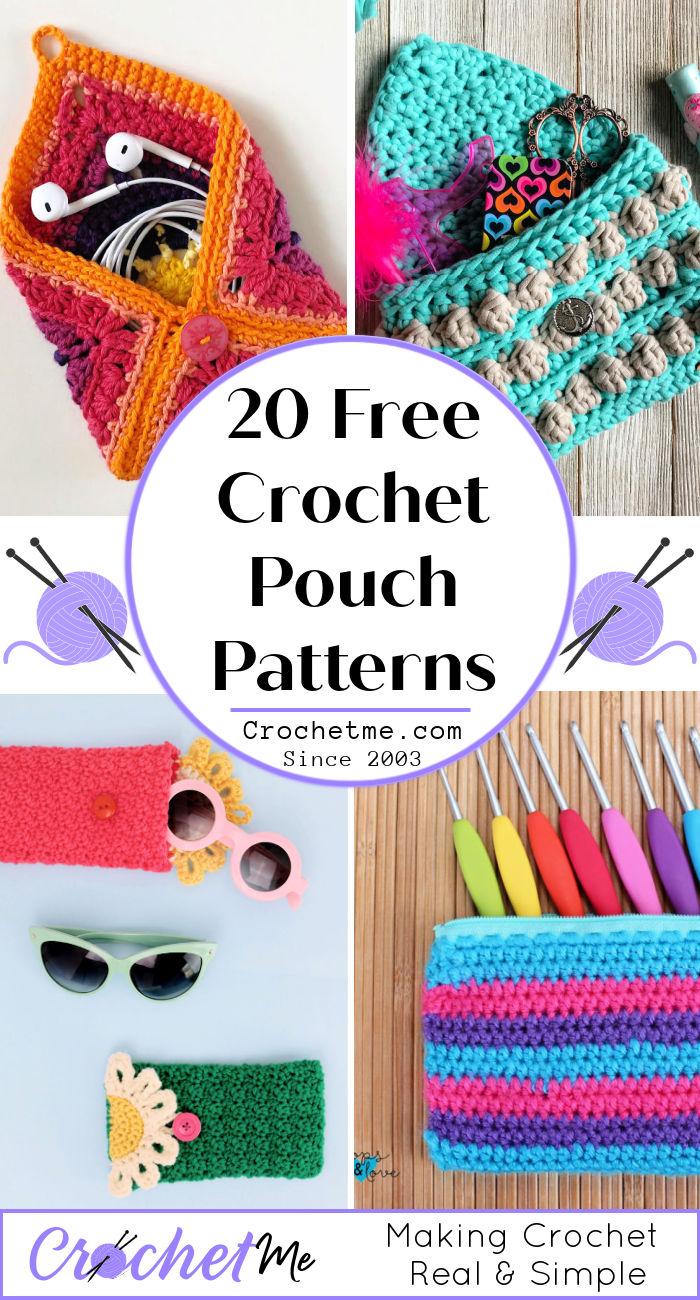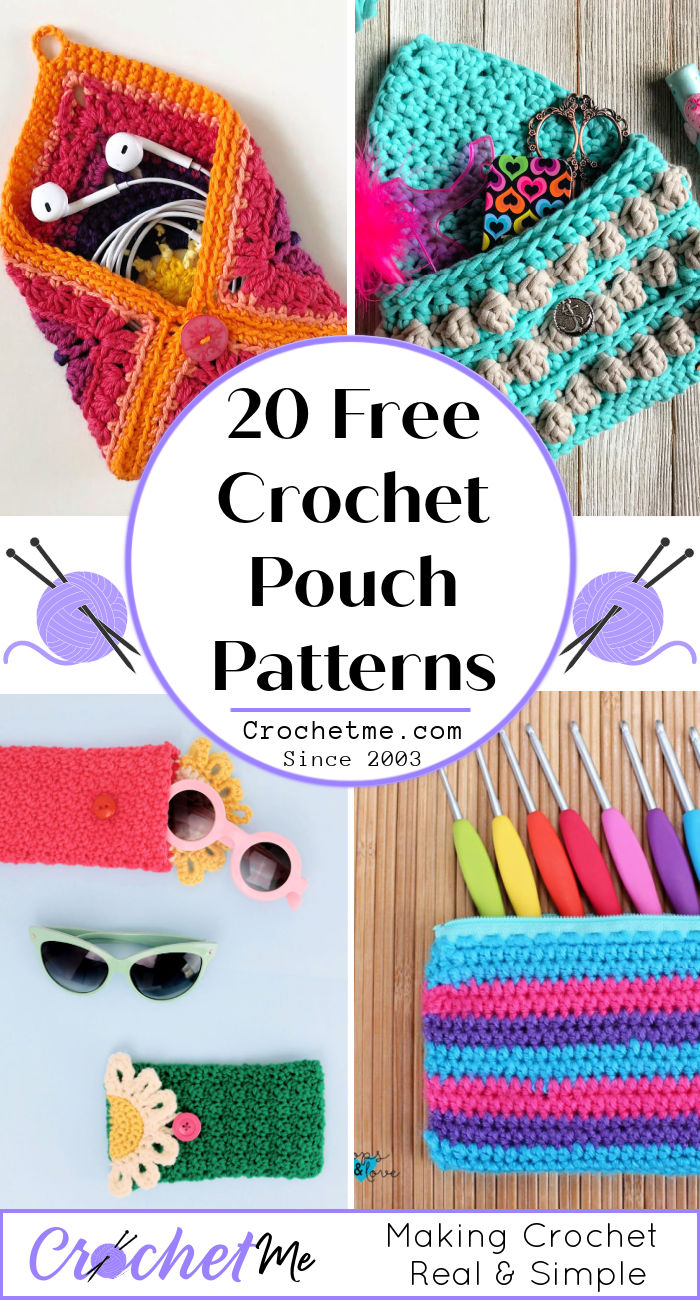 Crochet, the owl inspired mini pouches, will be more like a playful amigurumi toy for the kids. Spice up your coin storage game by making a fish-shaped yarn pouch and please the school going kids with a shark pencil pouch gift.
From animal-inspired crochet motifs to fruity motif crochet purses to striped yarn clutches, you will get the free crochet pouch pattern for all along with step-by-step guides. Crochet these pouches with flaps with button and other with zippers. And also adorn these pouches with custom accents like tassels. You will surely be a pouch making expert after looking through all these Crochet Pouch Patterns shared to get the maximum out of your scrap yarn.
1. Crochet Pouch Pattern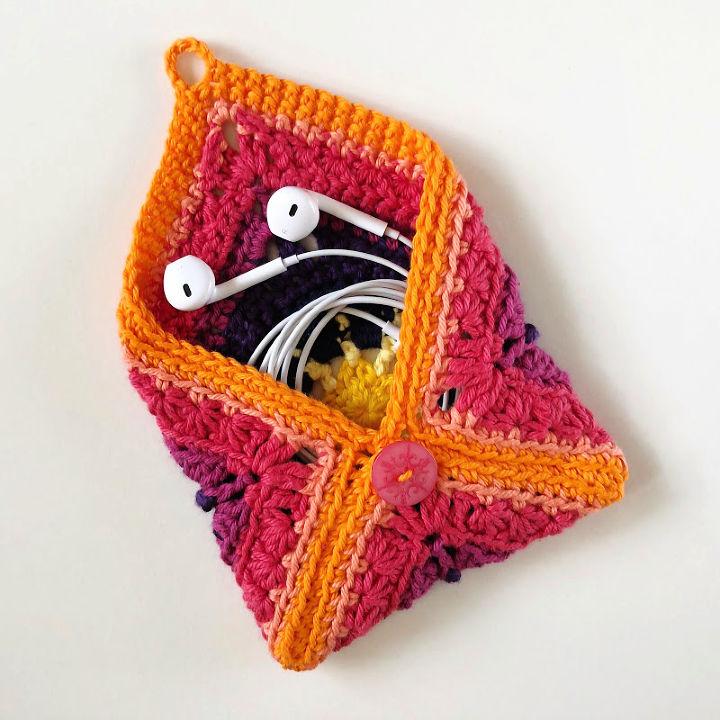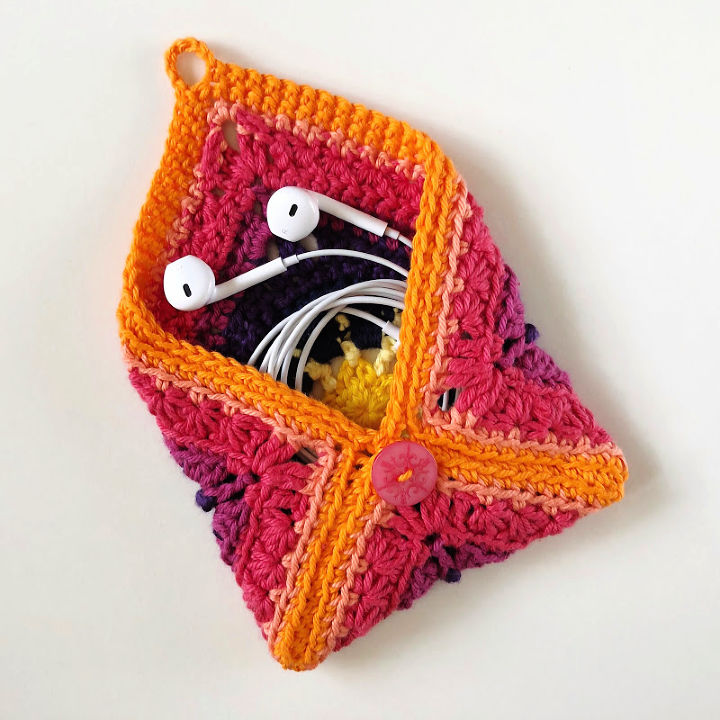 In this age of tech, we love to use various gadgets and accessories that keep on providing us a bit of fun during the tough routines. So, opt for this crochet pouch for better and safer storage of your expensive tech gadgets like headphones and other items of this kind. It will take much less yarn and time to get this pouch made that is soft and colorful. Crochet the Paintbox Cotton DK in Seville Orange to whip up this pouch. Use the 4mm hook size to whip up this pouch and finish it off with 20mm pink button. Details here vividkreations
2. Crochet Star Stitch Pouches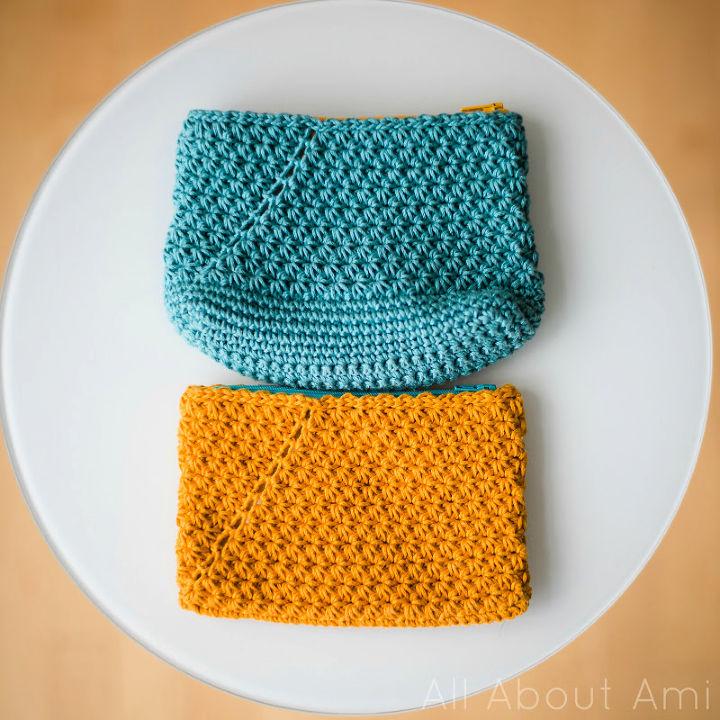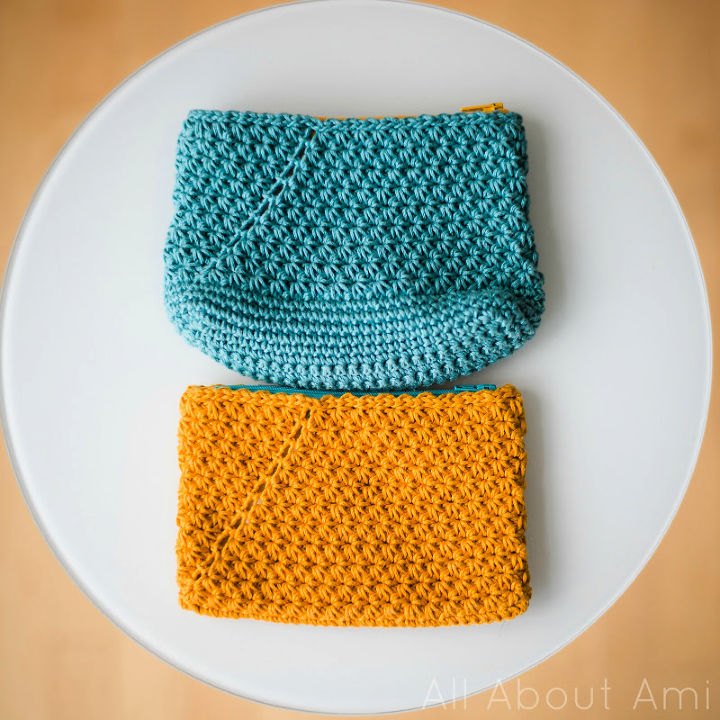 Before you get into this handsome pouch pattern, you must learn to crochet in star stitch that is all responsible for the so enchanting design texture of this pouch. The finished size of this yarn purse is 7in long and 4.5" wide. For this adorable pouch, you need to crochet the lovely Lion Brand Cotton 24/7 Yarn in goldenrod and jade. Crochet 46g of this yarn using a 4mm crochet hook and finish with a zipper. Install the fabric lining also to this pouch and finish the pouch with ultraleather tags. Details here allaboutami
3. Crochet Owl Pouch With Pattern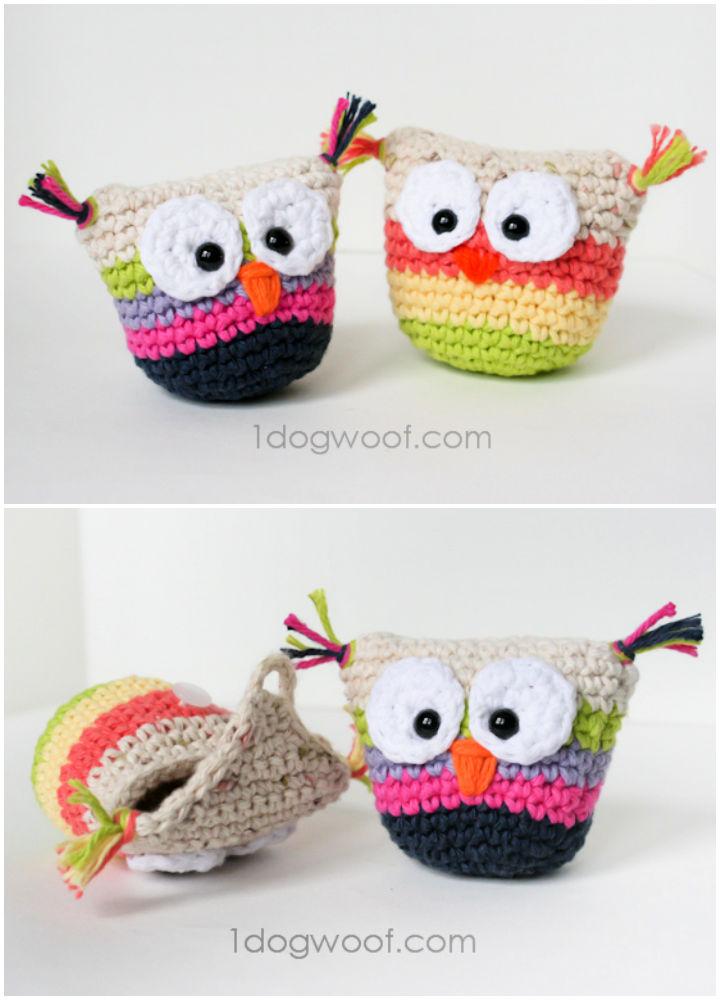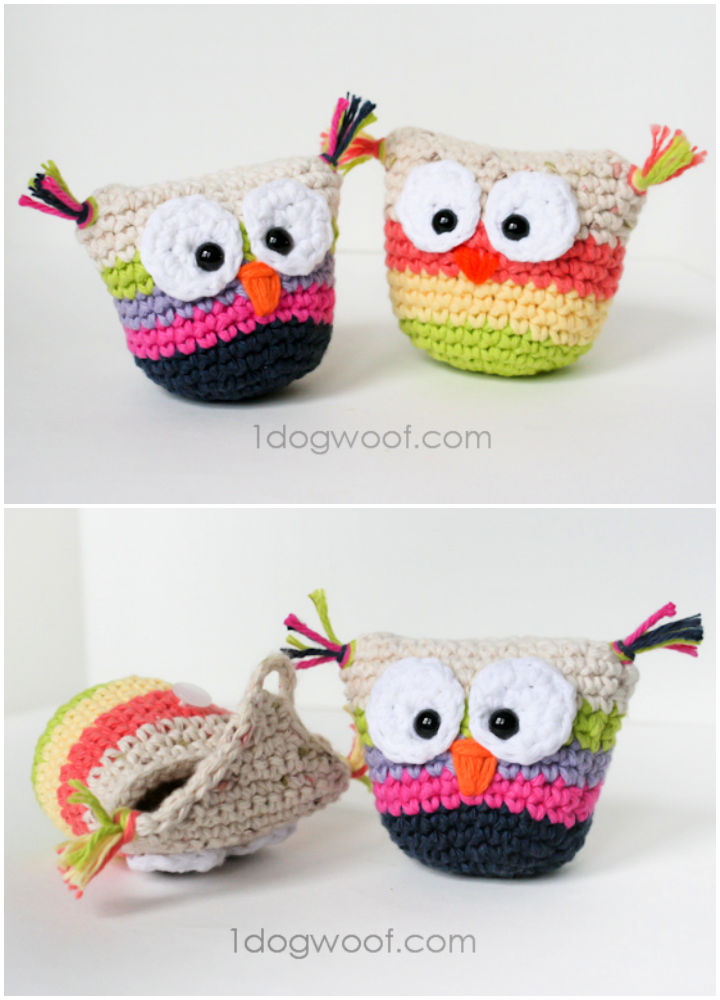 The owls are one of the most loved motifs in the crocheting world, and they are as cute as a baby. So, make the special little owl pouches too, will make pleasing little gifts for the little kids in the home. Crochet these little owls by using the worsted weight cotton yarn and work in the individual rounds. Use the 6 hooks for this selected yarn weight and complete the own baby pouches. Finish with animal eyes and also with a small button. Start this pattern with a magic ring crochet. Add the colorful tassels for ears. Details here 1dogwoof
4. Crocheted Shark Time Pouch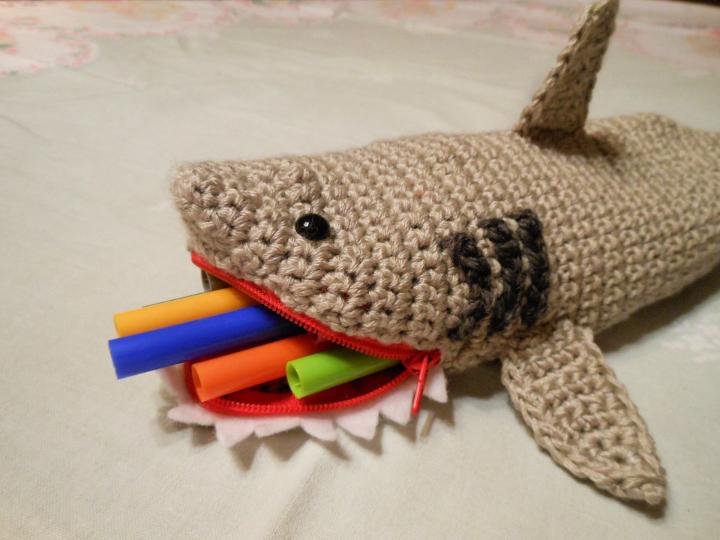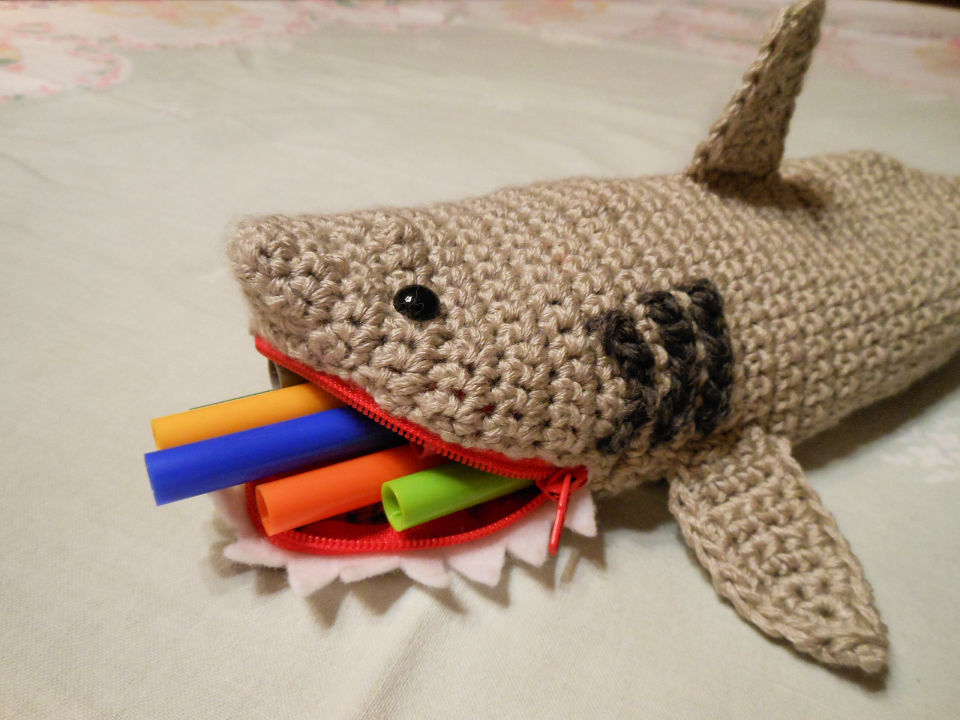 From a distance, this pouch looks like a real scary shark ready to crush the things under its monster jaws. One more fun and dramatic type of crochet pouch pattern that you can crochet with any Sport Weight or Worsted Weight Yarn. Crochet the pouch mainly in the gray color, the color of shark, and use a little white for the monster teeth. 2 black buttons will rock for the eyes and finish it up with a 6" zipper. This killer shark pouch is to crochet with 4.25mm hook and will be loved dearly by all for sure. Details here mooglyblog
5. Crochet Zipper Moss Stitch Pouch Pattern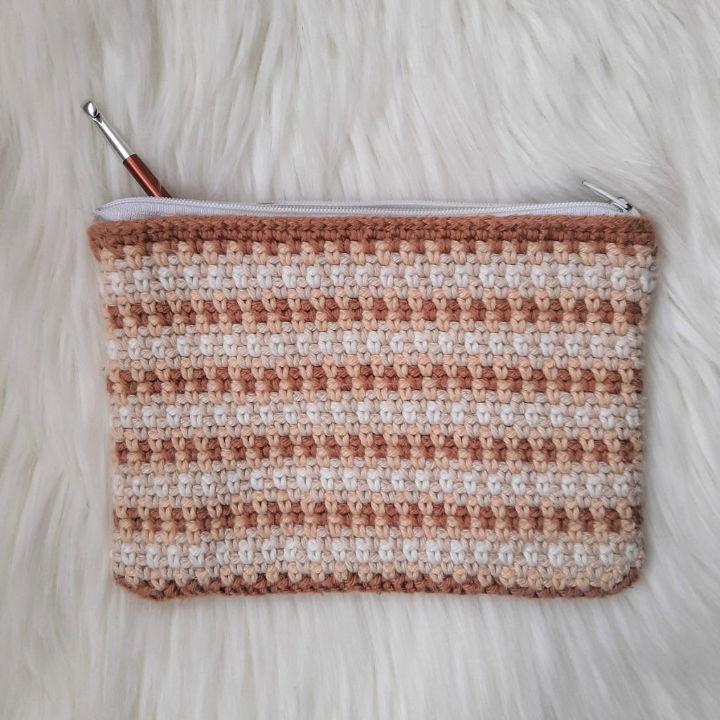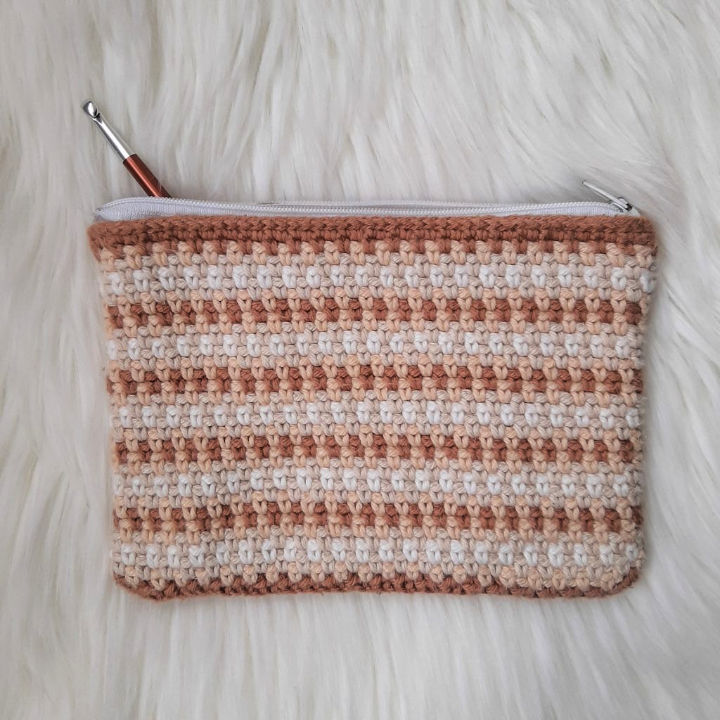 Maybe you are a big fan of the design patterns and design texture of the crochet patterns. If yes, this crochet pouch pattern is for a crazy striped representation of the white, clay, and brown yarn colors. Crochet 120yds of Paintbox Cotton DK Yarn with 3.5mm crochet hook to whip up this 7" wide and 4.75" tall size of this crochet pouch. The recommended gauge for this pattern is 26stitchs and 27rows in the 4" x 4". Don't forget to finish this pouch with a 7" zipper. The special stitch used in this pattern is a moss stitch. Details here nedandmimi
6. Autumn Leaf Cutlery Pouch Crochet Pattern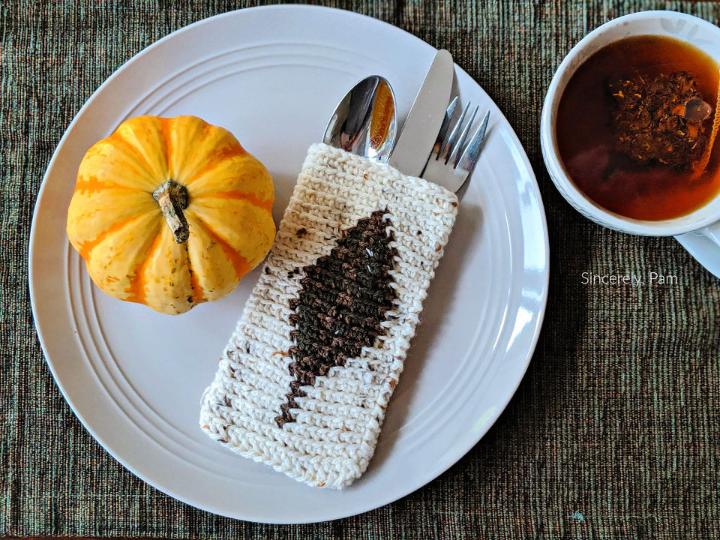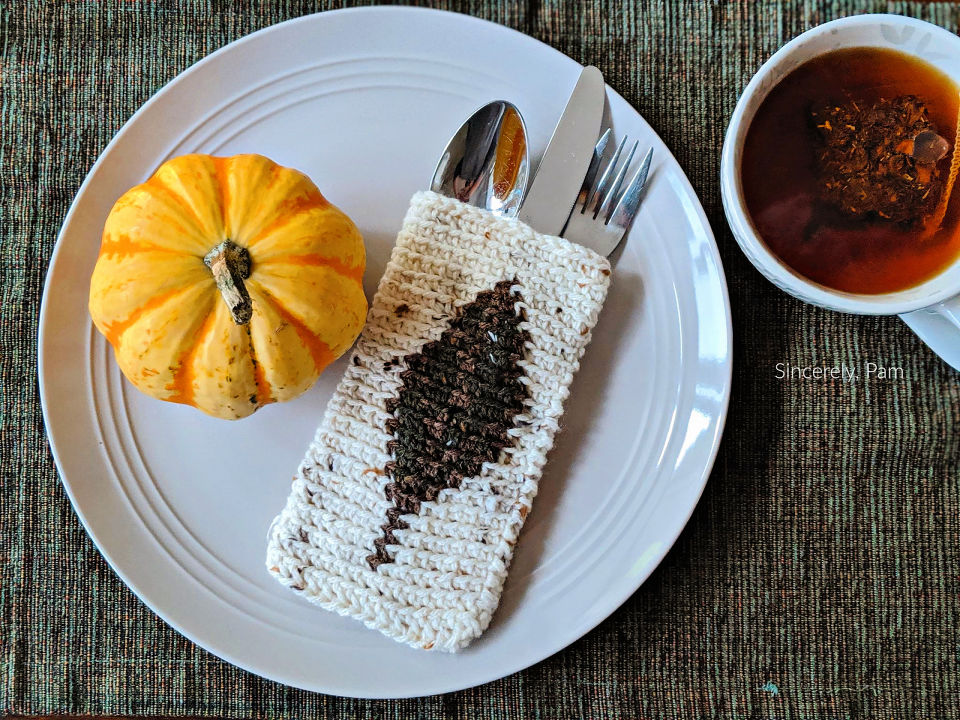 Look at this another great looking crochet pouch, will hold the cutlery on the dining table in a decent manner. This pouch features an autumn leaf motif and a neutral hue and hence will rock for the Thanksgiving party table. Crochet worsted weight 4 yarn in 3 contrasting colors of choice while using a 4mm hook to whip this splendid yarn pouch. Here you need an intermediate skill level to hook up this pouch. The gauge is, 15 sc and 15 rows in BLO make 4" x 4". Details here sincerelypam
7. Crochet Beary Sweet Pouch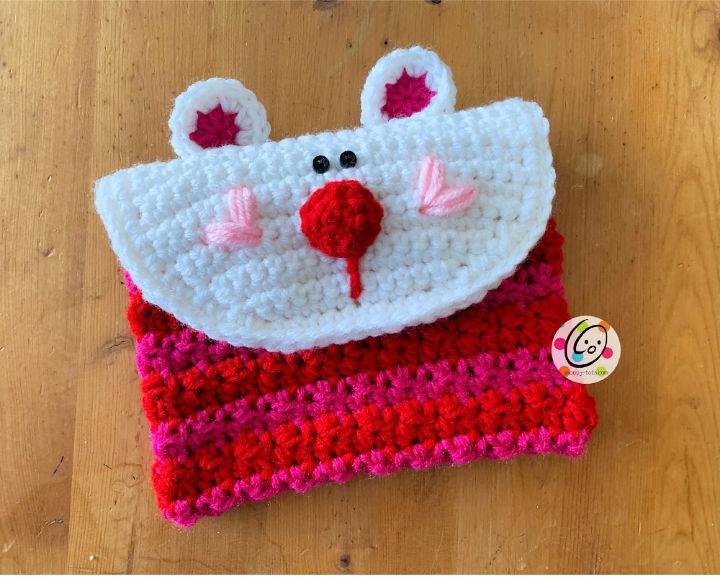 From dollar bills to makeup to keys, this small crochet bag will make an ideal choice to hold all. Crochet Red Heart Super Saver Solids Aran Weight yarn with 5mm hook to stitch this fantastic beary sweet pouch or clutch. The gauge is not necessary for this small bag, and the finished size of this bag is 7" x 6". This cute animal inspired bag looks double cute in the white, pink, and red yarn colors and is a breeze to crochet. Work in the basic yarn stitches to hook up this small yarn bag. Details here snappytots
8. How to Crochet a Fish Pouch Bag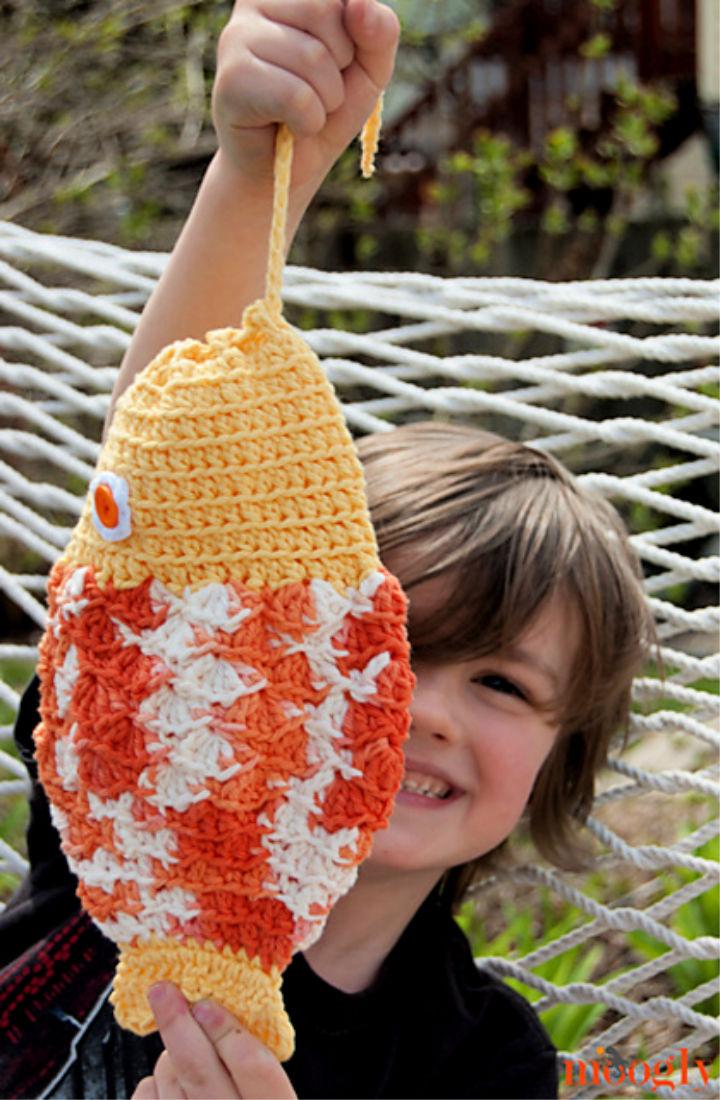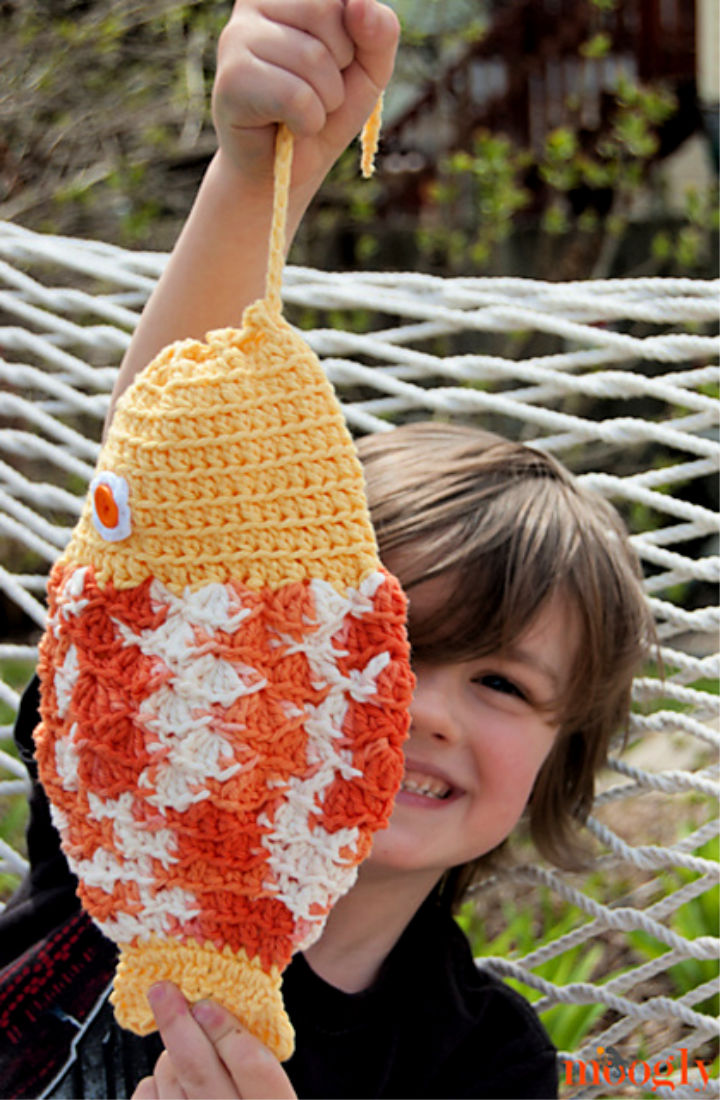 The better gift for the kids, the fish-shaped pouch, will encourage your kids to store and collect the items nicely. It will make a fun cuddle toy too for them. Grab the 4mm hook and crochet worsted weight yarn in 3 colors of choice to complete this crochet fish pouch. It features a 2 small button closure and comes with an impressive design texture. Moreover, it gains attention from the drawstring closure too. One of the best yarn pouches ever crocheted. Details here mooglyblog
9. Crochet Mushroom Pouch – Crochet Pattern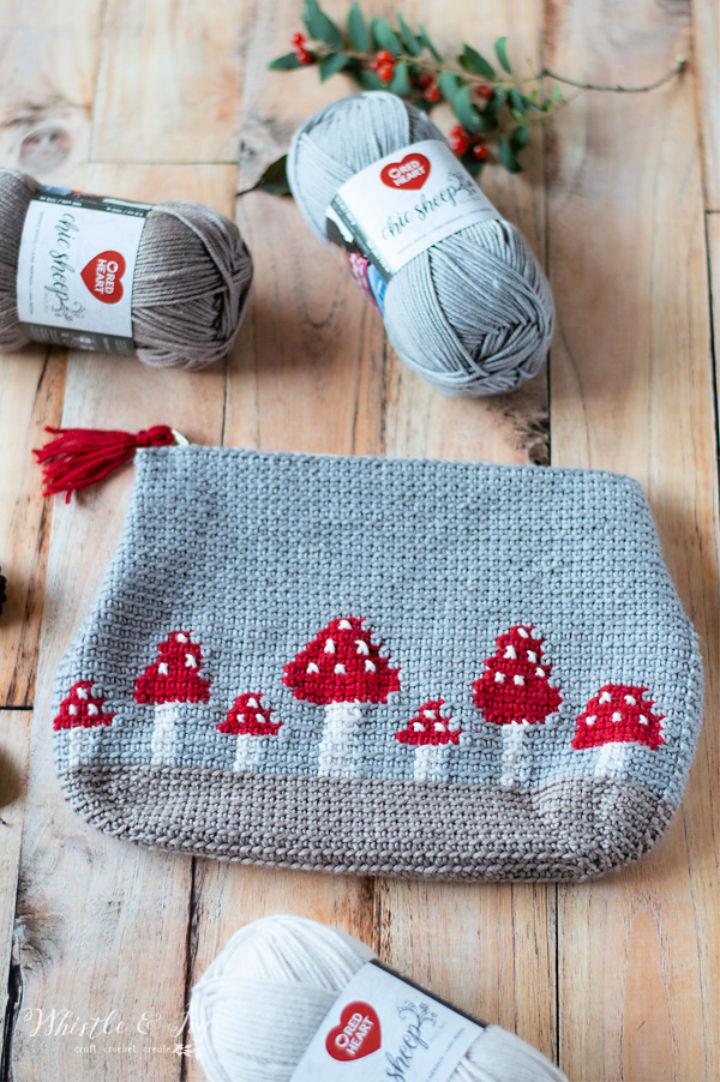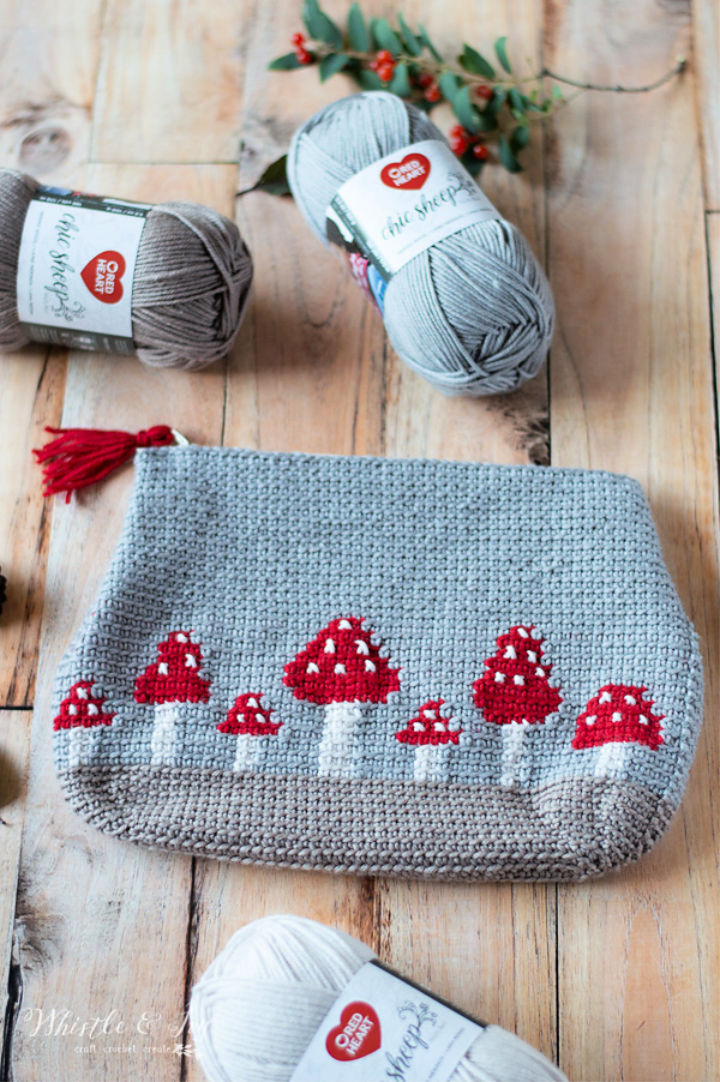 Intending to crochet something quick, worthy, and impressive? Then do put together this durable yarn pouch featuring the amazing mushroom motif and art incorporated. Crochet medium weight chic sheep yarn with a 5mm hook to throw together this outstanding design of yarn pouch. Finish it up with a 9" zipper for a really nice opening and closing. The special stitch to use in this pattern is back loops only (BLO), and the gauge for this pattern is 19sc in 4". You can incorporate any special art and motif in this pouch. Details here whistleandivy
10. Crochet Drawstring Pouch Pattern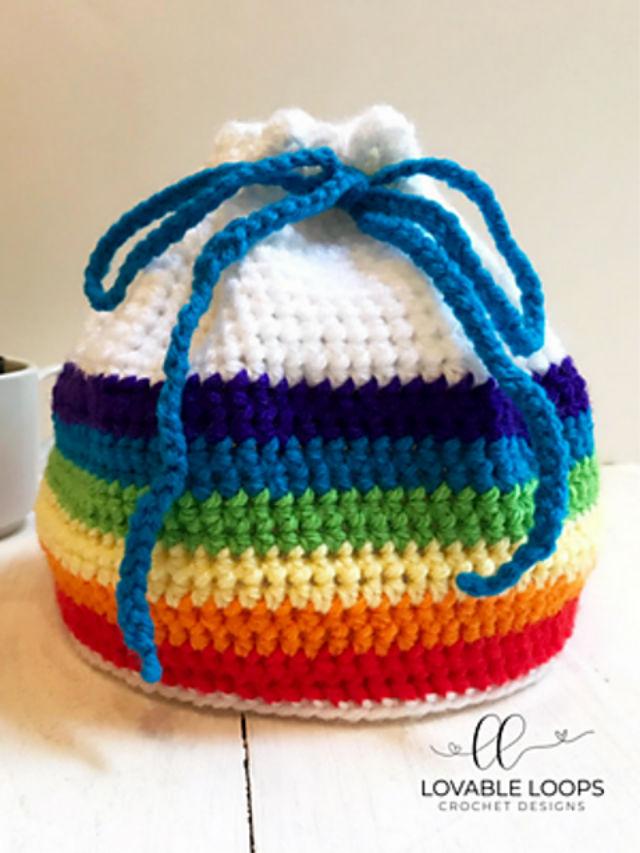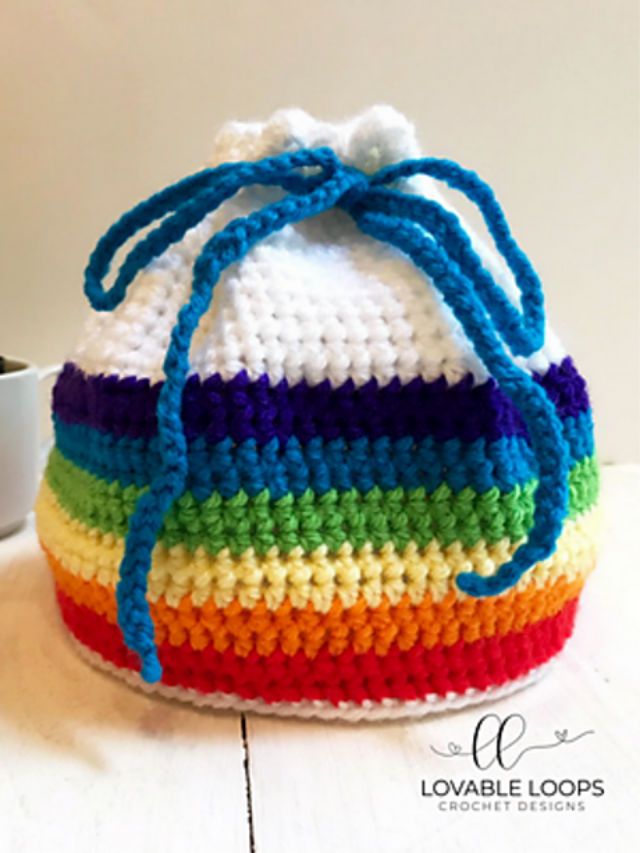 Bring rainbows to your home while getting a soft and cozy crochet pouch for the smart storage of your important items. This rainbow pouch comes with a fast drawstring closure ad is to make with worsted weight yarn selected in the rainbow colors. The 5mm hook will rock to crochet a 7" tall and 9" wide size of this crochet pouch. The finished diameter of this pouch is 6.5". Start the project by making a magic ring and then work in rounds and crochet a big circular base. Raise up the edges to complete this pouch. Details here lovableloops
11. Crochet AirPods Pouch – Free Crochet Pattern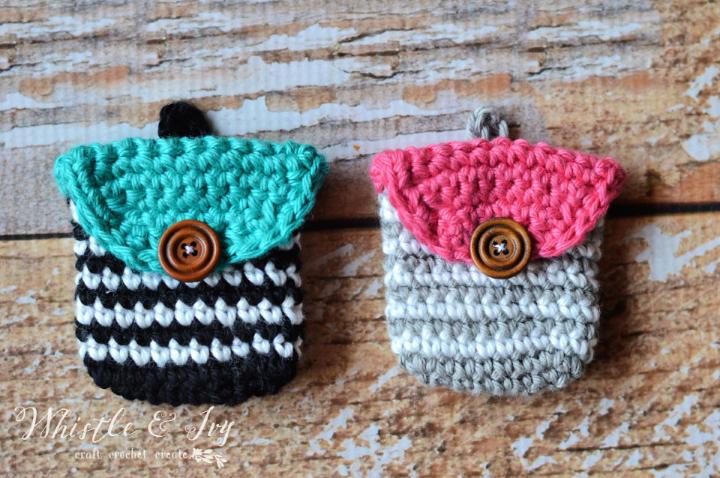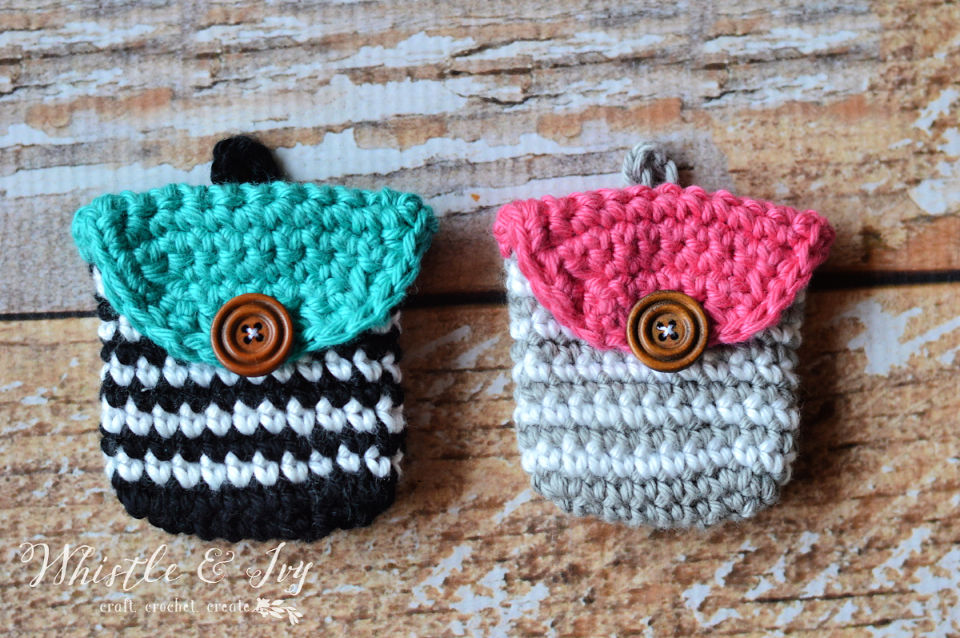 For storing coins and AirPods, this mini crochet pouch will really work great. A great project to do with scrap yarn weights, and it will rock to hold softy and safety your headphones too without making them tangled. Again crochet medium weight yarn with a 4mm hook to stitch this great looking coin pouch. You need to work in the F hook to add miniature details. The best gauge for this pouch is 8sc in 2". It comes with a cute flat that folds over the pouch and closes with a button. Details here whistleandivy
12. Crochet Wallet Pattern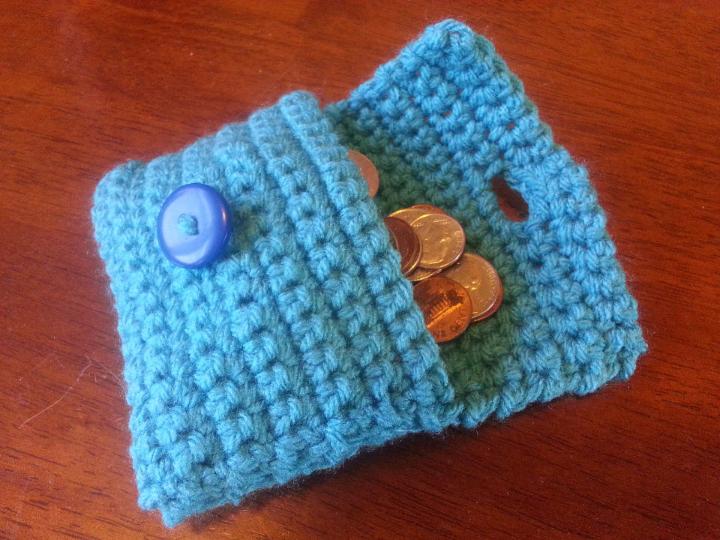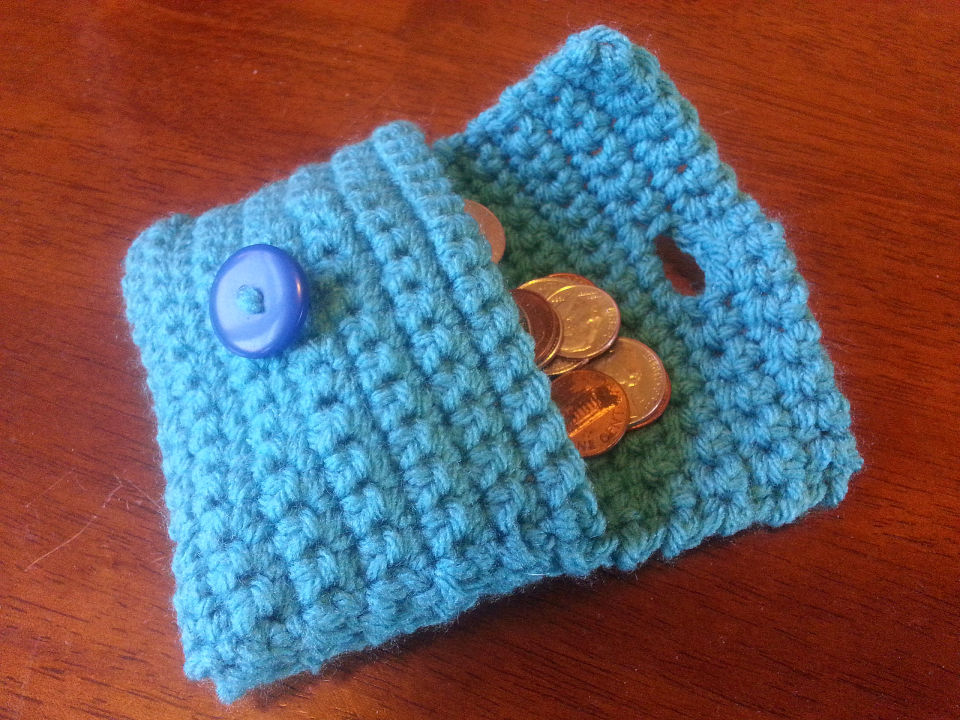 The coins are often to be lost when stored randomly in the bigger bags or in pockets. So, crochet a special wallet for the coins that will nicely hold them all together. Crochet the blue worsted weigh ty arn scrap again with a 4mm crochet hook to stitch this crochet wallet. It comes with button closure and has a nice folding cover flap. Crochet it in one or more colors, and you can finish it up with a zipper too for a more secured type of coin storage ever. Details here ravelry
13. Crochet Mini Tampon Wallet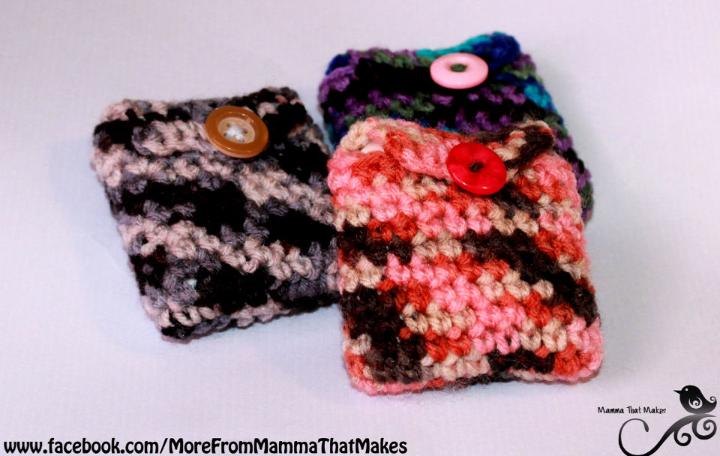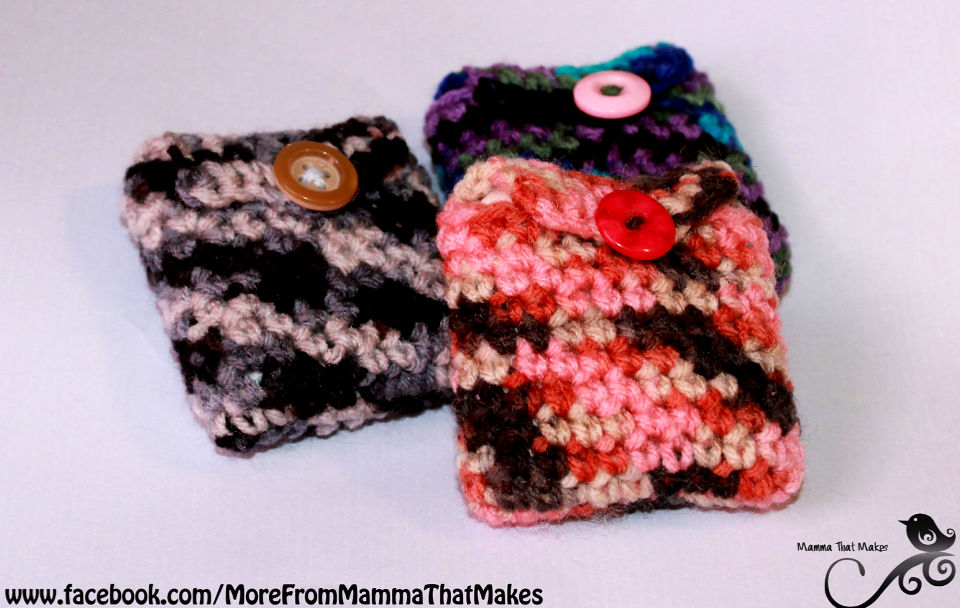 These pouches are cuddly soft and win the heart with their extremely colorful and enchanting appearances. These handsome, brightly colored wallets are the best to get out of your scrap yarn that you are going to waste. Crochet DK weight 8ply yarn with a 3mm crochet hook to whip up these beauteous designs of yarn baggies. Finish with a button closure. These pouches will rock to hold the small items like earplugs and other items of this kind. These mini pouches will take that too long to be in your hands. Details here mammathatmakes
14. Crochet Sea Glass Sunglasses Pouch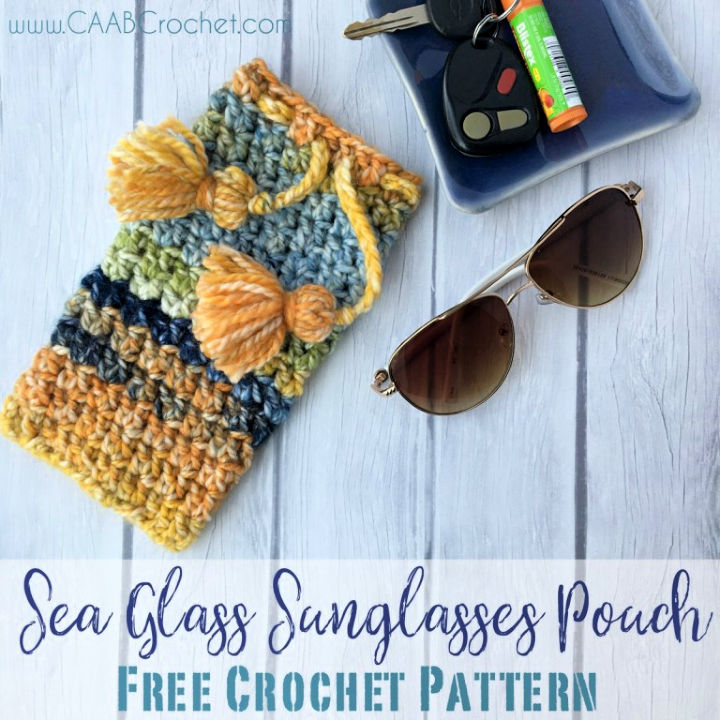 Do you want not to get your sunglasses dirty? Then do make them safe from dirty and scratches using this sunglass pouch. Crochet Red Heart Hopscotch in Scooter size 4 yarn with a 5.5mm crochet hook to get this sunglass pouch made. The finally finished size of it is 4" wide and 7 ¾" tall. This cute is sure to make a pleasing gift for a friend who needs to store his mini treasures nicely. The best gauge for this pouch is 14dc x 8 rows make 4" x 4" of this pouch. A beginner-friendly crochet sunglass pouch pattern. Details here caabcrochet
15. The Bubblegum Pop Pouch Crochet Pattern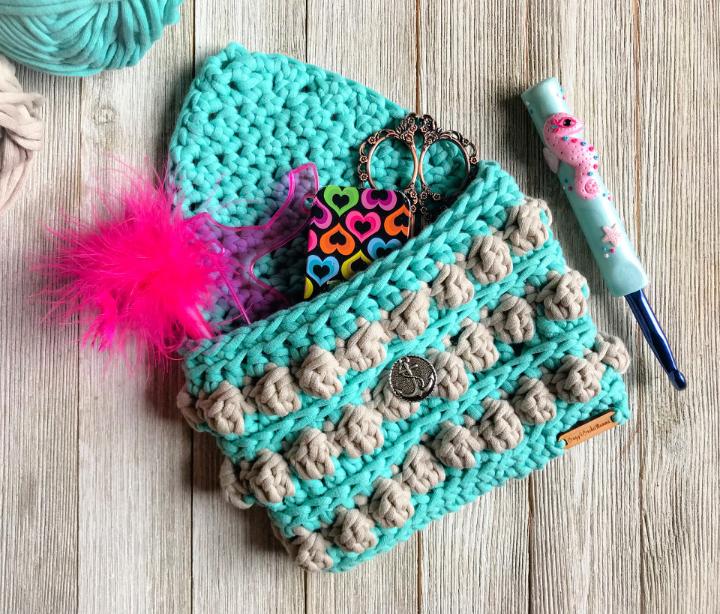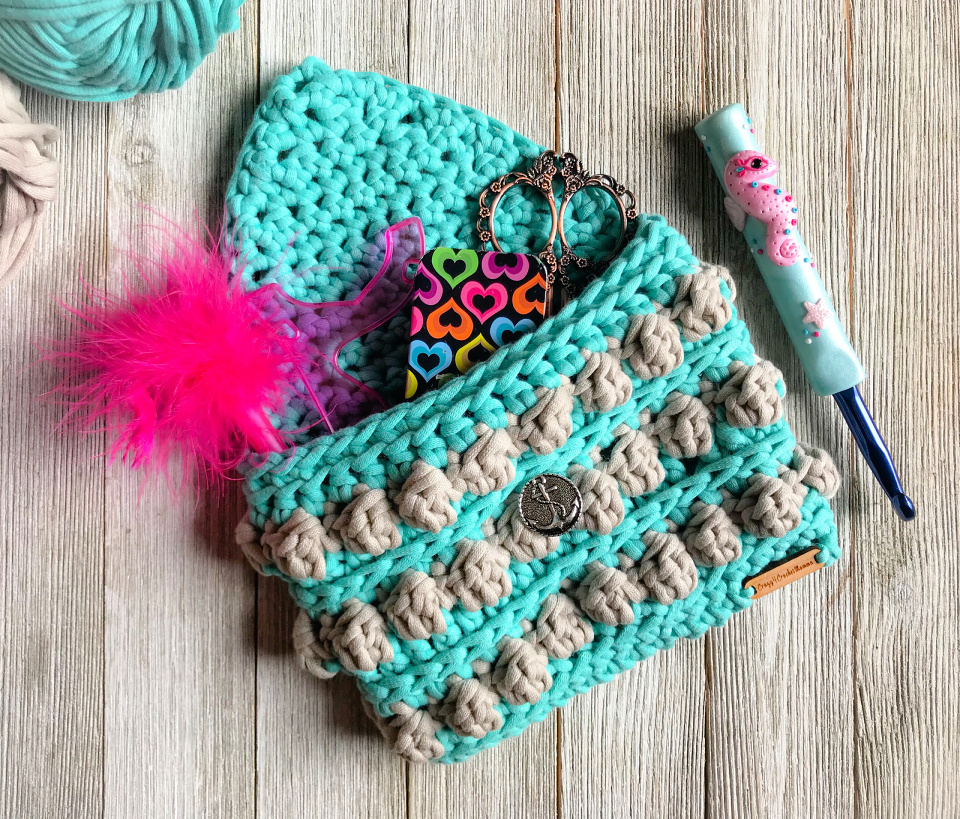 Crochet Bernat Maker Home Dec and Bernat Maker Fashion Fashion yarn with bulky weight 7 to whip up this bubblegum pop-pouch crochet pattern. Crochet 50-100 ds of this yarn with an 8mm crochet hook to complete this enchanting pouch. This 7" long and 5" tall pouch also impresses with its incredibly beautiful yarn hue. The puffy design texture is a pleasure to glide your hands onto. This pouch comes in clay and turquoise hue and will be loved dearly by all the style lovers. Details here ravelry
16. Bow Crochet iPad Pouch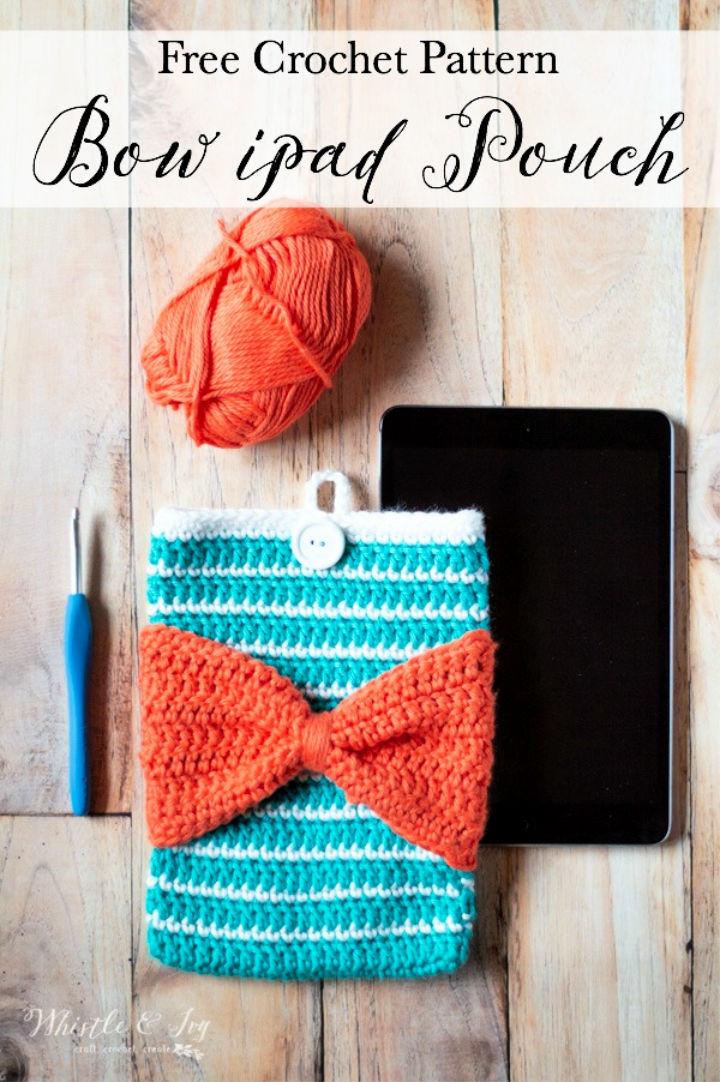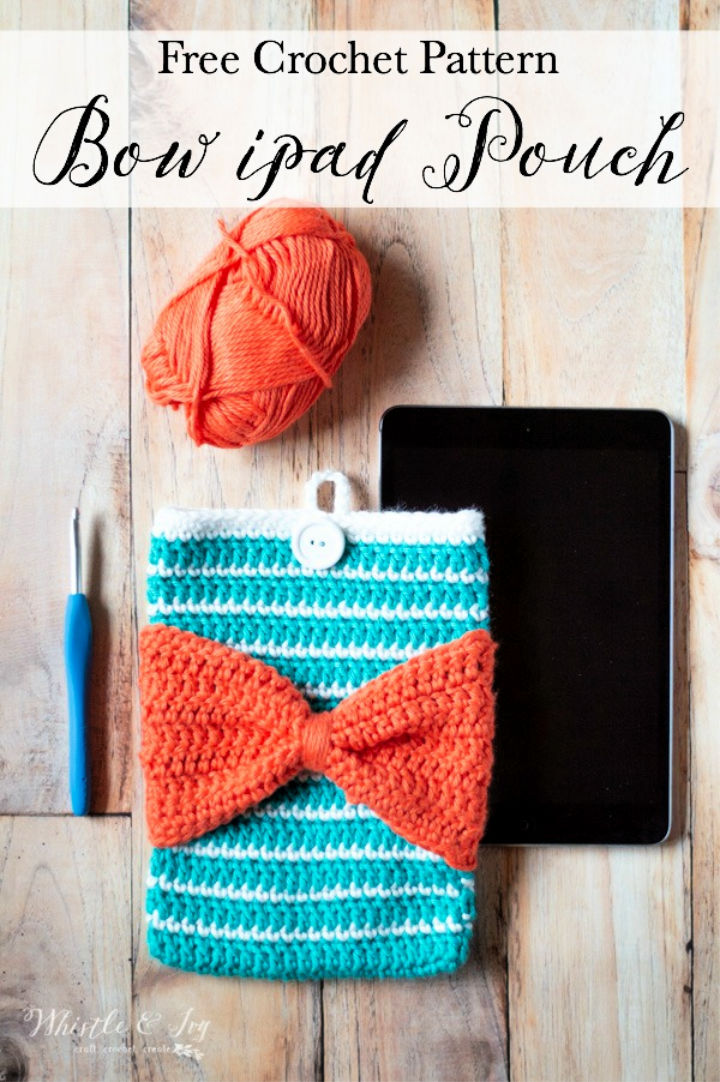 Spice up the way of keeping the iPod by whipping up this gorgeous pouch, looking amazing graceful with the bow style. Crochet the medium cotton yarn knit picks shine worsted yarn in the reef, white and grapefruit to work up this crochet iPad pouch, can be crocheted for any mobile phone too. Finish this pouch with 1" button so it will close well for dust-free storage of your phone. Here you need an H hook size to whip up this enchanting yarn pouch, will be loved dearly by all. The bow brings a big wow factor to this entire crochet pouch design. Details here whistleandivy
17. The Happy Daisy Crochet Glasses Pouch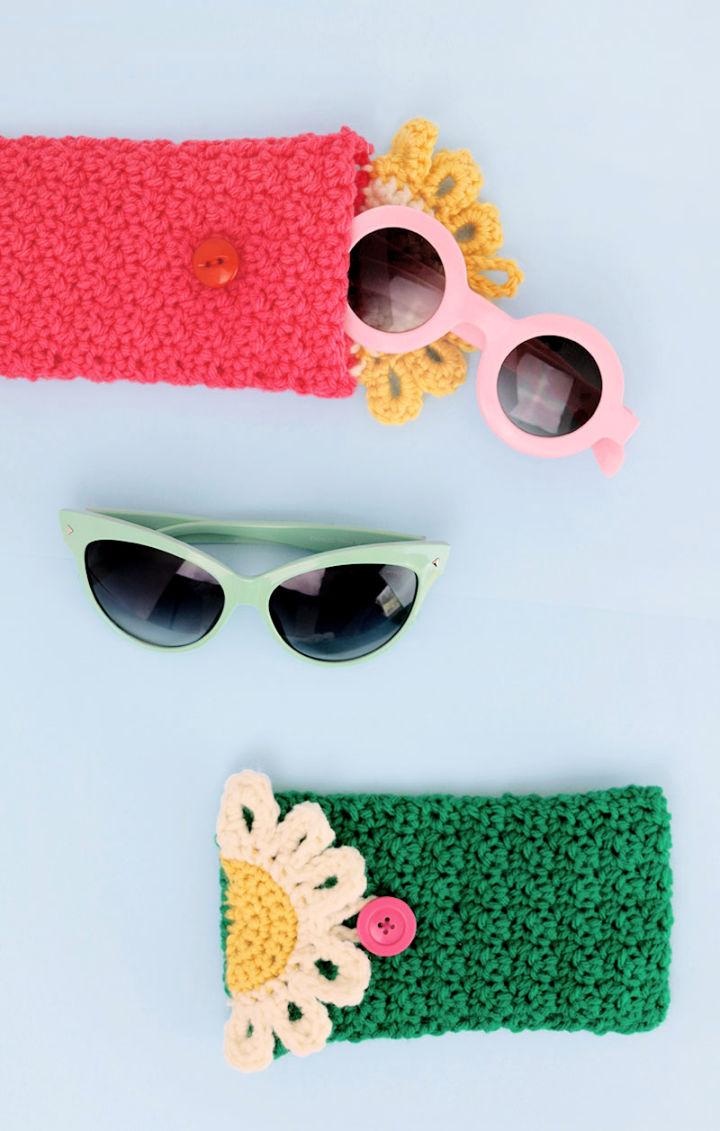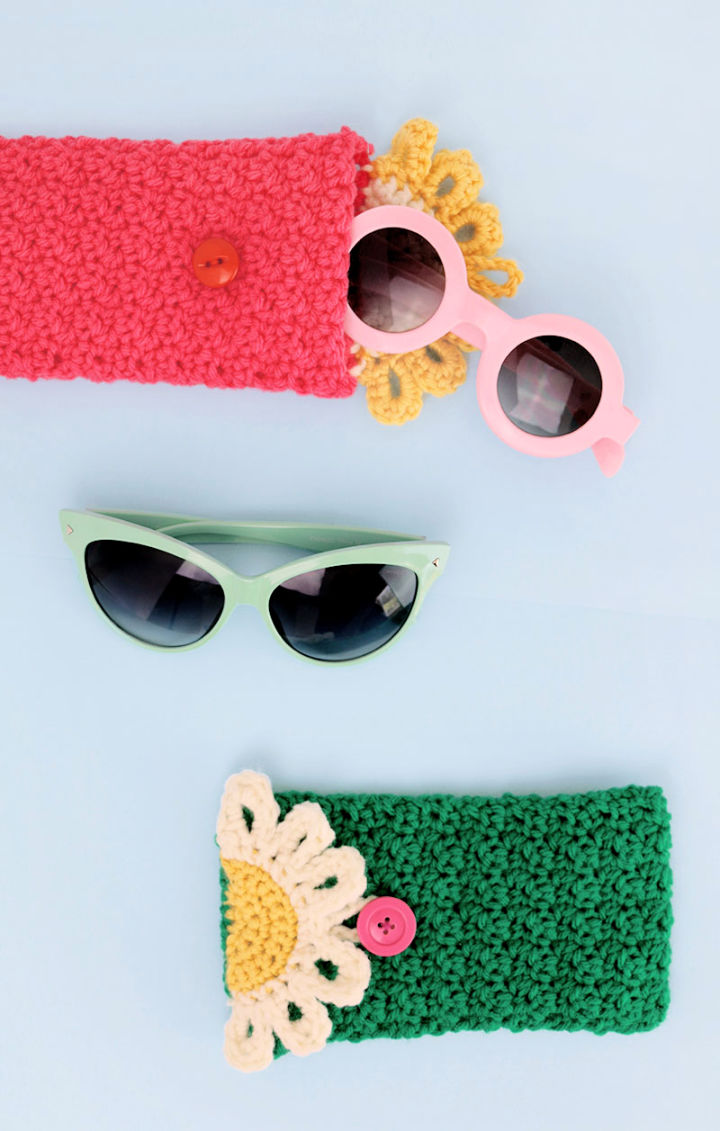 Extend the scratch-free life of your phones and glasses with this enchanting crochet glasses pouch. The pouch comes decorated with a half daisy motif and will be loved dearly by all. This Happy Daisy pouch also comes with button closure and will make an epic handmade present to a style loving lady. Crochet worsted weight 4 yarn in green, rose, and white color with 5mm crochet hook to put together this brilliant yarn pouch. Finish this pouch with ¾" buttons and adorn with custom accents. Details here persialou
18. Crochet Speedy Button Pouch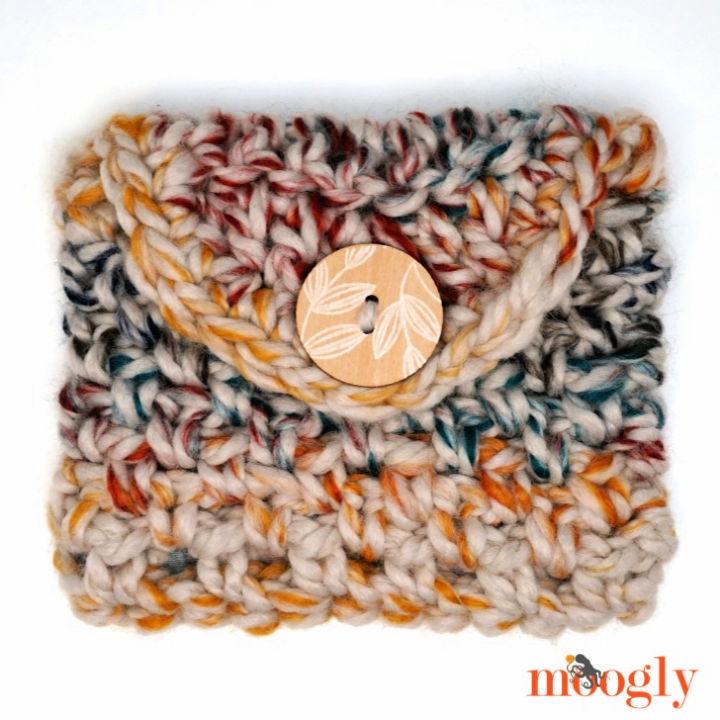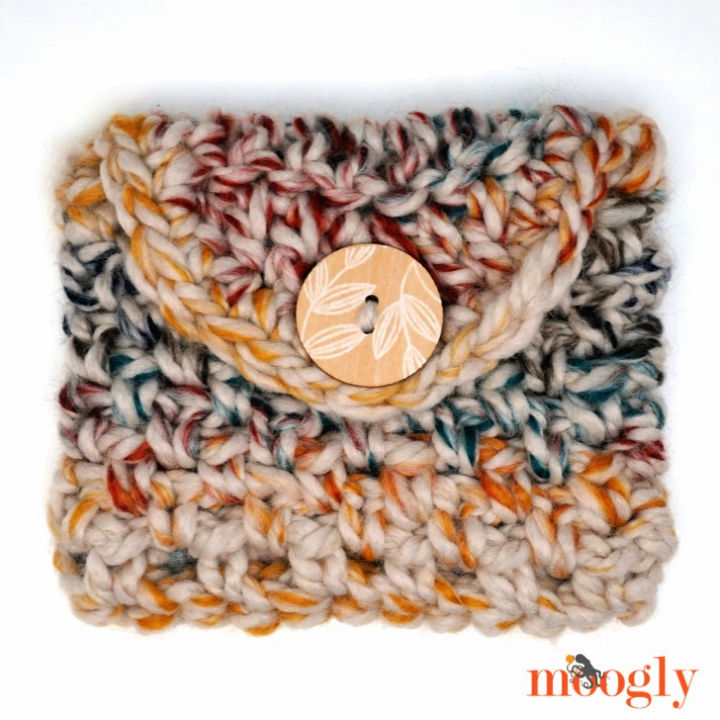 This crochet pouch is chunky and is cuddly soft to keep your inside stored items scratch-free. Grab the Lion Brand Wool-Ease Thick & Quick super bulky weight 6 yarn to get this super cozy button pouch made. Hook up the 106yds of this yarn in colorway Hudson Bay with a 9mm hook and finish with 1 ⅝" button to for a great closure. Use the Cricut maker and fabric for lining use the special moss stitch and dc2tog and also sc2tog to complete this speedy button pouch. It is 6" wide and 5" tall. The perfect gauge for this pattern is, 9 sts and 10 rows make 4". Details here mooglyblog
19. Crochet Zipper Pouch Pattern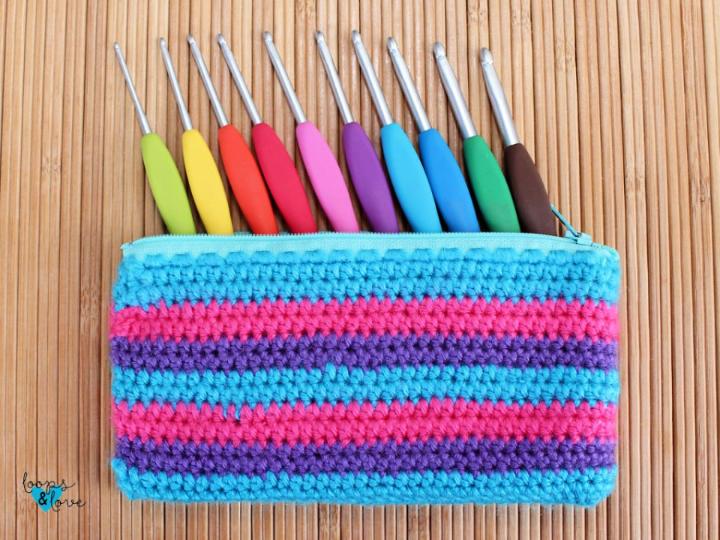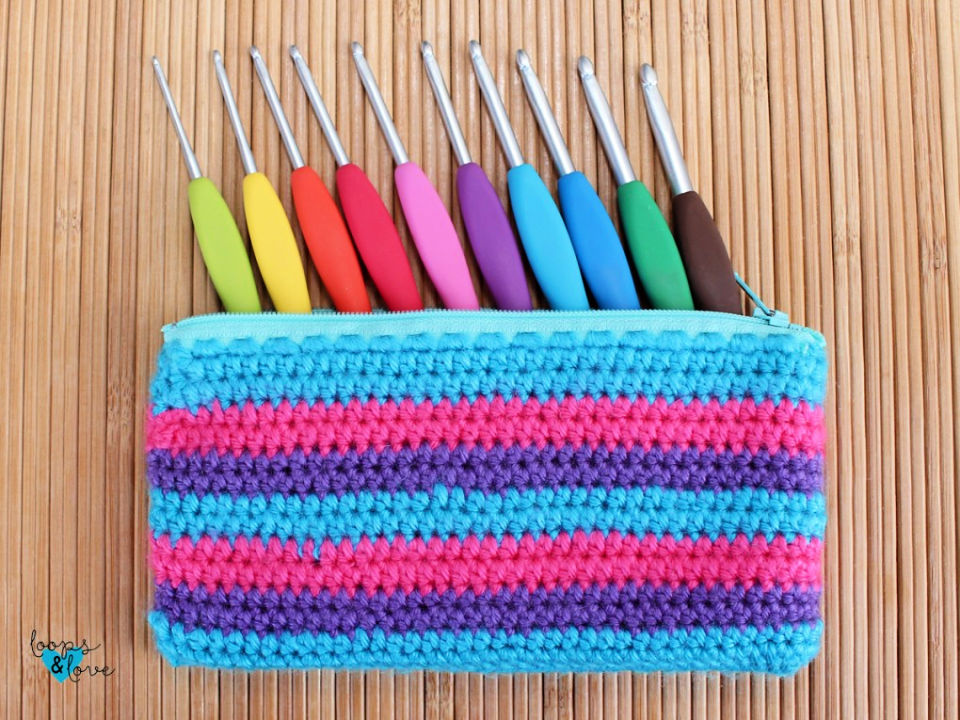 Store your glasses, ear-plugs, coins, and other items of this kind in this crochet zipper pouch will impress with the zig-zag design pattern that brings uniqueness to it too. Crochet worsted weight yarn in colors of choice like minty, lilac, and off white colors to get this flawless bag made. Work with the 3.5mm hook to stitch this pouch that comes with 7" long zipper. Experiment this pouch with your own favorite yarn colors and design pattern, and it will never go out of style. The crochet gift idea to impress your friends. Details here loopsandlovecr
20. Easy Crochet Pouch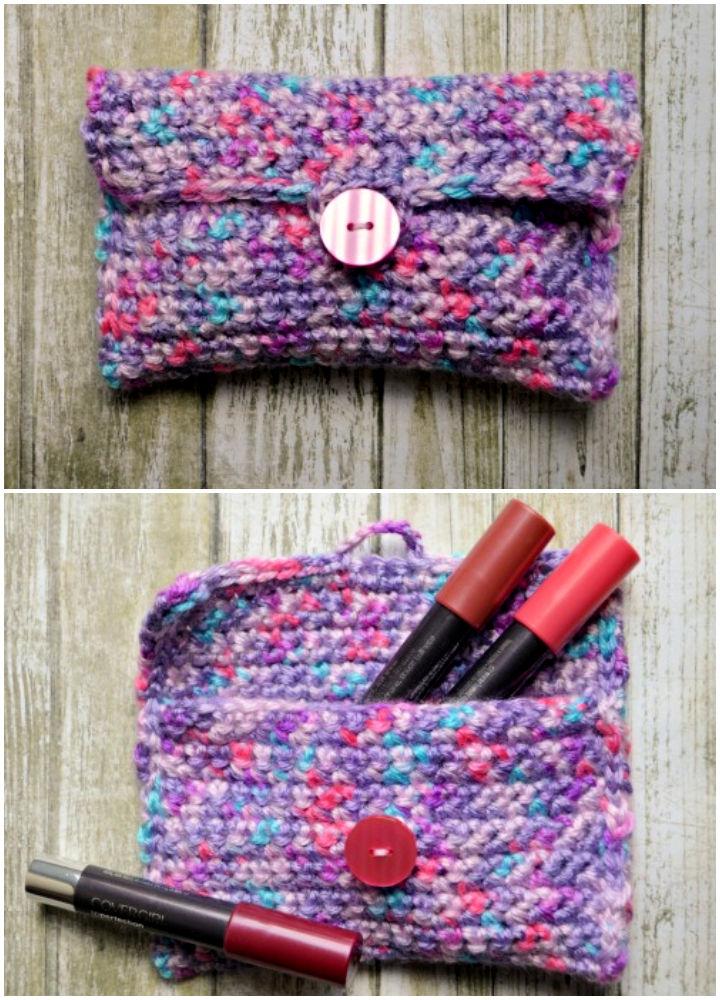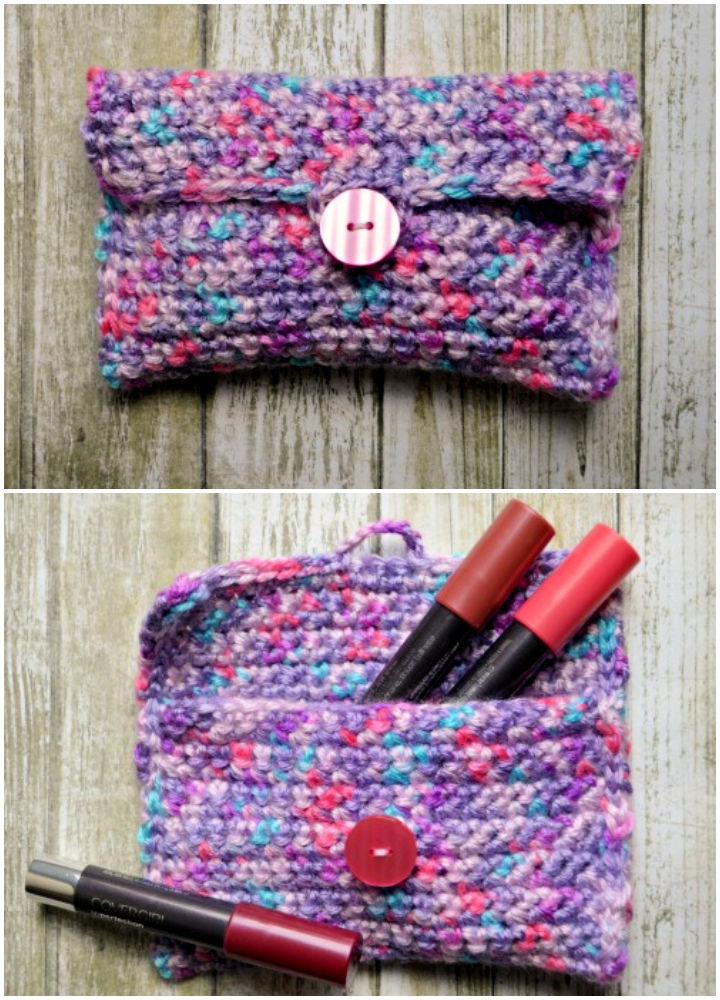 Look at this another flawless crochet pouch that is graceful and is just looking lovely with button closure. It comes with a nice flap that folds over the pouch and will be loved dearly by all if given as a gift. Crochet yarn in any color using a matching crochet hook, and finish it up with the large button for a nice close-up. This pouch will rock for holding your pencils, glasses, and even the custom electric gadgets. The best crochet scrap yarn project that everyone can crochet with great ease. skiptomylou
Crochet Handbag: Looking for easy crochet handbag inspiration ? This collection of free crochet handbag patterns will really inspiration you a lot.
Conclusion:
While crocheting some bigger yarn patterns like a dress, sweater, blanket, and afghan patterns. We often left with chunks of yarn in lots of different colors. If you don't dare to waste time to reuse it. Do small crochet patterns with that leftover yarn, and these Crochet Pouch patterns will be best to try out with those bits and pieces of yarn. Moreover, these little yarn baggies will assist your expensive items like earphones, phones, glasses, and other items of this kind, with care, and will not let them get dirty. Furthermore, these free patterns will surely spice up your crochet gift game too. They can be great for the last 15-minute gift ideas and will surely please your friends and family member too.