Do you like to take care of your phones? If yes, then these 25 free crochet phone case patterns are perfect for you. Little things like phone cases can say a lot about your personality- for example, a pink pattern will indicate femininity while a rainbow pattern will indicate adaptability. If you want to let people know about you just by looking at your stuff, then making a phone cover is perfect. You can customize a crochet phone case according to your likings. It can be plain or colorful, with flowers or rainbows- anything that you like! You may want to add straps to the crochet case so you can attach it to your handbag.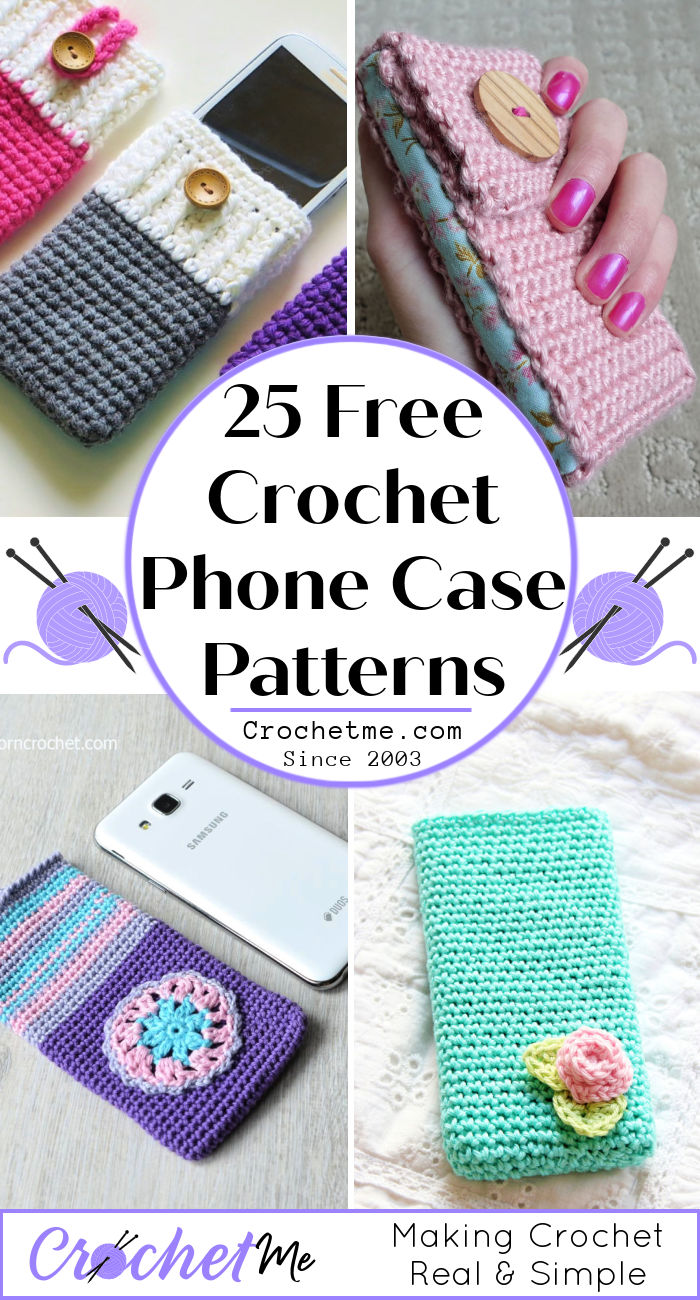 A phone case will help you protect your phone from any possible cracked screens. The bulky and good quality yarn will wrap around your phone to keep it safe and secure. You can gift crocheted cell phone case to your friends and change it up a little depending on their personalities. They will love a personal gift, as it will be handmade! This article will cover a range of crochet iPhone cases pattern, from rainbow patterns to flower patterns, from vintage patterns to very feminine ones, from midnight rainbow detailing to design with straps! There's a lot of crochet phone case pattern to choose from. After all, who doesn't like to have a few choices?
1. Crochet Rainbow Cellphone Case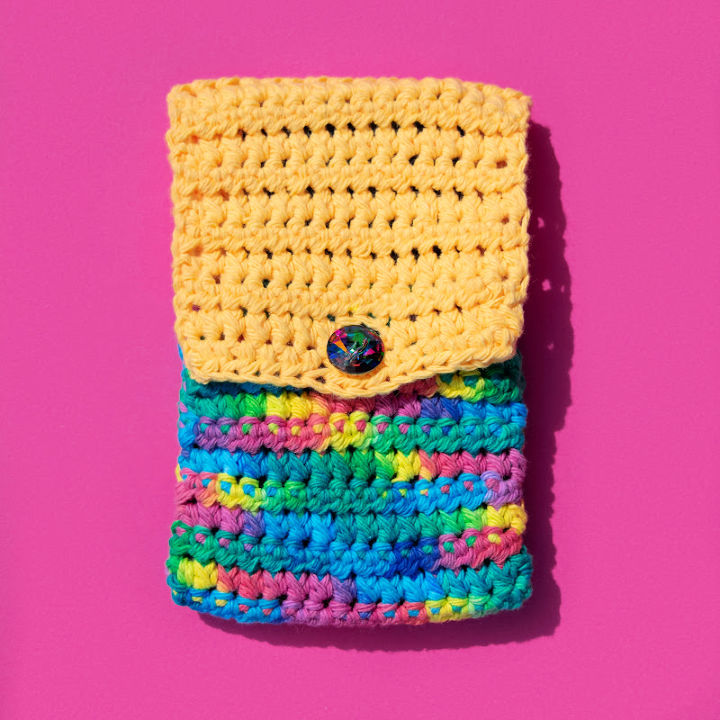 Here's a rainbow-inspired phone case pattern. It has so many colors all merged in one and makes the outcome look so beautiful! There's also a super feminine and girly pattern in this guide, which is all pink. You can go for any of these crochet cell phone cases. The main stitch being focused on here is the half double crochet, which is a very basic stitch, so any beginner will be able to do this! Isn't that just perfect? So easy and fun! sunflowercottage
Crochet Hook: 4mm crochet hook
Yarn Weight: Caron Cotton Cake- #4 worsted weight yarn/ any leftovers
Read crochet pattern: Do you know how to understand the pattern and stitches? Learn how to read crochet patterns easily with our step by step guide.
2. Crochet Granny Square Cell Phone Case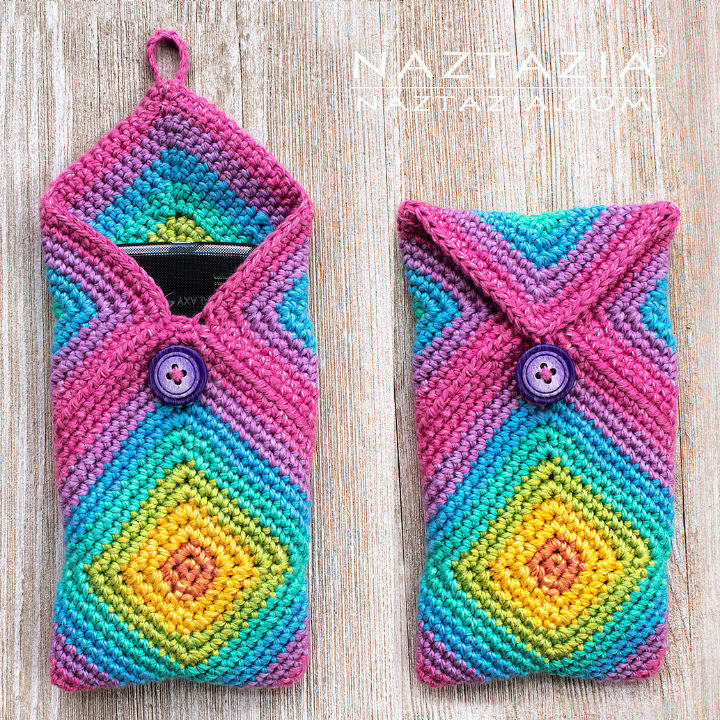 Chromatic phone cases cover! They look just as cool as they sound. All you need to do is to crochet two granny squares, fold them in half and attach them together. You can attach them by sewing. All you need to know is how to single crochet, crochet in the round, and a chain! You should also know how to sew both pieces together. The yarn being used should be divided by color, and a different color should be used after every 2 stitches. naztazia
3. Crochet iPhone Cases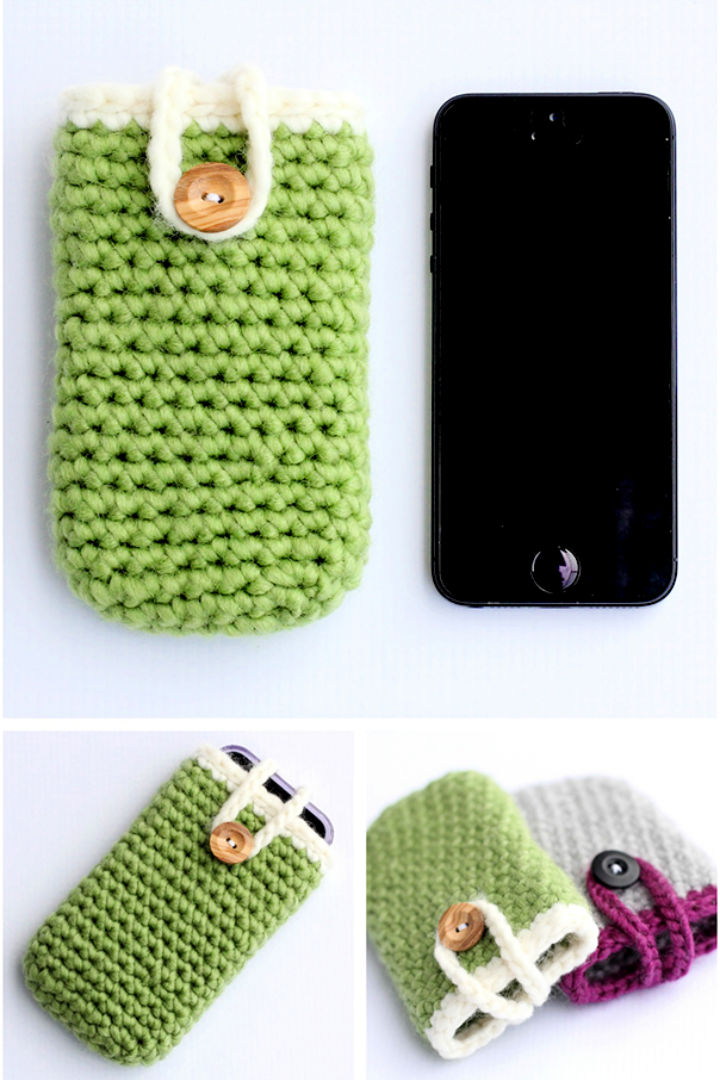 This is a straightforward and quick pattern, compared to all other free crochet phone case patterns, mentioned in this article. It has a fluffy and soft feel to it, and overall the pattern is just bulkier. This is because of the good quality yarn and a bigger crochet hook. Any beginner can even complete this pattern in under an hour. The color combinations featured are just stunning- white and green, violet, and purple! dabblesandbabbles
Crochet Hook: 5.5mm
Yarn Weight: Bernat Roving Yarn- size 5 bulky yarn (35 yards-2 colors)
4. Crochet Cell Phone Case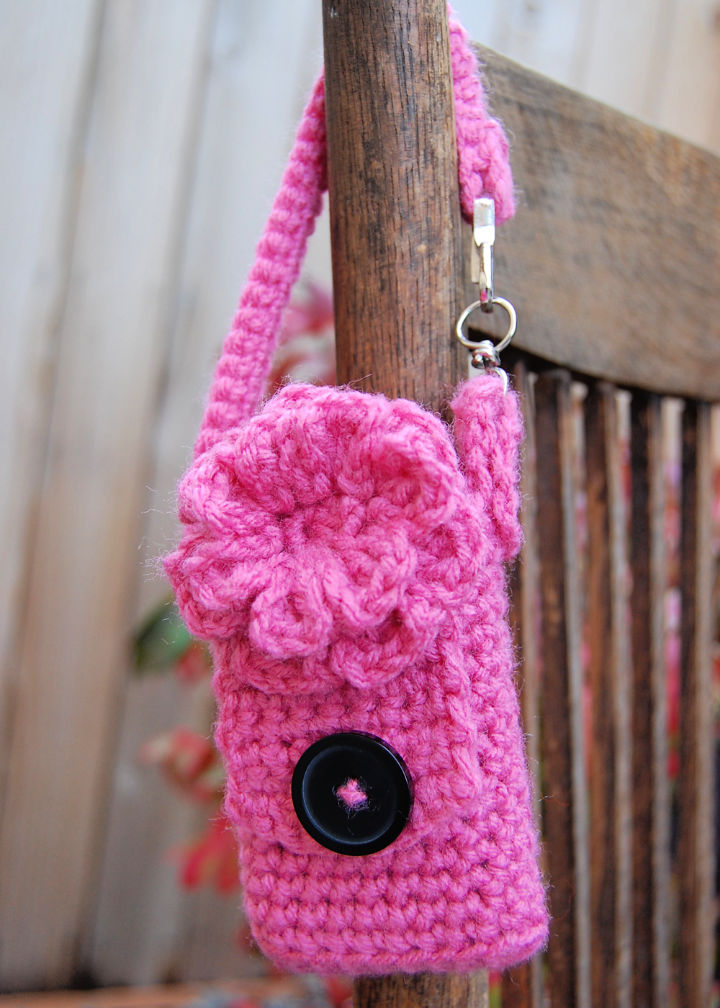 Isn't this just adorable? This little bag will keep your phone safe at all times! The yarn used is very bulky to enable you to do so. You can first work on the actual base of this project and then put on the flap. After this, you can add the straps, and you're done! The best part about this hone case is that it can be attached to your handbag! This will help to keep it even more secure and won't give you the hassle of carrying it around in your hand. thecraftycottage
Crochet Hook: G-6 / 4.25mm
Yarn Weight: Worsted Weight Yarn, #4 – Red Heart Acrylic
5. Crochet Phone Case Pattern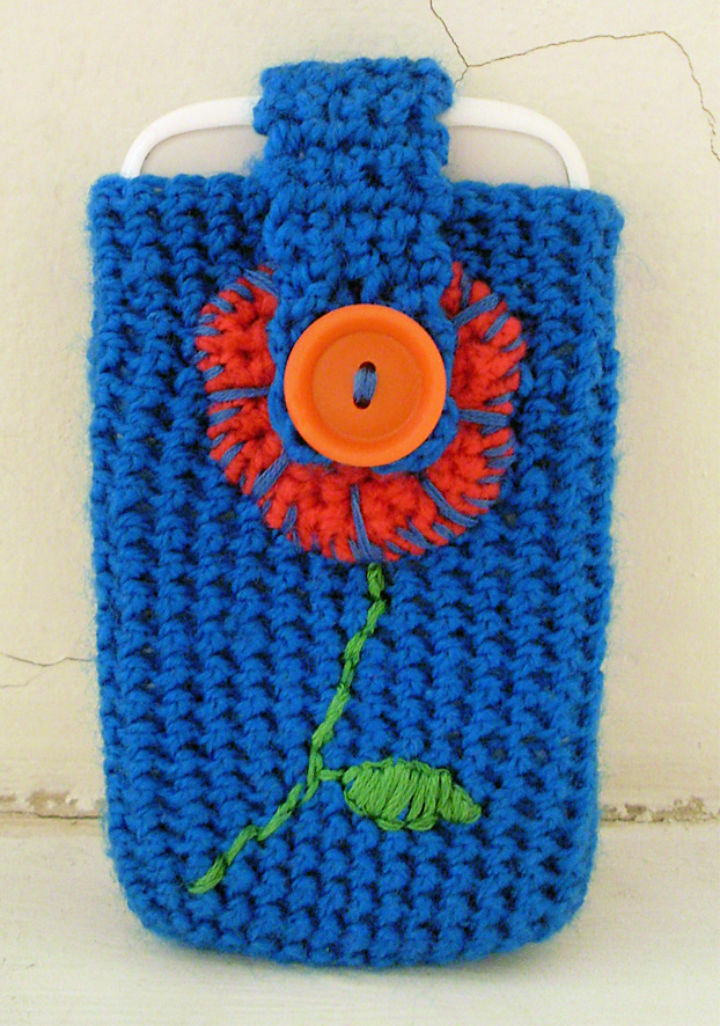 Adding flowers to your phone covers can say a lot about your personality- that you are soft and delicate and get happy about the little things in life. You can make this adorable cover by following this guide. The sizing is not important as you will be making this according to your phone size. This is a great way to practice Amigurumi and make something out of it at the same time! After all, who likes to practice without making something useful out of it? neschof
6. Crochet Phone Case – Free Pattern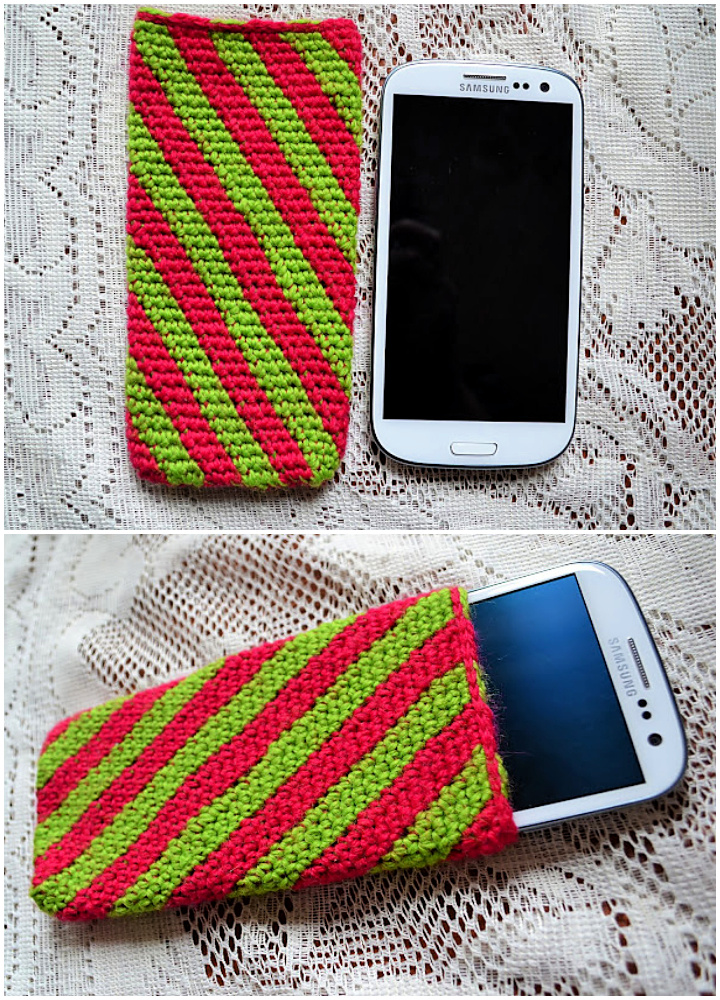 A super cute and adorable pattern is mentioned in this guide. It will protect your gadgets from possible screen cracks and what not! It will also be a great way to show off your personality- this pattern gives off a bubbly and happy vibe. You can always switch up the colors depending on what you like. For example, a white and red case would be perfect for Christmas time! It's straightforward and easy to complete. The outcome is just stunning! omlair
Crochet Hook: 4mm hook
Yarn Weight: DK Acrylic
7. How to Crochet a Phone Case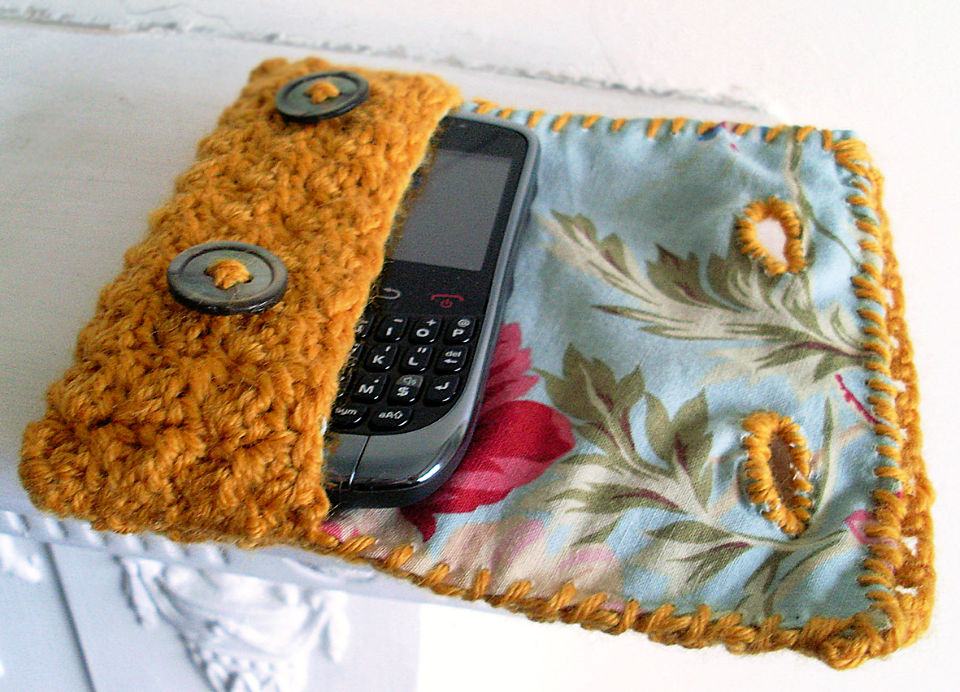 Do you love old school and vintage things? If yes, then you're going to enjoy this pretty pattern a lot! It is so pretty and unique. The color combination, along with the stitch, just makes it look like it was made in the 1970s! The two buttons attached on top are also very vintage looking which matches perfectly with the vibe! A vintage vibe can say a lot about your personality, as well, which is just perfect! The sizing depends on your phone. neschof
8. Crochet Wallet Cellphone Case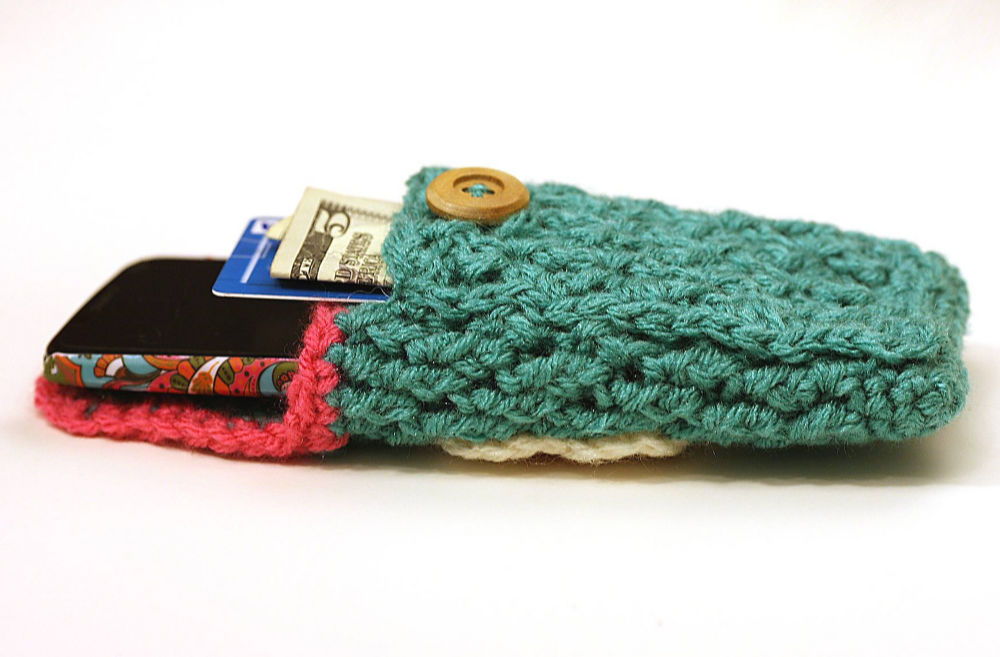 It can be a struggle to carry your phone in one hand and your wallet in the other. If you carry a purse, it is very easy to be snatched to get lost. This is why it is a good idea to make this cell phone case with a secret pocket. You can keep your money and cards in there, too! The flower pattern is very feminine. Buttons, yarn, scissors, and a few other materials will be required for you to nail this project! yarnutopia
Crochet Hook: size H/ 5.00mm, size G/ 4.25mm
Yarn Weight: Red Heart Saver- medium worsted weight yarn (colors- Jade, Shocking Pink, Medium Thyme, Carrot, and Aran)
Finished Size: 4 3/2" x 2 1/2"
9. Free Crochet Cell Phone Case Pattern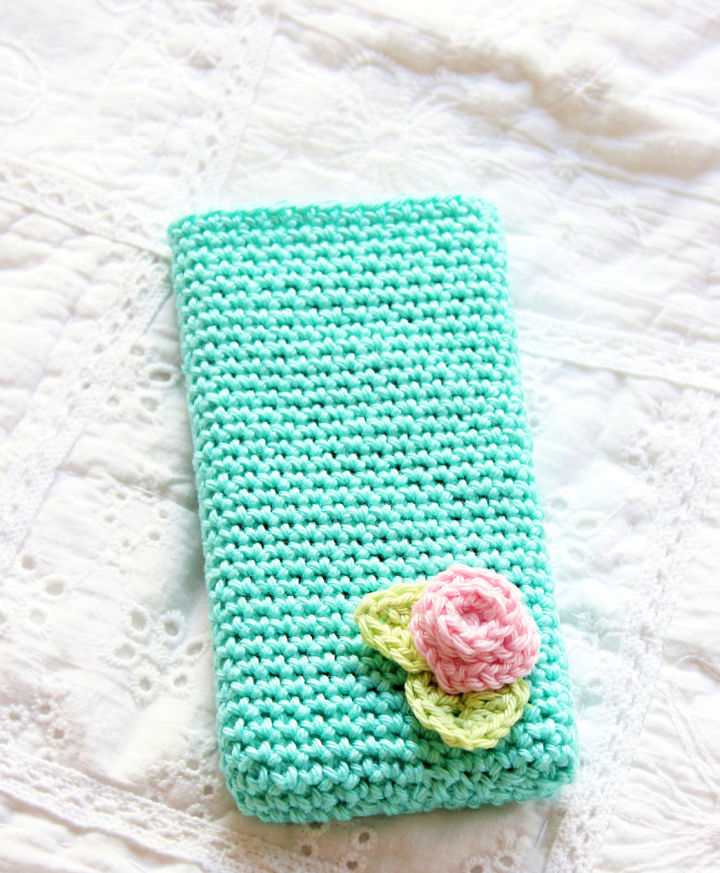 Everyone loves pretty and girly crochet iPhone cases pattern, once in a while! If you're a fan of pastel colors, you're going to adore this pattern a lot! This is because it has everything in a pastel color. From the base to the cute little rose detailing on top. This is a lot more feminine, compared to the other free crochet phone case patterns. You may also add a strap on top to make it more secure and easy to carry around. hearthandmade
Crochet Hook: 3mm/ 2.5mm
Yarn Weight: 4Ply Yarn- 15g (100% cotton)
10. Crocheted Ruffled design Cell Phone Case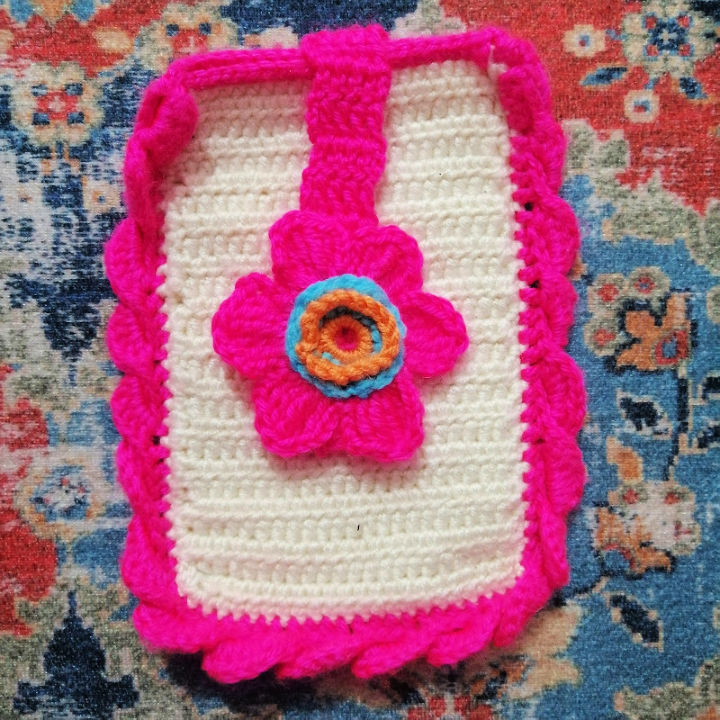 How delicate and pretty is this pattern! It's so beautiful, and anyone would love something like this. It has some ruffled design on the sides while a flower attached in the middle. The flower has a shiny bead in the center, as well. Start by working on the cover base and then do the edging. Add the flower in the center, and you're done! Yarn, one big snap, button, and a few other supplies required for you to make this project a success! berayla
Crochet Hook: 3.00mm hook
Yarn Weight: Colored yarn – cream, pink and blue
11. Crochet Midnight Rainbow Cell Phone Holder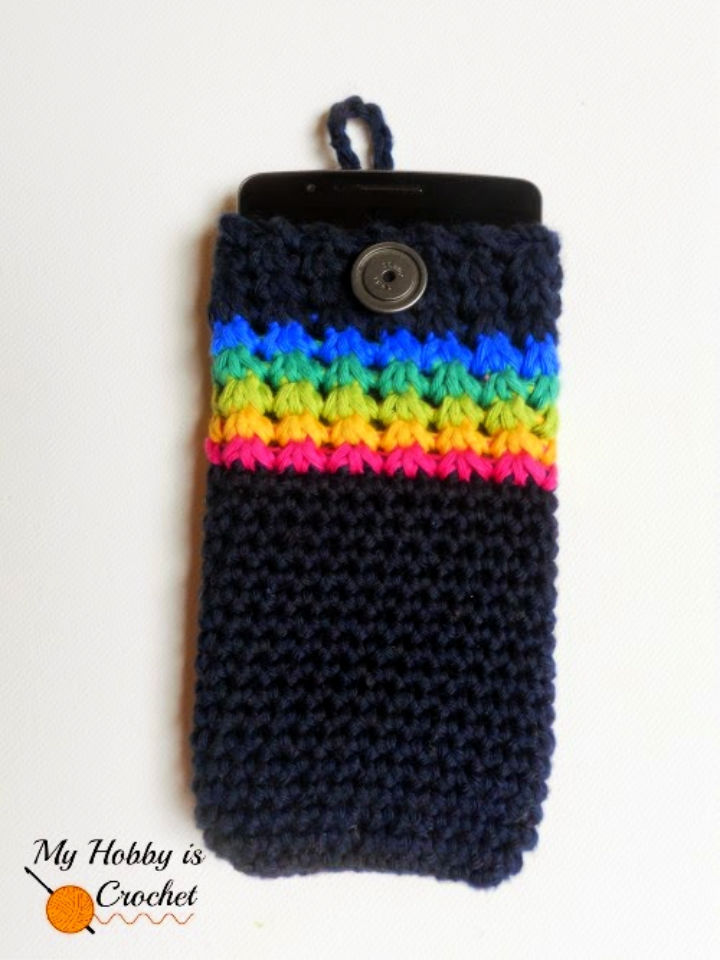 A midnight rainbow pattern. Sounds interesting? Well, then you should definitely follow this amazing guide to make it! It has a long strap so you can carry it around like a handbag. The pattern has black as the base, and then a combination of rainbow colors for the detailing! 2 trigger hook clips, 1 button, scissors, yarn needle, crochet hook, and some cotton yarn is all that is required! myhobbyiscrochet
Crochet Hook: 3.5mm hook
Yarn Weight: Schulgarn-DK weight- cotton yarn (6 colors)
12. Crochet Phone Cases Patterns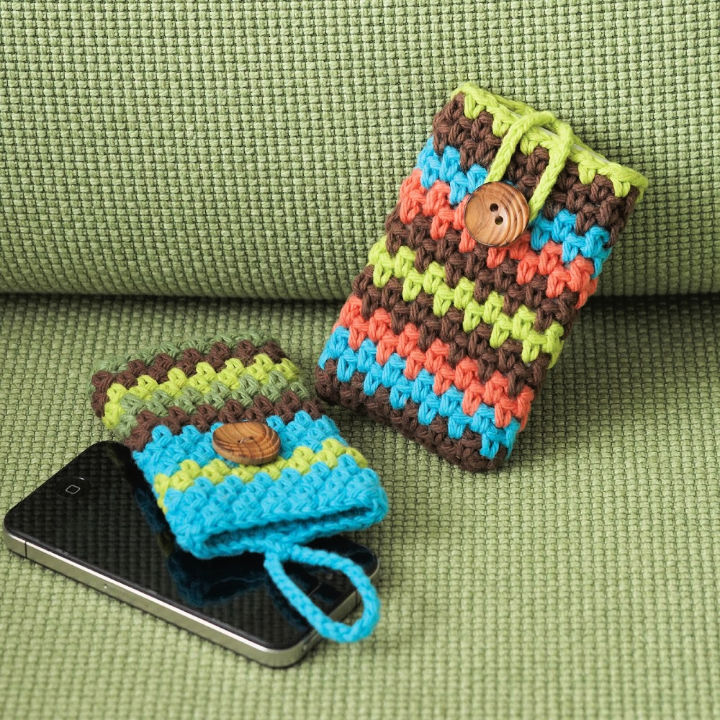 Such a cool pattern! It has so many colors and variety. The pattern is so unique and nothing like something you'd find at the market. This is how you will be different and not accidentally matching your phone case with someone. This will help you in differentiating your phone in case they are all kept together before doing any type of activity, for example, sports or any other activity of this kind. yarnspirations
Crochet Hook: 5.5mm / 3.75mm
Yarn Weight: Lily Sugar 'N Cream-The Original Yarn- HOT BLUE, TANGERINE, HOT GREEN
Finished Size: 2½" x 4½" [6 x 11.5 cm]
13. Crochet iPhone Case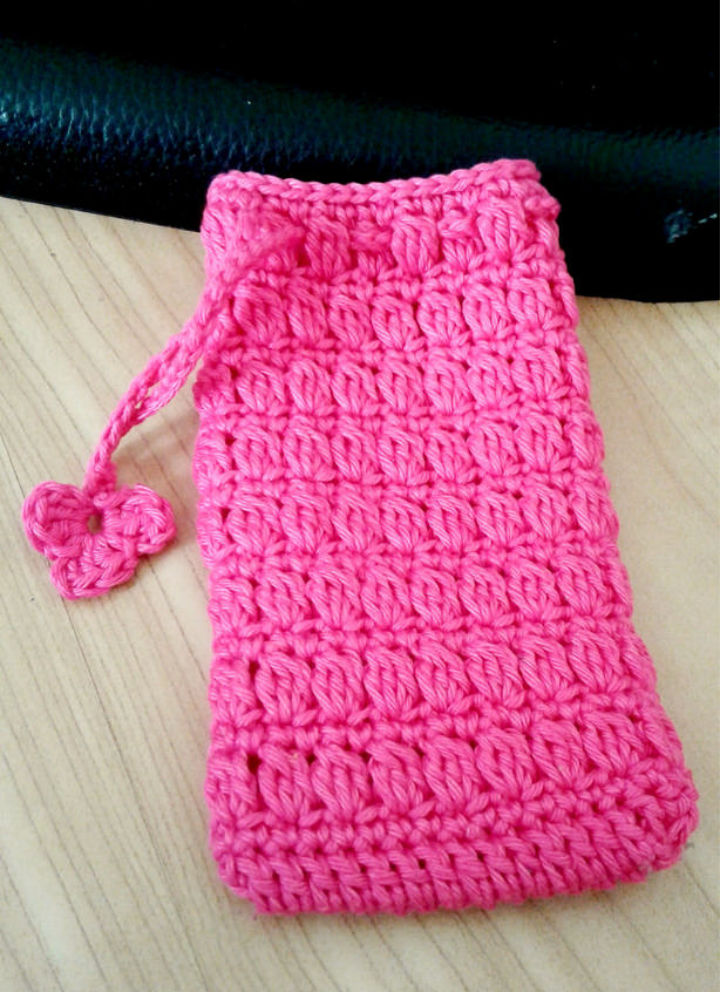 A case pattern which is very unique compared to the other crochet iPhone cases pattern. Only one colored yarn is used in this pattern, which makes it easier to follow and understand. This means that any beginner who knows some basic stitches can make this project a success. Stash thread and stainless steel crochet hook will be required for this pattern, along with some yarn. You can use any color and any type of yarn for this project! girliescrochet
14. Crochet Smartphone Case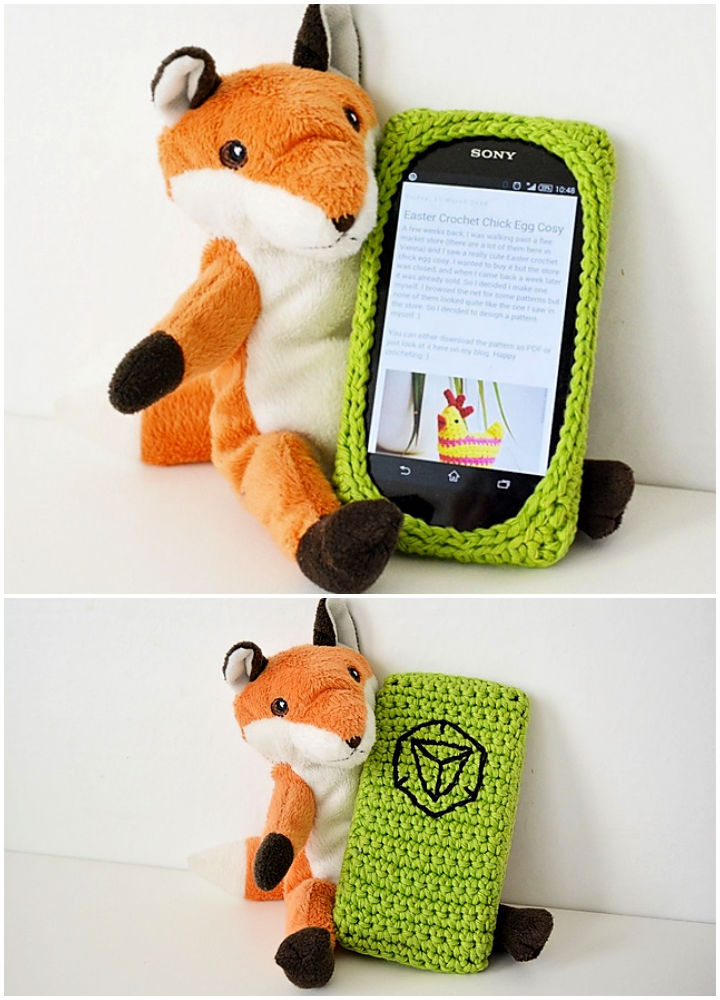 You know what will save your phone when it slips down from your hands? This crochet smartphone case. It's pretty and embellishes your phone. Start off by crocheting a rectangle in the size of a phone then more on to crocheting the slides with cotton yarn and 3mm of the crochet hook. Set your guage to 3.4cm X 3cm. Weave in the ends with a yarn needle. Check out the steps in more detail here. ideaivana
Yarn: Cotton yarn
Hook: 3mm
Gauge: 5sc x 5sc = 3.5cm x 3cm
15. Crochet Blue Agave Phone Pouch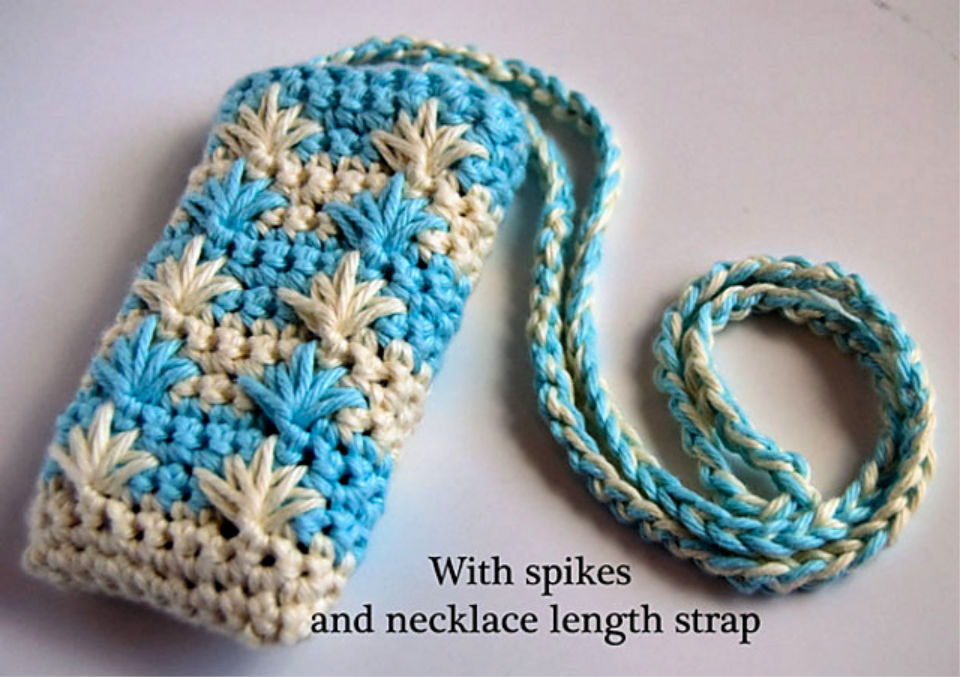 Phone pouches always uplift the elegance as well as the safety of a phone. As they are a great source of preventing your phone from breaking. This blue agave phone pouch will be of an exact size to fit your android or iPhone. Make the strap long or short, with single crochet and spike cluster. With just a small amount of worsted weight yarn and a 4mm size of hook, whip up this cell phone case with shoulder strap in few hours. mooglyblog
Yarn: Worsted weighted yarn.
Hook: US G, 4.0 mm
16. How to Crochet an Owl Cell Phone Case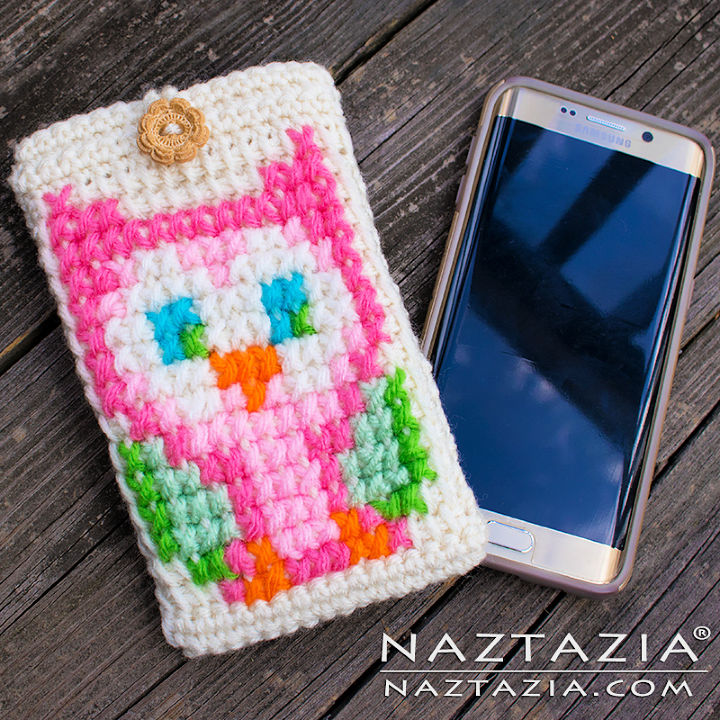 This video tutorial is all about furnishing a phone case in the fabrication of an owl. This is a cute, fun project that will make your phone look a bit more amusing. With just 1 skein of scrap yarn, you can whip this case up. Obtain gauage on 17 st X 11 rows or use hook of 3.75mm. The stitches this project will need are slip stitch, single stitch, chain, and loop. Button is the optional craft felt for the lining. youtube
Yarn: Red Heart Super Saver in Aran
Hook: Size F-3.75mm and Size G-4.0 or 4.25mm
Gauge: 17 st X 11 rows = 4'' x 4''
Finished Size: 4'' Wx 6.5'' H
17. Crochet Cell Phone Cases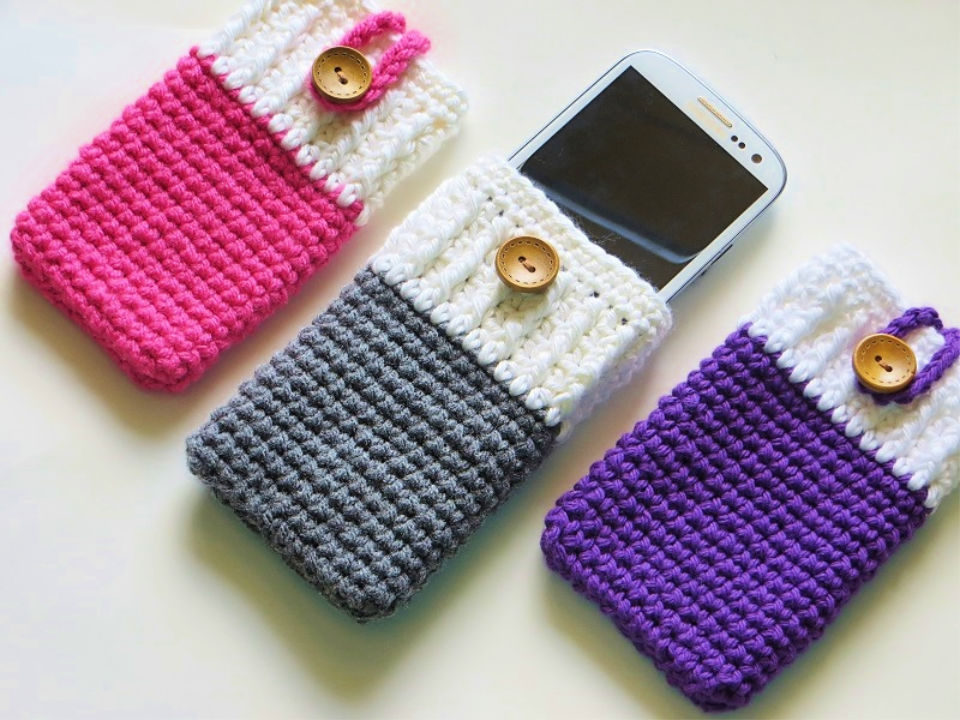 There are many ways to create a design on crochet and make them beautiful crochet cases for your phones. This free crochet pattern is a simple one that can be adapted to all kinds of phones. Customize the size of as per your phone. Plus, you will just need yarn in two colors. In this regard, worsted weighted yarn will be a great choice as it's a soft yarn and will work too well. crochetdreamz
Yarn: I love this Cotton
Hook: F(3.75)
Wooden Button: ¾ inches
18. Crochet Cell Phone Case With Strap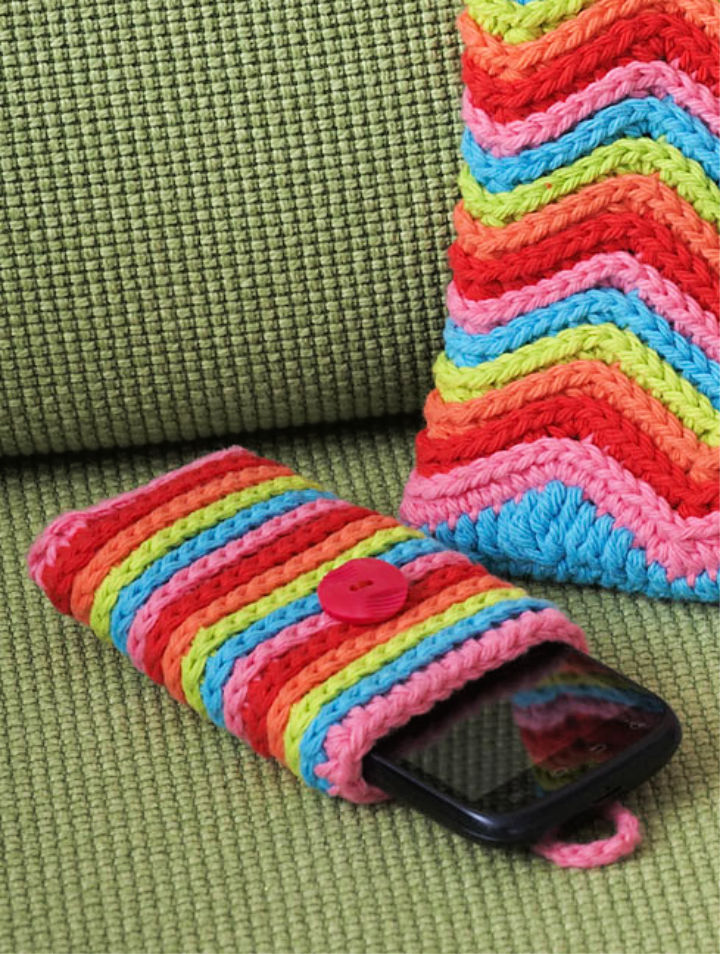 A cell phone or tablet case with a strap will help to hold the gadget easily. Make the strap long to use it as a necklace or short and wear it on your wrist! The rainbow stripes of this case will form beautiful details. Use any yarn that has not any roughness in it. The phone case will measure around 6cm/2in to 24cm/9in. But you can personalize it as desired. lovecrafts
Yarn: Lily Sugar 'n Cream solids
Hook: 3.50mm
Finished size: 6cm/2in to 24cm/9in
19. Crochet Phone Holder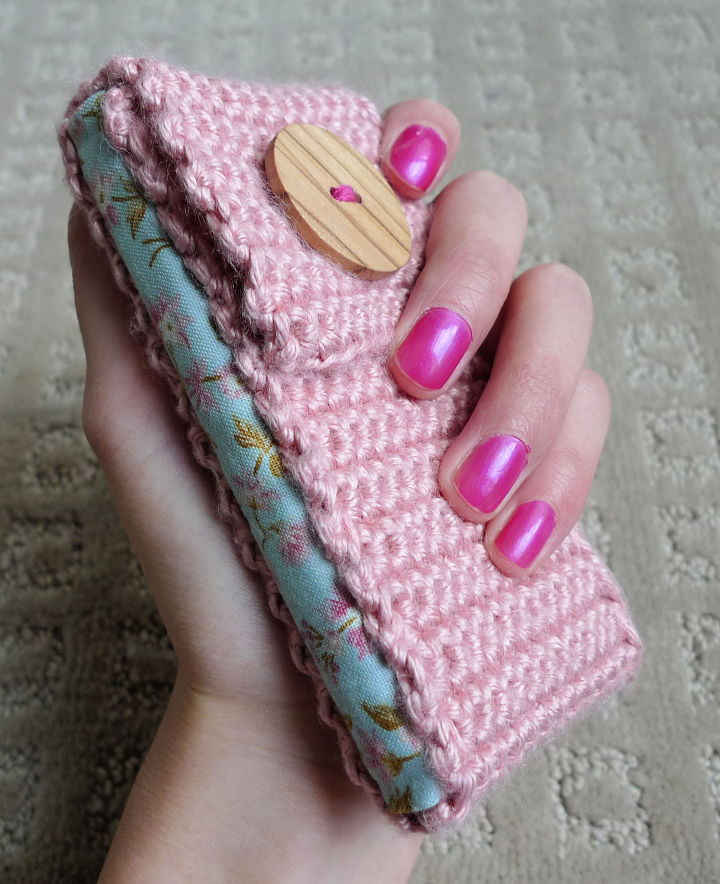 Get inspired by this free pattern on the phone case and make one on your own and for yourself. Start off by crocheting a long piece after measuring the length and width of your phone. This will all be done through single crochet stitch. You will need a fabric for the lining of the phone cozy. Attach the crochet piece to the lining and wrap it around the phone in order to sew a straight seam down the middle. allaboutami
20. Crochet Cell Phone Covers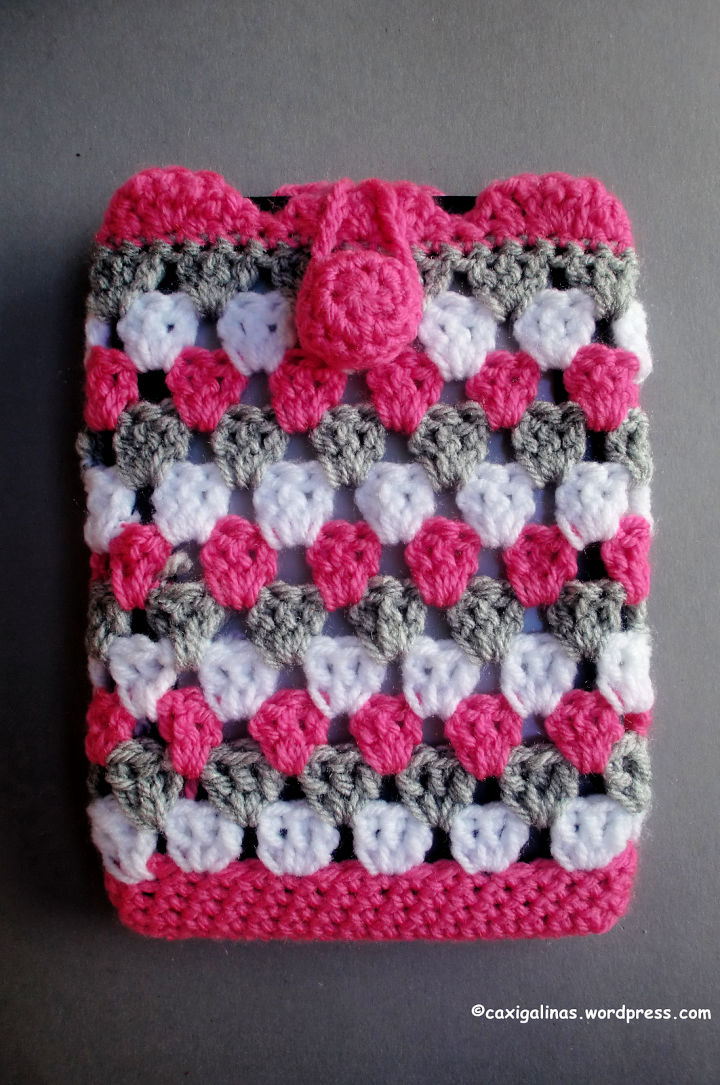 The case/cover is one valuable addition to the other must-haves in your purse. This chic-looking cover has its own textured beauty and can be made for e-book, smartphones, or tablets. Adapt it to any size of your gadget by using a 5mm hook and worsted weight yarn. Its construction is very simple and perfect for beginners. Get started with your crocheting journey from chain to stitch, then single, double and triple crochet. caxigalinas
Yarn: Worsted weighted yarn
Hook: 5mm (H)
21. Bright & Stripy Mobile Cover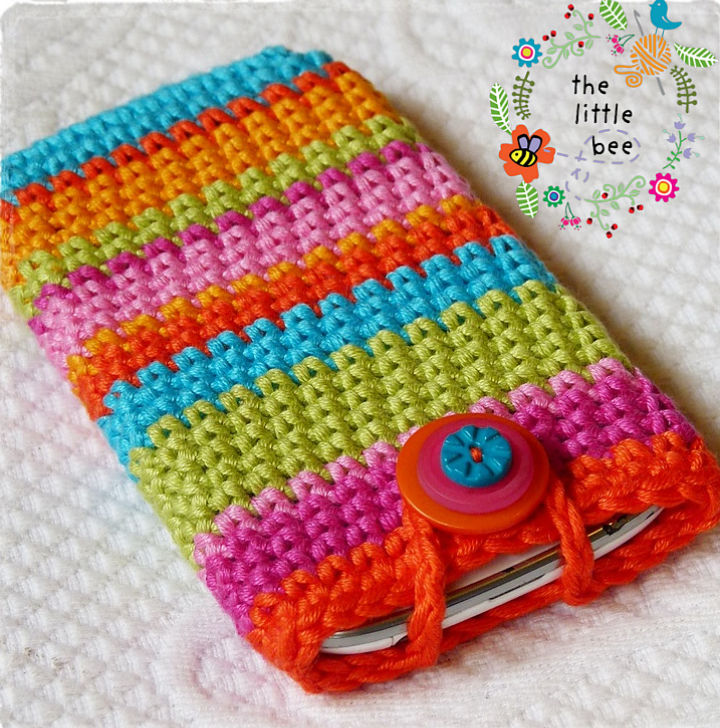 Do you need something whimsical to put your phone in your hands or in your pouch? This funky colored mobile cover will look way more beautiful in your hands than the phone alone. For whipping up this case, you will need 44-55 yards of yarn along with 3.5mm of the crochet hook. The pattern is in one size, but you can alter the size. This is a great crocheted cell phone case to use up all the stash yarn of different colors to crochet this cover. ravelry
Yarn: Garnstudio DROPS Muskat
Hook: 3.5mm (E)
Gauge: 6 stitches and 6 rows = 2.5 cm in 6 sc x 6 rows
22. Crochet Secret Pearl Phone Cozy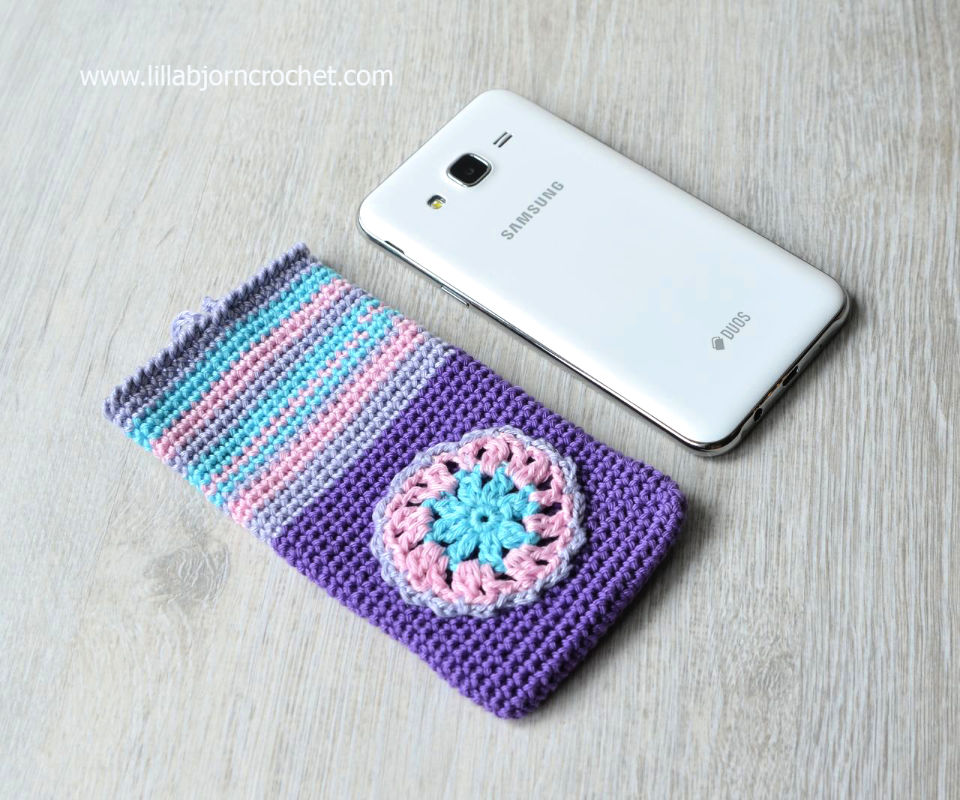 Crochet this secret pearl phone cozy. This is a fun way to protect the screen of your smartphone. Plus, you will get a chance to polish your crocheting skills, and at the same time, you can furnish a beautiful gift for a friend. Take a yarn in one solid color wrap it around a 2.75mm of the crochet hook, go on with the stitches, and at the end-use scissors and tapestry needle to weave yarn tails in. lillabjorncrochet
Yarn: Catona by Scheepjes
Hook Clover soft touch 2.5mm or 2.75mm
23. Crochet Shamrock Phone Cover – Free Pattern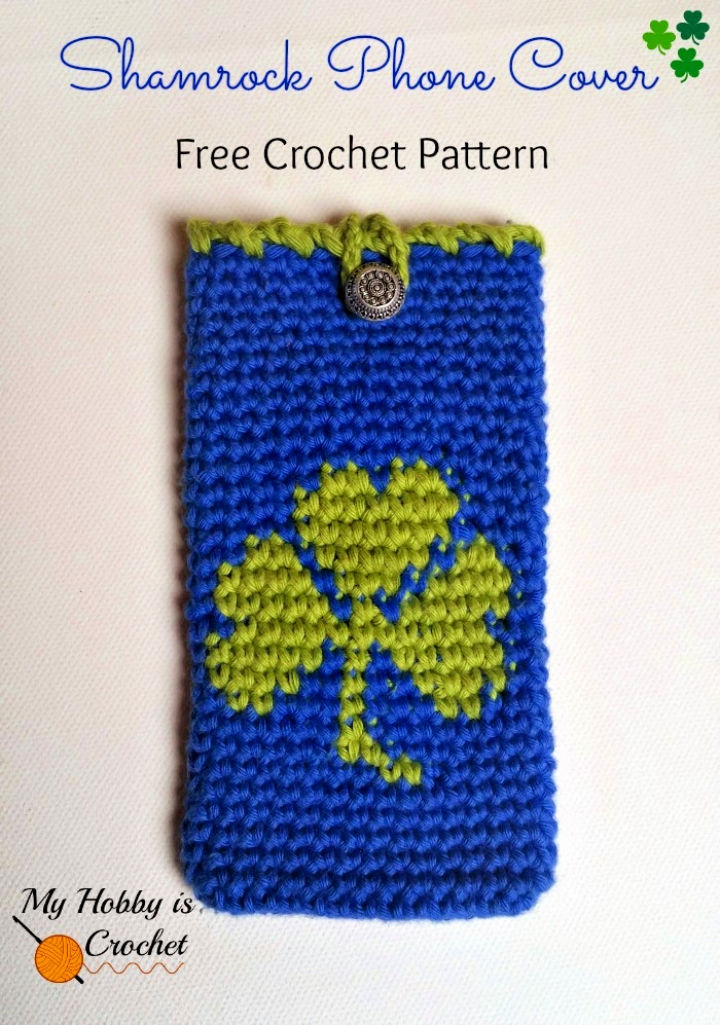 This shamrock phone cover is a wonderful project to practice your crocheting skills. The written instructions and graphs are here to assist you all to the end. The cover is made out of tapestry crochet with the help of DK yarn and 3.5mm of the hook. Pick any two colors to form this cover, the main color, and the contrasting color. The cover works in spiral rounds without joining the ends. myhobbyiscrochet
Yarn: Cotton DK yarn
Hook: 3.5mm
Gauge: 9 sts x 10 rounds = 5cm x 5cm
24. Free Crochet Cellphone Case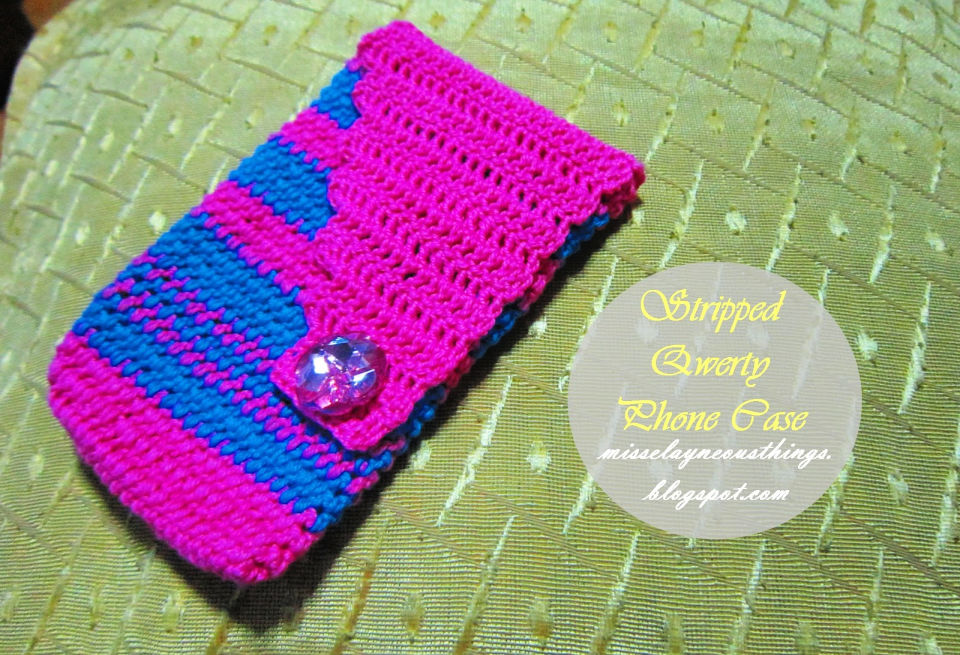 Crochet this cell phone case with this free pattern. Make it in a solid color and adorn it with applique or button on a sliding flap. It will help save your phone from unnecessary scratches. Also, watch out for the other variations you can give to your phone case. All you need is to know the two stitches to work up. One is double crochet, and the other one is a half double crochet. Start off from the base. misselayneoust
25. Free Crochet Phone Case Pattern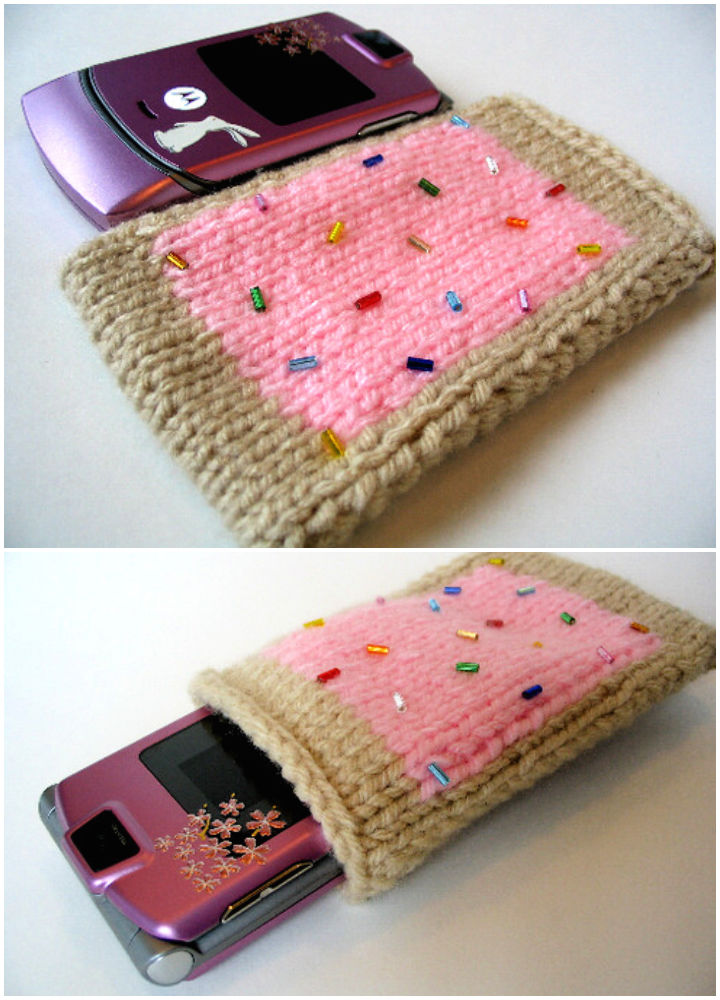 Bought a new phone? We care for your investment and bring you this amazing phone case to crochet with this free pattern. This is totally a beginner's project with simple stitches and tutorials. Use a size 5 straight needles and a tan worsted weighted yarn. At first, you will crochet the base in a rectangular shape and then pass on to its assembling by folding and sewing it from the sides. bittersweet
Yarn: Tan worsted weight yarn
Hook: size 5mm
Pencil Case: Send the kids back to school with these cool and fun crochet pencil cases or pencil pouches! Find the crochet pencil case patterns here!
Crochet Handbags: Check out our crochet handbags selection for the most helpful in unique or custom and easy handmade pieces.
Conclusion:
Motivated to try out a few of these free crochet phone case patterns? These crochet iPhone cases are very beautiful and unique. By trying out these patterns, you will be able to really find out what you like and what you don't. There is a lot of versatility and a few fun free crochet patterns to try out! One thing to keep in mind is to measure your phone before getting started. Most of these crochet patterns are for Android cell phones and iPhones, so if you have a large one, you can follow the guides where they tell you how you can increase the sizes.