Store your makeup, keys, mobile phones, and anything in the crochet drawstring bag. Get these 15 free crochet drawstring bag patterns that are much visually captivating. This bag will help keep the items with you safely, and their softness will provide care to everything store in these yarn pouches. There are so many shapes and color combinations to choose from, and these yarn baggies are going to be an idea to carry your cosmetics with you nicely. They can be your emergency kits and can be a trendy and stylish way to carry your jewelry. Opt for these crochet baggies to add miniature storage options, too, in your home.
Explore this compilation of 15 unique crochet drawstring bag patterns that include outstanding crochet makeup bags to choose from. Do crochet these drawstring bags for amazing, nice arrangements of your little things.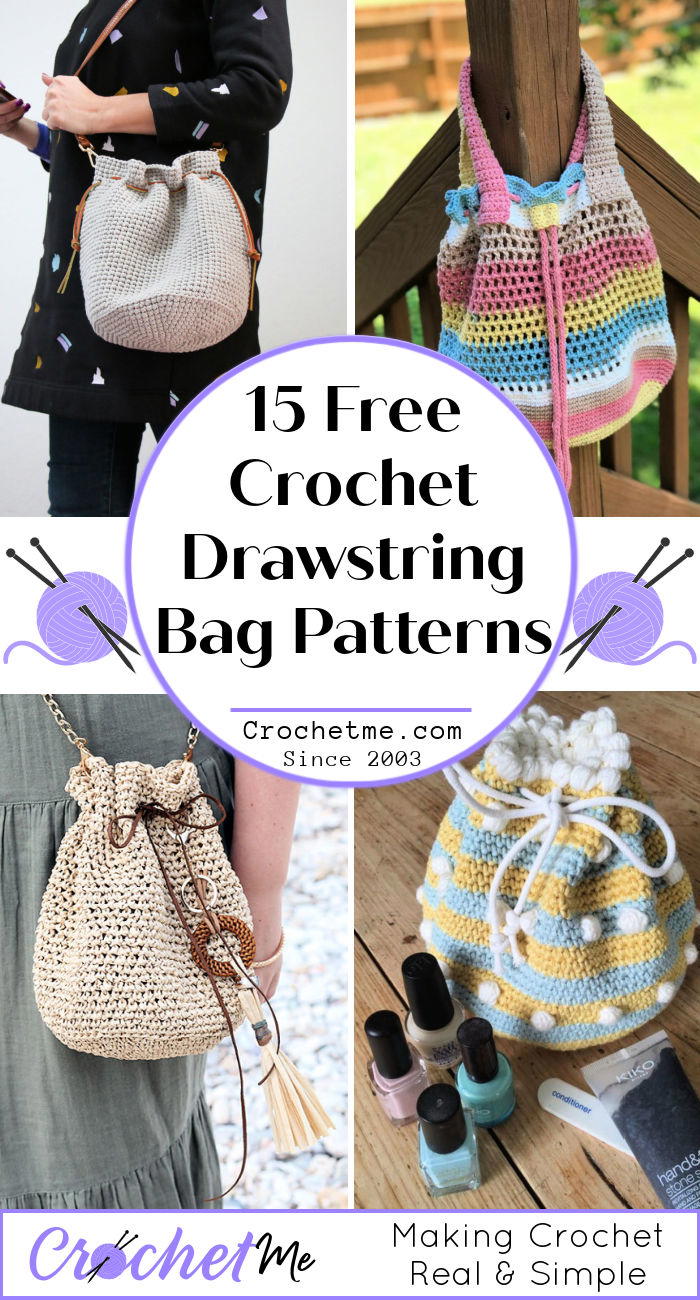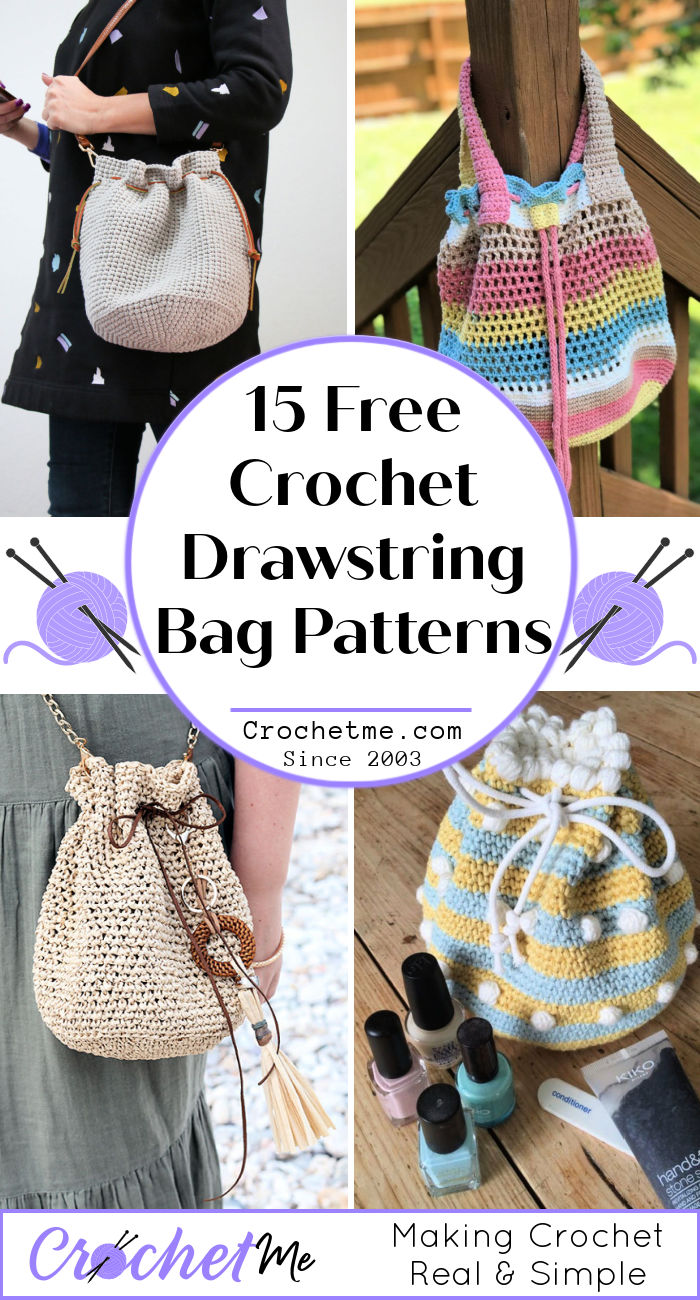 If crocheting a bag has been a mystery for you, then learn here how to crochet a bag like a pro. These free crochet patterns will discuss so many different cases and designs of yarn bags and will provide you the whole bag of tricks at the end. Browsing this compilation is going to make you a master in crocheting a drawstring bag for sure. From slushie cup style drawstring back to backpack drawstring bags to cute watermelon inspired drawstring bags, you will get the free crochet drawstring bag patterns for all.
1. Crochet Drawstring Bucket Bag Pattern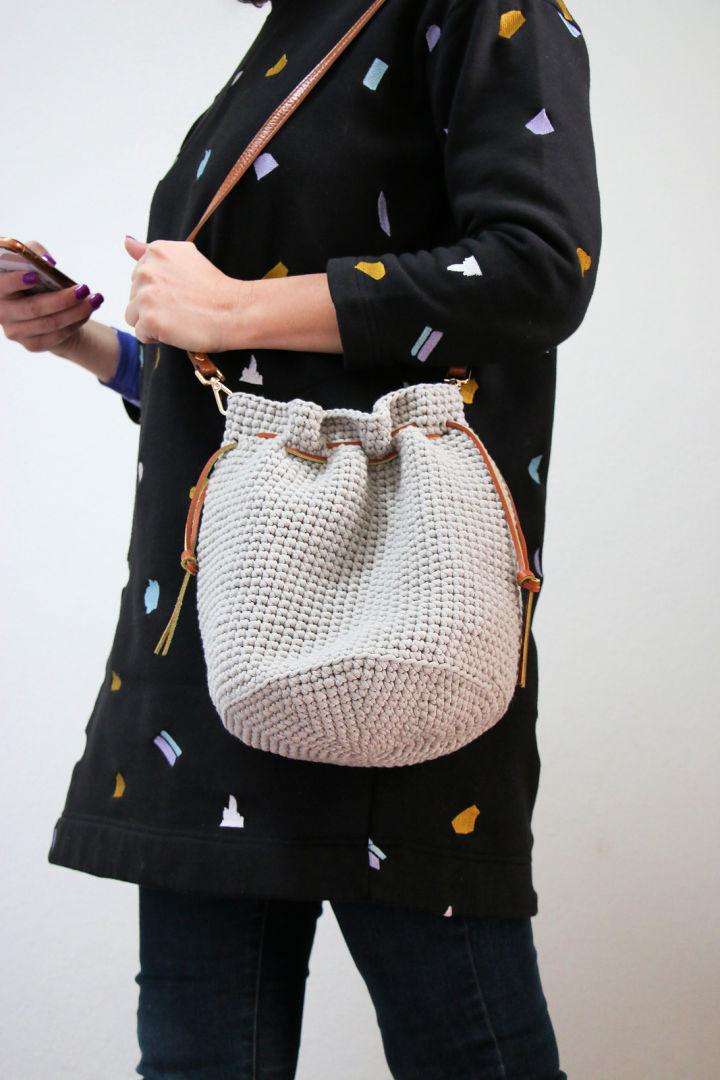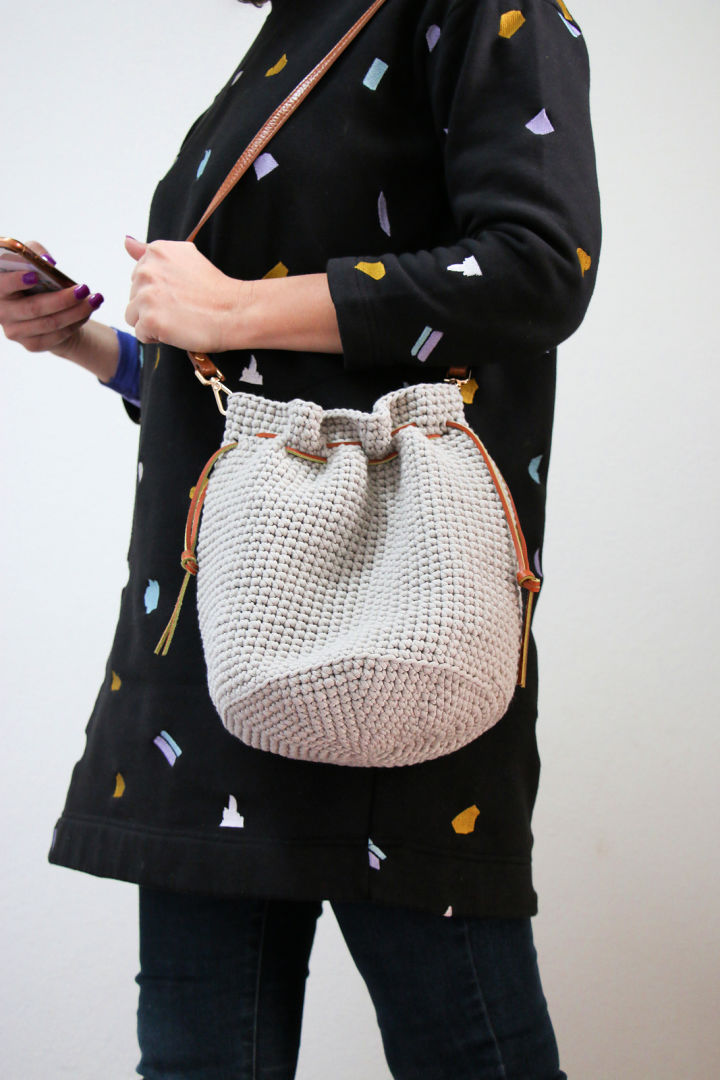 Carry your things with your using this crochet drawstring bag, will dazzle with its amazing t-shirt yarn like texture. This bucket drawstring bag will be an all-rounder type of bag for all fashion enthusiasts. The completed size of this drawstring bag is 10" tall and 8" in diameter, and you need 1 ball of Bernat Make Home Decor yarn. Crochet the clay color of this yarn using an 8mm crochet hook to generate this epic model of crochet drawstring bag. Finish the bag with a clip-on bag strap, should be 95cm in length, and also with 2 leather cords having 85cm lengths for a drawstring closure. Details here mypoppet
2. Simple Drawstring Bag Pattern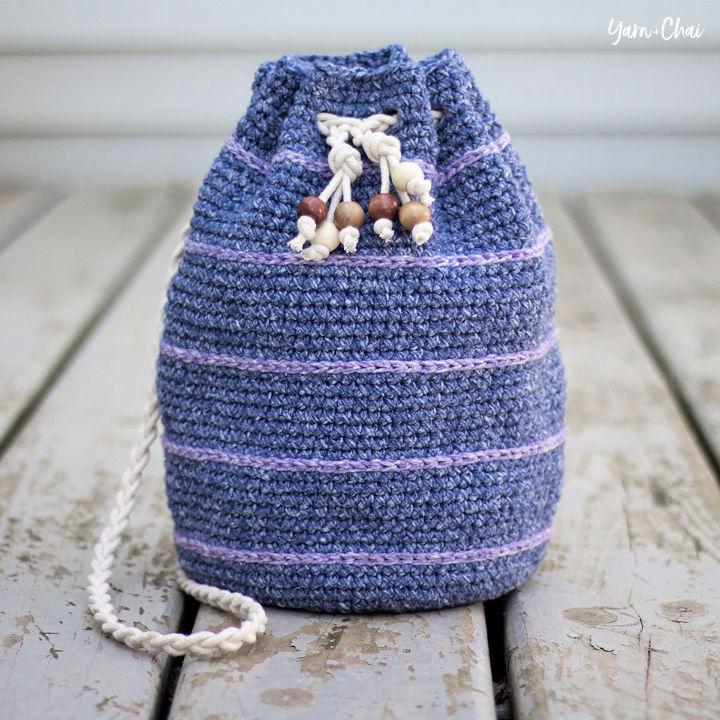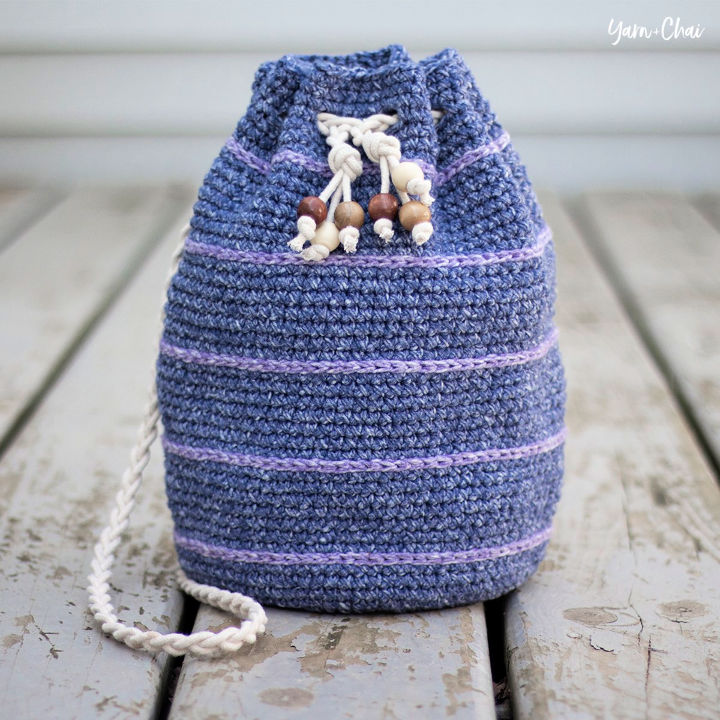 Keep your things safely with you by owing this drawstring bag. You don't have to pay for it. It is the manufacture at home using your own beautiful yarn hook. You need an easy skill level to whip up this fantastic crochet drawstring bag having a final size, 11" wide x 13.5" tall. Use the 2 strands of Cascade Yarns Sarasota weight 3 cotton blend to whip up this beautiful bag. The recommended hook size for the bag is 5.5mn. It appears in navy and deep violet, but you are all free to crochet it in any color. You have to crochet in the crossed single crochet and surface crochet special stitches to make it. Details here yarnandchai
3. Crochet Draw String Bag for Beginners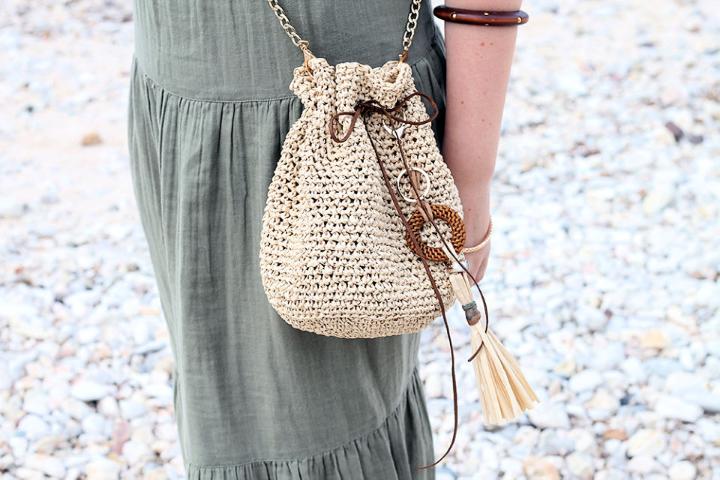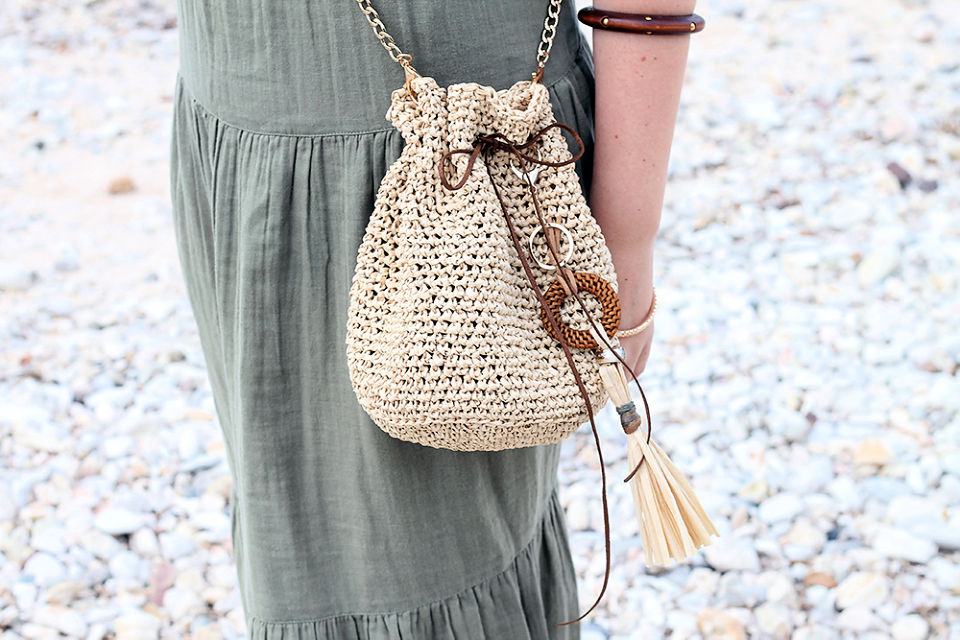 Crocheting this drawstring bag will demand only the basic knowledge of crocheting. Due to having a neutral clay appearance, it will pair up beautifully with any dress and is to crochet with the raffia. Crochet 200g of king cole raffia in color natural using a 5.5mm crochet hook to complete this drawstring bag. The finally completed bag is 9.5" tall and has the 6" base diameter. The straps are 43" long, and the calculated gauge for this bag pattern is 13 sts in 4". Details here handylittleme
4. Crochet Sheep Drawstring Bag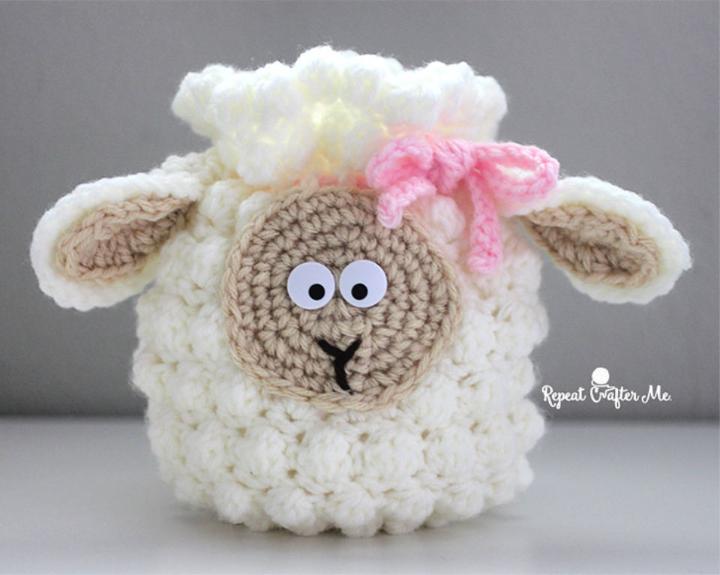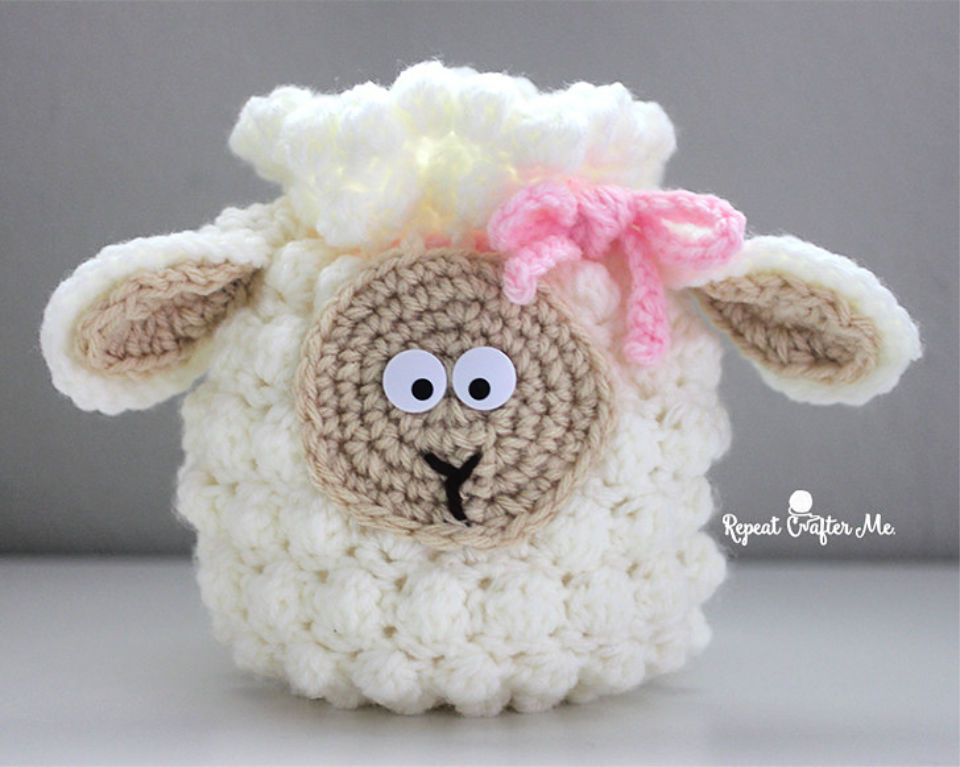 Cute up the way to carry your things with you using this very sweet and cute drawstring bag, the sheep drawstring crochet pattern. To make this bag, crochet Bernat Super Value worsted weight yarn in white and a bit of beige. Use the H crochet hook to stitch this worsted weight of yarn and finish the sheep face with safety eyes. Adorn the crochet handbag more using custom embellishments, and you have to work in the special bobble stitch to get this bag made. Start crocheting it by making a magic ring, and the finished size of this bag is 8" tall and 7" wide. Details here repeatcrafterme
5. How To Crochet a Drawstring Watermelon Bag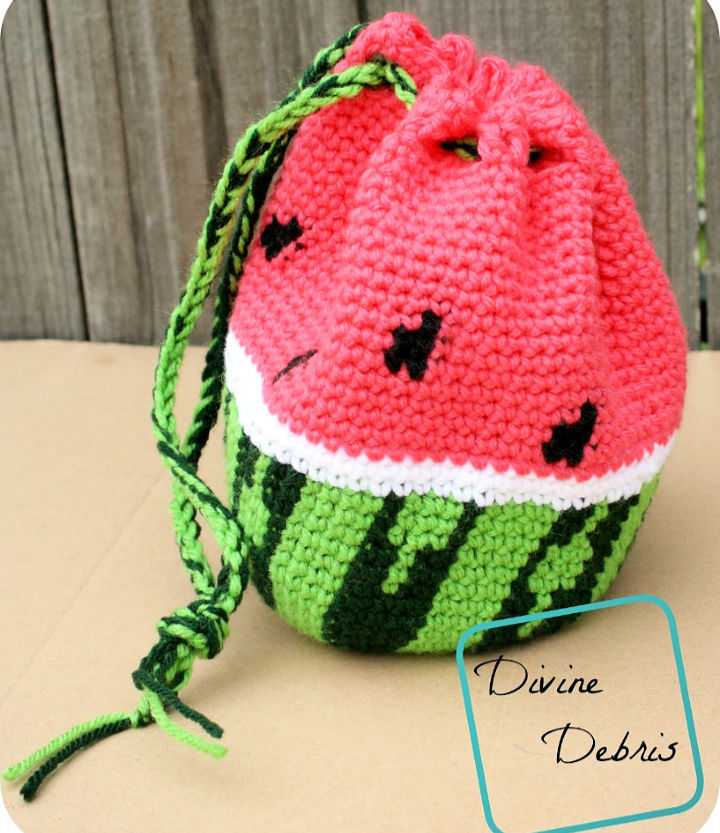 Are you new to crocheting the bags? Sorting out the best free crochet bag patterns to make a start with? Then try this crochet drawstring watermelon bag. For this bag, crochet 140yds of worsted weight 4 yarn with a 4mm crochet hook. Start crocheting this bag by making the magic circle foundation. The gauge for this crochet bag is 16 scs, and 16 rows make 4". The finished size of this bag is 10" tall and 9" in diameter. The best fruity kind of bag to crochet for adorable summer fashion. Details here divinedebris
6. Native Print Drawstring Bag – Free Crochet Pattern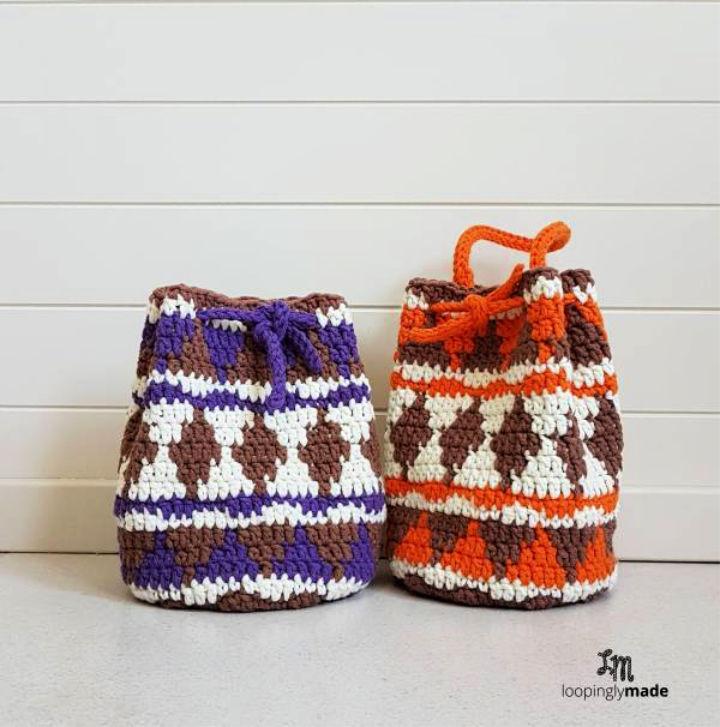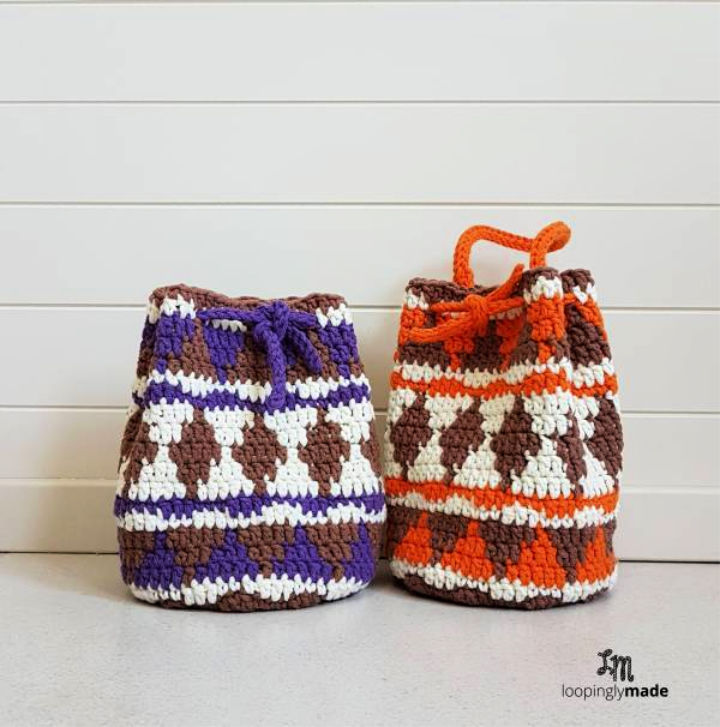 Satisfy your love for the Native Prints by hook up this drawstring bag will be your new favorite thing in the winter fashion wardrobe. The bottom of this bag is 4" wide while the body is 7" across, and it has a 6.8" height. Crochet 3 skeins of medium worsted weight 4 yarn with a 4.5mm crochet hook to get this drawstring bag made. These bags are chunky and will make sweet handmade gifts to friends and family members. Details here loopinglymade
7. Beaded Mini Crochet Drawstring Pouch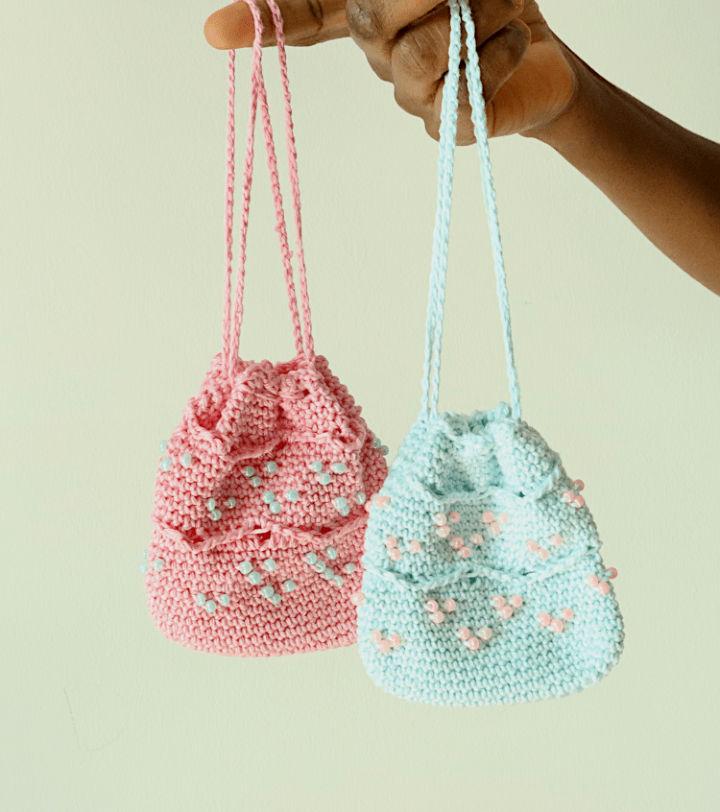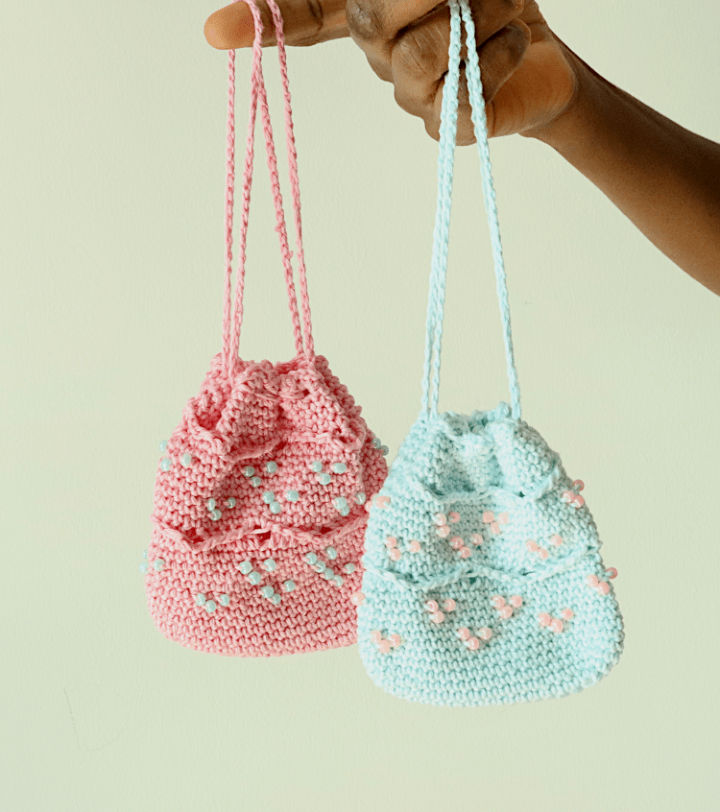 Keep all your small items with you with great care using these miniature drawstring pouches. They come beaded and are looking darn beautiful. The completed sizes of these pouches measure 4" in height and 3.5" in width. Crochet mercerized cotton finger weight yarn with a 3mm crochet hook to get these pouches made. Here you need the seed beads to create a beaded appeal for this crochet dice bag pattern. One of the best little drawstring bags to crochet at home. Details here loopinglymade
8. Crochet Granny Square Drawstring Bag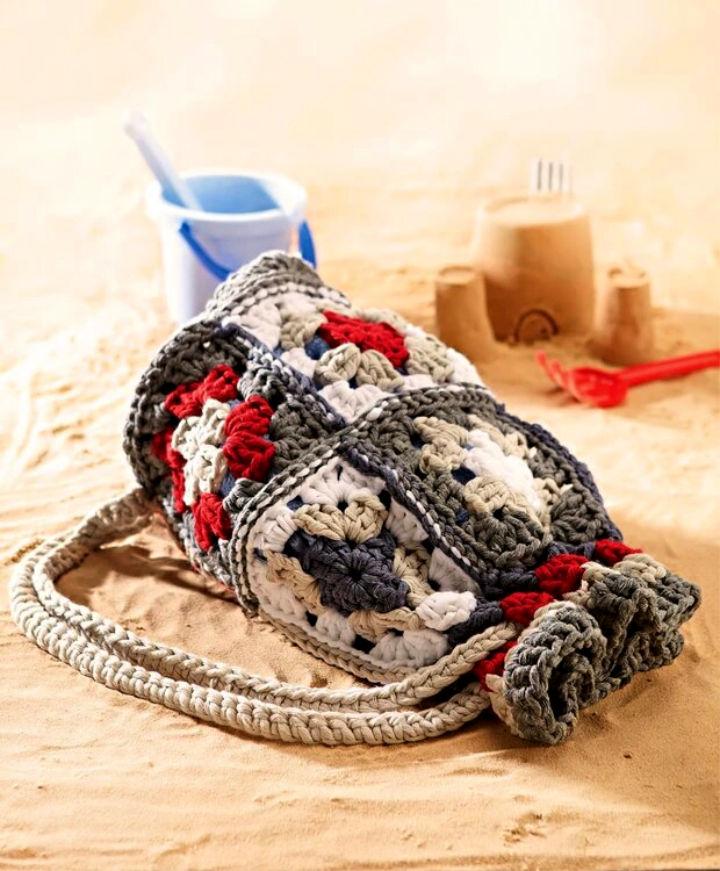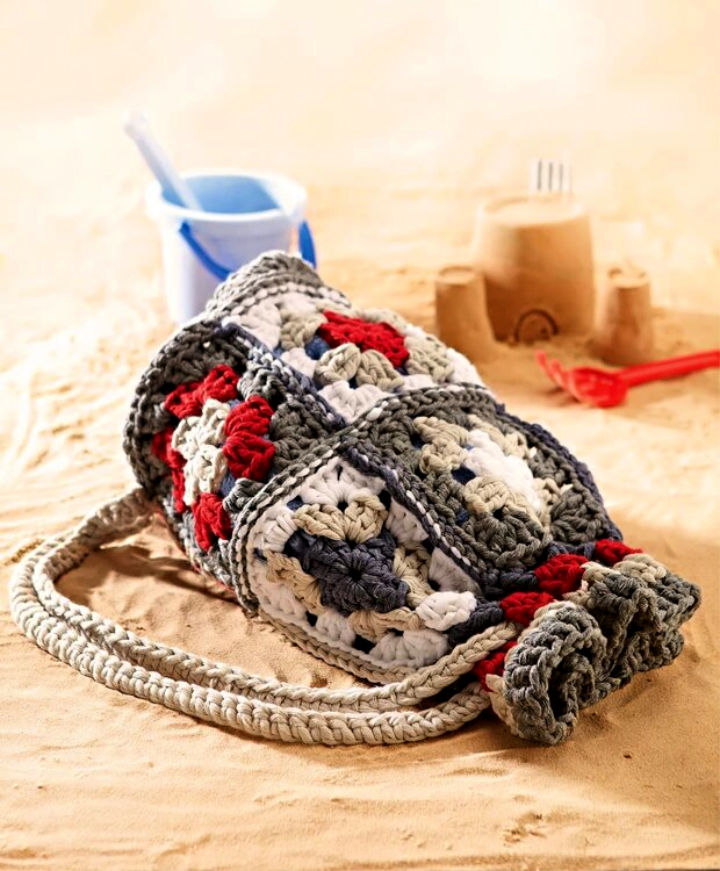 The very skill required for crocheting this awesome beach bag is a granny square. Crochet the colorful floral granny squares and then throw them together, making this graceful crochet granny square drawstring bag. Whip up this bag using the Rico Design, Fashion Big Cotton Super Chunky 50% acrylic and 50% cotton yarn. Crochet 100g of this yarn with a 10mm crochet hook to gain a 28cm across x 47cm size of this crochet granny square drawstring bag. Details here gathered
9. Crochet Small Drawstring Bag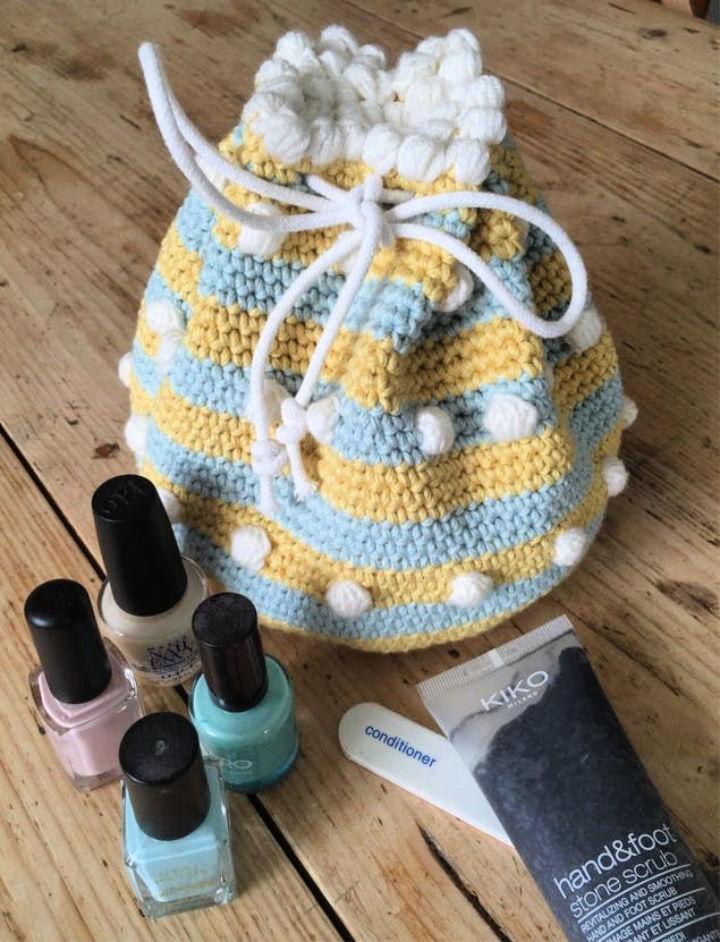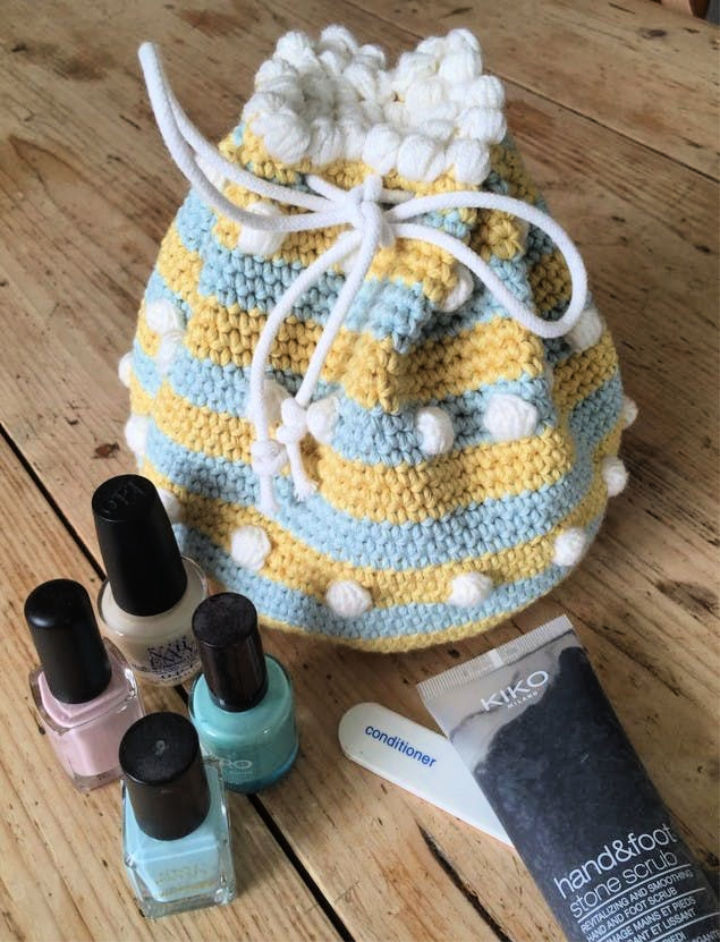 Do add this another beautiful but small drawstring bag to your wardrobe or closet. It comes with cute little white blisters on the skin, creating a stunning design texture of it. The project will be completed in 3 hours, and it requires an intermediate skill level. Crochet Cascade Avalon in yellow and denim with 3.5mm and 54mm crochet hook to make this bag. You also need Paintbox DK weight yarn, 2 mini-balls in paperwhite, and a length of cord to complete this drawstring bag. The most fun party of this pattern is to make the puff stitch bobbles. Details here lovecrafts
10. Drawstring Crochet Pouch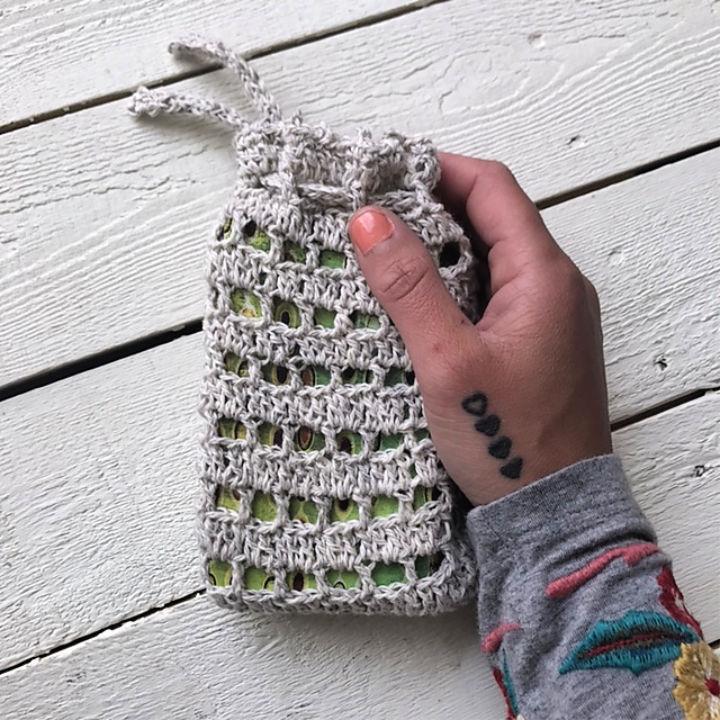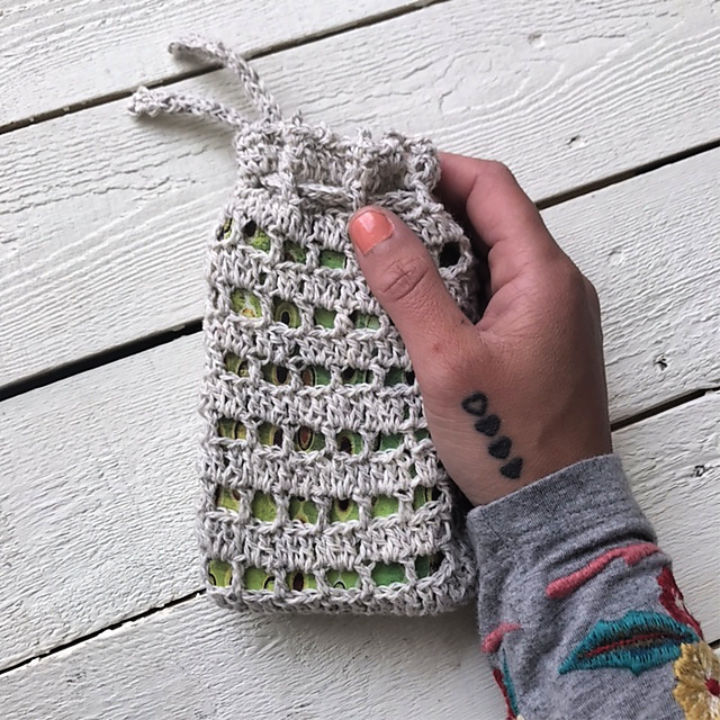 The mesh style design texture of this crochet dreaming way pouch will get you a big fan. Crochet 100yds of Brooklyn Tweed Loft Fingering Weight yarn with a 2.75mm crochet hook to stitch this crochet pouch. The ideal choice of bags to store your vitally important mini items like keys, mobile phones, and jewelry. Give this bag also as a sweet handmade gift to a fashion-loving lady or friend. A one of the cutest crochet pouch pattern ever, crocheted to inspire. Details here ravelry
11. Crochet Drawstring Tote Bag Pattern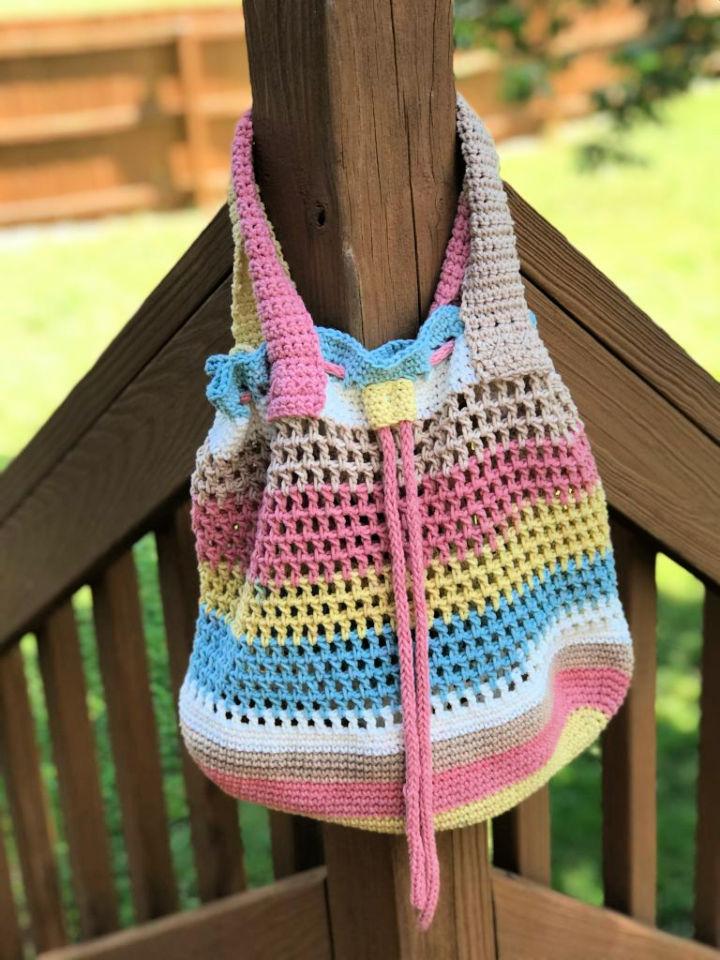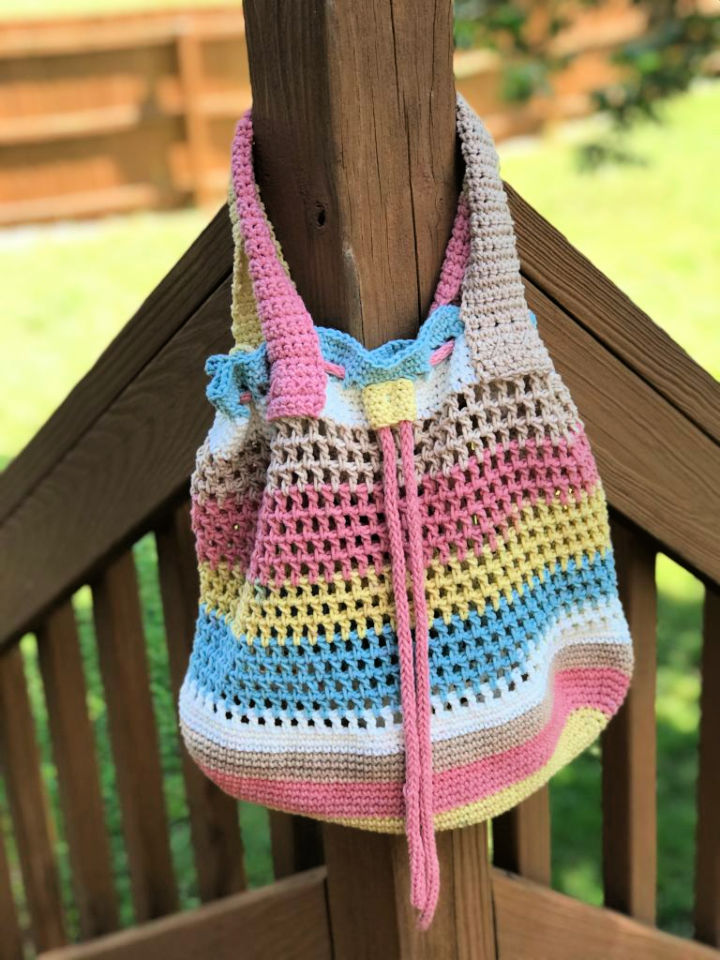 Store your jewelry, makeup, and other items of need in this crochet drawstring bag. Crochet 500yds of Caron Cotton Cakes yarn in medium weight 4 to put together this drawstring tote bag. Use the 5mm hook to crochet the overall bag and opt for the 4mm hook to stitch the I-Cord. The perfect gauge for this crochet bag pattern is 17 rows and 17sc in 4" square. Work in bottom-up to whip up this 16" wide and 13" tall bag. You need the beginner skill level to stitch this beautiful drawstring bag like a pro. Here you need the 42" long for this bag. crochetitcreations
12. Crochet Backpack Drawstring Bag – Free Crochet Pattern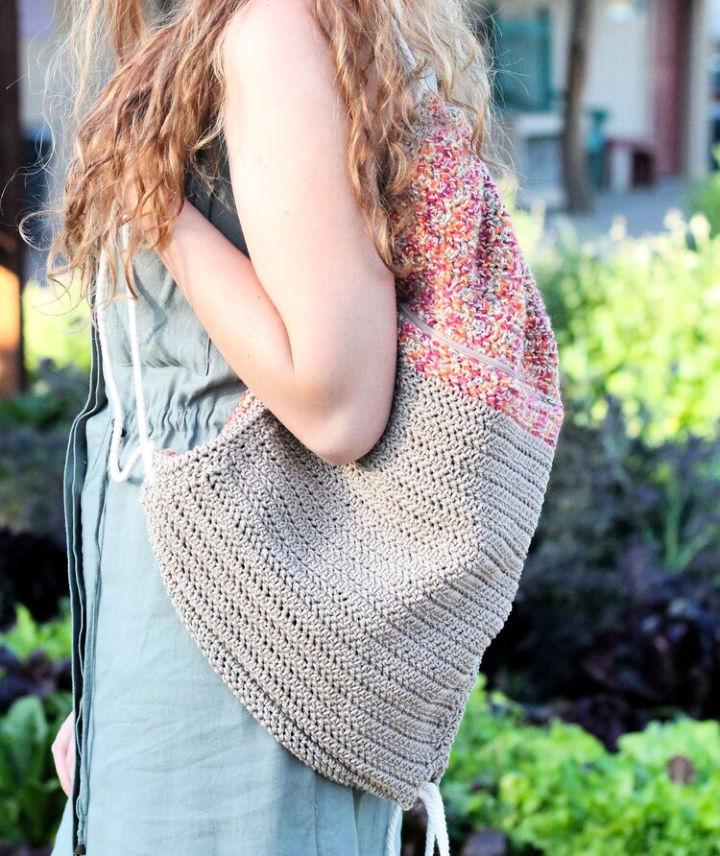 A sweet and pleasing gift to give all little girls, the backpack style crochet cam drawstring bag, an interesting crochet bag pattern. The best type of bag to keep the carry the camping essentials with you. Crochet Lion Brand 24/7 Cotton yarn in taupe and Lion Brand Fikka in Toucan to make this crochet backpack. Use the 5.5mm hook for this crochet bag pattern and use the bulky weight cotton cord to use for the strap. Finish this bag with 12" polyester zipper. The perfect gauge for this pattern is 16 sts & 12 rows in 4". Details here hookedontillylife
13. Drawstring Pouch Crochet Pattern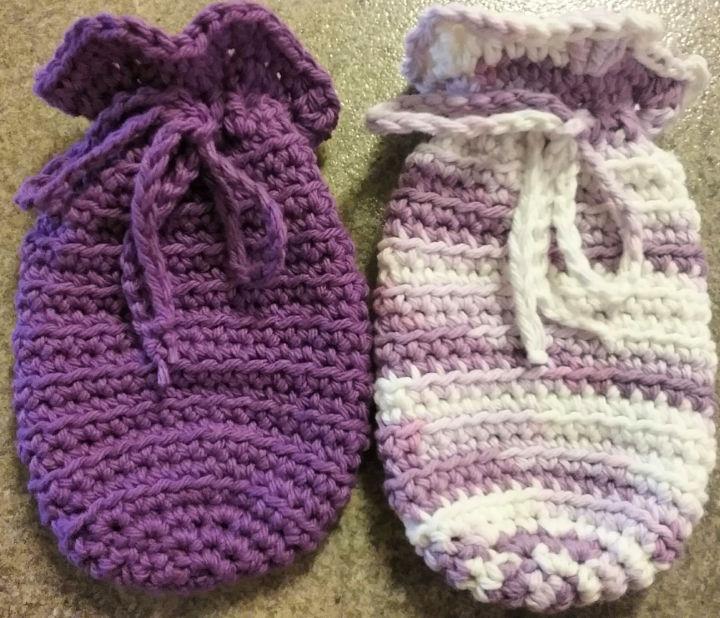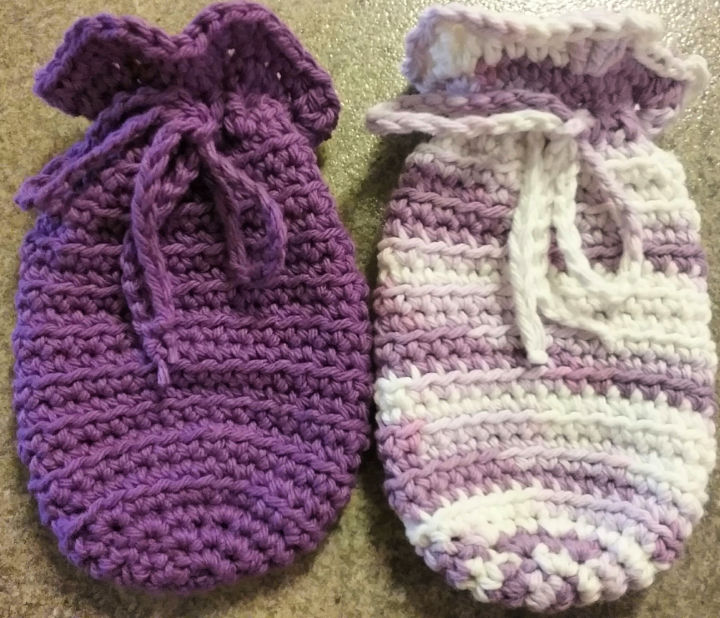 The lovely striped crochet pouches are 8" in circumference and 5 ½" in height and will make the best handmade gift. It will come in handy to store custom items of interest and need like keys, jewelry, and even the dollar bills, and drawstring closure will create so much fun. Peaches and Creme Worsted Weight Cotton with 5mm hook to get these lovely pouches made. The best gauge for this bag pattern is, there are 4 sts in 1" and 4 rounds which are equal to 1". Details here crochetonthebrain
14. Drawstring Backpack Pattern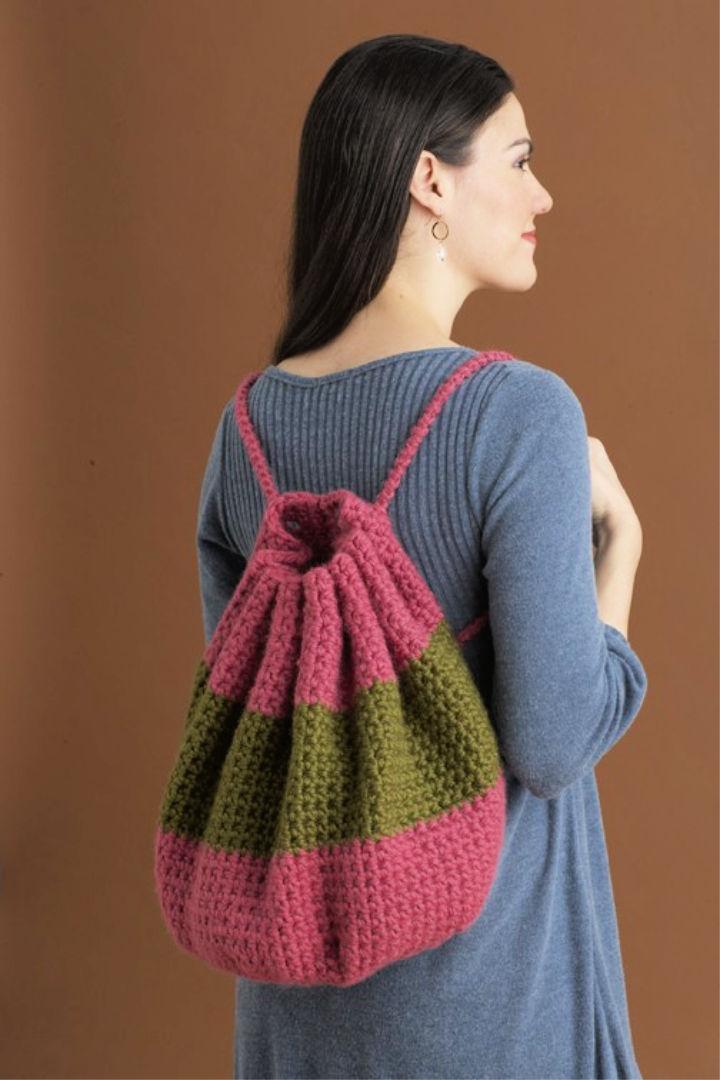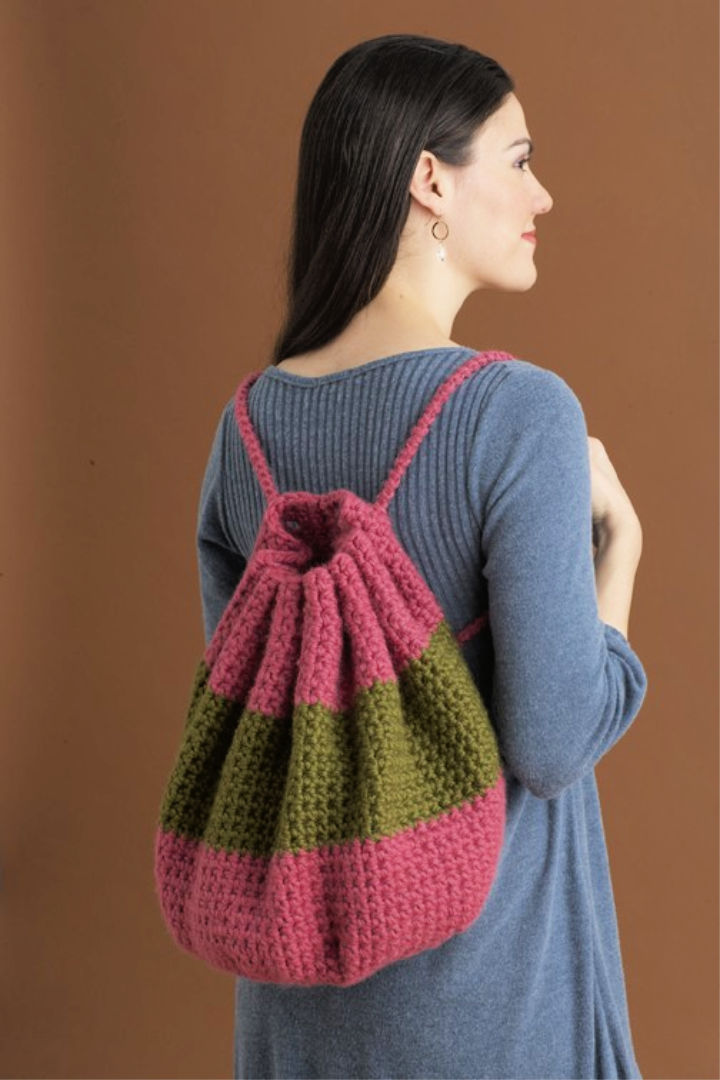 Crochet Wool-Ease Thick and Quick, super bulky weight 6 yarn with a 9mm crochet hook to whip up this adorable drawstring backpack. The best bag for the camping essential and it measures 17" x 18" size. The perfect gauge for this crochet backpack is 9sc, and 8 rounds make 4" x 4" of this bag. The crochet backpack pattern is great for all beginners, and this bag is super gift-worthy too. Crochet your selected yarn in the raspberry and cilantro colors for this bag, the enchanting new gift for the little girls at home. Details here lionbrand
15. Slushee Cup Drawstring Bag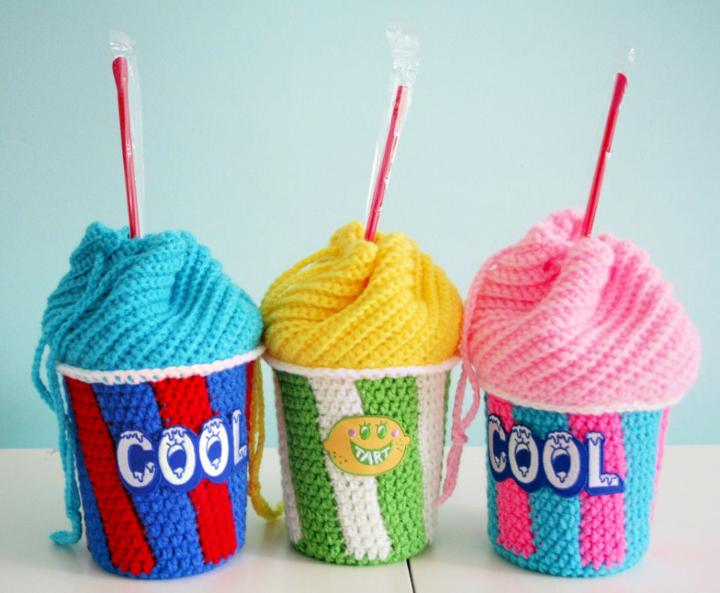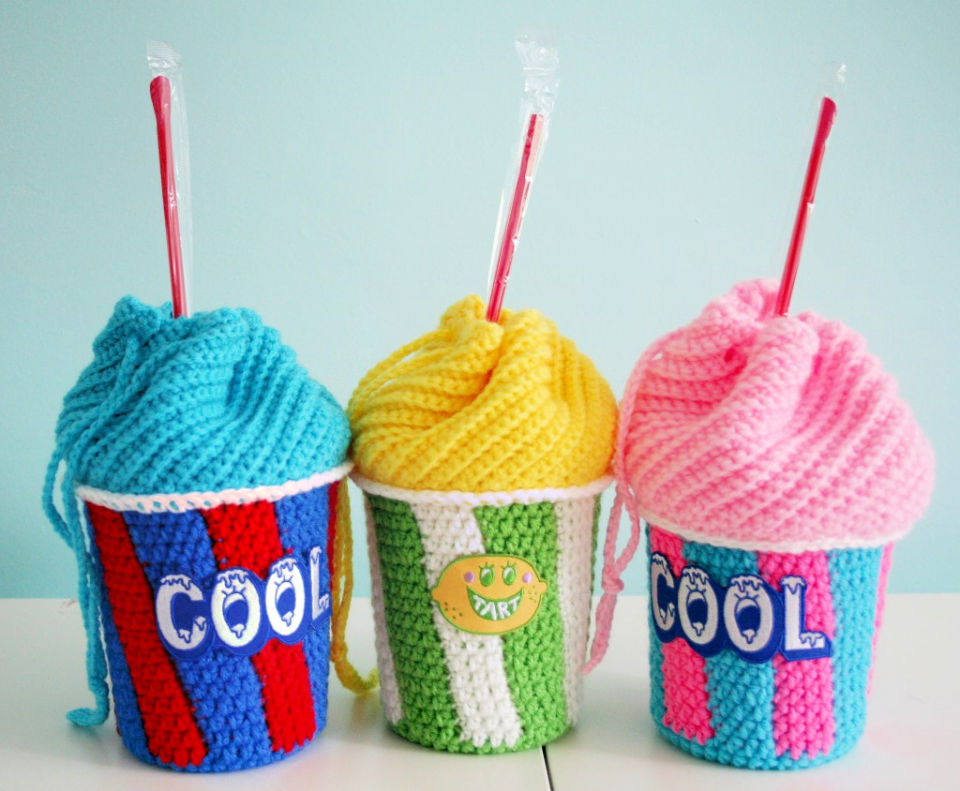 Look at the fun version of the crochet bags, they look like sweet little juice mugs at a distance but are the perfect cute little drawstring bag actually. Crochet Loops & Threads Impeccable yarn in cherry, aqua, white, and popsicle blue to whip up this gorgeous looking drawstring slushee cup bag. The required gauge for this pattern is 14sc, and 16 rows make 4" x 4" of this bag. Personalize your completed mugs with custom felt cut out phrases and letters. The special stitch used to crochet this bag is the Sc2tog. Details here twinkiechan
Conclusion:
Having bags around your shoulders or wrist when going out, create a great personality of the fashion-loving women. Along with a great style statement, these bags provide easy to carry your important items with you. So, the art of crocheting allows you to crochet drawstring bags that will take good care of all your makeup essentials, keys, and other mobile phones. Crochet them in the backpack style so they will be perfect for your camping adventures and crochet them in animal and fruit shapes for added cuteness. Here you are going to see a huge variety of crocheted drawstring bag patterns. The crocheting talent is here again to wow you.