Make your kitchen functional with these 20 free crochet towel topper patterns that will brighten up your kitchen by adding lovely yarn colors along with being super practical. Along with adding fun shapes, characters, and designs to your towels, these toppers will help your towels to hang easily on a rope line, metal rod towel rack, and also on the kitchen cabinet doorknobs. Nothing is complicated here, these patterns are simple and straightforward and require a beginner skill level only. To see a stunning array of designs, explore this roundup of 20 unique free crochet towel topper pattern that is cool enough to win your heart and creative enough to add extra wings to your crochet creativity. Dress up your towels beautifully by crocheting a mini yarn dress towel topper and bring a fun character to your towels by crocheting a gingerbread man face kitchen towel.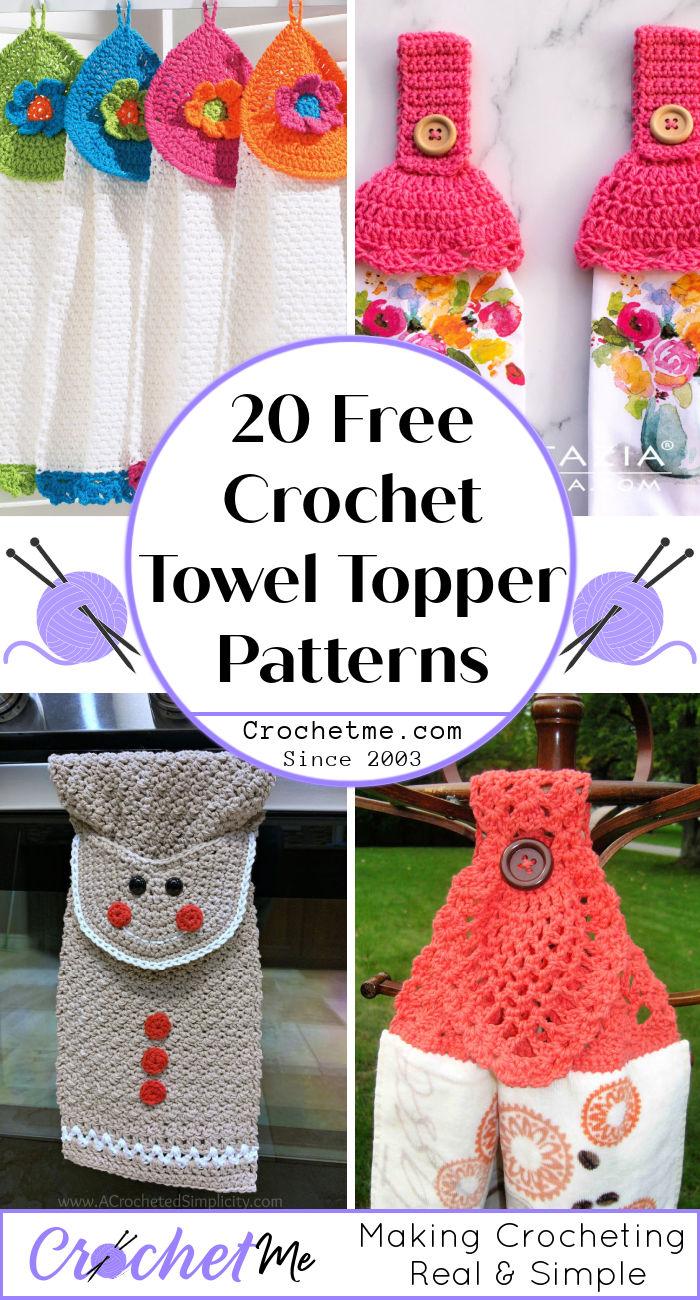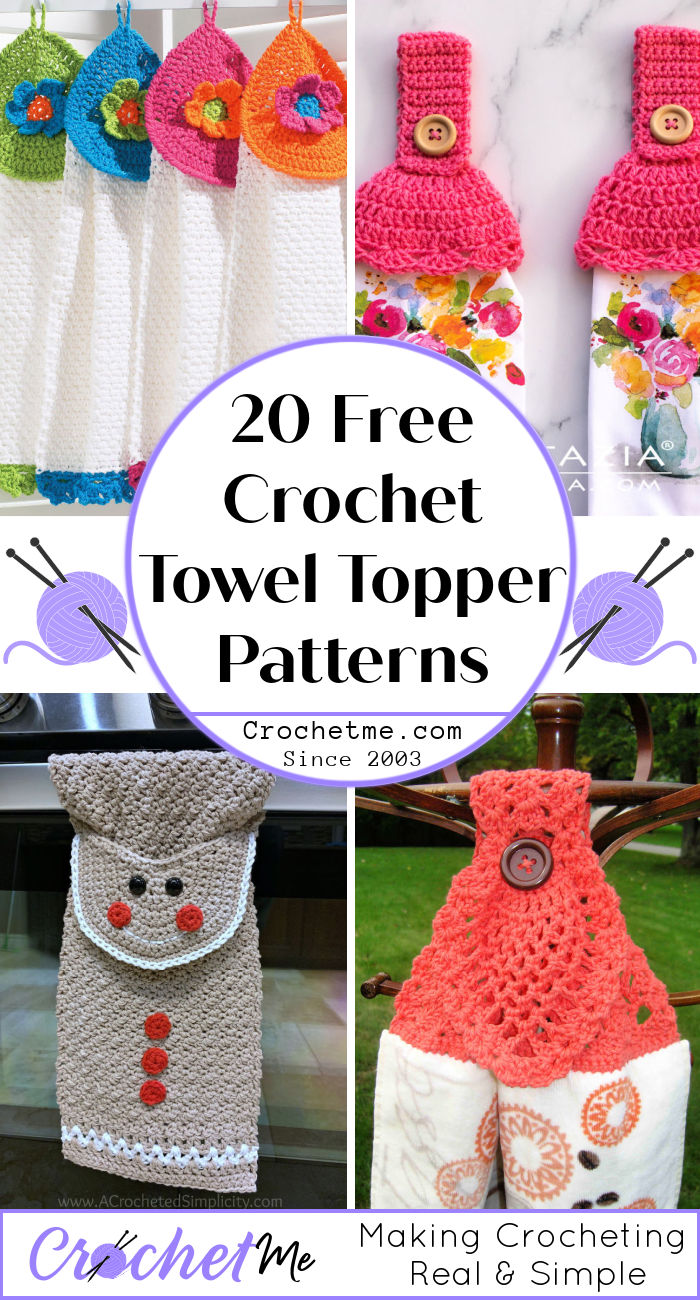 After crocheting the best winter fashion and lovely colorful yarn decor, do some useful and practical yarn projects too. So, The crochet towel topper pattern list will cover all the designs that satisfy all the unique tastes. Opt for a ruffled towel topper pattern, will grace up a towel, and also crochet a plaid kitchen towel to bring extra visual charm to your kitchen.
Add a fun character to your towels by adding hat shape towel toppers. Next, come up with lots of different crochet towel topper pattern and texture design to make your towel topper look unique. Browse the entire collection of these free crochet towel topper patterns to bring a big wow factor to your kitchen along with easy hanging of your towels.
1. Crochet Dish Towel Topper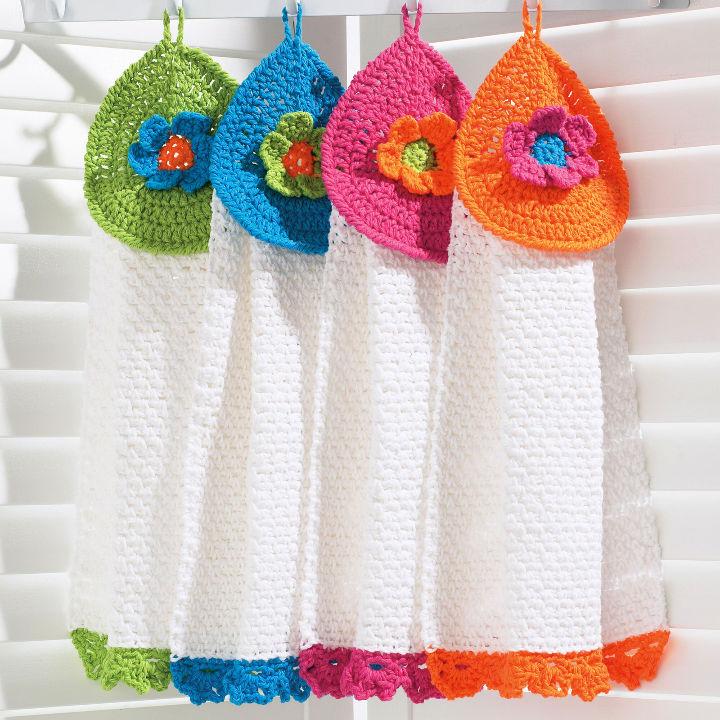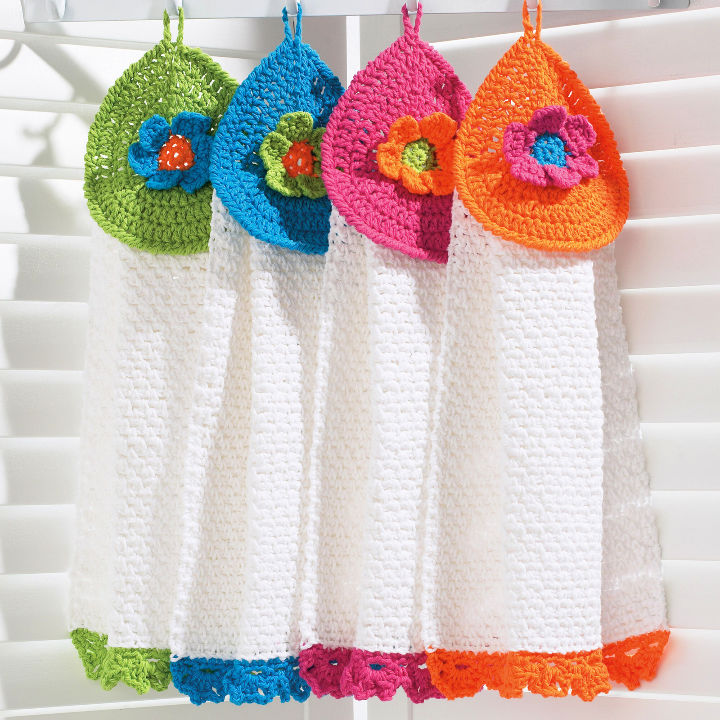 Missing out some bright and dashing colors in your kitchen? Then try this crochet dish towel topper pattern that will bring the necessary color vibes to your kitchen and will be loved by all. Crochet Bernat handicrafter cotton yarn while working in the beginner crochet stitches to complete these dish towel toppers. The flower centers bring tons of visual attractiveness more than these dish towel toppers. How to crochet a towel topper? To crochet your selected yarn, you need a 4.5 mm crochet hook. The finished size of the dishtowel floral toppers is 13"x18". Details here yarnspirations
2. Crochet Kitchen Towel Topper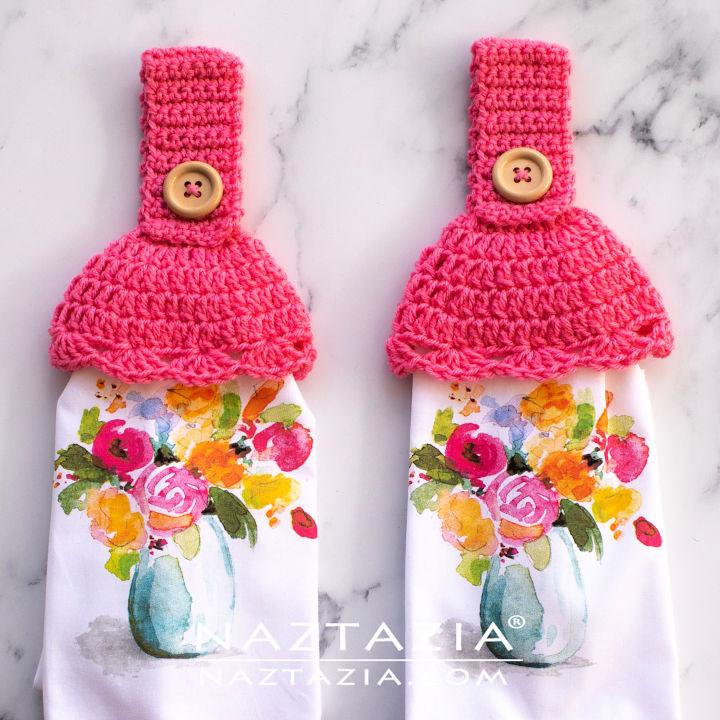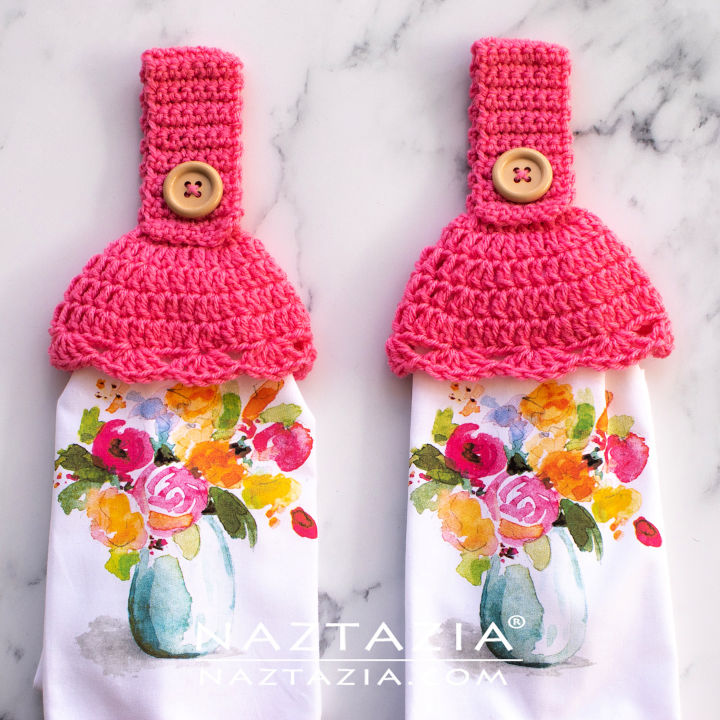 Rock your kitchen decor by adding these crochet towel toppers to your dish towels, will be a genius way to accomplish the missing colors in your kitchen decor scheme. Crochet these toppers will be a fun endeavor, and it will require a beginner skill level. Crochet 30g of worsted weight 100% acrylic Red Heart Super Saver Yarn with a 5 mm crochet hook to whip up this splendid kitchen towel topper. The 1.5" buttons add a great final touch and help in nice closure. You are all free to crochet any size of these towel toppers. Details here naztazia
3. Crocheted Towel Toppers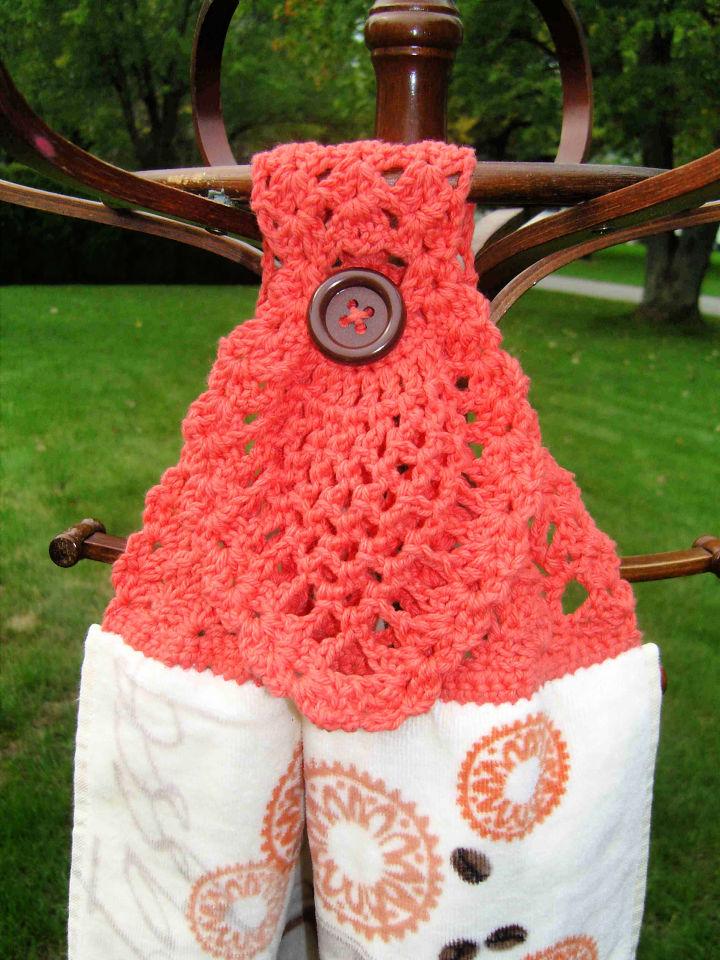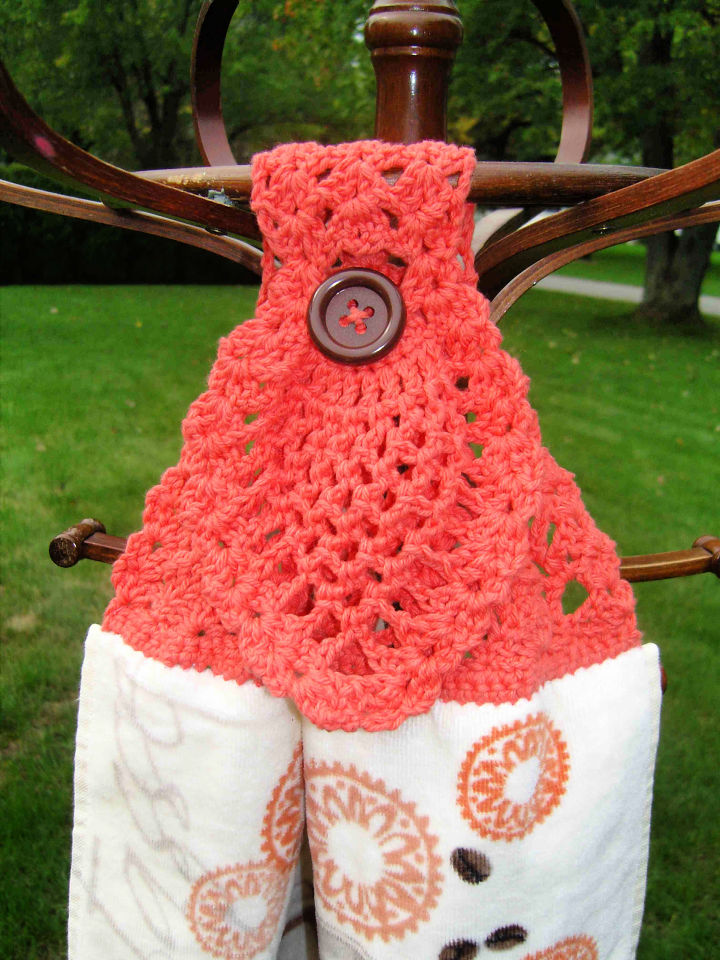 Wishing to hang your towels on the custom wall hooks or on the string or wire lines nicely? Then add up your towels with these crochet toppers that will provide a nice closing yarn top to towels so they can easily be hanged on the wire or rope cloth lines. Crochet Red Heart Worsted Weight yarn with a 4 mm crochet hook to whip up these enchanting towel toppers. The very special skill required to crochet these towel toppers is the pineapple stitch. The best way to feature pineapple texture in your kitchen. Details here ravelry
4. Free Crochet Towel Topper Pattern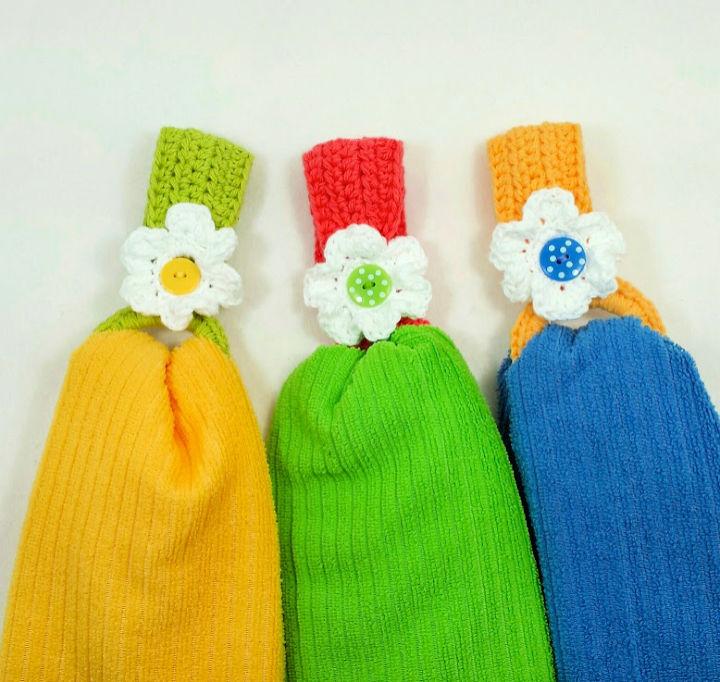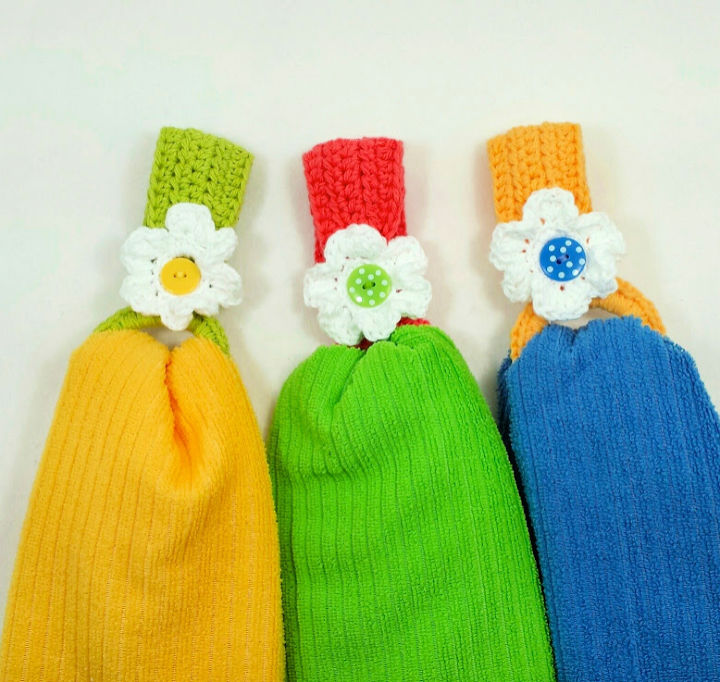 These towel toppers come further with enchanting flower toppers. Crochet the medium weight 4 yarn in 2 colors of choice to make these enchanting towel toppers. Grab a 4 mm hook to crochet these towel toppers with flowers and use 2.5cm button for the flower center. Use the stretchy ponytail rings to hold the towels. These here the best colorful crochet towel toppers to make at home, and they will make incredible handmade gifts for friends too. Time to spice up your kitchen towel game with these floral tower toppers. Details here delights gems
5. Easy Crochet Towel Topper Patterns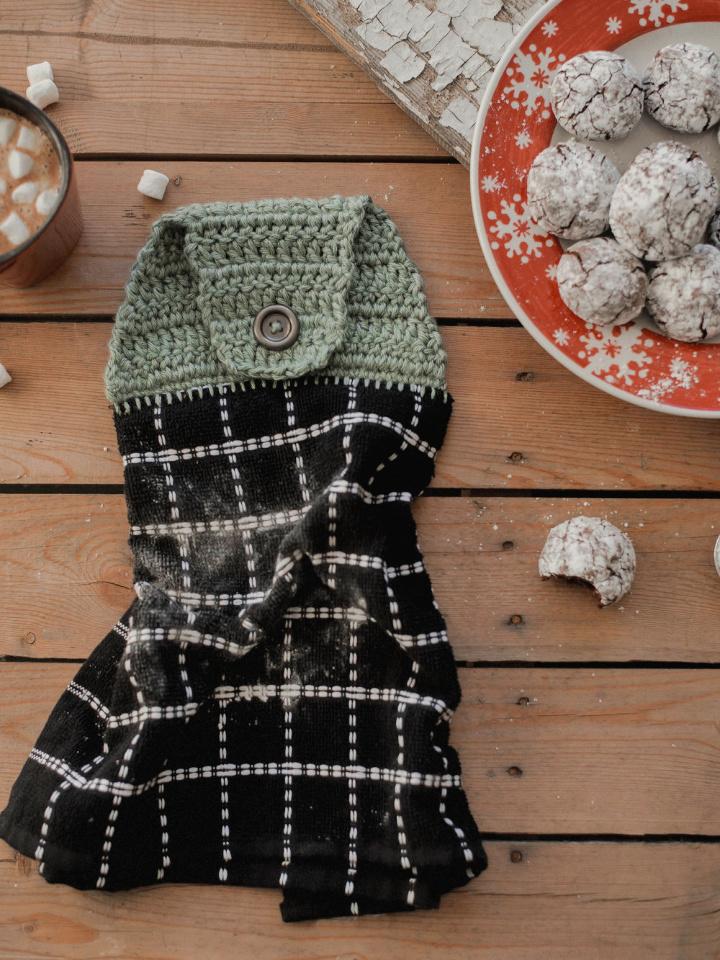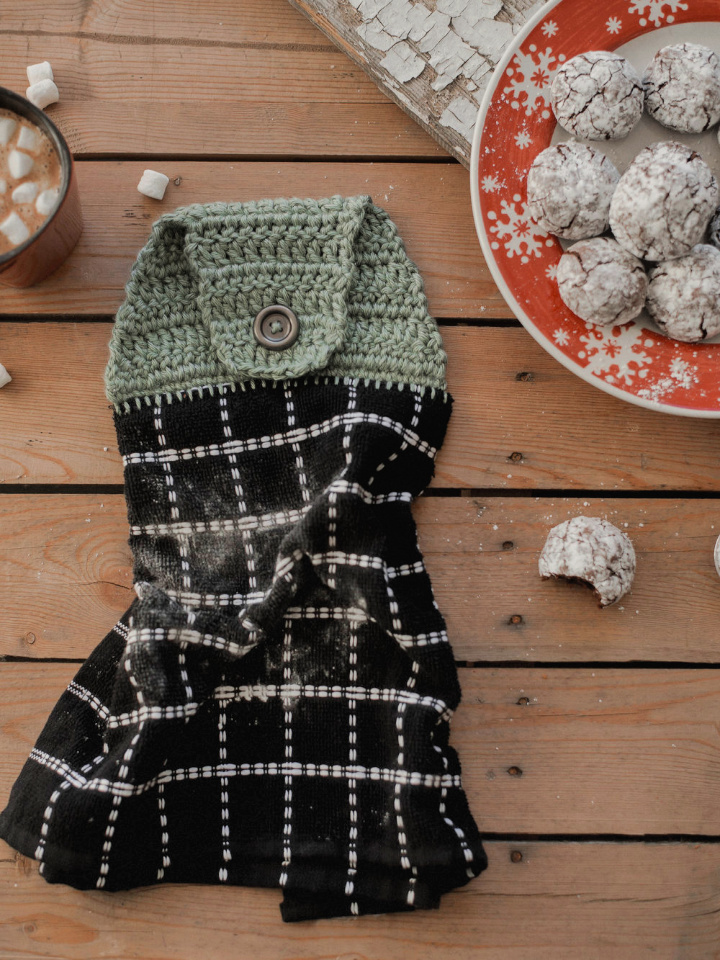 A simple and straightforward crochet pattern that involves crocheting the towel topper directly on the towel! This kitchen towel is for a 15"x25" kitchen towel and you have to work in 5.5 mm hook to get this towel made! Finish this towel topper with a 1 ⅛" button for a nice closure! The crochet worsted weight 4 yarn will really rock for this pattern like the Caron simply soft! Must get it for a friend or for yourself to get your kitchen organized! Details here megmadewithlove
6. Crocheted Kitchen Towels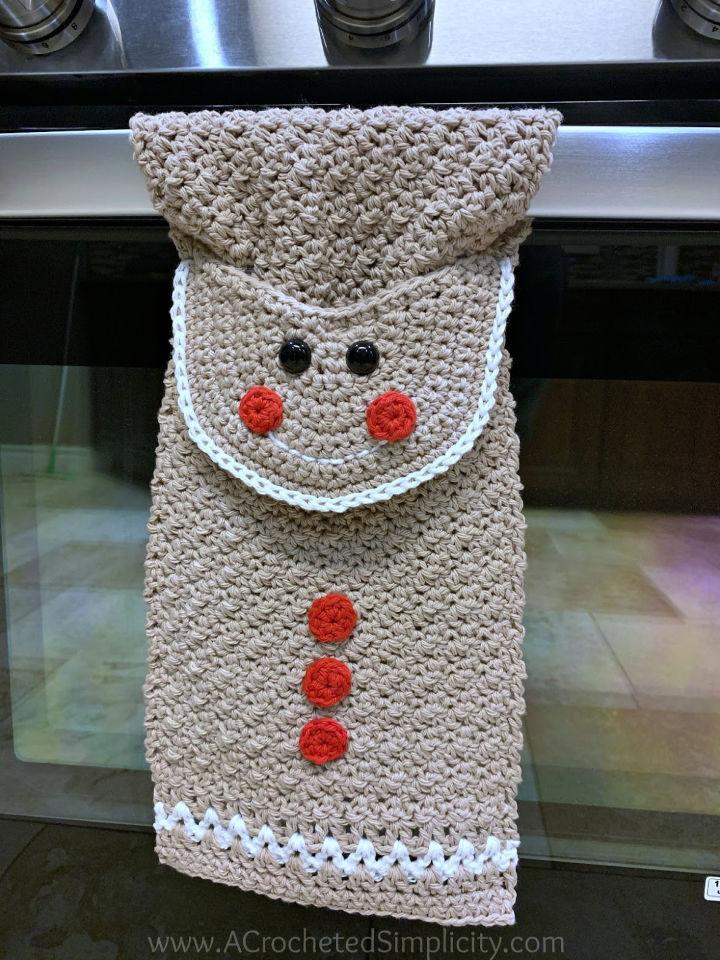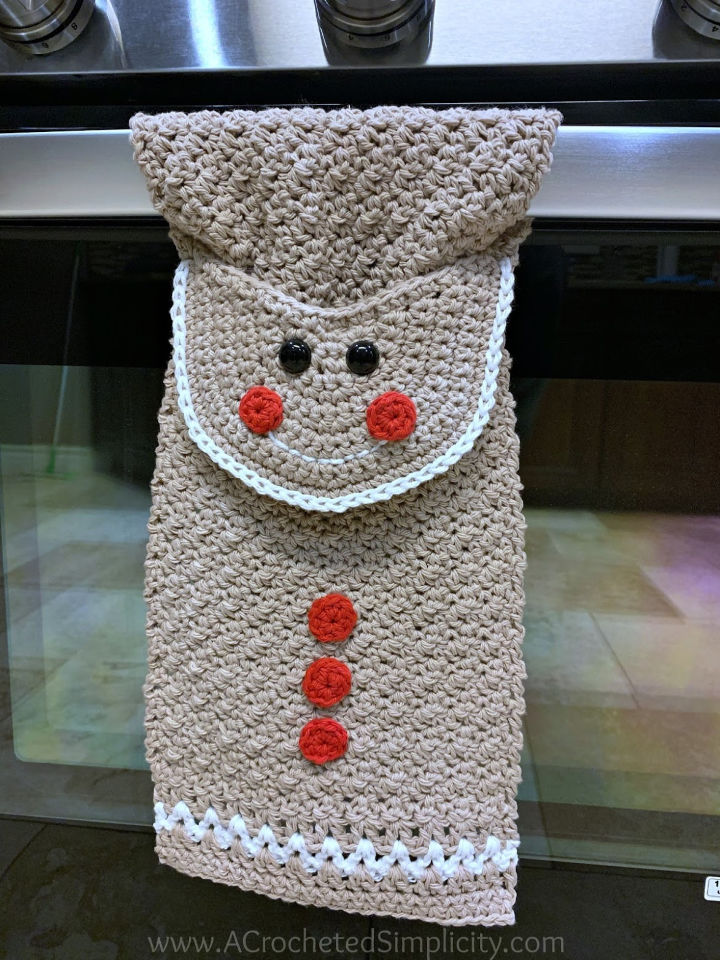 Create a festive look of your kitchen by making this extraordinary kitchen towel that is looking amazingly graceful. Crochet lily sugar n cream worsted weight 4 yarn, 140yds will be enough for this adorable kitchen towel, can easily hang knotted on a kitchen towel rack or on a wall hook. Here you need the 5 mm and 6 mm crochet hook to whip up this kitchen towel. One should surely get it t refine the look of their kitchen. This kitchen towel has a face for added cuteness, and it comes with doll eyes too, along with pink cheeks. Details here acrochetedsimpl
7. Kitchen Towel With Crochet Topper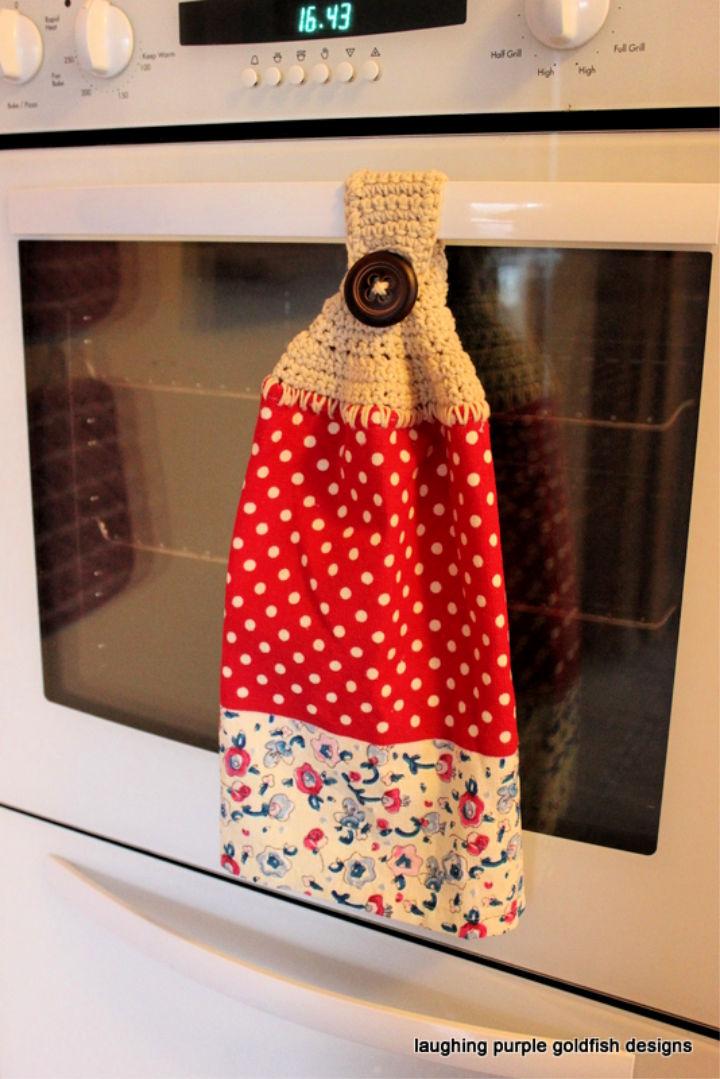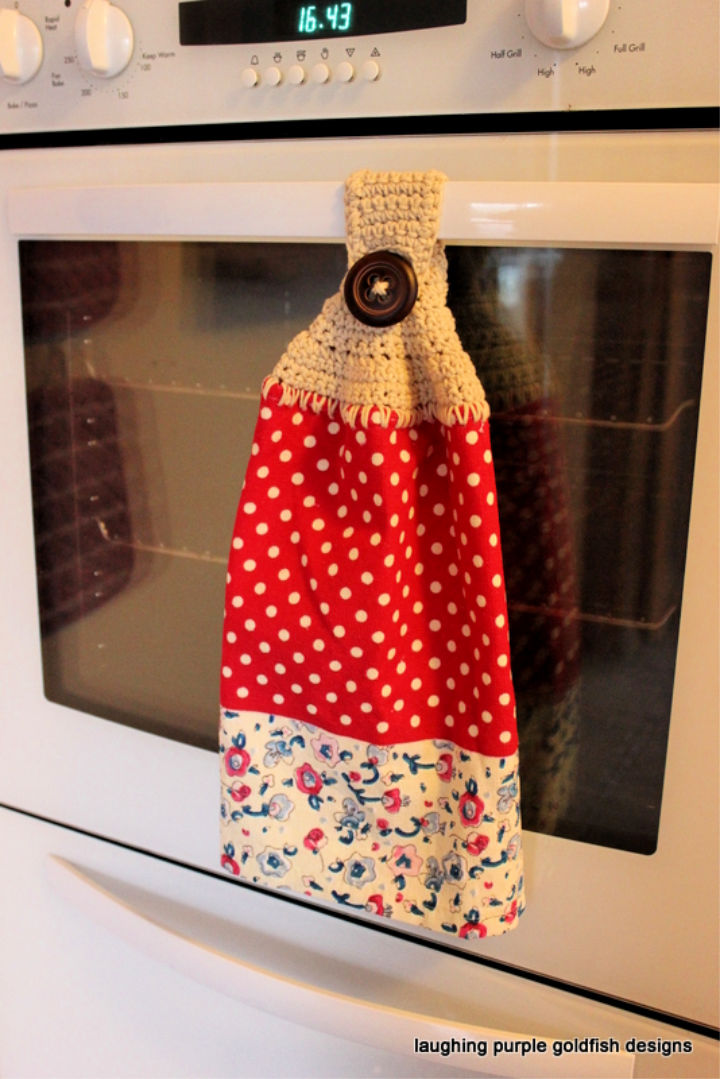 Willing to hang the kitchen towels on the racks so they will not fall off? So, add your kitchen towel with a crochet topper that may come with a button closure for a cool hanging. Crochet this topper even with the scrap yarn that you can find from the home stash. Crochet 8 ply cotton yarn with a 4 mm hook to whip up this crochet towel topper. Finish the topper with a loop and a wood button for a nice closure. A one of the best crochet topper to stitch at home. Details here laughingpurpleg
8. Crochet Towel Topper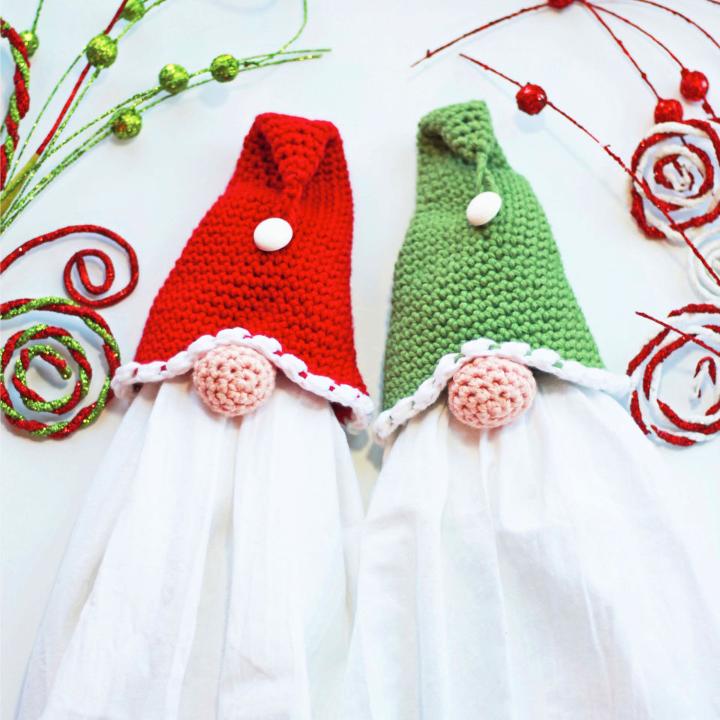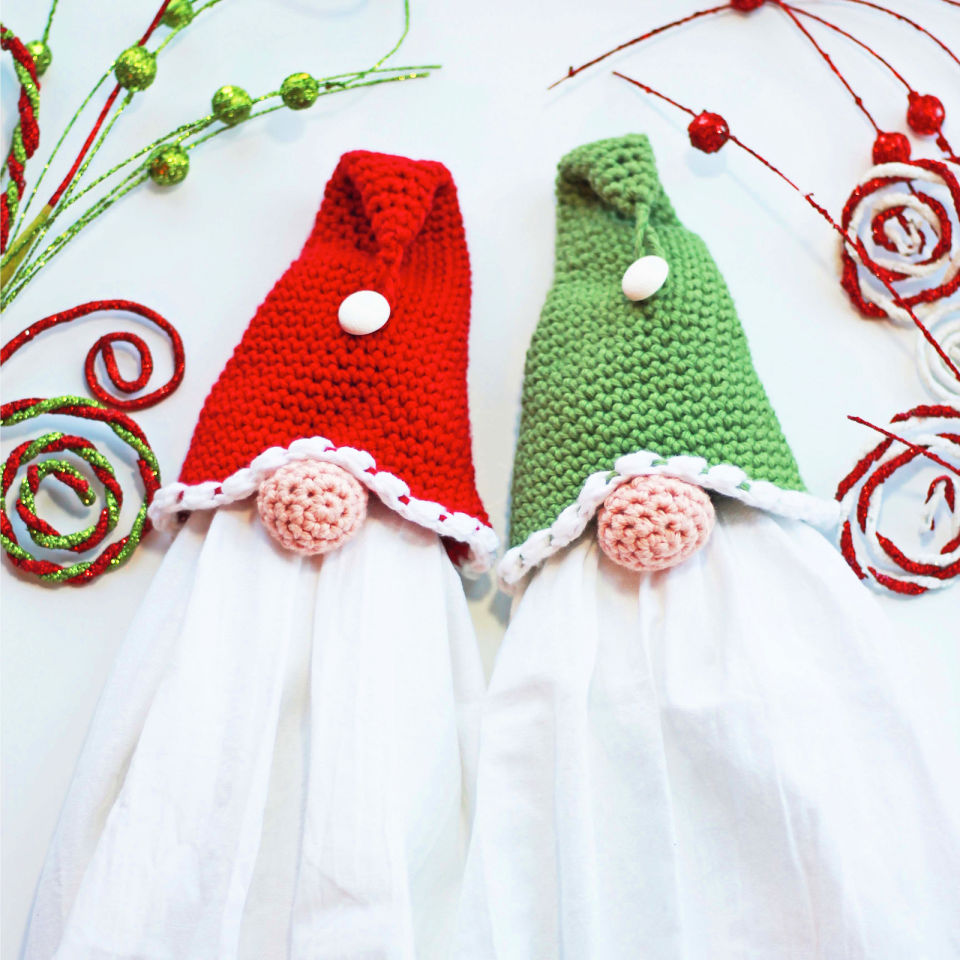 Bring a significant wow factor to your towels by adding these hat style toppers, will transform your towels into something super cute and adorable at a very first look. Crochet I Love This Cotton in red, white, and warm blush color to whip up this enchanting towel topper that is to crochet with the 5 mm yarn hook. Further, you need 1 white flour sack towel, a small amount of polyfill stuffing, 3" plastic ring, and a ¾" round white button to make these towel toppers. The best gauge for this towel topper is 20 rows make 4" or 17 sc st are equal to 4". The finished size of this towel is 8" tall and 5" wide. Details here nanascraftyhome
9. How to Crochet a Towel Topper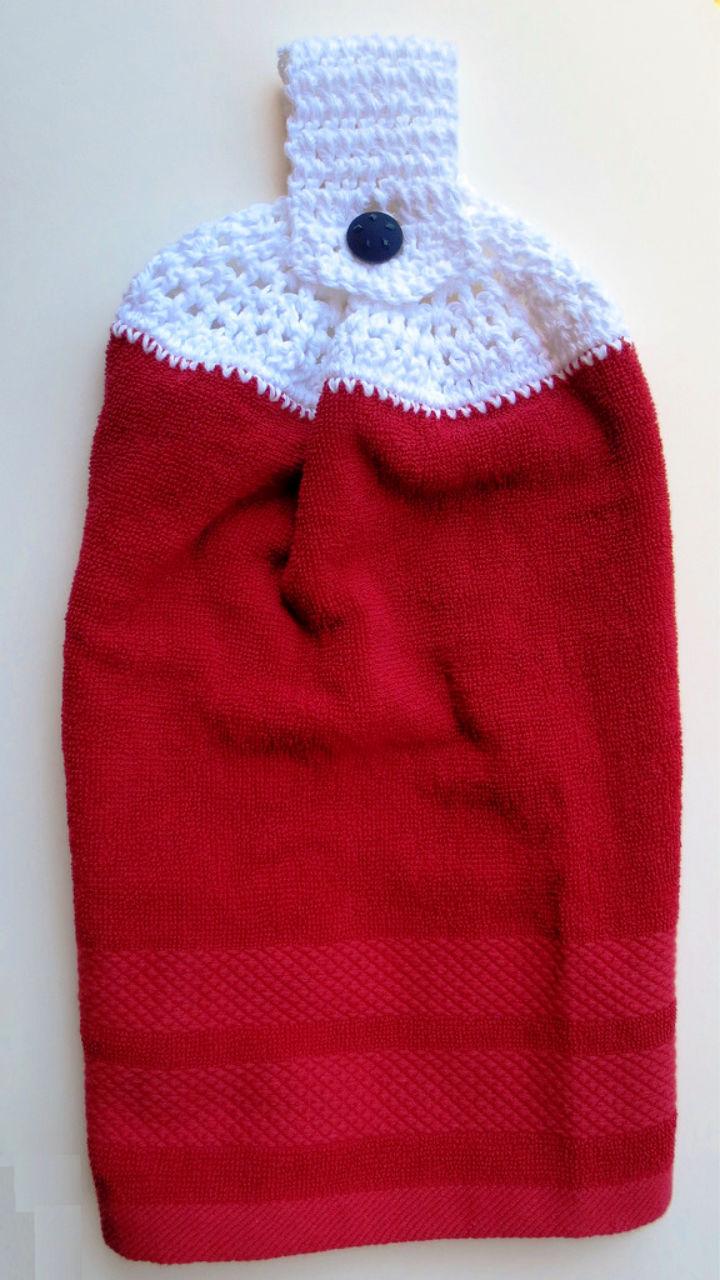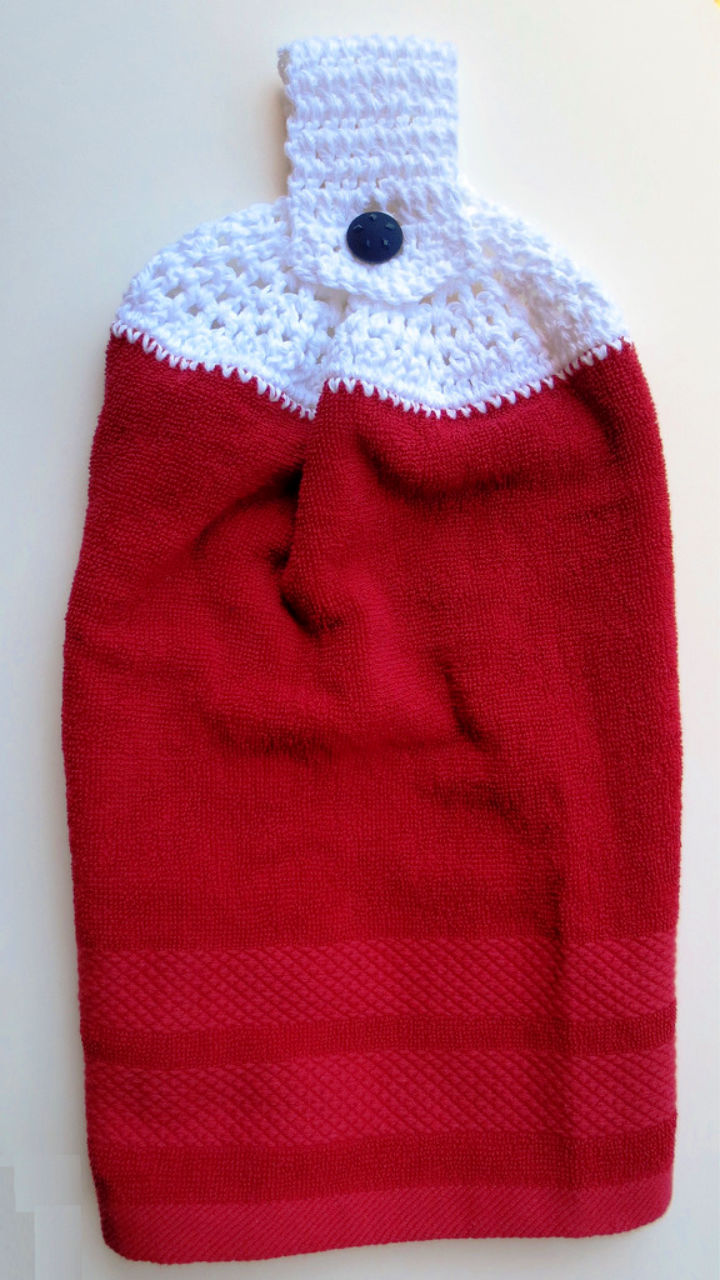 This crochet towel topper appears in chic white appeal and looks gorgeous with the red towel. Due to being doubled, it is super durable, and you need the beginner skill level to whip up this towel topper. Grab a kitchen towel of 17"x26" and crochet the topper using white Sugar and Cream cotton yarn. Finish off the topper with 1" button. Crochet this pattern with a 4 mm yarn hook. It gains attention from the unique waffle style design texture. Details here myrecycledbags
10. How to Crochet The Top Of Towels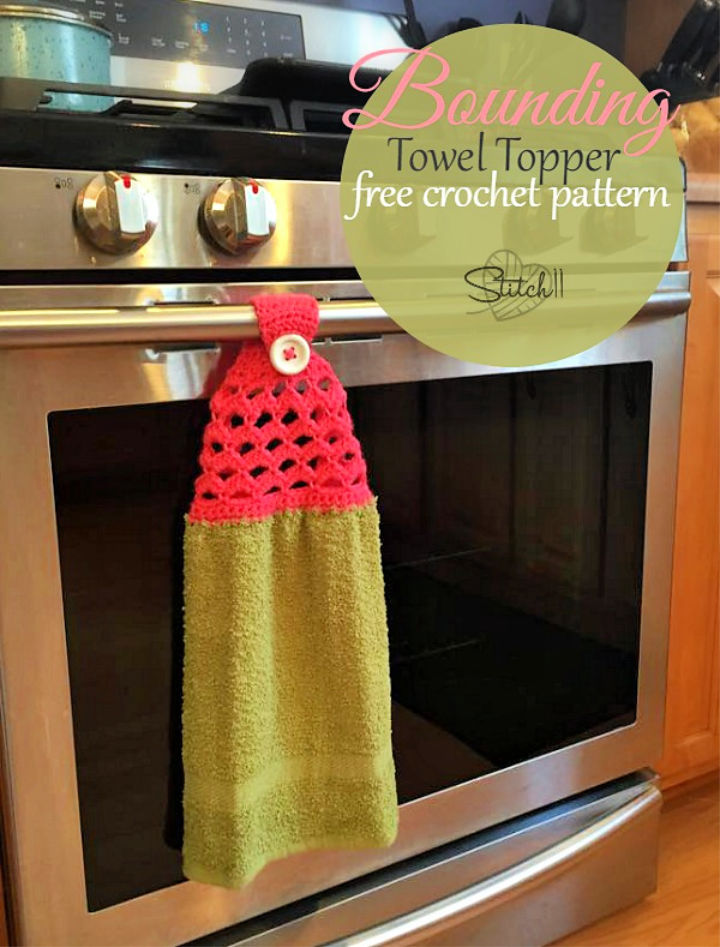 This crochet towel topper is a bit lacey and impresses with a mesh style design texture. You can get busy a little with the medium weight worsted yarn to make these towel toppers super quickly. Use a 5 mm hook to crochet these toppers and use a yarn needle to weave in ends. Opt for custom buttons for a nice closure, and you need a half-cut hand towel for each topper. Work in the basic yarn stitches and also in half double crochet stitch to get these towel toppers made. Details here stitch11
11. Free Crochet Towel Holder Pattern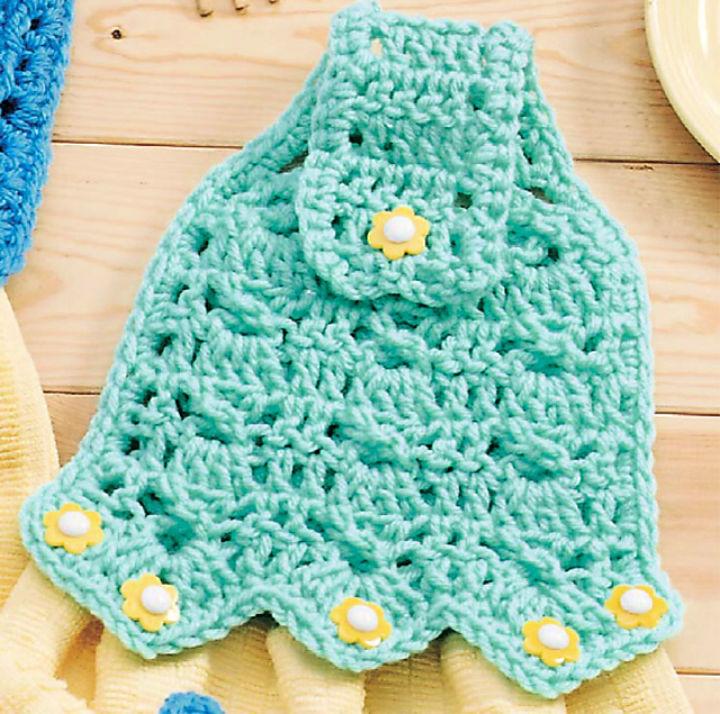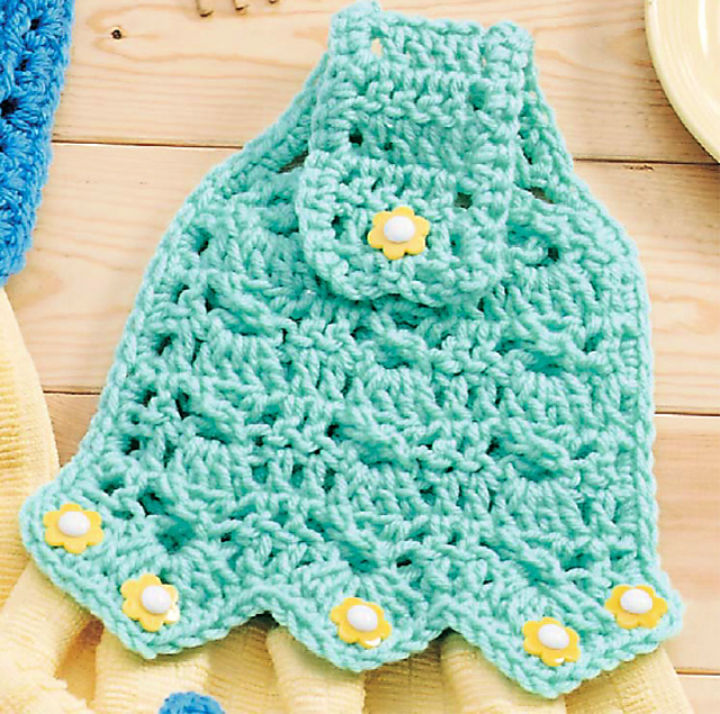 You need an average skill level to whip up this towel holder that looks amazing and fascinating in the turquoise yarn color. The yellow flower buttons bring tons of focal stimulation to the entire design of the towel holder. The finished size of this towel holder is 8 ¼"x9 ½", and it will help bring lots of visual grace to your kitchen. Get busy with your own favorite yarn stitches to work up this towel holder. A great crochet stash buster project. Details here freepatterns
12. Crochet Towel Toppers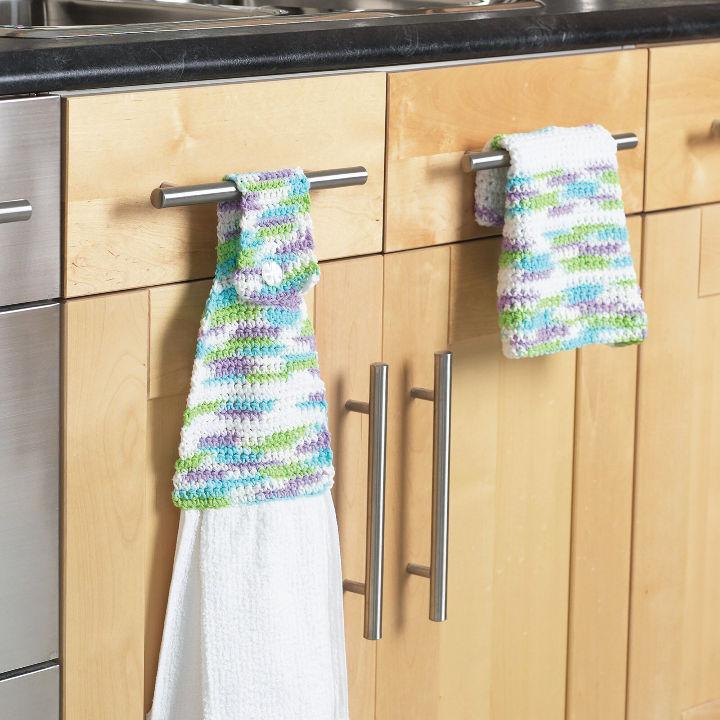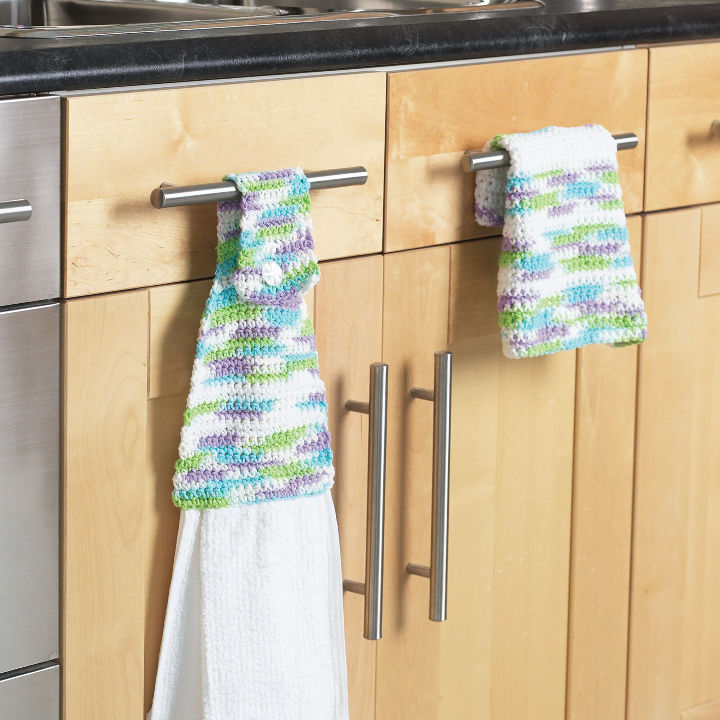 Even if you are a beginner, you can do great crochet projects, even crocheting this towel topper. Not merely the towel tower, you will get here an easy pattern for crochet dishcloth too. Crochet Bernat Handicrafter Cotton in white and violet color to crochet this entire set of towel topper. The finished dishcloth is a 12" square, and the towel topper dimensions are 12"x6". A one of the easy crochet gift that is guaranteed to please a homey person. A project to do with 100% cotton yarn. Details here yarnspirations
13. Crocheted Kitchen Towel Topper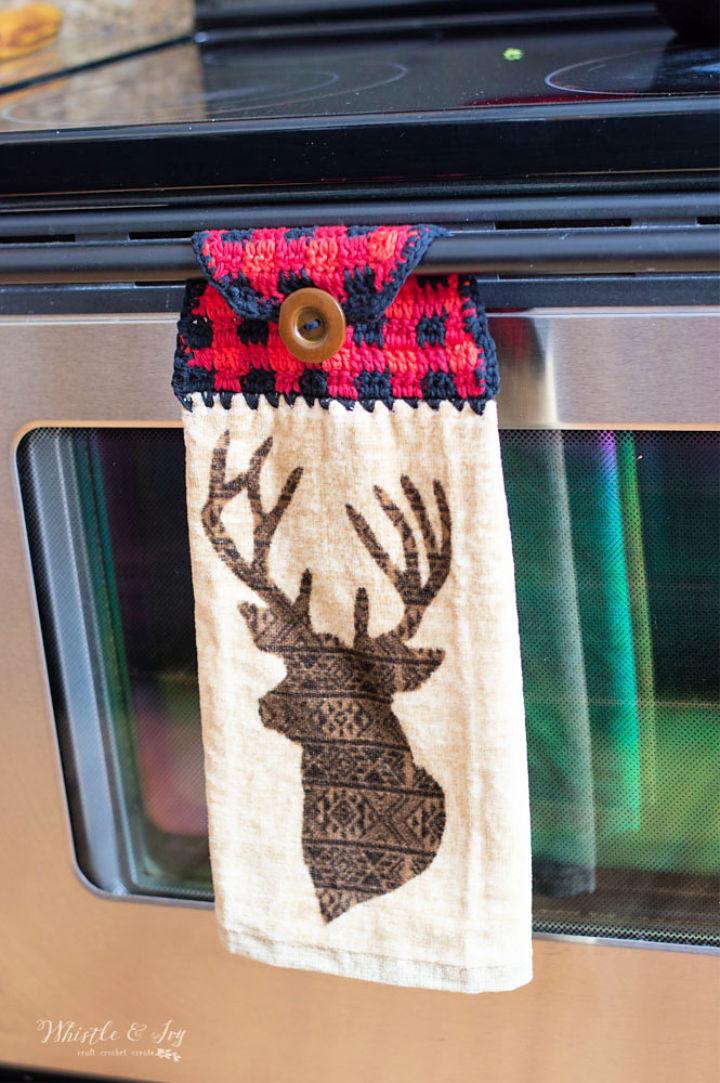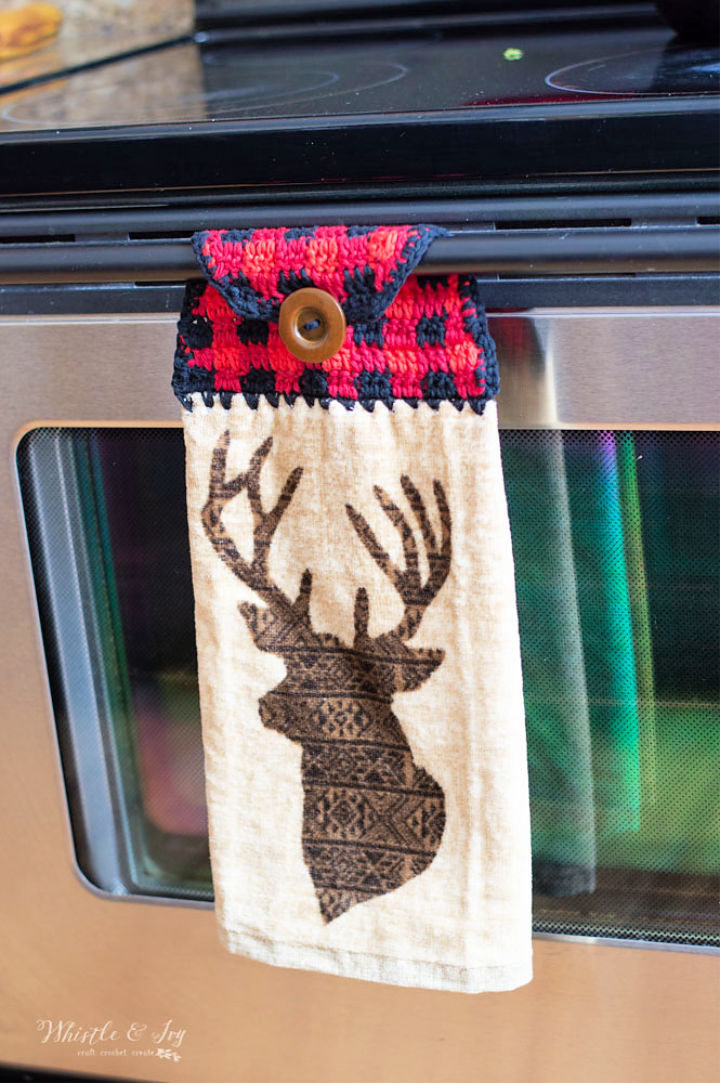 Spruce up your kitchen towels by adding colorful tops, will help them hang beautifully on a hook or rod or clothesline too. Make your kitchen towel look great with this plaid kitchen towel topper, will surely add tons of focal stimulation to your ordinary kitchen towel. Finish it off with a button and loop to fasten off on a hook or rod easily. Crochet Paintbox Cotton Aran yarn with 3.25 mm and 4.5 mm hooks to stitch this plaid towel topper. This topper is perfect for a 15"x24" cotton towel. Gauge is not very important for this pattern. Details here whistleandivy
14. Crochet Dish Towel Toppers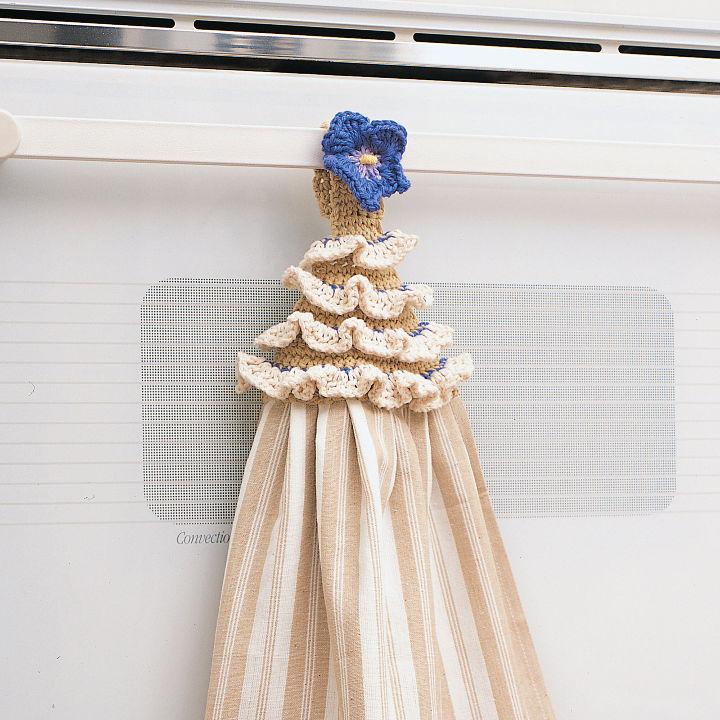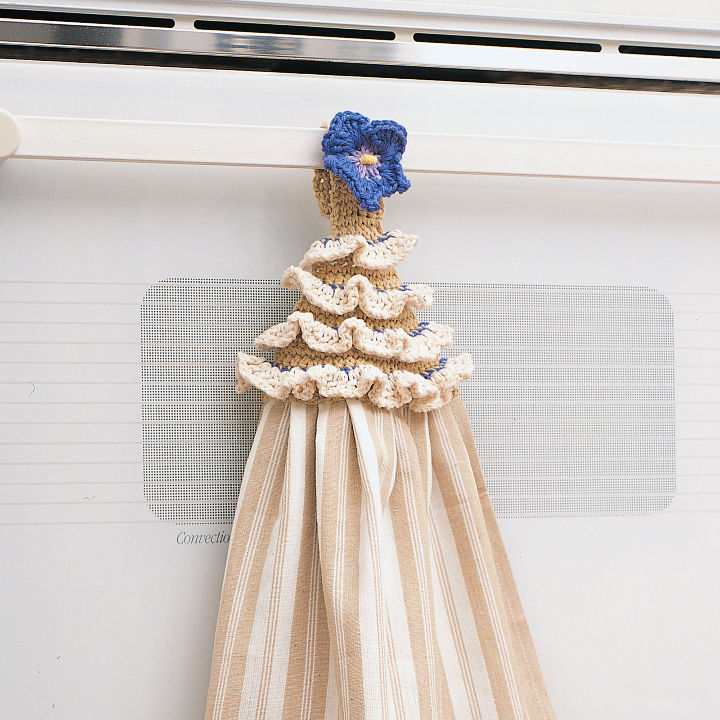 Looking for some smart ways to fancy up your kitchen? Then do make this dishtowel topper using your art of crocheting. It will help the dish towel to get easily hanged over the hooks and cabinet door knobs instead of putting it wet on the kitchen counters. Here you need an easy skill level to whip up this dishtowel topper. Crochet Lily Sugar'N Cream yarn in yellow, hot purple, jute, and white color to make this ruffled dish towel topper. Along with featuring a neutral yarn hue, highly acceptable for fall decor. Details here yarnspirations
15. Quick and Easy Towel Topper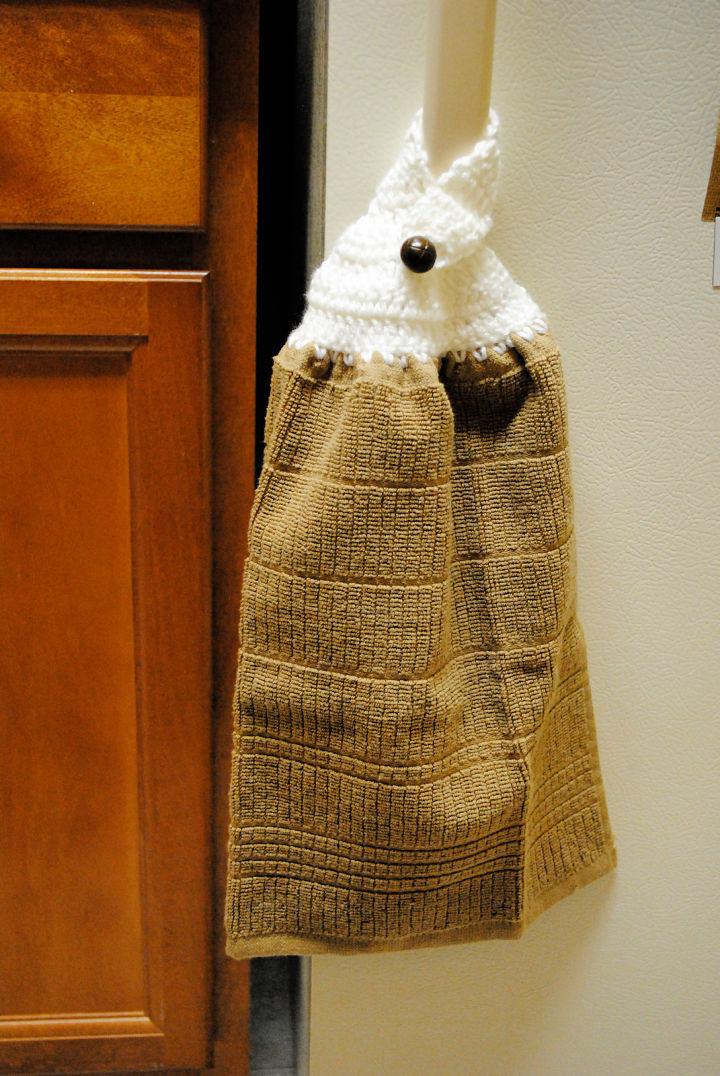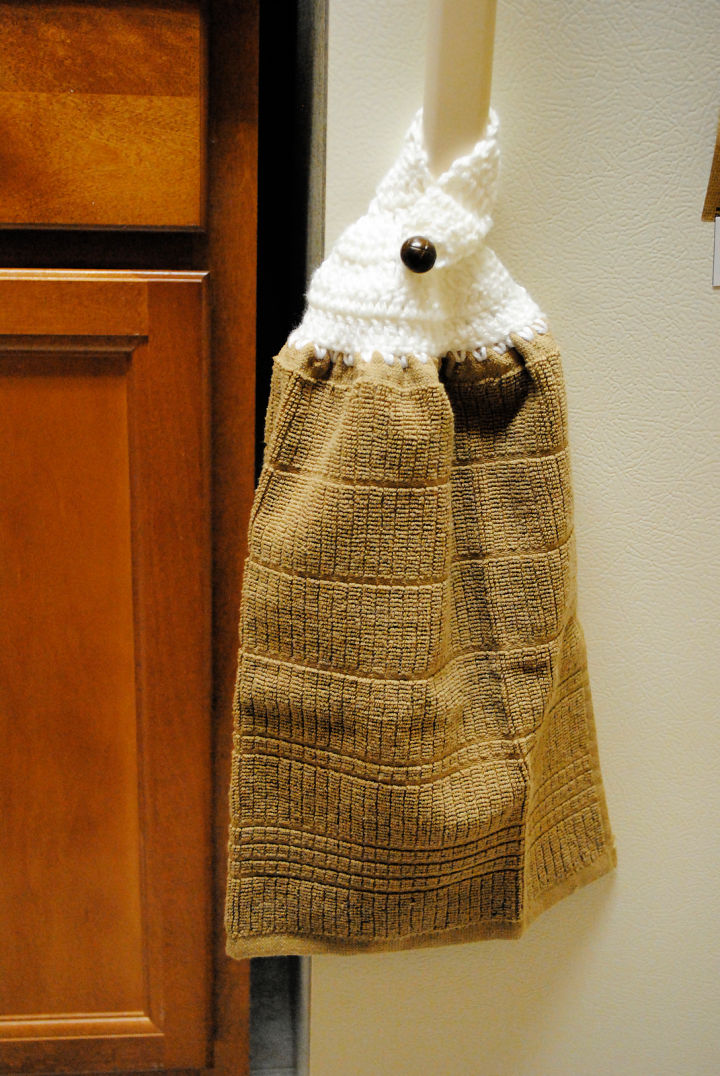 Do you love to do the crochet patterns that complete quickly? Then do opt for this simple yet elegance towel topper, a unique creation done with the primary crochet stitches. Grab an off white or white worsted weight yarn and get busy in crocheting it with a matching hook to get it made. Crochet this towel topper to give as a novelty gift to a friend, and it will be a pleasure to crochet at home too. Don't forget to finish it using a button and loop. Details here undergroundhoo
16. Crochet Towels Topper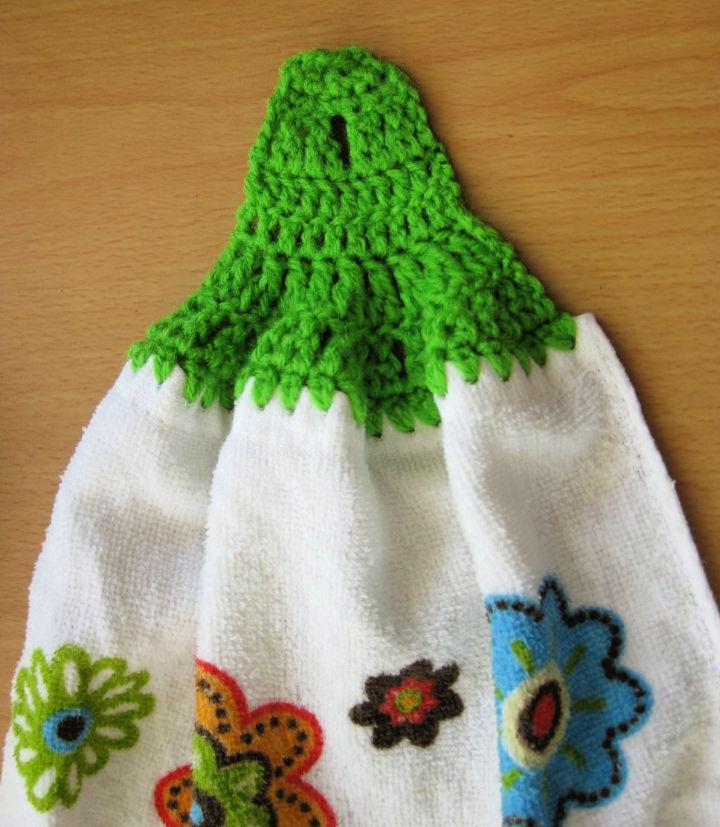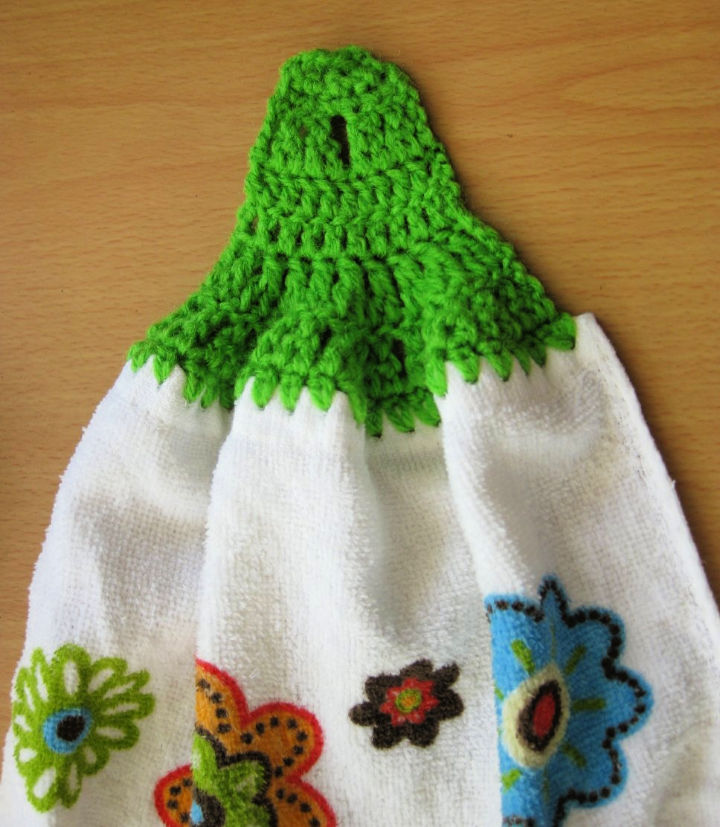 This crochet towel comes in a green color that goes matching to the towel colors. Crochet the worsted weight yarn like Red Heart Acrylic yarn with a 4 mm crochet hook to whip up this towel topper. It is perfect for the 15 ½" wide and 25" long. Further, you need a ticket hole punch also to complete this adorable yarn towel topper. Work up this towel topper using any leftover yarn. You have to crochet it directly on the kitchen towel. Use the ticket hole punch for easy hole punching. Details here mycrochetstuff
17. Crochet Hand Towel Topper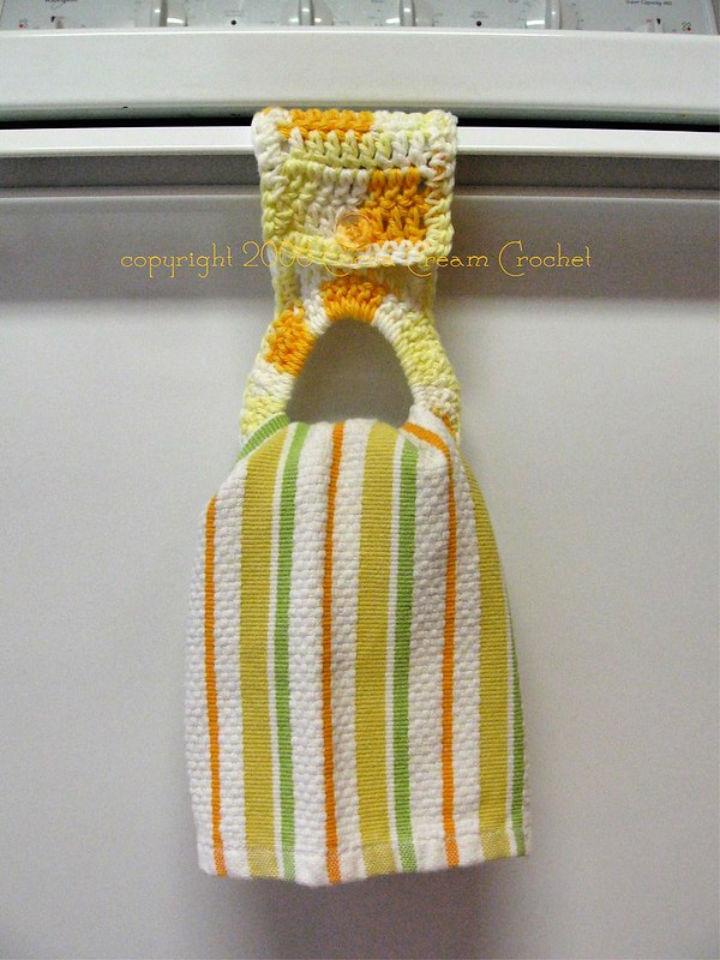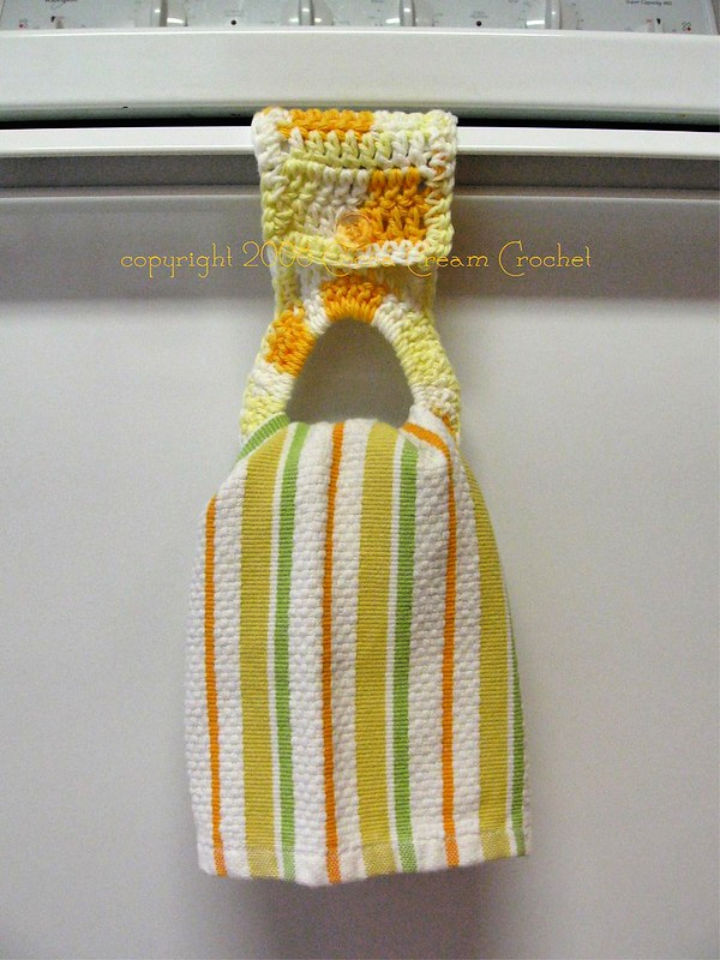 One of the easiest crochet patterns is this hand towel topper, the best ring to crochet quickly in no time. You need to crochet less than 1 oz with a 4.25 mm hook to whip up this towel topper. Then just finish it with a button, choose a 1" or ½" button for this pattern. First, crochet the ring, then tab and finish with a decorating edging, sew a button on and complete the topper pattern. One of the best crochet hand towels to crochet in no time, a great stash buster yarn project. Details here lemonlaneblog
18. Towel Topper Pattern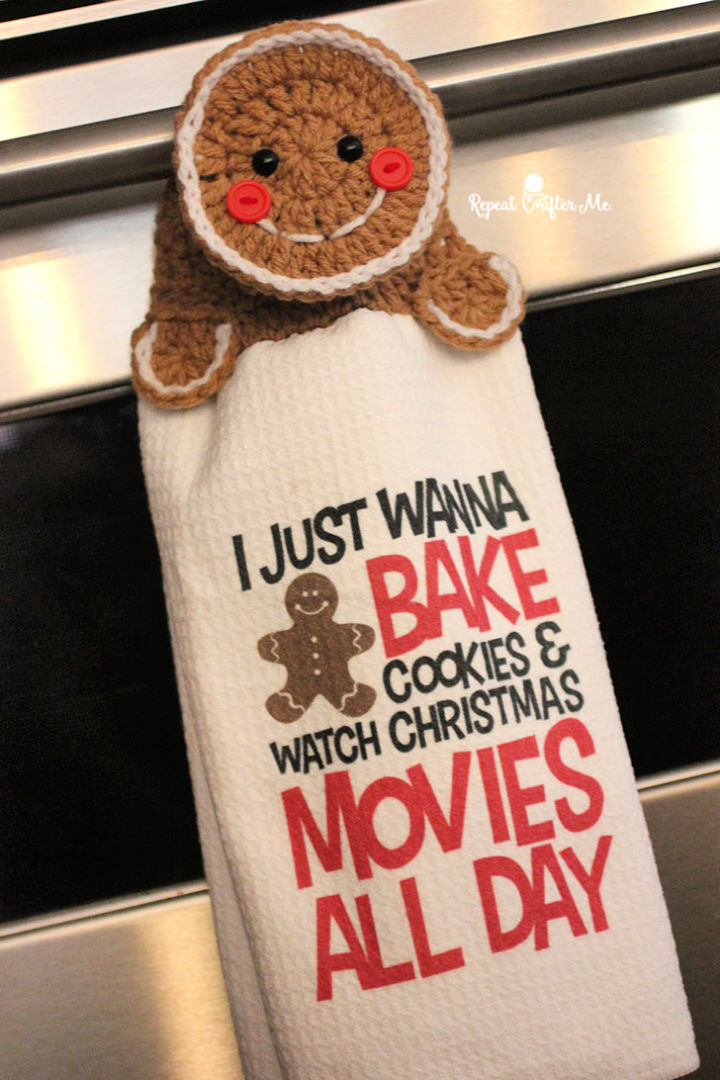 Let this smiling yarn face be your next fun towel topper, the best gingerbread towel topper to make in no time. Crochet a circle by whipping up the magic ring foundation to make the man gingerbread man head and hands. Crochet the topper directly on the towel, should be 18" long. Finish the face with doll eyes and also with pink button cheeks added cuteness to the face. A one of the best crochet topper to make at home without getting a bit expensive. Details here repeatcrafterme
19. Crochet Dish Towel Topper Patterns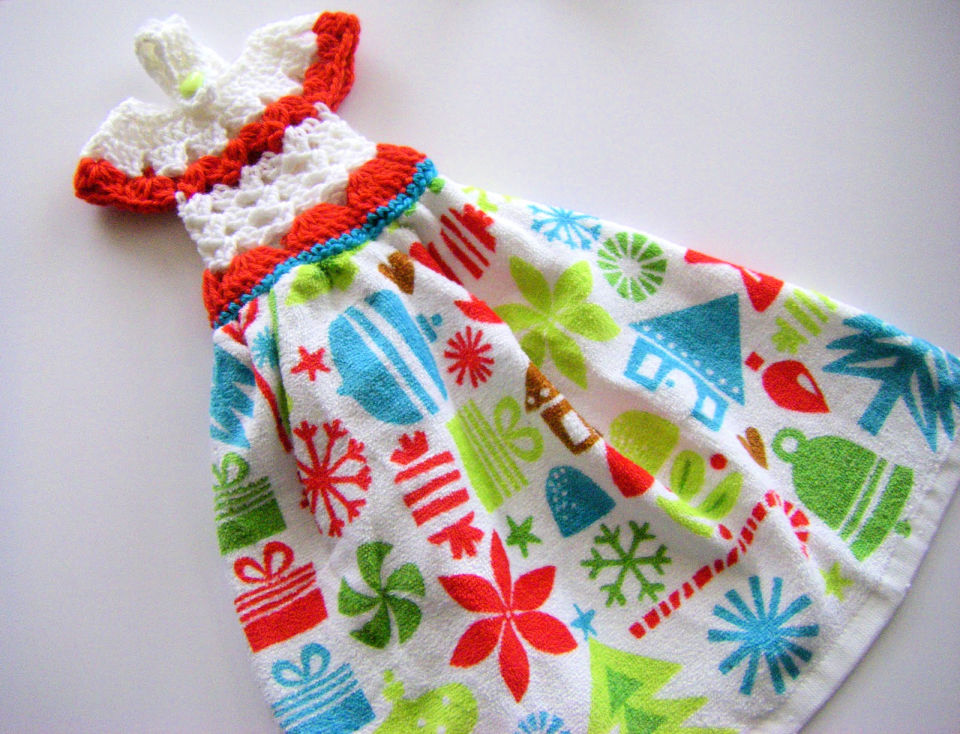 This crochet towel topper will make the whole towel look like a dress. Again you need much less yarn to stitch this dishtowel topper, will make a sweet handmade gift. Crochet worsted weight yarn with a G hook and add it on the top of your kitchen towel. Finish it up with a button. This dressy towel topper will make a sweet handmade gift . Crochet this dress in orange, blue, and white yarn colors, and it will surely fancy up your dish towel. Details here sewritzytitzy
20. No Sew Crochet Towel Toppers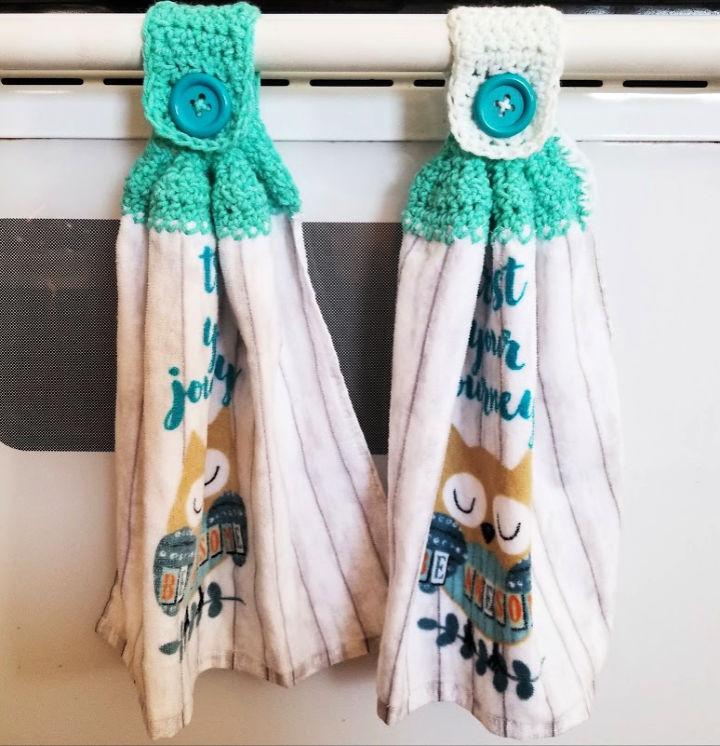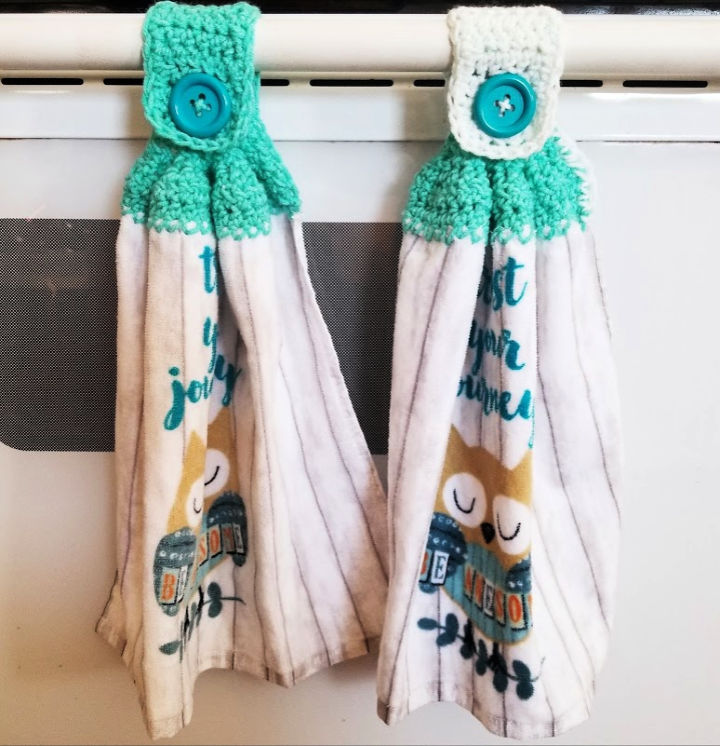 You have work with both 3.5 mm and 5.5 mm crochet hooks to work up these sweet towel toppers that come with button closure. First, cut your towel into half and then directly crochet the towel topper onto it. This towel topper comes in a turquoise color and finishes with a matching button. It will allow you to hand the towel properly on any wall hook on a towel rack. The best yarn project to organize your kitchen. Details here smithshomegoods
Conclusion:
Hanging towels in the kitchen is often a problem as you can't leave them wet on the kitchen surfaces. So, these colorful crochet towel toppers are a great solution. They will help your towels hang easily on the towel racks and knobs with a button lock.
You have to crochet a fun lop on the top of the towels that will go around the hook or towel rack and can be buttoned in place. Most of these crochet towel topper pattern will work up super quickly, and you need a little amount of yarn to convert into these brightly colored beauties, the towel toppers.
Related Free Patterns:
Crochet Tablecloth: Check out our free crochet tablecloth patterns for the very best in unique or custom, handmade pieces.
Crochet Valance: Check the crochet valance patterns and information; follow them to make beautiful curtains at home.