Taking your crocheting a circle to next level and stitch these 8 free crochet circle rug patterns, the giant yarn circles crocheted in enticing yarn color combos. The basic skills required to crochet most of these crochet circle patterns are the magic ring and then to work in rounds. All beginners can try out crocheting these rugs to learn more. If you are handy at lovely crocheting rounds, mandalas, and doilies, then crocheting these rugs will be a child's play for you.
There are lots of playful, animal-inspired, artistic, and stylishly colorful crocheted rugs given in this list of 8 free crochet circle rug patterns that you can easily duplicate for a targeted interior space or room. Crochet the bear rugs to bring a great fun character to a kid's nursery or playroom. Add a big wow factor to kids' bedroom by whipping up a kitty circle rug. The rainbow round rugs will come in handy when you need to add a splash of colors to a particular space. All designs are given in the list to choose from.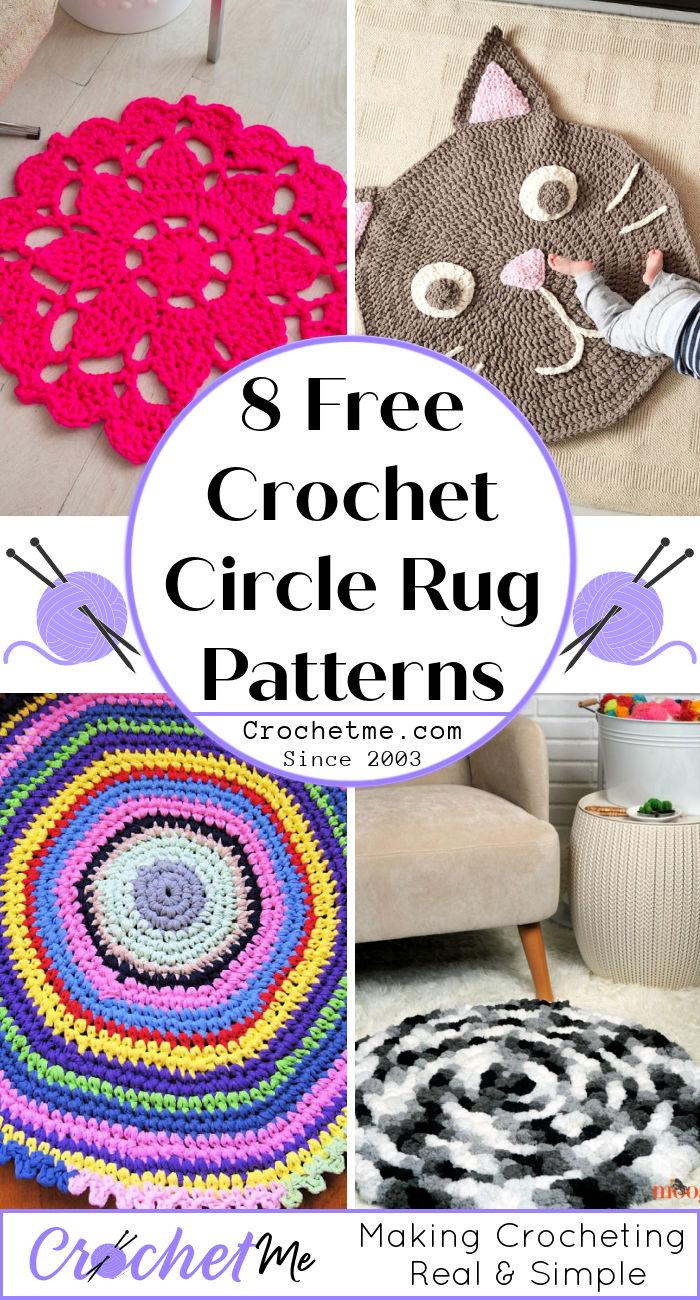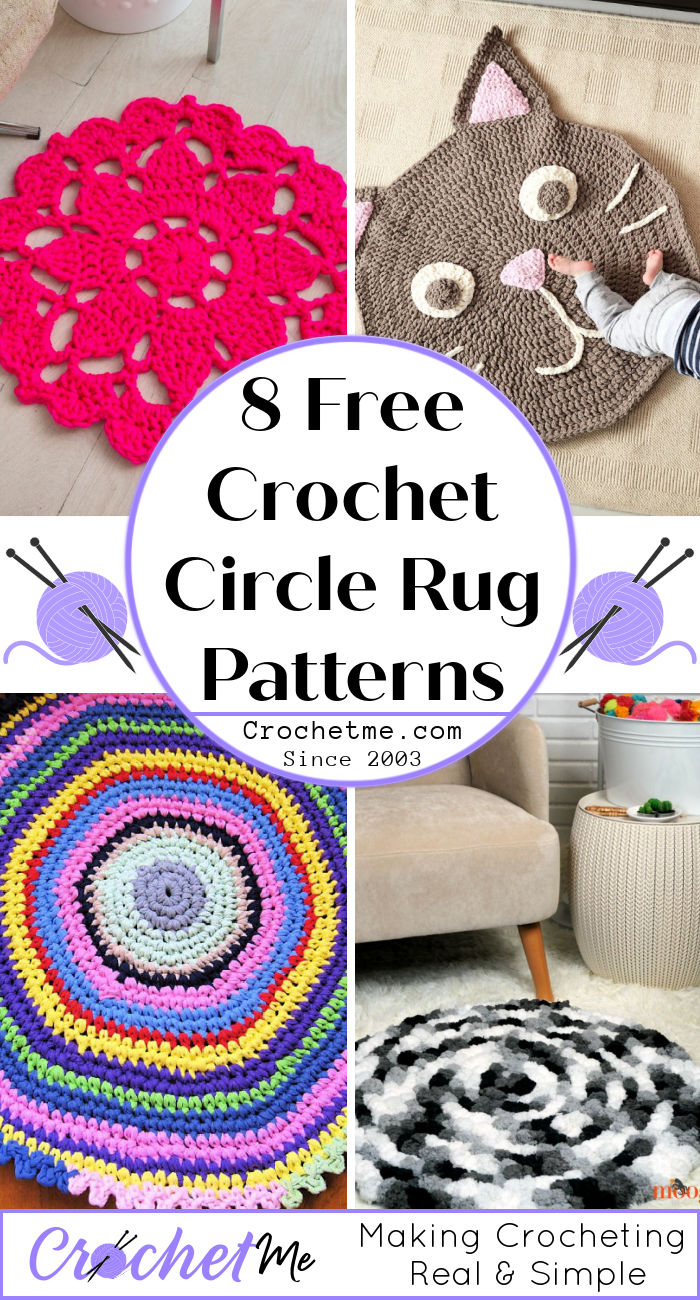 A rug is not merely the soft and cozy mat that will enhance the visual of the space, it will be comfortable playing nook for the kids, and it will aid in noise reduction too due to its amazing insulation value. The giant rainbow mandalas, the colorful lacey circles, and spiral pom-pom rounds, all can be seen next in your home as fancy area rugs. The majority of these free patterns require a beginner skill level. Moreover, you will get here the tips too for crocheting the best edging that will not buckle or curve upward. Take a tour of the entire list of these crochet circle rug patterns to get your hook inspired.
1. Crochet a Mandala Circle Rug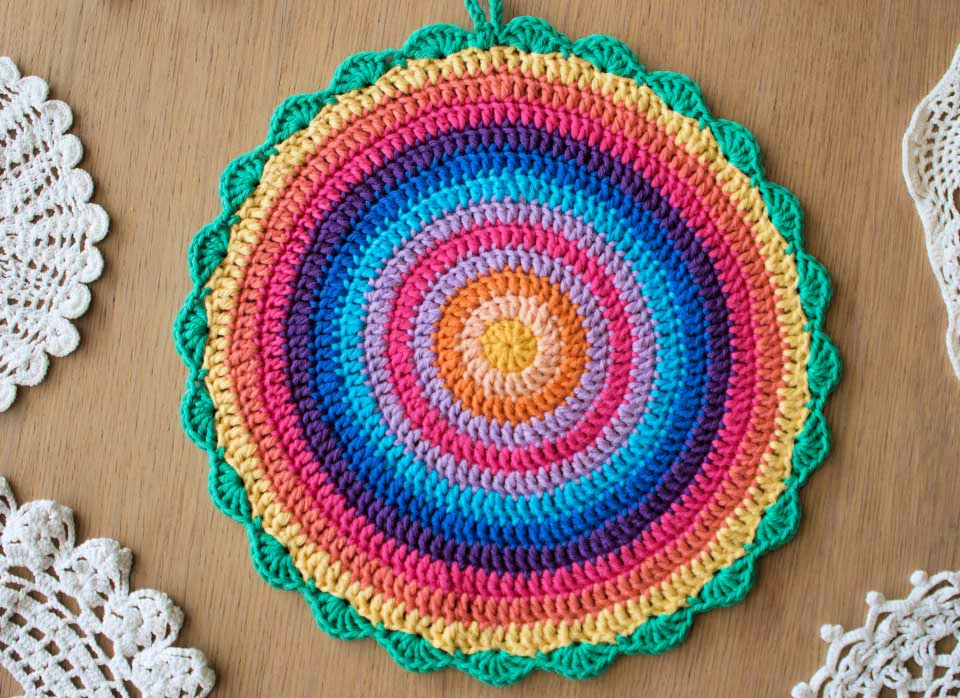 This outstanding circle rug is sure to refine the look of your interiors. Adding this rug will mean you are bringing elegance, colors, artistic vibes, and geometric decors to your space. The skill required to crochet this circle rug is the crochet mandala that you can crochet nicely by making first the magic ring. This giant crochet rug features an array of colors coming as round stripes. Best crochet round rug ever crocheted. Finish this round crochet circle with wavy edging. acreativebeing
Yarn: Drops Paris Cotton Yarn
Hook: 4mm
2. How to Crochet a Circle Rug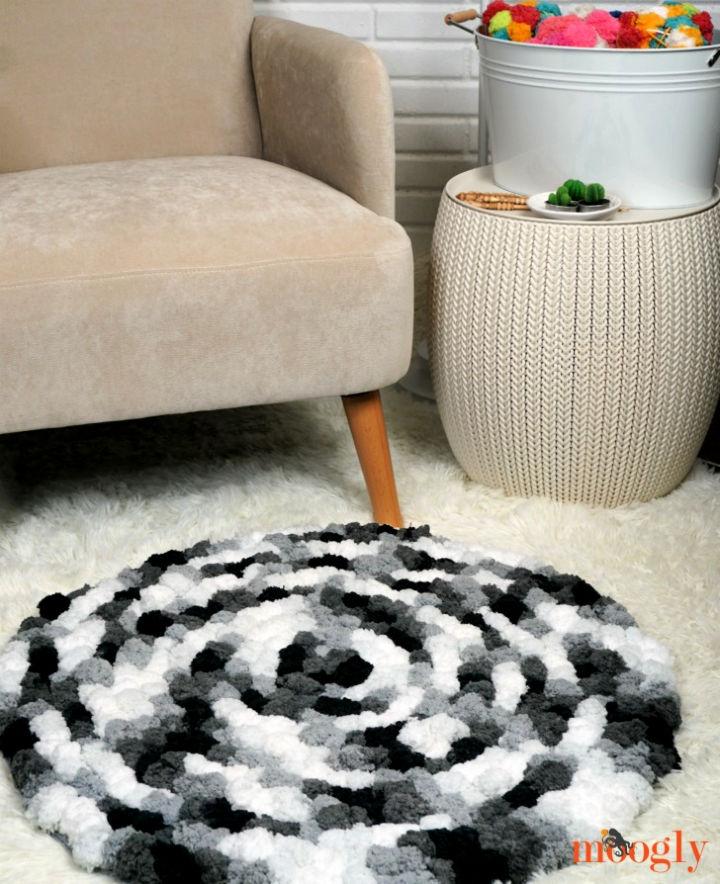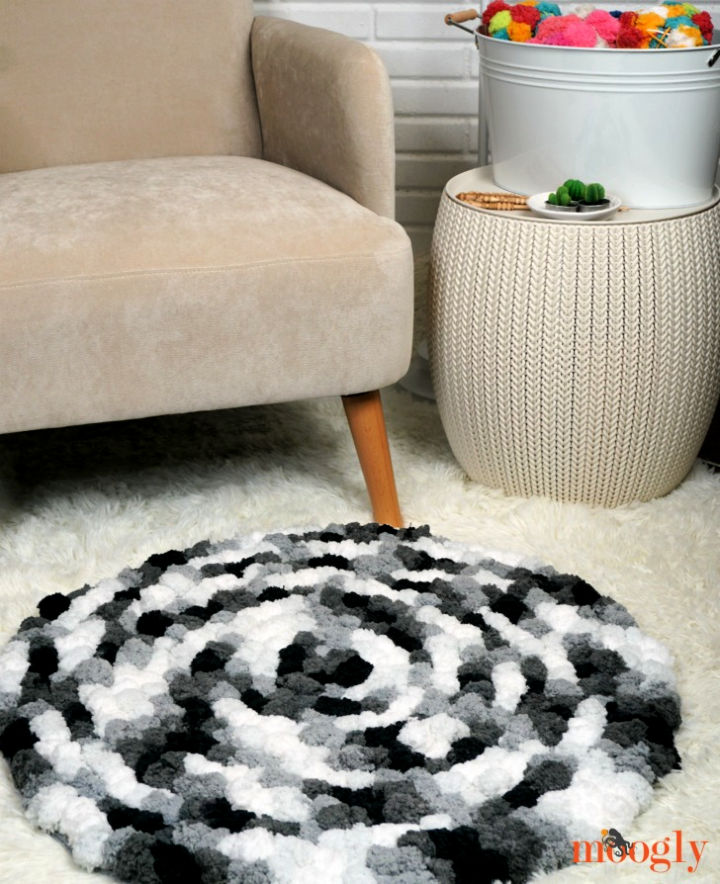 Bring colors to your spaces with this crochet circle rug, entirely made of colorful pom-poms. Crochet rugs are often slippery, but here the problem has finally been resolved using a smart trick. The rug is super soft to walk on and will be the best playing nook for the kids. Opt for pom-poms in colors that you are missing out in your room or any particular interior space. A super cuddly and soft type of rug. Do get this circle rug for instant noise reduction. Use the 3′ x 5′ size of non-slip rug pad for making this rug non-slippery. mooglyblog
Yarn: 5 balls of Red Heart Pomp-a-Doodle in Thunder Colorway and less than 1 skein of Red Heart Super Saver Ombre Worsted Weight 4 Yarn in Anthracite Colorway.
Hook: US-G, 4.0mm hook
Gauge: Gauge is not critical for this pattern
Size: 27" Round
3. Crochet Circle Rug Pattern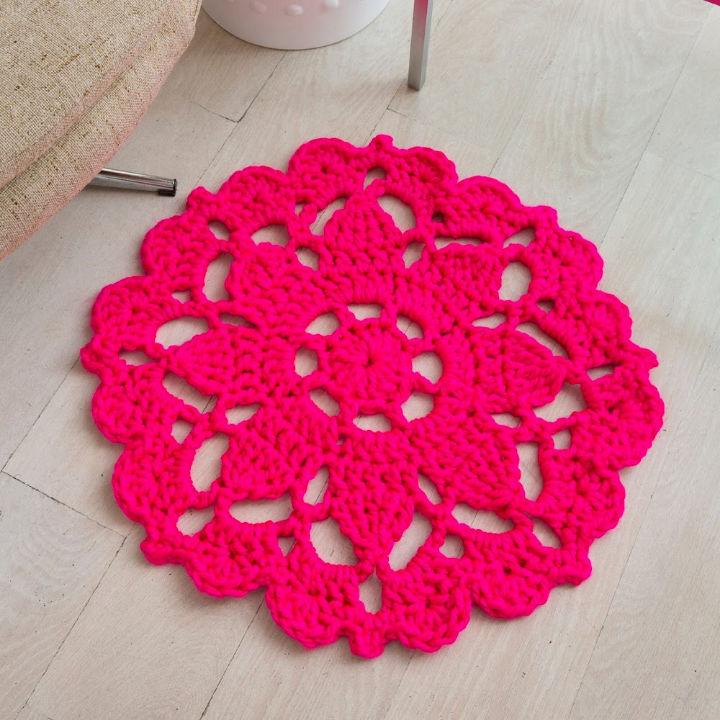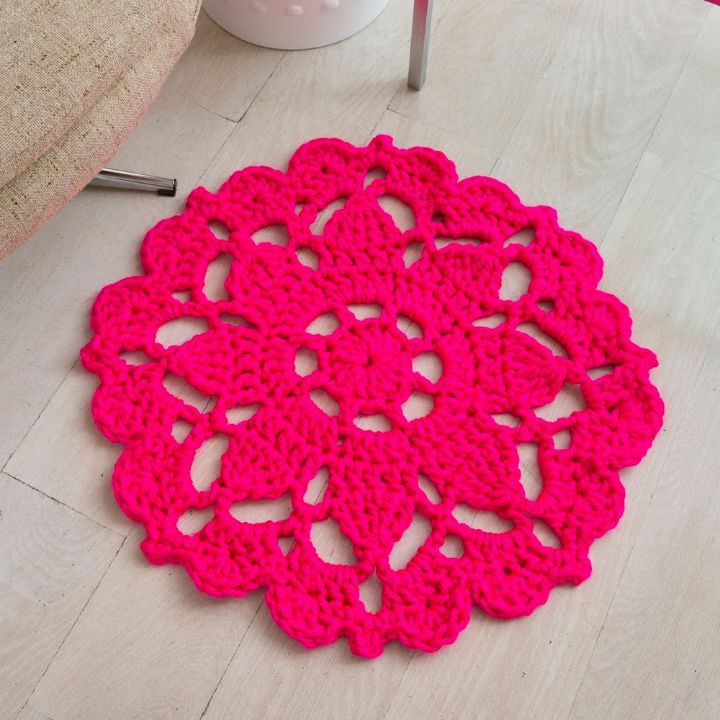 Look at the bright neon pink hue of this enchanting circle, another enticing crochet mandala rug that is sure to create a heavenly appeal of interior space. The best choice of rug when wishing to bring a splash of colors to an interior home space. Impress your guests also with the striking bright appeal of this patterned crochet rug, crocheted to fresh up your spaces. Add the non-skid backing, so this rug will be non-slipper and hence safer to use next to your couches and chairs. yarnspirations
Yarn: Red Heart Vivit Yarn
Skill Level: Easy
Size: Circle with 76cm Diameter
4. Crochet T-Shirt Yarn Circle Rug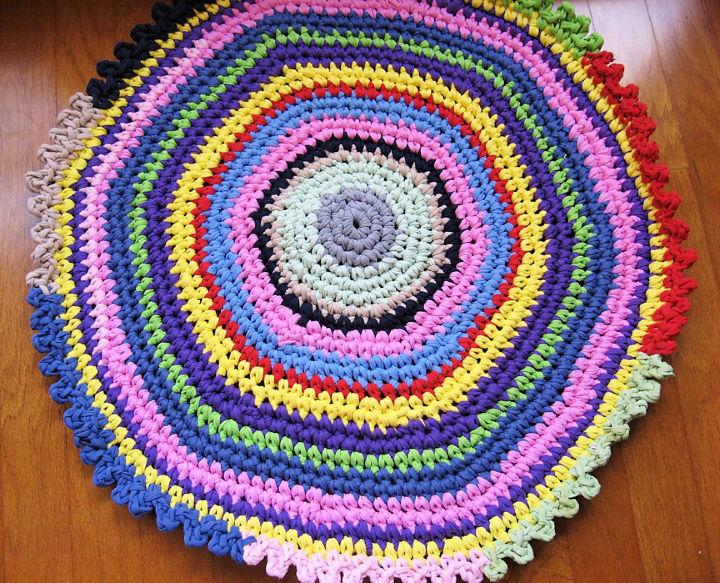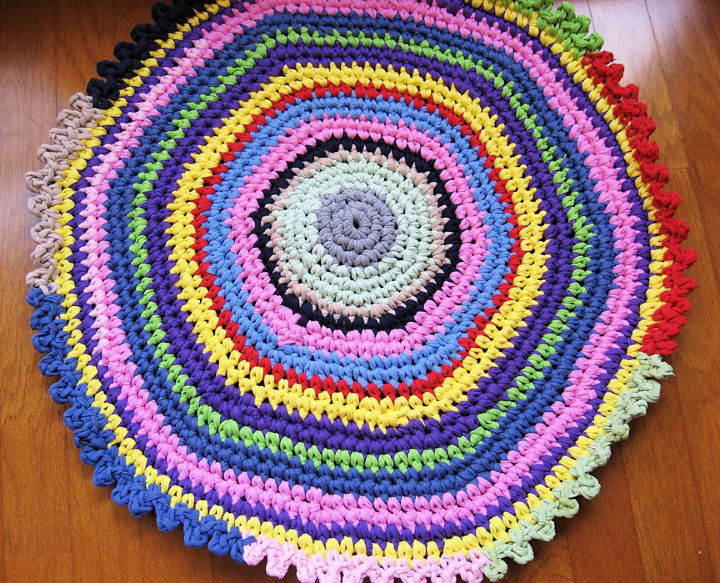 Having nothing to do with your old t-shirts, transform them into yarn, and crochet this impressive yarn circle will be your next beautiful rug. It features lots of colorful rounds and really absorbs. The best choice of crochet round rug to feature in your home will bring colors, elegance, and coziness to a targeted sitting space. Place it near to your chairs or couch for an instant interior refresh. Add the non-skid backing to make this rug totally non-slippery. imaginemechanix
Yarn: T-shirt Yarn in Various Colors
Crochet Hook: US P15/10.0mm Hook
Skills and Stitches: Magic Ring, Single Crochet, Slip Stitch, Crocheting in a Round, Adding Colors in Crochet, Bind Off, Weaving in Tails, and Picot Stitch.
Size: Big Circle with 32" Diameter
5. Crochet a Circle Rug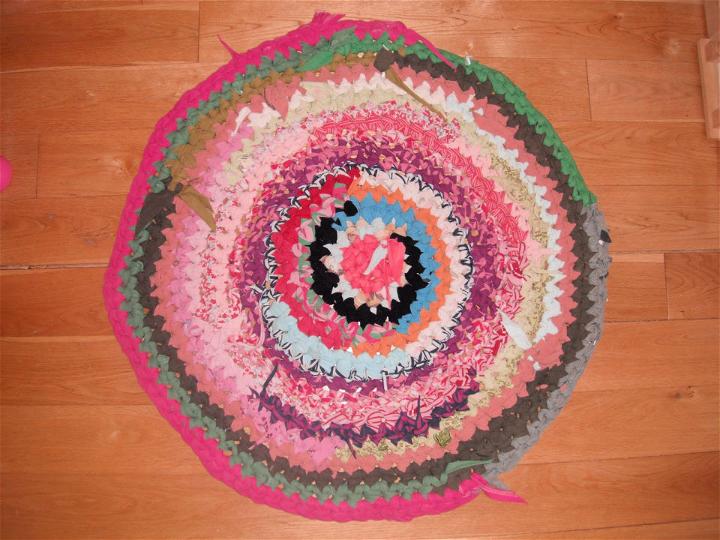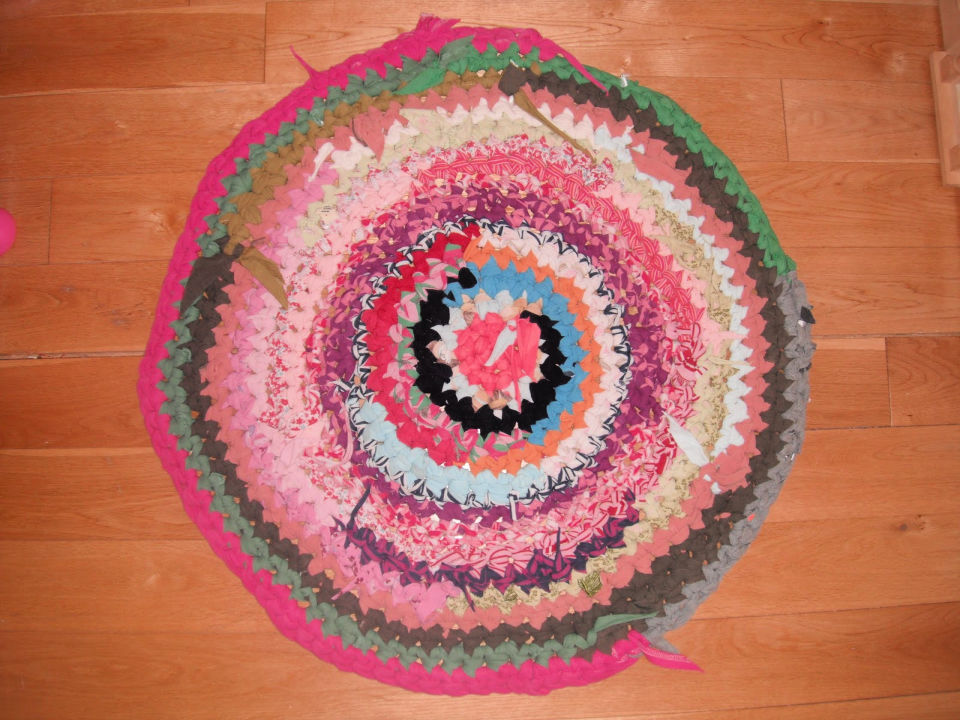 The crochet circular rugs gain a bit extra attention and can be finely be adjusted in the space due to the perfect roundness of edging. Use this rug for the hard floor or for carpeted floors. It will rock in all ways. First, gather your t-shirts and cut them into 2" wide strips to make the necessary t-shirt yarn. Knot the strips together to make the yarn ball and then start crocheting this braided yarn rug, which will feature lots of amazing colors suiting your style. lifewiththewild
Yarn: T-shirt Yarn
Crochet Hook: 15mm
Skills: Magic Ring
6. Crochet Play Circle Rug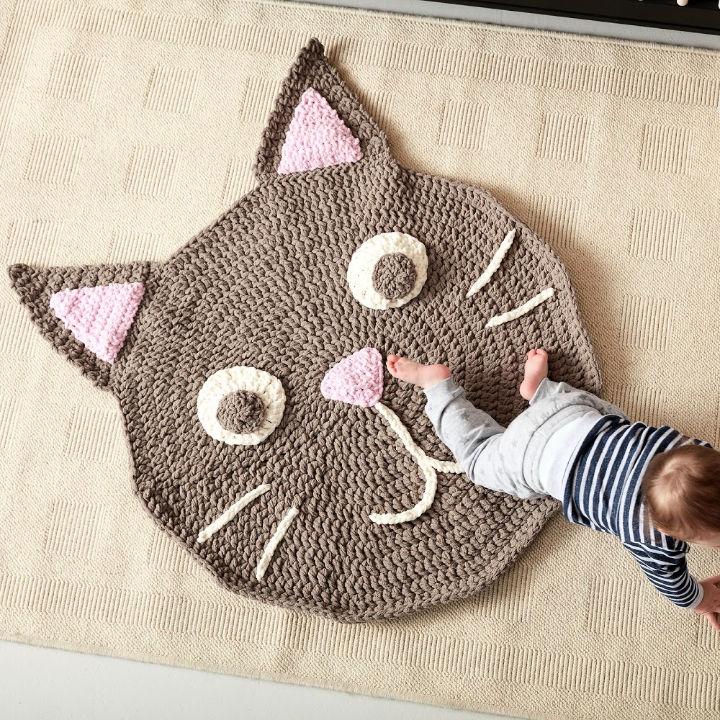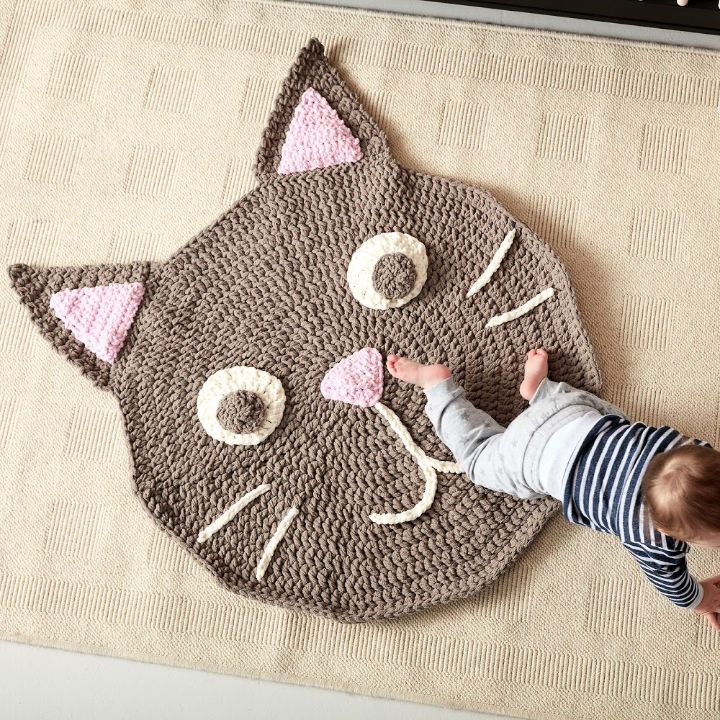 The best choice of the fun rug to add to kids' bedroom, always ready for the extreme cuteness and fun. This is here the best crochet play circle rug crocheted in the kitty shape, will be loved dearly by all the kids. Opt for this crochet rug to add to your kids' nursery too. Playing over this soft and cozy rug will inspire the creativity of your kids, and this playmat will be the next new fun thing your babies will be around all the time. yarnspirations
Yarn: Bernat Baby Blanket Yarn in Baby Sand, Vanilla and Baby Pink Colors
Hook: US L/11, 8.0mm Hook
Size: 35″ Circle Diameter
7. Rainbow Crochet Circle Rug Pattern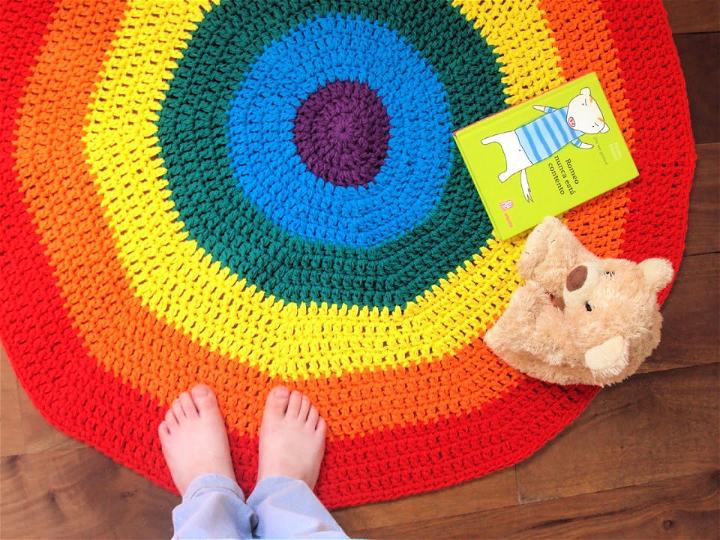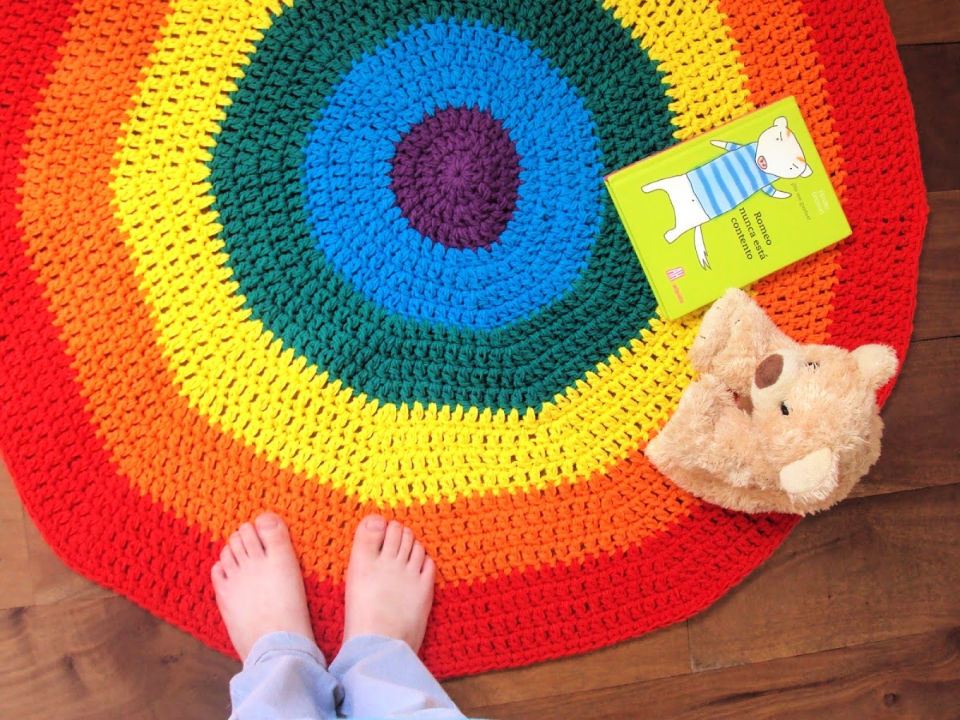 Time to bring those rainbows in the kids' rooms by whipping up this rainbow crochet circle rug. Learn how to work in circles to whip up this enchanting crochet rug, which will be of extreme interest. It comes in all rainbow colors and hence is sure to be a perfect match to any color theme of the room. All beginners willing to learn new skills can easily try out this crochet pattern to acquire more skills. Here you are all free to crochet this mat with any yarn weight. ohlalana
Yarn: Bulky Weight Yarn in Rainbow Colors
Hooks: US L/8mm, US M/9mm
Size: 94cm Circle Diameter
8. How to Crochet a Teo Circle Rug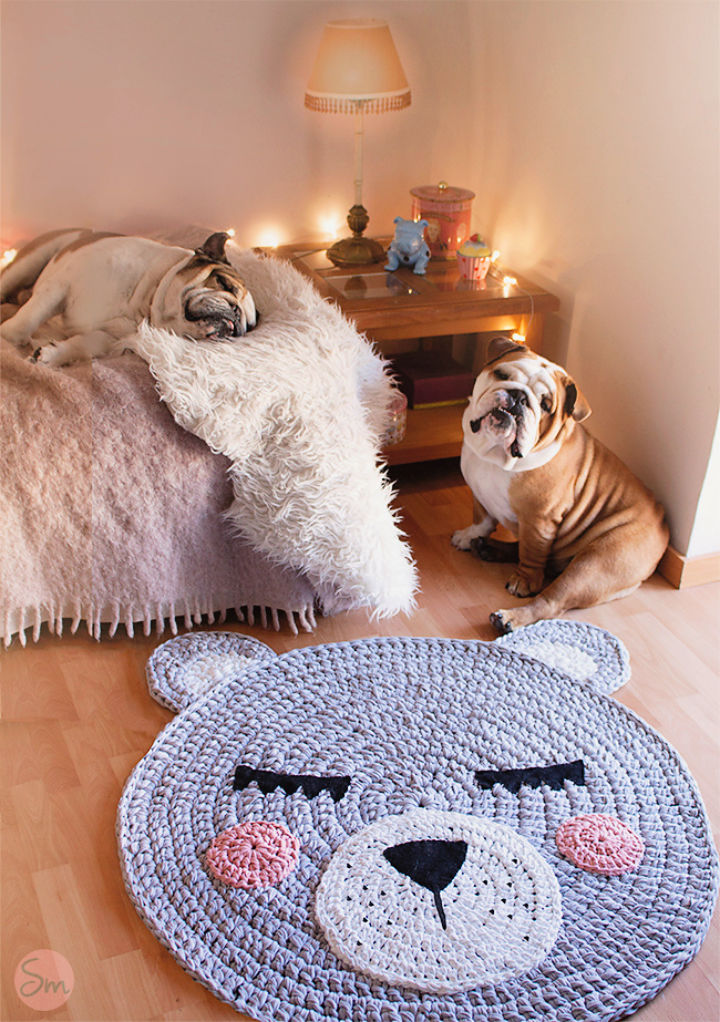 Get here the detailed guides about how to crochet this fabulous teo circle rug. It is a giant circle that comes with ears, muzzles, pin cheeks, and eyelashes. This is here the best animal-inspired crochet rug that is all about to crochet a giant circle. A better choice for a rug for the kids' nurseries and bedroom, and it will work up super quickly too. All the kids and babies will love to sit and play on this crochet bear rug, crocheted for added cuteness, softness and coziness in the baby's rooms. susimiu
Yarn: Baby Pink Coil yarn for Cheeks, 4 Light Gray Coils for Base Circle and Half ears, 1 Raw White Coil for Muzzle, and rest of ears.
Size: 1m in Diameter
Conclusion:
Looking for the best area rugs in round shapes that will fancy up an entire particular interior space? If you love the things with lots of colors, design patterns, and textures, then opt for the crochet rug patterns to stitch these best looking circular area rugs. We have already done for you, look through these easy crochet round rug patterns that will share all free patterns, step-by-step guides, visual instructions, diagrams and stitch guides to crochet a custom circular rug featuring your own choice of colors, design texture and accent edging. Take a short tour of all projects to get your creativity inspired.
Related Free Crochet Patterns