Bring a big wow factor to your living room and bathroom spaces with these 8 free crochet rectangle rug patterns that are to crochet sweetly at home. They will be the best yarn accent to put flat on the floor and will be super soft to walk on too. Moreover, they can be the best indirect way too to bring the necessary colors and shades in a particular room or space where you are missing some colors. From modern to boho, one can crochet these rugs in any style. Most of them are beginner-friendly to crochet but there are rug patterns for every skill level.
Explore this mini list of 8 simple and free crochet rectangle rug patterns that are guaranteed to warm up your space. From lacy to medium weigh to chunky, crochet them in any weight. The kids can sit on these rugs to play with toys while avoiding touching the cold floors. Crochet the rectangle rugs in textured gingham pattern or come with a colorful striped pattern, the choices are all yours and you will get the instructions here for all.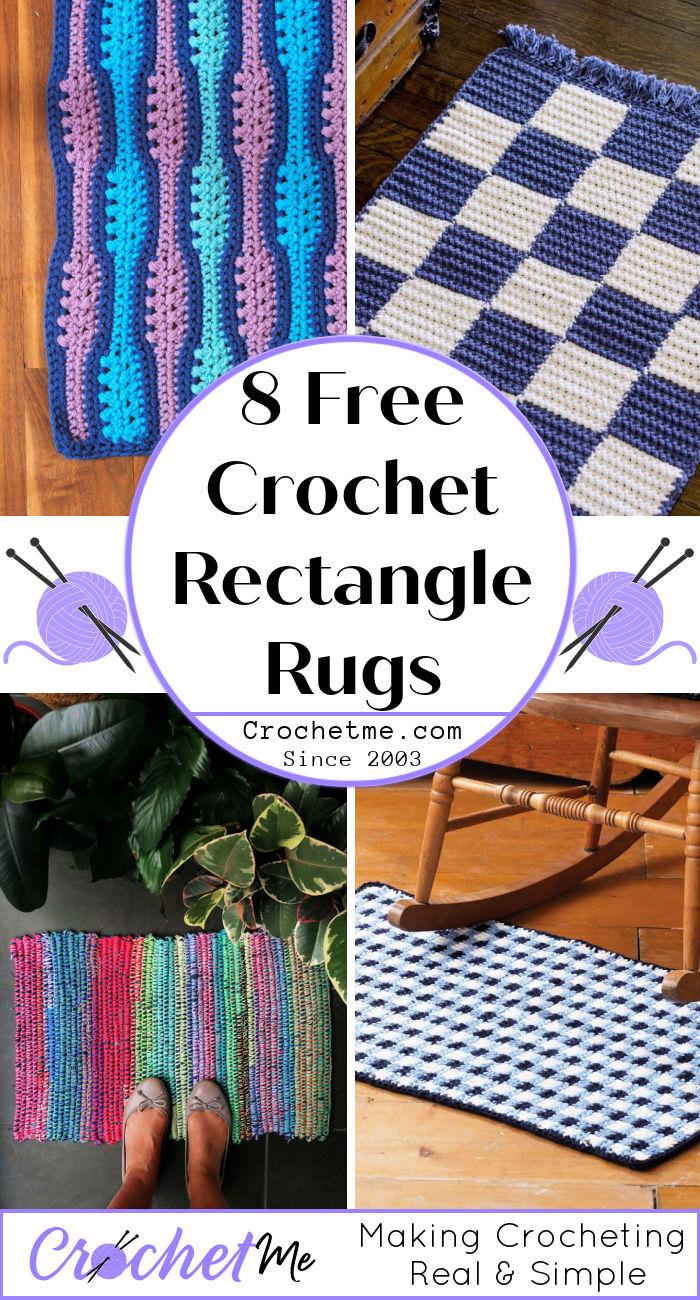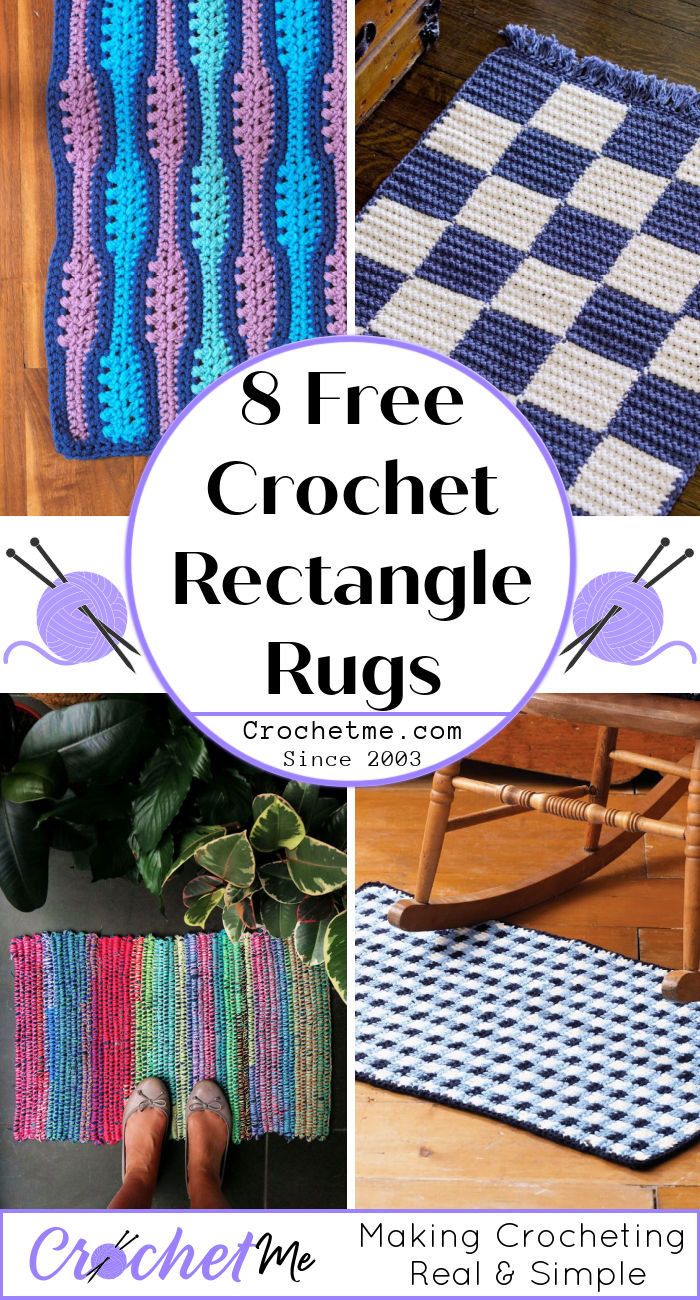 Crochet the t-shirt yarn to whip up the chunky rectangle rugs. Take the old denim jeans into long strips and then start crocheting all around them to make super durable and chunky yarn mats. From a bedroom to the living room to the bathroom, these rugs will rock for every room. A piece of amazingly good news is that they are washable, so you can use wash them to get the fresh look again. Look through all these crochet rug patterns to pick up the right one to crochet at home.
1. How to Crochet Plush Plus Rug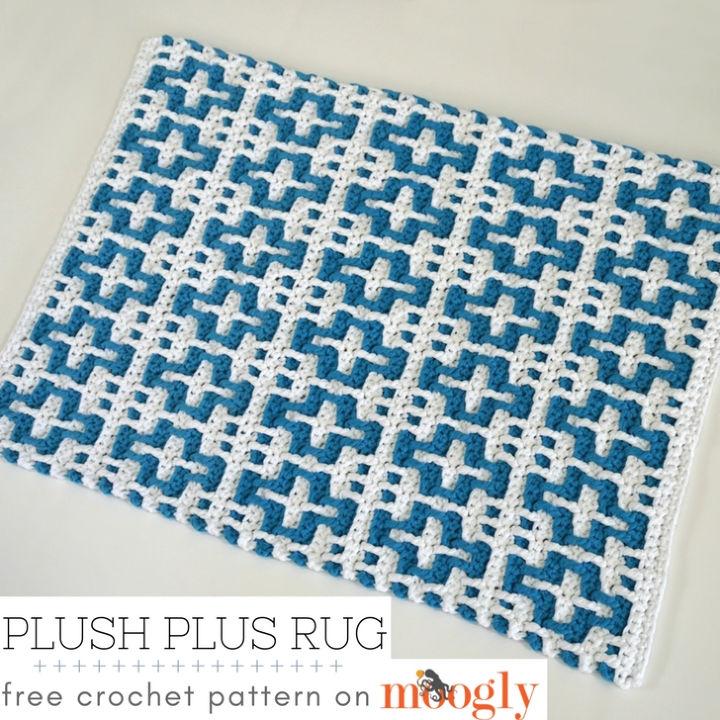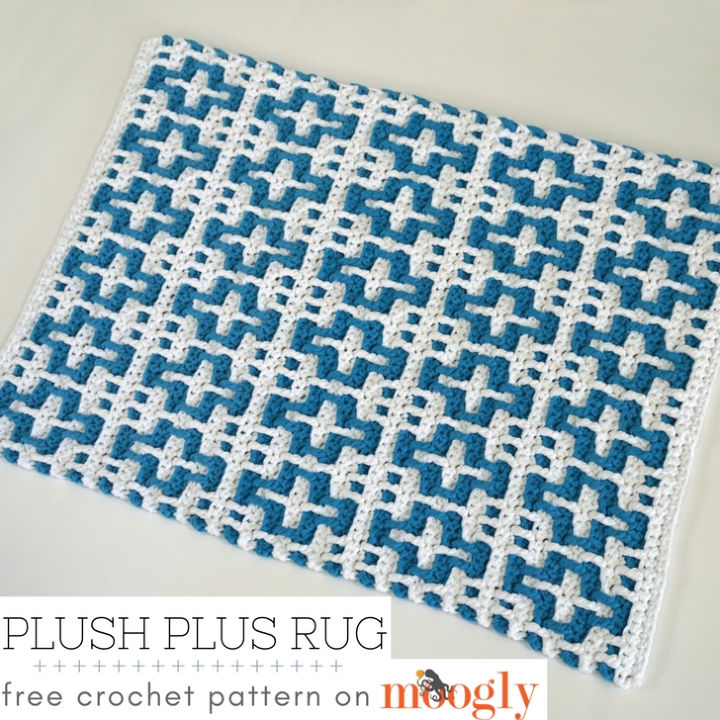 Rock your living room or bathroom with this crochet plush plus rug. Crochet 548yds of Lion Brand Fast-Track yarn with a 9mm hook to make this gorgeous crochet rectangular rug. Choose the yarn in 2 or more colors of choice to come up with fabulous colorful hue of the rug. The finished size of this rug is 22"x 32". The recommended gauge for this rug patter is, 7sts and 11 rows are equal to 4"/10cm. The design features an enticing design pattern that is really absorbing. Details here mooglyblog
2. Crochet Checkerboard Rug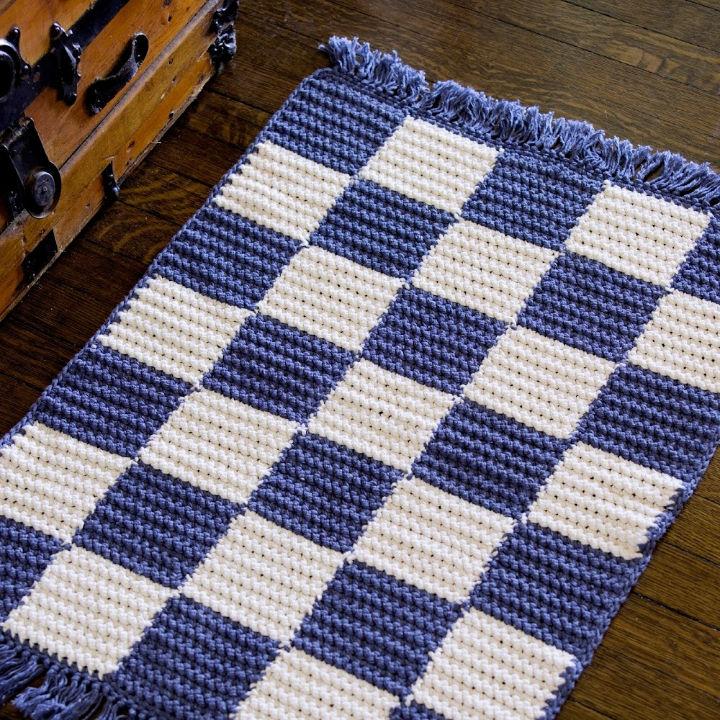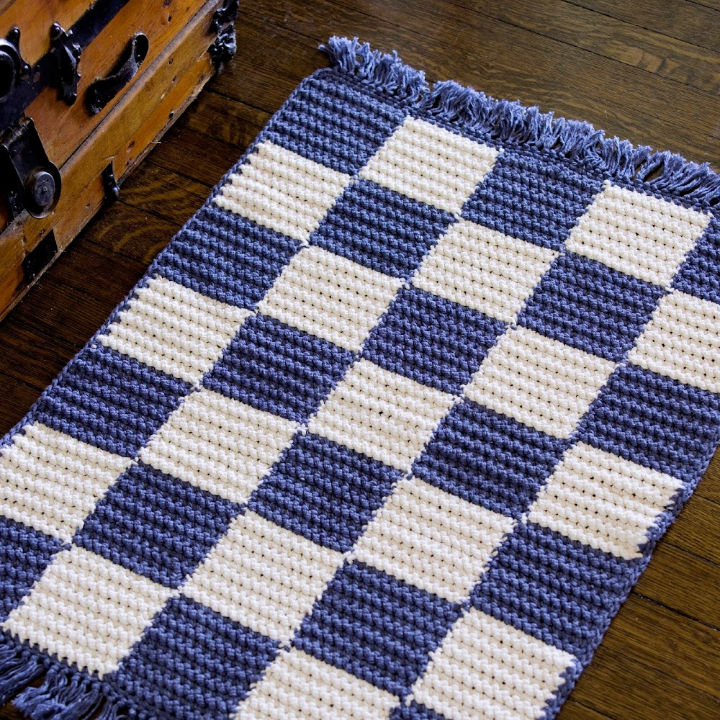 Bring a big wow factor to an interior along with lots of soft and warm comfort using this classic checkerboard rug that appear in 2 colors. The white and blue go great together. Crochet the Red Heart Eco-Cotton Blend yarn to whip up this amazing looking rug. This rug will rock for the carpeted floors and for hard floor surfaces and will enhance the visual of any space with its simple and clean look. Give this rug as a great handmade gift on any occasion. Experiment this rug with any yarn color combo. Details here yarnspirations
3. Little Waves Crochet Rug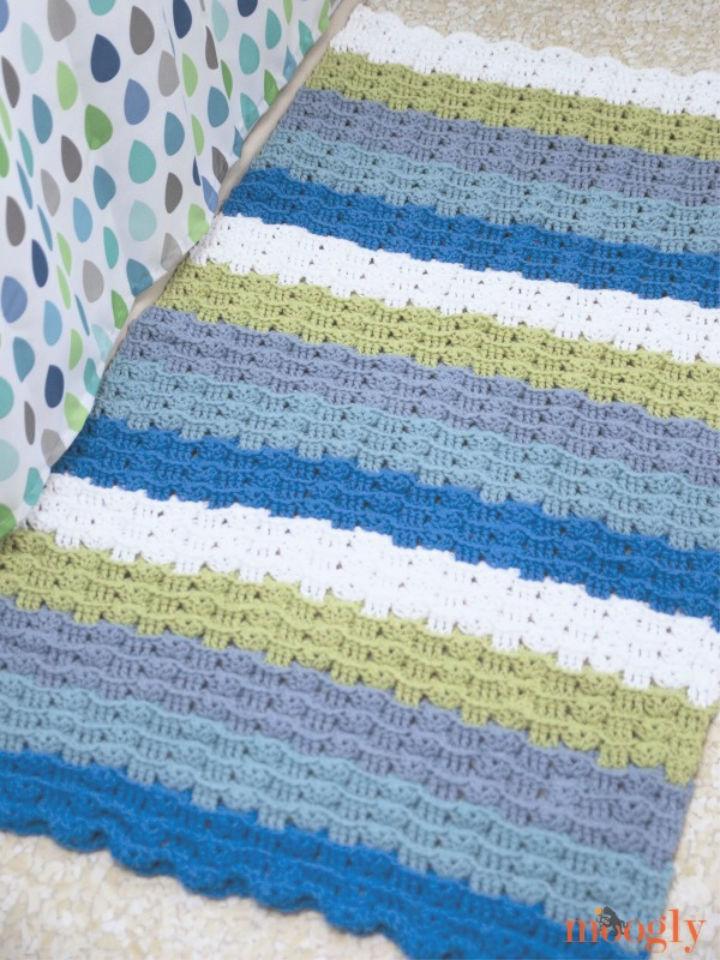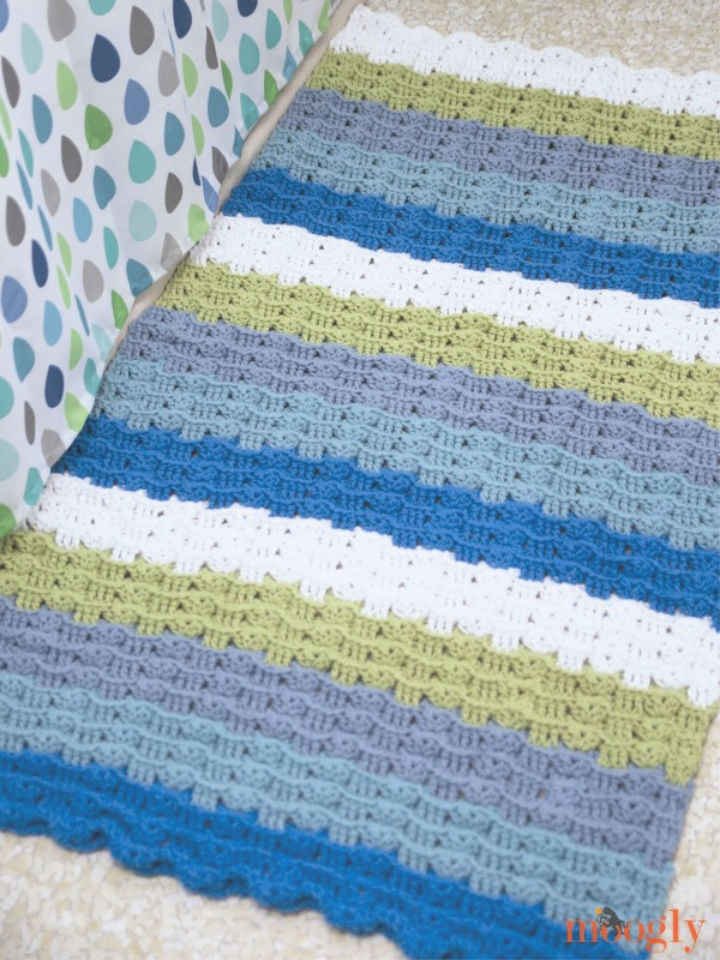 This rug is inspired of ocean waves and has been crocheted to matching the raindrop curtain. Hook up this rug for a bathroom and it will rock for a living room decorated on a ocean decor theme. The lovely little waves across the front are due to double thick V stitches and front post stitches. Crochet 1125yds of Lion Brand Cotton-Ease yarn with a 5.5mm hook to crochet this little waves crochet rug. The finished size of this crochet is 22" x 38". A one of the best Free Crochet Rectangle Rug ever crocheted. Details here mooglyblog
4. Crochet Cloud Fluffy Rug Pattern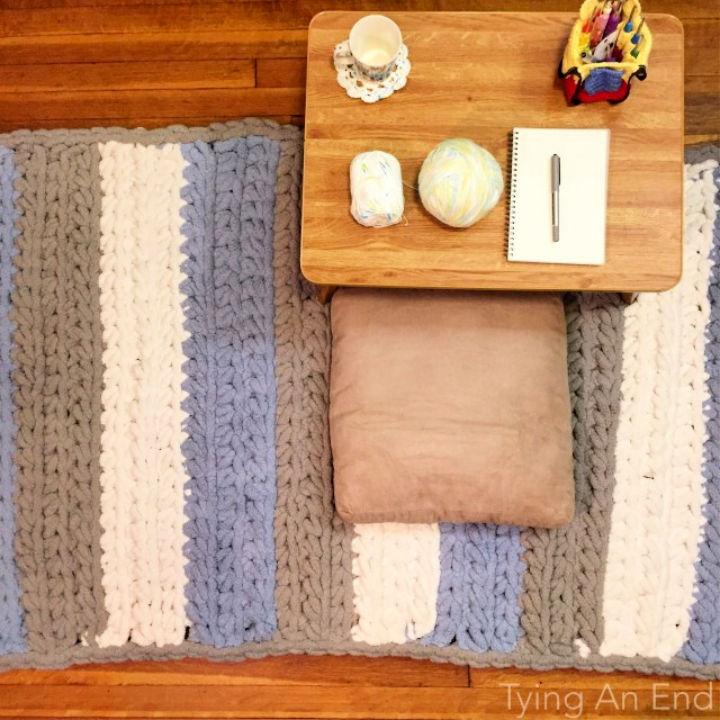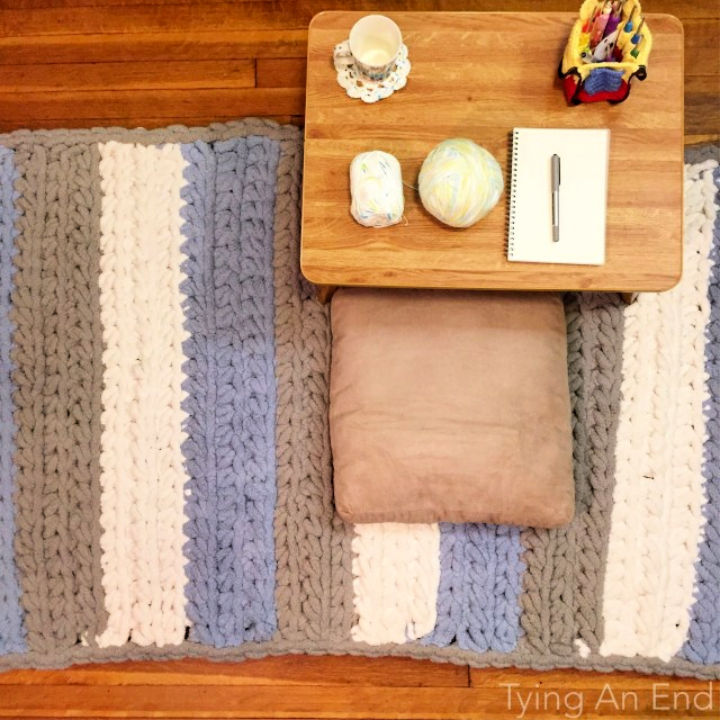 Rest your feet and legs upon this comfy cloud fluffy rug, will provide an instant soft comfort to your toes. The best choice of crochet rug for the cold days, quite inexpensive and quick to crochet at home. Crochet 9 skeins of Bernat Blanket Big Yarn with a 25mm yarn hook to get this chunky rug made. The finished size of this rug is 37" x 68". The recommended gauge for this fluffy rug is 2.5 stitches and 3 rows are equal to 4". Make this yarn rug with or without the rug gripper pads. Details here tyinganend
5. Crochet Rectangle Rug Pattern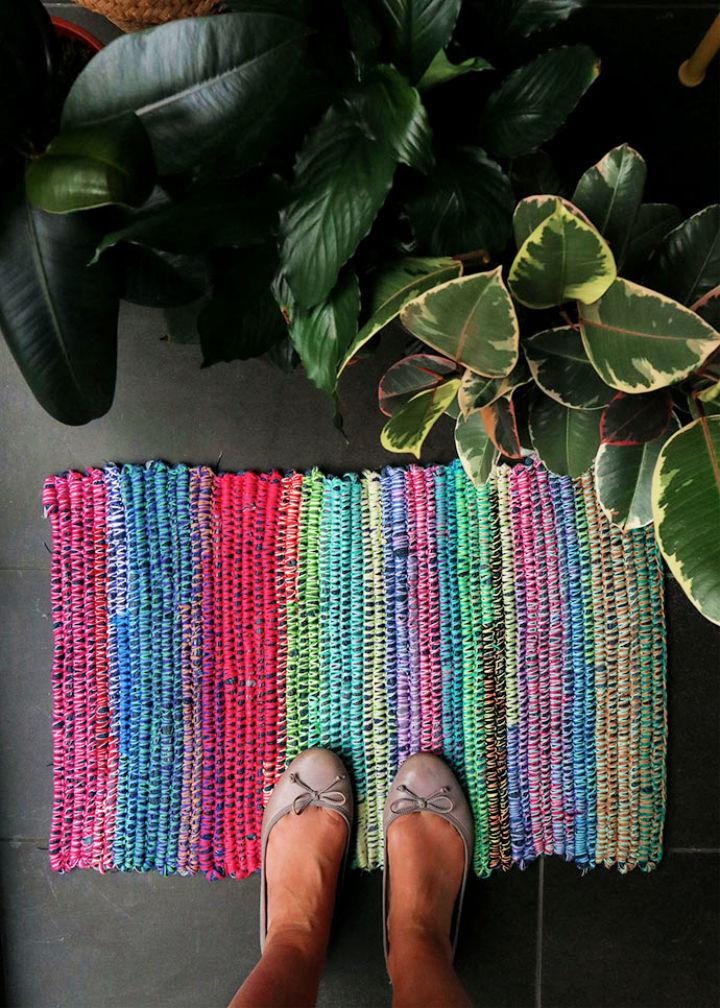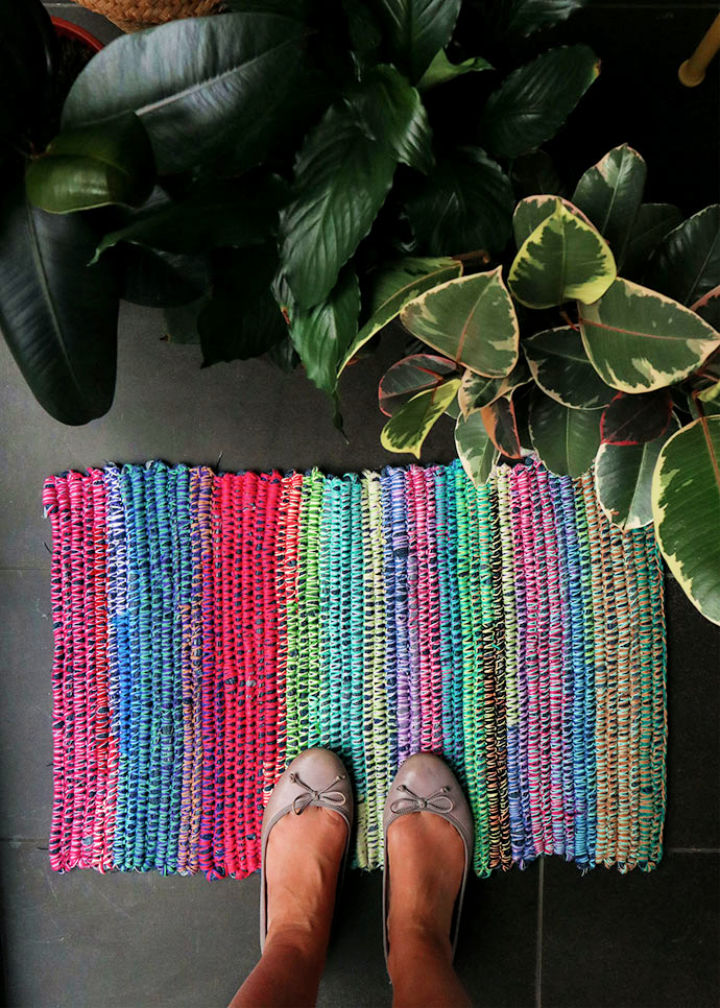 This yarn rug features a colorful striped appeal and will not be a big hassle to crochet. Make this rectangle rag rug out of 2-3 pairs of old jeans and further you need the crochet 5mm hook, cotton yarn in assorted colors and sharp fabric scissors to complete this crochet rectangle rug pattern. Just take your old jeans into longer strips and then start crocheting the yarn all around them and keep the strips on folding until you get a beautiful rectangular rug or mat. This durable mat can easily be folded for easy storage. Details here mypoppet
6. How to Crochet Rectangle Rug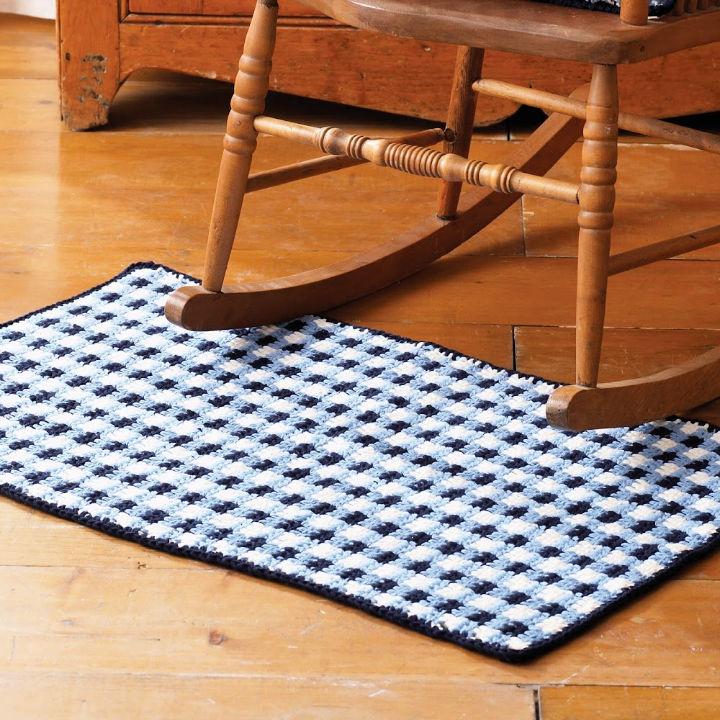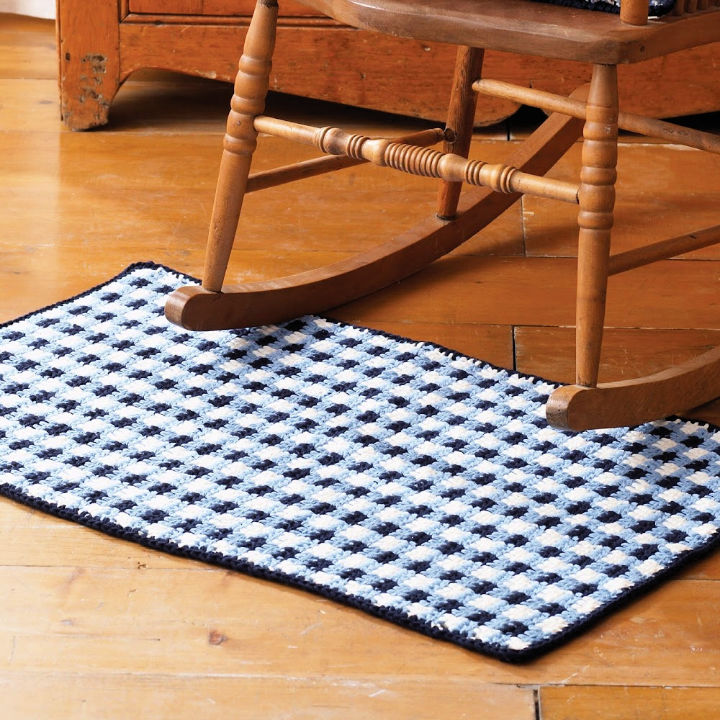 The textured gingham design is the whole beauty of this rectangle rug that has been crocheted using a very special crochet technique. Crochet the Lily Sugar'N Cream to whip up this rectangle rug and this pattern requires and easy skill level only. This rug features a classic look and will surely boost the visual appeal of your entire room. Crochet this rectangle rug using any 3 colors that will look great together. The best to crochet to bring coziness to your rooms. Details here yarnspirations
7. Crochet Shoreline Rug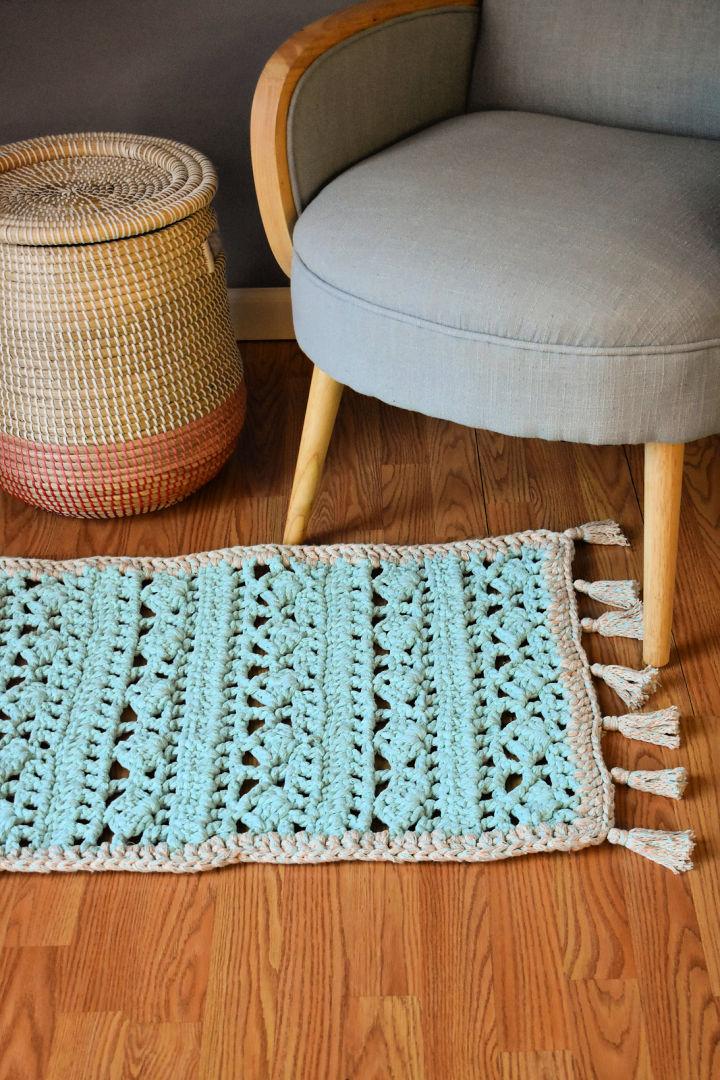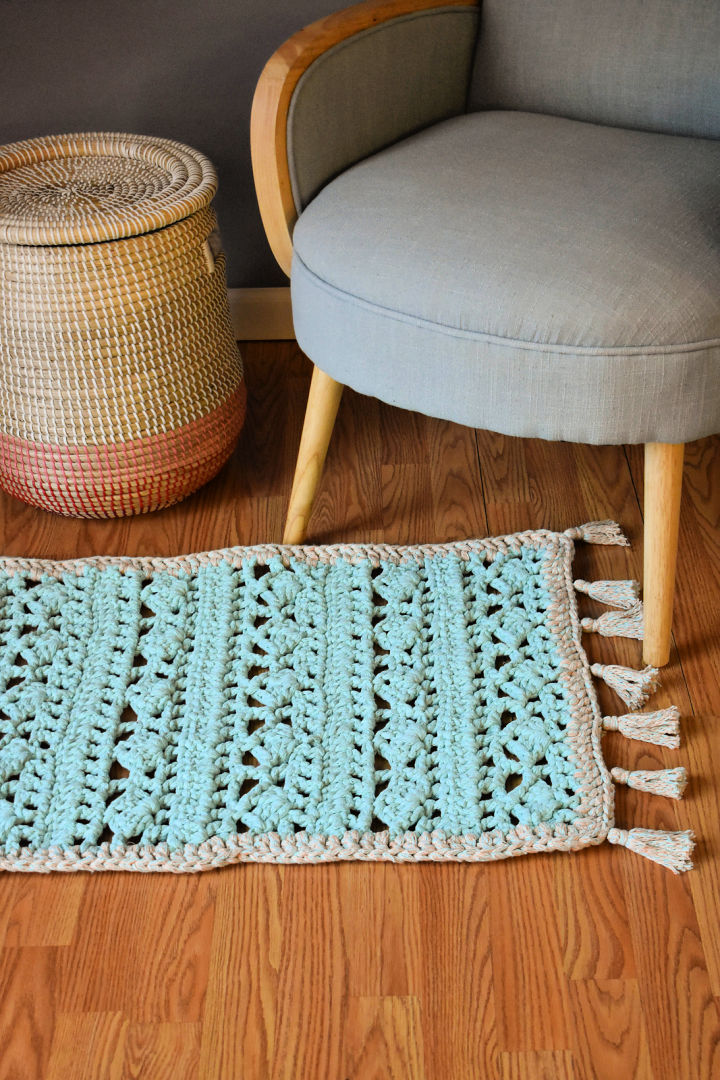 Bring the impressive boho-vibes to your spaces with this easy to crochet shoreline rug that is sweet and simple to crochet. The finished size of this rug is 22" wide and 31 ¼" long. Crochet 200g of universal yarn clean cotton big in beach resort and tropics color to get this shorline rug made. The 10mm hook size is recommended for this rug pattern and you need a tapestry needle at the end to weave in the edges. The best gauge for this rug is, 8 sts and 4 rows are equal to 4". Furthermore, this rug comes in a single color border, beautified with yarn tassels. Details here universalyarn
8. Free Crochet Textured Waves Rug Pattern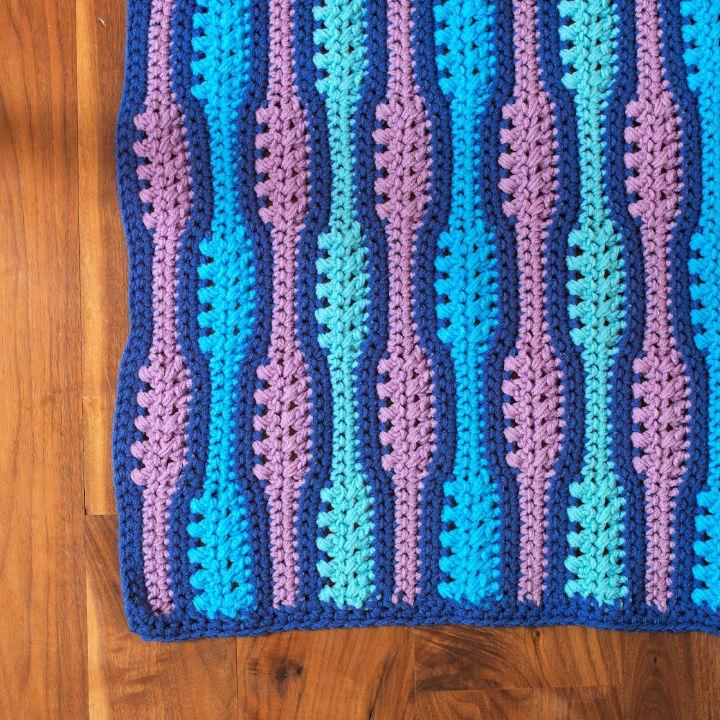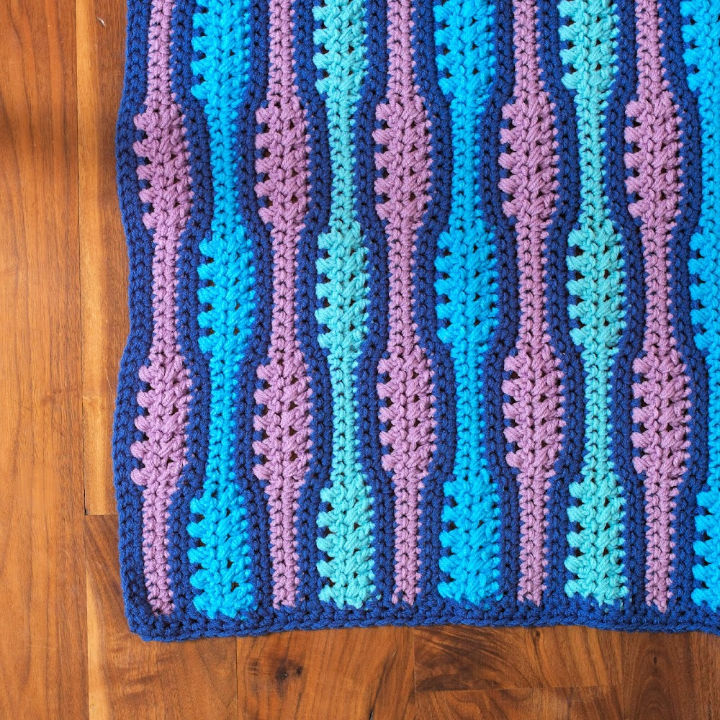 Crocheting this adorable and fantastic rug will require the intermediate skill level. The rug features an amazing wavy design pattern that you can feature in the colors of the ocean too. This non-slip crochet pad or mat will rock for your bathroom and do get it to fancy up your bedroom. The features the 4 colors the aqua, Aruba sea, orchid and turquoise and you need a 9mm hook size to whip up this enchanting yarn rug. The finished size of this rug is 24" x 38". Details here yarnspirations
Conclusion:
The crochet rugs and mats are the crucial part of your home decor and custom designs of rugs are often to buy expensive. So, avoid causing any load on your wallet and crochet colorful, soft, and amazingly beautiful yarn rugs at home. For total help, take a tour of this collection of free crochet rectangle rug patterns that are sure to create amazing geometrical decor statements in a particular room interior.
From simple to intermediate to advanced, there are free crochet rug patterns for all. If you are lacking design inspirations, then check out all the samples that are amazingly colorful, enchanting, and graceful. Must add them to your spaces for getting praised by guests and new visitors.
Related Free Crochet Patterns: