When you can't throw away the old T-shirts or the clothes of little ones, you can utilize them in making a crochet rug. Wondering how to crochet a rug out of yarn? It is also an excellent way to learn, making crochet rugs out of discarded old clothes! And scrap pieces that are either too good or too valuable to throw away. The best way is to crochet a rug with them so that they can remain within your sight. You will also be saving up on a lot of money as buying the exact piece of rug that you desire might not be available or will be out of your price range.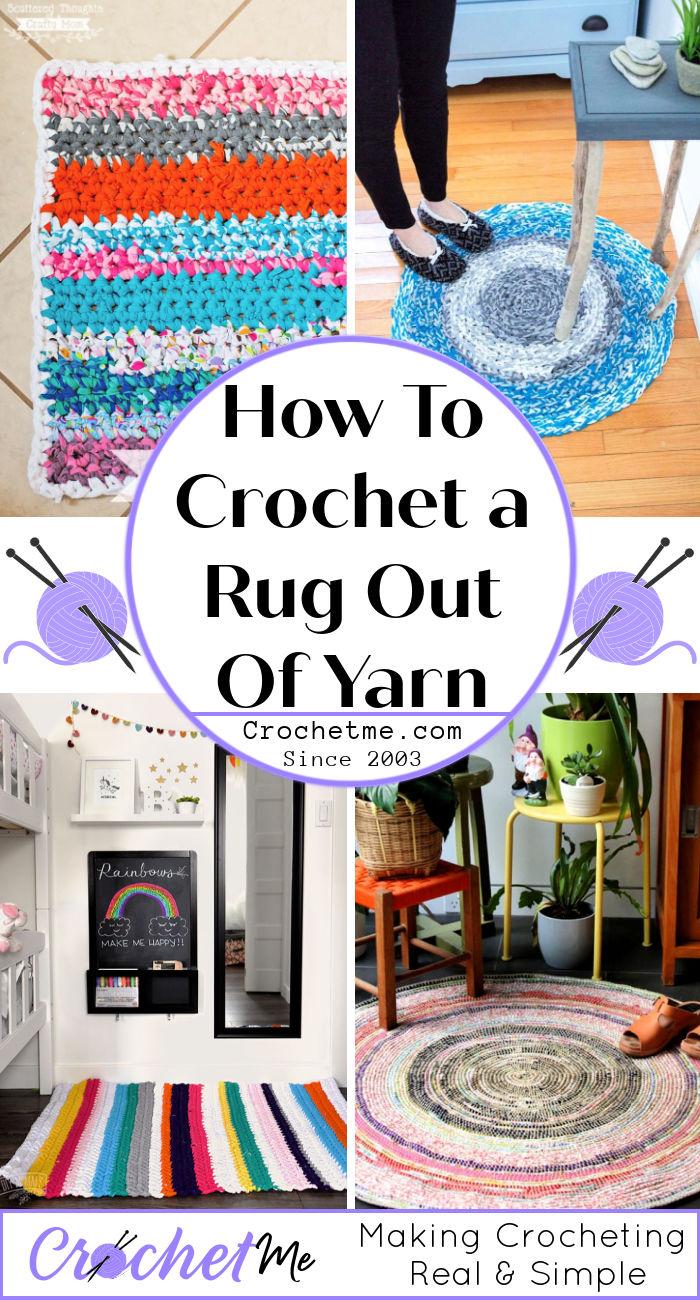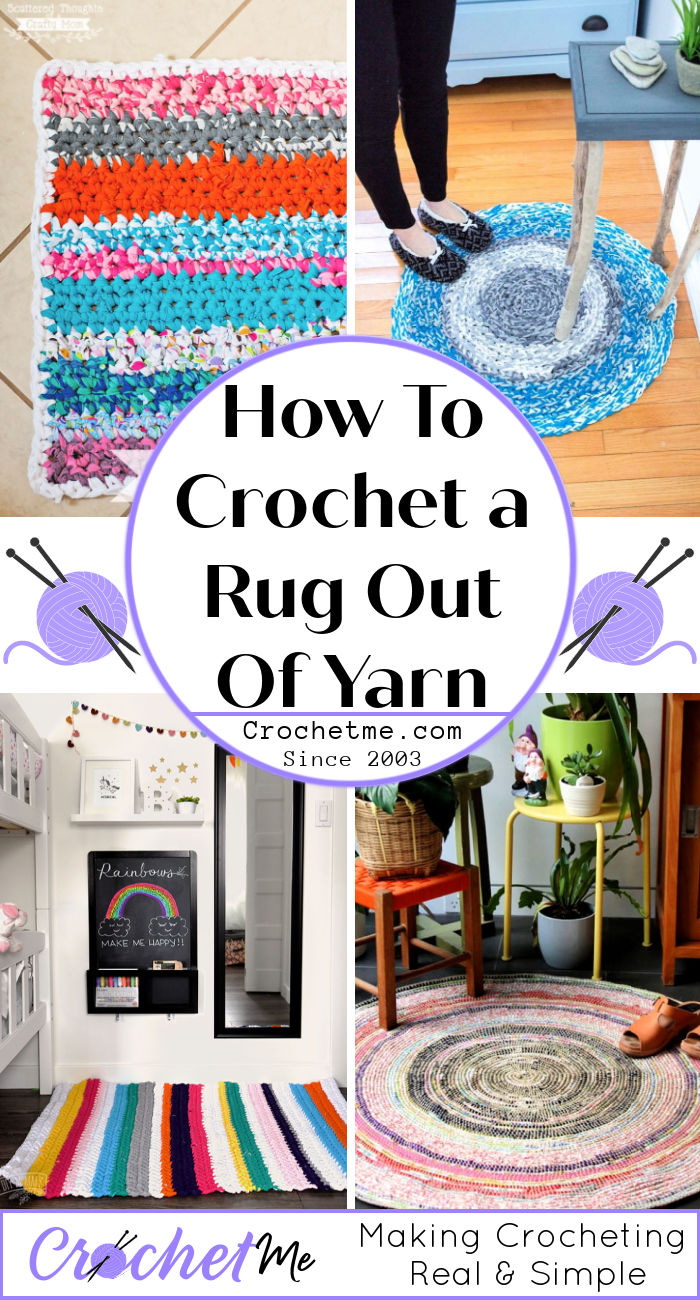 When you use yarn to make your own rug, you have the added advantage of getting the colors you know will suit best to the rest of the color scheme of your house. Make it using some fresh, vibrant colors, and it will be the most eye-catching item of your home for sure. In this article, find interesting ways of how to crochet a rug out of yarn or by using fabric scraps. You can learn to finger crochet and make a circular rug, or crochet a T-shirt yarn rug; you can use fabric yarn or crochet a mandala floor rug out of yarn.
1. Crochet Rag Rug with Fabric Scraps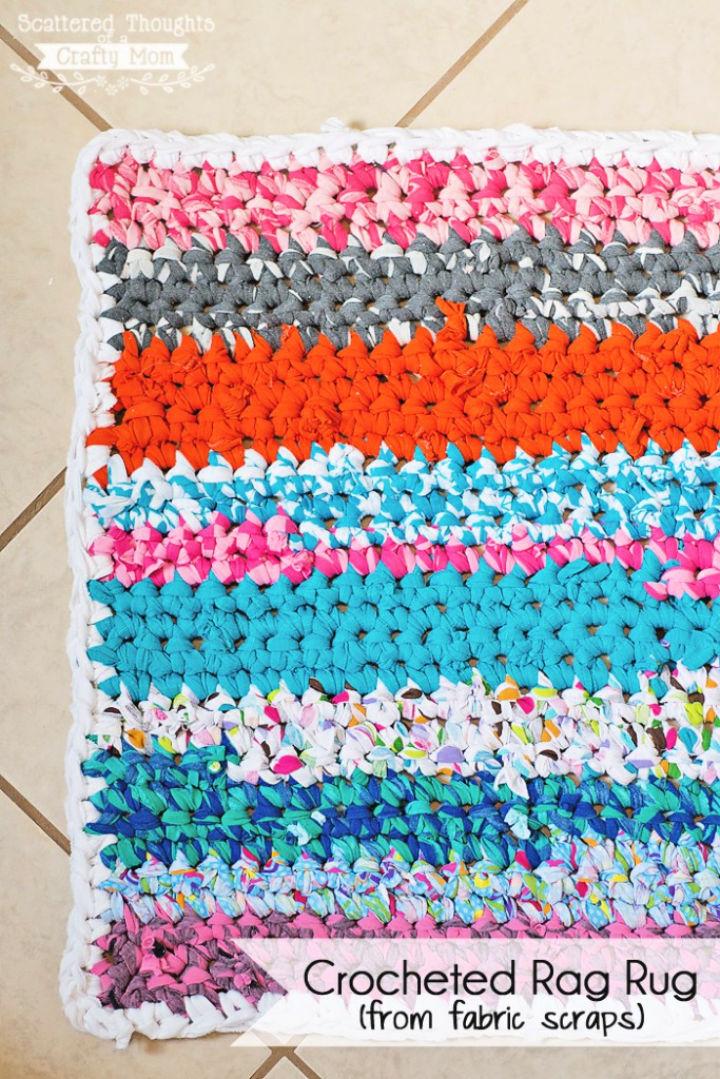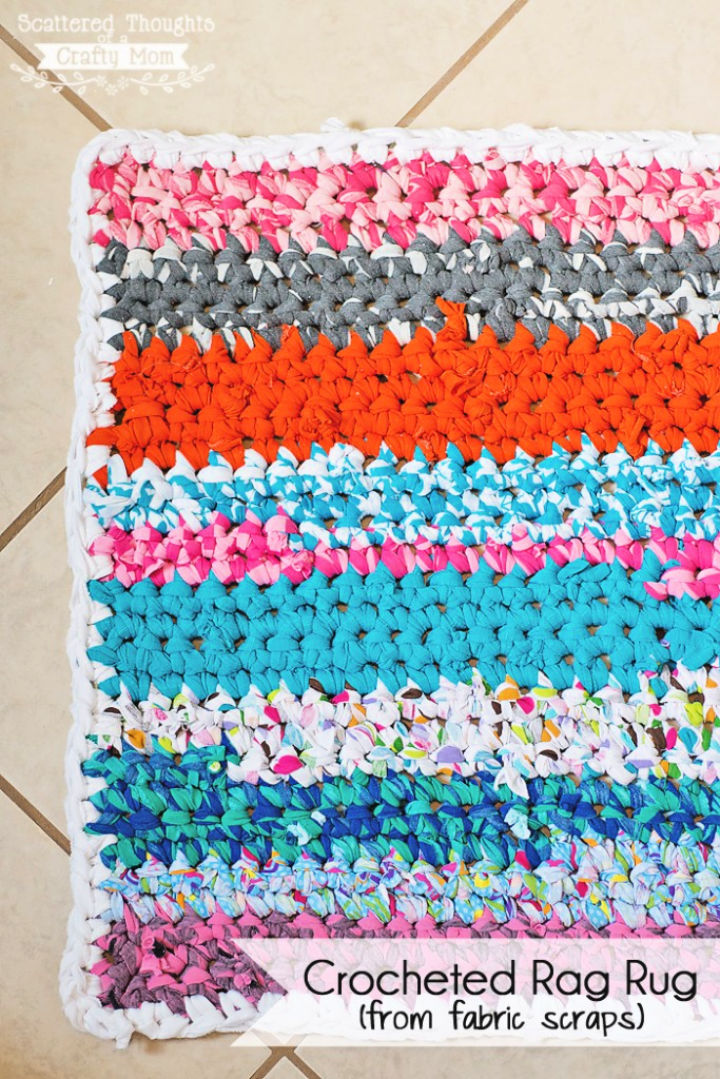 If you are a beginner crocheter, you can take advantage of this fantastic project and learn how to crochet a rug out of yarn or by using old fabric scraps. It's the best scrap busting project as different colors can be used in the same pattern, and the resulting product turns out amazing. Even if your old rug is an inexpensive piece, it has to go away after some time. So with quite a bit of scrap fabric and some old T-shirts, make a fabulous rag rug. scatteredthought
Fabrics: Leggings, cascading ruffle peasant top
Fabric cut: 1-inch strips
Hook size: 16 mm
2. How to Finger Crochet a Circular Rug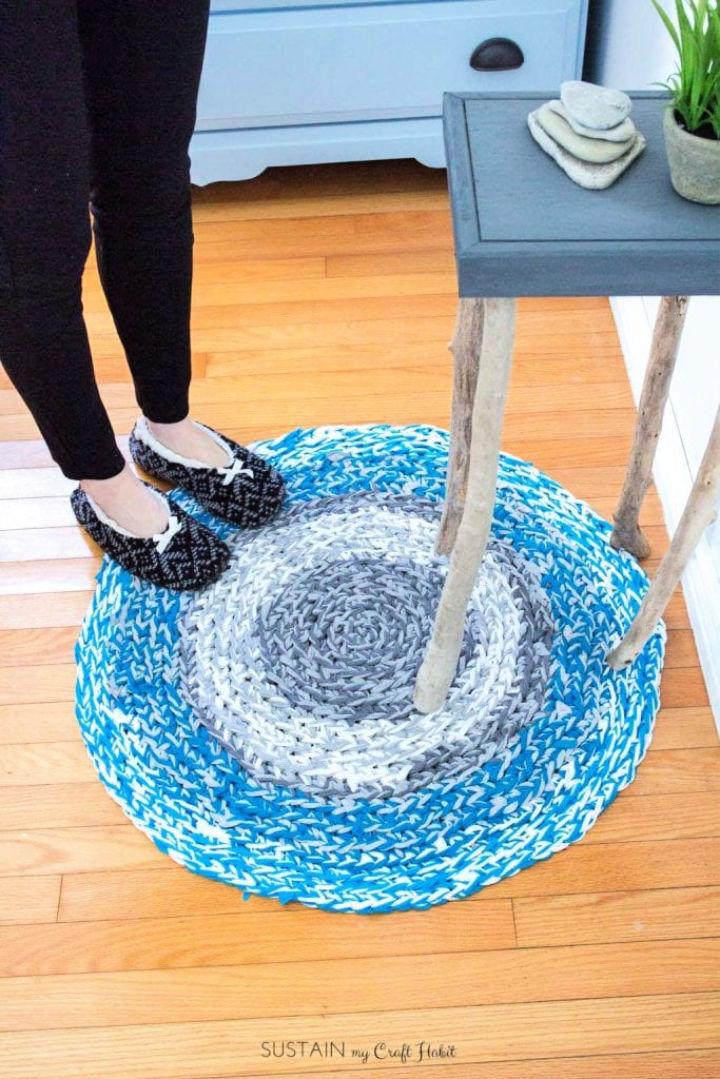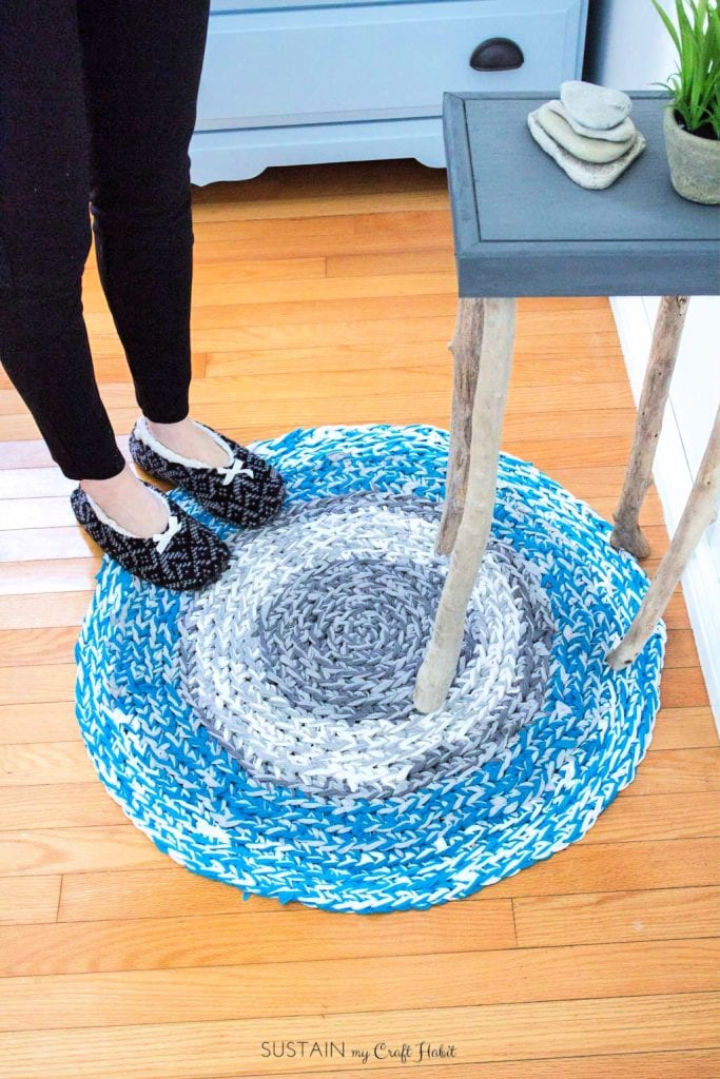 You don't have to tuck away your crafting bucket list anymore as you can simply DIY rag rug by simply finger crocheting. The process might seem a little intimidating because of all the knots and different hook sizes, but you can simply make a beautiful rug with moving your fingers to crochet. This circular rag rug is made only by using a T-shirt yarn. Measure 2′ across and use 9 men's size large cotton t-shirts. With a bunch of single crochet stitches, you can create a slip knot with 2 strands of t-shirt yarn together. sustainmycraftha
Yarn type: T-shirt
Crochet: 2 strands at a time
3. How to Crochet a Rug Out Of Yarn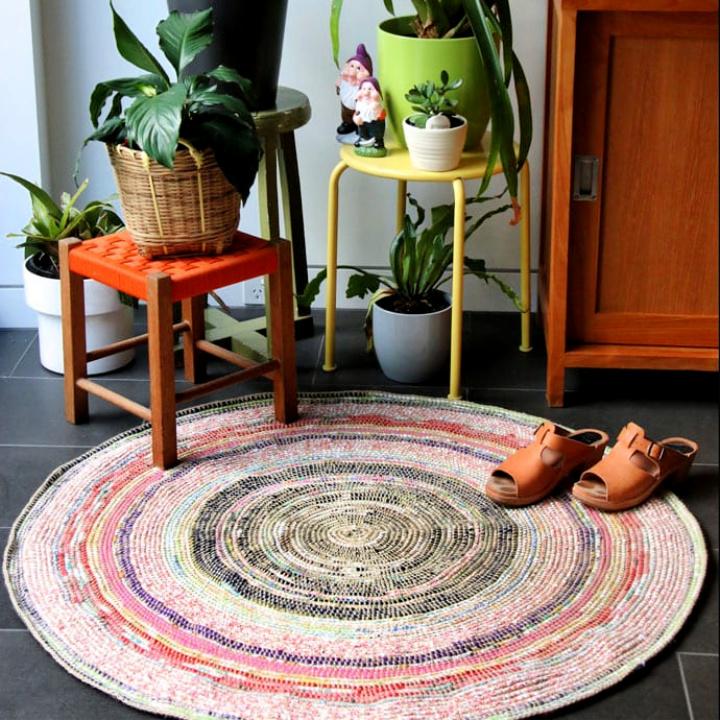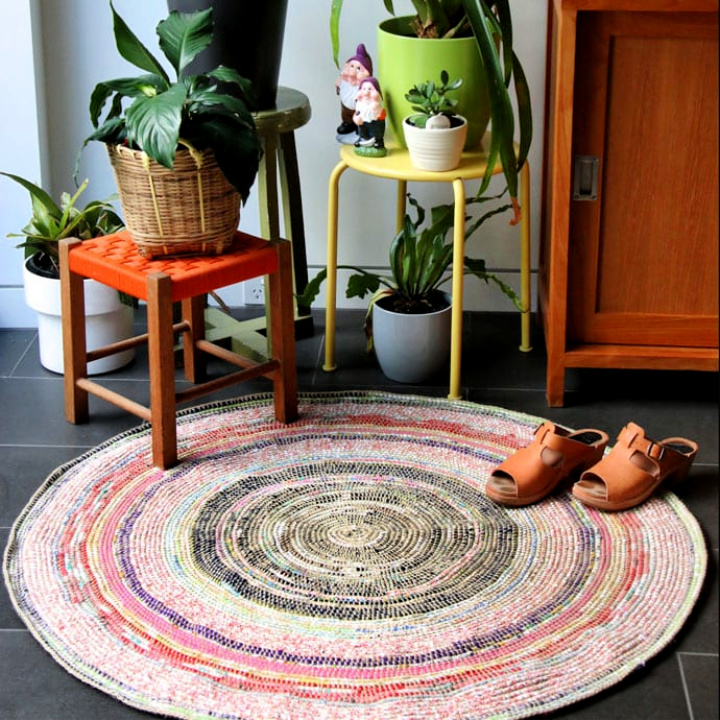 If you want to crochet a rug out of yarn, go for the easiest shape at first–hexagon. It's better than the boring old square and much easier than the circular one anytime. In the end, you can fit them together into a pleasing honeycomb pattern. You will have to use a chain stitch, treble stitch, and a slip stitch and repeat this group of stitches. By making 10 of these, you will have a complete rug. Arrange them in 3 rows of 3, 4, and 3. mypoppet
Yarn: T-shirt Yarn assorted colors about 2-3 large skeins
Hook size: 12mm
4. Crochet Extreme Rug Pattern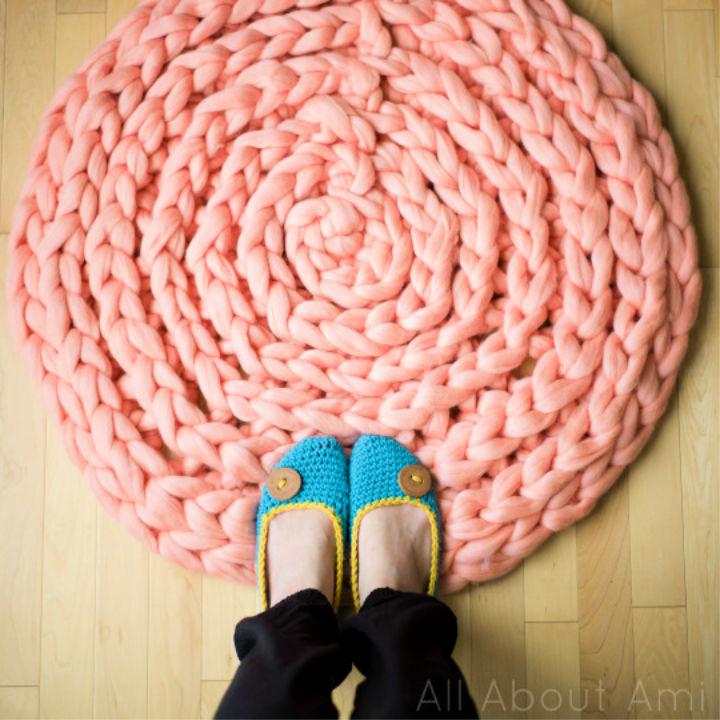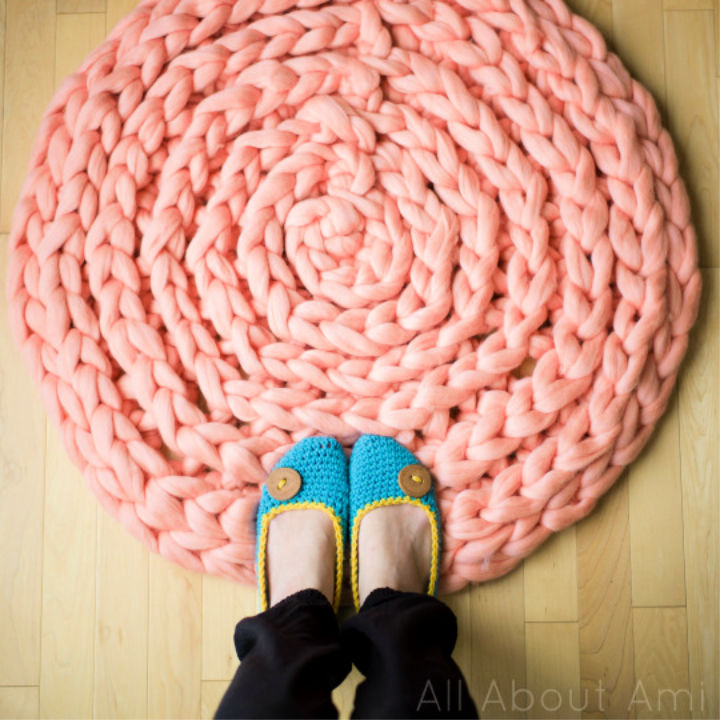 Try your hand at crochet while having extreme fun throughout the process. You will be so proud of your incredibly soft and luxurious rug that you will want to make one more for sure. You can begin the round by chaining the 2 together and work a first-half double crochet in that same stitch as the Chain 2. Then use a slip stitch to close it off. Weave massive ends with a felting needle. allaboutami
Wool required: 1 kg (~2 lbs) of unspun wool roving
Hook size: 40mm
5. Crochet a T-Shirt Yarn Rug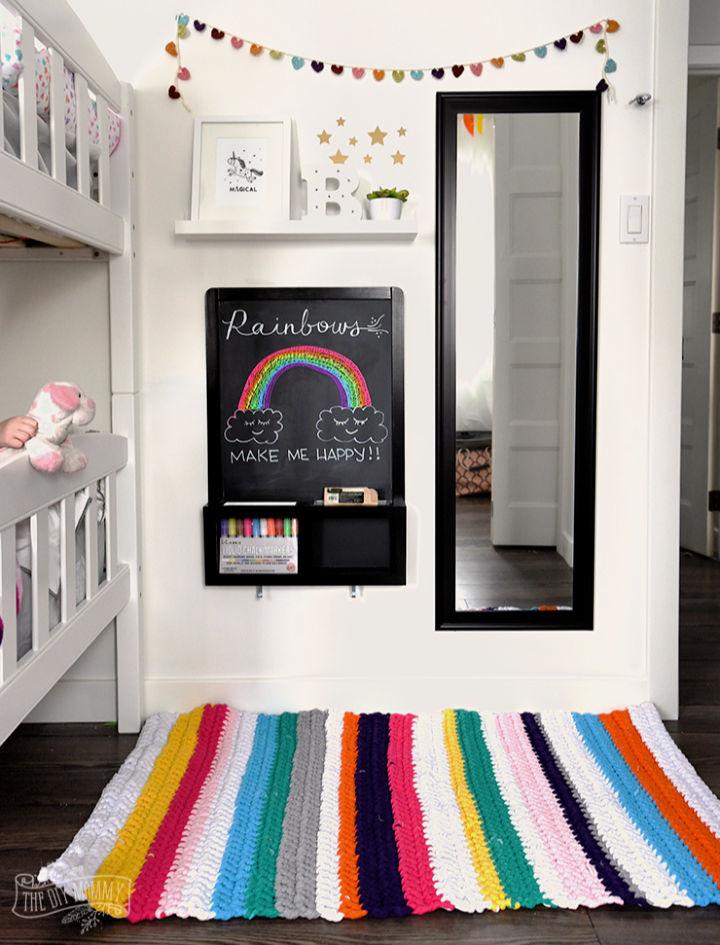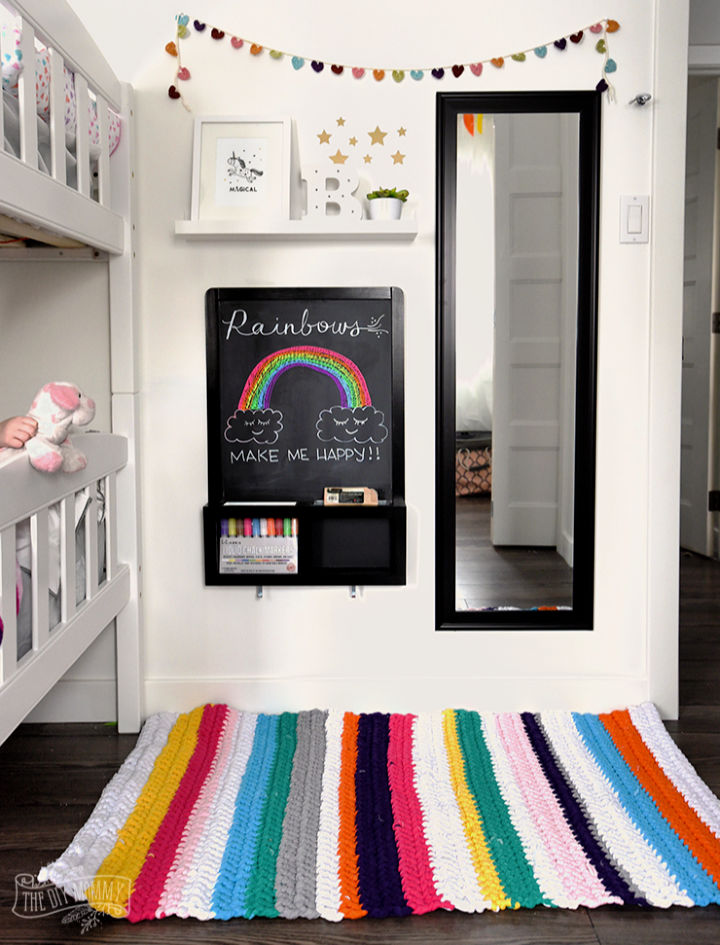 When you are planning the makeover of your little one's room, the best way to go to is a brightly colored rainbow rug. The idea would be that it's better to make one than to buy one. Combine some creativity with knit jersey fabric, and you got yourself a fun and unique crochet T-shirt yarn rug. Chain 40 with your first desired color of t-shirt yarn. Then use a chain stitch to reach the end of each row. thediymommy
Yarn: 12 yards knit jersey fabric in a variety of colors
Hook size: Q16 crochet hook
Rug size: approximately 27″ x 50″
6. Easy Crochet Scrap Yarn Rug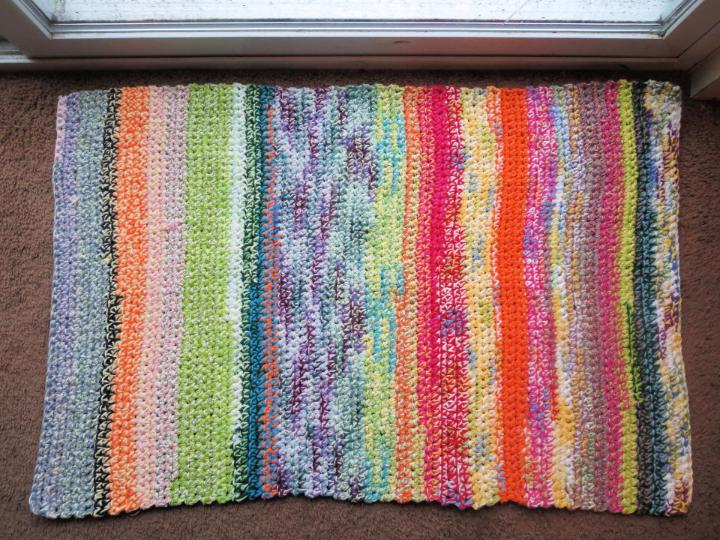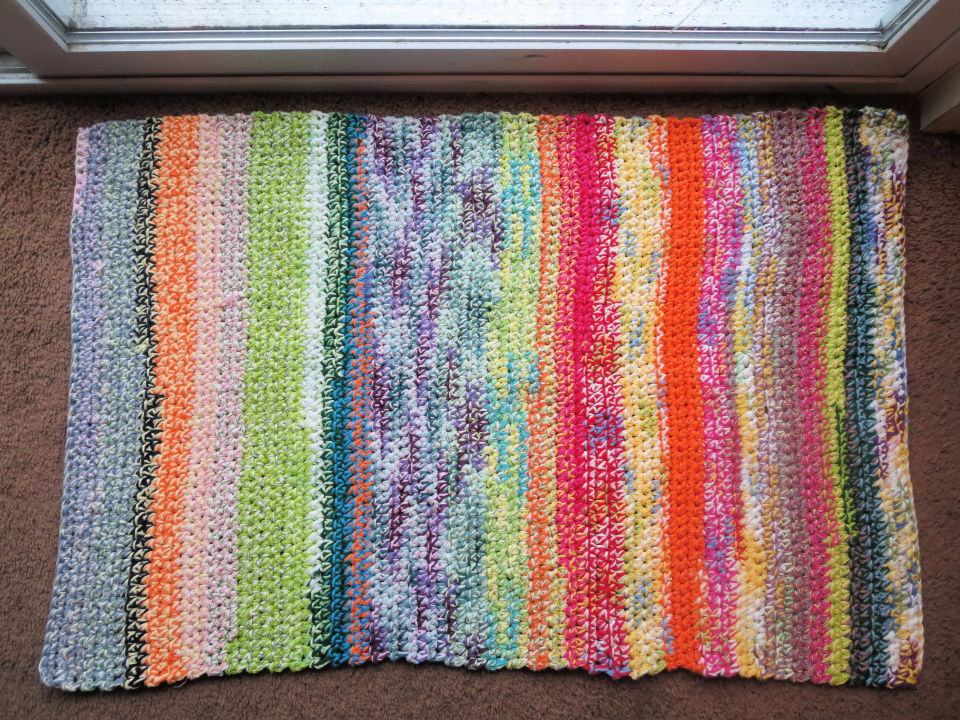 If you are wondering what to do with your leftover odds and ends of cotton yarn, you can simply try making easy crochet scrap yarn rug. This project is great for a beginner as even while sitting in front of the TV, you can work it up easily. Hold two strands of yarn together, you can single crochet into the second chain from the hook. After two rows, fasten off and weave in the end. Trim the whole thing to your desired length, and you're done! traversebaycro
Final project size: 22 X 32 inches
Hook size: 7 mm
Gauge: 8 sc = 3 inches
7. How to Crochet a Rag Rug With Fabric Yarn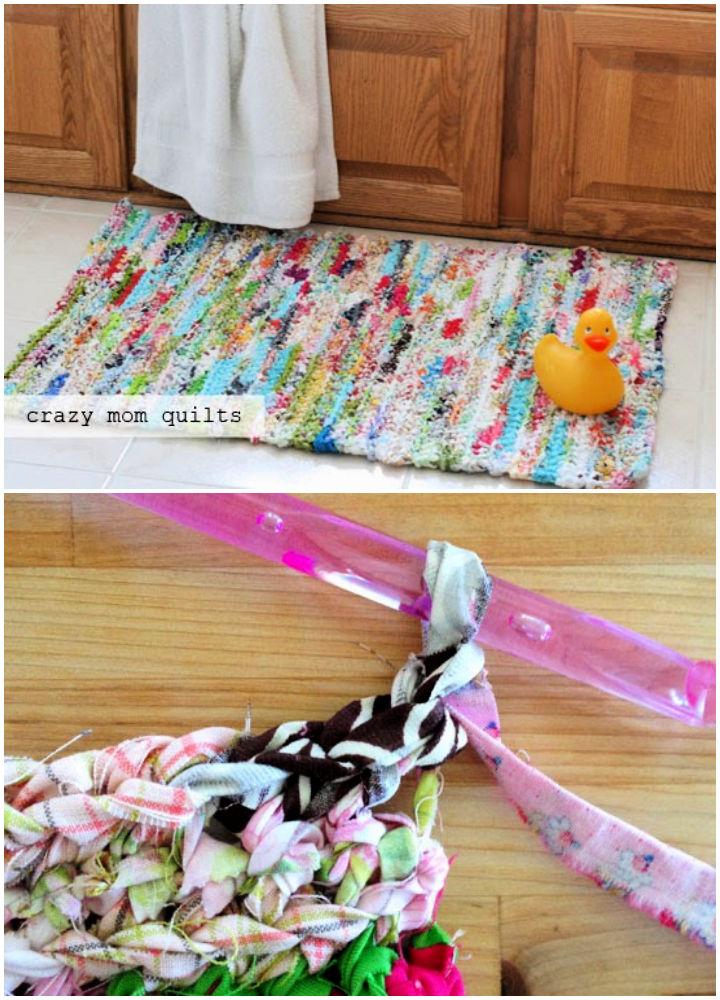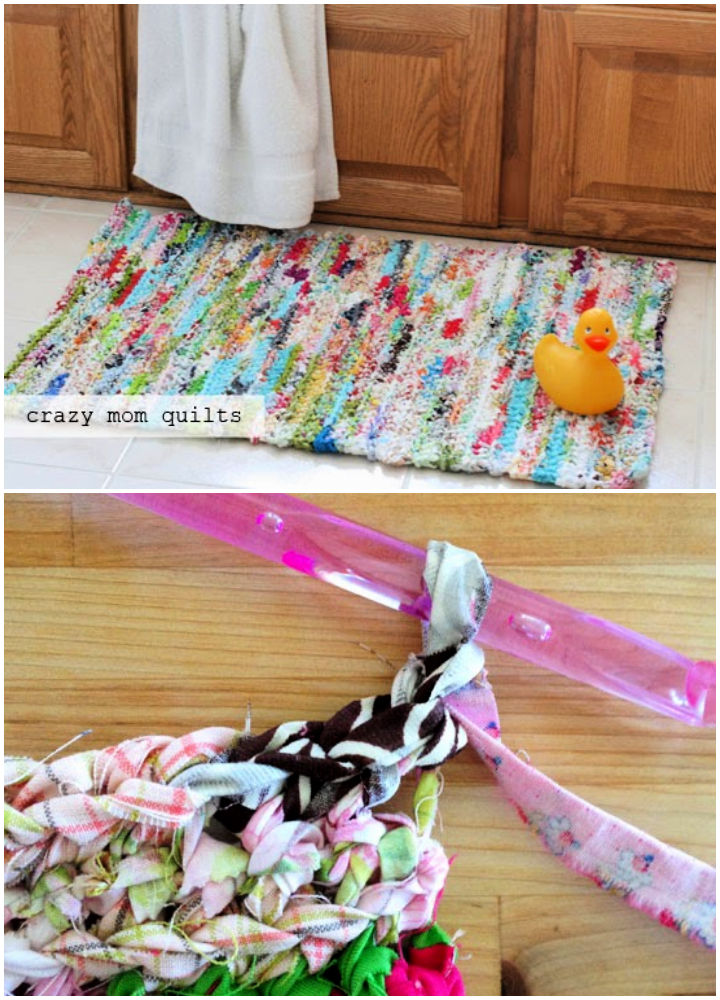 In love with crochet rag rugs? You can easily make your own by working out the kinks and figuring out a way to make them. With lying around fabric that you don't care much for anymore, make out your fabric yarn. It's the best way to use up a lot of scraps fairly fast. So be a proponent of that! Cut strings of any length, and all the yarn must be of the same thickness. Roll the yarn into a big ball and chain 40 stitches by single crochet. Keep crocheting to reach the desired length. crazymomquilts
Rug size: about 23″ x 31″
Hook size: 11.5 mm
Length of strips: ¾″ to 1″ wide
8. Crocheted Rag Rug Out Of Yarn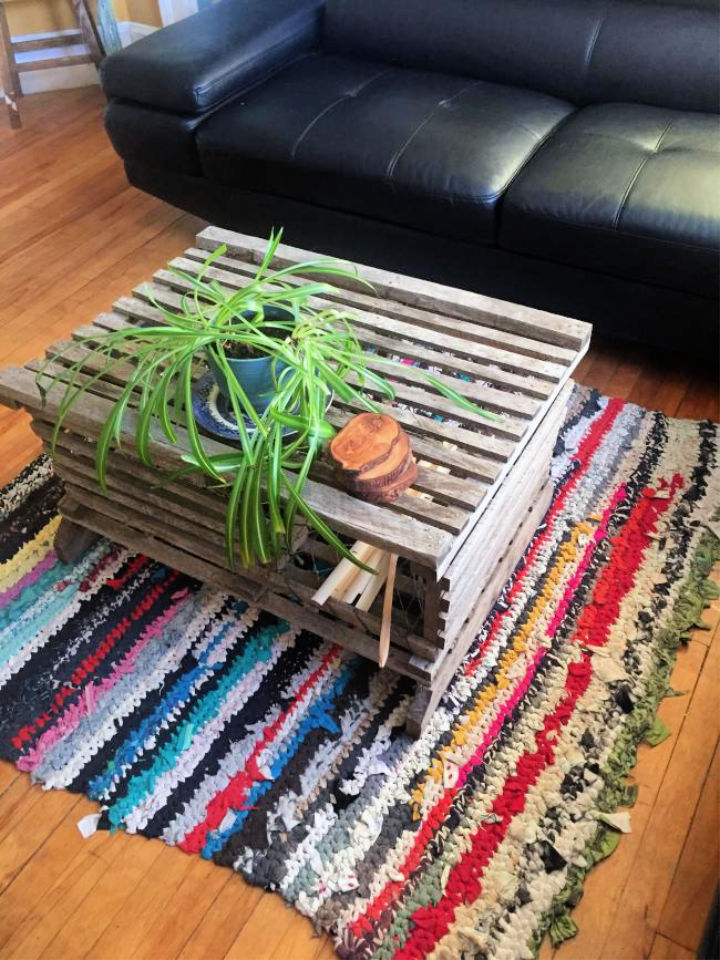 With the habit of a craft supply hoarder, you might have long yarn scraps that you trim off. So make a nice and beautiful rag rug out of this yarn. Begin with preparing your yarn for the project. The lesser you waste, the better. Roll into a ball. With a crochet hook, make a chain. From there on, simply single crochet back and forth. Use the average thickness and floppiness of your yarn to determine its weight. halcyonyarn
Strip size: about 1″ to 2″ wide
Hook size: P crochet hook
9. Crochet a Rug Out Of T-shirt Yarn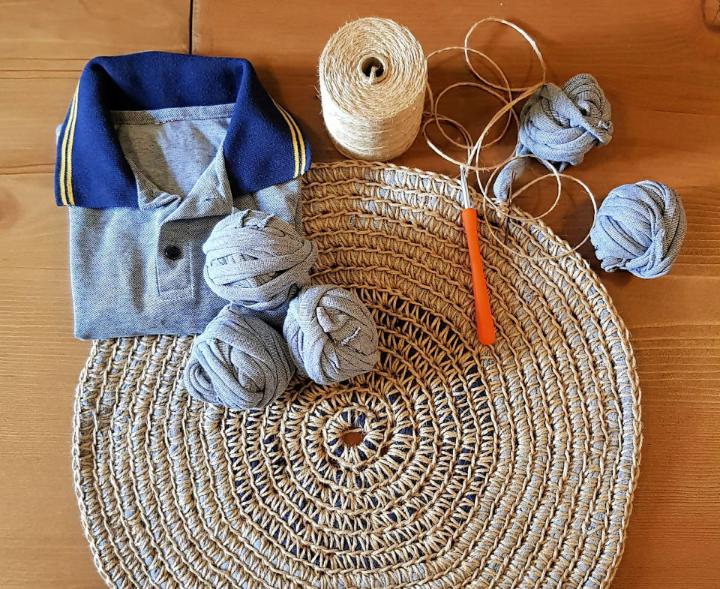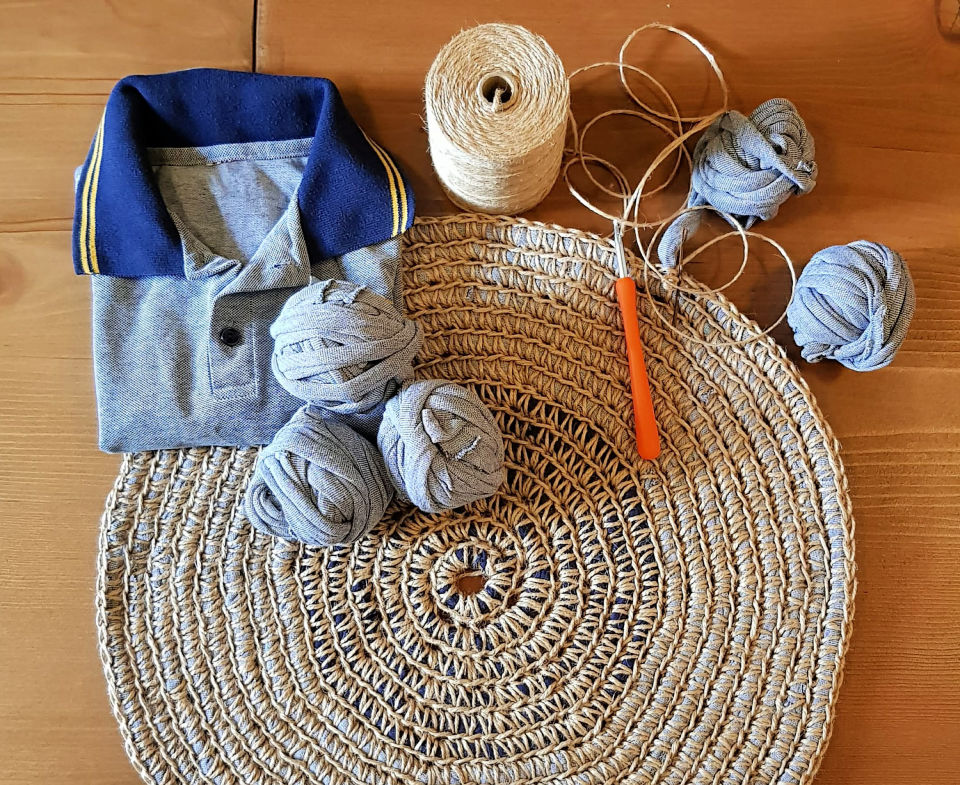 If the little one's old shirts are no longer in use, it's time to make a crochet rug out of those t-shirts. All you have to do is cut up old pieces into a yarn, pull a little, and voila! Start crocheting. You just have to get your yarn rolled into a ball, and finger crochet the whole process. Increase each round by six stitches so that it stays around. To make it look a bit mature, use twine and a hook. cecilypaterson
Yarn: old navy t-shirts
Strip size: 1 ½ inch
10. Mandala Floor Rug Out Of Yarn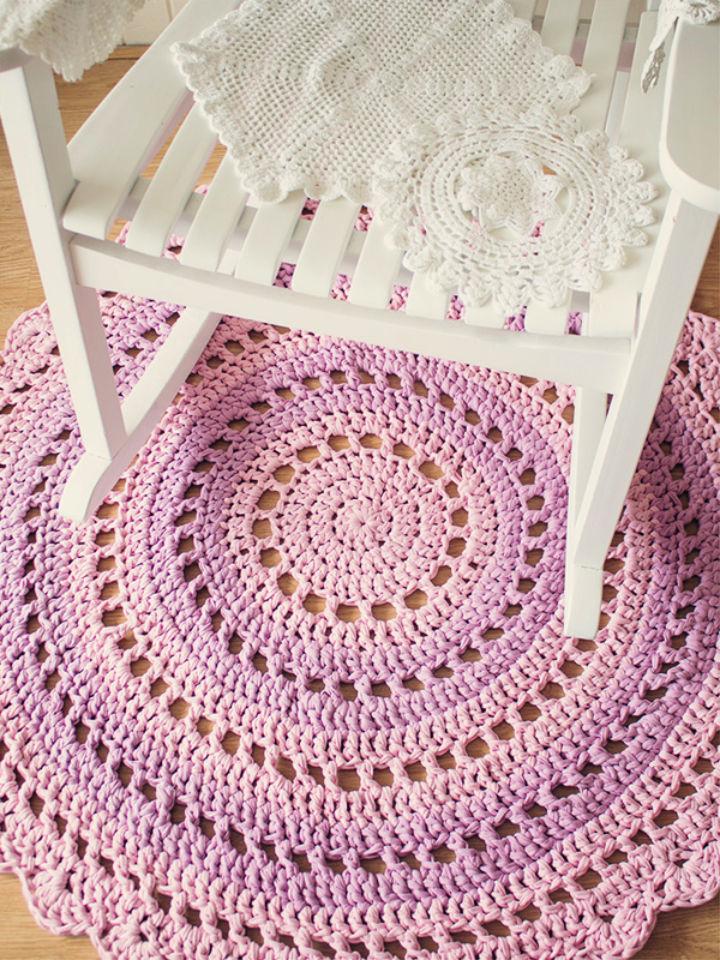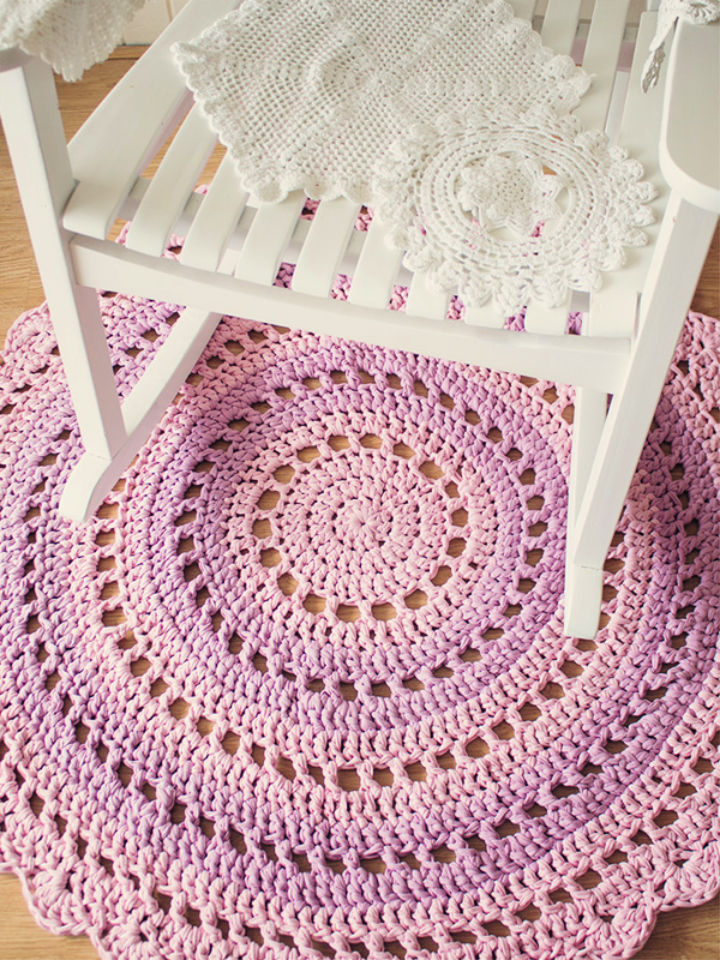 With beautiful yarn that you don't have to spend any money on, make a nice mandala floor rug. Start by making yarn first. Then make a magic ring to secure with a stitch. Then chain and crochet with double crochets. After doing 18 rounds, finish the rug by flipping it. With your darning needle, sew in all the ends. Weave the tails and cut the yarn. Flip it back over, and you're done! You can wash it with a regular washing machine all you want. crafts tutsplus
Yarn: old t-shirts about 3 cones
Hook size: 15mm
Conclusion
If you have a crafting bucket list, then you'll totally understand where you are coming from, as making a perfect crochet rag rug is your way to go! The kids will think it's the greatest thing ever, and that will be your reward! (Plus, it will keep the little ones warm this winter. When you use it, you will realize that it's ideal to use as a bedside mat or even in the bathroom. How to crochet a rug out of yarn is your ultimate solution to what to do with old clothes. Get ready to make one for your own space and have fun while doing the project.
Related Free Crochet Patterns: