The African flower crochet pattern is one of the stitches that goes for a great 3D effect. This pretty vintage stitch is often to use in crocheting soccer balls, cushions, blankets, and various other items of this kind. Along with a great design texture, it will impress with its vintage look too. So, you must learn to crochet in this stitch as it makes a great foundation for the crochet granny hexagon, one of the most popular and loved crochet motif that is used in crocheting endless different patterns. Along with crochet granny hexagon, the African flower stitch makes a great base for the granny squares too.
Explore this collection of 15 African flower crochet patterns, sharing all the different hacks and techniques to crochet in this stitch. Furthermore, the list will cover lots of amazing patterns you can crochet with this wondrous crochet stitch. To start crocheting this flower motif, you will demand to make a magic ring first.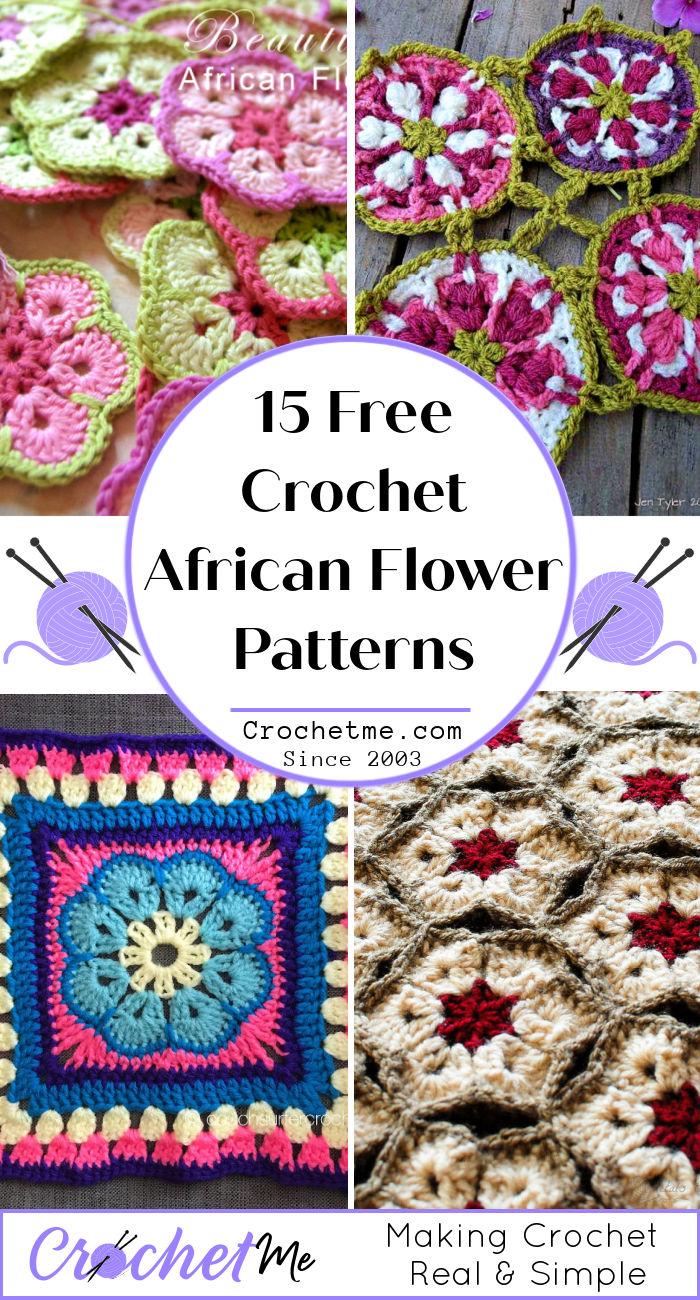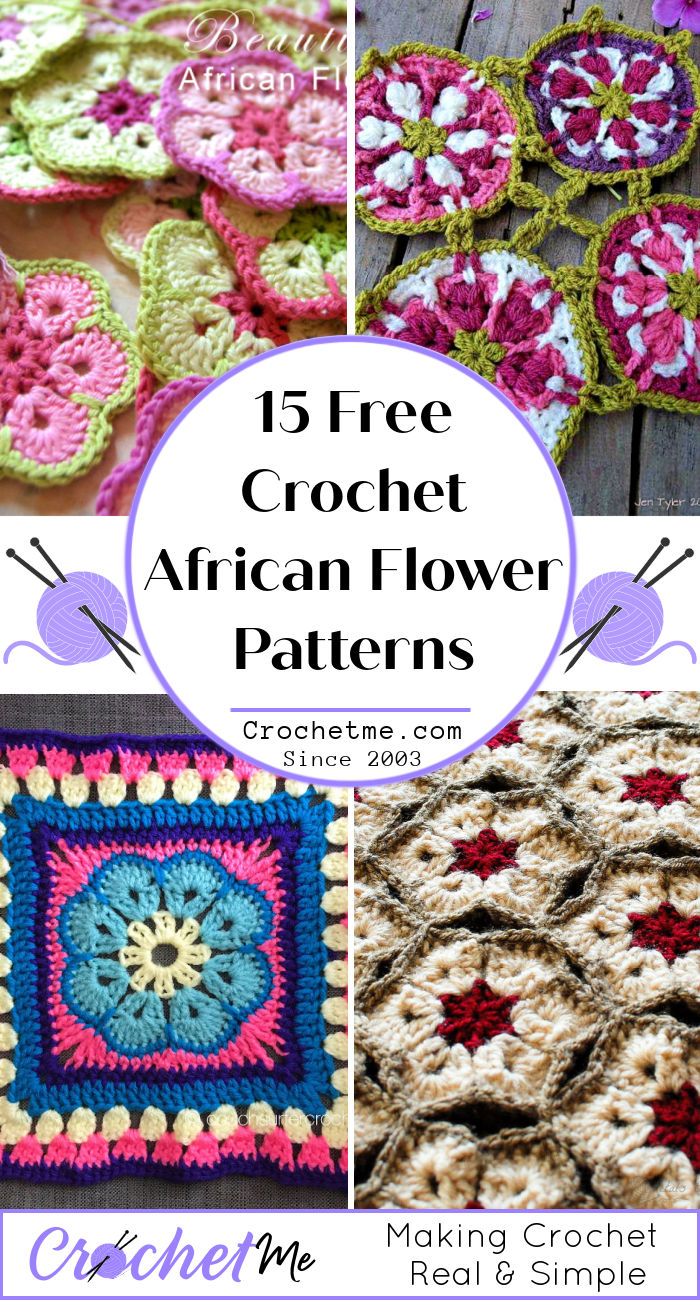 While beginning the crochet in this stitch can be challenging. But you do not need to worry about it. You will get here the free visual guides, step-by-step instructions, video tutorials, and even the diagrams to learn this very magical crochet flower motif. Experiment with so many different colors of yarn to come with lots of enchanting colors of crochet African flowers. Moreover, you will learn here how to enlarge this African flower to crochet granny squares and hexagon. Finally, you will get instructions too about joining the completed motifs to get your targeted products. So, browse the complete roundup of free African flower crochet pattern to get your crochet creativity inspired.
1. African Flower Crochet Pattern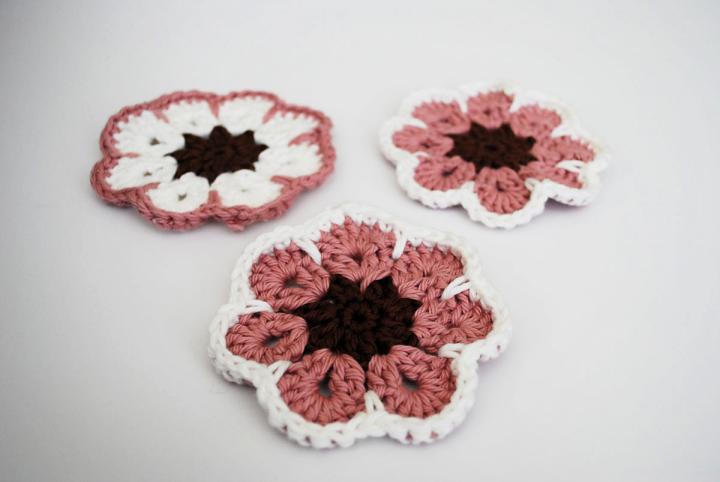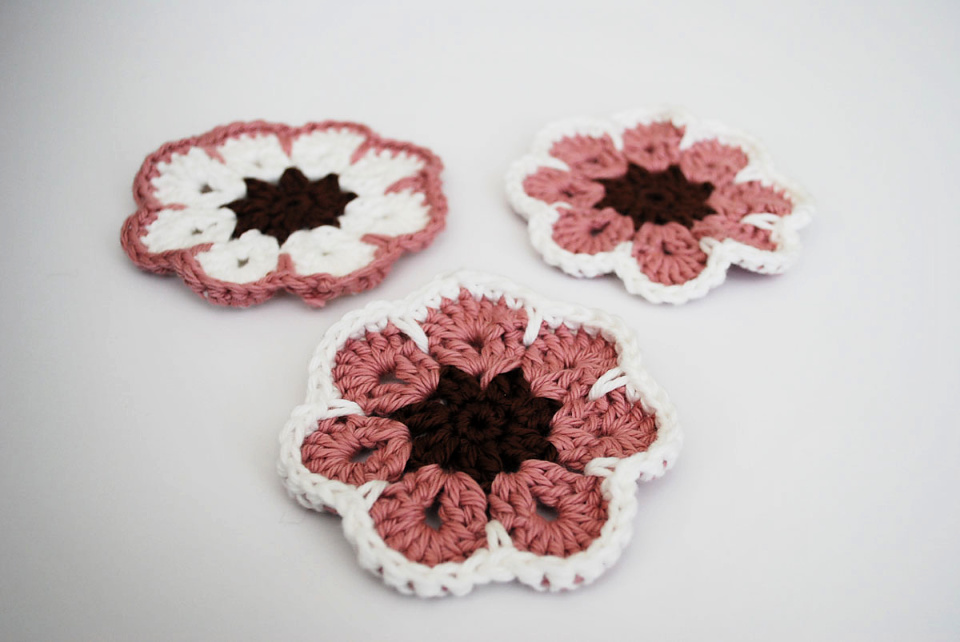 Crochet flowers are to use in numerous different ways. They are the best choice to use as embellishments for hats, sweaters, and other items of this kind. However, the African flowers are a highly popular motif in the crocheting world. So, learn here how to crochet an African flower like a pro. Crochet Caron Simply Soft yarn with a 4mm crochet hook to whip up this African flower. The very skill required here is the magic ring. By crocheting this flower, you will also learn how to crochet a hexagon motif as this flower will make the base for the hexagon. Details here bhookedcrochet
2. Flower Granny Square Crochet Pattern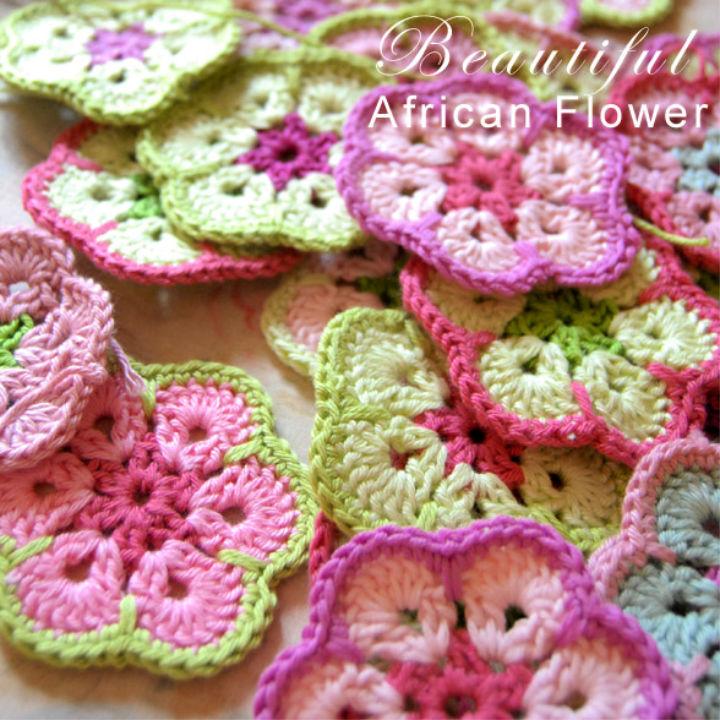 These flower feature numerous different colors are comparatively easy to whip up. This African flower granny square pattern can be used to make everything from lovely shawls to outfits to purses. The finished size of this flower is 7cm in diameter, and you need to crochet the acrylic baby yarn with a 3mm crochet hook to whip up the flower motif. Again start crocheting this flower by making a magic ring. Details here craftpassion
3. African Flower Hexagon Crochet Tutorial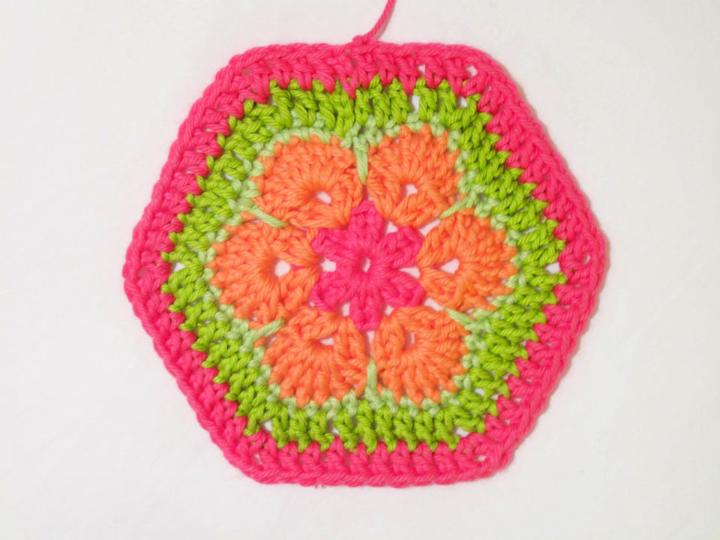 From adorable crocheting rugs to blankets to amazing crochet fashion, this African flower hexagon can be used to work up all. This hexagon comes with an African flower center base, and it appears in lots of enchanting colors to grab one's attention. Again you have to make a magic ring first to whip up this African flower crochet pattern. From getting step-by-step instructions, you will get here the visual guides, too, to learn it all comprehensively. Grab the several colors of yarn, even the yarn scrap, and a 5mm hook to crochet this flower. Details here heidibearscrea
4. Crochet African Flowers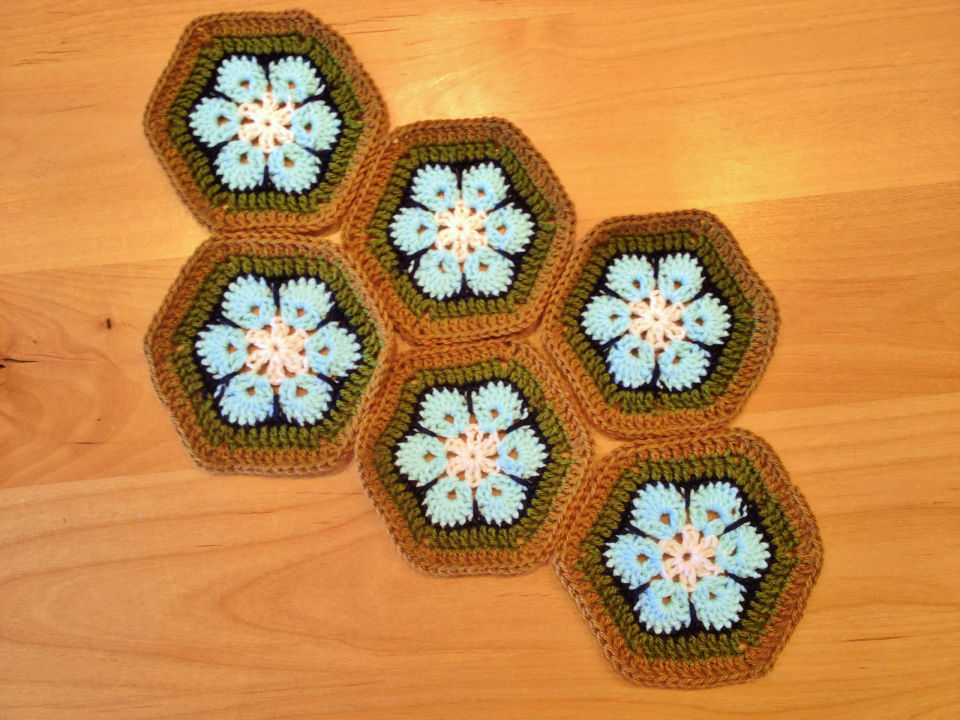 If you are willing to crochet a granny hexagon or granny square motif with a flower center, then you must learn how to crochet an African flower. It is mostly the base of both motifs and is not very difficult to learn. Crochet Berroco vintage DK yarn with a 4mm hook to whip up this African flower hexagon. Put together a bund of these hexes to get adorable granny hexagon blankets, throws, and afghans. You are all free to use your own yarn colors to feature in this flower motif. Details here ravelry
5. Crochet African Flower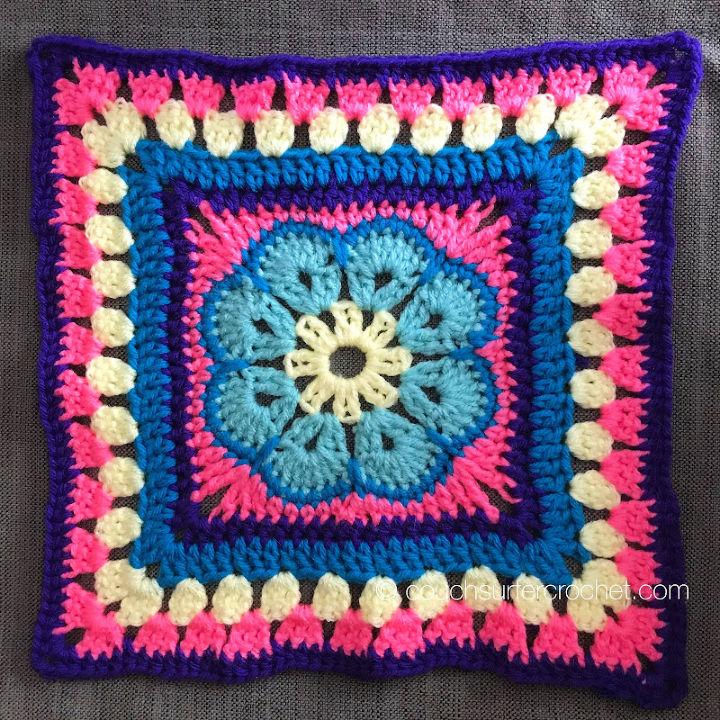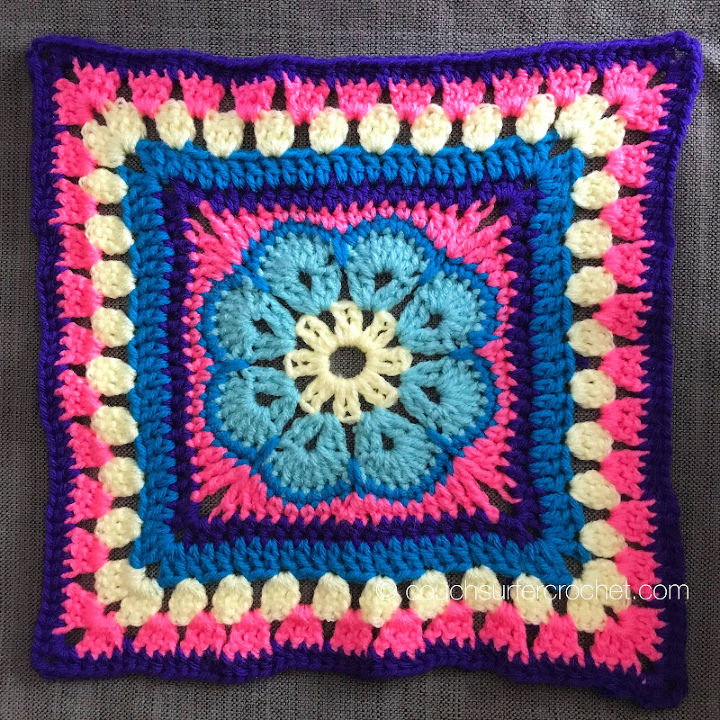 A granny square is one of the most loved and most famous crocheting motifs. If you wish to learn this motif, then it will demand to learn first the African flower, the base for the granny square. Crochet both Impeccable and Red Heart Super Saver Yarn in lots of different colors to whip up this African flower and the whole granny square. Once you learn it, you will be able to crochet outstanding afghans, blankets, outfits, accessories, and much more. Here this African flower motif comes with 8 petals to impress. Details here couchsurfercro
6. African Flower – Free Crochet Pattern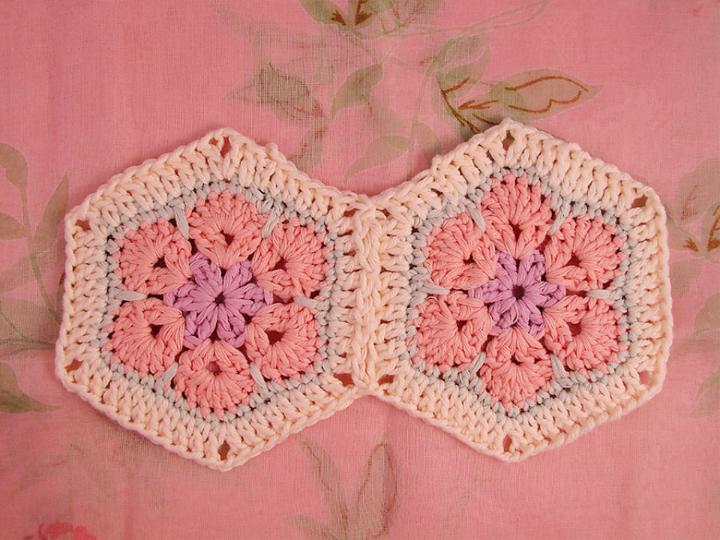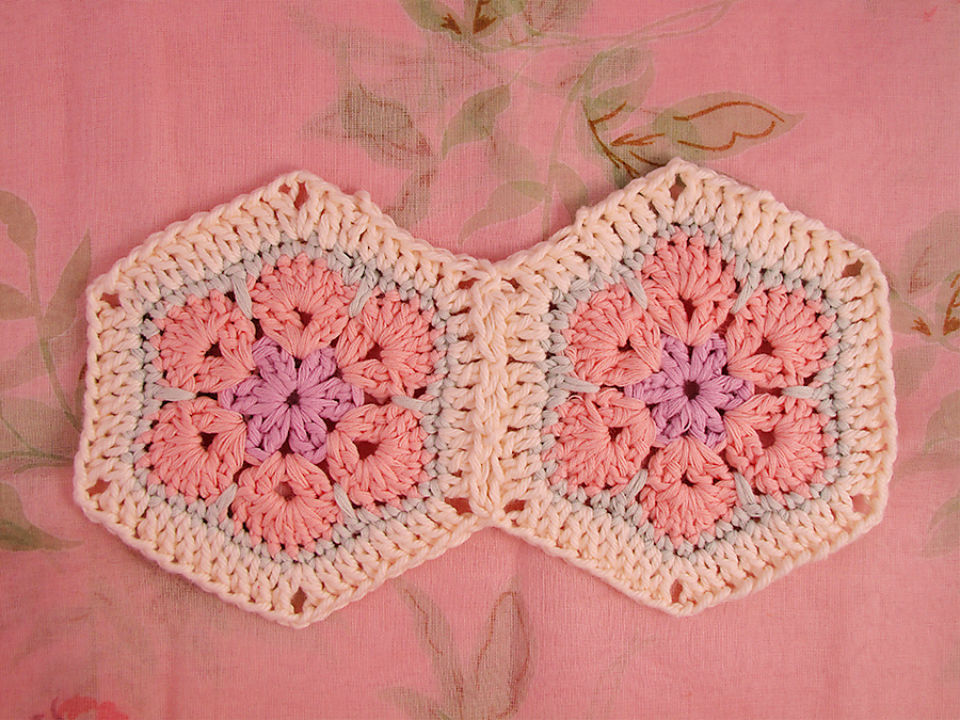 You have seen a lot of amazing stuff made with the crochet hexagon motifs, will surely impress at a very first look. Learn how to crochet an African flower hexagon and how to join two or more out of them to complete a pattern. Start making the flowers by whipping up a magic ring and then start adding the petal. A few easy stitches will be used to stitch this handsome yarn motif. Crochet any yarn of choice here using a matching hook to achieve this enchanting yarn motif, will make a sweet handmade gift too. Details here heidibearscreative
7. African Flower Crochet Pattern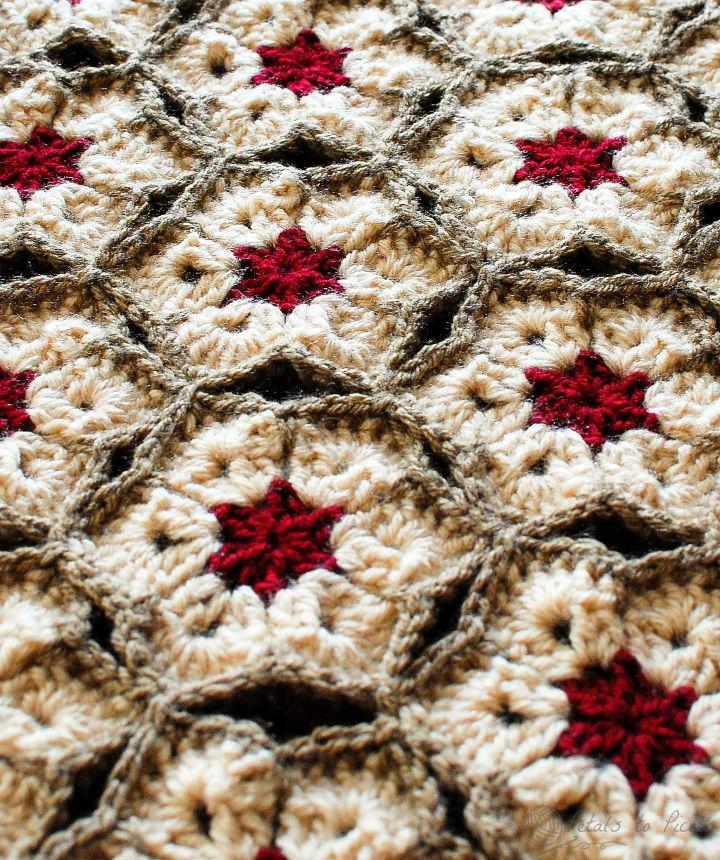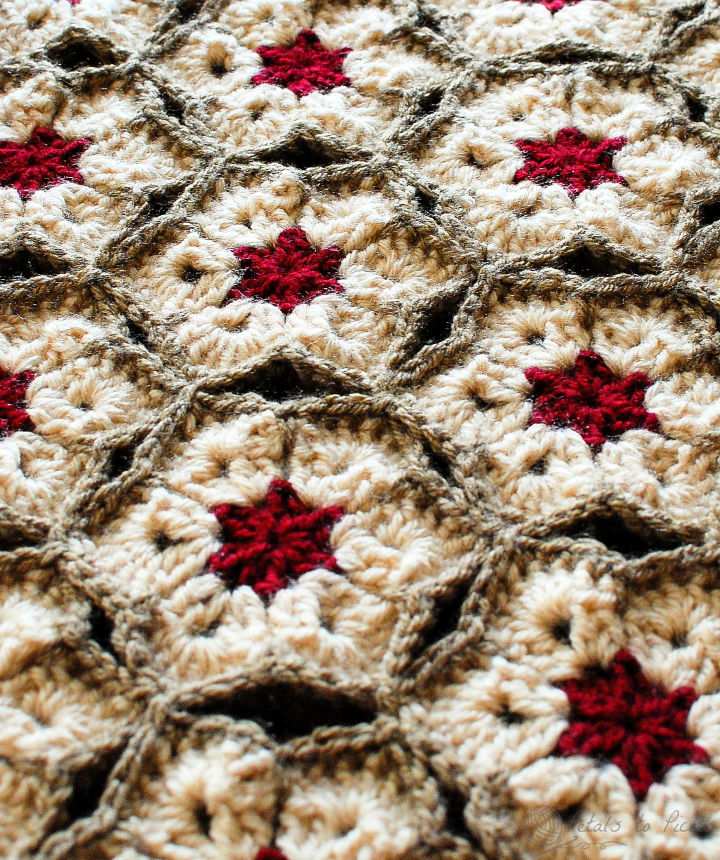 This African flower features an enchanting 3 color hue and will make the perfect cute and colorful base for the crochet hexagon motif. Work in the long single special crochet stitch to work up this flower motif, and the very basic required for this project will be the magic circle. Experiment this motif with any combination of colors that is very required for a specific pattern you are crocheting. Use these flowers as enchanting new embellishments for your hats and sweaters. Details here petalstopicots
8. African Flower Motif And Hot Pad Crochet Pattern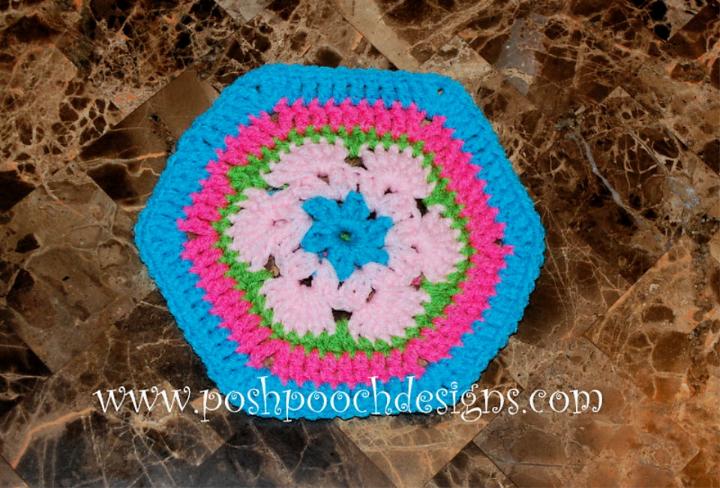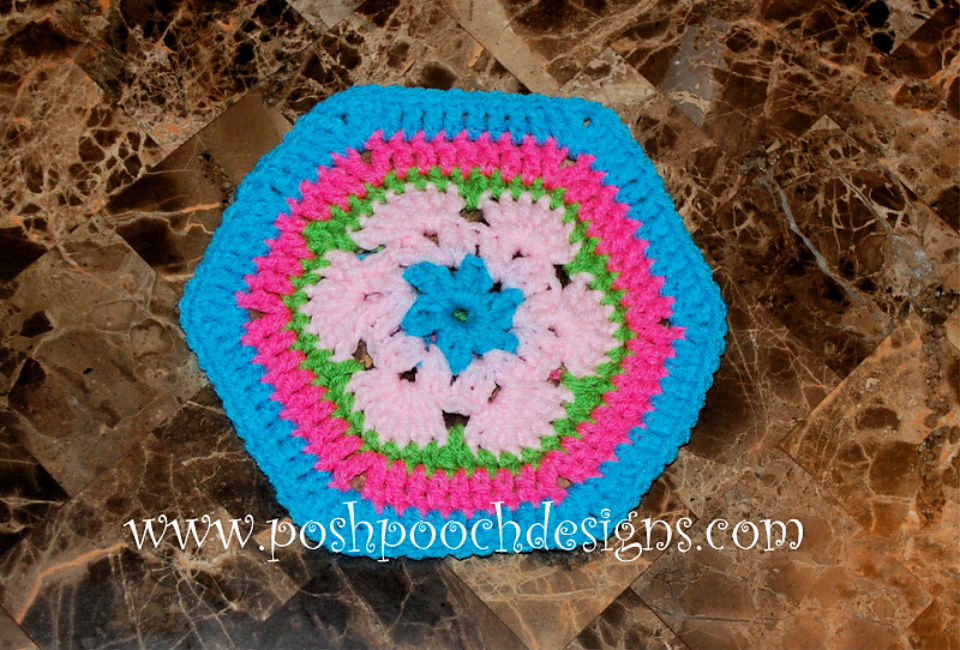 Get here instructions about how to crochet this 8" African flower motif that has finally been transformed in a brilliant crochet hexagon. Crochet pink, blue, green, and light pink colors of yarn to whip up this graceful African flower model, the perfect base for the crochet hexagon. Crochet worsted weight Red Heart Super Saver yarn with a 5 mm crochet hook to get this crochet potholder made. This crochet potholder pattern is great for both beginners to intermediate crocheters. Details here poshpoochdesign
9. Crochet African Flower Head Warmer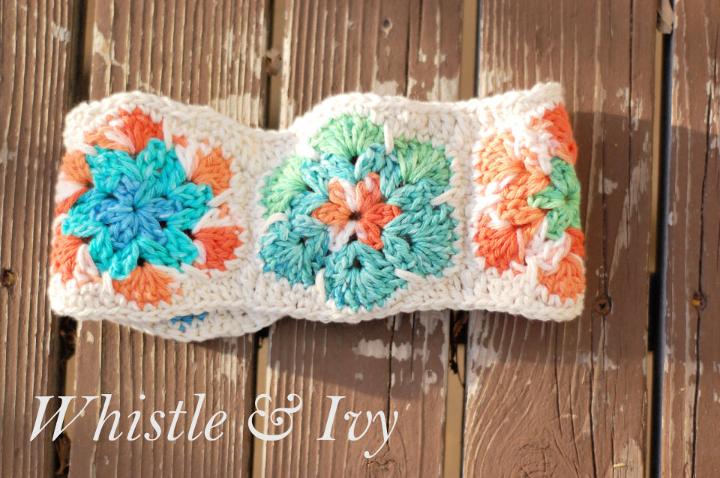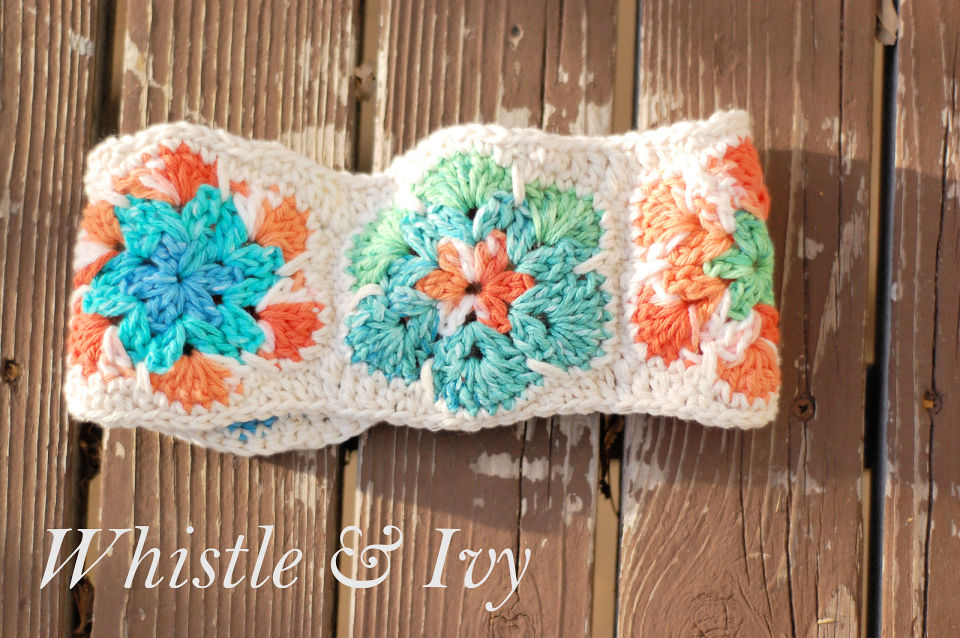 Take your African flower to the next level by making this head warmer. Just crochet the perfect hexagon with African flower centers and then join them gracefully, getting the perfect head warmer. The given one is looking brilliant in the finally finished hue and consider giving it as a sweet gift too. This big winter fashion must-have is beginner-friendly to crochet. Crochet cotton yarn (Peaches and Creme) in 3 colors to get it made. This completed head warmer is 22" long, and each flower has a diameter of a 3 ¾". Details here whistleandivy
10. African Flower Centerpiece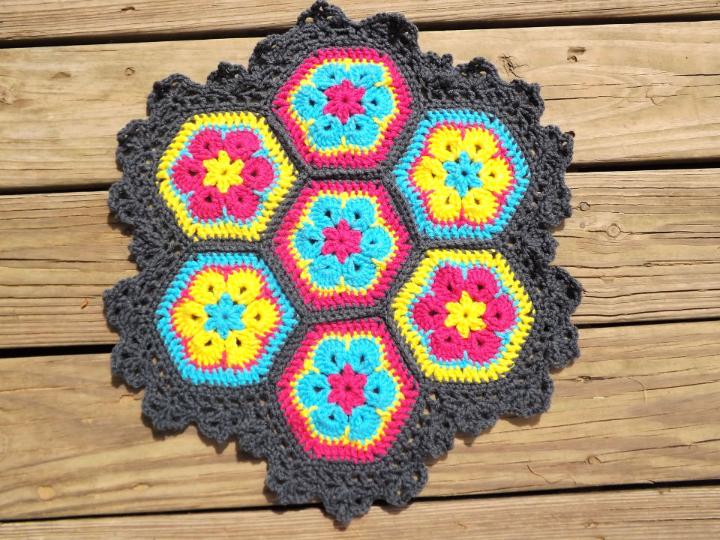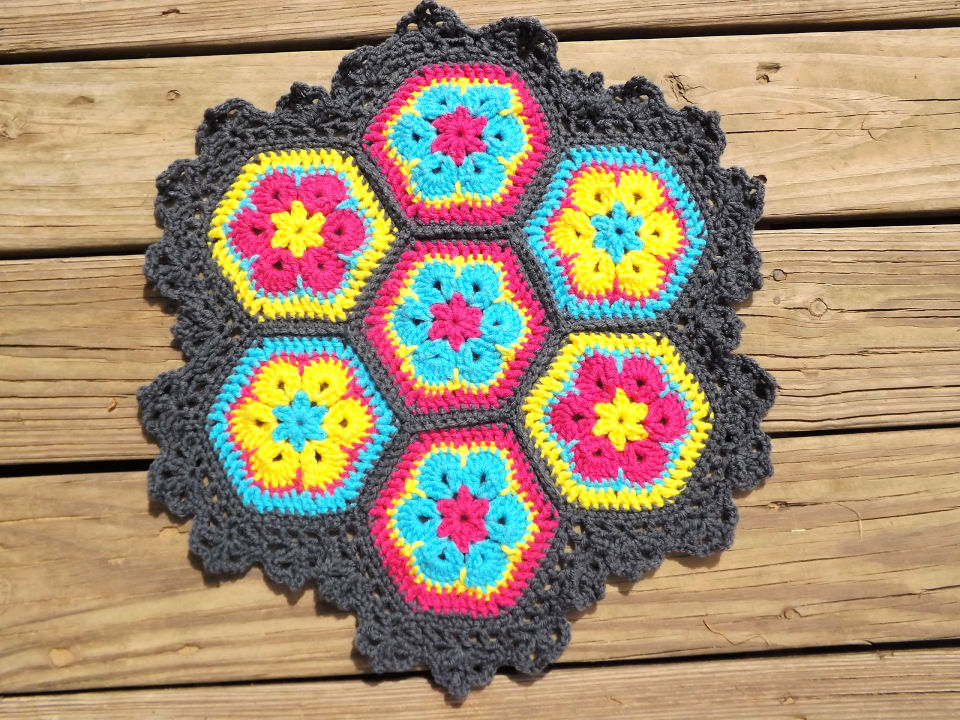 A wondrous African Flower Centerpiece Pattern that will rock your party and dining table decoration. Crochet worsted weight yarn in colors of choices while using a 5mm hook to stitch the African flower motifs, the bases for the granny hexagons here. Next, joint them together, making a big hexagon, will be your tablecloth. Something perfect for getting out of crocheting medium for your table settings. You are all free to crochet the yarn in any 4 colors of choice. The perfect gauge for this pattern is, 1 stitch and 4 rows are equal to 5cm. Details here ravelry
11. Crochet African Flower Square Pattern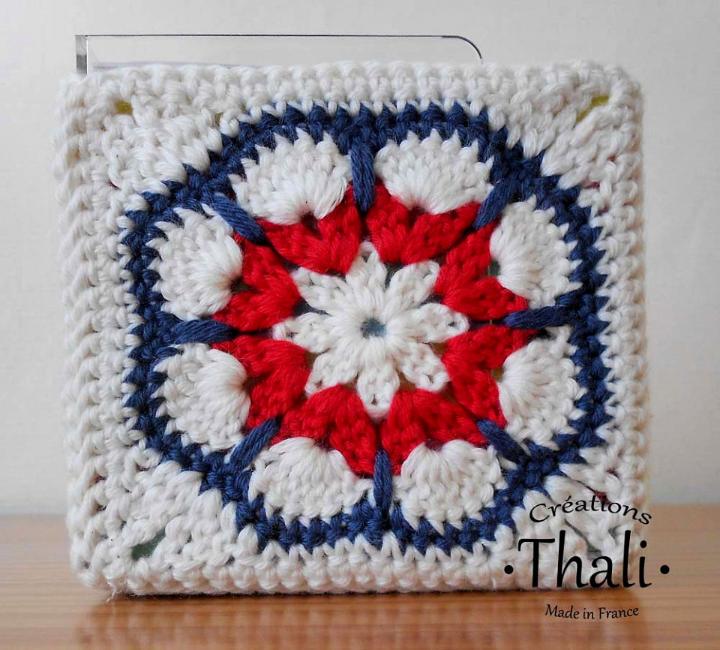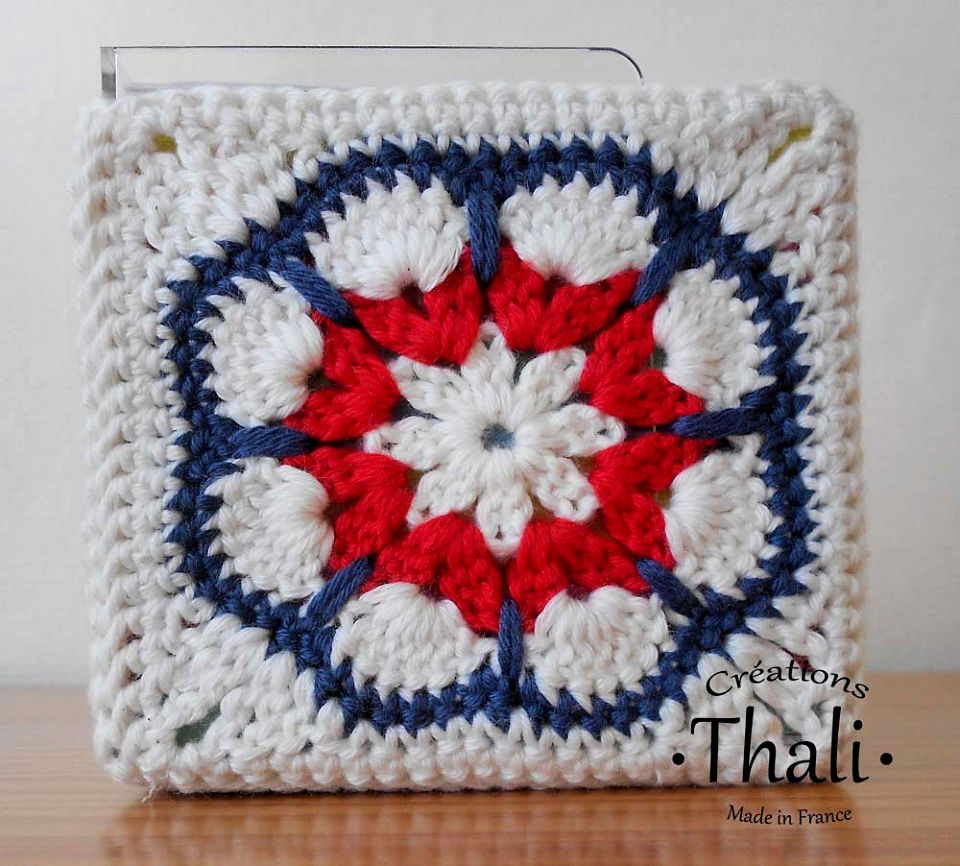 The granny square is one of the most loved yarn motifs that you can put together repeated to crochet a variety of fashion, accessories, and lovely winter warmers. This granny square comes with an 8 petal African flower center and will work up super quickly. This hearty motif appears in blue, white, and red color here, but you can prefer any other yarn color combo. Here you are all free to crochet it in any size and weight too. Details here thalicreations
12. How to Crochet African Daisy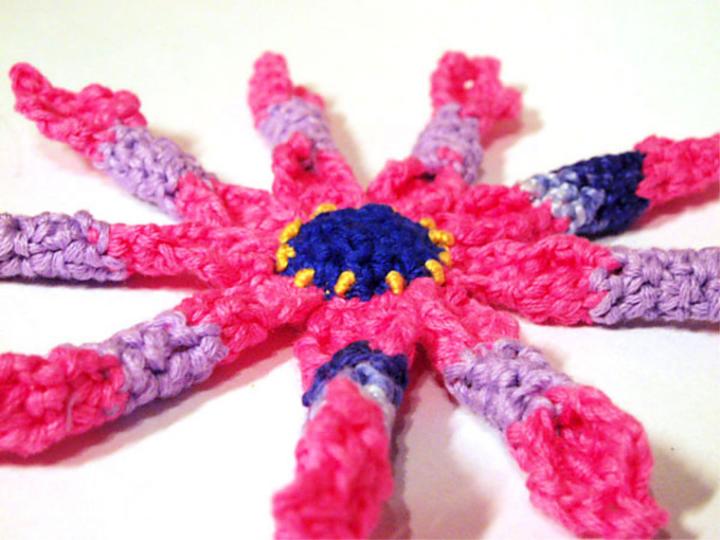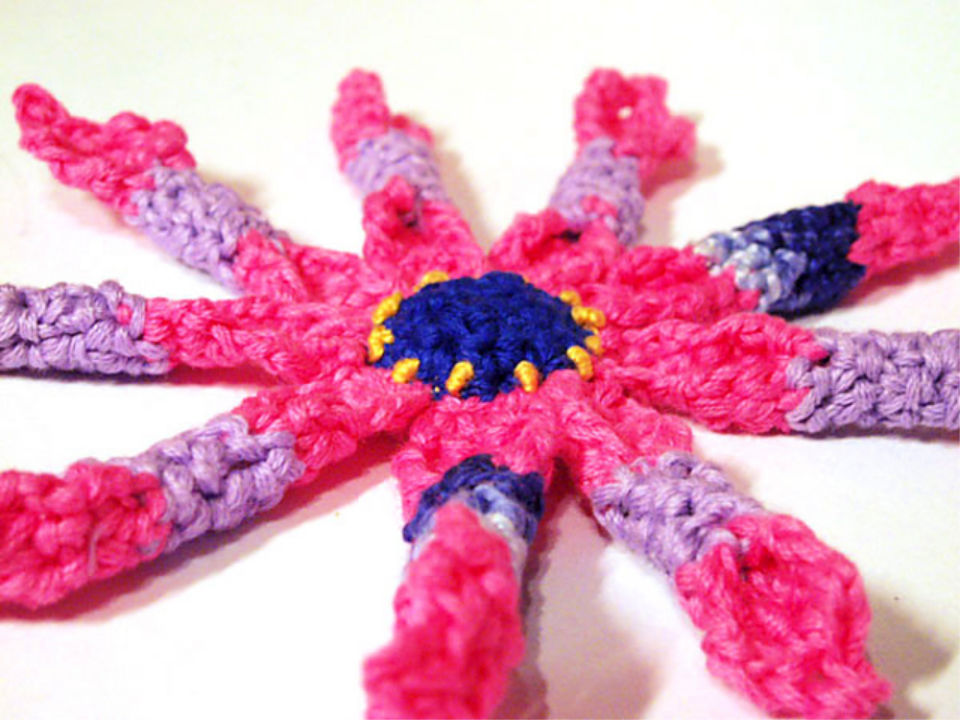 By learning how to crochet an African flower, you can do wonders. And this African Daisy is one of those wonders. It comes with long legs that look like tentacles of an octopus. The design can help crochet lots of outstanding crochet patterns. You will love to add to your winter fashion wardrobe. This daisy is looking cute and will be a great pleasure to crochet. Use the blue, pink, yellow, and purple yarn colors to stitch this fabulous African flower motif. Details here melibondre
13. Crochet Flower Granny Square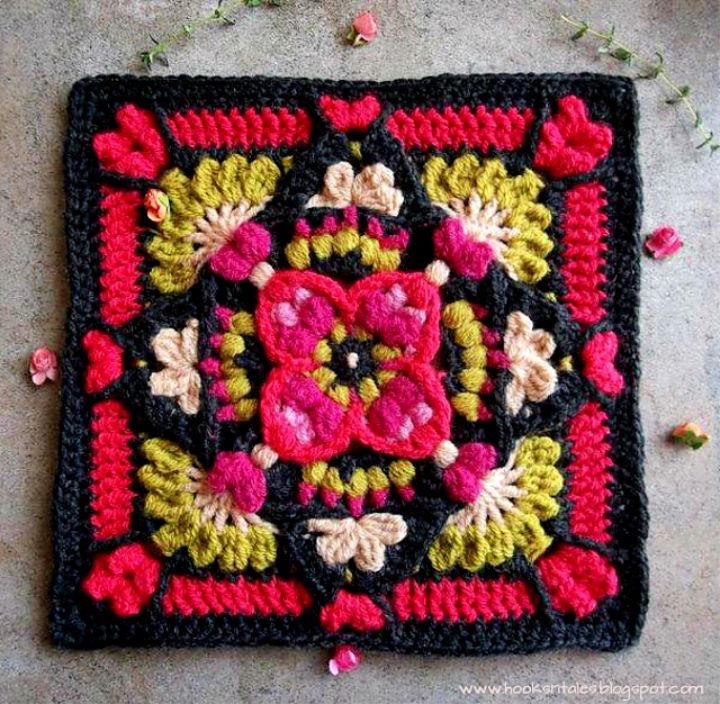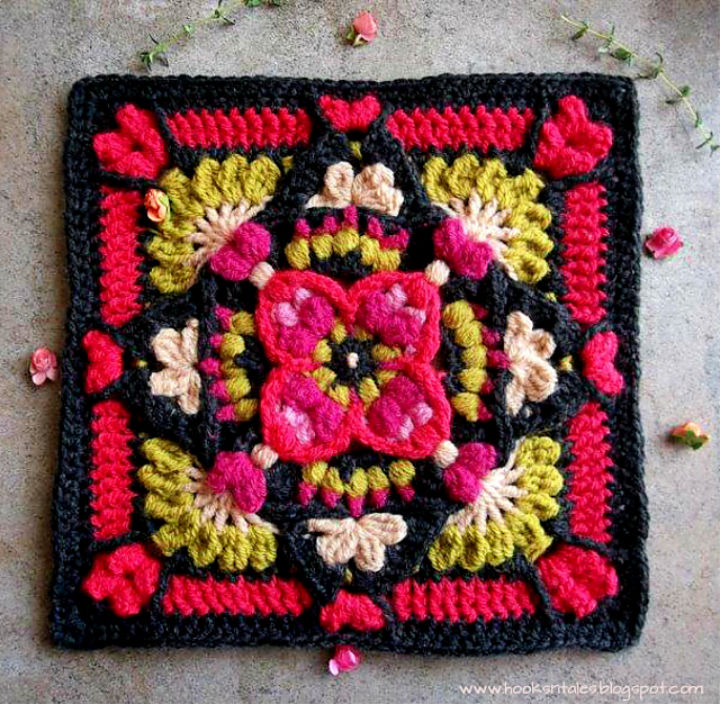 Look at the smart spreading of the African flower here appearing as a great granny square. It comes with lots of visually captivating details that make it a one-of-a-kind yarn motif. This granny square pattern is for intermediate crocheters, but crocheting the African flower center is totally beginner-friendly. Crochet the yarn in red, black, mustard, and clay color to get this enchanting granny square made super quickly. Details here hooksntales
14. African Summer Snowflake Flower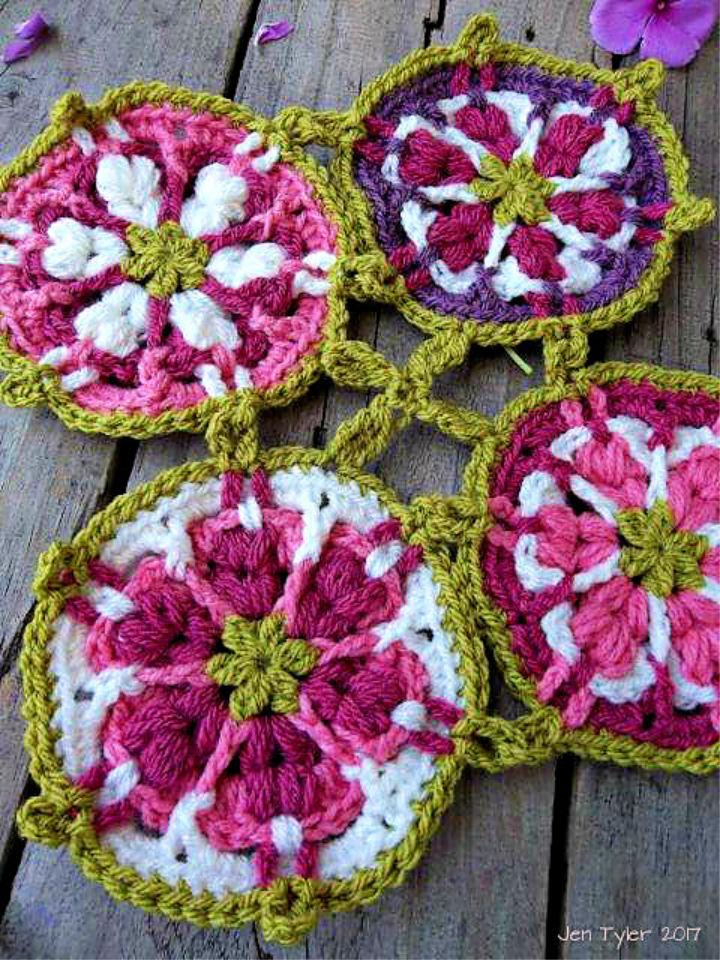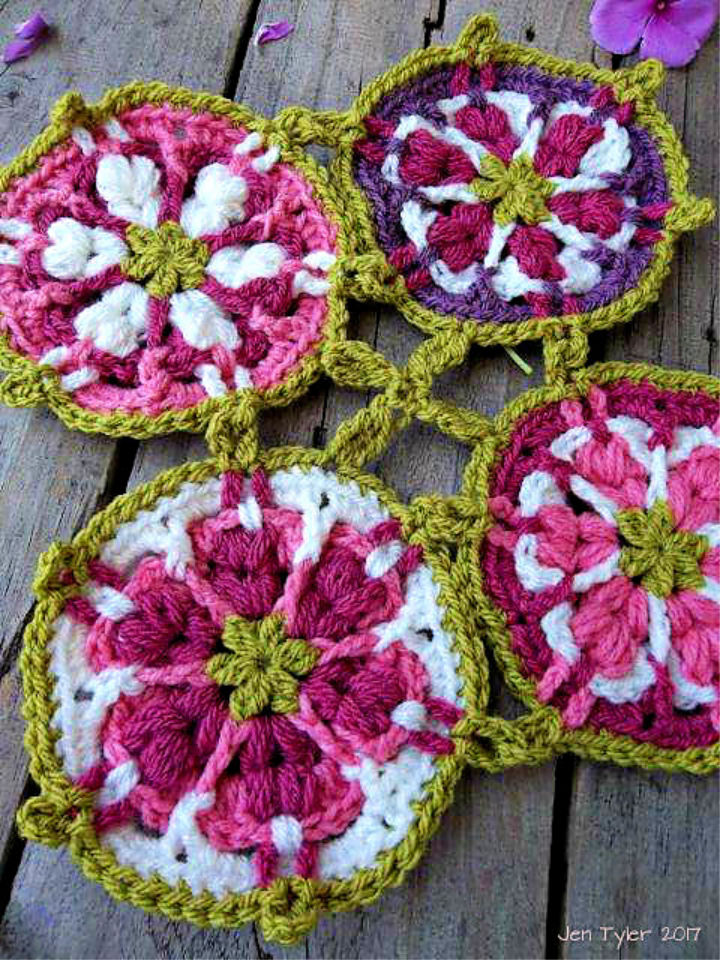 Check out here the creative joining of African circles. You can enlarge this motif to crochet anything from a lovely tablecloth to a graceful rug of the blanket. This outstanding African Summer Snowflake Flower will work up super quickly if you learn to crochet an African flower motif, which will not take much time. Grab the yarn in pink, white, purple, and green color to stitch this beauteous model of the granny square. You are all free to use the weight and colors of choice. Details here hooksntales
15. Crochet African Flower Pattern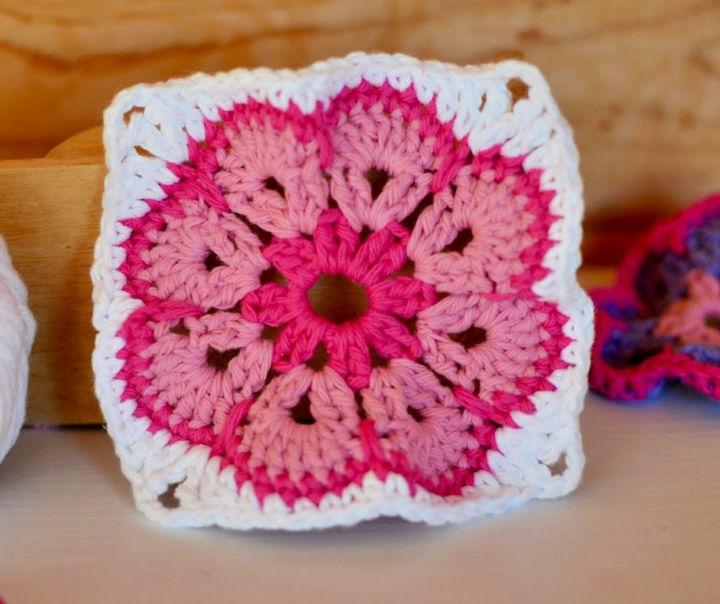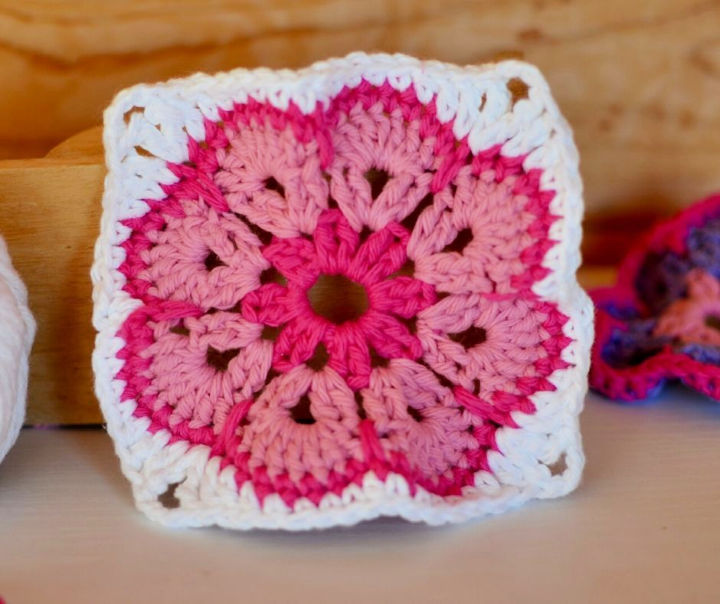 Get here instructions for a more graceful African flower motif that is to crochet with medium weight yarn selected in 3 colors of choice. The Caron Simply Soft Yarn in white will really rock for this African Granny Square motif. Crochet your selected yarn in white, soft, green, and Victorian rose to while using a 4mm crochet hook to whip up this handsome granny square with African flower foundation. There are endless crochet projects to do with the granny square. cuteandcozycro
Conclusion:
The majority of crochet patterns are to make with the crochet hexagons and crochet granny squares, the most classic, traditional, and vintage crochet motifs. Both of these motifs come with a flower center mostly, called the African flowers. So, before you start doing creative crochet achievements with crochet granny squares, hexagons, or circles, you have to learn this flower motif first. So, these African flower patterns will share all kinds of help to crochet this motif in a variety of styles. Along with expert suggestions, you will get all visual instructions to not get puzzled at any step. So, do take a roundup of the entire collection.