You'll love these 25 free crochet potholder patterns: A roundup of crochet potholders and hot pads free patterns that include square, circle, flower, and animal designs. Little things can make a big difference in the overall environment and feel of your house. Little things like flowers can add so much! If you're looking for ways to enhance your house by adding little decorations, then you should definitely try making these beautiful crochet potholders! Make them in your favorite color or for the vibe you're going for. If you want something cozy and welcoming, you can go for darker colors like brown, red, and grey crochet potholder pattern or vice versa.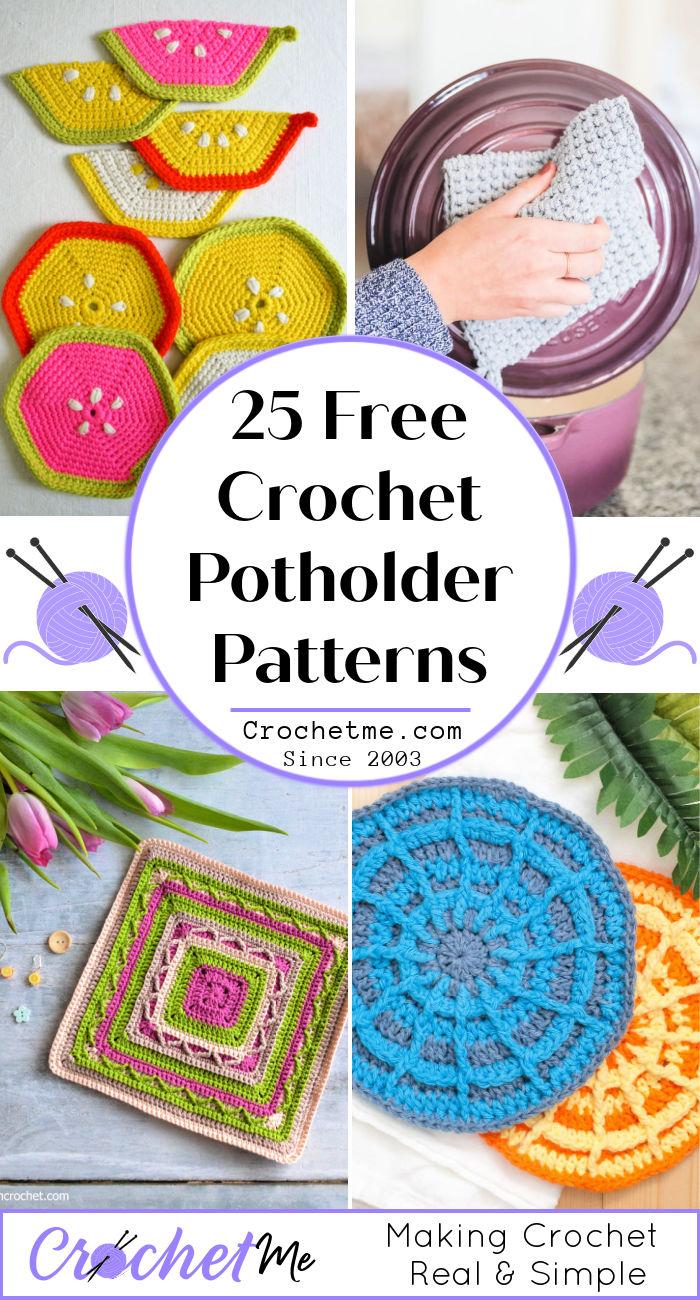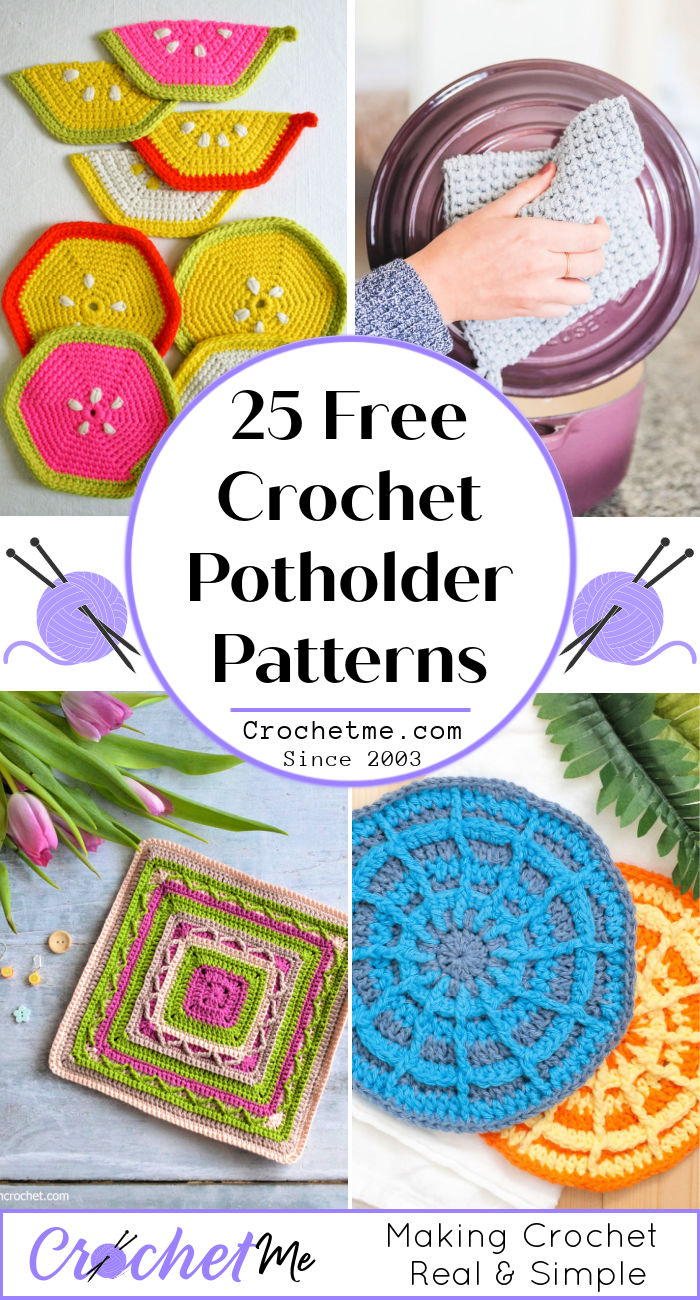 You don't need to spend a lot of money on these crochet potholders. However, it is recommended to buy a good quality yarn and crochet kit to get the best potential quality. You can save some money by using old scraps for the detailing and the design. All you need to do is just be a little creative and beginner crocheter. This article will cover a range of free crochet potholder patterns, from Tutti-Frutti to watermelon inspired patterns, from simple and minimalistic to gobbler potholder patterns; from double-stitch to thermal stitch patterns. There's a lot of crocheted hot pad patterns to choose from! After all, who doesn't like a few options to make a choice about?
1. Fruity Trivet Crochet Potholders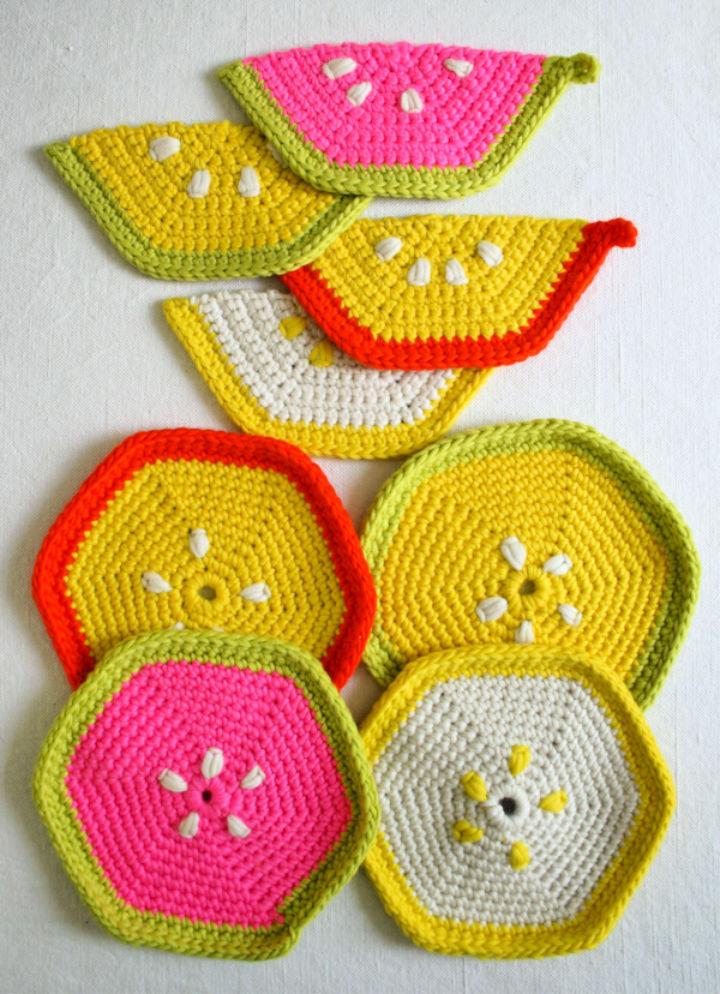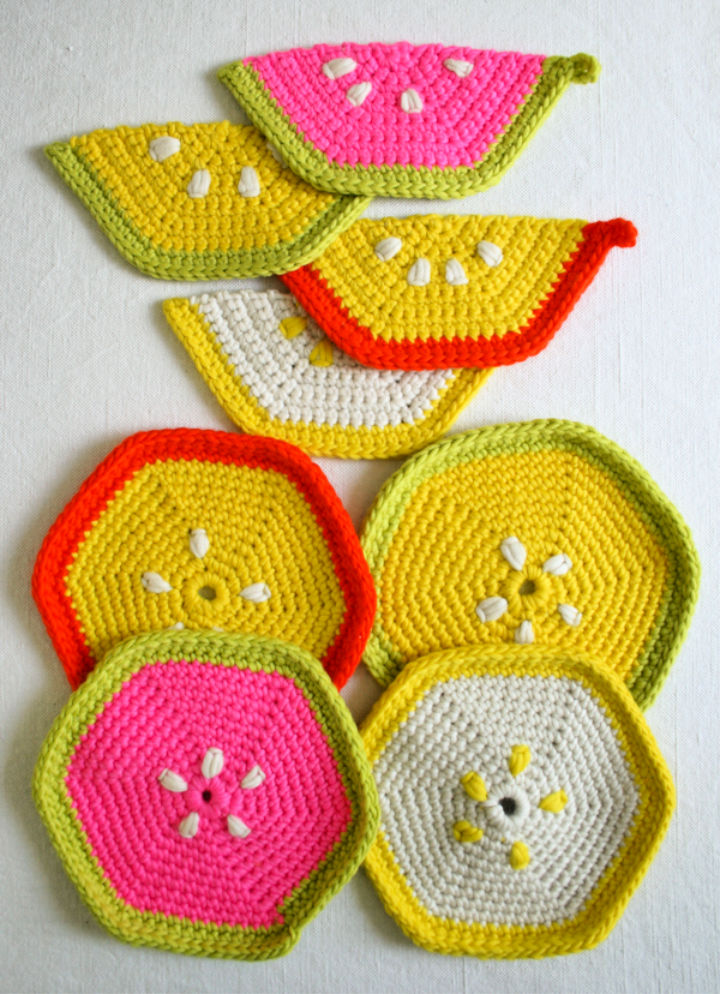 How adorable are these watermelon inspired potholders! Can you imagine this outside in your backyard when you're holding your barbeque parties? That would look so cool! It has many colors and many ways of customization. All you need for this project is some worsted cotton yarn, a size k crochet hook, and a removable stitch marker. That's all you need! purlsoho
Yarn weight: Blue Sky Alpaca's Worsted Cotton (3 skeins- Poppy #601, Dandelion #628, Bone #80)
Crochet hook: size K crochet hook
Finished Size: 9 inches in diameter
2. Kid-Sized Crochet Potholder Pattern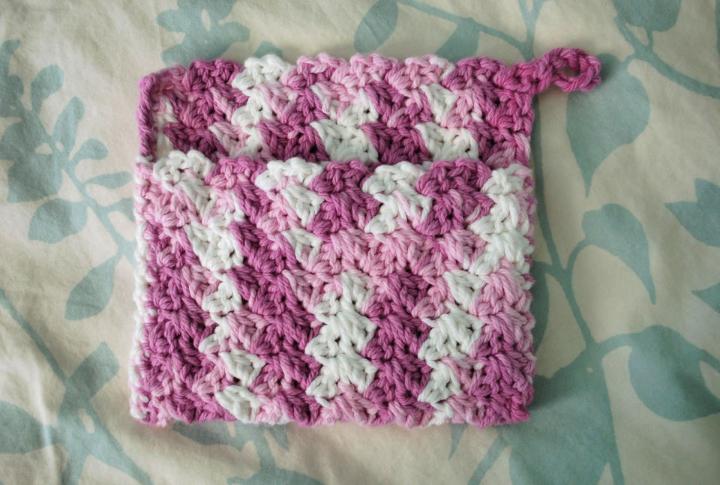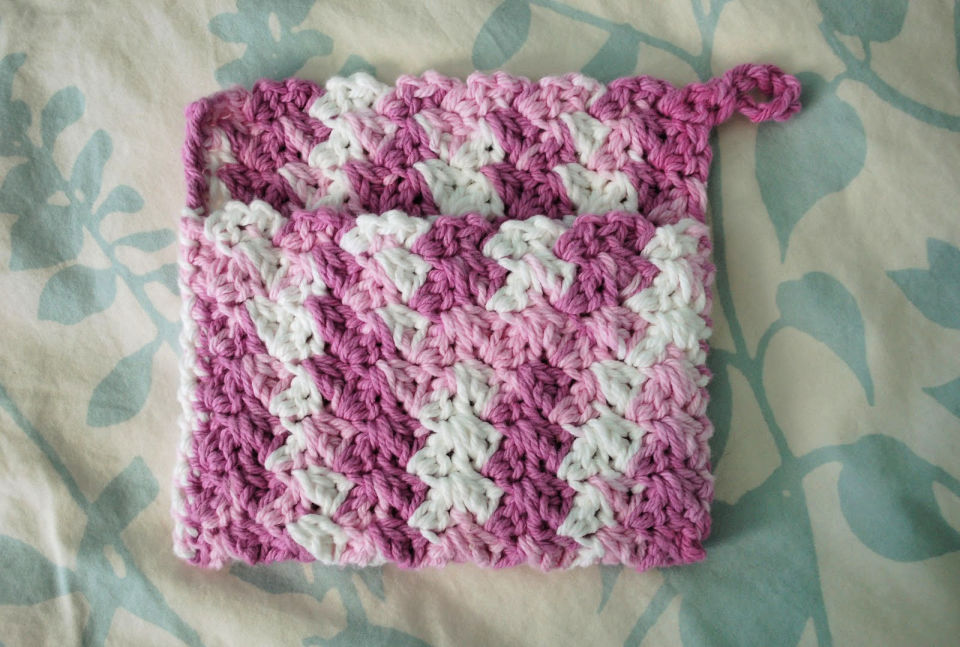 Isn't this just an amazing idea? If you feel like you don't have any coordination and can't hold the pot while cooking around the pan, then you should make this. It will help by wrapping around your fingers and keeping them safe. You can start over by making the body and moving further from there. Only basic skills are required, so any beginner can master this. allicrafts
Crochet Hook: 4.25/ size G/6 hook
Yarn Weight: Peaches N' Cream cotton yarn (1 skein)
3. Crocheted Potholder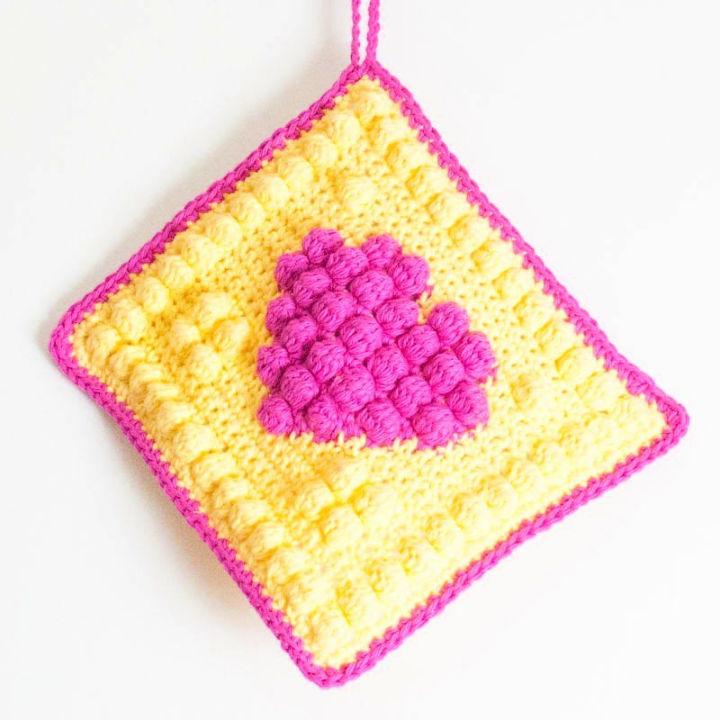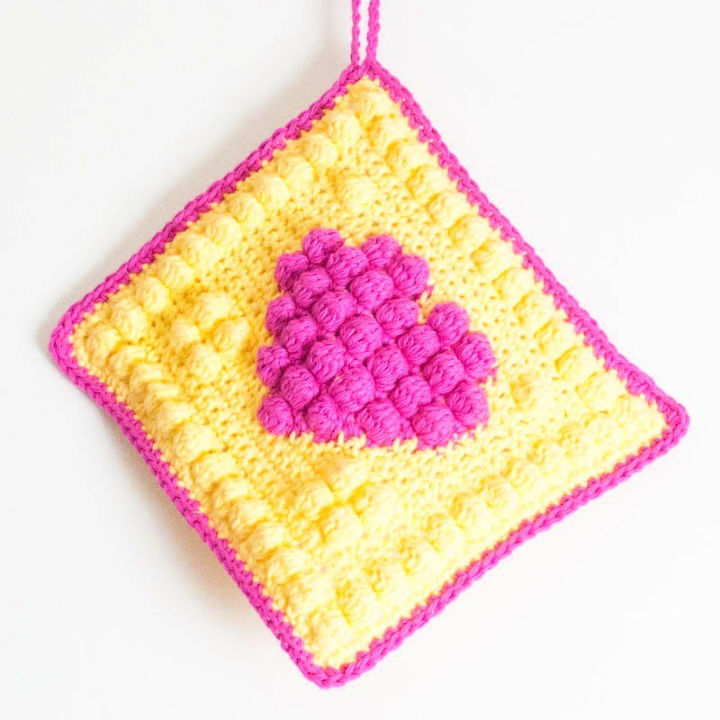 Don't you feel happy just by looking at this adorable crocheted potholder? It is so adorable and gives off positive energy. The pattern is just beautiful, with a bobbled heart design featuring a color combination of yellow and pink. Scissors, tapestry needle, 2 different colored yarns, and two different sized hooks will be required. Yes! That's all you are going to need to get started! youshouldcraft
Crochet Hook: H-5.0mm and l-5.5mm crochet hooks
Yarn Weight: Worsted Weight cotton yarn (2 skeins – Sugar' n Cream and Hot Pink and Yellow)
4. How to Crochet a Pot Holder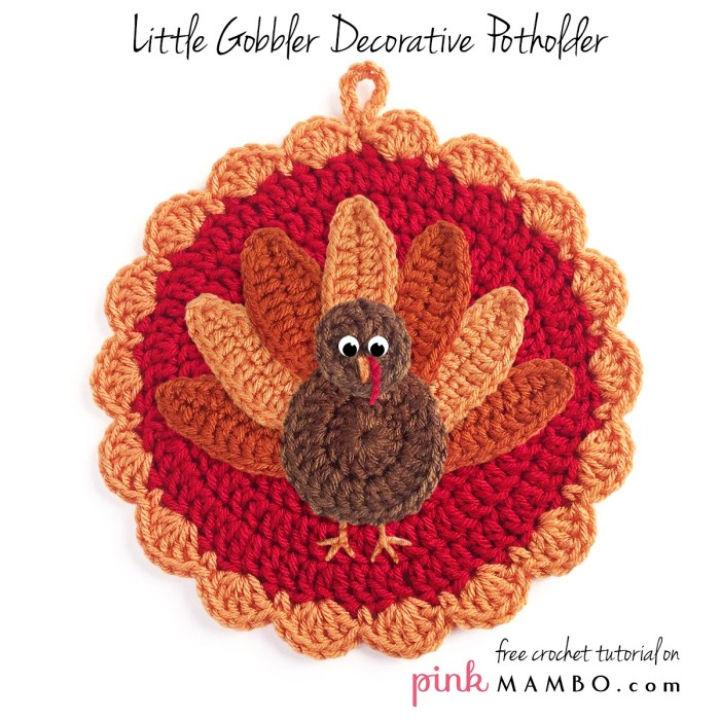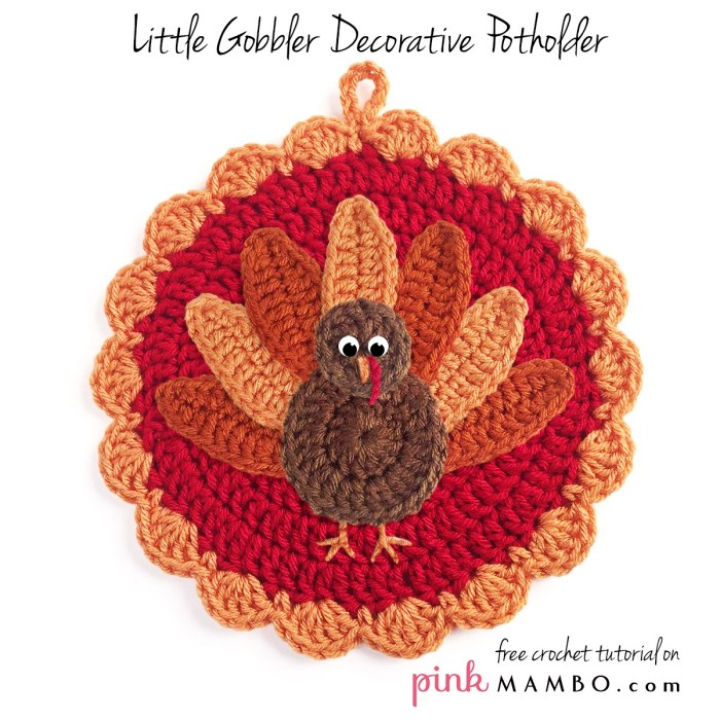 The little gobbler potholder is absolutely stunning. It does look a little complicated, but don't you worry! It's actually quite simple if you follow the steps carefully. If you want to spice up your Thanksgiving, definitely make a few of these. The skill level is easy, and you need to know a few special stitches for this one; for example, the crochet magic ring– certainly a magical stitch! pinkmambo
Crochet Hook: size G/6/4mm crochet hook
Yarn Weight: Worsted Weight/ Aran Yarn (Red- 100 yards and small amounts of brown, red and pumpkin)
Finished Size: 8 ½" across
5. Crochet Potholder Pattern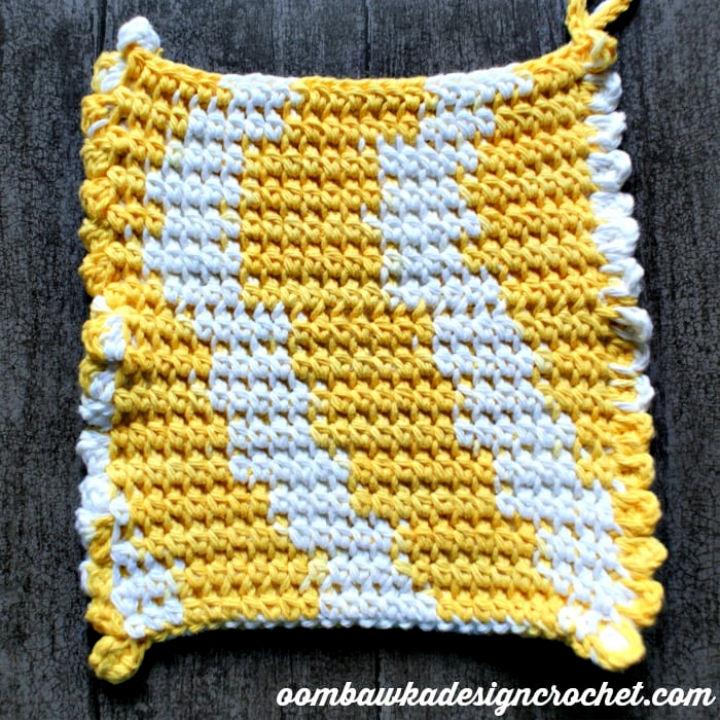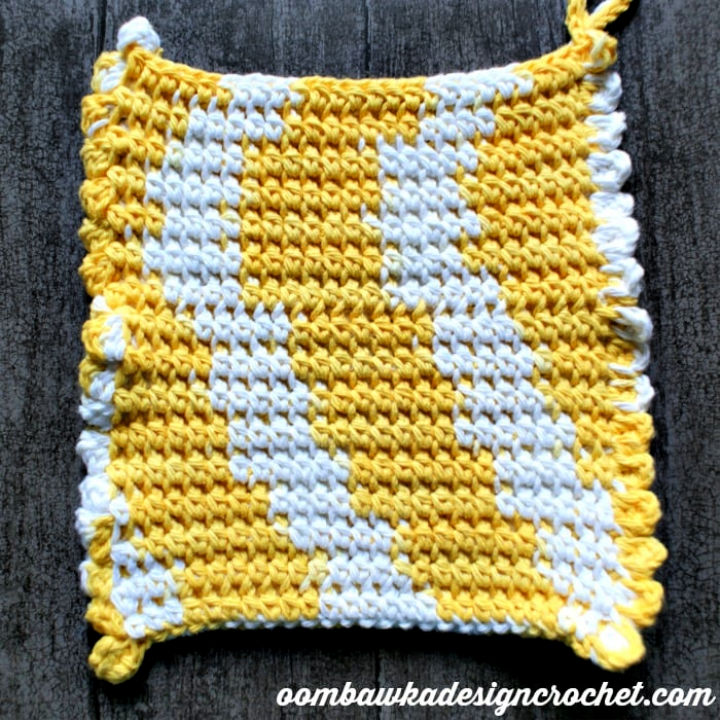 A free crochet potholder pattern which requires you to crochet two layers. Both of these layers will be crocheted simultaneously, which will make it very thick and bulky. You will need two different colored yarns and a few other materials. There are many basic stitches required and one special stitched required – the 3-dc cluster! It's easy to learn, so don't worry about it! oombawkades
Crochet Hook: 5.00mm/ Size H
Yarn Weight: Bernat Handicrafter Cotton (worsted weight cotton yarn)
Finished Size: 7" x 7" square
6. Pot Holder Crochet Pattern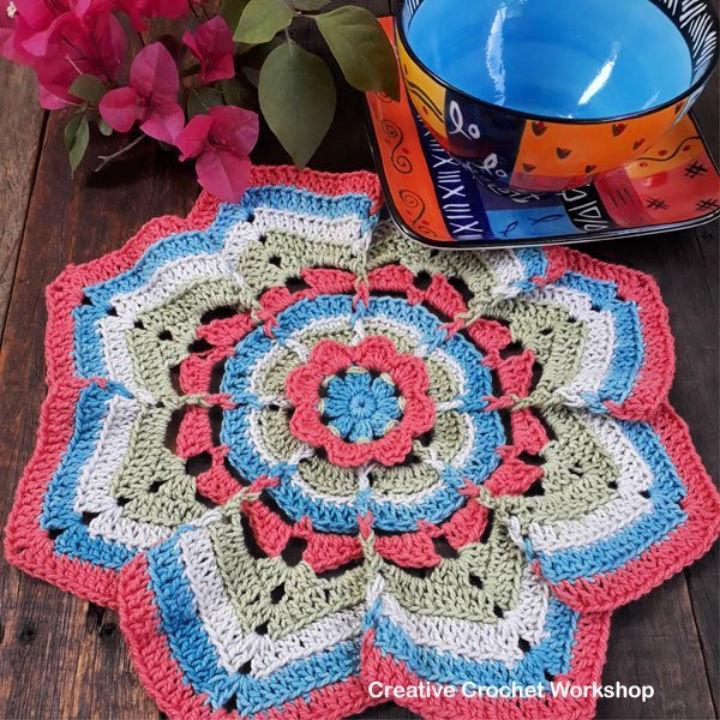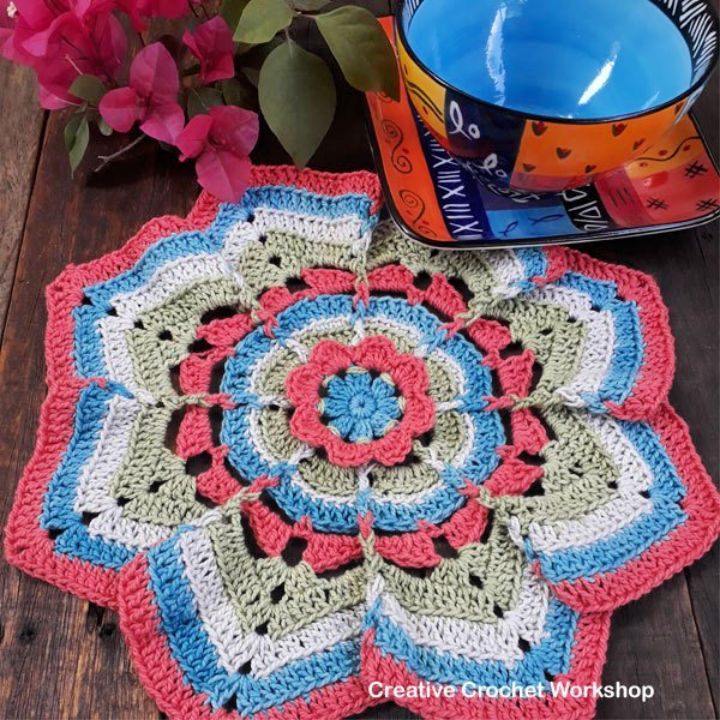 Such a pretty potholder can be used in many ways! You can use it as a dining table centerpiece, placemats, or even doilies! It will make a great gift for almost anyone. The skill level is easy, and any beginner is capable of doing this as long as they know a few basic stitches. However, you will need a lot of concentration for this project. You just can't make this while watching TV or a show, if you're not a good multitasker. creativecrochet
Crochet Hook: 3.25mm hook
Yarn Weight: Eco-cotton/ double knit/ 125 meters (50g)
Finished Size: 13 inches in diameter
7. Crochet Granny Hexagon Potholder Pattern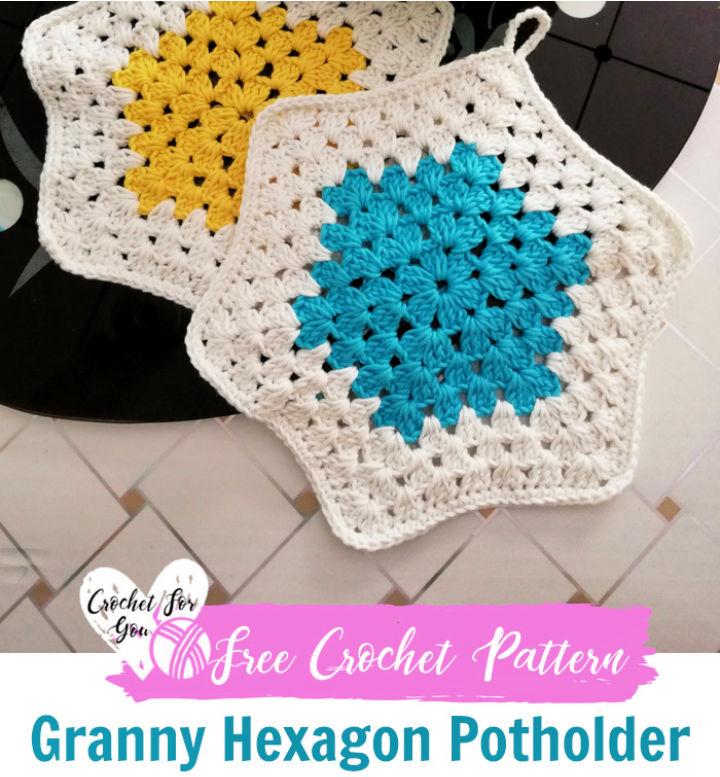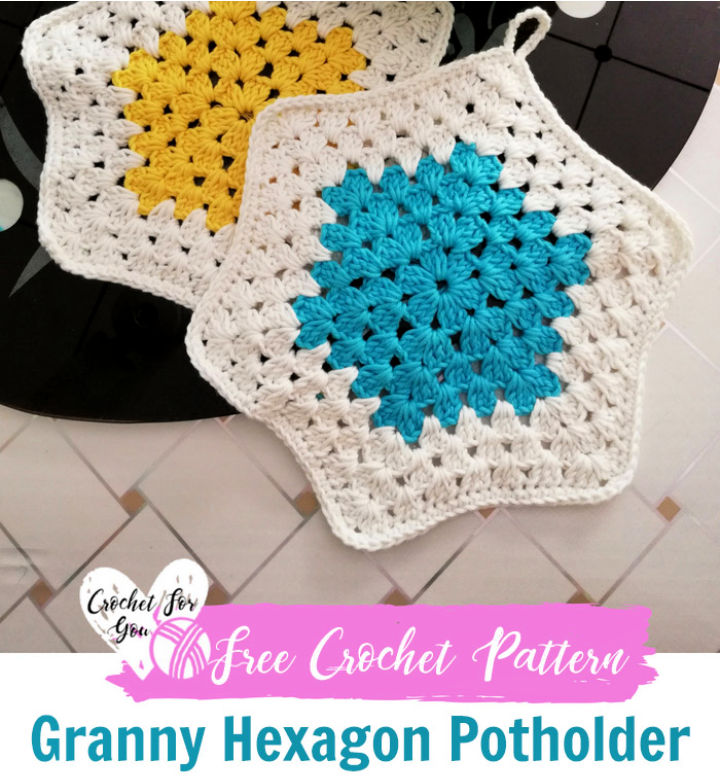 Crochet granny hexagon potholders are always a classic, and very they are very timeless. This is because a pattern like that can be used in any era at any time. These color combinations are beautiful, too, with white, yellow and blue! Tapestry needle, scissors, hook, and some cotton yarn will help you to nail this project successfully! Make sure that it's 100% cotton to get the best quality. crochetforyou
Crochet Hook: 7/4.5mm crochet hook
Yarn Weight: Rico Creative Cotton Aran/ 4-Medium weight/ Worsted/ 120 total yards
Finished Size: 10" wide
8. How to Crochet Tutti Frutti Potholders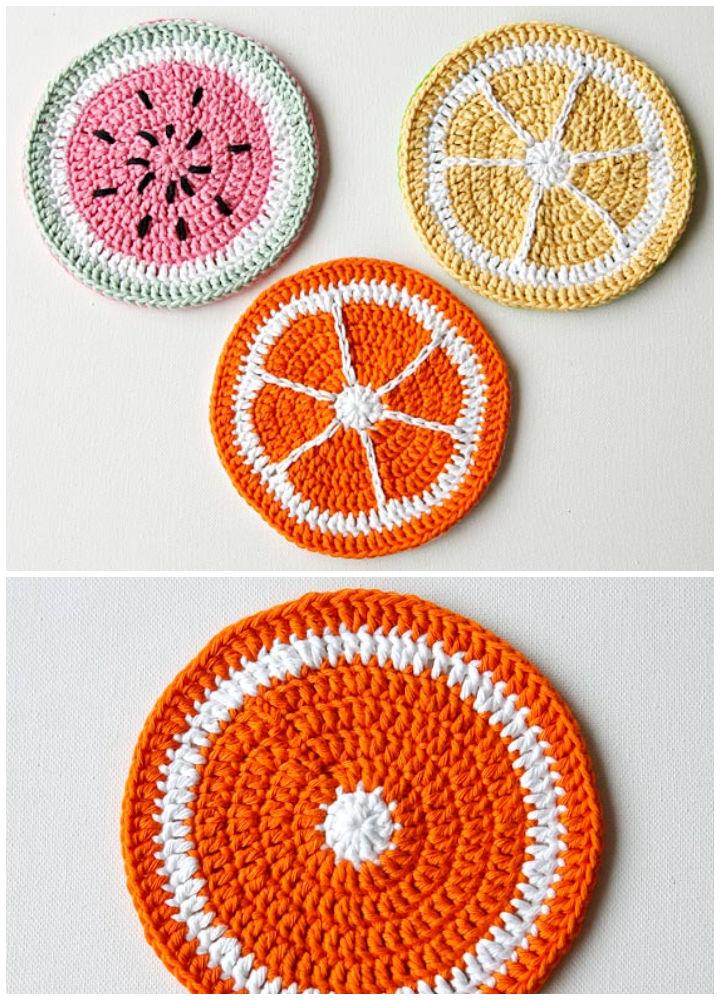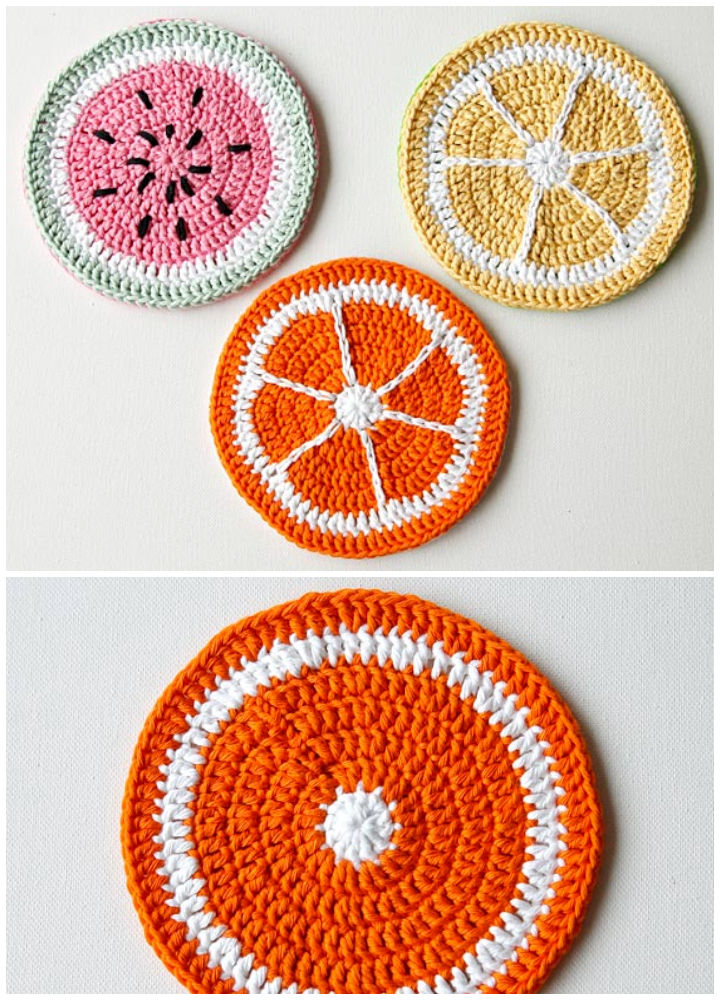 Do you and your family love crochet fruit? Are you trying to get healthier? These adorable Tutti-Frutti crochet fruit pot holder patterns are perfect to light up your day when you see them in your kitchen in the morning, every day. It will also remind you to eat healthier and better! Yarn, hook, darning needle, felt, sewing needle, sewing thread, and scissors will be required. Yes! That's literally all you need. crafts tutsplus
Crochet Hook: 4mm
Yarn Weight: Drops Paris Cotton
9. Decorative Crochet Potholder Patterns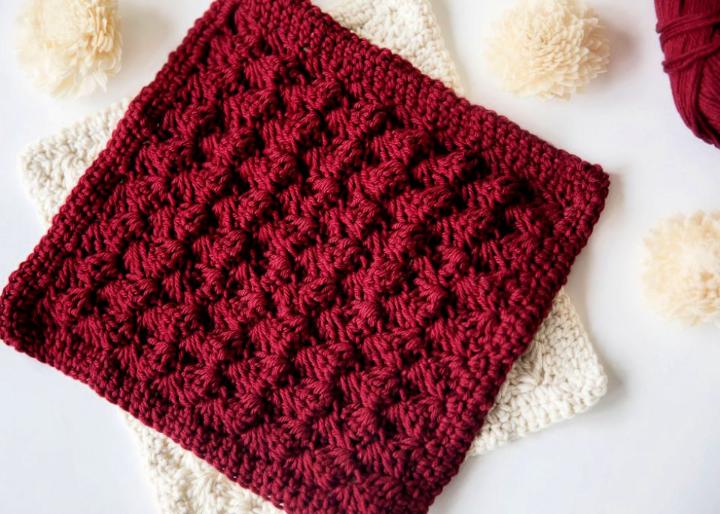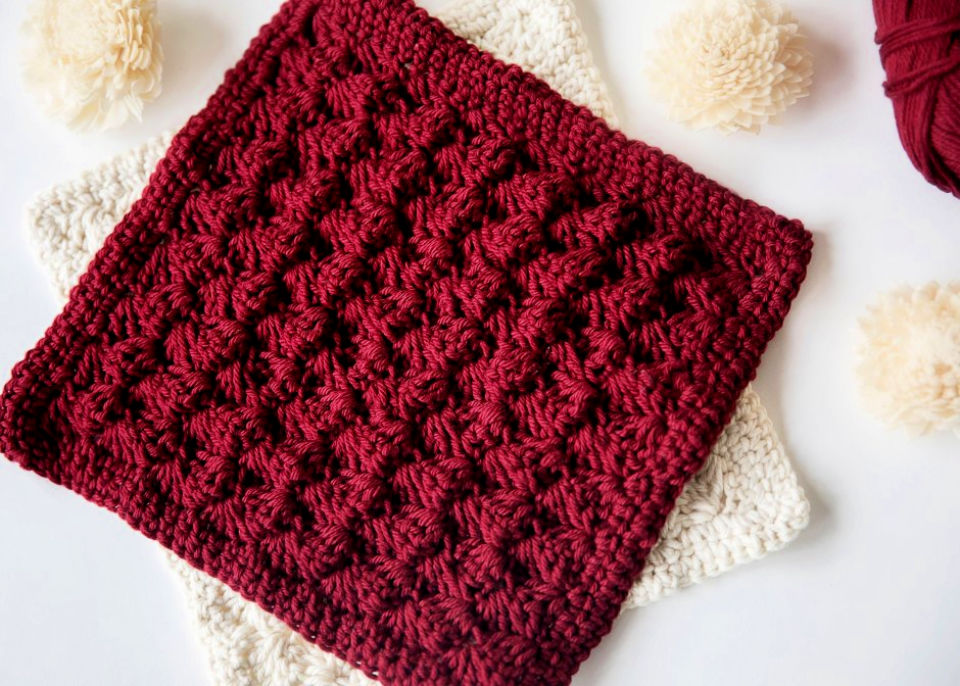 The holiday season is a fantastic occasion for you to make some of these cozy colored crochet potholder patterns. They will make your house more warm, welcoming, and festive! After all, what better time to put some red and white-colored decor? The stitch used is very dense, and so it will make very thick and bulky potholders to keep your hands safe. Safety is very important as health always comes first! leeleeknits
Crochet Hook: G-6/ 4mm
Yarn Weight: 70 yards of Knit Picks Dishie Yarn (Pomegranate and Swan)
Finished Size: 8" x 8" square
10. Circular Crochet Potholders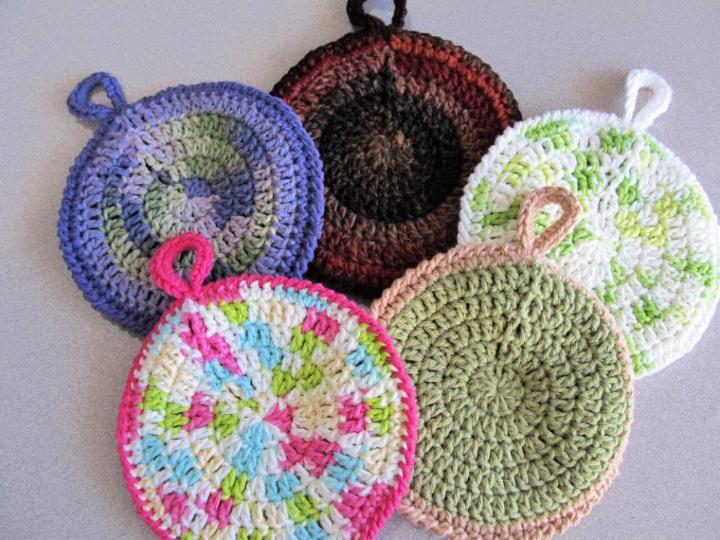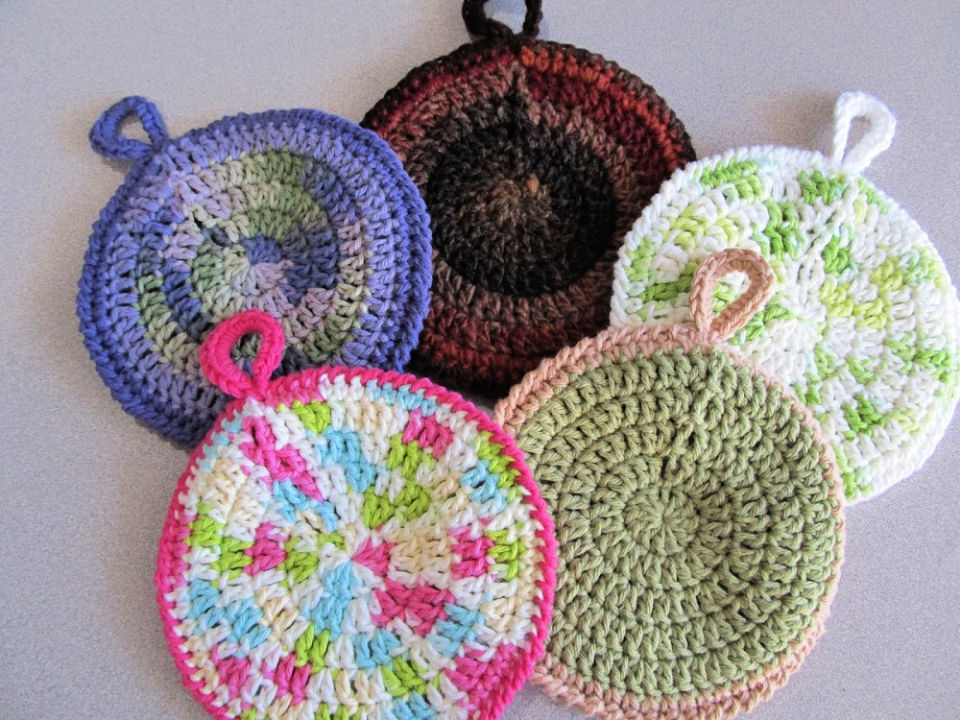 What is the best way to crochet potholder? Well, everyone looks for a few basic things in it; for example, it should be very thick to make sure that you don't burn your hands, and it should also look pretty to look at so you can use it for decor. For these purposes, you will need to use this special double stitch technique! It's super easy to learn and master and won't take you a very long time! capedcrocheter
Crochet Hook: size I/5.5mm hook
Yarn Weight: Worsted Weight cotton or wool
11. Crocheted Pot Holders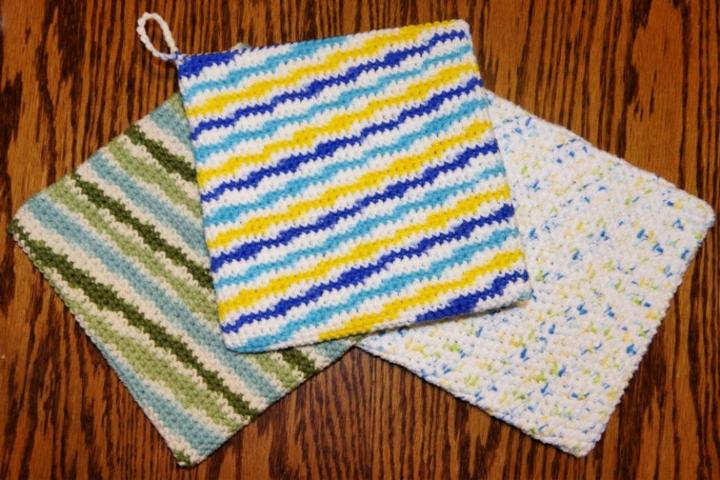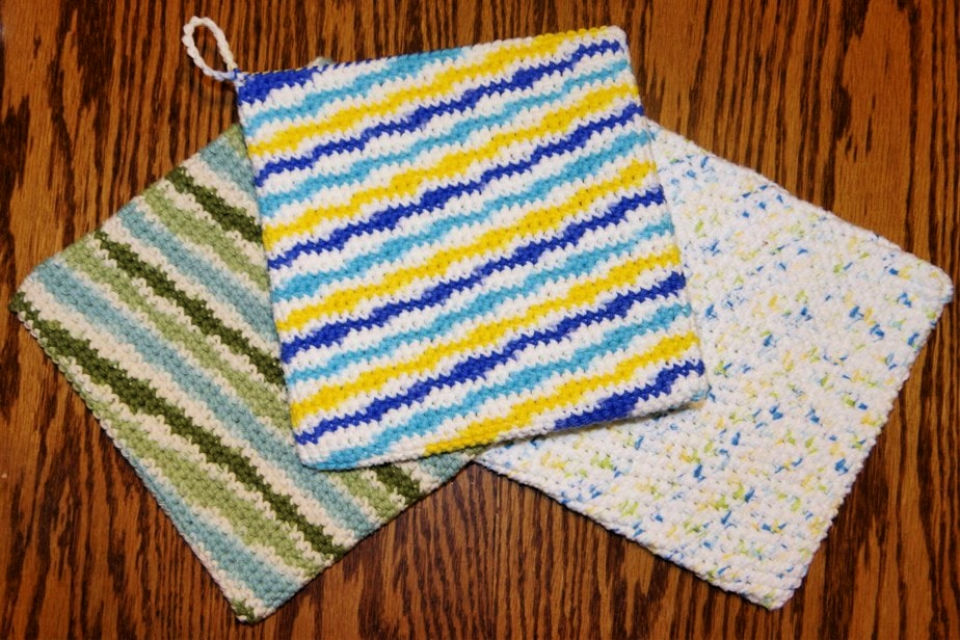 Beautiful free simple crochet potholders that can be used for anything. It can be used as a hot pad on your dining table or even just as a simple potholder. This free crochet potholder pattern uses the traditional double-thick stitch using some good quality cotton yarn and a few other materials. The end result is just stunning featuring all the colors of spring. You should definitely make this around the spring season to add color to your house! yayforyarn
Crochet Hook: size G/ 4.0mm or 4.25mm hook
Yarn Weight: About 165 yards of #4 worsted weight cotton yarn
Finished Size: 8″ by 8″ (20.32 cm by 20.32 cm)
12. Best Crochet Potholder Pattern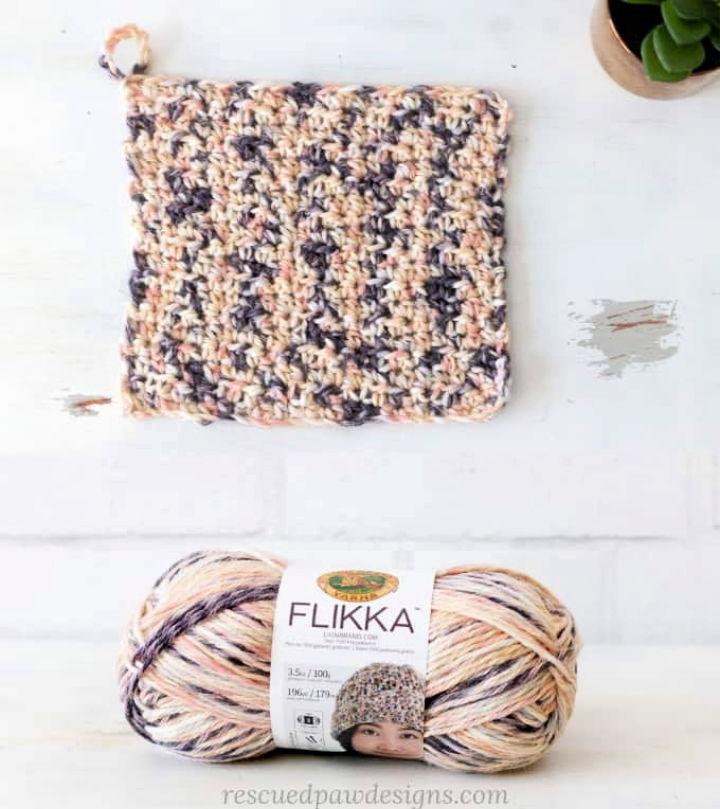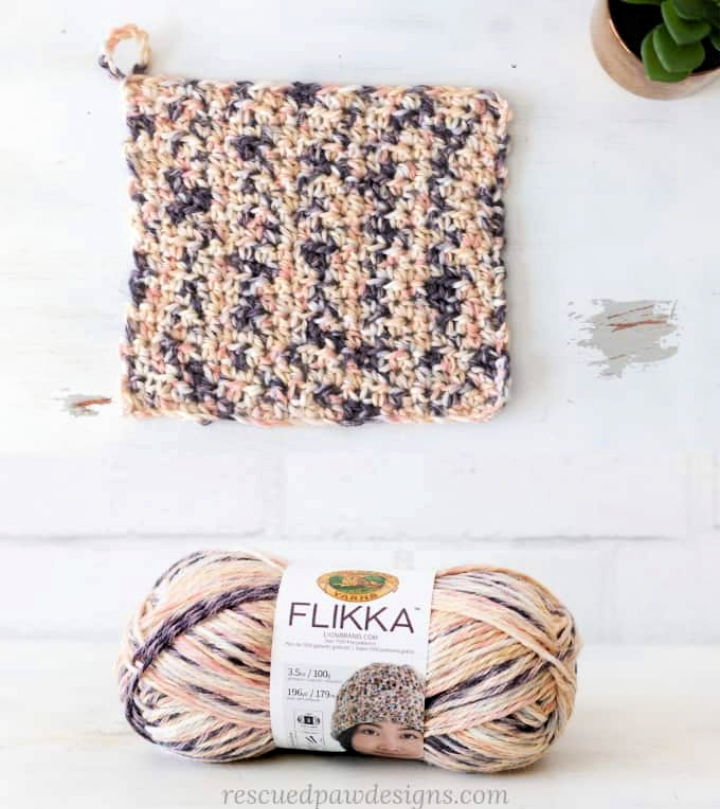 Isn't this just amazing? You won't believe how easily you can make this. All you need to know are just two stitches! Yes, you heard that right! It is a great gift as handmade things are very personal and special. So, it is recommended to use 100% cotton jeans from Lion Brand for perfect and chunky results! It would be a great gift too. It's a good thing to remind your loved ones of how much you care, once in a while. easycrochet
Crochet Hook: 5.0mm/ size H
Yarn Weight: Flikka Yarn by Lion Brand Yarn or any light-weight 3 yarn
Finished Size: 7" wide and 6.5" tall
13. Double Thick Crochet Potholders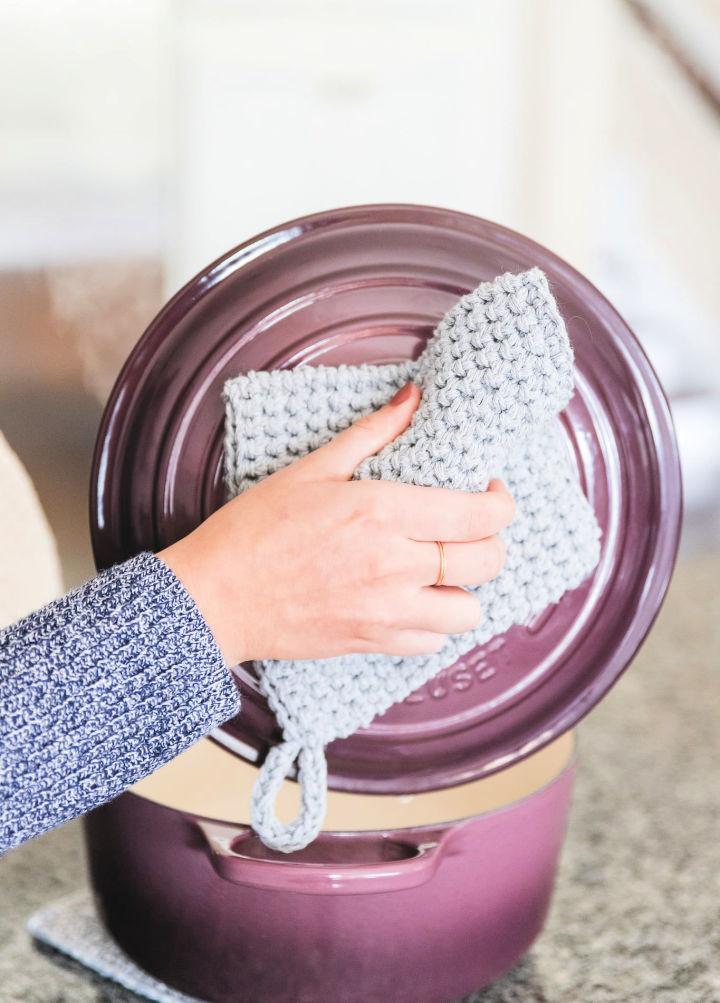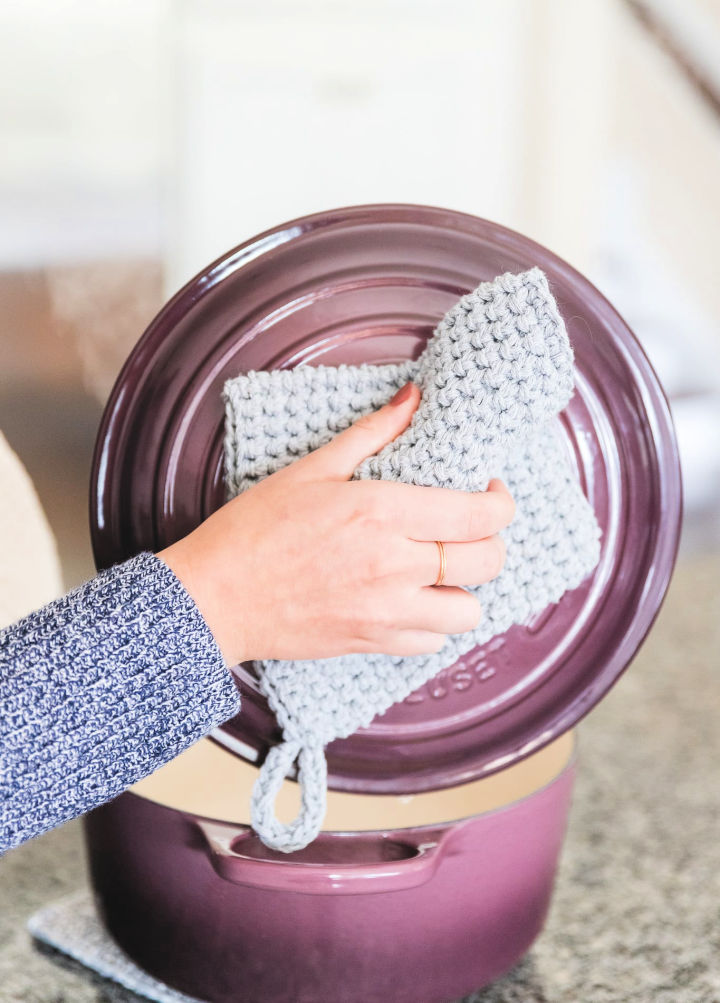 The crochet thermal stitch is just beautiful, with a lot of texture and thickness to it. Use this stitch to crochet your next free crochet potholder pattern, and you'll fall in love with this stitch, as well! The plain, simple and aesthetic patterns are perfect for all the minimalists reading this article. You can also use scrap yarn for this! Crochet hook, yarn, darning needle, and some free time will be required! sewrella
Crochet Hook: size K / 6.5mm crochet hook
Yarn Weight: Lion Brand Re-Up Cotton Yarn/ weight 4 / worsted / 2 skeins = 1 potholder
Finished Size: 7" x 7" square
14. Easy Crochet Potholder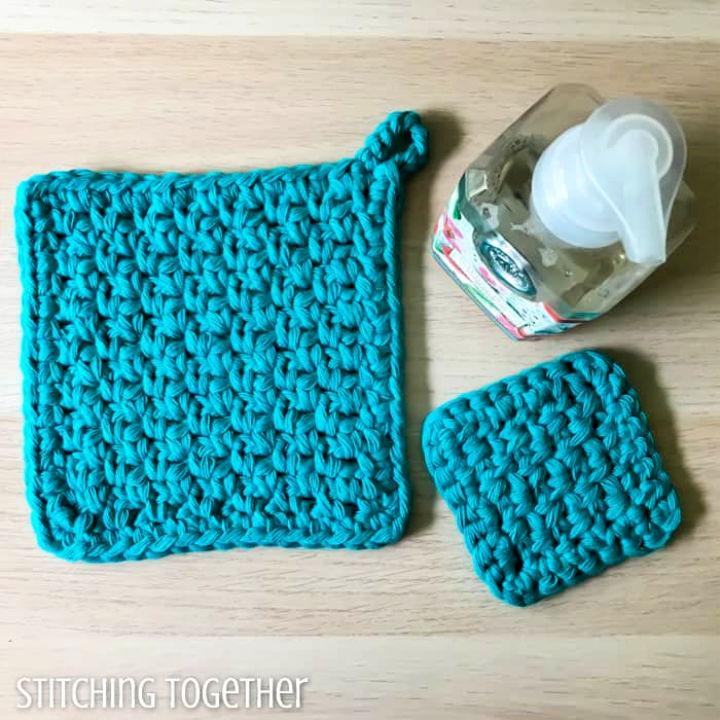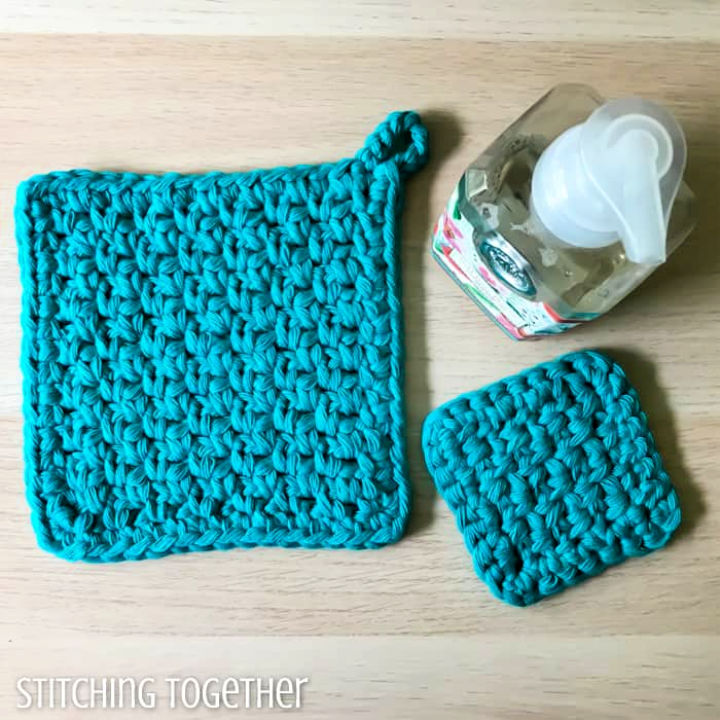 These potholders are made out of super bulky yarn that is 100% cotton. The super bulky yarn provides the potholder a thick texture, and you can use it to grab something hot. You can make it in any solid color, and in just one evening, you can whip up a stack of these. They are super quick to make as they only require 14 stitches by 16 rows to complete one piece. stitchingtoge
Yarn: Lion Brand Side Dish Yarn 46 yards
Hook: Size N/P, 10mm
Guage: 9.5sts by 10 rows
Finished size: 7.5'' X 7.5''
15. Crochet Hot Pad Patterns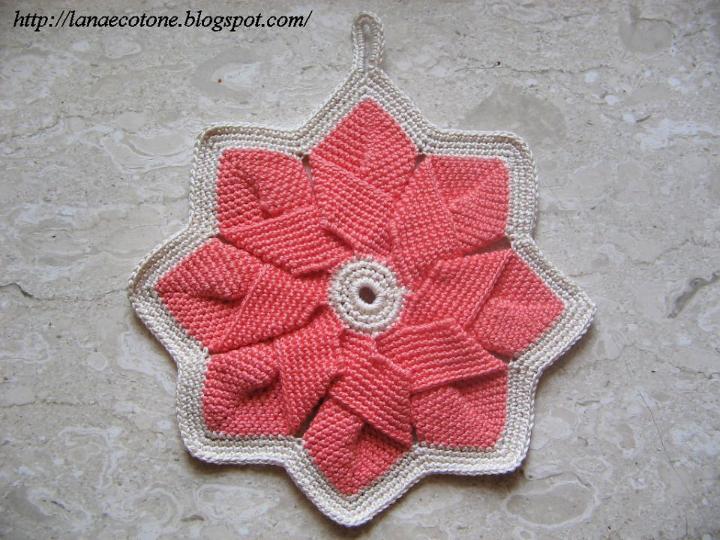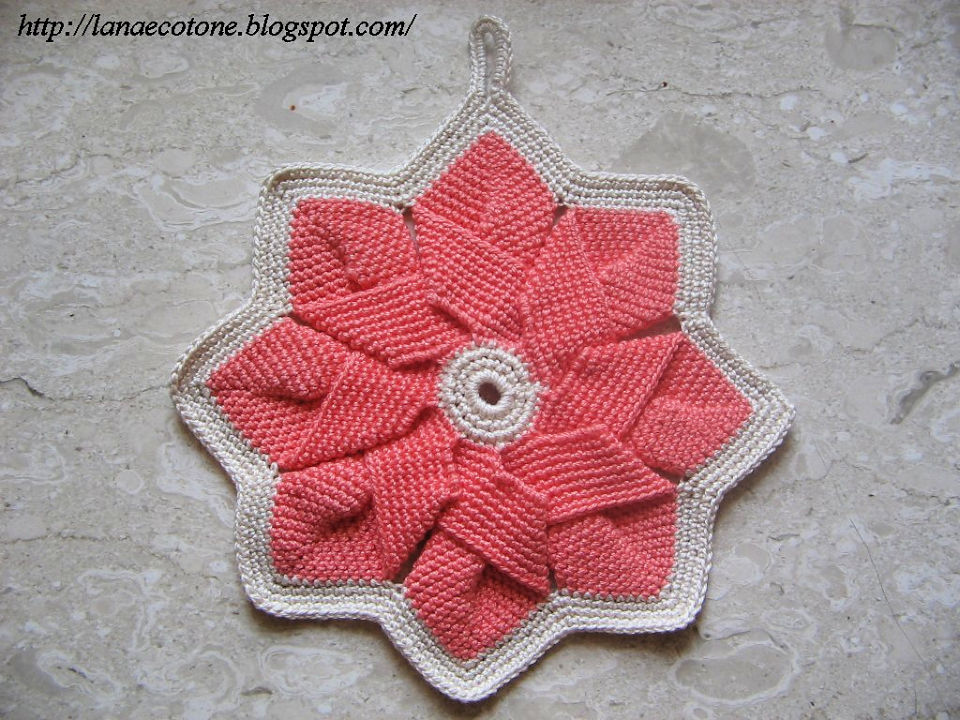 Pay close attention to the instructions of this fabulous Crochet Flower Hot Pad Pattern. They come out so great and make a perfect gift to any kitchen queen. It's the fusion of any two colors, and you will use ½ skein of each color along with a size G hook that will give the stitches a fine look. Start off by making a magic ring then hop on other stitches. Don't miss out on any detail; otherwise, it will throw the entire pattern off. freecraftunlimited
Yarn: 1 skein of any yarn.
Hook: Size G
16. Pineapple Crochet Hot Pad Pattern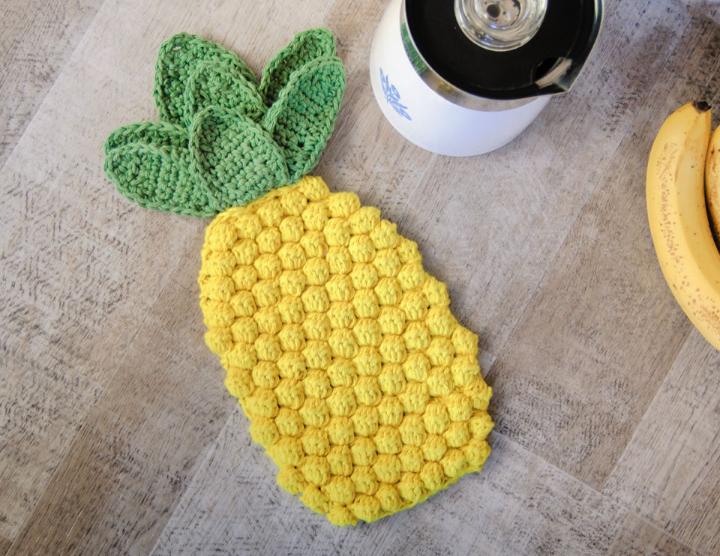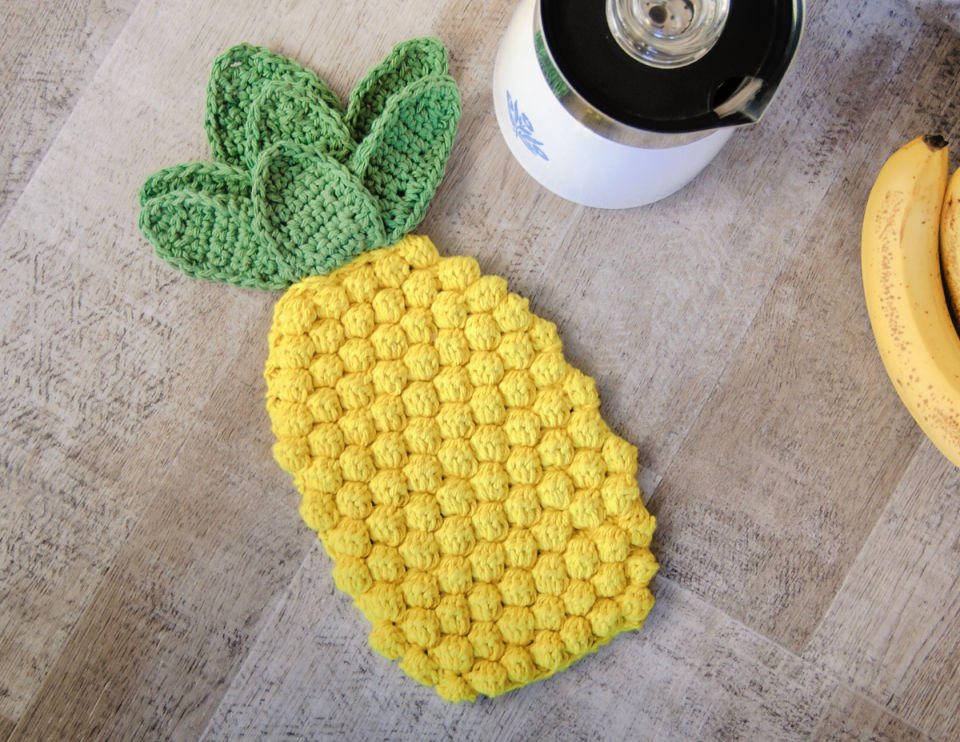 Is this your first time crocheting this Pineapple crochet hot pad pattern? Good luck with the pattern. This project will use cluster stitches that will give the hot pad a cheery look. Also, if you want to save your table from getting burned with the hot dishes, use an insulating fabric that will produce a thick and textured fabric. The finished pad will measure around 15 inches from the bottom of the pineapple to the top. petalstopicots
Yarn: Lion Brand 24/7 cotton. (75yds green and 120yds yellow)
Hook: US H-8/ 5mm
Finished Size: 15 inches in length
17. Crochet Trivet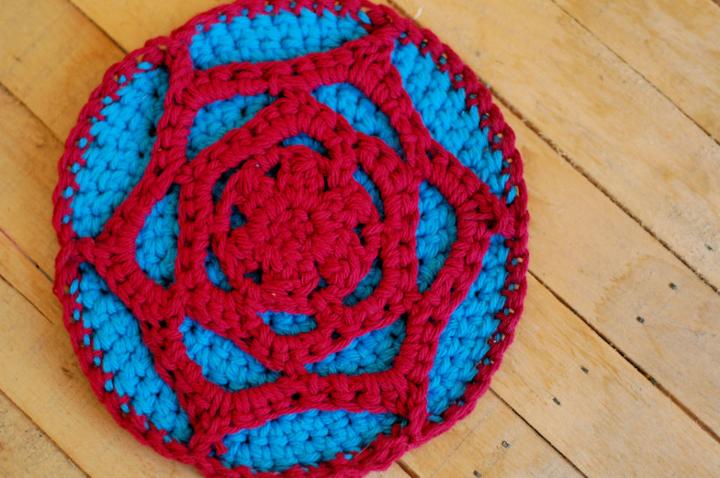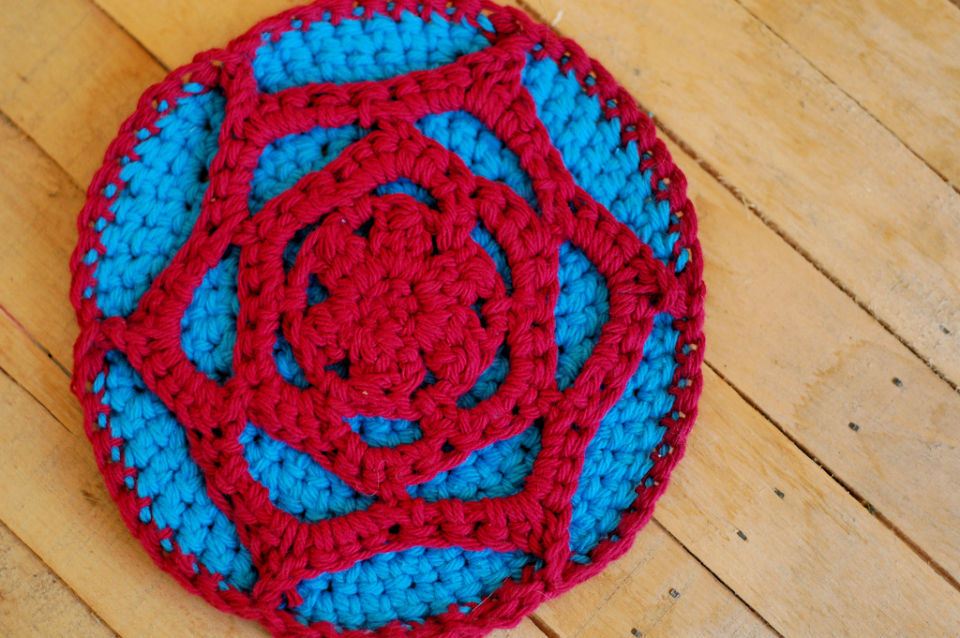 This crochet tribble trivet can be made out of any leftover or stash yarn. It can be used as a potholder or a pot pad or as a decor rug for the shelf. For making these crochet trivets use a cotton yarn instead of acrylic yarn that can burn because of its synthetic material. This trivet uses puff stitches that produce a thick textured fabric. Try out this pattern with any 6 point motif and 4.5mm of the hook. craftleftovers
Yarn: 10g peaches n' crème in each color
Hook: 4.5mm
Gauge: 3sc/inch
18. Crochet Trivets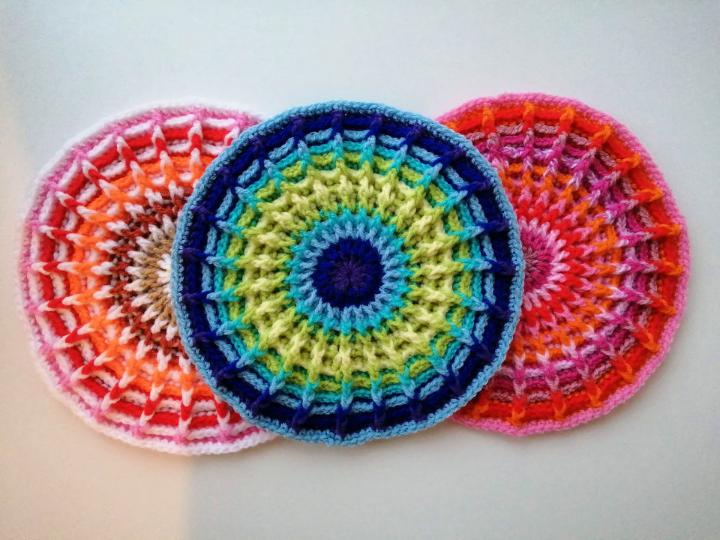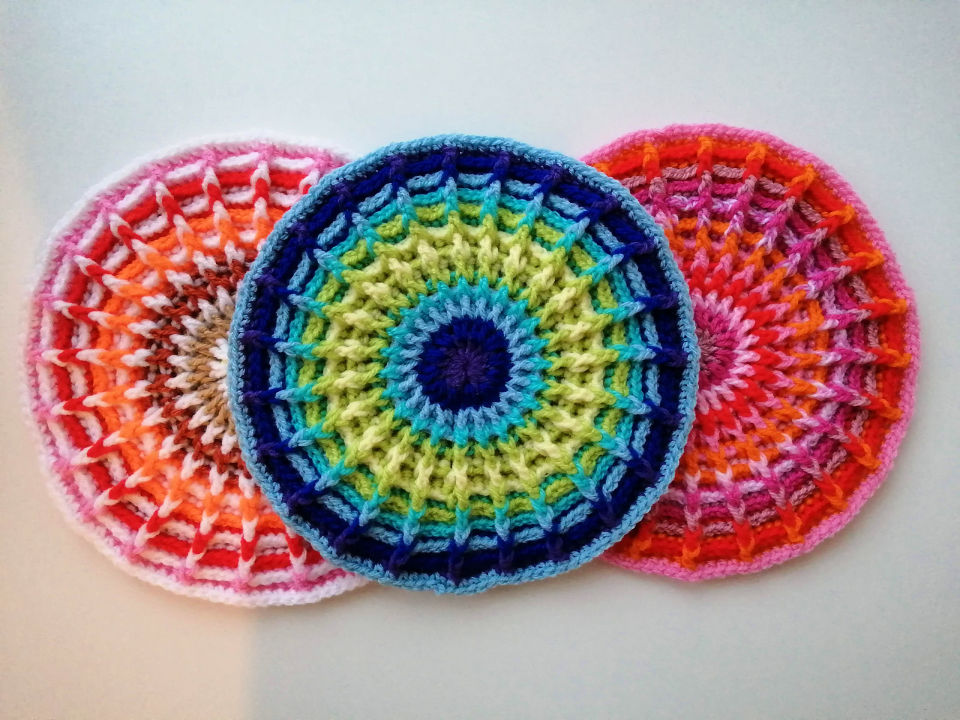 This beautifully designed trivet can be a perfect addition in your decor game! It will be made through 100% cotton yarn. The stitches used are treble stitch, double crochet, front and back post treble crochet. Move your 4mm crochet hook with the pattern to get the fined results. The stepwise tutorial will guide you with visuals so that you can make the loops and stitches in sequence using the gauge. ravelry
Yarn: DK weight 100% cotton
Hook: 4.00mm
19. Youtube Crochet Potholder Patterns
Watch out the complete video tutorial on youtube about the crocheting of potholders. It will guide you thoroughly about the loops and stitches to crochet. Preventing your work surface from burning with hot pans, these 8.5 inches in diameter potholders are too handy for your kitchen. Use only 1 skein in three different colors and pick a 3.25mm of the crochet hook to get started in the round with tapestry stitches.
Yarn: Lion Brand 24/7 cotton
Hook: 3.25mm
Finished size: 8.5 inches in diameter.
20. Crochet Cat Potholder Pattern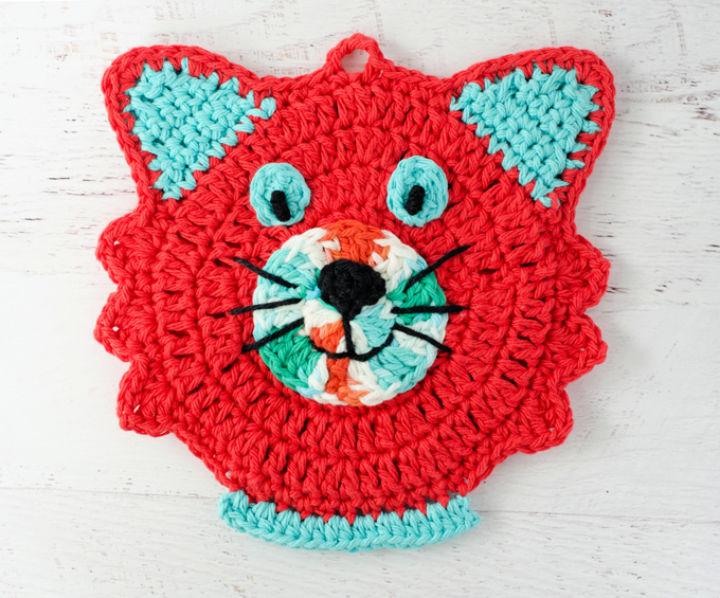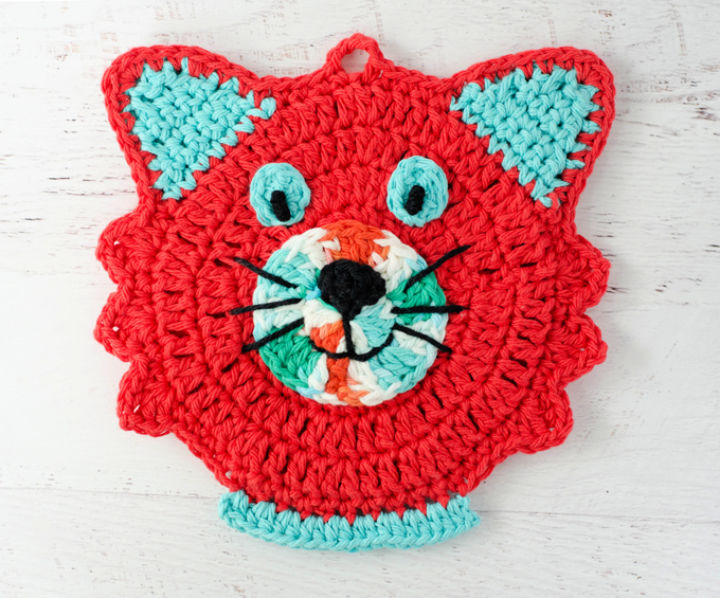 You will love crocheting this potholder as whipping it up will delight you, especially if you are more of a cat person. Keep in mind while crocheting that you will make a stitch to form its eyes instead of the safety eye that can melt, placing any hot pot on it. You will have to start up by making a magic ring. Go on with single and double stitches and with the sequence of rows and setting the gauge. crochet365knittoo
Yarn: Worsted weighted cotton yarn
Hook: G6/4mm
21. Crochet Wagon Wheel Potholder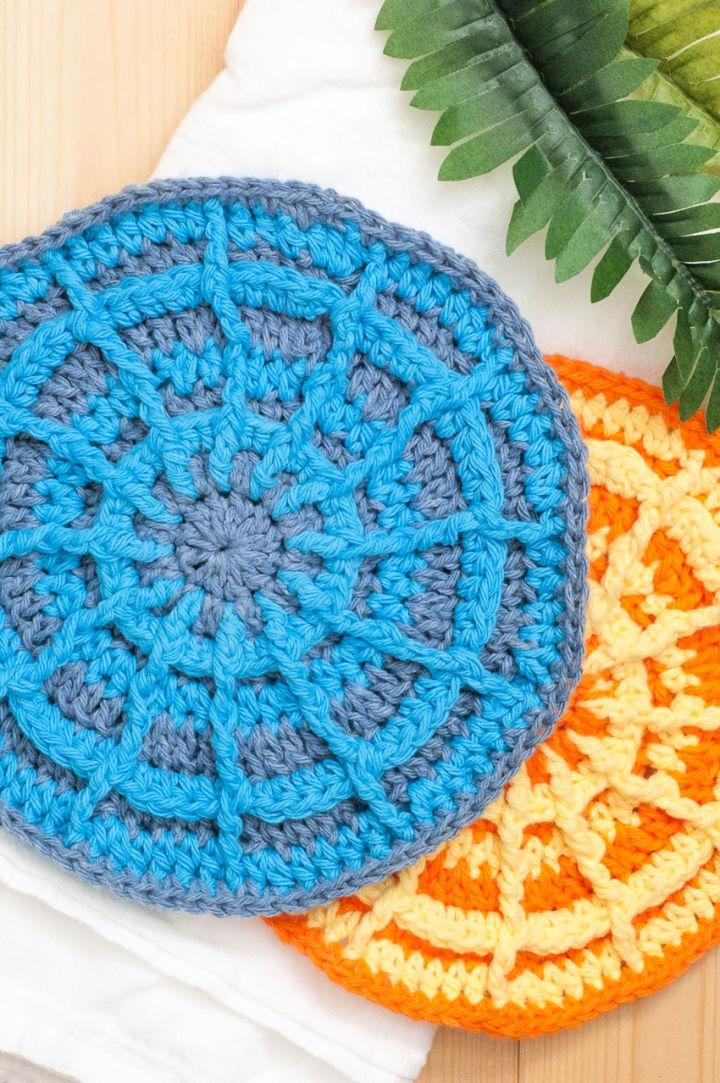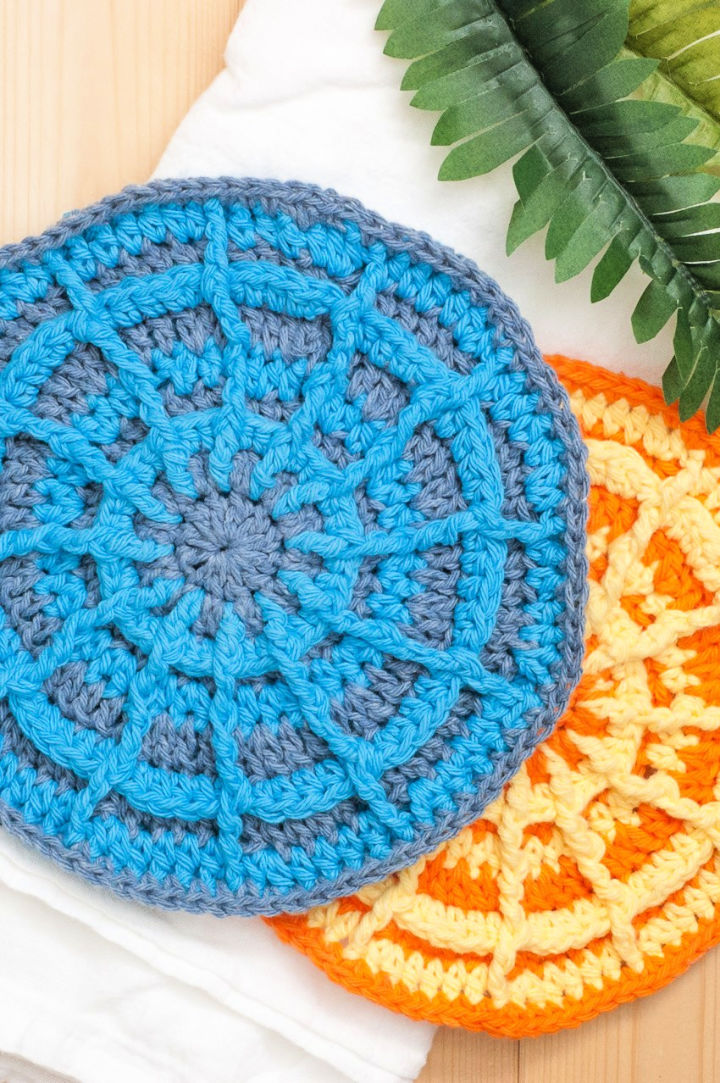 Gear up crocheters, and let's start crocheting this wagon wheel potholder. It's a double-sided potholder and will bring some fresh farmhouse style feels in your kitchen. Use worsted weighted yarn for the fluffy texture and a 5mm crochet hook for the obvious loops. By setting your gauge at 13 stitches and 14 rows = 10 cm in a single stitch, finish this project off at 8.5 inches across. youshouldcraft
Yarn: Lily sugar cream solids and denim
Hook: 5.0mm (H)
Finished size 8.5 inches across.
Gauge: 13 sts and 14 rows = 10cm
22. How to Crochet Potholders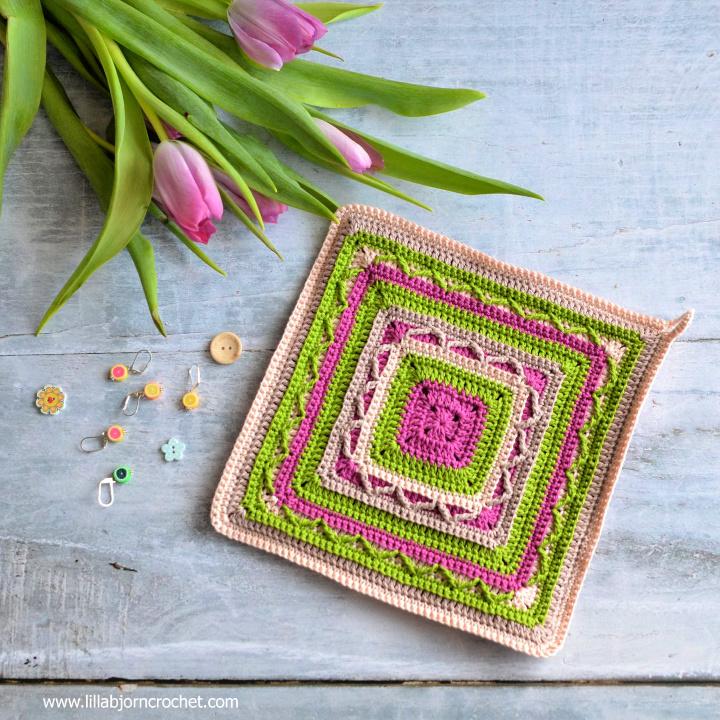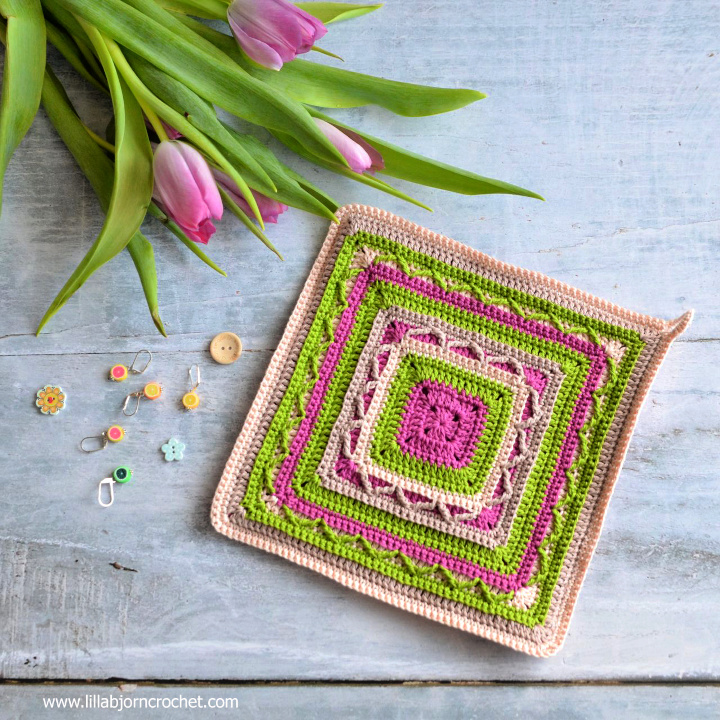 Learn how to crochet a potholder with this free crochet potholder pattern. You will end up so beautifully that instead of using it in the kitchen for chores, you will hang it up on the wall for decor. Make this out of any leftover or stash yarn. 2.75mm of crochet hook will work best for this project. Choose a fusion of colors to bring a catchy look. Choose any gauge, but make sure your potholder should stay flat. lillabjorncrochet
Yarn: Catona yarn 100% cotton
Hook: 2.75mm
23. Free Crochet Pizza Pot Holder Pattern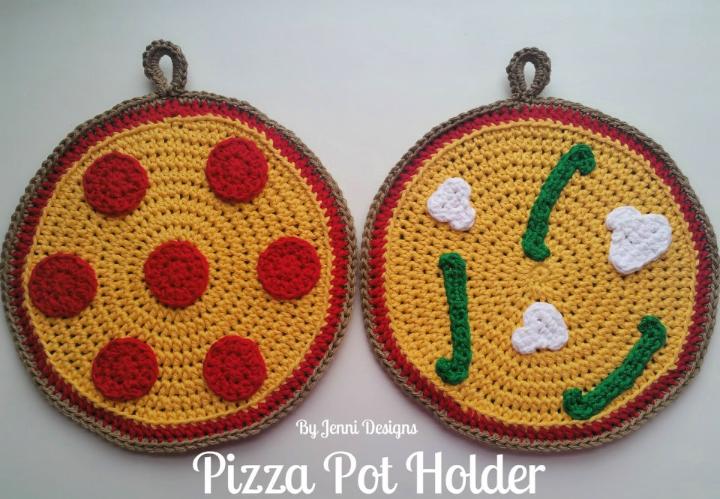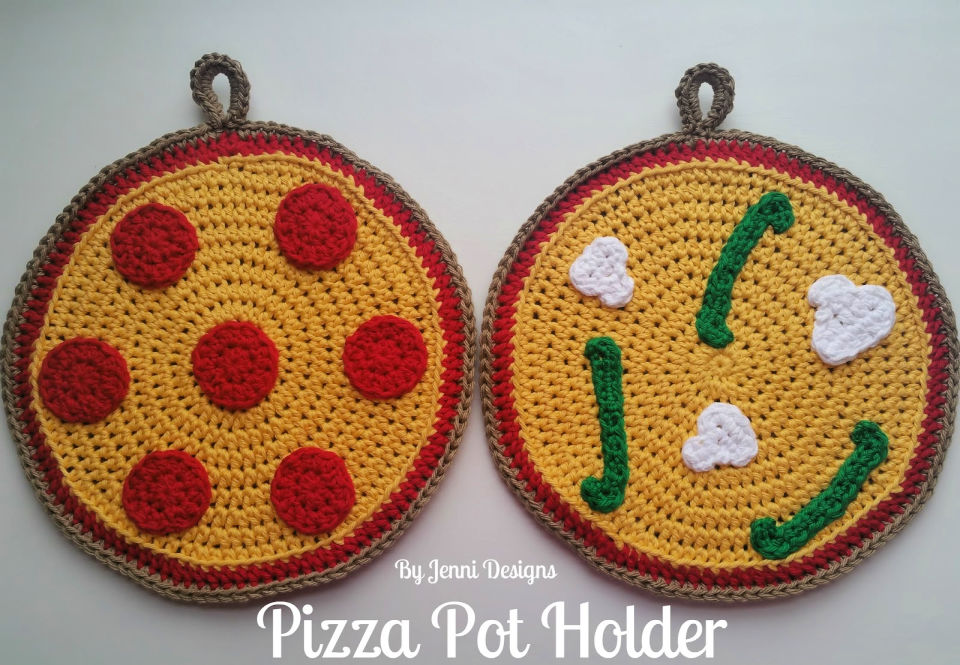 After whipping up this project, your love for pizza will inflate way more than before. It's such a fun project that you will enjoy crocheting it with 100% cotton, worsted weighted yarn. It a super simple project perfect for the beginners. The finished size of this pizza holder is 9" x 9", but for a smaller potholder, go down a hook size from 5.5mm. Weave in the ends with the tapestry needle. byjennidesigns
Yarn: Worsted Weight 100% cotton yarn
Hook: 5.5mm
Gauge: 8 hdc x 6 rows =2''
24. Crochet Toast Pot Holder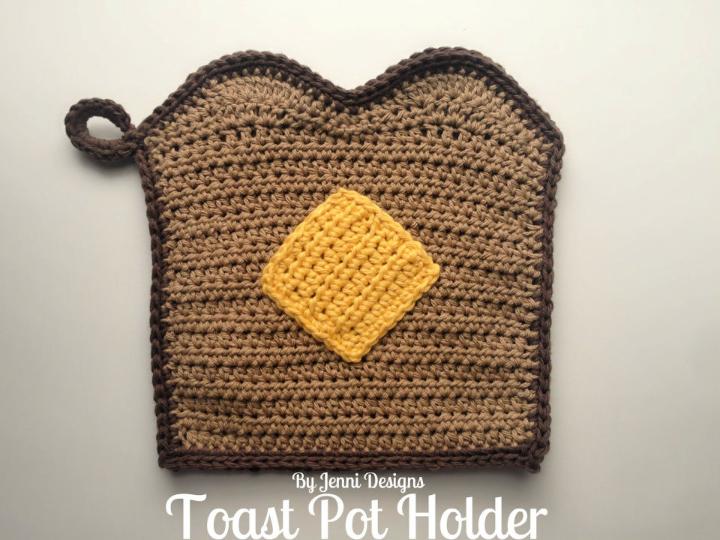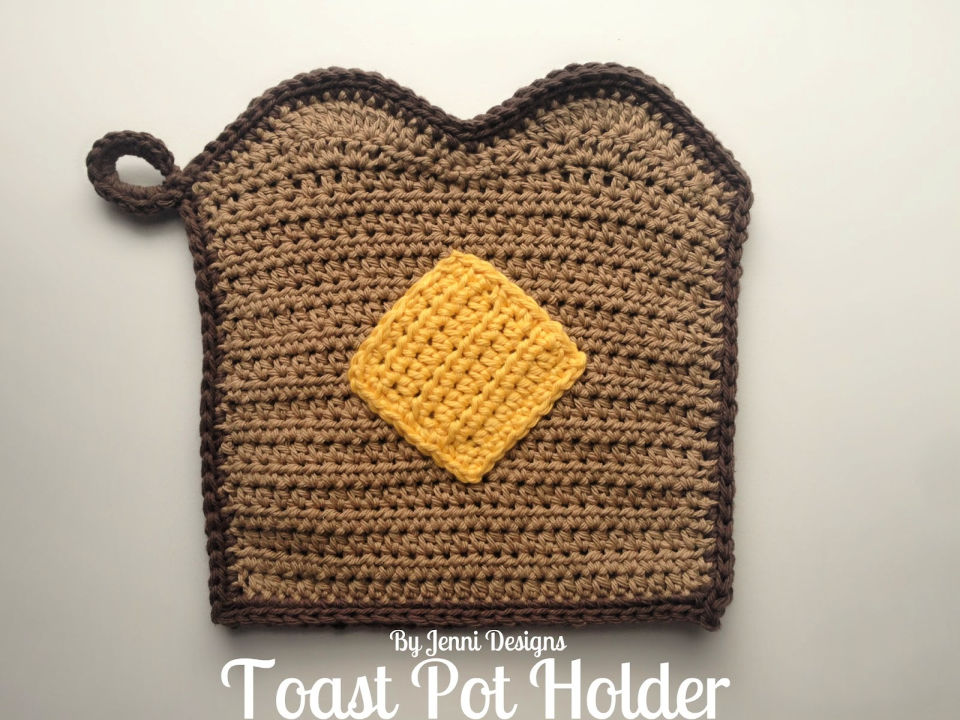 Check out this free pattern for a toast pot holder. It is perfect for crochet beginner to try and is highly useable in your daily breakfast routine. Crochet it for 8" x 8" size with the worsted weight yarn. You can also use the size of the bread to make an appropriate dimension. Fasten off all the loops immediately after their joining and sew in the ends with a tapestry needle. byjennidesigns
Yarn: worsted weighted 100% cotton yarn
Hook: 5.00mm
Gauge: 8 hdc x 6 rows = 2''
25. Crochet a Cat Butt Coaster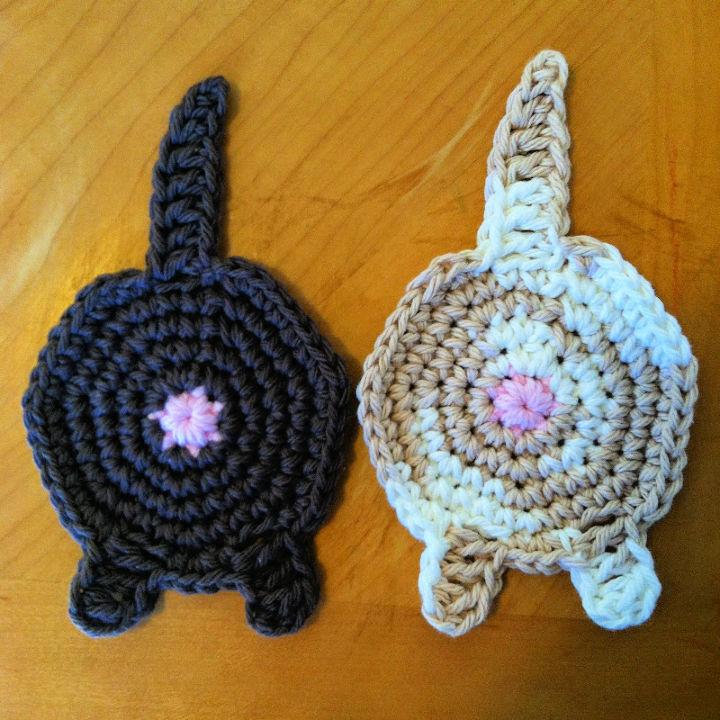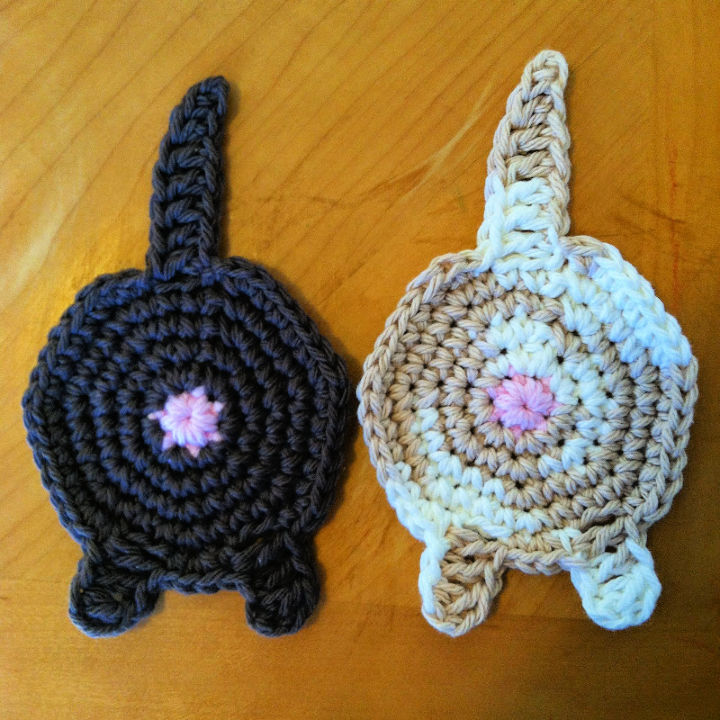 For the love of crocheting! This dog/ cat butt coaster pattern is one of them. You can make these coasters from 100% cotton yarn because synthetic one is not suitable for the hot pans. Use a 4.25mm of crochet hook for vivid stitches, and you will need a needle to sew in the ends along with scissors to cut of course. Get started, below! myyarnspot
Yarn: 100% cotton yarn
Hook: 4.25mm
Finished size: 3.5 inches from side to side
Conclusion
Tempted to make your house a lot more festive and beautiful? Well, then you should get started right away on these beautiful free crochet potholder patterns. They are very satisfying to make, and most of these require the same basic stitches continuously, so this means that you can crochet them while watching your favorite show! You can just sit by the fire, put on your favorite show, make some tea, and then get started on these crochet hot pads. Once they're done, you can either place them in your dining room or your kitchen to add some beauty to those places and get some positive energy!