Are you looking for ways to add some more color and life to your house? Well, then you're going to love these 16 unique and free crochet rag rug patterns. Don't have any experience in crocheting? You don't need to worry! These are very simple and easy-to-do free crochet rug patterns that any beginner can complete successfully. All you need to learn are some basic crochet stitches like single crochet, double crochet, and chain stitch. These are not that hard to master, and if you learn them, you will be able to make a ton of stuff! Most of the other complicated stitches also form by combining these, so you must learn these very well!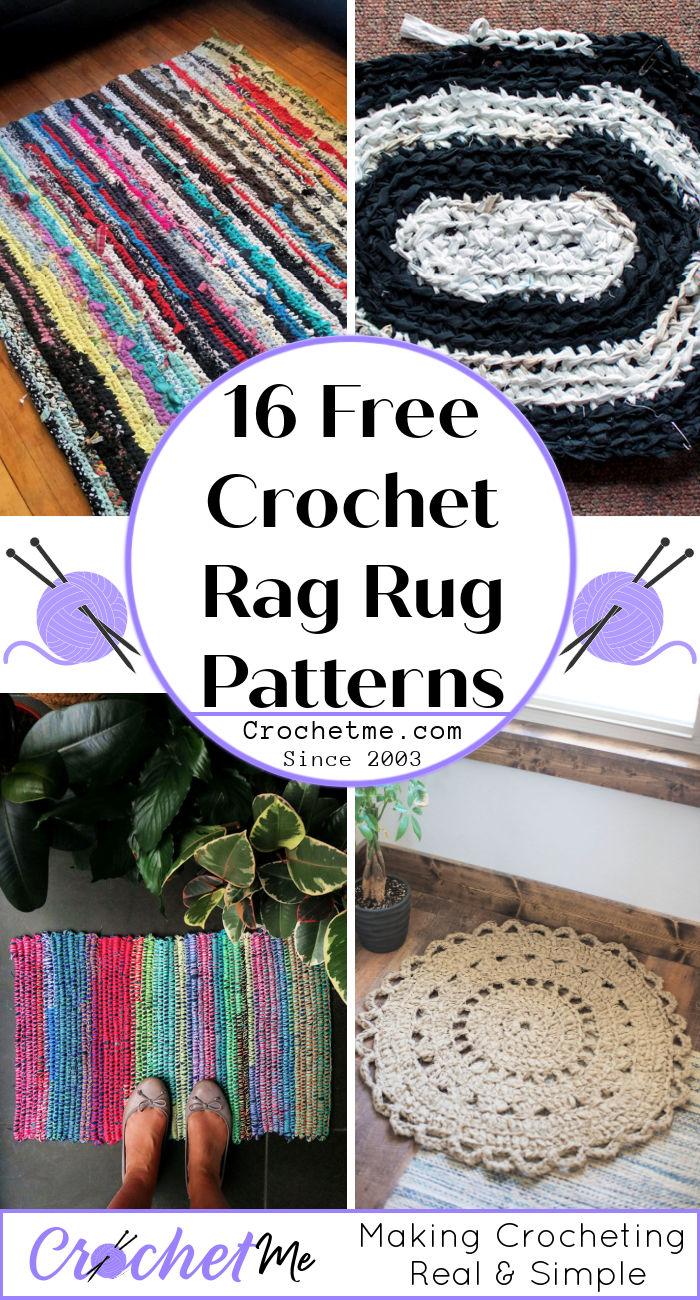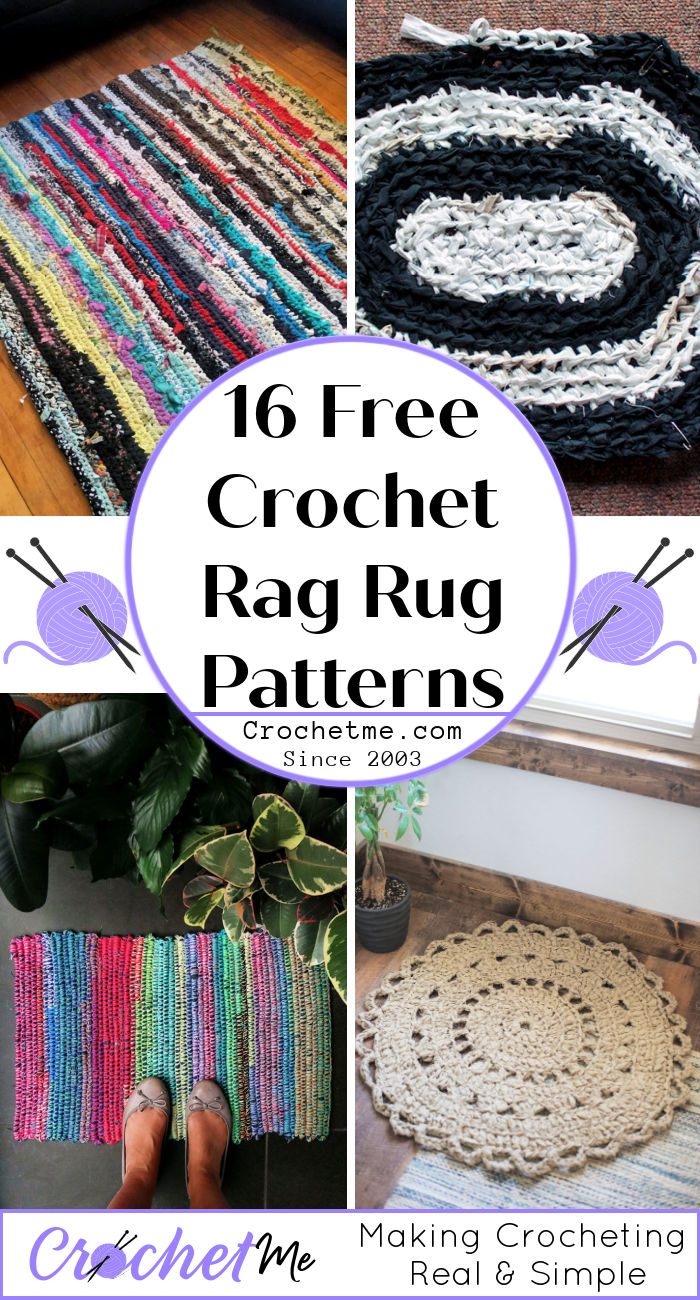 These crochet rug patterns can be the perfect gifts. You can make them for a lot of people who like to receive handmade gifts. Crochet gifts are very personal and a great thing to gift to your loved ones. You can just choose a couple of yarns in their favorite colors and get started! This article will cover a range of crochet rag rug patterns, from fabric to sunflower inspired patterns; from Pendleton Selvages to Stegosaurus patterns; from finger crochet to braided crochet patterns! There's a lot to choose from. After all, who doesn't like to have a few options to choose from?
1. Crochet Rag Rug with Fabric Scraps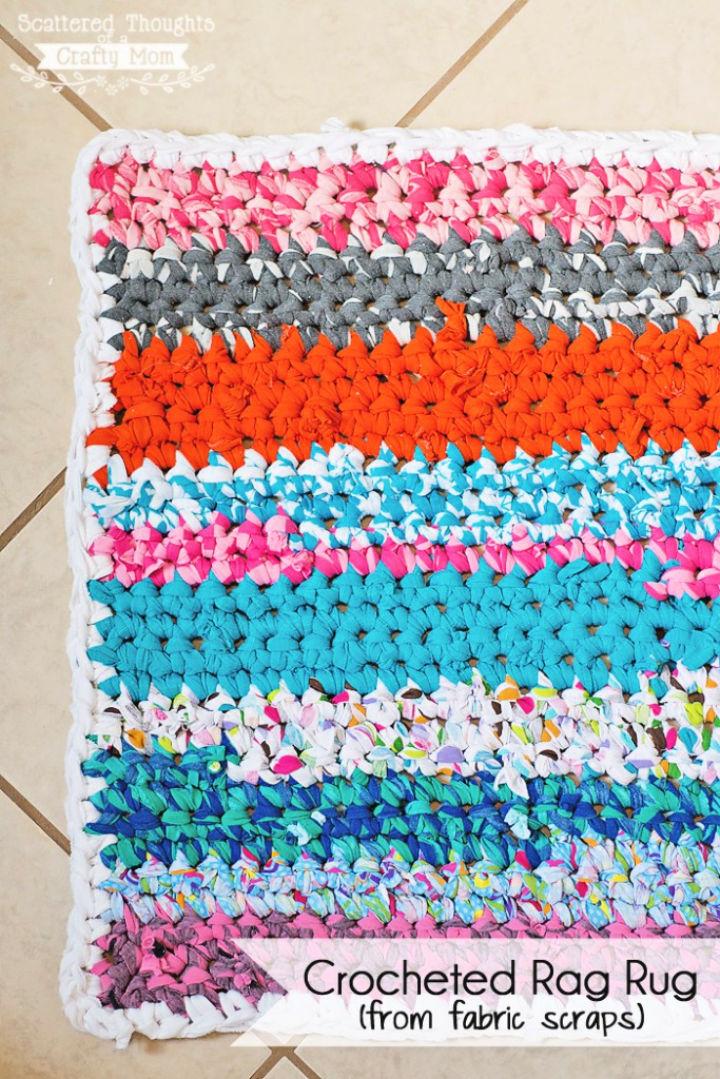 Who doesn't enjoy bright and fun patterns like these? You can place it in any corner of the house and add some spice there. You can get started by cutting all of the knit fabrics into 1-inch strips. A very simple project which only requires you to single crochet until you get to the desired size. Any beginner can do this in a short amount of time as you don't need to do any mathematical stuff like measuring etc. for this. scatteredthoughtso
Crochet Hook: 16mm crochet hook
2. Crochet Denim Rag Rug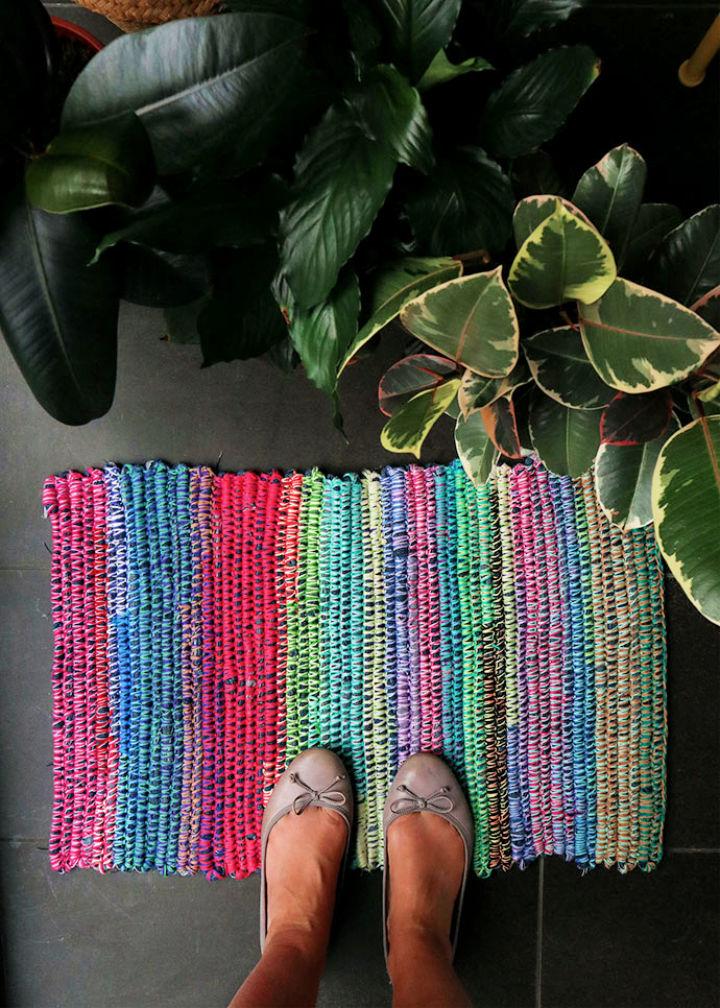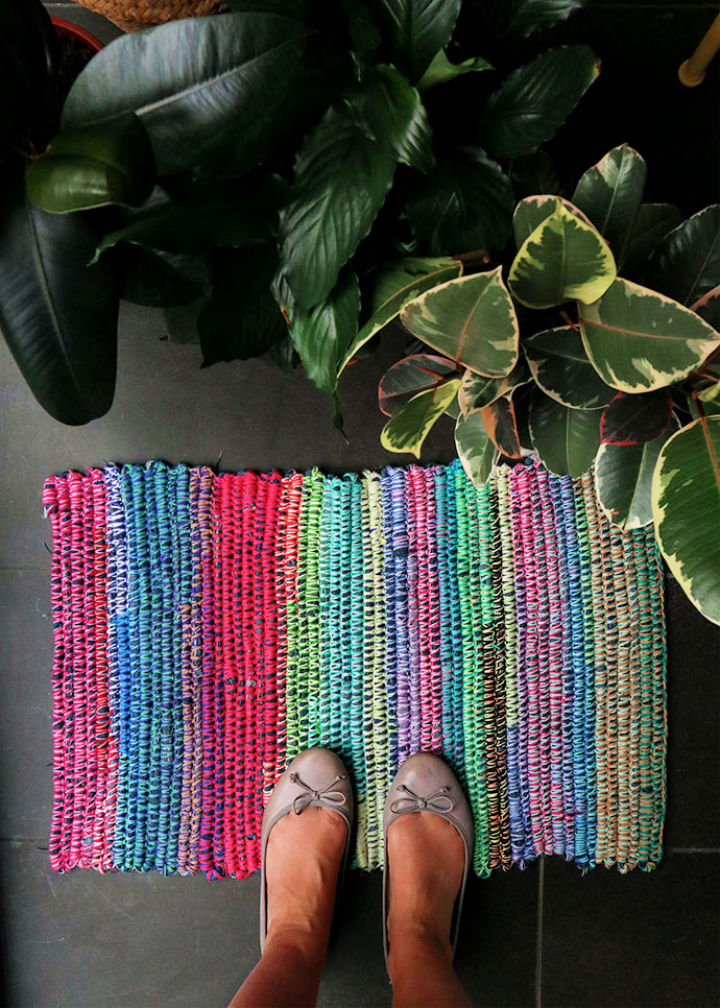 An amazing, colorful crocheted rag rug pattern that is inspired by the spring season! You get started by cutting a few pairs of jeans into long strips. After that, the crocheting process is started for which all you really need to know is how to single crochet. Any beginner can do this very easily! The beautiful colored yarn is used to crochet and makes this project a success! mypoppet
Crochet Hook: 5mm hook
Finished Size: 44 x 68cm (17.5"x26")
3. Sunflower Rag Rug Crochet Pattern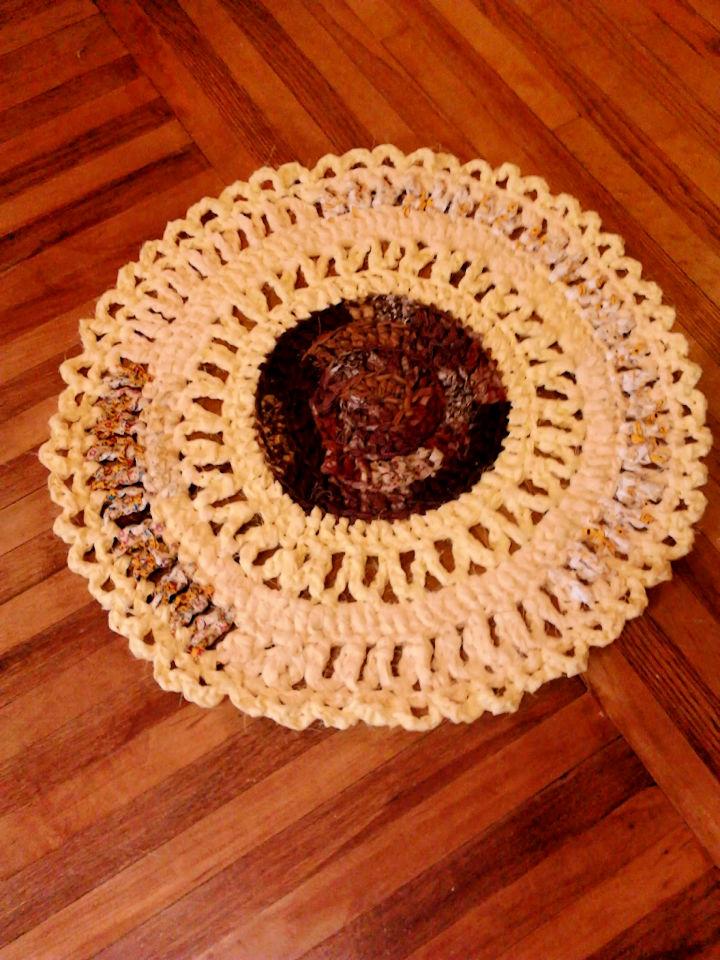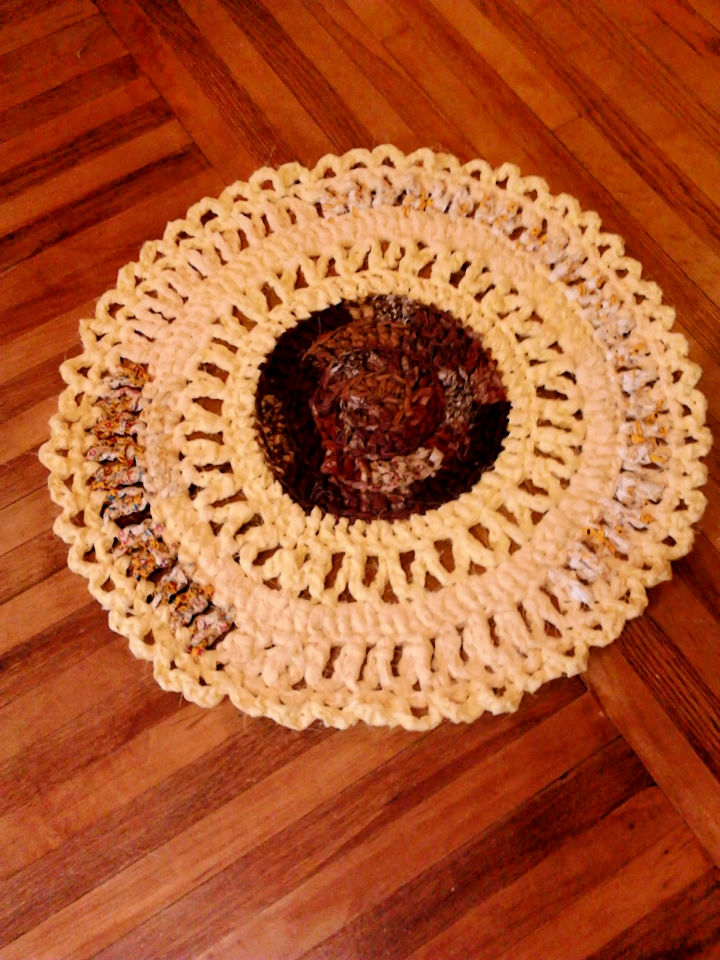 Sunflower patterned rug rag will be the perfect thing to brighten up any room in your house. The bright yellow yarn will really provide you with a lively and happy atmosphere. This pattern is super easy to complete, and any beginner can do this! As all you really need to know are some basic stitches – single crochet, double crochet, and slip stitch! You're going to start the middle using the brown yarn and then work towards the end using the bright yellow one! eleciascreativei
Crochet Hook: 10mm / N 15
Finished Size: 22 inches across
4. Crochet T-shirt Rag Rug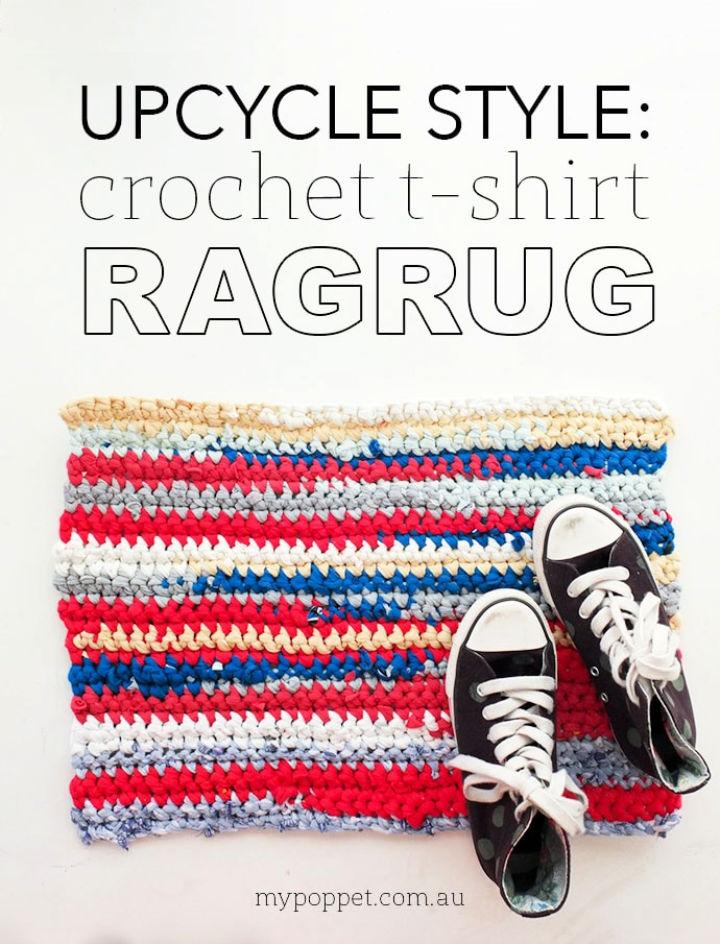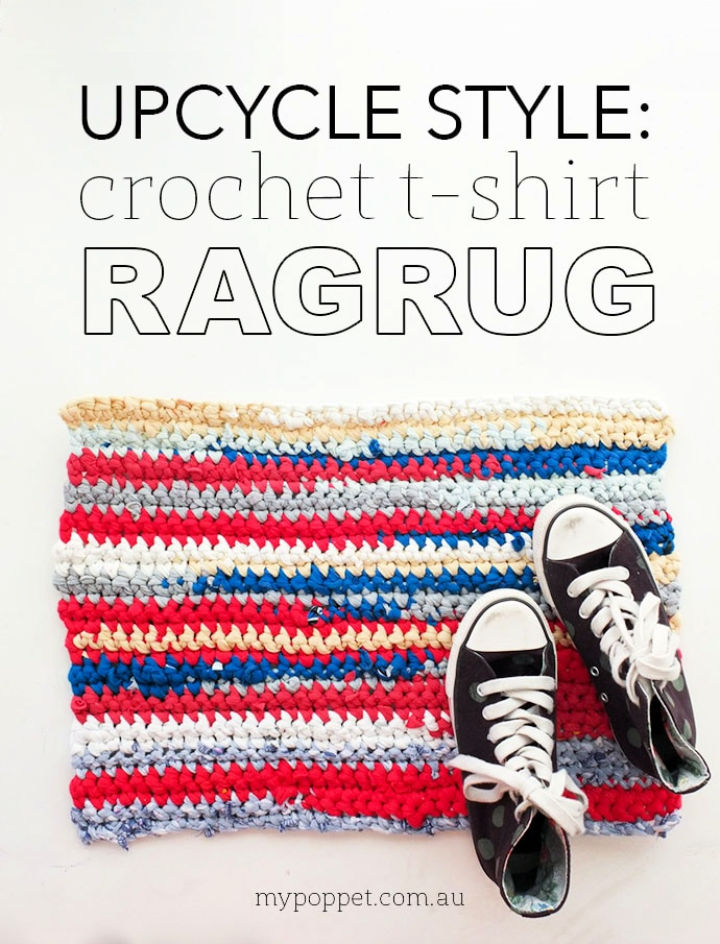 Such a beautiful and colorful rug! Everyone loves something bright and fun. The best part about this rug is that it's super easy to make, and anyone with basic skills can make this project a success. It has a very unique pattern that helps you hide your mistakes and just add that to the pattern and give it a rustic look. You will cut up the garment into strips and start from there. mypoppet
Crochet Hook: 12mm crochet hook
Finished Size: 50x 37cm
5. How to Crochet a Rag Rug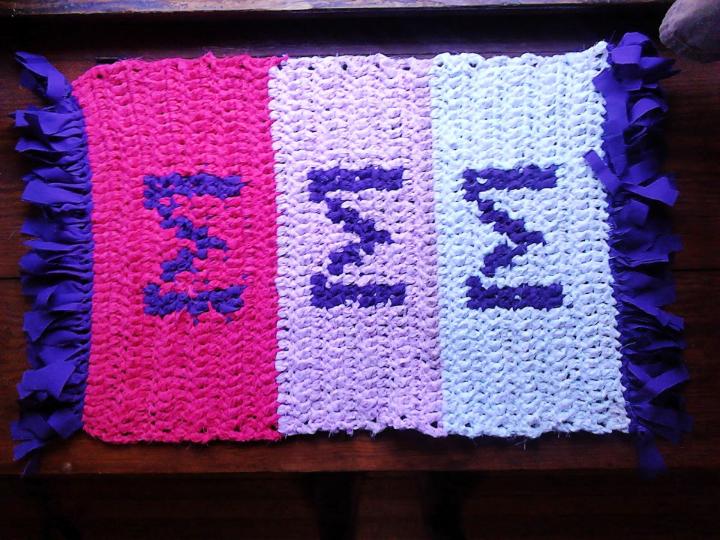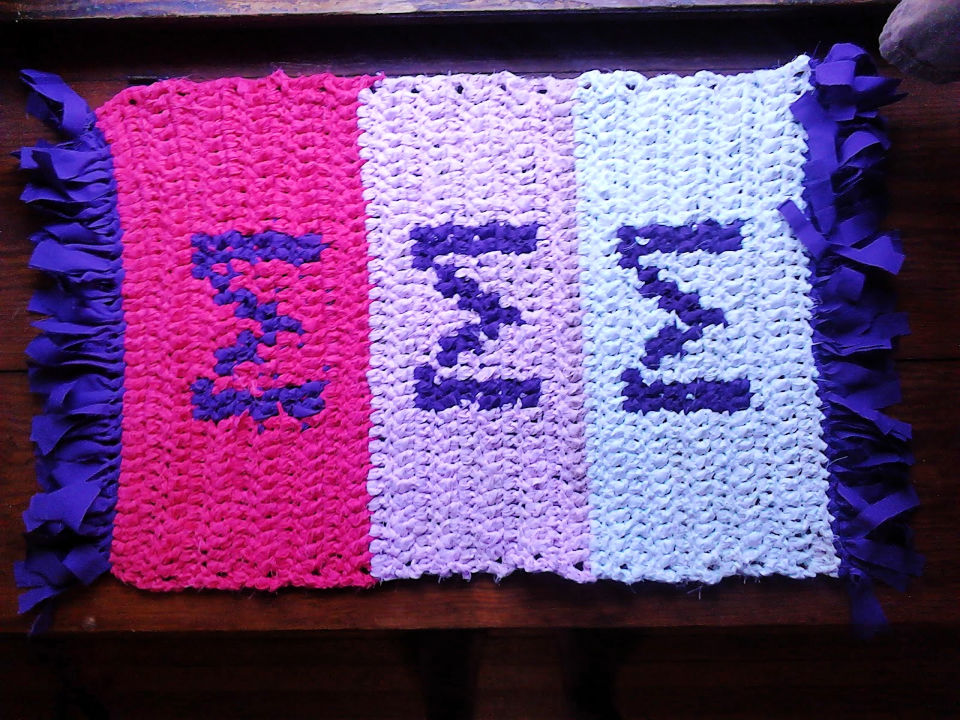 A super girly and unique pattern that is perfect for any woman in your life. It will make a great birthday present as it is very girly and cute. The color combination is of hot pink, light pink, white, and blue. You can choose to use any colors you want, depending on whom you're making it for. Start with a graph or drawing to give you a clear idea. The final results are so stunning! eleciascreativei
Finished Size: 19 inches across and 27 inches long
6. Crochet Pendleton Selvages Rag Rug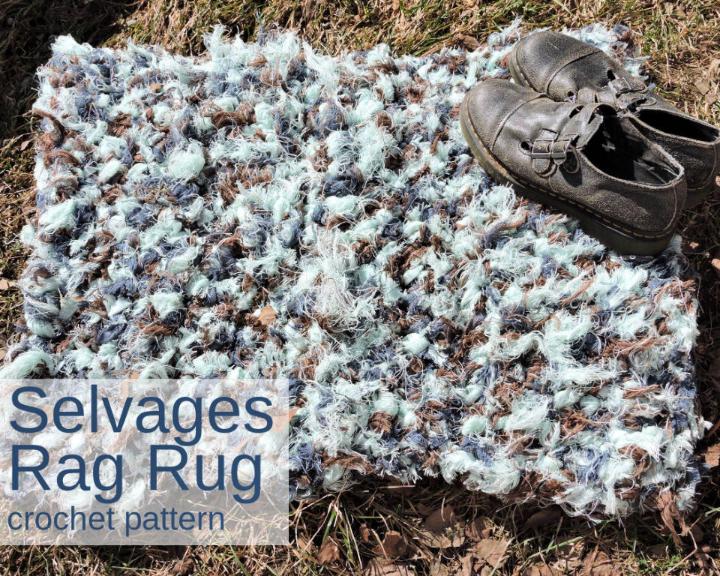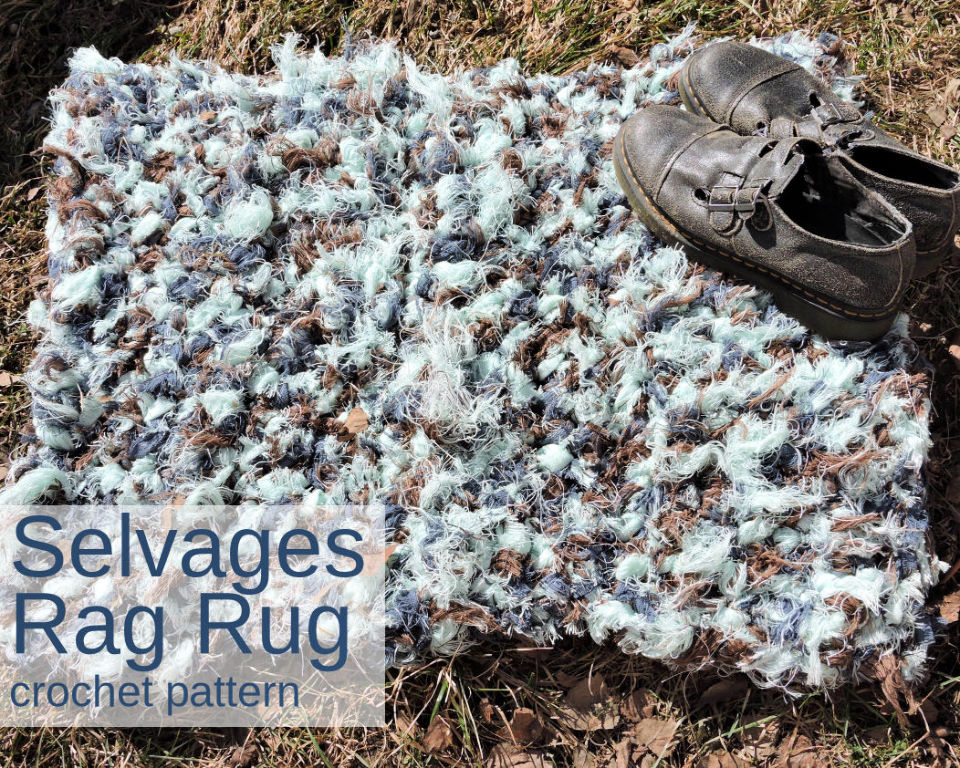 Soft and fluffy rugs are something that everyone enjoys. They can be kept in any corner of the house to add some coziness and warmth. All you need are a few of these flannel weight selvages, which have a very fun and unique texture to them. All you need to do is to make a simple rectangle using single crochet stitches until you get the preferred size. Nothing complicated at all! donteatthepaste
Crochet Hook: 19mm / S hook
Finished Size: 25 inches wide, 35 inches long
7. Crochet Stegosaurus Rag Rug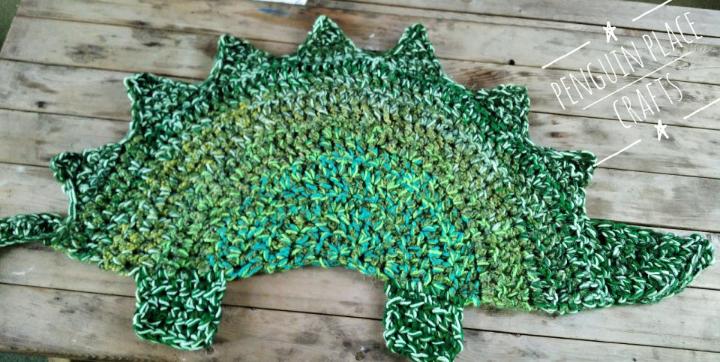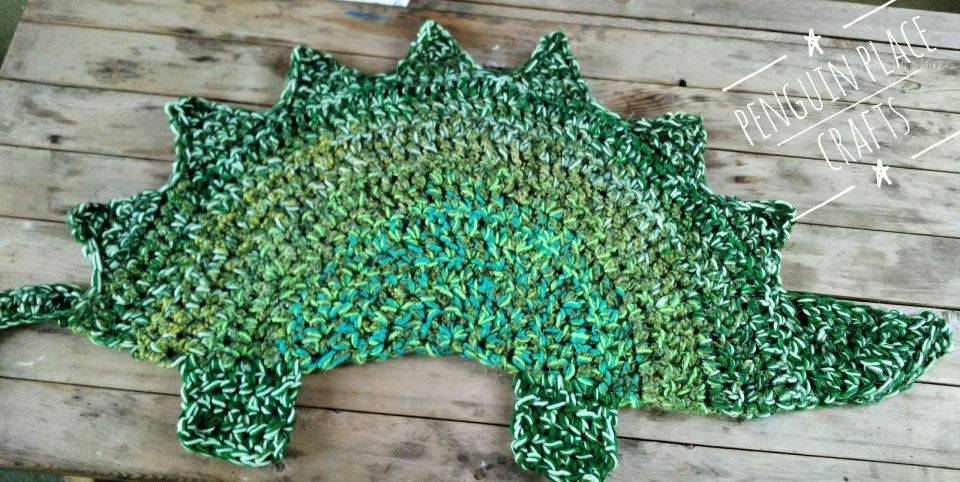 This pattern is truly a masterpiece and one of a kind. It is so unique and different and definitely not something you'd find at any market or store. You do relatively, need a little more experience and skill for this project as you may need to know some complicated stitches for this one. Other than that, it's simple to do. Just follow this detailed guide to make this! freecellpenguin
Crochet Hook: 12mm hook
Yarn Weight: (5) bulky and worsted rug yarn (5 stitches and 3 rows to 4 inches)
Finished Size: 3 feet head to tail, about 22" top to bottom
8. How to Finger Crochet Rag Rug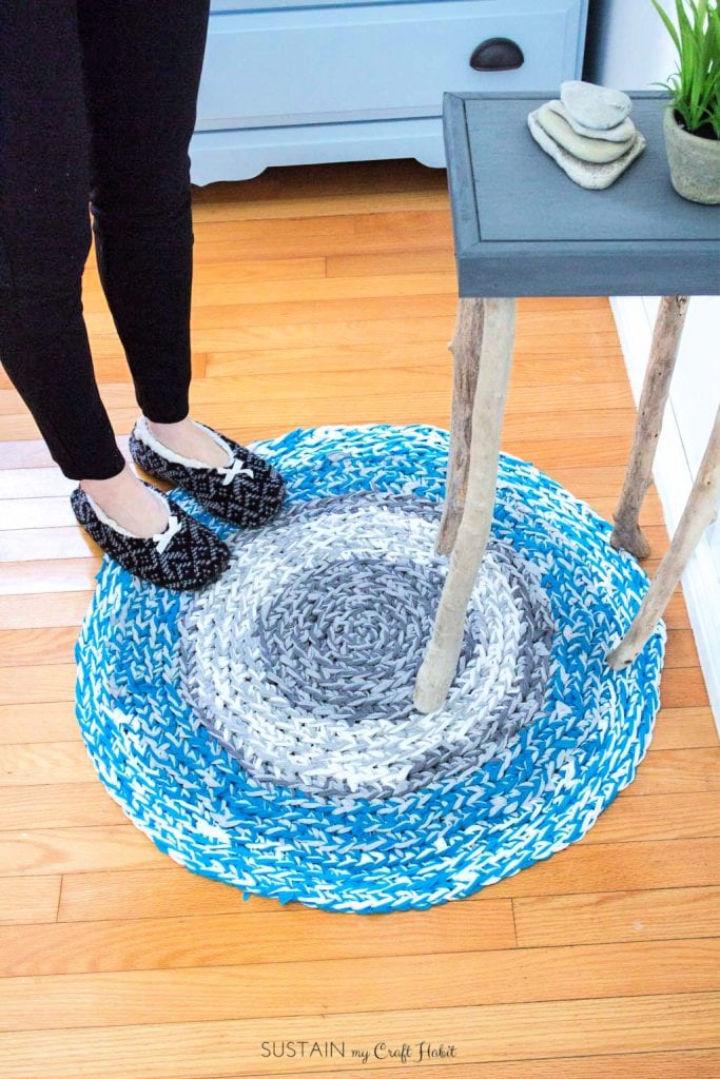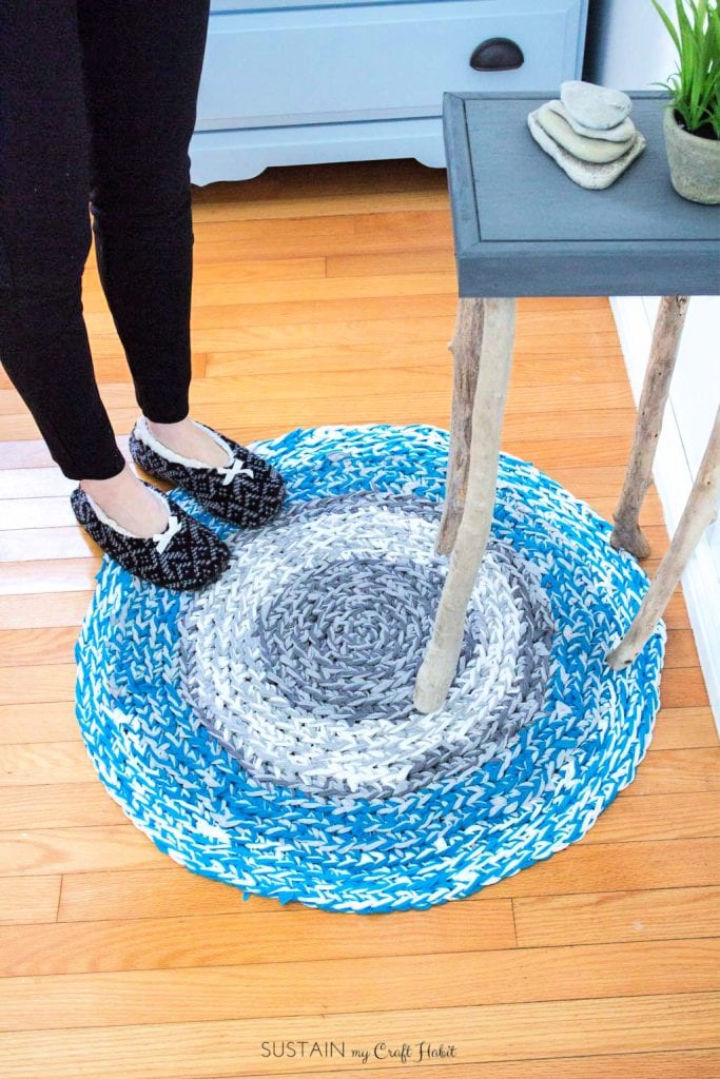 Are you bored of the hook crochets that you're doing all the time? If you want to try out something new and unique, then you should definitely give this guide a read. It will teach you how you can crochet with your fingers! Yes, you heard that, right! You have to remember to keep your stitching very loose and start with single crochet in the first stitch and work your way from there. sustainmycrafth
Crochet Hook: no hook required
Yarn Weight: t-shirt yarn / 9 men's size large
Finished Size: 2" across
9. Crocheted Rag Rugs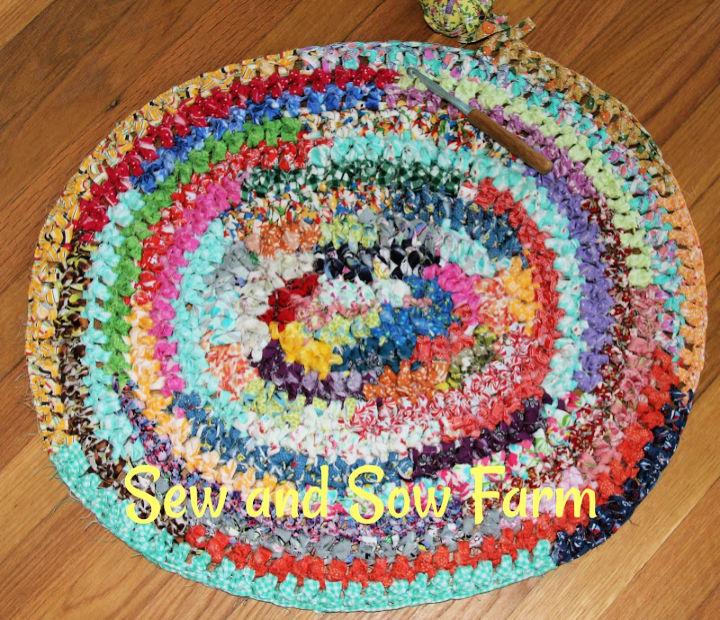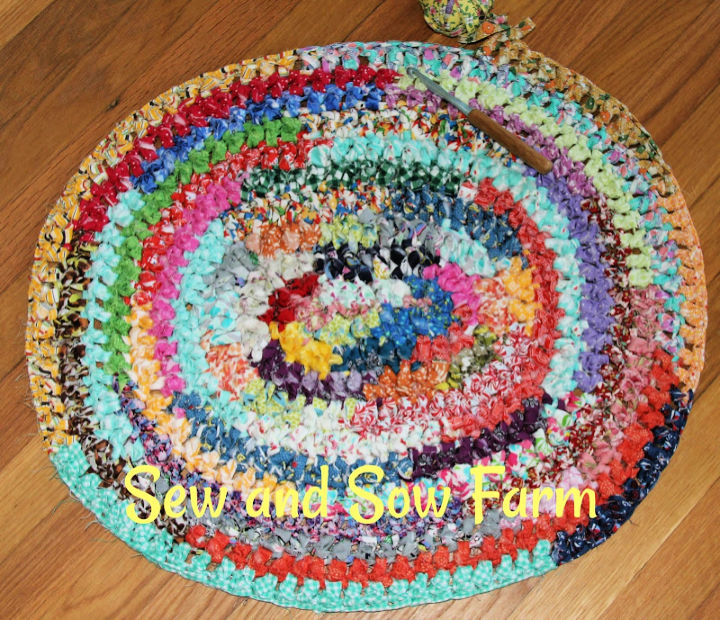 Isn't this pattern just gorgeous? It is nothing like you've ever seen before. Such a unique pattern that anyone looking at it for the first time will not help but look at it another time just to see what's going on! You need many fabric strings for this pattern, and you can just cut up all of them to 1″ and fold in half – that's where you get started! sewandsowfarm
Crochet Hook: 10mm / N15
Finished Size: 24 long x 20 wide
10. Colorful Crochet Rag Rug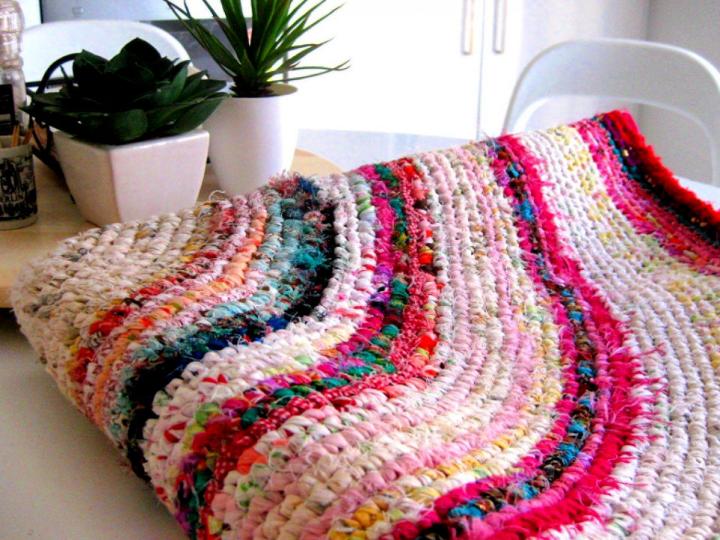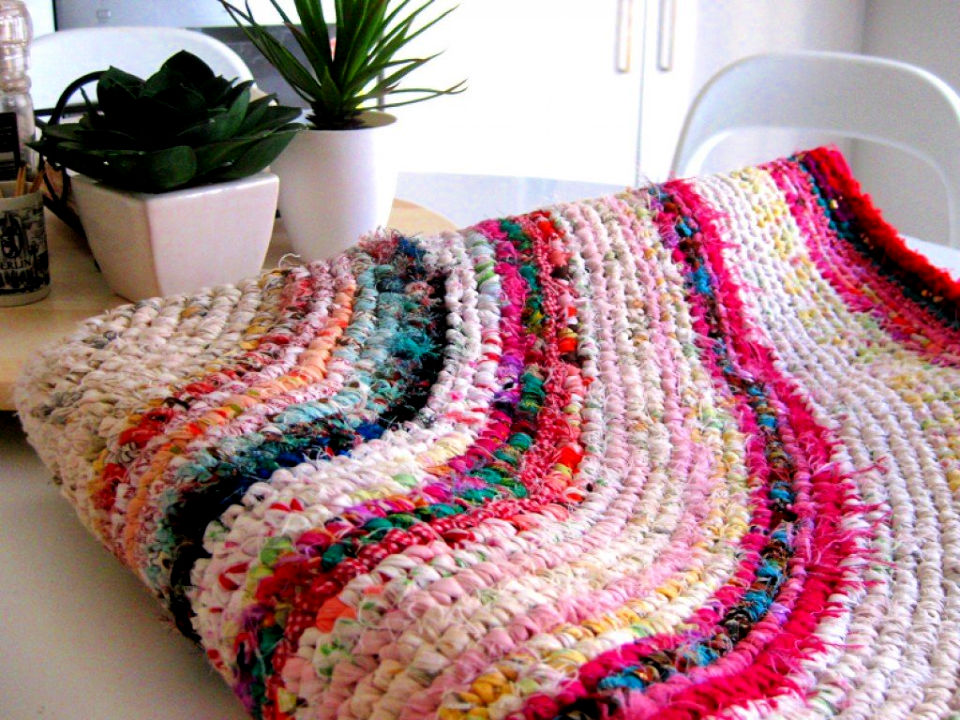 Re-cycling is an excellent thing to do as it is eco-friendly. Patterns like these are not only very beautiful and satisfying but also have a really good effect on the environment around us. You can complete this project very fast, as it is super simple. You need to cut the fabrics in a way that you can get the longest strips. The fabric can be anything like cotton. However, you should avoid stuff like denim and t-shirts. feltmagnet
Crochet Hook: 3.25mm / size 10 crochet hook
Finished Size: 6cm tail
11. Braided Rag Rug from Fabric Scraps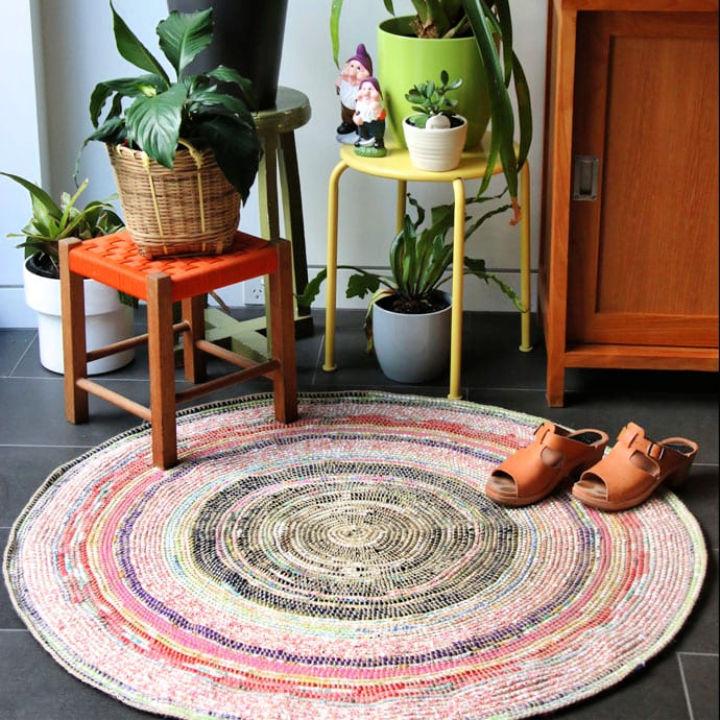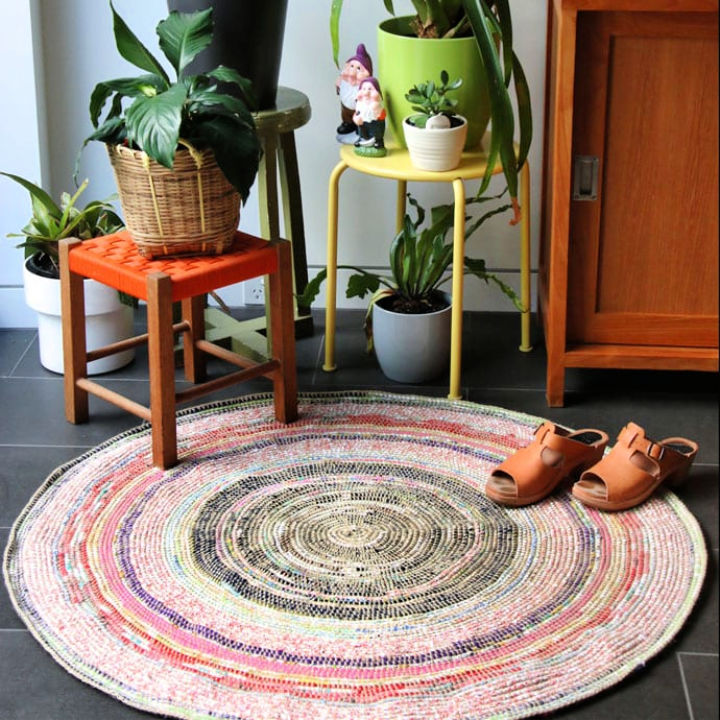 Round shaped crocheted rag rug patterns are just super stunning and look beautiful anywhere in the house. You can keep in your living room, in your bedroom or even in your kitchen! They are very versatile and can be changed up by switching up the colors or the sizes. The yarn used for this is very strong and thin. You can just twist the fabric strips to make a rope-like cord and crochet over them. mypoppet
Crochet Hook: 4mm (depends on the thickness of yarn)
Yarn Weight: strong and thin, rug yarn.
12. Free Crochet Rag Rug Pattern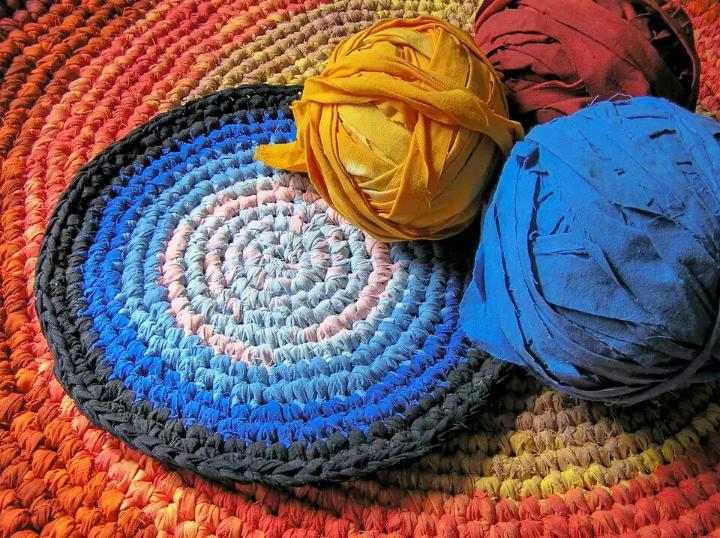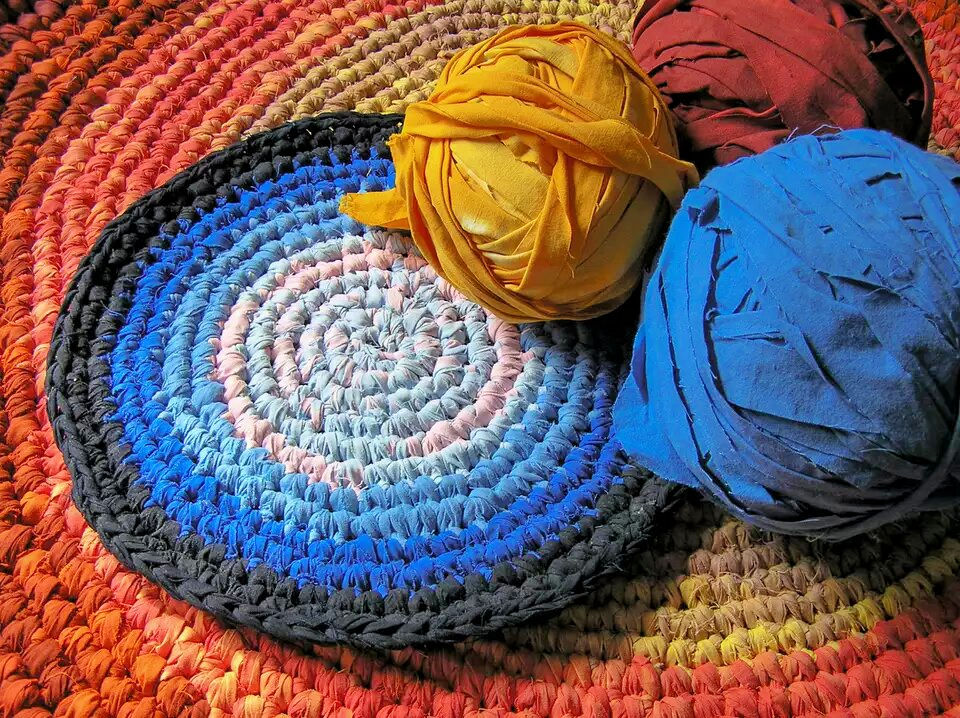 Here's a pattern that will keep you staring at it for very long, trying to understand what's going on. It is very colorful and pretty to look at. You can add it to the plain parts of your house to add some detail and liveliness there. You will need a fabric that you can cut up into strips and just use your colorful yarns to crochet over it. The results are very beautiful and fun! thesprucecrafts
Crochet Hook: 9mm / size N
Finished Size: 23 inches wide by 18 inches high
13. Crocheted Rag Rug from Old Clothing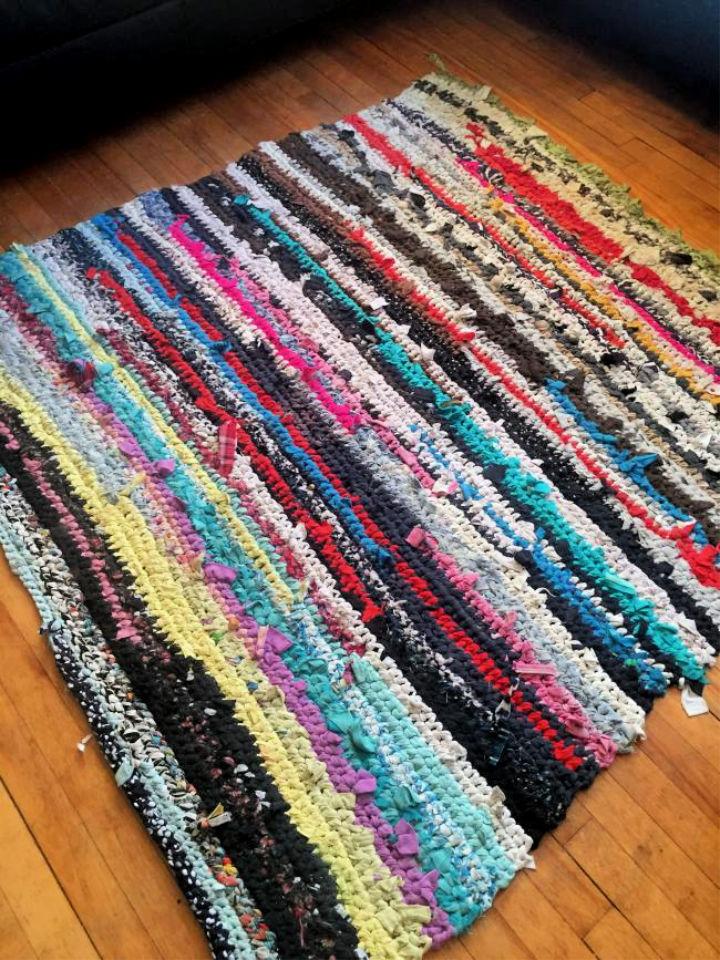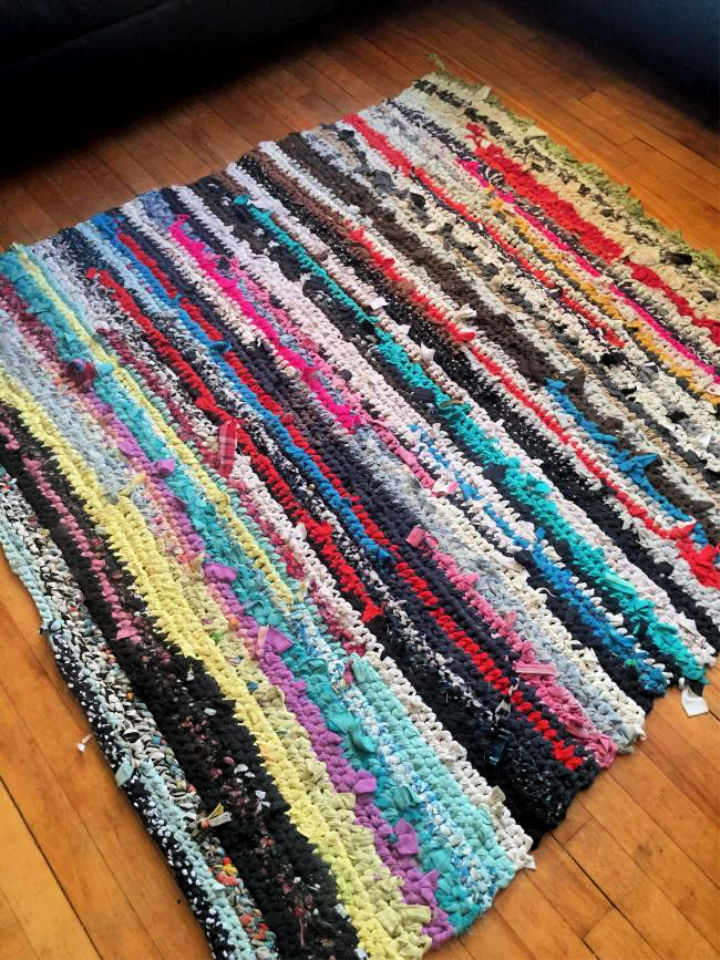 Love to try out new and unique things? Then, this pattern is one of those things, and you will definitely love it. The best part is that you can make this project a success just by using some of your old clothing that you were thinking of throwing away. All you need to do is to turn those t-shorts or skirts into yarn and use it for your fun, little project! You will be amazed by the beautiful results. If you make a mistake, that will only add to the rustic theme of this rug! halcyonyarn
Yarn Weight: cotton carpet warp 8/4 yarn
14. How to Crocheted Rag Rug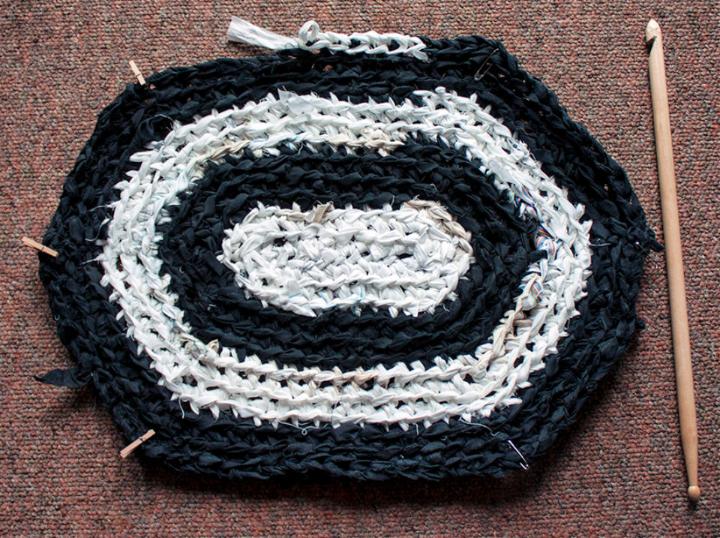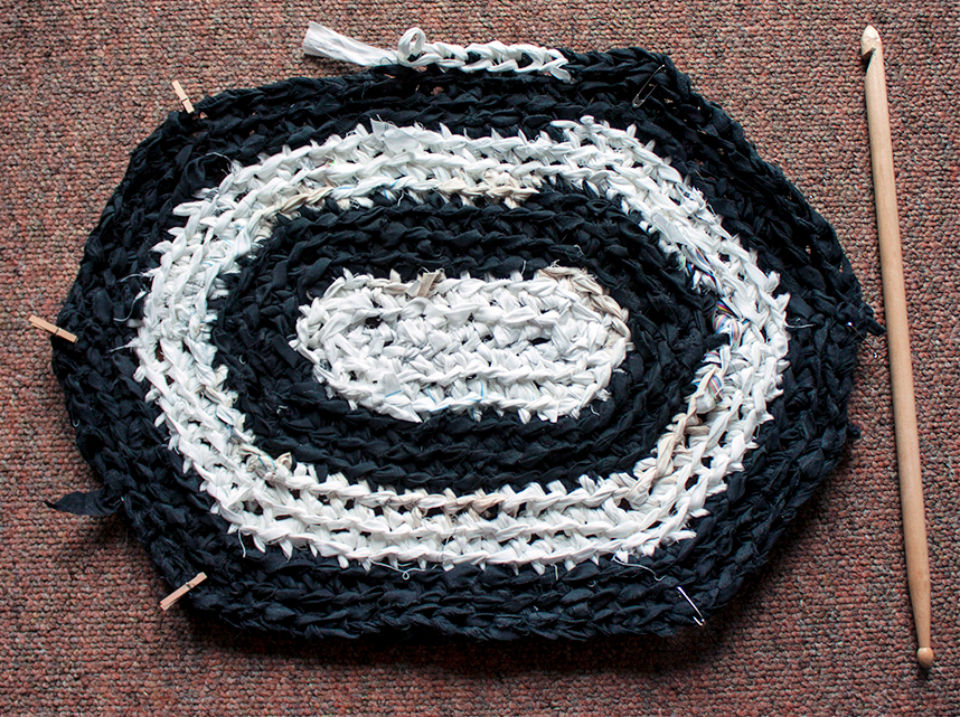 Eco-friendly living is the way to go! If you're looking for ways to incorporate it into your lifestyle, then you should give this guide a read. You don't need to do much to be eco-friendly. Re-using old t-shirts can not only save you money but also help you save the earth! This beautiful free crochet pattern features a combination of two classics – black and white! The starting step will be to cut up a few strips of the fabric you're going to use. spoonflower
15. Crochet Pattern for a Doily Rag Rug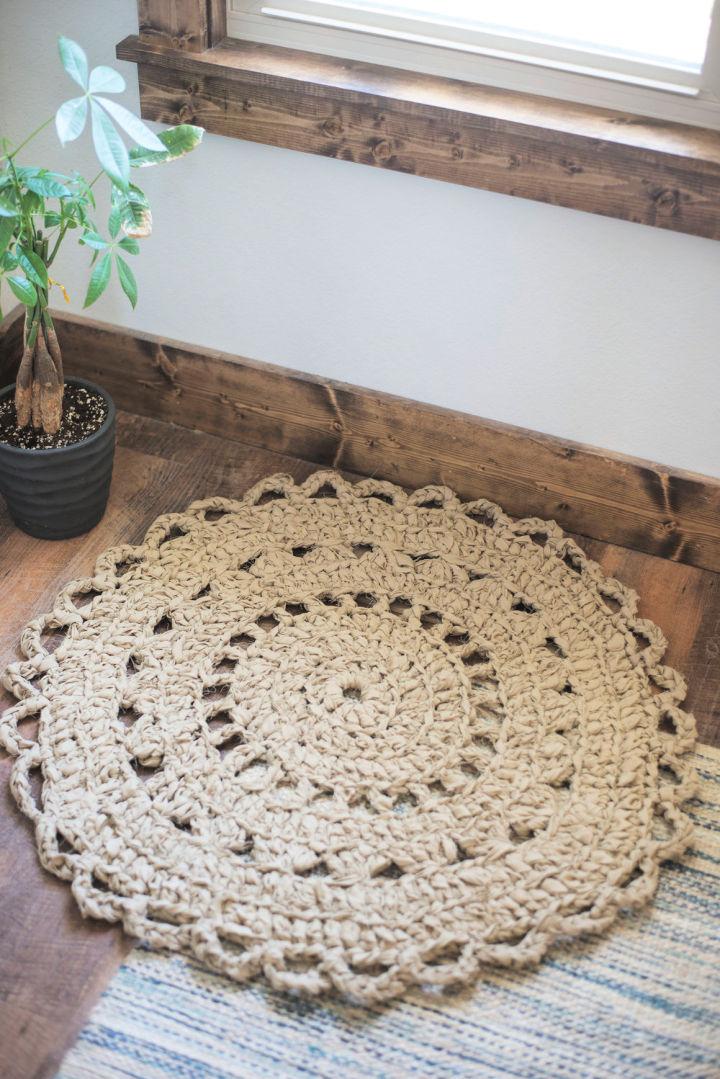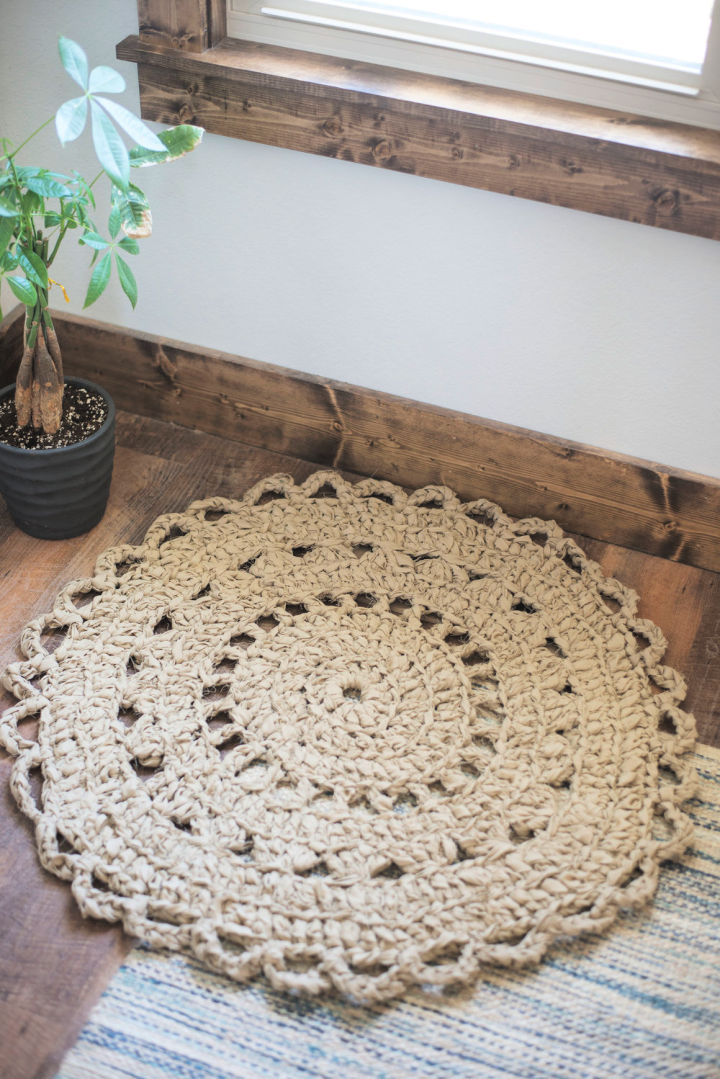 Such a pretty little rug! Who won't love it? It is off-white-colored, which will suit almost any aesthetic or theme in any house or office. It is so versatile and can be kept in any corner of any room! You have to cut up some strips from your old bed sheet and then start crocheting over those strips to make a stunning rug. The only stitches you need to know are single crochet, double crochet, and a few other ones. All of these are very easy to learn. megmadewithlove
Crochet Hook: 15mm hook
Yarn Weight: 2" diameter yarn- two twin sheet sets
Finished Size: 34 inches in diameter
16. Crochet Rag Rug With Old Sheets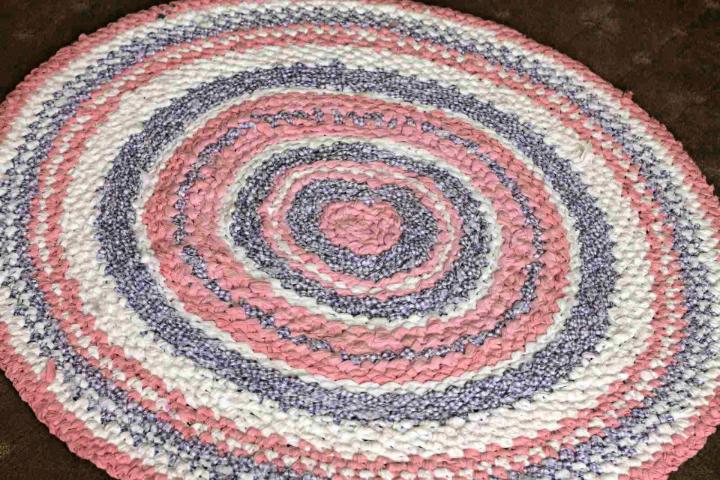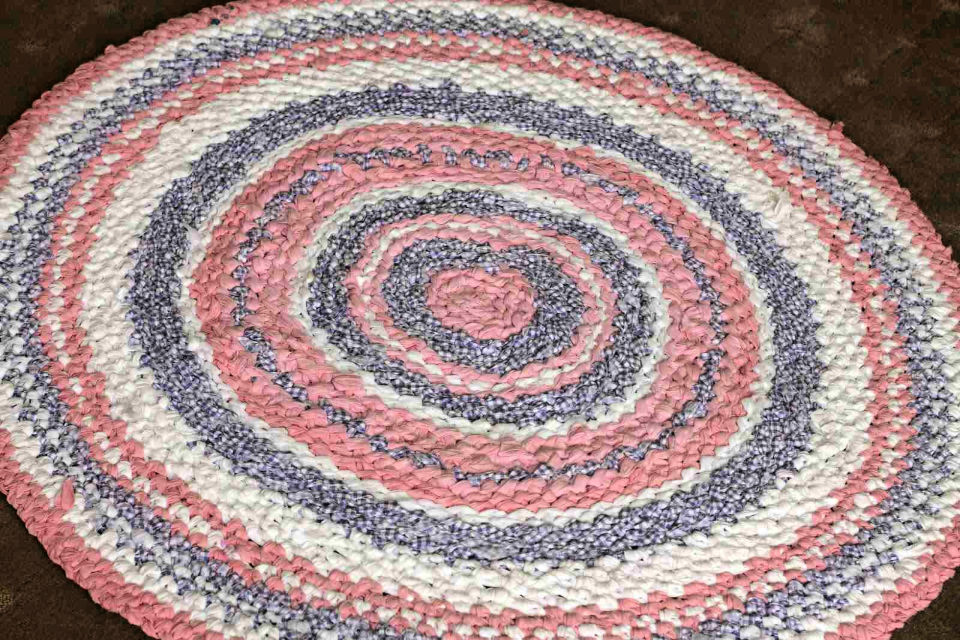 Yellow and white makes an amazing color combination and are capable of adding brightness anywhere these colors are added. You can have some liveliness in your house by using these colors for your rug and then placing it in a plain area to brighten it up. You can do a project like this while watching a movie as you have to do the same stitches repeatedly. Any beginner is capable of tackling this crocheted rag rug pattern! sugarbeecrafts
Conclusion
Tempted to make a few of these crocheted rag rug patterns? Well, it's never too late! Make them for anyone or any occasion! You can make them to celebrate the changing seasons or to add some warmth and comforting feel to your house! Also to add some color to your home, to surprise your loved ones or just to do crocheting as a form of therapy. Crocheting is an excellent form of therapy as you can focus on one thing and get your mind off of other things. This way, you will be able to enjoy some free time to yourself without overthinking.
Related Free Crochet Patterns