When the fall season is about to end, and the Halloween spirit dies down, do you know what time it is? Make this crochet snowman pattern, to celebrate the winter spirit! The whole decorations theme of the holidays is just perfect for these 25 free crochet snowman patterns as they give you a very festive and lively vibe in your house. After all, who doesn't want their house to look amazing during the holidays? So many people will be visiting you, and it's just the only time of the year you will have to decorate that much. You will love having these free crochet patterns in your house.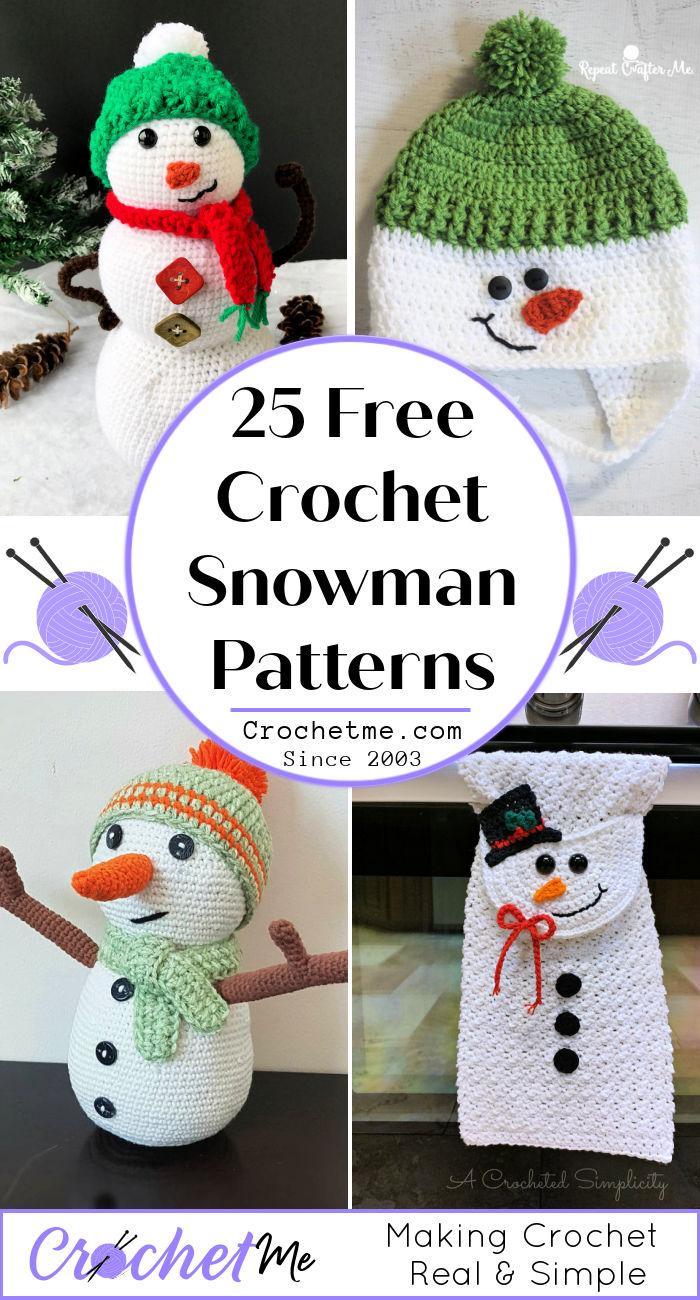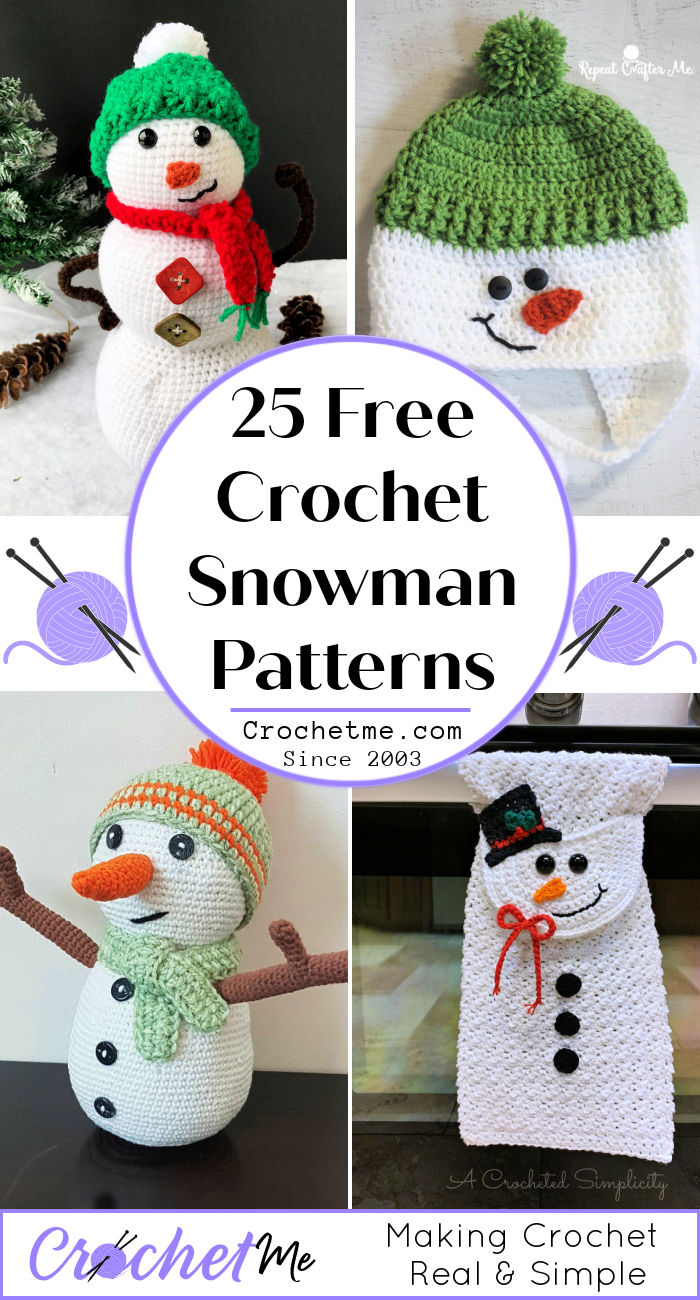 If you have a loved one- could be a husband, wife, cousin, best friend, niece/ nephew, etc. – whose birthday comes up in this season, then this would make the perfect present! You should just decide carefully which item exactly they would like depending on their age and gender. This article will cover a range of free crochet snowman pattern, from snowman kitchen towel to snowman mug hug, from crochet snowman hat to snowman amigurumi patterns, from the gift card holder to snowman belly potholder! There are a lot of crochet patterns to choose from. After all, who doesn't like to have many options to decide something from?
1. Crochet Snowman Kitchen Towel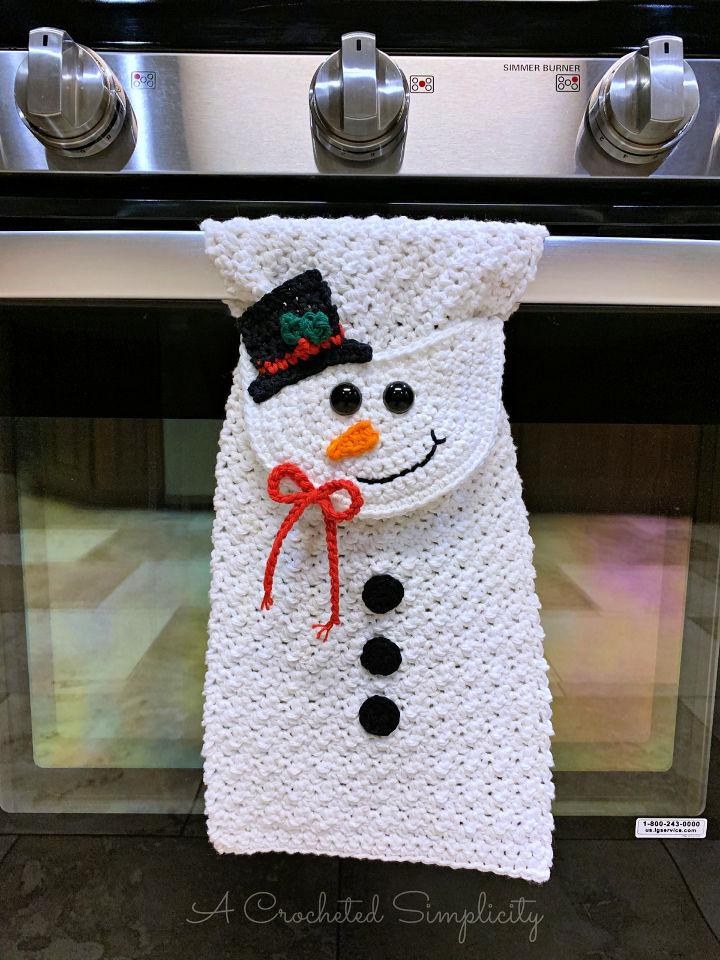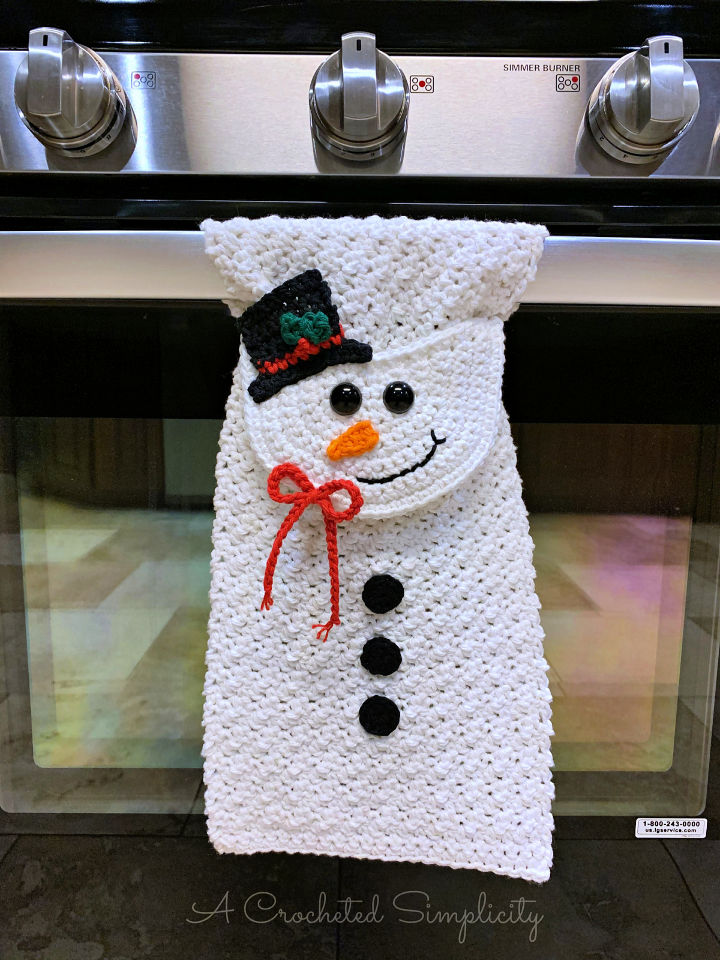 Imagine walking into your kitchen on the holidays morning and seeing this happy snowman faced towel just hanging by the microwave stand. You may also add these snow faces to your crochet potholders. Will this not just brighten up your day? It will make you feel so much happier and give off positive and happy vibes. You can use this crochet snowman kitchen towel pattern to take out your baked goods from the microwave ad avoid burning your hands! This is because the crocheted towel made of thick and bulky yarn. acrochetedsimp
Crochet Hook: J/6.00mm, H/5.00mm, G/4.00mm
Yarn Weight: Lily Sugar N' Cream- worsted weight #4 – cotton (white-140yards, black-8yards, red-3yards, orange-1yard, dark pine green-1yard)
Finished Size: 8" x 17.5"
2. Crochet Snowman Belly Pot Holder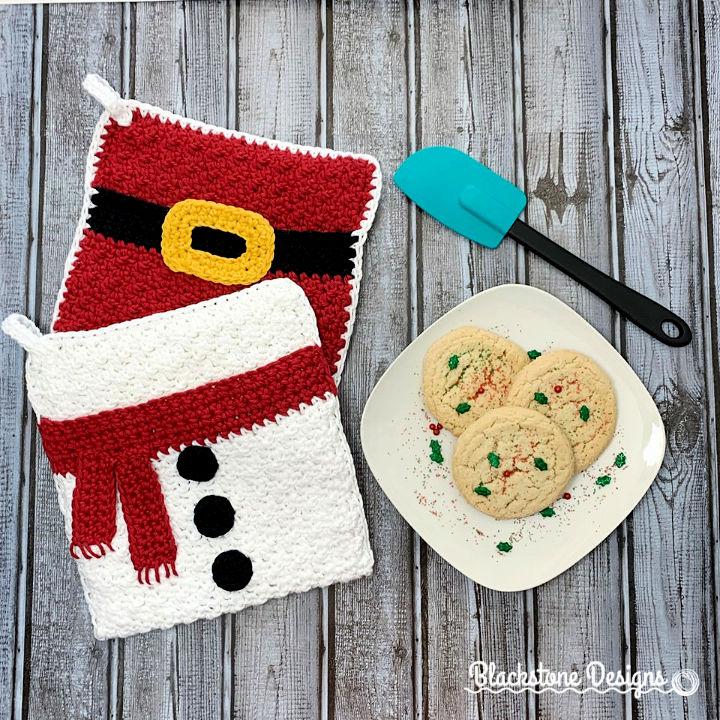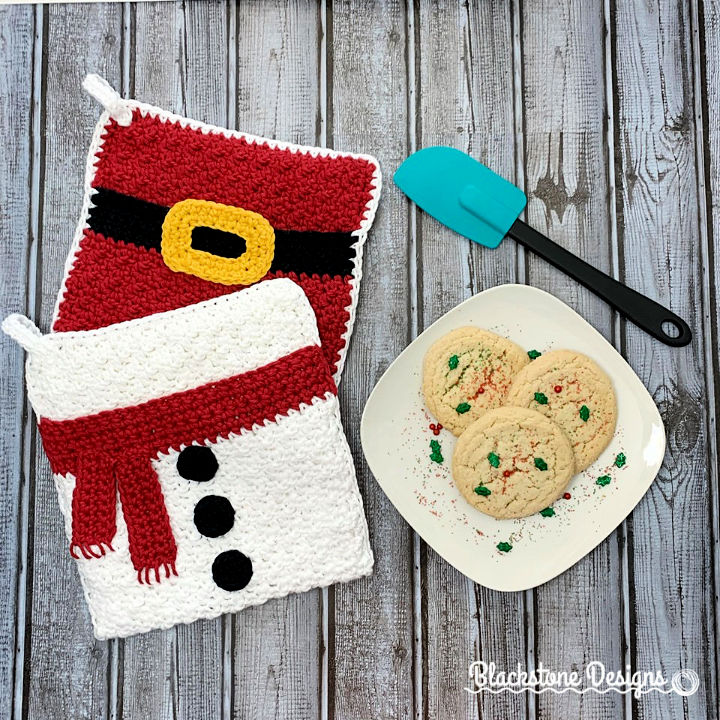 Here are two easy crochet potholder patterns to make your kitchen look very festive and cute! Try this free crochet pattern for snowman potholder with different accent colors, stripped and durable to use all year long. Crochet it by using the stitches, round, chain, single, and double crochet! blackstone
Crochet Hook: I/5.50mm
Yarn Weight: Paintbox Yarns Cotton Aran- #4 (white-100g, red-30g, black-scraps)
Finished Size: 8.25" x 8.75"
3. Crocheted Snowman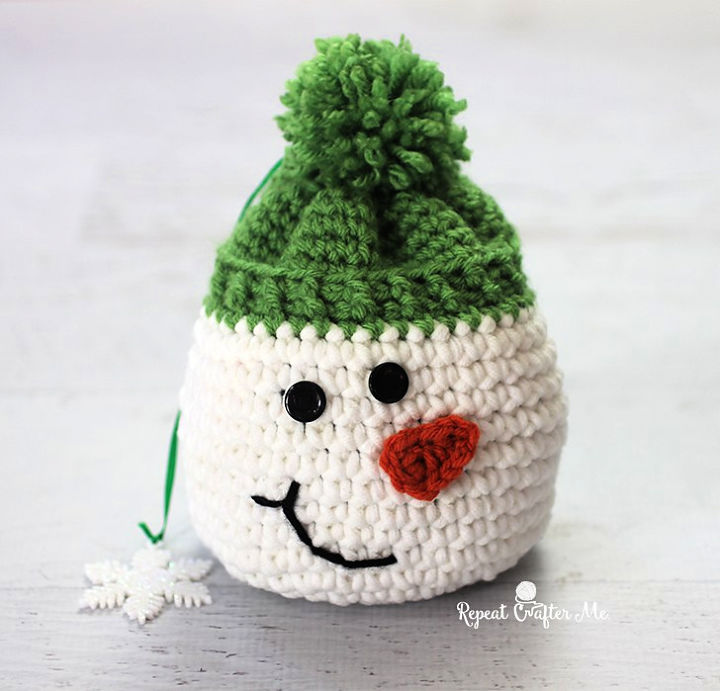 If you are tired of the old socks tradition, then this crocheted snowman is a great way to try out something new! Just make these little stocking stuffers and put everything in there. They do look very tiny, but they can actually hold a lot! You may make them a little bigger if you want to fit in more things. These will also look super cute and the perfect way to keep your kids super excited! repeatcrafterme
Crochet Hook: size H
Yarn Weight: Loops & Threads Woolike Chunky – white, Worsted weight yarn- green for cap, orange for nose, black for mouth
4. Crochet Snowman Gift Card Holder Pattern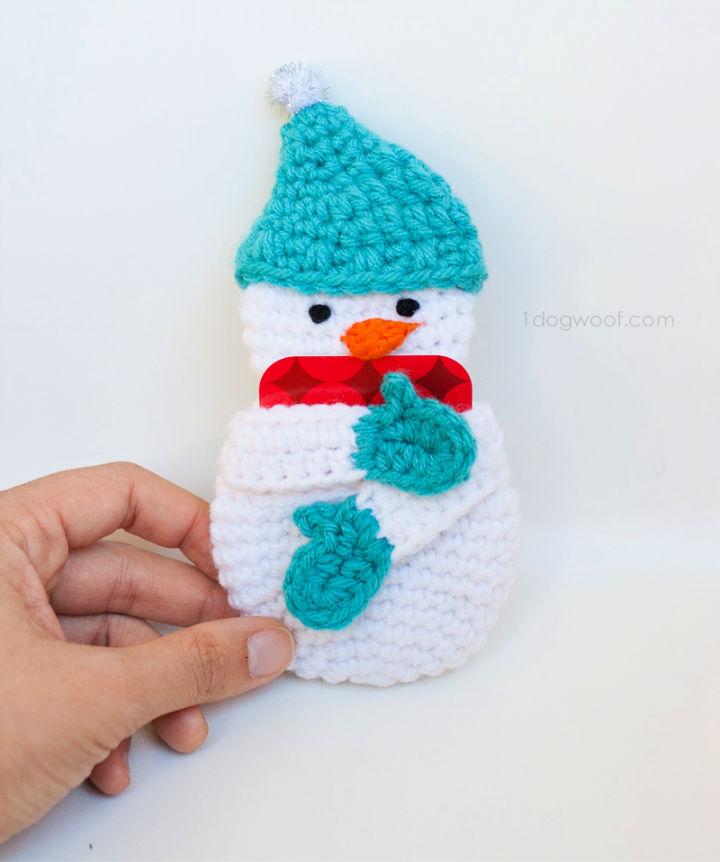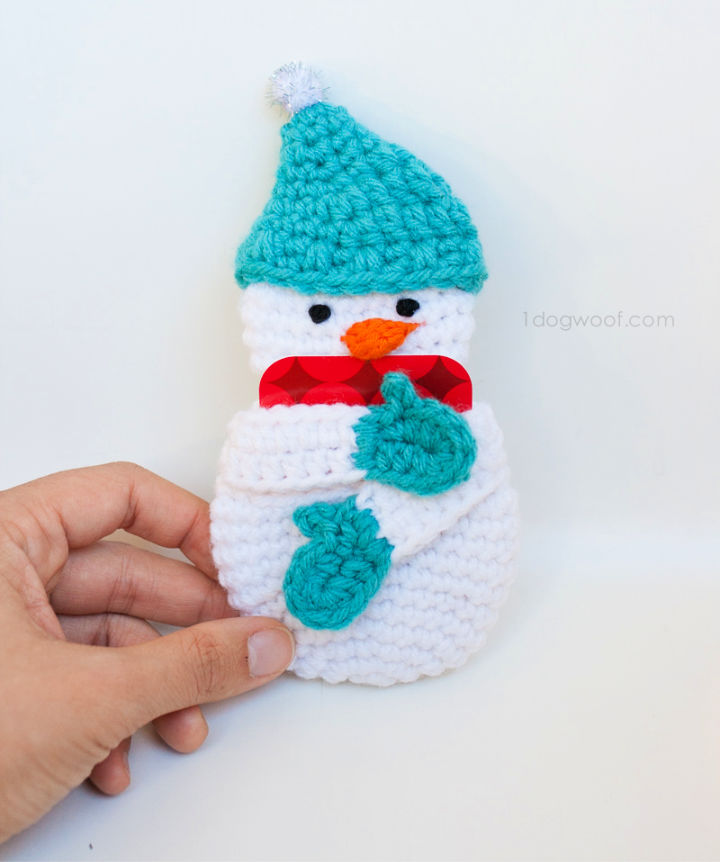 Gift cards can be a little boring, as they do show someone that you didn't have enough time to pick out a gift for them. This may also indicate that you two aren't good enough friends to know what to gift each other. You can add a little bit of personality and love to gift cards by making these gift card holders! It will take you seconds to make- a lot faster than picking out a gift, and they will love it! 1dogwoof
Crochet Hook: G/ 4mm
Yarn Weight: Worsted weight yarn-white, Lion Brand Yarn-601-630 Bonbons Yarn- black, orange
5. Crochet Snowman Hat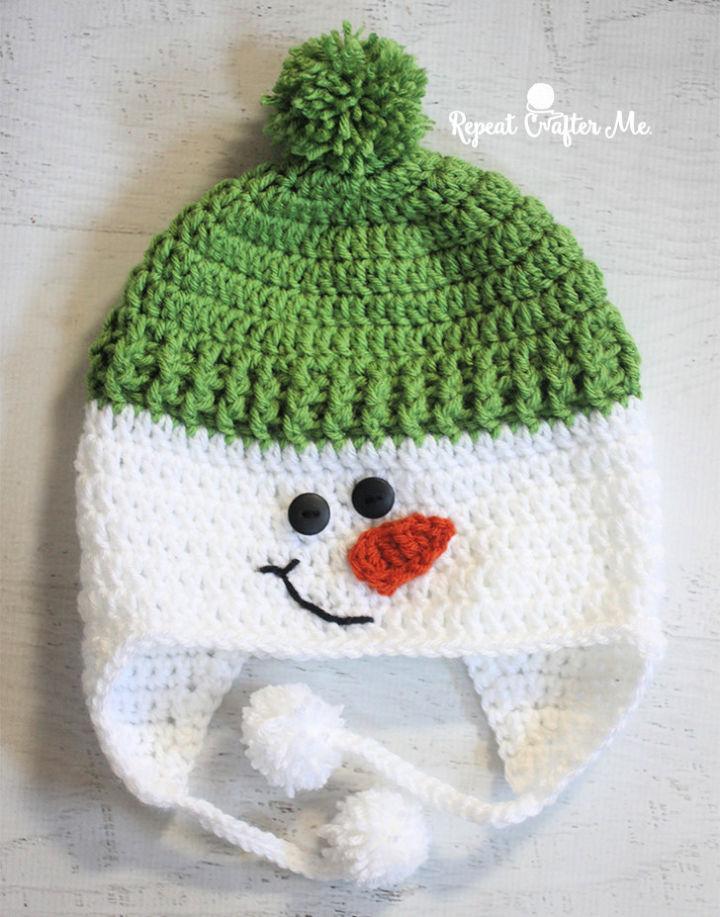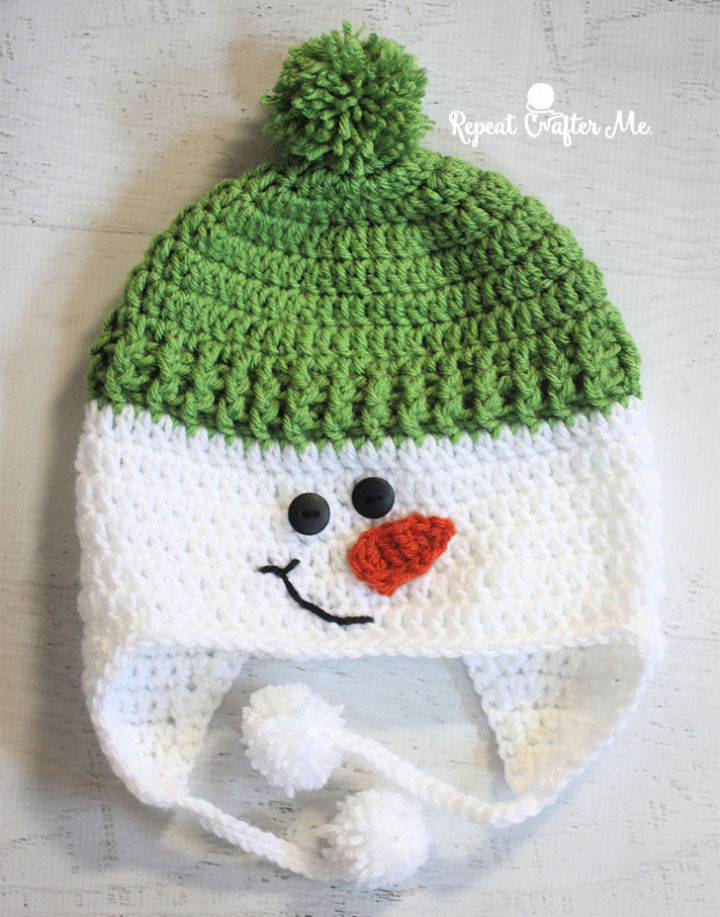 If you're enjoying all of the crochet snowman patterns until now, then you're just going to adore this one! Just look at this adorable little snowman hat! How to make a snowman hat? You can make this for almost anyone! However, this will look the cutest on your little babies. This is because babies are already very adorable, but with this happy hat, they will look so happy and bring in some good and happy energy! Isn't this just so cute! repeatcrafterme
Crochet Hook: size H
Yarn Weight: Lion Brand Vanna's Choice-Fern Green, White, and Terracotta, Black
Finished Size: 0-3 months
6. Snowman Amigurumi Free Pattern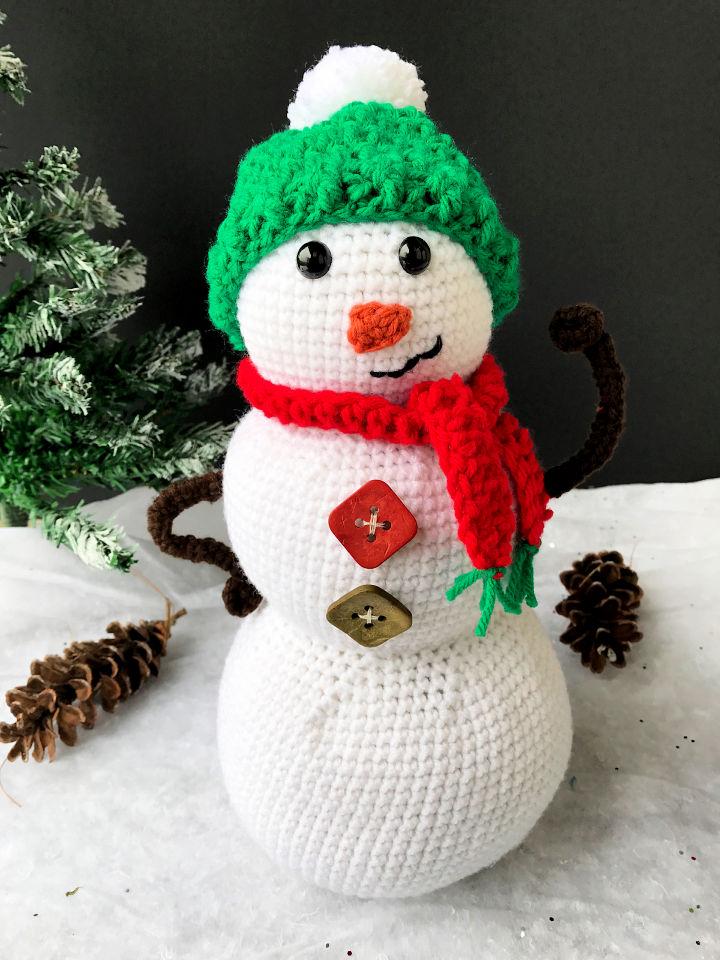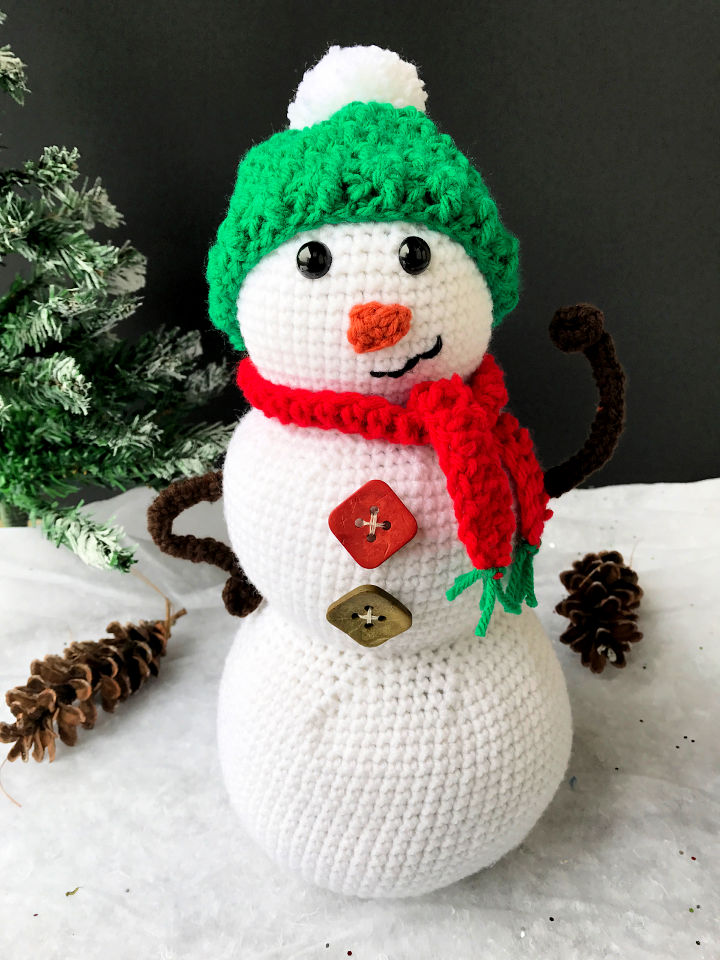 Such a cute snowman amigurumi pattern! You can place this anywhere in your home, and it will just look very adorable. You may even make some for home decor for this snowman, for example, a bow for the head or some cute shoes! This can be a fun project to do with your kids. Tapestry needle, scissors, buttons, needle, thread, and a few other materials will be needed for you to make this free crochet snowman pattern a success! mariasbluecrayon
Crochet Hook: G/4.00 mm, H/5.00 mm
Yarn Weight: White (215 yards) – I used 1 skein Loops &Threads Impeccable, red, green, orange, brown, and black (small amounts)
7. Free Crochet Snowman Pattern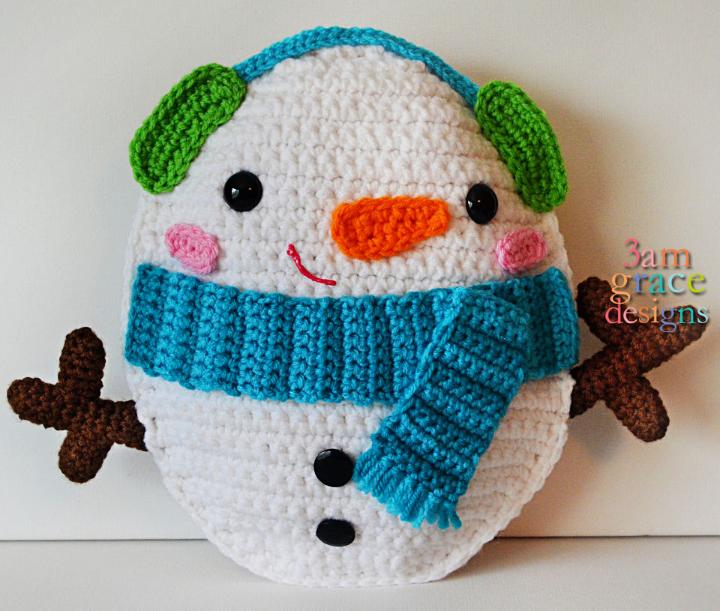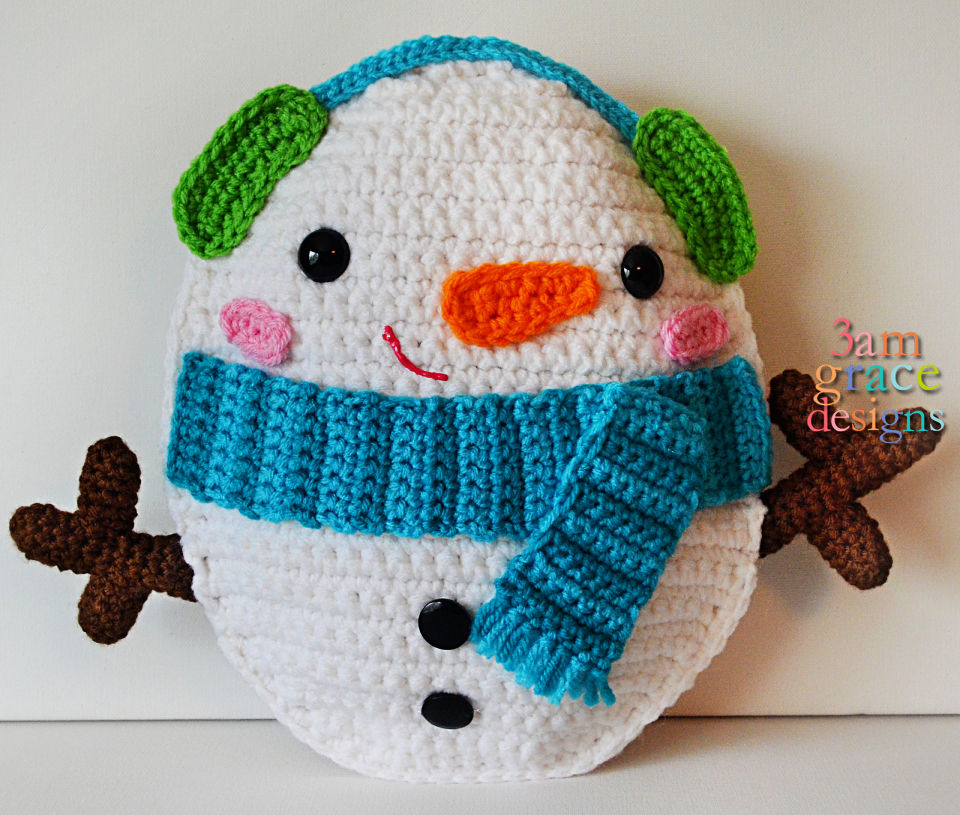 Why would you cuddle with anything other than a snowman in the holiday season? This stuffed and soft kawaii cuddler will not only make you feel safe on the cold winter nights but also look adorable just sitting there on your bed. It makes a cute decor, and your dogs can play with it too! Pink embroidery floss, Wilton Popsicle stick, two black buttons, Poly-fil stuffing, and a few other supplies will be required to nail this project. 3amgracedesigns
Crochet Hook: size H/ 5.00mm, size J/ 6.00mm
Yarn Weight: Hobby Lobby I Love This Yarn- white, turquoise, peacock, brown, orange, limelight
Finished Size: 11" x 10"
8. Crochet Snowman Hanging Dishcloth Pattern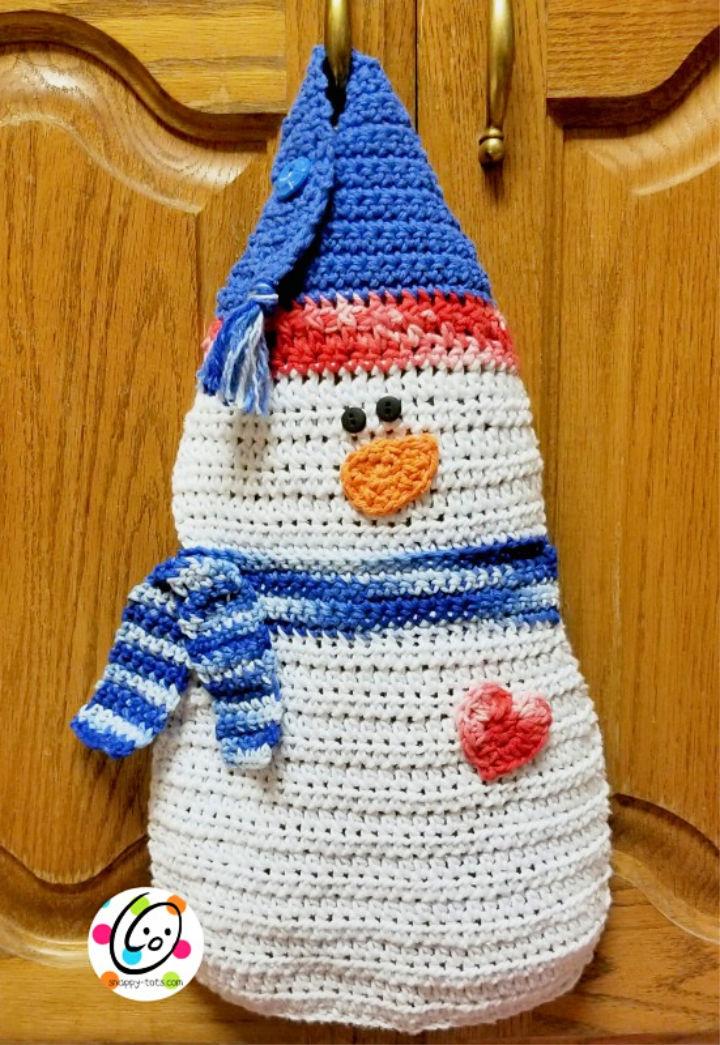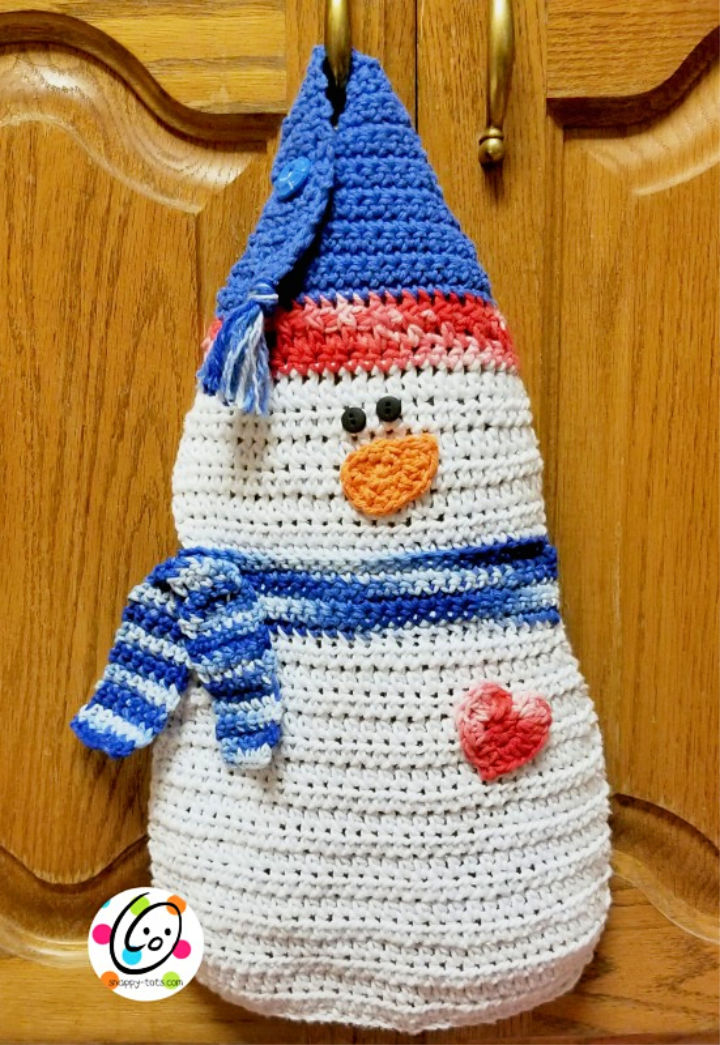 Who knew that you could make your kitchen look cute just by having an adorable dishcloth? Well, this guide will show you how you can make a snowman inspired dishcloth, which will look beautiful, just hanging in your kitchen and give off good vibes. The colors included in this dishcloth are just perfect for the holiday season – red, white, orange, and blue! This is just so cute! snappy tots
Crochet Hook: size H
Yarn Weight: Red Heart Creme de la Creme -white, Bowl of Cherries, Bluetones, Pumpkin
Finished Size: 16" x 9.5"
9. Snowman Crochet Pattern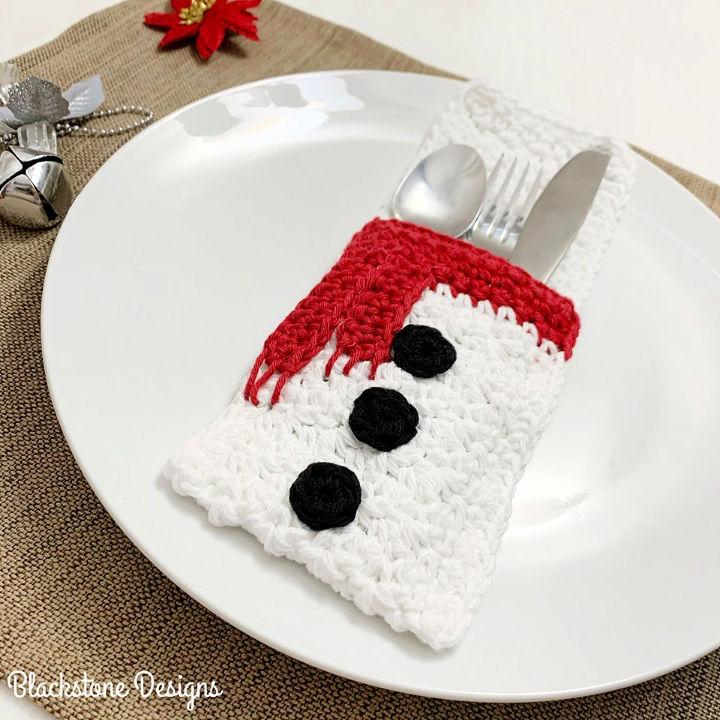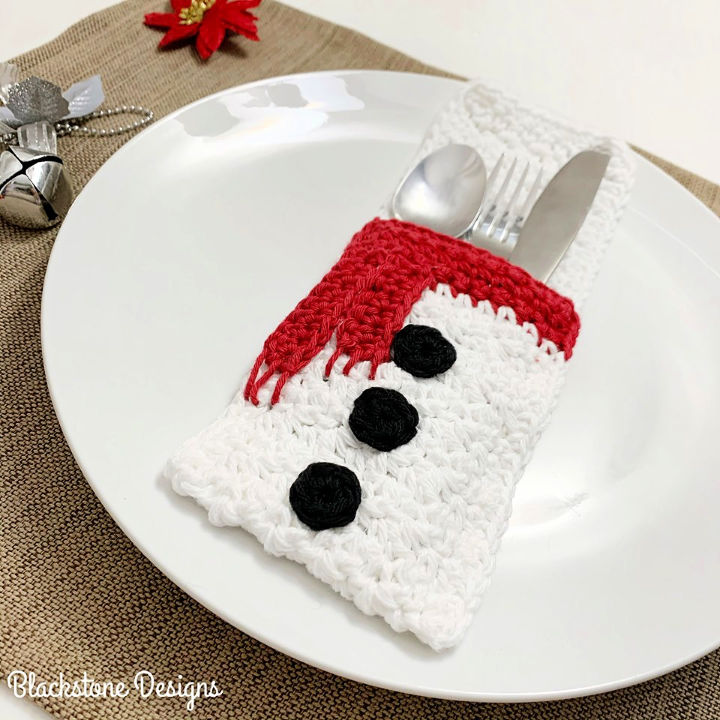 One of the main reasons for decorating your house in the holiday season is because many people visit you and you want your house to look good. This is why it is important to make your dining table look festive, as well. This is where everyone will be served food, so it must look good. You can make these stunning holders, which will keep the fork, knife, and spoon held together! blackstone
Crochet Hook: size H/ 5.50mm
Yarn Weight: Worsted Weight Yarn, #4- white-100g, scarf color-30g, black-scraps
Finished Size: 3.5" x 9"
10. Crocheted Snowman Pattern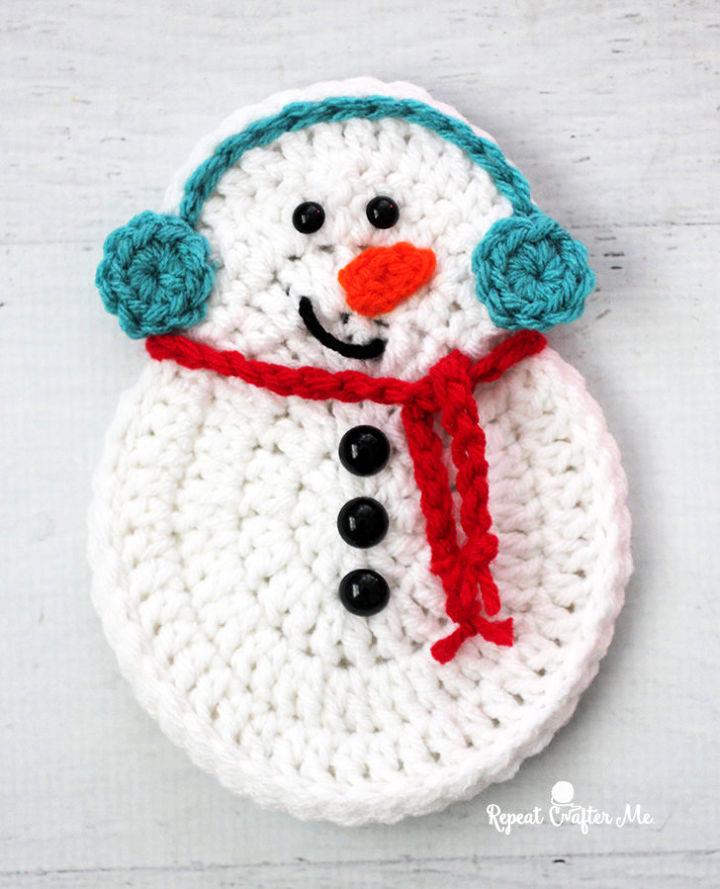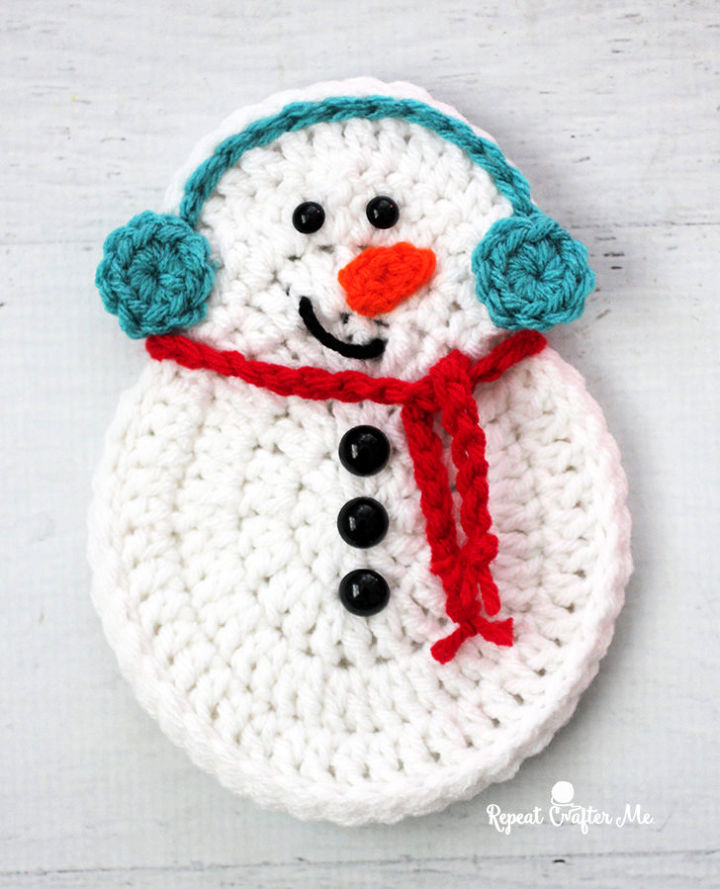 Isn't this just heart-melting? If you want everyone to just think that your decor is super adorable, then you must incorporate this little crocheted snowman into your house! All of the other crochet snowman patterns had great snowmen, but this snowman is just perfect! This is because he has blue colored ear muffs on which is just a great piece of detailing and looks very cute! repeatcrafterme
Crochet Hook: size H
Yarn Weight: Bernat Super Value- white, red, black, aqua blue, orange
Finished Size: 7" x 5"
11. Easy Crochet Snowman Mug Hug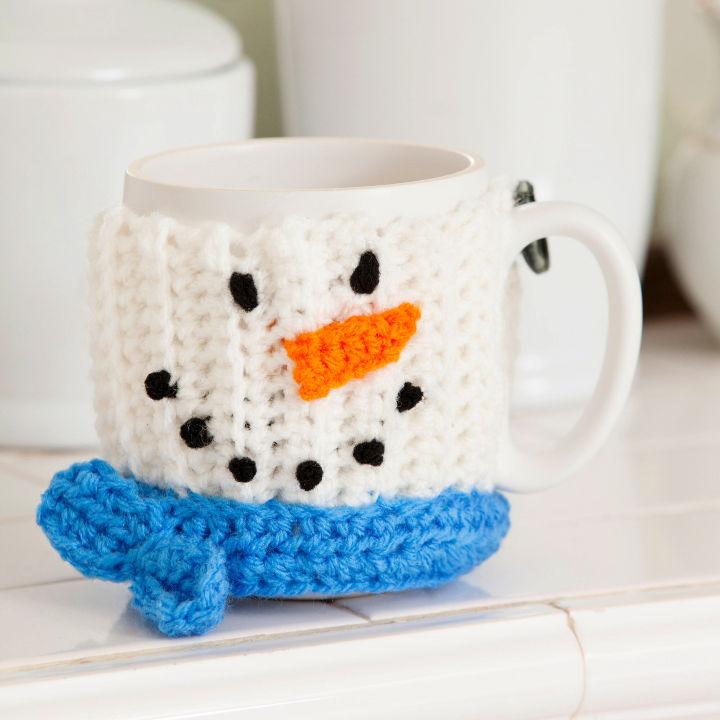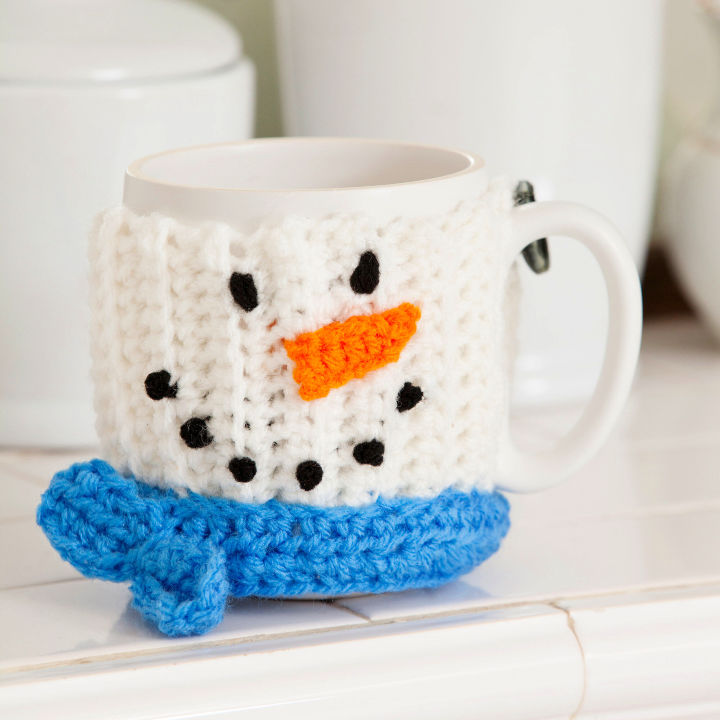 Have you ever noticed how many warm beverages you consume during the holiday season? Well, it's hard to keep a count because it's so much! During this season, you're hardly going to question yourself that. It's a time to try out all of those new coffee and tea brands! However, it can feel cozier and warm to have a crochet mug hug pattern around your favorite mug while drinking your coffee! yarnspirations
Crochet Hook: 3.5mm/ 5mm
Yarn Weight: Red Heart Super Saver Yarn – DELFT BLUE, SOFT WHITE, PUMPKIN, BLACK
12. Crochet Snowman Hat Pattern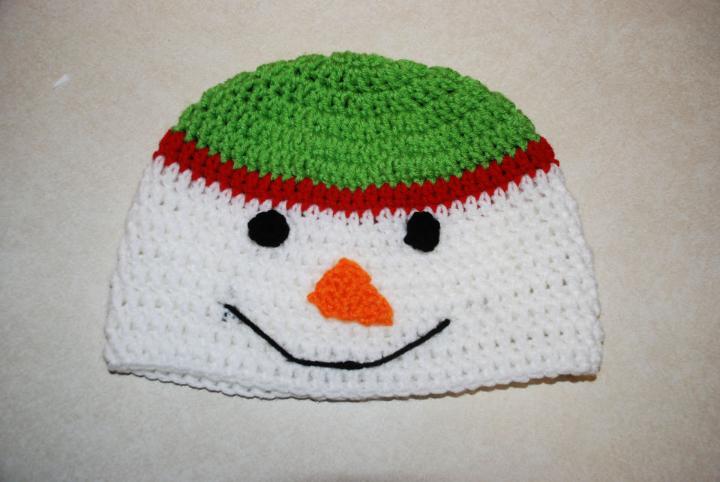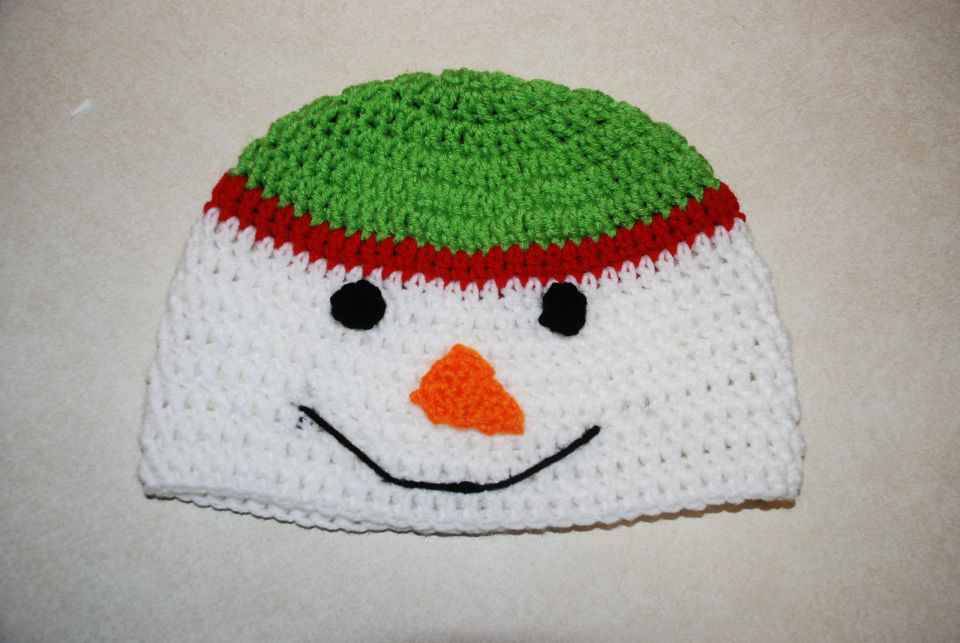 In the other crochet snowman patterns, the hat may be for only one size; however, in this guide, there will be all sizes available! You can make this pretty crochet hat for a baby, toddler, teen, or even an adult! Isn't that just what everyone wants? No need to spend a long time trying to double or half the size. Just read through this guide, and you'll understand everything! This cap is a little open at the bottom, so it won't just stick to your ears! amyscrochetpat
Crochet Hook: H hook, G hook
Yarn Weight: Red Heart Yarn – white, red, orange, black, green
13. Crochet Snowman Decoration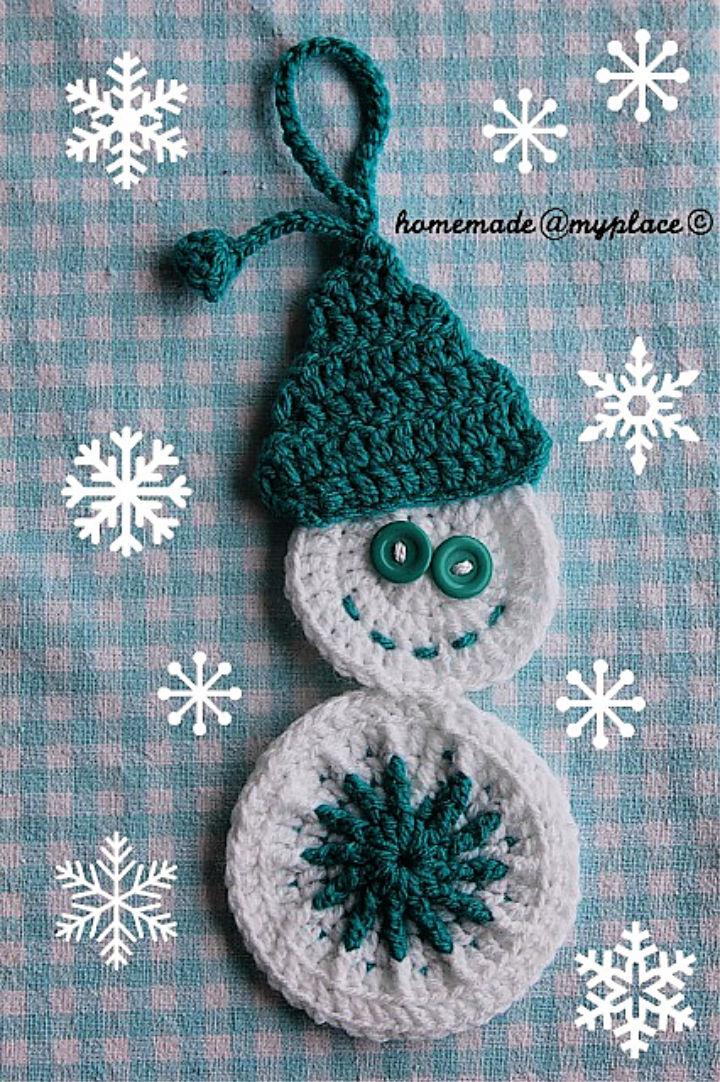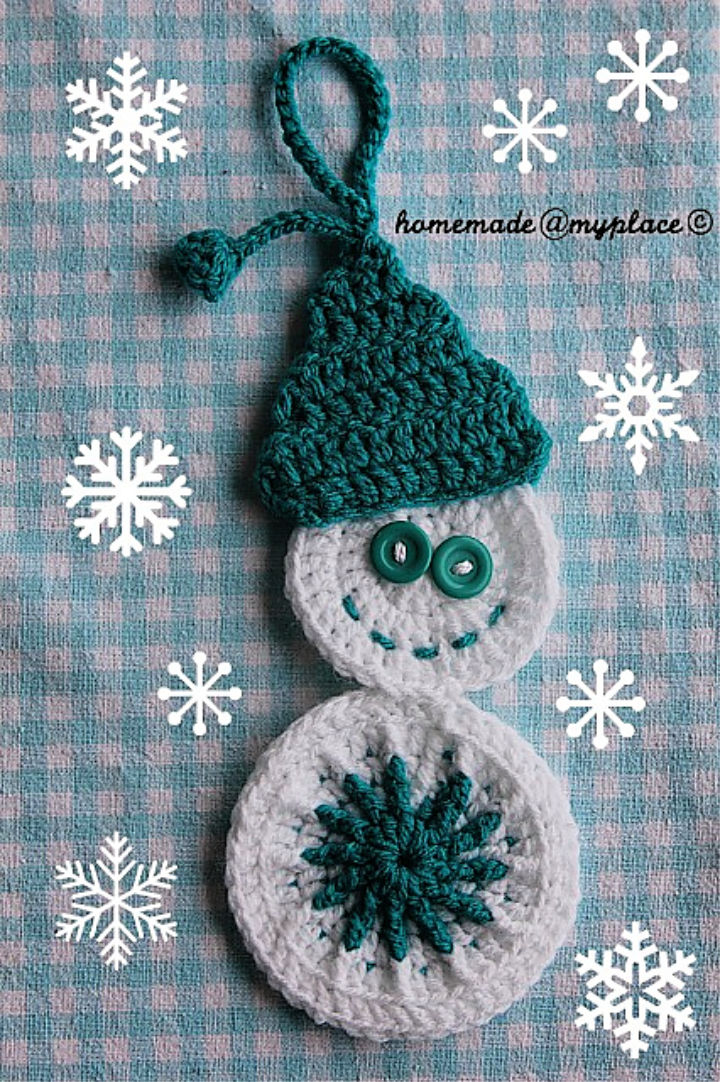 You may have thought that there has to be a certain color scheme to have holiday decor. Well, this piece of holiday decor proves that wrong! This little snowman decor has a dark green color to it and looks so festive and pretty! Definitely, a great investment of time as it turns out looking beautiful. Yarn, buttons, white cotton, stitch markers, crochet hook, and a few other supplies will be required. homemadeatmy
Crochet Hook: 3.5mm hook
Yarn Weight: 8 ply acrylic yarns-white and teal
14. How to Crochet a Snowman Amigurumi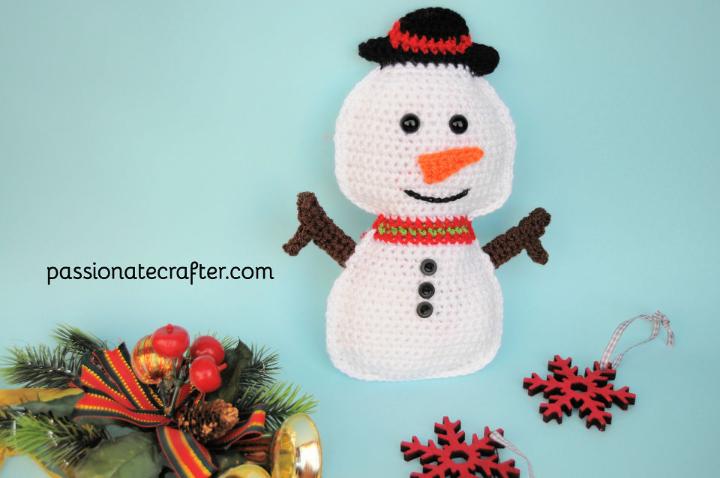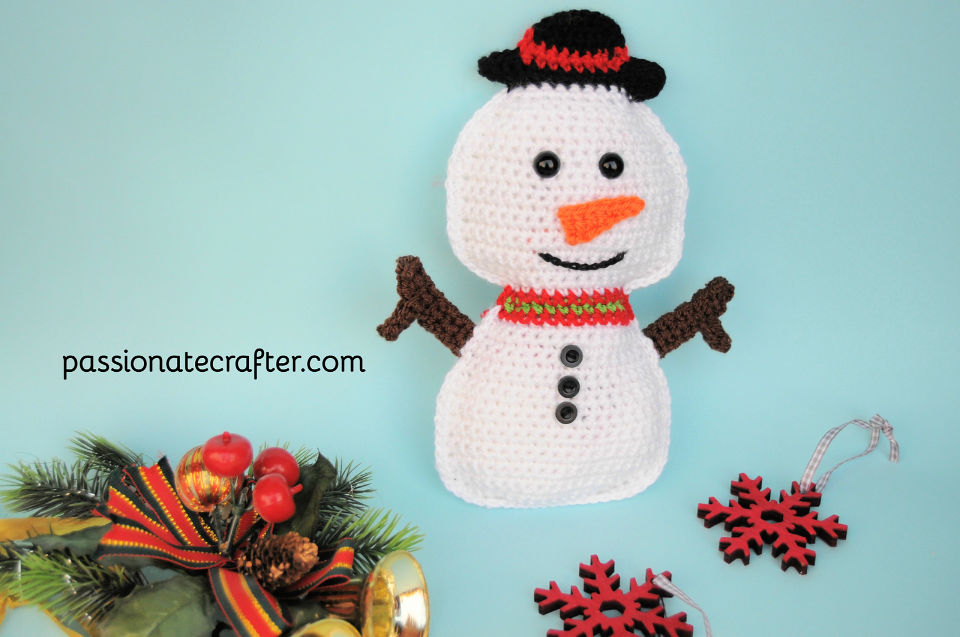 Do you want to crochet a snowman amigurumi? Exactly like the one from the frozen movie? But not with magic! Whip up this snowman with this crochet snowman pattern. This snowman rag doll can be very snuggly and will make a quick gift to your kids. The yarn that will be used in this project is mainly one color. Other than white, you will need red for a necklace, orange for the nose, and black for the hat. Head over to the pattern to get details! passionatecrafter
Yarn: Paintbox simply DK
Hook: Size E (3.5mm)
Safety eyes: 12mm
15. Amigurumi Snowman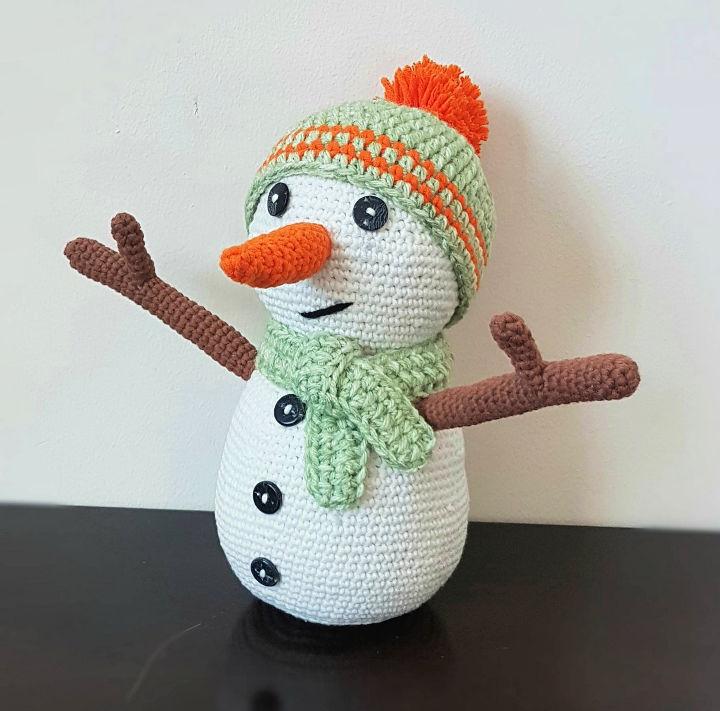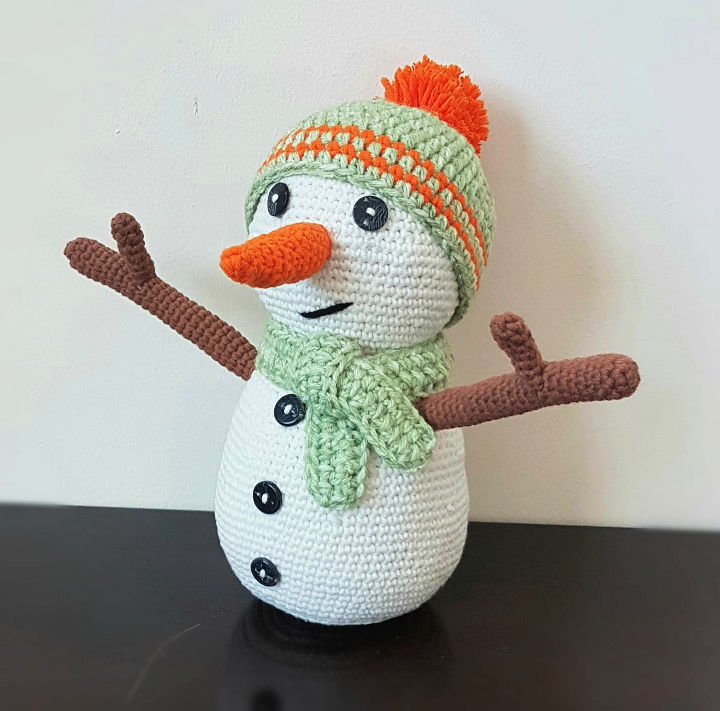 This amigurumi snowman will warm your heart on any blue day! Especially whipping it up for your kid to surprise him on this holiday Eve will make an everlasting memory. Collect supplies to crochet this amigurumi. In this regard, you will need 1 skein of worsted weighted yarn, 4mm of crochet hook for the apparent loops, stuffing for its fluffiness, and buttons for the additional embellishment. loopinglymade
Yarn: Alize Cotton Gold plus 361 yards
Hook: 4mm and 3.5mm
Buttons: 3 to 5 0.5 inches black button
16. Snowman Coasters – Free Crochet Pattern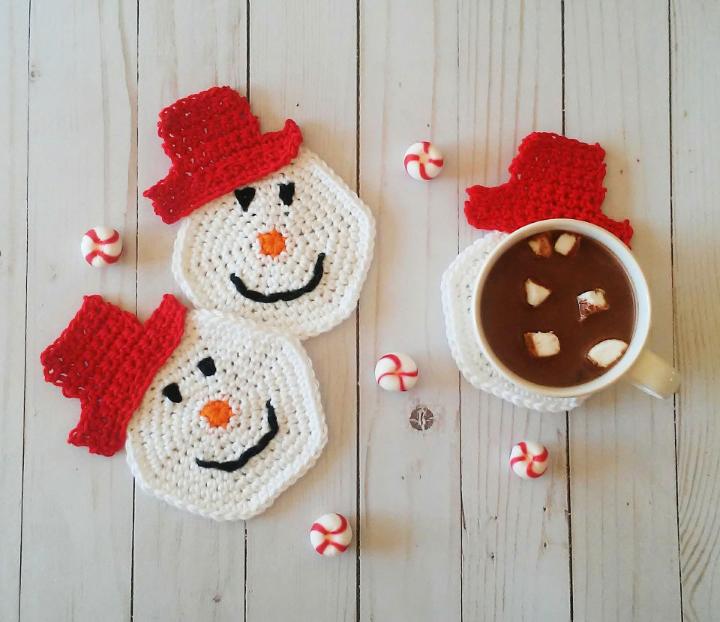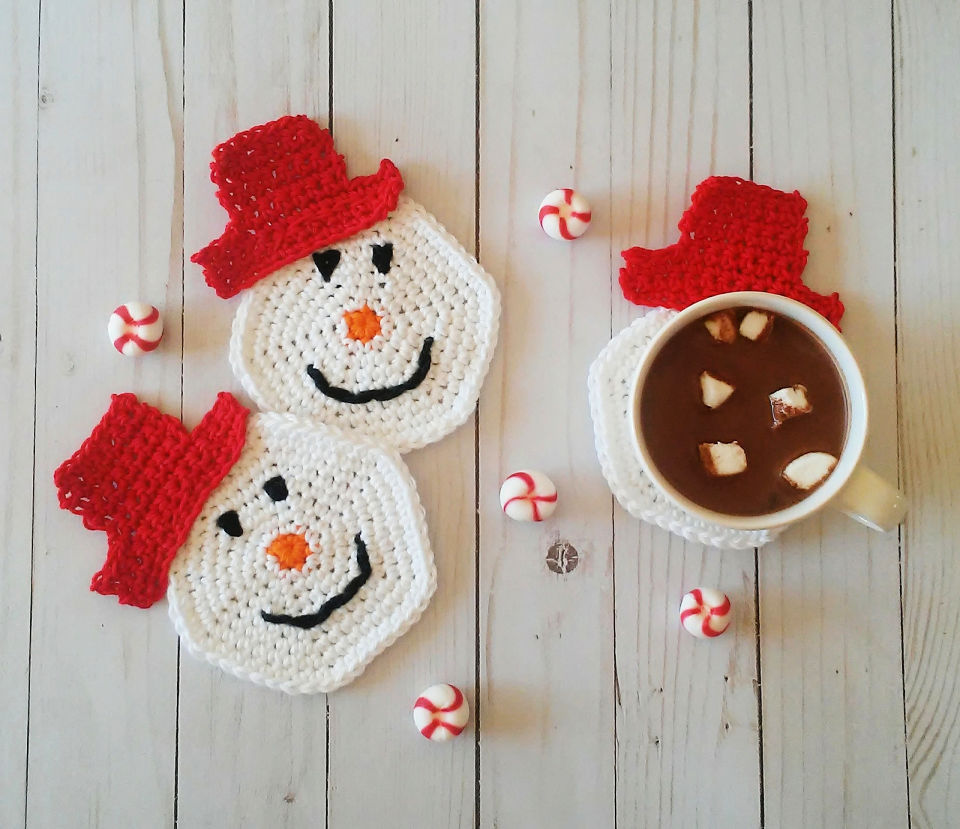 Add these beautiful crochet snowman coasters as a placemat on your dining table on the next auspicious holiday Eve. But, they are not specifically for holidays, you can use them as snowman table decorations in any season! Start off your coaster journey from building a magic circle then, off to further stitches like the chain, single crochet, turn and slip stitch with the 5mm of the crochet hook. Get started already! okiegirlblingnthings
Yarn: I love this cotton.
Hook: 5mm
17. C2C Crochet Snowman Mini Scarf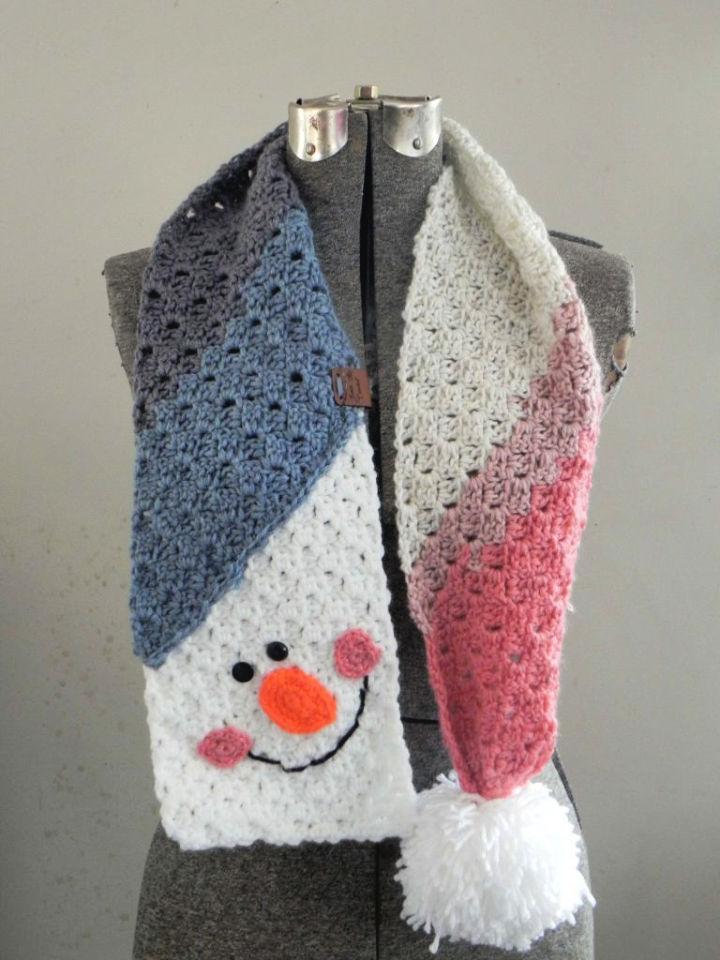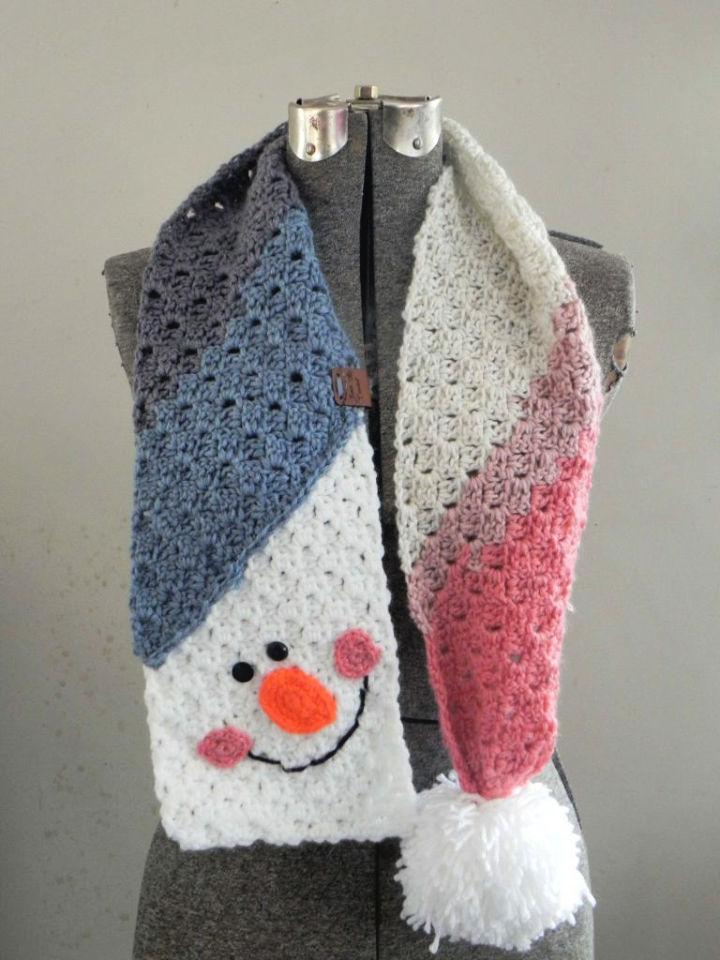 When you are up to crocheting something on-trend, crochet this snowman mini from the c2c crochet technique. The corner to corner stitch always produces a textured outcome so, get ready to have a fluffy and cozy scarf to pass your winters. Customize this scarf to any length, keeping in mind the height of the person you are crocheting it for. Take help from the size chart. Moreover, use a 5mm crochet hook to obtain an adequate gauge. jamieleecrochet
Yarn: Red Heart super saver (white, orange, pink, red)
Hook: H/8 5.0mm
18. Free Mini Snowman Crochet Pattern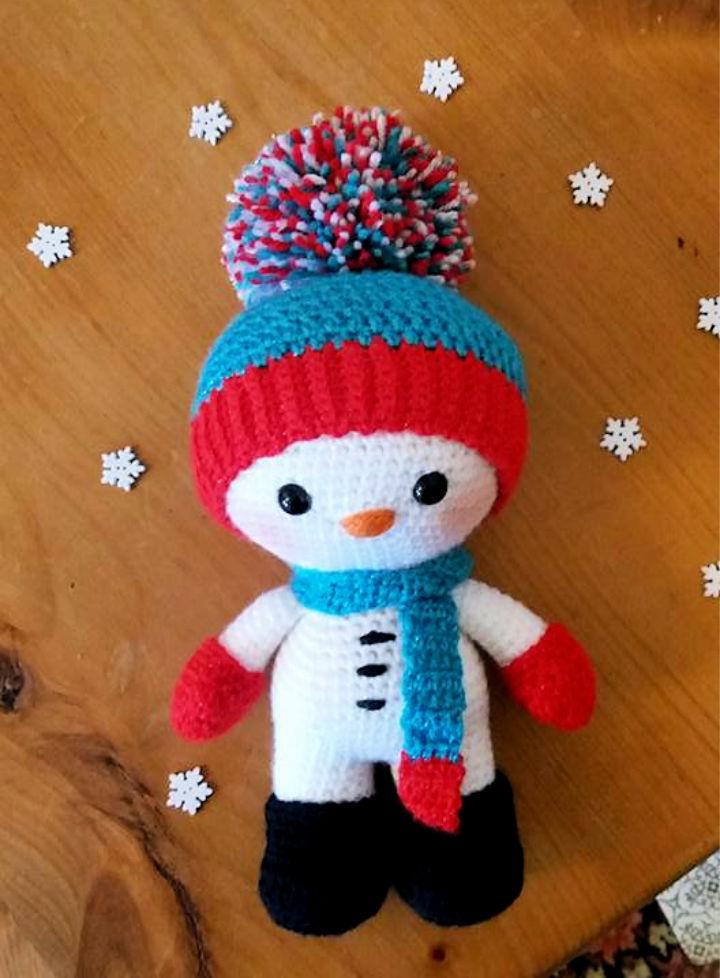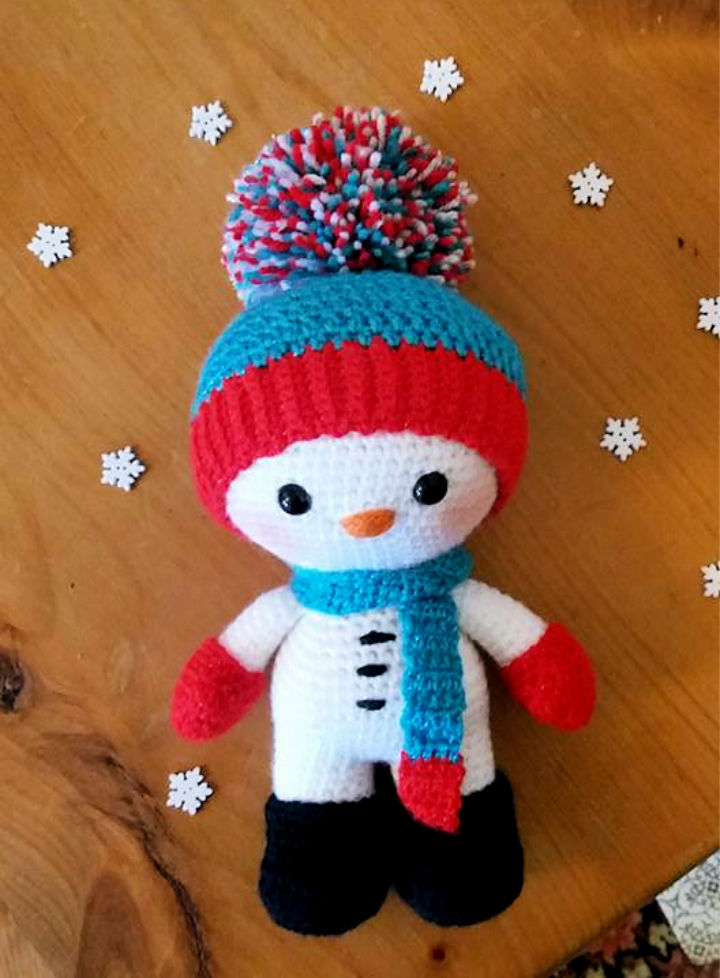 Grab this free crochet pattern and start working upon this snowman, a cute wee bee doll that wants you to dress her prettily. The crochet pattern consists of snowman, hat, scarf, mittens, and boots so that you can have a complete guide in hand. With the usage of 10 plies of worsted weight yarn and a 3mm hook, your doll will stand around 8.5 inches tall. The good part is you have to crochet this project in one go from head to toe. ravelry
Yarn: Worsted / 4 / Aran /10 ply weight yarn
Hook: 3mm
Finished Size: 8.5 inches
19. Crochet Snowman Ornament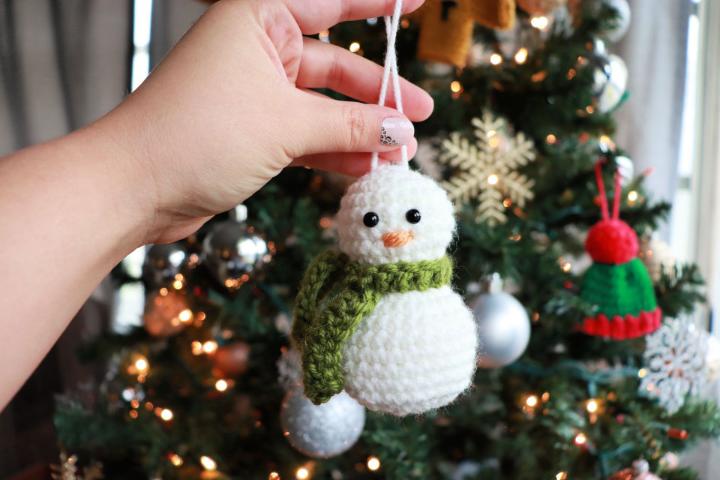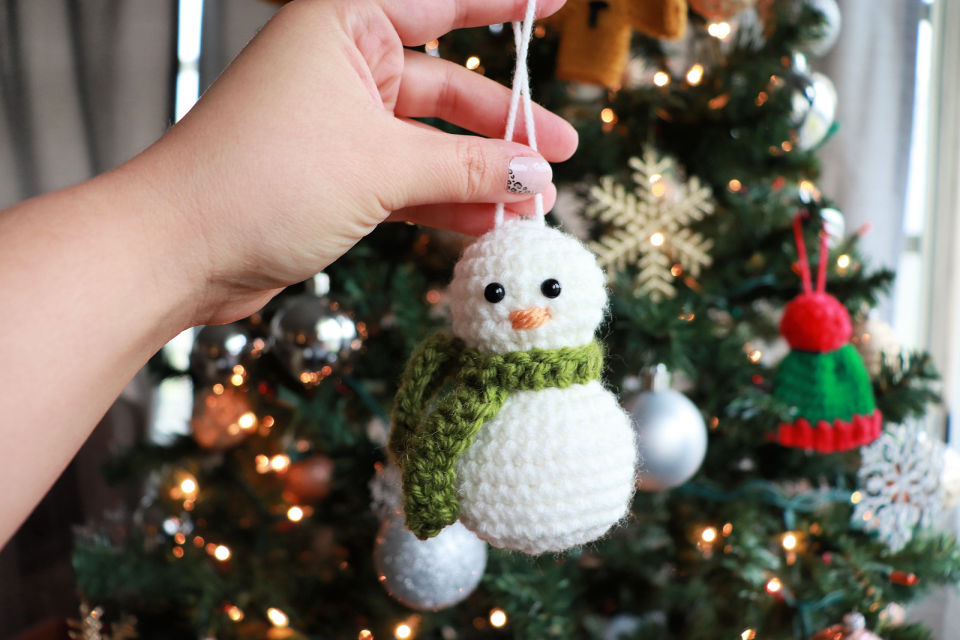 Add this crochet snowman ornament on the trees and give the decoration of the tree some crochet touch. It is a cute little "Olaf" shaped snowman that can be made with a bit of worsted weight yarn in white. Orange and green and a 4mm size of hook. The finished snowman will measure roughly 4" in height. Put the safety eyes on it and fill up the polyfill to make it snuggly. mariasbluecrayon
Yarn: Worsted weight yarn
Hook: G/ 4mm
Safety eyes: 6mm
20. Crochet Snowman Ornament Pattern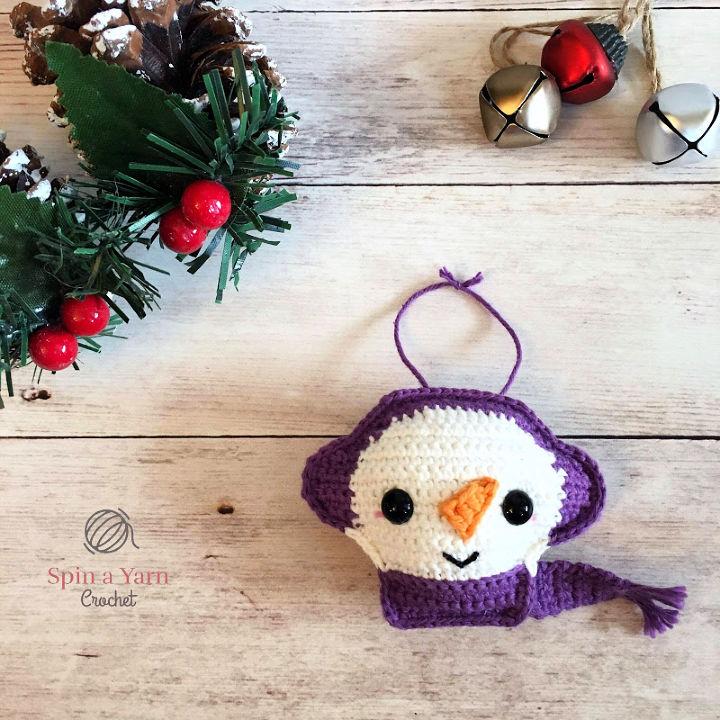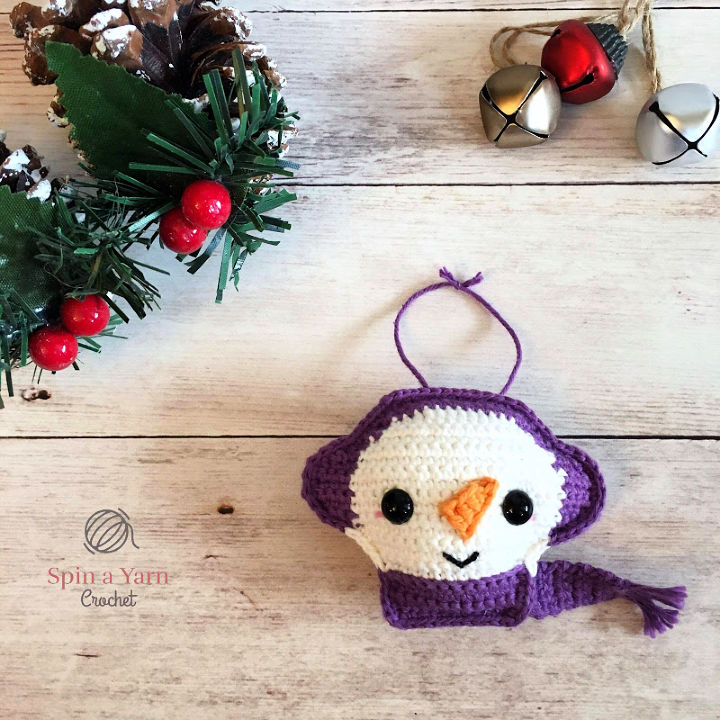 You know handcraft crochet ornaments have their own charm. This snowman ornament is a perfect last-minute gift as it can be worked up so fast. Hang it on the wall or use as a key chain. The recommended size of the hook is 1.5mm because of its miniature size. Lightweight yarn will be accurate for this project. Moreover, supplies like safety eyes, stuffing, and tapestry needle and hook will be required as well. spinayarncrochet
Yarn: Fine weight or lightweight
Hook: 1.5mm
Safety eyes: 8mm
21. Crochet Snowman Toilet Roll Cover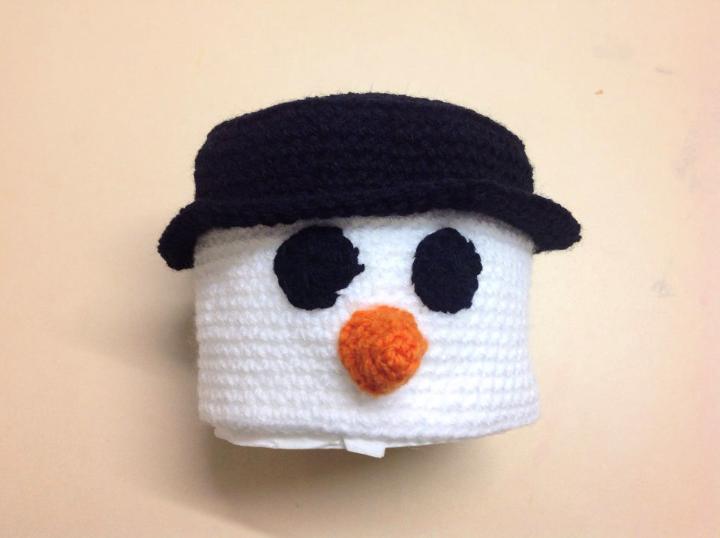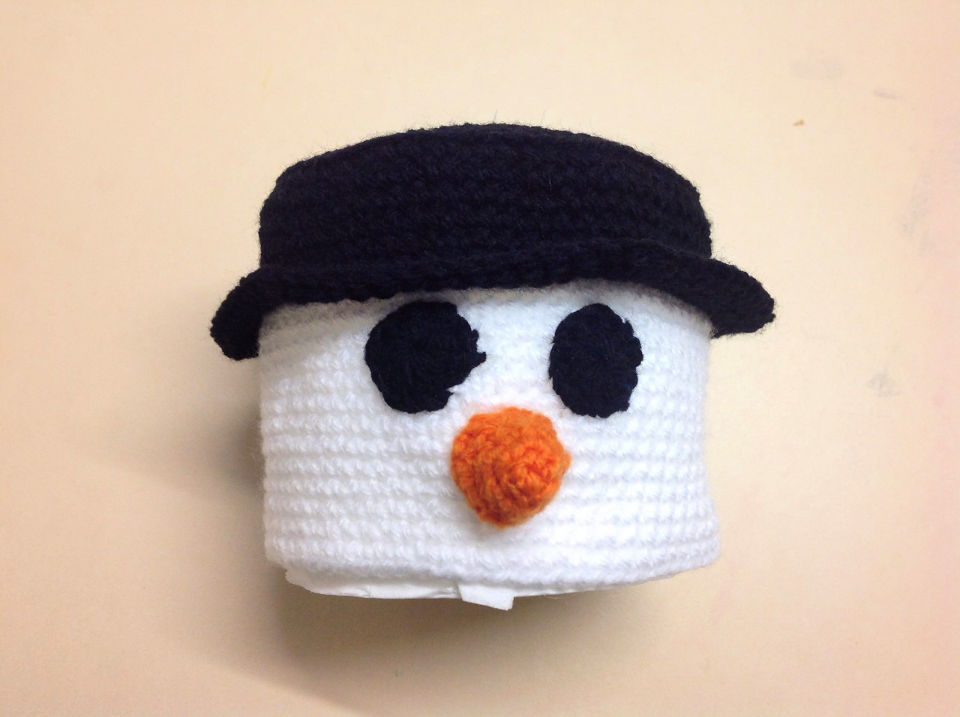 Bring the cheer and charm in your bathroom accessories too! Crochet this snowman toilet roll cover and save your toilet paper from getting wet and wasted. It's an easy-peasy fun project that will be worked up in one evening. In just 8 plies of yarn, your toilet roll cover will be accomplished. The pattern is in one standard size. Weave in the end after crocheting a panel with the help of a darning needle. ravelry
Yarn: 4 Season Marvel 8 ply
Hook: 3mm
22. Snowman With Earmuffs Crochet Hat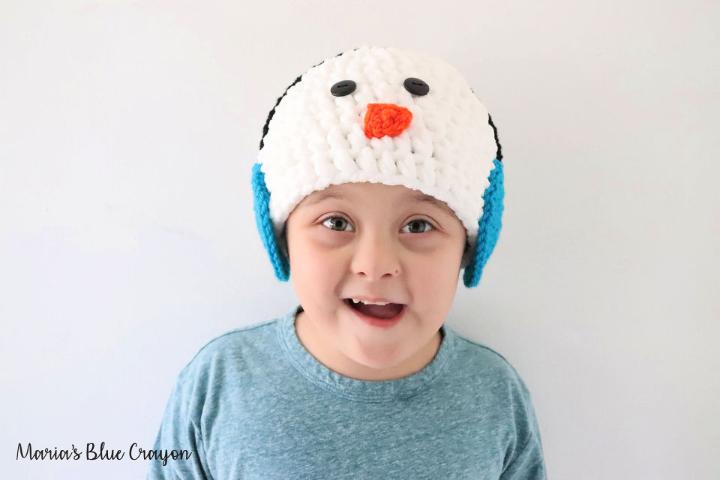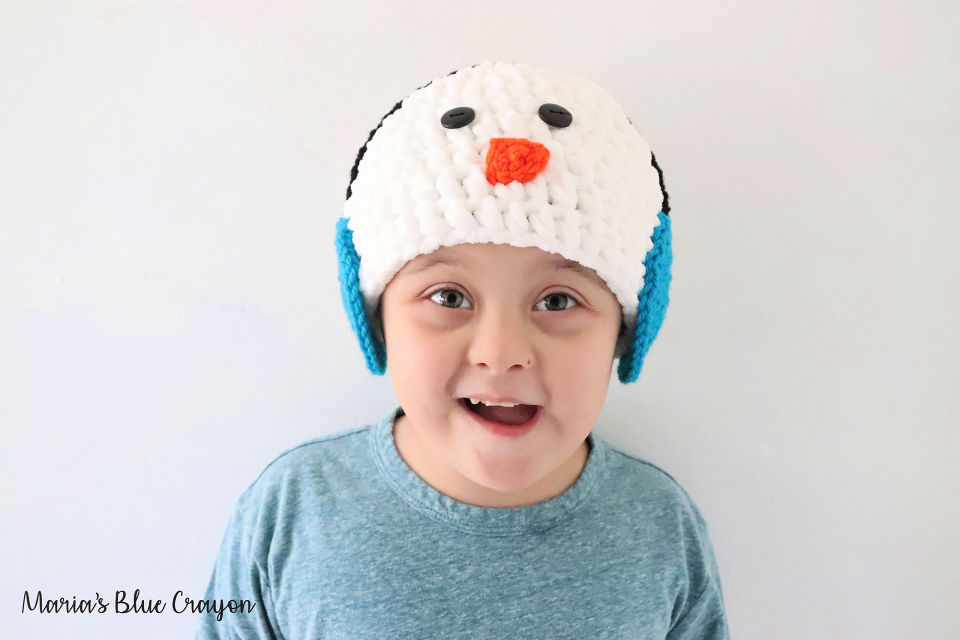 Spend your winters with the warmth of this snowman with earmuffs crochet beanie. The pattern is available in all sizes from the toddlers to the adult. The good part is, this project uses a Bernat blanket yarn that is very bulky, and consequently, very few rows are needed to finish off the hat by weaving in the ends. After crocheting the hat, sew on the earmuffs on the sides of the hat. Use buttons for the eyes instead of safety eyes. mariasbluecrayon
Yarn: Bernat Blanket and worsted weight yarn
Hook: N/ 9mm and H/ 5mm
23. Free Snowman Cup Cozy Crochet Pattern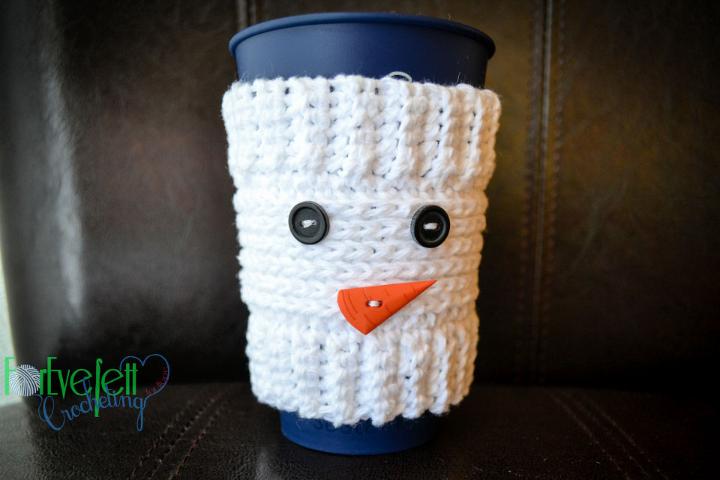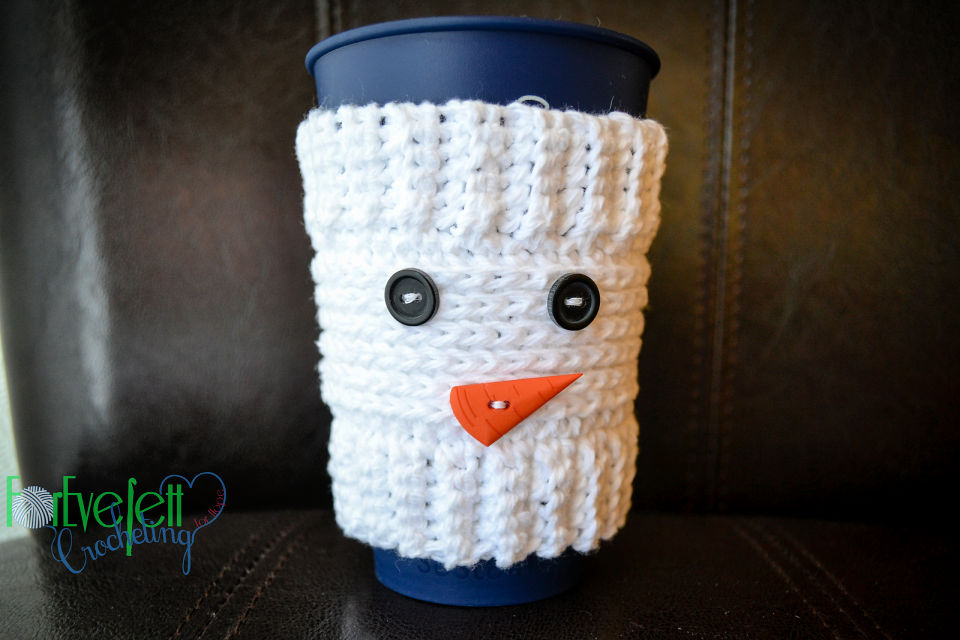 Being a coffee or a tea lover, you must know how much its hotness means to you. Never compromise over a less hot beverage again instead crochet yourself this fantastic snowman cup cozy. The pattern is simple and totally free. You will need a 100% cotton yarn for this cozy as the synthetic one can be melted away. After crocheting, close the cuffs into a circle and slip stitch or weave in the ends. foreverettcroch
Yarn: Peaches N cream worsted weight (4)
Hook: E 3.5mm
24. Crochet Snowman Patterns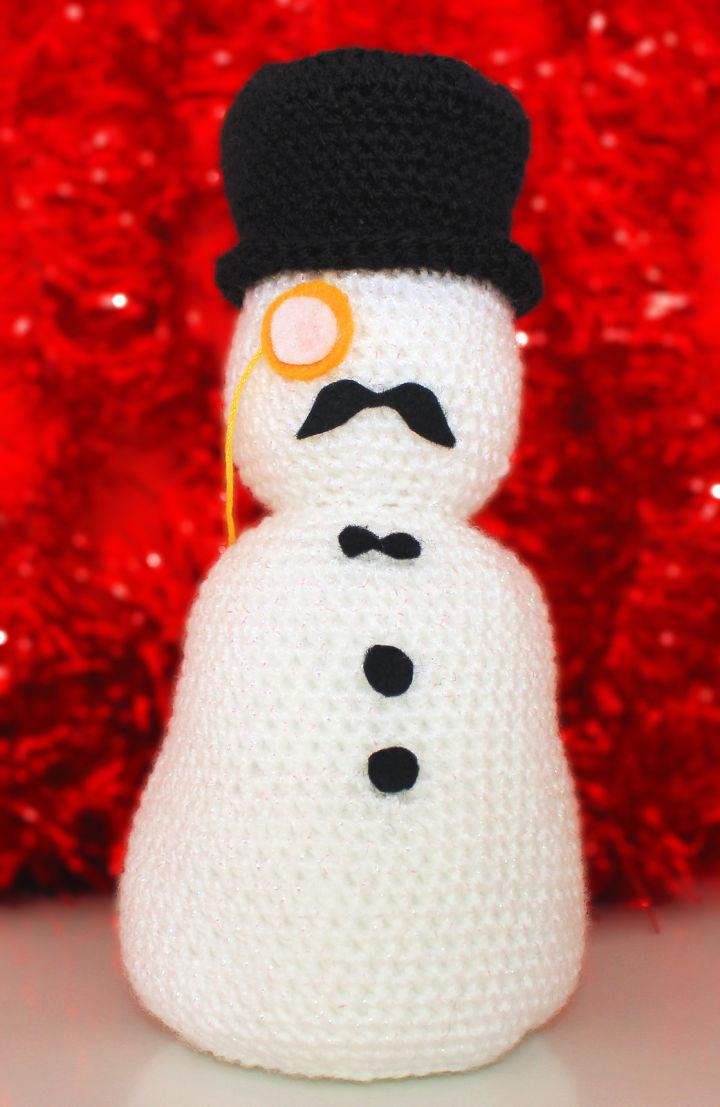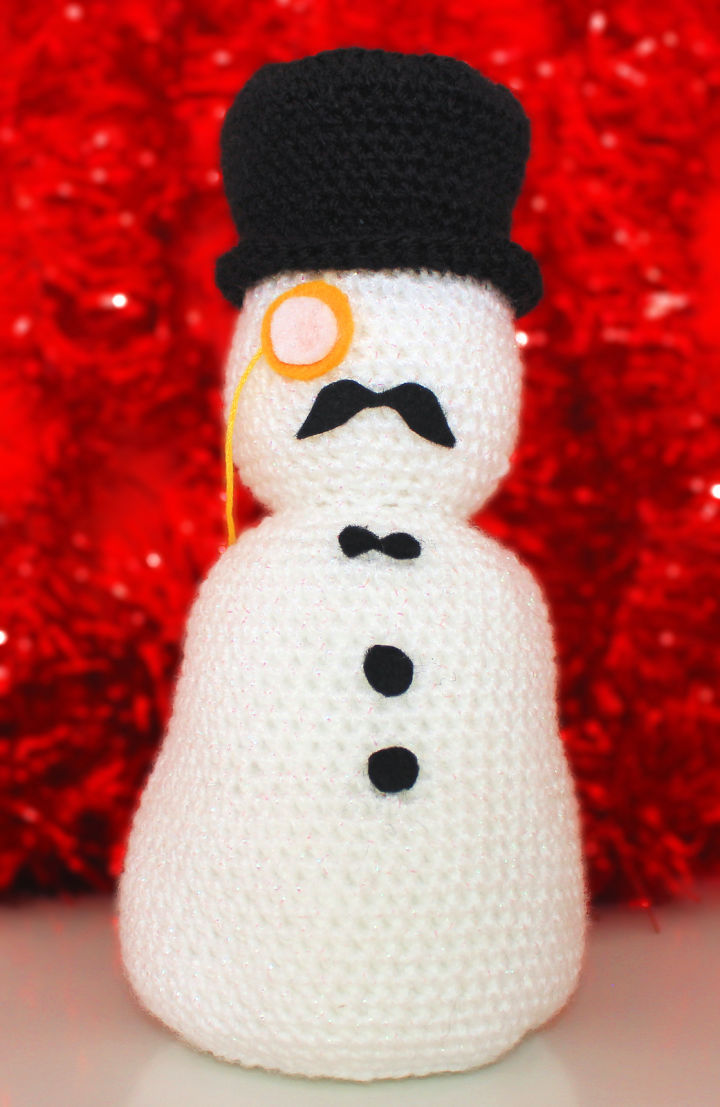 For creating a snowman, you do not need a snowy place with snowfall. You can make a snowman at a cozy space and by crocheting. Here is a simple crochet pattern for a cute little snowman. Good news! The pattern is suitable for any type of yarn and any size of hook that is available in your kit. This guy will measure around 21cm in height. Load it up with toy stuffing so that it could be perfect for snuggling in your arms. ravelry
Yarn: DK yarn
Hook: 4.5mm
Finished size: 21cm
25. Crochet Snowman Pattern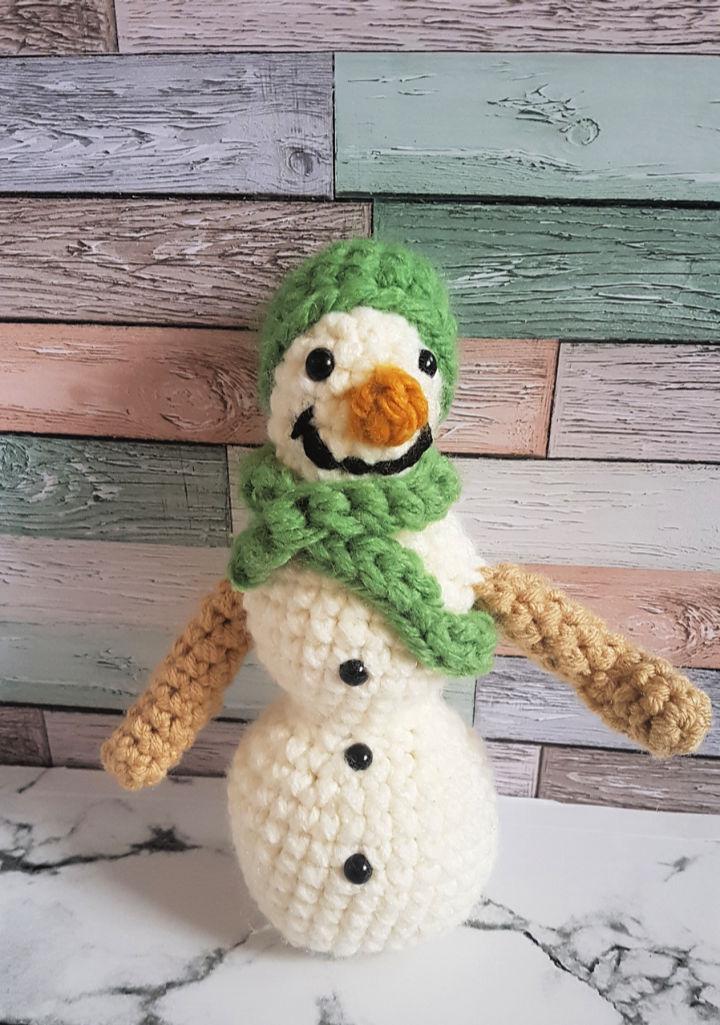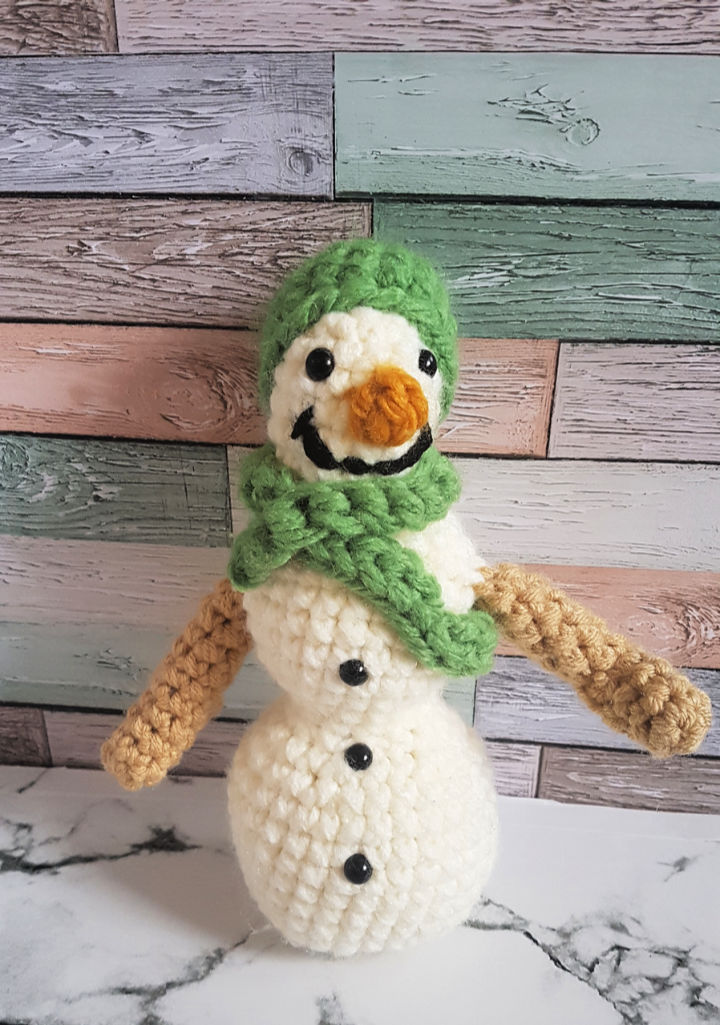 Crocheting this snowman will be mandatory when you have a die-hard fan of the frozen movie in your family. This crochet snowman will look exactly like the "Olaf". Check on the pattern and the handy tips that will be beneficial for you to keep going with this project. You will need yarn in 5 colors and a 2mm of crochet hook for the stitches, a stitch marker for marking the start and end of rows. cosycrochet
Yarn: Stylecraft Special DK (less than 50g)
Hook: 2mm
Finished size: 10 cm tall and 5 cm wide
Bonus Free Patterns: Get simple crochet rug pattern instructions and supplies to give your kitchen floor a great appeal.
Conclusion
Are you ready to try out some of these free crochet snowman patterns? Well, then you should get started right away! You may think that there's still a long time for the holiday season to roll around, but time passes by really fast. You may not expect it, but some of these snowman patterns can take longer than expected to complete. Maybe you won't have enough yarn or any decorative pieces, so if you start earlier, they will be ready around that time – no matter what! Make sure to go one step at a time. Best of luck!