Crochet rugs can bring so much character to any decor! This roundup of 8 free crochet oval rug patterns can be the best thing you will read on the internet today! Crocheting a brand new rug or recycling some old T-shirts yarn and use it to make an oval rag rug out of it! In both cases, you will end up crocheting an excellent piece of artistry. Crochet oval rug pattern looks very beautiful whether you put them outside the kitchen or bathroom, or in the center of a room. They will bring grace and character to any place you would want to put them up! All these crochet oval rug patterns are easily washable!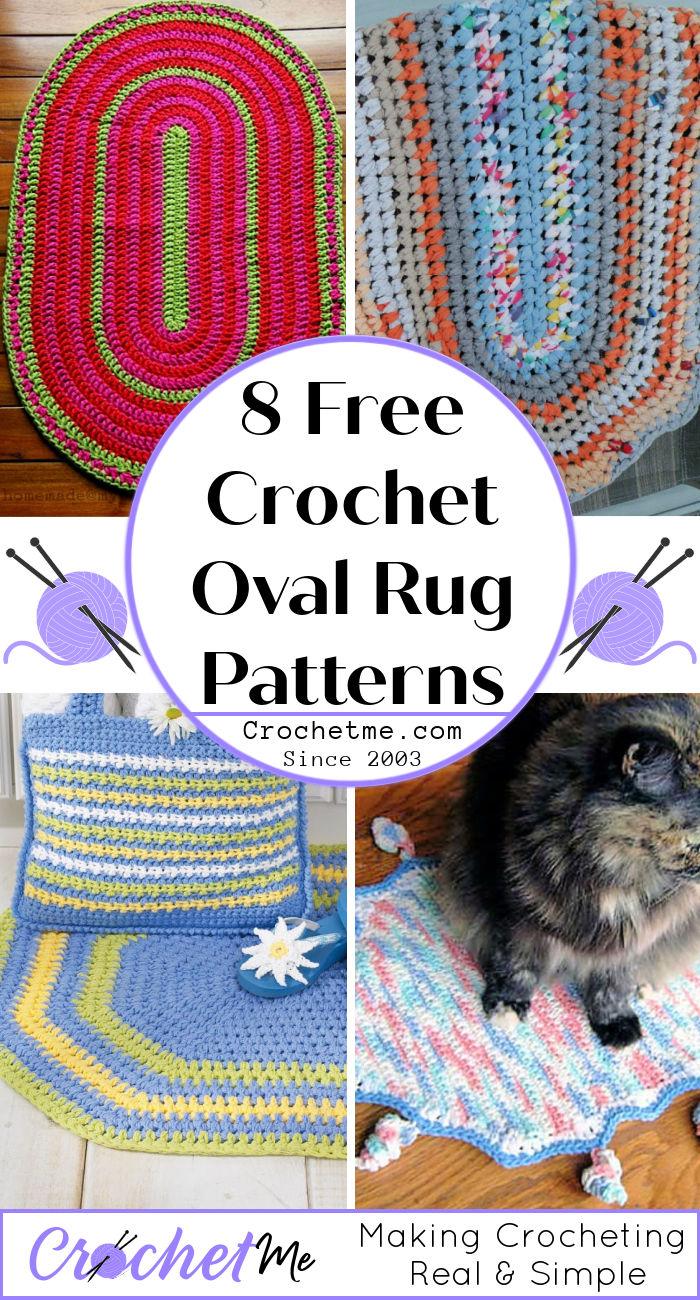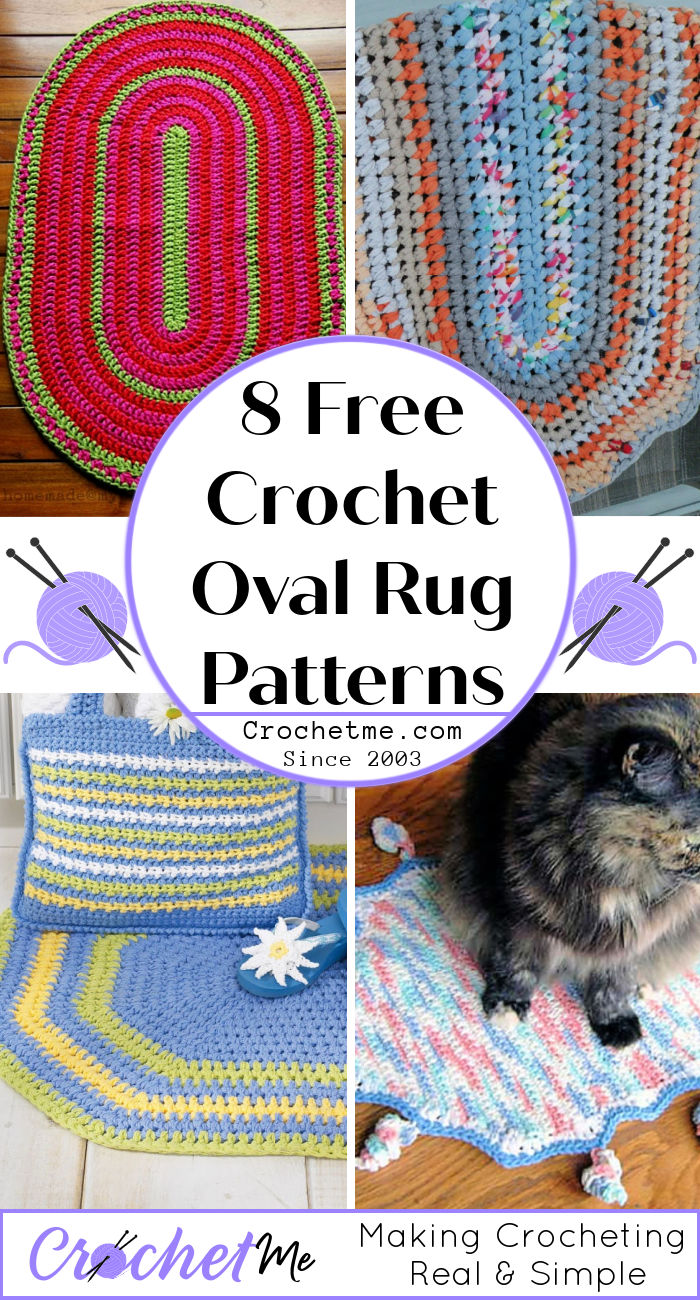 Crocheting rugs at home have numerous advantages! Because you can choose your rug pattern and color scheme as per your decor theme! Also, by investing your minimal effort and minimum budget, you can whip up a crochet oval rug pattern. The greatest benefit of DIYing these oval crochet rug is the autonomy you get to enjoy over your decor! In this article, you will find some mesmerizing ways of dealing with vibrant colored yarn and turning them into the most alluring item of your house, the crochet oval rug. Let's get started.
1. How to Crochet Oval Rug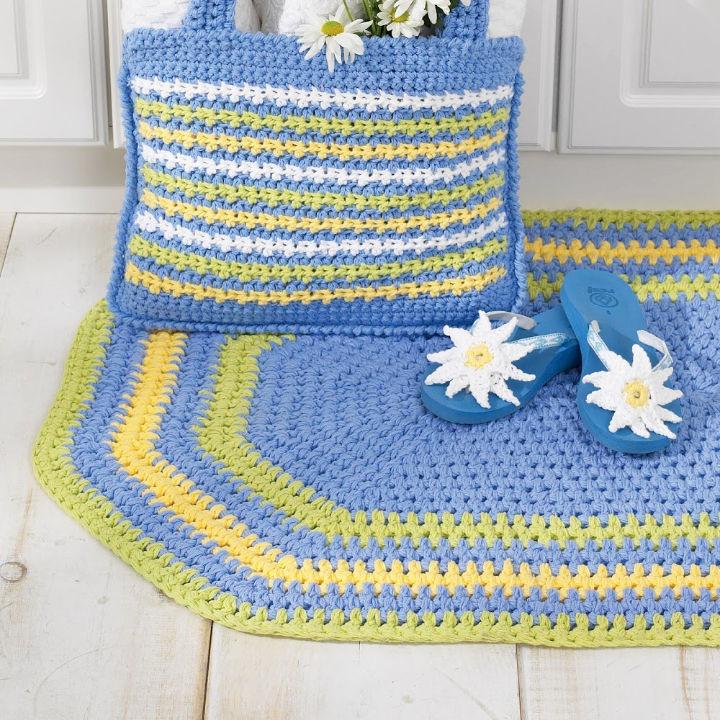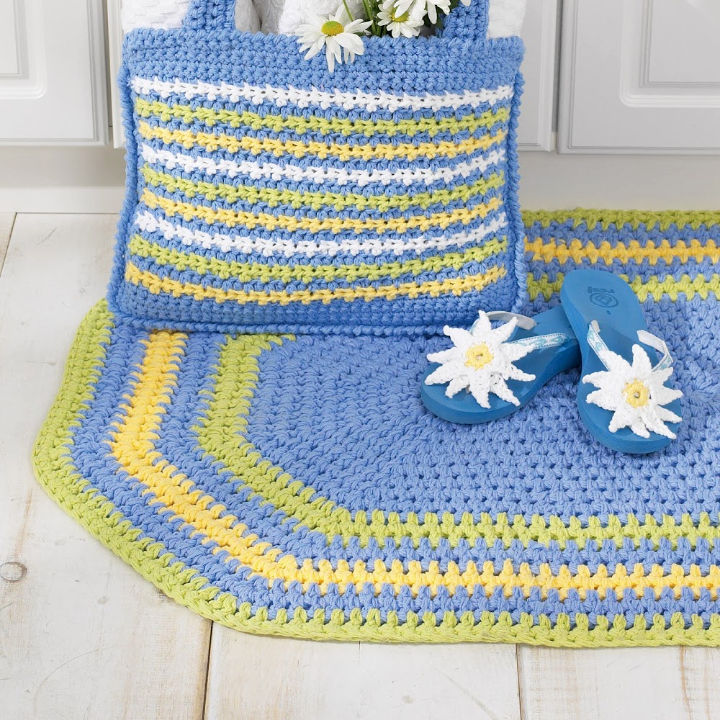 Sometimes, a crochet oval rug is all you need to spruce up your decor game in the living room. The good news is you can crochet it yourself, even having basic crocheting skills. This beautiful rug is in three whimsical colors. For approximately 30 x 40 inches of a rug, you must have cotton weighing about 50g. With 13 balls of blue, 4 balls of yellow, and 9 balls of green yarn. Also use a 10mm size of crochet hook for a better grip. yarnspirations
Cotton: Bernat Handicrafter
Crochet Hook: 10mm
Guage: 7dc and 4 rows= 10cm with 3 strands of yarn
Finished Size: 30 x 40 inches
2. Crochet Tarnation Oval Rug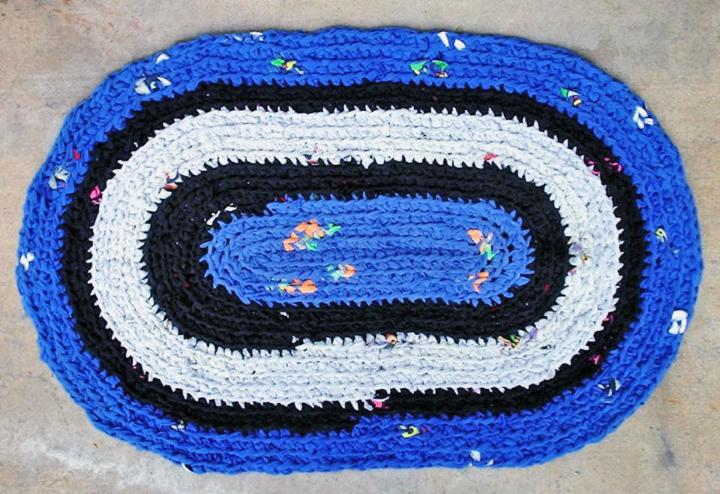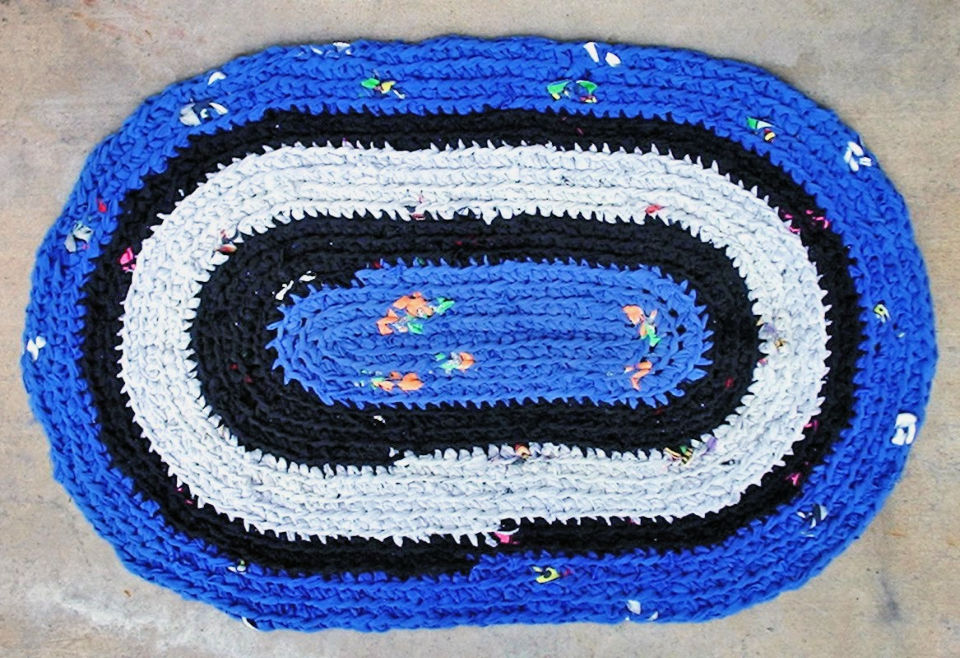 Happiness is recycling your favorite T-shirt and turning it into an amazing interior item like a tarnation oval rug. You can make this rug in any size, depending upon the number of T-shirts yarn you have available. This rug can be is machine washable and can be dried too! So you can place it anywhere in the kitchen or bathroom. For this crochet bath rug, use at least 5-7 adult size T-shirts. For more tips, you can follow the pattern. amandashappyhe
Yarn: ½''/ 1cm-width tarn, made from 5-7 adult-sized t-shirts
Crochet hook: N/10mm
Guage: 10st x10 rows = 4.5''x4.5'' / 11.5cmx11.5cm square.
Finished Size: 24''/ 61cm x 18''/ 46cm
3. Crochet Oval Rug Pattern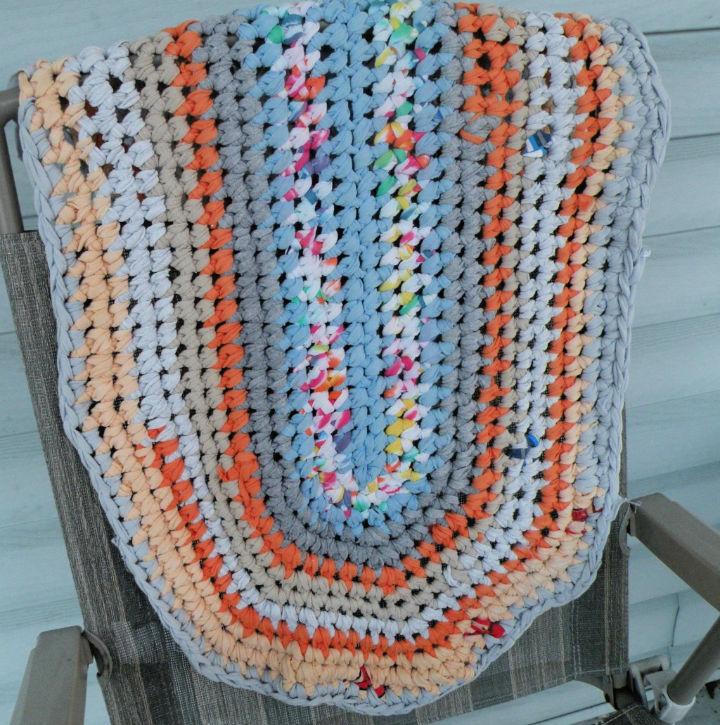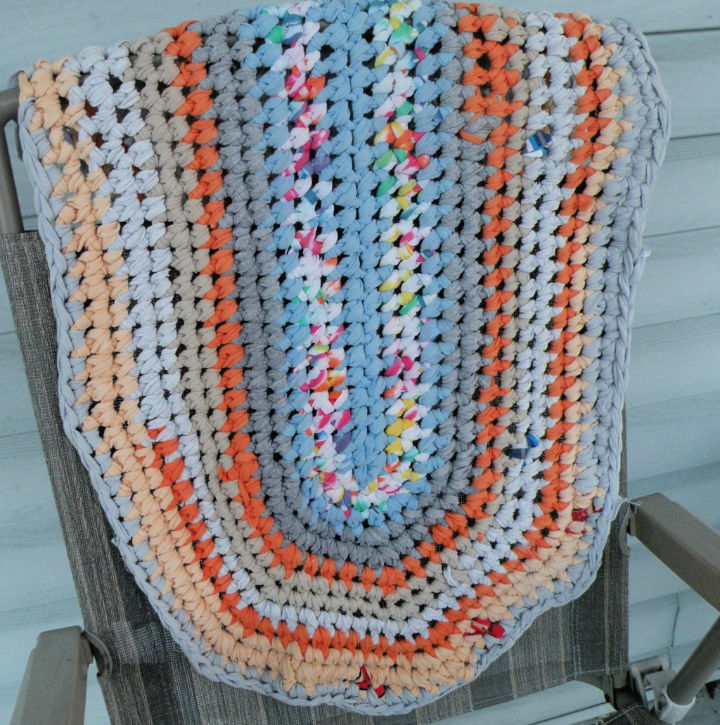 How to make an oval rag rug? Upcycling is not just eco-friendly but also beautiful! If you have an intriguing idea in mind and a creative pattern in hand, keep reading. This crochet oval rug pattern is made entirely out of the T-shirt yarn. This whole project is made by working on single crochet, so this makes it a beginner's friendly project. The size of the rug can be increased and decreased by adding or subtracting the numbers of t-shirts. Size N aluminum hook will work best for this project. feltmagnet
Yarn: 4-8 old T-shirts yarn
Crochet Hook: Size N
Finished Size: 36'' X 24'' inches
4. Free Crochet Oval Rug Pattern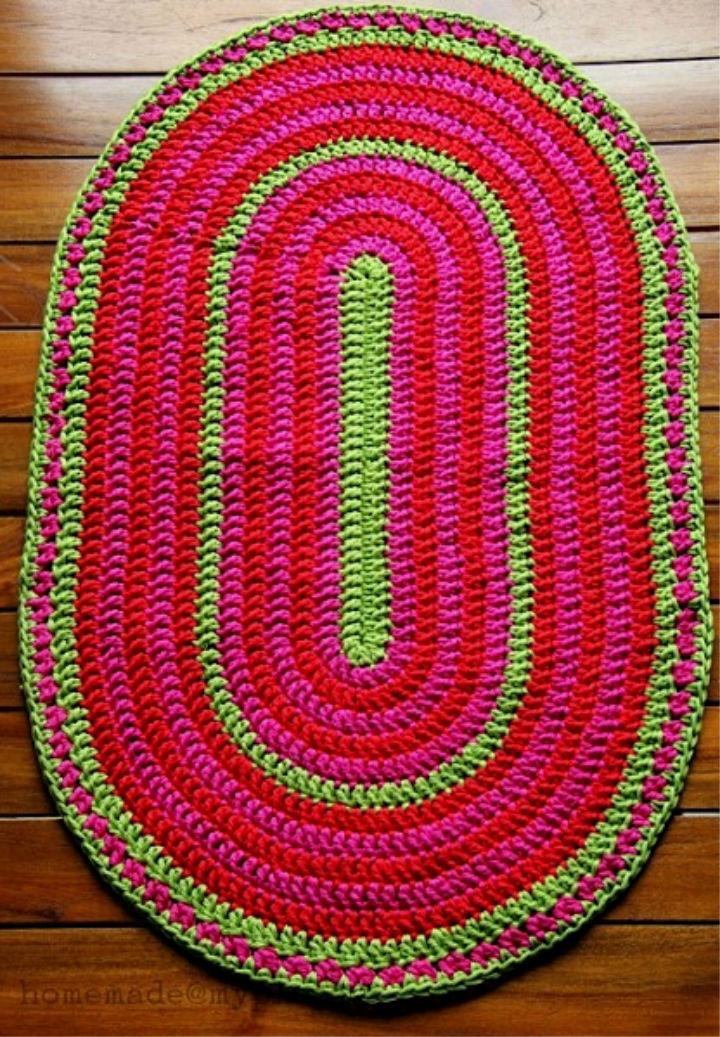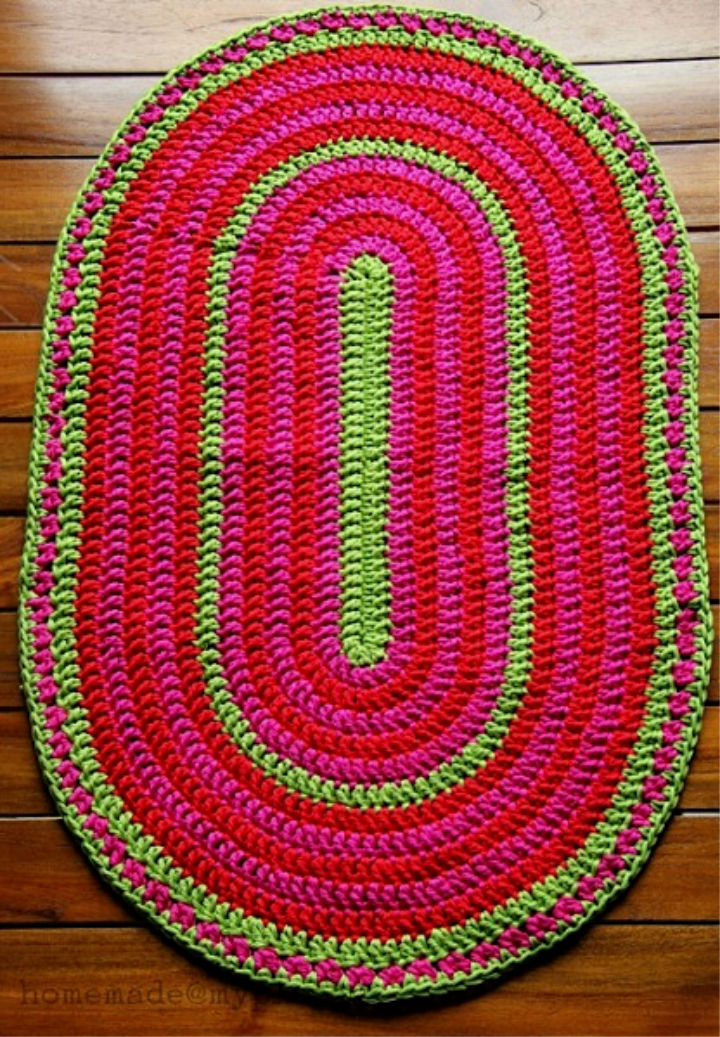 This crochet oval rug will certainly give a stunning look to your boring floor space. Because the combination of red and cyclamen yarn balls make it quite fancy. First, you have to learn how to crochet an oval, then start to crochet an Ovel rag rug. The 5mm crochet hook provides the yarn a stronger grip and tight stitches. You must follow the sequence of stitches, and in just 17 rounds, you will be done crocheting this rug. Secure the ends with the tapestry needle and cut the thread with a pair of scissors. homemadeatm
Yarn: Catania Grande (100% cotton)
Hook: 5mm
Finished Size: 57cm x 37cm from scallop to scallop
5. Pet Beach Oval Rug Pattern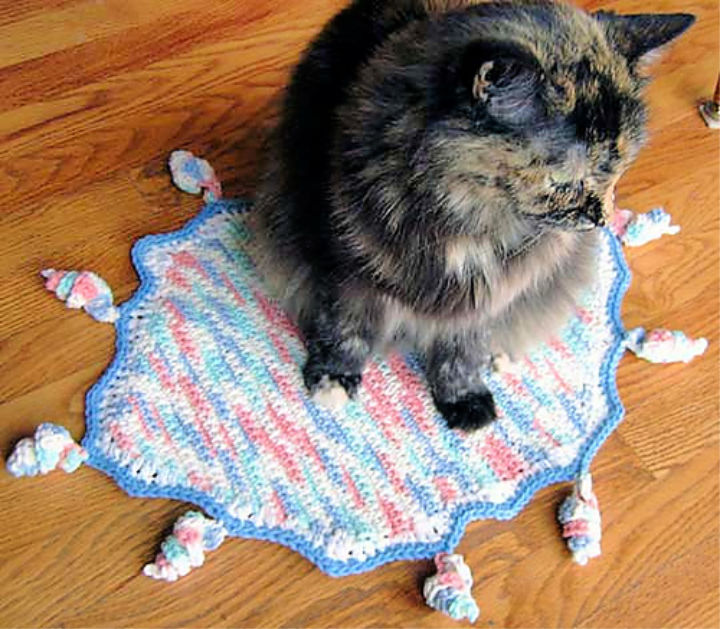 Because your pets deserve the same luxuries, this pet beach mat is going to be their favorite thing on a beach day! It's certainly going to be the favorite napping place for your kitties or doggo. This is the beauty of crocheting that you only need a few supplies and a few hours to make this perfect beach mat. Grab your 5mm crochet hook, wrap around the worsted weighted yarn and proceed with the single crochet stitches. Also, find more details below to work without any troubles! ravelry
Yarn: worsted weighted yarn
Crochet hook: H/8 (5mm) crochet hook.
Gauge: 14sts x 16 rows= 4 inches in the single crochet on size H/8 hook.
Finished Size: 14'' wide x 19'' long.
6. Crochet Oval Rug with Pebbles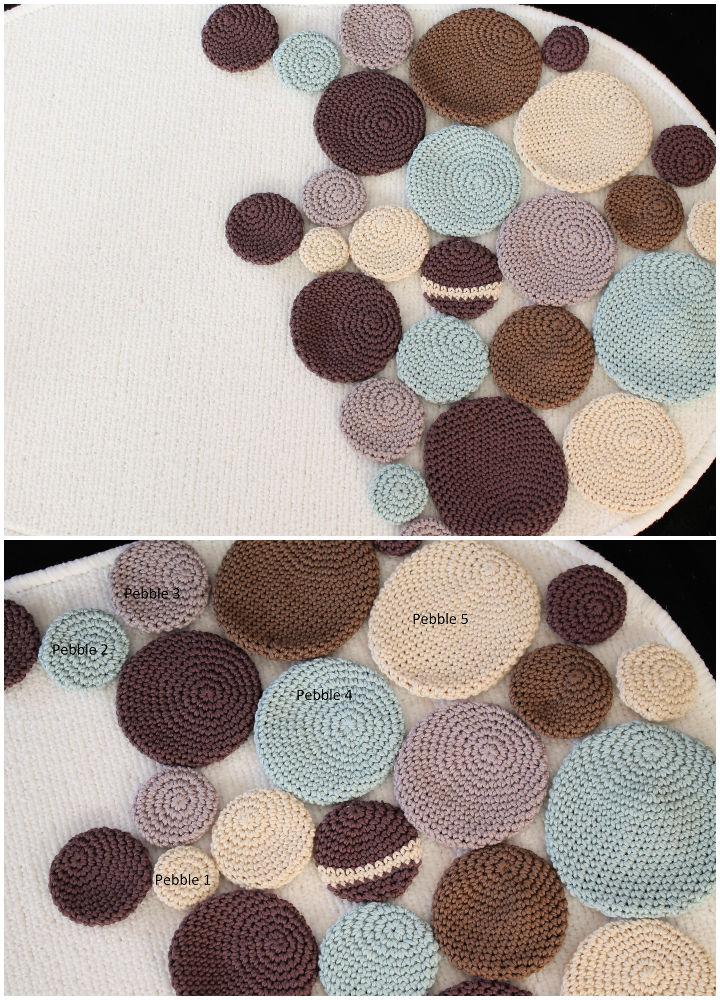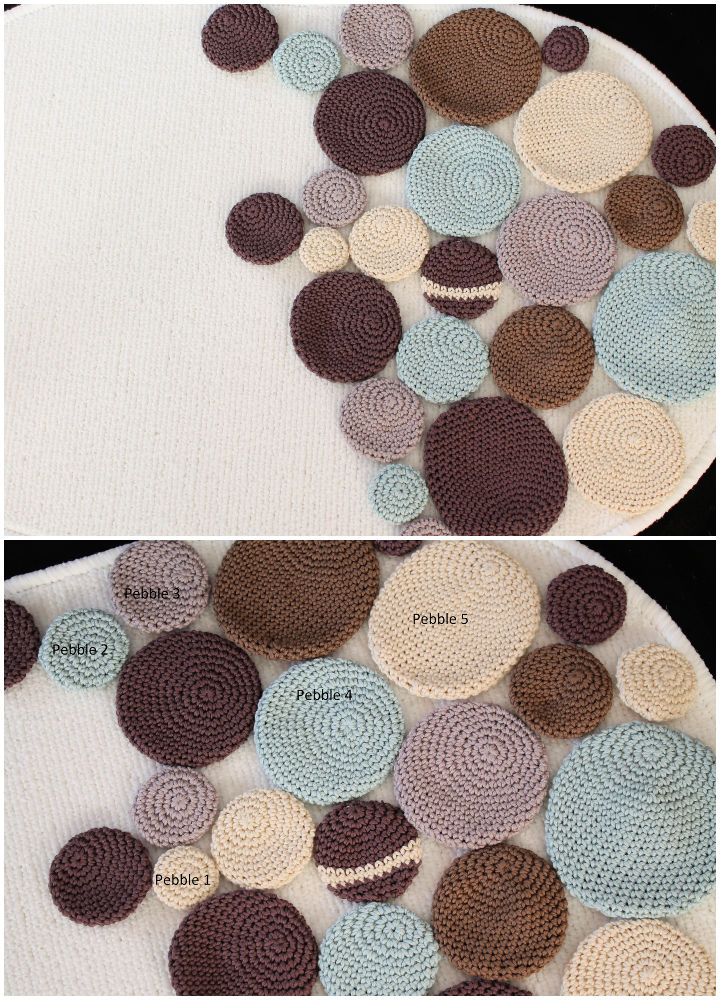 A crocheted rug with pebbles can be one hell of a catchy welcome rug that you can place on your front door. Crocheting pebbles and adhering it on the non-slip mat with glue, all of this will take just an hour or two. The small, medium and large size pebble patterns are available for your assistance, below. Moreover, they can be made out of any yarn, weave the ends using a hook. ravelry
Yarn: 160m of 4ply
Other supplies require a Tapestry needle and a pair of scissors
Conclusion
These free crochet oval rug patterns that are listed above can be crocheted in just an evening with your beginner's skills! Most importantly, they will be so chunky and appealing that stepping on them will be like stepping on clouds! They all are contemporary in style and design. Whether you are using stash busted yarn from discarded T-shirts or bulky/ chunky worsted yarn, the rug will come out so beautiful if you keep following the pattern. Use this rag rug to spice up any boring spot of your home. So just play with the free patterns to make a wide range of these crochet oval rugs!
Crochet Tablecloth: Check out our free crochet tablecloth patterns that comes with detailed step by step directions to crochet the very best in unique or custom, handmade pieces.