The style, comfort, and texture are the main elements to bring prominence to a particular room or living space. So, go with these 10 free crochet floor rug patterns that will provide all these elements taking the decor of the space to the next level. Moreover, crochet floor rugs will be super soft to walk and sit on, so it can be the perfect playing, reading, and relaxing nooks too for the kids. Place these crochet yarn rugs on the tiled, hardwood, and laminate floors, and they will be a smart choice for the wall-to-wall carpeted floors too. The rugs help in noise reduction and will surely have a positive effect on the allergens too.
Browse this collection of 10 easy and free crochet floor rug patterns that will surely enhance the visual appeal of an interior and will be a pleasure to stitch even with your beginner crochet skills. Crochet them in rainbow-striped appeal or in the little ocean waves visual. You can choose any design that will compliment your room decor.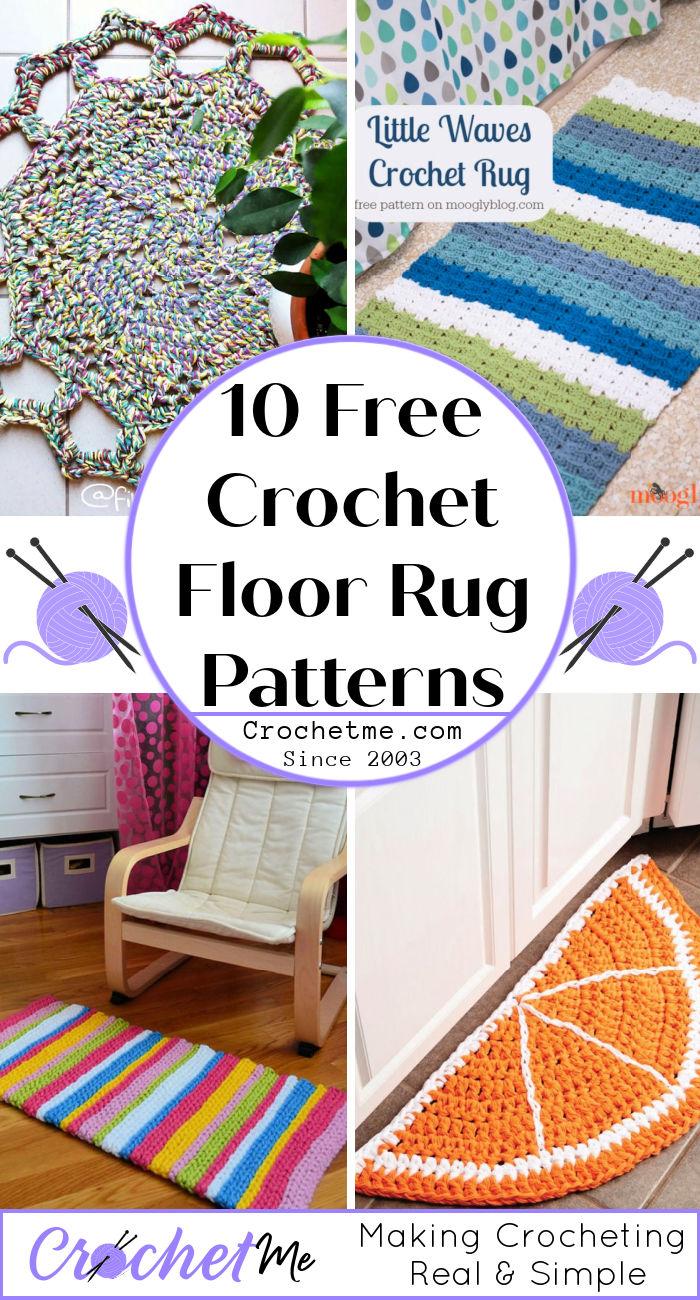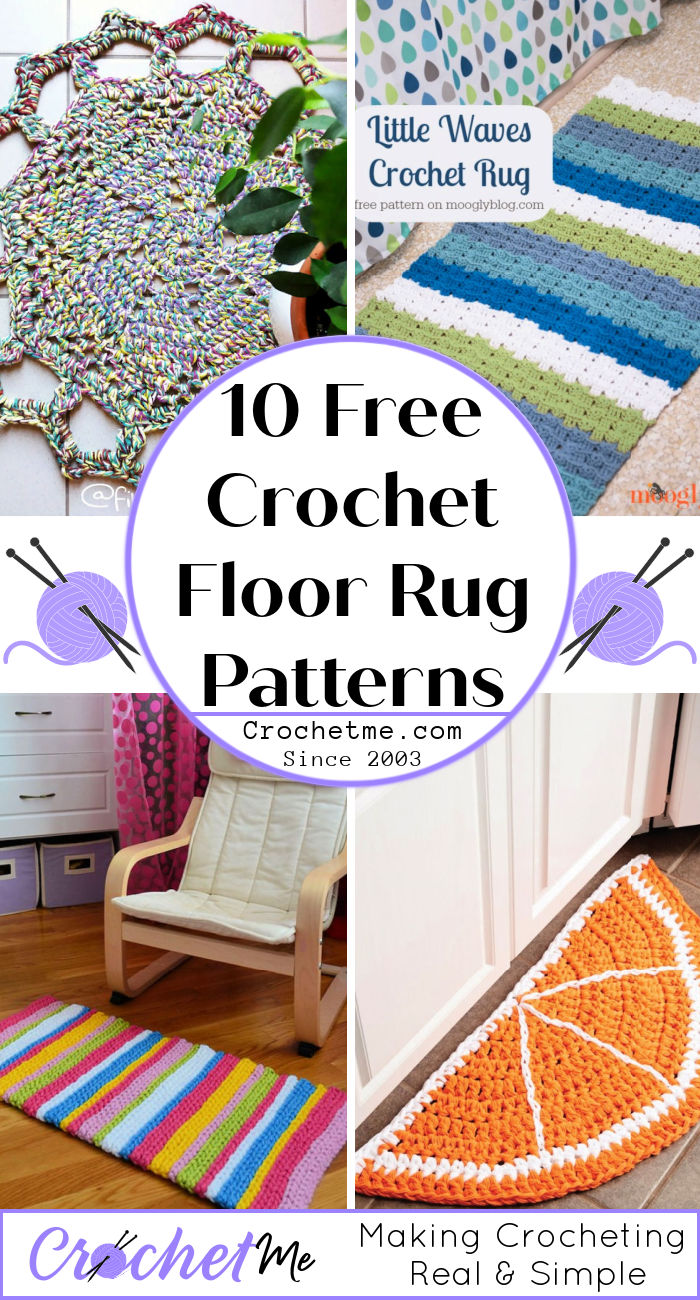 Due to being super soft, these crochet rugs will bring a high-value comfort to an interior space. Unlike the hard surface flooring, rugs have a greater insulating value, which you can increase more by adding pads under the rugs. From medium weight to chunky to super chunky, you can crochet any type of rug using the respective yarn. Here you are going to see a variety of round, and rectangular rugs that will surely hold your attention.
Also, check the stitches and abbreviations guide to understand and read the crochet pattern easily.
1. Stripey Spring Floor Rug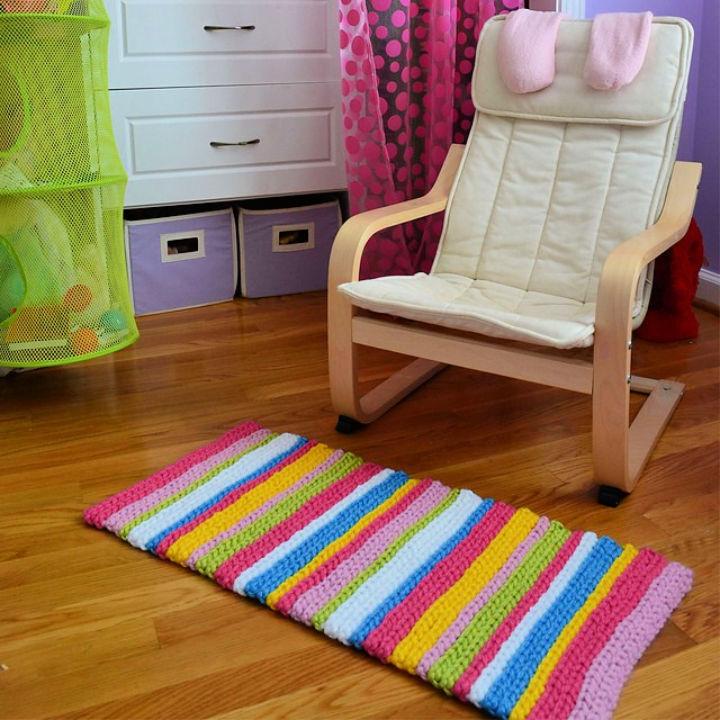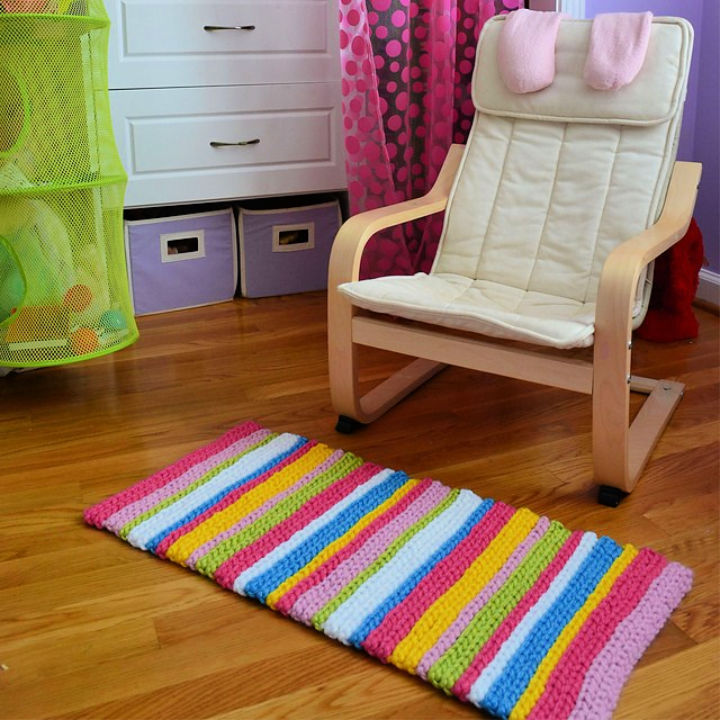 Do you wish to indirectly add some missing colors to your room decor? Then opt for this striped spring floor rug, will bring tons of warmth and comfort too in the targeted space. It will absorb sound and hence will in noise reduction, and that best part is, you can get it all free. Crochet super bulky yarn weight 6 with a P hook size to whip up this colorful spring rug. A nice way to celebrate the spring colors. Details here crochetincolors
Make also the fruit slice rugs for a big wow factor to your space. Here you will get instructions also about how to crochet custom rugs with custom overwritten messages. Use the c2c crochet pattern to stitch lovely rugs with outstanding art shapes and designs. Take a tour of all these Free Crochet Floor Rugs to get your crochet creativity inspired.
2. Crochet Circle Floor Rug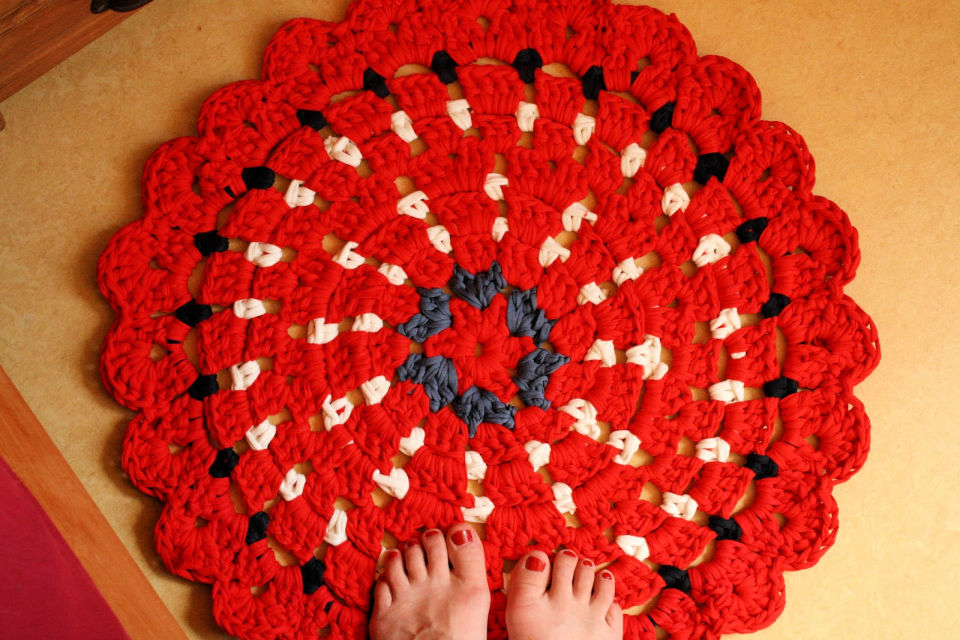 Add new decorative dimensions to a particular room ambiance with the cool addition of this crochet circle rug. The absorbing design will impress at a very first glance. The right pattern for advanced beginners. Add and remove the rounds to crochet a custom size of it. Stitch the Zpagetti yarn to crochet this circle floor rug made. You only need one cone of yarn for this rug size that is 65cm in diameter. The 12mm hook size is just perfect for this circle floor rug crochet pattern. Details here busyfingersbusy
3. Citrus Slice Floor Rug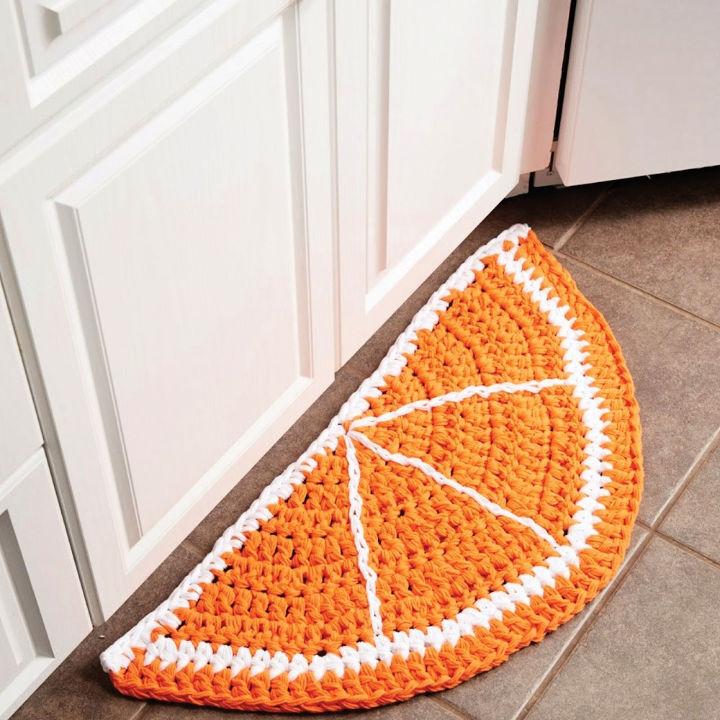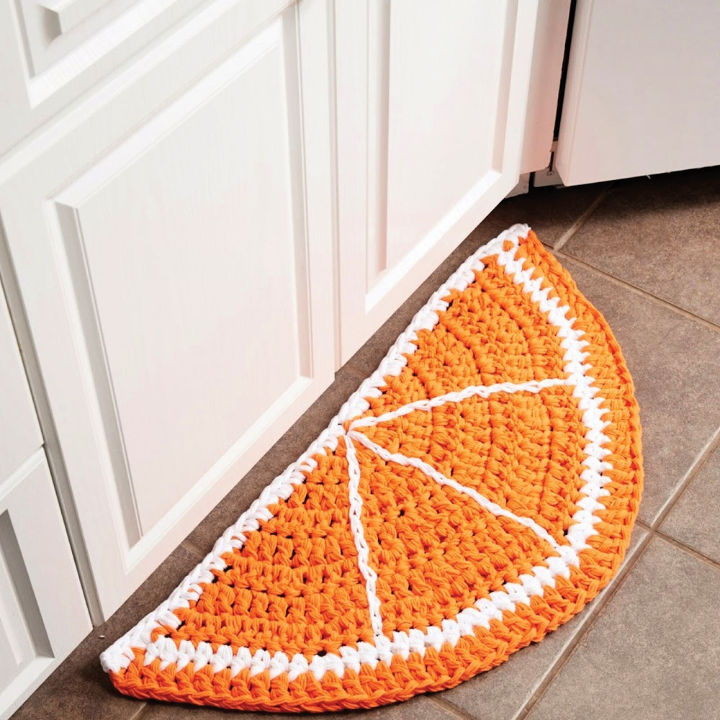 Let this citrus freshness of this floor rug brighten up your spaces. A best fruit slice floor rug that every beginner can crochet with great ease. Crochet Lily Sugar's Cream yarn to stitch rug. The best fun design of rug to crochet right in the comfort of your home. Give it also as a great housewarming gift to a new homeowner. Start crocheting in rounds to make this fruity floor rug. Experiment it with various other colors to come up with other fruit slice look. Details here yarnspirations
4. Free Crochet Floor Rug Pattern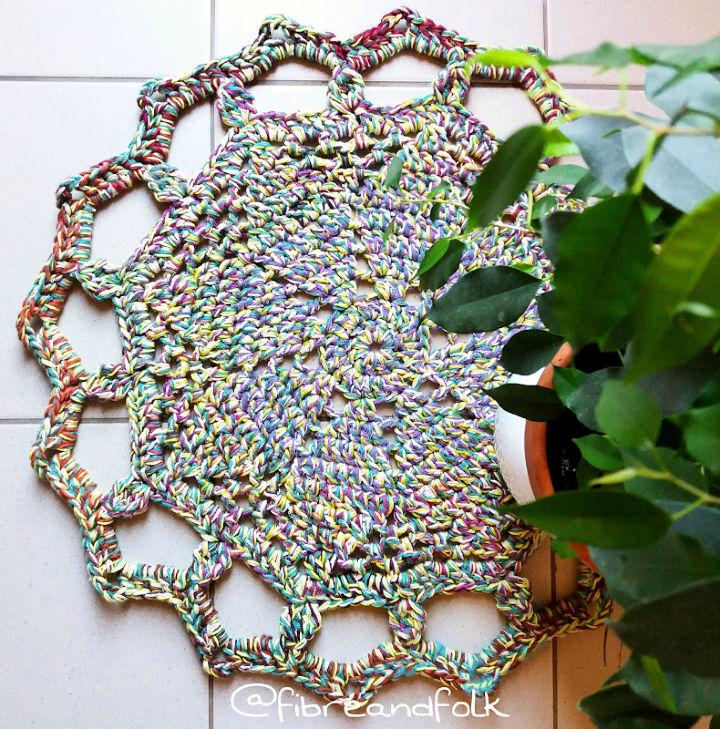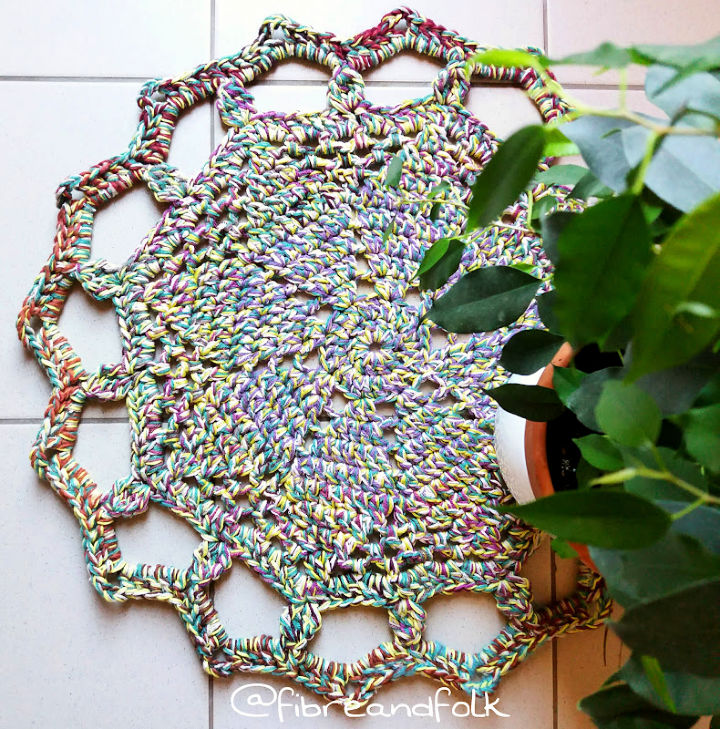 The finish of this crochet floor rug comes with a 63cm diameter. Crochet 310g of threads by working with 4 threads together using an 8mm hook to stitch this floor rug. Here the reduction technique has been used to crochet this fantastic floor rug. The design impresses with the flawless lacy or open ending that adds a lot to the overall beauty of the design. Another great crochet round rug to add to your space for enhanced visual and comfort. Experiment with this rug with your own choice of yarn colors. Details here fibreandfolk
5. Basket-weave Chunky Floor Rug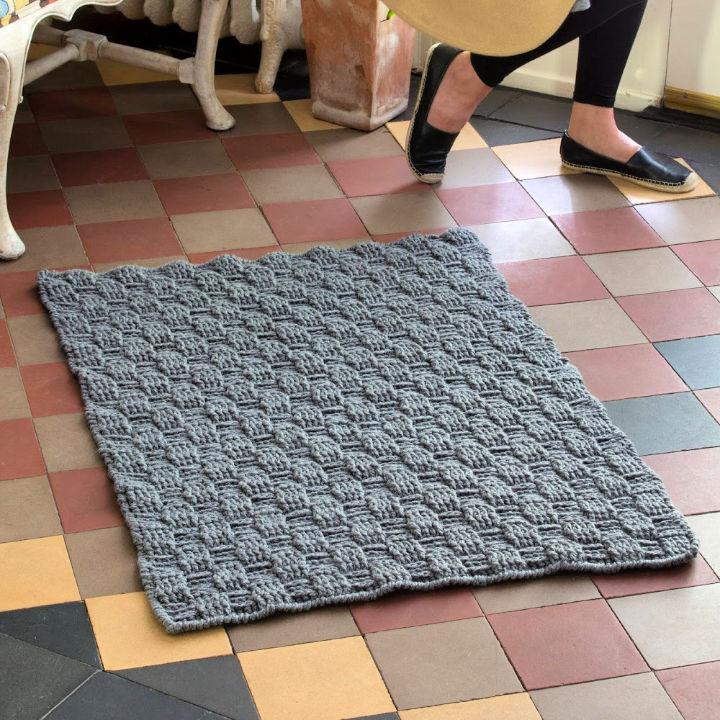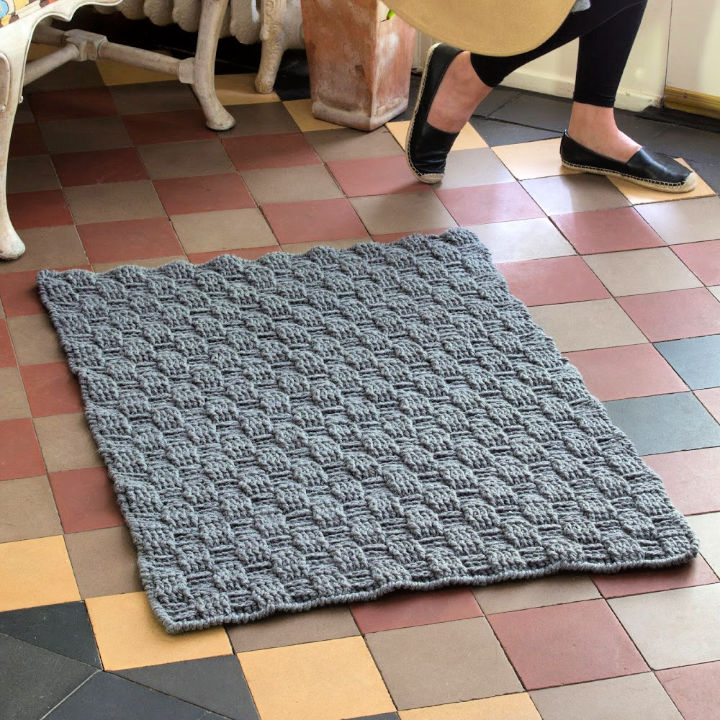 Are you having a great rush of people walking in-home on the carpets? Then provide an additional layer of protection to your carpets using this chunky floor rug. Work in the basket-weave stitch while crocheting Red Heart Comfort Chunky Yarn in the color of choice to get this floor rug made. It will surely bring comfort to your spaces along with adding a lovely basket-weave texture that will make your space look stand out. Details here yarnspirations
6. Lazy Eye Floor Rug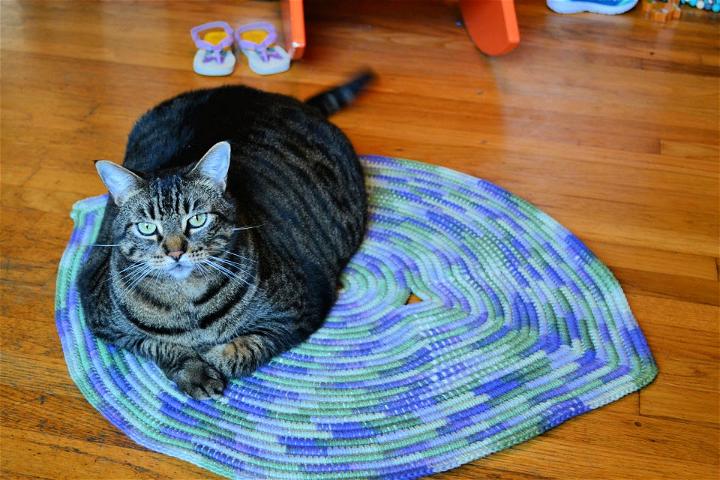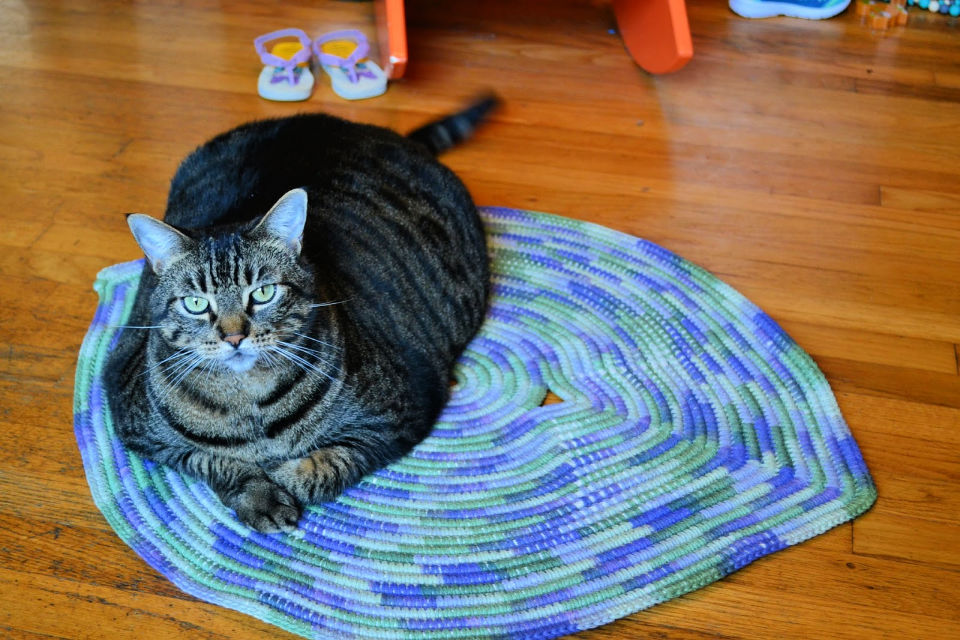 Enhance the visual grace of any space by adding this lazy eye floor rug, will provide protection to your carpets too. You need 5 skeins of Lily Sugar'N Cream yarn and 100ft Hank Wellington Braided Multi-Purpose Cotton Sash Cord of Medium Weight to stitch this lazy eye floor rug. Use the size 4 hook for this crochet rug pattern, and 13 stitches x 5 rows will be the gauge for this rug pattern. The finished size of this rug is 27.5" wide and 24.5" tall. A one of the best Free Crochet Rug Pattern. Details here gridmammalcr
7. Fallen Arrows Floor Rug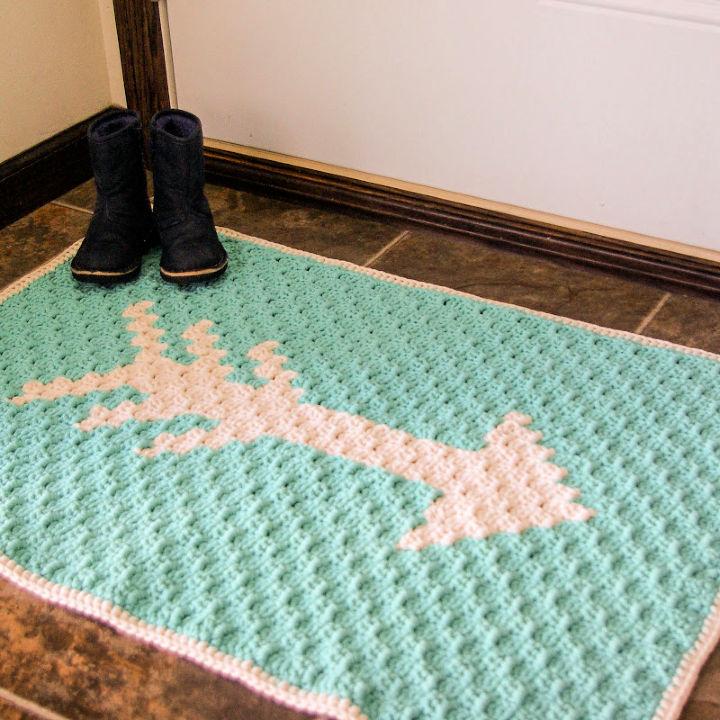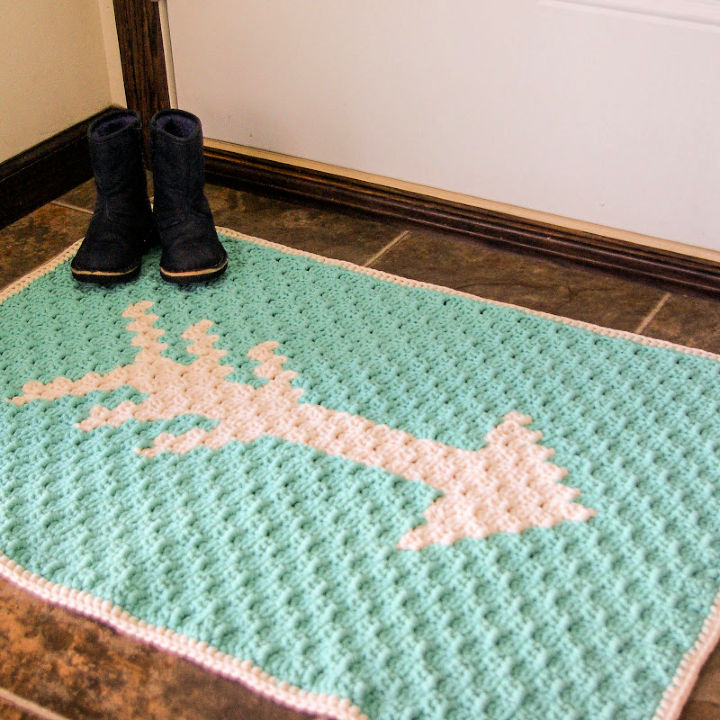 Make any interior look visually prominent by adding this fun rug design, the fallen arrows floor rug. You have to be expert in c2c crocheting technique to nicely stitch this fallen arrows floor rug. Opt for noise reduction and for added comfort in a room space. For this rug, crochet Bernat Maker Home Dec Yarn with 6mm crochet hook and get a grip cloth fabric to add as non-skid backing to this rug. The finished size of this rug is 21" x 31". A one of the best rug with finely incorporated shape. Details here leftinknots
8. Extreme Crocheted Rug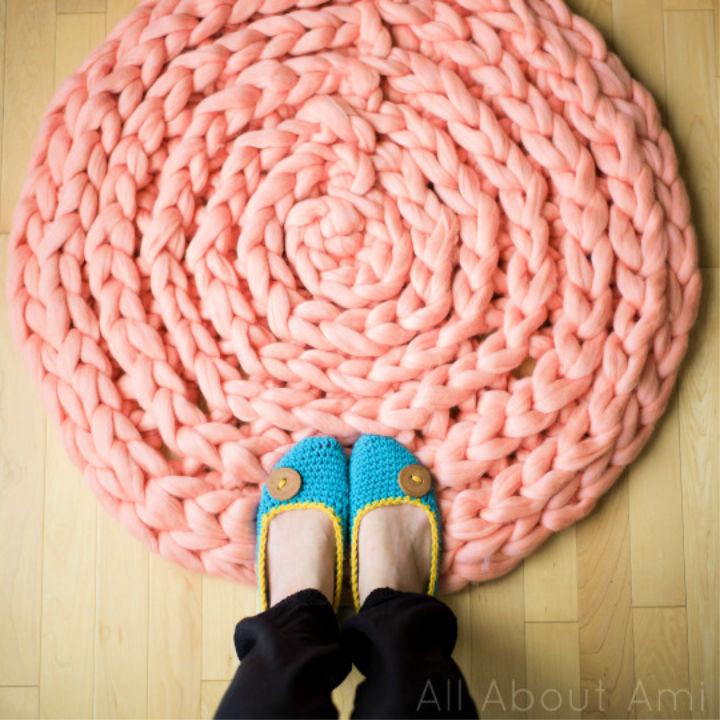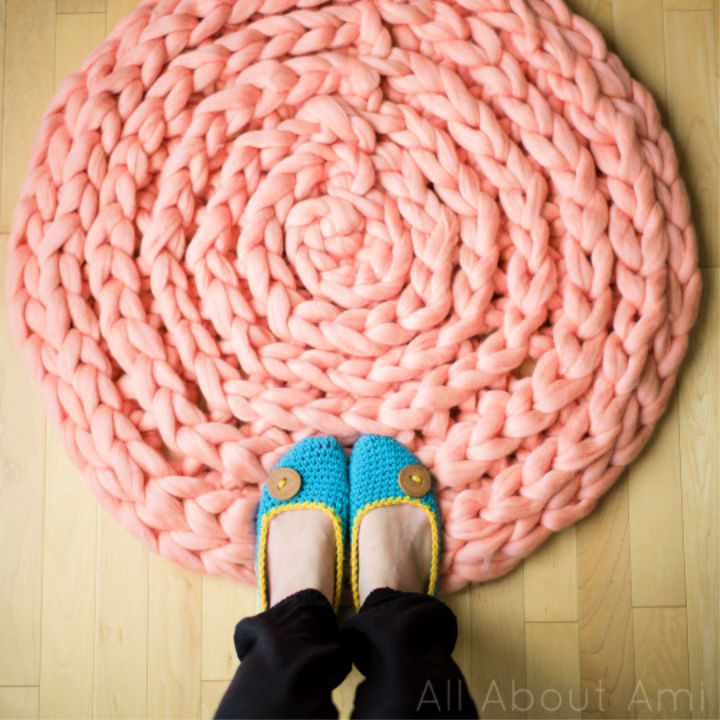 Let this extra thick and chunky rug bring prominence to a rushed carpeted interior. The best to get for adding style, texture, warmth, and comfort to an exclusive interior space. Crochet 1kg of unspun wool roving with 40mm hook size to whip up this chunky area rug. It will be a great pleasure to walk on and sit on and can be the best comfy place for your kids who love to sit on the floor. Start by making a ring and then crochet in rounds to get this extreme crochet rug made. Details here allaboutami
9. Crochet Floor Rug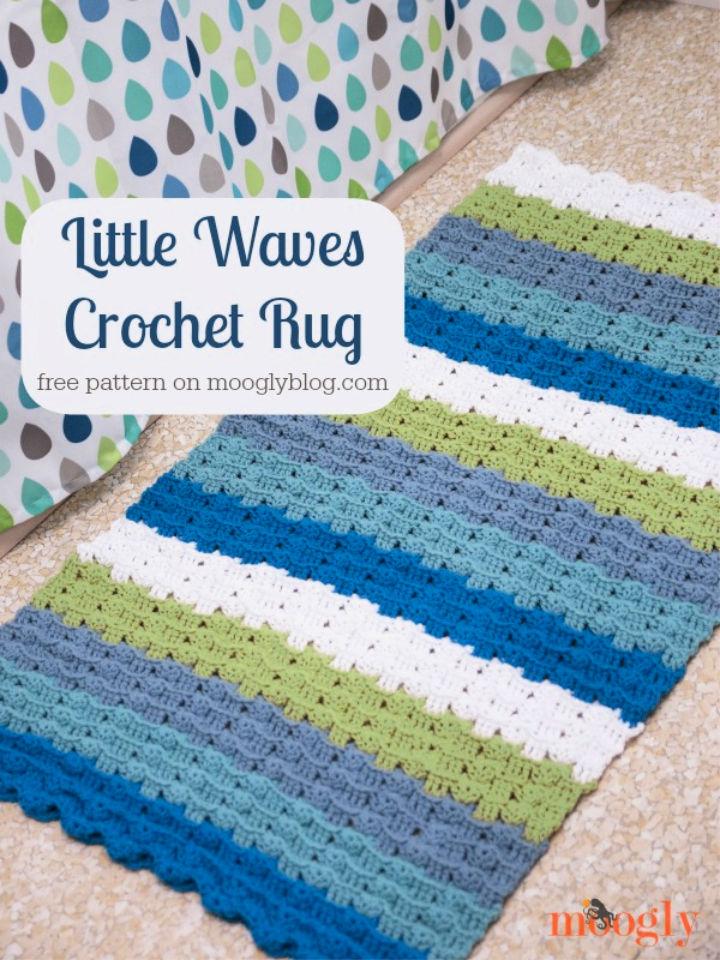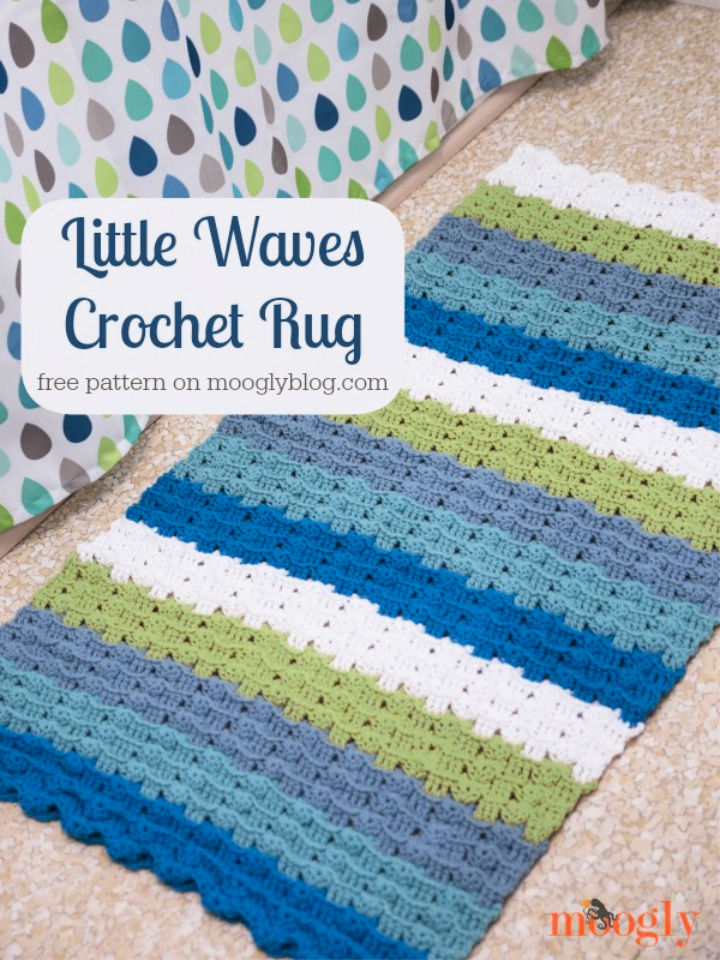 Do crochet this rug for a room interior decorated on a nautical or ocean inspired decor theme. This floor rug appears in ocean yarn color like blue, white, and green and features colorful striped appeal. Actually, this rug has been crocheted to match the raindrop shower curtain and will be loved dearly by all homey persons. Work in double thick V stitch and front post stitches to come up with the little wave texture. Use the 5.5mm crochet hook to whip up 22" wide x 38" long size of this floor rug. Details here mooglyblog
10. Play Outdoor Floor Rug Pattern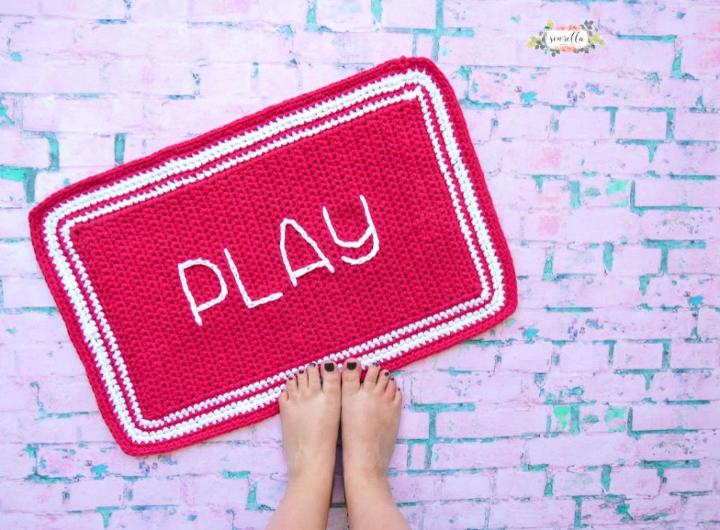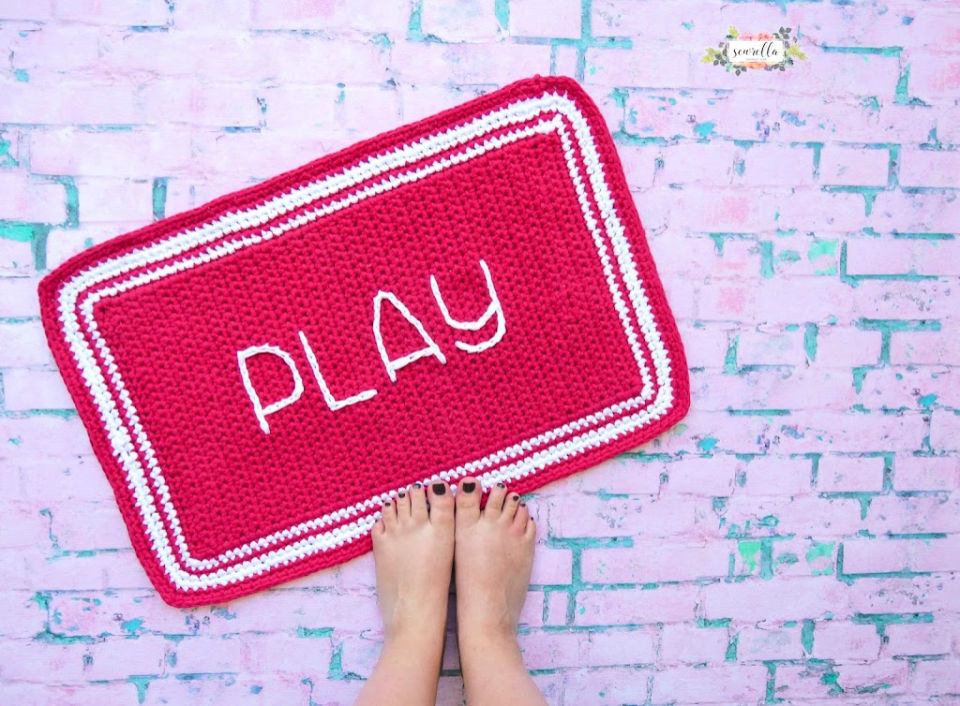 Add the gesture to the outside of your home to be outdoor to have some fun by building this play outdoor floor rug. The best crochet rug that comes with "PLAY" letters stitched inside. It features a dark pink hue nicely bordered with white. Grab the J hook and crochet the Lion Brand's Fast Track in Pink Convertible and Airstream yarn. Work in the simple surface slip stitch to stitch the letter on the surface. The best crochet rug is featuring a fine rectangular hue. Details here sewrella
Conclusion:
Buying the best looking area rugs can get expensive! But the art of crocheting comes for a big rescue! Just start crocheting your favorite yarn in your favorite stitches to make beautiful rectangle rugs, rounds, and half-circles, and even the custom geometrical shapes, will e your floor rugs! The crocheted rugs will bring tons of focal stimulation to space along with added coziness and warmth!
They will be super soft to walk on and crocheting your own rugs will allow you to come up with any color combo and design you are interested in! Here you will get free patterns and instruction for all popular crochet rugs that will grace up your spaces! All these rugs are super budget-friendly and the majority of them require a beginner skill level too!